Yamaha just released their 2019 models, and I thought I would give you the good, the bad, and the ugly.
Many people consider me more of a Sea-Doo guy but Yamaha has done some great stuff this year, and I really want to point them out. I also want to point out the stupid things they're doing too.
For the full details please visit Yamaha's website. This post is my opinion and I was not paid by any watercraft manufacturer to write it.
The Good
EXR – It Was Done Right
EXR seems to be Yamaha's response to the Sea-Doo Trixx models. Where I got to give them credit is that Yamaha went with more HP first then second. Update: It was not the trim that was adjusted but the pump was set further back for better thrust and traction. The correction came from the Watercraft Journal. More info in the comments below.
For years Sea-Doo Spark Fans have been wanting a Spark-X, and it looks like Yamaha listened instead. Yamaha is packing 10% more HP in the EXR compared to the regular EX and making it lighter than the EX Deluxe. This is a big deal!
Yamaha is giving you your cake, and you can eat it too.
Sure the EXR lacks the cool graphics, adjustable handlebars, and foot holds but going with more HP is the smartest thing Yamaha could do to compete. This thing is going to be a blast to drive and I can't wait to see how it does.
FX Series
In my predictions post, I made wild guesses about Yamaha and the whole industry and said tech would be the next big thing.
Well, it looks like I was correct and Yamaha is taking tech more seriously in 2019.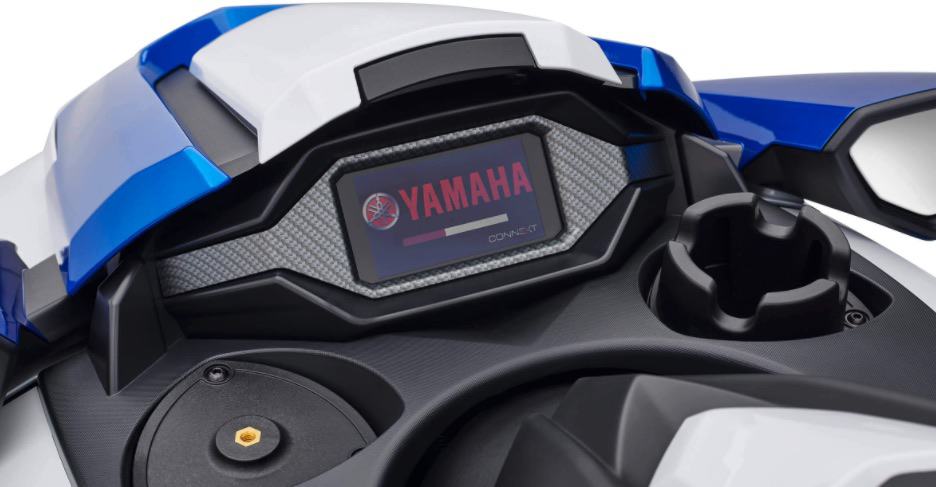 Yamaha is the first to come out with a full color touchscreen. I love how they show it off with someone wearing gloves to show how easy it will be. Not only that but you can do so much more with a touch screen that it's interesting what the future holds for this technology. Things like adjusting the takeoff power and power curve for pull sports is a nice feature that many will enjoy because of the ease of use from a touchscreen.
Yamaha is also taking accessories more seriously in 2019 like the speakers and GPS but also the floating coolers and many more. I love this and I'm sure accessories will explode more in the jet ski world as the margins get tighter on watercraft and accessories will fill the gaps for dealers.
The storage of the FX series has been upgraded from about 33 gallons to about 40 gallons. You can never have too much storage on a watercraft that is for sure. If you include all the storage its a total of 44 Gallons which is a lot for a watercraft.
The Feature That Matters The Most
The feature that is the most groundbreaking and deserves more attention is the Self-Draining Footwells.
It's about freakin time!
This has been a big issue that we've been dealing with for decades – water in the footwells. It may sound silly to new riders, but this is a real issue that no manufacturer has taken seriously.
Even if you kept a cover on your watercraft water would find its way in and get trapped in the footwells. This water would become stagnant and attract bugs and even make a slimy (and slippery) mess. I've also seen tadpoles living in the footwell water before, its a real and annoying issue.
With the Yamaha FX models, they have a drain to help combat this issue or at least make it slightly better. The verdict is still out on how they go about this or how useful it will be, but at least they're trying to solve this problem!
This is such a big issue that I would always have customers mention to me why they don't have a drain or something to keep the water from building up. I got the question so much that it prompted me to write a post on it here.
The water in the footwells and the drain will strike the most significant nerve for customers who already own a watercraft and who are looking to upgrade. This to me will get my attention more than a touchscreen, and that is why I think Yamaha should lead with it in advertising. Silly, I know, but it's not silly if it works.
RAM Mounts
I do love the idea of using RAM mounts for adding accessories like the GPS or speakers. Modular things are great and make customizing easier. This gives you the added benefit of taking the items off and carrying them with you like the speaker to the beach.
You can even add fish finders if you wanted to since it uses the RAM mounts. The 2019 FX series watercraft have got to be the best fishing jet ski around because of the easy add-on accessories.
The Start Button
Fast action start is an interesting one and found on the FX models. You press the start button once instead of holding it down, and the Waverunner starts.
I would see this often with new riders as their cars had the single press of the button to start, but it was harder to get used to the jet skis because they made you hold the button until it started. I like this move, and I'm sure other manufacturers are to follow.
Thicker Rub Rail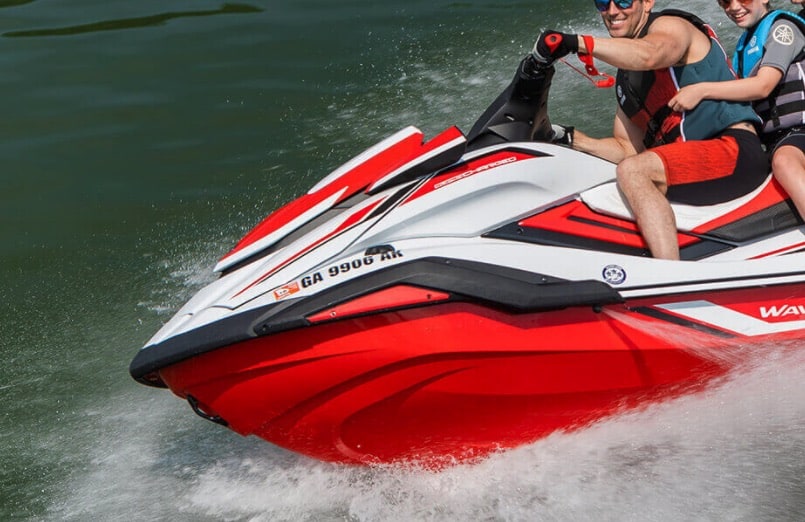 It's hard to miss, and not many people are talking about the thicker front rub rail of the FX series. They beefed them up, especially around the gas fill area. This area of the watercraft is very easy to ding up and making the rub rail thicker and more significant is a big deal.
It's far easier to replace plastic than it is to fix fiberglass. And it's not a matter of "if" you'll scratch your watercraft but a matter of "when" you'll do it.
Reboarding Ladder
I've never seen a reboarding ladder as thick and as nice as the one they're putting on the new 2019 FX series. It's not a bar anymore, its a freaking step you would find in a home. It's huge!
GP1800R
The GP1800 is still sexy and stupid powerful for its weight, but Yamaha has made it better with the GP1800R.
The improved intake will be a machine the racers love. Yamaha is really flexing on Kawasaki and Sea-Doo when it comes to muscle now.
The Bad
The FX's mounting system is nice and you can add many things to it, but it feels like an afterthought.
Sure its better than them being used for cup holders and it allows you to mount the GPS and angle it to the position you want, but features like the Bluetooth speaker could have been done better.
There is also a glaring problem with using a clamp style mount, they wear out. Everyone knows it if they ever used a mount for the GPS in the car. The screws you turn to make it tight loosen up over time and cause the items to flop down. This will be amplified even more on a jet ski because of all the wave jumping.
It's in the right direction, but they should have made the mounts fixed especially when dealing with expensive waterproof GPS units.
Since the speaker system is so small, it's for sure going to be hard to hear them at full speed. Sea-Doo and Kawasaki have complete (and loud) speaker systems that you can listen to even when going full throttle.
The Ugly
The VX-C could have been a winner, but they failed.
Yamaha is going for more of the commercial side (the reason for the "c") for the VX-C. Its pretty much a VX without RIDE. Yes, it lacks reverse. Not a huge deal for a rental company but for the average buyer or family this is a big mess up.
The price of the VX-C would have put it along the lines of the 2018 GTI 90 but the GTI 90 has brakes and reverse. This was what I thought the VX-C was going after and it should have taken over and kicked out the EX Deluxe – I better explain this in my post on the Sea-Doo Spark vs. Yamaha EX here.
This makes the VX-C compete more with the GTS. If you ask me at this moment in time, I can't recommend a family get either the VX-C or GTS as it's not worth it. Rental companies will for sure love them though.
Paddle Wheel Speed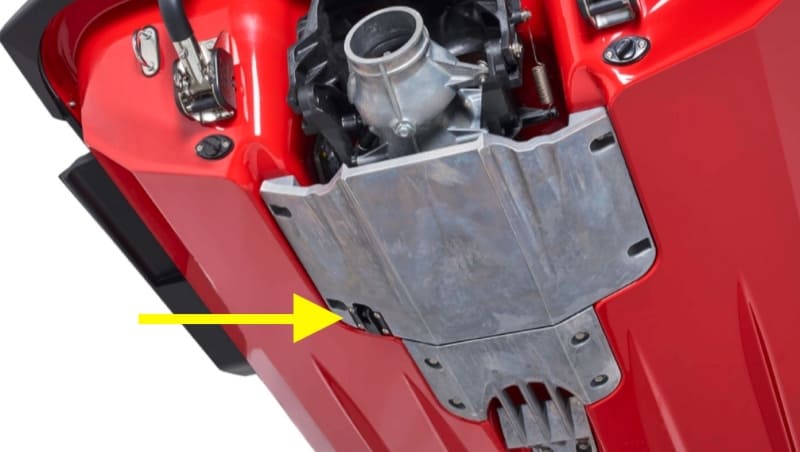 Not a fan of the fact that Yamaha still uses a paddle wheel on their models as seen under the VXR. I love the VXR and its a great machine, but the use of a paddle wheel is a wrong way to tell speed. Sea-Doo has been using mostly GPS to give you the speed of your watercraft which is far more accurate.
The only thing I will say is that don't trust completely what the speedo says as its easy to overinflate the numbers on a paddle wheel system. Not saying they do, let's be clear, but what I am saying no matter what use a 3rd party GPS system to tell exactly how fast the watercraft goes and the onboard speed as a guestimation.
I've got to say, the EXR is a move in the right direction, but the color is so bad. I can't help not to see a 2006 Sea-Doo GTI SE when I look at that thing. Yamaha should have done more extreme graphics, and colors like Sea-Doo does for the Trixx models.
What Do You Think?
I'm curious to hear what you have to say about the new 2019 Yamaha line up. Please feel free to leave a comment below to let me know what you think.
Categories YamahaSours: https://www.steveninsales.com/2019-yamaha-waverunner-good-bad-and-the-ugly/
The Yamaha GP1800 took the personal watercraft world by surprise with its release in 2017. It pushed the envelope within the racing community, and was even awarded Watercraft of the Year.
Since then, it has had no problems maintaining a reputation as the fastest Waverunner Yamaha has ever produced. However, many people are curious to see what Yamaha does next.
As the front runner of the industry's best selling performance race series, the new Yamaha GP1800 has high standards to meet. It gained plenty of fans almost immediately, but can the new year model maintain expectations?
Some of the links below are affiliate links, meaning, at no additional cost to you, we may make a commission if you click through and make a purchase.
---
YAMAHA GP1800 OVERVIEW
Currently the Yamaha GP1800 has a base price of just $13,999, making it one of the most affordable performance Waverunners they've ever made. It boasts impressive features such as a supercharged engine, an upgraded super lightweight hull, and an ergonomic racing seat.
As the next step up from the Yamaha VXR, the GP1800 is at the top of the line in Yamaha's performance series. It's widely considered to be the fastest, quickest, and most precise handling Waverunner that Yamaha has ever released.
Despite being one of the newest members of the Yamaha Waverunner line up, it has already carved out a fairly large fan base. This is most likely due to it's blend of performance capabilities, along with a more than reasonable price tag.
DESIGN
At its core, the Yamaha GP1800 is designed specifically for closed course racing. Everything from its top speed to its precise handling was geared towards performance. It's meant to accommodate all of the thrill seeking enthusiasts out there, but maintains a relatively low asking price.
HULL & DECK
One of the largest contributing factors to the renowned top speed and overall performance of the GP1800 is actually its ultra lightweight NanoXcel2 hull and deck.
By upgrading the hull from the already lightweight NanoXcel hull to an ultra lightweight NanoXcel2 hull, the overall dry weight was dramatically reduced. Not only does this lightweight hull affect how it handles, but it dramatically reduces weight as well. This results in a very responsive ride, with an excellent power to weight ratio.
The rear deck on the GP1800 is very small, which is generally to be expected on a performance watercraft. Even with that considered, it has no problem handling most common tow sports. On the back of the deck is a built in tow hook, and a convenient reboarding step that tucks away when not in use. It also has custom cut deck mats on the rear platform and inside footwells.
SEATING
A textured and bolstered racing inspired seat is outfitted on the GP1800. It allows for several riding positions, and even has knee padding extending up the sides. The ergonomic seat really shines in racing environments, but is great for simply cruising as well.
Up to 3 people can comfortably fit on the seat. It's spacious enough that generally riders don't feel too cramped, even on long distance rides. There's also a grip handle surrounding the back of the seat to give passengers extra stability.
STORAGE & FUEL CAPACITY
A total of 24.6 gallons (93.1 liters) of storage is available on board. This includes watertight storage, as well as a small glove box with dual cup holders. The large storage capacity makes it an excellent model for tow sports, or even jet ski fishing.
The fuel tank has a capacity of 18.5 gallons (70 liters), which is much needed due to its supercharged engine. Despite not being the most fuel efficient Waverunner, the 18.5 gallon tank is usually enough to get through a solid day of riding. Some people may find a full tank can even last an entire weekend.
ENGINE
Where the Yamaha GP1800's claim to fame really lies is in its engine. It's fitted with an incredibly powerful supercharged 4 cylinder, 4 stroke, Super Vortex High Output (SVHO) Yamaha Marine Engine. This 1.8 liter engine has a total displacement of 1,812cc, which is the highest displacement in its class.
The Yamaha GP1800 has a top speed of 78 mph (125.5 kph), and can reach 0-30 in under 2 seconds. This is the fastest top speed out of the entire Yamaha line up.
Like with all Yamaha Waverunners, the GP1800 uses an open loop cooling system. Generally this is thought to be more reliable than closed loop systems.
---
NOTABLE FEATURES
The Yamaha GP1800 comes with tons of bells and whistles, but these are some of the more noteworthy features.
DUAL REMOTE TRANSMITTERS
Two small remote transmitters can be used to turn on Low RPM mode or Security mode.
The low RPM mode is a great way to limit the watercraft's capabilities when an inexperienced rider is using it. In addition, it can also help increase fuel efficiency as well. By limiting the GP1800's top speed and acceleration, it's much safer for new riders, and it naturally consumes less fuel.
With the security mode, the transmitters can be used to disable the engine to prevent unauthorized start ups. This is a pretty basic security feature, but still useful nonetheless.
RIDE TECHNOLOGY
Yamaha's RiDE technology is a built in intelligent braking and reverse system. When braking, RiDE technology slows down the watercraft smoothly to prevent riders from being thrown off. It also allows the watercraft to go in reverse, which makes docking a much easier process.
MULTIFUNCTION INFORMATION CENTER
On the dashboard of the Yamaha GP1800 is a digital display showing a wide range of information. It contains things like a speedometer, fuel level, check engine light, and other information that's useful when riding.
---
FEATURE & FUNCTION SUMMARY
Yamaha RiDE Technology
NanoXcel2 Ultra Lightweight Hull and Deck
Multifunction information center
Security / Low RPM Mode Dual Remote Transmitters
Electric Trim System
Ergonomic 3 Person Racing Inspired Seat
Watertight Storage
Dual Mirrors
Glove Box with Dual Cup Holders
Convenient Fold Down Reboarding Step
Custom Cut Deck Mats
Tow Hook
Automatic Bilge
1 Year Limited Factory Warranty
ADDITIONAL SPECIFICATIONS
Length: 11′
Width: 4′
Height: 3′ 11″
Dry Weight: 769 lbs
Fuel Capacity: 18.5 Gallons
Storage Capacity: 24.6 Gallons
Supercharged 4 cylinder, 4 stroke, Super Vortex High Output (SVHO) Yamaha Marine Engine
Pump Type: 160mm High Pressure
Fuel Type: Premium Unleaded
Available Colors: Team Yamaha Blue or Torch Red Metallic
1-3 person riding capacity
SUMMARY
The Yamaha GP1800 is arguably one of the best performance Waverunners ever manufactured. It has an incredible top speed, amazing handling, and several high end features built in. A lot of great things can be said about it, this isn't the best watercraft for everyone.
Although it is an excellent watercraft for performance lovers, this may not be the best entry level Waverunner. As an extremely powerful performance watercraft, it can be very dangerous for inexperienced riders to operate. However, for any thrill seeking personal watercraft enthusiasts, there are very few reasons not to go with the GP1800.
Visit Yamaha's official website for any additional information on the Yamaha GP1800.
Sours: https://jetskitips.com/yamaha-gp1800-review-top-speed-features/
2019 Yamaha WaveRunner® GP1800
Over many years, Yamaha's GP models forged an unbeatable reputation among serious racers the world over. This magnificent heritage is clearly visible and very much alive in the shape of our high-performance hero, the GP1800.
It's the answer to every performance enthusiast's prayer – an incredible-looking, super-smooth, super-powerful machine with a strong, agile hull and the ability to respond to the rider's every command precisely, predictably – and in an instant.
When such a machine includes the latest technical and electronic innovations – often unique and exclusive to yamaha – and proudly carries that famous name, you know you're in the presence of a legend. Meet it.
Details
• Supercharged SVHO 1812cc engine with EFI
• NanoXcel2® hull – super-strong & super-light
• 160mm pump
• Revolutionary RiDE® system w/Reverse Traction ctrl
• Fast electronic trim
• Smart metallic paint colours and stylish graphics
• Textured multi-tone race-style step-up seat
• Clear meters for F-N-R, RiDE and electronic trim
• Industry-first remote security with Low-RPM Mode™
• Large integral mirrors and strong ski towing eye
• Hydro-Turf mats and soft-touch re-boarding step
• Glove box, under-seat and bow storage space
Sours: https://www.ftvalleymotorsports.com/watercraft/2019_Yamaha_WaveRunner_GP1800/D482
Yamaha GP1800: High-Tech, High-Performance PWC
Brief Summary
The R is for racing. The racecourse inspired this quick, nimble machine and the racecourse is where it is making its reputation. This machine has all of the features that Yamaha PWCs are known for, but with a special emphasis on performance.
Key Features
1 to 3 persons seating capacity
Supercharged 4-cylinder, 4-stroke, Super Vortex High Output Yamaha Marine Engine
NANOXCEL®2 ultra-lightweight hull and deck
RIDE™ by YAMAHA, dual throttle control
Reverse in RiDE™ with Traction Control
Electric trim system
Watertight storage
Specifications
Length Overall
131.9'' / 3.35 m
Beam
48''
1.22 m
Dry Weight
769 lbs.
349 kg
Draft
N/A
Deadrise/Transom
N/A
Max Headroom
open
Bridge Clearance
N/A
Weight Capacity
N/A
Person Capacity
3
Fuel Capacity
18.5 gal.
70 L
Water Capacity
N/A
Price
See the price by becoming
a BoatTEST member.
Engine Options
| | |
| --- | --- |
| Tested Engine | Currently no test numbers |
| Std. Power | 1 x 1812cc 4-cylinder, 4-stroke SVHO Yamaha Marine Engine |
| Opt. Power | Not Available |
Captain's ReportLearn More
Watch Our Video
Contents of Report
Mission
The GP1800R was made to race, something it does quite well. It is undefeated in its class, according to the builder. Yamaha also made sure performance-minded, non-racers could enjoy its maneuverability and creature comforts.
Distinguishing Features
• The Engine. The SVHO® engine features a high-performance intercooler, increased supercharger air intake capacity and boost, and a modified fuel injection system for increased fuel flow.

• The Jet Nozzle. Below the waterline, the SVHO engine is matched with a 160MM, eight-vane jet pump stator for maximum thrust volume.

• The Intake Grate. For 2019, the GP1800R has a new dual intake grate with a foil in between that directs water to the impeller to maximize traction.

• Dual-Throttle Handle Bar Control. Yamaha is the only PWC maker that offers this. Pull the right handle to go forward, and the left one to go in reverse.
Major Features
• Available in Azure Blue with White or Black with Torch Red Metallic

• 160mm high-pressure pump

• RiDE™ with Traction Control; dual throttle control enhances maneuverability, stopping, and reverse

• Security/Low-RPM Mode with Remote Transmitter; two remotes activate fuel-saving, low-RPM mode, and security against unauthorized usage

• Racing inspired, 2-piece seat

• Dual mirrors

• Glove box with dual cup holders

• Retractable boarding step

• Two-tone, custom cut deck mats

• Automatic, de-watering bilge pump
Design
The 2019 GP1800R features a new intake grate and ride plate proven to deliver peak performance on the closed course. The new intake grate features a foil that feeds water to the top end of the impeller to improve traction and keep the pump hooked up to maintain maximum thrust when turning, and in rough water. It also creates more downforce to keep the GP1800R planted in the water and stable when turning.
Hull Construction
The NanoXcel® 2 hull and deck is 18% lighter than the generation it replaced. The result is a favorable power-to-weight ratio for faster acceleration and an agile ride. Yamaha has been using and evolving its NanoXcel hull material for a number of years to reduce weight without sacrificing strength. The composite hull is composed of glass micro bubbles in exfoliated clay encapsulated in resin.
The mixture is molded in high-pressure compression steel molds. Robotic routers drill holes. The result is a hull and deck lighter than conventional fiberglass and resin, and apparently just as strong, or stronger. We have received no complaints about Yamaha hull failure.
Once an inner liner is inserted and fixed into place, expandable PVC foam is poured in so that all of the voids are filled to provide positive flotation. After all internal components, including the engine, are in place, the deck is mated to the hull with chemical adhesive that is stronger than fiberglass.
Be sure to see the BoatTEST video and full Captain's Report on the SVHO engine. Click here…
The new race-inspired seat is textured with new sticky vinyl for grip and comfort when charging into turns. The reboarding step makes it easier to reboard after a swim, and it tucks conveniently away when it isn't in use.
Comparison
The GP18000R may look familiar because Yamaha's predecessor, the GP1800, was the same machine in many ways. Someone at Yamaha decided they got a lot of things right with the GP1800 so rather than start over from scratch; they changed a few important fundamental elements: the engine, thrust nozzle, new top-loader intake grate, and the new ride plate to reduce bow rise when accelerating.
The Engine
Yamaha's supercharged 1812 CC Super Vortex High Output is a 1.8L 4-stroke, 4-cylinder intercooled engine. Yamaha says it is the "most technically-advanced" engine it has ever designed for a personal watercraft. Makers of PWC engines, typically don't reveal the horsepower of their engines, and Yamaha is no exception.
Yamaha has added more speed, acceleration and maneuverability, which enabled the GP1800R to gain racecourse notoriety in a hurry. While all recreational PWCs are built to USCG guidelines, which means they are not supposed to go faster than 65 mph, WOT, acceleration is not governed. So, it is here that we can expect the GP1800R to noticeably excel.
The 1.8L engine has "open loop cooling" which means that it uses raw water to cool the engine as opposed to "closed loop cooling" used by some of the competition. Yamaha says open loop is better. Yamaha recommends premium unleaded gasoline.
Performance
At 131.9" (3.35 m) long and 48" (1.22 m) wide, the GP1800R is not the biggest or smallest boat in its category. The key number that may have the most influence on performance of our test boat is the empty weight of 769 lbs. (349 kg). That's about 90 lbs. (41 kg) lighter than other, comparable watercraft.
Our test captain found the 1.8L SVHO Yamaha Marine engine, the three-blade stainless impellor, top-loader intake grate, and race-designed ride plate, combined to produce some impressive performance numbers.
As regular readers know, our test captain cannot operate a PWC and take performance numbers at the same time, so we rely on the honesty of Yamaha to give us their performance numbers that are taken with computer-aided devices. At idle, 1200 rpm, the GP1800R has a speed of 3.4 mph.
The best cruise speed is found at 4000 rpm where the machine goes 25.5 mph, resulting in 7.8 mpg and endurance of 5.1 hours. Jump the rpm just a thousand to 5000 and the speed increases 47% to 37.6 mph and mpg drops to 5.9 and endurance drops to 2.6 hours.
The top speed that Yamaha reported was at 7600 rpm and at near hurricane force, 68.5 mph. Sitting on a little rocket a few inches above the water's surface, traveling at a speed that would earn a hefty speeding ticket on many interstates is not for the faint hearted. Riders should be mindful that hitting the water at that speed is not fun.
Handling
The GP1800R turns in its own length at idle speed in both forward and reverse. At speed, the boat turns about as tightly as the operator believes he or she can safely turn it.
Claims that this PWC is designed for closed course racing are not exaggerated. It's made for racing around buoys so it accelerates like a rocket and turns on a dime. Performance is the key word.
The only way to reconcile the raw speed with the precise turning is to put the boat into a lean first, then crank it into the turn. If you manage not to get thrown off, you succeeded. It's time to hit the throttle and dry your hair.
Inexperienced riders and those moving up to a Race/Performance Runabout should be warned. Don't try to find the starting, stopping and turning limits of the GP1800R on the first ride. This machine is all about performance and it packs a punch.
Inspection
The deck, forward of the handlebars, is made up of sharp angles and smooth surfaces that allow air to flow into and around the boat. The graphics package accentuates the structural collection of planes that look more like something you'd find on a stealth aircraft than a personal watercraft.
Moving down toward the waterline, the GP1800R has soft bow chines, which combined with its defined hull strakes and race-infused keel shape, help account for the boat's fast and easy movement through the water.
A spring-loaded, step up enables swimmers to mount the GP1800R easily from the water. It folds away when not in use. Sturdy, comfortable hand grabs attached to the back of the seat offer stability for swimmers when they mount the boat and passengers on-board who might need to stand and balance on the ample aft deck.
The skid-resistant surface helps ensure safe and stable footing. The non-skid surface extends up beside both seats to the foot wells, protecting passengers from slipping anywhere they might stand on the boat. The sturdy tow hook is tucked away up high between the back of the seat and the aft deck, where passengers cannot trip or bump into it.
An NMMA certification/capacity sticker indicating three persons with a combined weight of no more than 485 lbs. (220 kg) is clearly displayed on the hull. The race-inspired seat offers plenty of padding for comfort with a special gripping surface to keep riders from sliding. The seat narrows toward the front to allow the driver to grip the craft with his or her legs.
Construction
The lower GP1800R weight noted earlier can be attributed in large part to hull and deck construction using NanoXcel 2 technology. Yamaha engineers developed an innovative new way to increase resin strength while considerably reducing weight. This favorable strength to weight ratio is unequalled in comparable Race/Performance Runabouts on the market, according to the company.
Optional Equipment/Price
Yamaha has made buying a GP1800R pretty easy. There are two colors to choose from and aside from a life jacket and bathing attire, there isn't much else needed.
The manufacturer's list price for the GP1800R is $14,199.
Observations
This boat has so much power it might intimidate operators who are not experienced and ready for a challenge. The GP1800R is probably best suited for the veteran rider who wants to hone his or her racing skills or just reach the next level of performance riding.
On the other hand, all that power will come in handy for pulling skiers and other towed devices. Because it can handle three people, the GP1800R has "family" written all over it, in spite of its awesome power and agility.
Sours: https://boattest.com/review/yamaha/3832_gp1800r
Gp1800 2019 yamaha
2019 Yamaha GP1800R Waverunner watercraft for sale at Riva Motorsport Miami
Riva Sales Event! 3 year warranty and as low 2.99% APR financing on all in-stock Yamaha Waverunners. Or buy two, and get as low as 6.49% for up to 96 months with approved credit.
Own for as low as
$0 down $232 per month
with approved credit. Payment is based on promotional 5.59% APR for 84 months credit approval. Other options available. Contact us to apply.
Riva Motorsports Miami
Financing Available Trade-Ins WelcomeDESIGN
High Performance Upgrades
The 2019 GP1800R features a new intake grate and ride plate proven to deliver peak performance on the closed course.
Yamaha's 1.8L supercharged, Super Vortex High Output Marine engine delivers more power and torque than any WaveRunner before it.
NanoXcel® 2 hull delivers an impressive power-to-weight ratio, agile ride and industry-leading fuel efficiency.
Textured with new sticky vinyl for grip and comfort when charging into turns.
Designed to make it easier to reboard after a swim. Conveniently tucks away when not in use.
Features may include:
#1 Choice for Race Performance
Top-loader Intake Grate & Ride Plate
Supercharged 4-cylinder, 4-stroke, Super Vortex High Output Yamaha Marine Engine
NanoXcel®2 Ultra-lightweight Hull and Deck
Riva Motorsports Miami
Financing Available Trade-ins Welcome
Sours: https://www.rivamiami.com/New-Inventory-2019-Yamaha-Waverunners-Personal-Watercraft-GP1800R-Miami-6227951
2019 Yamaha GP 1800 R watercraft
RIVA stage 1 kit for Yamaha GP1800 2019
RY-RPM-GP18-1-19
Riva Racing
RIVA Racing "stage 1" performance kit for Yamaha GP1800R SVHO jet ski f.. More details
0ItemItems
Delivery within 2 to 10 days
Warning: Last items in stock!
Availability date:
More info
RIVA Racing "stage 1" performance kit for Yamaha GP1800R SVHO jet ski from 2019
ref. RY-RPM-GP18-1-19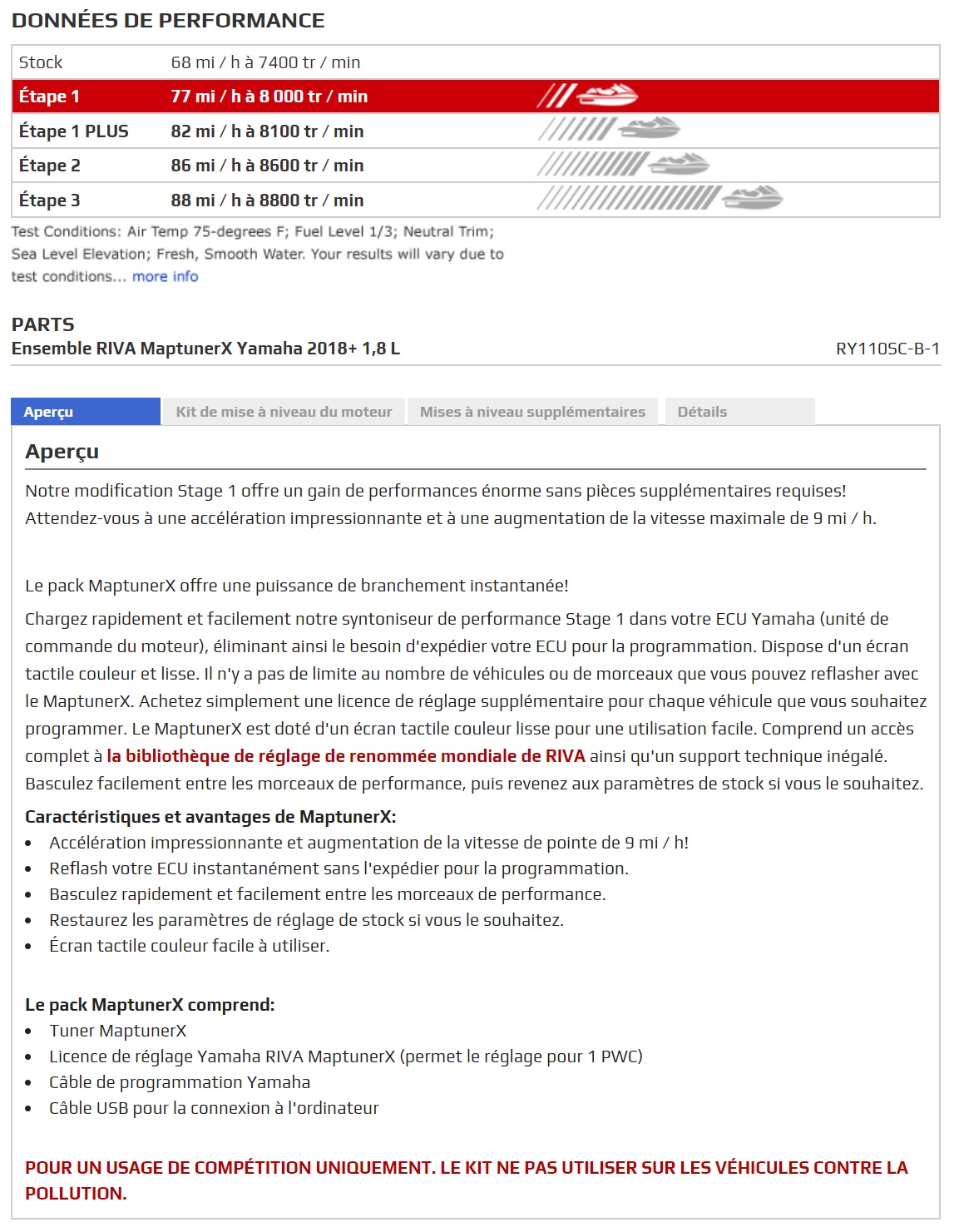 Since 2008, PROMOJETSKI commitment's !
A question ?
Our team at your service Monday to Friday from 10h to 18h non stop
(+33) 498 000 639
Accessories
Other products in the same category
SOLAS...

- For Seadoo 2-stroke watercraft: KG-CD-15/21 /...

269,95€

SOLAS...

Propellers for all Polaris jet-skis:...

269,95€

Scoop Riva...

Riva shovel scoop for seadoo RXP 215/155 from...

143,96€-25%191,95€

RIVA...

RIVA Racing cover for RS13050 and RK13085...

32,21€-25%42,95€

Riva air...

Riva air filter for Riva kit for seadoo RXP /...

50,96€-25%67,95€

Air filter...

Riva air filter for Seadoo RXP / RXT (05-10),...

259,46€-25%345,95€

Blowsion...

BLOWSION ARM SPRING FOR KAWASAKI 800 SXR / 750...

51,71€-25%68,95€

Crankshaft...

HOT RODS CRANKSHAFT FOR YAMAHA 1200 GPR / XLT...

1 012,46€-25%1 349,95€

Factory...

FACTORY PIPE Type B Exhaust for Yamaha Superjet...

974,96€-25%1 299,95€

Yamaha...

HOT RODS CRANKSHAFT FOR YAMAHA 1200 (65U) Ref:...

719,96€-10%799,95€
Sours: https://www.promo-jetski.com/en/jet-ski-racing-parts/83376-riva-stage-1-kit-for-yamaha-gp1800-2019.html
Similar news:
2019 GP1800R
GP1800R Ready to launch package £17,999 includes;
• 2019 GP1800R worth £16,999
• Standard SBS roller trailer worth £1,200
• Genuine Yamaha PWC cover worth £240
• Ratchet straps & lighting board
• RYA Personal Watercraft Hand Book
• 25% discount off Jobe accessories
• Up to 5 years 4.9% APR finance (T's & C's apply)
The 2019 Yamaha WaveRunner GP1800R SVHO – The mighty GP1800 looks set to carry on where it left off – at the front of the pack! We have 1 unit available now (09/7/19) ** SOLD OUT 20/7/19 ** in black with a great ready-to-launch package offer @ £17,999 and an exclusive 4.9% APR finance rate – with an offer this good what are you waiting for?!
Representative finance example; New 2019 WaveRunner GP1800R SVHO ready-to-launch package. Cash price £17,999.00, deposit (minimum) £2,070.00, balance to finance £15,929.00, repayments 60 x £299.09. Total charge for credit £2,016.40. APR 4.9%. (Minimum deposit 10% for 4.9 APR rate).
Offers and stock subject to availability. Finance provider Santander Consumer Finance RH1 1SR. Offers end 31st July 2019 or while stocks last.
Sours: https://www.yamaha-waverunner.co/product/2019-gp1800/
103
104
105
106
107