AIRSOFT GI POLICIES
The following warranty policy applies to all in-store and online purchases made through Airsoft GI and GI Tactical. Please note: Due to various customs brokerage fees and taxes that are beyond our control, warranties are not available on any products purchased, sold, distributed or transported outside of the United States.
As a company AirsoftGI.com knows how frustrating it can be when you run into some issues with a product that you have just received. It is our goal to make sure that we take care of any issues as promptly and efficiently as possible. In order to do that we will need some help from you, our valued customer. If you are experiencing problems with a product that you purchased from AirsoftGI.com please refer to the following informational link for troubleshooting and basic use guides (Airsoft 101 Guide). You may also contact our Customer Service Department during our regular business hours (9:00am - 5:00 pm PST, Monday - Friday) to help troubleshoot your issues. Please have as much information possible for the Customer Service Rep to help expedite your call. Many cases are easily resolved over the phone with basic troubleshooting assistance by our staff. If the issue(s) cannot be resolved over the phone and the product needs to be returned for warranty service, a Customer Service Rep can assist you by initiating the warranty over the phone or you can initiate the RMA on your accounts page by clicking Returns under Orders to Initiate your RMA. Warranty claims must be submitted within our warranty period*.Please DO NOT send any returns back without prior authorization from the RMA Department and the proper documentation. All warranty claims "must" be returned through our RMA process. The process, rules and exclusions will be listed below.
* Warranty period will begin from the date products are received.
(Any problems resulting from failure will be covered under our warranty policy.)
All merchandise purchased from AirsoftGI which will be covered under the AirsoftGI.com warranty policy for 45 days. If the manufacturer has a warranty that extends past 45 days we urge you to initiate a claim with the manufacturer in order to expedite your RMA processing. If needed, Airsoft GI can assist you with initiating a claim with the manufacturer.
At our discretion, AirsoftGI.com reserves the right to determine which cases are fit to be authorized for warranty processing. The warranty is put in place to cover manufacturer "defects", not user error.
Please do your best to provide as much information as possible when initiating your warranty claim. We are happy to help our customers with a product failure. However, if false information is used to obtain RMA authorization, then your case will be denied upon inspection once the product is received. More information may be found in our warranty exclusions section below.
All serviceable item(s) will be serviced under our warranty policy. AirsoftGI retains the right to service said item(s) with functionally equivalent, reconditioned/refurbished or new products, accessories and parts. Please keep in mind that a majority of the products we sell are serviceable. For example, all Airsoft guns returned for RMA service do receive a full inspection of external and internal parts similar to our upgrade/repair service. Upgraded parts may be purchased and installed during the RMA process given the labor has already been covered by our warranty policy.
In the rare case that an item is determined to be un-serviceable, Airsoft GI reserves the sole right to replace the item with a brand new replacement. If a replacement item(s) is not available a store credit will be offered.
AirsoftGI will cover the return shipping to the customer on any merchandise that has been serviced or replaced under the warranty policy. However, shipping cost for a warranty item from the customer/user to AirsoftGI.com is not covered. All cost with regard to packaging and actual shipping cost is the responsibility of the customer. We here at AirsoftGI understand that return shipping costs can be a rather large burden. That is why we offer a Discounted Return Label Program to assist customers with return shipping costs.
Discounted Return Label Program (DRLP)
Once you have RMA authorization and would like to use the DRLP, follow these simple steps:
Call the Customer Service Department during regular business hours (9:00am- 5:00 pm PST, Monday - Friday)
Inform the Customer Service Rep of the item being returned and they will provide you with the price of the discounted shipping label as stated below:
$10.00 for 1-7 lbs.
$15.00 for 8-15 lbs.
$20.00 for 16+ lbs.
The Customer Service Rep will obtain your billing information so you can be charged for the cost of the return label needed for your item.
The return shipping label will be sent to you electronically by email. Please make sure that all your information is correct.
Second time back guarantee:
Any product covered under the AirsoftGI warranty will receive an additional warranty extension of 30 days. On the rare occasion that any product previously repaired under our warranty policy fails as a result of our repair service, AirsoftGI will cover all associated shipping costs as well as parts and labor cost to repair your merchandise.
In this event, please re-initiate a warranty claim through our RMA process.


WARRANTY EXCLUSIONS
Use of improper sub standard BBs
It is very important to use the proper BBs in your airsoft guns. Substandard BBs will cause premature failure of an airsoft gun and its internals. BBs should always be purchased from an airsoft only hobby shop. In general, BBs purchased from large department stores, super stores, or any sporting goods stores are considered substandard. Stay away from these mainstream retailers as they do not possess the knowledge and experience to recommend and supply reliable BBs for your airsoft gun.
DO NOT USE .12g BBS!!!
The use of 0.12 gram BBs will Damage your Airsoft Gun and Void your Warranty.
Substandard BBs can be visually inspected by observing the molding or casting seams; often times you will see the shape of the BBs are not round but oval in shape. These imperfections will cause BB jams which will eventually result in a failure. The use of improper and/or substandard BBs will void not only our warranty policy, but any manufacturer warranty as well.
Improper use/abuse/neglect
Product failures that result in the improper use, abuse, or neglect on the users/customers part will void the warranty on a product. Damages as a result of improper storage, product being dropped from any distance, improper use, exposure to liquids, and exposure to extreme weather conditions are considered improper use and will void any and all warranty(s) by AirsoftGI and the product manufacturers. The use of high voltage batteries (greater then 9.6 volts) will result complications to your warranty*.
* Warranty claims as a result to use of high voltage batteries will be handled on a case by case basis.
Unauthorized/Illegal modifications:
Product failures as a result of any attempted alteration to the airsoft gun will not be covered under the AirsoftGI warranty policy. Upgrades and modifications, either internal or external resulting in a failure will not be covered. Attempts to remove the blaze orange tip as required by law will void any and all warranties offered by AirsoftGI and its manufacturers. AirsoftGI.com will "only' warranty products and services performed by AirsoftGI or the manufacturer / distributor of said merchandise. If a warranty product has been disassembled by anyone other then an authorized AirsoftGI employee or Manufacturer; said product will not be covered.
Spring Guns and Snipers:
Any spring gun whether it be a pistol, shotgun or sniper rifle will be covered under a 45 day warranty policy. If you experience a failure that was not caused by improper use or neglect Airsoft GI will cover the airsoft gun under our warranty policy.
Tactical Gear:
AirsoftGI works closely with our distributors for tactical gear. If a failure or defect in quality or workmanship occurs within our 45 day return policy, the item will be replaced. Failures as a result of wear and tear will not be covered.
External and internal upgrade parts:
Due to the nature of said parts we can only offer a warranty on items with obvious signs of defect. Warranty for said parts cannot show any signs that they have been installed or used in any way. These parts must be defective out of the package. Improper use or installation of external and internal upgrade parts are 99% of the time the cause of failures of these items. Therefore warranty for external and internal upgrade parts will be contingent upon final inspection and confirmation of the parts once they are received.
Battery and chargers:
All damaged or failed Ni-Cd, Ni-Mh batteries are covered for 45 days to be free of defect.
Failures to Li-po or any lithium batteries will be handled on a case by case basis. Common failures to these types of batteries are due to improper use or charging. All chargers will be covered under a 45 day warranty to be free of defect. If it does not charge we will replace it.
Bone Yard:
Any products purchased from our bone yard section are as is with no warranty expressed or implied. Shipping damage, displays, prototypes, un-repairable, un-stock able, QC failed, factory defects, and otherwise un-sellable products will contribute to the bone yard. For these reason AirsoftGI will not be able to take a return or warranty for said product. All bone yard items are considered broken and do not work.
Manufacturer Warranty:
In general AirsoftGI will be able to handle most warranty claims in house. However, due to our distribution agreements we must let them handle their warranty claims. You will be notified at the time of RMA processing if your particular product will fall under this case. As a company we will be able to assist you in any ways we can on your warranty claim.
Warranty Limitations and Terms:
Warranties offered by AirsoftGI.com and its Manufacturers/Distributors whether expressed or implied are stated above in the warranty policy. Any additional warranty or service agreements will need to be noted on the customer order comments.
Airsoft GI is the #1 Airsoft retailers in North America as voted by Popular Airsoft. It is the goal of our company to always offer the best possible customer service in our industry. There is a reason why we are voted #1 retailer in North America not only 1 year but 2 years in a row. We are the most trusted and the favorite airsoft retailer and we can prove it.
The above stated return/warranty policy is effective starting June 19th 2012. All purchases made on or after May 5th 2012 will be covered under the new return/warranty policy.
Product Warranty Chart
* Due to the our distribution agreements with these manufacturers all warranty claims must be filed directly thru the manufacturer.
RMA HOLIDAY SEASON WARRANTIES & RETURNS
Customers who are experiencing any problems or issues with a holiday gift purchase made from 11/21/2016 to 12/23/2016 will have until 2/08/2017 to initiate a return for warranty service. Any problems or issues reported will be resolved in accordance with the Airsoft GI/GI Tactical warranty policy. Customers who are requesting a return for refund, store credit or exchange will also have until 2/08/2017 to initiate a return. All merchandise must be in brand new, unused condition and properly returned in their original factory packaging, no exceptions. All return items will be inspected and are subject to fees if not returned in proper condition. Please refer to the Airsoft GI/GI Tactical return policy for details. Note: Airsoft GI/GI Tactical will not provide extended warranties on any items that come with a manufacturer warranty.
Sours: https://www.airsoftgi.com/
How do I order from this website?
Browse the website in search of the items you wish to purchase.
Place selected items into shopping cart and check out. At this time, if you have not done so already, you'll have to register an account on our website.
Confirm delivery address and select shipping method on 'Delivery Information' page. For orders over $100.00, the website will automatically select 'Free Ground Shipping' if you wish to make a different selection you may do so at that time; this offer does not apply for shipments to Canada/Hawaii/Alaska.
Confirm your order total with shipping and applicable taxes on the 'Payment Information' page. You may choose to pay via credit card or Paypal. This is also where you would apply any discount coupons you may have been given.


To redeem coupon using credit card please follow these steps:
On the Payment Information screen, please select the credit card payment option marked "please select for all credit cards"
Entering the corresponding information (Name of CC owner, CC #, CC expiry date and CVV #) as it appears on your credit card
At the Gift Vouchers & Coupons section, enter your redeem code in the "Enter Redeem Code" field and click on "Redeem"
Proceed with checkout process

To redeem coupon using PayPal please follow these steps:
On the Payment Information screen, first enter your redeem code in the "Enter Redeem Code" field and click "Redeem"
"Click" on the PayPal link and proceed with checkout process

Next is the order confirmation page where you must agree to the terms of use policy and confirm payment. Finally just sit back and wait a few days for your package to arrive!
If you have any questions about the check out process do not hesitate to call us at (909) 869-0671. Our hours of operation are from 9:00am to 5:00pm PST, Monday to Friday.
To place an order by phone please contact us at (909) 869-0671 during business hours (9am to 5:00pm PST, Monday to Friday)
Before calling to place your order, please note the names and product ID numbers of the items you wish to purchase. If you require assistance as far as product recommendations or parts compatibility, you can speak to a Sales Representative by selecting option #3 when calling
All phone orders are payable by credit card only. Please have your card available and ready to provide the card type, number, expiration date, cardholder name and billing address when calling
A valid contact phone number and email address is required when placing any phone orders
Customers will be notified by email regarding order status updates, stock discrepancies or problems with order processing
Pending-This is the first step of processing your order, it means that the order was received by our online database and you will be billed for the amount of your order usually within 24-48 hours.
Invoice Print-This means that an invoice has been printed for your order, this is the first physical step in processing an order. During the Invoice Print phase your order is reviewed for any possible back order items, billing and shipping information discrepancies, as well as item compatibility.
Please contact Airsoft GI-If you receive an e-mail with this status contact us as soon as possible, this status means there is an issue with your order that could range from an inability to ship to your provided shipping address, or expedited shipping confirmation. If the status of your order is "Please Contact Airsoft GI" then there will also be an attempt made by Airsoft GI to contact you in order to resolve the issue faster.
Please contact Airsoft GI (Inventory)-If you receive an e-mail with this status contact us as soon as possible, this status means there is an issue regarding an item that you ordered. If the status of your order is "Please Contact Airsoft GI" then there will also be an attempt made by Airsoft GI to contact you in order to resolve the issue faster.
Package Processing-This means that all of the paperwork has been processed for your order. The items in your order are being pulled from our inventory and packaged for shipping.
Shipped-The order has been packed and has left our warehouse, once orders have left they can be tracked on our website using the order number.
Please keep in mind that our online inventory is the same as our walk in store inventory and the availability of items changes every day, if you order something that is "in stock" at the time of the order but goes out of stock during the order processing period we will do our best to contact you.
There are three main reasons why your credit card might have been declined.
Information Mismatch
The information you entered does not correspond with the current information on file with your credit card company. The most common mistakes are:

Address information

CVV number

Double and triple check your information before placing a transaction to avoid this problem.
Suspicious Activity/Unusual Activity
Your credit card company will suspend your funds because it does not coincide with your usual spending habits. Suspicious/Unusual Activity includes but is not limited to:

Large purchase amounts.
A purchase made very far away from your usual spending radius.
Multiple purchases within a short time frame.
This is due to counter-fraud protocols set forth by the card company and can usually be cleared up with a phone call.
Insufficient Funds
This usually takes place after multiple attempts to purchase something with incorrect information, after every attempted faulty transaction the funds for that attempt are frozen by the online credit card service. Don't be alarmed! This is also a counter-fraud protocol; you will get your money back for the faulty transactions, usually within 48 to 72 hours.
Coupon codes can be found on our website, the Airsoft GI forum, or in an e-mail during promotional periods. In order to redeem the coupon code you must enter it into the proper text field on the 'Payment Information' page when checking out. You may only use one coupon code for each order. You may not apply a coupon code to your order after you have completed the check out.
If you need to track your order go to our website and select the UPS tracking link at the top of our page. Enter your order ID number in the proper text field. Once you enter your order number the UPS website will show you the last location your package was scanned. Orders that are currently pending can not be tracked because they have not been shipped.
An order number is given to each order placed with Airsoft GI. It is used by Airsoft GI to track the order and to quickly check its status. You can find your order number in the confirmation e-mail sent after each order or you can check your order history in your Airsoft GI account. Remember, your order number is not the credit card transaction number. If you are going to call in to check the status of your order have your order ID number ready.
Preorder means you are ordering an item before we have received the item from our supplier, similar to reserving a book or video game before the release. Often there will be an ETA (estimated time of arrival) for the item; remember that this is an estimate, it may take more or less time for us to receive the item from our supplier. In addition, preorder items often include bonus items like a bag of BBs or a magazine since you have to wait for the item.
Most often out of stock items are only temporarily unavailable. You can contact us by e-mail or phone number to check the status of the item. However, the best option is to have the website notify you. Select notify me next to out of stock and the site will ask for your e-mail. When the item comes back in stock or website will send you an e-mail.
If you place an order and an item is out of stock it will be placed on backorder. Sometimes items that are marked in stock are unavailable because we share inventory with our walk in store. We may sell out of an item in the store and the availability online may not be updated right away. We apologize for any inconvenience this may cause but we have a large inventory of items that is constantly fluctuating. We always do our best to try and get your order out in a timely fashion.
Most airsoft guns will come with a warranty from the manufacturer. If they do not, Airsoft GI will warranty most other guns. Please keep in mind, that many LPAEG (Low Power Airsoft Electric Guns) and low quality pistols, often will not be warrantied by the manufacturer or Airsoft GI.

Please click here for more information.
The most popular type of primary gun is the Automatic Electric Gun (AEG). AEG's are battery powered guns that typically replicate rifles and SMGs, like the AK47 or MP5. These are the most efficient airsoft guns because the batteries are rechargeable, the only non-renewable factor of use with AEGs are the BBs. There are numerous advantages to having an AEG. Compared to gas guns AEGs are able to have a more consistent rate of fire. Also, they are able to fire fully automatic, where as spring guns need to be cocked back for every shot.
Back up, or secondary, guns are great to have while playing just in case the primary goes down. The most popular type of back up gun is the gas blow back pistol. Gas pistols are great back up's to carry in a holster or vest because they are small and can be drawn very quickly in emergency situations. Another form of popular back up gun is an Automatic Electric Pistol (AEP). Examples of AEP's are the Tokyo Marui Scorpion or MP7. AEP's operate the same way as AEGs, but they are much smaller and can sometimes fit into pistol holsters for back up use.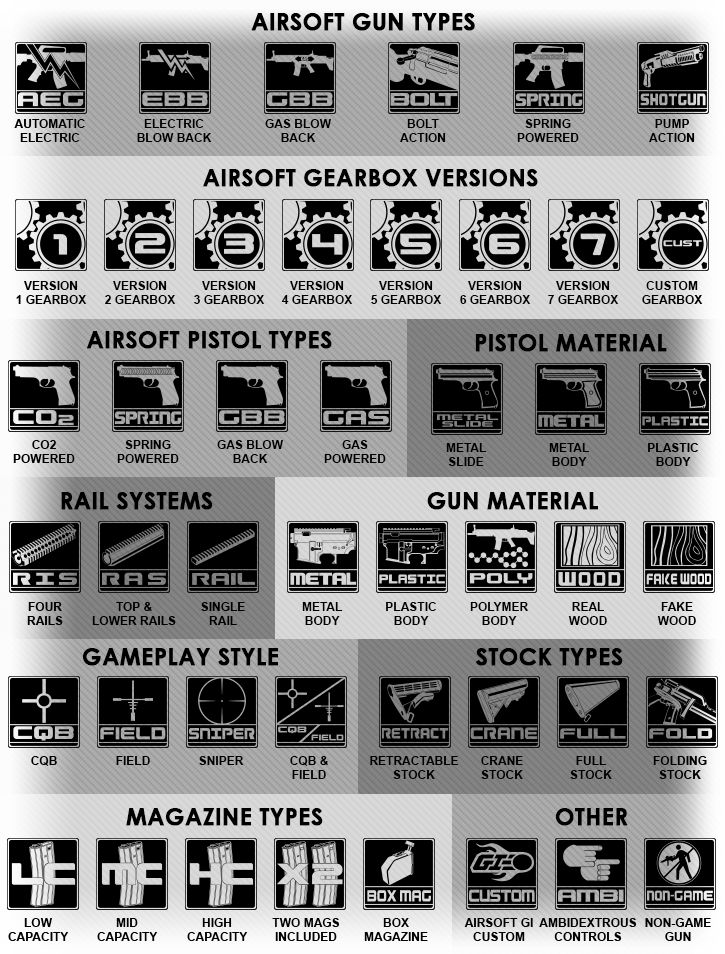 The icons used on our guns are for better identifying the unique features of each item. Above is a breakdown of each element and how they are used to better describe the airsoft gun.
Custom Gun: An airsoft gun upgraded internally and externally by our gunsmiths at GI.
Firing Method: Denotes what firing system the gun uses to expel the BBs from the chamber, also denotes whether or not the gun has blowback capabilities.
Gun Body Material: Describes the material the gun is made out of; either full metal, plastic, polyer, or a combination.
Magazine Capacity/Quantity: When guns come with magazines in their package, these icons describe the capacity and quantity of the magazines. HC, MC, and LC are High, Mid, and Low capacity. X2 denotes two magazines in the package.
Tactical Advantage: These icons denote what types of fire fights the airsoft gun is best suited for.
Gun Features: These denote frontal mounting and stock features of the weapon.
Gearbox Version: These icons describe what version gearbox the airsoft gun has internally.
Miscellaneous: These icons sometimes appear to describe other features sometimes offered such as ambidextrous fire selection. Non-game denotes that the FPS of the weapon is too low for serious play.
When looking at quality there are many aspects of a gun to consider; including but not limited to, the exterior looks and build quality, the interior build quality and materials, and performance. There are many guns that shoot extremely hard but lack in looks and interior build quality. Likewise there are guns that may be lacking in realistic looks and build quality that are built internally very well. The following is a list of the major brands of AEGs and their individual pro vs cons:
Tokyo Marui is considered to be the 'Godfather' of airsoft guns, they have many years of experience and have traditionally set the standard for quality. The internal build quality is very good, another perk to owning a Tokyo Marui is that many, of not most, aftermarket parts manufacturers build their parts to fit Tokyo Marui guns. One downside to the Tokyo Marui AEG is that the externals are mostly plastic.
Classic Army is another very popular brand of airsoft gun that has been around for a long time. Classic Army guns are more realistic because they have full metal bodies, and the stock FPS is generally harder than the Tokyo Marui counterpart.
G&G has made their mark in the airsoft market by providing very high quality externals and a well engineered gearbox. G&G has not been around as long as Tokyo Marui or Classic Army, but they seem to have been able to emulate all of the good characteristics from both companies and none of the bad. Externally their guns are built from the highest quality materials, and function as close to the real thing as possible. Internally G&G also uses the best quality parts available to make a reliable gearbox to withstand the high performance characteristics that G&G guns are known for.
All of the guns sold here at Airsoft GI are considered to be competition quality guns, as opposed to the cheaper guns sold at sporting goods stores. These types of guns require a similar quality BB in order for it to perform as intended by the manufacturer. The quality of a BB is most closely related to it's manufacturer. Examples of good BB manufacturers are KSC, G&G, PHX, Airsoft Elite, Excel, and P Force. These brand BBs can be found here at Airsoft GI or at any other airsoft specific retailer. Bad quality BBs, such as Crossman, can be found at sporting goods stores like Big 5, Sport Chalet, Dick's Sporting Goods, K Mart. ANY BBs purchased at ANY sporting goods store should not be used an ANY airsoft gun sold from Airsoft GI. Using high quality BBs is crucial to the health of your gun, don't risk hundreds of dollars in repairs over a fifteen dollar bag of BBs. Also, the weight of the BB is not relevant to it's quality, you may find 0.20g BBs at sporting goods stores, these BBs should be avoided as well.
Airsoft gun batteries are made from multiple little batteries, referred to as 'cells'. Each cell has a voltage and milliampere number associated with it, which is also how each battery is classified. For example, an 8.4v 1700mAh battery has 8.4 volts and 1700 milliampere hours. The volts pertains to your guns rate of fire, the higher the volts the higher the rate of fire. The milliampere hours is related to the longevity of the battery, the higher the milliamere hours the longer you can play on a single charge.
These are the proper charging instructions for standard wall chargers, if you have an upgraded or smart charger disregard the following:

Find your battery's voltage and mah number.
Find your charger's voltage and mah out-put.
Divide the battery's mah by the charger's mah.
Multiply that quotient by 1.4.
The answer to that equation is the number of hours that battery needs to be charged on that charger. For Nickel-Cadmium batteries: always discharge your battery with a discharger (you can buy it from local hobby store) before recharging to maintain maximum battery life. WARNING! make sure you do not over charge your battery; it will kill the battery.
The types of gasses available for airsoft are classified by their psi, or power. The most common forms of gas and their recommended use are as follows:

134a-This is the weakest type of gas available, reserved for use with plastic guns like Tokyo Marui and Western Arms. This gas will typically yield a velocity under 300 FPS.
Green Gas-This is the most popular form of gas. Most guns, plastic or metal, can use green gas with little difficulty. Depending on the gun, this gas can yield a velocity between 300-350 FPS.
Propane-Propane is exactly the same thing as green gas, except propane gas is not lubricated with silicone. In order to use propane in your gas gun you must first lubricate the gas with silicone spray to avoid damage to your gun.
Red Gas-Red gas is reserved for fully upgraded, full metal guns. This gas is extremely strong and even with a completely upgraded gun, it will wear down the gun with use. Depending on the gun, this gas can yield a velocity above and beyond 320 FPS
CO2-CO2 can only be used in guns that have been specially designed for it. CO2 is even more powerful than Red gas and, depending on the gun, can yield a velocity close to or over 400 FPS. CO2 is so strong that even guns that are specifically designed for it are susceptible to abnormally high wear and tear, and breakage.
Hop up refers to the putting a spin on the bb so as to stop the bb from curving up or diving down at the end of its trajectory. There is a hole at the end of the barrel close to the gearbox, and a membrane that fits over the hole, called the bucking. A lever assembly, called the hop up, pushes down on the bucking, causing the bucking to descend into the barrel, where the bb will hit it and cause it to spin once it is fired. If you have a jam, you should stop firing ( do not pull the trigger). You will strip the piston, gears, etc.. That is not under warranty, it is a user misuse. You will need to take out your unjam rod and clear the jam first, before firing it again.
Gun upgrades can be done in a number of different ways depending on what you desire your gun to do and what type of gun you have.

I have a spring gun...
Most spring guns don't have any upgrades available mostly due to it's low quality.
I have a gas gun...
Metal slides and frame are popular for gas pistols and are the best way to increase the looks and durability of your pistol. High flow valves and stiffer springs are another great way to achieve more realism and power. There are also many other blowback upgrades to increase durability in order to user higher power gas.
Airsoft requires the cooperation of all involved to maintain a safe environment for optimal airsoft gameplay. It is up to you as a player to be responsible for your safety and the safety of those around you. Here are some basic tips for staying safe when playing airsoft.

Do not remove the orange tip. All airsoft guns are required, by law, to have an orange tip flash hider or tip of the barrel permanently colored in orange.
Use a gun bag when transporting your airsoft gun. It is required that you always have your airsoft gun covered when in public.
Please treat your airsoft gun like a real firearm. This means you will want to keep your finger off the trigger, and keep the airsoft gun point pointed in a safe direction at all times.
Only play at sanctioned airsoft fields. For more information on fields in your area, please click here.
Wear ANSI Z87.1 rated eye protection at all times while on an airsoft field.
Sours: https://www.airsoftgi.com/
CONTACT US
We try to answer all email inquires by the following business day. However, given the high volume of emails we often receive please allow 3 business days for a response. Business days do not include Saturday or Sunday. Also, if inquiring about an order please provide your name and order number. Not providing adequate information to reference your order or contacting the wrong department will delay our response.
Order Status:
For any questions regarding the status of an order please email:
[email protected]
Inventory:
For any questions regarding products and inventory please email:
[email protected]
Tech Support:
For any questions regarding technical support; such as parts compatibility and recommendations, upgrade and repair solutions please email:
[email protected]
Marketing:
For any questions regarding event/game sponsorship please email:
[email protected]
Returns:
To request a return, or warranty assistance, if you have an account with Airsoft GI, Click Here
To request a return, or warranty assistance, if you do not have an account with Airsoft GI, please send an email to:
[email protected]
Be sure to include your order ID number, specify the item(s) in question, and the reason for contact.
Mis-Ship:
To report missing and/or incorrect items, please email:
[email protected]
Note: Include a valid order number as well as contact information. Please allow 48 to 72 business hours to receive a response
Sours: https://www.airsoftgi.com/
WHAT YOU NEED FOR MILSIM! - The Dead Box Podcast Ep.6 - Airsoft GI
Airsoft GI was founded in 2003 with the sale of just a single box of BBs and the dream to be the best. Airsoft GI's first walk-in store was a small 600 sq ft storefront located in Hacienda Heights, CA.

The combination of friendly service from knowledgeable employees, who are also airsoft players, quickly earned Airsoft GI a lot of popularity. That knowledge and service remain the backbone of what has made Airsoft GI the #1 airsoft retail store in America. Airsoft GI's ability to bring new customers and keep them coming back is a testament to how effectively they cater to both novice and veteran players. Today, Airsoft GI has three storefront retail locations and one pro shop, in Los Angeles County / Walnut, California, in Richmond, Virginia, in Dallas / Fort Worth / Plano, TX area, a pro shop at D14 Airsoft in Texas, as well as a separate warehouse facility that supplies our customer across the nation with thousands of products on a daily basis.

Since its hopeful beginnings, GI has gone from being run by one man and his dream to an employee force of over 60 people. We owe our continued success to you, our constantly supportive customers and we strive everyday to be what our customers deserve, the best.
If you looking for a great airsoft retailer in Southern California, look no further than Airsoft GI's walk in store. Located in Los Angeles county, California, the store is a great place to meet other airsoft enthusiasts and chat with the sales floor representatives. Most new airsoft players can view and test out the airsoft guns that are new to them. Airsoft GI sales representatives can assist customers when looking for guns, equipment, and tactical gear. There are three sections of the store. When a customer first walks in, there are a variety of airsoft guns to choose from. From lower priced guns like Lancer Tactical to higher guns like VFC and Echo 1. Airsoft GI also has their own line of guns, the G4 series, which is a great, affordable way to get into airsoft. After the initial room, the store has an entire wall dedicated to internal parts. With springs, pistons and gear sets, even the most seasoned of airsoft techs are able to find something new and exciting.
Airsoft GI knows that sometimes there is a bit of a wait if the store is busy. Set up in the middle of the store is a place where shoppers can play their favorite Xbox games and hang out with their friends and family. There is also an entire room with tactical gear from all kinds of manufacturers like Condor, Pantac, Shellback and many more. However, one of the best things about Airsoft GI's store is that there is a shooting range in the back where customers are able to test out their guns and really see what they are buying. The guys on the floor are great at helping people with their purchase and want to make sure that every gun bought really matches the playing style and persona of its owner.
What many may not know is that behind all of this is the Airsoft GI tech center. Every day the techs work hard to create custom guns or fix broken guns that were sent in. The techs, mixed with the walk in store employees, makes for a great location to have all your airsoft needs satisfied. Display case after display case harbor everything from red-dot sights to grenade launchers, and customers can typically try them out on their guns to make sure that it is the right fit. The store is located off Commerce Point Drive, off highway 60. Promotions run year round, and occasionally Airsoft GI's live show is filmed in the shooting range. Surrounding the store are rack after rack of different kinds of guns, organized to match their original manufacturers. Be sure not to miss Airsoft GI's walk in store, and stay tuned to their website for corresponding deals.
Sours: https://www.airsoftgi.com/
Gi number airsoft
Please use your ORDER ID NUMBER to track your package
---

2019 Christmas Holiday Delivery Cut Off Dates:
By UPS Ground, must order by: December 10, 2019
By UPS 3 Day, must order by: December 14, 2019
By USPS 1st Class, must order by: December 10, 2019
By USPS Priority, must order by: December 14, 2019
By USPS Priority Express, must order by: December 18, 2019
By UPS 2nd Day, must order by: December 18, 2019
By UPS Next Day Air, must order by: December 19, 2019

---

NOTE: UPS ground / USPS does NOT deliver on the following days:
Weekends: Saturday and Sunday.
Major Holidays:

2019 UPS / USPS Holidays: Independence Day, Christmas, New Years, Etc.:
Monday, May 27, 2019 - Memorial Day
Thursday, July 4, 2019 - Independence Day
Monday, September 2, 2019 - Labor Day
Thursday, November 28th 2019 - Thanksgiving Day
Friday, November 29th 2019 - Day after Thanksgiving / Black Friday
Tuesday, December 24th 2019 - Christmas Eve
Wednesday, December 25th 2019 - Christmas Day
Tuesday, December 31st 2019 - New Year's Eve
Wednesday, January 1st 2020 - New Year's Day

---
If you have any questions regarding your order; please contact us at 1 (909) 869-0671
During our business hours: 09:00 AM to 5:00 PM PST, Monday - Friday.
Sours: https://www.airsoftgi.com/
WIN OUR AIROSFT GUNS! - Live Stream
Located at 21077 Commerce Point Drive, Walnut 91789, Airsoft GI's Southern California store is situated conveniently in between most of the prolific airsoft fields in the area. Here, you'll find everything needed to begin a venture into the wide world of airsoft. A huge collection of airsoft guns, airsoft gun accessories, and tactical gear await customers inside the store with a number of our well trained customer service representatives waiting to assist with purchases. Nearly the entire inventory of most airsoft companies is hanging on the wall ready for customers to handle. Located inside is also a shooting range for testing airsoft guns and for casual plinking. For the tech savvy, there is also a chronograph to check the velocity of their new airsoft gun build. Upgrades, both internal and external, are also on display for those looking to get more performance out of their rig. The backroom is literally covered in tactical gear ranging from chest rigs to full face masks.
No matter the question, our famous customer service representatives are there to assist. All of them are experience players themselves and, between them all, have a vast knowledge of airsoft products. All of them are willing to listen and work with whatever situation customers present them. They will assist customers with all the questions they may have. They will help young players discover what load out works best for them. They will tell buyers how to properly upgrade their airsoft gun to become a beast out on the field. If the customer service team doesn't know the answer; they will find out. So, if you're interested in buying your first airsoft gun, building a new tactical gear set up, or just looking for experienced airsoft players to chat with, the Airsoft GI Walnut store is the place to be.
Sours: https://www.airsoftgi.com/
You will also be interested:
Home of Airsoft GI, store for Airsoft Guns
The Top 10 Pouches You Forgot On Your Rig
Did you forget some pouches for your vest? That's OK, we've got your six covered with what you need to add!
The Top 10 Red Dots Right Now
We've put together a list of the best Red Dots for your rifles. Get On Target with these top ten best picks for your airsoft gun!
Classic Army Scarab - Airsoft Rifle Review
The Airsoft market has been flooded with M4's and AK's for decades. Both have become the "status quo" in the industry. In our airsoft world, Classic Army chooses the break those rules and be different with their Scarab Series.
Echo 1 N1 MOD1 AEG - MK18 Review
The Echo 1 N4 MOD1 is another great airsoft from Echo 1 that deserves mention. It's no secret the N4 is essentially a MK18 build; one of the most popular configurations of the AR platform...
Top Airsoft Questions - Which Edition
Continuing with our article about "How" airsoft questions, now we're on to questions starting with "Which". According to our sources on the internet...
Top 8 Airsoft Questions: How Edition
Hello Again Airsofters! We here at Airsoft GI working on a new format for answering some of the most popular beginner questions in the airsoft industry, as scrounged up...
TOP 5 Airsoft Mistakes
As an airsofter, we all share one common trait: We are all human. Being human means we don't typically get to be perfect and often make mistakes in our day to day lives. Whether that's sleeping in a little too long...
Trending in Airsoft 2021 ( Currently )
With airsoft companies constantly looking for ways to innovate the airsoft world, there is always something new to look forward to. With time moving forward, the trends are constantly changing...
What is Airsoft?
Airsoft is a sport and hobby that allows players to battle in mock combat with airsoft guns and the proper protection. As a sport, airsoft combines several useful skills that can be used everyday and also provides a great work out.....
Airsoft 101 | Getting Started
General Knowledge: It is illegal to brandish an airsoft gun in view of the general public, not to mention it is very unsafe. Police or other authority figures can easily mistake an airsoft gun for a real firearm...
Top 5 Well Bolt Action Sniper Rifles
Welcome to the world of Airsoft Bolt Action Sniper Rifles! There are many different sniper rifles on the market, but there is one company...
Top 5 Rifles for CQB
Close Quarters Combat or CQB is exactly what the names says. Very fast paced combat in a very enclosed space....
Top 5 Lancer Tactical Guns
Of all the major airsoft brands, Lancer Tactical distinguishes itself with its almost overwhelming variety...
Top 5 Airsoft Game Scenarios
Too often do airsoft Referees rely on the same game modes such as Force on Force/Team Death Match and result in a stagnant day of play...
Airsoft GI On Instagram
Sours: https://www.airsoftgi.com/
1064
1065
1066
1067
1068