Environment Designer
Environment Designer Job Description
An Environment Designer (or Environment Artist) creates the environments, backgrounds and layouts of animated films, TV shows and video games. They are in essence world-builders working off a design brief or script to bring an imaginary universe to life.
A knowledge of topography, architecture, cityscapes, geography and landscape is crucial to the craft of environmental design.
In the video games industry, Environment Designers often correlate with Level Designers, and increasingly specialize in the complex task of creating the backdrop to a story.
They create mood, express style and give context to worlds which characters inhabit. They also function to facilitate the many moving parts of an animation or video game.
The Environment Design element of 3D animation development is becoming ever more sophisticated as players demand more heightened experiences from gameplay, with some environments expressed as characters in themselves. The Environmental Designer imagines worlds which service the storyline and contribute to the immersive nature of the game.
Role and Responsibilities
The role of the Environmental Designer is to create the worlds of animated films, TV shows and games. They work from scripts and design briefs to bring the backgrounds, layouts and environments to life from abstract concepts and descriptions.
Their task is to build the interior logic of the world into their designs and visualize all the possibilities of those worlds for the characters to habit.
Expressing narrative through virtual landscapes and gamescapes is also an important part of the role. Environmental Designers are visual storytellers, infusing the backdrop with elements of the story or gameplay.
The responsibilities of the Environmental Designer may include:
Liaising with animators, directors and developers regarding the stylistic and story elements of the game or animation
Researching resources and references for the project
Designing environmental concept art or illustrations
Producing a series of diverse interpretations of artwork for review
Revising artwork until signed off
Designing dramatic story moments from the script
Collaborating with animators and/or game artists to create a virtual environment that works with characters and assets
Working within the constraints of budget and technologies
Adhering to the production schedule
Maintaining project documentation
Expressing mood and tone in concept art
Working with storyboard artists to incorporate layouts into scenes and sequences
Software and Other Tools
Environment Designers may do their initial drawings using mixed media such as pen, paper, ink, paint, etc but all final artwork is delivered digitally.
They will also work with various reference materials such as photography, geographical and political maps, architectural drawings, botanical elements, road structure, city planning layouts, etc. Some textures may be scanned from real world sources and others created from scratch.
Software used by Environmental Designers can include:
Adobe Photoshop (industry standard), Illustrator
Maya
3D Studio Max
Mudbox
Zbrush
Unity 3
Quixel
TVPaint
ToonBoom Harmony
CelAction
Skills Required
Environment Designers need to have a strong sense of perspective as a virtual world that is not balanced and true to reality will not work, jolt the viewer's eye, destroy the suspension of disbelief and remove them from the story.
Environment Designers need to work fast to meet the requirements of the production pipeline, yet their work early in the project is vital.
Employers may look for the following skills in Environment Designers:
Training in digital painting, computer graphics, computer animation or art
Caricature and design skills
Mastery of architectural and organic forms
Strong knowledge of geography, architecture and the laws of physics
Ability to imagine expansive worlds that characters and objects can interact and move around in
Stylistic versatility
Good communication skills
Ability to visualize natural terrains, cityscapes, sci-fi worlds, etc in intricate detail
Strong understanding of texturing
Experience in creating photorealistic environments
Solid understanding of visual language - texture, color, dimension, scale, perspective, shade, composition, depth of field, proportion, spatial awareness, etc
Technical drawing skills
Excellent time management skills, ability to consistently meet deadlines
Team player, skilled at working independently
Maintaining production documentation
Knowledge of the animation and/or game development processes
Average Salary
The average salary of an Environment Designer for film and games ranges from USD $55,000 to USD $92,000. (Source: Glassdoor)
To learn more about this field, visit: What is Digital Illustration? or What is Concept Art?
Sours: https://www.cgspectrum.com/career-pathways/environment-designer
Characters, Props, Or Environments: Picking A Concept Art Specialty
TipsConcept ArtDisclosure: This post may contain affiliate links. That means if you buy something we get a small commission at no extra cost to you(learn more)
The job of a concept artist is to create ideas that have never existed before and fit them together in a creative project. In many ways concept artists design these ideas so that they fit into a certain style or narrative.
But it's rare to find someone that can do everything, so most concept artists choose to specialize. The three primary subject areas are character designs, prop designs, and environment designs.
These different topics can break down further into sub-specialties like weapons, vehicles, costumes, or interiors. This is the beauty of focused concept art. By picking an area of interest you're able to build skills in one particular subject matter, which usually then leads to better results.
New artists may have no idea where to start or what to consider for career prospects. I'd like to cover these specialties in more detail with explanations for each potential career track.
Character Design
The most popular specialty in the concept art world is character design. These artists get paid to create characters based on personality traits, background, and sometimes a few recommended design features.
I'm making an assumption that most readers here want to follow the 2D route. But there's a huge industry centered around 3D character art for rendering and bringing characters to life. Some character artists even vie for both 2D and 3D work.
Video game artists tend to have a different style than vis dev/character artists for animation. Animation gives more leeway to try out creative styles beyond just realism.
This means illustrators may prefer to go the character route with a focus on animation. It's just as competitive as video game design so the jobs are similar in quantity. But if you're dedicated and good enough there's no reason to count yourself out.
The road to becoming a character artist is paved with quality work. You have to put in the hours to get anywhere. But it helps to understand the requirements for character art and what you can do to expedite the learning process.
We only have so many hours in the day so use them wisely. Once you understand the fundamentals you should dive right into character designs from all angles. These examples from Moize Opel are unique and inspiring.
But character artists can also get tasked with designing creatures and monsters for video games. These are usually enemies that you battle in-game, so they need to be designed well enough to render properly and simulate realistic movements.
Character designers work hard to create brilliant ideas come to life. Every story needs its characters, and the designer is the very first step of this process.
If you truly love characters and storytelling then this might be a great path to follow. It is highly competitive but if your ideas are good enough then you can make headway.
One of the best aspects about learning character art is the community. You have so many resources at your disposal from character art forums to character artist interviews and other related YouTube videos.
There are even many schools that offer character art courses focusing on the design side of creating believable characters.
But just like everything else in life, if you can teach yourself then you probably don't need school. It's all about your determination and committment to see it through.
If you're looking to dive right into character art then check out these books covering everything from basic designs to digital painting techniques.
But here's a small list to get you started.
Environment Design
Another popular area of concept art is digital environment design. Every fantasy world needs carefully-crafted environments for characters to roam. Whether these are harsh wilderness terrains or busy city streets, the environment artist is tasked with designing the look and feel of these areas.
I recently found a brilliant article discussing the career of an environment artist. There's so much to say about the path, but one common factor is the ability to render environments in detail.
To create realistic environments you'll still need to master the fundamentals. This is true for all styles of concept art.
But aspiring environment artists may change their practice regimen once they have a grasp of fundamentals. If you want to do environments professionally you'll want to focus a lot of time on perspective. That'll play the biggest factor in each piece.
If any part of your perspective looks off then it can ruin the entire painting.
Environment artists also need to be quick with their artwork. It's crucial that you can work with any type of environment, even fantasy ideas like alien planets. The concept artist's job is often to envision worlds that don't exist and make them a reality.
This requires much more than just art fundamentals. You need an eye for great design. You need to understand basic objects like plants, animals, nature, geology… not to a scientific level to the point where you can replicate ideas from your head.
Feng Zhu has a few concept art videos on environment art and environment thumbnails if you're looking for inspiration. And there's no denying the importance of thumbnailing for any type of concept art, but it's a little different for environments.
Once you understand the fundamentals you'll really want to practice environments as often as possible. Do a series of thumbnail sketches and paintings over the course of a month. Push your boundaries into subjects you've never done before.
As a paid concept artist you don't get to choose what you want to create. You can choose how it looks, but the client/studio tells you want to make. This means whether you're asked to design a wealthy manor interior or a sandy desert landscape you'll have to be comfortable with anything.
Also remember that environments can have people in them too. This means you should have a decent understanding of anatomy and gesture to understand height differences.
Perspective can be implied by adding a person or animal somewhere into the environment. The subreddit /r/BirdsForScale is full of brilliant artwork demonstrating how birds can define perspective in a piece of work.
It's difficult to recommend learning resources here because there's so much you have to understand. Start with the basics first, particularly perspective. Scott Robertson's How To Draw is always my go-to suggestion.
Every environment artist needs to learn how to paint so this will be a big step in your journey. Check out two books by the artist James Gurney: Color and Light along with Imaginative Realism. They will become like reference guides as you learn and progress in your studies.
Props Design
The ability to design any object from any angle is vital to artistic development. Not just for video games, but any career working in movies or TV too. Think of vis dev artists and how much effort they put into colors, moods, and similar areas.
To practice props design you'll want to study anything that interests you. Not just objects, but styles and aesthetics of different periods. Props for a story set in Victorian era Britain will be different than props found in the American civil war.
All great artists learn to study from life and draw inspiration from real things. History is a great teacher. But so is the real world. Take a trip out to museums and tours of old houses. Bring a sketchbook and draw anything that catches your attention. The more you draw the more you'll build up a visual library of new ideas.
Think about all the different styles of lamps, stoves, tables, practically anything that could appear in an imaginary world.
It is the prop designer's job to imagine how this stuff looks from different angles and to render them in detail so that modelers can recreate them from scratch.
Some props designers choose to focus on a specific area of interest like vehicle designs or weapon designs. This is also totally fine. If you're good enough then studios may want to hire you for freelance work on major projects.
It may be obvious, but the best way to improve is to simply practice props and draw as much as you can. This doesn't mean you should ignore concepts like figure drawing. But once you understand the fundamentals you might choose to place more emphasis on designing props.
Eventually this will lead to an incredible props design portfolio. The more you practice the better you get, and by studying the work of others you'll have an end goal to shoot for.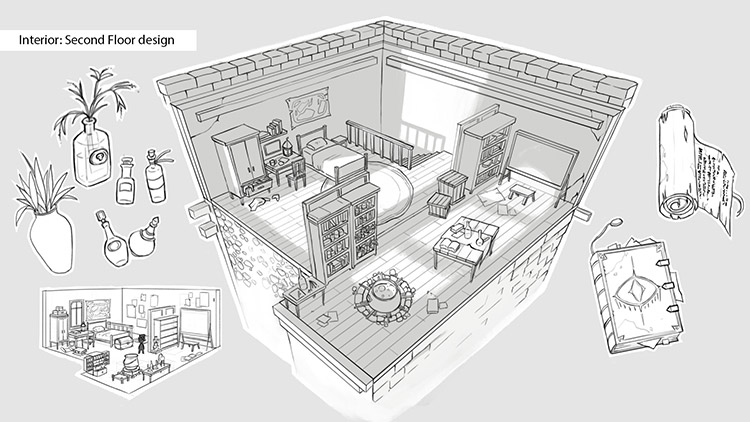 Stay curious and be willing to keep searching for new ideas.
Check out some of our book recommendations on drawing from imagination to practice honing your imaginative skills and your constructionist abilities.
Understanding The Industry
If you're brand new to art then you likely don't know much about the concept art industry. It's a big one with lots of publishers, and while it is competitive there's always a need for more talent.
If you take this path seriously you can break in. But it takes hard work. This might mean 8+ hours of drawing in a single day for as many days as you can handle. It won't be easy.
But there is something you can use to help alleviate the fatigue of sitting for hours on end.
Art podcasts are plentiful on the web and totally free to download. They're great for keeping your spirits high and helping you push through bouts of fatigue.
Industry professionals are always happy to share bits from their journey and teach others a little about how the industry works. If you want to learn more and fill up some time while drawing then refer to some of the concept art/digital art podcasts below.
If any stand out to you then be sure to bookmark them for later!
---
Sours: https://conceptartempire.com/picking-a-concept-art-specialty/
Aaron Limonick
Concept Artist, Naughty Dog
Aaron Limonick has worked in the entertainment industry since 2004. Born and raised in Los Angeles, he studied illustration at Art Center College of Design and began gravitating towards the collaborative effort that entertainment lends itself to. Through a fellow artist, he got his first job working for Activision at Neversoft Entertainment. After working on several games at Neversoft, including developing the original ip, "ì GUN", he moved to San Diego and worked at High Moon Studios for over four years. Here, he worked on pitch artwork for multiple Vivendi Universal projects, as well as developing the 1980's-based reboot, "Transformers: War for Cybertron" under Activision. Having worked on feature films, feature animation, television, theme park design, fashion, advertising, and VR, Aaron has used his illustration and design skill-set in many diverse creative environments. Over the years he has worked for studios such as LEGO, Disney, Rhythm and Hues, Method Studios, Paramount, 20th Century Fox, Blur and Mirada. In 2011 Aaron joined Sony at Naughty Dog Inc. and was a Lead Concept Artist on Uncharted: The Lost Legacy, and now is in development on The Last of Us: Part II.
Sours: https://www.thegnomonworkshop.com/tutorials/environment-design-and-illustration
CGMA - Environment Design 1 - Master Class Demo
How to design a set for an animated film
Welcome! This workshop won't only outline the basic way to start a set design, but also introduce the thinking behind set design for animation.
One of the most important aspects of any set in animation is the fact that it should work as a stage for the characters and story, as well as any action that takes place within it. When you look back at some of the classic feature film animations, you'll notice that each frame is designed so that it contains the best composition to tell the story. Your set design should be no different: it should first and foremost be designed for the camera and story.
I find the easiest way to begin is to imagine a scene or actual shot from the final film with a strong story point, and stage it in the clearest way possible. Afterwards, you can reverse engineer the actual design of the set and props.
As a visual development artist, a large part of the job is being able to visualise what the film could look like aesthetically, using techniques such as lighting, texture and stylisation to get that vision across.
Another big consideration that relates specifically to film versus traditional illustration is the time the audience has to digest information. In an illustration, the purpose is to capture the viewer's attention for as long as possible; to elicit their appreciation of small details and paint strokes.
However, in film the viewer only has a limited amount of time to digest the visual information put forth by the camera in a shot. Essentially, every second counts!
Watch the full tutorial
01. Produce some thumbnails
Before beginning, I decide on a simple story – one that's easy to read and a fun jumping-off point. A lonely girl spends her time in the attic of an orphanage or a foster home, and it's here she meets another inhabitant of the attic.
This simple story provides just enough context to get going on a set. I usually produce four or five thumbnails to get things going.
02. Research
Next, I spend some time seeking out references for different aspects of the painting; these can be photographs of the actual space, props or even lighting.
By the time I start looking for reference I've already made some key decisions about the piece, such as the fact that I want the main light source to be warm candle light.
03. Deciding on a thumbnail
I chose a thumbnail in which the characters stand out from the supporting background. I also decide on the setting of an attic because it has a lot more visual interest than in a bedroom, because of the shapes created by the dormer windows.
04. Laying in the space
This is the most important step for me, because this is where I lay in the key planes of the set, as well as the initial lighting. It determines not only the size of the space, but how dark or light the final piece will be.
Every stroke I make afterwards will be judged against the value and colour of this first layer of paint.
05. Set up your perspective grids
I don't often rely on perspective grids: if I follow them too closely I find the end result looks too stiff for animation.
I do lay them in early, though, so I can look back and remind myself of what perspective I think the piece should be. The decision of what perspective to use has already been determined in my loose thumbnail.
06. Creating your own textures
I tend not to use photographs in my paintings, because they rarely look correct next to the more cartoony characters. So for repeating patterns and textures, I've started to find ways of creating my own.
The danger in this though, is too much repetition, so I make sure things aren't too even: for example, the widths of the wood.
07. Laying in your textures
Next, I apply texture along those large planes of the set 
I established early on. I regularly pull up my perspective grid to make sure that it follows it more or less.
I often use these textures in a layer mode such as Multiply and adjust the Opacity. It's important to paint over the laid-in texture, because otherwise it'll look like a flat texture that's been overlaid, funny enough!
Next page: the remaining steps
Current page: Page 1
Next PagePage 2
Sours: https://www.creativebloq.com/tutorial/how-design-set-animated-film-101517311
Design animation environment
A slender figure, a well-defined face, in the eyes of the confidence of a 30-year-old woman, orange square, leather trousers, tight seductive hips and a black leather. Jacket. Having hesitated, she dropped my phone number and I, making a remarkable effort, somehow overcoming my shame and awkwardness, called.
An ordinary female voice with a characteristic Moscow accent, confident phrases, clearly posed questions. Having caught my embarrassment, and having found out that I was a beginner in this unusual business, she did not lisp, did not be.
CGMA - Environment Design 1 - Master Class Demo
Of course, there was little time, at any moment someone could appear. I threw a towel on the concrete floor and knelt down, Oleg climbed one step to make it more comfortable for me. Pulling off my shorts, I saw the hero of the occasion. -Wow, damn it. - what I saw was worth such difficulties, the penis was huge, I began to doubt whether it would fit into my mouth in width.
You will also be interested:
What. What was the abbess doing with this awful man. How can she touch this disgusting member. Paulina huddled in a corner on her couch, shaken in sharp rejection of the scene she had spied on.
1108
1109
1110
1111
1112