Wildwood Lakefront Tiny Cottage Community
In this post I'm introducing you to a tiny cottage community called Wildwood Lakefront Cottages.
Wildwood (the community) is located in Sedro-Woolley, Washington right on the coast of Lake Whatcom.
It's just south of Bellingham, Washington if you're familiar with that area.
Lakefront Tiny Home Community in Washington State
Above you are looking at their single room Writer's Cottages and right now there's just two of them. Let me take you inside to show you more below:
Tiny Cottages on the Water
Amenities Include Waterfront Views And More
Once I tell you about the pricing it'll break your heart.
As it did mine.
But I have to admit that it seems really amazing.
There are lots of amenities in the community which you'll see in a moment:
Waterfront views.
Direct access to large lake.
Nature trials.
Pool.
Hot tub.
Boat docks.
Bicycling.
Boating.
Canoeing.
Kayaking.
Water skiing.
Wake boarding.
Fishing.
A general store.
Playground.
Pier boardwalk.
On site cottage manager.
Shower house.
Wood shed.
Two on site yurts.
Tennis courts.
Club house.
Private marina.
Gated community.
And more.
So just take a look below and imagine yourself living in it just because it's fun.
And after all..
You can find your own land and do it all yourself for so much less.
Right?
I say that because…
This Tiny Cottage Community is Expensive
Pricing for the Writer's Cottages that I showed you first are $389,900 each which does include a rare strip of lakefront land.
The water is just 20 feet away from the cabins.
But… If you buy a lot and build it yourself those start at $174,900 (still expensive, I know).
And there are cottages starting at $324,900.
Quite the pricey tiny homes and lots, I know. But I had to show you anyway.
I think you'll still enjoy just looking at it all below.
Rich People Downsizing?
And I guess for the fortunate few that have a lot of money and want to downsize fast this would be a wonderful option (just scroll below so you can see what I mean).
And yes- I believe there are a growing number of people with this kind of money who want to simplify and downsize so that they can enjoy life more.
Anyway.
There are more small cottages in this lakefront community (just a bit larger) which you can see below:
This one is called The Whidbey:
The Whidbey Model at Wildwood Lakefront Cottages Community
Whidbey Wildwood Tiny Cottage Floor Plan
Yes- this one is also in the same price range ($319,900 to $389,900).
At least it includes your own plot of land and a lake view from your cottage.
There's much more, too.
Upscale Lakefront Tiny Cottage Community with Fun Amenities
So How Much is $389k in a Mortgage?
But I was curious about how much $389,900 would cost you with a mortgage.
It's a lot.
So let's go through the numbers real quick.
The total monthly payment with a 30 year mortgage would be $2,267.59 if you put no money down and had an interest rate of 4%.
This also includes estimated taxes and PMI for not having any money to put down so for most people the payment may be less..
You can do your own numbers using the calculator here.
That's big money for a tiny house right?
But again you own the land, an amazing view, lots of amenities, and it's in a wonderful location.
Here's What Makes Me Mad…
I just don't understand why real estate investors haven't started developing more tiny house communities with reasonable pricing all over the world.
Site Plan for this Tiny Cottage Community on Rare Land
Learn More About these Cottages & Community
Related: Townsend Park Model Cottage at Lake Whatcom Community
More Tiny Housing in your Email
If you enjoyed this tiny cottage community you'll love our free daily tiny house newsletter with more!
We Need You to Help Spread the Word Below
Just use the big Facebook, Twitter, or Emailshare buttons below (whichever you and your friends prefer) to re-share this article with them. Thank you!
The following two tabs change content below.
Alex is a contributor and editor for TinyHouseTalk.com and the always free Tiny House Newsletter. He has a passion for exploring and sharing tiny homes (from yurts and RVs to tiny cabins and cottages) and inspiring simple living stories. We invite you to send in your story and tiny home photos too so we can re-share and inspire others towards a simple life too. Thank you!
Related
Sours: https://tinyhousetalk.com/wildwood-tiny-cottage-community/
FacebookTweet
White homing pigeons fly in an undulating flock over Candy and Steve Mathews' ten-acre Ferndale property. From their hillside, the land looks out over Mount Baker and is dotted with structures- a few barns, a garage, a complete woodworking shop and the first of their tiny homes – a life-size dollhouse where their daughter celebrated her third birthday back in 1985.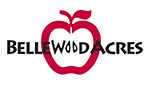 After forty-five years of marriage, many completed spec houses, remodels and two tiny homes later, Steve Mathews fondly remembers the invitations Candy sent out for their daughter's birthday party and the small brooms and household accessories their friends brought to the playhouse for her house warming party.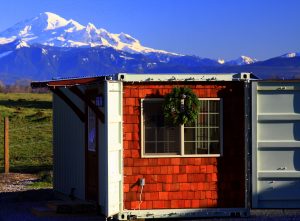 Cascade Tiny Houses are larger than the life-size dollhouse Steve Mathews built all those years ago, but they maintain the same charm. In custom building affordable tiny homes, the team's shared vision becomes a doorway to creative, multi-purpose design, and a willingness to help their clients discover an altogether different way of defining spatial requirements.
The Mathews have joined a growing movement that heralds hyper-functional space over the high cost of standard single-family dwellings. Their most recent tiny home project redefines time as a commodity, one that can be more valuable than the material possessions we fill our homes with or the money we earn to afford a larger residence. Tiny homes with smart layouts aren't a sacrifice of space, rather, an efficiency of space. This idea begs the question: what if a home could be a freedom instead of the primary monthly expense of nearly every US household? Freedom can lead to all kinds of creative housing materials – new and repurposed.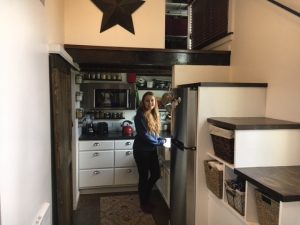 Cascade Tiny Houses evolved from Candy Mathews' exposure to shipping containers through her former workplace, Big Steel Box, a local shipping container rental company. "When I worked there, Steve and I always wanted to take a shipping container and turn it into a tiny house," Mathews explained. They finally bought the shipping container in 2009, and after many years of it sitting on their property (and when Steve could take a break from his other building projects) he finished the 8×20 tiny home conversion in the fall of 2015.
The Mathews' nephew and his wife bought the tiny house for their property on Orcas Island. The couple lived in the tiny home until Steve Mathews, with help from his daughter Stacey, finished building their primary residence. The tiny home's seven-foot long kitchen was perfectly adequate for hosting dinners for their uncle and remains their home away from home.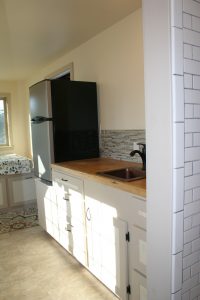 Steve Mathews' ability to convert a steel cargo container into a modified tiny house was a challenge for a man who's used to working with wood. But even cutting and welding steel became second nature for this seasoned craftsman. After graduating from high school in Bellingham and a season of commercial fishing, Steve Mathews' mother encouraged him to find a trade. Woodworking seemed a natural fit and within a few years he was a union apprentice carpenter, then worked part time as a boat builder at Uniflite. He later finished his apprenticeship at Cherry Point, helping to build the oil refinery in the late 60's and early 70's, before becoming a fully-fledged union carpenter.
The Mathews' most recent tiny house was completed last December. "My specialty is if someone has a rough idea of what they want to do," Steve said. "I love to take that and fine tune and massage the idea to make the structure more of what they're asking for." When the Mathews' neighbor across the street wanted to help her lifelong friend downsize, she invited her friend Shannon Carlton to move onto her land and connected her with the Mathews. Beginning last July, Carlton gave Steve her sketches and he began to make her tiny house ideas into reality – even rendering to scale a 3D model of her future space.
With two children in college and working full time at Haggen's in Everett, Carlton decided to sell her condo, transfer jobs and move onto her friend's acreage. After much collaboration, the project was complete and she's been living in the space with her daughter for the past three months. Her daughter, Jordon Carlton, said, "The space is highly livable," and although she had her reservations about living in 360 square feet, she said she loves it and spends a lot of time there. She continued, "You feel like you need more [space] but you don't use that much." Simplified living has its perks. Shannon Carlton plans on spending even more quality time with her grown children when they all vacation together in England and Scotland next month.
Additional dwelling units are needed in Bellingham and beyond. Candy Mathews adds, "I think it's socially important to provide someone a living space." She continued, "And people are realizing that they don't want to work 50 hours a week to pay a mortgage just to have a place to put all their stuff. I see what Shannon Carlton has done and I see what she's done with her life in the year we've known her. I think people understand that they don't need the huge 'American Dream' and that it isn't all that much of a dream. We're unlimited in the US as to what we can do. But what we want to do may not be what we've been told we need to do."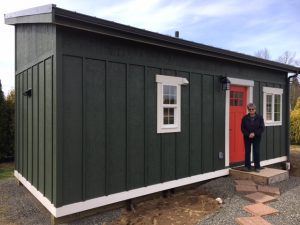 Steve summarized, "If you want to make a change, don't be afraid to." Just put a good plan together and let the Mathews' do the rest.
For more information on Cascade Tiny Houses, contact Steve and Candy Mathews at 360-815-1279 or 360-815-1278. Check out their website at CascadeTinyHouses.com or check in with them on Facebook.

FacebookTweet
Sours: https://www.whatcomtalk.com/2017/04/04/cascade-tiny-houses/
Gardenview Village
The Low Income Housing Institute (LIHI), in partnership with Road2Home and the City of Bellingham, is developing a tiny house village to provide shelter, safety, and community for individuals, couples, and families experiencing homelessness in Bellingham, with an emphasis on medically fragile and 55+ individuals.
The village will include up to 36 tiny houses along with a community kitchen, hygiene facilities, case management, and 24/7 staffing. Each tiny house is 8 feet by 12 feet, is insulated, and has heat, electricity, and a locking door. Case managers will work with residents to help them obtain housing, employment, health care, child care, and other services, and get on a path to long-term housing, stability, and self-sufficiency.
The site is located at the corner of Lakeway Drive and Old Woburn Street by the Lakeway Community Garden.
Community Meeting: Watch the recording of the virtual community meeting held on March 11 at 6pm via Zoom here. The meeting was attended by Road2Home, City of Bellingham staff, LIHI, and community members.
Community Advisory Committee: A Community Advisory Committee (CAC) is forming to oversee the progress of the village, check in on operations and resident services, address any topics of interest to the surrounding neighbors, and provide advisory input. The CAC is comprised of community stakeholders such as neighbors, community and faith leaders, local businesses, service providers, and others. The CAC will meet monthly for about an hour to an hour and a half, and virtually at this time.
If you wish to apply to be a member of the CAC, please email Josh Castle at [email protected]
Questions / concerns / feedback? If you have additional questions, concerns, or feedback, please contact Josh Castle, LIHI Community Engagement Director, at [email protected]
How can I get involved, volunteer or donate?
Visit Road2Home's website here to learn more about how to volunteer or donate!
Sours: https://lihi.org/gardenview-village/
This Dream Tiny House Is A Total Game Changer
Unity Village
Unity Villageis a temporary tiny home community for the homeless in Bellingham and Whatcom County. Unity Village is located at 210 McKenzie Ave. in Fairhaven near the Post Point Wastewater Treatment Plant.  HomesNOW! has built 20 tiny homes to provide a safe place for homeless people to live and keep their belongings while they look for permanent housing. Unity Village provides access to basic necessities, such as bathrooms, showers, drinking water, and garbage service.
Volunteer with us! We are looking for one-on-one advocates, greeters, event planners, and more! Please sign up as a volunteer and come to our events!

HomesNOW is 100% funded by donations and operated by volunteers. To keep Unity Village operating, we rely on donations from the general public.
For more details on Unity Village, click the following links to read our proposal and handbook.
If you are homeless and would like to apply to live at Unity Village, please click here.
Sours: https://homesnow.org/unity-village/
House bellingham tiny
Tiny house village expects to open in Bellingham
Gardenview village in service to unsheltered residents
By Adela Cruz
The City of Bellingham announced a partnership with a local agency, Road2Home, and service provider, Low Income Housing Institute, to establish a tiny house village called Gardenview Village at 1399 Woburn Street. The tiny house village is expected to open for houseless residents toward the end of spring 2021, according to the announcement made Feb. 24.
Since Camp 210 sweepings in January, there has been a rise in awareness that houselessness is an issue, which Whatcom County is now addressing.
From November to December 2020, the Bellingham City Council sought out partnerships with qualified providers by evaluating them on their experience in operating tiny house villages, according to the request for qualifications.
"The City's permitting process is pretty simple. It basically says, show us a plan for what you are going to do, and tell us how it will be done safely for all people concerned. By intention the city does not impose a lot of restrictions or requirements, leaving that to the sponsoring organization to build a program to match their strengths," said Michael Lilliquist, Bellingham city council representative.
Road2Home and LIHI will be the primary operators of the Gardenview Village.
Gardenview Village will join two other tiny house villages in Bellingham — Unity Village and Swift Haven — which is operated by HomesNow!.
President of Road2Home Melissa Bird said Gardenview Village will be a sober facility, so residents would have to comply with that rule. A case manager will work onsite with residents to achieve permanent housing, but there is no time limit for occupancy at this time, Bird said.
"A typical 8-by-12 tiny house can hold 1-4 people — usually, just individuals or couples are assigned to a tiny house, but in some cases, if we have a family, they are divided into two houses," said Josh Castle, the director of advocacy and community engagement at Low Income Housing Institute.
These villages have communal kitchens, restroom facilities, showers and laundry. Tiny houses are considered more dignified and beneficial over typical tent shelters because they are safer, waterproof and have heat, electricity and lockable doors, according to the Low Income Housing Institute.
According to the Road2Home website, Gardenview Village plans to accommodate 30 to 50 people and will have trained staff on-site 24/7 for case management, security and operations support.
The estimated operating cost for Gardenview Village is anywhere between $500,000-1,000,000, primarily because of the 24/7 on-site case managers.
"Road2Home will offer a higher level of service and support and emphasize people who may have higher need or medical conditions and disabilities," said Lilliquist.
The local nonprofit agency, Road2Home, funded by Bellingam residents, will follow a slightly different model than two villages, Unity Village and Swift Haven, already established in Bellingham.
"Although there have been some bumps in the road, and a few shortcomings are still evident, the tiny homes run by HomesNOW! have worked out pretty well," Lilliquist said. "The tiny home villages have been embraced by neighbors. [Tiny House villages] are not 'drop-in' shelters. There are expectations. The residents take responsibility for running the village."
Adela Cruz is a former reporter for the Front.
---
Sours: https://www.westernfrontonline.com/article/2021/04/tiny-house-village-expects-to-open-in-bellingham
💩 WHY LIVING IN A TINY HOUSE IS NOT AS GREAT AS YOU THINK 💩 Downsides to a tiny house in the country
The Battle for Bellingham's Tiny Homes
[Douglas Gustafson guest writes. Doug is Chairman of HomesNOW! Not Later, an all-volunteer nonprofit organization operating in Bellingham and Whatcom County. HomesNOW operates Unity Village, the first tiny home community for homeless individuals in Bellingham. Doug is also a small business owner providing community IT support and has lived in Bellingham since 2006.]
HomesNOW currently manages Unity Village (20 homes soon to be 22) and Swift Haven (25 homes), the first two tiny home communities to exist in Bellingham. Our goal is to end homelessness, one person at a time. Swift Haven became operational in only two weeks because the county, city, and HomesNOW worked together where appropriate to accomplish a concrete and achievable goal, in a very short time, on a shoestring budget. It can be done again, if the city and county agree it's important to move quickly and house more people. Using our approach, HomesNOW currently has around a 45% rehousing rate. Our transition to long-term housing rate is rising and we have no paid staff. Nearly 70 people have come through our program since we set up our first tent encampment, Winter Haven, in early 2019. Since moving exclusively to tiny homes, that number has continued to rise.
A new tiny home village called Gardenview Village, which will house 30 - 50 people, is being established by the Low Income Housing Institute (LIHI) and Road2Home. They are set to open in late spring and will be the third tiny home village in Bellingham. Gardenview is estimating costs of somewhere between $500,000 - $1,000,000/year to operate. The main reason for these costs is 24/7 paid staff to act as case managers for individual residents (seven staff members to start).
By contrast, villages managed by HomesNOW are resident managed, in other words, the people who live there are the ones who manage and run it. The tiny home villages managed by HomesNOW cost around $18,000/year to operate, with Unity Village incurring all those expenses, due to utility costs. Swift Haven costs nothing to operate because we do not pay the utilities at that site. Our resident-manager model allows individuals to maintain their autonomy and work together with other residents to improve everybody's situation. At the same time, we are reducing the number of tents seen around town as a result.
At the last City of Bellingham Committee of the Whole meeting, Tara Sundin, the economic development manager for Bellingham, made the argument that tiny homes are shelter, not housing. The basic definition of housing is any shelter, lodging, or dwelling place, it's a place where people live. A tiny home is basic, but also fits the definition of housing. Having your own unit, and privacy, is very different from sleeping at a congregate shelter in a big room with 150 people where you don't have your own space, no privacy, and you are required to vacate during certain parts of the day. This does not get people out of survival mode, no matter how "good" the shelter is. By contrast, tiny homes do get people out of survival mode, making it easier to move forward and get an enhanced quality of life. HomesNOW provides emergency housing, which is shelter, but it's also transitional housing as long-term units become available.
Later in the meeting, City Council member Pinky Vargas commented that $1,000,000 for a temporary shelter for LIHI/Road2Home was a lot of money, and that the price tag for HomesNOW to set up Unity Village and Swift Haven was not anywhere near that amount.
Planning Director Rick Sepler responded that Swift Haven cost around $200,000 to set up. He noted the provision of the tiny homes; site improvements, such as sewer and electrical; and in-kind work, such as that provided by city employees. Sepler was including the regular wages of public works employees in setting up the infrastructure for the site. However, these workers would have been paid whether they were doing this task or another task. The tiny houses themselves were paid for by Whatcom County, through emergency COVID funds, which means the city did not pay for the buildings. Interestingly, Sepler did not mention operational costs. HomesNOW Villages have zero operating costs, since we have residents acting as staff at our villages, and nobody at HomesNOW is paid. So, as HomesNOW scales up with more villages, there will not be any increased operational costs.
Sepler did mention that HomesNOW does not have on-site case management, but this is not necessarily the case. HomesNOW does not have 24/7 on-site case management employed by us, but when services or options are needed, case management is handled on-demand. This allows us to remain flexible in helping find services without micro-managing the lives of residents, overburdening the taxpayers, or inefficiently managing our time. It's simply easier and more efficient to have someone available on-demand, with regular visits as needed. It's practical to do it this way, because one case worker can handle multiple sites or help other agencies with the same services, thus increasing needed services while keeping costs low.
HomesNOW is laser-focused on housing, and yes, a tiny home is housing. An apartment complex is not expected to manage the mental health or social services of the tenants who live there. They are simply expected to provide a stable apartment complex where the tenants are not disrupting each other, the property, or the surrounding neighborhood. Services for mental health, addiction, domestic violence, and other areas, are very important, but those services always seem to be in short supply for both the housed and unhoused. We need to look at the picture from another angle: we have a dysfunctional and inadequate housing system, not dysfunctional and inadequate people.
Later in the meeting, council member Michael Lilliquist said that because of the intensive case management model implemented by LIHI, he was willing to sign off on the high cost. He implied that because HomesNOW does not have an intensive case management approach, people don't move on to long-term housing. This is simply not the case. Just to remind you, since we've been in operation with our first tent encampment in January of 2019, we've seen 70 people come through our program. Of those, 45% have found long-term housing, and that number is rising.
Popular belief seems to be that moving people into so-called permanent housing is the best result for everyone. Yet, that may not always be the case. For example, let's say you're on disability or a fixed income of $700/mo. If you are able to obtain long-term, subsidized housing, HUD automatically charges 30% of that $700 for rent, in accordance with their definition of a fair rate. That leaves you $490. Then, you need to pay all bills, as well as all your expenses for food and any other necessities. This leaves you with very little money and, realistically, not enough to live on. In contrast, at a tiny home village, your monthly costs for housing and utilities might be near-zero, and suddenly that $700 goes a lot further than it did under the "goal" of so-called permanent housing.
The community support found at a self-managed village environment, including regular donations of food, supplies, and other goods, helps connect residents with more opportunities over time. There is a sense of community and people helping each other achieve results. You don't typically have that in an apartment complex. Some people thrive in a community living situation, others would rather be alone in managing their affairs. Tiny home living is not an inferior level of housing, it's just different. It works well for some people, and not as well for others, depending on who they are. Sometimes, the proffered long-term housing is worse than living in a tiny home village. For example, being offered a long-term motel room in a high crime or high drug use area, might be a dangerous step down in standard of living compared to a tiny home village. Some of our past residents have been offered long-term housing that feels like a downgrade from their tiny home village.
At a community meeting on Thursday, March 11th hosted by LIHI and Road2Home, Tara Sundin (economic development manager for COB), Melissa Bird (president of Road2Home), and representatives from LIHI answered questions. One attendee asked about the cost to set up Gardenview, the new tiny home village, and why LIHI had been selected as a partner, when the price tag was so high. Sundin responded that LIHI was selected because they had a paid staff model. Melissa Bird from Road2Home said a village could not be operated safely in the neighborhood without paid staff, and that $500,000 - $1,000,000 per year is what it costs to safely operate a shelter. She echoed similar statements made by Tara Sundin at the last Committee of the Whole meeting.
I would argue that HomesNOW is currently operating two tiny home communities in Bellingham at a fraction of the cost, and that both locations are very safe. Swift Haven is in the same neighborhood Gardenview Village will be. We haven't needed paid staff to keep the villages safe. We know it works because it's already working. There's nothing inherently wrong with paid staff in a model that is different from HomesNOW, but I take issue with the assertion that a village won't be safe without paid staff. Furthermore, if there are going to be more villages managed by LIHI/R2H in the future, the city will need to scale up financial capital to keep up with those financial requirements. That scaling-up will quickly become a drain on taxpayers, resulting in increased property and sales taxes, and an increase in rent prices, which in turn, will increase homelessness for more people in the long-run. And the cycle continues. By contrast, regardless of the number of villages that are set up by HomesNOW, operational costs remain near-zero.
Later in the meeting, Debbie Chantrell, the lead community ally for Road2Home, said that in her experience, allowing residents to run their own village takes away their ability to focus on their own lives and prevents them from moving forward. She even asserted this was the reason for starting Road2Home.
At HomesNOW villages, helping in a staff capacity is 100% volunteer; residents are not required to help. Those who volunteer find it helps them move forward faster. It's empowering to participate in running the place you live, rather than having an outside volunteer or staff member run things for you. Resident staff duties such as site-manager can also be included on a resume and help residents find meaningful work that moves them out of poverty. When villagers are part of the decision-making process, they gain a sense of ownership and a stake in the operations and policies of the village, which stabilizes the village further.
Chantrell mentioned that finding housing is a full-time job. Finding housing is a full-time job primarily because there's literally not enough units available for people who need housing. If you have 1000 people looking, and only 50 units available, then it's a full time job. In that situation, you have to be on it every day, hoping you get one of those 50 units when there's a sea of people waiting for the same unit. We are basically rearranging deck chairs on the Titanic.
If there is not enough long-term housing for people—which the city and other agencies have admitted for years—then it doesn't matter how intensive the case work is; there's simply not enough housing units available for people, and it's not their fault. Every year, we are told that enough units will come online in the next year or two, but it never seems to materialize fast enough. Until a whole bunch of affordable housing units become available, ones far below current market rate, then something deemed a temporary option, such as a tiny home village, ends up being a more long-term solution.
Many of the core group from Road2Home previously volunteered extensively with HomesNOW. Shortly after the construction of Unity Village, there were serious disagreements about which direction to take the organization. The biggest divisions were about how we managed things at HomesNOW. Were we making life too comfortable at the village? Should we be doing a paid-staff-model? Should we take government money? These issues caused a split between some of the volunteers, and we ended up going our separate ways. Road2Home has subsequently linked up with LIHI, a very large organization, which is the equivalent of "big business" for homeless shelters. LIHI currently manages over 2300 housing units and around 13 tiny home villages. In the meeting, they said they plan to open six more villages within the next six months. LIHI also owns millions of dollars of real-estate.
While LIHI is technically classified as a non-profit, there are individuals who profit greatly from operating it. Sharon Lee, LIHI's executive director, makes over $200,000/year.That one person's salary is enough to construct two of their tiny home villages per year.
So while not technically classified as a business, it is understandable if people perceive it as such. A problem with many nonprofits is that too much of their funding goes to paid staff, and not toward the actual mission.
In the meeting, Theresa Hohman, the tiny house program manager from LIHI, echoed issues that Chantrell and Bird had mentioned about how people at the village get too comfortable with a resident managed approach. She identified issues that can arise, things like abuse of power, inequity within the village, favoritism toward certain individuals, and individuals being evicted unfairly.
I agree that issues involving abuse of power, inequity, and favoritism can occur in any organization, regardless of whether it's an employment situation or a tiny home village, whether you have paid staff, volunteer staff, or resident staff. Just because somebody is paid, does not mean they are immune to those issues. There are similar scenarios at the workplace, in politics, and within legal policy-making. But it can be prevented through adequate checks and balances, and making sure there are open lines of communication between everyone, so that nobody is in a position to abuse their authority. Checks and balances are the reason we employ policies like having at least three resident managers of equal standing at each site, as well as ensuring major decisions are made by a majority vote of the whole village. We have found it works quite well. Villages can also vote to change the resident managers, which has occurred in the past with HomesNOW. Having the village make decisions as a whole gives everyone a stake in the outcome of their village and how it operates; this empowers everyone who lives there. That would definitely make me feel more comfortable if I were a resident.
After being on the streets, in a deeply uncomfortable situation, what is wrong with feeling comfortable in your own home? What's wrong with comfort? Why do we need to go out of our way to make life more difficult for people who have already been through so much? Is it just because we're trying to make them move along faster? Why can't they move at the pace that's right for them?
Our ability to scale up with more villages quickly is only limited by having land available and residents from previous villages who want to help manage new sites. When people finally find long-term housing, they need to be independent and be able to work with others in the overall community. This is the atmosphere we have, and promote, at Unity Village and Swift Haven. We are open to the public and welcome any individual or agency who wants to check us out, visit, and/or help residents where needed.
As with all organizations, issues pop up from time to time, but we've always been able to deal with them, move forward, and get stronger as an organization. We're ready to move quickly to set up additional villages. We are trying to get more people housed as quickly as possible and increase the standard of living as much as possible without being a drain on taxpayers. Let's work together to make that happen fast, so even more progress can be made on this vital issue
Sours: https://nwcitizen.com/entry/the-battle-for-bellinghams-tiny-homes
Now discussing:
Home
When I set out to build the perfect tiny house I knew I had to maximize space where it is most important: kitchen and bathroom. Also, I had to create a living area that is actually comfortable. I achieved both. My base model is built on a 26' trailer. I also have several variations available in a 28' and 30' models.
I use high-end finishes and details throughout: quartz/granite counter tops, quarry stone or tile backsplash, hard wood flooring, stainless appliances, top of the line on-demand propane hot water heater or electric 30 gallon tank water heater, all LED lighting, cedar-lined bathroom and much much more.
The bathroom is a spacious 5'x8'. It includes a 36" shower, dual-flush toilet, 24" vanity and washer+dryer hook-ups. A full size tub/shower is available in the 28' and 30' models as is a full length down stairs clothing closet.
The kitchen is equipped with a 11 cubic foot fridge+freezer, propane stove+oven and 15' of quartz or granite counter space, complete with an area to accommodate 2 bar stools. Lots of drawers, cabinets and even a pantry under the stairs.
The bedroom loft is 11' deep (13' in 28' & 30' tinies) and has 4' of head clearance. A built-in closet in the bedroom provides ample storage. The 26" wide stairs make it easy to access.
The second loft is 5' deep with an options to be 7' or 9' deep and can be customized for storage or a 2nd bedroom.
The living area has a couch with built-in storage and also converts into a queen bed; it comfortably seats 4 people. An outlet is thoughtfully placed high on a wall in the living area for a mounted TV.
Sours: https://www.bigfreedomtinyhomes.com/
1143
1144
1145
1146
1147