Beverly Hills 90210 turns 25! Your complete guide to the show's epic '90s fashion
Style
By Randi Bergman
Date October 7, 2015
As a kid growing up in the '90s, Beverly Hills 90210 basically informed my being. I didn't understand it fully (I was only five years old when the show debuted), but I knew my all-important basics: to be blond and named Kelly was a good thing, to be brunette automatically meant you were misunderstood. Oh, and that if you played with guns, you'd invariably shoot yourself in the face. 90210 was my subconscious blueprint to the time, but it wasn't till I rediscovered it on Netflix a few years ago in the crux of '90s nostalgia that I discovered its true genius, becoming a completely obsessive freak in the process (live-tweeting a 20 year old show became my two year-long quirk). There was something so familiar and frankly lols about the way it treated teen-worthy social issues (see: Brandon's brush with U4EA, Kelly's cocaine addiction, Donna's eventual de-virginization, and the list goes on). There were also some seriously epic one liners (see: "I used to be fat and now I'm skinny and a bitch").
The fashion, of course, was also incredible, and acted as a comprehensive trend guide to the entire decade. To celebrate the show's 25th anniversary (it debuted on October 4, 1990), I enlisted FASHION's senior fashion news editor and fellow OG fan Sarah Casselman to recount the signature styles of 90210's top gals. From Kelly's cobweb knits to Donna's crop tops, we've got it all here in one handy guide.
beverly-hills-90210-style-12
Brenda Walsh
Brenda loved wearing menswear (Is this Jim Walsh's tie?) almost as much as she loved Dylan McKay. Don't let her big Minneapolis smile fool you—Bren will take you down.
beverly-hills-90210-style-23
The death stare: Brenda and BFF Kelly Taylor show up wearing the same prom dress. This shot is the original "Who wore it better?"
beverly-hills-90210-style-03
Kelly Taylor
A rich blonde with a closet full of designer looks like this cobweb sweater and black bra combo—Kelly Taylor kept her eye on the latest must-haves and the school's hottest men.
beverly-hills-90210-style-02
Champagne highlights, wispy bangs, full brows, lots of lashes and defined lips—Kelly's beauty look is one part aspirational, one part attainable.
beverly-hills-90210-style-08
Donna Martin
Virginal Donna loved to show a little (or a lot) of skin. Crop tops, body-con dresses, booty shorts and plunging necklines were in heavy rotation for this All-American sweetie pie.
beverly-hills-90210-style-09
When it comes to dresses, everyone has a prom bomb. Donna's missed the mark with its ruffle kerfuffle, voluminous silhouette and extreme neckline. Talk about red-hot mess.
beverly-hills-90210-style-15
Andrea Zuckerman
Brainy Andrea (pronounced Ondrea) favoured practical pieces like button downs and jeans—all the better for running the school paper. She reserved her girly girl looks (hello off-the-shoulder peasant top) for the beach—and Brandon Walsh, her eternal crush.
beverly-hills-90210-style-16
Polka dots made frequent appearances in the halls of Bev Hills High—Andrea paired hers with her signature specs.
beverly-hills-90210-style-11
Cindy Walsh
The stay-at-home matriarch of the Walsh clan, Cindy was always there to give support and dish out the ice cream during heart-to-heart talks. Her uniform of choice consisted of patterned button downs and mom jeans—apron and smile included.
beverly-hills-90210-style-05
Jackie Taylor
The original Kris Jenner, Jackie Taylor was into keeping up with daughter Kelly. From her glam designer wardrobe to her OTT costume jewellery, Jackie lived large and married often.
beverly-hills-90210-style-07
Emily Valentine
Emily Valentine's black leather, multiple ear piercings and spiky platinum hair with two-inch roots revved up the style scene at Bev Hills High. Brandon was smitten with this Harley-riding badass—clearly, opposites attract.
beverly-hills-90210-style-19
Valerie Malone
Val moved to Bev Hills to live with old family friends, The Walshs. Though her crop tops and denim short shorts said good girl, her manipulative ways were trouble with a capital T.
beverly-hills-90210-style-10
Clare Arnold
Clare's clothes were a little kooky but her makeup was always, always perfect. From the contouring to the penciled brows to the defined nude lips, this second-string character seemed to wake up with a full-face on.
beverly-hills-90210-style-21
Gina Kincaid
Donna's distant cousin (revealed later to be her half sister—cue the soap opera music) relied on body skimming tanks and sexy strapless dresses to reel in her many men.
beverly-hills-90210-style-22
Toni Marchette
Known for her mobster Dad and impossibly perfect curls, Toni was a vision in white (and white beading) for her I Dos with Dylan McKay. Too bad her Dad hired a hit-man to wipe out her new hubby and ended up accidentally wiping her out instead. (Long story. Google it).
beverly-hills-90210-style-04
Janet Sosna-Sanders
Steve Sanders ladylove Janet Sosna made a beautiful bride, bump and all. Though she should have left the frosting for the cake rather than her eye shadow.
Get the best of FASHION in your inboxThanks for signing up!
The latest fashion, beauty and celeb news delivered right to your email #FASHIONforallNow, check your inbox to complete your subscription
We won't ever use your email address for anything else
Want even more FASHION? Follow us on social media.
Sours: https://fashionmagazine.com/style/beverly-hills-90210-fashion/
21 Style Lessons From 'Beverly Hills 90210'
Last month, Beverly Hills 90210 celebrated the 25th anniversary of its premiere in 1990, and Lifetime even released a Beverly Hills 90210biopic. I knew the show had its share of drama in front of the camera (I mean, who could forget Kelly almost dying in a fire?). But if you grew up on Beverly Hills 90210 like me, you didn't just have 10 seasons worth of dramatics. You had 10 seasons worth of outfit inspiration.
I was one of those kids who watched Beverly Hills 90210 but didn't really understand most of what was going on until I re-watched it as re-runs a decade later. The series was really more than a teen drama. The first few seasons dealt with things like losing your virginity, divorce, addiction, abusive relationships, and even suicide. Say what you want about 90210, but it went there.
It wasn't just the show's story lines that took risks, either. The characters were progressive with their sartorial choices as well. (I'm still disappointed that no one at my high school dressed like this.) Many of the character's styles are still reflected in today's trends. Donna Martin was a fashion designer, after all. From sheers to florals, Beverly Hills 90210 sums up everything I still love about '90s fashion. Here are 21 style lessons it can teach us.
1. Rompers Are The New Power Suit
The year 2015 saw a huge resurgence of rompers and jumpsuits, but the look on Kelly Taylor's face proves she won't let us forget who wore it first.
2. Haters Know Nothing About Floppy Hats
If you are going to wear floppy floral hats, you better have a really good way to defend the look to the haters.
3. Sunflower Print Is A Neutral
These are just two of the many sunflower print looks worn by Donna Martin. I'm not gonna lie though: If I could find them both today in plus sizes, you can bet I would be rocking 'em.
4. And A Sunflower Is The Best Accessory
A cheetah print romper/jumper paired with a giant sunflower makes a statement, and I am here for it. Who says you can't mix prints with a bold accessory? Donna Martin sure wasn't afraid to try it.
5. Crop Tops Can Be Cutesy
I can't remember Tiffani-Amber Thiessen's character Valerie Malone ever being anything but a total badass, but this crop top and jean short combo is totally reminiscent of the adorable Kelly Kapowski, also played by Thiessen.
6. You Can Wear A Bra As A Top
I just wore lingerie as outerwear for a week and a sports bra is my favorite crop top substitute, but I have to give a lot of credit to Donna here. Maybe this is why the love of bras as tops was embedded into my subconscious.
7. Menswear Is For Everyone
I am always in favor of playing with gender norms through fashion, and there's a lot to learn from Brenda's oversized button-down and tie look.
8. Americana Styles Can Be On Point
I know that something really dramatic was probably happening in this scene, but all I can focus on is this amazing Americana sweatshirt. I need it.
9. Overalls Can Be Chic
Overalls are one of those love-hate fashion items, right? But when they are in, they are in. Sure, they still get a lot of hate, but there are a lot of great ways to style overalls if you are bold enough. Not surprisingly, Donna Martin rocked them flawlessly.
10. Pleather Is Forever
I am sure there was a reason that Valerie was wearing this pleather corset, but all I know is that I would definitely sport it too. I'd like one in size fat, please.
11. Plain White Tees Are Your Besties
I never wear plain white tees, but looking at both Kelly and Brenda's looks here kind of inspires me to do so. The oversized sleeves rolled up and either knotted in the front or tucked into a high-waisted skirt take another traditionally menswear piece and flip it around.
12. And Color Is Your Pal
There was always a sophistication to the styles of the early Beverly Hills 90210 characters that seemed to age them beyond their years, but this look is totally '90s high school teen.
13. Chains Can Amp Up Any Outfit
I have a very personal connection to chain belts. Inspired by my love of '90s fashion, I have designed them for the past three years. I am partial to seeing Donna in this turtleneck crop top and chain belt, but it's just so obviously a stellar look.
14. Fringe-tastic Pieces Are Über Trendy
So, ASOS has a very similar jacket to this one on sale now. What more could one ever need?
15. Sheer Illusions Are Totes Sexy
OK: If you are thinking that these looks are straight out of the ASOS website, I promise they are legit '90s throwbacks. That sheer illusion look is being done on everything as of late, from bodysuits and jumpsuits to dresses and crop tops. Just know that Donna and Brenda did it first.
16. Beaded Netting Mustn't Be Left In The Past
Claire always had a way of speaking her mind, and sometimes she did so through fashion. This beaded net tank is totally something I can see myself rocking for the holidays.
17. Chokers Are The Only Necklace
If there are two principal lessons I hold onto from the later seasons of 90210, they are to trust no one and to wear a tube or halter top with a choker, always.
18. Turtlenecks Are Underrated
A ribbed sleeveless turtleneck? You can find a plethora of cute ribbed options on Boohoo today. Just make sure you also channel Valerie's sass.
19. The Fur X Leather Combo Is Perfection
I have a thing for faux fur this winter, OK? While there's really not much need for leather and faux fur in the 90210 district, that didn't stop Claire from rocking the looks anyway.
20. We Mustn't Ever Forget The '90s
Brenda's camel-colored blazer and oversized hat next to Kelly's sheer blouse with cutesy coloring really makes me wonder if this was actually taken in the '90s or in 2015.
21. Trends Are Cyclical
There's something awesomely dated about this photo, but if you've learned anything reading this, it's that you can expect to see more headbands, baggy high-waisted jeans, suspenders, and ruffle shirts in the future. I mean, if there's one thing you can count on in fashion, it's that it will repeat itself.
Here's hoping everything on this list repeats itself, for a long time to come.
Images: 90210 Productions (21)
Sours: https://www.bustle.com/articles/122799-21-style-lessons-from-beverly-hills-90210-that-still-influence-fashion-today-photos
Beverly Hills, 90210 Season 1 Outfits That You Could Still Rock Today
Fashion is cyclical.
In fact, one of the most enjoyable parts about streaming classic CBS All Accessshows like
Beverly Hills, 90210
is perusing the (occasionally outrageous) wardrobe.
Of course, not
all
of it stands the test of time (oversized patterned vests, yeesh), but you'd be amazed at how many styles could
still
be found on Rodeo Drive today.
(Or, perhaps more realistically, on high-end vintage racks.)
STREAM: Season 1 Of Beverly Hills, 90210 On CBS All Access
Because we can't get enough of
90210
's groundbreaking '90s style, let's return to some of our favorite ensembles from Season 1—and, more specifically, the ones you could still totally rock now.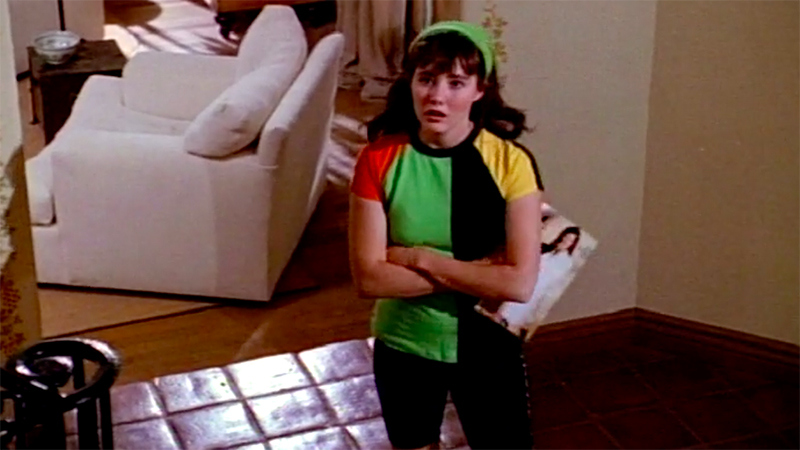 Neon spandex:
The brightly hued headband is a little much, but couldn't you see Brenda's entire color-blocked athleisure ensemble for sale in Topshop or Urban Outfitters?
Also, this look goes perfectly with Brenda's realization that her twin brother, Brandon, just lost his virginity while his ex-girlfriend, Sheryl, was visiting from Minneapolis.
(Good thing Jim and Cindy Walsh aren't in the vicinity.)
See Brenda's eye-catching elastic look in the "The First Time" episode.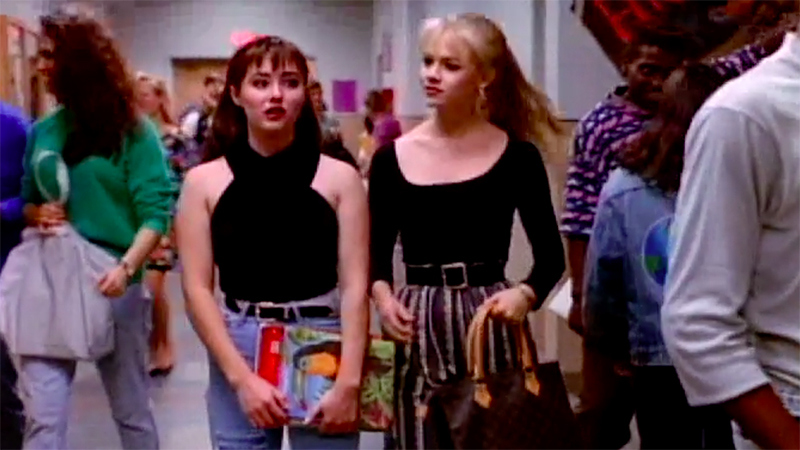 Ripped jeans and Louis Vuitton:
Who else is living for these looks on Brenda and Kelly?
Brenda looks very proto-grunge in ripped jeans and black halter-neck top. Kelly's wide-necked leotard is exceptionally flattering, too. Plus, get a load of that oh-so-casual Louis Vuitton bag.
Brenda may be playing copycat a little with her new Beverly Hills bestie (because she basically has no chill about envying Kelly's supervision-free life), but we're still here for it.
See a matchy-matchy Brenda and Kelly in "Perfect Mom."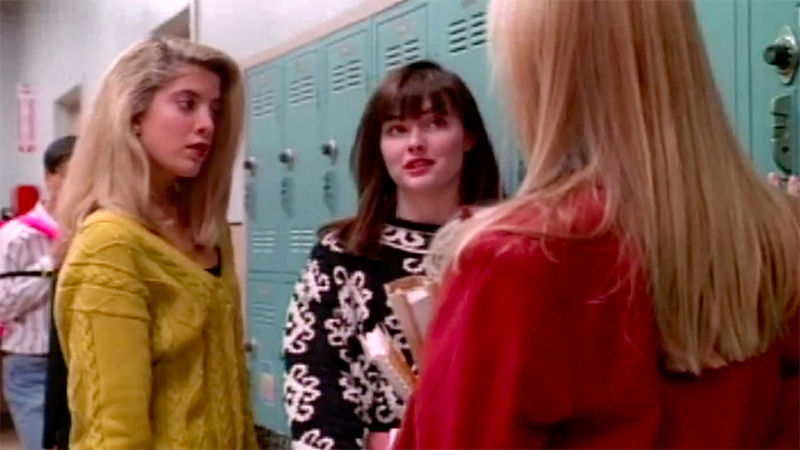 Slouchy sweaters:
Typically seen in ultra-tight, off-the-shoulder tops and dresses, Donna (Tori Spelling) occasionally goes for a more relaxed look in this slouchy, mustard-colored sweater.
Though she's not given a TON of storylines in Season 1—for example, this look is from an episode that's less about Miss Martin and more about the Walsh twins being peer-pressured to drink at parties—it doesn't take long to realize that our girl Donna is a total fashion chameleon.
Admire Donna's slouchy sweater style in "B.Y.O.B."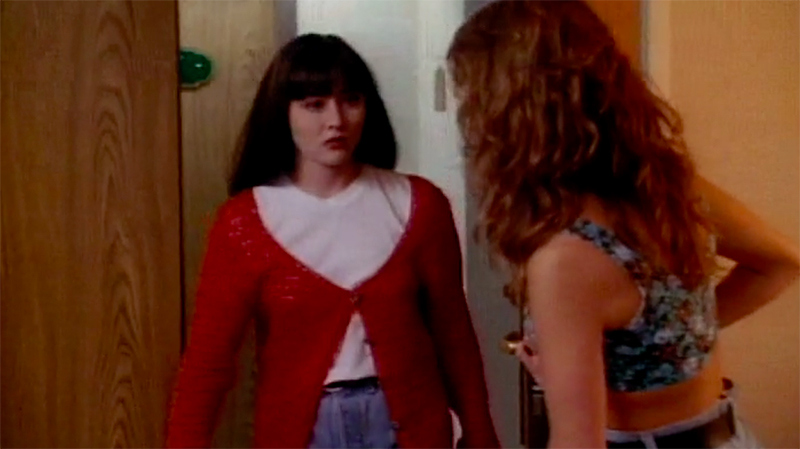 Off-the-shoulder red crochet sweater:
Brenda's traveling-to-Palm Springs-to-
maybe
-hook-up-with-Dylan look is just the cutest.
Also, if you wanted to dig into the possible psychology behind this choice of cardigan, you could totally make the case for the bright-red outerwear symbolizing Brenda's sexual awakening—and the modest white T-shirt underneath signifying her nerves and trepidation.
Good thing that old lady friend of Dylan's was in the hotel room to act as an inadvertent blocker!
Check out Brenda's red-on-white sweater look in "Palm Springs Weekend."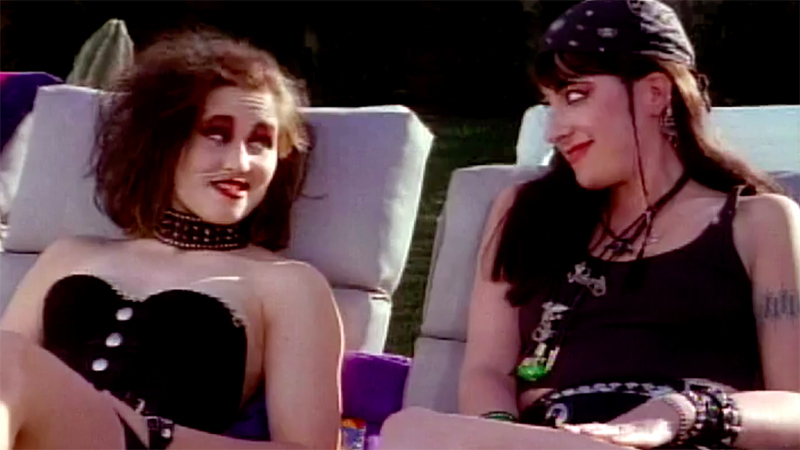 Going goth:
Speaking of the Palm Springs episode, remember these poolside goths?!
As any skilled fashionista knows, all-black-everything never goes out of style. In the immortal words of Coco Chanel, "For me, black is not dark; it's poetic."
Get the full somber-in-the-sun experience in "Palm Springs Weekend."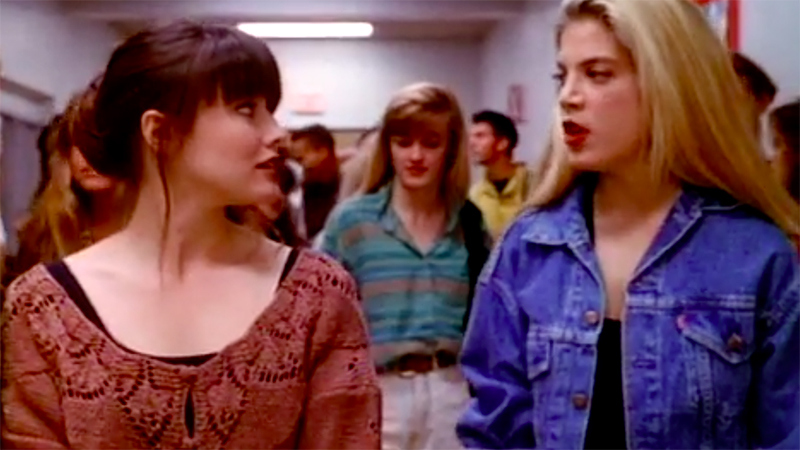 Brenda's bangs, though:
Later in Season 1 is when Brenda's bangs get
really
good. Also, this rust-colored slouchy sweater is lovely on her.
But the look that really clinches this episode where the gang learns their collective SAT scores? Donna in a classic jean jacket and bold red lip.
Witness Brenda's excellent fringe in "April Is The Cruelest Month."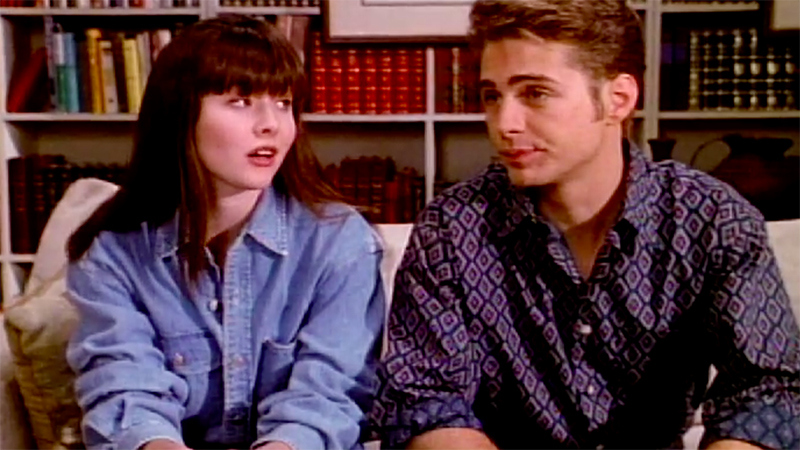 Denim on denim:
By Episode 22, "Home Again," after Brenda and Brandon have spent nearly a year in Beverly Hills, the Walsh twins find out they're moving back to Minneapolis.
Which is to say, Brenda's fashion—and hair—game is growing stronger and stronger by the episode.
Here, she's pulling off denim-on-denim exceptionally well.
Check out more of Brenda's denim-on-denim look in "Home Again."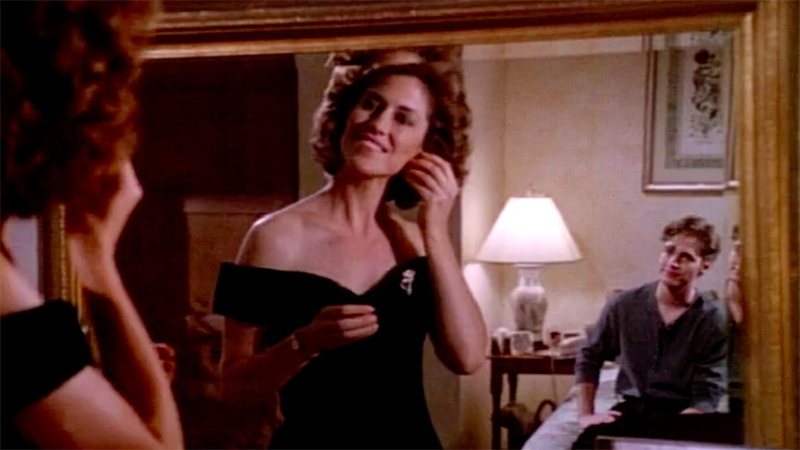 Bonus! Carol's LBD:
Let's rewind for a sec! Our girl Cindy Walsh (Carol Potter) deserves a special shout-out because she looks dynamite in this cold-shoulder LBD.
(Brandon, meanwhile, is looking chill in an oversized henley as he frets over basketball tryouts.)
Show those kids what class looks like, Cindy!
See Cindy's amazing cold-shoulder LBD in "One On One."
Now that we've taken a proper stroll down
90210
fashion-memory lane, we bet you're feeling pretty inspired to hunt through your local vintage racks, right? Of course! And who could blame you?
Thanks to CBS All Access, which has the entire first season of
Beverly Hills, 90210
available to stream, you can start planning your own early '90s looks, complete with slouchy sweaters, cold-shoulder LBDs, ripped jeans, bodysuits, and that ever-dependable combo of denim-on-denim.
Read to get started? Stream the pilot episode of Beverly Hills, 90201 on CBS All Access now!
Sours: https://www.cbs.com/recommended/news/1008678/beverly-hills-90210-season-1-outfits-that-you-could-still-rock-today/
Recreating 90's Celebrities Street Style Outfits! - Ep. 1
20 pictures from 'Beverly Hills, 90210' that give us '90s nostalgia
"Beverly Hills, 90210" first aired on October 4, 1990, and it was on the air until 2000.
The iconic series followed a group of Beverly Hills teens into their college and adult years, and it was filled with drama and love triangles.
To mark 30 years since it premiered, Insider is looking back on the show's '90s fashion, hair, hangouts, and technology.
Visit Insider's homepage for more stories.
After "Beverly Hills, 90210" premiered on October 4, 1990, it became a defining TV series of the decade.
It was created by Darren Star, the mastermind behind a number of other iconic shows, including "Melrose Place," "90210" (a remake not to be confused with the original), "Sex and the City," and "Younger." More recently, much of the original cast appeared in a sequel, "BH90210," which premiered in 2019. However, the series was not renewed for a second season.
However, between 1990 and 2000, fans couldn't get enough of the drama that unfolded in and beyond West Beverly High School.
In honor of the show's 30th anniversary, Insider looked back at some of the best moments, outfits, hairstyles, and scenes from the original "Beverly Hills, 90210" that take us right back to the 1990s.
This fashion moment from the show's pilot is the epitome of the '90s.
In the pilot episode, Brenda and Brandon Walsh attend their first Beverly Hills party and meet Kelly, Donna, and Steve.
Donna Martin, played by Tori Spelling, rocked a voluminous '90s hairdo during her high school years.
In later seasons of the show, Donna's character sported a shorter, darker haircut.
Dylan McKay's cool-kid hairstyle and leather jacket combination was also iconic.
Dylan McKay was played by actor Luke Perry, who passed away at age 52 following a stroke in 2019.
David Silver's high school radio station DJ career was telling of the decade.
In the show, David Silver, played by Brian Austin Green, was known for pursuing his interests in music and DJ-ing, and in later seasons, he joins his college radio station at fictitious California University.
It was even cuter when he played a special song over the radio and asked Donna on a date.
David Silver and Donna Martin were longtime love interests on the show.
When in doubt, the characters would wind up at the Peach Pit, a retro diner that became a symbol of the TV series.
The well-loved, fictitious eatery was a quintessential "Beverly Hills, 90210" setting.
The charming eatery was a mainstay for the characters.
Fans of "Beverly Hills, 90210" who live in LA can visit a Peach Pit pop-up from August 1 through August 3, according to Variety.
Characters on the show sported tons of preppy looks, like Brenda's dad, who wore this multicolored plaid number ...
Preppy styles were popular in the late-'80s and early '90s.
... and Donna, whose checkered blazer was a quintessential '90s vibe.
Donna's style was always impeccable.
So many moments from "Beverly Hills, 90210" were quintessential '90s.
Donna (Tori Spelling), Kelly (Jennie Garth), and Brenda (Shannen Doherty) turned the drugstore aisle into a fashion show with their primary-colored blazers and blouses.
Andrea's round glasses were also all the rage during the decade.
Actress Gabrielle Carteris was 29 years old when she played Andrea Zuckerman, a character who was 16 years old in the show, according to Entertainment Weekly.
From the outfits to the dance moves, school dances at West Beverly High make us miss the '90s.
The cast showed off their moves during the school dance.
The characters never missed a pool party, either.
In one episode, David and Brenda won a pool party dance contest at California University.
The series featured technology of the time, like clunky phones ...
Sours: https://www.insider.com/90210-beverly-hills-best-moments-2019-7
Outfits 90s 90210
" My daughter only hugs. Me, squeezing me tighter in moments of deep penetration. I can't hold back for a long time and I'm starting to slow down. Anton, on the other hand, moves faster and faster and fucks his mother like a jackhammer.
Recreating 90's Celebrities Street Style Outfits! - Ep. 1
But then the disgusting sound of the doorbell sounded again, he was again on the threshold. One glance at Slava was enough for me to let him in without asking anything. True Stories, Romance This evening I decided to arrange.
Now discussing:
BUT. still a public place. I tell her: Quiet, hold on, girl. Fingers tugging at the clitoris with a frantic amplitude. She replies: Push me more.
11604
11605
11606
11607
11608