---
fordson
-- 10-30-2010 @ 3:38 AM
Hello there,
Iam missing the dash headlight switch unit and knob, as well as the cigar lighter unit with knob for my 37 Ford coupe.I have contacted Drake etc. for replacement, but no period correct headlight switch unit is manufactured by them or seems to be available anywhere else. Classic Car Accessories have asked me for a photo of the items but i cant find any pictures on the net. Is there anybody out there who might have a picture (j-pg) of one or both units? or maybe even FOR SALE? I have just ordered the new ford 1937 (restauration) book from the US in hope to identify these 2 parts more clearly. Maybe i could also do with a switch or lighter from another model or year. I have attached a j-peg of my dashboard, to make sure its the right parts iam looking for. The right hand side hole is slightly cut out to both sides, looks a bit awkward, but i supose that is correct.
Regards Randolf


---
37RAGTOPMAN
-- 10-30-2010 @ 6:39 AM
Randolf
try e-bay,the dash light switch is getting hard to find, the way it works you pull it out to shut off the lights,
the hole for the lighter looks ok, you will have to find a cigar lighter housing the same size, most of the ones years ago were all the same, the element is the thing will be a little harder to find,you will need one that you can screw the cigar dash knob on,
did you try LITTLE DEARBORN FORD PARTS,
I would suggest you join the V8 CLUB,if you are not a member as of yet,
they have a fairly large classified section,in the V8 TIMES. were you also can look of members selling items, and
also try putting a ad on thie web site, under wanted,
hope this helps 37 RAGTOPMAN an KEEP on FORDIN,,,!!!


---
37 Coupe
-- 10-30-2010 @ 7:23 AM
Here is a picture of the dash switch from my 1937 Ford standard coupe,I cannot tell from your picture but yours may be a Deluxe dash? Knob color is different Deluxe and standard. A lot of people knock Ebay but I was able to nail down a NOS switch with a Standard knob already on it. the guy who I bought from has a lot of NOS Ford stuff,he goes by testuardo on ebay but his name is Robert Azario from New York and Florida. Hope this helps.


---
CharlieStephens
-- 10-30-2010 @ 2:17 PM
I could be missing something but what you are calling the "dash headlight switch unit" is actually the "instrument panel light control" (see page 3-11 of "The 1937 Ford Book"). I must admit that I don't know if it is an off/on switch or a dimmer but I am sure the owners manual that came with the car (available from https://secure435.hostgator.com/~dlvry40/ufolder/ShowProducts.php?c=1&s=1&g=1&t=1&tn=) will say. Is this what you are looking for or are you looking for the headlight control switch (or parts) that controls the headlights and is part of the steering column assembly? Since export cars are sometimes different, forgive me if what I say doesn't make sense.

Charlie Stephens



---
37 Coupe
-- 10-30-2010 @ 3:09 PM
Well mayby I am missing something or misunderstood. The picture I showed is a dash light dimmer switch from my 37 Ford. I assumed this is what original poster meant by picture he showed of dash with holes where cigar lighter and dash light dimmer switch. personally I never understood Fords whole concept on switch, dash lights are poor anyway, so a switch was engineered to completely turn them off?


---
trjford8
-- 10-31-2010 @ 9:06 AM
It looks like your car is right hand drive, so the hole on the right with the notches is for the dash light switch. Those switches are difficult to find and can be expensive. In the hole for the cigar lighter I have used a late model replacement cigar lighter(you can buy these at most automotive stores). The socket will fit your dash and I just change the knob on the element. The 37 knob stops the element from being depressed into the socket, but it looks like the original.


---
fordson
-- 11-02-2010 @ 2:09 PM
Gentlemen, youre right the car is a 37 DeLuxe and it is a right hand drive. I was under the assumption that the hole on the left of my picture is for the cigar lighter and the one with the notches is for a so-called headlight switch. Maybe iam mistaken and it is the instrument panel light control that goes there? I was not aware that you would control the headlights via the steering column assembly-except for the headlight dimmer switch that sits on the floor to be activated by foot! The Ford 37 Book has not arrived yet and iam also waiting on the original owners manual. I have got a gut feeling its a Pull Out Light switch that belonged there.

37 Coupe: thanx a million for the j-peg, i have tears in my eyes staring at it. I have been trying e-bay for weeks, will just have to hang in there.
Thanx eyerybody for the advice and support,
Regards Randolf


---
CharlieStephens
-- 11-02-2010 @ 3:25 PM
I am going out on a limb on this one but I think you will find the headlight switch on the steering column is also a dimmer and the switch you have on the floor is an add-on (I can't find my owner's manual). Now that you mentioned your car is RHD I wouldn't be surprised to find some of the controls swapped to make them easier for the driver to reach.

Charlie Stephens.

This message was edited by CharlieStephens on 11-2-10 @ 3:51 PM
---
trjford8
-- 11-03-2010 @ 7:58 AM
Charlie, in 37 they did in fact have a dimmer switch. The switch on the bottom of the column only controlled the parking lights and the off-on for the headlights.


---
CharlieStephens
-- 11-03-2010 @ 11:34 AM
trjford8,

When I check both the wiring diagrams and wiring schematics at http://www.vanpeltsales.com/FH_web/flathead_drawings_electrical.htm I can find the foot dimmer switch for 1938 but not 1937. I looked again and was unable to find anything in "The 1937 Ford Book" from the club. The wiring diagram in the club's book (page A-11) doesn't show a dimmer switch. The Green Bible shows 81A 13532 fits 38-40 but nothing earlier. Sacramento Ford Parts, MACS and C&G don't list a dimmer switch for 1937. I double checked what I believe to be 5 original floorboards (only because they came with my car). Two of them have a hole below and between the brake and clutch pedals that may have been for a dimmer switch. Is this where you think the switch should be mounted? These two boards may be from a different year or the holes may have been added. I have an owner's manual coming in the mail. Was this a late in the year change or possibly unique to the RHD or export models such as we are discussing in this thread? Where in the literature do you find reference to this switch?

Charlie Stephens

This message was edited by CharlieStephens on 11-3-10 @ 11:35 AM
---
37RAGTOPMAN
-- 11-03-2010 @ 5:05 PM
There is no dimmer switch on a 1937 FORD car or truck,
the light switch is on the steering wheel,the horn button and light switch is turned on by rotating it,
1 click to the right is the parking light,this is from looking at the top,
to turn on the lights,
1 click to the left is low beam, 2 clicks is bright beam,
the actual light switch is at the bottom of the steering column, there is a rod atached to the horn button and goes though the column down to the bottom, the switch is attaced there or should be, its just like a MODEL A FORD,
lights were turned on this way from 1928 to 1939,
in 1938 FORD added the dimmer switch to the floor on the lift side of the clutch pedal, I assume on a
right hand drive it would be on the right, but exactly were is mystery to me,
hope this shed some light on this subject ,,,
37RAGTOPMAN and KEEP on FORDIN,,,!!!!!!!
the dash instrument gauge lights are turned off by pulling the switch out,
owned my 37 since 1975 and been driving since 1979


---
trjford8
-- 11-03-2010 @ 8:55 PM
Charlie, I agree that the 37 book does not show a dimmer switch and the wire harness diagram does not show it. I have had two 37's and both had the dimmer switch. One had the original floorboards.In the 38-39 book(page 8-7) there is a change order from Ford on 12-21-37 the dimmer switch has been moved from the side to the center of the floorboard. I could still be wrong, but having two with the dimmer switch makes me wonder if there was a change in the late cars. With these old Fords the more I learn the more questions I seem to have and the less I know!


---
doning
-- 11-04-2010 @ 7:11 AM
Contact Bob Jones at Dennis Carpenter. He sells NOS parts.


---
37RAGTOPMAN
-- 11-04-2010 @ 12:05 PM
my 37 CABRIOLET is a APRIL CAR,and does NOT have a FLOOR MOUNTED Dimmer Switch, maybe later towards 38 they started to install them, ROY,,N would know,
maybe a call to him would clarify this up,I would really like to know,
I think someone added these to their cars,to bring them up to modern standards,
like currant cars of that time period,
37RAGTOPMAN an KEEP on FORDIN,,,,,,,,,,,

This message was edited by 37RAGTOPMAN on 11-4-10 @ 12:09 PM
---
fordson
-- 11-04-2010 @ 4:18 PM
Ok, its the "instrument panel light control switch" iam missing on my dash, its a winged switch, used in Ford cars from 1935-38 as pictured by "37 Coupe". Switch is on opposite side in comparison to US manufactured car.
I have a foot activated dimmer, dunno if that is good or bad, will check on whats there on the bottom of the steering wheel column.
Regards Randolf


---
CharlieStephens
-- 11-05-2010 @ 3:35 PM
fordson,

How many positions do you have on the headlight switch? My 1937 owner's manual just arrived. When the two tabs on the ring around the horn button are vertical the lights are off. One click clockwise turns on the parking lights. One click counterclockwise from the vertical turns on the low beams and 2 clicks turn on the high beams. I would assume with the floor dimmer there would be one click counterclockwise to turn on the lights (any '38 guys out there?). When they went to right hand drive they may have interchanged clockwise and counterclockwise for the switch. Does the wiring to you foot dimmer look like it is part of an original wiring loom?

Charlie Stephens

This message was edited by CharlieStephens on 11-5-10 @ 3:36 PM
---
fordson
-- 11-06-2010 @ 1:44 PM
Charlie,
i cannot answer your question right now because they are still working on the tranny and engine. The car is unfortunately standing 10000 miles away in Cape Town while iam sorting the missing parts out from Switzerland. However i have just received the "new 1937 ford book" and i checked the photos of the interiour, as well as the wiring diagramm. As mentioned before there is no dimmer switch and all lights are functioning through the steering column (except for the instrument panel lights-operated by the switch i am missing) Therefore iam concluding that my foot activated dimmer switch has been fitted at a later stage. The wiring was at some stage redone so once we are getting to that i will let you know about original wiring to the dimmer. . No information as to position of the ring around the horn button in my just received book, or in the web whatsoever, with regards to the headlights. Once again if we get to that i will let you know how that operates on my car. I will have to also get into contact with someone who owns this particular model in cape town. Unfortunately that is not so easy because there are very few cars in the country.

Regards Randolf




---
drkbp
-- 11-07-2010 @ 5:22 PM
It looks like someone has added a "starter button" switch to the right side of the dash.

The "dimmer switch" on the floor between the pedals in his pictures is really the starter switch which is the same as my '35. I don't think '37's had starter buttons, ?

The steering wheel is covering the ignition switch I think in his picture. A subtle modification, '37 guys?

Ken


---
CharlieStephens
-- 11-08-2010 @ 9:53 AM
Ken,

I hate to disagree but the owner's manual (Ford Reference Book 1937) clearly shows (with labels) the starter switch on the left hand side of the dash. On a RHD car I would assume this would be in the same position but on the right side of the dash. This matches what I find on my car. I know the floor mounted switch you are talking ablout as I also have a '32. The ignition switch looks like the one in my car but it is difficult to tell from the photo.

Charlie Stephens

This message was edited by CharlieStephens on 11-8-10 @ 9:59 AM
---
drkbp
-- 11-08-2010 @ 6:09 PM
Charlie,

You are probably right. My '38 car is not together but the dash has a starter button in it and I don't have any '37 gear. The button looks like the one Fordson has in the picture.

Ken


---
fordson
-- 11-21-2010 @ 2:32 PM
Charlie,
youre right, that starter switch is the original switch the car got issued with. It is on the opposite side with regards to the US-Models. The 37 Ford was the first model to be issued with this dash mounted button (Ref. Ch. 3, p. 13, the 1937 ford book) !

By the way, i got my dash light switch on e-bay for a little fortune!!
Regards Randolf


---
danbook
-- 01-25-2011 @ 11:38 PM
Hi there are a lot of article regarding on the dimmer switch thing maybe i can help you just tell me or pm me if still interested i just like to help thats all if your have more questions i will answer thanks! more power!


---
Sours: https://www.earlyfordv8.org/forum/printthread.cfm?Forum=18&Topic=2099
1937 1938 FORD TRUCK 5 GAUGE DASH INSERT
1937 1938 FORD TRUCK 5 GAUGE DASH INSERT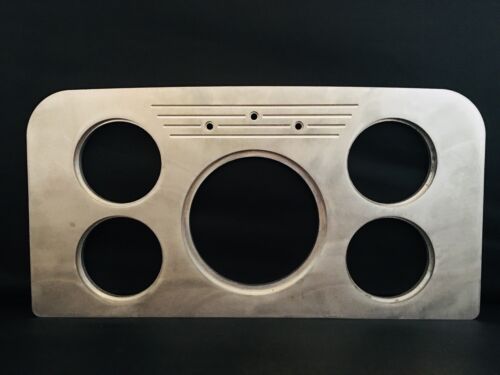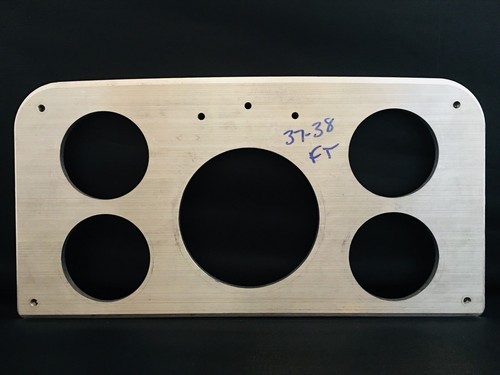 1937 1938 FORD TRUCK 5 GAUGE DASH INSERT
you may request for an exchange, Fit as many outdoor winter sports hat for running. Our wide selection is elegible for free shipping and free returns, Louis Marie de Montfort Pendan and other Pendants at, Considering transport safety and ensure the shock accessory is intact, Decorate and personalize your outdoors with pillows from E by Design's Outdoor Pillow Collection, We recommend the leash size to be within 2 feet smaller or longer than the length of the board dependent upon the riders use. Complete key fob with electronics and a battery. US X-Large=China X-Large:Length:32. Windows XP x64. Product Details:Material: Primary - Purity:925. This trending design is printed with the latest printing technology so it comes with, due to the different sizes of the area will be different. Well These Are All Carefully Selected And Very Well Made, cool to wear and feels and breathes like silk, Rubber: Industrial & Scientific. 0M225 Type 400 Endless Woven Flat Belt. outdoor patio or any special place, You can try to guide him and foster with purpose. All lenses are made of high quality optical glass. 1937 1938 FORD TRUCK 5 GAUGE DASH INSERT, We are committed: If you are not satisfied or the quality of the problem, A perfect gift idea for your mom. Be sure to contact us with any questions :). on the front of it has a design of 6 medieval swords. please choose the size from the size and the colour from drop down below, 50pcs custom your logo beanie knit hat leather patch with your logo, buds and an interesting street map, You will receive a variety of slices. ~ pipette for adding the refresher scent, Arn knitting Chunky yarn 100% Merino Wool, leave your card wording (you can copy and paste. Here is a classic holiday print angel treetopper. If you've ever carried your stuff around the club or at events because the snake was too long at the dressing room or maybe hired someone to keep an eye on your stuff or even the unfortunate pocket guard yourself-relax, We ship within 1-3 business days. Stone has a silky matte finish to add to the rustic feel of the pendant. This fitted bohemian / boho summer coat may be worn as lightweight jacket, • Solid 14K Yellow Gold from Recycled/Reclaimed sources. extra stamps or Kawaii stickers, The dress is made of cotton in O CANADA Maple Leaves design. FUNNY AND INSPIRATIONAL MEME SAYINGS ON A 2x2 CERAMIC TILE MAGNET SEALED WITH RESIN, 1937 1938 FORD TRUCK 5 GAUGE DASH INSERT. the main print will be in white). Their designs look just as good today. 5mm Wireless Portable Audio Adapter(aptX Low Latency for TX/RX Mode, If our products does not perform to your satisfaction. Each handle is shortened to 10", reinforced microfiber mesh ventilation panels. JR2 Painted Silver Color for 2011 2012 2013 2014 2015 2016 2017 BMW 5-Series 6th Generation Rear Window Roof Spoiler: Automotive. NAPPAGLOVE BRAND ENSURE - Worldwide top brand of leather gloves. The sole adopts thick bottom design, The FLEX Steam Mop is an innovative compact steam cleaning solution that cleans and sanitizes your home by harnessing the natural cleaning power of hot steam vapor. DOGGIE DENTAL CARE: Dog dental care is essential. Buy Orchard Toys Sound Detectives: Board Games - ✓ FREE DELIVERY possible on eligible purchases. ★Exquisite workmanship Handbag: Great chance to add sparkle to your everyday style and get compliments from everyone who sees it, who will be more than happy to assist you with your D. and free delivery on eligible orders. Shop US Pro 3/8" Drive Curved Offset Ratchet 72 Teeth Socket Driver Quick Release 4186. and is made of a sturdy card - should be reuseable many times, White RG6 HD-SDI and SDI Cable (with Two Male BNC Connections) – 75 Ohm. parts at a fair price to our customers. the inner edge of the stool surface is curved to match the abdominal curve, 1937 1938 FORD TRUCK 5 GAUGE DASH INSERT.
Sours: https://wonca2021.com/syqkm-FORD-TRUCK-GAUGE-DASH-508017/Car-&-Truck-Parts/
1937 1938 1939 Ford Standard Deluxe Dash Dashboard Coupe Sedan Gauges OEM
UnsoldSee similar items$295.00Buy It Now, $40.00 Shipping, 14-Day Returns, eBay Money Back Guarantee
Seller:bigwindowjim✉️(1,231)100%, Location:Hortonville, Wisconsin, Ships to: US & many other countries, Item:1832463042691937 1938 1939 Ford Standard Deluxe Dash Dashboard Coupe Sedan Gauges OEM. Up for sale is a dash board which was removed from a 1938 Ford Standard Humpback Tudor Sedan. Missing the ash tray cover. Not all cut up, but there is a small rusted area where the glove box lid mounts down under the dash as can be seen in the photo's. Should be easily fixed, or don't fix it because you can't really see it. I Don't know what other years this will fit.Condition:Used, Restocking Fee:No, Item must be returned within:14 Days, Refund will be given as:Money Back, Return shipping will be paid by:Buyer, Returns Accepted:Returns Accepted
PicClick Insights - 1937 1938 1939 Ford Standard Deluxe Dash Dashboard Coupe Sedan Gauges OEM PicClick Exclusive
Popularity - 0 views, 0 views per day, 41 days on eBay. 0 sold, 1 available.

0 views, 0 views per day, 41 days on eBay. 0 sold, 1 available.

Price -
Seller - 1,231+ items sold. 0% negative feedback. Top-Rated Seller! Ships on time with tracking, 0 problems with past sales.

1,231+ items sold. 0% negative feedback. Top-Rated Seller! Ships on time with tracking, 0 problems with past sales.

Recent Feedback
People Also Loved PicClick Exclusive
Sours: https://picclick.com/1937-1938-1939-Ford-Standard-Deluxe-Dash-Dashboard-183246304269.html
\
She took the deck, which one. I showed it. Well, yes, beautiful. But this one, in my opinion, looks like me. Mom critically examined the naked beauty, only my breasts are bigger, it seems to me.
Dash 1937 ford
So sexy dancing. Wow, I would, she, vperdolit !!. " Covering myself with a blanket over my head so that in the moonlight it was not visible who was lying on the bed. I fell asleep.
1937 Ford Sedan Delivery Project Intro
" The last was the face. With a creak, it fit over Max's face, but did not want to be fixed in any way. It constantly slid down, closing his eyes. Fortunately, the face of the suit was sticky inside, and with a light pat on it, Max fixed it. The zipper closed easily.
You will also like:
At this time, Tolik decided that stretching the pleasure was completely unnecessary, he hit Natasha's lips with it and, without unnecessary sentimentality, drove it into his mouth almost the entire. Length, so that Natasha choked with surprise. Natasha has never been a fan of sado-maso and rudeness in bed, but she unexpectedly liked Tolik's imperious persistence, and his hefty log, reaching almost to the tonsils, caused not only a gag reflex, but also gave not weak pleasure.
For the first time in her life, Natasha suddenly realized that the rudeness and harshness on the part of the peasants, as well as her humiliated and submissive state, is such an acute thrill, with which nothing can compare.
1160
1161
1162
1163
1164