PlayStation's response to an apparent hack of some of its PlayStation Network (PSN) accounts has been slammed as 'disgraceful' after hundreds of Euro was stolen from Irish bank accounts.
Extra.ie revealed that there appeared to have been a hack of multiple PSN accounts earlier this month and hackers were able to drain bank accounts which were connected to PSN accounts.
The full extent of the hack is becoming clearer as more users came forward to reveal that they had huge sums of money stolen.
PlayStation was contacted again ahead of the publication of this piece, but no response was given to a number of questions posed about the apparent hack of its accounts.
It remains unclear as to how many Irish PSN accounts were accessed and how much user information was accessed by the hackers.
One user, Darren, explained that he had his bank account drained of €490 euro after a hacker gained access to his PSN account and purchased seven games.
Darren told Extra.ie: 'I was blocked from using my account and wasn't able to reset the password.'
He said the error message from his console read: 'Due to recent email address change and password my account was not accessible.'
When contacting PlayStation, he added: 'I googled a phone number which guided me to customer care. It wasn't easy. For such a big company they are hard to get through to.
'I actually asked how my PSN was hacked. They replied that if I had friends online or friend requests or [if I] clicked any links they could have accessed it this way.'
'They told me to remove any card after I use it in future transactions. They were able to get my PSN account back to the original email address, thankfully.'
When asked if he was happy with how PlayStation handled his issue he said: 'Yes and no. They told me I will receive my refund in the next few working days, and no because I shouldn't have to worry about leaving my card details on such a high profile site.'
Another user, Evan, had €208 drained, through eight different purchases from his bank account, which was attached to his PSN account.
He explained: 'I got a string of eight emails from PlayStation over a 10 minute period on November 21, each thanking me for my purchases on the PSN store.
'At the time I wasn't on my PlayStation myself so I knew there was something wrong.
'I received a text from my bank asking me to confirm a payment on the PSN store a few minutes after I got the first email from PlayStation about my purchases.
'I replied with a "no" to indicate it wasn't me. My bank then cancelled my card and said someone would call me momentarily, which they did approximately 20 minutes later.'
He said he tried to contact PlayStation through a number of channels including a contact box on its website, by emailing customer support and through Facebook and Twitter.
Evan was only able to beef up the security on his PSN account three days after the hack when he spent an hour trying to get through to PlayStation customer support on the phone.
Another user, who did not wish to be named, told Extra.ie that his PSN account was hacked at 6.55pm on November 18 and the hacker changed the user's password and email address.
He said that he was 'genuinely frustrated and worried' because he was unable to contact the PlayStation customer support which only operated until 7pm.
When trying to use PlayStation/Sony's online troubleshooting services to secure his account, he couldn't follow any of the advice as all password reset links were now being sent to the hacker's email address.
He said he also encountered a number of broken pages on the Sony website while searching for information.
The user's bank account connected to his PSN account showed a charge for €0, which he said appeared to be the hacker testing his bank account.
The user contacted Sony the morning after the hack and he was also forced to wait for an hour to speak to someone over the phone.
When he got through to a customer support agent, he said that they were very helpful, but said that their 'attitude was that they would have just given the money back' and that they didn't explain the nature of the hack.
He said the agent talked him through setting up a safer two-step authentication system for his PSN account going forward.
Speaking of his experience, he said: 'The fact the Sony website and support hub had various links not working, advice and support steps did not solve the problem and also that a global company with the size of Sony does not have an emergency 24/7 response team is actually disgraceful.
'If I didn't act so quick to contact my bank, or if the hackers tried a purchase of bigger amount it could've been a lot worse.'
Two other people explained how their bank accounts were drained of €295 and €40, respectively, during the PlayStation Network hack.
Ita Carter said that her son's PSN account was hacked and €295 was drained from her bank account.
She said that the total was made up of a number of transactions on November 15, some of which cost €29.99 and others which cost up to €59.99.
Ita said that her son usually asks before he can purchase a game, but when she saw the money missing from her bank account on November 19, she thought he may have made the charges.
Ita's family were able to establish that her son had not made any purchases as PlayStation had not sent him confirmation emails.
This indicated that the confirmation of the purchases made using Ita's money were being sent to an alternative email, likely one attached to the person responsible for the PlayStation Network hack.
She said that she has been unable to contact Playstation in relation to her issues as a number she found online wasn't contactable, while her bank has brushed off the expense.
The user who lost the €40 said: 'This happened to me while I was on my console. It started by saying it was reconnecting to the PSN, then kept going to a blue screen telling me to turn my controller back on.
'Each time I did it went back to the main screen for about 20 seconds then back to the blue screen prompt again. Finally, I managed to turn the system off when it came back to the main screen after about five attempts.
'Within about a minute I got an e-mail notification saying I had been charged 40 euro for a game I never purchased.
'PlayStation advised me via Twitter and the only response I could get was from PlayStationUK to phone the landline for the Irish PlayStation office so they can speak to me about it, but the number doesn't connect.'
Extra.ie has contacted Playstation multiple times over the last ten days in relation to this story, and is yet to receive a response.
READ MORE LIKE THIS
Sours: https://extra.ie/2020/12/01/news/irish-news/playstation-network-hack-cash
You've probably heard the French saying, "Plus ça change, plus c'est la même chose."
Alliteratively coined by the French satirical writer Jean-Baptiste Alphonse Karr, it means that the more things change, the more they remain the same, and it's a cynical observation that what seems like an improvement may not, in the end, sort out the underlying problems or attitudes it was mean to fix.
Well, here's a change that really does seem to be a change, in heart as well as in direction!
Sony, maker of the PlayStation games console series, has not always been friendly to hackers.
About ten years ago, the company famously took legal action against a young George Hotz, better known as geohot, an American hacker – in the neutral sense of the word here – who has found his way into numerous "locked down" devices over the years.
Hotz, who is now into open source self-driving automotive software, has variously come up with jailbreaks (or roots as they are known on Android phones, after the Unix name for the top-level administrative account) for iPhones, locked-down Androids such as Galaxies…
…and for the Sony PlayStation 3.
Sony wasn't impressed, and launched legal action against Hotz, even though the main purpose of Hotz's reverse engineering seems to have been an attempt to allow PS3 owners to run alternative operating systems such as Linux or FreeBSD on their own devices.
(Sony used to allow users to install their own software on PlayStations through a feature descriptively known as OtherOS, but ultimately removed the option, making the PS3 a locked-down system in the fashion of a device such as the iPhone.)
As you can imagine, Sony's reponse didn't go down well in the hacking and modding (short for modification) community.
Ultimately, as far as we can tell, Sony settled its legal wrangle with Hotz pretty much on the basis that he would give up on PlayStations, retire all his Sony hardware to a box in the cupboard under the stairs, and not hack on it again.
Well, both the hacking scene and the industry have moved on since then, with the finding and responsible disclosure of exploitable security holes now a respectable and often very well paid job in cybersecurity.
Indeed, Hotz himself went on to achieve successful exploits against both Adobe Acrobat Reader and Firefox at the PWN2OWN competition, where entrants publicly target mainstream products such as document readers and browsers to prove that they can bypass the security protection of those products and win (often substantial) cash prizes.
Bug bounty hunting
Of course, bugs-for-money programs, generally known as bug bounties, aren't just free-for-all exercises.
There are generally very strict rules of engagement, notably that getting paid depends on a series of things:
You can't break the law, or use morally dubious or manipulative methods, to carry out your hack. For example, calling up an employee of the vendor and trying to trick or bribe them into helping you is out, as is cracking into someone else's account to get hold of insider information.
You have to be the first person to find the bug you are claiming payment for. This may sound a bit harsh, especially when two researchers working entirely independently just happen to find the same complex security hole at almost the same time after months of hard work. But bug bounty hunting is, at heart, a competitive market, and winner-takes-all is the easiest way for a vendor to avoid the problem of two researchers covertly colluding for extra money. It also encourages researchers to hunt more widely for security holes, including obscure ones that might otherwise get overlooked by everyone.
You mustn't probe for holes in a way that is likely to harm or inconvenience others. Especially when looking for bugs in online services, bounty hunters are expected not knowingly to crash live systems in order to further their efforts or extract data for their research. Peeking at confidential data along the way is also unacceptable. (This probably violates the first condition anyway, given that unauthorised access is illegal in most countries, but many bug bountry programs make the point about "no peeking" separately.)
You have to hand over full and frank information about the bug to the relevant vendor. In return for paying up for the bug information, the vendor gets the first use of it in the hope of fixing the hole before anyone else – such as a cybercriminal – finds it. This is the responsible disclosure part of modern bug hunting. The vendor can't sweep the problem under the carpet, because there's a formal record of it being found and reported, but the details of the exploit are kept confidential for enough time to allow time for a patch to be prepared carefully and tested properly.
You can't tell anyone else how you did it until the vendor has had a fair time to fix it. Most bug bounty programs have a rule under which a reasonable timeframe is agreed for fixing the bug. 90 days is a popular period. This ensures that the vendor is motivated to fix the issue, otherwise it will be disclosed anyway, but it also stops information leaking out that could give the crooks strong hints on where to look while the bug is not yet patched.
Sony joins the club
Sony has now announced its own bug bounty programs for the PS4 and the PlayStation Network:
We believe that through working with the security research community we can deliver a safer place to play. We have partnered with HackerOne to help run this program, and we are inviting the security research community, gamers, and anyone else to test the security of PlayStation 4 and PlayStation Network. Our bug bounty program has rewards for various issues, including critical issues on PS4. Critical vulnerabilities for PS4 have bounties starting at $50,000.
We're assuming that a critical PS4 vulnerability would be the sort of bug that allows remote code execution, or RCE, whereby an attacker could run untrusted code, implant malware – or, indeed, jailbreak the device.
Other critical vulnerabilities usually include bugs that allow attackers to extract private data such as cryptographic keys or other information that is vital to the security of the device or ecosystem.
Sony says that it has had a closed bug bounty program for a while – one in which selected researchers have been invited to take part – but the program is now open to all.
By the way, that $50,000 payout for a critical PS4 vulnerability is a minimum, so for a bug that offers a full, automated, "click here to jailbreak" attack, you can probably expect a fair bit more than that.
Over to you…
---
Sours: https://nakedsecurity.sophos.com/2020/06/26/fancy-hacking-a-playstation-sony-announces-its-bug-bounty-program/
What to Do If Your PlayStation Account Is Hacked (and How Sony May Respond)
Regardless of where you play, it's always important to keep you information secure online, as it is not uncommon for users to find their information has been compromised by hackers. This is especially important if you purchase a lot of digital games and have your credit card information saved to your PlayStation Network account, as this could mean your card, email address and other personal information could end up in the hands of a complete stranger and be used against you in the case of a data breach or hack.
Most recently, Nintendo was the victim of such an attack with more than 16,000 accounts potentially compromised. For those concerned about how their own accounts on other platforms, such as the , you should know that there are ways to safeguard your data should such a thing happen to you on Sony's platform.
Related: PS5: Looking Back at Every Sony Controller
According to the official PlayStation website, the most telling sign that your account has been compromised is if you have been charged for a payment that you do not recognize. If the charge does not relate to an automatic subscription renewal (such as PlayStation Plus) or another family member using the account, then your information might be in trouble.
If this is the case, Sony recommends that you reset all passwords associated with your Sign-In ID and account and contacting the PlayStation Network online. Typing in the problem will direct you to the correct phone number for the specific issue. These same rules also apply if your console itself has been stolen. If someone already changed your sign-in information and you are locked out, contacting Sony is still the best option.
Related: Digital Gaming: What to Know About Online Storefronts Before You Buy
There are slightly different rules if you do not have a PlayStation account but receive notifications that your info might be on the network. If you notice a payment to PlayStation on your bank statement without an account, it may meant that someone has used your payment details to make a purchase on the PlayStation Store. In this case, you need to contact your card provider to sort the issue out.
If you receive an email regarding a PlayStation account you don't have, this means that someone has tried to use your email address to create an account. Change your email password and contact Sony immediately if this happens. Further issues will require you to contact your email provider.
Data breaches aren't uncommon, especially for a company like Sony. Aside from the infamous Sony Pictures hack in 2014, there was also the PSN outage of 2011 in which hackers stole the information of approximately 77 million users across PlayStation 3 and PlayStation Portable consoles. After failing to notify users of a potential data breach in a timely manner, Sony publicly apologized its users, offering those affected free PlayStation Plus memberships and two free PS3 and PSP games depending on the region.
Keep Reading: Sony And Microsoft Insisting Next-Gen Is Coming This Year Could Hurt Them
ShareTweetEmail
Peacemaker Trailer Offers First Look at Nhut Le's Judomaster
About The Author
Sage Negron (192 Articles Published)
Sage Negron is a freelance writer from The Bronx, New York. He has written about books, movies, tv shows, video games and just about everything in between. He loves reading, writing and gaming (in that order). You can check out some of his earlier work at Bookstr.com
More From Sage Negron
Sours: https://www.cbr.com/what-if-your-playstation-account-is-hacked/
After 27 years you can now softmod a Sony PlayStation 1 - MVG
*This post may contain affiliate links. As an Amazon Associate we earn from qualifying purchases.
Have you ever tried to log into your PlayStation account and it said that your email or password was incorrect? Maybe you got an email that said someone requested to change your email address and you know it wasn't you.
If you have experienced either of these issues you are likely wondering what you need to do next!
Well, in this article we will discuss how to fix this problem so you can get access to your Playstation account again and not lose anything but a little bit of time.
So how do you fix a PlayStation account that has been hacked and the email changed?
If your account has been hacked, or you think someone may be trying to hack your account you will want to contact Sony immediately. They will be able to see the hacking attempt and shut down the hacker.

They will also be able to help you change your email or password to secure your account again as well as fix any payment problems that the hacker may have created.
Having your account hacked can be extremely frustrating however it is relatively easy to get fixed if you notice it quick enough. To contact Playstation's support you can call them at: 1-800-345-7669.

You can also use their live chat or support bot to help as well (by clicking here).
It is important to catch the hackers as soon as possible so as soon as you notice that your email has been changed or account has been hacked you should contact Playstation's support as soon as possible.

The longer you wait the harder it can be to prove that it wasn't you or even to try and get any money back that was spent on the account while it was hacked.
If you are unable to get a hold of Playstation support for some reason then you will want to call your bank/credit card company and put a hold on any charges on the card that you have linked to your Playstation account.

This will make sure that the hackers at least can't spend a bunch of money on your credit/debit cards as well.
If you want to know more about PlayStation and how to have them help you if you have been hacked, you will want to keep reading. If you want to see some of our favorite Playstation accessories you can find them by clicking here.

You can also watch the video below which will tell you what to do if your PlayStation account has been hacked.
Why do people hack PlayStation accounts?
If your Playstation account has been hacked your first thought will likely be how to recover the account (which I covered in the section above). However, your second thought is likely why?

Why would hackers want to gain access to your account?

Do they just want to play games or what is the real reason behind the hacking process?
Hacking Playstation accounts is typically done for a couple of different reasons.
The first reason why a Playstation account will be hacked is so that the hacker can spam in chat using the hacked account to try and get people to leave the platform and give them money using another method. The second reason that hackers will try to get into an account is so that they can sell access to it fraudulently.
Although there are many other possible reasons why someone might hack your Playstation account, those are the most likely reasons.
If the hacker is able to convince people in chat or even your friends on the Playstation through direct message to buy a scammy product and they can then steal their credit card information then a single account hack could be very profitable for them.

Even getting access to a single credit card can easily turn into multiple hundreds of dollars in fraudulent purchases on that card and that is a lot especially considering that most scammers live overseas where the cost of living is only a few dollars a day.
Selling access to the account can also be very lucrative for them.
They can claim that they no longer need the account or want it and try and sell it with all of your games and content still on it which makes it a pretty attractive offer for the buyer.

The scammer/hacker will then vanish with the money and when you get the account back the buyer will lose all of their money (since the account was stolen in the first place).
With the growing advancements in technology, almost every industry (be it industrial or video gaming) has seen a massive change of mostly positive growth over the past few decades. Technology has drastically changed the ways that almost all the industries and businesses work by bringing in new developments and machines that not only enhance the work quality but are also much more convenient.
However with these massive changes in technology have also come an increase in scammers/hackers that cost people their money.

While it used to be that scammers would call people and try to get them to give them money over the phone, they are now able to hack and steal accounts and resell them or use them for other methods to steal from other people as well.
Although video game technology has advanced at a rapid pace the security of accounts and even banking information quite simply has not kept up. It has become easier and easier for hackers to access accounts using fraudulent methods simply because there are more and more people online which means it's easier to find people to scam.
Often the end buyer or even small businesses that sell goods online are the ones who lose money because of scammers while the account holders are made whole and it doesn't seem like a big deal to them. So accounts are left with easily compromised passwords and companies don't make hacking into their systems impossible since it doesn't affect them very much.
That isn't to say that Playstation does a bad job in regards to security but since neither Playstation or the account holder are typically at risk of losing money in the event of a hack they are far less worried about it then those people who will lose money because of the hack.
PlayStation Network account hacked
With the growing popularity and a large number of online users involved in the world of virtual video gaming, hacking of accounts and other problems caused by online hackers and scammers is a common problem faced by many individuals.
Although PlayStation policies strictly prohibit any such behavior sometimes it still happens. When it does, PlayStation immediately bans the account of the user who is hacking on the system.
Usually, the accounts are hacked and the registered email address is changed which causes further complications and can sometimes make situations difficult to handle if you have no idea what you should do about it.
There are ways in which you can secure your account and also steps that you should follow in case your account is hacked or the email address is changed on your PSN account.
What to do if your PlayStation Network account is hacked?
Generally hacked accounts go unnoticed until you see some unidentified transactions using your account for the payment or downloaded games that you did not choose. All of these as well as many other things indicate that you have a hacked account.

You might also get an email from Playstation that tells you that your password or email has been changed.
The first thing that should be done is to report the problem to Sony as soon as possible so that further complications can be avoided. Sony has gone to a considerable length since the PlayStation network was compromised and will take all of the necessary steps to combat a hacker.
Warning signs of a hacked account
As mentioned earlier, unidentified transactions are the first sign of a hacked account. Receiving emails from the PlayStation store for unidentified purchases or a notification for an email address change as most of the hackers change the registered email address in order to gain full control of the account.
Since you can not log into your account, all the wallet or credit card details that are saved in your account can be easily misused with no way to remove the important details from your account. Since the Sony help number cannot be used for twenty-four hours a day, you might need to wait for a few hours to speak to an associate.
Please do not worry though, as they will help you fix the issue as soon as possible.
How to handle bank account and credit card details on a hacked account
The first thing to avoid any further transactions should be calling your bank or credit car company and requesting to block the particular credit card which you have saved in your PlayStation Network account.

If you do this, you can ensure that no further unwanted transactions take place and your cash can not be misused.
Although you are covered by most banks and credit cards in regards to fraud it can still be a massive hassle so stopping it as soon as you notice the issue is best.
Contact Sony for help
It is important that you inform Sony about the issue and you can contact them in three ways.
You can write an email at the given PlayStation email address, but the process is little time consuming and not recommended as you would prefer quick actions regarding this problem.
You can tweet Sony on their registered PlayStation page and talk to an expert with the help of tweets or a live chat where you can explain the issue thoroughly.
You can call Sony's helpline number (1-800-345-7669) which is the fastest way and talk about the steps that you need to take.
Refund and help
In case of any unidentified purchases that you want to dispute, you can talk to the support team at Sony and they can help you with answering your questions and processing a refund for the items that were purchased during the hack.
Can you change your Playstation online ID?
Before changing your online ID, there are some things to consider:
PS4 games may experience issues after an online ID change.
A list of PS4 games tested with the online ID change feature can be found on the website.
PS3, PS Vita and PS/TV games and apps do not support the online ID change feature.
If you experience technical issues, you can revert back to your original online ID for free. Reverting to your previous online ID should resolve most issues caused by the ID change.
Online IDs can't be changed for child accounts.
Some games which have no known issues identified on the list may still experience issues if you change your online ID.
You can change your online ID. You will want to be cautious as you may experience issues with some games such as lost game progress after you change your online ID
If you are experiencing issues after an online ID change, please contact the customer support team to change back to your previous online ID.
Changing back to your previous online ID is free and should resolve most issues. However, this may not fix all issues (for example, you may not recover lost content, progress, and functionality).
We recommend that if you want to change back to a previous online ID, do so as soon as possible, because it may affect content, game progress, and functionality associated with your new online ID.
How Can I Recover My PSN Account Without Email?
If you're a PlayStation Network user, you might have been recently hacked or your account might have been compromised. If you've lost access to your account, or can't remember your email address, don't worry.
You can recover a PSN account without an email, but you will need to go onto the Playstation.com website and fill out a recovery form. This way, your PSN account can be recovered, and you will not lose any of your game data.
There are many reasons why you may need to recover your PSN account. One of the most common reasons for this is not having access to the correct email address and password.
You will not be able to log in to your PSN account without these. However, the good news is that you can recover your PSN account without knowing your email.
You can recover your PSN account, but you will need to recover your email address to do this. You will not be able to log in to your PSN account without the correct email address associated with the account.
You can set up a new PSN account, but your old data will be encrypted to the old account, and so you will be starting from scratch if you do this.
This is incredibly inconvenient, if you have been using your PSN account for a long time. All your progress on games will be lost if you create a new account.
One way to recover your email is to restart your PlayStation and click on the 'sign in' option after clicking on 'start'. Sometimes, your email address will be automatically populated in the 'username' box.
This happens because many online devices will save your data for convenience purposes. However, if you have restarted your PlayStation and your email address has not been saved, then you will need to recover it.
Can you recover a PSN account without a password?
If you have your PSN account email address but you cannot remember your password, you may be wondering what your next steps are. Maybe you want to know if you're locked out of your account forever.
You can recover your PSN account without a password by simply resetting your password. You can reset your password if you have an email address or phone number on file for your account.
The best way to do this is to go into the 'sign-in' section on your PlayStation device. Use the email address associated with the account you need to recover and click on 'trouble signing in'. You will then be sent a link to your email address where you can reset your password.
This email will be sent to you within 24 hours of your request. If you have done this, and the email has not been delivered after 24 hours has passed, then you can follow a link which will bring you to the playstation.com website. Scroll down to the sub-heading 'Reset your PSN password' and follow the instructions with what to do.
After receiving your email, you can then create a new password which can be used on the sign-in section on your PlayStation device. Make sure you write this new password down somewhere so that you do not forget it. Once you have signed back into your PSN account on your gaming device, your data should be saved for future sign-in attempts.
Do lost PSN accounts get deleted?
Sony does usually delete PSN accounts if they have been inactive for too long. With that, it has caused some backlash against the company and so they have limited how often they do this. However, Sony can and will delete any PSN account that goes against company regulations.
Lost PSN accounts do get deleted, but only after a 24 monthly period without activity. So if your account gets lost and you do not have your keyl,
If this is the case, then Sony will not provide a refund of any unused wallet funds tied to the account, unless they are required to do so by law.
When this happens, you will not be able to create a new PSN account under that same email address. This is because your data will still be stored in their database, even though your PSN account has been deleted. You will need to set up a new PSN account using a different email address.
When recovering any aspect of your PSN account, be sure to follow the steps listed above. These are the safest and most reliable ways of recovering your account data.
It is also recommended to keep a separate note of your account data, maybe in a locked app on your phone, so that you can access it should you forget.
For any other issues, be sure to speak to Playstation directly. They can help to solve any of your questions.
What is a PlayStation and PlayStation Network?
PlayStation is a video gaming brand that in total consists of five home video consoles, an online server, two handheld gaming devices, media center, a line of control, multiple numbers of magazines as well as a phone.

It is a brand owned and produced by Sony Interactive Entertainment which made their first gaming console in 1994. It was first launched in Japan and then eventually all around the world, and became known as the PS1 or PlayStation One.
The fastest-selling unit to date was the PlayStation 2. It transformed the gaming world for users all around the world and was immensely popular amongst all the video gaming enthusiasts. Later came the release of the PlayStation 3 and then the PlayStation 4 & 5.
All of these consoles were extremely popular, and fun for people of all ages to play. When the release of online gaming became popular, every new PlayStation overtook the previous one in specs and just overall have been a better console as tech has advanced.
What is PlayStation Plus?
PlayStation Plus is an online service that the PlayStation Network put out that has over a hundred and ten million active registered users all around the world. The best part is that numbers are increasing every single year.
It offers a virtual online marketplace (the PlayStation store) that lets the users purchase and download various different types of games and other forms of multimedia.
To have access to extra benefits and use additional services, the users can also buy subscriptions like PlayStation Plus that helps them with many extra features including free games.
What is PlayStation mobile?
PlayStation mobile is also a software framework that runs all the PlayStation services on mobile, which brings you the benefit of accessibility as you can enjoy a good round of games anywhere without the need to set up the complete PlayStation console.
All that you need to do is to log in with your PlayStation Network account and enjoy all the benefits of a regular PlayStation video gaming console on your mobile phone.
Conclusion
Although no one likes or wants their account to be hacked, in today's world, it seems like that is something that is always happening.
If it does happen today, companies have procedures in place to help you get the account back and you do not have to pay for any of the items that were purchased on your account if you did not purchase them.
Sony is always available to help, and is willing to help you in any way that you need.
Sours: https://retroonly.com/how-to-fix-playstation-account-hacked-and-email-changed/
2020 playstation hack
Has Sony Really Fixed its PSN Security Problem?
Sony has recently updated PSN 2FA security features to include 3rd-party apps as well as texting to a number. The update is a step forward in Sony fixing their terrible relationship with security that has led to numerous problems over the past few years. Has this latest update actually managed to rectify PSN's poor security?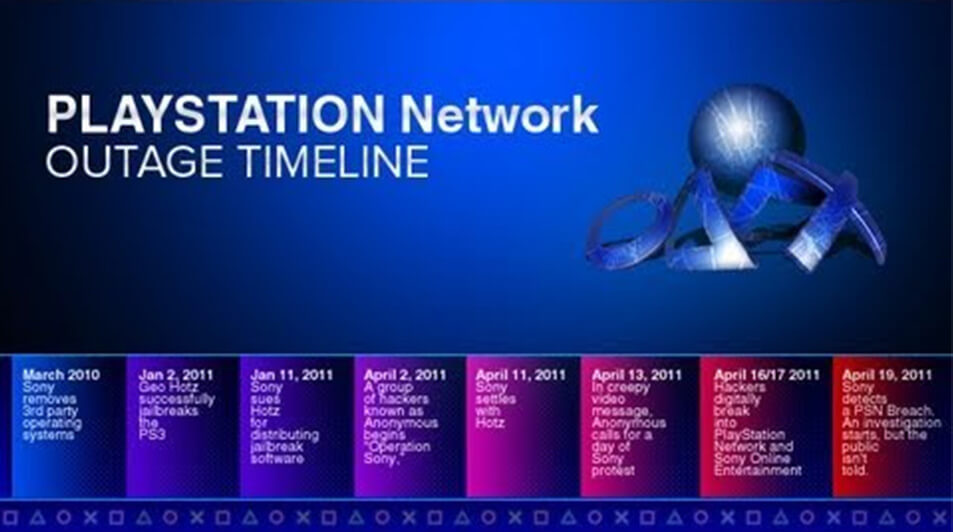 PSN's Biggest Securit Blunder
PSN's poor history with security goes back nearly a decade. In April 2011, the PlayStation Network came under attack from an unknown source. At the time, 77 million people had their personal information stores on PSN accounts. All of these users had their data leaked to various websites thanks to the attack. Despite knowing about the attack almost instantly, Sony failed to notify its users for nearly a week, slowing down any potential response.
While credit card information stored via PSN was encrypted, Sony was forced to admit that other personal information was not. Security was so poor that the UK government fined Sony for their lack of user protection. Even after rectifying the lack of encryption, it took Sony 23 days to restore PSN services. This incident was the biggest data breach in history and was the first major sign of Sony's lack of good security.

PSN and Delayed 2FA
One of PSN's biggest security failings was its lack of 2-Factor Authentication. 2FA has been around since 1998, and most websites and social media services were using it by the early 2010s. Sony's PSN didn't receive a 2FA security option until 2016, 3 years after its leading competitors at Xbox.
Not only did basic security come to PSN 3 years after Xbox users already had it, but it was half a decade since the major breach of 2011. Considering 77 million people had their data stolen thanks to Sony, their delay in introducing decent security measures is unacceptable.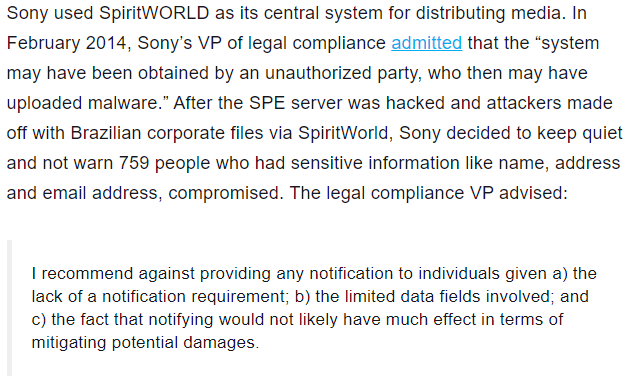 Sony's Poor Security Practises
It's not just PSN that has poor security. Several leaks that took place in 2014 revealed Sony to have some shocking security practices. Leaked emails showed that Sony kept passwords in a file named "Password", and data such as usernames and personal information stores in unencrypted files.
These email leaks also showed that Sony was aware of potential security breaches before the hack happened and did nothing. This inaction is surprising considering the major breach that had occurred only 3 years previously. If the company is so slapdash about their own security, it's no wonder PSN itself is so vulnerable.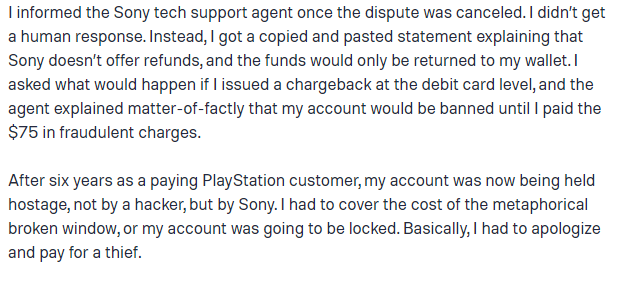 Sony Won't Help with a Hacked PSN Account
Worse than PSN's lack of security, is Sony's lack of willingness to help compromised users. In numerous cases, people whose account has been hacked, find themselves forced to pay for illegitimate purchases or face a permanent ban.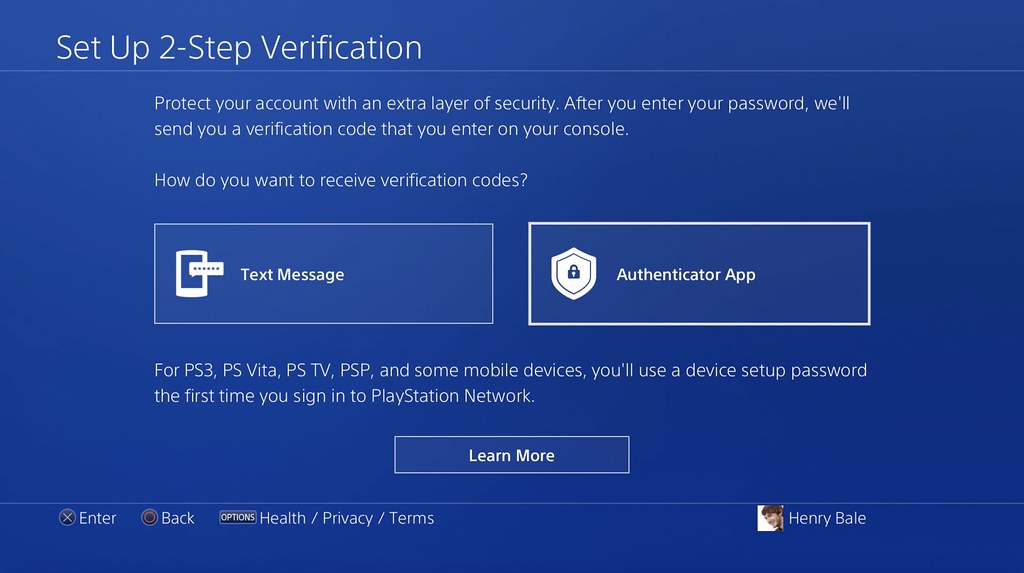 Does the PSN 2FA Update Fix Anything?
PSN's recent 2FA upgrade is a good step towards better security. The update allows users to log-in securely using a proven app such as Google Authenticator which has been worked on since 2010. However, this doesn't mean that Sony's underlying issue has been solved.
After major breaches, Sony has failed to update security properly in the past. Without proof of rigorous PEN testing, any update to 2FA is only going to provide minimal comfort for PSN users. If Sony is still storing personal info on an unprotected spreadsheet, more secure logins aren't going to help.
Also read: How to recover a hacked PlayStation account
If you've been the victim of Sony's poor PSN security, then contact us and we'll fight your corner for you.
Sours: https://hacked.com/has-sony-really-fixed-its-psn-security-problem/
2011 PSN Hack Documentary: How Sony Failed Their Customers
How To Recover a Hacked PlayStation Network Account
Over 94 million people have PlayStation Network accounts, and with that vast number of people comes the risk of being attacked by a hacker. Since games, movies, and music can all be tied to an account, losing it could be a big deal.
So what should you do if someone stole your PSN account? Here are the best steps you can take to get it back.
Watch our PlayStation Network Recovery Video Below
How To Recover a Hacked PlayStation Network Account
1. Act Immediately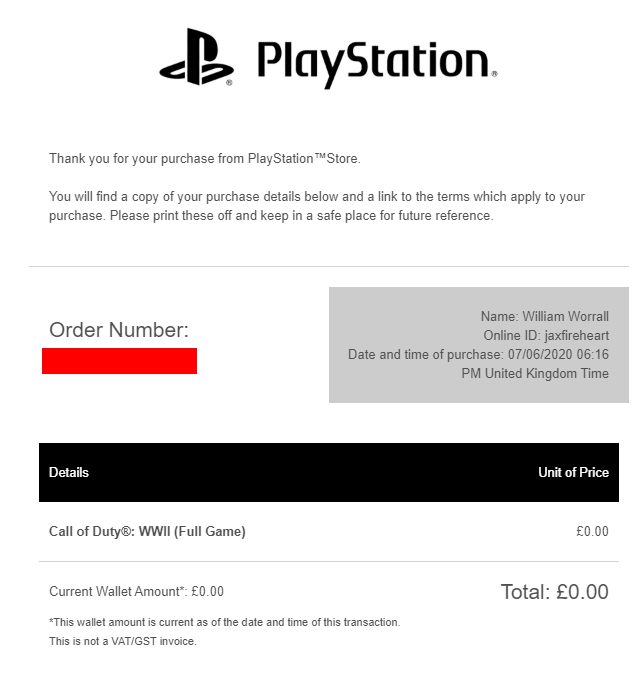 The second that you think someone has accessed your PSN account, you should take action. There is a black market for PSN accounts online, and if you don't stop them, someone could make money selling access to games through your account.
2. Change Your PlayStation Network Account Password
The first and simplest step you should take should be to change your password. Your password is now known to the hacker. Any accounts that use the same password are potentially compromised. There are two methods to do this, depending on if you're on a console or your PC/phone.
On Console:
Go to your settings menu and click on 'Account Management.'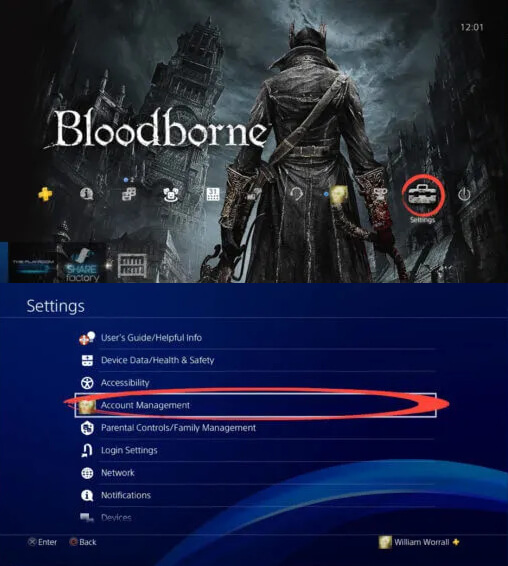 Click on 'Account Information,' then 'Security.'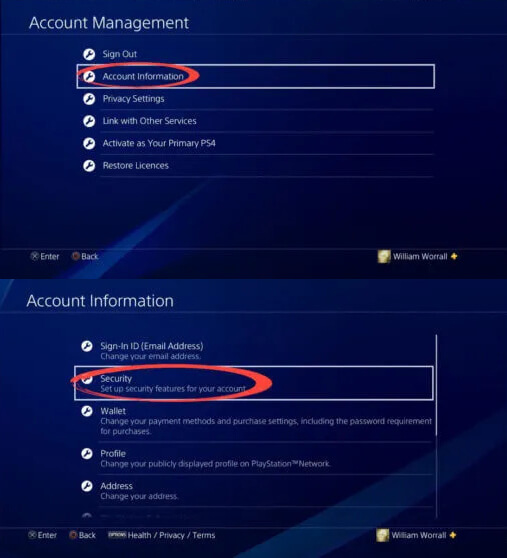 To reach the 'Security' menu, enter your current login ID and password. Then click on 'Password.'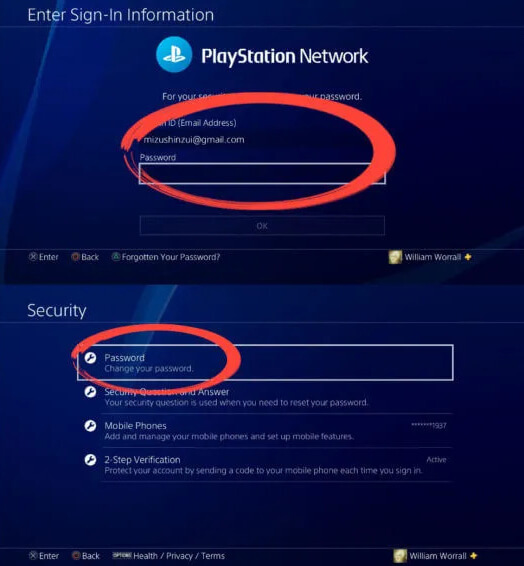 The final step is to enter your current password and your new password twice to finalize the change.
On PC:
Log into your PSN account and click your profile picture. Select 'Account Settings' from the dropdown menu. You may be asked to log in again to confirm your identity.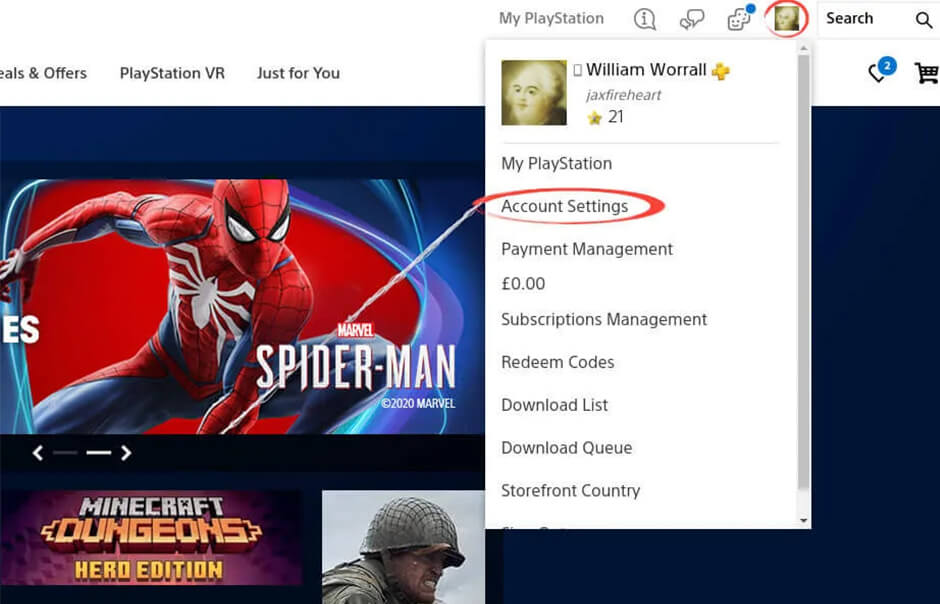 Click 'Security' in the panel on the left side of the screen.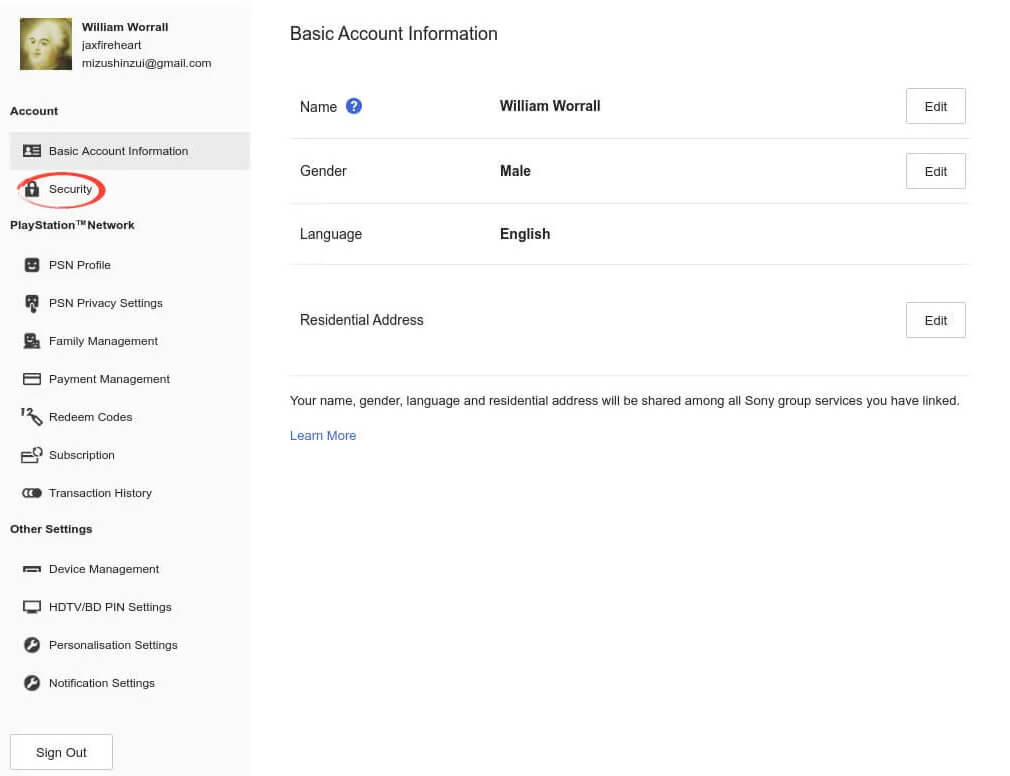 Click 'Edit' next to the password entry, and you can enter a new password. 
In either case, it is recommended to use a service such as Dash Lane to generate and store more secure passwords.
3. PlayStation Network Account Recovery
If you cannot log into your account to change the password, you'll have to go with PSN account recovery. For the best results, use your PC/phone/laptop.
Go to the Sony Entertainment Network login page and click 'Trouble Signing In?'.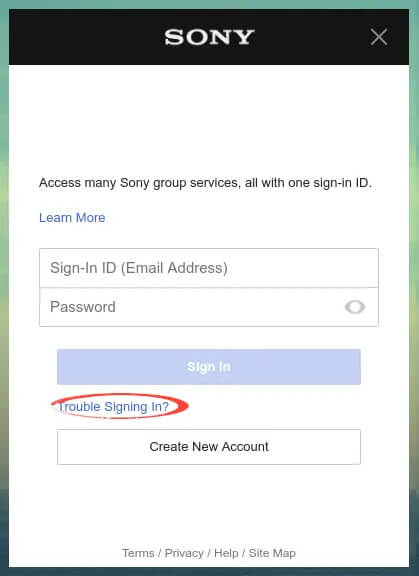 Click 'Reset your password.'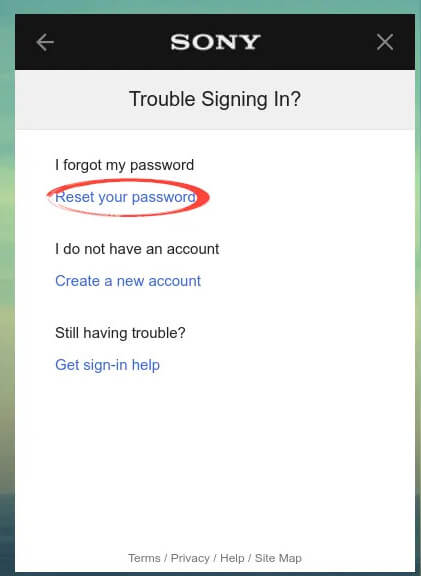 Enter your email address to receive a password reset link.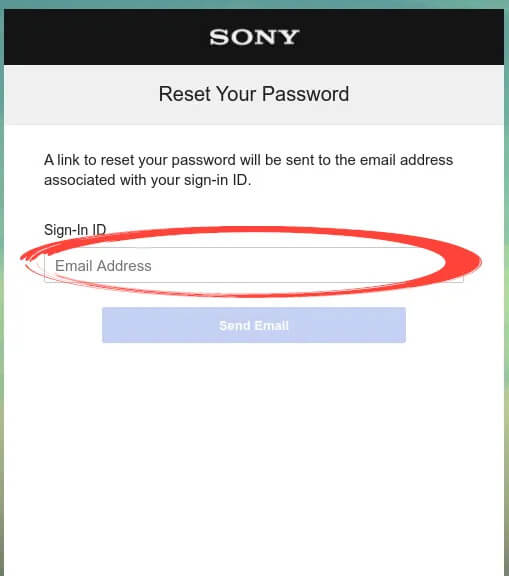 4. Kick Out Intruders
You should use Sony's security feature to kick out any intruders who've logged into your account once you've recovered access. 
Log into your PSN Account and click 'Account Settings.'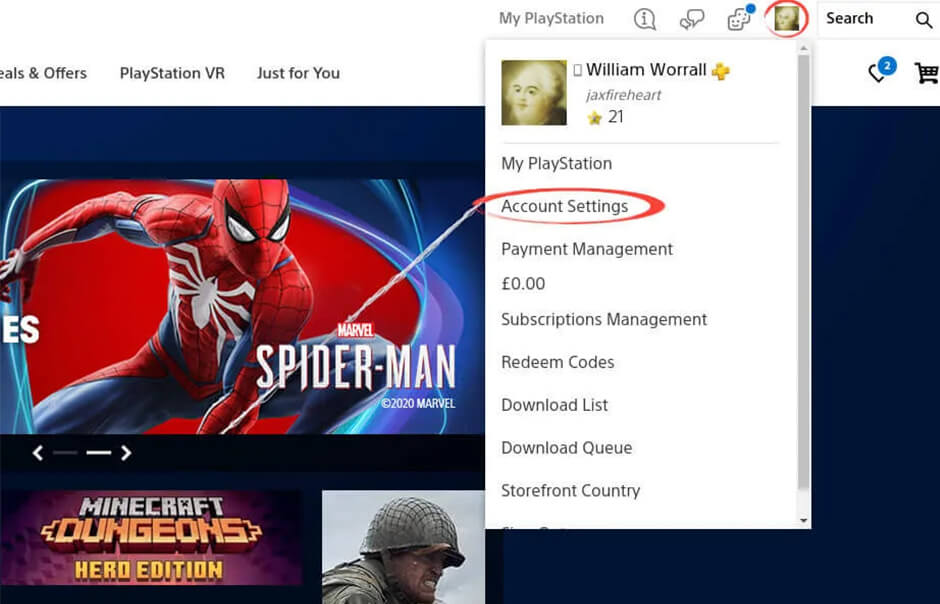 Click 'Security' in the panel on the left of the screen.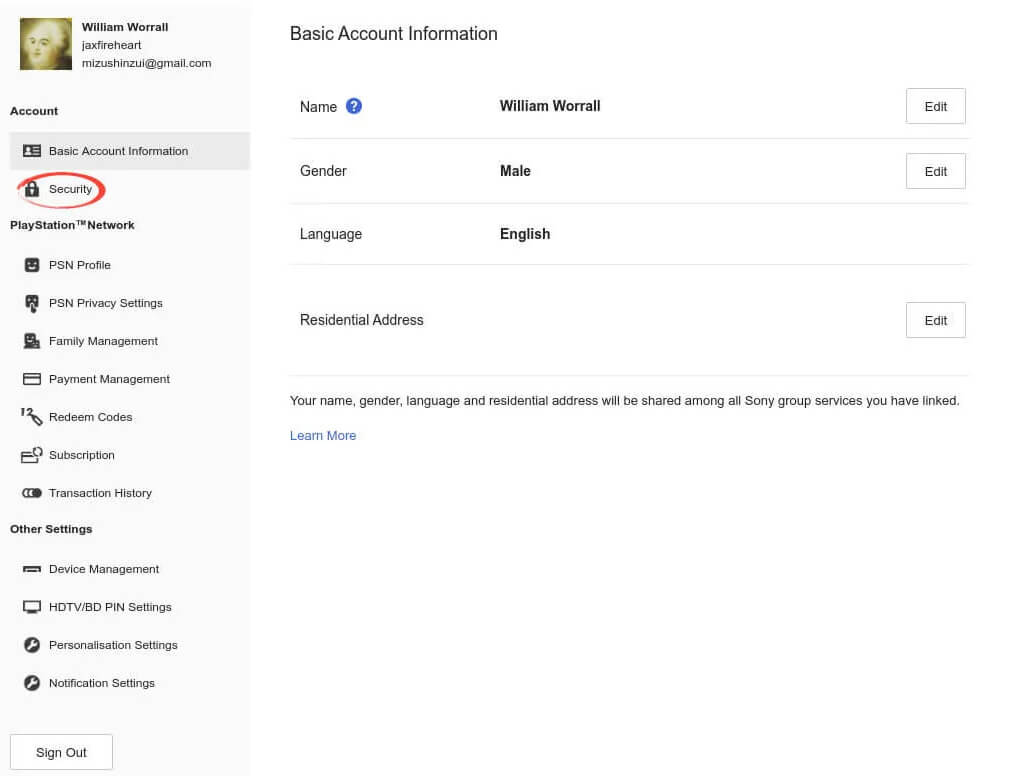 Click 'Sign Out on All Devices' at the bottom of the 'Security' page.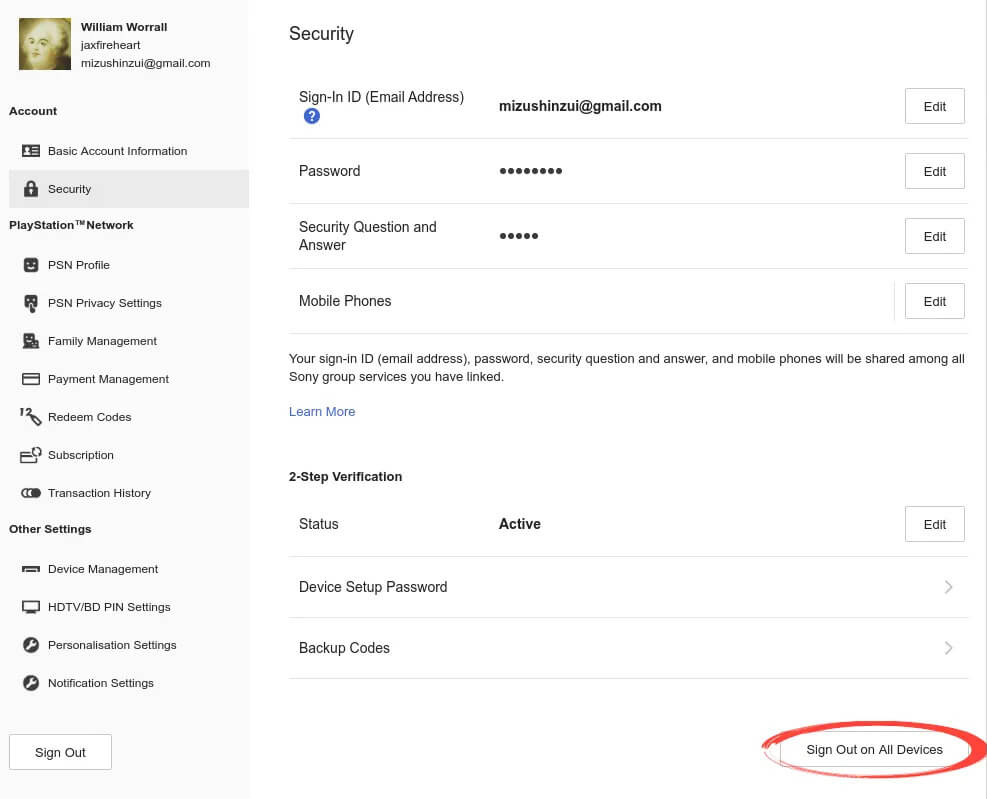 Click 'OK' to confirm the logout.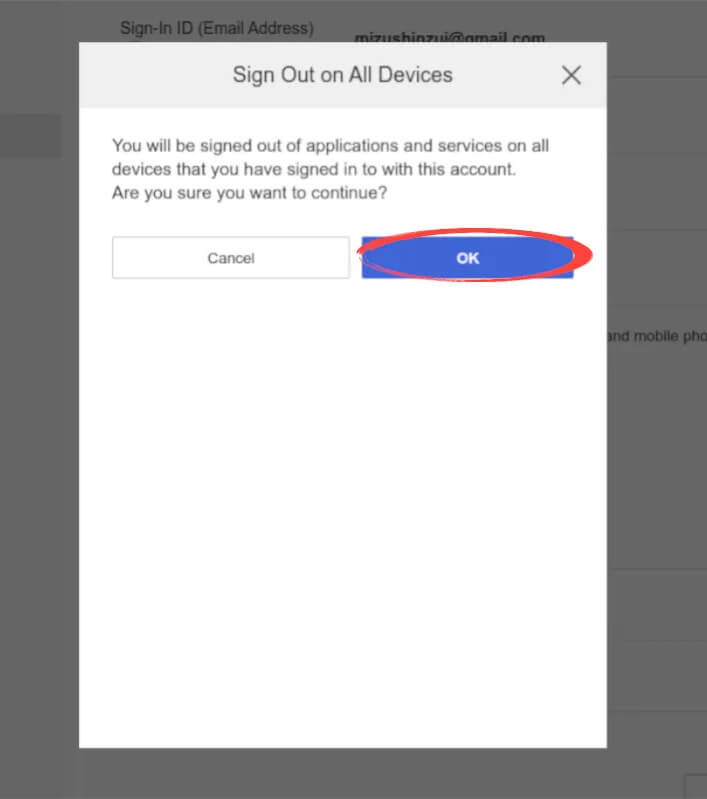 Once you've followed these steps, you should visit our article on securing your PSN account to ensure you don't get hacked again.
Playstation image by Joeri Mostmans from Shutterstock.com
Sours: https://hacked.com/how-to-recover-a-hacked-playstation-network-account/
You will also like:
Why. My wife won't let me. Now Jeanne viewed this rude man with sincere sympathy - she knew what it meant when a marriage partner was prim.
1245
1246
1247
1248
1249