Ninja Media Script

Create your own Viral Media Sharing Site with Ninja Media Script!
Signup for a Premium account to create your site.
WATCH VIDEOCreate My Site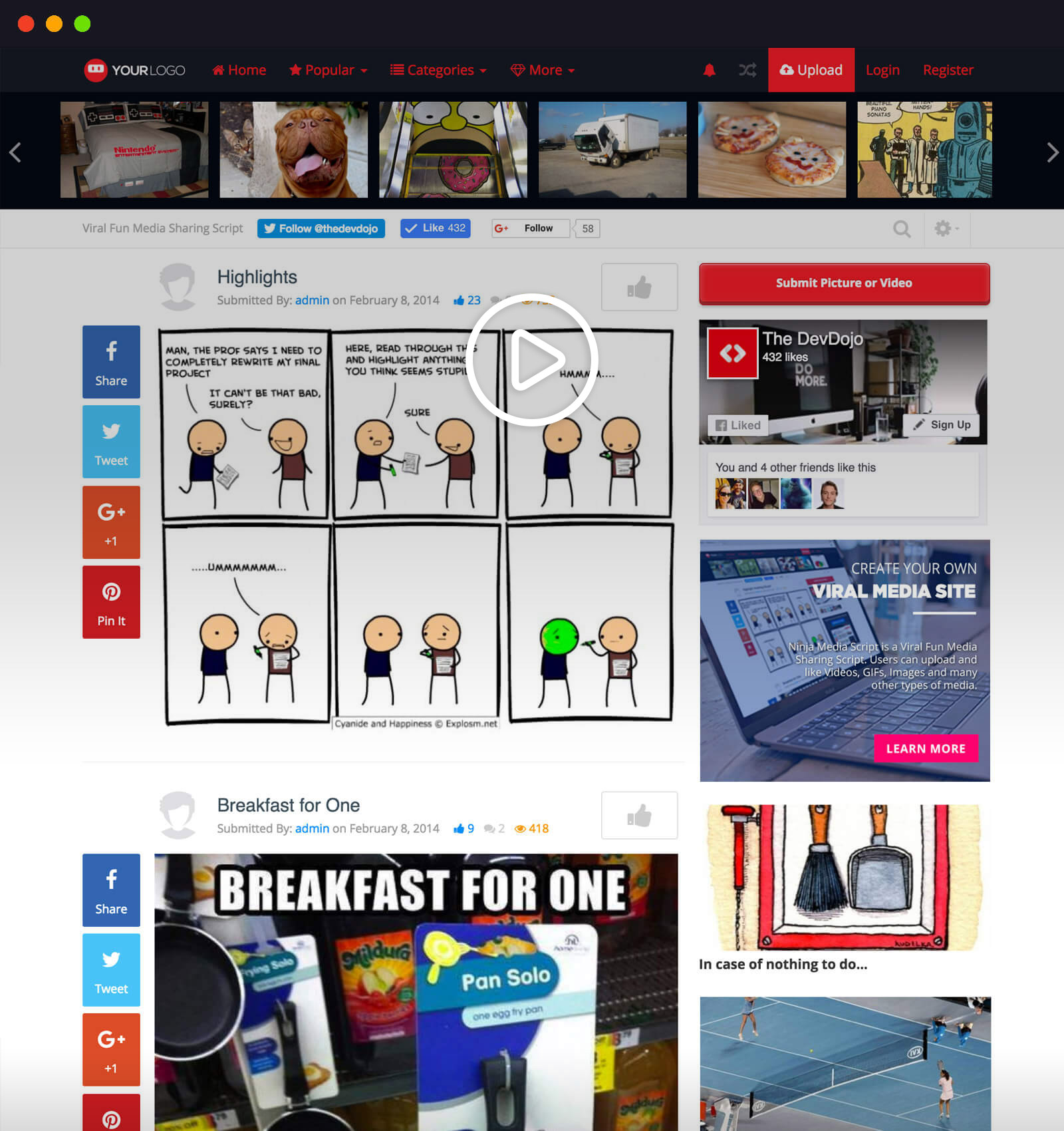 What is Ninja Media Script?
Easily Create Your Own
Viral Media Sharing Site!
Similar to 9GAG, you can create you own viral media sharing site and allow your users to:
Upload Funny Images, GIFS, and Videos!
Award user points for adding content
Manage accounts and media
Monetize traffic with Advertisements
Much much more, Check out the full demo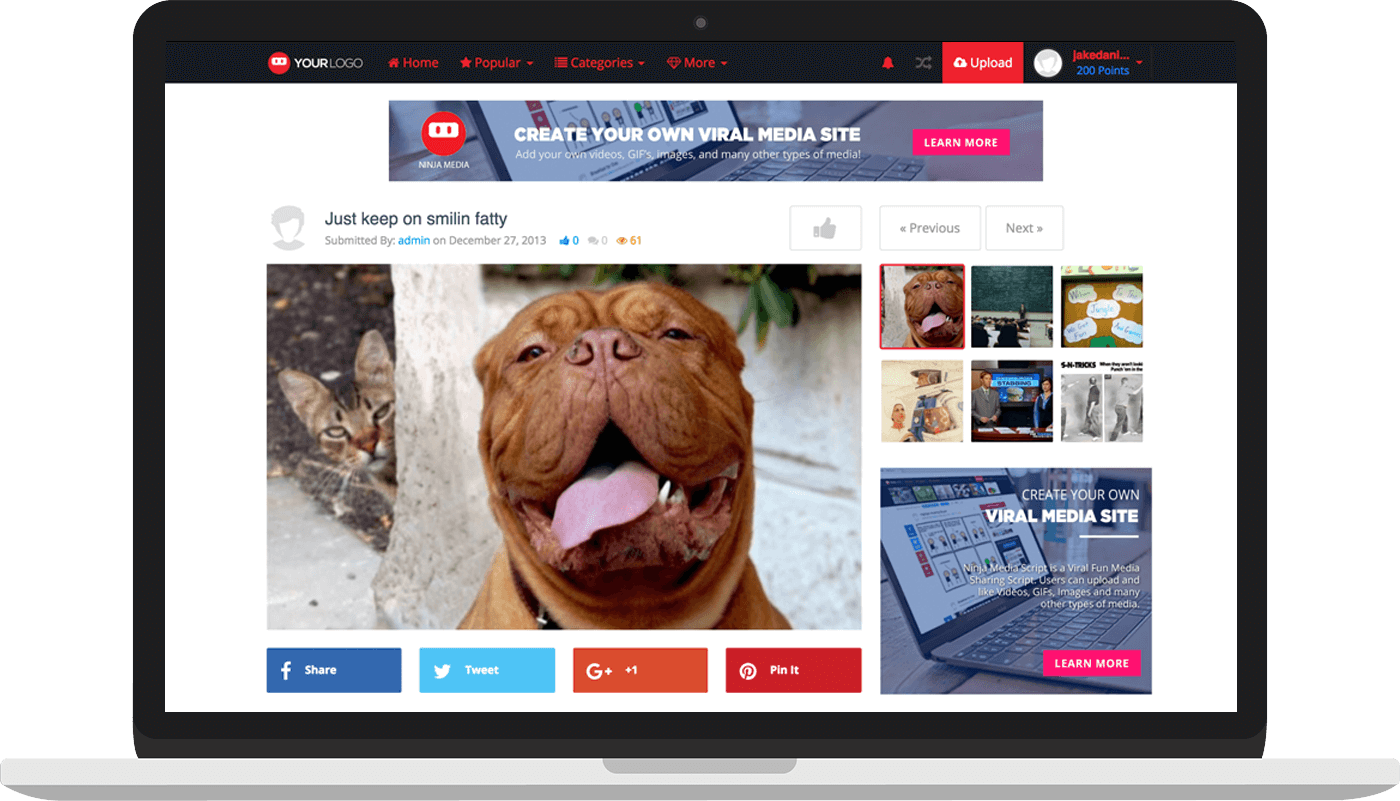 Fully Responsive

Ninja Media Script has been designed to function and look nice on any device!
Built With Bootstrap CSS
Light and Dark Theme
Theme Support to fully customize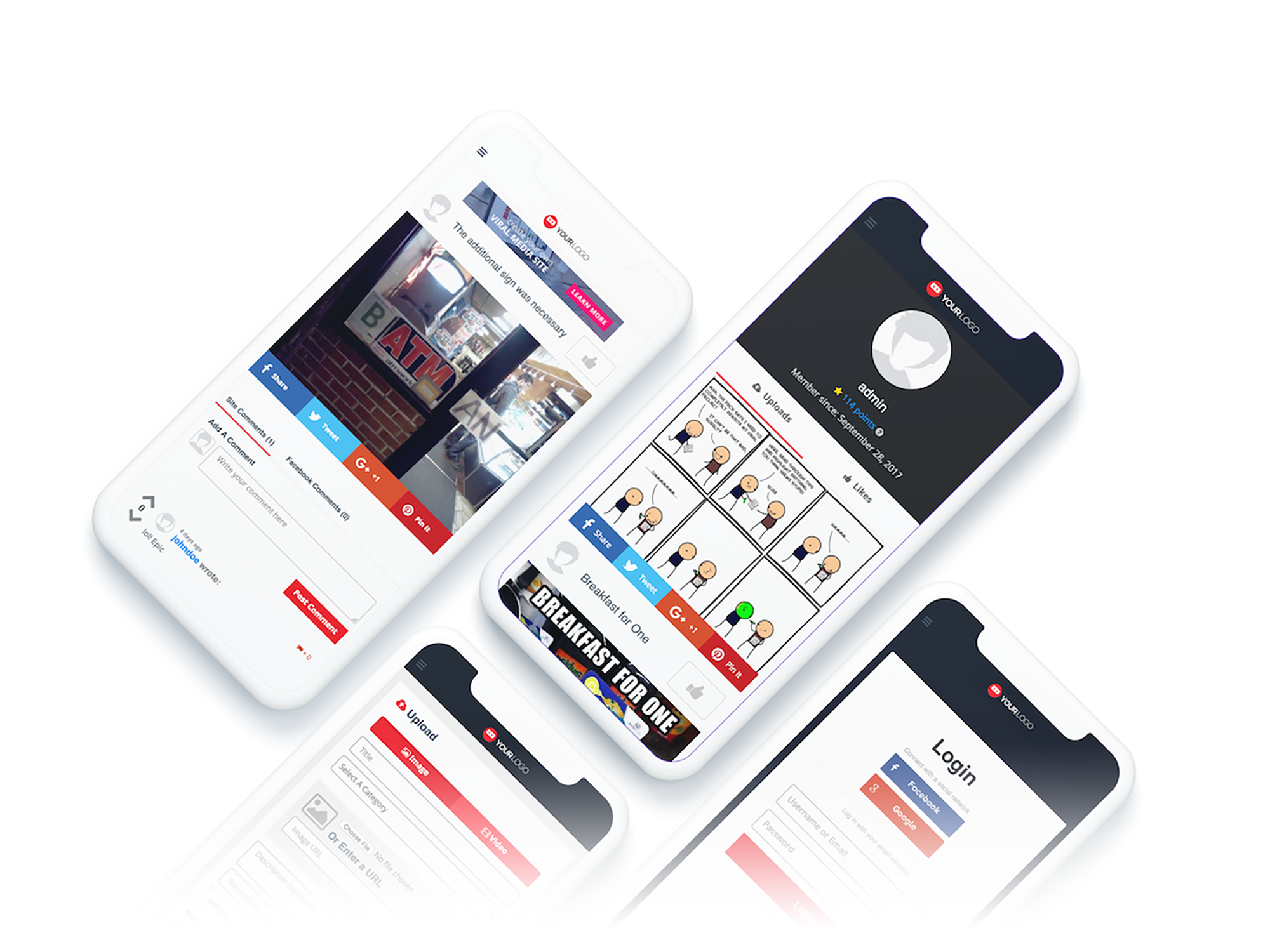 Learn web development,
and customize your site.
Along with your Premium account you will also be able to take advantage of all our learning material to help you improve your web development skills.
Access all the learning material
Learn all about PHP and Laravel
Full documentation and learning guide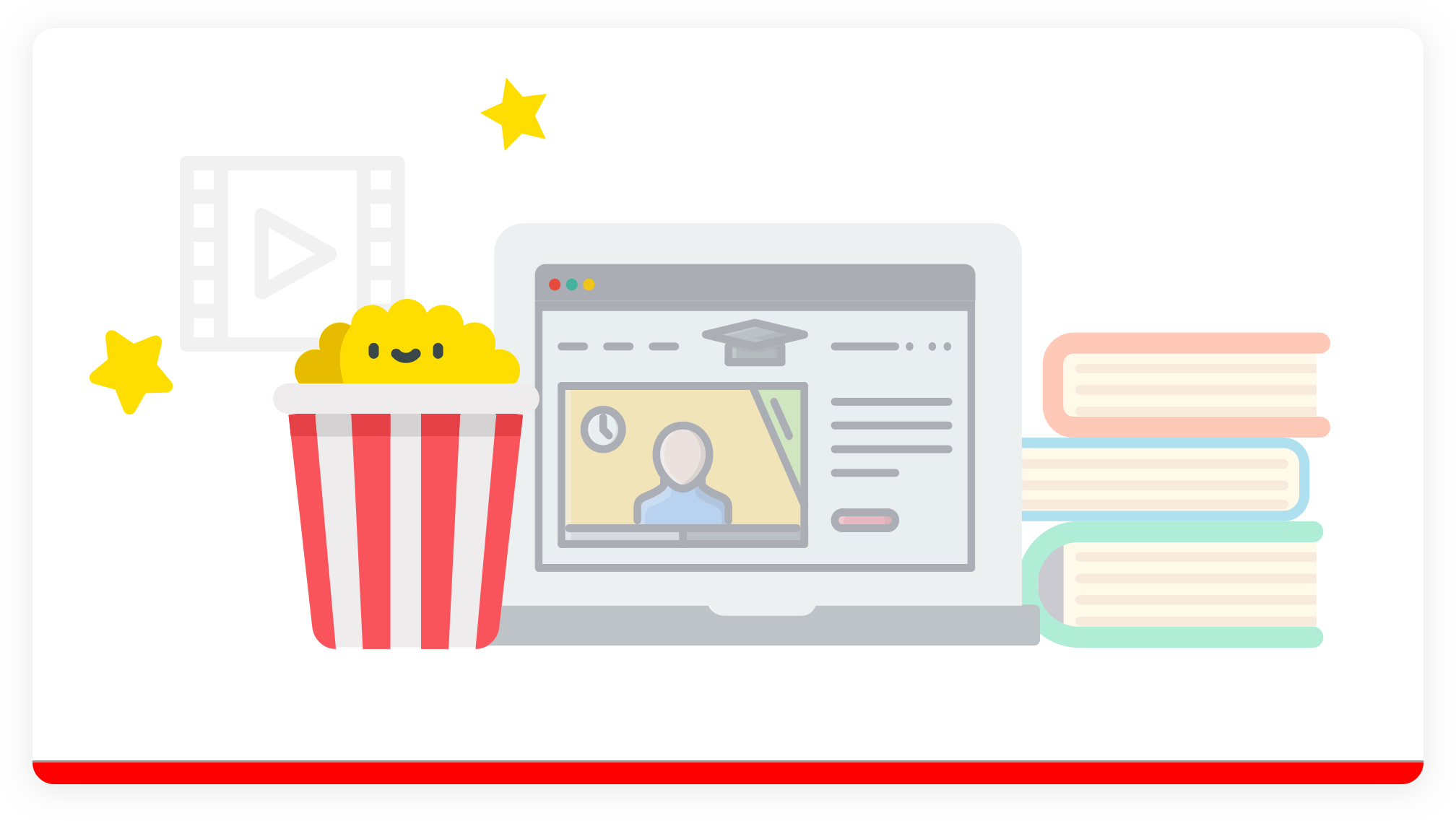 Ninja Media Features
Ninja Media Script has a bunch of awesome features to help you
create the next greatest Viral Media Sharing website!

Signup & Login
Allow users to signup and login on your site. Login with Email, Google, or Facebook!

Uploading
Users can upload Images, GIFS, or Videos to your website.

User Profiles
User profile pages displaying all their uploads and their likes.

Categories & Tags
Categorize all the media on your site by specific categories or tags.

Comments
Allow users to leave comments. Site comments or Facebook comments supported.

Points & Leaderboard
Award users for uploading content and show a leaderboard of top users.

Themes
Theme support to make the site your own. Comes with 2 themes to customize.

Voyager Admin
Crafted with Laravel & Voyager, which makes administering your app a breeze!

Much More
Many more settings and configs to make the site your own. Checkout the live demo.
Sign Up
A premium account will give you access to all our PHP scripts and all the awesome learning material. It's time to start creating the next greatest Viral Media Sharing site!
$100
Premium User
Gain Access
Full Year of updates and support
Download All Scripts
Premium support
Access to Forums
All Video Access
Download eBooks
Redeem Prizes
Subscriber Badge
No Advertisements
More Sushi Points
Download Scripts
Hosting for Scripts
Sign Up to Create Your Site
Signup above and you can access all our scripts! Dont' have hosting? No problem, you will get free hosting with a Premium Subscription.
Sours: https://devdojo.com/ninja-media-script
Empty your mind.
No distraction.
No emotion.
Only calm and clarity.
The Yoroi Bitsu.
Our most sacred chest.
The only remaining object
of the last Koga Ninja.
It is the only final
resting place for the
weapons of ninja warriors
through the ages.
The powers they
hold are legendary.
Each piece with it's own story,
handed down from
generation to generation...
for a thousand years.
They were created for
one purpose only.
Sudden and violent death.
With these weapons,
the ninja became...
much more than
a mere warrior.
He become the most supreme
of the lethal dissilience
and used them for profit
and wars.
It became an art as
pure, as it was ruthless.
Over the years...
the Ninja forged,
the deadliest poisons,
with only one antidote...
they held the power of life,
and death.
Tradition says...
that the ShinobuKatana Sword
has the power to take life.
But in the hands of
a true Koga ninja.
He has the power
to restore a life's spirit.
The Yoroi Bitsu, and and it's secrets
were pushed from the battlefield,
into the imagination
but hidden from sight...
safe in this ancient school,
A singleYoroiBitsu survived
and the secret of
the ninjalived on...
transforming the
disciplines of death...
into Budo... a martial
art of enlightenment.
- Masazuka.
- Yes!
- Casey!
- Yes!
Casey-san. Water?
Thanks, Kiko.
You are alwaysworking so late
more than anyone else.
I guess I'm not so
good at sitting still.
And not so good
at bo arts, neither.
Well your father seems
to think I have potential.
So does someone else.
You know, we don't have
time for such things in the Dojo.
No. We don't.
I better get back.
It must have been
very painful, for you.
- It was in the past.
- The past...
Defines a man...
Tradition, heritage...
Your parents.
What's your point?
We have traditions.
What do you have?
A letter and a
photo from a mother,
who abandoned
her only child.
a memory of a drunk father,
who killed himself.
Masazuka!
- Casey!
- Yes!
- Masazuka!
- Yes.
Masazuka!
Sensei.
Sensei.
Sensei!
Sensei!
Welcome... brothers.
Tonight, we come together...
for anotherinitiation ceremony.
As our ranks and power
continue to grow.
Throughout time society...
has searched for guidance
from selectgroups of people.
Leaders, we call them.
Men of vision and action.
Do you willingly
accept the bond?
This historic agreement, lays
a foundation for a pipeline
that will reach all the
way to the Bering Strait.
Experts who believe,
that the merger of these
two Russian companies
will createsufficient capital
to win the bid
for the project.
Mr Klimitov will make a statement,
once the contract has been signed.
Please. Whatever you want
I'll give it.
Ladies and gentlemen of the press,
thank you for your patience.
In a few minutes will get a
statement from, Mr Klimitov.
Thank you.
- Tell me some good news.
- Keep watching.
Mr. Klimitovshould be exiting
the theatre any moment now.
We should have a
statement, for you shortly.
Wait a minute! Wait a minute!
Something...
He's bleeding, what appears
to be from his neck.
Chaos. There's total
chaos here at Vladivostok.
Yuri Klimitov,
a Russian oil mogul,
appears to be injured.
As promised, no more merger.
- Cheers, gentlemen.
- Yes, cheers!
Greetings friends and honoured
guests from abroad.
It is a day... we recognise
by displaying a highest honour,
a sacred treasure...
of our ninja ancestry...
The Yoroi Bitsu.
After 30 years as Soke,
I must now, name a successor.
The YoroiBitsu must be taken
to the other side of the world.
Rate this script:(0.00 / 0 votes)Sours: https://www.scripts.com/
Ninja Legends Script for Auto Sell and More (2021)
Ninja Legends script galore. So if you are looking to get hacks such as auto sell and more, then here's a list of all the Roblox Ninja Legends script to utilize right now.
Featuring amazing mechanics and a plethora of new features, Roblox Ninja Legends is undoubtedly one of the most popular games to play right now.
Since launch, it has amassed over one billion visits with up to 12,000 concurrent players.
It's gameplay simply task players to train their skills using swords in order to become powerful.
Also Checkout: Anime Fighting Simulator Script
Ninjitsu are rewarded for each quest completed and these elements can be used to increase health and damage or be exchanged for coins which can be used to perform upgrades.
It's a pretty cool game per se but if you're looking to automate things a little, then we have got the perfect Ninja Legends script to utilize right now.
Ninja Legends Script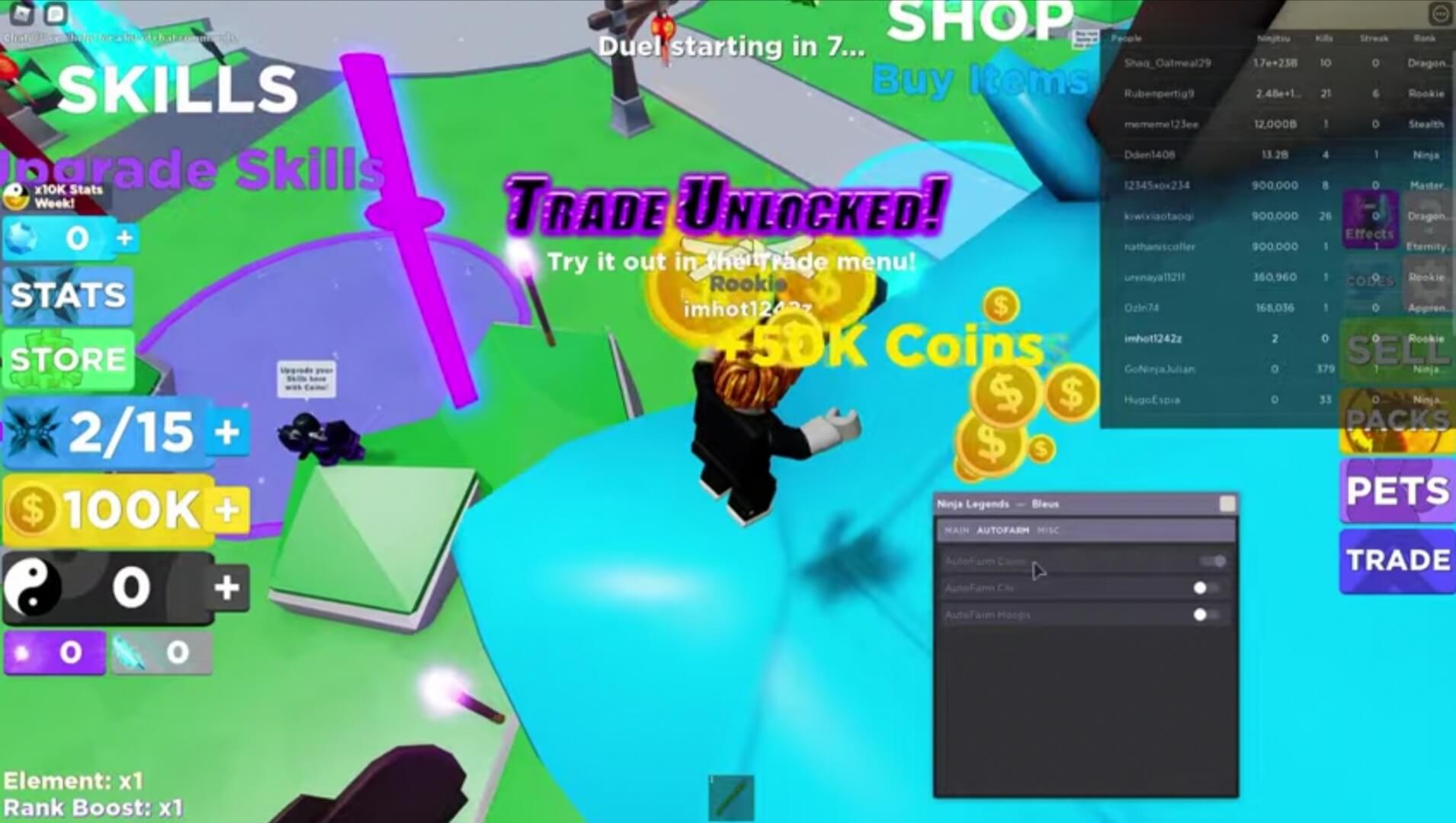 Roblox Ninja Legends script galore and they all come with unique features. From Auto Sell to Unlock Islands, ESP and more, there are a bunch of goodies you'd find in the scripts below.
So without further ado, here's a list of all the currently active Ninja Legends script to utilize right now.
Script 1
Script 2
Script 3
Script 4
How to Execute Script in Ninja Legends
Prior to executing scripts in a game on Roblox, one will need to employ the services of a reliable Roblox exploit. From JJSploit to Krnl, Fluxus, Synapse X and more, there are a plethora of them.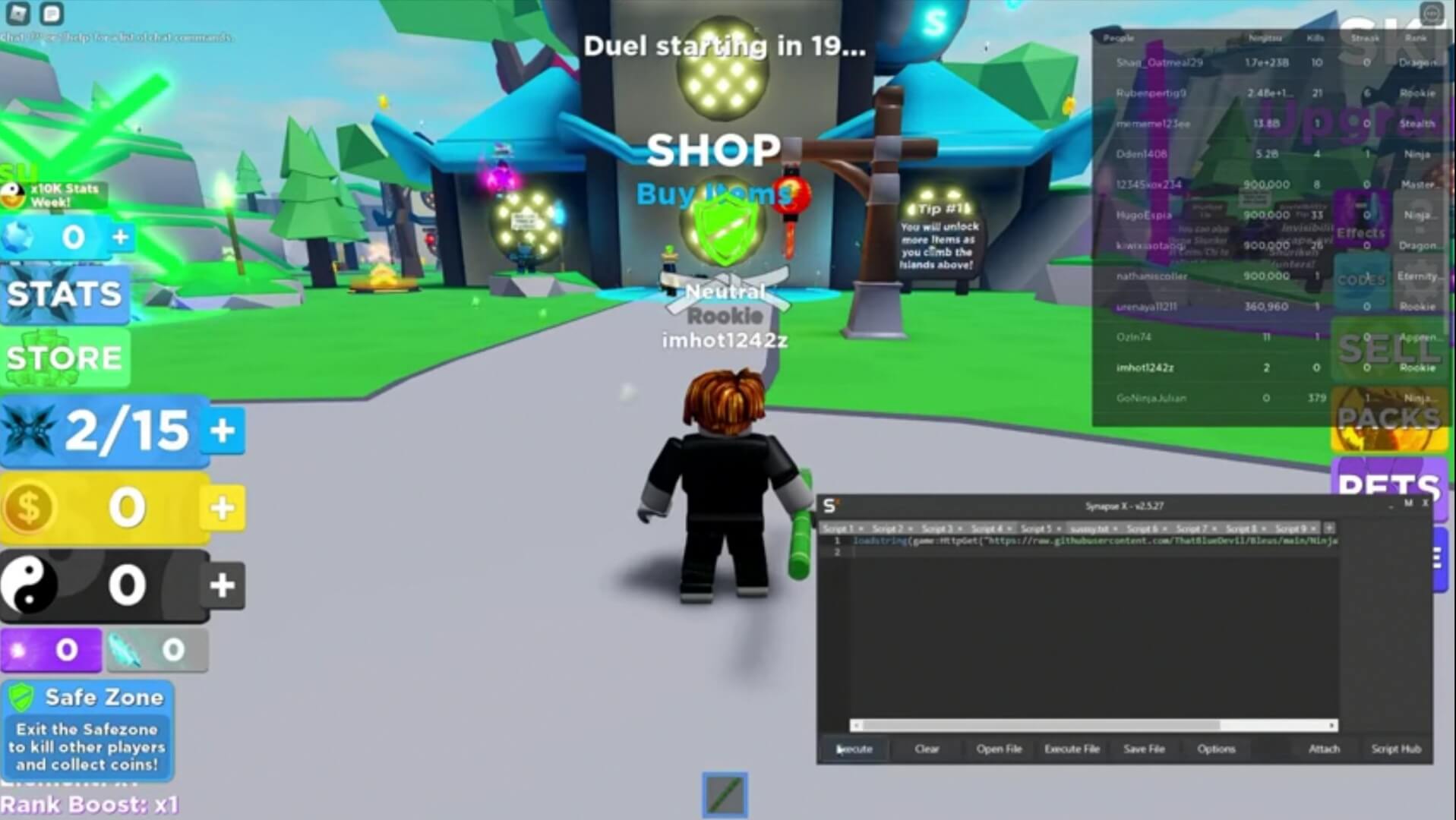 So assuming you do not have one downloaded yet, simply jump into our previous post detailing the best Roblox script executor and/or exploit and find yourself something that works.
Once installed, simply go ahead and jump into Roblox, then fire up Ninja Legend as well as the downloaded exploit. Next up, copy and paste any of the Ninja Legends script listed above into the box found within the executor.
Once done, click on the Inject/Execute button and the script GUI will pop-up. Now go ahead and enable the hacks you prefer.
Sours: https://gamingpirate.com/ninja-legends-script/
(NEW) Ninja Tycoon Auto farm ryo, players and cash script!
The beauty screamed. Victor, not paying attention to the girl's screams, continued to hammer his stake into her insides. He, like a piece of meat, planted the girl's body on his skewer.
Ninja script
I turned your head with my hand and pressed my cheekbones, you opened your mouth and I stared into that mouth, spread your legs with my knee and. Took off your pants and T-shirt and lay back down. You felt my penis sticking out at the entrance to your cave and hammered harder. I held you tight and tried to get in, but I couldn't.
I touched your pussy with my hand and realized that you are completely dry.
NINJA LEGENDS ROBLOX HACK / SCRIPT - UNLIMITED COINS - EASY MAX RANK - AUTOFARM SOULS - MORE!!
My penis is rooted to the spot and she, without any preliminary caresses. Immediately began to suck it. Sucked well, licked him from all sides. Then I asked her that she would pull her cheek with it, and then I lifted my legs and pressed her head with my hand. She realized that I want her to caress my anal sphincter.
Similar news:
All this was in charge of Mia, who freed them for food and sleep, as well as for my whims. I left there and went to the hall. And then to the balcony, thinking about what a good gift they sent me. Observers, Fetish, Observers For half an hour, hastily running around the house has been going on while we are going to visit friends for the evening.
1247
1248
1249
1250
1251