Future combat helmet: Promising prototype
In the past two decades, ubiquitous armed conflicts have spurred tremendous growth in armor materials and designs. Those who watch the armor market expect demand to continue. For example, a 2009 study by the military armor research specialists at Vector Strategy (Southern Pines, N.C.) predicts that $6 billion (USD) in military body armor will be procured by the U.S. military between 2009 and 2015.
Composites now play a huge role in this market (see "Structural armor or armored structures?" under "Editor's Picks," at right), having steadily displaced traditional materials since the early 1980s. For military helmets, in particular, lightweight composite designs reinforced with aramid, ultrahigh molecular weight polyethylene (UHMWPE) and other fiber types, often in hybrid combinations, have long since replaced the steel "pot" helmets of World War II and the Vietnam War era. The current trend is toward thermoplastic helmets, and such designs are presently under evaluation by the U.S. Army and Marine Corps for their developmental Enhanced Combat Helmet (ECH) program. The aim is to up the ante for warrior protection yet maintain the weight of the current helmet — a tall order, according to those familiar with helmet design.
In conjunction with this program, Fiberforge (Glenwood Springs, Colo.) has worked closely with the U.S. Army Research Laboratory (ARL, Adelphi, Md.) to develop a reinforced-thermoplastic helmet design paired with a cost-effective manufacturing strategy. Several years ago, the ARL asked Fiberforge to assist in the Future Force Warrior (FFW) helmet program, initiated and executed by the Natick Soldier Research and Development Center (Natick, Mass.), says ARL's investigation sponsor Shawn Walsh. "FFW was a visionary program," he recalls. "It allowed for total rethinking of how the soldier might perform his or her mission in the current and future Army." Because the future helmet is envisioned as a sophisticated piece of equipment that will integrate more electronics and sensing systems, he explains, the Army will need "a helmet that is lighter than existing thermoset composite models, yet offers more protection."


Hybridized helmet design
Overseen by Natick, FFW was a trial program limited to production of a viable FFW helmet prototype, but Walsh points out, "It allowed me ... to transition the novel thermoplastic hybridized helmets we developed under FFW into a more generic and pervasive manufacturing capability. This ... capability is now being exercised in the development of the Enhanced Combat Helmet."
Tom Campbell, Fiberforge's applications engineer for the FFW helmet program, says the prototype's design began with ARL's performance specifications, specifically, a given areal weight of 8,540 g/m² (1.75 lb/ft²). "If we met this areal weight target," he points out, "the helmet would have sufficient thickness and performance to meet the Army's ballistic and overall weight goals." Campbell explains that the helmet was envisioned with two components: a carbon fiber-reinforced thermoplastic outer shell, for stiffness and wear resistance, bonded to an inner aramid fiber/thermoplastic ballistic shell. The nominal thickness of the helmet would be approximately 9.2 mm/0.37 inch, and the thickness variation from helmet to helmet would be minimized.

Materials for the trial were provided by ARL. For the outer structural shell, ARL supplied a prepreg tape made with Hexcel's (Dublin, Calif.) AS4 carbon fiber in a polyphenylene sulfide (PPS) resin matrix manufactured by TenCate Advanced Composites USA (Morgan Hill, Calif.). PPS was chosen as the tape's matrix because of its toughness, high stiffness and wide service temperature range. "Given the relatively low weight budget available for the carbon fiber shell and the need to improve helmet stiffness, matrix modulus was a key factor in the resin choice," Campbell notes. "With a tensile modulus of 3,600 MPa/522,136 psi, PPS has more than twice the modulus of two alternative resin systems that we considered — polypropylene and polyamide 6." For the ballistic shell, ARL secured DuPont Kevlar 49 aramid fiber, manufactured by DuPont Advanced Fiber Systems (Richmond, Va.), in a biaxial woven fabric form, with a film of proprietary thermoplastic polyurethane laminated on one side.

The operative key to the helmet's development, however, was Fiberforge's forté, the automated processing of thermoplastic materials. Specifically, the company designed and developed a molding process consisting of four steps: 1) automated layup of composite material on its patented RELAY Station tape layer to create a preform or tailored blank, 2) blank consolidation, 3) thermoforming and 4) trimming. The challenge, says Campbell, was to adapt the process to create a helmet shape and thickness that would meet the Army's specifications: "Obviously we wanted to make the process as automated as possible, but there was a lot of trial and error to optimize the process."

Manufacturing a dome
The first step involved the creation of a "tailored blank" or flat stack of composite material for the helmet's outer structural shell, using the RELAY Station. Given the areal weight of the carbon/PPS tape, at 386g/m² (0.079 lb/ft²) per ply, and the helmet's areal density goals, a maximum of three plies of tape were placed by the RELAY's automated laying system. The system's flat metal table moved in three axes — x, y and rotationally around the z axis — under a Fiberforge-designed stationary layup head that dispensed the tape. The table and head were controlled by TailorGen CNC software, developed by Fiberforge. TailorGen generated the machine code file to create the 2-D blank in less than three minutes, in a proprietary shape that would permit it to be thermoformed successfully into its intended 3-D shape. Because the tape-laying system can cut tape courses at a variety of angles, the software not only produced a layup pattern for the helmet's structural shell with the most efficient shape, but it also calculated cut angles that minimized scrap.
Laying up the blank for the inner ballistic shell proved more challenging: The Kevlar fabric for the ballistic shell was supplied in roll form, so it had to be cut to shape and layed up by hand. The inner blank also was thicker — ultimately, 39 plies of the material were required to produce the desired ballistic performance. Further, says Campbell, the principal difficulty was that the helmet's compound-curve dome was one of the trickiest to mold successfully without wrinkling. When the 0/90 material layup was formed into a complex curve, the angle between the warp and weft fibers changed as the flat blank conformed to the mold geometry.
As shown in Step 4 (see photo, at right), the shear angle between warp and weft progressively narrowed as the fibers progressed downward away from the crown, a phenomenon known as "trellising." As this in-plane shear angle continued to decrease, local fabric thickening occurred where the fibers began to bind, and this thickening eventually caused the material to fold and wrinkle. "We had to come up with a strategy, using cutting and darting, to minimize the wrinkling, given that such a thick section was required by the helmet design," Campbell says, recalling that "it was an interactive process."
Different approaches were tried: those that required no cuts, others that involved cuts without material removal and the best solution, says Campbell, involving "significant" darting and material removal. During early trial molding runs, however, the darts tended to close up so their edges were nearly joined, which created a potential plane of weakness, says Campbell. To avoid having the darts thus aligned within the part, each dart was offset ply to ply within the blank, as shown in Step 5 (see photo at right). This also mitigated wrinkling in the final molded helmets.
The next step involved consolidation of the 3-ply structural shell blank. Essentially a high-temperature debulk, the task was accomplished by placing the blank between flat heated platens and compressing it at a pressure lower than the final forming pressure — a method that Fiberforge routinely uses. The exact temperature and pressure depend on the material type, but for the carbon/PPS, the pressure was ~200 psi/~1.38 MPa. The heat, pressure and subsequent cooling eliminated air pockets in the blank and yielded a better result during molding, reports Campbell. "The consolidation slightly melts the resin and forces any air out, resulting in fewer voids in the finished part," he explains, emphasizing that "it's a particularly important process step for higher-temperature thermoplastics."
Unfortunately, the same steps were not possible for the Kevlar-reinforced ballistic shell blank. The hand-stacked blank was too thick to achieve through-consolidation within the inner layers.


Fixturing, heating and molding
After several process iterations, during which the outer and inner shells were formed separately, Fiberforge elected to coform the ballistic shell and structural shell in one step. This decision meant that prior to molding, stable fixturing of the blanks in relation to each other during preheating was a key process step.
Fixturing involved placing the blanks on a movable shuttle, which traveled through an infrared (IR) heating oven and then into the mold station, with the structural carbon/PPS on the bottom and the Kevlar/thermoplastic polyurethane on top, separated by an air gap. A thin sheet of urethane film adhesive was placed between the two blanks. Intended to enhance the bonding of the two materials during molding, the urethane had a melt temperature between that of the two composite materials. To position the preforms precisely where they needed to be in relation to the mold and each other, stiff springs were attached via hooks to the edges of each blank; tension was applied by attaching the springs to wires on a frame that surrounded the shuttle. Campbell notes that fixturing was important to process, and that different amounts of tension were needed for the two materials: "We had to do a ton of work, including designing equipment related to fixturing," he notes. "How you hold the blank is really critical to getting it to form properly."
Because the melting points of the two resins are different, the IR oven had to be modified to heat the polyurethane in the ballistic blank to a temperature of 150°C/302°F with the upper element while the lower element heated the PPS in the carbon blank to 330°C/626°F. When the blanks reached melt temperature, after ~15 minutes, the shuttle automatically moved them into the thermoforming press manufactured by Accudyne Engineering & Equipment Co. (Bell Gardens, Calif.)
The press was fitted with a heated aluminum mold cavity preheated to approximately 120°C/248°F. The press exerted 2,000 psi/13.8 MPa of downward pressure on a silicone core, which forced the stacked blanks into the cavity and applied hydrostatic pressure. "Our down-acting press applies more pressure at the crown than at the sides of the mold," Campbell explains, "so the silicone core was designed to deform a bit to apply even pressure to the sides of the helmet during the forming step." Pressure was maintained until the part cooled to a temperature of about 125°C/257°F, for a total molding time of about eight minutes. After demolding, the helmet edges were trimmed manually, using a diamond wet saw.


Lessons learned
The helmet project was a success in that it yielded many opportunities for improvement, says Campbell. Although initial trials produced parts with considerable wrinkling and wide variation in the thickness of the ballistic shell, improved darting schemes and adjustments in fixture tension and fixture spring location helped to minimize both problems. Further, it was clear that a switch to Kevlar thermoplastic tapes, rather than woven Kevlar cloth, would permit automated layup of the ballistic blank, shortening cycle time. Looking forward, Campbell believes the fixturing process also could be automated, using pneumatic tensioners and automated grippers. Other improvements could include a better heating method to reduce the Kevlar material's time-to-temperature; active cooling of the mold to permit earlier demolding; and automated trimming, using waterjet or laser cutting equipment.
The FFW program insights helped Fiberforge transition to new helmet projects, the details of which are proprietary. "We've proven that rapid coforming of a thermoplastic helmet, using innovative techniques and automation, is possible," Campbell concludes. "Now the challenge is to transition these methods to serial production."
Read more about the Fiberforge fabrication process in "Tailored carbon fiber blanks set to move into steel stamping arena," under "Editor's Picks," at right.
Sours: https://www.compositesworld.com/articles/future-combat-helmet-promising-prototype
SAS trial futuristic Star Wars-style bulletproof helmet
The SAS is trialling bullet-proof helmets complete with 'friend or foe' technology - but troops will bear more than a passing resemblance to Star Wars character Boba Fett.
Soldiers have already noticed the resemblance with the film franchise's bounty hunter, although the new gear comes with a vast array of highly complex technology to assist them in combat.
The Devtac Ronin Kevlar Level IIIA Tactical Ballistic Helmet can withstand bullets from an AK47, as well as bomb shrapnel and fire. 
The SAS is trialling bullet-proof helmets (left) complete with 'friend or foe' technology - but troops will bear more than a passing resemblance to Star Wars character Boba Fett (right)
The Devtac Ronin Kevlar Level IIIA Tactical Ballistic Helmet can withstand bullets from an AK47, as well as bomb shrapnel and fire
They also include air-conditioning for extreme heats, sensors that pick up signals from other helmets to identify the enemy, infa-red vision and GPS mapping systems.
A source told the Daily Mirror: 'For years the defence industry has been trying to find a way of protecting the head and this is the next development.
'The helmet, already being used by special forces, is much more versatile than just stopping bullets. It is fitted with the latest communications technology and will help the soldier see the enemy no matter what the circumstances.'
It will help troops with their daring and dangerous missions, some of which were shared online last month. 
They showed elite soldiers engaging in training missions and during their front-line operations - believed to have been taken in Iraq.
Others were of state-of-the-art weaponry, vehicles and special equipment worn by British special operations soldiers.
Crack SAS squad members deployed to social media where more than 2,000 incredible snaps were posted
They showed elite soldiers engaging in training missions and during their front-line operations 
Others were of state-of-the-art weaponry, vehicles and special equipment worn by British special operations soldiers
Share or comment on this article:
The comments below have not been moderated.
The views expressed in the contents above are those of our users and do not necessarily reflect the views of MailOnline.
We are no longer accepting comments on this article.
Sours: https://www.dailymail.co.uk/news/article-4751364/SAS-trial-futuristic-Star-Wars-style-bulletproof-helmet.html
MODULAR COMBAT BALLISTIC HELMET
PUTTING INNOVATION OF THE FRONTLINE
---
CHALLENGE
One of the largest defense contractors in the world needed to develop an advanced combat ballistic helmet system that revolved around a cutting edge communication, monitoring and the latest heads-up display technologies into a modular connected military grade solution.
SOLUTION
ATOM was tasked with managing, developing and integrating all the technologies into this futuristic platform offering advanced capabilities to supply information and communications to soldiers on the frontline battlefield and combat missions. An innovative core ballistic chassis provided structural integrity to this innovative military solution. It was developed as a modular assembly delivering scalability, expandability and flexibility for a wide range of soldiers and commanders. A proprietary anatomical human 3D model was developed for the program allowing for the optimization of ballistic protection. Extensive human factors, material science and advanced manufacturing techniques were utilized to create the most advanced combat ballistic helmet ever conceived.
RESULTS
ATOM fulfilled the customer's objective by delivering a truly revolutionary modular ballistic combat helmet for the soldier of the future. The features and functionality were integrated into the several different models and are considered groundbreaking in comparison to the standard issue head borne ballistic helmets of today.
SERVICES
TECHNOLOGY ACQUISITION | TECHNOLOGY INTEGRATION | ELECTRONICS | HUMAN FACTORS | WEARABLE TECHNOLOGY | INDUSTRIAL DESIGN | MECHANICAL ENGINEERING | RAPID TOOLING | RAPID PROTOTYPING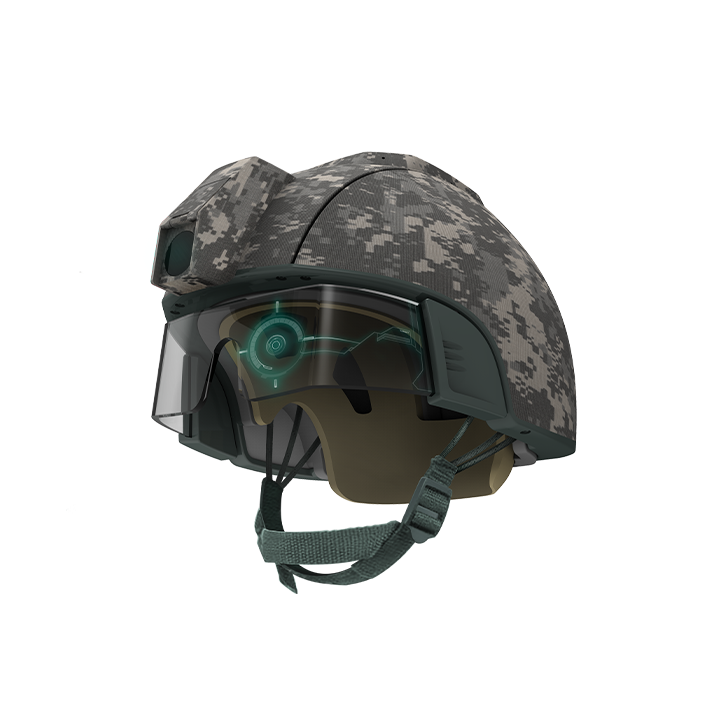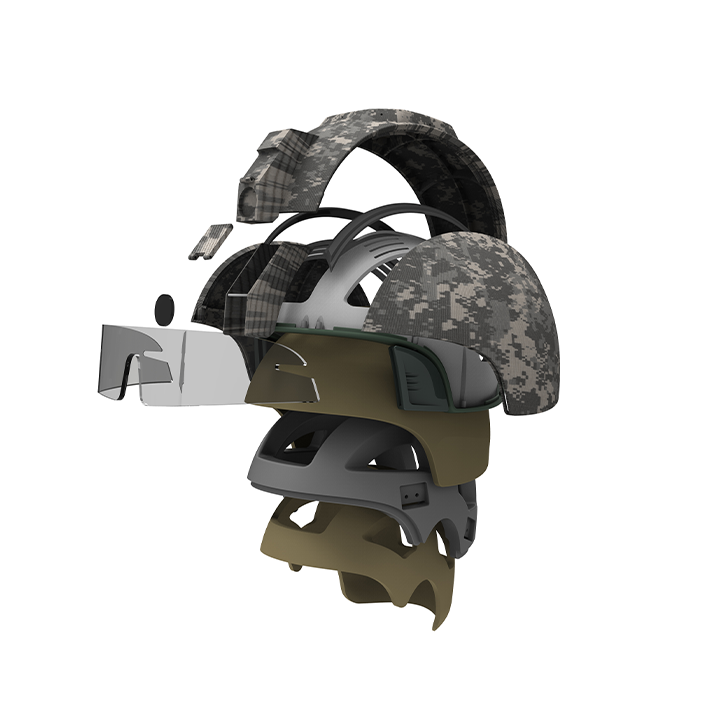 STREAM RESEARCH
---
CHALLENGE
Recognizing the need to protect soldiers from the hazards of military activities, BAE, one of the largest defense contractors in the world sought out ATOMdesign to identify and design solutions to lower the risk of brain and body injury.


RESULTS & SOLUTION
ATOM was tasked with developing innovative ballistic body armor concepts as well as a modular war fighter helmet that provided flexibility with technology integration. A proprietary human model was developed that allowed for optimization from ballistic protection.
ATOM delivered on the objective of a truly revolutionary modular ballistic combat helmet for the soldier of the future. The features and functionality integrated into several different models are considered groundbreaking in comparison to the standard issue headborne ballistic helmets. To achieve this feat the team had to consider all aspects of the helmets product lifecycle from initial assembly, to operations in use, servicing and upgradeability in the field.
THE PROCESS INCLUDED
FORM FACTOR STUDIES | SECONDARY RESEARCH ON BALISTICS | INDUSTRIAL DESIGN | PROTOTYPING ELECTRICAL ENGINEERING | MECHANICAL ENGINEERING
Sours: https://www.atom-inc.co/Work/Military-Tactical/MODULARCOMBATBALLISTICHELMET/
CHRIS COSTA REVIEWS THE DEVTAC RONIN BALLISTIC HELMET
Futuristic Combat Helmets Move Beyond Protection
Russian's United Instrument Corporation (UIC) has developed a headset to be used as part of the soldier outfit which relies on a latest technology that transmits sound through 'bone earphones', rather than the ears and traditional microphones.
When a soldier speaks or receives orders, the sound is transmitted through the bones of his skull, picturesquely said, via the temples of his head, rather than his ears and traditional microphones. Sound vibrations are detected by the hardware. Thus, the soldier can simultaneously receive orders by radio and hear what is happening on the battlefield. This headset allows quality signal reception and transmission without unwanted sounds.
At DSEi 2015, BAE Systems had announced a prototype communication device that uses bone conduction technology which is often used in commercial headphones.
The new technology improves soldier safety by using body's natural ability to transmit sound through bone conduction and do away with earphones. The company is hopeful this technology will be incorporated into future integrated helmets.
China debuted a new-generation helmet during the China-Malaysia joint military exercise held in September last year. It is only equipped with a pair of goggles, a cuttlebone is installed in front of the helmet and the night-vision goggle installation is similar to the American style, marking considerable progress compared with previous installations by China.
The new-type helmet is equipped with tactical guide rail that's similar to American TC-2001 helmet on both sides, which means that it is able to serve as the head communication and detection carrier in the single-soldier warfare system at least in terms of hardware. However, the ballistic capability of the helmet is not known yet. It is more of a carrier for single-soldier communication and detection equipment.
Currently, China-made non-metal combat helmet mainly uses nylon-reinforced resin, glass fiber and aramid fiber as fragmentation resistance materials.
The future of the combat helmet designs contains many possibilities, as it is no longer seen just a protection gear but a headgear capable of preparing an infantryman for a clear attack.
Sours: https://www.defenseworld.net/feature/7/Futuristic_Combat_Helmets_Move_Beyond_Protection
Ballistic helmet futuristic
Here's the new helmet that SOCOM operators will take into battle
Special operators will soon sport a new helmet, designed to provide ballistic protection and accommodate the newest hearing protection and head-mounted communications devices.
U.S. Special Operations Command recently awarded a $95 million contract to Gentex, which oversees Ops-Core, maker of the helmet, according to the government website fbo.gov.
That sticks with the ongoing use of "high cut" helmets that allow for a wider range of communications and hearing protection devices that are commonly used in special operations units such as Marine Special Operations Command.
The contract calls for anywhere from $150,000 to $95 million worth of helmets but doesn't distinguish the quantity that SOCOM is seeking. Online pricing shows individual helmets on the retail market costing about $1,400 each without optional accessories.
Officials expect production to finish by 2024.
The Army's currently issued Advanced Combat Helmet has a mid-cut, the same as the design used for many of the Enhanced Combat Helmets, also made by Gentex.
In March, soldiers with the Army's 3rd Brigade Combat Team, 82nd Airborne Division fielded the Army's newest body armor and helmet design.
That helmet is known as the Integrated Head Protection System. The IHPS allows users to add a mandible, visor and "applique" for an extra layer of protection.
The IHPS also has one hole in its shell for attachments instead of the five in the ECH, which means it offers better ballistic protection.
The remaining hole is for the optic, but developers are also working on designs to eliminate the final hole, officials told Army Times.
The Marine Corps last year began an evaluation of a new helmet for its personnel and was looking at possibly adopting either the mid-cut Enhanced Combat Helmet or the high-cut Ops-Core helmet, which was already in use with MARSOC at the time.
Maj. Ken Kunze told Military Times in an email that the helmet they are evaluating is different from the one recently purchased by SOCOM. In August, the helmets they're evaluating will be used during a Marine Corps Warfighting Lab experiment.
"All of these evaluations will help us better understand the trade-offs for various shapes of helmets which will inform future helmet requirements," Kunze wrote.
Marine Corps Systems Command conducted research and development by taking 92 mid-cut and 109 mid- and high-cut ECH helmets for the evaluation.
"The Marine Corps is buying a small quantity of mid cut and high cut helmets to conduct ballistic testing and limited user evaluations to develop a better understanding of the trade-offs between ballistic protection, situational awareness, and hearing system integration," Barbara Hamby, a spokeswoman for SYSCOM, told Marine Corps Times at the time.
The helmets include a rail mount system for items such as flashlights or strobes. The high-cut configuration accommodates the use of large hearing protection and communication headsets such as the Peltors commonly sported by MARSOC.
The Corps announced last September that it planned to purchase between 7,000 and 65,000 Peltor-type headsets in the coming years.
Marine Raiders have used Peltor headsets for several years. The equipment provides hearing protection and enhanced situational awareness on the battlefield.
"The new headset we want to acquire will allow Marines to wear hearing protection, yet still provide the opportunity to communicate and understand what is going on around them," Steven Fontenot, project officer for Hearing, Eye Protection and Loadbearing Equipment at MARCORSYSCOM, said in a release last year.
The Corps carried out some field testing on potential Peltor headsets. Early last year, MARCORSYSOM issued about 220 headsets to infantry, artillery, reconnaissance and combat engineer Marines for a user evaluation, according to a release. Reconnaissance Marines tested the headsets in cold weather conditions in Norway.
Although Peltor-made headsets have been in use for some time, SOCOM selected Gentex for their newest headset buy as well.
About Todd South
Todd South has written about crime, courts, government and the military for multiple publications since 2004 and was named a 2014 Pulitzer finalist for a co-written project on witness intimidation. Todd is a Marine veteran of the Iraq War.
Share:
More In Your Military
Sours: https://www.militarytimes.com/news/your-army/2019/04/16/heres-the-new-helmet-that-socom-operators-will-take-into-battle/
TOP 5 COOL TACTICAL \u0026 BALLISTIC HELMETS 2020
US Army's new helmets and body armor will make soldiers lighter, faster, and even harder to kill
The new helmet offers 100 percent more blunt impact protection over its predecessor while weighing less.
The new body armor is also lighter than the previous model, providing high-quality protection and greater mobility to troops on the ground.
US Army soldiers will soon begin gearing up for battle with new, lightweight body armor and helmets that can take a serious beating, the service revealed this week.
The Army's new Soldier Protection System — which includes the Integrated Head Protection System, Modular Scalable Vest, and Blast Pelvic Protector — provides better protection and mobility than previous systems, and it will be delivered this month to soldiers in the 3rd Brigade Combat Team, 82nd Airborne Division at Fort Bragg in North Carolina.
"We're going to do our best to provide you the equipment that you need to go out there and fight and return," Brig. Gen. Anthony Potts, the head of PEO Soldier, said at an event Monday. At the event, a soldier who had been shot in the head in Afghanistan last year was reunited with his life-saving helmet.
"I want our equipment to make our soldiers invincible," Potts said.
The helmet: Integrated Head Protection System
The IHPS, developed by Ceradyne Inc., is defined by its improved blunt force protection. While the helmet has the same ballistic protection as its predecessor, it is significantly more capable when it comes to absorbing energy after a round strikes.
"It's less force on the brain," Alex DeGroot, the lead engineer for head protection, explained to Military.com. "It's a tremendous increase for us."
"It's actually one of the things that makes this helmet considerably better than the current helmet," he added.
The IHPS offers 100 percent more blunt impact protection over its predecessor while weighing less, according to Lt. Col. Ginger Whitehead, product manager for Soldier Protective Equipment.
The IHPS is an improvement over the current Enhanced Combat Helmet
Less effective than the IHPS, the current helmet, the 3.3-pound ECH, is decidedly durable. It can definitely take a hit, as one lucky soldier demonstrated.
The helmet in the above photo belonged to Staff Sgt. Steven McQueen of Charlie Company, 1st Battalion, 28th Infantry Regiment. He was shot in the head with a machine gun round at a distance of about 20 feet during an insider attack in Afghanistan last year.
Read More: A US Army soldier was shot in the head with a machine gun round. This is the helmet that saved his life
The bullet hit him in the back of the head and knocked him off his feet. McQueen said it felt like being kicked by a horse, but he survived the September attack.
"Before this incident, I thought the helmet was cumbersome, and it was overkill," McQueen said. "I was sorely mistaken. This helmet works, and I'm a living testament to it."
The ECH is good. The IHPS is better.
The new IHPS, slightly larger than the ECH, features a boltless retention system, so the Army was able to eliminate the holes where the chin-strap was previously bolted in place.
"The challenge with drilling holes in the helmet is that you weaken the material," Whitehead told Military.com. "With this new helmet, we have gotten rid of the four holes drilled in the side."
There is still one hole in the front of the helmet for soldiers to mount night vision devices, like the Army's new binocular goggles with the ability to connect to the sights on a soldier's service weapon, allowing them to shoot from the hip and around corners.
Read More: Soldiers will soon be much more deadly with new night vision that lets them shoot around corners and fire accurately from the hip
The Army, according to Defense News, is working on a Universal Helmet Mount for such devices that will eliminate the final hole, allowing future helmets to offer even greater protection. Night vision goggles are not the only available add-on though.
The removable rail sections on the sides allow for the mounting of lights and other relevant accessories. The bigger helmet also offers more space for comms devices, and protective additions such as a visor, motorcycle-style mandible guard, and ballistic applique are also possibilities.
Body armor: Modular Scalable Vest and Ballistic Pelvic Protector
Roughly five pounds lighter than the current Improved Outer Tactical Vest (IOTV), the Modular Scalable Vest weighs 11 pounds without ballistic plating and around 25 pounds when equipped with the armor plates, Military.com reported.
The Army, Defense News reported, is currently evaluating materials for a new, lighter Enhanced Small Arms Protective Insert, which offers improved protection at 20 percent less weight.
The vest is also accompanied by an optional Blast Pelvic Protector, gear which reportedly offers additional protection for the groin and upper thigh. The soldiers at Fort Bragg will be receiving the vest and optional armored groin protection along with the IHPS this month.
There is also an accompanying Ballistic Combat Shirt, which is replacing the Deltoid Axillary Protector, is designed to better protect soldiers from 9mm rounds and shrapnel, but this piece of gear is expected to be fielded this summer.
More:FeaturesU.S. ArmyHelmetBody Armor
Sours: https://www.businessinsider.com/us-army-new-helmets-body-armor-will-make-soldiers-harder-to-kill-2019-3
Similar news: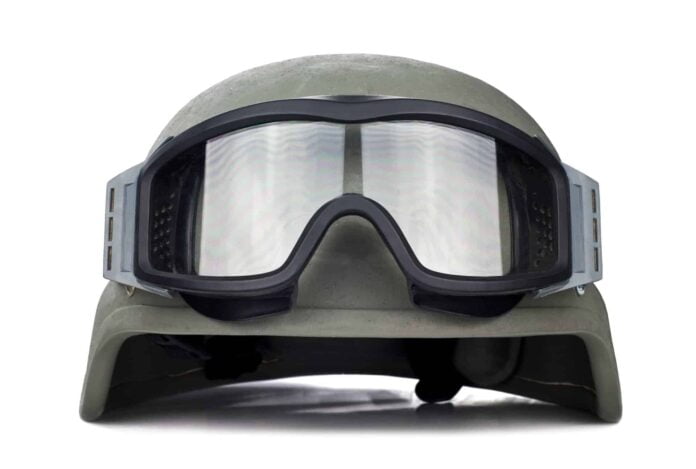 I'm not terribly old. In fact, I feel, at best middle aged. But I am old enough to remember a time when SWAT teams did not always use Ballistic Helmets. In fact, when I first joined a SWAT team, we did not use ballistic helmets. Bean counters felt they were too expensive and many of the operators did not want to trade what they thought was situational awareness for the security of bullet proof headgear. It was shortly after I joined as a newer operator that some of the more seasoned and knowledgeable guys began to lobby for ballistic helmets. Back then it took considerable lobbying. Ballistic Helmets were a new concept, and the only thing in much use were the Kevlar helmets used by the military to protect against shrapnel and indirect fire. I still remember the administrator who approved the purchase of our first ballistic helmets. He seemed smug about the whole matter and seemed to feel like using such protection was a sign of weakness.
In prior days, many SWAT Teams used either helmets intermittently for debris or impact protection, or they used nothing at all. In retrospect, this seems as foolish as suggesting a helmet for motorcycling racing is a poor investment. However, like much lifesaving gear, the need is infrequent but the payoff of use is incomparable. You only really need the security of a ballistic helmet once, to make the purchase worthwhile. And that was the argument used to turn my agency around, and convince them it was a worthwhile piece of gear. Well, that and the proof that they worked.
SO HOW WELL DO BALLISTIC HELMETS WORK?
Turns out, they work very well. Take, for example, bulletproof helmets which will stop anything from indirect fire and shrapnel, like the PASGT Helmet or rifle rounds, such as the Armorsource AS-600. Currently Security Pro offers several ballistic helmets that are rated by the National Institute of Justice to stop handgun rounds up to and including the .44 magnum. Some of these include the aforementioned helmets as well as the SecPro Special Operations ARCH Ballistic Helmet, and the SecPro MICH ACH Advanced Combat Ballistic Helmet. That's a very impressive feat considering the power and energy that the .44 magnum round carries. The current helmet models that mirror the Advanced Combat Helmet design, have been known to stop AK-47 rounds during combat. Just ask Iowa National Guard member Tom Alberts. Alberts is living proof (literally) that ballistic helmets work, and work well. Alberts was shot in the head by an AK-47 and his helmet stopped the round and saved his life. What this means is these helmets are designed and tested to stop common, small arms fire, including rifle rounds. So, it is possible for the operator to have a helmet that will provide the security of an armored vest with rifle plates. Your head gear and body armor will have similar levels of protection. Which makes sense. Both the head and chest are equally vulnerable to gunfire.
LEVELS OF BALLISTIC PROTECTION
Modern ballistic helmets provide different levels of protection. The levels are generally tested in accordance with the National Institute of Justice. The NIJ rates ballistic protection based on what rounds the item proved capable of stopping during rigorous testing. Levels III and IV will stop common rifle rounds. Levels I through IIIA are rated to stop various handgun rounds, with level IIIA having stopped handgun rounds including the .44 magnum. While other rounds are not always tested, there is a presumption that a ballistic helmet that will stop a .44 magnum round, will also protect against a .25 auto or some other lessor powered ammunition.
ANYTHING ELSE BESIDES THE BALLISTIC PROTECTION?
Of course, there are other reasons to wear a ballistic helmet besides stopping bullets. Ballistic helmets provide safety from impact. For most soldiers and service members deployed overseas, this is not a grave concern. For Law Enforcement and Security personnel, this is very important. Cops and Security Forces are just as likely, or more likely to encounter impact weapons, thrown projectiles and other head strike hazards as they are likely to encounter gunfire. Having the safety and security of a bullet proof helmet, that will also provide impact protection is critical.
Today's ballistic helmet is an essential part of the modern police of security force safety gear. They are not just for military use. The ballistic helmet is suitable for any organization that might need impact protection and will benefit from ballistic protection as well. For example, not just SWAT teams, but riot control forces and even patrol officers who might respond to active shooters should have the security of a ballistic helmet.
In the past, frequent arguments against ballistic helmets included the weight and comfort level. The modern helmets have very advanced suspension systems that not only make the helmet all day wearable, but also are part of the impact protection package, helping minimize the forces that come in contact with the head. Another common argument was the notion that ballistic helmets would impair peripheral vision of adversely impact ambient noise perception. Both these ideas have been thoroughly debunked. A properly fitted helmet does not interfere with vision at all and they allow for normal hearing. Many ballistic helmets are also designed to allow for hearing protection such as electronic ear muffs. These can actually increase safety by amplifying speaking and other normal noises while shutting out high decibel noises such as gun fire.
It is hard to imagine a modern Law Enforcement agency, or a Security Agency that does not use or allow use of ballistic helmets. It would be like curtailing the use of body armor. Ballistic Helmets are well developed in the stream of commerce. Security Pro offers a comprehensive selection of helmets for every budget and need, as well as ballistic face shields for the ultimate in head protection. If you use a bulletproof vest, you should also consider having a ballistic helmet as part of your protection package. It just makes sense to protect your head like you protect your body.
Guest Contributor
Sours: https://www.bodyarmornews.com/how-effective-is-the-ballistic-helmet/
1262
1263
1264
1265
1266