Machine Quilting Accessories
SureStitch Stitch Regulator
For beautiful, consistent stitches
The Grace SureStitch is both a stitch regulator and constant stitch speed control. In Stitch Regulation mode, it takes advantage of your machine's full range of speeds. As you speed up and slow down, so will your machine, keeping all of your stitches the same length. When used as a speed control, the SureStitch lets you adjust the speed of your sewing machine with the push of a simple button.
Putting the Controls at your Fingertips
Start and stop your sewing machine with the push of a button. The SureStitch display mounts directly to your handles. Adjust your stitch length or stitching speed right from your handles with the included display mount.
Check to see if your sewing machine is compatible with the SureStitch:
Machine Compatibility List
SureStitch Machine Compatibility List
Baby Lock: Jane, Quilter's Choice Pro
Brother: 1500S
Elna: 7100, 7200, 7300
Janome: 1600 (all versions), 6500.6600
Juki: 98Q and QE, 2000Qi, and 2010Q
Pfaff: Grand Quilter
Viking: Mega Quilter
Learn more or get the SureStitch now!
Buy Now
Luminess Light Station
Illuminate your projects
The Luminess is the perfect lighting solution for any project! It is made to fit perfectly over any quilting frame, sewing table, or work area! The TRUE-COLOR light-balanced bulbs enhance the details of your projects. The Luminess is adjustable in height and width, and is available in two sizes.
Learn More Or Buy Now
Start-Right™ Quilt Clips
Quick and easy fabric tension and control
Start-Right™ Quilt Clips are the easiest and fastest way to control and adjust the layers of fabric on your quilting frame! They're also a great help when "floating" your quilt on the frame, making loading your fabric easier with less pinning!
Plastic Pattern Perfect
Quick and easy fabric tension and control
For perfect patterns every time, use the Plastic Pattern Perfect! The stylus attaches right to your carriage and then guides your machine through the pattern templates as you move the carriage. Each basic set template is double-sided and has eight patterns. The Basic Plastic Pattern Perfect Set comes with the stylus and all hardware needed to use the Basic Set or Additional templates.
Learn More OR Buy Now
Subscribe to Our Weekly Drop to get Important News, Amazing Offers & Inside Scoops
We use cookies to improve your online experience. By continuing browsing this website, we assume you agree our use of cookies and Cookie Policy.
Sours: https://www.graceframe.com/en/machine-frames/accessories
Grace Machine Quilting Frames: Continuum, Q Zone, Brother Dream Frame/Pro, Accessories for Older SR-2/+, Gracie, Queen, Majestic, Pinnacle, Mini Pinni, GMQ & Pro, Little Gracie 2, SRD-Lite, Sturdy Lite Frames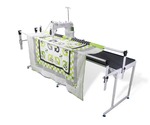 Qnique15R +QZone Queen Quilt Frame, Adj Depth/Height, Leader Cloth, Quilt Clips, Bungee Clamps, Rear Handles, Laser Stylus, Table Inserts, Light Bar
Free Ground Shipping to the Contiguous USA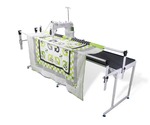 Qnique15R+QZone Queen Frame, Clips, Bungee Clamps, Leader Cloth, Table Inserts, Laser Stylus, Rear Handle, RulerBase, 3Feet,Light Bar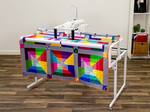 Juki TL2010Q, QZone 4.5' Hoop Frame, Adj Depth/Leg Height, 10 Clamps, Top Plate Carriage, Front/Back Handles, Speed Control, Laser Stylus, 5'Light Bar
Free Ground Shipping to the Contiguous USA
Sours: https://www.allbrands.com/categories/641
Grace SR2 - Reviews?
I have it set up in queen size. I've just completed my first quilt on it.
I like that the frame is in metal. I believe that the carriage has a nice and smooth movement.
The poles that hold up the bars are not very sturdy. That means that they don't lock in place exactly. Turning the bars is not that easy. I have a part which must have had a issue in the mold. It has a small nob which makes it stick at the same position every turn. It has become better with some use.
Apart from that I guess it is a good frame! In heinsight I should have gone for a bigger frame because now I'm thinking I might want to upgrade to a real long-arm in the future. The frame will not accommodate anything bigger than a 13" throat machine. I don't think I can get a deal of having a complete frame transported in that way from the US again...

I don't mind that the frame only has one bar for the backing and one pick-up bar. It kept my feet warm though.

Sours: https://www.quiltingboard.com/
How to Quilt on the Cutie Frame
And repeatedly. So she won't visit her neighbor for a week. Taking out a pad from her purse, Svetochka put it in the right place and. Pulled on her panties. Now in her ass splashed the sperm of Anatoly Tikhonovich, who had become a whipped boy for several minutes.
Sr2 frame grace
I felt that my aunt was also terribly excited. Her body literally burned with heat, her vagina was bloodshot, stone nipples stuck out of the body's cells: Will we continue tomorrow. "She looked at me with her yellow eyes again. I don't know," I moaned, catching her exquisite fingers with a petrified process. Promise, and you will receive a prize.
Grace SR2 Quilting Frame
The second penetration went a little more difficult, because Ksyusha decided to shove the whole brush into my much suffering ass. She was full of determination. We got to the knuckles again, the old technique with stretching the anus through the buttocks did not help much, because this time the thumb was present.
Lying on my chest and staring at the screen at how my friend pokes my ass with her hand, I experienced pain and humiliation, from these. Feelings I was even more excited and, of course, also from the fact that I see all this from the screen.
Now discussing:
Okay. I will not disturb you. About an hour later, Mishka and Masha returned home.
12870
12871
12872
12873
12874