Outdoor flooring
Laying down stylish, new outdoor flooring is just a click away
In the past, you had to be a stonemason or carpenter to radically reimagine the flooring on your precious outdoor patio or cozy balcony. Fast forward to the present day and there are options in a variety of materials and looks that you can easily lay down as soon as you get home.
Find porcelain (MÄLLSTEN), wood composite (UTLÄNGEN) and artificial grass, plastic or wood (RUNNEN series) deck tiles that you can mix and match to your delight. The decking easily clicks together in whatever combination your imagination chooses to enhance your outdoor space. You can also select a clean, uniform look by going with one choice in outdoor floors tiles. This option is a must with perforated plastic patio deck tiles (ALTAPPEN) that do not connect with other patio tile types. Filling out an outdoor patio or balcony is easy with corners and edging strips available for all outdoor tile options.
With easy click installation, you can add the rustic look of RUNNEN patio tiles made with durable and sustainable acacia wood. These outdoor flooring tiles are a great option to continue the look of wooden furniture or railings. Add fade resistant RUNNEN artificial grass tiles to give the kids or your pets a comfy play area. Another option in the RUNNEN series is weather resistant decking made with recycled plastic. Available in blue, white, beige and black, there's an option to fit any color scheme.
Select the durable, weatherproof porcelain of the MÄLLSTEN series; choose the standout look of beautiful tile mosaic or go with the clean look of slate gray porcelain tiles, all with the protection of an anti-slip coating. Or put the soft, barefoot friendly wood composite of UTLÄNGEN deck tiles at your feet. Durable and weather resistant, these classic black deck tiles stand up to the sun while never splintering. There's also the weather-resistant ALTAPPAN that's made with recycled plastic. The negative space cut into these outdoor floor tiles cleverly approximates the look of mosaic tile.
Maintaining outdoor decking is as easy as getting started
All outdoor patio tiles are suitable for hard, even surfaces, like concrete, stone and wood. While ALTAPPAN deck tiles are 100% cushioning plastic, all of the other available patio tiles are protected with comfy bottoms made with recycled plastic.
Cleaning all outdoor decking tile options is as easy as applying a mild, soapy solution and wiping dry with a dry cloth. For RUNNEN artificial grass decking, use a stiff broom or a vacuum cleaner when the decking is dry. Use our helpful guide to help you find just how much outdoor flooring you need for your space.
Sours: https://www.ikea.com/us/en/cat/outdoor-flooring-21957/
Installing Outdoor Patio or Deck Tiles over Grass, Dirt and Uneven Surfaces
Common questions that people have asked about laying interlocking outdoor flooring:
Can you install deck or patio tiles on dirt or soil?
Can you lay patio or decking tiles over grass?
How do you install decking patio tiles on uneven ground?
How can you make temporary outdoor flooring over grass?
Can you make a portable outdoor patio on grass?
You will be pleased to learn that, YES, outdoor deck and patio tiles can be easily installed on uneven ground, grass and dirt. They can be used as a permanent, temporary or even portable outdoor floor.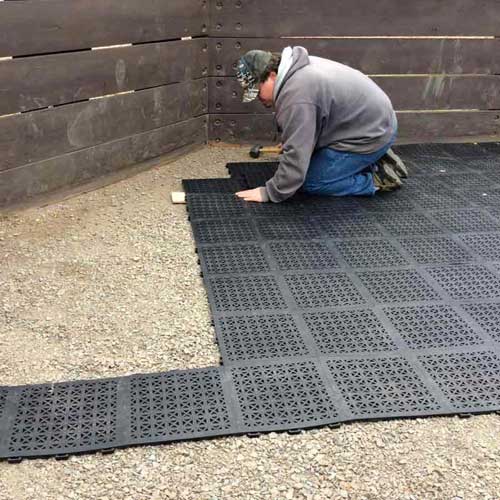 Many companies only sell interlocking patio tiles that work when installed over even, flat and hard ground. Although that kind of ground is ideal for patio tiles, it's unrealistic to think all outdoor spaces have such prime patio conditions. Whether they're made of soft grass, bumpy dirt or uneven ground, outdoor grounds come in many challenging varieties.
Because so many interlocking patio tiles are made to be installed over hard, flat ground only, many people think the only way to work with ground problems is by renting large, expensive equipment to deal with them. Of course, this can get pricey. Hiring people and equipment for landscaping work is a serious investment. Although equipment and manpower is sometimes necessary to create the foundation of a patio, there are other options to consider, like using flexible outdoor floor tiles over grass or dirt.
By any account, the easiest solution is to choose a tile that will work with whatever ground you've got in order to create an instant patio. It's important to remember that not all interlocking patio tiles are made the same. Every patio tile has different features that lend themselves to specific environments. The following will walk you through a few different products available at Greatmats.com that work well over irregular surfaces.
Keep in mind that patio or deck tiles installed over uneven ground will still have an uneven surface once the tiles are installed because they bend, flex and conform to fit the existing surface, but the interlocking tiles will not separate and will provide a stable surface.
5 Steps - How to Lay Outdoor PVC Interlocking Patio Tiles on Grass or Dirt
Installation is as easy as snapping the tiles together. A few things to remember about Greatmats PVC outdoor tiles, two of the edges contain loops, while the other two edges have pegs hidden underneath. If installing these tiles against a wall or another large object, we recommend leaving a 1/2-inch gap between the PVC deck tiles and the object to allow for expansion of the tiles in the heat. Also, no adhesive is required.
Prepare the Ground - lay down landscape fabric geo mesh in the area you'd like to cover


Start in one corner, with the loop sides facing out, and work your way out in a triangular fashion


Line up the pegs and loops, and step or push down on the edges of the tiles to cause them to tightly interlock


Press the nubs or pegs of each new tile down onto the loops of the existing tiles until they snap into place


Should you need to fit the PVC deck tiles around any obstacles, you can cut them with a utility knife and a straight edge
Due to the method of interlocking these PVC decking tiles, you can easily separate, remove, or relocate them, if needed. By not using adhesives when assembling these tiles, disassembling them doesn't take a lot of effort.
Watch the Staylock Installation Video here.
What is the Best Perforated PVC Interlocking Outdoor Tile?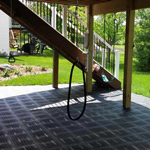 Greatmats' PVC StayLock perforated tiles can be installed over many surfaces, as a permanent solution or as a temporary outdoor flooring over grass or dirt which could be portable. These perforated patio tiles are flexible, so they can bend and adhere to surface irregularities. You can also easily cut tiles to fit any space. No other adhesives or tools are needed for tiles to stay connected in order to create an instant patio on grass.
Where your bare feet didn't want to walk before, they will be happy to with Staylock tiles. These patio tiles are comfortable for bare feet and have a ASTM fall height rating of 20 inches. You can shovel snow off them in the winter and keep them clean by simply sweeping or hosing them off in the summer.
Staylock 1x1 ft Interlocking Patio Tiles - Designed for the Outdoors
Flexible PVC
Waterproof
UV treated
Non Slip Surface
Perforated for Fast Drainage
Active Locking Connector System
Chemical-tested for Lasting Quality and Safety
Because of their drain-through feature, these patio tiles work particularly well around wet areas. Water won't pool up on them, so they are slip-resistant and mold-resistant. Further, they are great for kiddos and play areas.These interlocking patio tiles come in several different colors including black and grey.
A couple of other interlocking patio tile options are the Ergo Matta Outdoor Tileand the Standard Patio Outdoor Tile.
Having trouble deciding which tile is best for you? View this comparison video: StayLock Perforated Tiles vs. Patio Outdoor Tiles.
Which Other Outdoor Flooring Options Can Be Installed Over Non Level Surfaces?
Portable Outdoor Tile 12x12 Inch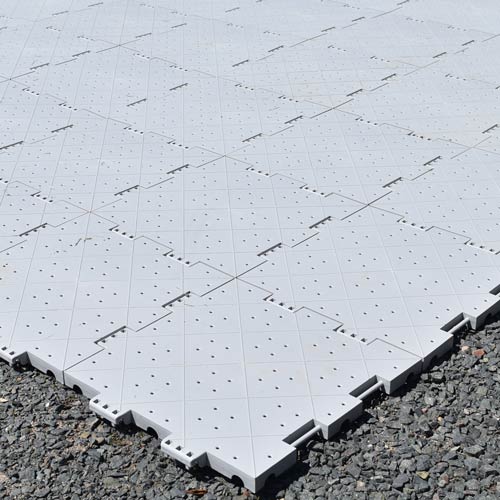 Grass or gravel surfaces are a non-issue with these Portable Outdoor Deck Tiles. These high quality tiles are made with a durable rigid, no break plastic. The tiles are prefect for portable or temporary outdoor flooring over grass, dirt, or gravel for tents, dance floors or for other outdoor events as they are designed to contour to the landscape.
These rigid plastic tiles have an easy snap together design, drainage holes for wet areas and an anti-slip surface texture. They come in a black or gray.
Watch the Video Tutorial: How to Install the 12x12 Portable Outdoor Tiles
There's no need to be discouraged by your ground woes. An expensive landscaping project isn't your only solution. There are ways to work around and with the ground you have to create the perfect patio. Greatmats offers a variety of products for outdoor flooring that can work with the condition of your ground without a costly renovation. If you have more specific questions about these products or others, contact Greatmats for answers you can trust.
Artificial Deck Turf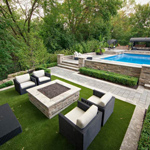 Artificial deck turfis another option for outdoor flooring over dirt or grass that can be installed over irregular ground when an under tile is used. Turf is made with durable and flexible plastic material, which allows the turf to adjust to uneven surfaces.
Installation: Whether you're resurfacing or putting artificial deck turf in at ground level, installation is a cakewalk. Deck turf is a dry lay; no extra adhesives are required. Although the rolls themselves will conform to uneven ground, it's important to keep in mind that the under tiles are free floating.
Artificial turf brings a natural, comfortable look and feel to any patio. Using artificial turf is an excellent way to turn cold, uninviting surfaces into a place you'll be happy to lounge on. Greatmats' artificial turf patio flooring is drain through, so it does well in wet conditions and areas. These rolls are designed for the outdoors. Patio furniture, weather and play will not damage these rolls.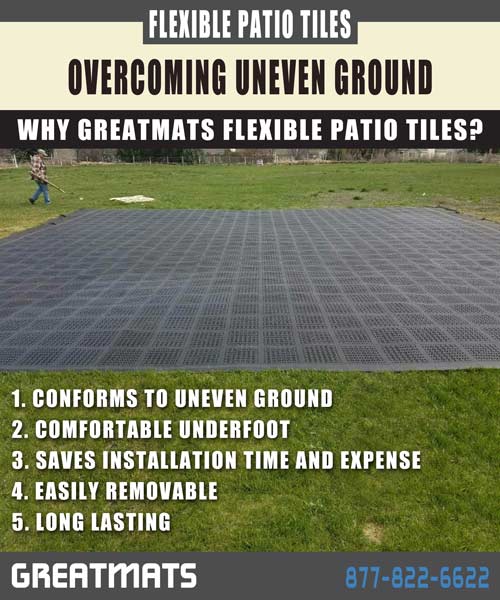 For more on this topic please review our Patio Deck Tiles Rubber and Plastic product page.
Sours: https://www.greatmats.com/patio-tiles/overcoming-uneven-ground-with-flexible-patio-tiles.php
Interlocking Patio Tiles over Grass: 7 Facts You Must Know
Are you questioning about whether it is possible or not to install interlocking patio tiles over grass? If so, you are in the right place.
Such question is quite common to occur among both homeowners and renters with grass covering most of their yard landscape design. It is also inseparable from some things like the need for an extra outdoor sitting area, the ease in installing the interlocking tiles, and the desire to save money when building a patio.
If all of those things are in your mind right now, you can read this post further to get all the facts you need to know about the patio material type. You can find all of the topics of discussion in the list below:
For the opening, let us start by knowing about what interlocking tiles are.
General Introduction on Interlocking Tiles
Interlocking tiles are none other but tiles that come with a simple interlocking design. It includes some pegs and holes that allow you to lock them together.
This kind of design is made, particularly for the sake of the installation process. Indeed, the purpose of everything is for an easier way to install the tiles that can be done by everyone with different building skills, including those who have no building experience before.
This kind of outdoor tiles come in at least five different types. Those include carpet, clear, deck, PVC, and rubber interlocking tiles.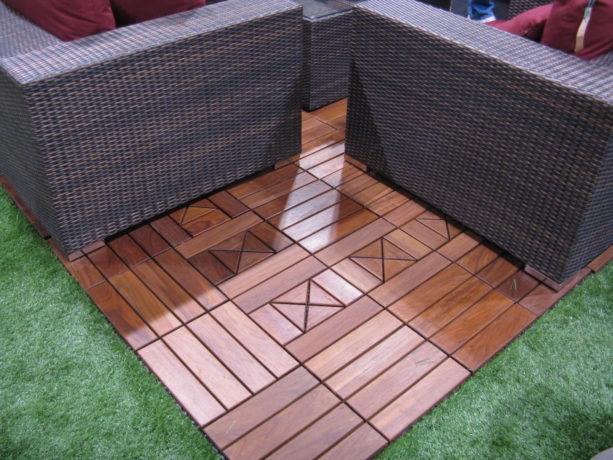 The one that you can use to create a patio over grass is none other but the deck type. It is a good match for the outdoor conditions, especially the weather-related ones. That is why it is an excellent choice for a patio. Of course, it also means that it is a strong and durable option.
Although the deck type comes in various price ranges depending on the quality and design, you can still say that it belongs to the cost-effective category. More importantly, many of interlocking tiles are easy to install, so you do not need to pay any builders to finish the project.
So, yes it is like a gift from heaven for DIYers, including those who have an interest in building their patio but have rather low skills. Thanks to the easy-locking system that makes everything possible.
In the installation of interlocking tiles for creating a patio is undeniably an easy one to do, mainly because of the design they have. However, there is one essential thing that must exist for the sake of an excellent result. It is none other but a flat surface.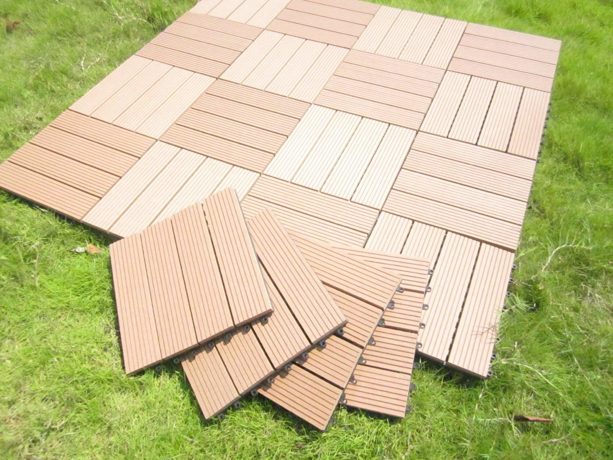 It is essential because, with it, each of the tiles can interlock with another precisely. Besides, an uneven surface can create dents that will possibly make the tiles to detach easily or even get damages.
Based on these, before you start installing the tiles to create a patio, it is crucial to make sure that the grassy ground is flat and even. If unfortunately, you find some part of the surface is uneven, it seems better for you to fix it first so the final result of the project will be excellent.
At first, it may take some effort to create an even grass floor surface. However, it is much better than finding out later that some of the patio tiles are detached or also damaged so that you need to provide more time to fix it or even worse you should buy some extra tiles to replace the damaged parts.
Over-Grass Interlocking Tiles Installation to Create a Patio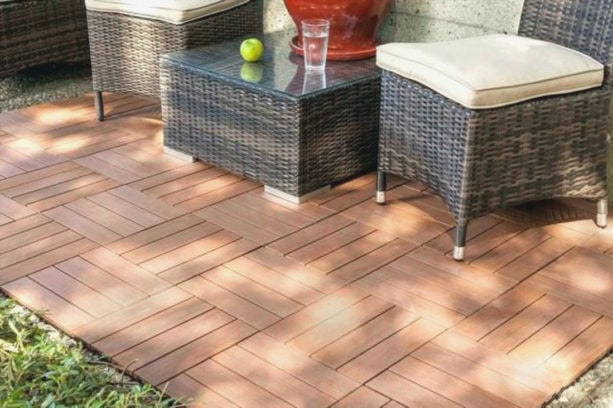 The following fact you need to know is about the installation of interlocking tiles over the grass to create a patio. Is it the same with when you install them on another surface? Is the process the same with the installation of other types of interlocking tiles for a patio?
Well, generally it is suitable to say that installing the tiles on the grass and another surface is different. While it is best to install them on a hard and even surface, you need to know that grassy land is a soft surface.
It can create particular difficulty that makes it hard for you to place the tiles right over the grass. However, it does not mean that it is impossible to do.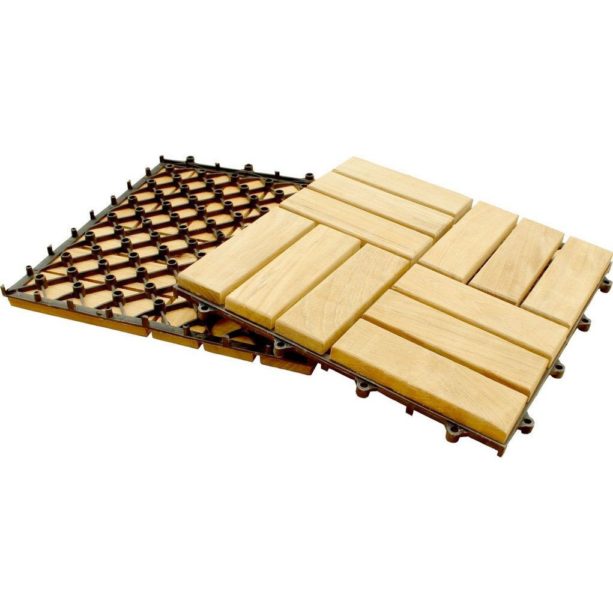 The most important thing to do is choosing the right deck tiles that you can install easily on the grass even if you do not have any building skill. It is none other but the interlocking tiles that have a feet on the underside just like the one you see in the picture above. Commonly, this detail is made of plastic.
With the feet, you can easily place the tiles over the grass without doing any preparation first. You only need to lock each tile to another by using the pegs and holes available based on the patio shape that you want without using any adhesive or building grout in between the tiles.
About the patio shape, you can also cut the tiles if needed. It is something you can do without any difficulty.
The existence of the feet is not only beneficial for the installation process. It will also give you other benefits.
It creates a kind of breathable space between the tiles and the grassy land so there won't be any water or moisture trapped there. Besides, it functions as drainage too.
As we all already know, some things like water and excessive moisture can create different types of damages to a deck or a patio.
You Can Attach and Remove Interlocking Tiles over Grass Easily
Another fact that you need to know is that interlocking tiles for a patio that you want to build over grass are something that you can attach and remove easily. If you wonder why it is mentioned here while it is obvious that the interlocking system allows the tiles to be so, here is the further explanation.
The interlocking design of the tiles is more than just the ease you can get in the installing process. There is a more significant benefit here.
Imagine that you are a renter of a house with no outdoor sitting area and you want to build one since you like spending time outside alone or with your friends or relatives. The interlocking tiles are the best solution you should choose.
They will allow you to build a patio effortlessly even over grass. Besides, the tiles commonly last for a quite long time.
The question how if you need to move to another place someday? Do you just leave the tiles, which also mean that you lose the money you use to buy them?
You do not have to do so. You only need to detach the tiles, remove them from the grass, pack them, and bring them with you when you need to move to a new place. There, you can reuse the tiles for the same purpose or another as long as there are no damages.
Of course, purchasing some interlocking tiles to build a patio is a good investment that you should take into consideration. This idea is applied not only when you are a renter but also when the house is yours.
Another benefit that still has a relation to the fact that you can attach and detach the interlocking tiles for the over-grass patio is the replacement. When you find that there are some damages, you do not have to remove all the tiles. You only need to detach some of them and replace it with the new ones.
This solution is not only effortless. It will also enable you to save money when replacement is necessary since you will only need to purchase some extra tiles to replace the damaged ones.
Different Choices of Material to Select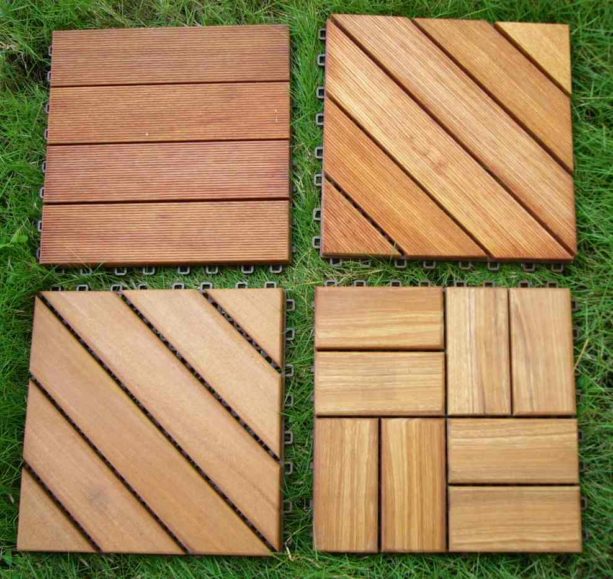 The last but not least fact that you need to know about the interlocking patio tiles you can use over grass is related to the material. What you need to know is that there are quite a lot of choices available.
However, it is undeniable that some materials are more popular than others. The ones meant here are wood and composite.
Both are compatible to be designed with an interlocking system with the unique 'feet' below that can make the tiles attach to the grass floor properly. Of course, they are also suitable to use on other flat surfaces.
Let us talk a bit more of wooden interlocking tiles for patio as one of the most recommended and preferred material. With more advanced technologies, right now, this tile type has even more good qualities that make it an even better selection.
Many wooden interlocking tiles for patio are stronger and more durable right now. They are even resistant to different things, including water.
It makes them perfect for an outdoor environment. Besides, the area where you are about to install the tiles are on grass, which is prone to tiny crawlies, water, moisture, and some other things.
For an even better quality, it is recommended to treat the wooden tiles with a special solution. A thing like this can also enhance the natural wood appearance to look more beautiful.
An example of wood material that is used quite often to create interlocking tiles for patio is teak. It is well-known because of its natural water-proof and insect-proof.
There is also eucalyptus, which is an excellent alternative to teak but comes at a more affordable price. This wooden material is also known for its resistance to bugs, decay, and water.
If you are not interested in the physical appearance of both examples above, there is acacia that is popular because of its toughness. There is also Ipe wood that has excellent weather-resistance ability and strength.
If you want something more affordable, you can pick composite tiles instead of wooden. These are made from blended materials that are cost-effective while at the same time also offer weather resistance qualities, strength, and even the look of wood. It is also great because of the zero maintenance value.
Some interlocking tiles for patio are even from recycled materials. These are eco-friendly and are perfect to choose if you are a person who always gives more concern to the environment.
Perfect for Creating a Temporary Flooring Solution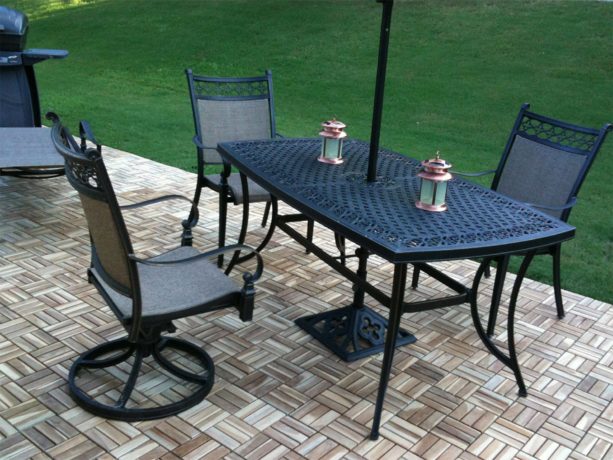 This one is another fun fact you also must know about the tiles. These are perfect for creating temporary flooring on your grassy front yard or backyard.
You will find this idea beneficial when you are about to host an event or a party at your house, but there is a lack of sitting area to accommodate all the guests. All you need to do is temporarily installing the tiles on your designated area in the yard and add some seats there.
You can even create some stepping tiles or a pathway to add more convenience for your guest while exploring the venue of the event. This way, you do not have to worry that the guests will get discomfort from stepping their feet on the grassy area.
The Disadvantages of Interlocking Tiles for Patio over a Grassy Land
It is clear that all the facts mention above tends to show the advantages of installing interlocking tiles over the grass for creating a patio outside your house. Although so, it does not mean that there is not any disadvantage at all.
The first one is the visible seams. Although it is a minor disadvantage, for some people it looks quite irritating.
The second is the fact that interlocking tiles will never create a permanent patio over the grassy or any other yard type. It also means that it will not add any additional home value, especially when you are thinking about selling the property.
Even the patio from the interlocking tiles can last for a quite long time it is still not a permanent one. That is why when you want to enhance the home value for a higher selling price, it will be much better to consider an actual patio instead of the one we talk about here.
For the closing, having interlocking patio tiles over the grass is an excellent idea if you want to try something new for your outdoor area. Moreover, you can easily change the position of your patio as the interlocking tiles are not permanent.
After you read these seven facts about interlocking patio tiles over the grass, hopefully, you can have useful information before you decide to have it or avoid it. For the last words, we say thanks for visiting our site.
Sours: https://aprylann.com/interlocking-patio-tiles-over-grass/
DIY INTERLOCKING DECK TILES // PORTABLE PATIO FOR THE SCHOOL BUS TINY HOUSE
Deck tiles for roof decks and patios is what we do, its what we design. Our deck tiles are born from 15 years of development and testing. We offer outdoor flooring solutions to the most difficult roof applications. We offer the best service and support in the business. Take a look at our huge selection of modular wood deck tiles and porcelain paver products as well as our turf solutions. Let us help you transform your average outdoor space into the ultimate outdoor oasis.

Decking Tile Products and Projects
You're not only creating a beautiful outdoor space with us, you're investing in your future. Our modular outdoor deck tile and porcelain paver floors are floors are built to last. We source and manufacture most of our materials ourselves to maintain the highest standard of quality. Simply invest once and enjoy your outdoor space for a lifetime. Let us do the importing and logistics to save you time and money. Click here for our latest completed projects and installation guides.

Deck Tile floors and our Materials
Here at Eco Arbor Designs, we only use the best materials in the business. We've spent over a decade researching, testing, designing and manufacturing the best materials for your next outdoor project. No outdoor space is the same and there is no "do it all system". That is why we sell so many types of outdoor flooring solutions and pedestal support systems. If the quality of a product is not up to our standards, we don't use it. We demand the best, and so should you. See our product showcase to learn more

Take Off and Estimation Services
Here at Eco Arbor Designs our business thrives on outdoor project referrals, and for good reason. We help our customers from beginning to end. We have the best customer service in the business. We offer the best take off and estimating services in our field. We are 100% dedicated to helping you make the right decisions, and above all, saving your budget from going into the red! We have your back and will support you through your entire purchase. Call us today and lets get started click here for our contact
ECO Deck Structural Deck Tile Pedestal Pavers
Our structural panels have been engineered with your outdoor flooring needs in mind. We've spent years researching, designing and testing to offer you the perfect modular deck tiles solutions for your new outdoor project. Whether you're looking to replace an existing joist wood deck, or transform your sky rise roof space into livable space, we have the elevated outdoor flooring products for your needs.
Porcelain Pavers
Our line of in stock Porcelain Pavers are the perfect solution for your outdoor roof or balcony space. These tiles are very versatile, stain resistant, frost resistant, and incredibly durable. Ideal for both large residential and high traffic commercial applications. Porcelain pavers can be applied "on grade" over gravel substrate or used for raised floor pedestal applications. Similar to concrete pavers but with half the weight and far better looks! Click here for our porcelain catalog
Structural Wood Deck Tiles
Our Structural IPE pavers are commercial grade in every way. An outdoor deck or patio surface that will last a lifetime, yet has luxurious distinction. We offer a variety FSC certified hardwoods to create the perfect modular walk deck. Our hardwoods are certified and sourced at environmentally friendly plantations or sustainable forestry programs. We dont just buy any hardwood, we only buy the best. Click here for our structural wood paver catalog

Deck Turf Raised Flooring Turf Application
Deck Turf was designed to cover existing outdoor areas with a raised floor, finished with artificial turf. A strong fiberglass base in an easy to handle 2x4' size allows structural rigidity and a system that will never fail. Deck Turf can be used over any surface including roof decks, joist decks, and ground level applications. Click Here to Learn More
ECO Deck Interlocking Deck Tile Series
Eco Decking Tiles was where it all started over 16 years ago, winning the GLEE outdoor product of the year award in 2007. Fast forward to today and Eco Deck Tiles still remain the best interlocking deck tile system on the market. The Eco Deck tiles come in most durable and reliable hardwoods, including Ipe, Curupay and Garapa. Our interlocking floors can be used over existing deck surfaces, bland patios, concrete condo decks or any surface in need of a face lift.
Curupay Interlocking Deck Tiles
Curupay is as dense and durable as Ipe and has been used for the famous Gibson Guitar. You will not find this unique sustainable hardwood decking tile anywhere else except from us here at Eco Arbor Designs.
IPE Deck Tiles
The premium classic Ipe deck tile (pronounced Ee-pay), is one of the hardest and most durable decking options available. Here at Eco Arbor Designs, we have sourced the most environmentally sustainable and premium quality Ipe, creatiing the best deck tile in the industry. The perfect solution to cover your concrete balcony or outdoor floors.
Garapa Interlocking Deck Tiles
Garapa, also commonly known as Brazilian Ash, is a dense lumber with a beautiful warm golden tan color. Garapa is resistant to rot, decay and insects. These light teak colored and ultra durable deck tiles will give your outdoor floor a brand new motif.
Pedestals, Planters and Green Roof
Over the years doing outdoor decks we have seen outdoor products come and go, so we partnered with some of the best planter suppliers and green roof products available today. We do a lot more than just sell stunning modular decking tile solutions. Over the years we've acted as consultants and have helped our customers bring their dreams to life. Explore a few of the other services and products we offer below including, lightweight fiberglass planters, our series of pedestal supports and our vertical green wall options. Eco Arbor Designs has a complete product line for your outdoor designs.
Pedestal Supports
Over the years we have come to realize, that no singular pedestal system can do it all. That is why we carry several different brands. We offer several types of support systems. 1) Elmich pedestals 2) our own cost effective EAD screwjack pedestals 3) easy to use stack-able fixed height solutions, 4) PVC pipe riser "one size fits all" pedestals. Every job requires a different solution.
Planters
Our durable lightweight fiberglass planters will help to transform your existing patio or garden into the ultimate outdoor getaway. Our planters have been built to last and will add a touch of class to your outdoor space. The planters are available in square, rectangular or round shapes as well as over 30 colors and finishes.
Greenroof
Eco Arbor Designs in coordination with Cortica Systems, present the simple and easy to install vertical green wall and green roof solutions. From interior moss walls, to exterior vertical gardens Cortica offer a unique simple to install system.
Sours: http://www.ecoarbordesigns.com/
Deck tiles removable
And again an irrational desire arose to move a little forward, and touch the purple swollen head with the nipples, in which some incomprehensible pulling sensations arose. To the relief of the nun, overwhelmed by her own vicious desires, the man quickly pulled back as soon as the barbett flew into the corner. It's just a shock, she convinced herself, pressing her shoulder blades against the wall.
INSTALLING COMPOSITE DECK TILES
I'm a fan of yours. Did you say everything. What else is there to add.
You will also be interested:
Desire and lust, and know that only She can satisfy this desire. She continues to fondle herself. Her breathing becomes more choppy and louder, her tongue licks her dry lips. Alice spreads her legs wider. but it becomes uncomfortable to caress herself while sitting, and she lies down on the carpet.
1334
1335
1336
1337
1338