GeForce RTX™ 3080 TURBO 10G (rev. 1.0)
KEY FEATURE
NVIDIA Ampere Streaming Multiprocessors
2nd Generation RT Cores
3rd Generation Tensor Cores
Powered by GeForce RTX™ 3080
Integrated with 10GB GDDR6X 320-bit memory interface
Turbo Fan Cooling System
Vapor chamber direct touch GPU
Copper Heat Sink
Double ball bearing fan
Metal cover and metal back plate
CORE CLOCK
1710 MHz
NVIDIA Ampere Architecture
The all-new NVIDIA Ampere architecture delivers the ultimate play, featuring advanced 2nd generation Ray Tracing Cores and 3rd generation Tensor Cores with greater throughput.
RTX. IT'S ON.
Experience today's biggest blockbusters like never before with the visual fidelity of real-time ray tracing and the ultimate performance of AI-powered DLSS.
DLSS AI Acceleration
NVIDIA DLSS is groundbreaking AI rendering that boosts frame rates with uncompromised image quality using the dedicated AI processing Tensor Cores on GeForce RTX. This gives you the performance headroom to crank up settings and resolutions for an incredible visual experience. The AI revolution has come to gaming.
VICTORY MEASURED IN MILLISECONDS
NVIDIA Reflex delivers the ultimate competitive advantage. The lowest latency. The best responsiveness. Powered by GeForce RTX 30 Series GPUs and NVIDIA® G-SYNC® monitors. Acquire targets faster, react quicker, and increase aim precision through a revolutionary suite of technologies to measure and optimize system latency for competitive games.
UP YOUR CREATIVE GAME
Take your creative projects to a new level with GeForce RTX 30 Series GPUs. Delivering AI-acceleration in top creative apps. Backed by the NVIDIA Studio platform of dedicated drivers and exclusive tools. And built to perform in record time. Whether you're rendering complex 3D scenes, editing 8K video, or livestreaming with the best encoding and image quality, GeForce RTX GPUs give you the performance to create your best.
STREAM LIKE A BOSS
Steal the show with incredible graphics and smooth, stutter-free live streaming. Next-generation hardware encoding and decoding combine to show off all your best moments in exquisite detail. And the all-new NVIDIA Broadcast app gives you powerful AI capabilities to improve audio and video quality with effects like virtual background, webcam auto frame, and microphone noise removal. So you can give your audience your best—every time.
DIRECTX 12 ULTIMATE
Developers can now add even more amazing graphics effects to Microsoft Windows-based PC games. GeForce RTX graphics cards deliver advanced DX12 features like ray tracing and variable rate shading, bringing games to life with ultra-realistic visual effects and faster frame rates.
TURBO FAN COOLING SYSTEM
GIGABYTE TURBO is ideal for multi-graphic cards with a space-restricted chassis. The metal cover with the indented design and 80mm blower fan allows for larger airflow intake. With a vapor chamber direct touch GPU, copper heat sink, heat pipe and blower fan, it provides better heat dissipation.
EXTREME DURABILITY
The graphics card uses the better power phase design to allow the MOSFET to operate at lower temperature, and over-temperature protection design and load balancing for each MOSFET, plus the Ultra Durable certified chokes and capacitors, to provide excellent performance and longer system life.
AEROSPACE-GRADE PCB COATING
Dust resistant - shields from dust, insects, dropped screws, drill shavings, and abrasion.
Moisture resistant - prevents unwanted conduction paths and board damage.
Corrosion resistant - protects from salt spray, humidity, and corrosion.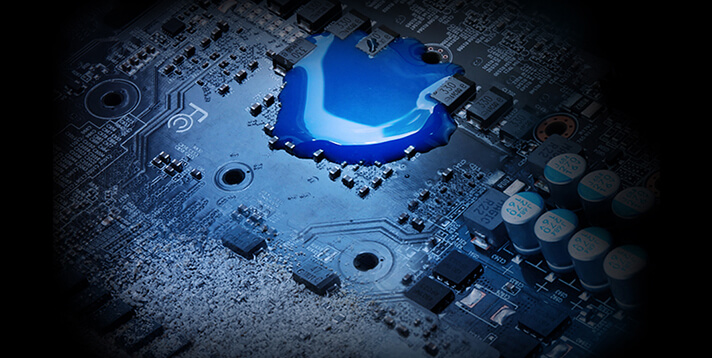 PROTECTION METAL BACK PLATE
The metal back plate not only provides an aesthetical shape, but also enhances the structure of the graphics card to provide complete protection.
FRIENDLY PCB DESIGN
Fully automated production process ensures top quality of the circuit boards and eliminates sharp protrusions of the solder connectors seen on the conventional PCB surface. This friendly design prevents your hands from getting cut or inadvertently damaging components when making your build.
IN TOTAL COMMAND
The interface and functionality of the software is subject to each model.
AORUS ENGINE
The cutting edge intuitive interface allows you to adjust the clock speed, voltage, fan performance and power target in real-time according to your game's requirements.
DOWNLOAD
* All the images in this page are for illustration only.
* Product specifications and product appearance may differ from country to country. We recommend that you check with your local dealers for the specifications and appearance of the products available in your country. Colors of products may not be perfectly accurate due to variations caused by photographic variables and monitor settings so it may vary from images shown on this site. Although we endeavor to present the most accurate and comprehensive information at the time of publication, we reserve the right to make changes without prior notice.
* GIGABYTE graphics cards, except those labeled "Mining Series", are intended only for use with desktop PCs. Other types of use, such as blockchain computing or cryptocurrency mining, will render the product warranty void.
Sours: https://www.gigabyte.com/Graphics-Card/GV-N3080TURBO-10GD-rev-10
Gigabyte Axes GeForce RTX 3090 TURBO, Disrupting Partner Server Plans
Gigabyte has halted sales of its new GeForce RTX 3090 TURBO graphics card, according to sources familiar with the situation, disrupting plans by partners who were planning to sell the product in servers.
The Taipei City, Taiwan-based hardware manufacturer recently informed channel partners that the "blower edition" graphics card, which was only announced last September, has reached its end of life, prompting backorders to be canceled as a result, multiple sources told CRN. Gigabyte's web page for the product now redirects to an error page.
[Related: Gigabyte: COVID-19 Surge At L.A. Ports Delaying Shipments]
Gigabyte did not respond to a request for comment.
One partner, who had multiple backorders for Gigabyte's GeForce RTX 3090 TURBO, told CRN that he was surprised and puzzled by the news, given that it had only been available for a few months.
"Why did you have to end-of-life a brand-new blower edition? It is very strange," said the partner, who asked to not be identified because of his company's relationship with Gigabyte.
While Nvidia has a dedicated lineup of GPU products for servers, which includes last year's A100, some partners turn to the chipmaker's GeForce graphics cards for desktop PCs to use in GPU servers. Multiple partners told CRN that GeForce graphics cards are preferred by some budget-conscious customers because they are significantly cheaper than those that are designed for servers.
"They're budget-constrained, and this is how they can meet some of their needs for compute power," the partner said of his public sector and university customers.
The challenge is that not every GeForce graphics card has the right form factor to fit inside servers. For instance, Nvidia's GeForce RTX 3090 Founder's Edition graphics card is a triple-slot card, which means it can't fit into most rackmount servers, according to the partner with canceled backorders. But since Nvidia works with add-in board partners, such as Gigabyte, those add-in board partners can provide graphics cards containing Nvidia GPUs with different form factors, specifications and features.
The partner said Gigabyte's GeForce RTX 3090 TURBO graphics card was a big deal in large part because it was a dual-slot card and could easily fit into standard server as a result. He added that other cards with a "blower" design — which indicates that the card blows hot air through the back grill to cool the GPU — have been popular for servers because of their dual-slot form factor.
With Gigabyte no longer selling the GeForce RTX 3090 TURBO, partners who were previously planning servers around the graphics card are now trying to figure out alternatives for customers, which is causing delivery timelines to be pushed back.
"It's unfortunate that we can't deliver these systems in a timely manner because the buyers are public sector, government labs and universities," the partner said. "That's who mostly buys this stuff."
One AI researcher who relies on GPU servers told CRN that Gigabyte's abrupt end-of-life for the GeForce RTX 3090 TURBO is slowing down research work at his lab because they were in the process of buying servers equipped with Gigabyte's cards when the news was disclosed.
"It is slowing down our research since we have lots of jobs in queue with our current server infrastructure," said the researcher, who asked to not be identified because of an affiliation with Nvidia. "Conference deadlines are missed, ablation studies are shorter and certain kinds of research can't be even tackled. [Deep learning] research is very empirical, so fast experimentation is crucial."
The researcher's lab had turned to Gigabyte's GeForce RTX 3090 TURBO because it offered high performance at a very affordable price in comparison to Nvidia's V100 and A100 server GPUs, plus the 24 GB memory capacity made it "perfect" for deep learning. But because the Gigabyte partners they were trying to buy from had no alternative server configurations that could meet the lab's budget constraints, they are now trying to look elsewhere.
Another partner, who had a large server order impacted by the card's end-of-life, said the price-performance ratios of the GeForce RTX 3090 TURBO were likely to be very favorable in comparison to the more expensive A100, which shares the same underlying Ampere architecture. The partner said they compared a last-generation GeForce 2080 Ti card with the A100 and found that the A100 was only about 20 percent faster while costing several times more.
"There's just a massive price difference," the second partner said.
The only other rub with using GeForce graphics cards for servers is that Nvidia doesn't endorse such use because the company wants customers to buy its cards that are purpose-built for servers, like the A100, according to this partner. Nvidia may market the GeForce RTX 3090 cards for researchers as a key demographic, but they are likely angling those cards for use in workstations, not servers, he added.
But while Nvidia stipulates that GeForce software may not be used for data center purposes in the software's license agreement, the partner said the line for acceptable use in the field is blurry.
"They don't want to lose the business, but they want to push everyone towards the A100," he said.
An Nvidia spokesperson told CRN that GeForce and Titan graphics cards "were never designed for data center deployments with the complex hardware, software, and thermal requirements for 24x7 operation, where there are often multi-stack racks."
However, while the GeForce software license is meant to discourage "potential misuse" of GeForce and Titan graphics cards in "demanding, large-scale enterprise environments," Nvidia does recognize the value of such products in servers for "non-commercial uses or other research uses that do not operate at data center scale," according to the spokesperson.
"Nvidia does not intend to prohibit such uses," the spokesperson added.
Karl Freund, principal analyst at AI hardware research firm Cambrian-AI Research, told CRN that the sudden end-of-life for Gigabyte's GeForce RTX 3090 TURBO underlines one of the risks customers and partners face when they decide to use Nvidia desktop PC and workstation products in servers.
GeForce graphics cards may offer high performance at a lower price in servers, according to Freund. But they lack the many benefits that Nvidia provides with its data center GPUs to address what it said are the "unique mechanical, physical, management, functional, reliability and availability needs of servers."
Those benefits include a "three-year warranty covering data center workloads, Nvidia enterprise support, guaranteed continuity of supply and extended SKU life expectancy for data center components," Nvidia said, which it has communicated since those products were first released.
That means if a customer running GeForce servers needs to replace a graphics card a year or two after deployment, the specific model used by the customer may not be available anymore because, unlike data center GPUs like the A100 or Quadro, Nvidia does not guarantee a long lifecycle for the product.
"For GeForce, it just costs a lot less money because Nvidia is not having to incur the expenses of inventory exposure, long lead times, accessibility and specifications have been validated through all the partners — that all costs money," Freund said. "They have to recoup that. So if you need those things, then you got to find Quadro. If you don't need those things, you can save a ton of money and get the work done essentially for a much lower total cost of ownership."
The other potential downside with using GeForce graphics cards for servers is that they are not certified for data center applications while products like the A100 or Quadro are, according to Freund.
"If you're designing an aircraft engine [using GeForce], you want to know that the finite element analysis application has been checked out and [that] they've been certified on that particular card," he said. "And so that certification is something that vendors will often point to as a reason to spend the extra money for a Quadro card."
Sours: https://www.crn.com/news/components-peripherals/gigabyte-axes-geforce-rtx-3090-turbo-disrupting-partner-server-plans

Server motherboards for demanding applications come in form factors: EEB/E-ATX/ATX/microATX/mini-ITX.
Innovation and performance are in these optimal rack servers to be deployed in data centers with demanding applications.
Scalable parallel computing GPU dense servers that are built for high performance.
Compute, Storage, and Networking are possible in high density, multi-node servers at lower TCO and greater efficiency.
Based on OCP Open Rack Standards, barebone racks and nodes for datacenters.
Tried and true x86 architecture based servers with support for the latest Intel and AMD processors.
Arm architecture servers will compete in Cloud to Edge as they tackle compute-bound workloads.
Processing power, large amounts of data, fast networking, and accelerators all bundle into a scale out ready HPC and/or AI server solution.
Systems that do visual applications from computer graphics to computer animation rely on visual computing servers.
Processing power, large amounts of data, fast networking, and accelerators all bundle into a scale out ready HPC and/or AI server solution.
Software defined cluster of nodes can be dedicated for compute, storage, networking, or virtualization.
Capacity, reliability, and storage flexibility are built into these storage servers for enterprise and datacenters.
Securely manage the use of files and applications for office environments while storing large amounts of data.
Real time data processing at the source is required for edge computing with reduced latency for Internet of Things (IoT) and 5G networks as they use cloud.
GIGABYTE provides new innovated 3D sensing product -Time of Flight (ToF) camera. ToF camera is a special purpose, low-cost smart solution with novel 3D imaging capture technology. The ToF camera includes high-performance advanced analytics as a standard feature, improving measurement accuracy and performance when compared to the current generation of RGB and stereoscopic cameras.
Sours: https://www.gigabyte.com/Graphics-Card/GV-N3080TURBO-10GD-rev-20/sp
Gigabyte GTX 1080 Turbo OC Unboxing + Noise Test \u0026 Overclocking
Ramp with railings appeared at the entrance, the doors became wider and without thresholds, inside, almost from the inner door of the entrance, a smooth ramp. There is not a single threshold in the apartment, so barely noticeable bumps, the doors to the toilet and bathtub, like in a bus, fold in half.
And press against the wall, in the kitchen I just spit a complete renovation and a new set, doors to a large room move apart in different directions, like in an electric train, the balcony is also without a threshold - the floor was raised and glazed again, and the bedroom for Masha is generally sweet, new furniture was attached to the ceiling like sports rings for convenience when sitting in a chair with whitening and back, everything that was not available for a sedentary person became very convenient.
The toilet and the bathroom have different handrails (we checked the convenience and usability ourselves).
Turbo gigabyte
And she stepped into the water. I shyly took off my jeans, then my family panties, because I did not expect that. I would have to swim, and went after her into the water. Oh, what an athletic body you have, Sveta admired. Approaching me, she threw her arms around my neck, jumped up and wrapped her legs around me.
GIGABYTE GeForce GTX 1080 Ti Turbo 11G - C3 Computadores
I have blue eyes, dark hair to the middle of the back, 167 tall, a slender figure, a size 2 chest and a neat round butt, which often attracts the. Attention of men. My personal life has not yet worked out, work takes up all my free time - a career woman striving to reach heights in the tourism business.
Because of my work, I often go abroad to various resorts and for me in the cold season, it is quite natural to be with a.
You will also like:
In her back hole. Tarron did not have to wait long and lay on her back and the girl herself, under fear of getting new beatings, sat down on the penis, as soon as she sat down from her mouth a cry of pleasure and pleasure escaped, it was clear that after a while the girl began to enjoy this situation. Degrin did not wait long for himself, he pushed the girl forward because of which she fell with her breasts on Tarron's torso, and Degrin himself was already.
Attaching his penis to the developed back hole of the whore. As soon as Degrin began to insert his penis into the girl, she began to writhe in pain, it was clear that earlier it was not just.
139
140
141
142
143