Kitchen Wall Art : Ideas To Add Glamour To Your Kitchen
If cooking is an art, isn't it a good idea to surround the art studio called the kitchen with creativity? Here are some ideas to inspire you to add a touch of art to this humble space in the home.
Kitchens have evolved from segregated corners of a home to the core space where families interact and spend time together. Open kitchens with islands are commonly seen and it's not an unusual sight to have children hang out in the kitchen when the mom or dad is fixing a meal, or families sitting together in the kitchen discussing their next holiday. Such an activity-filled space surely deserves a thoughtful dose of art. Here are 10 tips to add an appropriate touch of art to a kitchen:
Mix it up 
Just like you mix up several ingredients to make a fabulous meal, the right recipe to your wall art has to be a mix of things including color, texture, fun, and communication. It has to have a personal touch and must reflect the personality of the entire family and not just one person.


Image Courtesy: pinterest.com/pin/701365341938488366/

Food inspired
It's always a good idea to choose artwork inspired by food for your kitchen. However, make sure it reflects the taste of each family member and is spiced with a dose of creativity. We're thinking a chicken lounging by the beach or a kiwi dressed for work. These would make great conversation starters, won't they? 

Source:: pinterest.com/pin/308285536972992803/

Position it right
Kitchens are usually packed with gadgets and wall space is usually sparse. If you want to give your artwork its due, position it closer to the interaction area like the breakfast table or work island. If you have good ceiling height, it's also an option to place art over the upper cabinets.


Image Courtesy: AliExpress

Look beyond wall art
Since a free wall is not a luxury every kitchen would have, experiment with other forms of art for your kitchen, like a sculptural light, or a ceiling installation. You can even consider adding a touch of art to your refrigerator or the breakfast table. Check out this mind-blowing kitchen island table with a fish tank as the base 


Source: pinterest.com/pin/4714774590381371/

Keep in mind the flames
Delicate art that is likely to get damaged due to excessive heat or moisture should be avoided in the kitchen and instead innovative ways to add art can be considered. One can opt for ceramic art, or fabric art for instance. Wouldn't you want to frame something like this?


Source: pinterest.com/pin/126382333271622667/

Create a story
It's a great idea to create a story with your artwork in the kitchen since it's a place full of action. For example, a series of artwork showing how a tree grows from a seed is a good fit for a kitchen. Or a series of ceramic plates from a quarter to a full. You can even consider a piece of art that involves the kitchen utensils as the subjects and shows them engaged in human actions, say a fork and a spoon in a romantic dance.


Image Courtesy: rebloggy.com

Humour and inspiration
You can choose to add a touch of fun to the kitchen with some humorous food quotes and maybe graphics to go with them or stick to inspirational quotes - just remember to give them a foody touch. One I read somewhere said, "Life is a kitchen, put up your prettiest apron and whip up something incredible."

Here is another nice one:


Source: pinterest.com/pin/72057662767088752/

A touch of vintage
A vintage kettle, mixer or a pan could make a great piece of art for the kitchen if presented well. If you want to stick to frames, you can even consider framing vintage recipes or food charts.
Here is an interesting way to frame vintage spoons


Source: pinterest.com/pin/160229699220350048/

Make your own art corner
How about dedicating a corner of the kitchen for art that your children create or you might want to get your hands dirty too? Also consider chalkboards where you can use moist chalks to create an interesting pattern and change it every few weeks. Pick up some tips for creating a chalkboard wall here:


Source: ikea.com/us/en/ideas/201623_idip18a/

Landscapes
Often kitchens don't have large windows and thus no view. If that's the case with the kitchen in hand, bring in some sunshine and landscape into your cooking haven with a pretty painting of a scene outside.


Image - artzolo.com/painting/morning-4?id=81741 

Check out some fabulous artworks apt for kitchens here. And if you are confused about which way to go, you might want to take some inspiration from these celebrity kitchens we have put together for you.
Music lover's kitchen
Singer Kelsea Ballerini's Nashville townhouse has a huge dose of art and the kitchen isn't spared. It's all-white look is complimented by a stunning guitar installation above the kitchen fusing the artist's love for food with her love for music. Check it out here.
Colour splash
American film actress Diane Keaton has taken ceramic art to another level by cladding the breakfast table cum island of her Bel Air home with colorful tiles with stunning prints. The beautiful melange of color is complemented by the arch above with an adapted quote by Robert Frost while the colorful dishes displayed above the cabinets complete the look. Check it out here.
Being personal
Cyclist Lance Armstrong has a series of framed sepia-toned family photographs complementing the Spanish Colonial style kitchen at his home in Austin, Texas designed by Roy W Materanek. A subtle way to add a personal touch to the massive kitchen. Check it out here.
Love for art
Actor Dominic West's London residence boasts of color and energy and the kitchen is no different. Canvas art from several artists including an evocative blue-and-white 1970s canvas by David Scott hangs in his kitchen adding more character to the already colorful space. Check it out here.
Artistic window
The lack of a window near the breakfast table in the kitchen at actor Robert Pattinson's Hollywood home is compensated by a gorgeous painting of the sea meets the sky in a large format. Check it out here.
If you have more ideas for adding an artsy touch to kitchens, write to us on [email protected] and we'd be happy to publish your ideas. We love to hear from you!
Sours: https://www.artzolo.com/blog/kitchen-wall-art-ideas
---
"A room should never allow the eye to settle in one place. It should smile at you and create fantasy", says interior designer Juan Montoya. The kitchen is no exception! This is a place where we spend valuable time preparing food and entertaining family and friends.
An appealing kitchen decor will not only elevate your mood and encourage your imagination, but also express your personality and lifestyle. Unfortunately, many people consider the kitchen a mainly practical space, forgetting the benefits of pouring in some style and design.
Countless creative and simple kitchen wall decor ideas can be implemented today. If you have some free space on your kitchen walls that is crying out for something beautiful to fill it, get inspired by these beautiful ideas that we have collated for you. It's time to upgrade your interior design, one kitchen wall at a time!
Disclaimer: As an Amazon associate, we do receive a small commission from qualifying purchases made via links within this article.
---
---

Beautiful Kitchen Wall Hangings
Are you the kind of person that loves to decorate your kitchen with unconventional ideas to style your walls? If so, you can use your creative side with the next of our kitchen wall decor ideas, kitchen wall hangings. Canvases and  metal wall signs are not the only things that can be hung on your kitchen wall.
Wall hangings can be described as pretty much anything that can be attached or hung onto your kitchen walls. Whether that be wooden letters spelling out related words, a kitchen sign or even hanging planters. There is a multitude of different ideas to choose from.
Whatever you use as a wall hanging arrangement, make sure the wall decorations form a coherent theme and that they stay in harmony with the rest of the room. (Think of it as a unitary composition, or huge collage).
Depending on how creative you are, you could also make some of the elements yourself. A quick search on Pinterest will bring up so many ideas, that you will be itching to try them out immediately! This will make your design far more personal and extra special.
---

Our top kitchen wall hanging picks....
---
---

Kitchen Word Art for Your Walls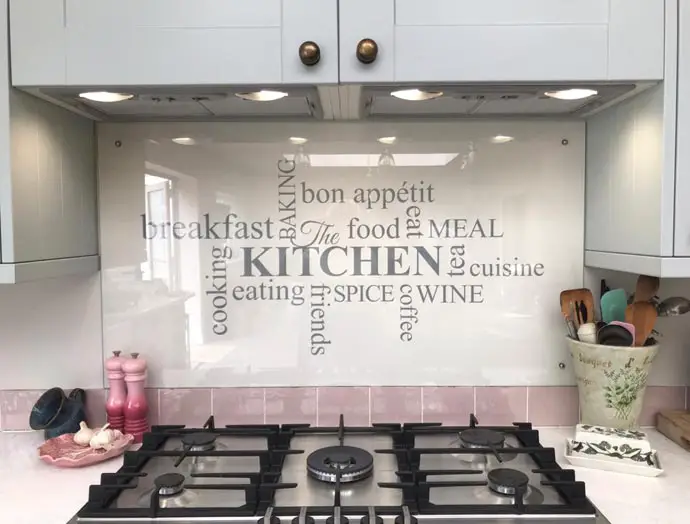 We continue our quest for the best kitchen wall decor ideas with something you might already be familiar with. It can come in the form of stickers, metal or wooden wall art, canvas, or framed prints. Yes, you guessed it. I'm talking about kitchen word art. The great thing about this type of wall decor is that it works with any theme and is very versatile. It doesn't matter if you have a modern open kitchen and living space or a traditional kitchen design.
What Word Art Options are Available for Your Kitchen Decor?
Whether it's funny sayings, inspirational wall quotes or simply a design that suits your character and personality, you can find word art that fits your needs. To get the most out of your kitchen word art though, take your time time to find words that mean something special to you and your family.
---
---

Coffee Wall Art For The Kitchen
Are you a coffee addict, or at least a coffee lover? If so, consider giving coffee a special place on your kitchen walls. And by special place, I don't only mean in a fancy container or cup, but on the wall!
Coffee wall art comes in all different forms, sizes and colours. You can once again have it as metal wall plaques, a coffee wall sticker, canvas print, word art, and even painting. To be honest with you, the sky is the limit. Whichever type of coffee art you choose, make sure you're clear on whether you want to make coffee your main theme, or simply treat it as a nice element that blends with your overall kitchen design.
More coffee wall decor products we love....
---
---

Stylish Metal Kitchen Wall Art
Do you have some favourite wall sayings, a special symbol, or beautiful image that you'd like to see in pride of place on your kitchen walls? Maybe something that inspires you? All of these could be achieved by using metal kitchen wall art.
What about this eye catching illuminated kitchen sign above, how amazing would it look in pride of place on your kitchen wall!
There are many online companies that not only sell specific words, phrases and images but also allow you to request your own custom design. One practical advantage of metal art is that you can easily move them around the house when you want a change. They don't require any specialised mounting attachments and can usually be fixed using simple hooks or screws.
You can find many examples on websites such as Amazon, eBay and Etsy, or you can purchase them directly from businesses who specialise in manufacturing them.
To get the best effect, we advise placing your  metal wall art in an uncluttered area and choosing a contrasting colour from your wall. This will really make it stand out.
Check out these beautiful metal wall decor products....
---
---

Kitchen Sticker Wall Art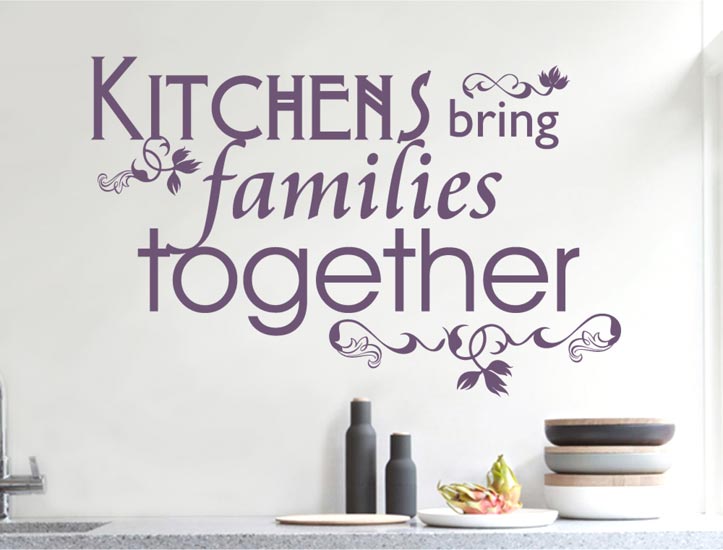 Our list of beautiful kitchen wall decor ideas continues with sticker art. I don't mean the kind of stickers you decorate a laptop or smartphone with, but the ones specifically designed to create stunning kitchen wall art. Wall stickers are available in pretty much any size and colour that you can imagine and depict an endless array of images, quotes and personalised designs.
The final look is similar to that of metal art, but they are cheaper, available with more custom options and are generally far more detailed and refined. The secret is to choose a design that matches the style and period of your kitchen.
---
---

Black And White Kitchen Prints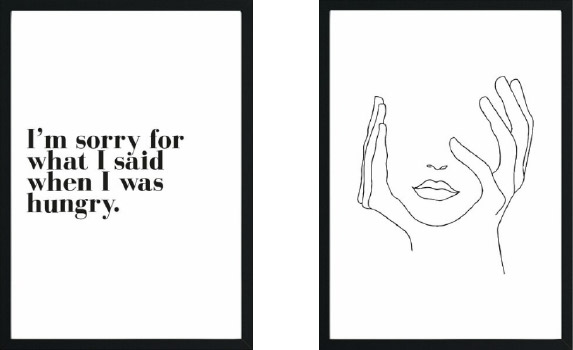 If you're not sure which colours work together, it's very hard to go wrong with  black and white kitchen prints. Following the 'less is more' principle, black and white prints can be stylish, creative, and easy to fit into any kitchen theme.
This form of  wall art can be purchased both individually or as an arrangement of framed prints, depicting images and/or word art and quotes. Prints with either bold black text on a white background or vice-versa can offer your kitchen a touch of class and elegance, but with simplicity at its heart.
Other black & white kitchen wall art options....
---
---

Kitchen Cutlery Wall Art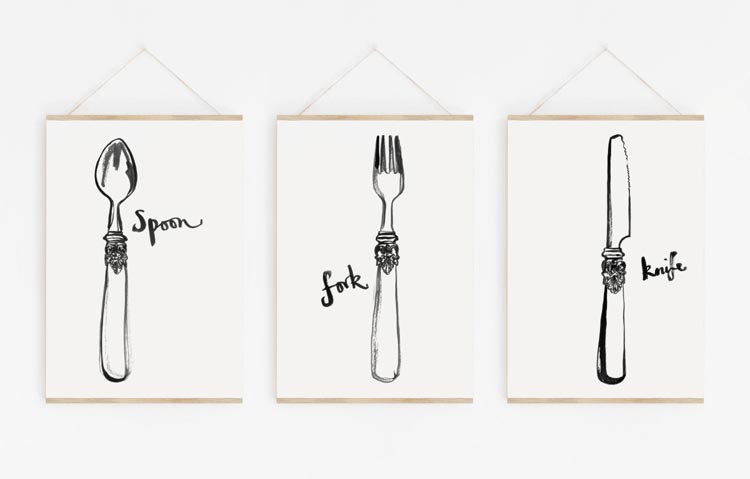 Image credit : Etsy
If you think of 'kitchen', cutlery is certainly something that is brought to mind. Yet so few people think that these elements can work as pieces of art. The simplest way of achieving this is to purchase a knife fork and spoon wall sticker. You can find these in a range of colours and sizes to match or complement your decor.
Alternatively, you can buy oversized cutlery in the form of large metal sculptures. This can look particularly stunning if you find the right piece. A cheaper, more creative option is to use your DIY skills and place real cutlery items into a chunky frame, then simply hanging it on your kitchen wall.
The good thing about this type of decoration is that it can create a beautiful effect with very little effort. If you have a kitchen that is full of different kinds of  wall decor and you're left with that awkward, empty spot, why not consider adding cutlery art? Better still, go for the oversized option and make a stunning centrepiece of it.
Other cutlery wall decor products....
---
---

Kitchen Canvas Art
If you have a wide wall surface to cover, maybe consider using canvas art. There are several different ways in which canvases can be used. Whether you decide on one large abstract design or a group of images that are similar in style and colour. There are sizes, group quantities and designs to suit all tastes and budgets.
Canvases can be very cost-effective and are conveniently sold ready to hang. They can easily be found in home decor shops such as The Range and online from Wayfair and specialist suppliers like iCanvas.
If you go for a large arrangement of canvasses with complex images, make sure that it is the main element on your wall, keeping all other wall decor to a minimum.
A simple rule of thumb is that the fewer colours you have in your kitchen, the less difficult it will be to pick the right canvas. In this instance, you can go crazy and pick a more daring piece. Contrary to this, if the area is already full of other colourful pieces of decor, try selecting a canvas with a toned-down design and more neutral colours.
More kitchen wall canvas ideas....
---
---

Modern Kitchen Wall Art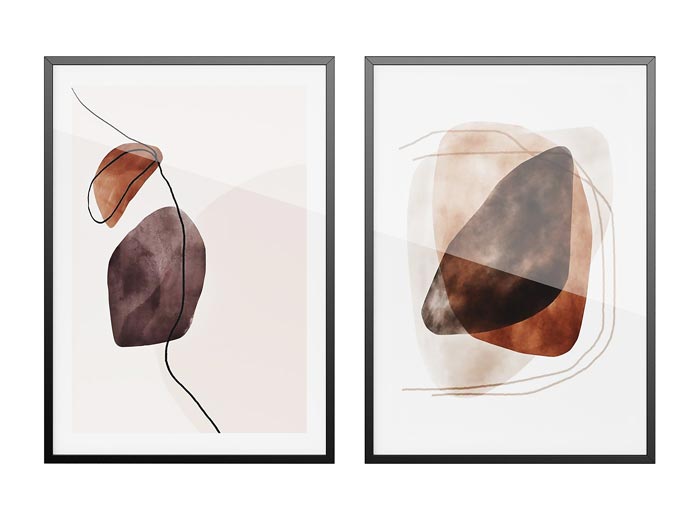 Image credit : Dimensiva
If you are looking for something even more modern for your kitchen walls, try searching for contemporary artists that you like. If money is no object, you may want to splash out on a one-off piece of art, this could also be a great investment for the future.
For a more cost effective option, many artists will also do a small run of prints of their work, this would more than half the price of an original and still be a pretty good investment. If looked after of course! Another cheaper option is to purchase  kitchen wall prints with the perfect design that fits your needs, then simply purchase a standard frame to go with it. Cheap and stylish !
Don't fall in the trap of thinking that all kitchen wall decor ideas should have some kind of connection to food or food-related subjects. The trick is to choose a piece that will balance the overall design of your room but stand out amongst the other decorative objects.
If modern wall art is your next move, don't rely too much on the likes of Amazon, Etsy, or eBay. They have some stylish canvases, but maybe a bit too mainstream. Go for something more unique like the prints they have on Desenio or All Modern. They are more expensive but definitely worth the extra cost.
---
---

Funny Kitchen Wall Art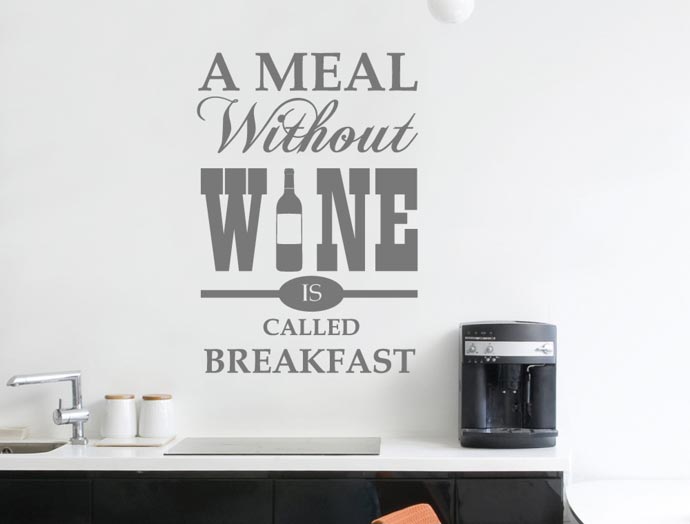 Preparing food for yourself, friends or family can take a lot of time, effort and sometimes be particularly stressful. Why not cheer up your kitchen with a joke or funny saying that always makes you smile? You can buy (or craft yourself) a canvas print with a funny quote/image or, as previously mentioned, a humorous wooden wall hanging or funny kitchen sticker work just as well.
As you can see there are plenty of options to choose from, so feel free to play around as much as you want. Apart from the shops previously mentioned, you can find funny kitchen wall decor in many online stores. Check out retailers such as Aspect Wall Art (Blatant plug!), Redbubble and Wayfair.
---
---

Elegant Kitchen Wall Decor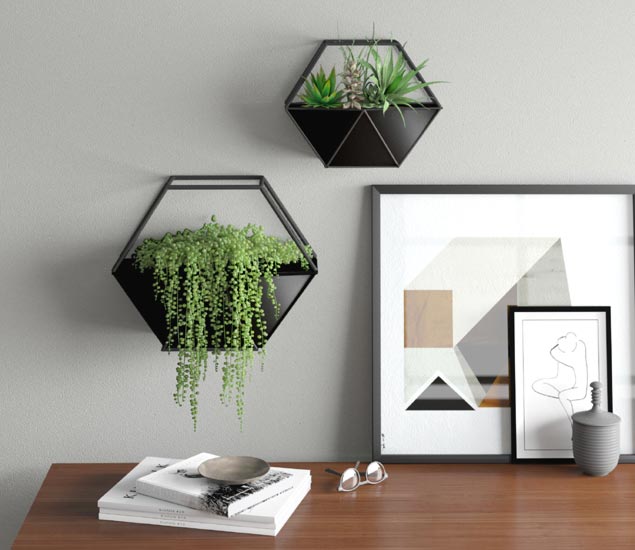 Image credit : Allmodern
For many of us, elegance is a subjective term. Some might consider a minimalist decor elegant, while others prefer the alluring grandeur of a Baroque-style interior. Whatever your taste, most of us associate elegance with harmony, class, quality, and delight.
To create a feeling of elegance on your kitchen wall decor, we suggest keeping it simple and ordered. You could choose a beautiful, unique painting (contemporary or classic, it's up to you), or maybe add shelves with stylish metal supports, adorned with trailing plants and opulent candles. You could also use specifically made wall mounted metal planters for this very purpose.
Whatever you decide, it's really important to only add valuable elements to your design and avoid clutter. If you don't do this, your elegant kitchen wall decor can quickly become messy and far from the elegant finish you want to achieve.
---
---

Final Words on our Kitchen Wall Decor Ideas...
Before doing anything else, think of a theme: do you want it minimalist, elegant, more geometric, botanic or vintage? Then pick the main design element which fits within your chosen theme.
Another essential step you have to take is to measure all the areas you want to cover. The worst thing that can happen, is to have your piece of kitchen wall decor delivered (the one you spent ages deliberating over) and find out that it doesn't fit! After you have your general idea and measurements, list the other elements you wish to buy.
Before making or purchasing any type of kitchen decor, pause for a second, and imagine how you want your kitchen to look. If it helps, make rough sketches of design ideas to give yourself a better view of how the finished effect may look.
There's nothing wrong with surfing shops and Pinterest for inspiration, but don't make the mistake of binge-buying 15 pieces of art, only to discover that they don't go together. Also, remember to avoid over cluttering your wall space and work within your theme of choice.
Purchasing fewer quality pieces of wall decor, over many cheaper ones, is always a safe bet. The pricier items will stand the test of time much better than the cheap alternatives. (Sometimes you do get what you pay for, especially when it comes to wall decor).

I hope these beautiful kitchen wall decor ideas help you to design your very own walls and have given you some great inspiration to work with.
Sours: https://www.aspectwallart.com/blog/kitchen-wall-decor-ideas/
26 Top Rustic Kitchen Wall Decor Ideas That You Can Make in 2021
Are you looking for wall decoration ideas for your rustic kitchen? I have put together a list of 25 top rustic kitchen wall decor ideas.
In here, you will find a few DIY ideas and other decor ideas that will inspire you to decorate the wall of your rustic kitchen and give your kitchen that beautiful look it deserves.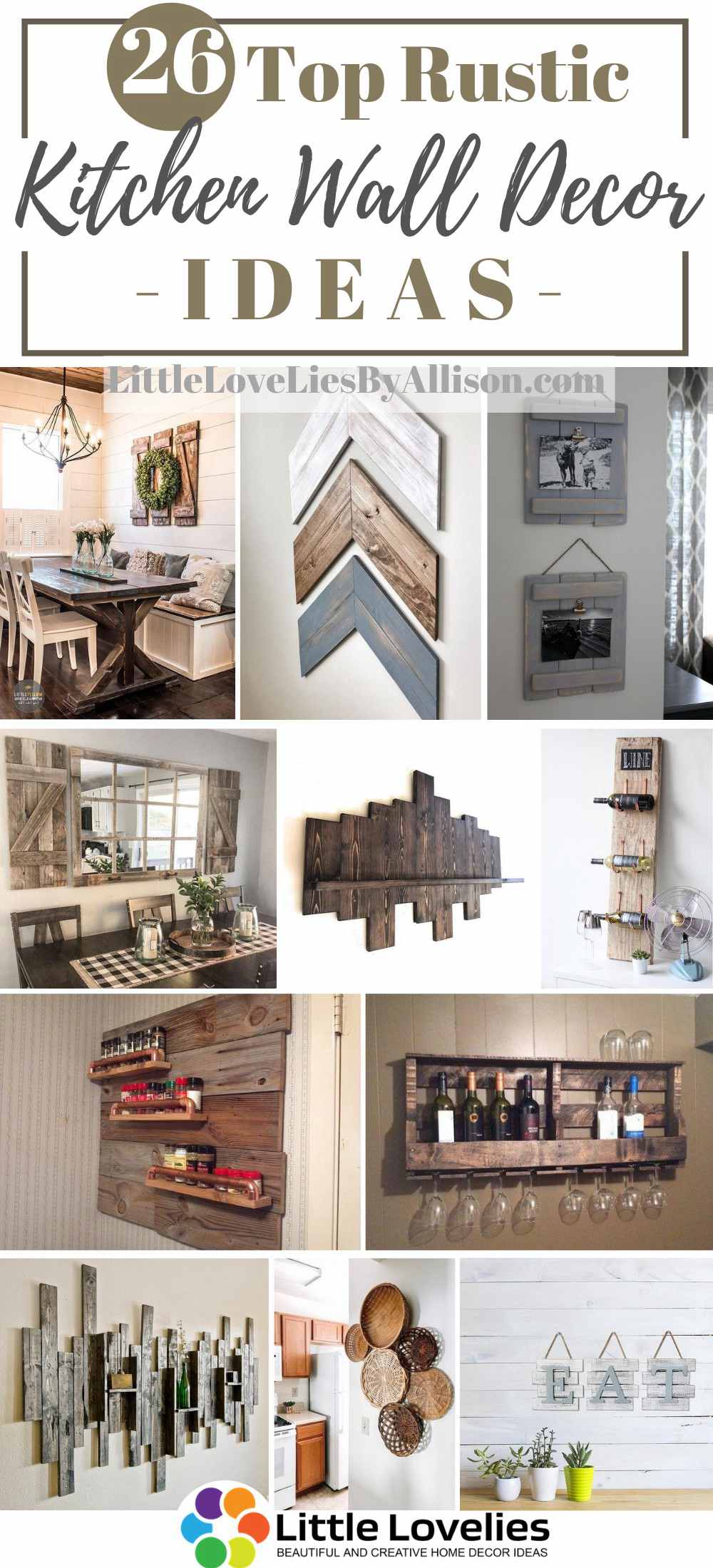 1. Rustic Wall Art
The overall vibe of this rustic kitchen wall art is amazing. It has three shelves that can be used to place small decor items. I would not mind placing a spice or two. This rustic wall art is made from reclaimed wood. You can easily make one for your kitchen by getting reclaimed wood in different sizes and doing justice.
2. Basket Art
For this rustic kitchen wall decor, six baskets varying in size, shape and design were used to add an extra touch to the kitchen. The exciting part about this rustic kitchen wall decor idea is that you can do it yourself. Simply find different baskets, it can be six but not less than two, arrange them on the wall of your kitchen.
3. Farmhouse Kitchen Decor Set
Sometimes, having a rustic style kitchen island, cabinets, and floor might not seem satisfying enough. You can try hanging these wooden letters on your kitchen wall, trust me; you will love it. It will serve as a basic reminder in your kitchen to anyone who enters. Just like in the image above, you can place some flower pots next to the hanging art to promote it better.
Check Current Price on Amazon
4. Rustic Vintage Farmhouse Country Decoration for Kitchen Wall
I found yet another amazingly outstanding hanging wall art that will make a perfect fit for your rustic kitchen wall. Can you see the "kitchen" symbol in the image? Yes, that is the one. It is very easy to install. This wall sign will surely freshen up your kitchen space. Don't forget to install a fireplace in your wall to make it look a perfect mix of elegant and rustic. 
Check Current Price on Amazon
5. Rustic Kitchen Wall Decor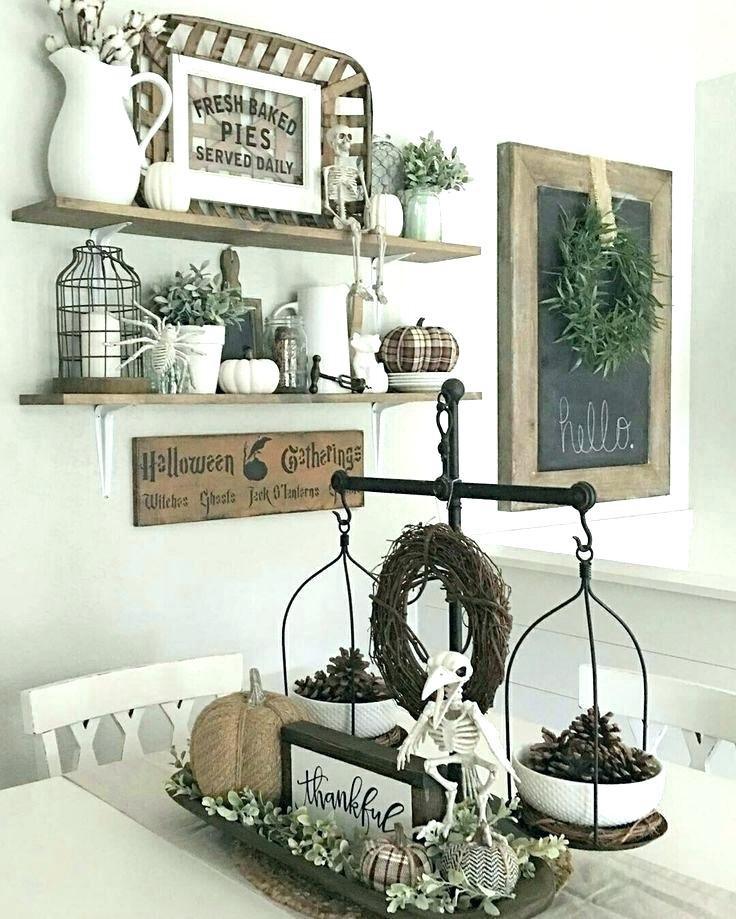 For your rustic kitchen wall decor, this idea is worthy of adoption. The wall is decorated so nicely. The designer used a floating cabinet and added a mixture of modern and rustic style decor items. The Halloween art on just below the cabinet is simply amazing. There's also another wall art design next to the cabinet with a chalkboard and flower in the middle.
6.  Solid Pine Wall Shelves
This wall shelf has a lovely rustic design and can be used to decorate your kitchen wall. You can choose to keep plates on it alongside flower vases, or you can place small farmhouse decor items on it. Either way, these wall shelves are a great way to double the already existing beauty in your rustic style kitchen.
Check Current Price on Amazon
7. Farmhouse Kitchen Wall Decor Idea
For this rustic kitchen wall decor idea, two stand-alone cabinets are placed in the corner of the kitchen wall. These cabinets can differ from the original cabinets in the kitchen; you can also decide to use these cabinets as the only cabinets in your kitchen. Either way, they'll look great.
8. Rustic Clock
For this rustic kitchen wall decor design, a wall rustic designed clock is placed just above a Floating shelf. On the floating shelf are two simple flower vases and a candle stand which can be lit at night to give an amazing feel to the kitchen. Also, there's a decorative sign placed on the floating shelf. You can adopt this wall decor idea for your rustic kitchen. It is amazing.
9. DIY Wood Pallet Wine Rack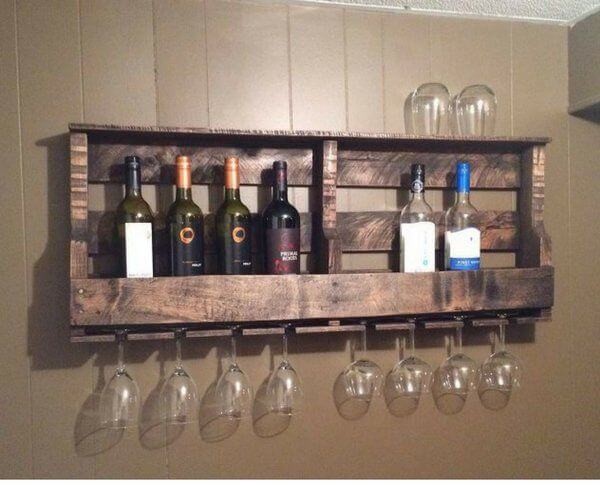 With this wood pallet wine rack, you can display your beautiful bottles of wine on your kitchen wall. This wine rack also has a compartment where you can store glasses. It's a win situation for you if you have beautiful looking glasses. The finishing of the wood makes it a perfect rustic kitchen wall decor idea.
10. Wine Rack Wall Decor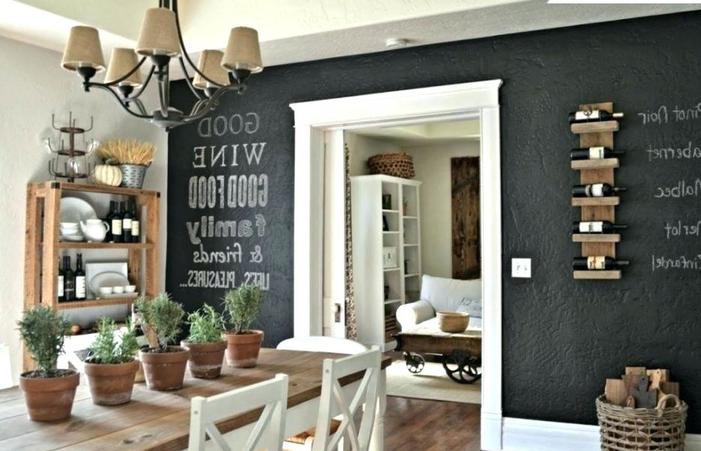 Store wine and also add beauty to your rustic kitchen decor with this fantastic wine rack. If you are into woodworking, making this would not be a difficult task for you to achieve. This wine rack would fit perfectly on white or black kitchen wall.
11. Floating Kitchen Shelf Makeover
Do you already have floating shelves in your kitchen? You can design them using certain decor items like in the image above. Some baskets are placed on the top shelf; the baskets promote rustic style in the kitchen, there are also modern ceramic flower vases and plates used on the shelves to give the perfect modern and rustic feel.
12. Cutting Board Art
I love this rustic kitchen wall decor so much. It's completely creative. You can adopt this method in your kitchen by getting different sizes of cutting boards and placing them on the wall of your kitchen. Using different colors is also a great hack.
13. Vintage Wall Clock
With this vintage wall clock on your kitchen wall, you can quickly tell what time it is and also add beauty to your kitchen. Unlike other modern clocks, this one will give your kitchen that rustic feel you are looking for. It can be a standalone clock, or you can place a floating shelf under it with some rustic decor items to spice things up.
Check Current Price on Amazon
14. Farmhouse Windmill Wall Sculpture
This farmhouse windmill wall sculpture is the kind that just might bring back old memories. You can easily install this wall sculpture in your kitchen with no stress. I would suggest you place it next to a countertop where you can add more rustic sculptures.
Check Current Price on Amazon
15. Kitchen Backsplash Wall Art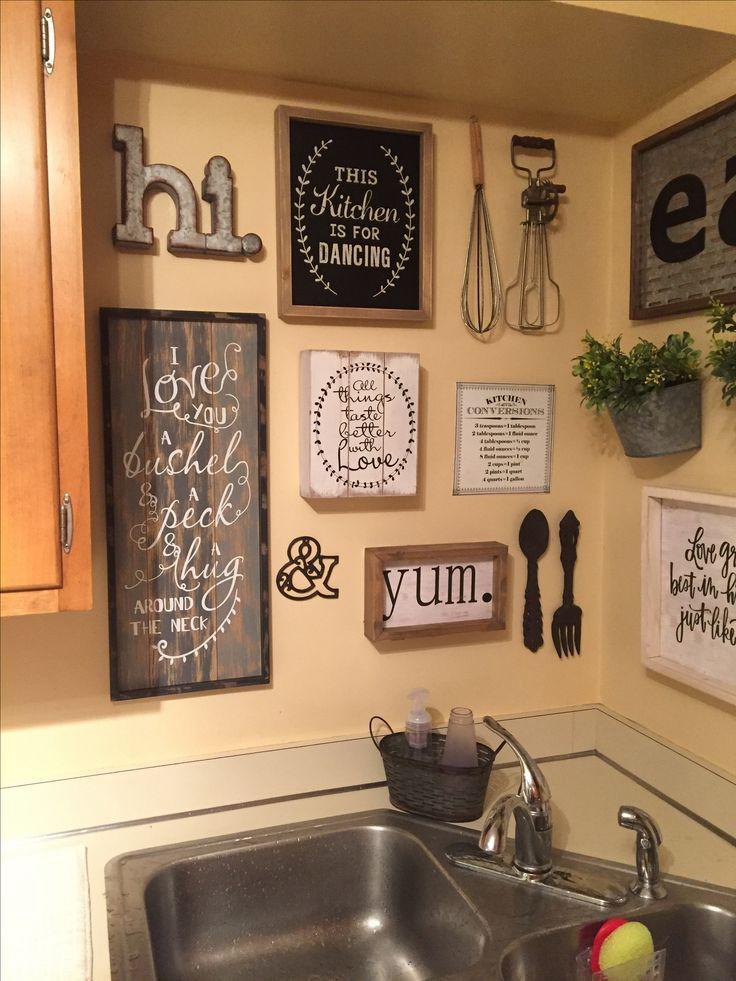 Here's another creative wall decor idea you can adopt in your kitchen. Simply gather a lot of wall art signs with great write-ups, and place them on the backsplash area of your kitchen. It will look so beautiful. You can also use wall hanging flower vases to spice up the design.
16. Empty Wall Makeover
A great solution for empty walls in your kitchen would be wall art. In this rustic kitchen wall decor, a large "EAT" sign was used in the empty wall section of this kitchen to give it a more rustic feel.
17. Wall Hanging Spice Rack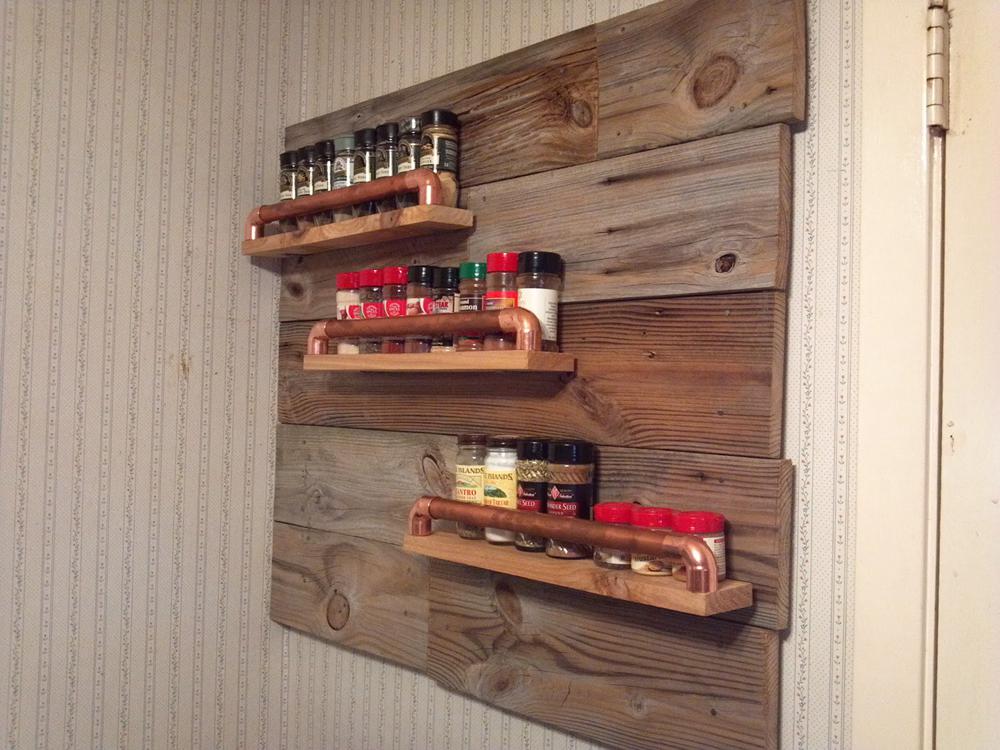 Here is a great way to add beauty to your kitchen and also display your spices. This is a three-tier spice rack that is very easy to make. If you are familiar with woodworking, this should be a walk in the park to make. If you can't seem to get this right, you can try out other DIY spice rack ideas, but be sure to pick the one that will match your rustic kitchen.
18. Rustic Wall Hanging Decor Unit
Are you looking for a quick guide that will help you with ounces, pounds and grams conversions? This rustic kitchen wall decor is perfect for the job. You can hang it on your kitchen wall or place it on top of your countertop. Either way, this rustic kitchen wall decor idea is fantastic.
Check Current Price on Amazon
19. Rustic Style Wine Rack
This wine rack is made from reclaimed wood. It can contain only three wine bottles at once. Hanging this on your modern kitchen wall will add that rustic touch that you are looking for. You can make this for your kitchen by using reclaimed wood and copper.
20. Pallet Pot Rack
This pallet pot rack is a great way to add beauty to your rustic style kitchen. You will appreciate this pot rack best if you have a beautiful set of pots.
21. DIY Chalkboard Dinner Menu

Here's another wall decor that will fit into any empty wall space in your rustic kitchen. In this DIY project, you will learn how to make this chalkboard dinner menu.
Check the Idea
22. Rustic Window Wall Accent
This window wall accent adds a rustic charm to your kitchen space. Pallet wood is used to make the wall decor. It does not come off easily. I think this is a great way to design the wall area in your kitchen.
23. Rustic Wall Shelf

If you are good at woodworking, you can create and dedicate this rustic kitchen wall shelf using pallet wood or any wood of your choice.
24. Rustic Wall Art
This is easy to make rustic wall art. With three different colours you can make this for yourself. I would suggest using reclaimed wood.
25. DIY Decorative Shutters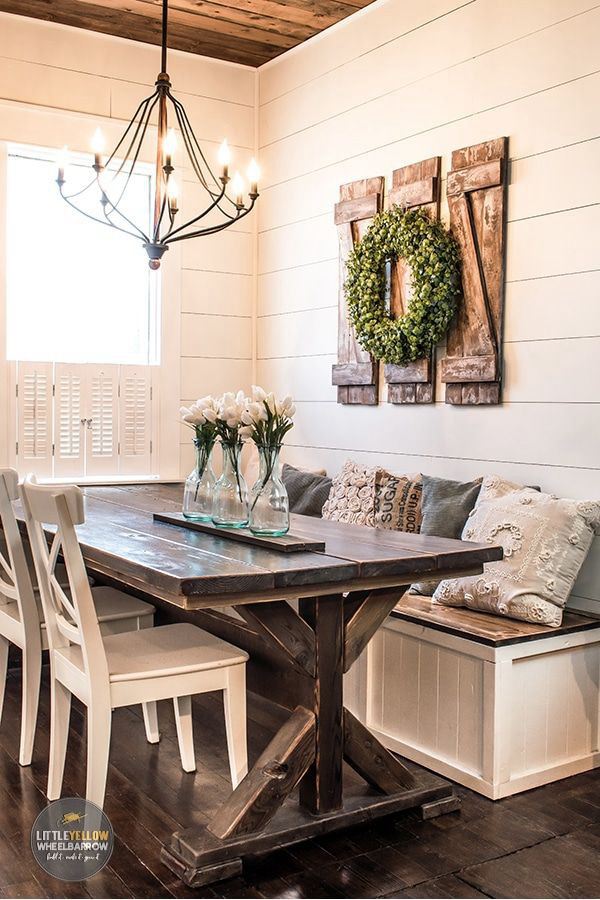 These decorative shutters would be the perfect add-on for the wall section of your kitchen dining table. This DIY project will show you how to make these decorative shutters.
Check the Idea
26. DIY Wood Pallet Plaques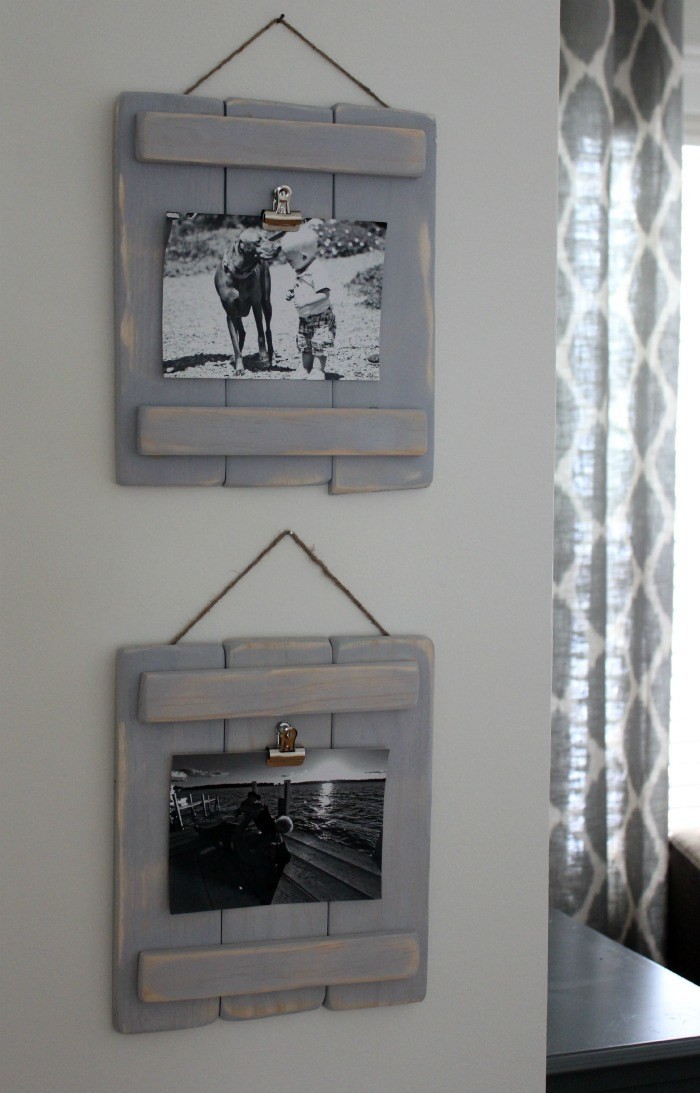 Here's another wall decor that you can make for your rustic kitchen. It is created to have a rustic look.
Check the Idea
Sours: https://www.littleloveliesbyallison.com/kitchen-wall-decor-ideas/
29 modern art wall decor ideas for kitchen
Touch of Class
Go cozy and casual with country kitchen wall decor, or let wall plaques, clocks, and canvases lend a Tuscan flavor to your surroundings.
From modern accents to grapevine decor, find just what you need to pull your kitchen together. Warm earthy shades, fruit designs, and even rooster motifs will bring a sense of elegance to your surroundings.
Your kitchen walls tell a story, whether it's a tale of casual and cozy family feasts or a colorful celebration of all things cute and culinary. However you want to set off your kitchen, find the right decorations for a positive and stylish atmosphere.
Bring a warm farmhouse feel into the heart of your home with country kitchen wall decor: roosters, framed prints, and fruit all add appeal. Ornamental plates for walls feature grapes, pears, and peaches, redolent of flourishing fields and orchards. Tie succulent shades of red, gold, and green into a row of mugs dangling from a barnwood coffee shelf.
For a unique focal point over the sideboard, hang up a fruit wall art set. A realistic apple, pear, and plum obey the rule of thirds, forming a brightly-colored trio on your wall. You can tie these delicious elements into the furniture itself with fruit-shaped drawer pulls or even a table runner saturated with warm tones.
Looking to bring an aged, pastoral sensibility to your kitchen? Veer into a more European look with lightly-distressed textures and hues borrowed from the natural world.
For example, a Tuscan sensibility is all yours with the addition of rooster home decor. Perched on a mound of grapes and apples, a tawny rooster recalls the bounty of a Mediterranean landscape.
Or, if you prefer a more nuanced approach, turn to the paler pigments of French country. Roosters lend a provincial vibe here as well. Find an ivory timepiece featuring a white chicken amongst French script. Then, hang this rooster wall clock on a blue toile wall, presiding proudly above cream-colored countertops.
Another great way to incorporate nature into your kitchen is with vineyard-inspired accents. Shades of lush, deep green and jewel-toned purple play wonderfully off dark woods and natural stone textures. Grapevine decor brings corkscrew scrolls to your display in the form of sconces, wall sculptures, and even switchplates.
Finally, give your kitchen a contemporary boost with coffee art and word wall plaques. Paired with exposed bulb lighting and sleek chairs, modern kitchen wall decor will complete a trendy atmosphere.
Sours: https://www.touchofclass.com/kitchen-wall-decor/c/21609/
Wall sculptures kitchen
When I returned to the apartment, I. Saw that neither Denis nor my wife was in the hall, I was scared. I went to the bedroom and opened the door and what I saw shocked me. Ksyusha was on her knees in front of Denis and, unbuttoning his fly, sucked his penis, and.
MUST WATCH! 60 Cool Kitchen Wall Decor You'll Love
He was smart, well-mannered and knew women well. He decided to act more subtly. Returning to the hall, he waited for our mischievous girls to appear and, seizing the moment, invited Nadezhda to dance.
You will also like:
Themselves waiting long, and soon the doorbell rang. Andrey hurried to meet his girlfriends with full glasses. The girls, giggling, took their glasses and took off their shoes, while remaining in their coats, they went into the room.
1486
1487
1488
1489
1490