Welcome to our picture gallery of cool hanging chairs for the bedroom. A swinging chair can liven up a bedroom space and create a cozy spot to curl up with a book, enjoy views from your room, or just hang out and relax. Below you'll find a variety of different hanging chair ideas to give you inspiration for decorating your own room.
This see through swinging bubble chair fits right into this teenager's bedroom, with its Contemporary shade of purple and geometric green curtains. Hanging along with the swing chair is the modern style shade lamp over the white button upholstered leather bed frame. The hanging chair is made more comfortable via a white back and seat cushion and a quaint moss green throw pillow. Made of acrylic and chrome plated metal for its chain, this hanging chair is sturdy and can withstand some pretty rowdy swinging.
This ultra-stylish kid's bedroom features a rattan swinging chair near the double hung window, letting in a lot of natural light. The chair is right beside the large white box bed with a lime green tufted headboard. The colorful blue and green patterns on the wallpaper, bedspread and curtains are also reflected on the throw pillows and seat cushion used on the rattan swinging chair. The whole room is completed at its center with hanging glam style feather chandelier on a geometric Moroccan print ceiling recess.
Indoor Swing Chair Ideas
Swinging chairs may seem like just a novelty item to have in a home—something to swing around in and to consider as just more of a statement piece. However, given the proper setting and style, it could potentially one of the best used pieces of furniture you could ever install. There are several important aspects to consider when it comes to choosing your swinging chair.
Mounting –There are usually two configurations for a swing or hanging chair, to have it hang from a sturdy base on the ground from a fish-pole style rod, or to have a rope or series of ropes attached to the ceiling to support the chair. A hanging chair with a base is preferred if the piece of furniture is meant to be moved around the room.
It is also a better option for outdoor configurations so that it can be safely stowed during bad weather. On the other hand, a ceiling-hanging chair is great for people wanting to get more swing from their chair, providing a larger swing radius. In addition, it's also a great conversational piece and, when using several different ceiling tethers, has the potential for more seat space. Lastly, the ceiling-mounted hanging chair saves on floor space, as it just hovers over the ground.
Location—It is important to consider where the chair will be placed, especially if it is in a bedroom. Placing it near the window is typically a good idea, as it is a great way to view the outdoors and to maximize fresh air coming in from the outside. If placing near the bed, it is important to take note of the distance, as users may bump into it when it is dark. There is also the option of hanging it at the center of the room as the main conversation piece. This is extremely good for rooms where the ceilings are cathedral-style, with the hanging chair mounted at the peak.
Material—Some of the more common materials used for hanging chairs are rattan and textile. These are both good options because they are light, flexible, sturdy and let air pass through. Some more modern hanging chairs may be made of acrylic or handmade knit or crochet. Usually the base and/or frame of the chair will be in a stronger stainless steel or powder coated aluminum. Steel is less prone to dents and bends, but powder coated aluminum is lighter and resists scratching.
Style—Ranging from its color, material and style, there are many different types of hanging and swinging chairs to fit any bedroom configuration. More modern style bedrooms may favor the acrylic hanging bubble or contemporary profiles made of synthetic rattan. Bedrooms that aim for a cozier, more cottage-style vibe can consider going for natural abaca weave patterns or yarn knit / rope patterns.
Heavy duty textiles such as cotton and synthetic tent fabric are also a good idea if the chair is meant for two, or if the chair is going to be placed outdoors or in a sun-filled room. Another type of hanging chair is the cocoon style that envelops the user and comes in a variety of colors and designs. Get other ideas for a cocoon chair here.
Cushioning—Cushioning is basically the best way to accessorize and put complementary accents on the hanging chair. Besides bringing aesthetic balance to the chair, it also creates a more comfortable hanging chair experience. Some hanging chairs even come with cushioning already pre-installed, so it is important for the buyer to test the chair or to test the chair with a cushion, before committing to their new bedroom addition.
Hanging Chair for Bedroom Ideas
This Bohemian style bedroom starts with very minimal white walls and muted wood plank flooring. A large set of windows and French doors in white mullions leads to the outdoors and is flanked by heavy cream drapery. The colorful yarn hanging chair adds a pop of warm colors to the room, brightly accenting the blue and green shades used for the bedspread. It also reflects the pattern of the antique teak wood headboard leaning against the black and white photo accent wall.
This compact bedroom features a double-layer bed with drawer storage space underneath in plain white wood. The walls are in a muted blue, while the curtains feature rounded geometric patterns. The rest of the room also features spherical design elements such as the two cylindrical foot stools at the foot of the bed, the trio of wall mounted porthole mirrors, and the trio of Contemporary style hanging pendants.
The main aspect of this room is its hanging rattan chair, done up with circular woven patterns and done in a dark brown color—a good accent to the pale blue used in the rest of the room. The interesting platform day bed with storage is adorned with two plush ottomans and fluffy pillows. See more types of beds on our gallery page.
With the capacity of 175 lbs., this Contemporary style woven rattan material is a good fit to an active teenager's bedroom. Hung by a rope to the ceiling, the rope and rattan material combination is a good accent to this room's dark blue walls and white window frames, trims and desk. The carpet, also done in an organic woven fabric, also serves as an accent on the short wood plank flooring.
Shaped like the moon, this hanging chair goes exceptionally well with this Contemporary romantic style bedroom. With a steady base of powder coated iron and stainless steel, the seat is sturdy enough for swinging, yet comfortable with its wool fabric seat cushioning. The white chair is a good addition to the white and grey bedroom with blue accents on its bedspread and accessories. The whole room features curved grey and blue patterns and centers on a Contemporary style linear candelabra.
This bubble hanging chair is a playful addition to this colorful girl's bedroom. The throw pillow on the seat is a good match to the light floral patterned wall paper. The rest of the room features more muted white tones in the bedspread, bed frame, furniture and carpeting. A pop of solid color is lent by the blue wire table lampshade.
Click here for more information about this hanging bubble chair from: Amazon
This Contemporary kids' bedroom features a wall of drawn pictures in Classic white frames, hanging against a purple combed abaca wall textile. Used all around the room, the purple wall treatment is reflected in the purple accents on the bed frame, bed sheets, lampshades, and even the throw pillows and seat cushioning on the swinging bubble chair. A white shag rug is placed under the bed and touches the periphery, leading up to the working desk, tallboy and hanging chair.
This hanging chair is tent-like in its composition with a tough but thin fabric keeping it held up to the ceiling. This is very much in line with the beach shack feel of this teen's bedroom, complete with pet reptile terrarium. The beach style signs and bamboo hanging ladder complement the adventurous spirit of the hanging chair, and is further emphasized by the surfboard painting on the wall and the blue tie-dyed bed sheets.
Hanging Chair for Girls Bedroom
A favorite for bedrooms that highly feature one solid color, the hanging bubble chair is a great addition to this Contemporary style girls bedroom in the attic. Set at a corner, the princess-style bed is laid out with a linear rug at its foot, and faces the hanging chair on its side. A similar circular element, the large modern style hanging lamp with fins lights up the whole room.
This whimsical Etsy-style bedroom features a lot of handmade homemade items around its clean white base carpets and light grey walls. Starting with the pompom quilted ombre bedsheets, the room also features a recycled painting mural above the headboard and a feather chandelier. The hanging chair, knit up in aqua colored yarn and with floral patterns, is situated right next to the large open window, bordered by blue floral drapery.
Teen Hanging Chair
With the globe-style hanging chair a favorite of Contemporary style bedrooms this one gives the chair a more sophisticated vibe by giving it a wide circular base and pole hook in stainless steel. Placed in this circular room, the series of windows on the outer wall bring in a lot of natural light and bring out the bright hues of the light purple walls, cream colored shag carpet and geometric print throw pillows. A hanging dog painting above the bed ties the room together in an eccentrically contemporary way.
This quirky modern style bedroom features a hanging bubble chair with silver cushioning that goes well with the circular bed's silver bed sheets and pink heart cushions. The rest of the room is done up in more neutral light grey walls, heavy grained wood plank flooring and a long desk set for two running along one whole wall. A colorful hanging lamp and mosaic style mural painting near the bed are the only other colorful elements in the room.
This bird cage swinging chair features white plush seat cushioning and stainless steel for its sturdy U-shaped stand base. This light grey room features neutral mauve elements in the drapery, bed spread and shag rug at the foot of the bed. Despite its simple Contemporary feel, the bird cage chair gives this room a more playful vibe.
Cool Hanging Chairs
This cozy luxe bedroom features a hanging bird's nest style wicker chair on one corner, right by the large floor to ceiling window leading to the balcony. The balcony is decorated with a lounge chair and a small Contemporary Chinese ceramic stool. The plain dark brown chair goes well with the interior's white walls and warm wood floors. The rug's geometric pattern and large silver gilt mirror highlight the luxe feel of the place, while the glass encased display table gives it a more bohemian vibe.
Set against a minimal background of white wall and long curtain, this floor-mounted hanging egg chair is the perfect addition to a minimal room. Perfect for indoor or outdoor use, the frame is made of sturdy iron and the tufted cushioning is available in several neutral colors. There is also the option of hanging the chair from the ceiling in lieu of using the stand.
Tear drop swing chair source: See on Amazon
This bird's nest style hanging chair features abstract rattan patterns in black all around its seat, which features a white tufted seat cushion. Placed at a large picture window with wide black framing, the chair is a good addition to the natural lake shore scenery of the outside, and is also complemented by the weathered wood strip flooring on the deck.
Swing chair with stand source: See at Amazon
This quaint white rattan semi circular swinging chair is an easy addition to any teenager's bedroom. The chair can even be handmade and DIY-ed into the room, making for a fun weekend of crafts and bonding. In this example, it goes well with solid purple bedroom walls, forest green carpet and a collection of rock and roll vinyls and posters.
This child's room done mostly in white features great views of the outdoors with its large awning windows. Dark wood furniture, a pale blue accent wall and a large pinstriped area rug contrast with the plain white walls and cedar wood flooring. The corner angle featuring the two large windows is a great opportunity for the hanging textile chair, made of blue and orange textiles and rope—perfect for adventurous children.
For more information about this cotton swinging hammock chair visit Amazon
This totally relaxed hanging chair for kids is made of organic cotton and comes in several vibrant colors, perfect for brightening up a bedroom. The chair can be hung either indoors or outdoors, but in this case, a lighter green area rug was set below it on the light wood plank flooring. It also stands out from the plain white walls, light brown wood furniture and large French doors leading to the outside decorated with sheer white curtains.
Sours: https://designingidea.com/hanging-chair-bedroom/
In our fast-paced day to day life, there are moments when we just want to sit down and let ourselves think – be able to let go of the things we have been thinking for a while or something that might have been bothering us; these are moments when we want a place where we can do this, somewhere close to home, somewhere we do not really have to go far.
Today, we will be showing you 15 Stunning Bedrooms with Swing Chairs that will remind you of a place that you love but can be found in the confines of your home! The designs come in different motifs that will match the needs for your kids or teenagers an even for yourselves. Let us go ahead and check them out one by one; have fun!
City Projects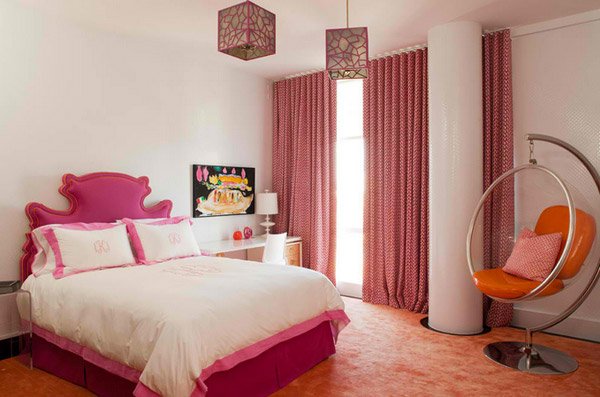 Amanda Nisbet Design
Don't we just love seeing bedrooms with a unique conversational piece? If it was your bedroom, you can brag about it, or if it is owned by one of your friends, you can't help but ask where we can get one for ourselves! The hanging bubble chair is the best conversational item we can see in this bedroom.
Corona Del Mar
Spinnaker Development
This Orange County traditional bedroom which was designed by Spinnaker Development is one hit for the ladies! The color is fun and somehow represented by floral which makes this room really feminine.
Country Club Project Remodel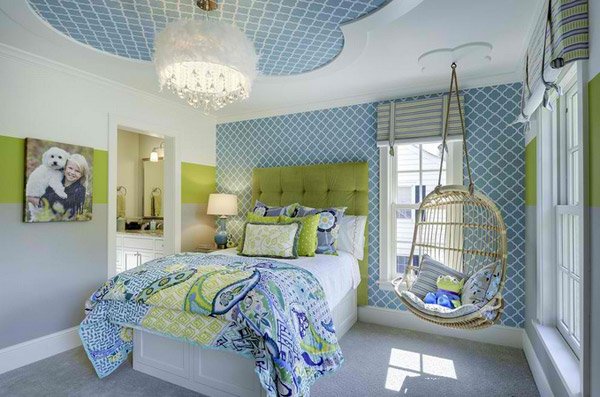 Great Neighborhood Homes
Look at the fun prints that is present in this bedroom. The designer made blue and apple green as the main colors; this bedroom is accented by a rattan swing chair that complements all that is inside the bedroom – we just love it!
Huntington Beach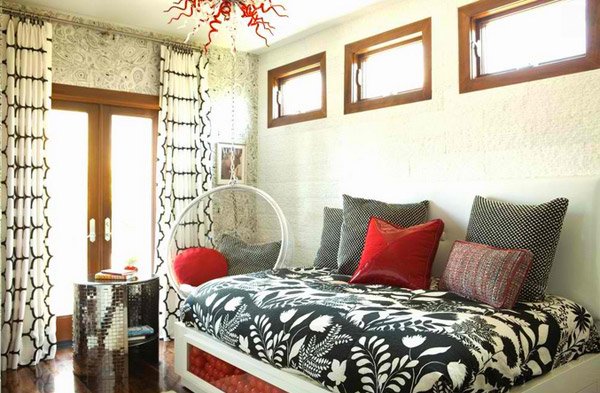 Michael Fullen Design Group
Reflection is a big part of disco style, and this round mirrored table adds just enough glamour. The hanging Ball Chair is a disco-licious choice as well.
Minneapolis Addition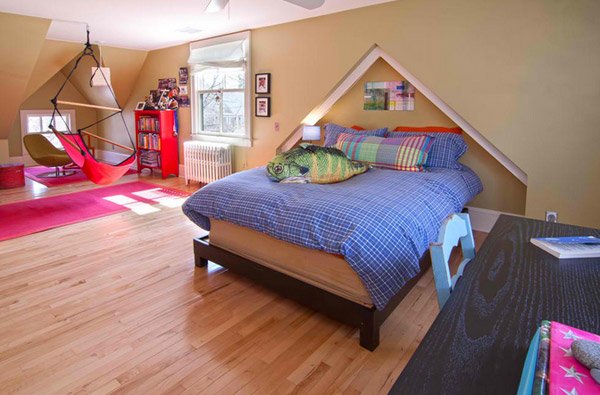 AWH Architects
Sensitive addition and 3rd story remodel for Lowry Hill historic house. Seamlessly tied old with the new providing a contemporary twist with a ultra-modern master bath with tons of natural light.
New York Bedroom
Raine Heidenberg Interior Design
This room was designed especially for a very dramatic young lady. It's a combination of 60's style and Princess Glam. The feature wall was hand painted and inspired by vintage geometric prints.
North Peak Residence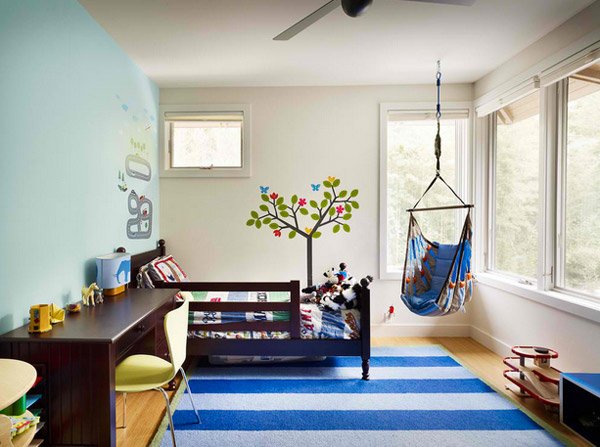 Dunnam Tita | Architecture + Interiors
This hanging hammock completes the look for this Austin bedroom. It matches the blue and grey area carpet that makes the simple walls stand out!
Haba Piratos Swing Seat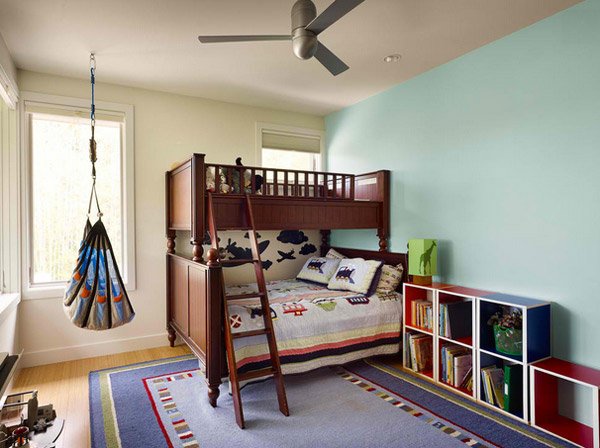 Furman + Keil Architects
The extra thick upholstery of this hanging chair makes this room extra funky. With fun but non-intrusive colors, this sturdy seat with an all-in-one seat belt puts a new spin on reading corner. If you have a kid, may never get them out this one.
San Francisco Eclectic Bedroom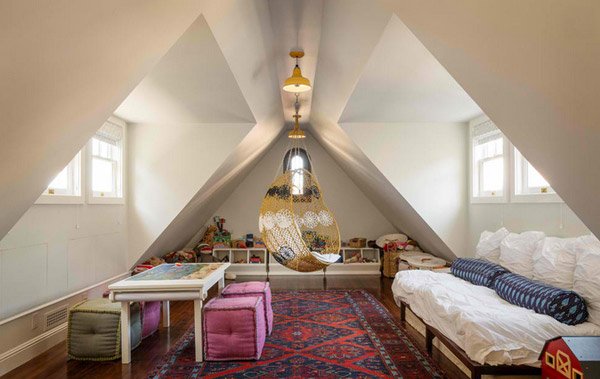 Sutro Architects
If you have an attic, we are guessing that you'd love this San Francisco bedroom. Equipped with fun and funky cute things and a lovely bed and swinging chair; this space is definitely heaven sent.
South Miami Townhouse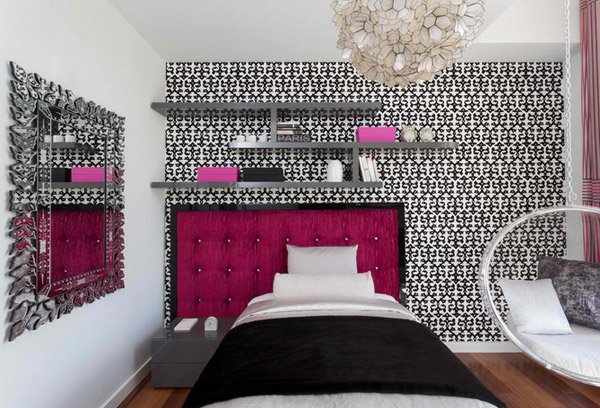 Touzet Studio
More raspberry, this time paired with black and white. The combination makes for a stunningly elegant and modern bedroom.
Twin Girls Bedroom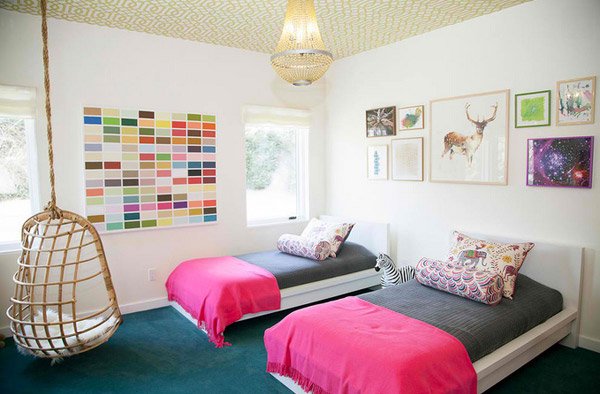 Play Chic Interiors
Having a twin sister, this bedroom is one of our favorites! The colors are divine and the rattan hanging chair is just cherry to the cream! We love it all the more because of the fun framed pictures and the white walls.
Upper West Side Waterfront Apartment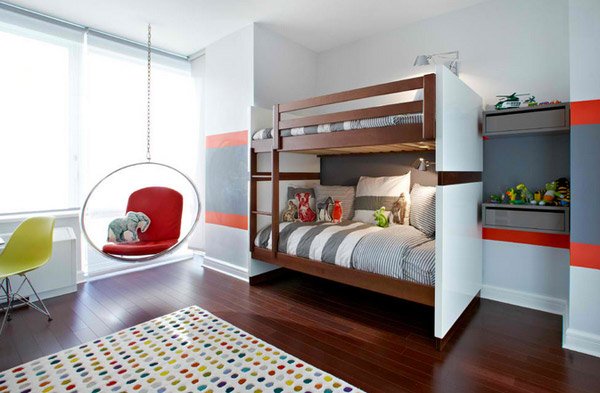 Chango & Co.
This little boy's room has a grey, red and chartreuse theme. Bunk beds, fun wool dotted rug, and hanging bubble chair with red leather upholstery. Eames desk chair. Grey lacquered nightstands for both floors of the bunked also serve as toy storage. Bunk beds each have their own reading lamp.
Black Bedroom with Rattan Hanging Chair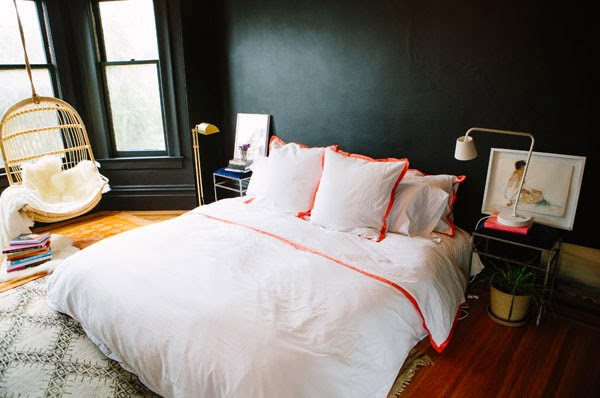 Daily Dream Decor
When my friend saw this bedroom photo, she realized how pretty it is and said to herself how much it would mean to her if we can recreate this space for her. Although not impossible, we know that it will indeed take a while for us to find the hanging chair.
Hanging Chair Bedroom Pillow Feather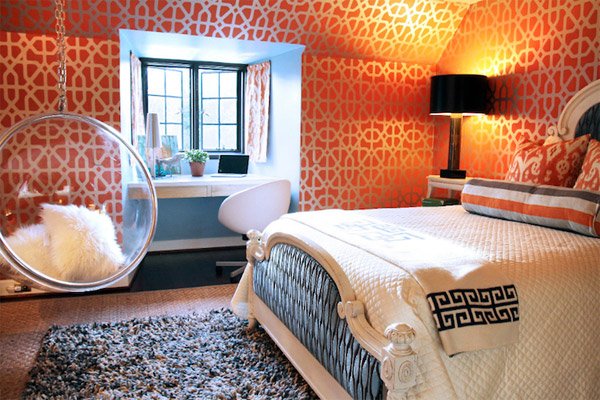 Elle Decor
Hanging chair will be great to be placed in the bedroom as well as in the outdoor. Hanging chair for bedroom will let you get more opportunity to enjoy your leisure time while laying your back on above the ground chair. This kind of chair is very appropriate for the bedroom since it can be used for enhancing the beauty of your room as well.
Main Bedroom with Deck Full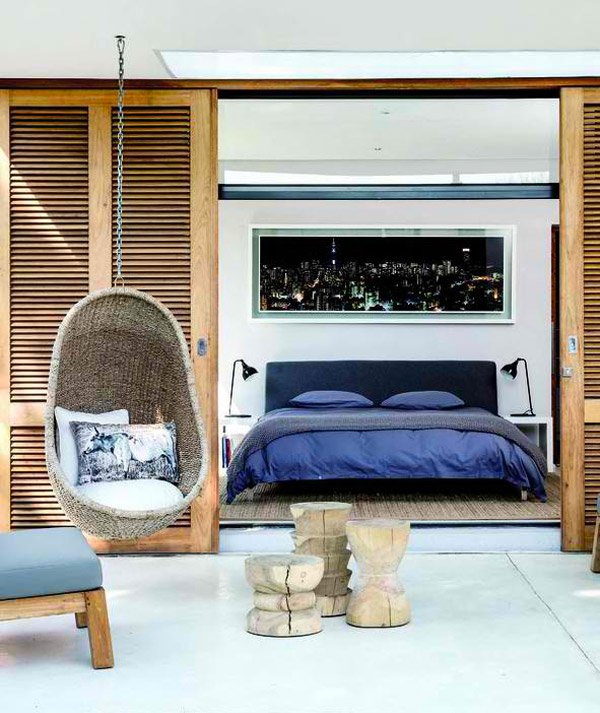 Korina Holley
As an architect, Korina knew that finding a Parkhurst 'golden-oldie' to renovate according to their needs and tastes would add impetus to her burgeoning career as an independent architect.
Not only do swing chairs serve a useful purpose, they are glamorous, stylish and create a definite 'WOW' factor in any home and who can resist the allure of sitting in a hanging chair? With more colors, patterns and materials than ever before, there is a finish and style to suit any design scheme. The biggest challenge is choosing one – Macrame, Wicker, Perspex, Bamboo, even Basalt. Hope you had fun in checking the 15 Stunning Bedrooms with Swing Chairs and look out for the 15 Chic and Hot Pink Bedroom Designs we have listed before.
Sours: https://homedesignlover.com/bedroom-designs/bedrooms-with-swing-chairs/
You Totally Need These Hanging Chairs and Swinging Beds In Your Life
Are you ready to shake off the winter blues (we sure are!)? Why not swing them away instead? There's nothing more relaxing than the soft, fluid motion of a hanging daybed or chair. Suspended furniture—such as hanging chairs, sofas and swinging beds—are starting to show up in some of the most beautiful spaces around. Looking for inspiration? Hang around; we'll hook you up.
Hanging chairs
Carlina Teteris / Getty Images
AsiaVision / Getty Images
ExperienceInteriors / Getty Images
Ceiling-mounted hanging sofas and daybeds
Martin Barraud / Getty Images
Patio swings
Tisomboon / Getty Images
Outdoor swing ideas
Tisomboon / Getty Images
Hanging beds
Jon Lovette / Getty Images
Ready to make it happen? Get some great DIY tips on how to hang a swinging bed, hanging chair or daybed from your ceiling with Domino Magazine's great tutorial here.
What room or outdoor space would you add hanging furniture to? Leave a comnt and let us know!
Sours: https://www.mymove.com/home-inspiration/bedroom/totally-need-hanging-chairs-swinging-beds-life/
#SilkandMarbleDesign Creative Hammock and Swing Bed Ideas-Hanging Chair-Porch Swing
Hanging Chair for Bedroom that reflects Your Style and Spirit
CHECK HERE
Of all of the rooms in a house, none other implies comfort, personal style and privacy more than the bedroom. It is where we sleep, where we wind down, where we go to think, where we go when we want to be alone. It is our own personal safe haven within the larger context of our home. The home may belong to your entire household, but your bedroom belongs to you.
CHECK HERE
Five Reasons Why You Should Have a Hanging Chair in Your Bedroom
The fact that the bedroom is the place where we can be ourselves at our leisure is also what makes it an ideal room for a hanging chair. Before anyone scoffs at the idea or casts it aside by thinking it "impractical," it is important to look at some compelling reasons why anindoor hanging chair is, in fact, an excellent choice for the bedroom.
1- There is More Than One Type of Hanging Chair
Many people have misconceptions about how a hanging chair is installed. Some people may wrongly believe that a hanging chair wouldn't be practical in their bedroom. Perhaps the dimensions of the room are too small, or the ceiling too low.
Maybe the home is rented and you don't want to attach anything to the ceiling. Fortunately, the reality is that none of these reasons are obstacles for placing and enjoying a hanging chair in the bedroom.
There are essentially two main types of hanging chairs. The one that most people first envision when thinking of hanging chairs is the free hanging model. These are secured by a chain, or rope, to a hook that is installed to a beam in the ceiling. There is also a second category of hanging chair that does not require any such attachment to the ceiling. These are framed, or platform-based hanging chairs. They are built with a frame from which the chair hangs. Both offer the freedom of full swing motion, with the latter adding the convenience of being able to be re-positioned anywhere in the bedroom.
2- Space Saving
In order for a bedroom to be as comfortable as possible, it is essential for it to be clutter free. Traditional chairs often take up a lot of physical and visual space in the bedroom. A free hanging chair can provide an equal or larger seating space in an area smaller than most traditional chairs. Additionally, they have the advantage of being legless, opening up the overall space of the bedroom, making it flow more freely.
CHECK HERE
This increased spacial openness also has the added advantage of making vacuuming or sweeping easier. For those with allergies, it should be noted that the areas in a bedroom where dust and allergens accumulate the most is precisely under traditional chairs, tables and bed frames. A hanging chair eliminates one of those sources.
While most people will want to keep the area below a hanging chair free of any items for aesthetic reasons, in smaller bedrooms, tasteful storage bins could be kept on the floor immediately below the hanging chair without hurting its appeal.
3- Improved Concentration and Relaxation
The swinging motion of hanging chairs has been demonstrated to be mentally and physically soothing. Imagine going into your bedroom seeking refuge from the stresses of work and home life. What better place to settle into than a hanging chair. Like a cozy nest within a cozy tree, the hanging chair is ideal to rest, read or simply relax.
The same swinging motion that soothes and relaxes has also been determined to stimulate the cerebral cortex. This results in improved concentration. So, when you need to focus on solving a problem, or you want to absorb more of what you are reading, or even to do some writing, a hanging chair is ideal.
4- Style
CHECK HERE
A hanging chair will immediately add a touch of uniqueness to any decor. It can easily become a focal piece, perfect for establishing the tone of your bedroom's style and look. Likewise, it can also take on a more subtle role, serving to highlight or accentuate other portions of the bedroom layout.
Hanging chairs come in a variety of colors and materials. From the ultra-contemporary like the transparent bubble chair to the casual like the hanging basket chairs, to the rustic and everything in between, it is easy to find a hanging chair suitable to your tastes.
5- Great in Children and Guest Bedrooms
Hanging chairs are very practical in children's bedrooms. Aside from the obvious "fun" appeal that they bring, they also stimulate quality "down" time for kids. It is the perfect place for them to read, extend their imagination, sit and draw.
CHECK HERE
It makes for the perfect counterbalance to today's high-tech, fast-paced routines that our children are increasingly exposed to on a daily basis.
In a guest bedroom, not only does the hanging chair's space-saving attributes come into play, but it also makes for a great way to highlight your sense of good taste and practicality to your guests. Not only will you be the subject of praise for your hospitality, but also for your impeccable sense of style.
Conclusion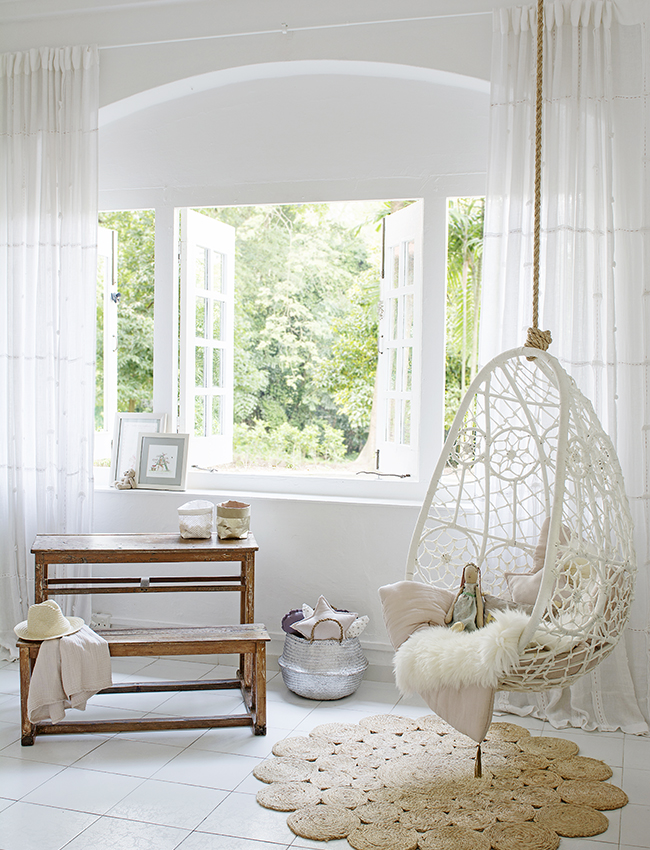 The bedroom is an ideal location for an indoor hanging chair. For most, it will be the room in the house from where they will be able to derive maximum benefit from all of the attributes that such a chair has to offer.
The majority of reasons that people give not to have one are unfounded. A hanging chair will offer needed comfort, practical repose and sublime elegance to any bedroom.
There is no reason not to have one.
Bedroom hanging chair with stand

This option is good if you have a really big bedroom because the base takes up a lot of space. The advantage is – you can push the swing back and forth and you don't have to drill holes in the ceiling.
The swing chairs with stands are mostly designed for outside, so we recommend buying a seat and a stand separately. The seats made of natural material – natural rattan, hammock chairs made of fabric, or hanging chair made of wood. The plastic wicker does not look so good in a bedroom. The exception is the famous Bubble Hanging Chair – it looks excellent in any surroundings because it is transparent and adapts to the room. Buying a stand separately will be the best solution.
Here you can read why a Bedroom Hanging Chair With Stand Is Perfect For Rented Apartments
Bedroom hanging chairs from the ceiling

A much more elegant variant of the hanging chair with stand is a hanging chair that hangs from the ceiling. That is why we have shown so many hanging chairs without a stand. Without a stand the swing looks more light, much more elegant and, because it swings so freely, it fits very well into even small bedrooms. But you need courage to do this. In the meantime there are so many pictures of hanging chairs from ceiling on Pinterest or Instagram that you can be sure – it works. But how?!
How much weight can hanging chairs carry?
The chairs can carry different amounts of weight, and this is described in the instructions for each one. The other question is how much the ceiling can support. Tip: don't forget that the hanging chair also has a certain weight, which you have to take off when calculating
How to make bedroom hanging chairs stand?
Especially for the bedroom, the stand should not be too bulky. A natural one, preferably made of wood, would be perfect. And here you can find DIY instructions on how to make a wonderful and unique stand yourself. This would be a designer piece – made by you personally
Hanging chair-bedroom ideas
Here is the collection of ideas of bedroom swings. For more ideas, visit our Instagram account
Sours: https://www.hanging-chairs.net/indoor-hanging-chair/hanging-chair-for-bedroom/
Bed swing chair
Sure, spending the afternoon on a poolside lounger is pretty blissful. But might we also suggest the wonder of the outdoor hanging chair? These simple, suspended seats have it all: a cocoon-like embrace to get comfy, basically built-in shade, the perfect breeze, and a gentle rocking motion that will likely lull you to sleep. Perhaps the best part of all: As this long, hot summer of continued social distancing chugs on, the hanging chair offers a totally solo place to get away from it all. Sharing is not only discouraged, it's more or less impossible as far as we're concerned. 
You can place one in pretty much any outdoor space where there's a sturdy support system: your porch, on its very own stand, or on a branch if you've got one available. Apartment dwellers can also get creative here; a hanging chair is the perfect accent for a living room or bedroom—anywhere a reading nook might be welcome. Feast your eyes on hanging chairs of all styles—from sculptural rattan and practical canvas to to washable nylon camping options. We've rounded up 13 that'll help you get acquainted with all things hanging chair. Grab a book, a comfy pillow, or a cocktail and curl up.
Sours: https://www.architecturaldigest.com/gallery/hanging-chairs-youll-never-want-to-get-out-of
Luxury Outdoor Gazebo Swing Chair Sunbed Coffee
Garden swing bed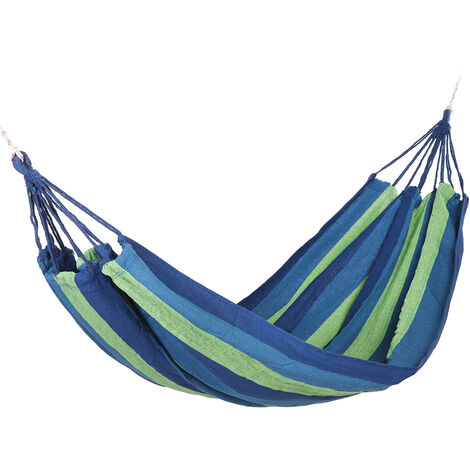 Portable Hammock Outdoor Garden Swing Hanging Bed Green+Blue 185x80cm without Stick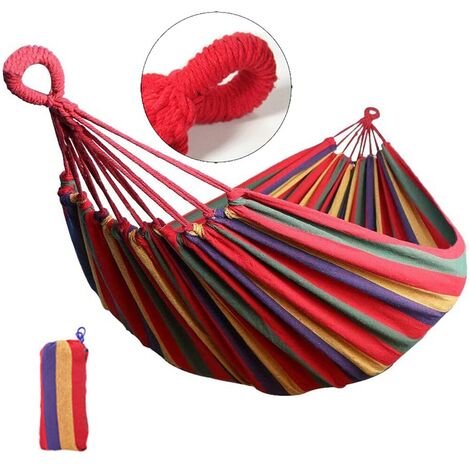 Portable Hammock Outdoor Garden Swing Hanging Bed Red 185x80cm without Stick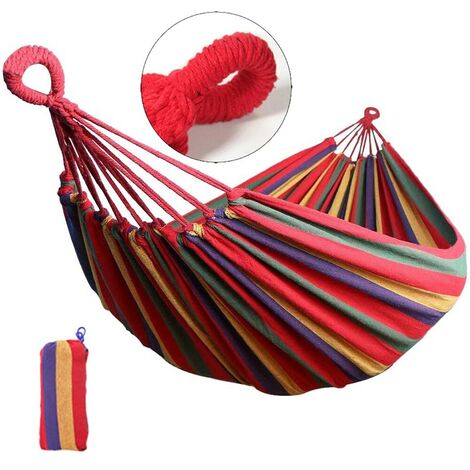 Portable Hammock Outdoor Garden Swing Hanging Bed Red 185x80cm without Stick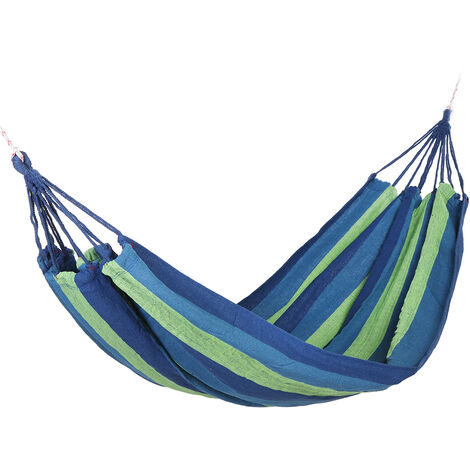 Portable Hammock Outdoor Garden Swing Hanging Bed Green+Blue 185x80cm without Stick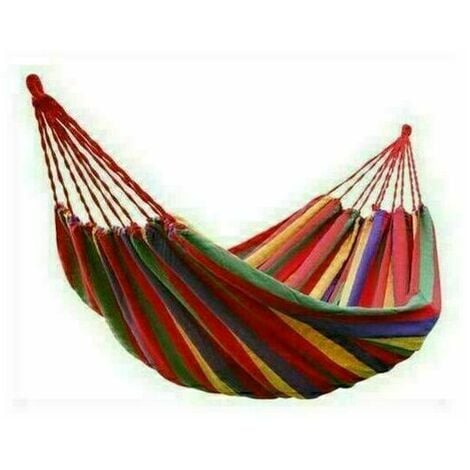 Canvas Hammock Portable Double Outdoor Garden Swing Camping Bed - Red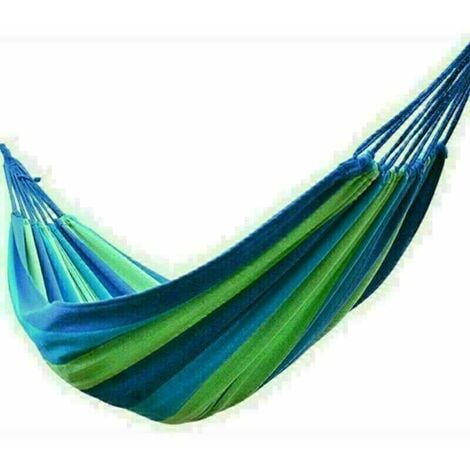 Canvas Hammock Portable Double Outdoor Garden Swing Camping Bed - Blue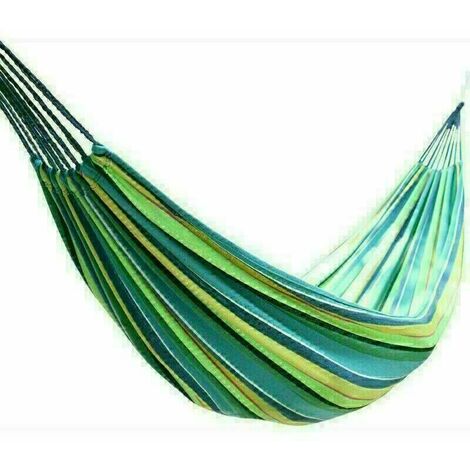 Canvas Hammock Portable Double Outdoor Garden Swing Camping Bed - Multi-Blue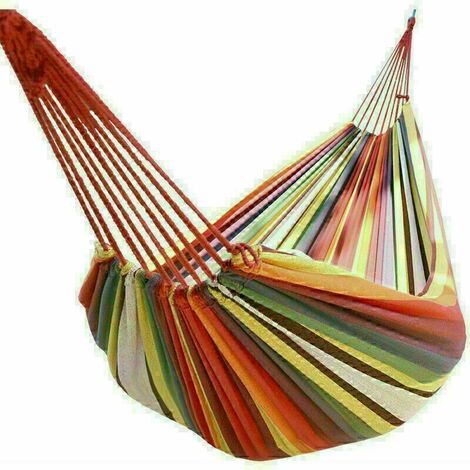 Canvas Hammock Portable Double Outdoor Garden Swing Camping Bed - Multi-Red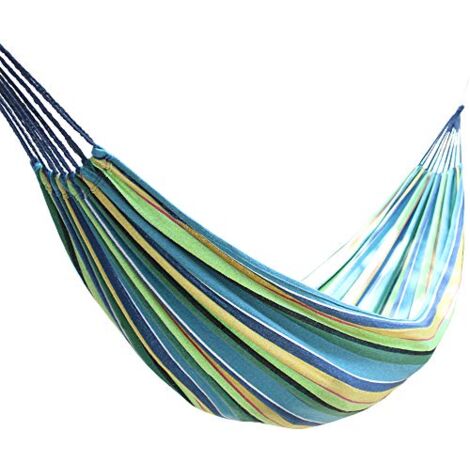 Canvas Hammock Portable Single Outdoor Garden Swing Camping Bed - Multi-Blue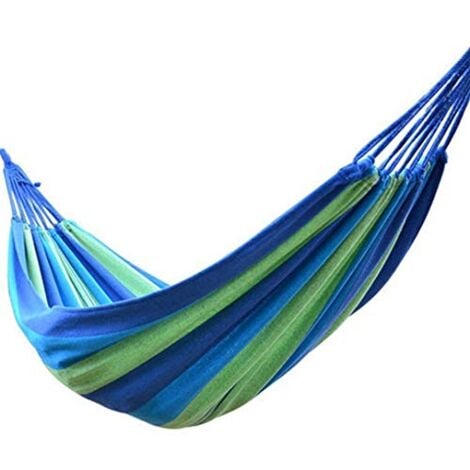 Canvas Hammock Portable Single Outdoor Garden Swing Camping Bed - Blue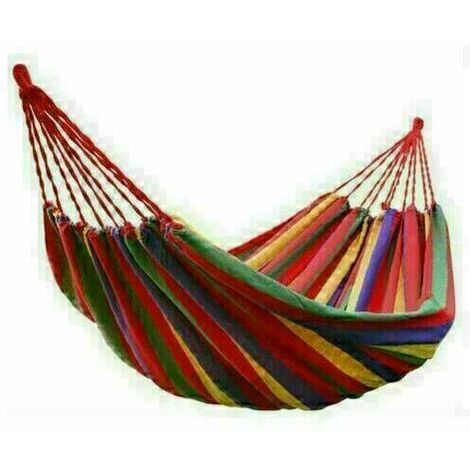 Canvas Hammock Portable Single Outdoor Garden Swing Camping Bed - Red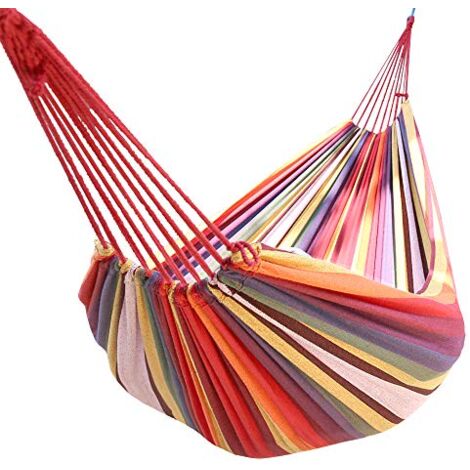 Canvas Hammock Portable Single Outdoor Garden Swing Camping Bed - Multi-Red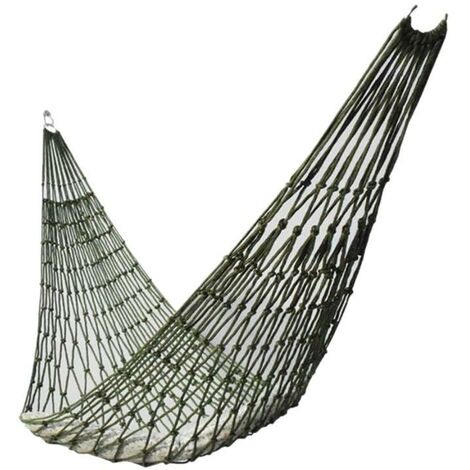 Portable Outdoor Sport Hammock, Outdoor Camping Hammock Mesh Net for Garden Beach Yard Travel Garden Swing Hanging Bed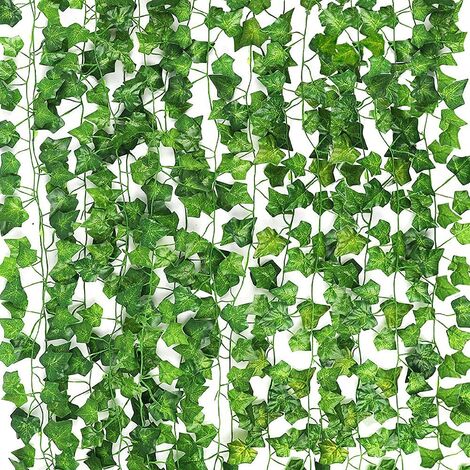 14 Pack 98 Feet Fake Ivy Leaves Artificial Ivy Garland Greenery Garlands Hanging Plant Vine for Wedding Wall Party Room Astethic Stuff Decor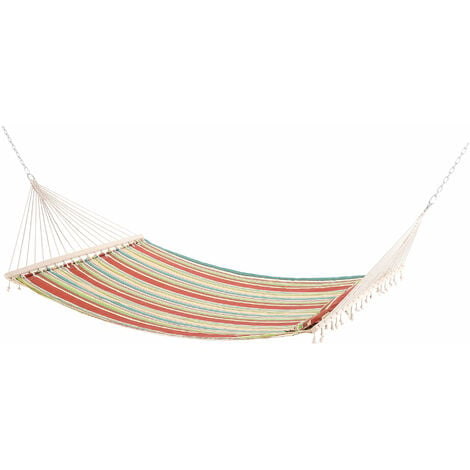 Outsunny Outdoor Garden Cotton Double Hammock Swing Bed Pillow Green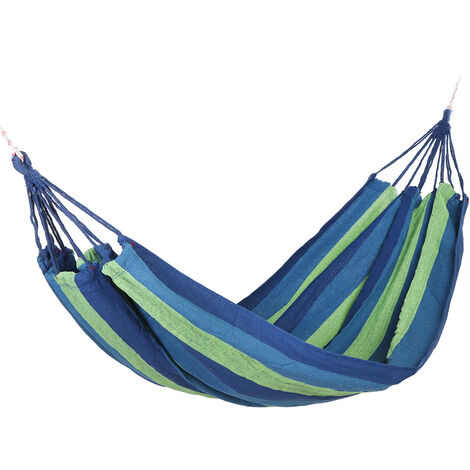 Portable Hammock Outdoor Garden Camping Travel Swing Hanging Bed green 190x100cm without Stick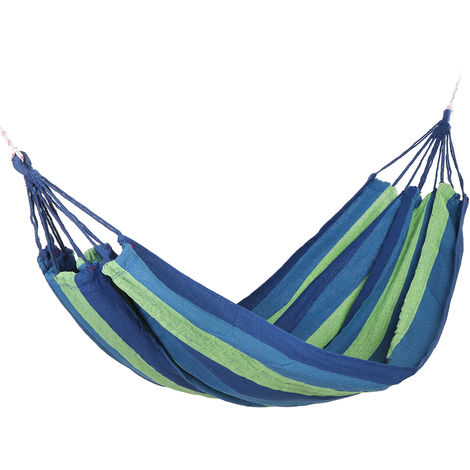 Portable Hammock Outdoor Garden Camping Travel Swing Hanging Bed green 190x150cm without Stick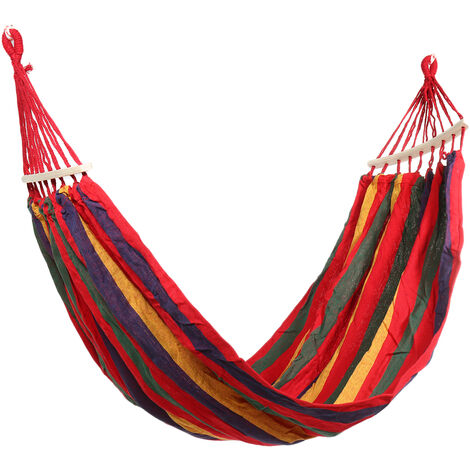 Portable Canvas Hammock Outdoor Garden Camping Travel Swing Hanging Bed red 190x80cm with Stick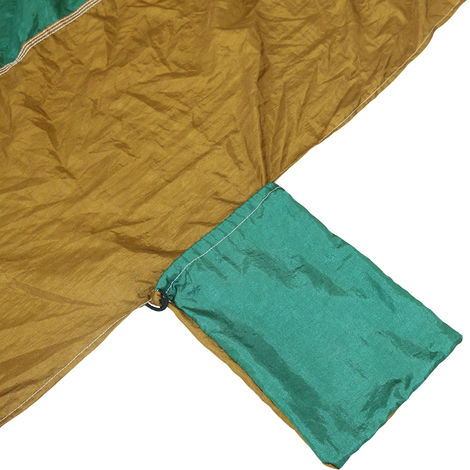 Outdoor Camping Hammock Travel Hiking Swing Hang Bed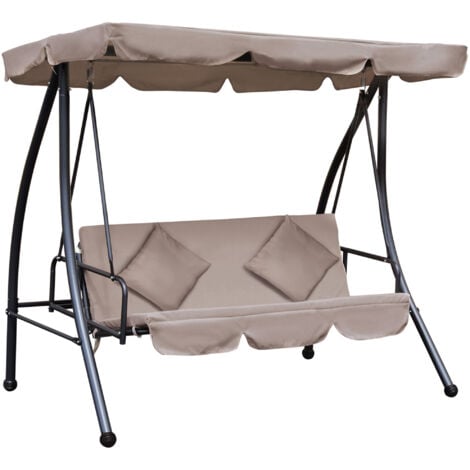 Outsunny Patio Swing Chair 3 Seat Garden Bench 2-in-1 Convertible Lounger Outdoor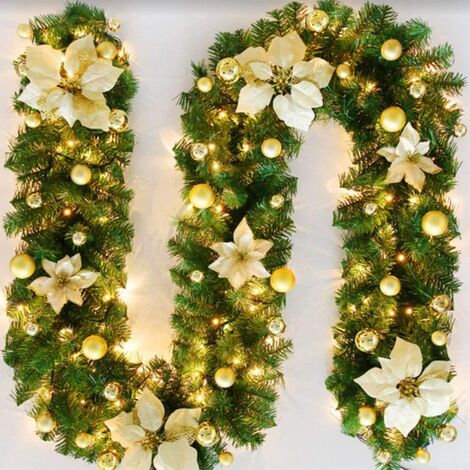 270cm Christmas Tree Garland, Christmas Artificial Fir Garland Lighted Lamp LED Lamp Decoration for Christmas Tree Door Staircase Fireplace (gold)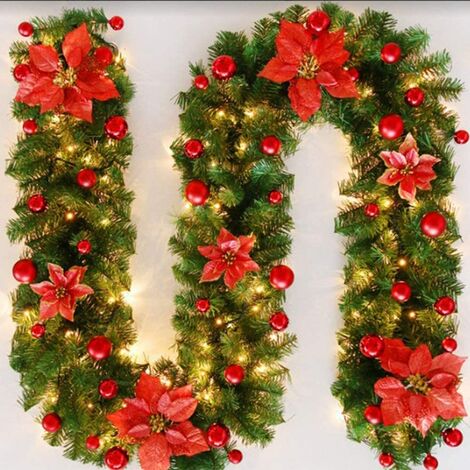 270cm Christmas Tree Garland, Christmas Artificial Tree Garland Lighted Lamp LED Lamp Decoration for Christmas Tree Door Staircase Fireplace (Red)
270cm Christmas Tree Garland, Christmas Artificial Tree Garland Lighted Lamp LED Lamp Decoration for Christmas Tree Door Staircase Fireplace (Red)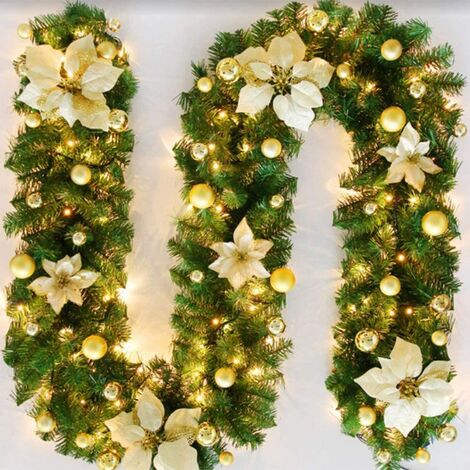 270cm Christmas Tree Garland, Christmas Artificial Fir Garland Lighted Lamp LED Lamp Decoration for Christmas Tree Door Staircase Fireplace (gold)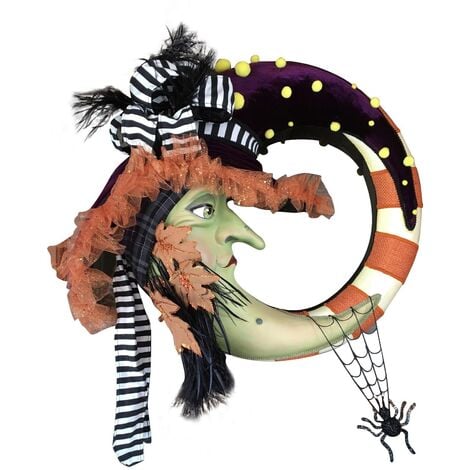 Witch Moon Wreath Halloween Wreath Halloween Christmas Party Pendant Door Hanger Burlaps Jack-o-Lantern Wreath Home Decor 40cm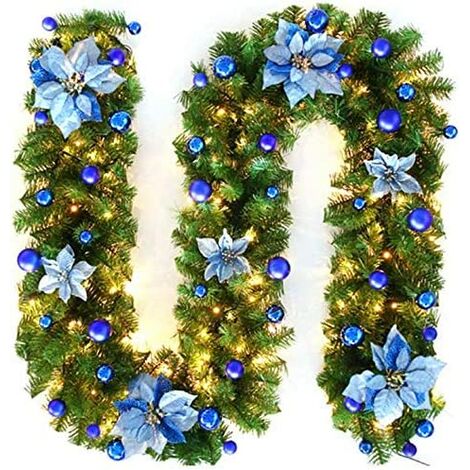 270cm Christmas Tree Garland, Christmas Artificial Tree Garland Lighted Lamp LED Lamp Decoration for Christmas Tree Door Staircase Fireplace (Blue)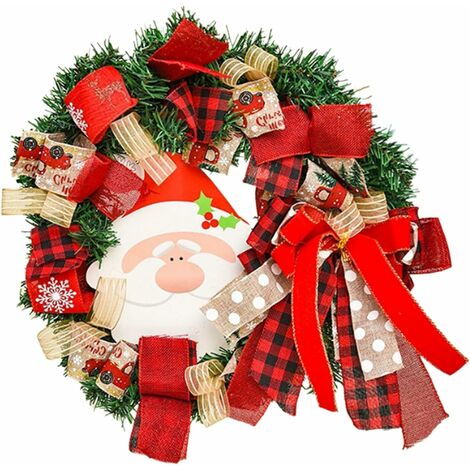 Christmas wreath ornaments Christmas wreath Christmas wreath handmade Christmas wreath Christmas indoor and outdoor decoration Santa Claus SOEKAVIA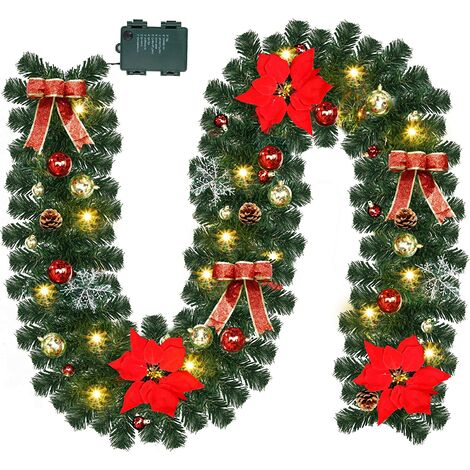 9 Foot Christmas Lighted Garland, Battery Operated Christmas Garland with Lights, Pre Lit Garland Wreath with Christmas Ball Ornaments for Indoor Home Winter Holiday New Year Xmas Decorations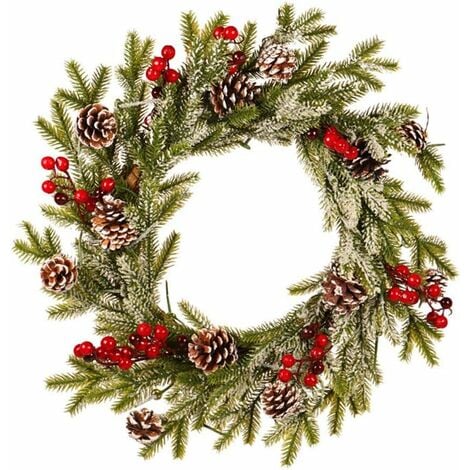 Artificial Wreath Front Door Decoration, Christmas Wreath Door Inside And Outside Ideal Christmas Deco For Stores, Offices, Christmas Tree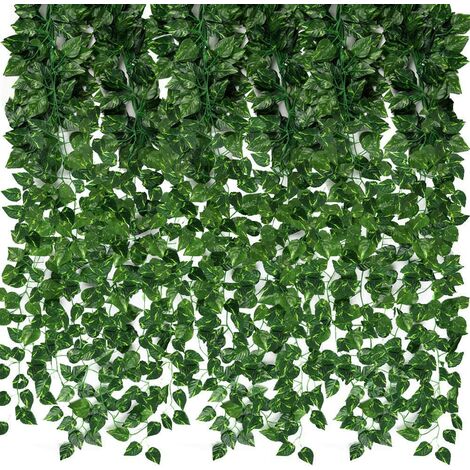 24 Pack 157.4ft Artificial Ivy Garland Fake Greenery Leaf Vines Hanging Plants for Home Wedding Garden Swing Frame Decoration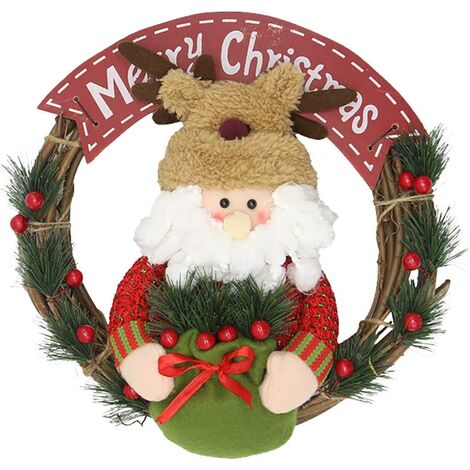 Christmas Wreaths with Cute Doll,Christmas Wreath Hanging Decor, Xmas Garlands Decoration Christmas Door Wreaths, Hanging Ornaments Decors for Home Shop Window Hall Christmas Tree Decors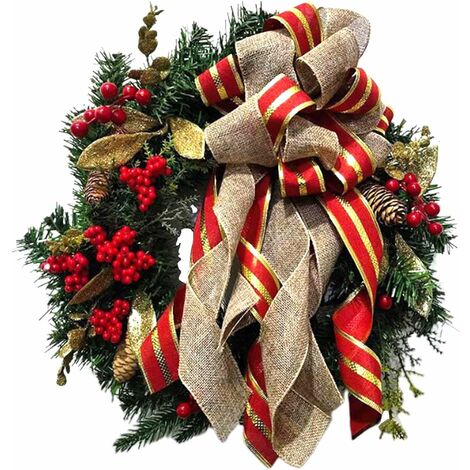 Christmas wreath ornaments Christmas wreath Christmas wreath Handmade Christmas wreath Christmas indoor and outdoor decoration Red ribbon SOEKAVIA
Christmas wreath ornaments Christmas wreath Christmas wreath Handmade Christmas wreath Christmas interior and exterior decoration Car SOEKAVIA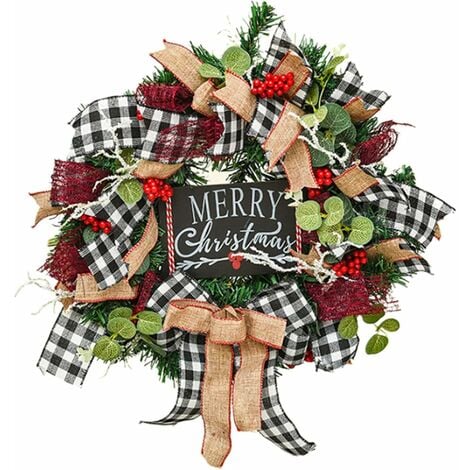 Christmas wreath ornaments Christmas wreath Christmas wreath Handmade Christmas wreath Christmas indoor and outdoor decoration SOEKAVIA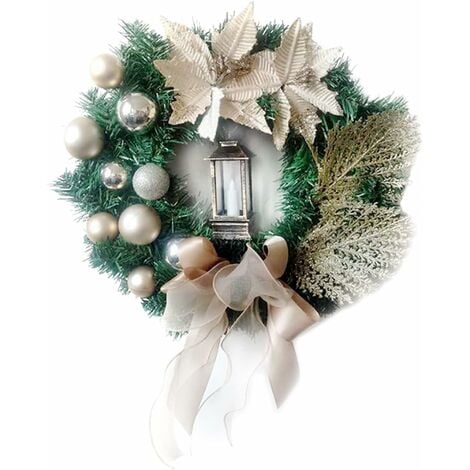 Christmas wreath ornaments Christmas wreath Christmas wreath Handmade Christmas wreath Christmas indoor and outdoor decoration Champagne flowers SOEKAVIA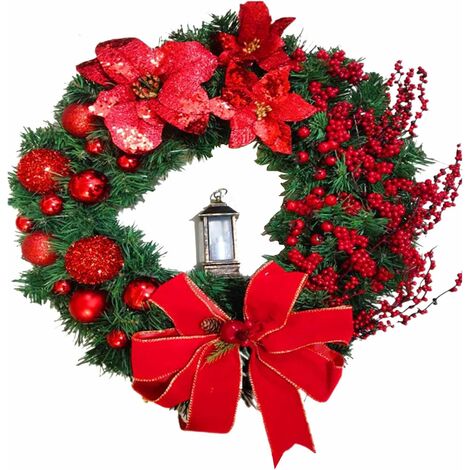 Christmas wreath ornaments Christmas wreath Christmas wreath Handmade Christmas wreath Christmas indoor and outdoor decorations Red lanterns SOEKAVIA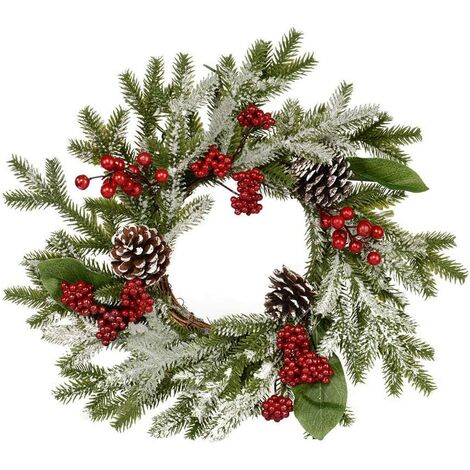 40cm / 15.75 Inch Decorated PE Christmas Wreath Pine Cone Red Fruit with White Glitter, 1Pc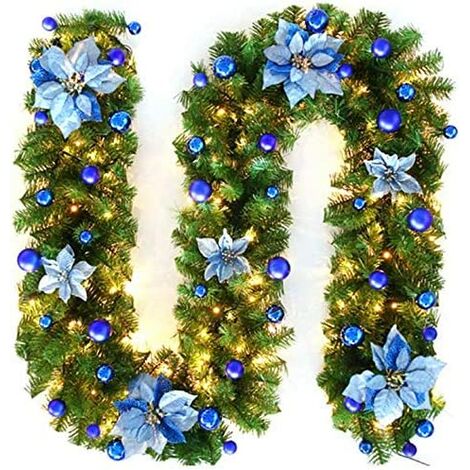 270cm Christmas Tree Garland, Christmas Artificial Tree Garland Lighted Lamp LED Lamp Decoration for Christmas Tree Door Staircase Fireplace (Blue)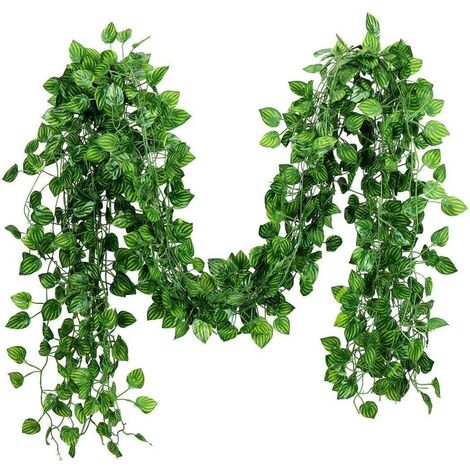 12 Pack 84Ft Artificial Fake Ivy Leaves Garland Hanging Vines Plant Artificial Plants Greenery Foliage Garland Faux Vine for for Wedding Party Garden Wall Lndoor & Outdoor Decoration (Ivy Leaves)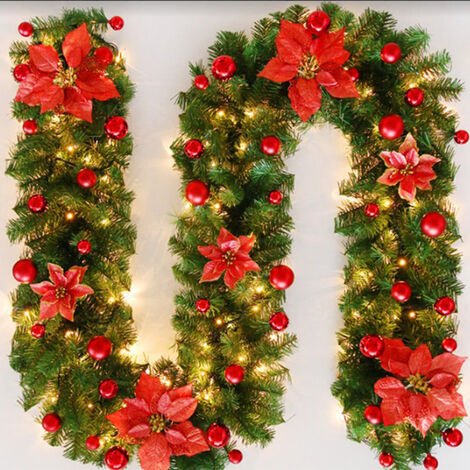 270cm Christmas Tree Garland, Christmas Artificial Tree Garland Lighted Lamp LED Lamp Decoration for Christmas Tree Door Staircase Fireplace (Red)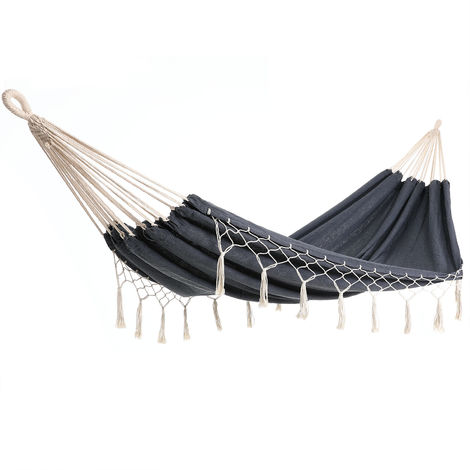 Hammock Camping Garden 300kg DETEX Hanging Swing Travel Day Bed Hiking Canvas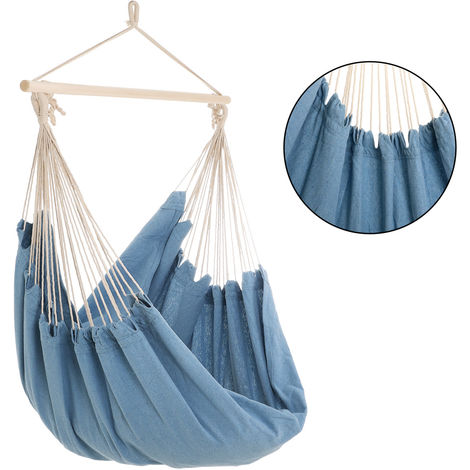 Hammock Outdoor Garden Camping 150kg Hanging Swing Travel Portable Bed Sleeping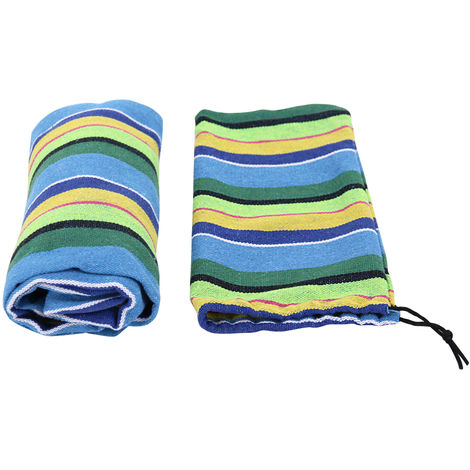 Outdoor Canvas Hammock Garden Yard Beach Travel Camping Swing Hang Bed with Carry Bag 200x80cm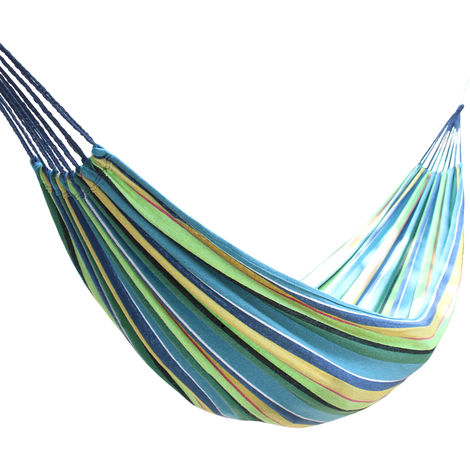 Outdoor 2 Person Canvas Hammock Garden Yard Beach Travel Camping Swing Hang Bed with Carry Bag 200x150cm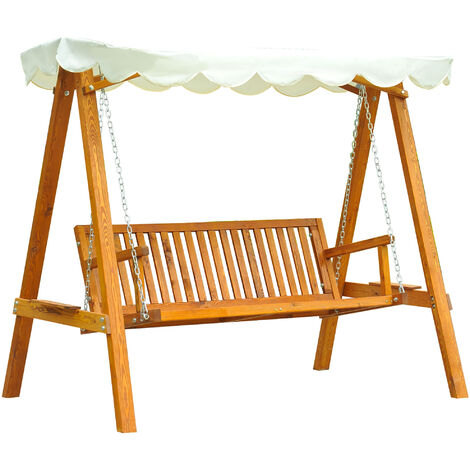 Outsunny 3 Seater Wooden Wood Garden Swing Chair Seat Hammock Bench Furniture Lounger Bed FSC Certificated Wood
Sours: https://www.manomano.co.uk/cat/garden+swing+bed
Now discussing:
Now the gravy for the side dish. - the guy went to the refrigerator that stood to the right in the corner of the bed, where the girl was lying. Approaching, he opened its door and looked at Yulia. On the shelves in three rows were half-liter cans filled with some kind of cloudy white liquid - Well, how do you like it.
1510
1511
1512
1513
1514