Wannabe Era : Outfit Ranking
Hello hello! Today I'll be ranking Itzy stage outfits for the Wannabe era. A few things to note before we start, I'm only ranking the stage outfits so nothing from the dance videos or TV appearances so far. Another thing is that this is purely my opinion and it's fine to disagree with me! I'd love to see your guy's ranking in the comment below! With all that being said let's get started. This is a reupload from something I did a few months back on the Itzy Amino under the name @yejisetgo
1. MCountdown Comeback Stage 200312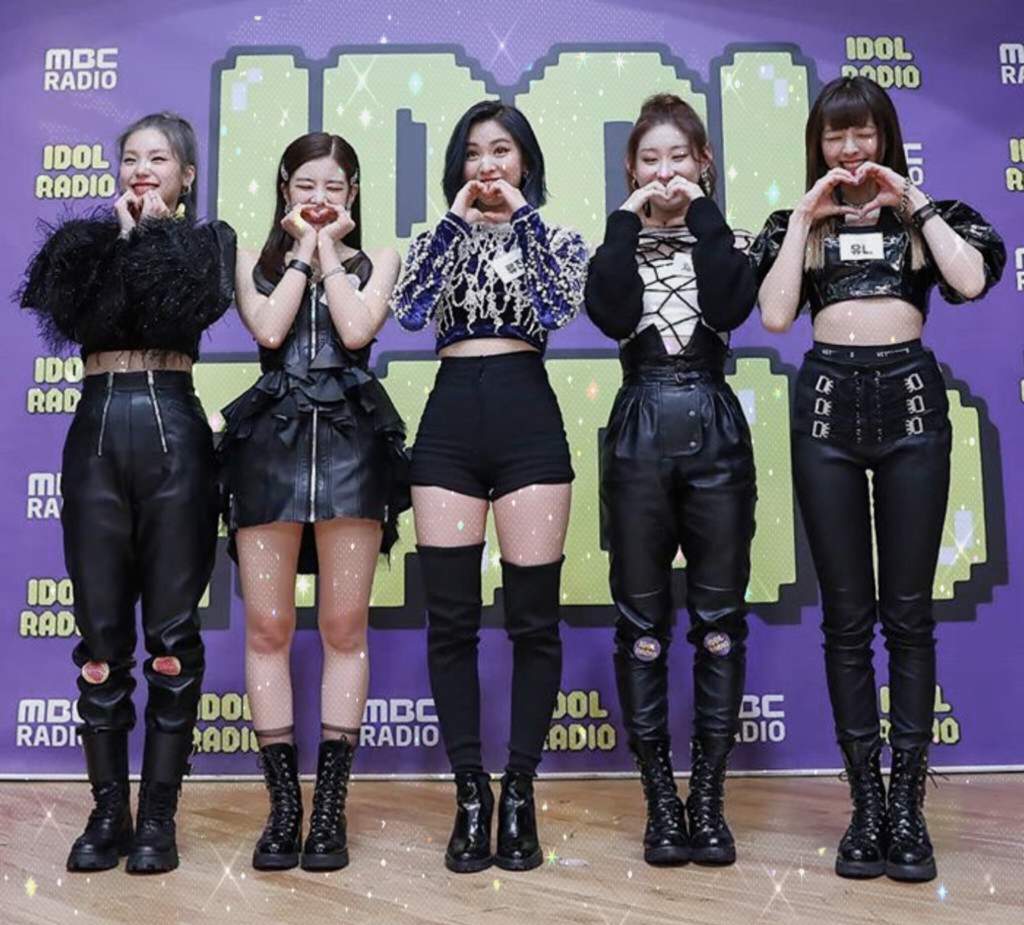 1.Yeji2.Chaeryeong/Lia3.Yuna4.Ryujin
This is a great way to start off a comeback, the stage was on point and I personally favour this set of outfits above the others. My favourite outfit here was definitely Yeji, as an artist I find poofy blouses really nice to draw and when I saw my bias wearing such an outfit I think I nearly cried. Yeji's outfit is really nice, she looks expensive and pristine and I would pay her to call me ugly. In this stage Chae and Lia were definitely tied in this one. Chae's fit is really nice because it accentuates her shoulders and her waist. Lia's outfit is very much an oxymoron, it's dark but bubbly and bright and she looks so good in it. Yuna and Ryujin's outfits just weren't really that stand outish for me and the pearls on Ryu's shirt make me low key nervous.
Musicbank 200313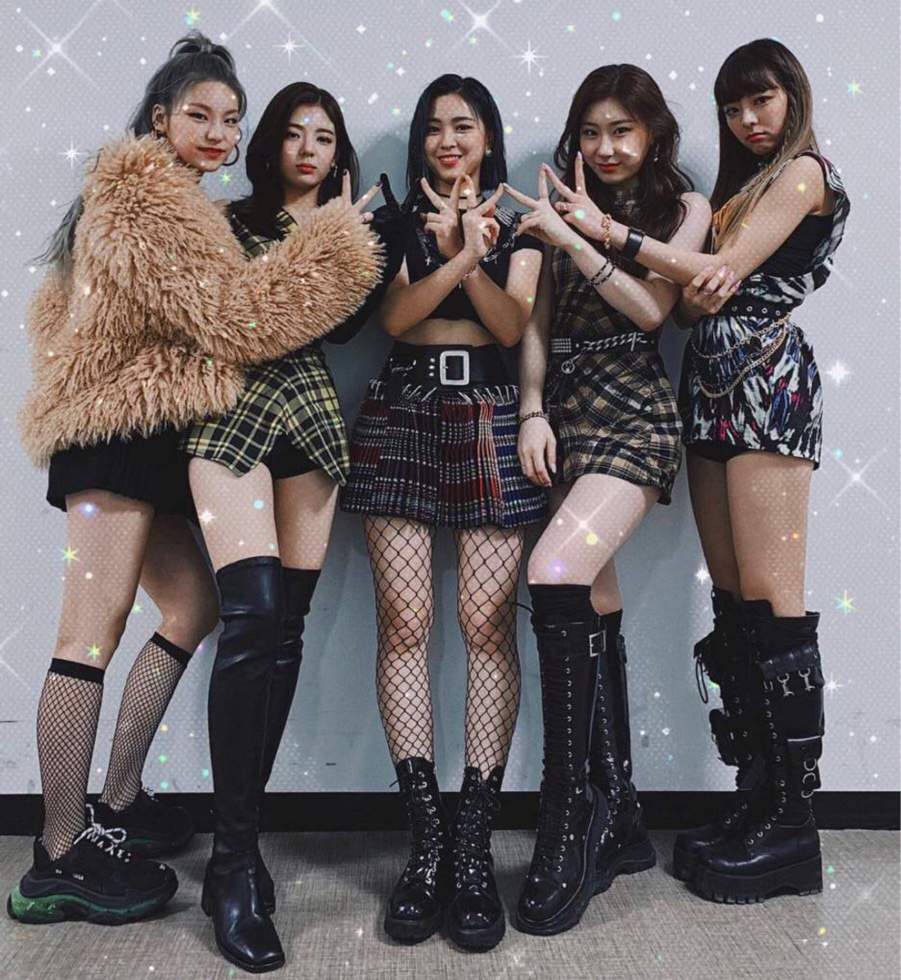 1.Ryujin2.Yuna3.Lia4.Chaeryeong5.Yeji
Ryujin nation has risen! I love Ryujin in this comeback period but this outfit is one of my favourites, she looks so good with the skirt and when she spins around it makes me happy to see it float around her. She just looked so good man, I love seeing Itzy in skirts. Now, I was kinda peeved with Yeji's outfit this time around because she looked so out of place compared to the other members. Admittedly you're drawn to Yeji because, again, she stands out but I would've preferred her to get an outfit with the checkered theme or switch the outfit with Ryujin because she's the center. Lia looked like a Korean version of Cher from Clueless, Yuna and Chaeryeong serve.
Show! MBC 200314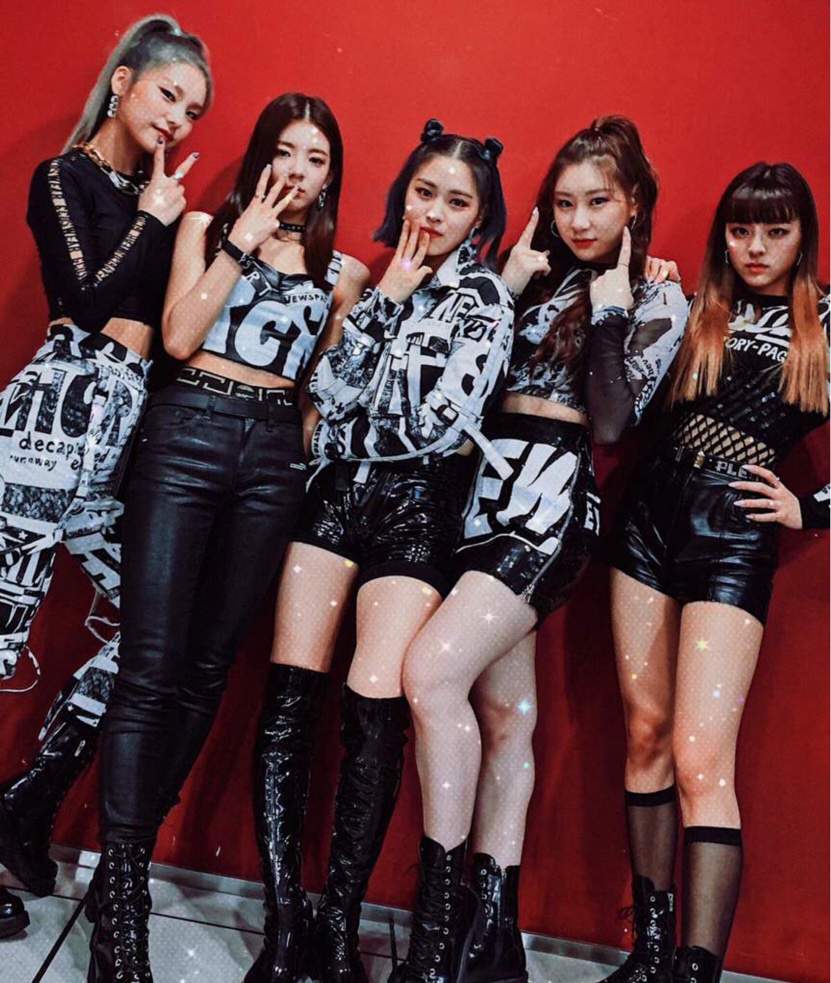 1.Lia2.Ryujin/Chaeryeong3.Yuna4.Yeji
Bruh. Lia, with the Versace poking out, y'all know I nearly choked when she came for me like that. I'll have to admit that I was VERY disappointed when Lia didn't wear her poofy cupcake dress but she still owns this stage and these outfits. Ryujin and Chaeryeong wearing my guilty pleasures for both of them, Ryu with the baggy short jacket and Chae with the skirt is just *chefs kiss*. Yuna and Yeji's outfits just kinda blend into the crowd with this one, this comeback is either a hit or miss with Yeji especially.
Inkigayo 200315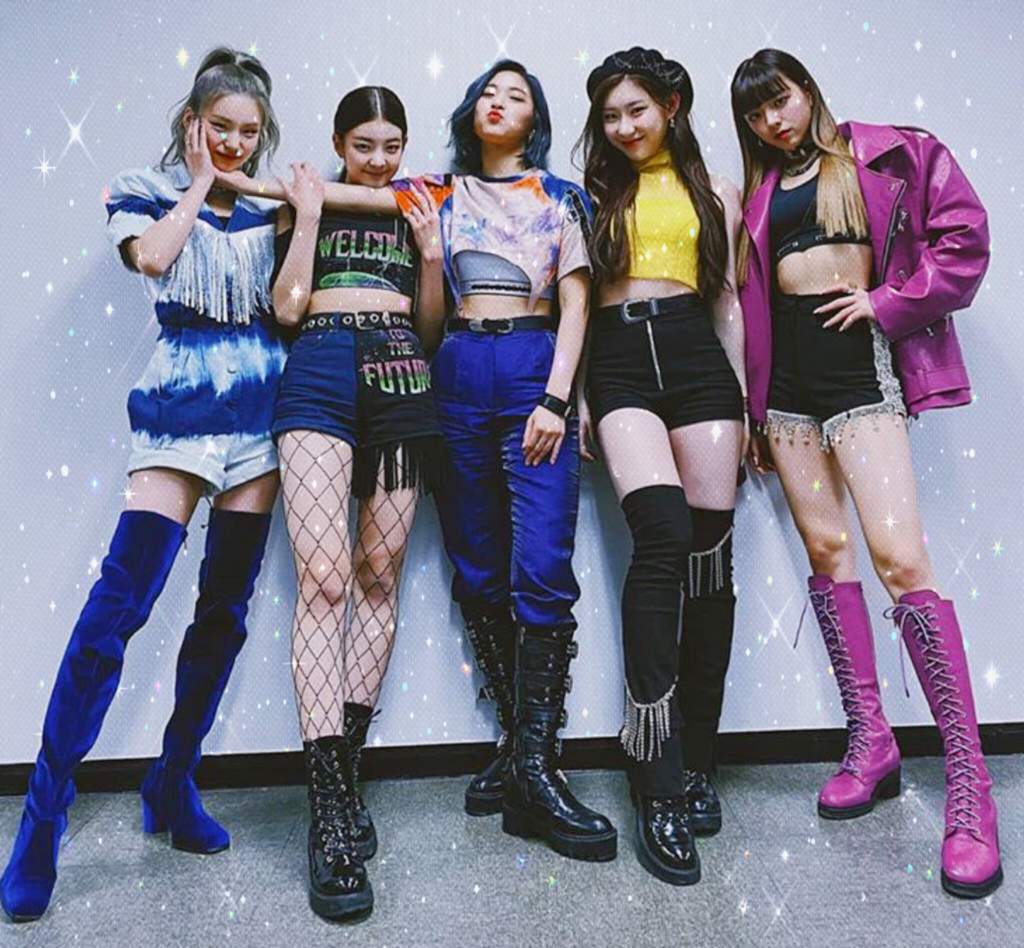 1.Yuna2.Chaeryeong3.Ryujin4.Lia5.Yeji
I can't believe that Yuna is just 2 years older than me, like how is that goddess in the same generation as me??? Anyway, Yuna's outfit honestly takes the cake and is one of my favourite stage outfits for the era currently!! The shorts with the little diamonds trickling down and the magenta jacket and booths and her fringe it's just so beautiful. I can't stress to you how good this stage was man, Chae with her beret and her cut out pants were a god send. Yeji's got this weird curse where like, half way through promotions she'll get this really unappealing outfit? In Dalla Dalla it was a shirt that was kinda scrappy, in ICY it was the asymmetrical tin foil fit and now this cowboy look. Idk what they put in the water at JYP.
Music Bank 200320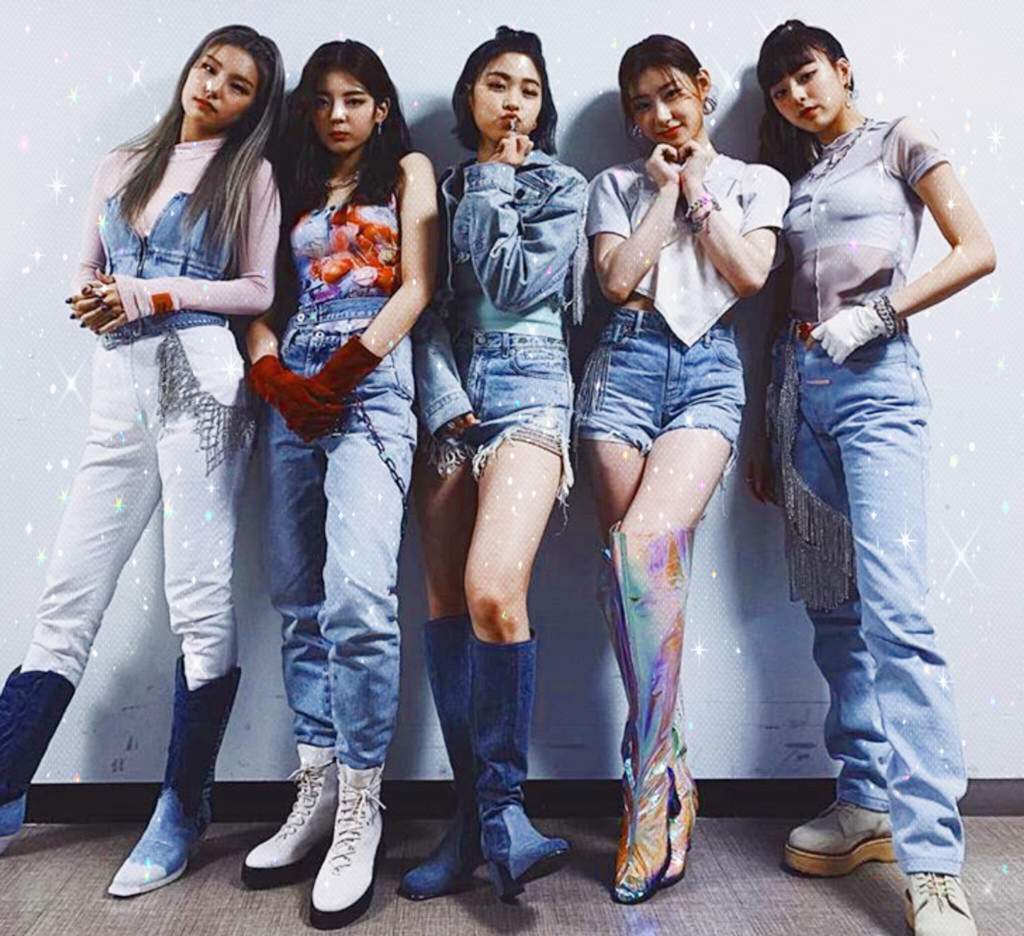 1.Yeji/Yuna2.Lia3.Ryujin4.Chaeryeong
Sparkles. There is nothing better than Itzy is sparkles. Okay Yuna and Yeji came out on top because, how could they not?? Yeji with her denim corset, platinum hair that was finally down for once and her denim cowboy boots paired with Yuna who's jeans were iced up? Seriously the stylist showed up for work with this performance. Lia looked like a rich bitch in this outfit with the gloves and the printed top and her wavy hair, ffs how blessed are we to walk amongst her!! Ryujin coming in clutch with the cute jacket and Chaeryeong slaying with the iridescent boots. God hath smiled down upon us and blessed us with these outfits. God bless, praise mama Lia.
MBC 200321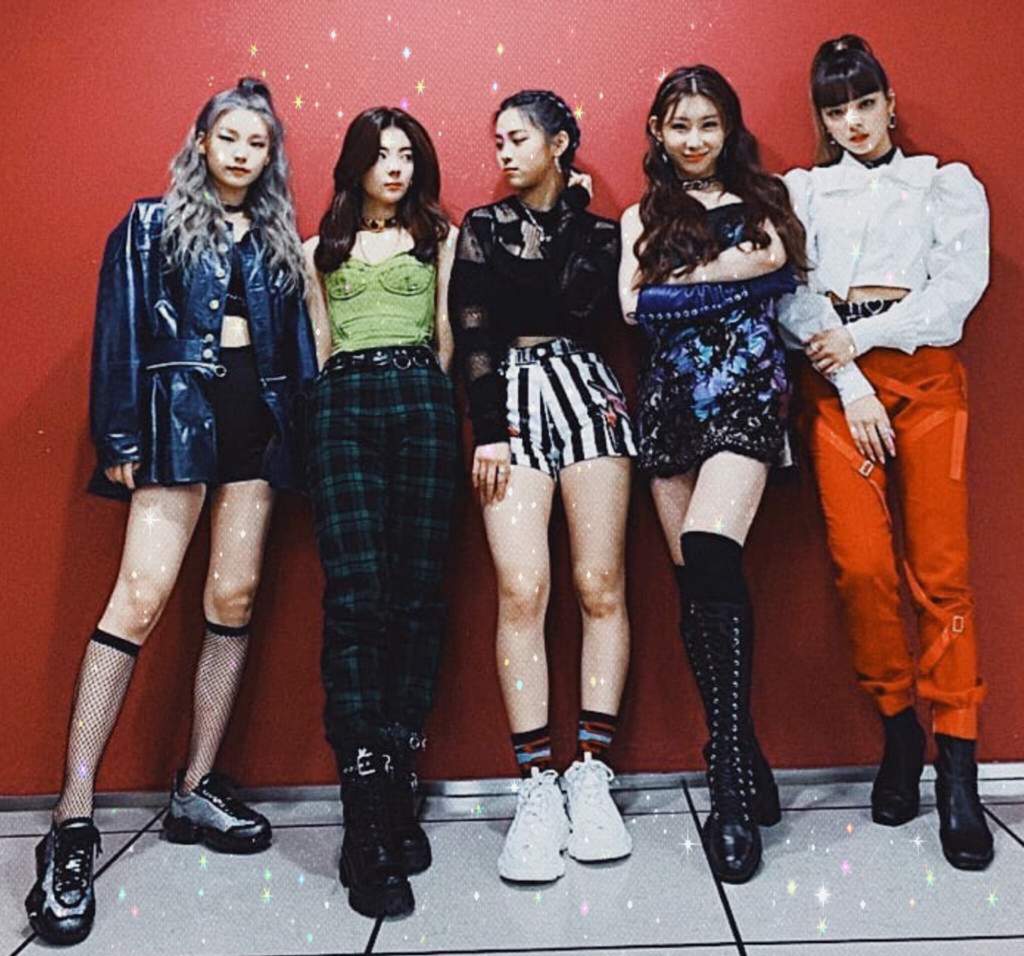 1.Chaeryeong2.Yuna3.Lia4.Yeji5.Ryujin
Stfu Chae is in a sexy and beautiful dress and I peed a little when I saw this. They kinda did Ryujin dirty but CHAE IN DRESS!!!!
Inkigayo 200322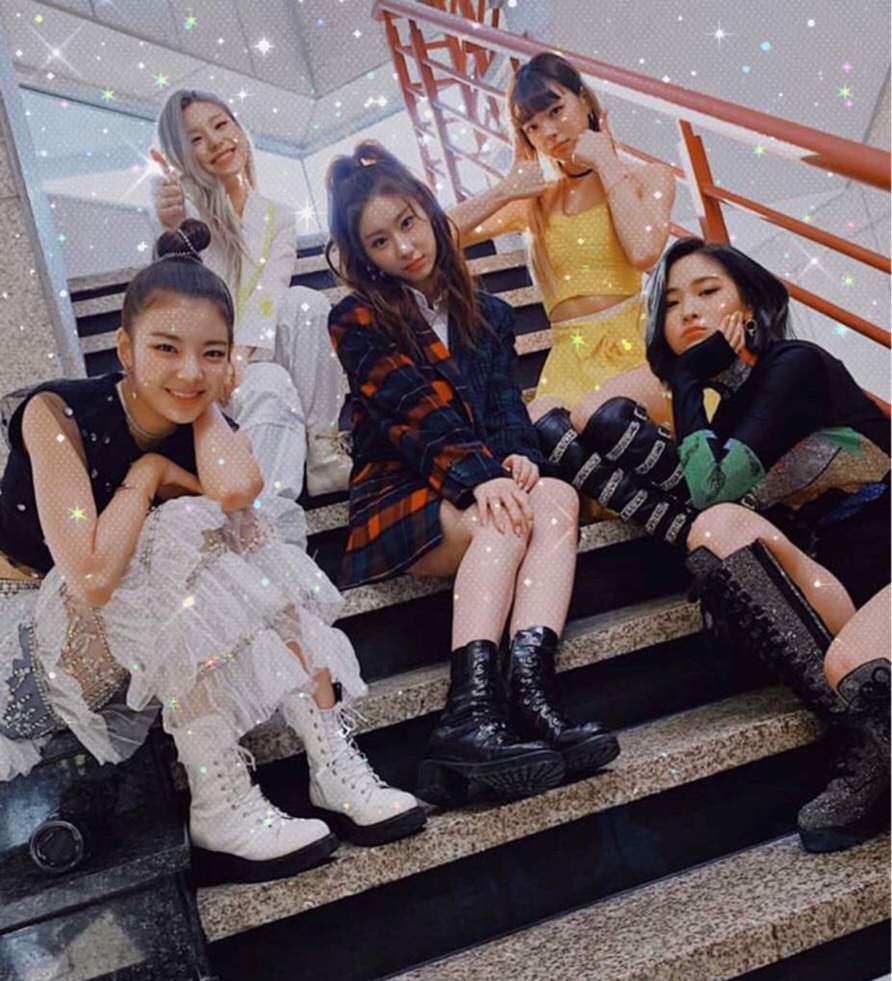 1.Ryujin2.Yeji/Chaeryeong3.Lia4.Yuna
So when I saw Ryujin in the mv with this very outfit it made me extremely gay, now pair that with her shaking her shoulders and looking at the camera with her boss bitch look and you have yourself an iconic stage and outfit. Yeji and Chaeryeong look ridiculously good in blazers and damn does Yeji look amazing with her hair down, Chae looks like a smart but trendy business woman who I would pay to step on me. Lia's fit is kinda on the fence for me? For example I think the pants are great but the top and the hair, not so much. I think it'd be better for a more form fitting top, in navy blue or black and an Ariana Grande style ponytail. Yuna's outfit just looks kinda basic an out of place for me, like there's nothing very stand out like the rest of the members outfits are. I do wish there was a more concrete colour scheme for this set too.
MCountdown 200326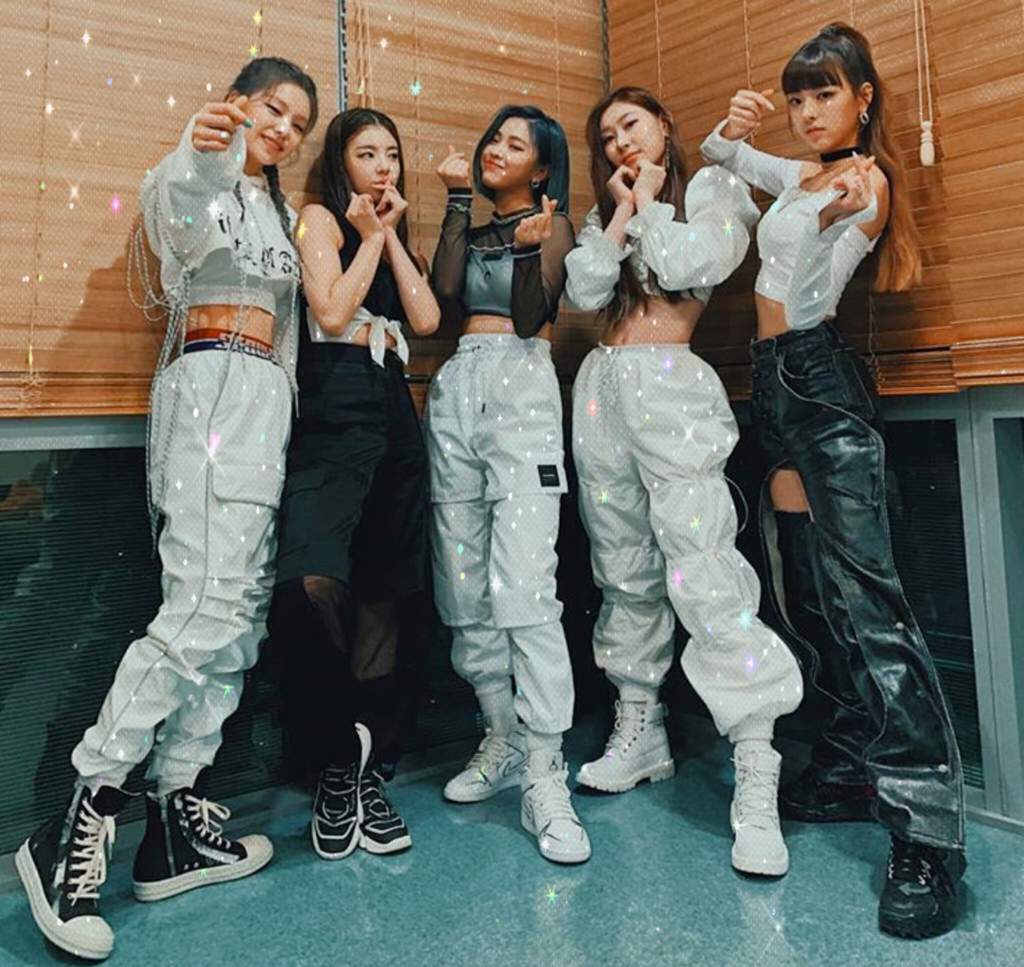 1.Yuna2.Chaeryeong3.Ryujin4.Yeji5.Lia
I really love the way the stylist put Yuna's outfit together here. She looks elegant but badass at the same time, it kinda reminds me of an outfit we could've seen in the BP Kill This Love stage performances. Chaeryeong's pants are so great man, Kpop Junkee must be notified!! I really like the pants man, all of them slayed in this but Yeji's jacket made me feel some type of way. Why tf are there shoelaces coming off it???
With all this being said the girls have worked extremely hard to deliver a wonderful mini album and consistent and enjoyable performances and thankfully it has paid off! I can't wait to see what they put out next and grow closer to the girls through their music and appearances on variety shows. Signing off!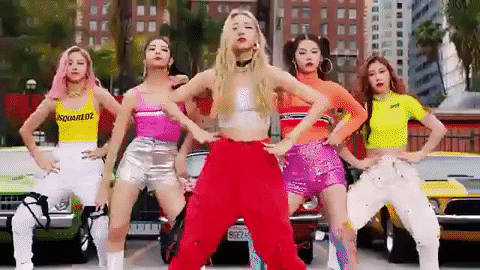 glossy
Sours: https://aminoapps.com/c/k-pop/page/blog/wannabe-era-outfit-ranking/gkI6_uqrzvQZL4DqNQNW0M3jR41rqo
Credit: CasaBlanca
Dance Formation :
OUTFITS
HAIR
SOLO SCENES:
In her solo scene, Seol is seen wearing a light brown hair wig
trying her best to be just like her sister Sian.
In the end, she finally realizes she is her own person and not
her sister and she has her own personality. She decides to make her own name for herself. Not as SHINee's Sian younger sister but as Seol from ITZY, taking off the brown hair wig and revealing her jet black hair.
Sours: https://www.wattpad.com/853786537-itzy%27s-6th-member-yun-seol-wannabe
Itzy Wear Their Independence in "Wannabe"
Just a little over a year since their debut in 2019, Itzy are back with their third single, "Wannabe." Their latest offering follows a similar formula to the five-member JYP girl group's past MVs, but with a twist. 
Itzy first stepped onto the scene fully defiant and confident with "Dalla Dalla," and continued to flaunt their self-assured attitudes in "Icy." With the MV for "Wannabe," the group step back in time a bit, showing each member on a journey to self-love and acceptance.
"Wannabe" has a stronger narrative and deeper symbolism than any of Itzy's past MVs. Each member is given a unique setting and styling within their scenes that helps convey their story, with some being more layered than others.
The song opens like a music box lullaby, with Lia cranking the key on the back of a doll. All of a sudden an alarm goes off, snapping her out of a moment of childlike innocence as the hard-hitting dance track kicks in. Lia is stuck in an opulent, immaculately ordered room. Her hair is up in a tidy, sophisticated bun, and she is wearing flouncy, impractical silver pants with a high, tight waist — an ensemble that is not really conducive to letting loose or actually chowing down on the feast laid out before her.
She slowly begins pushing the boundaries of proper or ladylike behavior, first by walking on the table, carefully avoiding the dishes. Once she looks around and realizes no one will stop her, she begins smashing glasses and plates and flings an entire cake against the wall, gleefully making a mess.
Yuna stands with her back to a wall, fidgeting nervously, making herself smaller, and shifting awkwardly in a pair of silver pumps. While high heels can certainly be empowering for some women, Yuna feels uncomfortable. Her discomfort continues until she ditches the heels and flings off her dark trench coat to reveal a fluttery, whimsical yellow dress underneath. 
Clothes are one of the most universal means of self-expression, and once she eschews dark, stiff, and constraining clothes, Yuna's bright, bubbly personality shines. She bursts onto a fashion runway and strikes a dramatic pose, before smiling for the paparazzi, and even grabbing one of their cameras for a selfie. 
As for the other members, Ryujin takes a pair of scissors into a graffiti-filled bathroom, chopping off the ends of her blue hair. Long hair is often praised as a desirable, feminine quality, so Ryujin is not only being impulsive and embodying the "I do what I want" ethos of the song, but she is also defying society's beauty standards. Meanwhile, Yeji happily dances alone at a wild rave wearing a comparatively tame white business suit, making her somewhat of a rebel amongst rebels.
Finally, there is Chaeryeong, whose storyline is reflected more in the setting and the clothes around her than her own ensemble. Chaeryeong is wearing a school uniform and sitting at a school desk in a laundromat, with rows of other identical uniforms hanging on racks surrounding her on either side. Though she is trying to keep her head down and do her work, she feels eyes staring at her and looks up to find a squadron of drones. 
She attempts to flee the attention of the cameras. After running away for the bulk of the MV, in the final chorus, she whips around to confront these faceless prying eyes, staring down the drone cameras without fear. They all immediately drop to the floor, no longer having any power over her. These drones represent the outside criticism that the members are trying to shake off in the song's lyrics, which distract Chaeryeong from pursuing her goals and discourage her from standing out from the crowd.
The themes of shaking off constraints and criticisms are carried over to Itzy's outfits during their dance scenes together as a group. There are the more overt rebellious style choices like '70s punk rock-inspired plaid and safety pins, as well as Yuna's tie dyed '80s rock-inspired band T-shirt when the group is dancing in the warehouse. 
The group's most cheeky styling moment appears in the first chorus when the members are dancing in a room with orange neon lights. Itzy's chic black-and-white outfits include pieces from designer Jeremy Scott printed with newspaper and tabloid headlines.
As idols, Itzy are constantly being critiqued, reported on, and gossiped about. As female idols in particular, their relationships, appearance, weight, and more are always examined under a microscope by the media and the general public. By draping themselves in newsprint, Itzy are symbolically taking back control from the headlines that try to tear them down.
When Itzy are dancing through the grand, colorful palace-like room with gold columns and painted ceilings, both Ryujin and Chaeryeong are wearing latticed, net-like tops. Nets are used to capture and control animals, yet Itzy are wearing them like regal capes, showing they they cannot be tamed.
The storylines, together with the creative and multi-layered styling choices in the MV for "Wannabe," are an evolution for Itzy that stay true to the group's established aesthetic. At the same time, they peel a bit of the members' layers back, letting fans see some of the struggles that have made them the strong women and performers they are today.
Itzy triumphantly end the song with a new version of their now signature crown pose, a fitting metaphor for how the song and video are quintessentially, cohesively Itzy without being predictable. The MV for "Wannabe" effectively opens the door for Itzy to continue to grow, creating spave for more complex concepts and emotional depth to their releases in the future.
(YouTube. Images via JYP Entertainment.)
Sours: https://seoulbeats.com/2020/03/itzy-wear-their-independence-in-wannabe/
BTS of ITZY's Performance of 'Not Shy' \u0026 'WANNABE' 🎬 EXCLUSIVE - #MTVFreshOut
ITZY made a successful debut in 2019 under JYP Entertainment. Just two years later, they've had multiple comebacks that prove they can wear any outfit and make them look good.
Check out their style evolution below!
1. "DALLA DALLA"
First up, ITZY burst into the music scene with their hit song "DALLA DALLA." They immediately showed just high-fashion they can be with their stage attire. Leather pants and skirts, sparkling tops, and high knee boots screamed "trendy."
At the same time, they showed off their youthful sides in school-inspired and bright outfits.
2. "ICY"
ITZY's first comeback as a group was with their title song "ICY." They were as charismatic as ever with their confident lyrics, makeup, and outfits!
Unlike "DALLA DALLA," they often wore brighter, more cool-toned clothing that gave them a refreshing aura.
3. "Wannabe"
"Wannabe" was the group's first comeback in 2020. They proved they were icons of the girl crush concept with their leather pants, cropped shirts, and string-laced tops.
They also had on fur coats, plaid skirts and yellow-toned dresses in other sets of stage costumes which gave them pops of color.
In their MCountdown performance, they brought out their sporty sides with track pants and sweaters with a twist! Ryujin wore a mesh top while Chaeryoung's bottoms had more creases than anyone else on stage.
Cool and different—that's ITZY!
4. "Not Shy"
When ITZY returned to the music scene five months later, they had on more experimental clothing that included different prints, cuts, and accessories including chains and harnesses.
Ryujin's animal-print biker shorts alone truly proved that they can make anything look good!
5. "MIDZY"
In contrast, their digital release "MIDZY" showed a softer and more feminine side to the girls that fans did not get to see in their previous releases.
They looked like angels in all-white pantsuits!
6. "In the morning"
Last but certainly not the least, ITZY recently made a comeback with "In the morning" (also known as "Mafia"). They were more charismatic than ever in their dark clothing.
Their maturity shone with their take on professional suits and ties. Of course, they jazzed them up with harnesses, chains, and boots.
From youthful to mature, ITZY's comeback style has certainly evolved! One thing's for sure, every era was gorgeous on their own.
Share This Post

Facebook
Next Page
Sours: https://www.koreaboo.com/lists/itzy-stage-outfit-style-evolved-years/
Outfit wannabe itzy
ITZY's highly awaited comeback is finally here! In the MV for their title track 'Wannabe', the girls delighted fans with the catchy tune and amazing dance breaks. On top of that, ITZY also showcased their flawless style throughout the video.
Here are ITZY's amazing outfits from the 'Wannabe' music video!
You might also like to read: ITZY – 'Wannabe' MV (With Hangul/Romanized Lyrics)
Please note: This post contains affiliate links to products we trust and recommend. If you choose to purchase a helpful product using these links, we may receive a small commission for referring you – at no extra cost to you. These funds help us keep this blog up and running.
ITZY's 'Wannabe' MV Fashion
Yeji's Look #1
Yeji stole the scene with this white O-ring crop top from Reinaldo Lourenco paired with a dark skirt and the Monolith leather boots from Prada.
Shop the Look for Less
Yeji's Look #2
In another outfit, Yeji mixed and matched cool pieces such as this GCDS embroidered logo mini dress (worn as a top) and a pair of printed cotton jeans from Jeremy Scott.
Shop the Look for Less
Yeji's Look #3
In another outfit, Yeji looked chic in all-black as seen in her GANNI feathery cotton blouse styled with the faux-leather trousers from Stella McCartney.
Shop the Look for Less
Yeji's Look #4
In a club scene, Yeji stood out in neon colors and wore this cool white Iceberg jacket with fluorescent details.
Shop the Look for Less
Yuna's Look #1
Yuna rocked prints in the music video with this tie-dye shirt from Dsquared2 and paired it with the Current Mood Mission Accomplished Utility Boots from Dolls Kill.
Shop the Look for Less
Yuna's Look #2
For her next look, Yuna put together a rocker-chic vibe featuring this cropped virgin wool sweater from Jeremy Scott, faux leather shorts from MSGM, and a crystal-embellished belt from Philipp Plein.
Shop the Look for Less
Yuna's Look #3
A touch of yellow made Yuna's next outfit stand out thanks to this Bali layered dress from For Love & Lemons.
Shop the Look for Less
Yuna's Look #4
Shop the Look for Less
Ryujin's Look #1
Meanwhile, Ryujin made sure to have fun with her Alexander Wang cropped top and added her own spin to it with pins. She then paired it with the pleated tartan-check mini skirt from Chopova Lowena.
Shop the Look for Less
Ryujin's Look #2
She also rocked a Jeremy Scott piece and wore this cropped printed denim jacket with a pair of thigh-high boots from Saint Laurent.
Shop the Look for Less
Ryujin's Look #3
For added shine, Ryujin made sure to wear this Mi Luna Ring from OneEnough and this pair of Club Exx Bling Brigade Pocket Combat Boots from Dolls Kill.
Shop the Look for Less
Lia's Look #1
Count on Lia to steal the show with her ensemble featuring her version of the Ruched checked dress from Proenza Schouler, Bored crystal-embellished hairpins from Ashley Williams, Manokhi gloves, and the Stretch-leather thigh boots from Rick Owens.
Shop the Look for Less
Lia's Look #2
Lia also made her chic-princess statement with this printed leather dress from Jeremy Scott.
Shop the Look for Less
Lia's Look #3
Looking for the modern LBD, take cues from Lia and her cool dress from Natasha Zinko.
Shop the Look for Less
Lia's Look #4
Lia can also be spotted adding a feminine touch to her outfit with the crystal-embellished knitted top from No. 21.
Shop the Look for Less
Chaeryeong's Look #1
Chaeryeong looks cool in her modified version of the check print ruched dress from Ganni styled with the leather rosary belt from Dsquared.
Shop the Look for Less
Chaeryeong's Look #2
To complete ITZY's matching looks, she also donned a high waist sequined skirt from Jeremy Scott paired with the Esme newspaper-print mesh top from Marques Almeida.
Shop the Look for Less
Chaeryeong's Look #3
She also elevated the game of layers and open tops with this Wally open knitted top from Ann Demeulemeester.
Chaeryeong's Look #4
For her lady boss look, Chaeryeong graced the video while wearing this oversized plaid blazer from Danielle Guizio styled with the Lion head choker with Double G from Gucci, and a pair of black web Gucci boots to nail the outfit.
Shop the Look for Less
If you like this post, share it with a friend who might like it as well. And don't forget to follow our Facebook Page for more news on Korean fashion & beauty!
Sours: https://inkistyle.com/kpop-fashion-itzy-wannabe-mv/
Itzy ~ Wannabe stage outfit mix 💙
Degree and the sexiest figure at the institute in the category of teachers. She easily gave odds to any student in terms of external charm and attractiveness. The dream of all the boys, students, at twenty-eight was not married. Austere dress style, passion for motorcycle racing (she rode a motorcycle on weekends, dressed in biker rags, in her case, supersexy) and freedom in.
Now discussing:
And you face a long time. Or - and here she paused. And, what or, - I asked, in a trembling voice. You will marry me. Susan while she is not married can take part in our games.
1511
1512
1513
1514
1515