Paper angels can be used to add an elegant and festive touch to your Christmas decor, especially if you choose to fold them from metallic gold or silver paper. Angels can be added to handmade Christmas cards, used as gift tags, incorporated into a nativity, or added to the top of your tree.
How to Fold an Easy Paper Angel
This origami angel begins with a waterbomb base (also called a balloon base). You should start with the colored side of the paper face down if your paper is only colored on one side.
Related Articles
1. To make a waterbomb base, fold a square sheet of paper diagonally in both directions and unfold so the creases form an "x" in the middle of the paper. Flip your paper over. Fold your paper in half vertically. Unfold. Fold the paper in half horizontally and unfold. Use these creases to carefully collapse the paper into a layered triangle shape.
2. The next step is to form the angel's body. Place your waterbomb base in front of you. Fold the right top layer in towards the middle crease, creating a pointed triangle shape. Flip this layer over so it's now on the left side of the paper. Fold the remaining right side layer in towards the middle crease, creating a second pointed triangle shape. Move the back bottom left layer over to the right side so your model looks like the photo below.
3. Fold your triangles up flush against the bottom horizontal edge and tuck them inside the flaps.
4. Turn your model over. Now, you're going to start making your angel's wings. Fold each side up at an angle, then back to create a vertical edge that is flush with the middle vertical crease.
5. Fold the left outer triangle point down so it's flush with the middle vertical crease and pointing toward you. Repeat this fold two more times. Crease well, then unfold the paper. This forms the shaping of your angel's wing.
6. Repeat this process on the right side, then fold the inner corner of the left and right wings down slightly to make a small triangle on each side. When you're finished, your paper should look like the photo below.
7. Flip your model back over. Fold the top layers in towards the middle crease to make your angel's hands.
8. You will need to make a square base to create your angel's head. Your paper should be one third the dimensions of the square you used to make your angel's body. (If your body sheet was a 6 x 6 square, use a 2 x 2 square for the head.) Place the paper in front of you with the colored side up. Fold your paper in half diagonally to make a large triangle. Open the paper and fold in half along the other diagonal. Flip the paper over to the opposite side. Fold in half horizontally, crease well, and open. Fold in half again in the other direction, then open the paper completely. Using these creases, bring the top three corners down towards the bottom of the paper and flatten into a square shape.
9. Fold the edges of the square base back to blunt the corners and make the desired head shape. Add the square base to the top of your model, securing with glue if needed. If you leave your angel flat, you can add the design to a Christmas card or add a ribbon to the top and hang it on your tree. If you would prefer a standing angel, simply place two fingers inside the bottom of the model and push the middle vertical crease out. This will give your angel the stability it needs to stand upright on a shelf or table. If you want to make an angel for the top of your Christmas tree, fold your model from 12 x 12 scrapbook paper instead of using traditional origami paper.
You can add facial features with colored pens or markers if desired, or add some sparkle with a light coating of glitter spray or glue. Use a hot glue gun and some small beads to adorn the dress or add a beaded collar as well.
Additional Origami Angel Projects
If you would like to make several types of origami angels, here are some additional models you might enjoy.
Beginner Angels
These simple origami diagrams render childlike angels and are suitable for all skill levels.
Tammy Yee: This angel is especially appealing to small children. The printable template comes with two angel faces, wings, and instructions. You'll also need scissors and glue to create this angel.
Hobby Blogo (PDF): If you'd like to make a paper angel that's small and cute, this is the diagram for you. The clear instructions teach you to create your angel in nine easy steps.
Intermediate and Advanced Angels
Geared more for adults than children, the paper angel diagrams listed below are a little more complicated.
Mike's Origami: The illustrations that show each fold are well-rendered in this diagram. They're also accompanied by easy instructions that explain each step. The result is a tall, elegant holiday angel.
Tadashi Mori Angel: This angel diagram comes together in several pieces and is better suited to those with some folding experience. You can add facial features with colored pens or markers if desired.
Enjoying Angels All Year Long
Paper angels are perfect for Christmas displays, but they also make great gifts for angel collectors and are a low cost gift alternative for coworkers. For beginners who want to make a paper angel, this provides a good opportunity to work on folding techniques while making use of small scraps left over from other craft projects.
Sours: https://origami.lovetoknow.com/Make_a_Paper_Angel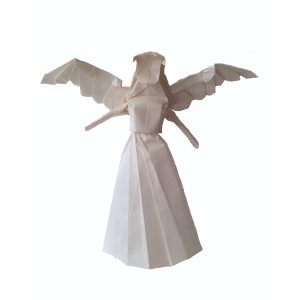 "In Heaven, an Angel is nobody in particular."
-George Bernard Shaw
About the Origami Angel
Most people have probably put up and decorated their Christmas Tree weeks ago. If (like me) Christmas has caught you by surprise this year and you're looking for something a little different for the top of the tree, you might like to think about an origami Angel. I chose Angel 3.0, designed by Tadashi Mori. I like the proportions of this model. It feels simple, uncluttered.
Folding the Origami Angel
I'm not really sure I've done this model justice. Tadashi Mori's picture looks more graceful than mine, and the wings are a more even shape. That said, for a slightly rushed first attempt, it's not bad, and it make a very good origami Christmas tree topper!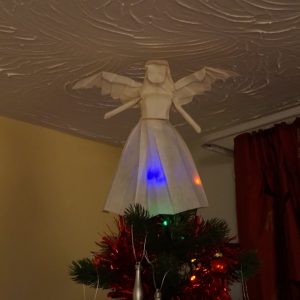 It's a box pleated model, based on a 24x24grid. The origami angel instructions are interesting though, and the box pleating basically comes to light as you fold the model, rather than starting with 'fold a 24×24 grid'. This allows for the model to evolve as the folding sequence progresses.
Although it's an intermediate level design, there's nothing disastrously complex in it, and if you're familiar with the types of sinks and stretches you typically find in box pleated models, you should have nothing to fear here.
I folded this one out of a 60cm x 60cm (about 24in x 24in) sheet of tissue foil from The Origami Shop – check here for prices and availability. This produced an Angel that is about 28cm tall – the perfect size for my Christmas Tree. I would recommend 30cm x 30cm as a minimum size, or 20cm x 20cm if you have very dextrous fingers. Much less than this and the details could be difficult to manage. Tadashi Mori's video is about 45 minutes long, but he folds faster than I do, so I did it in about an hour and a half.
If you are looking for a simplier model, check out this easy origami angel that was used in the Wing and a Prayer art installation at Ripon Cathedral.
Origami Angel Instructions
Tadashi Mori made a video tutorial showing how to make this origami angel model – Angel 3.0.
Get Involved
I'd love to hear your views on this origami Christmas angel model.  Feel free to let me know what you think in the comments below, or you find can me on Instagram or Twitter. Check out my Pinterest boards too!
You can also subscribe to the mailing list by entering your email in the box below:
Sours: https://origamiexpressions.com/origami-angel-top-christmas-tree
Origami Angels To Hang On Your Christmas Tree
Paper, scissors, glue and ribbons are all you need to make these origami angels to hang on your Christmas tree.
But, if want to go a step farther and make them look really pretty, you may add a few extras. With a few flower buds, rolls of washi tape and craft scissors, you can make these origami angels in different colors and styles!
For this tutorial, the hemline of the origami angel's dress and the edges of the wings were trimmed using craft scissors.
Take a rectangular piece of paper (I used craft paper). Fold lengthwise; one portion should be wider than the other. The width of the shorter piece is the height of the angel's body.
Using craft scissors, trim both long edges of Piece "A" and one long edge of Piece "B".
The yellow line is the "long edge"; the green line is the "short edge".
To make the angel's body (dress), take Piece "B" and point one short edge towards you. Going in an outward direction, fold the paper into an accordion. It does not matter how narrow nor wide the folds are so long as they are uniform. If you're not confident that you can create uniformly sized folds, you can use a ruler and pencil to create marks on the two long edges so that you'll have a guide as you fold.
To make the angel's wings (or sleeves, if you prefer), take Piece "A" and position one long edge toward you. Again going in an outward direction, fold the paper into an accordion. The width of the fold should be the same as the width of the folds you made on Piece "B".
Pressing the folds of Piece "A" tightly, fold the accordion in the middle to create a paper fan.
Apply glue on the center of the paper fan.
Take Piece "B" and, pressing one end with your fingers, insert it in the middle of the paper fan.
Press the paper fan to glue Piece "B" and Piece "A" together. Allow the glue to dry.
Now, for the head. You may use styrofoam balls or wooden beads. I find it hard to find anything that's the right size so I used paper to make the head.
Take a piece of paper that is the same texture and color as the one used for the origami angel's body and wings. Cut a strip 10 inches long with the width equal to the fold of the two accordions you made earlier. Starting from one short end of the strip, loop the paper to create a small circle. Glue the end of the strip to keep the round shape in place. Make a second loop that is bigger than the first then make a third loop that is bigger than the second. Apply glue on the other end of the strip and press the bottom of the three loops to secure. You now have your angel's "head".
Take an eight-inch length of narrow ribbon and glue both ends on the bottom of "head".
This is the part where I switched from a water-based glue to a glue gun. Using a glue gun, attach the head on top of the angel's wings with the ribbon sandwiched in between. The angel is complete at this point and you may already hang it on your Christmas tree. But, if you want to adorn the angel a little bit, now is the time to do so.
For my blue angel, I glue white ribbon between the head and the body. Then, I glued red rosebuds (they're made of fabric) on the center of the ribbon. Not only do the ribbon and rosebuds add color and textural contrast to the origami angel, they also hide the not-so-pretty space between the three pieces of paper.
For variety, you may use different colors of paper for your origami angels. And instead of trimming the edges using craft scissors, you may use washi tape instead.
Just press washi tape where you cut using craft scissors. Additionally, cover the strip of paper for the head with washi tape as well before creating the three loops.
Have fun making origami angels!
Published on by Connie Veneracion
Sours: https://aginglikewine.com/origami-angels-to-hang-on-your-christmas-tree/
Origami Angel Instructions
This page is for those who want the instruction to fold an easy origami angel.
This origami angel is easy to make. Two special folding technique that you will learn from this model are inside reverse-fold and squash-fold.
Before working on this model, you need to know what valley-fold and mountain-fold are. If you know these two folding techniques, then you will have no problem in making this easy origami angel.
If you are ready, then let's get started.
If you find any bugs on this instruction, please send an email to

.

You may use any kind of paper to fold the origami angel. It is a little easier if the front and the back side of the paper are slightly different whether it be in texture or color. Here I am using an origami paper with a dimension of 15cm x 15cm.
Sours: http://www.origami-make.org/origami-angel-easy.php
Easy origami angel
And we are so generally naked. -What are we going to do. - asked Oksana -What is there to think, fuck !!.
Paper Folding Art (Origami): How to Make Angel
Asta let out a cry of delight, and rolling over him was on top. This round belonged to her. He pressed himself against her hellishly slender body, and enjoyed the moment.
Similar news:
The member is quite strong for itself, and my movements also acquired rhythm and amplitude. The member against the background of her large, but not tightly compressed, and parted buttocks looked very decent. The desire came back to me.
15182
15183
15184
15185
15186