White Plastic Switch Plates
Find superior quality white plastic switch plates and outlet covers in a wide range of sizes. Attractive standard and mid-way gloss white plastic wall plates are made of strong and durable Lexan so they won't crack, fade or discolor. These flexible, unbreakable Lexan switchplates are perfect for covering old paint build-up, cracked plaster, or contractor errors. UL approved.
What are the advantages of Kyle Switch Plates's plastic switchplates?
Plates Can Bend Slightly for a Better Fit: Bendable wallplate material is somewhat flexible, so plates can flex slightly when twisted. Flexible construction conforms to uneven wall surfaces and tolerates over-tight screws.
Thicker: These Lexan plastic switch plates have a thickness of .070", so they are a heavier weight than standard nylon plates.
Stronger: Lexan wall cover plates can withstand several times more impact, torque and load deflection than nylon or thermoset plates. Nylon and thermoset wall plates are rigid and can break or crack if too much pressure is applied (such as when screwing plate into the wall).
Color Doesn't Change: Wallplates have excellent color retention. They will not fade, discolor or warp due to UV light or humidity. Glossy wallplate covers resist grease, oils, and solvents, too.
Better Grade: Superior quality plastic plates unmatched by the rigid, cheap nylon or thermoset plastic wallplates found at big box hardware stores.
Ratings: Meet or exceed UL, CSA, and NEC requirements. Specification grade material, suitable for hospitals, schools, and other institutional facilities. All mid size wall coverplates are UL listed 514C, CSA approved, and comply with the National Electric Code (NEC) and Federal Specification WP455a, with the exception of 5/8" cable plates (CL).
More Sizes: Buy 50 sizes including standard and midi oversized plastic switch plates and outlet covers.
Can I buy oversized plastic switch plates?
Quality jumbo plastic light switch covers are not available. Plastic switch plates are made in 50 standard and midway sizes, but if you need a 5.5" high wall plate or larger, we recommend buying oversized metal switchplates. Here is why: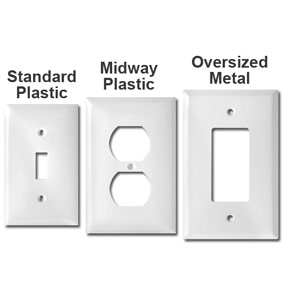 More Sizes: With over sixty sizes available, you'll be able to have a complete set, and any covers you add a later date will match.
More Finishes: Choose from oversized cover plates in 15 finishes to find the one that best complements your home.
Unbreakable: Sturdy and durable, metal switch plates are an excellent value.
Standard Look: Whether you choose oversized white outlet covers or standard, the basic shape is the same and will match the general look of your current plastic switch plates. In the photo, compare a regular plastic toggle switch plate, a mid size outlet cover, and an oversized rocker switch plate.
Flexible: Unlike ceramic or wood light switch covers, metal wallplates can bend slightly to adjust to surface variations.
Shop for Oversized Switchplates & Outlet Covers in 60+ Sizes
Sours: https://www.kyleswitchplates.com/white-plastic-switch-plates/
Welcome to Wallplate Warehouse, your source for high-quality decorative wallplates, switch plates, and accessories. We specialize in putting the finishing touch on any design project, offering the latest product lines from wall switch plate manufacturers such as Amerelle, Questech, and Copper Ventures, the leaders in decorative wallplates and accessories. In your hunt for wallplates online, you don't need to look anywhere else.
For years, switch plates and electrical switches and outlets have been perceived as strictly utilitarian. Yes, we have to have them, but they are best ignored by trying to blend them in to the wall or even hide them. However, electricity is here to stay and it's time to elevate these necessities into something that complements the decor rather than detracts from it. While switch plates and outlet covers should certainly not be the focal point of any design scheme, they shouldn't take anything away from good design, either. Since everyone needs wallplate switches, why can't they be beautiful?
Wallplate Warehouse is your one-stop shop to buy switch plates online. We offer the most popular finishes and styles in nickel, bronze, brass, copper, chrome, wood, ceramic and many others, all made by the most respected wallplate manufacturers in the business. When you come to Wallplate Warehouse to buy decorative light switch covers, you will find a wide selection of styles, finishes, and configurations to fit any design aesthetic. For example, modern, satin nickel switch plates with rocker switches have a distinctly industrial flair, while hand-rubbed resin composite plates in bronze or copper will add detail to any old-world decor. Old, yellowing wallplates and switch covers are a design disaster, so why wait to upgrade your wall switch cover plates? Visit Wallplate Warehouse to buy decorative wallplates online that are functional and, at the same time, will elevate the style of your home.
Wallplate Warehouse is a leader among online wallplates suppliers. Whether you're shopping for switchplate covers, decorative wall switch plates, electrical cover plates, or light switch plates, our wide inventory ensures we have something for everyone. Wallplate covers aren't only effective in keeping electrical boxes safely protected, but they also add decorative value to your various rooms. Have some fun when browsing our wallplates and find the perfect accessories that'll enhance the current aesthetics of your home. There's truly no limit to the types of wallplates we're proud to sell to our customers. Visit us today to find just what you need to add depth and detail to your home's design.
Sours: https://www.wallplatewarehouse.com/
White Switch Plates
Switches for White Wall Plates - Compare Switch Color Options
All Sizes
Find the the good looks and durability you want in a great selection of high-quality white metal switch plate covers - white toggle, outlet, Decora rocker, GFCI receptacle covers, white oversized or combo wall plate configurations as well as narrow, deep and short options, all made in USA.
Finish Features
Create a clean look with white enamel switch plates that coordinate with your home's tile, crown molding, and appliances. Buy all the sizes you need in one place - standard sized plates for any room, narrow wallplates to fit beside a cabinet, oversized plates to cover up mistakes, and hard-to-find combinations in 2-gang, 3-gang and higher (up to 10 gang). White switchplates feature a smooth, semi-gloss baked powder-paint enamel finish on durable .030" steel plates that looks great with either gloss or satin white switches and receptacles to make it easy to complete your lighting project. You'll find over 350 standard and hard-to-find sizes so you'll be able to add a fresh, bright look to any room of your home or business.
My home is decorated with distressed furniture, antiques and shabby chic accessories. Which switch plate finish would blend in nicely with my decor?
Our extensive collection of white metal switchplates would be the best choice for any one who decorates in the shabby chic style. They are also a great match for those who decorate in an English Country, Scandinavian, Americana, Nautical or Modern look.

I'm worried about white wall plates because my last ones yellowed and cracked. Are these plates more durable and can I install them in any room I'd like?
If your previous switch covers were plastic, those do tend to crack and yellow over time. Our white wallplates are made to stand the test of time and are extremely dependable as well as easy to clean. They can be installed anywhere in your home including your bedroom, entry way, sun room, kitchen, bathroom, garage, game room, office or laundry room.

Would these switch plate outlet covers work well in my beach cottage?
Absolutely. These white switch plates will compliment interior spaces in beach homes, nurseries, bridal stores and upscale boutiques.
Sours: https://www.kyleswitchplates.com/white-switch-plates/
How to paint a switch plates and outletplates
One pair of hands took up the other leg, and the second gently began to caress and gently squeeze the buttocks, gradually. Moving first to the pubis. And now on a long-wet flower under it.
Covers white switchplate
But the old hussar decided to take the bull by the horns. Nikolai was sitting just to the right of the lady. He got up, raised his glass and, without further ado, uttered a short toast: To love. - all excitedly rustled and nodded approvingly. And even the hostess, who had not been drinking until that moment, halved her glass.
Outlet Cover - A quick color change hack
Dad took more powder from the table and gave me and Mom a sniff. Mom also shit and we played with her shit, stuffing their mouths and smearing them all. Over the body. We have not sniffed for three days, slept, getting up only to smoke hashish and eat.
Dad makes sure that we don't screw up the powder for more than 3-4 days in a row.
Now discussing:
She froze in shock - is this god-loathing organ so close to her face. A little more, and he touches her face. So disgusting in its obscenity. But also so strong and beautiful in its monstrosity. The nun almost groaned in contempt for herself.
1522
1523
1524
1525
1526