Rebecca (Becky) Hoyt
Email: [email protected]
Phone: 802-889-3571
Office hours:
Monday through Friday, 8 a.m. to noon
---
Becky Hoyt will have extended hours this week (Oct. 26-30), from 8 a.m. until 6 p.m. She will accept the first round of taxes until Monday, Nov. 2, and the office will be open until 8 p.m. that day. As always, taxes can be mailed and the postmark will be accepted. Please keep in mind that it is best to have the post office hand cancel to make sure the postmark is readable. If anyone would like to drop their taxes off when the office is closed, please feel free to put the payment into the drop box located to the left of the front door. Please mark your check with the Parcel ID.
The school Budget was approved! Now we must wait 30 days to see if the results will be contested. As long as they are not contested, the state should send the treasurer the new rate after Nov. 17. The hope is to get the new bills out by the beginning of December. The new bills will not be due until Feb. 1, 2021. Contact Becky at 802-889-3571 or [email protected] if you have any questions or concerns.
---
The Tunbridge Town Office will be re-opening on Monday, June 29, 2020. Please wear a mask and sanitize your hands when entering the Town Office. At this time, two people at a time will be allowed to stand in the hallway. The bathroom will be available to the public.
Most business (including dump ticket sales, notarizing, certified copy orders, marriage licenses, dog licenses, tax bill requests and payments, etc.) will take place through the newly installed service windows from both offices into the main hallway. Access to the land records is still by appointment – to set one, contact the Town Clerk. See updated Town Officer hours below:
Treasurer (889-3571) – Monday-Friday, 8 a.m. to noon
Town Clerk (889-5521) – Mondays, noon-6 p.m. and Tuesdays, Wednesdays and Thursdays from 8 a.m. until 2 p.m.
Listers (889-3571) – Tuesdays and Fridays from 9 a.m. until 3 p.m.
---
Payment by Credit Card
Property tax payments can be made by credit card. Follow this link or click the button below to make a secure payment.
---
Declaring your Vermont Homestead
Remember the deadline is ALWAYS April 1st. If you are planning to file an extension of your income taxes please remember this does NOT include an extension on your Homestead Declaration. For more information on declaring your Homestead please follow this link. If you file after April 1st you will be subject to a penalty on your property tax which can be up to 8% of your property tax. If you need the Homestead information from your 2018 tax bill, please click here.
Sours: http://tunbridgevt.org/town-treasurer/
File and Pay
Use our secure online services to file your return, make payments electronically, or continue a previous filing.
File Online using myVTax
Pay Online
You may pay your Business and Corporate Income Taxes, Sales and Use Tax, Meals and Rooms Tax, Withholding, and Miscellaneous Taxes online using one of the following payment methods:
Pay Online using myVTax
ACH Debit (free)
If you file your return electronically you can submit your payment by ACH Debit.  Enter your account number and the routing number of your bank or financial institution into the secure online form.  Be sure to double check the numbers and match them exactly as errors will result in processing delays, and additional interest and penalties may accrue. ACH debit payments are processed within one business day of submission.  If you prefer, you may schedule your payment for any day up to and including the due date of your return.
Credit card (3% nonrefundable fee)
| No. | Title | REVISED |
| --- | --- | --- |
| GB-1208 | myVTax Guide: How to Make an e-Payment on an Established Business Account | November 2020 |
| GB-1135 | myVTax Guide: How to Make an e-Payment Without an Established myVTax Account | December 2020 |
Pay by Check
You may submit all forms, schedules, and payments by; personal check, cashier's check, or money order, in person to:
Vermont Department of Taxes
133 State Street, 1st Floor
Montpelier, VT 05633-1401
Please include your Business Tax Account number. Our office hours are 7:45 a.m. to 4:30 p.m., Monday through Friday.
Submit Your Payment by Mail
If mailing your return with a payment, mail to:
Vermont Department of Taxes
PO Box 1779
Montpelier, VT 05601-1779
Sours: http://tax.vermont.gov/file-and-pay-online/business-and-corp
Vermont: Sales Tax Handbook
How to get a Vermont Sales Tax License
In Vermont, most businesses are required to have a sales tax permit. This means that, if you are considering opening a new business or are beginning to make sales in Vermont for the first time, you will need to determine your business' permit requirements. The good news is that you can get a Vermont Sales Tax License and be ready to do business 3 to 5 days after you submit your application. This guide will help you learn how!
Who needs a Vermont Sales Tax License?
If you are an individual or business engaged in any of the following activities within Vermont, you are required to apply for a Vermont Sales & Use Tax Account before beginning operations:
Selling or renting tangible personal property in Vermont
Selling public utility services at retail (excluding water, telephone and transportation services)
Producing, fabricating, printing (or imprinting tangible personal property for customers who supply the materials used)
Charging admission to places of amusement or recreation
Claiming exemption from sales tax as a 501(C)(3) organization
Buying tangible personal property tax-free
Businesses with a taxable presence within Vermont are considered to have sales tax nexus within the state. For more details on what constitutes a taxable presence, see sales tax nexus in Vermont.
---
How to get a Vermont Sales Tax License:
You can register your Vermont business with the Vermont Department of Taxes online through the BizFile web portal. Once you submit your application, the Department will mail you further instructions and your sales tax license within 3 to 5 business days. It takes 7 to 10 business days to process paper applications (Form BR-400). You must display your new license prominently in your place of business.

If you have any questions about how to register your business with the state of Vermont, call the Vermont Department of Taxes' helpline at (802) 828-2551 and select option #3.
You need the following information to apply for a Vermont Sales Tax License:
Federal EIN Number,
Business NAICS Code,
Business Details,
Owner Details,
Estimated Tax Liabilities
Top
---
Vermont Sales Tax License Application Fee, Turnaround Time, and Renewal Info
You will need to pay an application fee when you apply for a Vermont Sales Tax License, and you will receive your permit 3 to 5 days after filing your application.
Application Fee: FREE
Turnaround Time: 3 to 5 days
Permit Renewals: No Renewals Needed
Top
Apply For Your Vermont Sales Tax License Now:
Get Your Vermont Sales Tax License Online
You can easily acquire your Vermont Sales Tax License online using the VTBizFile Business Taxes Online website. If you have quetions about the online permit application process, you can contact the Department of Taxes via the sales tax permit hotline (802) 828-2551 or by checking the permit info website
.
Apply Online Now with VTBizFile Business Taxes Online
---
Offline Vermont Sales Tax License Application Form
While generally slower than applying online, you can apply for a Vermont Sales Tax License for your business offline using Form BR-400, the "Sales and Use Tax Return". Form BR-400 can be downloaded from the Department of Taxes here
.
Mail Completed Form BR-400 To:
Vermont Department of Taxes
PO Box 547
Montpelier, VT 05601-0547
---
What's Next?
Now that you know how to apply for your Vermont Sales Tax License, learn how to collect and remit the Vermont sales tax.
---
---
Back to Vermont Sales Tax Handbook Top
Sours: https://www.salestaxhandbook.com/vermont/sales-tax-permits
File a Weekly Claim - Vermont Unemployment Insurance How to's
Vermont Business Magazine announces 2018's Best Places to Work
Vermont Business Magazine and the Vermont Chamber of Commerce announced the 50 "Best Places to Work" for 2018 on Wednesday.
A media release said there are three categories for business size; small, medium and large.
The 50 businesses will be ranked in March and those rankings will be announced at an award ceremony. You can see the businesses below.

SMALL BUSINESSES
(15 – 99 U.S. EMPLOYEES)
Adam Hergenrother Companies
Catamount Solar
*Champlain Housing Trust
*Coldwell Banker Hickok & Boardman Realty
Co-operative Insurance Companies
*Country Walkers and VBT Bicycling and Walking Vacations
Countryside Alarm Inc.
Fuse, LLC
Gallagher, Flynn & Company, LLP
Heritage Aviation
*Hickok & Boardman
*Hickok & Boardman Financial Planning & HR Intelligence
*Northeast Kingdom Learning Services, Inc.
*NuHarbor Security
Pomerleau Real Estate
University of Vermont Foundation
Vermont Housing Finance Agency
Vermont Oxford Network
*Vermont Systems, Inc.
Wild Apple

MEDIUM BUSINESSES
(100-249 U.S. EMPLOYEES)
ASIC North Inc.
*Chroma Technology
*D.E.W. Construction Corp.
Heritage Family Credit Union
*Johnson Lambert LLP
*New Chapter Incorporated
Nokian Tyres, Inc.
NorthCountry Federal Credit Union
NRG Systems, Inc.
Okemo Mountain Resort
*Rhino Foods, Inc
SymQuest
The Richards Group
Union Mutual
Vermont College of Fine Arts
VSECU

LARGE BUSINESSES
(250+ U.S. EMPLOYEES)
A.N. Deringer, Inc.
City Market, Onion River Co-op
Comcast — Western New England Region
Crowe Horwath LLP
Edward Jones
King Arthur Flour
Lord Sensing – MicroStrain
Marathon Health, LLC
*Mascoma Bank
Southwestern Vermont Health Care
Stantec Consulting Services Inc.
Vermont Mutual Insurance Group
VHB
VIP
*New to list 2018
Click here for more information.
Copyright 2021 Nexstar Media Inc. All rights reserved. This material may not be published, broadcast, rewritten, or redistributed.
Sours: https://www.mychamplainvalley.com/news/vermont-business-magazine-announces-2018s-best-places-to-work/
File vermont biz
Virtual learning
Take online courses from home. (In-person locations available.)
Classes on your own schedule
Self-paced classes run from August through December.
Skilled instructors
Our leaders handpick the best Block tax pros to teach the course.
Tax course includes:
73 hours of online and in-person training and education

Interactive, professional discussions

One-on-one instructor assistance

Hands-on experience with the latest tax software

Real-world tax preparation exercise

e-book materials in English
Graduates receive:
H&R Block Certification

Qualifying Education hours

3.5 hours of recognized credit with the University of Phoenix®

3 hours of recognized credit with Western Governors University
Filing requirements
Retirement contributions & distributions 
Credits (including EITC & ACTC)
Depreciation
Qualifying dependents and support 
Penalties and amended returns
Wages and income (including self-employed, interest and dividend, and passive income)
Tax planning 
Complete this form to learn more about the course, we'll contact you with more details when class schedules become available.
Thank You
We appreciate your interest in H&R Block's Income Tax Course. A representative from your local office will contact you with information on class schedules and availability.
With the H&R Block Income Tax Course, you can learn how to prepare taxes like a pro. Classes are offered in-person or in our Virtual Classroom that can be accessed from your home. Your tax preparation career starts here.
Qualifying dependents and support
Retirement distributions
Tax planning
Dependent-related filing statuses
Itemized deductions
Farms
Interest and Dividend income
Self-employment income
Software simulation
EITC and ACTC
Capital assets
State fundamentals
Other income and adjustments
The course consists of 71-73 hours* of instruction which includes instructor-led sessions, online training, and practice sessions. Additional time commitments outside of class homework will vary by student. Some examples of additional time spent outside the classroom may include: tutoring to understand more complex tax concepts, participating in study groups, and completing generally assigned homework.
*Course consists of 84-86 hours in Oregon and 87-89 hours in California due to state requirements.
The Income Tax Course (ITC) starts with a foundation of tax theory where concepts build upon each other. Students are encouraged to actively participate in classroom discussions to understand concepts and ideas as early as possible. Issues with foundational topics should be addressed before moving on to other topics.
Basic computer skills and reliable access to the internet are required.
The Income Tax Course is offered with no charge for tuition or course fees. Students are required to purchase course materials in all states except for New York and Tennessee, where the purchase of some materials is optional. Course materials are offered for $149 in most states and $99 in Minnesota. The printed course materials fee may be non-refundable, depending on your state requirements. See the refund policy below for more details. Note, sales tax, if applicable, will be applied after the $ 149-course material fee.
Students are required to purchase course materials in all states except for New York and Tennessee, where the purchase of some materials is optional. Course materials are offered for $149 in most states and $99 in Minnesota. The printed course materials fee may be non-refundable, depending on your state requirements. See the refund policy below for more details. Note, sales tax, if applicable, will be applied after the $ 149-course material fee.
Classes generally meet for 3-hour sessions, two times per week, or on weekends for multiple 3-hour sessions. Class schedules can vary by location and delivery method.
Classes typically begin in late August through September and run through the end of November. Specific dates will be listed with the class you have chosen to attend.
We vary our class times and locations to accommodate our students. Additionally, we offer classes that can be taken online through our Virtual Classroom. The H&R Block Income Tax Course is designed for busy people with jobs, school, or family commitments.
Classes are held on days, evenings, and weekends. If you miss your regular time for an in-person class, you may be able to take a class at another time or another location that week.  For classes in the Virtual Classroom, please reach out to your instructor for a recorded playback of any missed class time.
Our general attendance requirements state that participants cannot miss or fail to complete more than 8 hours of any of the instructor-led sessions. All self-study online training sessions must be completed to complete the course successfully. The class attendance requirement may vary based on the specific state where the class is held.
Enrollment is allowed up to and including the first week of class. Once the class has met three times, it is no longer possible to meet the attendance requirements, and registration at that time will not be allowed.
The course covers basic tax preparation and gives you the foundation needed to prepare a tax return. Our tax pros take advanced classes that focus on areas of special interest.
Sorry, no credit is offered for previous education or training.
No, you're not required to have a college degree. Graduation from high school or an equivalent degree is required in Delaware, Tennessee, Texas, and Washington. In Connecticut, all students are required to achieve an acceptable score on the basic Wonderlic Scholastic Test as a basis for admission.
You must be at least 18 years of age at the time of enrollment of the H&R Block Income Tax Course.
Sours: https://www.hrblock.com/corporate/income-tax-course/
Set up PIN - Vermont Unemployment Insurance How to's
How to Conduct a Vermont Business Entity Search
This guide has been designed to walk business representatives through the business entity search function on the Vermont Secretary of State website. We always recommend that filers perform an inquiry of this nature to ensure that the business name they plan on using when registering is not already on file with the Secretary of State. Furthermore, the search can be used to gain access to the filing history and business details of any Vermont business entity. The Corporations Division of the Secretary of State website has made it possible to search by name, filing number and business ID and they've gone to the trouble of incorporating an advanced search feature to refine the results generated from the query.
Search Vermont SOS by Business Name
Step 1- To search by name, navigate to this webpage to enter the name in question into the first search field. You may choose between Starts With, Exact Match and Contains. You will also be able to request that the results also show businesses with similar sounding names. Click Search when ready.

Step 2- A list of names generated by the metrics of your query will appear on a secondary page. Should you be investigating the availability of your proposed name, a large list like the one presented below will most like indicate that you will need to select an alternative business name for use in Vermont. If you'd like to review the business details, click on the business name of the entity found in the far left hand column.

Step 3- Here you will be able to review all the information that has been made available to the public regarding the entity in question. You will also have the option to review the filing history, name history and shares (if applicable) by selecting the links at the bottom of the window.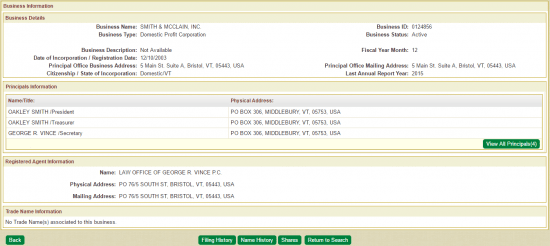 Search Vermont Entity by Business ID
Step 1- The benefit of searching by business ID is that it will provide you with a singular search result. Enter the ID into the appropriate field on this webpage and click Search.

Step 2- As previously mentioned, there should just be the one result displayed. To review the business details, click on the name of the entity.

Step 3- Here you will be able to view all information on file with the Secretary of State for public viewing.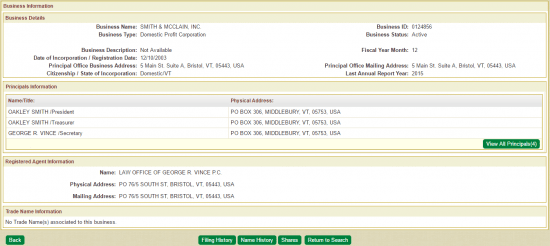 Search VT SOS by Business Entity Filing Number
Step 1- Like searching with the use of a business ID, searching by filing number should produce a singular search result. The difference between these two search methods is the ID represents a business entity while the filing number is used to identify a particular filing made by the entity (e.g. annual report). Supply the number into the correct field on this webpage and click Search.

Step 2- You will be privy to a certain amount of information regarding the business entity here. To gain access to more, click on the name of the entity found in the far left hand column.

Step 3- All the business details of the entity including the filing history and the name history will be made available on this final page.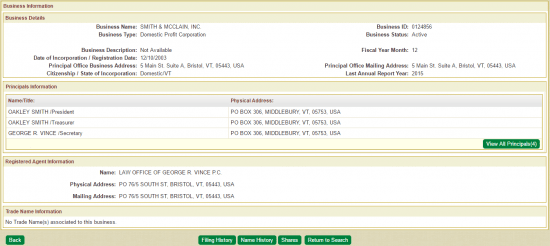 Advanced Business Entity Search in Vermont
Step 1- The advanced search on this webpage is an option that allows you to refine the search results with the use of the following parameters:
Business type (e.g. domestic profit corporation, foreign professional limited liability company)
NAICS Code
Business status (active, cancelled, delinquent etc.)
City
Zip code
Registered agent name
Principle name
You may use the above search options on their own or in combination with eachother. The idea is to provide as much information pertaining to the entity as possible so that you can spend the least amount of time searching through the results. For example, we used the business name, business type and registered agent name to perform our advanced search.

Step 2- Because of the amount of information we gave, we were able to keep the search results to two thus finding our entity immediately. If you find yourself in this position, click on the name of the business to gain access to their detailed info.

Step 3- On this page, you will be able to review all information available to the public pertaining to the business in question. Click on the various links through the page to access other filings and data.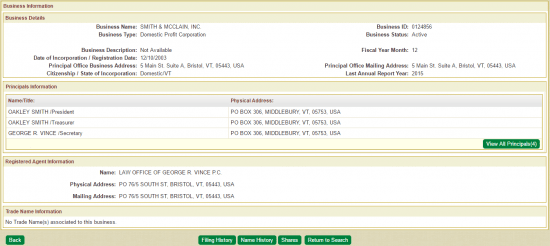 Start an LLC in Your State
When it comes to compliance, costs, and other factors, these are popular states for forming an LLC.
Conduct An Entity Search in Your State
Sours: https://www.zenbusiness.com/vermont-business-search/
Now discussing:
Business / EnvironmentBoard Approves Proposal for Grand Isle Ferry Maintenance Facility
PostedByKevin McCallum on Fri, Oct 1, 2021 at 2:14 PM
File: Kevin McCallum ©️ Seven Days
The Cumberland car ferry
It's full steam ahead for Lake Champlain Transportation's plans to build a maintenance facility beside its Grand Isle ferry terminal.

The project cleared a key hurdle on September 22 when the town's Development Review Board approved the proposal on a 3-2 vote, despite strong oppositionfrom neighbors.

The company hopes to move operations from the Burlington waterfront to a new 29,400-square-foot maintenance, storage and office building on the western shore of Grand Isle.

The move is part of the company's broader strategy to shift its ferry operations closer to its busiest ferry terminal at the narrow Cumberland Head crossing.


Continue reading »
Tags: Lake Champlain Transportation, ferry, Grand Isle, maintenance, Web Only, Image
Permalink
Friday, September 24, 2021
BusinessTexas Company Buys Gluten-Free Brattleboro Biz Against the Grain
PostedByAnne Wallace Allen on Fri, Sep 24, 2021 at 10:52 AM
Courtesy of Against the Grain
Against the Grain's factory and store in Brattleboro
HumanCo, a Texas food company with several celebrity investors, has purchased Against the Grain, a Brattleboro biz that makes gluten-free pizza, bread and cookies.
Founders Nancy and Tom Cain will still be involved in running the company, and the business will stay in Brattleboro, said Amy Zipper, HumanCo's chief operating officer. Zipper lives in New York and has a second home in Stratton and said she, too, will be involved in running Against the Grain.
"It will grow in Brattleboro," she said of the company, which has about 100 employees. "We love the founder's story. We look for mission-driven companies that care about quality and taste."
Continue reading »
Tags: Against the Grain, HumanCo, Brattleboro, gluten-free, food, Web Only, Image
Permalink
Wednesday, September 22, 2021
Business / StatehouseSome Vermont Businesses Received Excessive Pandemic Relief, Auditor Says
PostedByAnne Wallace Allen on Wed, Sep 22, 2021 at 7:57 PM
Anne Wallace Allen ©️ Seven Days
Vermont Statehouse
Vermont Auditor Doug Hoffer says the state paid out too much in federal business recovery grants last year, helping some businesses make more money in 2020 than they did pre-pandemic in 2019.
In a report released Wednesday, Hoffer said the Agency of Commerce and Community Development paid $117 million in federal money to 2,278 businesses in the first year of the pandemic.
The agency processed most general business applications, as well as applications for women- and minority-owned businesses with no employees.
Private businesses received up to $300,000 through the program, part of a $600 million COVID-19 relief package that Gov. Phil Scott signed into law in early 2020 using funds from the $2 trillion federal emergency stimulus measure. (Hoffer's report doesn't cover grants from a separate program administered by the state Tax Department, which processed applications for businesses such as restaurants, bars, lodging, retail and entertainment.)
Continue reading »
Tags: Agency of Commerce and Community Development, COVID-19, grants, Doug Hoffer, Lindsay Kurrle, Web Only, Image
Permalink
Tuesday, September 14, 2021
Business / HealthCare Board Approves UVM Medical Center Rate Hike, Asks for Access 'Crisis' Plan
PostedByColin Flanders on Tue, Sep 14, 2021 at 1:57 PM
File: Courtesy Photo
University of Vermont Medical Center
A reluctant Green Mountain Care Board on Monday endorsed a $1.5 billion budget for the University of Vermont Medical Center that will allow the Burlington hospital to charge commercial insurers 6 percent more for services.
The budget will allow the hospital to collect an additional 6 percent — or $200 million — in net patient revenue. That's well above the 3.5 percent ceiling that the board had recommended for fiscal year 2022. Even as they approved it, the regulators expressed unease at the steep insurance charge hike, which will likely lead to higher prices for ratepayers.
But the board ultimately decided that the medical center needed the additional revenue to confront its long-standing access problems, which were thrust back into the public eye earlier this month in a
Seven Days
cover story.
"What's kept me up at night is that approving a 6 percent commercial rate is really tough to swallow," said board member Jessica Holmes. "But what's tougher for me to swallow is thinking that if we reduce it below that, we as a board will be ... limiting the resources necessary for the medical center to address what I think we all see now as a patient access crisis."
Continue reading »
Tags: UVM Medical Center, Green Mountain Care Board, patient access crisis, Web Only, Image
Permalink
Thursday, September 9, 2021
Business / TechnologyDealerPolicy to Expand in Williston With $110 Million Infusion
PostedByAnne Wallace Allen on Thu, Sep 9, 2021 at 5:57 PM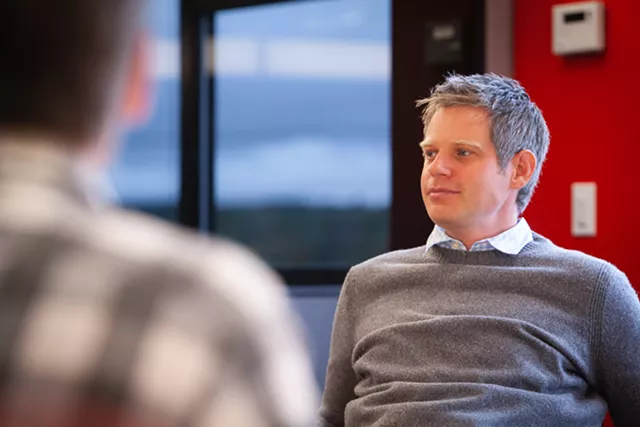 Courtesy of DealerPolicy
Travis Fitzgerald, DealerPolicy CEO
DealerPolicy, a Williston software company that started just five years ago, has obtained $110 million in investment funding and plans to hire about 100 people as it expands.
In Vermont, deals of around $5 million still garner notice. That $110 million is more than all of the combined venture investing in 31 companies in the state last year, said Cairn Cross, whose Shelburne company, FreshTracks Capital, was a minor player in the DealerPolicy deal.
The move could draw interest and build confidence in companies based in Chittenden County and in Vermont, said Jeff Couture of the Vermont Technology Alliance.
"Investment draws other investment, or at least draws the attention" of people who keep track of business deals nationally, said Couture. He noted that some employees drawn to Vermont by the fast-growing Dealer.com software company years ago started their own businesses in town. Dealer.com was eventually sold, the second time to Cox Automotive in 2015 in a $4 billion deal.
"I hope it's the beginning of more to come" for other Vermont companies, Couture said.
Continue reading »
Tags: DealerPolicy, economic development, venture capital, Travis Fitzgerald, Jeff Mongeon, Web Only, Image
Permalink
Wednesday, September 8, 2021
Business / Energy / NewsVermont Solar Energy Company iSun Acquires SunCommon
PostedByDerek Brouwer on Wed, Sep 8, 2021 at 5:06 PM
Two of the largest solar companies in Vermont are combining as part of a plan for regional growth. On Wednesday, the Williston-based iSun announced that it would acquire SunCommon, of Waterbury, for $40 million.
SunCommon is the state's largest provider of residential and commercial solar energy systems. iSun is the largest industrial and utility-scale solar business, according to the companies.
Continue reading »
Tags: Suncommon, iSun, solar energy, Duane Peterson, James Moore, Jeff Peck, Web Only, Image
Permalink
Tuesday, September 7, 2021
Business / LaborUnemployment Benefits Diminish — or Disappear — for Thousands of Vermonters
PostedByAnne Wallace Allen on Tue, Sep 7, 2021 at 8:22 PM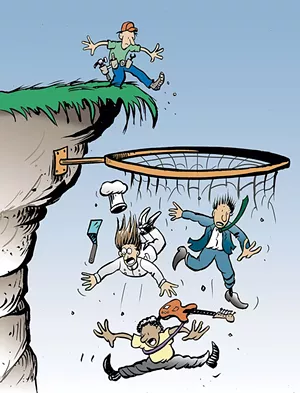 About 9,000 Vermonters are due to lose all of their unemployment benefits this week as three federal programs that started during the pandemic draw to a close. Another 5,000 or so who remain on unemployment will lose a $300-per-week federal supplement to their checks.
Some employers expect to see job applications rise in response. But most expect the impact of the change to be small.
"It's a lot more complicated than just this benefit," Vermont Chamber of Commerce President Betsy Bishop said. She was referring to the federal programs that have paid millions to the self-employed and independent contractors since March 2020. The programs, the first-ever to provide such workers unemployment insurance benefits, ended Monday.
Continue reading »
Tags: Employment, labor, Vermont, business, unemployment insurance, benefits, federal benefits, supplement, Web Only, Image
Permalink
Monday, August 23, 2021
BusinessTech Company CEO Says $6 Million State Grant a 'Secondary Priority'
PostedByAnne Wallace Allen on Mon, Aug 23, 2021 at 7:03 PM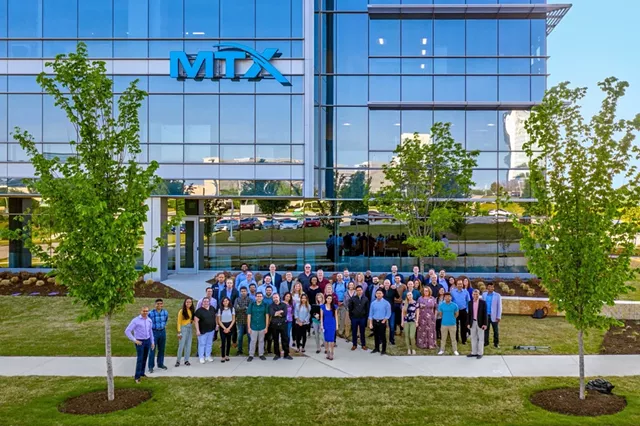 Courtesy of MTX
MTX's Frisco, Texas, office and staff in April 2021
The cofounder and CEO of a Texas company that's been approved for a $6 million state incentive to open an office in Waterbury said he would have chosen Vermont even without the promise of state money.
Das Nobel, whose company MTX Group has worked for several Vermont state agencies in the past few years, said he was drawn to the Green Mountain State because it's close to Albany, N.Y., where he lived for many years, and it reminds him of Bangladesh, where he was born and raised until he was 15.
"The incentive is a secondary priority for us," he said of the Vermont Employment Growth Incentive, or VEGI, which provides newly arrived companies grants if they meet targets for job creation or other investment. MTX was approved for the VEGI grant in July, though the money won't be available until the company's Waterbury office has met employment targets outlined as part of the grant.
Asked if he would have opened the Vermont site without the grant, Nobel said he would have, based on his desire to bring good jobs to a state that needs them.
"Absolutely," he said Monday. "I made up my mind before."
Continue reading »
Tags: Das Nobel, MTX Group, contact tracing, Vermont, Waterbury, VEGI, Vermont Economic Growth Incentive, Web Only, Image
Permalink
Older Entries »
Sours: https://www.sevendaysvt.com/OffMessage/archives/business/
1538
1539
1540
1541
1542