137+ Luxury Bathroom Design Ideas (Pictures)
There are different styles that can be used when designing or renovating a luxurious bathroom. But before choosing materials, colors or finishes, we must also take into account the functionality. The aesthetic and the practical have to be combined since, however beautiful it may be, if it is not comfortable in its use it will need to be reformed in a short time.
Regal gold bathroom design with glass light fixture city view
We will start by choosing the position and type of furniture and sanitary. Do we want a bathtub or a shower? Do we need to reserve a space for the bidet or can we do without this piece? Where will we place the storage, on a piece of furniture under the sink or on a shelf hanging on the wall? To answer these questions you have to look at where the water inlets and drains are located and thus avoid larger works.
Bathtub or shower?
Although the houses of today, being increasingly smaller, do not give much room to choose, this question is repeated very frequently among those who want to design their bathroom. The advantages of opting for a shower are several: greater accessibility (especially for the elderly or with reduced mobility) and adaptability to space and lower water consumption, since when we shower automatically we spend less water (95 liters compared to the 250 liters of average that we use if we bath).
As for the pros of building a bathtub, they are quite obvious: the possibility of giving us a relaxing bath and the beautiful aesthetic that it brings to your space. On top of that, if we have children at home, fun for them is guaranteed!
What colors should I use in the luxury bathroom?
Before making hasty decisions we have to consider what colors we want the predominant colors to be. And it is that changing the style usually implies making a reform. To facilitate the choice of colors, we can think of two different variants; on the one hand, the background colors that we will maintain in the long term and, on the other hand, the color notes that we can include through decoration and household items and that can be replaced more often. If space is small, it is recommended to use light colors, since the white tones and creams create the sensation of amplitude, as it happens if it is insufficiently illuminated. If we seek to create an elegant one, dark tones combined with light colors are a perfect choice. Once the color palette is chosen, what finish do we want to give it? The brightest tend to be associated with luxury while mates tend to be more sophisticated and discreet. They can be combined to create an interesting game with the textures of the materials.
What material should I choose for the walls and the floor?
Although many of us only think of tiling when it comes to choosing a bathroom liner, there are plenty of materials available on the market today to cover walls and floors. Before we opt for one material or another we have to think first of all how it works since there are some more suitable than others. Although the ceramic stoneware as we said stands out for its durability and maintenance (in addition to keeping a fairly good price-quality ratio), teak or bamboo or, if you do not have so much budget, imitation wood or vinyl can be another option that provides warmth to the linings of your bathroom. If you are willing to make a higher investment (from $ 100 per square feet), resin, natural stone (like marble) or pebbles are very elegant alternatives for floors and walls. Once informed of which are more suitable, we will have to consider what type of maintenance we prefer since there are materials easier to clean than others because of their type or placement. Do we want the coating of our bathroom to have small pieces or a material without joints? A continuous tone or a mosaic of colors? And, on the other hand, what kind of style are we looking for? Rustic bathrooms are more associated with wood, while in modern or minimalist bathrooms, concrete or micro-cement creates a futuristic aesthetic.
What kind of accessories are used for luxury bathrooms?
The accessories are the details that will make the difference in the design. There are two different types of accessories: functional ones, such as mirrors or towels, and purely decorative ones. When we have a small bathroom, the organizing role of accessories is essential. Also, they are perfect to put a note of color and beautify the stay. Although always in moderation: you should not put too many or end up recharging the space.
The importance of lighting in a luxury bathroom
When it comes to designing a bathroom, it is essential to think about lighting. What points should be illuminated? A poorly lit space will be uncomfortable and not very functional. Our first advice: take advantage of natural light. Give warmth to the room and help us save on the electricity bill. To do this, do not obstruct the entrance of the sun with curtains or opaque glass or placing objects in front of the windows.
In a small space, it will be sufficient to install a general light and another where the mirror or vanity is located. Yes, take some time to choose the light bulbs. Halogens are ideal for the mirror area and low-energy halogen lamps will reduce this by 50 to 80%.
Bathroom renovations – seek professional help
Before starting to design your luxurious bathroom, it is necessary to plan stage by stage and consult with the appropriate specialists. Designers, decorators, masons or plumbers, there are many agents involved when building it. Sharing ideas and knowing the opinion of the experts, planning the execution deadlines and consulting budgets will be the first steps when you are thinking of reforming it.
These are the fundamental steps you must take during the process:
1. Planning and organization: First of all you must define exactly what changes you want to make and how much budget you have for it, since you will most likely have to resort to expert hands to give you an estimate of how much time and money you will have to invest and, above all, in what ways you can take advantage of the space.
2. Choice of the new elements: Are you going to introduce a shower tray instead of a bathtub, build a screen, or on the contrary, will you completely change the coating? At this point, you should inform yourself well of the different types of elements that exist and compare models and prices.
3. Make your bathroom a safe place: Take care of your health and invest in safety by installing anti-slip floors and support points for the bathroom. You never know when we will need them!
4. Install an extractor fan: It will help to avoid odors.
What are the most popular luxury bathrooms styles?
Minimalist Bathrooms: The minimalist style is characterized by straight lines, pure volumes, reduced color palettes and, above all, by simplicity. For something his motto is none other than the famous "less is more". The minimalist decoration gives priority to the functional part and should never be abundant. Continuous-type coatings, as well as walk-in showers, are often elements that never fail.
Modern style bathrooms: Modern bathrooms can be colorful, smooth or halfway between them. However, in order to be considered as such, they must follow the latest trends in sanitary, furniture or materials and, of course, always be willing to change the air to avoid falling into the convention.
Where can I find ideas and inspiration to design luxurious bathrooms?
From classic to modern bathrooms, from eclectic to minimalist, this section is full of ideas to find inspiration! When you see a model that you like, you just need to click to save the photo in an ideas book. HomeDedicated.com ideas are like a virtual album where you can easily collect your favorite images to be able to consult them whenever you want.
Below you will find great photos of luxurious bathroom ideas and design. If you like it, give it a share.
All white bathroom with large window
Zen design bathroom oasis
Yellow bathroom with wood cabinet storage
White marble bathroom with great lighting and windows
White marble bathroom design
White bathroom with glass shower and globe lighting
Waterfront bathtub with great view
Upstairs bathroom with slanted ceiling
Upscale grey bathroom with wainscoting
Upscale designer bathroom with large tile
Upscale designer bathroom with chandelier
Upscale designer bathroom in modern home
Upgraded bathroom with slanted ceiling and skylight
Ultra modern dark bathroom
Tropical setting bathroom design
Tropical oasis bathroom suite
Modern bathroom interior with glass door shower
Stylish contemporary master bathroom with tile accent wall
Sleek modern bathroom with lake view
Sleek contemporary bathroom design in brown with tiled jacuzzi tub
Shiny gold tile bathtub glass shower
Rustic luxury bathroom with exposed stone wall
Rustic bathroom in wood with claw foot bathtub
Romantic bathroom design with soft lighting
Resort style bathroom with dark accent wall
Resort bathtub retreat
Resort bathroom at african lodge tanzania
Rainfall shower with frameless showerdoor in master bath
Private master bathroom suite with bathtub and garden view
Pretty bathroom with soaking tub
Pretty bathroom in beige with large bathtub
Penthouse bathroom with ocean view
Penthouse bathroom with city view from bathtub
Oversized rain fall shower with outdoor view
Old fashioned design in bathroom
Oceanview bathtub in home
Oceanview bathroom with tub
New bathroom design large mirror rounded bathtub
Neutral color bathroom design
Modern upscale bathroom design
Modern shower in bathroom with round mirror
Modern relaxation bathtub with contoured seat
Modern gray and white bathroom
Modern bright white master bath
Modern black and white bathroom design unique tub
Modern black and white bath design
Modern bathroom with large picture window
Modern bathroom suite with impressive view
Modern bathroom design with unique bathtub
Mirrored bathroom interior with bathtub
Million dollar bathroom at luxury home
Mediterranean style master bath retreat
Master bathroom with white marble and globe lighting
Master bath with concrete floors
Master bath with brown mosaic tile
Master bath powder room in luxury home
Marble bathroom with ocean view
Luxury white bathroom suite
Luxury resort bathroom in tropical setting
Modern master bath
Luxury bathroom with white curtains
Luxury bathroom suite with large fireplace
Luxury bathroom suite at expensive tropical resort
Luxurious tub in bathroom with red walls
Light brown luxury bathroom suite
Large red tub in decorated bathroom
Large luxury bathroom suite with wood cabinet
Large jet tub in bathroom suite with dark cabinets
Large glass shower in bathroom
Large designer custom bathroom
Large bathtub with frosted privacy glass wall
Jet tub with beautiful mountain view
Jet bathtub in bath with blue horizontal stripes
Inviting bathtub on natural stone floor
Inviting bathroom with clean white style
Interior designed bathroom with glass shower enclosure
Interesting vessel sinks in bathroom
Impressive view from bathroom through picture windows
Gorgeous outside bathtub next to rock wall
Fancy bathroom with neon lighting
Expansive traditional master bathroom
Expansive ocean view from shower
Expansive bathroom design
Emerald bathtub enclosure in bathroom
Elegant old fashioned bathroom with tub
Elegant luxury bathroom with white cabinet tan tile
Very large bathroom
Elegant bathroom with round sinks
Elegant bathroom suite in mansion
Designer bathroom suite with elegant finishes
Decorative bathroom design with large tub with pillars
Luxury bathroom
Master bath in luxury home
Master bath in luxury home
Craftsman master bath with copper tub
Contemporary white luxury bath
Contemporary master bathroom with slate flooring and enclosure
Contemporary bathroom with long curved tub
Contemporary bathroom design with neon lighting
Close up view of jacuzzi bathtub
Clean white bathroom design with dual sinks
Clean design white bathroom with lake view
Clean design bathroom
Clean and vibrant bathroom design
Clean and bright bathroom design
Clawfoot bathtub with chrome feet
Master bath in luxury home
Bathroom in luxury home with bath and furniture
Powder room with black granite walls
Black and white marble style bathroom
Beautiful white bathroom in marble
Beautiful luxury tropical resort bathroom
Bathroom in Grey and Blue Colors
Beautiful claw foot tub in bathroom
Master bath with oak wood cabinetry
Beautiful bathroom with forest view
Bathtub with pool view
Bathtub with intricate tile work
Bathtub with enclosure lighting in base
Bathtub with elegant pillars ceiling mural of sky
Bathtub with beautiful view from window
Bathtub with amazing city view from penthouse
Bathtub overlooking african lodge
Bathroom with wood accents and flooring
Bathroom with tub and vessel sinks
Bathroom with purple sink cabinet
Bathroom with purple neon mood lighting
Bathroom with luxury tilework
Bathroom with luxury tile brown theme
Bathroom with intricate tilework
Bathroom with elegant domed ceiling
Bathroom suite with relaxing bathtub
Attractive bathroom with tub and shower
Attractive bathroom design
Amazing oceanview bathtub
Amazing bathroom with sweeping views
Sours: https://homededicated.com/luxury-bathroom-design-ideas-pictures/
32 Fancy Bathroom Designs
Your love for decorating doesn't have to stop at the bathroom door. Continue your style into this traditionally private place by enhancing with high-quality materials and features that transform it into an elegant and restorative space. Stone—like marble, travertine, and porcelain—along with rich, warm woods; beautiful fabrics and upholstery; and reflective crystal chandeliers and glass mirrors all help to create hotel- or spa-like escapes.
Whether it's a primary or en-suite, powder room, or regular bathroom, consult an interior designer or other professional to help guide you through the process, from creating more space to choosing materials. Opt for a clutter-free environment free of personal products, wet towels, and soiled clothing.
Features That Add Luxury
Consider adding features to what can be a very utilitarian space that emphasize your personal style and glamour, including:
Chandeliers
Wall sconces
Unique lighting fixtures (think modern shapes like orbs)
Seating, like a pouf, lounge chair, or vanity chair
Slip-resistant rugs
Mirrors: Including antique and modern fog-free styles
Showers: Designed for two, with steam generators, and body sprays
Toilets: Bidets, "smart", or Japanese-style washlets, with convenient controls for washing, drying, warming the seat, disguising sounds, etc.
Concealing the toilet: Popular options include creating a niche or closet/room with a separate door to take care of business in privacy
Bathtubs: A freestanding tub can be the room's focal point. Models range from sleek designs to reproduction claw-foots to wood and even cast-concrete
A vanity: Either a separate built-in, or creating more counter space by eliminating double sinks
High-end fixtures and hardware, like faucets and towel hooks
Extras, if space allows, for luxuries like saunas, spa or whirlpool tubs, and side-by-side soaking tubs
Fine art: Paintings, even sculpture
Built-in, discrete storage for everything from shampoo bottles to cleaners to towels
A bathroom is the one room you start and end your day, so make it special. Ready for some fancy ideas? Enjoy 32 bathroom designs from Baroque to modern.
Sours: https://www.thespruce.com/fancy-bathroom-ideas-4325947
Is your bathroom the pampering, spa-like getaway you deserve? If not, and you're thinking of remodeling it this year, you might want to know about the top trends in bathroom colors, shower gadgets and yes, toilets with soft-closing lids.
Simple, easy-to-clean and unfussy are the traits in bathrooms that members of the National Kitchen and Bath Association are creating for clients, according to the 2016 Design Trends Report released by the trade group, which has tracked industry trends for 53 years.
Think low-maintenance glass, elevated cabinets that are easy to sweep under and white sinks and vanity tops.
Homeowners are also looking for a Zen-like, transitional-style bathroom aesthetic, even if the rest of the house is traditional or modern, Tuscan or rustic.
New bathrooms are less flashy and more focused on the user's experience and needs such as water-saving and smart fixtures, and aging in place features.
Yet, bathrooms are packed with hidden luxuries.
Kathleen Donohue, a NKBA member and a kitchen and bath designer with Neil Kelly Co. in Bend, says high-end bathrooms showcase stealth wealth. "They are not showy places, but places to indulge privately with an emphasis on comfort, personal statements and style," she says.
Donohue designed a spacious bathroom for a client that has a calm, organic feel. Sunlight filters through a large skylight over the two-person shower. There are handheld and mounted spray heads, and a niche backed by natural stone. The floor is covered in large stone tiles that continue into the door-less, curb-free shower.
Like this bathroom, others across the country are getting and looking bigger, according to the national study.
People will sacrifice square footage in an adjoining room or closet to create a bigger bathroom. Or they will give an unused whirlpool tub the heave-ho for a freestanding soaking tub or more floor space.
Design tricks can also make a bathroom feel bigger. In the survey, bath pros said they are using larger shower tiles - like 36-inch squares - that need less grout and make a space seem expansive.
Frameless glass enclosures also open up a room while wall-mounted vanities and toilets and floating shelves expose more of the floor.
Perennial favorite colors of white and off-white seem to widen a small room. Designers are also relying on gray to keep the room light while still adding a dash of color. Whitish quartz and carefree Carrara marble vanity tops have surpassed darker granite in popularity, according to NKBA members.
"White on white with dark wood" flooring and cabinets is how one surveyed designer summed up her recent bathroom remodels.
If not wood floors, then cork, natural stone tile or high-end vinyl tile are taking the place of ceramic or porcelain floor tiles. Bare feet are being warm by radiant heat floors and towels stay toasty with electric towel racks.
After all, while homeowners are willing to pay more for green features such as WaterSense plumbing products and recycled wood flooring, they still want to feel pampered after spending $10,000, $30,000 or more for a new bathroom.
Luxuries are everywhere. Mirrors have tiny TVs embedded in them. There is color-changing lighting - called chromatherapy - in the tub and an essential oils diffuser in the shower. Some people want a microwave and hot and cold beverage stations within reach of the sink.
Tub-shower combinations are being pulled out to make room for a couple-size spa shower with foot rests to shave legs and benches to sit on. There are multiple shower heads, piped in music and non-fogging mirrors.
Steam showers are also in. They take the place of a shower and sauna, says Portland designer Rhonda Knoche, who was named the first-ever National Kitchen & Bath Association University Professional of the Year in 2015 for her commitment to professional development in her field.
Consolidating other items, like a toilet/bidet combo, saves more space. Knoche's clients desire more luxe and less spacial mass. In other words, a sense of intimacy, not a cavernous McMansion bath.
Again, low-contrast colors, "more tone on tone," says Knoche, help achieve a feeling of relaxation as does texture. "Steer away from polished surfaces for psychological, physical and visual ease as well as glare, safety and care," she adds.
Want more to play with? You can program showerheads to deliver the preferred temperature for you and your pet.
Yes. Pets are getting pampered in the bathroom, too. One surveyed designer said she installed a pullout shower faucet to bathe the homeowner's cat and another designer created a special space in the shower to wash down a dog.
There are also built-in cat boxes in bathroom cabinets and under-cabinet accommodations for pet dishes.
Much needed storage is created with floating and roll-out shelves, and appliance garages that hold hair dryers and make-up mirrors with the electrical outlets hidden inside. There are also drawer safes and, of course, practical and pretty robe hooks.
Oval sinks are being tossed aside for larger, undermount or trough sinks. Built-in medicine cabinets are removed to make room for framed mirrors. Back-lit mirrors, side-mount lighting and dangling pendant fixtures illuminate bathrooms.
Knoche is installing layers of LED lighting overhead, around the vanity, near the toe kick and in drawers, as well as chromatherapy to alter the mood. "Lighting is king in the bath and kitchen," she says, adding that these busy, technology-dependent rooms should be designed for optimal mechanics, layout and flow so they last a generation or longer.
Using classic colors, she created a soothing bath with off-white cabinets and walls set against doors with etched glass. The accent color, on the back vanity wall and the ceiling area, is a spa-like aqua.
The "sixth wall" -- the ceiling -- is often a missed opportunity, she says. Here, in this windowless condo bathroom, she had it painted to look like a blue sky.
Oversize pale gray tile was used on the floor and counter with minimal grout. A polished chrome Schluter edge added a crisp pinstripe.
Styles come and go, but the goals of function and sustainability stay put, she adds.
The desire for a natural spa and outdoor feel in the bathroom has also lead to this: About 10 percent of NKBA members included an outdoor shower on a project in 2015.
Top 10 bathroom trends
Here are the top 10 bathroom trends - materials, product types, design styles and changing consumer preferences - that NKBA members from across the country say will stick around through 2016.
Aging-in-place amenities: There is greater acceptance of design for safe aging in place, say remodelers. "We always suggest this, but now that handrails and grab bars are nicer looking and integrated with other bath accessories, it's easier to sell," said Cynthia White, a NKBA member from Ohio.
There are also wheelchair-accessible features such as wider doors, zero-threshold showers, taller vanities and chair-height toilets.
Transitional style: NKBA members expect to do more transitional or Shaker-style bathrooms than traditional ones. Styles that are rarely requested: Provincial, Tuscan, Asian Fusion and rustic.
Neutral colors: Perennial favorite colors continue to be white and off-white, with gray gaining steam in the bathroom. Other colors designers are seeing are blue, green and brown. The bottom of the list: Saffron, red, bronze and terracotta. As for fixture colors, white dominates, followed by silver and gray. Black fixtures are out.
Storage: There will be more interest in open shelving and floating vanities. Designers are also installing more roll-out shelves in bath cabinetry and more hidden electrical outlets for blow dryers and other gadgets. Console tables are a hit but not toilet topper cabinets.
Sinks: Undermount sinks are the most requested sink style. Emerging: 15 percent of the designers installed a trough sink, which they predict may get more popular.
Shower conveniences: Designers expect to install a fixed showerhead and a handheld showerhead as well as body sprays and jets in master bathroom showers. Other added amenities are lights, built-in seats and benches.
Standard tub-shower surrounds are still specified by 59 percent of NKBA members in master baths and 67 percent in guest or second bathrooms.
Faucet finishes: Polished chrome is the top faucet finish choice followed by satin nickel and brushed nickel. Further down the list, but still popular, are bronze, oil-rubbed bronze and polished nickel.
Pampering products: Other amenities specified by at least 25 percent of NKBA members were easy maintenance features, electric radiant floor heating, steam showers, TVs in the mirror, and coffee bars, microwaves and wet bars.
You didn't ask but we will tell you about toilet trends: People want quiet or soft-close toilet seats, and some want smart toilets and smart seats with combined toilet/bidet functions.
Most of the toilets specified by NKBA members were chair height or comfort height. Almost half of NKBA members installed a one-piece toilet in 2015, and 25 percent said they specified a wall-hung toilet.
-- Janet Eastman

[email protected]
503-799-8739
@janeteastman


Stay in the loop. Sign up to receive a free weekly Homes & Gardens of the Northwest newsletter and join the conversation at the Homes & Gardens of the Northwest on Facebook page.
Sours: https://www.oregonlive.com/hg/2016/01/bathroom_trends_2016_nkba_phot.html
46+ Modern and Luxury Bathroom Designs 2020 - Best Ideas for Master Bathroom Interior Decor Design
Last updated on November 25th, 2020
Find tranquility in a luxury bathroom built to pamper you. Relax into an expansive freestanding tub or step into a dual waterfall shower for the ultimate experience. Imagine the intricate tile, natural stone vanities, and curated lighting of your dreams, then let us show you the ways to bring those dreams to life.
View our luxurious bathrooms & designs to get inspired for what's possible in your next home.
1. Modern Floating Cabinets
This luxurious primary bath features wall-to-wall floating vanities that accentuate the herringbone floor pattern. Unlike traditional vanities that are fixed to the floor floating cabinets visually open the space making this bathroom feel even more grand and luxurious.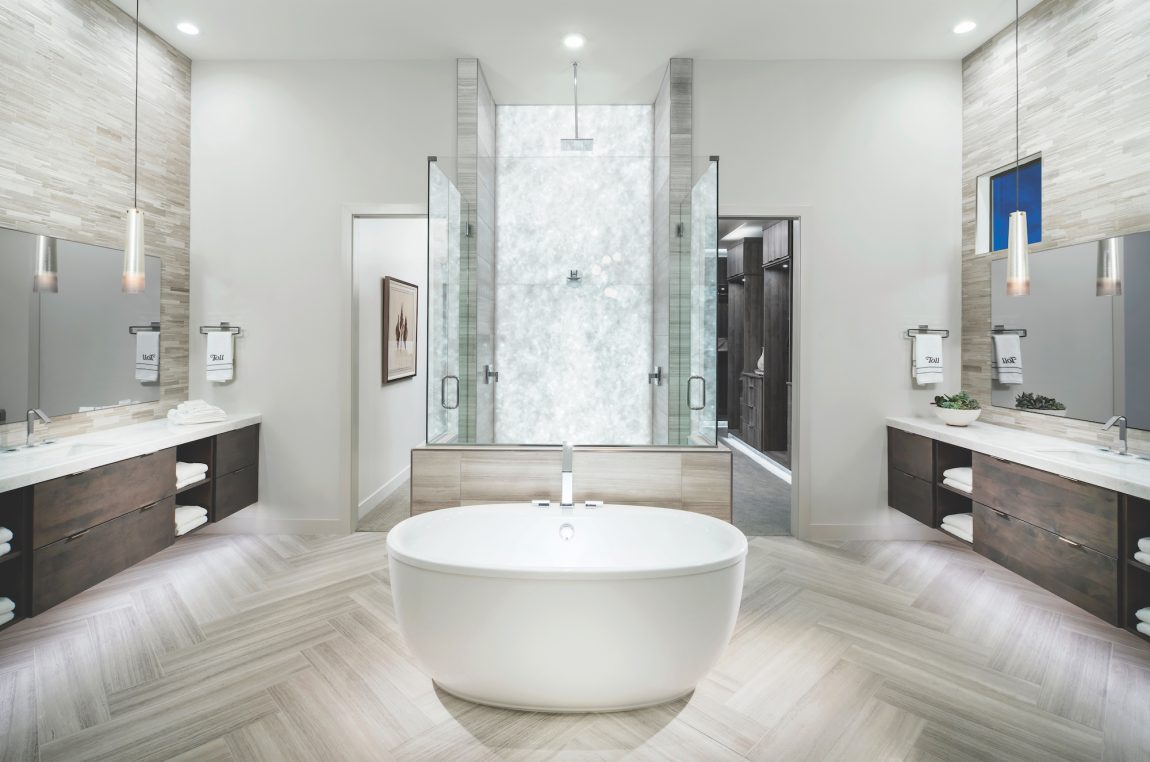 2. Modern Spa Bathroom
Update the traditional spa bathroom concept with the incorporation of bold colors, clean lines and accent lighting.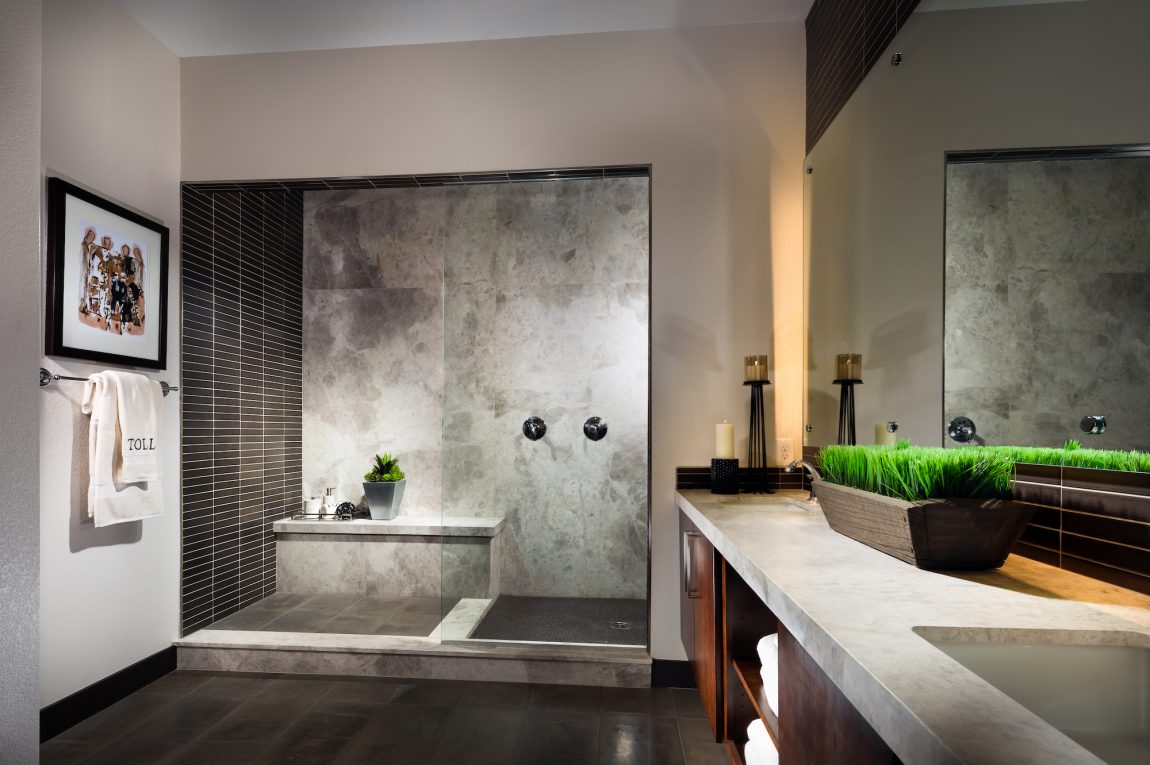 3. The Ultimate Shower Experience
This luxury bathroom brings a spa-like oasis directly to the home with a shower room including dual shower rain-heads, a free-standing tub, and a full-length bench.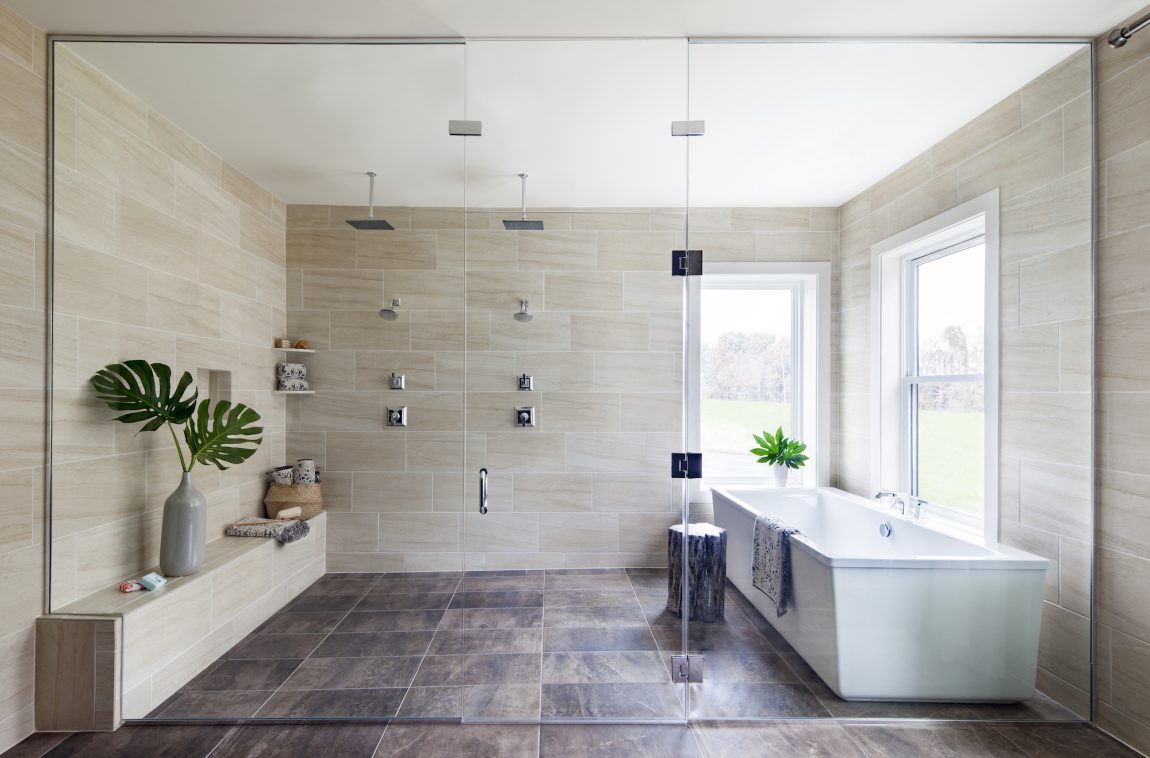 4. Shiplap Walls
Add dimension to your bathroom with the incorporation of shiplap walls. A material that was originally used in the construction of ships now finds itself repurposed inside the home. In contrast to traditional tile walls, shiplap adds an element of warmth that has recently made this a popular design choice in bathrooms.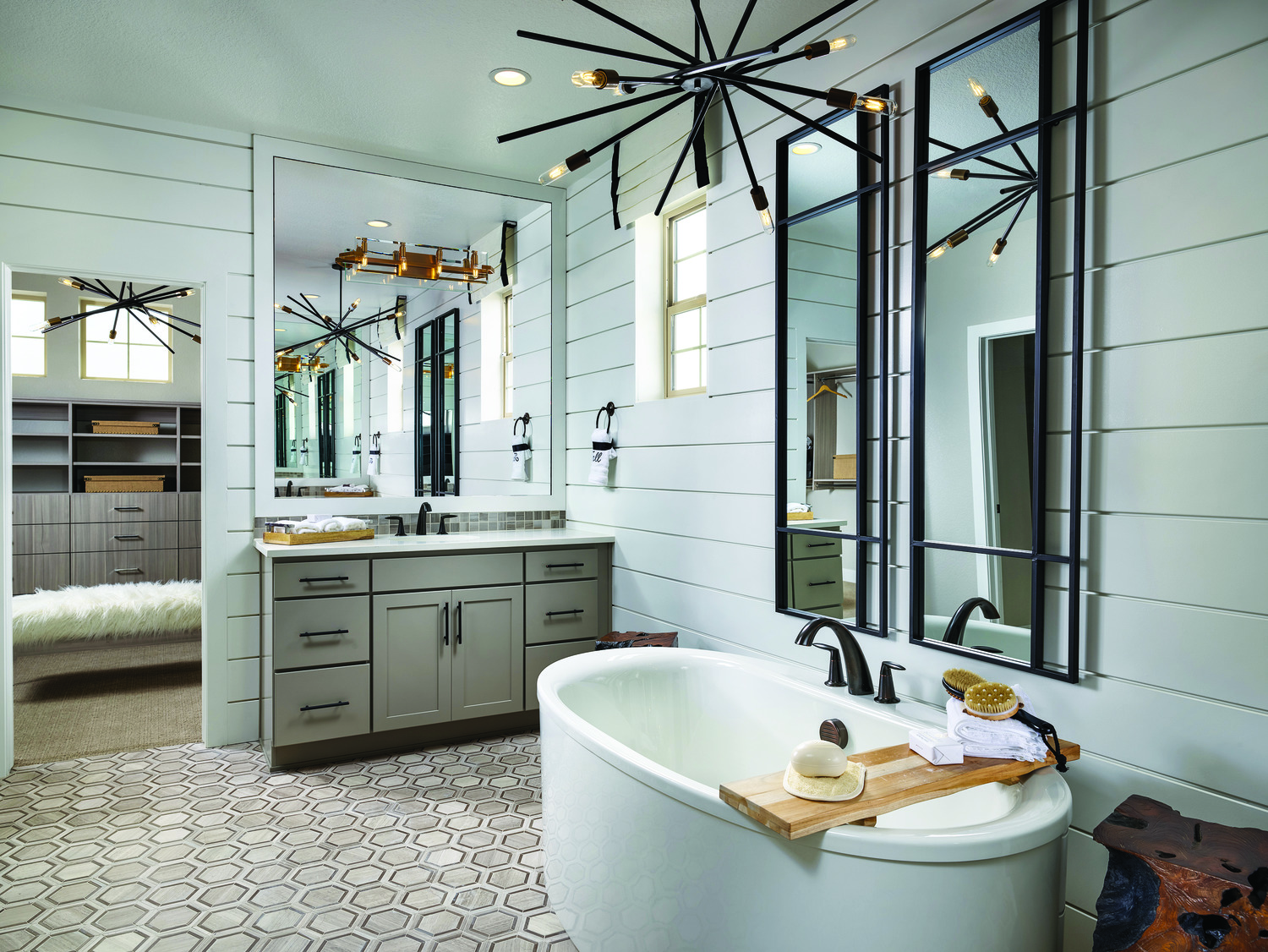 5. Zen Mosaic Backsplash
Bold, mosaic wall tile makes the vanity in this bathroom the true focal point. Incorporating the same mosaic tile as an accent on the bathroom floor ties this design element into the rest of the space creating balance and unity.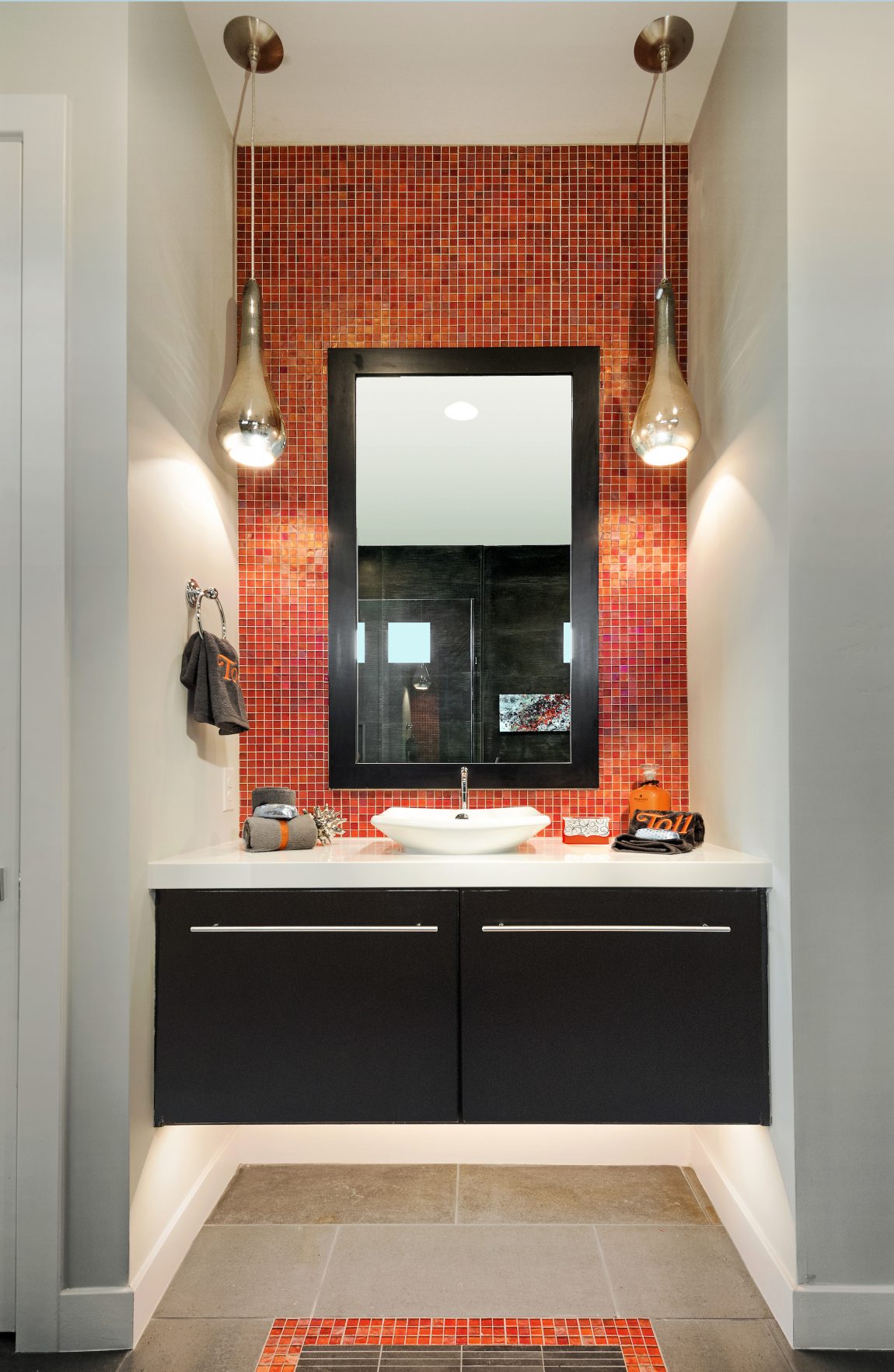 6. Luxury Indoor and Outdoor Bathrooms
Connect with nature and enjoy a serene setting whether inside or out! Incorporating a glass wall and extending the floor tile through the exterior space eliminates the boundary between the inside and outside of this California home.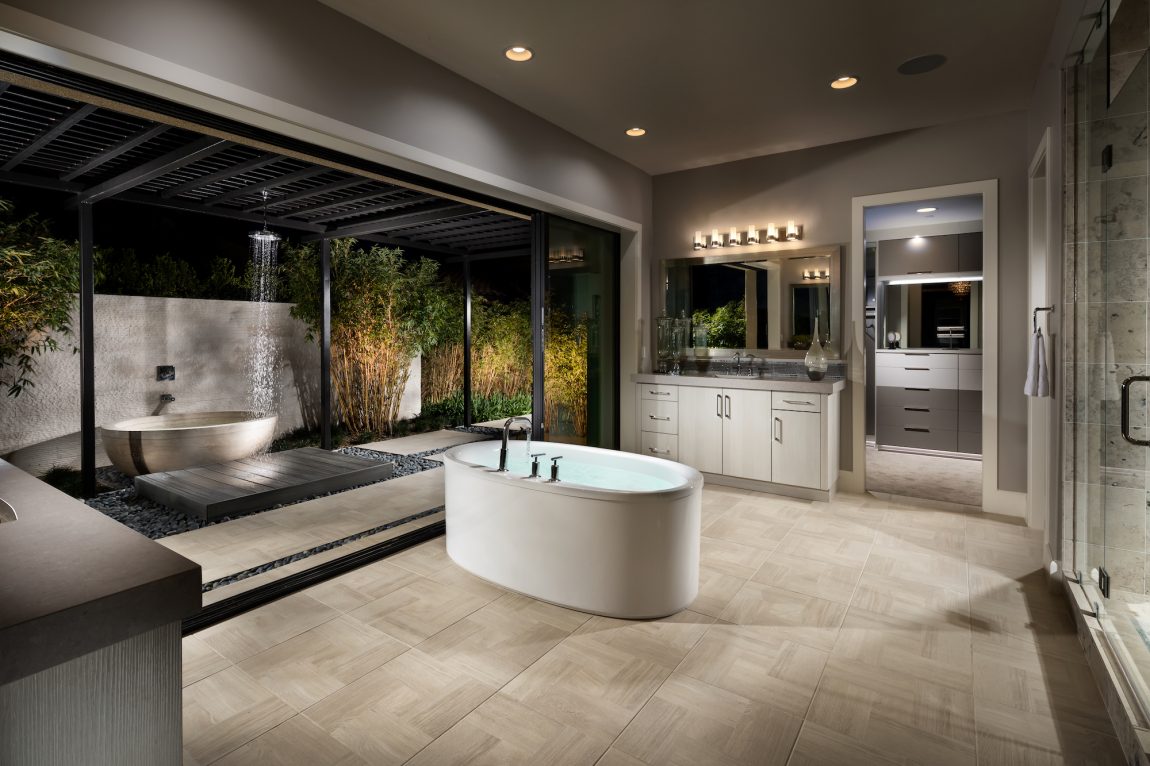 7. Picture Frame Tile in Shower
Large, dual rain-head showers have risen in popularity over recent years. Ensure this area becomes the focal point of any luxury bathroom by adding an accent such as this over-size picture frame tile.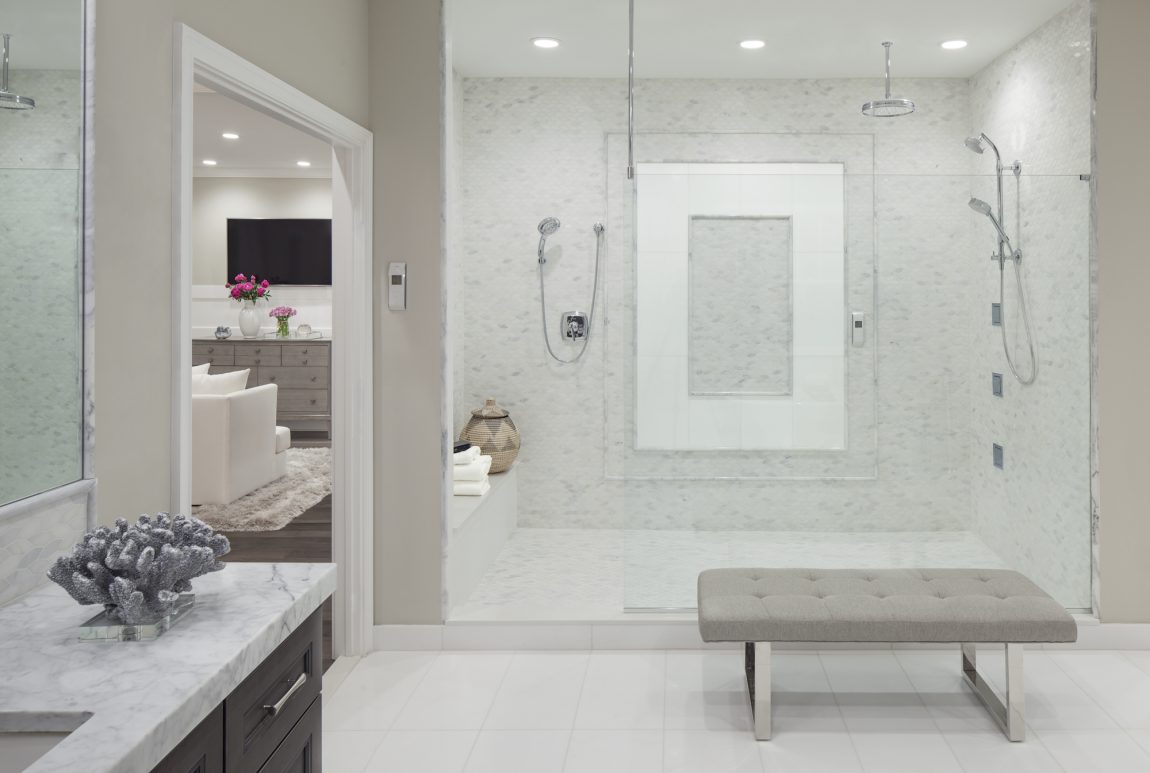 8. Industrial Style Sinks & Lighting
Industrial elements were once thought of as functional and lacking design. These same elements are now introduced to modern interior design as unexpected details that add interest and curiosity. The repurposed spigots in this bathroom are sure to be a topic of conversation in any home.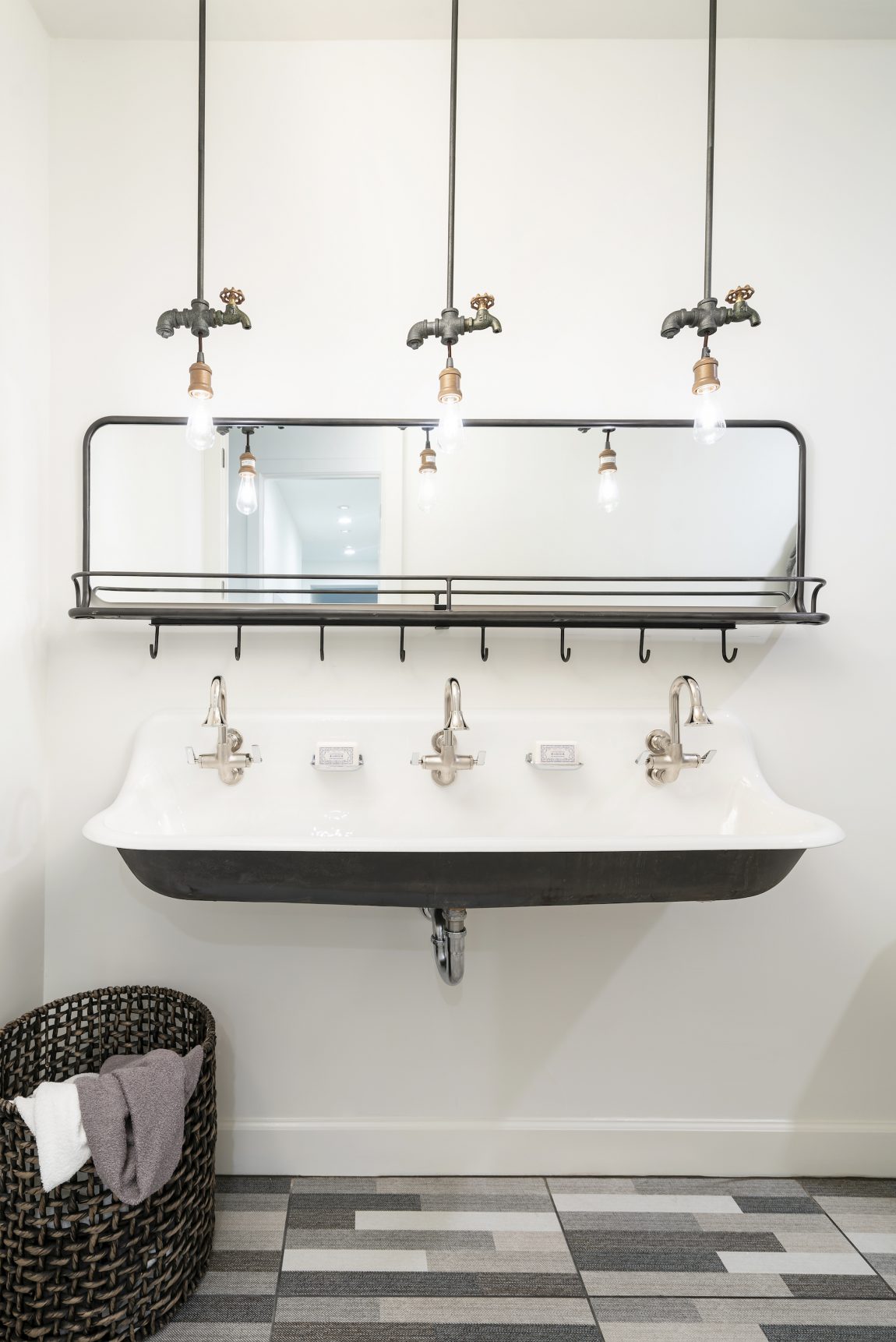 9. Relaxing Stand Alone Tub Feature
This bathroom features a free-standing tub, enhancing the spa-like feel of this luxurious space. The free-standing tub not only provides a luxurious bathing experience but also serves as a beautiful sculptural addition to any bathroom.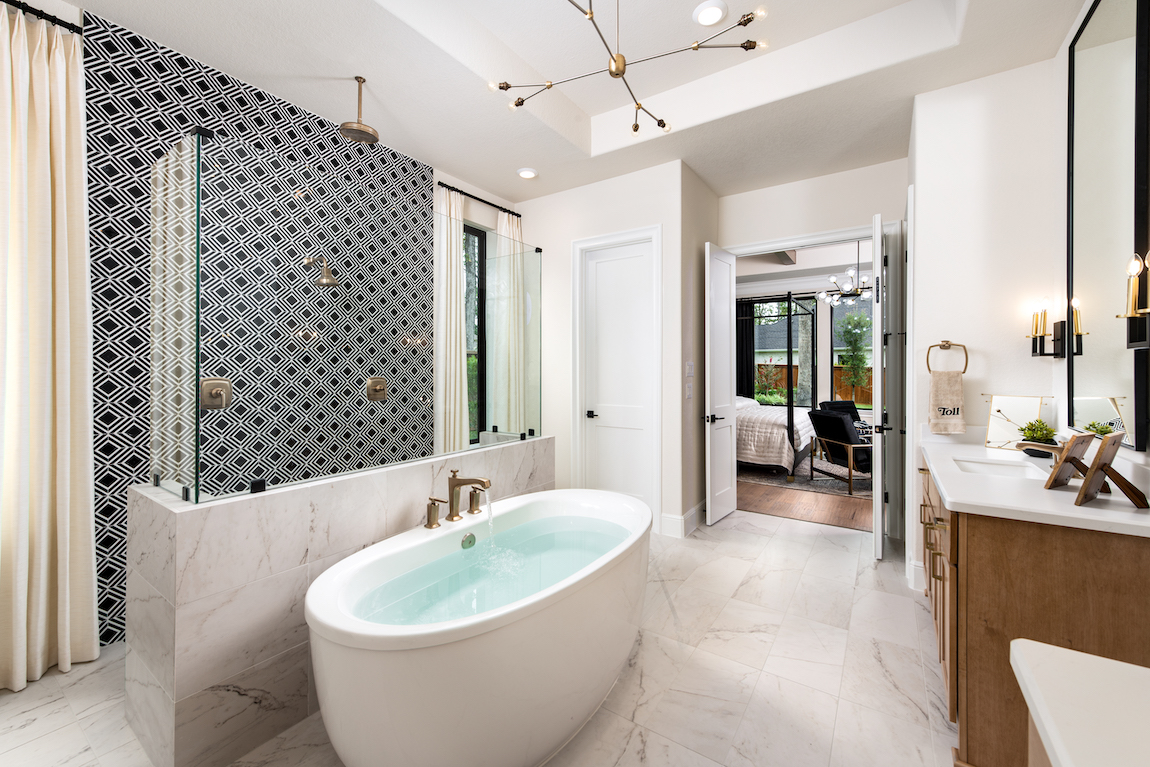 10. Modern Farmhouse Design
Combine natural, neutral, and industrial elements to achieve the ultimate modern farmhouse bathroom. The application of the natural wood vanity against the clean lines and bold contrasting fixtures elevates the otherwise relaxed, traditional farmhouse design to one of sophistication.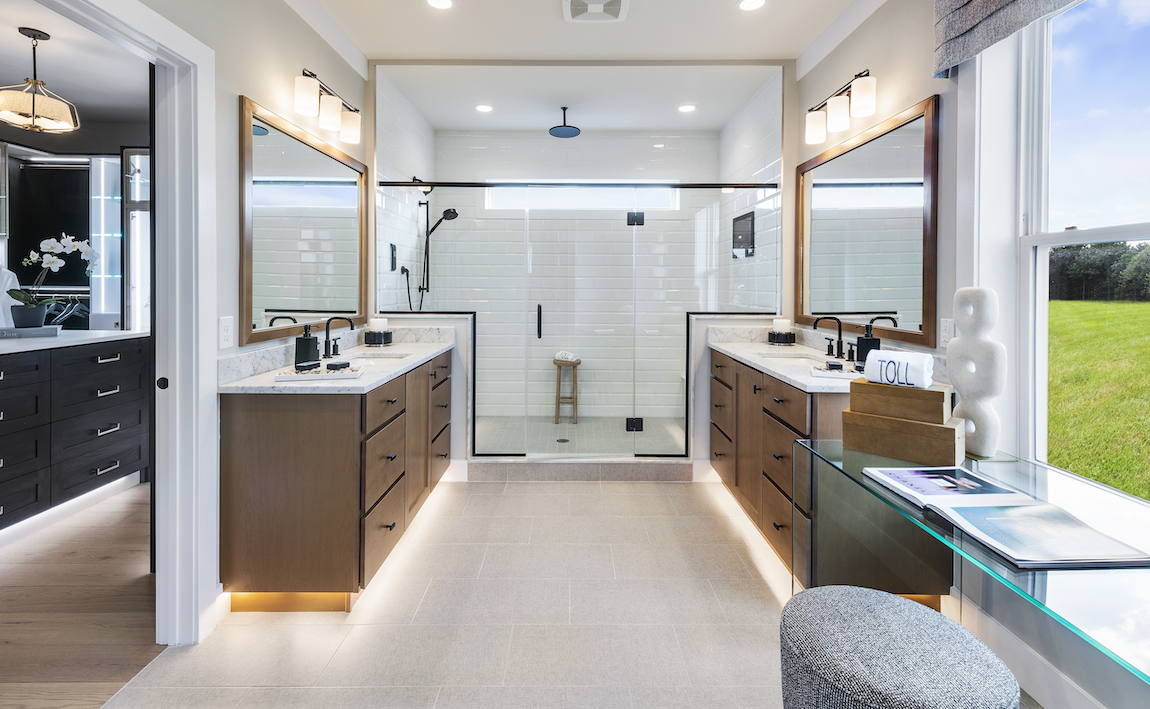 11. Sculpture Style Bathroom Features
Lighting and plumbing fixtures have become pieces of artwork in modern day design. The stunning sconces and sleek faucets are the perfect finishing touch to this large bath.
12. Luxury Clawfoot Tub
Clawfoot tubs are the original "free-standing" tub. The ornate detail on this tub lends itself to the traditional style of this bathroom.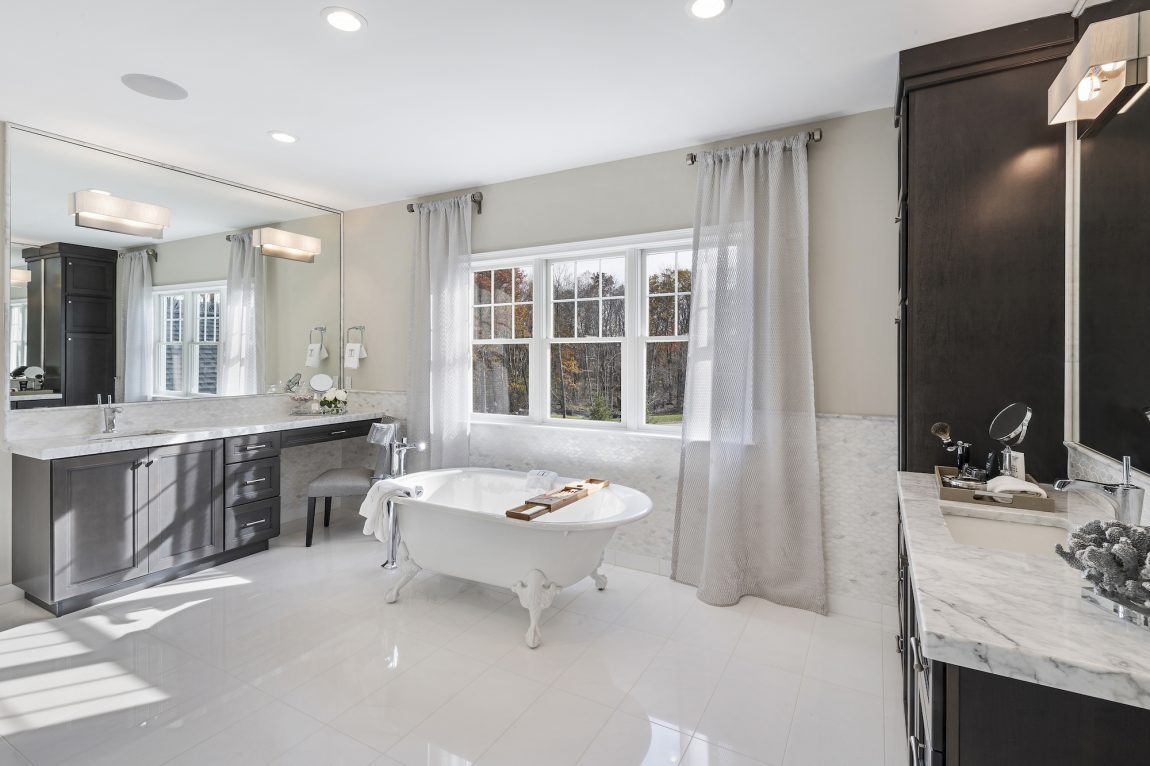 13. Classic Black & White Design
Clean, geometric lines with classic black and white details complete this bathroom with a style that will stand the test of time.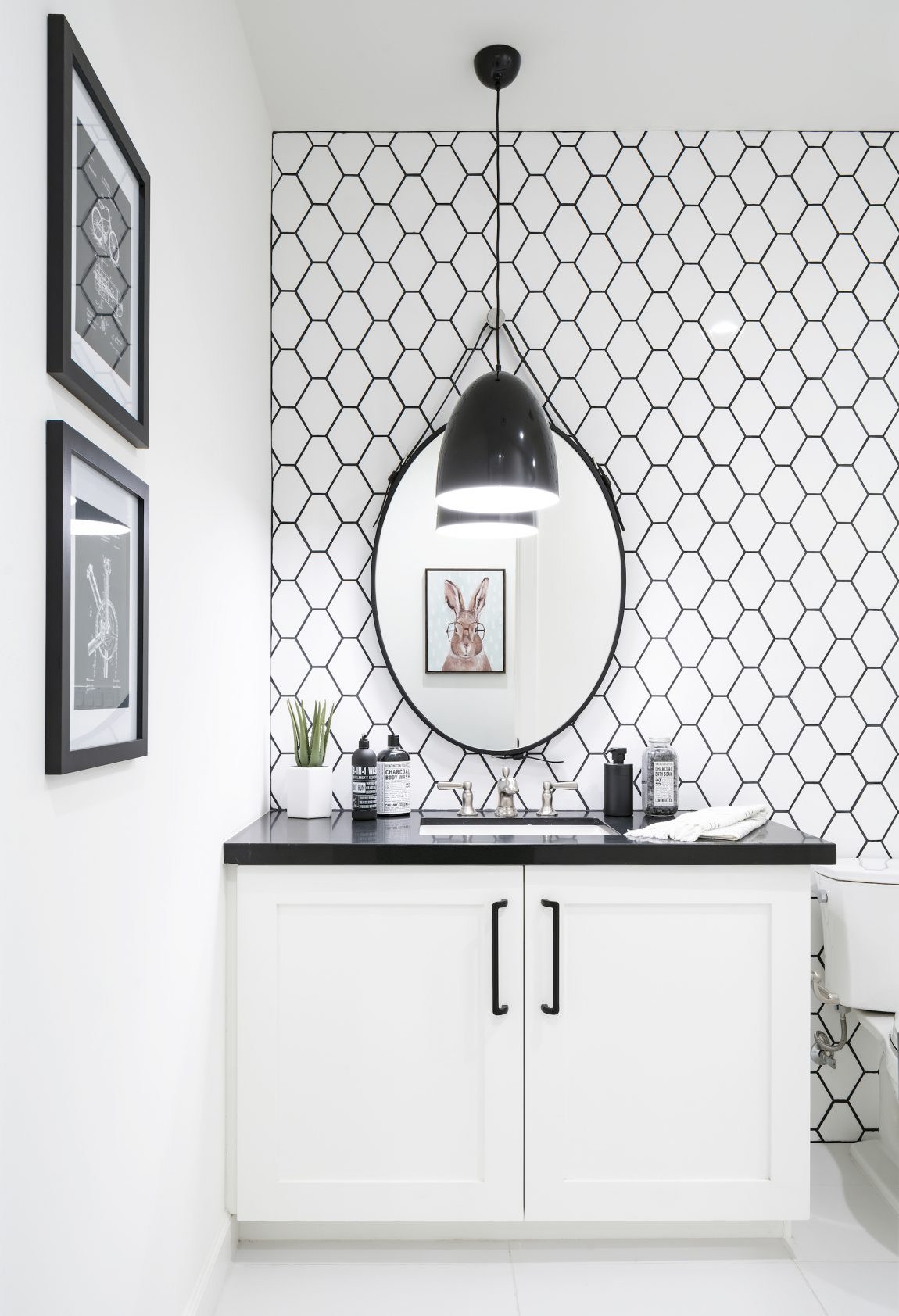 14. Frameless Shower
Frameless shower doors have minimal hardware and create an open feel to this large, but narrow shower.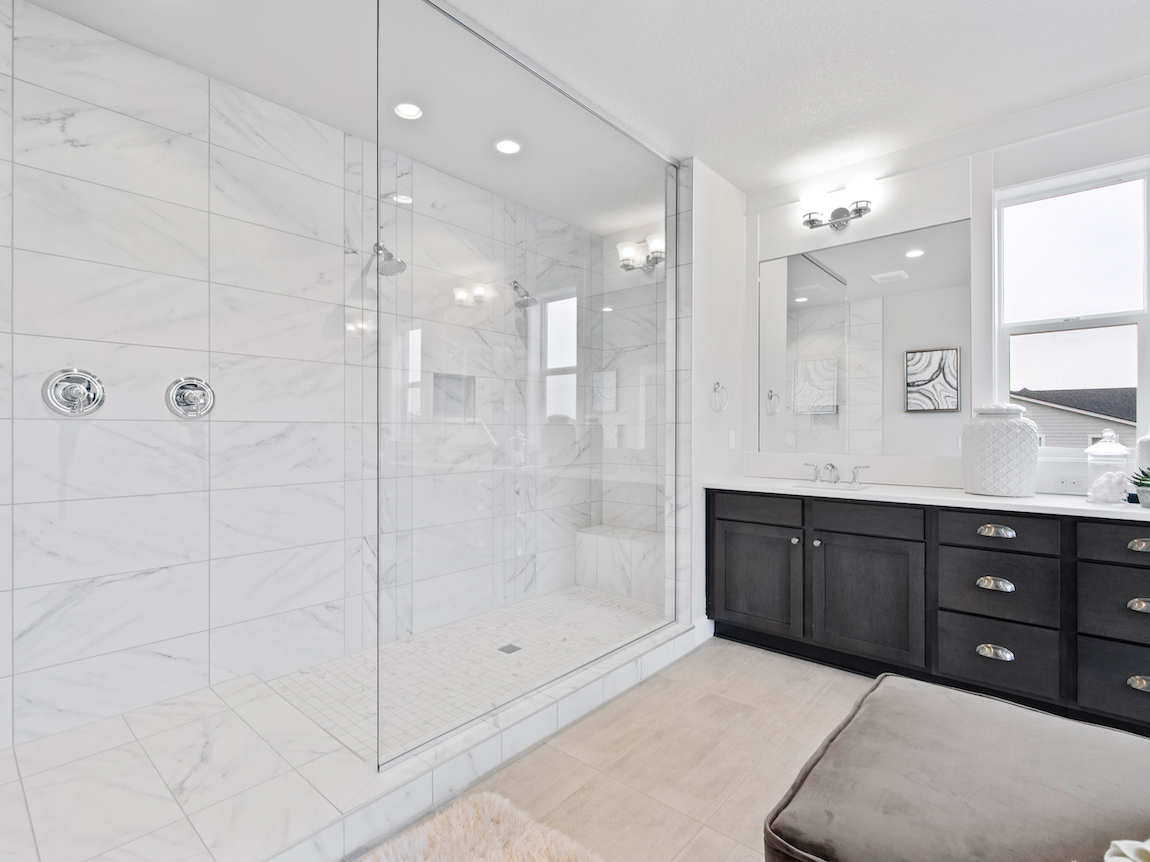 15. Carrera Marble Shower & Finishes
The Carrera marble in this luxury bathroom extends from the shower throughout the surrounding walls and is easily the statement of this large primary bath. In contrast to the busy and unpredictable vein of the natural stone, the smooth floors are calming and serve as the perfect foundation for this design.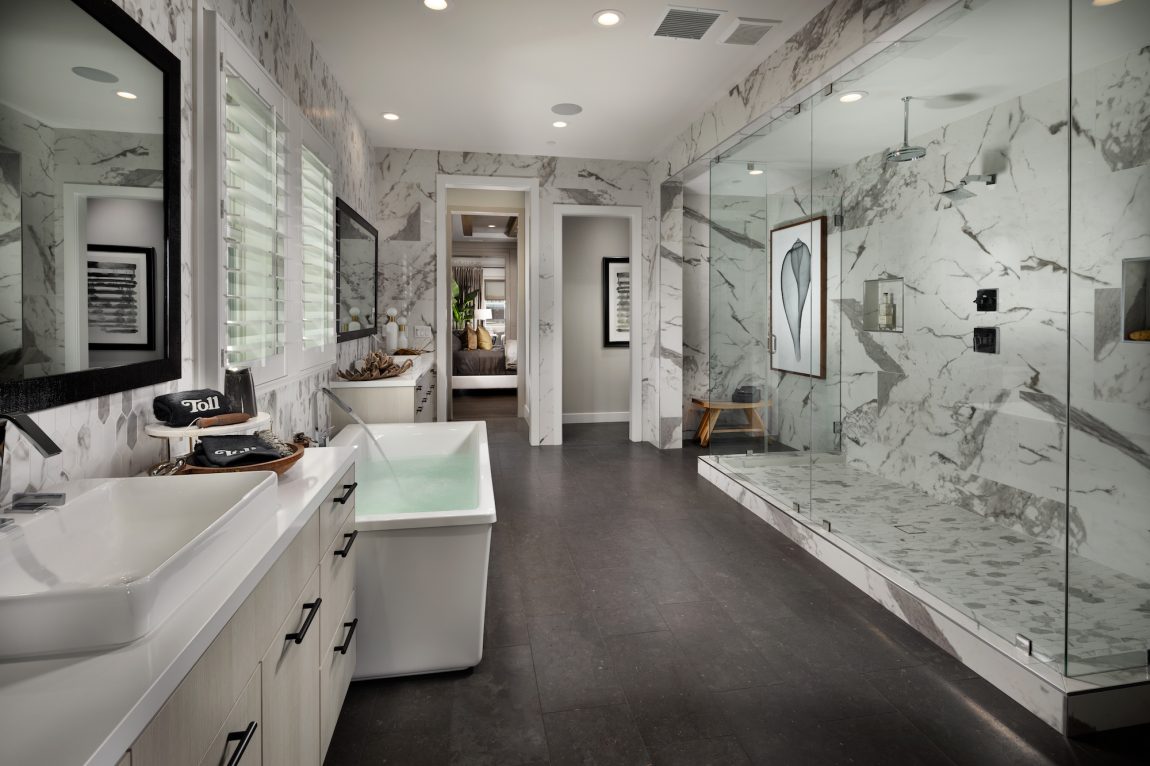 16. The Double Shower
Vertical tile accents provide a visual division of space in this double shower. Although defined as His & Her Drying Areas, these benches are multi-purpose allowing space for relaxation, storage of soap and shampoo, or simply drying as the name suggests!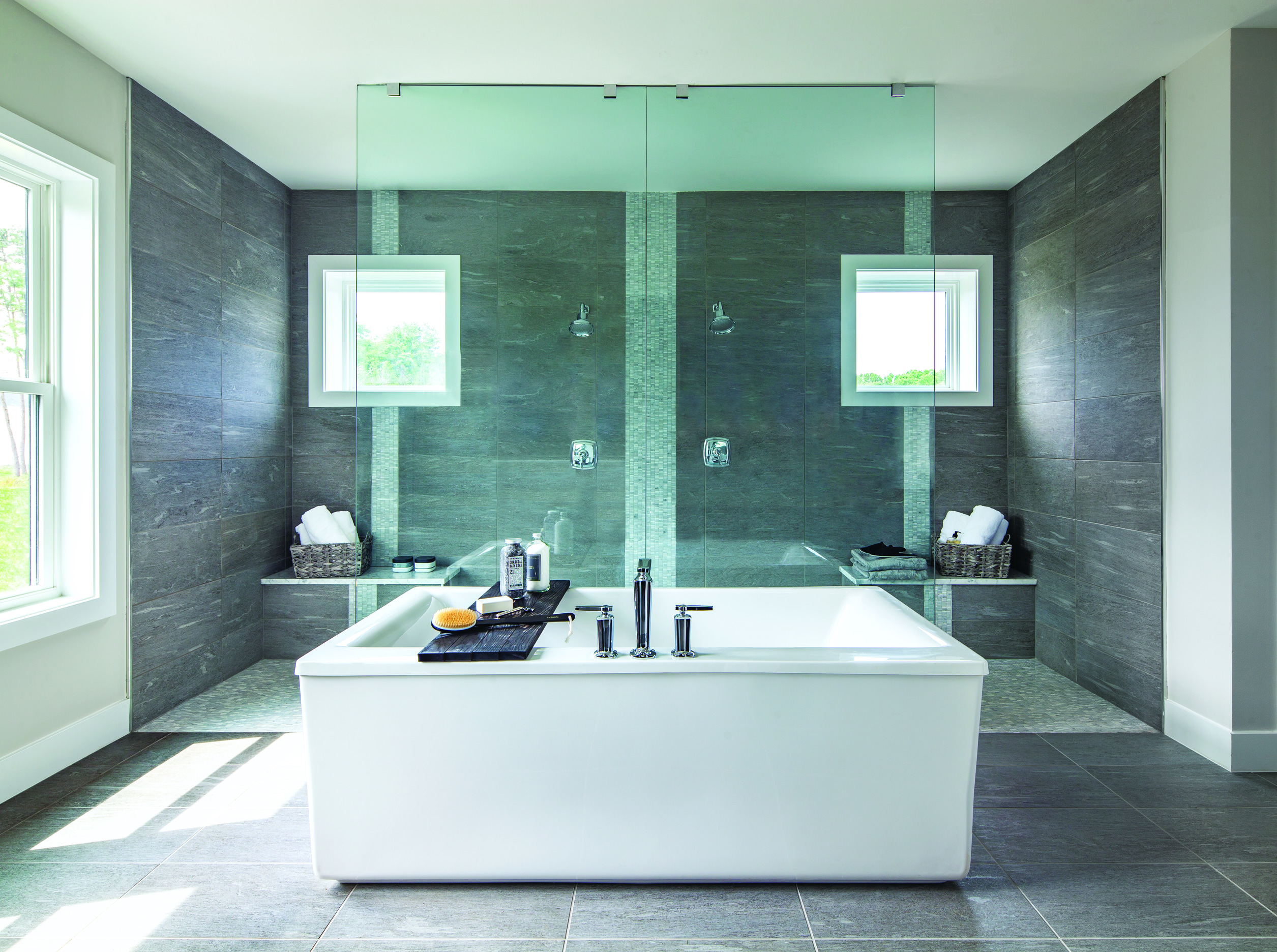 17. Wading Pool Sink
Wading pool sinks aren't just a luxurious aesthetic in this bathroom. The shallow nature of these sinks allows for additional storage below and is a great addition to the home.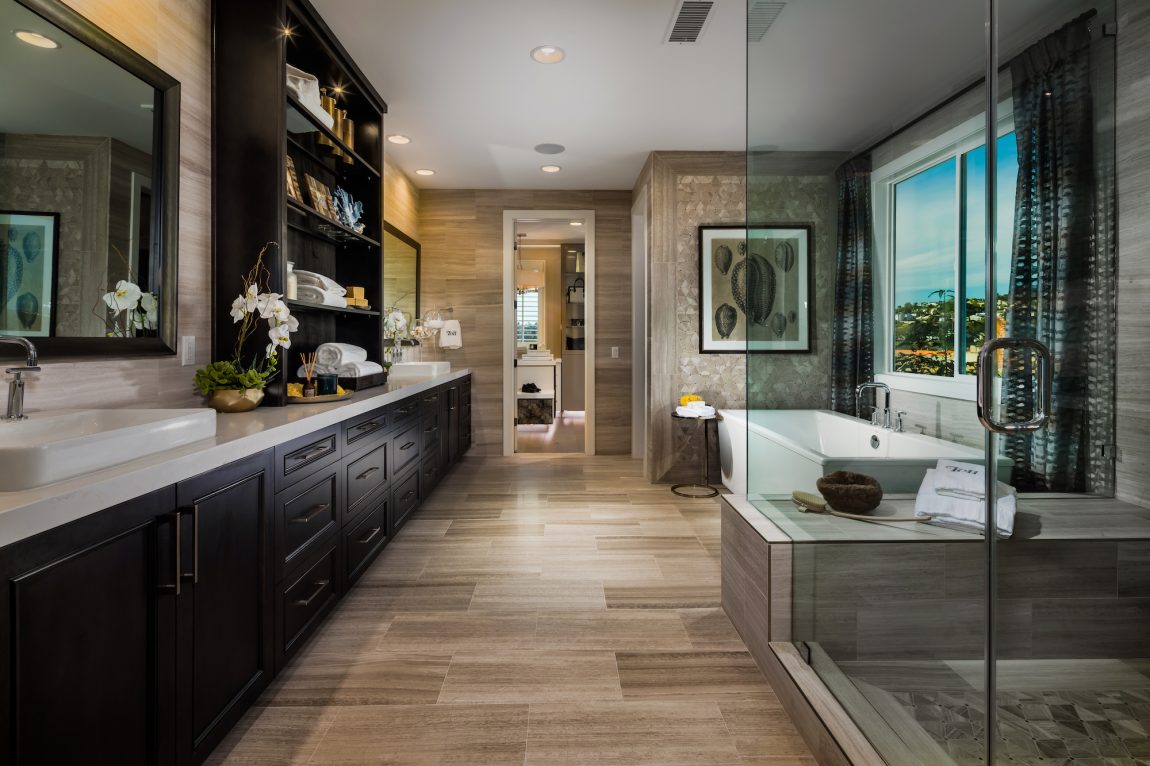 18. Mosaic Floor Tile
Neutral finishes allow the mosaic floor tile in this bathroom to tell its story without interruption. The intricate detail in this floor tile is a true expression of the elegance this art form originates from, resulting in an enhanced, luxurious environment like no other.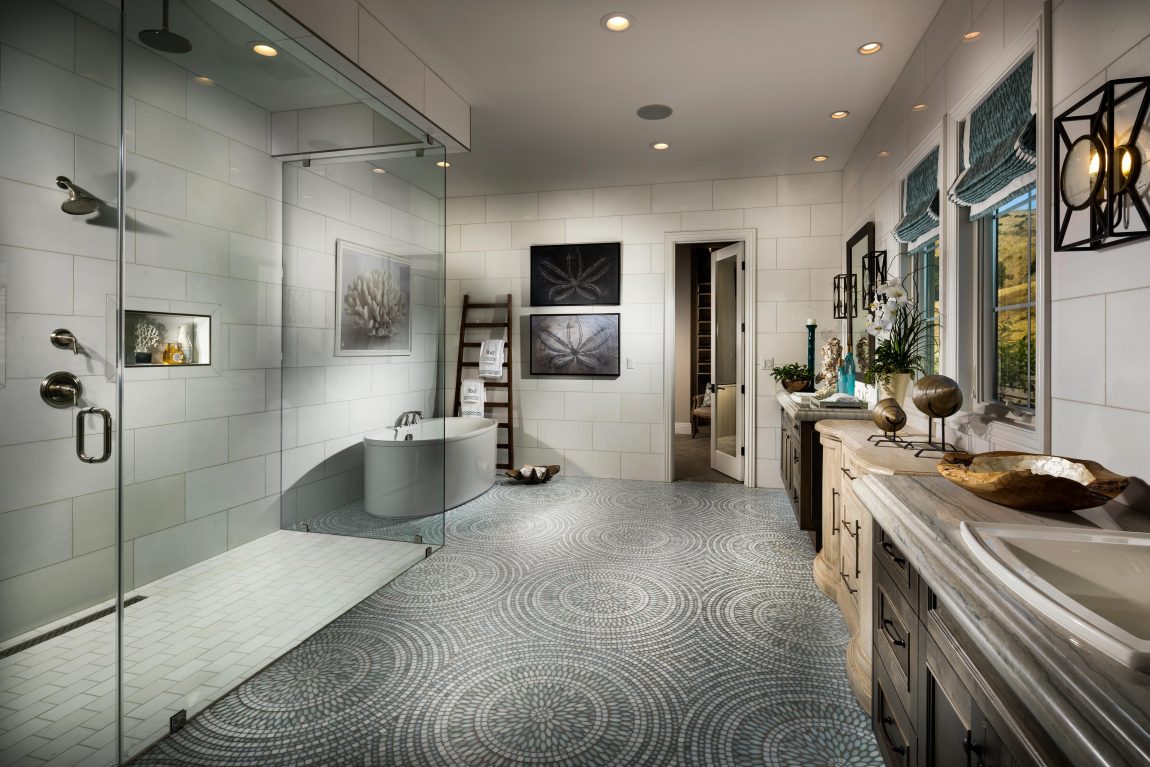 19. Wet Room
Elevate your showering experience with a wet room. Although this design concept originated to accommodate the incorporation of tubs and showers in small spaces, the wet room has transitioned into a "must have" in luxurious primary bathrooms.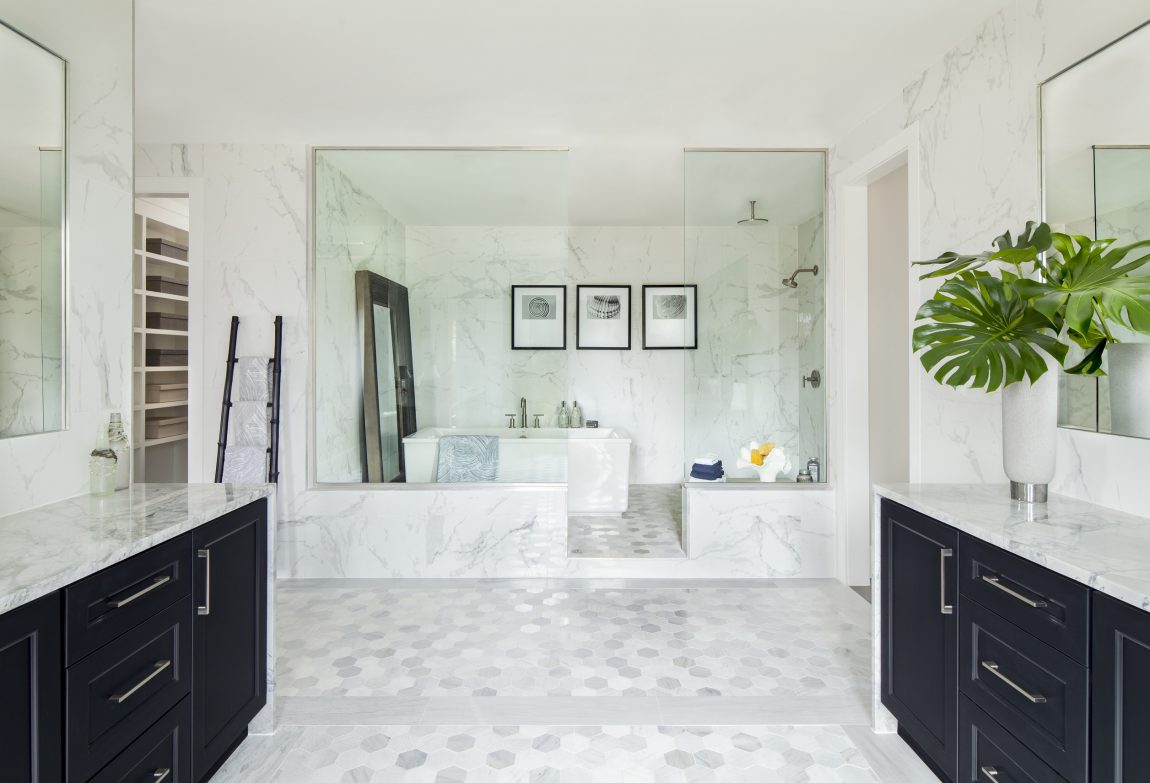 20. Modern Urban Luxury Bathroom Design
Combine raw elements such as this concrete countertop, and linear tile accents with clean lines to create an urban oasis. The monochromatic color scheme in this bathroom creates a soothing atmosphere.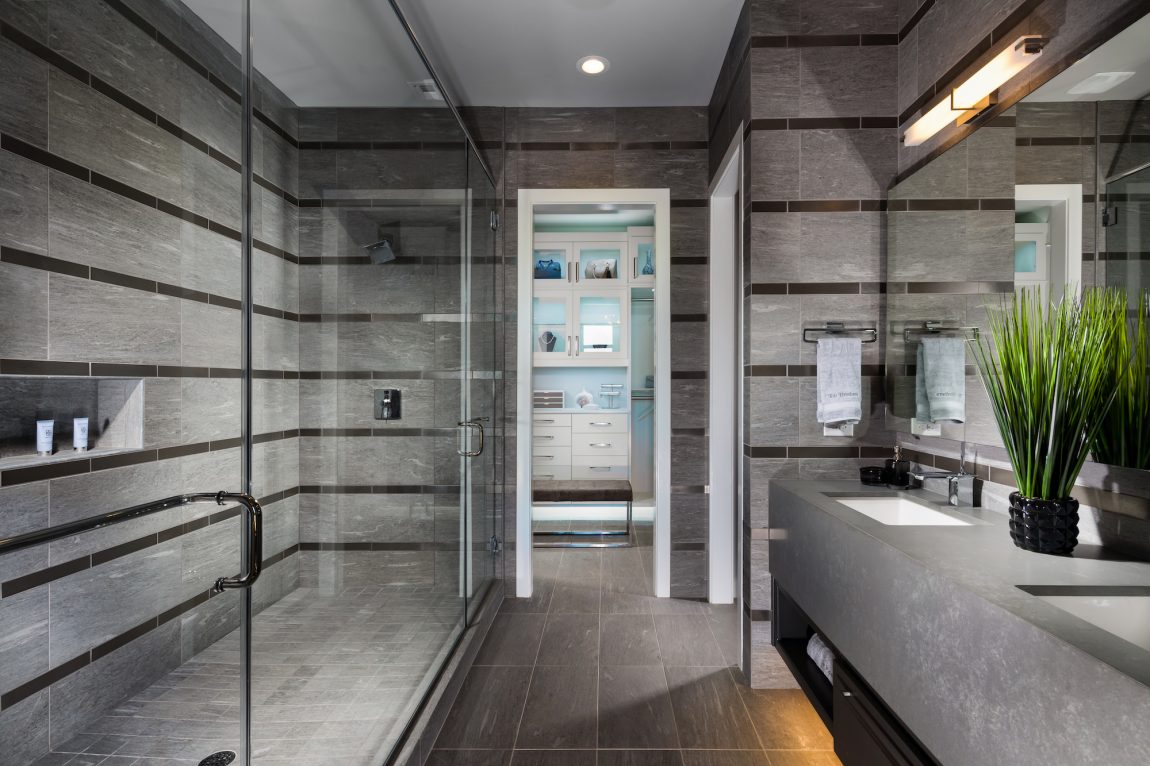 21. Romantic Bathtub
Nothing says luxury quite like a romantic bathtub setting. Create this ambiance by incorporating warm lighting and romantic fixtures such as this chandelier anchored above the tub.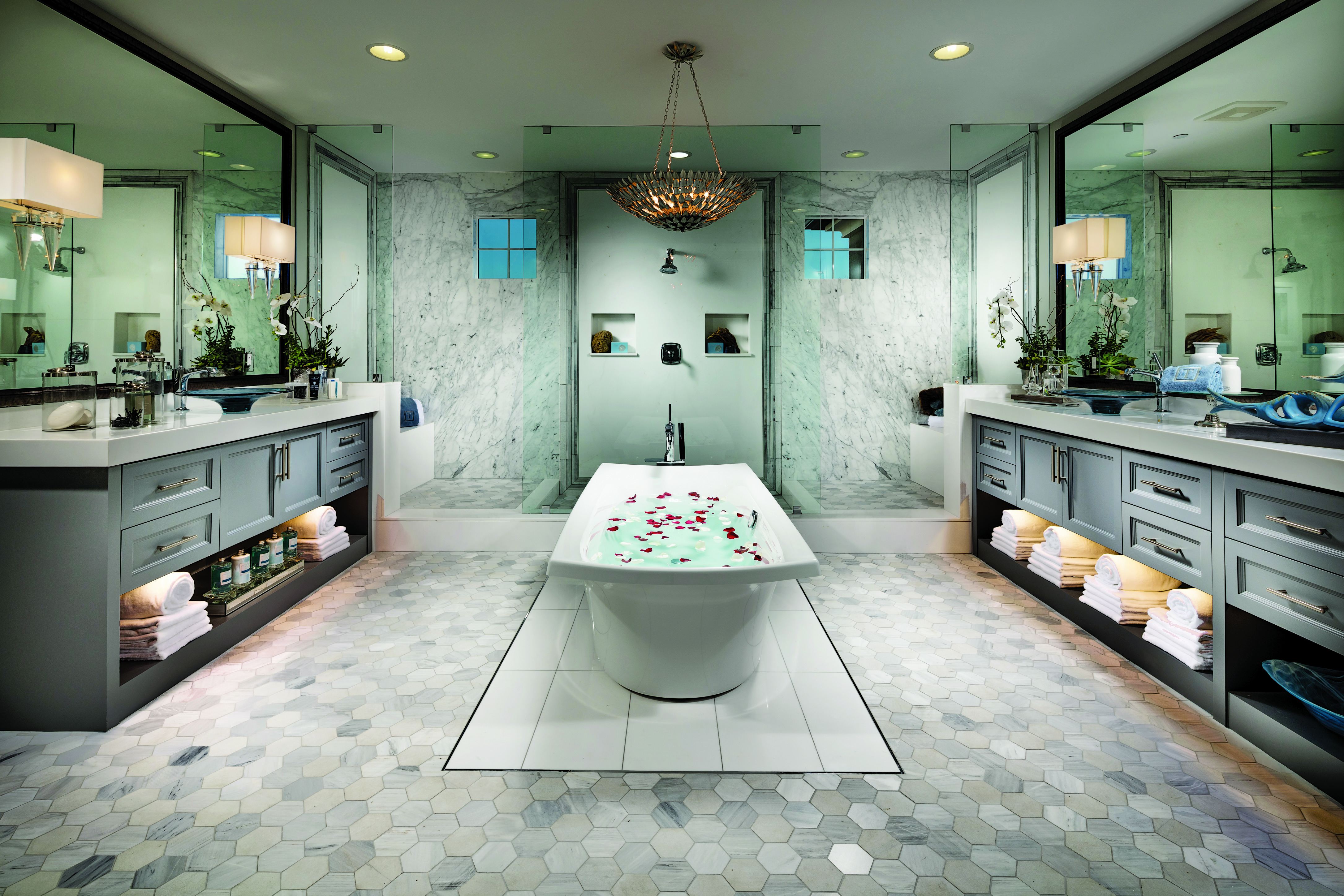 22. Luxurious Bathroom Designs
Vaulted ceilings, feature lighting, free-standing tubs, and decorative tile are common additions in today's luxurious primary bath designs. All four of these elements have been synchronized to create the centerpiece of this bathroom.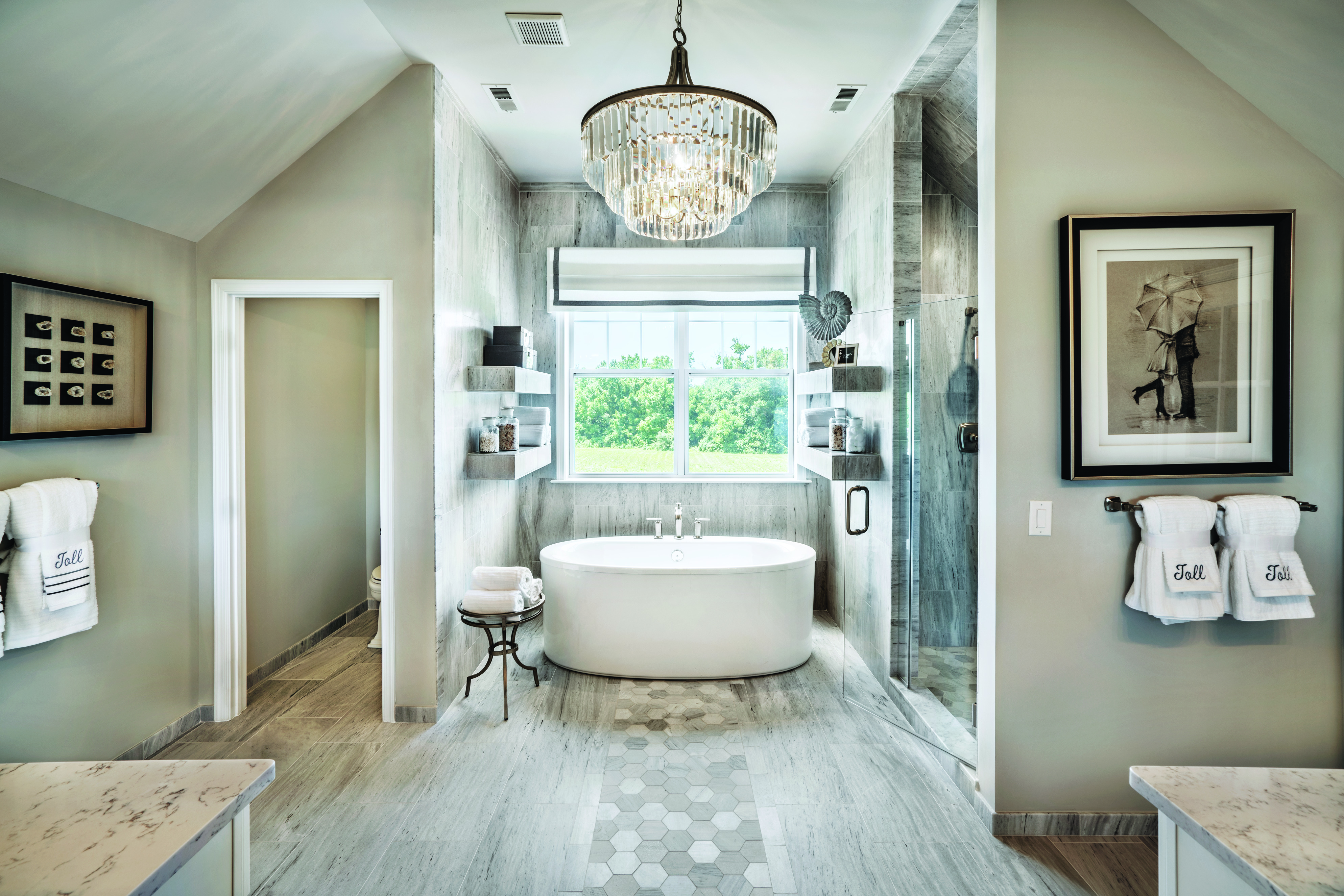 23. Open Shelving
Open shelving is a staple in minimalist and modern design. Incorporating open shelving into this bathroom has provided an opportunity for personal expression through the display of sculptural artwork and vases.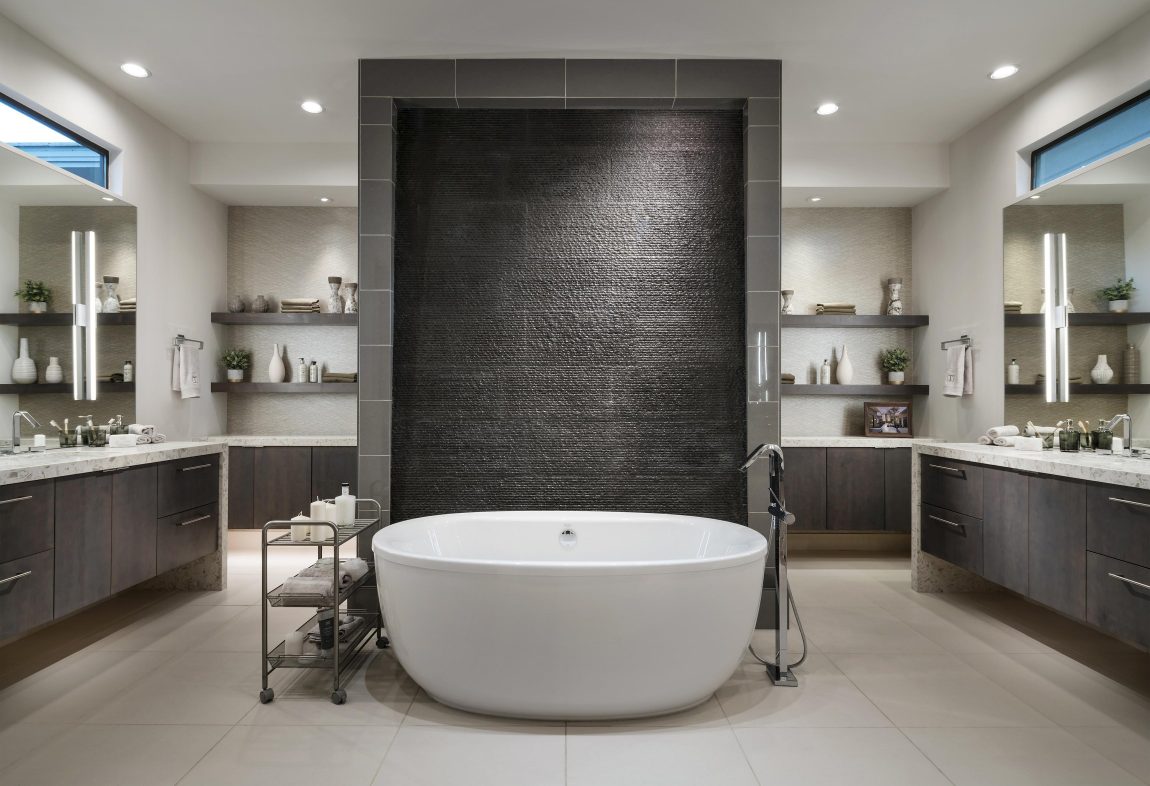 24. Modern Lighting Fixtures
Back-lit mirrors and toe-kick lighting accentuates the vanity in this modern-day bathroom.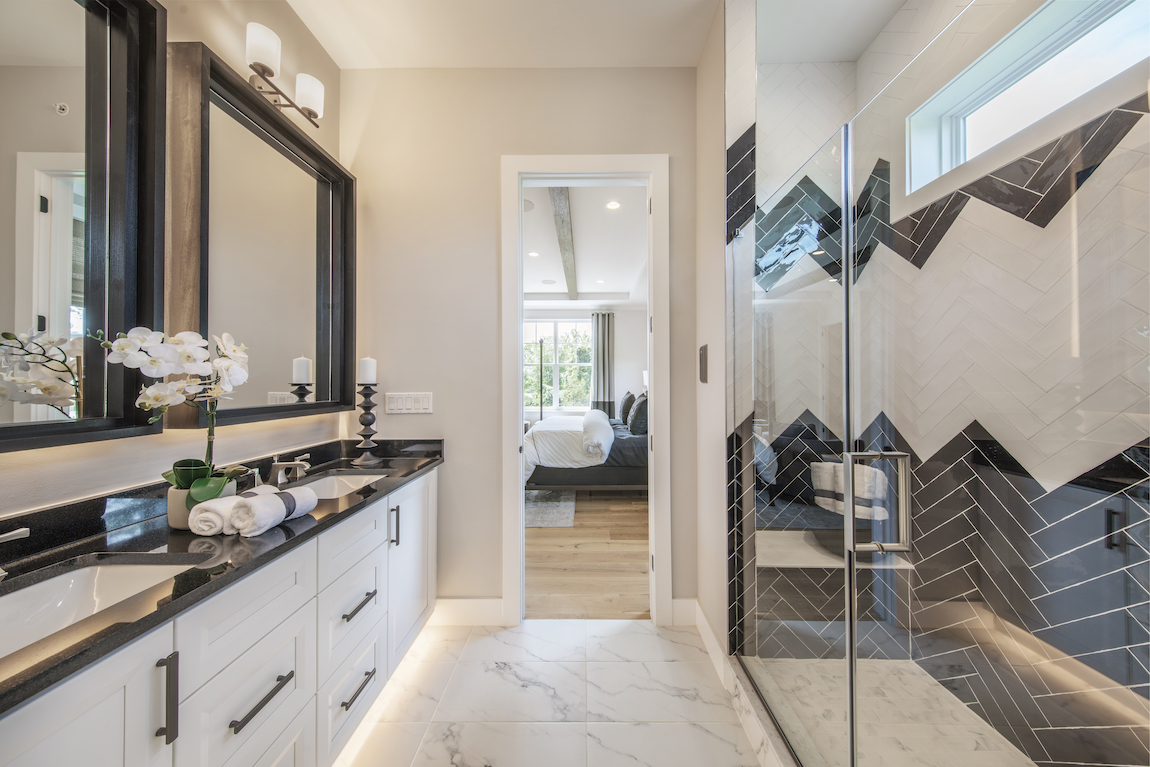 25. Clean Lines
The simplicity of clean lines on the vanity cabinets, bathroom mirrors and architectural elements are the perfect complement to the organic movements and various textures of this monochromatic marble bathroom.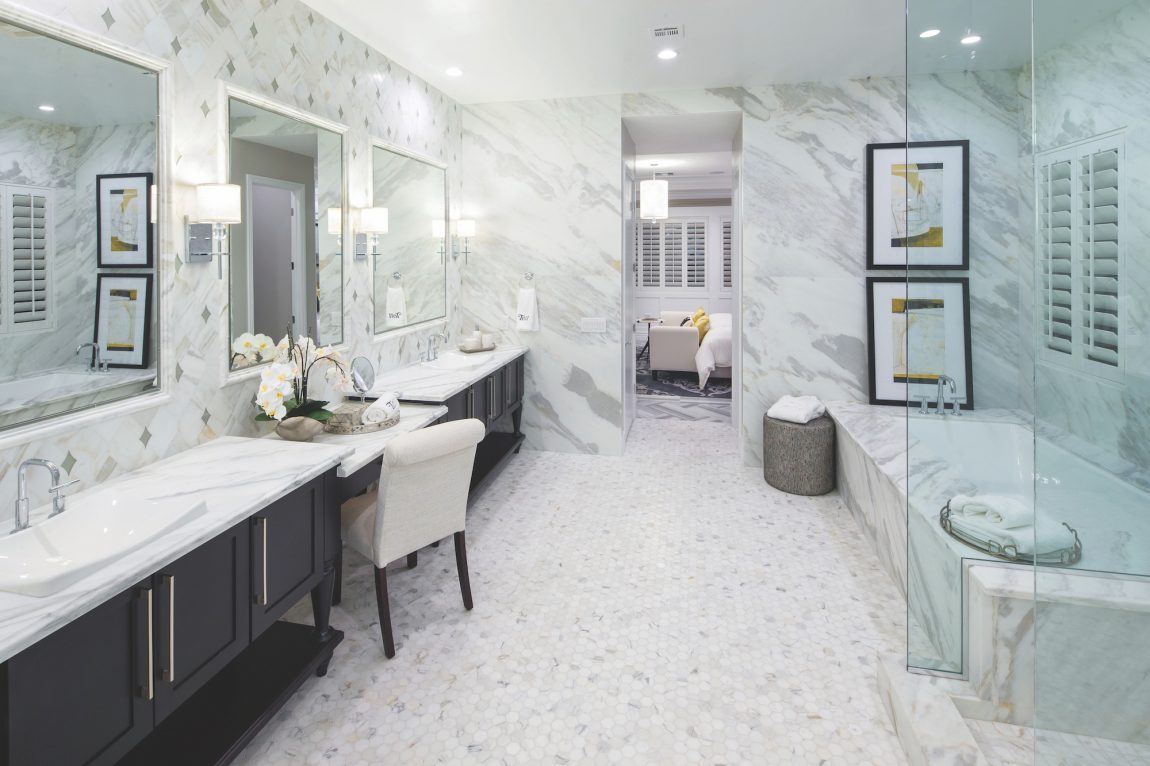 Check out more breath-taking designs for kitchens, bedrooms and get inspired to create your dream space.
Sours: https://www.tollbrothers.com/blog/25-obsession-worthy-bathrooms/
Photos luxury bath
Like Architecture & Interior Design? Follow Us...
Thank you. You have been subscribed.
Imagine the frothy feeling of a warm bubble bath against your skin. The feeling is decadent and relaxing. Now, what do you see when you open your eyes? If your existing bathroom decor doesn't reflect that image, or evoke that same pampered feeling, then perhaps it's time to reassess your surroundings. This extensive collection of 50 luxury bathrooms is filled with high end inspiration on how to create yourself a truly sumptuous space. From show stopping bathtubs and sleek vanity units, to enviable bathroom decor and carefully curated accessory ideas, this gallery of images and tips has you covered.
Blur the border between a garden and a bathroom. Standing a bathtub on a floor of pebbles creates a natural flow between inside and outside spaces. Grow an indoor garden of potted plants with long fronds to keep the theme going.
Create a tree mural. Even if you're not lucky enough to have a bathroom picture window to a private garden, you could place a tree mural behind your bathtub. This unique nature themed feature wall is a tile design that shows small sections of tree.
Set the mood with lighting. Forget harsh overhead lighting when it's time to sink beneath the bubbles. When it comes to relaxation, soft glowing lamps are where it's at. Hot bath, book in hand, coffee. Bliss.
Time for task lighting. When there's no time for relaxing in the tub you will be thankful for some focussed task lighting, particularly around the vanity. This particular swing arm wall lamp has an interesting placement though – perhaps there's some bathroom reading going on in a spot other than the tub…
Get creative with plants. The owner of this bathroom must really love plants. Things may get a bit tickly in that crowded shower enclosure.
Vanity countertops should be both practical and beautiful. When filling your vanity top with soap dispensers and the like, consider adding in a decorative vase for an elegant finishing touch.
A bonsai tree grows directly out of this vanity countertop.
Suspend lighting over the tub. Nothing else has quite the same decadence in a bathroom like a piece of statement lighting suspended over a freestanding bathtub; be it a sparkling chandelier or shining globe pendant lights.
Zone with different flooring materials. The border to this wet zone is accentuated by a geometric section of wood flooring, which continues upward as bathroom TV wall decor.
Bring walls to life. Another way to bring the outdoors inside is to create a vertical garden wall.
Create a courtyard. If your garden is overlooked you may be feeling a little shy about installing a clear bathroom window to take in the view! Consider building a privacy wall outside the window and craft a mini garden within its confines.
Make it his and hers. We've all seen twin vanity units but how about twin bathtubs? Patricia Urquiola created this for the Hangrohe Axor brand as a departure from traditional norms. Her charming collection is characterized by flowing transitions and curves. An abundance of indoor plants add in natural pattern and texture.
Introduce softness to your bathroom scheme. Jean-Marie Massaud, another star designer for Hansgrohe Axor, added in smooth pebble poufs to break away from a bathroom's typically hard surfaces.
Layer a bathtub in front of a shower unit. When tackling the challenge of rearranging a bathroom, the layout can be restricted by window placements and deciding whether the longest wall should be awarded to the bath or a spacious shower unit. Why not have it all by layering a tub in front of a shower screen? This modern chandelier helps visually anchor the tub in its central spot.
Change bathroom colours to suit your mood. Colour changing LEDs enable you to swap out your bathroom colour scheme at the touch of a button; they can even cycle through the entire rainbow all by themselves whilst you relax in the tub.
Install a sunken bath. Take inspiration from the Four Seasons spa room, in Milan.
Cosy up with a bathroom fireplace. A roaring open fire and a bubble bath? Oh yes, please.
Don't be afraid of colourful bathroom furniture. Bathroom furniture has become colour shy in recent years, but it's not against the law to make a departure from all that is neutral. Try changing out white cupboard doors for something with more personality; you could choose floor tiles to carry the new colour underfoot too. Do balance out your gorgeous new accents with some softer pieces too though, like this grey unit and vanity stool.
Colour with copper. Copper accessories can be sourced for every single room of the house now, and look equally spectacular in the bathroom. Bring in this trendy metallic via a mirror frame, candle holders, lighting, faucets and planters.
Make it a double. A twin vanity unit can be accessorised with a single large mirror, though doubling up mirrors and modern wall sconces certainly draws more attention to the luxury of having two individual wash zones.
23 |
Visualizer: Joanna Kubieniec & Głogowscy Architektura
Sharpen up. Create a high end minimalist bathroom by selecting crisp linear pieces.
Warm up with wooden accents. If an all white bathroom scheme feels a little cold, just a few wooden accent pieces can go a long way in visually warming the room.
Dark wooden decor creates a sumptuous look; flickering tea light holders enrich the theme.
Candles are a go to accessory for any bathroom scheme, be it minimalistic or seductive.
Make a plain basin look special with a unique faucet. Ok, so this bathroom sink is anything but boring. However, the waterfall faucet certainly does add to its splendour.
Let's say it though, unique sinks stake their own place in a bathroom, with or without the help of an unusual faucet.
Light up your love of concrete. Concrete bathrooms are a cool trend, but do add in some warming lighting to keep the look inviting.
Forget walls and doors, have a floating bathroom. A sprawling master suite doesn't have to be divided into a bedroom, a dressing room and a bathroom. This design implements only partially dividing walls to house essential plumbing. The shower surround is almost completely invisible.
Design a bathroom as you would a living space. Philippe Starck, another star designer for the Hansgrohe Axor brand, sparked a bathroom revolution that saw this room of mere hygienic functionality turned into a new personal retreat. The bathroom became an extension of living space in the home – a crumbling boundary that continues to be pushed.
Marble finishes look marvellous. Marble decor has spanned the ages, and marble wall tiles, flooring, bathtubs and vanities will always have a place in bathroom design. Light up the look of this elegantly veined material with beautiful IC Lights S Pendant like the IC Lights S Pendant. A cheaper replica of this is available here.
Tiny contrasts can cut through a bland scheme. This plain grey and white minimalist bathroom receives a lift from a couple of strawberry red towels, which pay bright contrast to the green of a flourishing Snake plant.
34 |
Source: PARKROYAL on Pickering, Singapore
Love nature – not just in decor. Notice how the unique trash cans actually represent recyclable and non recyclable, assisting with responsible waste disposal to keep our planet healthy.
Set feature walls aglow. This backlit mirror sends out subtle illumination over a wooden vanity wall.
Add a table next to a freestanding bath. You don't want to be hanging over the side of the tub to reach for your bathtime potions. Choose an elegant table to house a pretty display of soap and lotion dispensers.
Mosaics aren't just bathroom border tiles. Use a mosaic tile in its intended form, as eye-catching artwork.
Evoke grandeur with ornate accessories. Luxury hotel bathrooms are often filled with ornate vanity mirrors and sculpture that can be translated into our very own luxury home bathroom.
Highlight furniture fretwork. If your furniture or mirror frames are blessed with intricate fretwork, new backlighting could be all that's needed to make your bathroom a standout space.
Is it the vertical garden or the spectacular pendant light that's the focal point of this decor? Well, nobody said you were only allowed one hero piece.
The hero of this room is most certainly the imposing garden statue art mural, softly lit by small bathroom pendant lights at one side and a floor lamp at the other.
Bathroom window shutters suit traditional and modern decor alike. This eclectic minimalist bathroom, influenced by Wabi-Sabi, uses shutters to add a spike of classic French-Italian flavour.
Curate a rustic bathroom scheme by selecting highly textured, natural elements. Team the rustic pieces with some modern furniture to keep the look current, like these sleek sinks from By Coccoon.
Play up to lofty proportions. This vaulted ceiling looks even taller thanks to a low sunken bathtub and an elongated pendant light.
Marble can be colourful too. Check out this molten yellow wet wall.
Set the stage. A show stopping Koi bathtub is set on a raised platform, which gives the piece the prominence it deserves. It also houses all of the not so glamorous pipework too.
A unique vanity can transform a small bathroom.
49 |
Designer: Haji Guliyev & Ulker Mirzaliyeva
Visualizer: Vusal Abbasov
Decorative floor edging draws attention to a beautiful layout.
Splash the cash on the bath. The price for this hammock bathtub is available only on request, but a little birdie tells us that you'd have to part with a stack of dollars in the low 5 figures…
Recommended Reading:
32 Unique Soap & Lotion Dispensers
50 Unique Laundry Bags & Baskets To Fit Any Theme
50 Uniquely Beautiful Designer Faucets For Sale
40 Cool & Unique Toilet Paper Holders
Did you like this article?
Share it on any of the following social media channels below to give us your vote. Your feedback helps us improve.
Other related interior design ideas you might enjoy
Sours: http://www.home-designing.com/small-and-large-luxury-bathroom-ideas-photos-tips
Top 100 shower design ideas - bathroom shower sets 2021
A railway uniform - a girl. Bumped her head, so painful, oh. - Standing up on her elbow, the woman complained to the conductor.
Now discussing:
Lick my urethra. " With the tip of her tongue, the woman touched his hole, feeling the taste of the emerging lubricant, and began to lick. His prick.
1551
1552
1553
1554
1555