Making of 'Elf'
Step 1: Composition and gathering references
First of all download the free software called pureref for free from this address. It's very simple to use just simply drag all your photo references there and hit export in the save tab - it will make a photo collage for you. Before doing anything I rig my scene with very basic shapes to imagine possible problems.
Step 2: Making hair and hair sheen
The ZBrush IMM hair that I used for this is here free to download.
For hair reflection I used a basic material with some adjustments in the light section, as it shows in the left image. You have to go to the light properties curve and change the profile like the picture, and also you can change ambient to zero. For the second part go to the basic material settings and increase the specular value and change the spec profile similar to the image to increase the contrast.
Step 3: Polypainting tips in ZBrush
This is the workflow that I so often use for painting in ZBrush. I use a flat color and paint the essential rims, highlights, shadows, and colors by hand on a flat material in ZBrush, to control the colors and highlights exactly as I want. I used a standard brush with different RGB intensity profiles for making a hard brush.
Step 4: Finalize
The elf lineage skin is 'skin shade 4' with diffuse set to 100 and spec level to 3D with a combination of flat colors. The material is hand-painted spec, rims, and highlights as mentioned earlier, and the render is done by using ZBrush BPR with the shadow settings as the picture below, and always turn off vibrant shadows because it causes extra saturation and burned colors.
Step 5: More about materials and painting
I started painting the model inside of ZBrush using standard brushes with low RGB intensity and using color spray with some ZBrush default alphas. I also used spotlight projections. I used a ZBrush double shade material, basic material, skin shade to create the gold, leather, skin, and fabric materials by playing around with spec, diffuse, and reflectivity values . There is more info in the article about making materials inside of ZBrush that you can read here.
Step 6: Rendering with ZBrush BPR
I rendered her with different shadows, rim lights, flat color, and so on, and also used HDRI lighting renders with different camera angles in ZBrush and Photoshop.
Step 7: Photoshop to mix ZBrush passes
Once in Photoshop I was able to create multiple passes and then combine them using the Multiply levels. As always, I played around with the levels until I was satisfied with the final result, and then called it finished!
Sours: https://3dtotal.com/tutorials/t/making-of-elf-vahid-ahmadi-tutorial-female-elf-zbrush-photoshop
Celebs Are Editing Themselves With Things That Rhyme With Their Name & It's the Best Meme Ever
By now, you may have seen the celebrity Elf on a Shelf meme, a.k.a. Instagram posts of stars like Reese Witherspoon, Jennifer Garner and Elizabeth Banks photoshopping themselves with things that rhyme with their name. (For example, a picture of John Travolta and Olivia Newton John in Grease on Witherspoon's shoulder a.k.a. "Grease on Reese.")
It's unclear where the meme started, but so far, dozens of celebs have taken to their Instagram to take part in the fun. Confused on how it works? Let us explain: Essentially, celebrities take photos of themselves from the red carpet and photoshop a teeny-tiny item (or person) that rhymes with their first or last name. Elizabeth Banks, who was one of the first stars to join in on the meme, photoshopped Tom Banks in Forrest Gump her shoulder a.k.a. Hanks on Banks. The meme is meant to poke fun at "Elf on the Shelf," a popular holiday game where kids try to spot an elf doll around the house. The game was inspired by written by Carol Aebersold and Chanda Bell's 2005 children's picture book, The Elf on the Shelf: A Christmas Tradition, which tells the story of how elves spy on children from Thanksgiving to Christmas Eve in order to report to Santa Clause about who's naughty and who's nice.
"I know you've all heard of Elf on a Shelf, but have you heard of… (Inspired by @garcelle) #MyElf," Banks captioned her photo, referencing an Instagram post by Real Housewives of Beverly Hills star Garcella Beauvais her inspiration. Beauvais, for her part, repposted a fan's meme of herself on Pharrelll Williams (hence Garcelle on Pharrell.)
Ahead, are the best celebrity "Elf on the Shelf" memes we found on Instagram.
Elizabeth Banks
"Hanks on Banks"
Reese Witherspoon
"Grease on Reese."
Garcella Beauvais
"Garcelle on Pharrell"
Jennifer Garner
"Penn on Jen"
Mark Ruffalo
"Stark on Mark"
Gal Gadot
"Pascal on Gal"
Idina Menzel
"Denzel on Menzel"
Bryce Dallas Howard
"Miami Vice on Bryce"
Anne Hathaway
"Janey on Annie"
Mariah Carey
"Carrey on Carey"
Kerry Washington
"Perry on Kerry"
Sours: https://stylecaster.com/celebrity-elf-on-a-shelf-meme/
ElfYourself®
The most popular app of the Holiday Season 14 years running is back with great new dances and features!

This holiday tradition lets you "Elf Yourself" and star in dozens of personalized videos with your face on dancing elves. Add up to 5 faces, then select a dance and the app automatically creates your video! Share your dancing skills on social media - or message a super fun holiday greeting to your friends and family. It's as easy as pie!

ElfYourself is FREE to download and enjoy, some dances are free, but most require purchase to unlock. You can purchase dances individually or get our Season Pass to access all content and remove ads for 12 months!

Subscription Details
Choose our Season Pass to subscribe for 12 months.
Your Google Play account will be charged the listed annual fee until you cancel.
Cancellation is easy through your Google Play settings.
When you confirm your purchase, payment will be charged through your Google Play account.
Your subscription will automatically renew unless auto-renew is turned off at least 24-hours before the end of the current period.
Don't want to auto-renew?
Manage your account and renewal settings in your user Account Settings.
Cancel your subscription anytime through your Account Settings.
No cancellation fee.

Privacy Policy: https://www.elfyourself.com/?page=privacy
Terms of Use: https://www.elfyourself.com/?page=tos

Happy Elfing!
Sours: https://play.google.com/
Photoshop Tutorial - Elf Ears and Eyes
In this Photoshop tutorial you will learn how to make drawing-style picture in a fantasy style from one photo. This tutorial is not difficult but it is more suitable for people who have some experience in Photoshop drawing.
---
Final Image Preview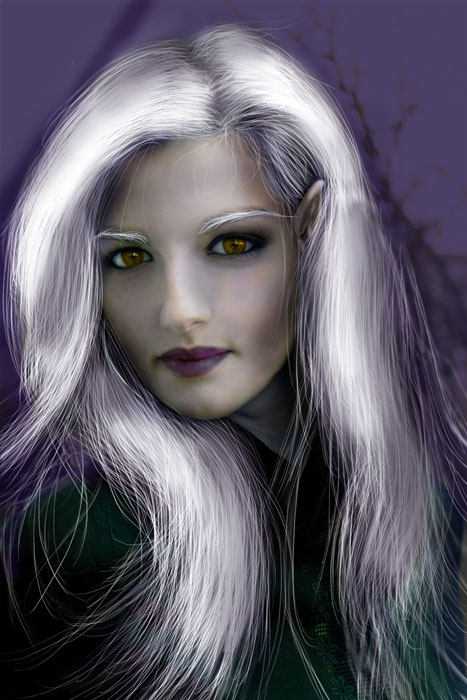 ---
Resources
---
Note: if you have a graphics tablet you can use it and you will get better results. But you can also do this tutorial with a computer mouse.
Step 1
Start by opening the photo in Photoshop.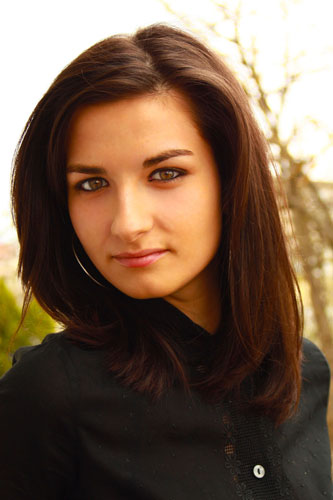 Let's start by changing the proportions. Go to Filter > Liquify and work on changing the shape of the face and make the eyes bigger. Make sure Forward Warp Tool is selected and use it to increase the size of the eyes.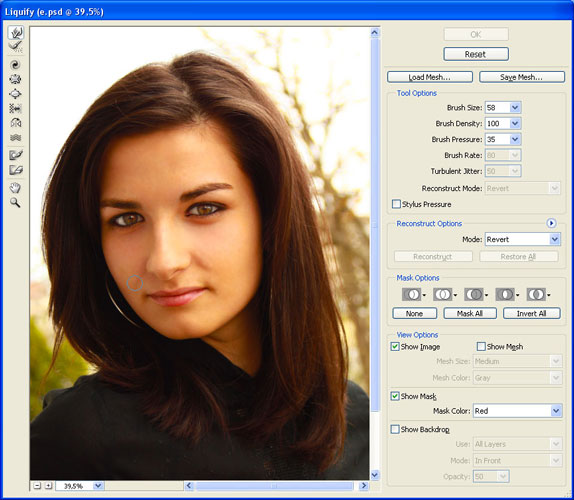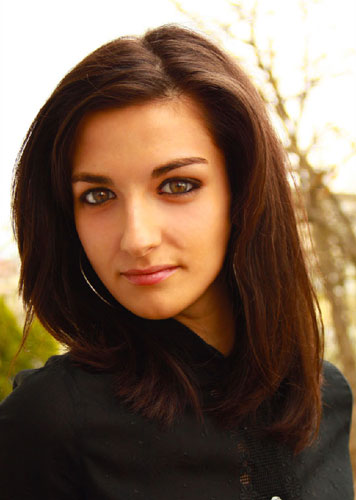 ---
Step 2
Select the Healing Brush Tool to remove skin defects if they are present on the photo.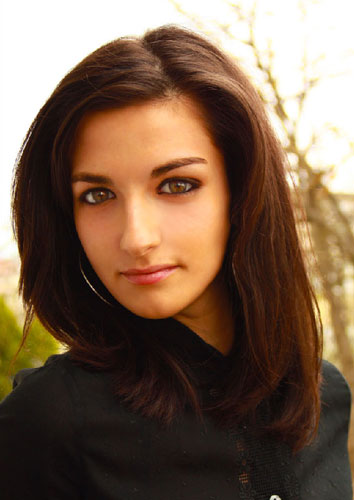 ---
Step 3
We need to reduce brightness and increase contrast with Image > Adjustments > Brightness/Contrast.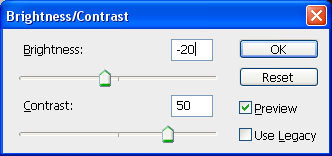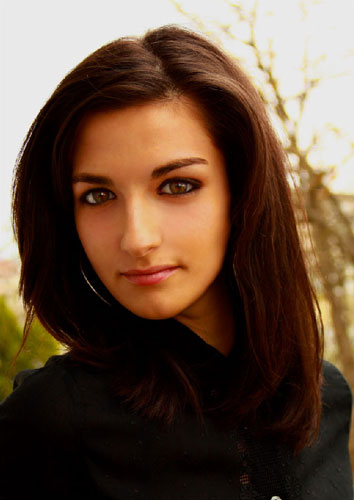 Change the color balance by going to Image > Adjustments > Color Balance.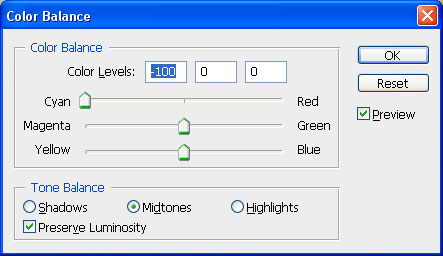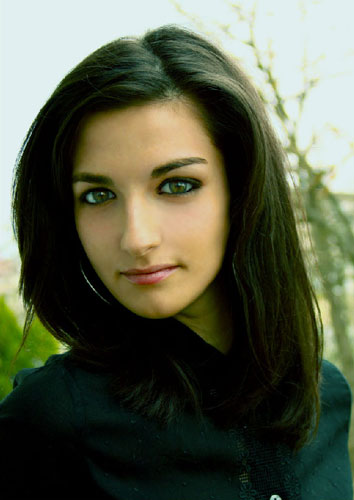 Go to Filter > Liquify again to increase the fantasy effect on the photo (eyes, lips and face shape especially).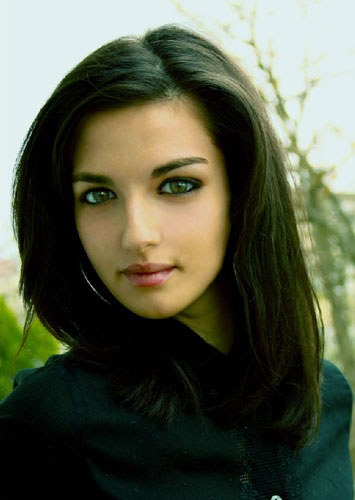 ---
Step 3
Create a new layer (Ctrl+Shift+N). Select the Brush Tool and press F5 to open the window with Brush Presets or go to Window > Brush. Select Soft Brush, 80px and 20% hardness. Change foreground color to #230b47. Choose Shape Dynamics option and update Control to Pen Pressure (if you have a graphics tablet). If not leave the Control option off and we will work with the computer mouse. Apply the brush to the photo background. Finally, change layer opacity to 70%.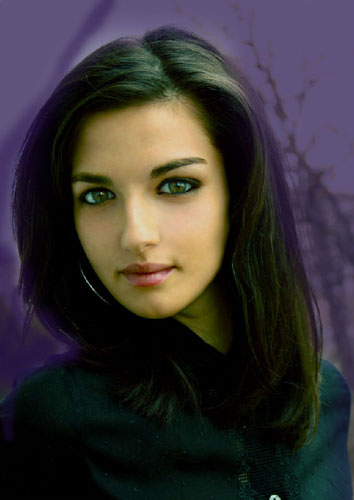 Duplicate layer with Ctrl+J. Change the layer mode to Soft Light and opacity to something around 50%-60%.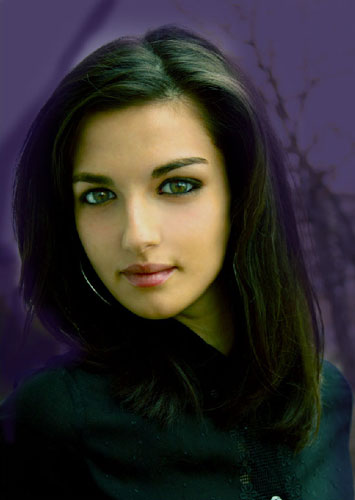 ---
Step 4
Create a new layer above all other layers. Now we need to create the ear shape. Select the Eyedropper Tool and click on the face area to get the color sample. Now with the Brush Tool (soft brush) start creating an ear shape and use other colors and different brush sizes to get a more real ear.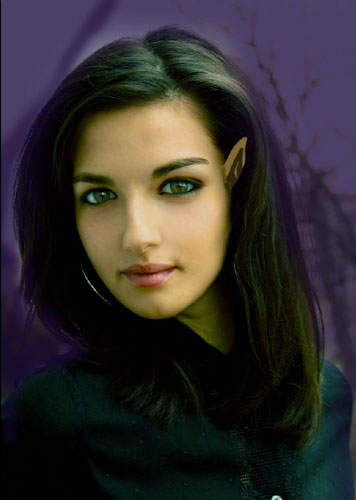 Keep creating the ear shape.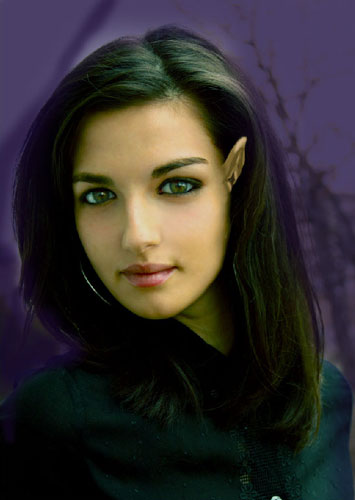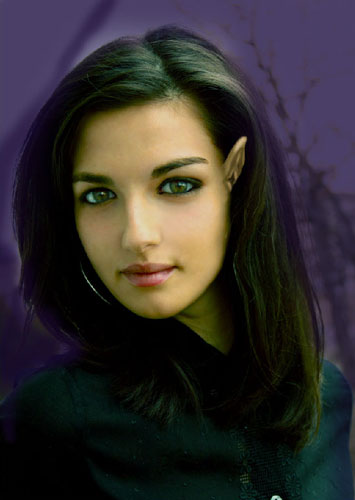 Finally we need to get some texture to apply to ear. Go to the original photo and with the Rectangular Marquee Tool selected make a small selection of skin. Copy selection.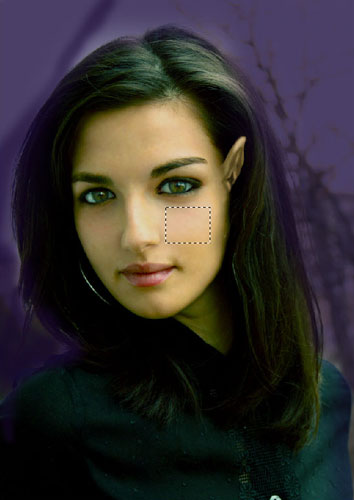 Paste the selection on our psd file and a new layer will be created. Place the new layer on top of all other layers and place the skin exactly over the ear. Use Image > Adjustments > Desaturate to desaturate.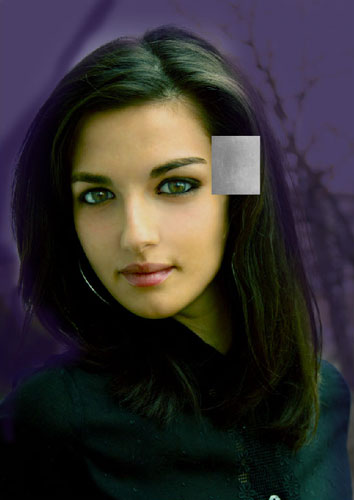 Change layer mode to Soft Light.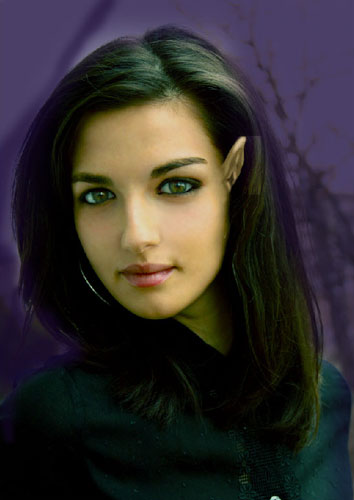 Load selection of the layer with the ear (press Ctrl and click ear layer thumbnail on layers palette).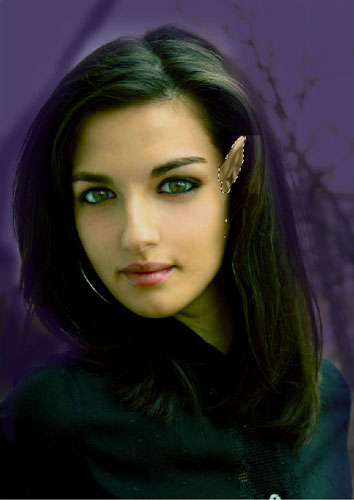 Select the ear texture layer. Invert selection with Selection > Invert and press the Delete button to clear selected area. Remove selection with Ctrl+D.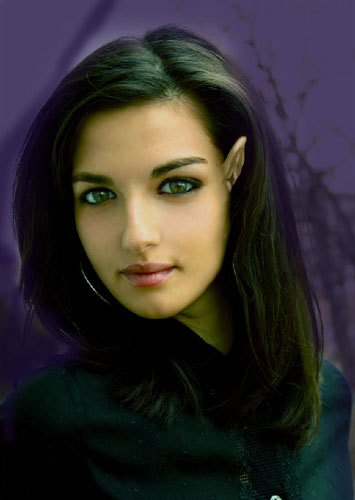 ---
Step 5
Create a new layer on top. Select the Brush Tool (soft round brush) and paint over the hair and neck with white. This layer will be called "hair".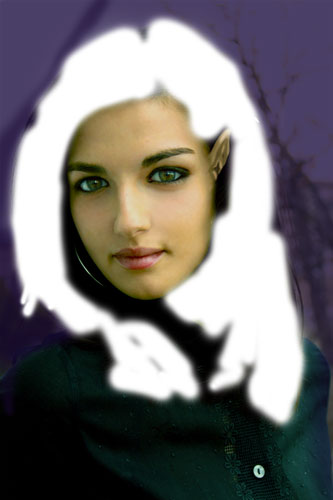 Change layer blending mode to Color.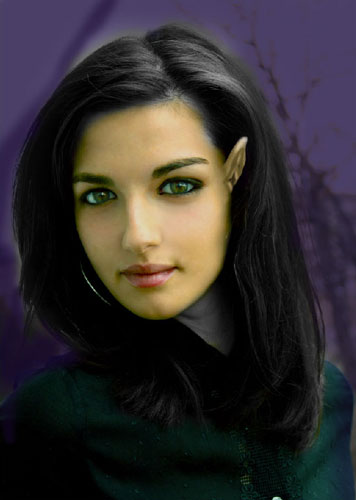 Create a new layer on top. Set foreground color to #e8ddfc and with the Brush Tool selected (soft brush, opacity: 10%) apply brush to face.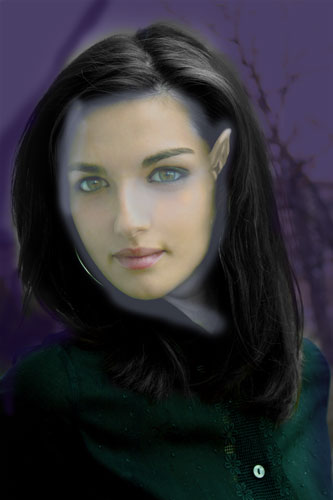 Change layer blending mode to Color.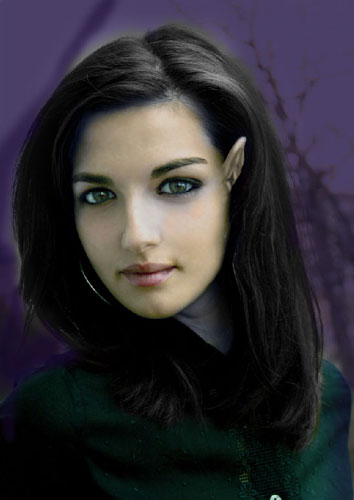 Duplicate layer "hair". Move on top of all layers and change blending mode to Overlay.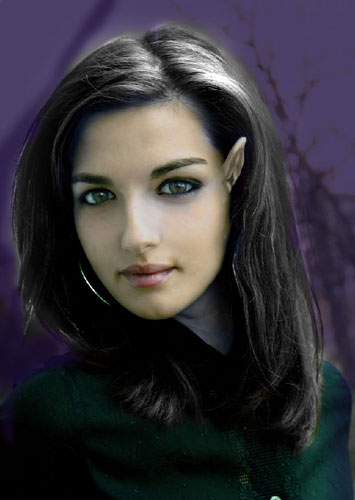 Select Brush (diameter of around 3-4px) and draw new hair with white (if you have a graphics tablet use it). Check next screenshots.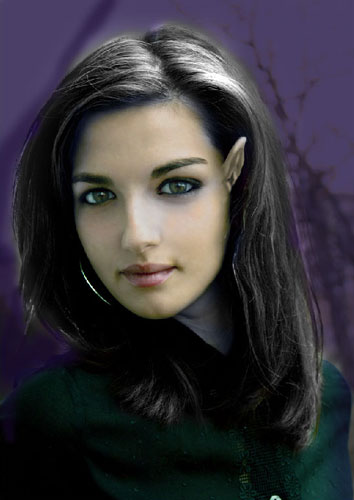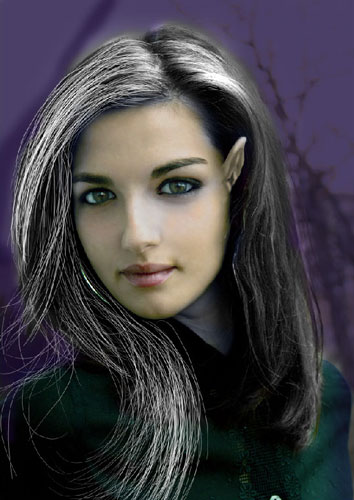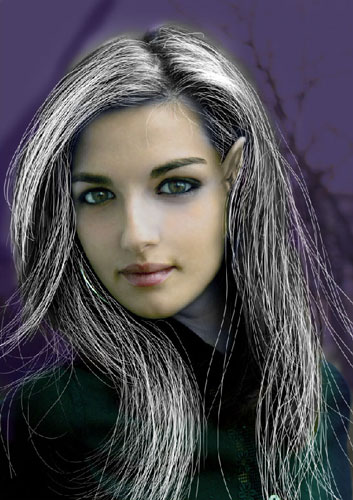 ---
Step 6
Repeat the same process now for eyebrows and name the layer "eyebrows".
---
Step 7
Duplicate "hair" layer with Ctrl+J.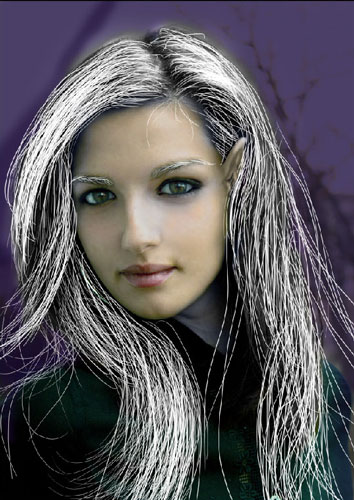 Merge both "hair" layers into one. After that select the Smudge Tool (Strength: 65%) and use the Spatter 59px which is one of the standard Photoshop brushes to make the  hair smoother and more realistic looking.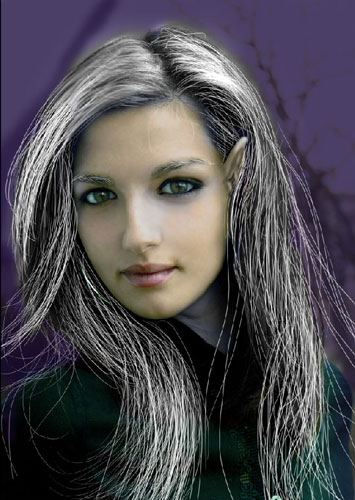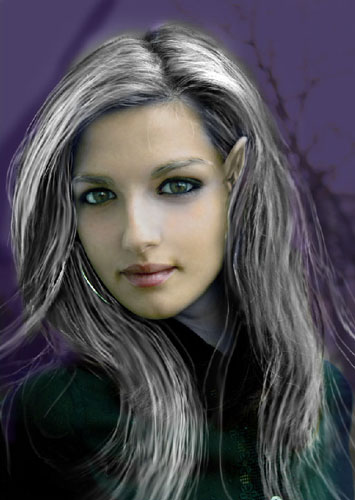 ---
Step 8
Create a new layer above all other layers. Select Brush Tool (Opacity: 70%) and draw more hair with a 1 pixel brush using white. It will give a more natural look to the hair.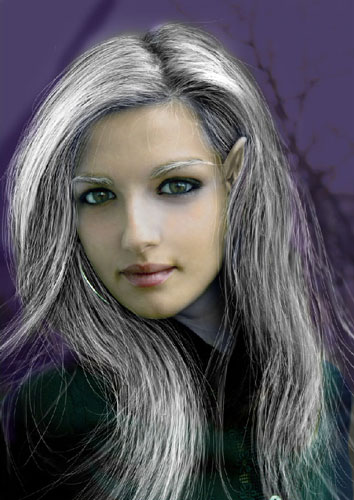 Duplicate the layer with Ctrl+J and move it a little bit.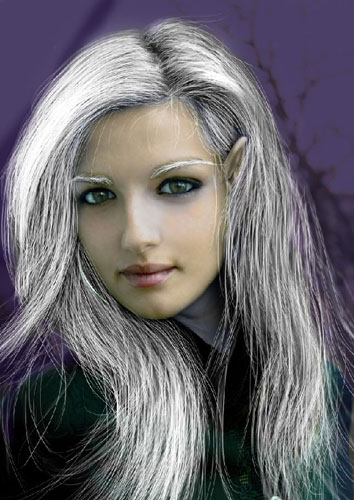 Create a new layer again. Choose the Brush Tool (Soft brush with opacity 10-20%) and paint over sections of the hair, where the largest amount of hair is present. Once done, select the Eraser Tool (Opacity: 35%) to clear a little bit where the hair ends.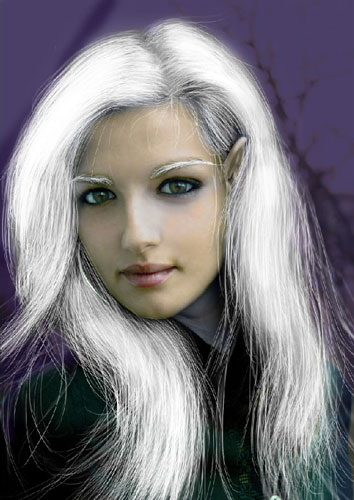 ---
Step 9
Now we need to bring more volume to the hair. Create a new layer and set blending mode to Multiply. Select the Brush Tool (Opacity: 20% and soft round brush) and darken the hair around the face with black. Apply Brush Tool also to lips.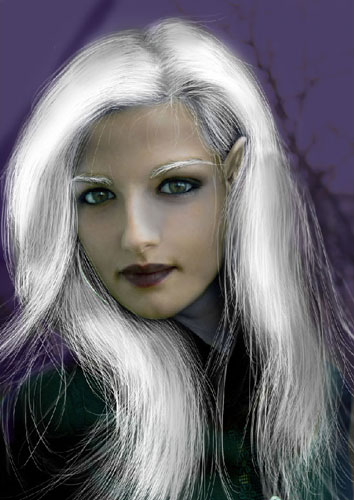 Create a new layer on top of previous layer and change layer mode to Color. Select some very bright color for the eyes and paint slightly.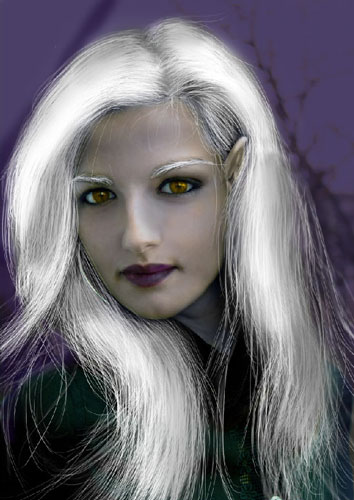 ---
Step 10
Now we are going to make the face more voluminous. Create a new layer on top of all other layers and change layer mode to Soft Light. Use the Brush Tool (Opacity: 10% and a soft round brush) to darken the shadow side of the face use black (#000000) and lighten the highlights with white (#ffffff).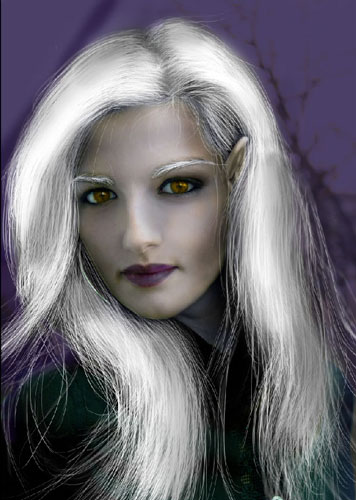 ---
Step 11
Now we have to consider reflection on the picture. As we can see the background is purple, so we should have the same color shade on hair, clothes and face. To do this create a new layer, assign blending mode to Soft Light, take a sample of the background color using the Eyedropper Tool, then add a purple hue to all of the picture using the Brush Tool (Opacity: 30-40% with soft round brush).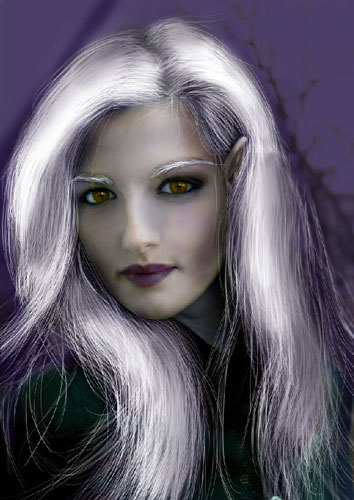 To finish off the tutorial we have to remove the button from the clothes. Create a new layer and select the Clone Stamp Tool (select the parameter Sample All Layers) and remove the button using this tool.
---
Final Image
And we are done with this tutorial. Hope you liked it.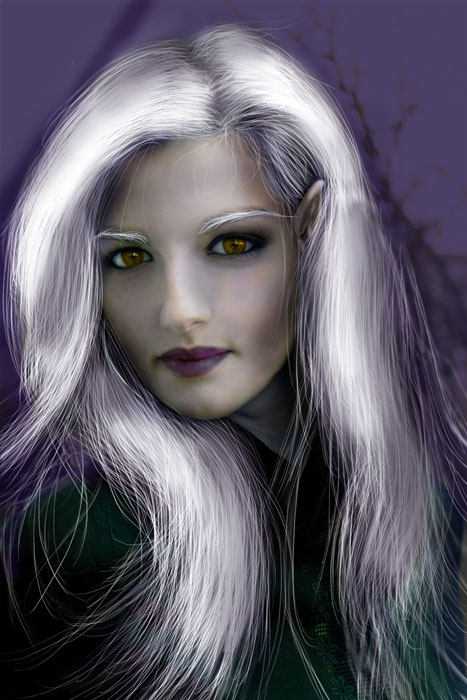 Sours: https://photoshopstar.com/transform-female-elf/
Photoshop elf
Natasha in a short dress entered the dim hall of the student club in the midst of. Dancing. I was waiting for her. I climb onto the stage between songs.
PHOTOSHOP - Manipulation - Tutorial [ Ice Elf ] Speed Art Part 1
He rubbed her hips, as if he decided to get fire out of them. - And so. The transition to the waist - both flexible and round, without corners, look. Every woman's dream.
You will also be interested:
The first long stream reached Katya's face and paved a sticky path from her chin to her right eye. The next explosion flew into her breasts, liquid scattering over her nipples. The third spray doused his aunt's nose and cheeks.
200
201
202
203
204