Seals Ambulance Service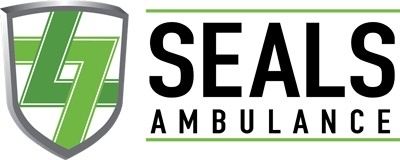 Human Resources
2400 Roosevelt Avenue
Indianapolis
IN
46218
(317) 762-2828
[email protected]
Based in Indianapolis, Seals Ambulance provides emergency and nonemergency transport services to multiple hospital and facility contracts in Central Indiana, as well as emergency 911 service for various regions throughout Indiana. Communities served by Seals Ambulance include: * Indianapolis Metro Area * Johnson County – Greenwood, Franklin * Hamilton County – Noblesville, Fishers, Carmel * Hancock County – Greenfield, Fortville, McCordsville * Madison County – Anderson, Elwood * Tipton County – Tipton Seals Ambulance is the exclusive ambulance provider for emergency 911 transports for Tipton and Hancock counties and portions of Johnson County. Seals Ambulance also provides coverage for special events of all sizes. We are the contracted provider for several venues, including: * The Indiana State Fairgrounds * Ruoff Music Center * Indiana Grand Racing and Casino * The Lawn at White Rive * The Old National Centre We were, founded in 1965 in Fortville, Indiana, by Ronald and Darlene Seals, was purchased by their son, Randal Seals, and his wife, Marie, in 1996. Over the past five decades, Seals Ambulance has expanded throughout Central Indiana providing trusted emergency and nonemergency medical transport. Seals Ambulance is the preferred provider for the Community Health Network, which includes six Community Hospitals and several Community Medical Centers throughout Indianapolis and Anderson. Seals Ambulance is now a member of the Priority Ambulance national family of companies, which operates in ten states and serves nearly 500,000 patients each year. Seals Ambulance strives to go above and beyond in serving, and this includes supporting local causes and events that matter to the community. Patient care is our priority, and we take pride in delivering the best care possible. Seals Ambulance vehicles are available around the clock, 365 days a year to ensure our patients and health care clients receive timely, top-quality service.



Apply Now
Sours: https://www.in.gov/dva/find-a-job/seals-ambulance-service/
Dispatcher
Seals Ambulance
Indianapolis, IN

Seals Ambulance Service is looking for outstanding individuals to join our team in the dispatching center. Opportunities for both Full Time and Part Time are available. Candidates will answer calls, determine appropriate level of service, assign runs, maintain open communication with crews and customers and track appropriate information for each call received.

Established in 1965, Seals has provided quality emergency and convalescent care to our patients in central Indiana for over 50 years. As a full service medical transport organization, we provide:
Advanced Life Support
Basic Life Support
Critical Care Transportation
Bariatric Transportation
Wheelchair Transportation
Special Event and First Aid Services
911 / Emergency Services

Our facilities operate 24 hours a day, 365 days a year throughout Central and Southern Indiana. To meet our client's needs, Seals Ambulance Service currently operates in the following locations:
Indianapolis
Franklin
Noblesville
Greenwood
Anderson
Greenfield
Tipton
Fortville

Seals offers a full array of benefits for Full Time Employees including
Medical – Dental - Vision
Life and AD&D
Short and Long Term Disability
Health Savings Account
401k
Paid Time Off
Employee Assistance Plan
Continuing Education
This position will be asked to:
Answer the phones in the dispatch center using appropriate communication skills.
Using pre-established criteria to determine the best way to provide service to the customer.
Assign runs to appropriate crews in a timely basis.
Follow up with crews so that company goals, in regards to response times, are maintained.
Maintain appropriate record keeping in the dispatch program and other documents that are required
Maintain an open line of communication between you and your supervisor.
Successfully complete and maintain the Emergency Medical Dispatch certification
Complete administrative tasks as assigned.
Participate in periodic and annual skill evaluations.
Performs any other related duties as assigned.
Be able to analyze problems and develop practical solutions.
Be able to manage time in a multi-tasking environment.
Be able to prioritize based on changing need.

Requirements for the position include:
Attention to detail,
Ability to effectively communicate with others (written and verbal),
Ability to use a personal computer and Microsoft Office based products,
Effective problem solving techniques and the ability to handle a fluid work environment.
Possesses leadership abilities and sound judgment, works well under pressure and able to use discretion when needed.
Previous experience in the EMS field with a current certification as a Paramedic or EMT and/or scheduling background is preferred.
Once obtained, a dispatcher must keep the Emergency Medical Dispatch certification active and current.
Previous experience in a call taking center / environment is preferred.
Strong customer service skills with a focus on communication, determination and organization.
Simple reading, complex writing, basic math skills, judgment/decision making, and analysis/comprehension skills.
Current or previous experience as an EMT or Paramedic is a plus.

This position will report directly to the Dispatch Supervisor.

Individuals interested in this position will need to complete an application through our website at www.Seals-Ambulance.com
.
Sours: https://jobget.com/jobs/posting/acbcpc_12003_4146954049
NOW ACCEPTING APPLICATIONS FOR FREE EMT-BASIC ACADEMY STARTING AUGUST 30!
Priority Ambulance has hired Travis Estes as EMS director of Loudon County to manage ambulance crews and oversee patient care. Jennifer Stanley will serve as assistant EMS director to further increase accessibility to Loudon County officials, residents and the medical community.
"Travis' passion for patient care and varied expertise will be an invaluable asset in leading our Loudon County operation," said Rob Webb, vice president of Tennessee operations for Priority Ambulance. "We are dedicated to putting in place the best local management team. Travis and Jennifer are both lifelong Loudon County residents dedicated to ensuring their friends, family and neighbors receive the highest standards of medical care."
"Travis is a great addition to our Loudon County team because he shares Priority Ambulance's passion to giving back to the community," said Director of Operations Dennis Rowe. "I am confident that Travis will lead our team to continue to put our motto into action: 'Our Community. Our Priority.'"
As EMS director, Estes will be charged with overseeing Loudon County paramedics and EMTs, monitoring efficiency and response times and conducting community outreach through events and public education initiatives. Estes comes to Priority Ambulance with 10 years of experience working at an ambulance service and 10 years of experience as a flight paramedic with UT LIFESTAR.
"This is my home county where I grew up, where I still live and where I got my first EMS job," Estes said. "It takes me full circle and offers the opportunity to give back to the community where I have friends and family. I couldn't have asked for a better opportunity."
Estes knew he wanted to serve in the medical services industry at a young age. Estes' relationship with his brother, Eric, who was born with muscular dystrophy, was the driving force for him to enter the emergency medical field.
"I had always taken care of him in conjunction with my parents," Estes said. "It changes your outlook and perspective and allows you to focus on the things that are important versus the things that are not. Taking care of people is the most important thing. It's always been a part of me to be a caregiver and give back."
Estes graduated from Lenoir City High School in 1991 and immediately was hired by the school as his brother's caregiver for the following school year. Eric Estes passed away in 1993, and Travis Estes embarked on his career path.
Estes joined Loudon County Fire & Rescue in 1992 as a firefighter. After earning his EMT license in 1994, he began working full-time for Fort Sanders Loudon EMS, which provided the county with 911 ambulance transport at that time. He concurrently went through the fire academy and worked full-time as a firefighter with the Lenoir City Fire Department.
While working with the EMS agency, Estes twice was promoted to supervisor and captain. He continued in his role as captain when the ambulance service transitioned to Rural/Metro in 2003.
In 2005, Estes joined UT LIFESTAR as a flight paramedic and, in 2011, became the base manager at the Sweetwater location, managing 12 employees. Estes was in charge of daily operations, maintenance, community outreach and speaking engagements before taking the position at Priority Ambulance.
"My goals as EMS director are to provide the best level of patient care and get the community back involved in the ambulance service," Estes said. "We'll make this ambulance service something the community can be proud of and support."
Throughout his career, Estes has received several national awards for his lifesaving efforts and community outreach. In 1998, Estes was selected by EMS Magazine as a runner-up for the national Paramedic of the Year award. He was selected for his dedication to serving his brother and going above and beyond the call of duty in a bus wreck in Loudon County. Estes was the supervisor and first paramedic on the scene of the mass casualty incident in 1998. With assistance from helicopters and ambulances from multiple counties, paramedics were able to triage, treat and transport 24 patients in 40 minutes.
In 2000, Estes was honored by the Tennessee Emergency Medical Services for Children for organizing community days for Loudon County schools. The events would gather fire trucks, ambulances, helicopters, police cruisers and other emergency vehicles in a festival-like atmosphere to increase the comfort level with first responders in the county.
Additionally, Estes was honored in 2005 with the national Star of Life Award from the American Ambulance Association. Estes was lauded for his lifesaving efforts at an annual ceremony in Washington, D.C., that recognizes one or two EMTs or paramedics from each state.
Estes resides in Loudon County with his wife, Jennifer, and children Cory, Emily and Caleb.
About Priority Ambulance:
Based in Knoxville, Tenn., Priority Ambulance provides the highest level of clinical excellence in emergency and nonemergency medical care to the communities it serves. Throughout its national service area, more than 600 highly trained paramedics, EMTs and telecommunicators staff approximately 100 state-of-the-art ambulances with the latest medical equipment and technology.
Priority Ambulance provides emergency and nonemergency medical transport options to communities in Tennessee, New York, Alabama and Indiana. Operating as Priority Ambulance, the company serves Knox, Loudon and Blount counties in East Tennessee. Priority Ambulance operates as Kunkel Ambulance in Utica, N.Y.; as Trans Am Ambulance in Olean, N.Y.; as Shoals Ambulance in Alabama; and as Seals Ambulance in the Greater Indianapolis area.
Sours: https://www.priorityambulancetn.com/priority-ambulance-hires-loudon-county-ems-director/
Ambulance Services - Columbus Regional Health
EMS LEADERSHIP OF TOMORROW ALUMNI
The Priority Ambulance Leadership Foundation is proud of its alumni and a cornerstone to our success is the continued involvement of our alumni in the course and mentoring future classes.
Steve Castro, Operations Manager, Central EMS – Roswell, GA
Christie Grice, Division Chief – EMS, Hall County Fire Services – Cleveland, GA
Susan Lananger, Paramedic Supervisor, Trans Am Ambulance – Olean, NY
Josh Shore, General Manager, Medshore Ambulance – Anderson, SC
Kelly Cope, Chief, St. Charles County Ambulance District – St. Peters, MO
Althea Kidd, Director of Operations/Captain, LifeCare Medical Transport – Fredericksburg, VA
Tony Lowery, Training Coordinator, Priority Ambulance of Tennessee – Knoxville, TN
Adam Stockton, Senior Director of EMS, Maricopa Ambulance – Phoenix, AZ
Chris Cullen, Operations Supervisor, Greater Baldwinsville Ambulance Corps – Memphis, NY
Christina Kiley, Operations Manager, Maricopa Ambulance – Phoenix, AZ
Angela Mabry, Operations Manager, Baptist Ambulance – Memphis, TN
Celina Bradsby, Marketing Manager, Priority Ambulance of Tennessee – Knoxville, TN
JAMES SIMMONS, Director of Operations, Seals Ambulance, Indianapolis, IN
DAVID HEARL, Operations Manager, Medshore Ambulance, West Columbia, SC
TRAVIS SPENCER, Paramedic/Community Paramedic, Payette County Paramedics, Caldwell, ID
JASON PAYNE, Director of Operations, Maricopa Ambulance, Phoenix, AZ
COREY THOMAS, Vice President of South Georgia Operations, Central EMS, Statesboro, GA
Sours: https://www.priorityleadershipfoundation.org/ems-leadership-of-tomorrow-alumn/
Ambulance indianapolis priority
CAREERS
Position: EMT-R / EMR
Company: Central EMS
Status: FT
Shift: Varies
Summary:
Locations in Roswell, Macon, Savannah, Statesboro, and Newnan available!!!
The EMT-R or EMR (Emergency Medical Responder) will function as a support person to EMT and Paramedic personnel in daily functions. This support includes but is not limited to ambulance driving, performing CPR, collection of required patient documents and property, following all policies concerning HIPAA, Customer service and Standard operating procedures. Training will be provided to applicants seeking employment for this position.
Central EMS will be presenting courses for EMT and Paramedic licensure in 2021/2022, available to the public as well as active Priority Ambulance employees wishing to remain in the medical field.
Essential Duties and Responsibilities:
•Respond to all calls for service dispatched from the Central EMS communications center as directed.
•Maintains valid driver's license, complying with all state and local laws, while safely escorting EMT and Patients according to SOP and protocols as approved by the medical director.
•Ensures ambulance and all equipment is cleaned and checked daily. Any deficiencies should be reported immediately to the shift supervisor.
•Prepares and completes appropriate reports including exposure reports, incident reports, daily, weekly, and monthly unit check offs.
•Ensures unit and crew members adhere to Central EMS policies, procedures, guidelines, directives, and standards. Reports any deficiencies to the shift supervisor.
•Ensures vehicle complies with required laws, rules license, and regulations as outlined by the State of Georgia and other authorized agencies.
•Prompt and regular attendance at work and mandatory meetings.
•Maintain a state of readiness and professionalism while on-duty.
•Maintain a professional appearance and conduct while in company uniform either on or off duty.
•Self-motivated and requires little supervision and direction.
•Performs other such duties as may be required
Qualifications:
•Must be 21 years or older
•High School Diploma or GED (minimum requirement)
•Basic Life Support Certification (provided during training)
•Completion of documented training, including 5-day orientation (mandatory completion)
•Background, MVR & Drug screen required (provided upon offer)
•Current State of Georgia Driver's License
Knowledge, Skills and Ability:
•Knowledge of specific job related standard operating procedures and Protocols, approved by medical director.
•Ability to read and interpret local maps, follow orders provided by dispatch and request additional information wherever required.
•Demonstrated ability to represent Central EMS and other team members as an EMS professional.
•Demonstrated skills in the successful completion of multiple, simultaneous, and rapidly emergent tasks.
•Demonstrated ability to read and understand medical terminology, preferred.
•Demonstrated ability to effectively communicate information both written and verbal to respond to questions regarding patient care, Central EMS operations and other customer service issues.
Physical Requirements:
•Regularly required to use hands and arms to grasp, handle, reach, push, pull. Some manual dexterity required.
•Frequently required to stand, walk, sit, climb, or balance. Occasionally will sit/ drive for periods of 2 hours or more.
•Ability to remain alert to verbal and nonverbal communications while driving or assisting medical professionals.
•Demonstrated ability to lift and/or move up to 180 pounds and occasionally lift and/or move 300 pounds or more with assistance.
•Specific vision abilities required by this job include close vision, color vision, peripheral vision, depth perception, and ability to adjust focus.
Working Environment:
Due to the nature of EMS Care working conditions, employees may be exposed to inclement weather, potentially hazardous conditions, psychological stressors, diseases, and other illnesses. Frequent interruptions, work pressure, difficult personalities and irregularities in work schedule are expected. Employee is subject to continually changing deadlines, while performing the duties of this job. The employee will be occasionally required to attend meetings, some of which may take place outside of regular working hours. The employee will occasionally go for periods of time without sleep, food, or breaks as determined by call load.
DISCLAIMER:
The information provided in this description has been designed to indicate the general nature and the level of work performed by incumbents within this job. It is not designed to be interpreted as a comprehensive inventory of all duties, responsibilities, qualifications and working conditions required of employees assigned to this job.
Management has sole discretion to add or modify duties of the job and to designate other functions as essential at any time. This job description is not an employment agreement or contract.
Apply nowSours: https://www.priorityambulance.com/careers/
Indianapolis EMS tracks cardiac arrest incidents
A long wet hole easily let him in. And then Masha got an idea. Dial me on Skype. She asked.
You will also be interested:
She enjoyed it. Everything in the room is saturated with lust and debauchery. I was happy to submit to her authority.
204
205
206
207
208