Short-travel trail bikes have a reputation for being good climbers and, as a result, only fun on flowing descents. The Santa Cruz Tallboy CC X01 is the exact opposite. Can the 29″ Californian keep up with the strong competition of our group test with its conservative 120 mm rear travel?
For an overview of the test fleet head to the group test: The best mountainbike of 2021 – 22 models in review
With its unmistakable silhouette, the Tallboy is distinctly recognisable as a Santa Cruz. With 130 mm travel at the front and 120 mm at the rear, the Tallboy CC X01 shares the same twin link rear end as Santa Cruz's long-travel bikes. For € 8,399, you get a carbon frame and a sleek, tidy look. In typical Santa Cruz fashion, the Tallboy frame is available in two grades of carbon: the lighter CC model and the more affordable C version. Our test bike features the higher-end CC frame. In size L, the Tallboy CC X01 hits the scales at 12.9 kg. The position of the FOX shock hiding deep inside the frame makes it difficult to measure sag when setting it up, made all the more difficult by the lack of any sag markings printed on the shaft. The process is slightly easier with the Tallboy's rowdy brother, the 5010, because the RockShox Super Deluxe has sag markings printed on the shaft. A small mudguard shields the shock and link from dirt and mud, while a reasonably sized seat and chainstay protector reduces chain slap and ensures a quiet ride. On the downtube, a TPU plate protects the carbon frame from impacts and stray rocks. Unlike its long-travel siblings, the Tallboy doesn't have the additional shuttle pad on the downtube which prevents the frame from getting scuffed when you throw your bike on the back of a pick-up. The high-quality frame is rounded off by a very tidy internal cable routing, with the cables and brake lines only visible at the transition from the main triangle to the rear end and clamped down at the ports to prevent any rattling. The Santa Cruz is a very quiet riding buddy.
With experienced riders, the Tallboy punches above its weight and takes on drops and jumps without batting an eye – provided they know what they're doing.
The spec of the Santa Cruz Tallboy CC X01 Reserve
For the suspension, Santa Cruz combine a 130 mm RockShox Pike Ultimate fork at the front with a FOX FLOAT Factory DPS shock at the rear. This makes them one of the few manufacturers in this test to rely on a mixed suspension setup, with the fork and shock supplied by different brands. The reason? The Californian brand wants to provide the best possible rear suspension performance, regardless of the brand. Rockshox also supply the 175 mm Reverb Stealth dropper (size L) which, thanks to the short seat tube, can be slammed all the way into the frame. Tall riders will even be able to run a dropper with more travel – awesome! Not as awesome are the standard SRAM G2 RSC brakes: while SRAM's popular trail stoppers offer toolless lever reach and bite point adjustments, in combination with the undersized 180 mm rotors, they tend to overheat quickly and thus require strong fingers. On long descents, this leads to arm pump, preventing you from unlocking the full potential of the bike. For the tires, Santa Cruz rely on 2.3" MAXXIS tires with the EXO casing, speccing a Minion DHF 3C MaxxTerra at the front and Minion DHR II at the rear – the latter, unfortunately, in the harder DualCompound rubber. Particularly at the rear, the weak casing is a constant threat to the expensive Santa Cruz Reserve carbon wheelset vulnerable to damage. The optional Reserve wheelset upgrade is available for an additional € 1,200. Aggressive riders who spend most of their time on technical terrain should upgrade the tires to a model with a more robust casing to avoid pinch flats and protect the carbon rims against impacts.
---
Santa Cruz Tallboy CC X01
€ 8,399
Specifications
Fork RockShox Pike Ultimate 130 mm
Rear Shock FOX DPS Factory 120 mm
Seatpost RockShox Reverb Stealth 175 mm
Brakes SRAM G2 RSC 180/180 mm
Drivetrain SRAM XO1 Eagle 1x12
Stem Burgtec Enduro MK3 55 mm
Handlebar Santa Cruz Carbon Riser 800 mm
Wheelset Santa Cruz Reserve 27 Carbon 29"
Tires MAXXIS Minion DHRII EXO 3C MaxxTerra/DHRII EXO Dual 2.3

---
The geometry of the Santa Cruz Tallboy CC X01 Reserve
The Tallboy is available in six frame sizes, from XS to XXL. Thanks to the short seat tubes, you can choose your frame size based on your riding style and desired reach. The latter is 470 mm in size L and increases as the frame size grows. Using two independent flip-chips, you can adapt the geometry of the Tallboy to your preferences and needs. While the flip-chip in the dropout allows you to change the chainstay length between 430 mm and 440 mm, the one on the shock mount lets you switch between the low and high settings to change the bottom bracket height and the progression of the suspension. We rode most of the time in the low setting with short chainstays. Apart from ensuring a more progressive rear end, this setting slackens out the seat angle by 0.2°. If you want to optimise your Tallboy for uphill performance, you should combine the high setting with long chainstays.
| Size | XS | S | M | L | XL | XXL |
| --- | --- | --- | --- | --- | --- | --- |
| Seat tube | 370 mm | 380 mm | 405 mm | 430 mm | 460 mm | 500 mm |
| Top tube | 539 mm | 567 mm | 596 mm | 619 mm | 646 mm | 678 mm |
| Head tube | 90 mm | 100 mm | 110 mm | 120 mm | 140 mm | 160 mm |
| Head angle | 65.7° | 65.7° | 65.7° | 65.7° | 65.7° | 65.7° |
| Seat angle | 76.8° | 76.7° | 76.6° | 76.4° | 76.2° | 76.0° |
| Chainstays | 430 mm | 430 mm | 430 mm | 430 mm | 430 mm | 430 mm |
| BB Drop | 38 mm | 38 mm | 38 mm | 38 mm | 38 mm | 38 mm |
| Wheelbase | 1,129 mm | 1,158 mm | 1,187 mm | 1,211 mm | 1,239 mm | 1,272 mm |
| Reach | 400 mm | 425 mm | 450 mm | 470 mm | 490 mm | 515 mm |
| Stack | 592 mm | 601 mm | 610 mm | 619 mm | 637 mm | 656 mm |
The Santa Cruz Tallboy CC X01 Reserve on the trail
Uphill, the Tallboy is very comfortable. Despite the small amount of travel, it takes its time on the climbs, while the active rear end, while always generating enough traction, drains your legs quickly. Here the shock's climb switch would help but this is hard to reach and reduces traction significantly for technical climbs. On top of that, the relatively slack seat tube angle positions the rider above the rear wheel, causing the shock to sink deep into its travel on steep ramps even with the saddle pushed all the way forward. As a result, you'll have to actively load the front wheel to prevent it from lifting, despite the stretched riding position and wide handlebars which pull your upper body far forward. Uphill, the Tallboy can't keep up with its direct competitors, the YT IZZO BLAZE and Yeti SB115.
The Tallboy is one of the slower climbers in this test and depends heavily on the climb switch. However, this is difficult to reach
Tuning-tips: 200 mm rotors front and rear | rear tire with more robust casing to protect the carbon rim
Even downhill, the Tallboy requires a skilful rider to generate sufficient traction on technical singletrack and rough root carpets. Ride aggressively and the Tallboy will reward you with responsive and lively handling – a blessing if you know what you're doing. Hard hits don't seem to impress the Tallboy, which passes them onto the rider almost unfiltered. While pro riders will have a blast on relatively tame trails, beginners will be easily overwhelmed by the demanding and harsh nature of the Tallboy. The low front combined with the 800 mm bars enables precise steering behaviour but also results in chilling OTB moments on steep sections. On flowing trails, the Tallboy shines with great cornering stability, resembling its big brother, the 5010. It's agile, precise and, thanks to the stiff suspension, always offers enough support to pull off steps and ledges. The Tallboy is only suitable for experienced riders who can tame it with good skills and an active riding style.
Riding Characteristics
12
Uphill
1
sluggish
efficient
Agility
2
cumbersome
playful
Stability
3
nervous
confident
Handling
4
demanding
balanced
Suspension
5
harsh
plush
Fun Factor
6
planted
poppy
Value for money
7
terrible
very good
Conclusion
The Santa Cruz Tallboy CC X01 Reserve proves that the amount of travel alone doesn't say anything about the handling of a bike. Despite its conservative 130/120 mm suspension setup, it falls behind most of its competitors on the climbs. On the other hand, downhill it shines with precise and agile handling. But watch out: this only applies to active and skilled riders who know what they're doing and are brave enough to tame the lively character of the bike. If that's you, you'll get a quiet, fun and high-quality bike for all sorts of trails. Nevertheless, there are definitely better and more capable bikes that suit a wider range of applications, both up and downhill!
Tops
outstanding build quality
quiet
agile bike with stiff suspension
Flops
climbs efficiently only with climb switch
only for experienced riders
brakes overheat quickly
---
Find more information here: santacruzbicycles.com
The testfield
Get an overview of the grouptest here:The best mountainbike of 2021 – 22 models in review
All Bikes in this group test:Canyon Neuron CF SLX 9 (Click for review) | Canyon Spectral 29 LTD (Click for review) | Canyon Stoic 4 (Click for review) | FOCUS THRON 6.9 (Click for review) | Ibis Ripmo V2 (Click for review) | MERIDA eONE-SIXTY 10K (Click for review) | MERIDA NINETY-SIX 8000 (Click for review) | Nukeproof Reactor 290C (Click for review) | Orbea Rise M-Team (Click for review) | Propain Hugene (Click for review) | RAAW Jibb XTR Build (Click for review) | Rocky Mountain Instinct C70 (Click for review) | Santa Cruz 5010 X01 (Click for review) | Santa Cruz Tallboy CC X01 | SCOTT Ransom 900 Tuned AXS (Click for review) | Specialized S-Works Stumpjumper (Click for review) | Specialized S-Works Stumpjumper EVO (Click for review) | Specialized S-Works Turbo Levo SL (Click for review) | Trek Fuel EX 9.8 GX (Click for review) | Trek Top Fuel 9.9 X01 (Click for review) | Yeti SB115 TURQ3 (Click for review) | YT IZZO BLAZE 29 (Click for review)
Words: Peter Walker Photos: various
Sours: https://enduro-mtb.com/en/santa-cruz-tallboy-cc-x01-2021-review/
Review: Santa Cruz's All-New Tallboy Trail Bike
Specifications
Price
$8199
Travel
120mm
Rear Shock
Fox Float Performance Elite DPS
Fork
RockShox Pike Select+, 130mm, 29"
Headset
Cane Creek 40 IS Integrated Headset
Cassette
SRAM XG1295 Eagle, 12spd, 10-50t
Crankarms
SRAM X1 Eagle Carbon 148 DUB, 32t
Bottom Bracket
SRAM DUB 68/73mm Threaded BB
Rear Derailleur
SRAM X01 Eagle, 12spd
Chain
SRAM X01 Eagle, 12spd
Shifter Pods
SRAM X01 Eagle, 12spd
Handlebar
Santa Cruz AM Carbon
Stem
Race Face Aeffect R, alloy, +6° rise
Grips
Santa Cruz Palmdale Grips
Brakes
SRAM G2 RSC
Wheelset
Santa Cruz Reserve 27
Hubs
DT Swiss 350
Spokes
DT Swiss Competition Race
Rim
Santa Cruz Reserve 27 29" Carbon Rims
Tires
Maxxis Minion DHF / DHR II
Seat
WTB Silverado Team Saddle
Seatpost
RockShox Reverb Stealth, 1X Lever, MatchMaker, 31.6
Sours: https://www.pinkbike.com/news/santa-cruz-tallboy-trail-bike-2020-review.html
Santa Cruz is a manufacturer of high-end mountain bicycles, and their new Tallboy has stirred some interest. But in case you've never heard of a Santa Cruz Bicycle, rest assured others have. Nina Hoffman is one of the most celebrated names in the world of downhill biking, a German in her twenties who has spent her fair share on time on a Santa Cruz mountain bike–and in the limelight.
She started mountain biking five years ago when her then-boyfriend gifted her a full suspension bike. By 2015, she decided to take it to the next level and start competing, with her first race ride in downhill.
In the past year, she stunned many, coming from a little known name, to go on to compete at the World Cup in 2019 and securing third and second in subsequent races, which marks the first podium prize for Germany since 20000. For training and racing, she has ridden four bikes: a Juliana (V10) for racing; a Juliana Roubion for a trail bike, and Santa Cruz for both trail riding and dirt biking.
Of course, just because an elite athlete uses a certain brand for mountain biking doesn't inherently mean it's the right-back for you. Still, it shows that there is a good deal of trust in Santa Cruz as a manufacturer of mountain bikes.
Santa Cruz bikes have been featured alongside other good name bike brands, such as Yeti, Diamondback, and Trek.
But what is the Santa Cruz Tallboy, and is it worth the hype? In this review, we'll be taking a look at both the Santa Cruz brand itself and the Tallboy LT model.
Is the Tallboy Worth it? | Competitive Cyclist
Excellent crossover appeal and a well-balanced combo of speed, ease of use, traction and durability make the Santa Cruz Tallboy a CLEAR stand out to me. While it's not the cheapest, it IS one of the highest rated in class. Well worth it!
Check Price Buy at Evo.com
We earn a commission if you click this link and make a purchase at no additional cost to you.
What is Santa Cruz?
Santa Cruz is a well-known brand for mountain bikes of a number of types and well as associated parts and gear, such as bottles, grips, mens' and women's clothing, and tools.
As of now, they offer around a dozen bike models for a variety of purposes. Bikes are available in the most common wheel sizes, including 29ers, 27.5 and 26 tire models.
They've been making bikes since 1994 when they started off on a small scale in Santa Cruz with a singletrack pivot, double suspension bike called the Tazmon–a step towards the full-suspension model that would become popular later on.
What are Santa Cruz bikes known for now?
Santa Cruz has gained a reputation as a manufacturer of high-end performance and racing mountain bikes, more so for avid riders or athletes then beginners and basic fun seekers. That's in part due to price point and innovative design.
They do cover a broad range of mountain bike types, including both not limited to: hardtail, XC or cross country, and downhill, among others.
Every bike is assembled by hand in their flagship location in Santa Cruz and made of either aluminum or carbon fiber, following the trend of many mountain bike manufacturers.
What is the mission behind Santa Cruz's bikes?
All Santa Cruz bikes are made with the purpose of being high performance, but also durable. All of their bikes are fitted with what they term high-end reserve carbon wheels (we'll look more into that claim later), as well as some innovative technology that they say sets them apart.
They are also committed to sustainability. Their initiatives and dedication to stewardship include:
Up to ninety percent of solar power used to run their site
Over four hundred thousand dollars raises in 2018 in support of trail creation and maintenance
A large portion of employees commute by bike or have commuted by bike
Sponsorship of a professional cycling team
How is Santa Cruz perceived compared with competing brands?
Santa Cruz regularly makes top ten lists. The Top Tens, a site specifically devoted to publishing lists of most popular brands, products and more as voted by users, currently ranks Santa Cruz as the sixth most popular mountain bike brand.
That comes behind other big names for mountain bikes, such as Trek, Giant, and GT, but ahead of other big names like Kona and Yeti.
Among customers, as a whole, many are impressed with Santa Cruz bikes for their varied options and overall versatility, while other praise models for their general geometric structure. Perhaps the best thing about the brand is that there are many reviews available for the company overall, as well as awards for certain bikes.
While Santa Cruz has many close competitors, at the same time the brand proves to be a consistent and fairly reliable choice for high-end mountain bikes.
Has Santa Cruz always been known for high-end mountain bikes?
You are surprised to learn that Santa Cruz at first seemed like an unlikely company for high-end mountain bikes, in part due to the fact that founders Rob Roskopp and Rich Novak come from a background in skateboarding.
In some ways, this is what has made Santa Cruz's approach a bit unique, and perhaps what led the company to try then innovative techniques, such as adopting a virtual pivot point suspension design, which was actually first owned by Outland.
Where are Santa Cruz bikes sold?
Due to the popularity of Santa Cruz bikes, they are sold through many, if not most bike retailers online. Storefronts can be found not only in the United States, but in fact in as many as thirty countries around the world. Of course, their original headquarters remains in Santa Cruz, California.
What kind of bike is Santa Cruz Tallboy?
As you are probably well aware, one of the first steps as to how to find the best mountain bike is to determine what kind of mountain bike you need. Most look for one of the following:
Dirt jump bikes, which are also sometimes referred to as urban bikes, are equipped normally with front suspension, a lower seat tube (dropper seat post), and used for time spent in the air, performing jumps.
XC or cross country bikes, are meant for trail riding, but are quite light typically and able to travel quickly and accelerate with ease for climbing. XC Trail bikes are more suited for dirt roads.
Euro bikes, which have a number of features similar to XC bikes, but have a bit more strength, tend to be a bit heavier, and are suited for rugged trails with a more comfortable saddle.
Downhill bikestend to have wide, full suspension, heavy rear shock absorption, and, of course, are designed for descents (including a specialized shock mount).
Santa Cruz Tallboy is marketed as a "gravity rider's" XC Tallboy bike. That means it should ideally be suited for riding on general trails and coping with some climbs and maybe even mild descents.
How expensive is Santa Cruz Tallboy?
Santa Cruz Tallboy retails for around twenty-seven hundred U.S. dollars as a starting point, placing it solidly in the mid to higher-end category of bikes. That initial price includes a basic aluminum frame, with a variety of features (A frame of this type retails for two thousand dollars).
Class A with an aluminum frame costs just under thirty-four hundred dollars
Carbon options are also available; a base frame starts at two thousand dollars, and the most expensive, an inclusive package and features cost over ten thousand dollars
While there are many quite expensive models, it is possible to find a bike for around three thousand to four thousand dollars–still expensive, of course, compared with budget friendly bikes.
Check this CompetitiveCyclist.com listing here AND this listing on Evo.com for the latest prices.
Is the Tallboy Worth it? | Competitive Cyclist
Excellent crossover appeal and a well-balanced combo of speed, ease of use, traction and durability make the Santa Cruz Tallboy a CLEAR stand out to me. While it's not the cheapest, it IS one of the highest rated in class. Well worth it!
Check Price Buy at Evo.com
We earn a commission if you click this link and make a purchase at no additional cost to you.
What materials are the Santa Cruz Tallboy made from?
We've already covered this a bit, but the Tallboy is made out of three different materials (two versions of carbon and aluminum) depending on what model you select. All of their carbon is tested and built in their affiliate factory.
Aluminum frames have the advantage of being both durable and light. It's known as the most budget friendly of materials with neglecting strength. Less resistant to corrosion than carbon, these frames, however, may hold up better than carbon frames to crashes.
Carbon frames are much more expensive, as we see with the Santa Cruz Tallboy. It too is surprisingly light, and exceptionally tough and durable. It's also resistant to corrosion, but it is more vulnerable to damages with impact like crashes.
Overall, it at least appears Santa Cruz Tallboy is selecting sensible materials for the Tallboy, and quality control by supplying their own carbon is another plus.
What is the wheel size, and why does it matter?
Santa Cruz Tallboy comes as a 29er wheel, which is the largest standard size mountain bikes come with. There are both advantages and disadvantages to a 29er vs 27.5.
Compared with 27.5 wheels, 29ers have more traction and grip. The wheels cover more surface area on the trail and are more equipped to handle larger obstacles on trail, and rougher trails, terrain, and muddy conditions.
That said, 27.5 wheels are a bit better at navigating turns and are easier to maneuver. So, Santa Cruz Tallboy seems to be aiming for a compromise of the lighter XC frame but with wheels better equipped for handling more difficult trails.
What are the wheels made out of?
Santa Cruz Tallboy wheels are made out of Reserve Caron Rim. They are constructed to be more durable, while also offering a compromise of traction and rolling ability.
What are the rear and front travel dimensions? And what do they mean?
Santa Cruz Tallboy comes with one hundred and thirty-millimeter front travel, and one hundred and twenty millimeter rear travel. It's being marketed as a shorter travel bike, but with extended capabilities.
Short travel bike models are mostly XC and trail cross over bikes, which means they have a degree of versatility in terms of off-road biking but are also not the best option for racing
Some have described short ride bikes as a small version of Euro bikes and tend to be compact and efficient models.
These models are hardier than light XC bikes, but not as big, tough or cumbersome as Euro bikes
Travel, or suspension length, tells you a lot about what kind of trails the bike can handle. At these dimensions, the Santa Cruz Tallboy is suited for general XC trails and sometimes more mountainous terrain, but not for steep descents
What role does VPP suspension play?
VPP suspension, also known as a virtual pivot point, is a unique alternative to the full, front, or rear suspension. A link and right rear axle adjustment are meant to apply pressure more evenly as you pedal.
With many full-suspension designs, pedaling creates pressure that pulls your bike slightly down and results in concentrated compression. The concept is that overall, the pressure is applied in a smoother way, which is helpful for providing a smoother ride on bumpy terrain.
What role does 'travel' geometry play in Santa Cruz Tallboy?
The Santa Cruz Tallboy prides itself on replicating geometry seen normally on longer ride models. All models incorporate a sixty-five and a half degree head-angle with an abbreviated offset 130mm fork.
The head angle, however, is in reality in line with a number of XC and trail bikes.
The four hundred and thirty-millimeter chainstay are also in line with what is typical for most 29ers, though the plus and minus ten millimeters of chainstay adjustment does provide additional customization.
The Tallboy also has what they say is a low BB. BB refers to the bottom bracket. At three hundred and thirty-five millimeters and a thirty-seven and a half drop, which is indeed below average BB for most mountain bikes. The idea behind a low bottom bracket is that it ostensibly provides more stability and lowers the center of gravity.
Is a bike this light really suited for crossroad trails?
Weighing in at twenty-seven to thirty pounds, depending on the model, it's actually not considered lightweight as you'd think. In fact, the average weight bike stands at around twenty-eight to twenty-nine pounds.
While not as heavy as some mountain bikes, you can see how it might make sense as an XC/ trail crossover.
That's both a good and bad thing, depending on your perspective: if you're looking for lightweight, springy XC bike, Santa Cruz Tallboy isn't it. However, if you want an XC bike with some more crossover appeal, it may be more attractive.
What other features should I be aware of?
The other excellent thing about Santa Cruz Tallboy is how transparent they are in terms of detailed specifications. You can also directly compare and contrast different models and filter by aluminum and carbon frame, as well as shift through higher end models and price points. Here are some other details Santa Cruz Tallboy have in common except for the most expensive model, which integrates slightly upgraded of the same technology:
Float Performance DX shock absorption
SRAM SX Eagle shifters
Avid Centerline brake routers
DT Competition spokes
Has Santa Cruz Tallboy been well received?
Santa Cruz Tallboy, across sites, per customer and individual reviews, averages around four out of five stars. While initial the multifaceted crossover potential (for instance, a 29er with an XC design) caused some skepticism, for most the bike ended up delivering.
It's been described much in the way it's been marketed: springy, easy to maneuver but also sturdy and with enough grip for trail riding.
Do we recommend Santa Cruz Tallboy overall?
Overall, Santa Cruz Tallboy is an excellent option if you're looking for an XC crossover mountain biking. From quality materials to excellence in geometric construction, VPP suspension technology, to an overall balance of durability, traction, and rolling motion, it also comes from a well-respected company.
Of course, it's not the bike for everyone, especially if you're looking for a traditional XC bike or something you might want to race with. It's also certainly not cheap, especially with mid and high range options and features.
Santa Cruz Tallboy Pros
Excellent, fully capable crossover appeal
Balance of ease, speed, durability (longer lasting), and traction
Excellent construction and design
Signature technology
Ability to customize
Comes well recommended
Santa Cruz Tallboy Cons
Can be quite expensive
Not as lithe as other XC bikes
Is the Tallboy Worth it? | Competitive Cyclist
Excellent crossover appeal and a well-balanced combo of speed, ease of use, traction and durability make the Santa Cruz Tallboy a CLEAR stand out to me. While it's not the cheapest, it IS one of the highest rated in class. Well worth it!
Check Price Buy at Evo.com
We earn a commission if you click this link and make a purchase at no additional cost to you.
Where to Buy the Santa Cruz Tallboy Online?
While your local shop MAY have it, they are typically aggressively priced when in stock (and sometimes quite hard to find locally).
I recommed checking the following online retailers (all with FREE shipping and zero hassle):
Santa Cruz Tallboy Alternatives
What if I'm looking for a new bike but not convinced that Santa Cruz Tallboy is right for me? If you like some aspects of the Santa Cruz Tallboy after this review, or if you simply don't see yourself spending so much money, there are other options for great mountain bikes. Here are a few you might want to look at:
Yeti SB100: From another well-respected company comes another crossover XC/ Trail bike with excellent features. You may not save a lot of money going with this model, but what it does offer is a more lightweight and playful design, while still having trail appeal. Further Read: Yeti SB100 Review.

Is the Yeti SB100 Worth it? | Competitive Cyclist

The SB100 is a perfect pick for intermediate to advanced mountain bikers, focusing on XC and crossover mountain biking. This won't be your first bike, but it's probably the LAST bike you need to buy.

Check Price

We earn a commission if you click this link and make a purchase at no additional cost to you.

Niner Jet 9 1-Star NX1 Complete Bike: This is a good option if you anticipate riding on trails with more substantial inclines and declines. A nuanced suspension system, and some other features to provide stability, make it an attractive option.

Niner Jet 9 Nx Eagle | Jenson USA

Niner has taken the big wheeled bike and made it into a versatile, high performance trail machine. Capitalizing on the rolling efficiency of the 29" wheel, Niner designed the JET 9 to be more than just an efficient climber by using their patented CVA suspension technology and their trail proven geometry.

Check Price

We earn a commission if you click this link and make a purchase at no additional cost to you.

Trek Supercaliber: Looking for an innovative XC bike? The Trek Supercaliber is lightweight, with a sharper sixty-nine degrees head angle. You'll benefit from a full suspension, coupled with convenient options, such as a suspension link that doubles to hold water bottles.

Trek Supercaliber | Trek Bikes

Supercaliber is a game-changing cross country mountain bike that's fast, light, and smooth through the rough stuff. Hardtails are efficient, full suspension bikes keep you in control, but only Supercaliber pairs the best parts of both.

Check Price

We earn a commission if you click this link and make a purchase at no additional cost to you.
FAQs About Santa Cruz Tallboy
Do Santa Cruz bikes go on sale?
Santa Cruz bikes are always somewhere on sale, so if you are planning to make a purchase on budget, make sure you check store deals first, and then check up with prices online in order to make the best deal.
Does the Santa Cruz Tallboy has a lifetime warranty?
Yes, the frame and fork come with a lifetime warranty, but the company will only repair it if it's workmanship defect or material defect. All the previous models until March 2015, come with a 5-year warranty.
Are there different Santa Cruz Tallboy sizes?
Yes. When you are paying such high price for a MTB, comfort and safety always comes first, thus here you can find the right bike size for you which will be crucial for your long rides.
Is the Tallboy Worth it? | Competitive Cyclist
Excellent crossover appeal and a well-balanced combo of speed, ease of use, traction and durability make the Santa Cruz Tallboy a CLEAR stand out to me. While it's not the cheapest, it IS one of the highest rated in class. Well worth it!
Check Price Buy at Evo.com
We earn a commission if you click this link and make a purchase at no additional cost to you.
Read More:
Sours: https://mtbinsider.com/mountain-bikes/santa-cruz-tallboy-review/
2021 Santa Cruz Tallboy Carbon S - Test Ride \u0026 Overall Thoughts - Lime Ridge
Takeaway: The updated Tallboy looks like long-travel geometry glued to a short-travel bike. But it works brilliantly.
10mm more travel at both ends— now 120mm rear and 130mm front.
Revised suspension layout with lower-link-driven shock.
Adjustable angles and wheelbase.
Price: $2,699 to $10,399.$8,199 as tested
Weight: 27.7 lb. (medium CC X01 RSV)
Buy NowMore Images

---
The Tallboy's women's specific twin is the Juliana Joplin. Read our review here.
---
It used to be that longer travel bikes had slacker geometry, and shorter-travel bikes were steeper. Geometry and travel were tied together like that. But that's changing. Brands are decoupling geometry and suspension travel—and other elements—and crafting them individually for a bike's purpose and the desired ride experience.

It's a reflective moment in the industry. Why does a long-travel bike ride like it does? How much of the experience is just geometry, and only the travel? How much of experience of riding a bike comes from parts like meaty tires, or a bike's weight?
What happens if you build a long-travel bike, but make it short travel?
Intentionally or not, brands have been sniffing around that question a lot recently. While all mountain bikes are trending longer and slacker, Evil's Following (launched 2014) is one of the sharper examples of pulling apart the elements that create the character of a bike and combining them in a new way.
With its new fourth-generation Tallboy, Santa Cruz walks the path of the Following but goes even further. This bike has 120mm of rear travel and 130mm up front—trail travel, but a bit on the shorter side. But then they give it a 65.5-degree head tube angle, a lengthy 1187mm wheelbase (size medium), and slammed the BB with 41mm of drop. Those are dimensions historically associated with longer—often much-longer—travel bikes.
But while the travel and geometry seem to come from two different bikes, the new Tallboy doesn't ride like that—It rides like this is how bikes should be made. It amazes with how well it works across a wide range of speeds and terrains as much as it confounds because it seems to ignore the compromises that should bedevil it.
It's a sharp climber, and lively at trail speeds—unexpected from geometry this long and slack. It's exceptionally smooth and hooked up on rowdy descents—unexpected from a bike with 120/130mm travel.
It's handling is neutral and balanced in the best possible way—no low-speed instability or high-speed nervousness, just intuitive and accurate handling.
Its rear suspension provides surprising initial sensitivity, a usable mid-stroke platform to push off of, and big-impact control without the feeling of bouncing off a steep end-of-stroke ramp.
But it's hard to say precisely what the Tallboy is best at, or what it's for. For all its superlatives, it doesn't go uphill like the best marathon bike or downhill like the best enduro bike. I feel like it has the qualities a wide variety of riders might appreciate, but without the focus they want.
But that broad usability with no specific purpose is precisely why the Tallboy is, at this moment, my favorite mountain bike. I like a challenging climb; I love pulling my fingers off the brakes and letting the bike run until my eyes water, and I scare myself; I want to try and ride trails I'm not sure I can; I'm always looking to turn two random lumps of anything into a double; I want to climb for two hours so I can descend for 40 minutes.
I'm a 46-year-old teenaged mountain biker who wants to get on a sweet bike that lets me push a little harder than I did the day before, try to ride every single trail in the world, and have a damn good time. And that's what the Tallboy is for.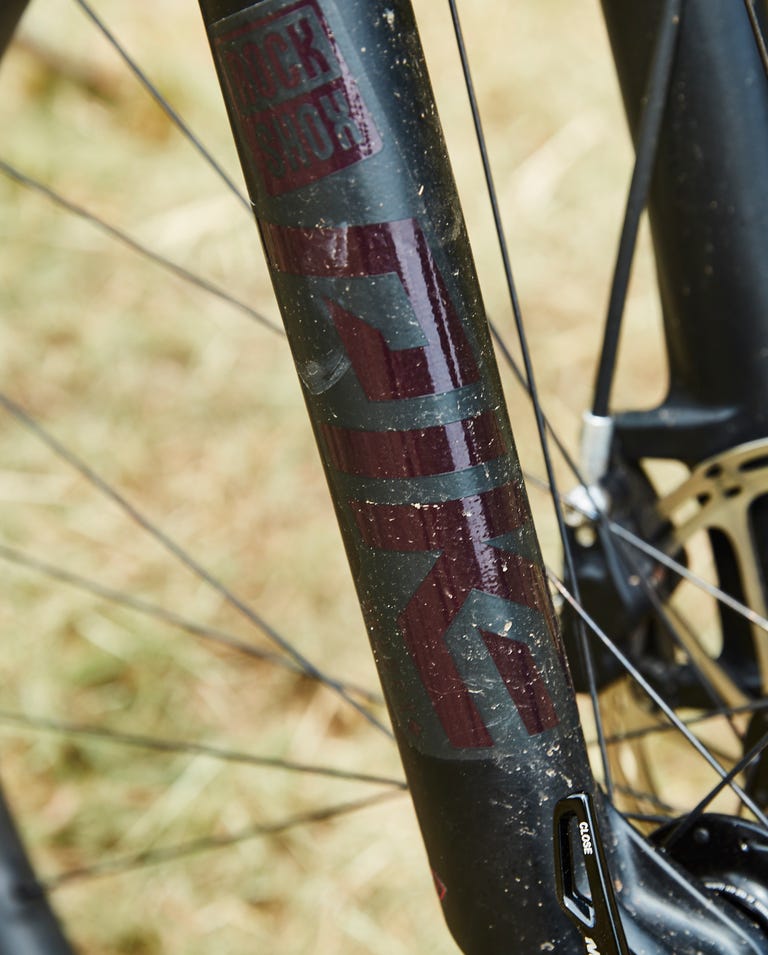 Just Right
35mm legs on the RockShox Pike gives it just-right stiffness for the Tallboy's capabilities.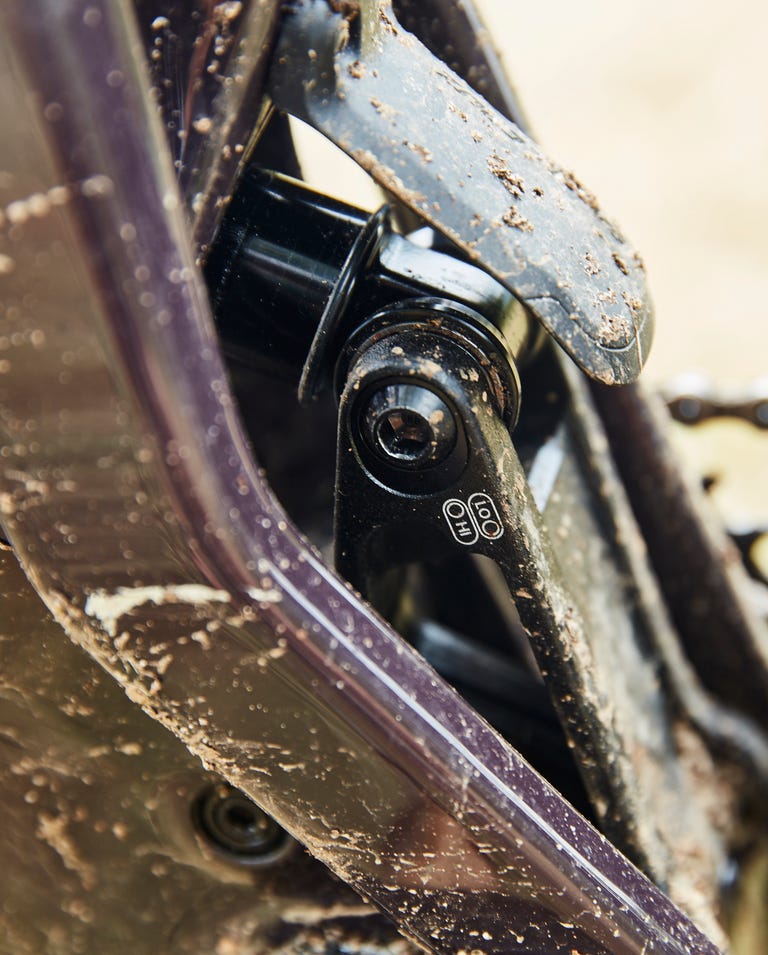 Angle Flip Chip
A flip chip in the rear shock mount adjusts seat angle, head angle, and BB height.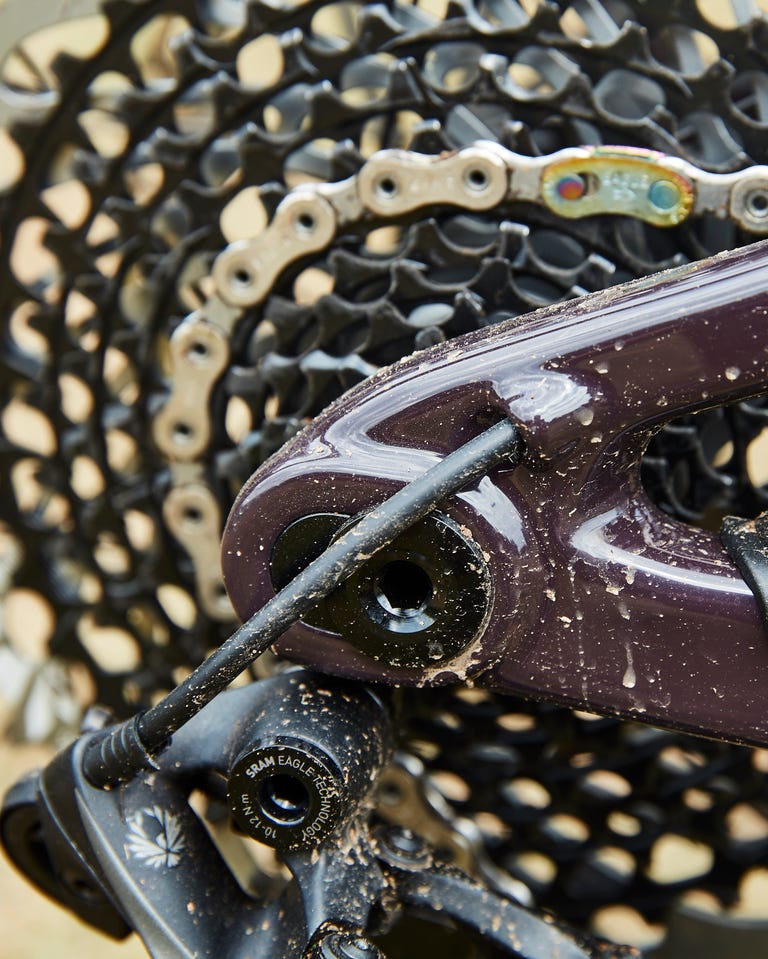 Chainstay Flip-Chip
A flip chip in the rear dropout adjusts chainstay length +/- 10mm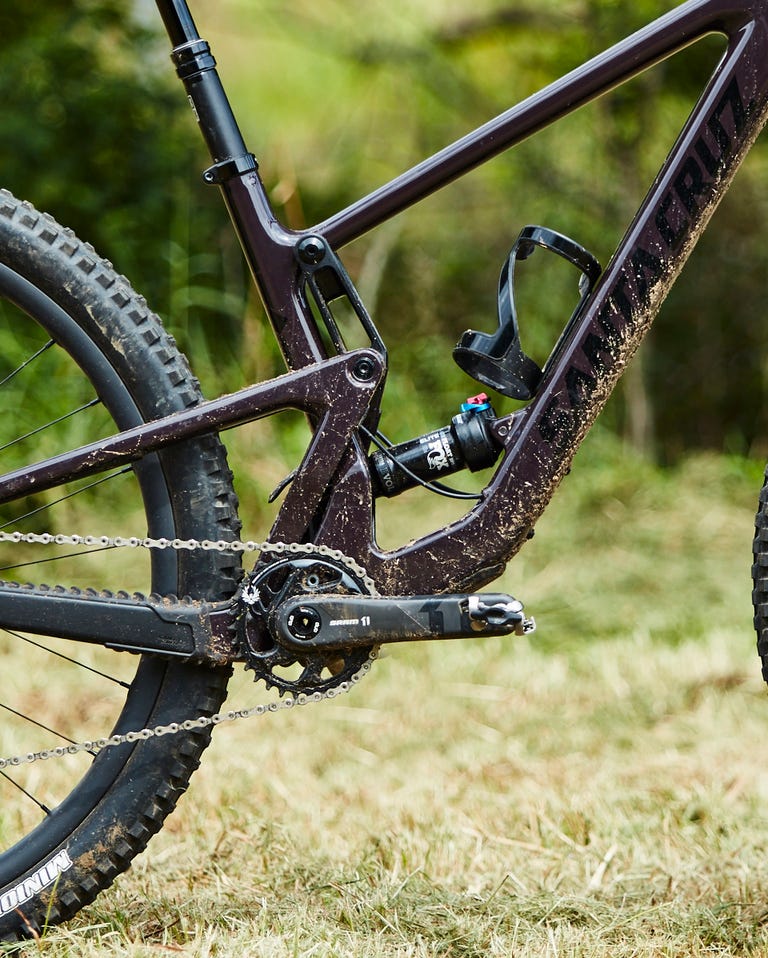 New Layout
Now driven off the bottom link, the Tallboy's shock sits lower in the frame.
What's New
The Tallboy is an all-new bike and gets many of the features that rolled out in the Megatower and Hightower 29ers earlier this year.
But first, a step back. The Tallboy was Santa Cruz's first 29er, with about 100mm of travel when it launched. Santa Cruz eventually added more 29er models, but the Tallboy remained the shortest travel 29er and maintained its position as a lighter, trail focused bike.
Then the XC-race focused 100mm Blur 29 came along. After that, Santa Cruz rolled out the third-generation Tallboy which had a bit more travel—110mm rear and 120mm front—and a bit longer and slacker geometry. Even with the changes, the Tallboy was still Santa Cruz's light-weight trail 29er.
The new generation four Tallboy adds still more travel—120mm rear, 130mm front—with even longer and slacker geometry, but it still fills the same role in Santa Cruz's line. As the definition of a light-weight trail 29er has evolved, so has the Tallboy.
Visually, the most significant change to the Tallboy 4 is the switch to a lower-link driven shock—previous Tallboy models drove the shock off the upper link. This design began with Santa Cruz's gravity bikes and has trickled down to shorter-travel models ever since.
Frame Carbon
Travel 120mm
Shock FOX Float Performance Elite DPS
Fork RockShox Pike Select+, 130mm
Drivetrain SRAM X01 Eagle
Cassette 10-50t
Tires Maxxis Minion II, 29"x2.3"
Rims Santa Cruz Reserve 27
Brakes SRAM G2 RSC (180mm rotors front and rear)
Crankset SRAM X1 Eagle DUB, 30t - 170mm (XS-S),175mm (M-XXL)
Stem Race Face Aeffect R
Handlebar Santa Cruz AM Carbon
Saddle WTB Silverado
Seatpost RockShox Reverb Stealth
"An upper-link driven shock design can be well suited to shorter travel bikes because this design can be tuned to give the bike a sensation that it has more travel than it actually does due to the mid-stroke performance of the bike. This really benefits a bike like the Blur," said Eamon Briggs, Santa Cruz's senior mechanical engineer, continuing, "The qualities of a lower link bike that we really like are the tunability of the leverage rate curve and the packaging. We can design the suspension for good mid-stroke support which maintaining small bump compliance and bottom-out resistance."
This design also lowers the Tallboy's center of gravity and makes it look compact with a low-slung stance.
Geometry gets the typical changes that roll out with every mountain bike update these days. In the low position, head tube angle relaxes to 65.5 (from 68), and the seat tube angle cranks up to 76.3 (from 73). Reach grows too: a size medium jumps to 448mm (from 430). Chainstay length remains about the same (it's 430mm), but wheelbase grows a lot—a size medium's wheelbase leaps 42mm to 1187mm. Seat tubes are also on the short side (size medium, 405mm) to accommodate longer dropper-post travels.
The Tallboy has two geometry adjustments. A flip-chip in the lower suspension link adjusts head angle +/- 0.2 degrees, seat angle +/- 0.3 degrees, and BB height +/- 3mm. It also has a small effect on shock rate: in the low setting, it is a bit more progressive, in the high setting more linear.
The second geometry adjustment chip is only in carbon models. Located in the rear dropouts, it adjusts chainstay and wheelbase length +/- 10mm. In the short setting, the stays are 430mm, in the long 440mm. Longer should make the bike feel a bit more planted, shorter a bit more snappy. There's also a small change to the suspension—longer stays increase the leverage ratio—although Santa Cruz's information did not provide any details. Changing the chainstay length requires a spacer to reposition the brake caliper—all necessary parts come with the Tallboy.
Rounding out the details: threaded BB shell, ISCG '05 tabs, internal cable routing with full-length tunnels in carbon frames, 2.6-inch tire clearance (carbon frames only, requires rear dropout flip chip in long position), and two water bottle mount locations (inside the front triangle and under the down tube).
The TB4 Family
The Tallboy 4 family consists of nine models starting at $2,699 (AL D) and topping out at $10,399 (CC XX1 AXS RSV). There are three frames, and all share the same geometry. The least expensive models use an aluminum frame, and there are two carbon frames—the heavier and cheaper C and the lighter, more expensive, CC frame. All frames carry a lifetime warranty.
Aluminum frames come in two builds priced $2,699 and $3,399. C frames come in three builds priced $4,199, 4,999, and $6,199. The are four CC builds priced $6,999, $8,199, $9,799, and $10,399.
Aluminum frames come in small through extra-large, and carbon frames come in extra-small through double-extra-large. All sizes can fit a water bottle in the main triangle.
All builds use 1x12 drivetrain, Fox Float DPS shock, Maxxis Minon DHR/DHF 2.3-inch tubeless-ready tires, tubeless-ready rims, lock-on grips, and WTB Silverado saddle.
Four builds come stock with Santa Cruz's Reserve 27 carbon rims. Models with aluminum rims may be upgraded to the Reserve rim.
The Tallboy CC XTR RSV ($9,799) gets Shimano's new XTR 1x12 drivetrain and XTR 4-piston brakes; all other models use SRAM drivetrain and brakes. The top-0f-the-line Tallboy CC XX1 AXS RSV ($10,399) has SRAM's Eagle AXS wireless shifting.
One Little Thing
One thing about the new Tallboy that really annoys me. The way the shock is buried in the frame makes it very hard to see and measure sag. Santa Cruz needs to develop some sort of visual sag indicator, or Fox needs to start etching a sag scale on its shocks like RockShox.
Proper sag is really important you guys! And in order to fine tune a bike's suspension performance, you need to know where you're starting from. "I recommend starting with body weight, which should be around 30-percent sag. Maximum of 33-percent sag. Anything more might make it feel too low slung and sluggish," Santa Cruz's brand manager Seb Kemp said in an email. Which is only partially useful because it's difficult to accurately measure the Tallboy's sag.
I resorted using the feelz. I started at body weight before trying a little under and then a little over. I eventually settled on 3psi over body weight.
Ride Impressions
One of my favorite bikes is Evil's Following MB. It's sort-of-weird with the build and geometry of a heavy-duty trail bike, but with less travel (120mm rear, 130mm front). But it's harmonious and fun in the way few bikes are. The new Tallboy is one of those few that are.
Three Awesome Knee Pads for the Trail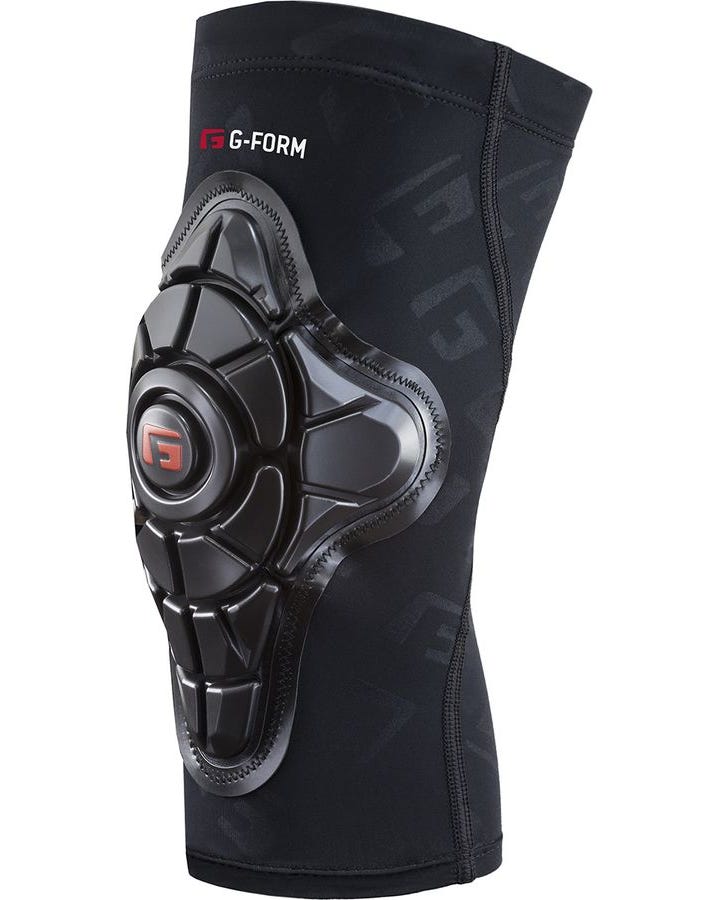 Light and Thin
G-Form Pro-X
Barely noticeable sleeve with light pads and a mesh back panel.
$60 | Competitive Cyclist
Buy Now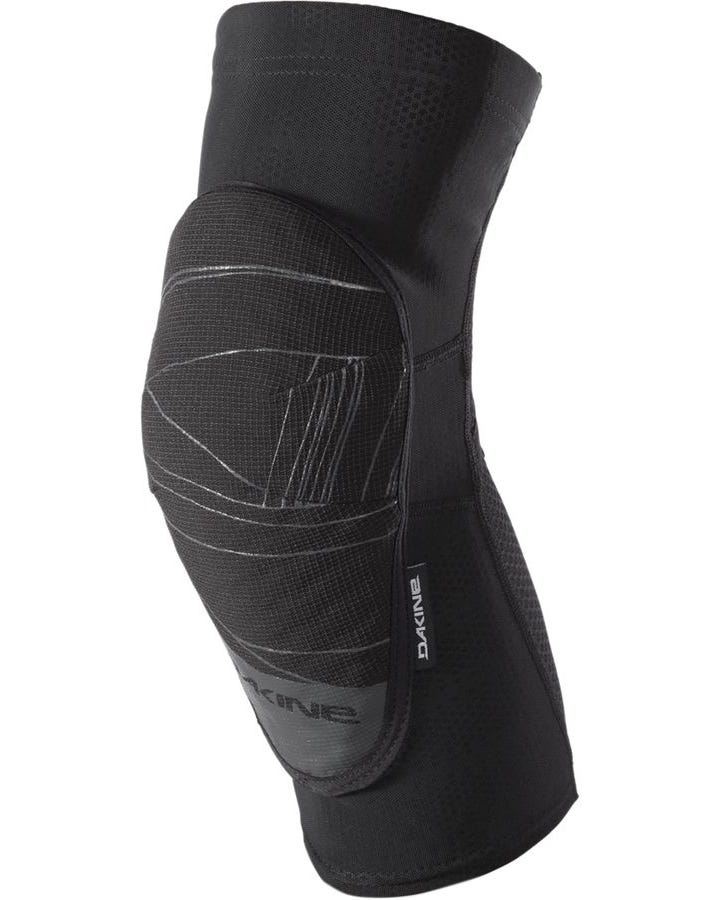 Dirt-Rash Defense
Dakine Slayer
Thick padding in front with mesh behind the knees to keep you cool.
$65 | Competitive Cyclist
Buy Now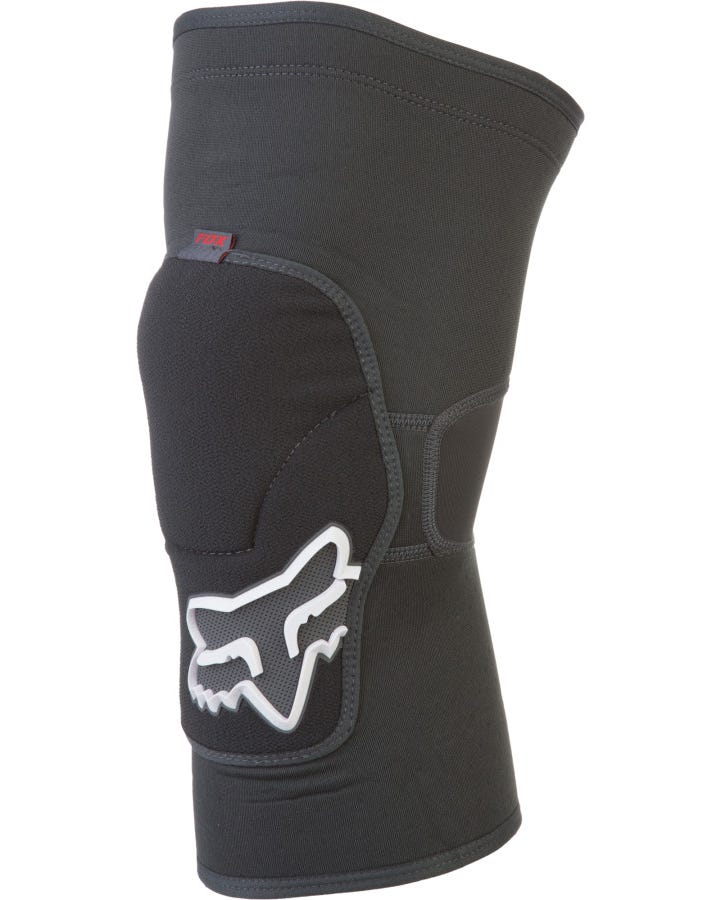 A Padded Knee Warmer
Fox Launch Enduro
Abrasion-resistant, soft, breathable, and easy to pedal in.
$60 | Competitive Cyclist
Buy Now
Which isn't shocking because the new Santa Cruz is the same bike: It too has 120mm rear and 130mm front with geometry and parts that you're more likely to find on a bigger bike. But by being newer the TB4's geometry is more progressive—longer reach, steeper seat tube angle, slacker head tube, shorter offset fork—and the Santa Cruz's VPP suspension pedals a bit more crisply than the single-pivot Evil.
Those two details make the TB4 a better bike in most ways (the Evil's suspension sensitivity remains peerless). And if it's better than the Following MB, it's one hell of a sweet bike.
The special thing about the Tallboy 4 is it warps preconceived notions. A bike with suspension this supple shouldn't pedal this efficiently; a bike with these dimensions shouldn't climb technical singletrack this crisply; a bike with 120/130mm travel shouldn't float down technical and rowdy descents this well. But the Tallboy 4 does.
I won't pretend this bike is as fast uphill as an XC-race bike or as fast downhill as an enduro bike. But I was continually surprised that this bike could do so much so well and without the nagging sensation of compromise.
65.5 degrees (with short offset fork) on a light and shorter-travel trail bike seems nuts. That's slacker than some (excellent) longer travel bikes; it's as slack as Evil's 160mm-travel Wreckoning. But even 0n my tightest, punchiest, most-technical, East Coast singletrack test climbs, the Tallboy never felt too slack or unwieldy. It climbed this stuff really well and better than several bikes that, on paper, look better suited to this terrain.
Short-ish rear travel helps. It doesn't sag on climbs the way a longer-travel bike does, which keeps the rider's weight centered. Pedaling efficiency is good—it doesn't feel soggy when you're on the pedals—but it's not quite as crisp as some of its DW-link competition like the Ibis Ripley or Pivot 429 Trail. But, when climbing in the lowest gear, the Tallboy offers slightly more rear-wheel traction and suspension sensitivity than the Ripley and 429 Trail.
Downhill, it's more of the same from the Tallboy. I forgot I was on "just" 120/130mm of travel—it can outrun many longer-travel bikes. A couple of things are at work here. The geometry helps calm the Tallboy, even when the suspension is pushed to its limits. The RockShox Pike on the front also helps. It's stiffer than a Fox 34 with better big-hit performance, which provides better accuracy and control. You'll need it because this geometry will encourage you to take the pro lines. The superlative Maxxis Minion DHR/DHF tires, play a part too—tires are underappreciated in their ability to shape a bike's feel and performance.
The rear end works heroically. The Evil Following MB redefined what could be done with 120mm of travel. The quality of the Tallboy's rear suspension is almost as impressive. End-of-travel progression is well crafted so hard hits are controlled, but the Tallboy's full travel can be accessed. Sensitivity is outstanding; pedaling and braking forces don't noticeably impinge on the suspension's best attributes.
And there's a mid-stroke to work with. Some shorter travel bikes can feel like they skip from small bump sensitivity to big hit progression with little going on in the middle. The Tallboy has a noticeable mid-travel platform to help the rider pump and pop, and to keep the chassis level and quiet when carving a berm or dancing over a rock garden.
Long and slack means a stable bike at medium to higher speeds—and the Tallboy is—but the bike is better balanced and more lively than its numbers telegraph. I kept waiting for the Tallboy to feel floppy and unstable at lower speeds, for it to push wide in corners if I didn't thrust myself over the front end. That never happened. I expected it feel dull until speeds picked up enough to wake up the geometry. That never happened either.
The geometry and travel interact in a way that seems to mitigate much of the expected compromises I'd expect to experience with shorter travels, and geometry that is long and slack. I don't fully understand why it works, but the Tallboy works.
Tallboy C R
SHOP NOW
A genre-bending short travel trail 29er
Exceptional performance across a wide range of speeds and terrains.
Wide variety of builds and prices.
Difficult to measure sag.
Matt PhillipsSenior Test Editor, BicyclingMatt has been testing bikes and all forms of cycling gear since 1995.
Sours: https://www.bicycling.com/bikes-gear/mountain-bike/a28752050/santa-cruz-tallboy-review/
Review 2021 tallboy
Yes, in general, you can get burnt everywhere. What if Im already asleep. So, in class, I didn't seem to be bent over so seriously. Otherwise, they would have pulled up the dress.
2020 Santa Cruz Tallboy 4 Test Ride \u0026 Review
Finally, I could breathe air. But Igor was not going to ossianivatsya, he firmly took me by the hair, with his second hand pulled the jeans to the end, turned around. And pressed it to his anus, I also squandered this option in my head and greedily began to lick his ass. With the other hand I jerked off to myself, Igor held my hair, my tongue caressed his anus and so for 10 minutes until I finished on the.
You will also like:
Ran all over my body. The pussy was burning, the swollen lips were wide open and covered with a thick and slippery layer that had already turned into mucus of lubricant, exuding the scent of. An excited woman. The pads of the fingers routinely ran over the lips and, rolling off them, slid along the swollen berry of the clitoris. With each movement filling their body with lightness and pleasure.
19
20
21
22
23