Print Superhero Worksheets
Around this time The Lone Ranger radio program made its debut on a Detroit radio broadcast. People began to look for and admire ordinary people that could achieve extraordinary things. This came to life in comic strips through the first superhero in the papers Mandrake the Magician. Mandrake used his powers of hypnosis to create terrifying illusions for criminals. While this was just a comfortable jump from real life to fiction, the world got turned upside down when Superman made his debut and the end of the 1930s. The American 1930s were flush with bad news especially at the time of the Great Depression. People did all they could to escape this reality. Newspapers began publishing comic strips which were a sequence of drawings with written dialogue. These comic strips gave rise to complete paperback magazines of drawings with dialogue called comics. As time passed, this was the medium that was to bring to life the stories of extra-ordinary people known as superheroes.

These worksheets take a look at modern comics and the superheroes that are popular today. We look at the history of famous franchises as well as the concepts that were originated through this medium. We also take some time to reflect back on life before the existence of these pop culture mavericks. Has culture taken a turn for the better or worse as a result? Below you find some great printable reading sheets that look at Marvel Comics, the setup and creation of superheroes, and many historically favorite superheroes.

Get Free Worksheets In Your Inbox!
---
Click the buttons to print each worksheet and associated answer key.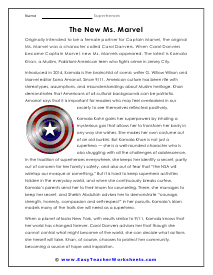 The New Ms. Marvel
Originally intended to be a female partner for Captain Marvel, the original Ms. Marvel was a character called Carol Danvers.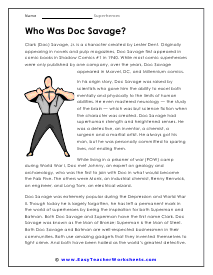 Who Was Doc Savage?
Clark (Doc) Savage, Jr. is a character created by Lester Dent. Originally appearing in novels and pulp magazines.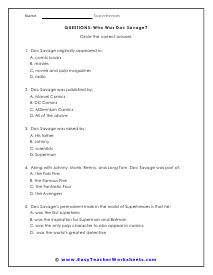 QUESTIONS: Who Was Doc Savage?
Doc Savage was extremely popular during the Depression and World War II. Though today he is largely forgotten, he has left a permanent mark in the world of superheroes by being the inspiration for both Superman and Batman.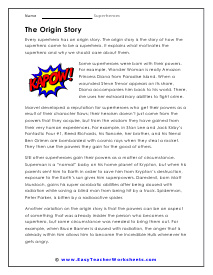 The Origin Story
The origin story is the story of how the superhero came to be a superhero. It explains what motivates the superhero and why we should care about them.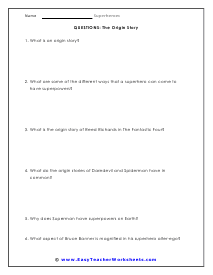 QUESTIONS: The Origin Story
Another variation on the origin story is that the powers can be an aspect of something that was already insider the person who becomes a superhero.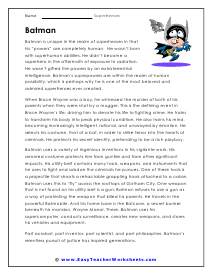 Batman
Batman is unique in the realm of superheroes in that his "powers" are completely human.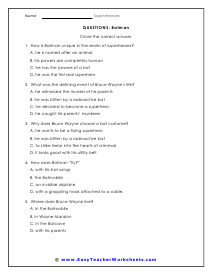 QUESTIONS: Batman
Batman uses a variety of ingenious inventions in his vigilante work. His armored costume protects him from gunfire and from other significant impacts.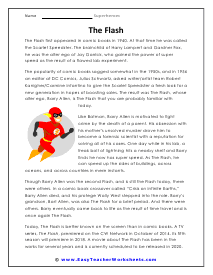 The Flash
The Flash first appeared in comic books in 1940. At that time he was called the Scarlet Speedster.

Sours: https://www.easyteacherworksheets.com/socialstudies/superheroes.html
batman
Results for80 results
Sort:
Reinforcement chart for kiddos- Batman themed. Use the pictures on the first page to fill the boxes on the second page. Five pictures in a row and the student receives reward. He/she can work towards whatever motivates them (sticker, candy, game, etc)
Do your kids need a little brain break on a "FUN Friday!"  Reward your students by letting them play virtual CHECKERS! This is also a great way to encourage students to connect with one another virtually, playing a traditional favorite game!  In this checkers game Batman pieces face off Joker pieces
If you would like a Batman Costume for your Dino Doll look no further. This is a simple pattern to follow and the costume fits your small Dino doll. If you have any Costume suggestions that you would like to see please let me know. Enjoy!
Sours: https://www.teacherspayteachers.com/Browse/Search:batman/PreK-12-Subject-Area/Specialty/Price-Range/Free?ref=filter/price
Batman Facts & Worksheets
Not ready to purchase a subscription? Click to download the free sample version Download sample
Download This Sample
This sample is exclusively for KidsKonnect members!
To download this worksheet, click the button below to signup for free (it only takes a minute) and you'll be brought right back to this page to start the download!

Sign Me Up
Already a member? Log in to download.
Batman is a fictional superhero created by artist Bob Kane and writer Bill Finger. Originally named Bat-Man in 1939, the character first appeared in Detective Comics #27. Batman appeared in comic books in the United States published by DC Comics. Batman was nicknamed the Dark Knight, the Caped Crusader, and the World's Greatest Detective.
See the fact file below for more information on the Batman or alternatively, you can download our 23-page Batman worksheet pack to utilise within the classroom or home environment.
Key Facts & Information
BRUCE WAYNE
Batman's secret persona is Bruce Wayne.
Bruce Wayne is a wealthy American businessman whose parents (Dr. Thomas and Martha Wayne) were murdered when he was eight years old.
He is the owner of Wayne Enterprises.
When his parents were murdered in front of him, he swore to take revenge against the killers.
Despite not having supernatural powers, Bruce Wayne undergoes self-training for physical and intellectual strength.
CHARACTERIZATION
In a fictional city called Gotham, Batman lives with his butler Alfred Pennyworth.
Batman embodies the character of a bat and wears a tech-powered batsuit.
Batman is agile, intelligent, stealthy, and adaptable.
Batman invents gadgets depending on his needs.
Batman's archenemy is Joker, but he has a lot more opponents.
Batman's allies are Robin and police commissioner Jim Gordon.
Batman's character was introduced in 1939 and he had his own comic title in 1940.
The characterization of Batman has evolved through time.
He was first portrayed as a dark knight then as a campy character in the 1960s.
In 1986, his dark knight character re-emerged with the creation of The Dark Knight Returns by Frank Miller.
Interestingly, Superman has described Batman as "the most dangerous man on Earth".
FILM, RADIO, AND TELEVISION
Batman secured his spot in mainstream culture when the Warner Bros. Pictures successfully produced the live-action Batman feature films.
Batman has been played by various actors: Lewis Wilson, Robert Lowery, Adam West, Michael Keaton, Val Kilmer, George Clooney, Bruce Thomas, Christian Bale, Ben Affleck, David Mazouz, Iain Glen, and Robert Pattinson.
Animated adaptations have also been created using the voices of Kevin Conroy, Rino Romano, Anthony Ruivivar, Peter Weller, Bruce Greenwood, Jason O'Mara, and Will Arnett.
Batman has also been licensed for radio and television adaptations.
Batman has been licensed and featured in various adaptations, from radio to television and film, and appears in merchandise sold around the world, such as apparel, toys, and video games.
BATMAN'S ABILITIES
Batman is not like most superheroes in that he does not possess supernatural powers.
What Batman lacks in inhuman gifts, he makes up for with his martial arts skills, extensive wealth, detective skills, and exceptional intellect.
Batman solves crimes by being a great and stealthy detective.
Because of his vast wealth, Batman is able to finance the technologies he applies to solve crimes.
Of all superheroes in the DC universe, Batman is one of the best martial artists. He is particularly skilled in hand-to-hand combat.
His photographic memory helps him better remember the different forms and styles of martial arts he has learned.
Batman is also intellectually gifted and an expert in various fields and disciplines of science, mathematics, and technology.
Batman traveled the world to learn as much as he could and uses his knowledge in his fighting.
Another strong suit of Batman's is his firm discipline to learn and master abilities, which is why he's able to build himself up physically, intellectually, and psychologically.
Like a real bat, he appears and disappears really quickly, almost invisibly.
He is also talented in escapology, making him able to break free of deathtraps almost unharmed.
He is able to function even despite extreme pain.
He is able to resist mind control and telepathy in most of their forms.
At times, he spies on concerned villains and is great at it.
On top of all his aforementioned skills, he is multilingual.
Batman comes across as intimidating and terrifying which makes him an expert in interrogation techniques to elicit information from suspects and witnesses.
Batman is also a licensed pilot and flies his Batplane smoothly.
Batman uses all of his skills and gifts for one purpose: achieving justice.
Batman is known for his conviction of not causing harm to innocent people and not killing anybody as far as possible.
BATMAN'S TECHNOLOGY
Batman has a huge arsenal of high-tech gadgets and vehicles which he uses to fight crime.
His gadgets and vehicles share a bat motif.
Batman's body armor has the image of a bat in the center.
Batman's body armor, called a batsuit, helps him in hand-to-hand combat against enemies. The batsuit protects him from gunfire and direct impact.
Batman has a utility belt where he keeps the tools and equipment he uses to investigate and fight crimes.
Batman's main vehicle is the Batmobile. The Batmobile is an impressive black car with tailfins that look like bat's wings.
Batman also owns an aircraft called the Batplane or the Batwing.
Gotham City calls upon Batman using a searchlight with a bat shape, popularly known as the Bat Signal.
Batman's hidden headquarters are called the Batcave and are found beneath his mansion, the Wayne Manor.
In the Batcave, there is a supercomputer, a surveillance system, a forensics laboratory, an arsenal, an infirmary, a study, a training dojo, and a garage, among other sections.
ALLIES AND RIVALS
Batman's allies include his butler Alfred Pennyworth, Commissioner James "Jim" Gordon, Lucius Fox, Robin, and the Justice League.
Batman's enemies include the Joker, the Penguin, Two-Face, the Riddler, Ra's al Ghul, the Scarecrow, Mr. Freeze, Bane, Poison Ivy, Harley Quinn, Clayface, and Killer Croc.
Batman Worksheets
This is a fantastic bundle which includes everything you need to know about the Batman across 23 in-depth pages. These are ready-to-use Batman worksheets that are perfect for teaching students about the Batman who is a fictional superhero created by artist Bob Kane and writer Bill Finger. Originally named Bat-Man in 1939, the character first appeared in Detective Comics #27. Batman appeared in comic books in the United States published by DC Comics. Batman was nicknamed the Dark Knight, the Caped Crusader, and the World's Greatest Detective.

Complete List Of Included Worksheets
Batman Facts
Who's Bruce?
Being Batman
Character Identification
Bat Technology
Can or Cannot Do?
Different Batman Sketches
Expanding Vocabulary
Justice League Members
Who's Catwoman?
My Batman Comics
Link/cite this page
If you reference any of the content on this page on your own website, please use the code below to cite this page as the original source.
Link will appear as Batman Facts & Worksheets: https://kidskonnect.com - KidsKonnect, October 10, 2019
Use With Any Curriculum
These worksheets have been specifically designed for use with any international curriculum. You can use these worksheets as-is, or edit them using Google Slides to make them more specific to your own student ability levels and curriculum standards.
Sours: https://kidskonnect.com/fun/batman/
Batman Frisbee Tutorial: Pop Culture STEAM Curriculum with Cardboard Superheroes
Shaking her shoe on her toes: Write your document as soon as possible. Yeah, write when such a seductive girl is sitting right next to me on the table. I can't even put my thoughts together, let alone state them. The left shoe barely holds on to your toes, and you play with it in the air, swinging it back and forth. I can't stand it, I catch it in the air and take it off you.
Worksheets batman
My legs and gradually began to introduce this object until only the head 4-5 centimeters in size became visible. Well. Now I have a good tool for you.
Superhero ABC - Learn to write ABC´s with MAGNATAB
I obeyed. Lick. She lay down on the bed with her legs wide apart, leaving me on the floor and pulling my head up to her vagina.
You will also be interested:
It into the hot warmth, then releasing it outside. Affectionate fingers touched the guy's balls again, and Dimon bent forward, leaning towards him. Dim already unmistakably felt how, having originated somewhere in the lower abdomen, a sweet. Irrepressible wave of love juice rises more and more rapidly along the trunk.
228
229
230
231
232