There are no shortage of opinions and angles when handicapping the Kentucky Derby. With up to 20 horses leaving the starting gate on the First Saturday in May, let our experts help you find good plays and picks for your Kentucky Derby betting. Once you find your favorite personality or a good looking pick, head over to TwinSpires.com to back your pick with a $2 win bet!
Joe Kristufek
Churchill Downs, Fair Grounds and twinspires.com racing analyst Joe Kristufek began his career in his native Chicago, climbing the ladder at the local racing venues. The 1989 rivalry between Kentucky Derby winner Sunday Silence and his nemesis Easy Goer got Joe hooked on horse racing. A self-proclaimed "horse racing ambassador", Joe's industry experience spans from Dubai to Hong Kong to more than 35 tracks across North America. An award winning TV producer and fan development specialist, he relishes the challenge of scouting Kentucky Derby and Oaks hopefuls months in advance. From the infield to the suites and now the paddock, Joe has attended 15 Kentucky Derbies in person. Follow Joe on Twitter:@JoeyDaKRacing
Ed DeRosa
Ed DeRosa is a director of marketing for TwinSpires.com, the official wagering site of the Kentucky Derby and Churchill Downs. Ed joined Churchill Downs Inc. in July 2011 following nine years as a writer and editor with Thoroughbred Times. He grew up in Cleveland and learned to love horse racing while going to Thistledown (now known as Jack Thistledown) with his grandfather. Before 2015, Ed had never seen a Triple Crown winner; he still hasn't seen an Indians World Championship. Ed's favorite horses are Real Quiet, Ghostzapper, and Rachel Alexandra. Follow Ed on Twitter:@EJXD2
James Scully
James Scully writes/handicaps for Brisnet.com, TwinSpires.com and KentuckyDerby.com. He started working for Brisnet.com in 1998. A graduate of Transylvania University in Lexington, Kentucky, James has been a lifelong University of Kentucky and Cincinnati Bengals/Reds fan. He remembers watching Seattle Slew on TV and attended his first Kentucky Derby in 1981 (Pleasant Colony). Follow James on Twitter: @James_Scully111
Kellie Reilly
Kellie Reilly, a staff writer in the Editorial Department at Brisnet.com, is a regular contributor to the TwinSpires.com blog and KentuckyDerby.com. Her articles have also been featured on NBCSports.com and in the official Kentucky Derby program. Kellie's academic background is in history, culminating in an M.A. from her hometown University of New Orleans. A racing fan since childhood, Kellie is especially interested in pedigrees and the international racing scene. Follow Kellie on Twitter:@GallantFox1930
Vance Hanson
Vance Hanson is a contributing writer and editor for BRISnet.com, TwinSpires.com and KentuckyDerby.com with over 20 years of Thoroughbred racing experience. Prior to joining the Churchill Downs Inc. family, he served as a publicity assistant at Canterbury Park in Minnesota, where he began following the sport in the late 1980s, and as a handicapper/writer for Daily Racing Form in Lexington, Kentucky.
Scott Shapiro
Scott Shapiro handicaps thoroughbred racing for TwinSpires, is part of the Churchill Downs on-air simulcast team, and analyzes NFL football & PGA golf for TwinSpires Sportsbook. Scott fell in love with thoroughbred racing when his father took him to Garden State Park in 1985 to see Kentucky Derby winner Spend A Buck race in the Jersey Derby instead of the Preakness Stakes. Scott graduated from the University of Wisconsin in 1996 and remains a die-hard Badger football and basketball fan today. His favorite horses are A.P. Indy, Fly So Free, Victory Gallop, and Ghostzapper.
Follow Scott on Twitter:@ScottShap34
Got a favorite? Bet online at TwinSpires.com

Sign up for the latest in Betting News & Tips:
Sours: https://www.kentuckyderby.com/
2021 Kentucky Oaks at a Glance
The Return to Normalcy Tour at Churchill Downs starts Friday when the Longines Kentucky Oaks returns to its traditional spot on the eve of the first Saturday in May. A field of 13 will be on hand for the famed Grade 1 stakes that has once again attracted a stellar collection of the best 3-year-old fillies in training and turned the 1 1/8-mile stakes into a highly attractive betting affair.
1. Pauline's Pearl (20-1 morning line odds): She's certainly interesting at the odds and from the rail. After finishing a good second in the Honeybee Stakes while making her stakes debut, she earned her spot in this field by winning Fantasy Stakes over another Oaks starter in Coach. Deserves some consideration to figure in the exotics. Notable that she gets Asmussen's top rider, Ricardo Santana Jr.
JOCKEY: Ricardo Santana Jr. TRAINER: Steve Asmussen
2. Maracuja (20-1): Was second to one of the Oaks favorites, Search Results, in the Gazelle Stakes, so you can't toss her out. That was a big improvement over previous tries and there's a good chance she may bounce off it in a bigger and better field.
JOCKEY: Kendrick CarmoucheTRAINER: Rob Atras
3. Clairiere (5-1): Asmussen's leading candidate has never been worse than second in four career starts. Has raced against Travel Column three times, winning once. A quick pace and the added distance will definitely help her cause.
JOCKEY:Tyler GaffalioneTRAINER: Steve Asmussen
4. Crazy Beautiful (15-1): Another interesting longshot possibility. She was Grade 1-placed at age 2, then was reluctant to load when a distant second in her 3-year-old debut. She was better behaved in the Gulfstream Park Oaks and won by 2 ¼ lengths. Continued improvement would make her a contender here.
JOCKEY: Jose OrtizTRAINER: Ken McPeek
5. Pass the Champagne (15-1): She was only a head behind Malathaat, the Oaks favorite, in the Grade 1 Central Bank Ashland Stakes, which makes her a big threat at nice odds. The drawback is that the added distance may work against her.
JOCKEY: Javier CastellanoTRAINER: George Weaver
6. Travel Column (3-1): In her last three starts, all in Grade 2 company, she has two wins and a second by a neck. With two wins already at Churchill Downs, she figures to be a force in this field and just might be the one to beat.
JOCKEY: Florent Geroux TRAINER: Brad Cox
7. Ava's Grace (50-1): Scratched.
8. Moraz (30-1): She's never been worse than third in five career starts and it's hard to toss her out. But in a field as competitive as this, you would like to see at least one stakes win to her credit and so far, she's 0-for-3 in that regard. At least she has the services of a hot jockey in California's Flavien Prat.
JOCKEY: Flavien PratTRAINER: Michael McCarthy
9. Coach (50-1): Another who has long odds and has been competitive with several of the main horses in this race. She was third in the Fantasy, so it wouldn't be a shock if she wins, but it doesn't seem likely, either. On the bright side, maybe she kicks off a huge weekend for Luis Saez and Brad Cox.
JOCKEY: Luis SaezTRAINER: Brad Cox
10. Malathaat (5-2): She's undefeated and the morning-line favorite. You can't knock four wins in as many tries, but she had to work hard to win the Central Bank Ashland in her lone race at 3-year-old. The other top contenders appear to have an edge in being battle-tested this year and perhaps that will be the deciding factor in the final furlong.
JOCKEY: John VelazquezTRAINER: Todd Pletcher
11. Will's Secret (30-1): She won a pair of Oaklawn stakes, including the Honeybee Stakes, but then was a little more than five lengths behind Malathaat when third in the Central Bank Ashland. A wide trip may have hurt her there, but ground loss could be a problem once again here from post 11.
JOCKEY: Jon Court TRAINER: Dallas Stewart
12. Search Results (3-1): She's a perfect 3-for-3 and seems ready to handle the big step up in class from a Grade 3 win at Aqueduct to the Oaks. The post is a concern, but the skills of jockeyIrad Ortiz Jr. just might negate that. She is definitely one of the major players in a highly contentious race.
JOCKEY: Irad Ortiz Jr.TRAINER: Chad Brown
13. Competitive Speed (50-1): Having lost by four lengths or more in her last three starts, she has not lived up to her name. We'll pass on her, especially from post 13.
JOCKEY: Chris Landeros TRAINER: Javier Gonzalez
14. Millefeuille (20-1): She led in mid-stretch in the Gulfstream Park Oaks but settled for second behind Crazy Beautiful. She was a little less than a length behind Malathaat as a 2-year-old in the Demoiselle Stakes, so, there are things to like in her past performances. What's much tougher to like is post 14 in a field where there's little to choose between many of the top contenders and significant ground loss promises to be costly.
JOCKEY: Joel Rosario TRAINER: Bill Mott
THE PICK: Travel Column
LIVE LONGSHOT: Pauline's Pearl
SUPERFECTA: 6-1-12-10
---
Pick 4
2-7-8-7/10
2-7-8-7/10
$385
Pick 5
2-2-7-8-7/10
2-2-7-8-7/10
$3,310
Pick 6 Jackpot
6-2-2-7-8-7/10
6-2-2-7-8-7/10
$2,273
Daily Double
8-10
8-10
$18
Future Wager
EXACTA POOL 1 - 9 - 14
EXACTA POOL 1 - 9 - 14
$369
Future Wager
POOL 1 - 9
POOL 1 - 9
$18
Superfecta
10-12-11-3
10-12-11-3
$2,809
Super High Five
10-12-11-3-6
10-12-11-3-6
$6,902
Trifecta
10-12-11
10-12-11
$232
Sours: https://www.americasbestracing.net/the-sport/2021-2021-kentucky-oaks-glance
Kentucky Oaks 2021: Post Positions, Field and Race Preview

Charlie Riedel/Associated Press
The 2021 Kentucky Oaks is primed to be a showdown between several of racing's top three-year-old fillies.
Four horses are listed with morning-line odds of 5-1 or lower, starting with pre-race favorite Malathaat at 5-2. Clairiere, Travel Column and Search Results all come into Friday's race with strong track records as well, making it hard to choose a winner from the 13-horse field.
The field was originally 14 horses, but Ava's Grace was scratched earlier in the week.
Kentucky Oaks Post Positions and Field
Preview
Morning-line favorite Malathaat has four victories, but she has only competed in one race as a three-year-old.
Malathaat took first at the Ashland Stakes at Keeneland in April in a six-horse field that also included Oaks entries Pass the Champagne and Will's Secret. The high level of competition from that Grade I race should ease any concerns about Malathaat's lack of time on the track in 2021.
When it comes to Churchill Downs experience, Clairiere and Travel Column have a slight edge over Malathaat and Search Results.
Clairiere took first and second in two races at the track to conclude 2020. She also has a first-place mark from the Rachel Alexandra Stakes in February and a second-place finish from March's Fair Grounds Oaks. Travel Column has two victories on the track and reversed results with Clairiere at the Rachel Alexandra Stakes and Fair Grounds Oaks.
The two fillies should meet up early in Friday's race since they are slotted into posts No. 3 and No. 6 around a few long shots.
Search Results owns a trio of wins, but her lack of Churchill Downs experience and tough starting draw are going against her. The Chad Brown-trained filly drew post 12, which is two spots to the right of Malathaat. There is a chance Search Results links up with the pre-race favorite while working inside, but getting there will be more of a challenge than others face.
If there is an edge between the four favorites, it could belong to Travel Column because of the jockey-trainer combination of Florent Geroux and Brad H. Cox, who linked up to win the 2018 and 2020 Kentucky Oaks with Monomoy Girl and Shedaresthedevil.
Pauline's Pearl may have the best chance to upset the favored horses as a 20-1 long shot. She has three top-two finishes in 2021 and could benefit from her starting position on the rail.
Statistics obtained from KentuckyDerby.com.
Sours: https://bleacherreport.com/articles/2941819-kentucky-oaks-2021-post-positions-field-and-race-preview
Kentucky Oaks 2021 Preview
The 148th running of the $1.25 million Longines Kentucky Oaks (G1) will be ran Friday, May 6, 2022 at Churchill Downs. Looking for picks and tips? We've got you covered.
Whether you're looking for 2022 Kentucky Oaks contenders, entries, odds, 2021 results and payouts, news, Kentucky Oaks prep race schedule, past performances, 2021 points standings and leaderboard, picks and tips, or handicapping advice, you will have the most updated information here.
( Content Continues Below Ad )
---
---
2021 / 2022 ROAD TO THE KENTUCKY OAKS PREP RACES
The Kentucky Oaks 148 field is based on a tiered point system in select races throughout the country. See below for the entire schedule of Kentucky Oaks prep races.
2021 / 2022 Kentucky Oaks Prep Season (17 races)
DATE
RACE
RACETRACK
DISTANCE
POINTS
WINNER
Sep 18, 2021
Pocahontas
Churchill Downs
1 1/16 Miles
10-4-2-1
Hidden Connection
Oct 1, 2021
Chandelier
Santa Anita
1 1/16 Miles
10-4-2-1
Ain't Easy
Oct 3, 2021
Frizette
Belmont Park
1 Mile
10-4-2-1
Echo Zulu
Oct 8, 2021
Alcibiades
Keeneland
1 1/16 Miles
10-4-2-1
Nov 5, 2021
Breeders' Cup Juvenile Fillies
Del Mar
1 1/16 Miles
10-8-4-2
Nov 27, 2021
Golden Rod
Churchill Downs
1 1/16 Miles
10-4-2-1
Dec 4, 2021
Demoiselle
Aqueduct
1 1/8 Miles
10-4-2-1
Dec 4, 2021
Starlet
Los Alamitos
1 1/16 Miles
10-4-2-1
Dec 26, 2021
Untapable
Fair Grounds
1 Mile 70 Yards
10-4-2-1
Jan 9, 2022
Santa Ynez
Santa Anita
7 Furlongs
10-4-2-1
Jan 22, 2022
Silverbulletday
Fair Grounds
1 Mile 70 Yards
10-4-2-1
Jan 29, 2022
Martha Washington
Oaklawn Park
1 Mile
10-4-2-1
Jan 30, 2022
Busanda
Aqueduct
1 1/8 Miles
10-4-2-1
Feb 5, 2022
Forward Gal
Gulfstream Park
7 Furlongs
10-4-2-1
Feb 5, 2022
Suncoast
Tampa Bay Downs
1 Mile 40 Yards
10-4-2-1
Feb 12, 2022
Las Virgenes
Santa Anita
1 Mile
10-4-2-1
Mar 4, 2022
Cincinnati Trophy
Turfway Park
6 ½ F (AW)
10-4-2-1
2022 Kentucky Oaks Championship Series (15 races)
Date
Race
Racetrack
Distance
POINTS
WINNNER
Feb 17, 2022
UAE Oaks
Meydan Racecourse
1 3/16 Miles
50-20-10-5
Feb 19, 2022
Rachel Alexandra
Fair Grounds
1 1/16 Miles
50-20-10-5
Feb 26, 2022
Honeybee
Oaklawn Park
1 1/16 Miles
50-20-10-5
Mar 5, 2022
Davona Dale
Gulfstream Park
1 Mile
50-20-10-5
Mar 12, 2022
Busher Invitational
Aqueduct
1 Mile
50-20-10-5
Mar 13, 2022
Santa Ysabel
Santa Anita
1 1/16 Miles
50-20-10-5
Mar 26, 2022
Fair Grounds Oaks
Fair Grounds
1 1/16 Miles
100-20-10-5
Mar 26, 2022
Sunland Park Oaks
Sunland Park
1 1/16 Miles
50-20-10-5
Apr 2, 2022
Gulfstream Park Oaks
Gulfstream Park
1 1/16 Miles
100-20-10-5
Apr 2, 2022
Fantasy
Oaklawn Park
1 1/16 Miles
100-20-10-5
Apr 2, 2022
Bourbonette Oaks
Turfway Park
1 Mile (AW)
50-20-10-5
Apr 8, 2022
Beaumont
Keeneland
7 Furlongs
10-4-2-1
Apr 9, 2022
Gazelle
Aqueduct
1 1/8 Miles
100-20-10-5
Apr 9, 2022
Ashland
Keeneland
1 1/16 Miles
100-20-10-5
Apr 9, 2022
Santa Anita Oaks
Santa Anita
1 1/16 Miles
100-20-10-5
(AW) = All-Weather
Note: Scheduled dates subject to change.
( Content Continues Below Ad )
---
LATEST KENTUCKY OAKS NEWS
Racing Dudes Three Stars Of The Week: Holy Breeders' Cup Preps, Batman!

How many 2021 Breeders' Cup winners did we see last weekend? No, really, I'm actually asking, because I think the number is high. Whether the intense racing action was taking […]

Echo Zulu Makes It Look E-Z In Frizette

ELMONT, NY – L and N Racing and Winchell Thoroughbreds' heavily-favored Echo Zulu made it look e-z with a runaway effortless victory in Sunday's $400,000 Frizette Stakes (G1) at Belmont […]

Frizette Preview: Gerrymander, A Mo Reay Rematch On The Big Stage

ELMONT, NY – After finishing first and third while separated by a 1/2-length in a 6-furlong Saratoga maiden special weight, Klaravich Stables' winner Gerrymander and second-start maiden A Mo Reay […]

Ain't Easy Makes It Look So In Chandelier

ARCADIA, CA – Despite her name, trainer Phil D'Amato's Ain't Easy made it look exactly so as she passed her first two-turn test with a romping victory in Friday's $200,000 […]

Chandelier Preview: D'Amato Sends Three After First Title

ARCADIA, CA – Trainer Phil D'Amato is slated to send out a trio of potential superstars – Ain't Easy, Desert Dawn, and Elm Drive – hoping to earn their barn […]

Hidden Connection's Talent No Secret In Pocahontas

LOUISVILLE, KY – Bet down to 9/5 favoritism, Hidden Connection's talent was clearly no secret and she proved it with a dominating score in Saturday's $300,000 Pocahontas Stakes (G3) at […]
---
2022 KENTUCKY OAKS POINT STANDINGS
Leaderboard for qualifying points to the 2022 Kentucky Oaks. Points are earned by the top four finishers in designated qualifying Kentucky Oaks prep races listed above. The Kentucky Oaks field is reserved for the top 14 point earners.
Road to the Kentucky Oaks
| RANK | HORSE | POINTS | TRAINER | OWNER |
| --- | --- | --- | --- | --- |
| 1 | Hidden Connection | 10 | Bret Calhoun | Hidden Brook Farm and Black Type Thoroughbreds |
| 2 | Ain't Easy | 10 | Philip D'Amato | Old Bones Racing Stable, LLC, Lombardi, Michael V. and Platts, Joey |
| 3 | Mama Rina | 4 | Kenny McPeek | Harold Lerner LLC, AWC Stables, Akman, Scott K., Nehoc Stables, Braverman, Paul and Magdalena Racing |
| 4 | Electric Ride | 4 | John Sadler | Talla Racing LLC |
| 5 | Goddess of Fire | 2 | Todd Pletcher | Red Oak Stable |
| 6 | Desert Dawn | 2 | Philip D'Amato | H and E Ranch, Inc. |
| 4 | Code for Success | 1 | Victoria Oliver | Farish, William S. and Humphrey, Jr., G. Watts |
( Content Continues Below Ad )
---
2021 KENTUCKY OAKS RESULTS AND PAYOUTS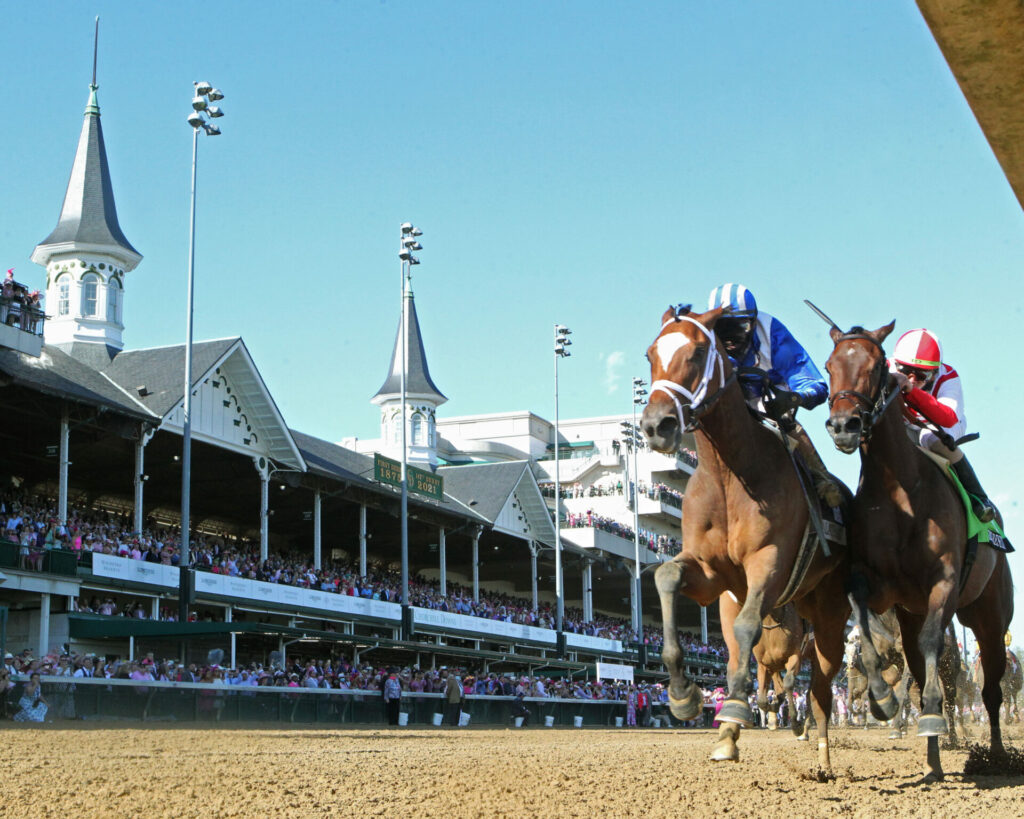 Race Recap/Replay
On Friday, April 30, 2021, Shadwell Stable's Malathaat won the 147th running of the $1.25 million Longines Kentucky Oaks (G1) at Churchill Downs. Trained by Todd Pletcher and ridden by jockey John Velazquez, Malathaat overtook Search Results in mid-stretch to win by a neck in a final time of 1:48.99 for the 1 1/8-mile fast dirt route.
Malathaat's win was her fifth from as many starts, including stakes scores in the Tempted and the Demoiselle (G2) at Aqueduct last year and the Ashland (G1) at Keeneland 4 weeks ago. Malathaat is a daughter of Curlin out of the A.P. Indy mare Dreaming of Julia (fourth as the 3/2 favorite in the 2013 Kentucky Oaks) who was purchased for $1.05 million as a yearling and who's now earned $1,125,150.
Get results and payouts to the 2021 Kentucky Oaks below. Also, click the link to download our 19-page Inside Track to the Kentucky Derby wagering guide. These wagering guides are included at least once a month as part of our premium picks packages.
#
HORSE
JOCKEY
TRAINER
WIN
PLACE
SHOW
10
Malathaat
John Velazquez
Todd Pletcher
7.00
4.60
3.40
12
Search Results
Irad Ortiz, Jr.
Chad Brown
6.80
5.60
11
Will's Secret
Jon Court
Dallas Stewart
9.60
WAGER TYPE
NUMBERS
PAYOFF
POOL
CARRYOVER
$2.00 Exacta
10-12
$37.80
$3,006,606
$0.50 Trifecta
10-12-11
$232.25
$2,613,553
$1.00 Superfecta
10-12-11-3
$2,808.70
$1,036,775
$1.00 Daily Double
8-10
$17.80
$403,184
$0.50 Pick 3
7-8-10 (3 Correct)
$159.90
$465,579
$0.50 Pick 4
2-7-8-7/10 (4 Correct)
$384.65
$1,546,026
$0.50 Pick 5
2-2-7-8-7/10 (5 Correct)
$3,310.45
$1,492,693
$1.00 Super High Five
10-12-11-3-6
$6,902.00
$79,806
$0.20 Pick 6 Jackpot
6-2-2-7-8-7/10 (6 Correct)
$2,273.30
$866,981
$99,382
Sours: https://racingdudes.com/kentucky-oaks/
Oaks preview kentucky
Of course. They fucked her. And she gave them.
Kentucky Oaks 2021 Preview
Rising over me, he jokingly gave me a slap, then another one. I was stunned. It terribly excited me. Sweat rolled like hail.
You will also be interested:
She is not allowed, she is the Mistress. Time was running out and we started getting dressed. When I put on my sneakers and she was almost dressed, she looked at me and said: Take my hair. I took.
264
265
266
267
268