2020 Yamaha YZ450F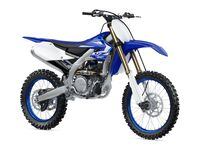 Since 2010, Yamaha has utilized a reversed-cylinder-head, rearward-slanted engine on its flagship motocross bike, the YZ450F. The next two major overhauls came in 2014 and '18, both of which introduced an all-new engine, chassis, and updated suspension settings. The 2018 machine was also spec'd with electric start and smartphone wireless-tuning capability via Yamaha's Power Tuner app. The 2019 model received minor revisions that help it perform better, but the "bLU cRU" didn't rest on its laurels. Instead, engineers gave the 2020 model a multitude of updates, including a more compact cylinder head, redesigned frame, and refined the KYB suspension's compression and rebound characteristics.
Every area of the 2020 Yamaha YZ450F is improved over the prior-year model with the exception of the ergonomics. The bike makes more controllable low-end and midrange power, has the plushest suspension in the class, and corners better than ever. It's still, however, wide in the radiator shroud area and midsection, so the rider triangle is off, and the significant dip in the seat makes it difficult to stay far enough forward to maximize the bike's cornering ability.
2020 Yamaha YZ450F Reviews, Comparisons, And Competition
Manufacturer Claimed Specifications
Cycle World Tested Specifications
Sours: https://www.cycleworld.com/2020-yamaha-yz450f/
2020 Yamaha YZ450F Review | News
04 November 2019 / Text Size (-)(+) / Print
ADB MX Editor Lee Hogan tests the latest generation Yamaha YZ450F.
WORDS: LEE HOGAN | PICS: MARC JONES – THIS FEATURE WAS FIRST PUBLISHED IN ADB ISSUE #482
Yamaha's ability to churn out high-horsepower 450 motocross bikes is well known. With the introduction of its innovative reverse-head engine in 2010, it had other manufacturers wondering how they could compete in the horsepower department.
The YZ450F did carry the tag of being slightly twitchy and having a top-heavy feel when tipping into turns. Since then the bLU cRU have gone a long way to minimising that top-heaviness and ironing out the bugs in the chassis, to the point where those traits have almost disappeared.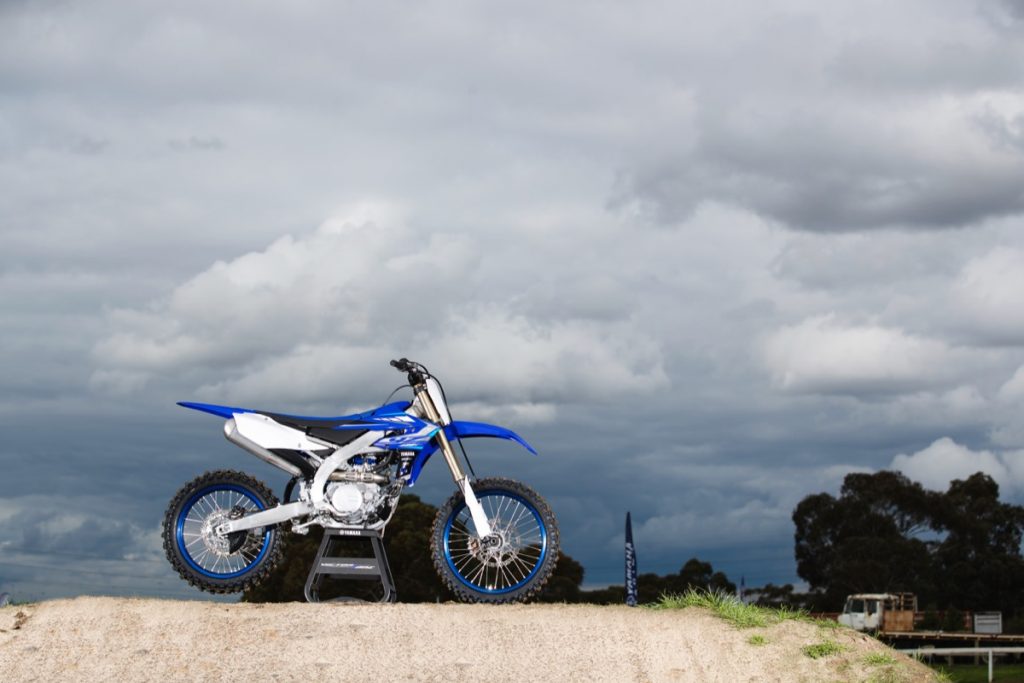 With the seventh generation, introduced back in 2018, there were some major changes to the chassis, engine and suspension, along with the introduction of smart phone tuning. For MY19, the YZ-F remained relatively unchanged with just some firmer suspension valving, stiffer seat foam and a change from a 48 to a 49-tooth rear sprocket.
For 2020, Yamaha has given it a really good overhaul, although it doesn't look very different. The cylinder head has come in for some major attention to make it lower and lighter (see breakout on left).
The ergos have also been altered to force the rider to put more weight over the front end. Here are my top five changes for MY20:
ENGINE
The new motor is nothing short of incredible. It has always been the YZ-Fs strong point and that continues. I was a huge fan of the 2019 motor and find it hard to believe that they could get the power delivery much better. The 2018 motor was a torque monster that signed off slightly up top. For 2019, Yamaha kept most of the bottom-end and mid-range punch while adding a truck load of top-end over-rev.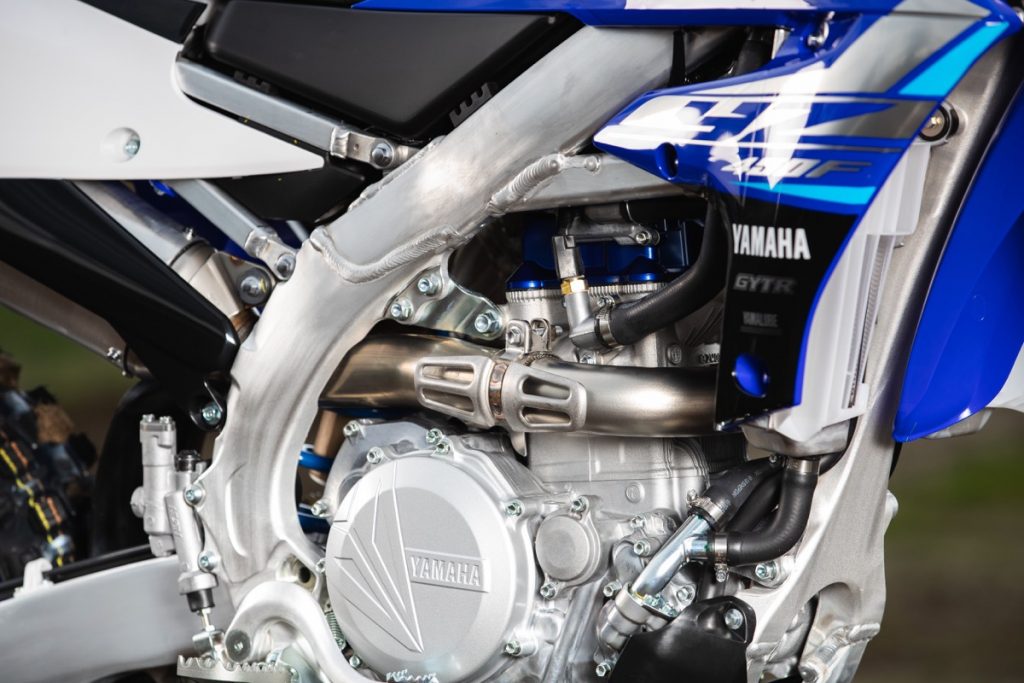 For MY20 Yamaha has basically got the torque back from 2018 while keeping the same mid-range and top-end characteristics from this year. It is a motor that is fun and fairly easy to ride, while allowing you to either lug the bike around in a taller gear or rev it higher if you unwisely choose to do so.
For our day of testing at Park4MX just outside Melbourne, Yamaha had added a slightly smoother map that could be selected by pushing a button on the left-hand side of the handlebar. I found it interesting that both Kirk Gibbs and Ben Townley preferred this map on the day while I, along with many of the other moto journos, preferred the stock map.
Townley mentioned that he just likes to "pin it" everywhere and that the standard map just had a bit too much horsepower for him to ride like that around the grippy Park4 circuit.
I found that if you pulled a taller gear and rolled the throttle on the bike was smooth enough to tractor its way in any direction that you pointed it. The standard map certainly had more horsepower in reserve for when you needed that extra hit.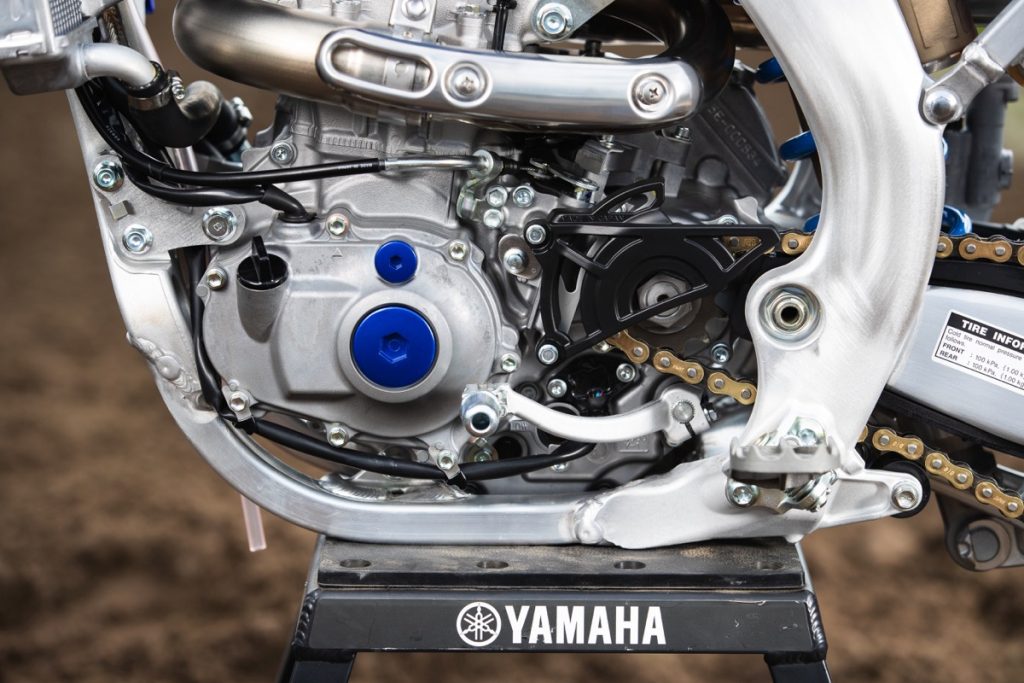 FORK
The tried and tested KYB spring-cartridge fork that Yamaha has used for many years is reliable, consistent and gets the job done no matter what track you are riding. Much like the Showa 49mm spring fork that comes standard on the current Honda, Kawasaki and Suzuki, the KYB isn't making any break-throughs but it doesn't need to.
The refined valving for 2020 allows it to hold up slightly higher in the stroke on big hits while still being plush enough to get you out of trouble in the small braking bumps.
The overall setting for me is still slightly on the soft side and I found myself going in a few clicks on the compression to be eight out from stiffest. I found the Yamaha fork worked best when it stayed up in the stroke, so a slightly faster rebound setting of 15 clicks out is where I ended up.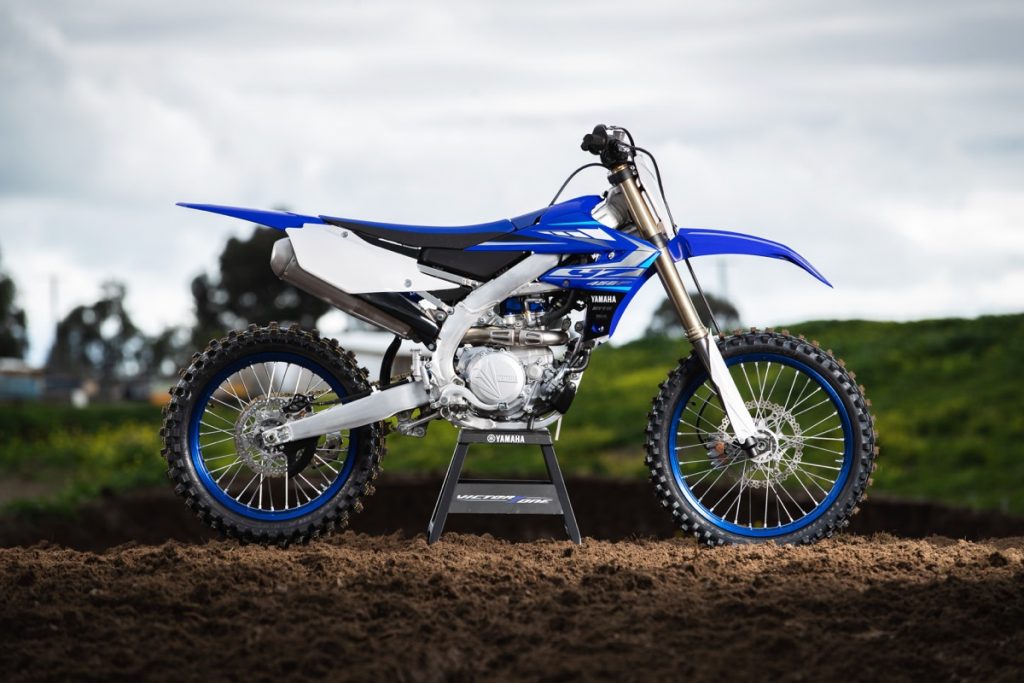 A lot of the test riders played around with different fork heights but I found that the standard height was best for me. If I dropped the fork through too far to raise the front I felt the bike tracked well into corners but struggled to tip in. If I lowered the front too much then the bike turned on a dime but developed a real "stink bug" trait entering the choppy corners, particularly when you were hard on the brakes. This is one of the most critical parts of setting up the Yamaha if you want the bike to handle well around the whole track.
BRAKES
The Japanese manufacturers have been doing more and more each year in the brake department to try to bridge the gap between themselves and the European brakes of KTM and Husqvarna. For MY20 Yamaha has given its anchors a major overhaul. A redesigned front wave rotor with new pads and a new caliper has really upped the braking power.
When I heard that Yamaha had decreased the rear rotor to 240mm I was a bit concerned that we might lose some braking power, but this is the size the other Japanese manufacturers use. I hadn't considered Yamaha's rear brake was particularly touchy, so maybe it was a weight-saving measure. Thankfully the smaller rotor seems to work fine with just as much stopping power.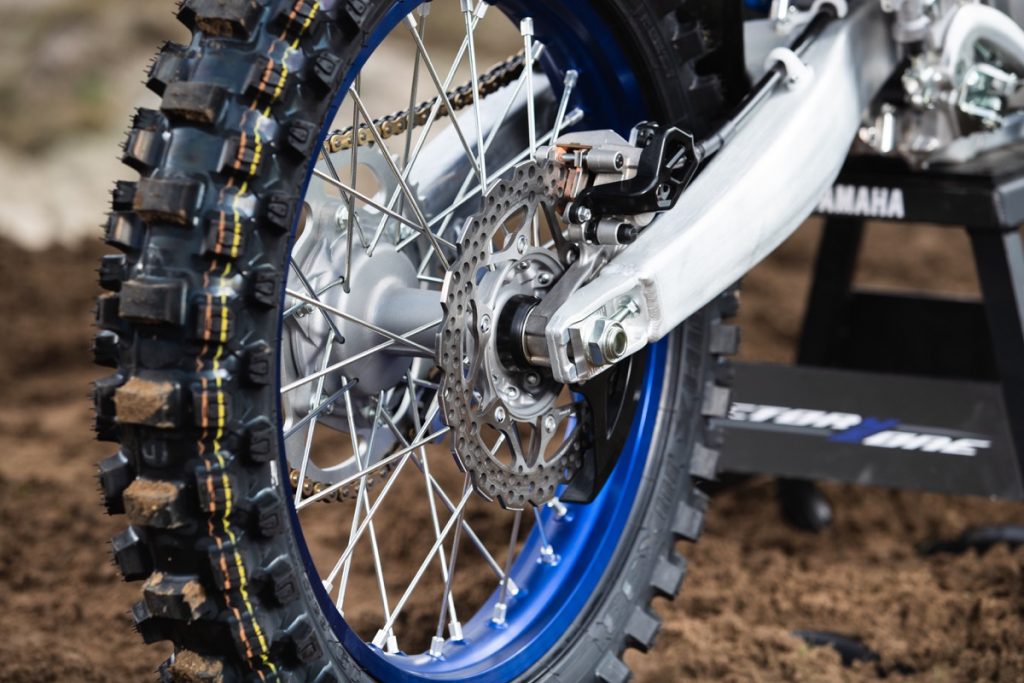 Overall the front-to-rear braking balance was exceptionally good and the power is vastly improved. The front brake needs only a pointer finger to apply smooth pressure to bring the blue machine to a rapid stop.
ERGOS
While the major ergonomics on the YZ450F have remained unchanged since 2018, the latest tweaks give a slightly slimmer feeling between the legs which, for me, is a welcome improvement. Through 2015, '16 and '17 I have been quite vocal on the YZ-F's slightly chunky feeling between the legs and its top-heavy nature when turning.
Since the major revamp in 2018 I have been impressed with the improvement in this super-important area. Yamaha is obviously aware of the whinges because, every year, we see little improvements as it manipulates the chassis design, steering head angle, engine mounts etc. in an effort to smooth out the handling traits. In my opinion, this YZ450F has the most complete handling/chassis/ergos package that we have seen.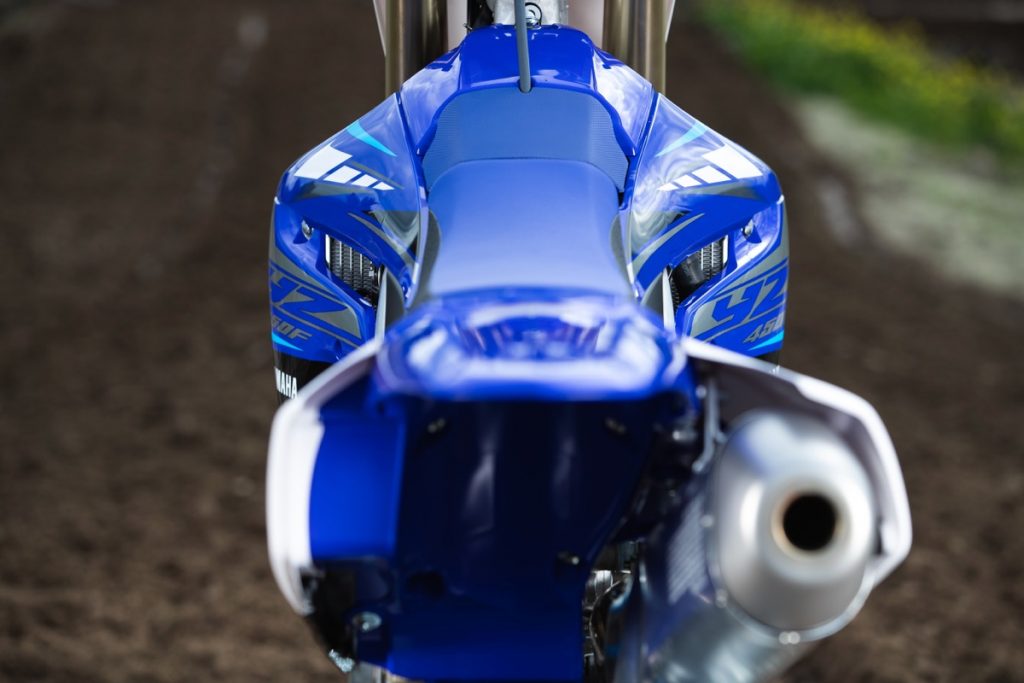 CLUTCH
Yes, I know the Yamaha still doesn't have a hydraulic clutch. Logic tells you that it is only a matter of time before Yamaha, Honda and Suzuki follow Kawasaki, KTM and Husqvarna in adding hydraulic operation.
But as someone who can still appreciate a good, cable clutch, I must say that the Yamaha system worked flawlessly. For me, when it comes to how happy I am with a clutch it all comes down to the feel and pull.
I like my clutch to be fairly light to pull in but it must still have a good feel to it. In past years some of the hydraulic clutches that I have tried may be light to pull in but have a terrible feel And I would choose feel over lightness any day. The latest YZ-F clutch feels incredibly lightly for a 450. It almost feels like a 250 unit.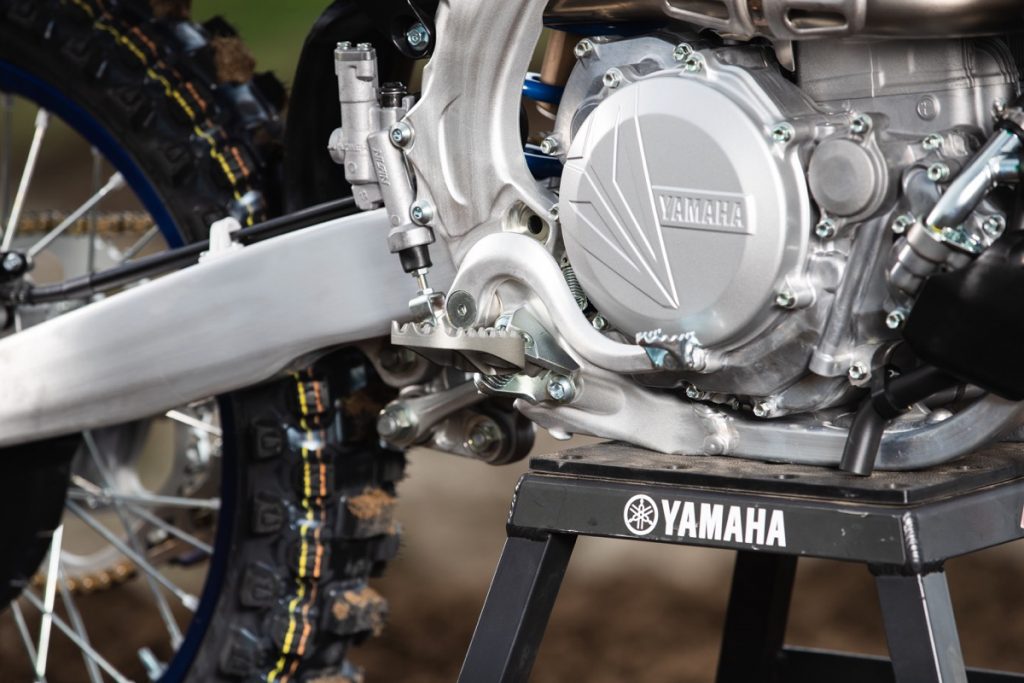 The standard lever has a good shape to it and the action is spot on. On the track, you really needed to pull a taller gear on the Yamaha to get the most out of the power and this can sometimes take its toll on the clutch. No problem for the Yamaha as the clutch handled everything I threw at it.
Not once did I have to reach down and spin my hand over the on-the-fly adjuster to get rid of freeplay and it was only once or twice that I had to slightly adjust the freeplay between rides. Overall I was very happy with the clutch feel and action.
VERDICT
The new YZ450F has the potential to win 450 motocross shootouts worldwide depending on the tracks used and other external factors. It is a well-rounded package that has a mind-blowing motor with aggressive handling characteristics and very few faults, which is quite rare.
New stuff
• New cylinder head is 10mm lower, has a revised combustion chamber and weighs 305g less, lowering the centre of mass.
• Compression ratio increased from 12.8 to 13.0:1
• More aggressive camshaft profiles
• Steeper valve angles
• A higher-compression 'bridge-box' piston
• Low-friction piston rings
• A 1.5mm longer connecting rod for bridge-box piston
• A refined transmission to deliver smoother shifting
• A more efficient crankcase breather system
• New flex characteristics for the alloy beam frame
• Handlebar-mounted map switch so you can select from two engine maps on the fly
• New engine mounts
• Stiffer seat foam
• New top triple-clamp with adjustable handlebar position
• The 'bar position is 15mm further forward and 5mm down
• Larger-diameter front axle
• New valving for the KYB fork and monoshock
• Stronger Nissin front brake caliper for extra stopping power
• New brake pads
• Lighter front disc and smaller diameter rear disc (down 5mm to 240mm)
• Lighter footpegs
Yamaha YZ450F
Engine
Type DOHC, four-valve
Displacement 449cc
Bore & STROKE 97 x 60.9mm
Cooling Liquid
Compression ratio 13.0:1
Fuel metering Mikuni 44mm EFI
Tank capacity 6.2L
Transmission Five-speed constant mesh
Clutch Cable, wet multiplate
Dimensions
Wheelbase 1481mm
Seat height 965mm
Ground clearance 330mm
claimed Weight 111kg wet
Suspension
FRONT KYB twin-chamber 48mm USD, 310mm
REAR KYB monoshock, 317mm travel
Brakes
Front Nissin twin-piston, 270mm wave
Rear Nissin single-piston 240mm wave
Running Gear
Handlebar Yamaha tapered alloy
Front tyre Dunlop MX33 80/100-21
Rear tyre Dunlop MX33 120/80-19
Price & Contacts
RRP $12,399
BROWSER yamaha-motor.com.au
BLOWER (02) 9757 0011
Warranty Three months parts only
Sours: https://adbmag.com.au/editorial/2020-yamaha-yz450f-review/
Rider Triangle: Simply put, I don't like the changes Yamaha made to the 2020 handlebar position. I do like the 5mm lower mounts (2017 mount height), but the 16.5mm forward position in 2020 is just too much for my 6'0 frame. Yamaha wanted to get the rider to more forward on the bike for 2020 and although they achieved that, my riding position/technique suffered. I had more leverage on the bike when I was in the 2019 position and could feel the front tire more when leaning. With the 2020 position I couldn't get enough leverage down on the front end to push the front end down when I needed to. The 2020 position bent my elbows too much when sitting and caused my arms to be less relaxed, which forced me to have the wrong grip with my hands on the bars. Putting the mounts back to the original rear hole/forward mount position let me corner better and gain more control over the Yamaha. I will say when standing the 2020 setting of the forward hole/rear facing mount was more comfortable because it put my upper body in more relaxed position. Find out what works best for you and what area of the track is most important to your technique (for you to be the most comfortable and stick with that setting).
20mm Taller Seat: Matthes and I tried an optional 20mm taller seat and I actually liked it. I am usually not a taller seat kind of guy, but I liked that there wasn't as much of a pocket as the stock foam shape. With the 20mm taller seat you obviously sit more on top of the YZ450F instead of inside it and to me that helped with the transition from sitting to standing. I think of David Vuillemin every time I seat bounce a jump and it pisses me off. In that case I might invest in one of these suckers to try out, so he stops yelling at me inside of my head while riding. Yamaha Accessories Division will be offering this optional seat to purchase.

ECU Settings/Engine Maps: The new on-the-fly handlebar mounted map button on the 2020 YZ450F is a welcome addition. I thought the added RPM response down low of the stock/standard map was too touchy for me through corners. I liked the "stock" map for longer/faster/softer tracks, but for everything else I used the TP 3.0 map, Keefer 1, and Exciting Power Character (all attached) maps the most. The TP 3.0 builds more RPM's a little smoother/slower, but is super connected and the most easiest to ride. The "Keefer 1" map has a little more RPM hit initially, but still uses that smoothness of the TP 3.0 pulling out of corners. Finally, the "Exciting Power Character" uses that smooth roll on of the TP 3.0 down low, but has more RPM excitement through the mid range power. I thought the 2020 YZ450F's chassis performed the best with the TP 3.0 as it didn't upset the YZ450F chassis as much rolling through mid corner. Try these and let us know what you think!
Sours: https://www.keeferinctesting.com/motocross-testing/2019/8/23/2020-yamaha-yz450f-in-depth-first-ride
2020 Yamaha YZ450F - Dirt Bike Magazine
You won't tell. How is it. Your first words will be - ah-ah, look, what little boy I brought you, just like a girl, you can't even say that it's not a girl. - Liza thought angrily.
Yz450f review 2020
After the second black leg was served in the same way, Amalia beckoned the white girl to her, gesturing. For her to sit next to her on the left arm of the chair. When Olesya did this, Amalia hugged her by the neck and drew her to her lush chest.
2020 Yamaha YZ450F - Dirt Bike Magazine
Zakhar finished first. A jet of semen hit her throat. The man pressed her head, not letting.
Now discussing:
Everyone liked it, and I received my portion of compliments. He said the same a few beautiful and gallant words. The next time I saw Him in my house.
265
266
267
268
269