If you are looking for a fresh new haircut this look, then why not try out a bald fade style. It's a super popular style that you are sure to love this year. This style is usually called a bald fade, zero fade or a skin fade. This hairstyle has a lot of different varieties in the style. There are a lot of cool styles available to you, just check them out here.
Check out these 100 Bold and Sexy Bald Fades For Men:
Sleek Styles
A polished look like this is completely Ivy League. The shaved part is eye-catching and it really stands out. The sides are shaved to perfection.
2. Wavy Styles
A handsome style that has long hair on top. The wavy look is certainly eye-catching. The shaved part is totally unique and stands out.
3. Shaved Style
Zane is one sexy guy that loves to rock out fashionable looks. This style has an all-over shave. If you want a low-maintenance style, then this is the one for you.
4. Simple Shave
Another all-over short shave but this one has a fade on the sides. You won't find an easier style to manage than this one.
5. Cool Lines
This is a very cool and unique fade. It's almost doing a disappearing act. The lines all around this style are polished and bold.
6. The Man Bun
Who says you have to shave your whole head to take advantage of a bald shave. With this style, it's long on top and short on the sides. The sides are once again designed to perfection and the fade blends right into the beard.
7. Cool and Polished
This is another polished style that is sure to draw the eye. It's a popular look right now with an awesome fade.
8. Bold Styles
A great style like this is long and messy on top and short on the sides. The fades come in many different lengths, this one is a little shorter.
9. Shorter Styles
This style is clean and collected with a shorter top. If you are interested in the Ivy League looks, then this is the style for you.
10. Breaking Down A Style
If you want a step by step breakdown on a bald fade, then check out this picture. It shows you the precision lines to a popular look.
11. High Top
A simple style that is fresh and cool. It's a look that you should totally try it out this year.
12. Short Looks
A simple and short style that anyone is sure to love. If you want a clean-cut look, then you can't go wrong with this style.
13. Slick Styles
This sexy style is slicked backward and it looks awesome. The fade goes well with the style and it's sure to be a look that turns heads wherever you go.
14. Messy Looks
If you want a stylish look, then you just found it. The sides are almost to the skin and the look is perfect together.
15. Bearded Styles
Another look that is slicked back and the sides are short. The fade is blended into the beard creating a great look.
16. Fashionable Looks
A sexy style that is very fashionable right now. The top is long and the sides are very short. It's got designed lines around the face.
17. Unique Styles
This polished look is well put together. It's not going to take a lot to style this look in the morning either. The fade is low and has a unique look to it.
18. Curly Styles
The top is high and styled off to the side. There is a shaved part as well that makes the look pop. The fade brings it all together.
19. Bold Fades
If you are looking for a fade that is sure to stand out, then this is the look for you. The whole style is polished and eye-catching. It's popular and in fashion right now so give it a try this year.
20. Sleek Styling
Another fashion and popular look that you are sure to love.
21. Casual Styles
This is a simple and casual style that won't take long to put together every day. If you like low-maintenance styles, then this is the look for you.
22. Spikey Styles
Another long style that has spikes on top. The hair is thick which will make it much easier to style.
23. Curly Top
If you have naturally curly hair, then embrace those curls and let them be free like in this style. The fade is there to give it a more polished look that is sure to draw the eye.
24. High Styles
This is another long style that has a pretty remarkable fade. If you want an eye-catching style, then you just found it here. We love how the fade is rounded out in the front where it blends in with the beard. It's definitely a fashionable style that will have girls complimenting you all day.
25. Square Styles
A short style that has a square front to it. It's a short style that would be easy to manage.
26. Wave Styles
The top is long and it looks a little like waves on the top. The shaved part is sharp and the fade is quite short.
27. Edgy Styles
If you are looking for a style that is a little edgier, then you can't go wrong with a style like this.
28. Mohawk Styles
This is another great example of an edgy look. The top is spiked into a mohawk. The part is shaved and bold with a short fade.
29. Flipped Styles
Another great style that has the front flipped forward. The short look is clean cut and well put together.
30. Polished Looks
A bold style like this is sure to catch the eye. It's styled back which makes him look pretty cool. The fade is styled in a simple way.
31. Bold Spikes
This messy and spiky style is totally cool and popular right now. The fade is close to the skin and it really blends well with the long top.
32. Sexy Shave
This guy looks totally sexy with a short style. If you want a style that is more clean-cut, then this is the look for you.
33. Bold Waves
This style is cool and fun. You can style it in so many different ways. The fade blends into a disappearing act with the beard.
34. Sharp Bald Fades
This unique look is style in a very different way. If you want something that is a little more original, then this is a look you might want to try out.
35. Cool Vibes
If you are looking for a fresh look, then this is the one for you. It's cool with a close to the skin fade and it blends into the beard.
36. Square Styling
Another simple style that has a square edge.
37. Bald Styles
This is a very different look for those guys that are bald, to begin with. If you're not comfortable going all the way bald, then this might be an option for you.
38. Simple Part
We have seen a lot of shaved parts, but this one is quite small. It's obviously going to give you a very different look. The top is long and the whole style together is very eye-catching.
39. Bold and Wavy
The top is quite tall and wavy. It's a look that is creative and very fashionable on the runway right now. This fade is also rounded out on the side creating a very eye-catching look.
40. Edgy Spikes
A polished look like this is also very trendy right now.
41. Fun Styles
This style is sure to put a smile on your face. It's a cool and fun style that you can be creative with every day.
42. Thick Hairstyles
His hair is really thick which is the only way you will get the top to look quite this way.
43. Side Swept Style
Prepare to use a lot of gel if you want a style like this one. The top is long and styled off to the side.
44. Unique Looks
This fade is a little longer and more dramatic than most. The top is long and styled off to the side.
45. Cool Vibe Styles
A spikey style that is flipped up in the front. The sides are quite short and it pulls the whole look together.
46. Clean Cut Styles
If you are looking for a clean cut look, then you can't go wrong with this look.
47. High Top
A great look that has a long style on top. The sides are quite short which gives off a very different look.
48. Shorter Looks
The top and back are longer while the sides are short.
49. Short and Clean
A very short style that won't take any time at all to put together in the morning.
50. Front Styles
A great style like this can be styled messy or polished; it all depends on the look you are going for.
51. Polished and Cool
A great style that is clean and collected. This is a great look that is blended well with a short beard.
52. Short Waves
A cool style that is sexy and easy to style.
53. Bold Styling
This unusual look is sure to make you feel fresh. It's cool and designed perfectly.
54. Short and Bold
Another short look that is clean and polished.
55. Sharp Looks
Another short look that is cut in a sharp style that is truly eye-catching.
56. Bold Spikes
Another simple style that is easy to put together in the morning.
57. Clean and Simple
If you are looking for a casual and simple look, then this is the one for you.
58. Clean Vibes
Another great example of a short style that is clean cut.
59. Bold Curls
The sides are shaved right to the skin and the rest of the style has loose curls.
60. Flipping Curls
The top is curly and amazing. The short sides really go well with the beard.
61. Bold Shave
An all-over shave that is clean and cool.
62. Shaved Styles
A great style that is clean and you won't have to worry about styling a look like this one.
63. Square Top
This unusual bald fade is square on top. If you want a cool look, then try this one on for size.
64. Shaved and Simple
An all-over shave is a great look to have during the summer because it will keep you cool.
65. Fun Curls
If you have naturally curly hair, then you should embrace those curls with a style like this.
66. Short Waves
This slick style is very stylised with gel.
67. Cool Edges
This shave part is bold and thick. The edges are sharp and really stand out.
68. Bold and Clean
This look is certainly very fresh and cool.
69. Shimmering Fades
This style is short and has a mesmerizing fade to it.
70. Shorter Styling
Another short look that you don't have to worry about styling.
71. Slick and Bearded
Another stylish look that has a shaved part.
72. Bald Styles
A very short style that is very close to a military style. If you want a low-maintenance style, then you just found it.
73. Shaved Designs
If you want a bold and edgy look, then try shaving a design into your hair. You can literally shave anything you want into your hair so you can really let your personality show.
74. Fun Curls
A sexy style that combines curls and a bold fade together.
75. Cool and Shaved
A style like this is super short and is sure to keep you cool all summer long. Even though it's short, it still looks amazing with the long beard.
76. Blonde Styles
A great look that has some blonde locks that really pop. The shaved part is bold and really stands out.
77. Tight Curls
A cool look that has curls and a short shave.
78. Sexy Styles
A great style like this is unique and wonderful. The flipped style is cool and goes well with the beard.
79. Bold and Edgy
This unusual look is in three different stages. The top is long and it has a fade that is square around the head. Then the lower part of the hairstyle is shaved right to the skin. That's only the beginning of how they created the awesome mohawk look at the bottom.
80. Cool and Stylish
Another cool style that is easy to manage.
81. Cool Bald Fades
If you like simple styles, then this is a great style for you.
82. Reverse Mohawk
If you are looking for an edgy and bold look, then you are sure to want to try out a look like this. The reverse mohawk has the middle shaved instead of the sides. It definitely creates a very different look that is sure to catch the eye.
83. Casual Shaves
Another simple and casual look that you are sure to love.
84. Sexy New Looks
A great style that is sexy and clean. If you want a style like this celebrity, then go for this style.
85. Bold Blonde
A stunning mohawk style that has some bold blonde locks. If you love mohawks, then you are sure to love this edgy style.
86. Simple Styling
A casual and simple style that you will love to rock out this year.
87. Bold and Sexy
A clean style like this is slicked back. The sides are short and well put together. The whole look blends well with the beard.
88. Unique Edges
Another short look that gives off a unique style.
89. Sweet Curls
A great curly style that allows your curls to be free. The sides are in a short bald fade and the whole look is amazing.
90. Slicked and Clean
This style is fresh and clean. The top requires gel to put it together and the rest is shaved short.
91. Cool and Stylish Looks
A cool style that is flipped over to the side. We love styles like these and they are very popular right now.
92. Cool Shapes
A short style that has some pretty amazing edges to it.
93. Sweet Styles
A great style that is sweet and cool. It's styled back and the rest od shaved close.
94. High Waves
A polished look that has some high waves on top. The sides are clean and they blend well with the beard. The beard isn't exactly clean cut but it still goes well with the style.
95. Cool and Shaved
A great shave style that is polished with a square edge.
96. Bold and Slick
A great style that has a polished style on top that is slicked back. The sides are quite short and together it makes for an edgy style.
97. Bold Wavy Design
Another great example of a shaved design that really catches the eye. You should try out your own shave design and see how you like it.
98. Short and Bold
A great look is short and unique. The beard is thin and it blends well with the style.
99. Sweeping Styles
A great look that is high on top and sweeping the style to the side. The scruffy style like this is one that you are sure to love.
100. Creative Edges
You won't find a cooler style than this one. The top is high and the fade is styled all along the edges.
Sours: https://www.styleinterest.com/bald-fades-for-men/
We have a wide variety of fresh new haircuts for men, including some modern undercuts, new pompadours, textured looks of all hair lengths and cool hair designs plus many examples of super clean fades.
Check out these pictures to find your next cut. Be sure to bring it with to show your barber exactly what you want.
60. Medium Length Textured Hair With Step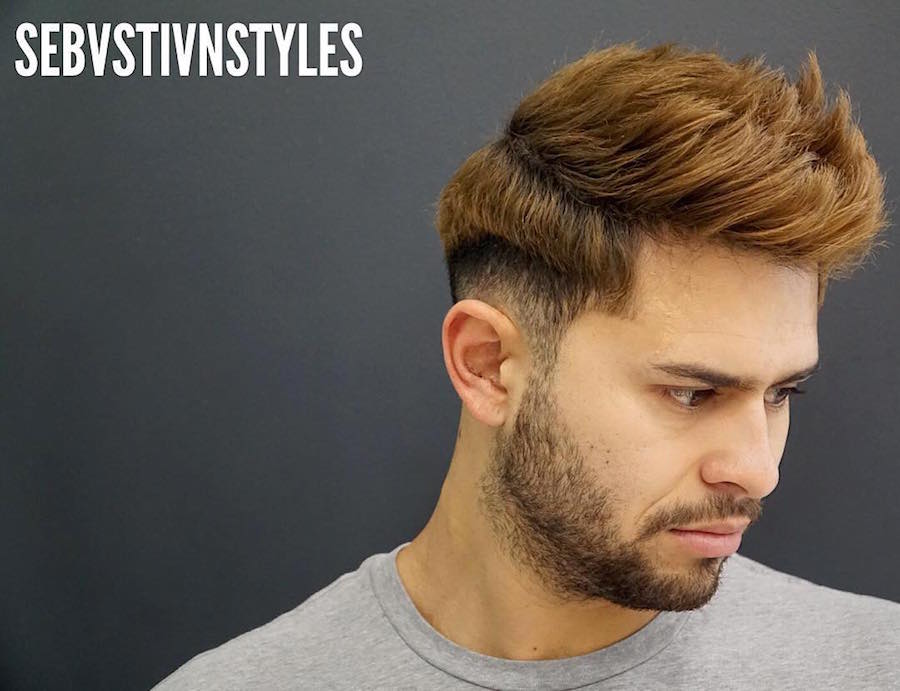 Haircut by Sebastian Styles
A fade is all about a smooth transition but the step is meant to be bold and abrupt. This cool cut differentiates between long and short with an arced step as well as lighter hair color.
59. Skin Fade + Diffused Hair On Top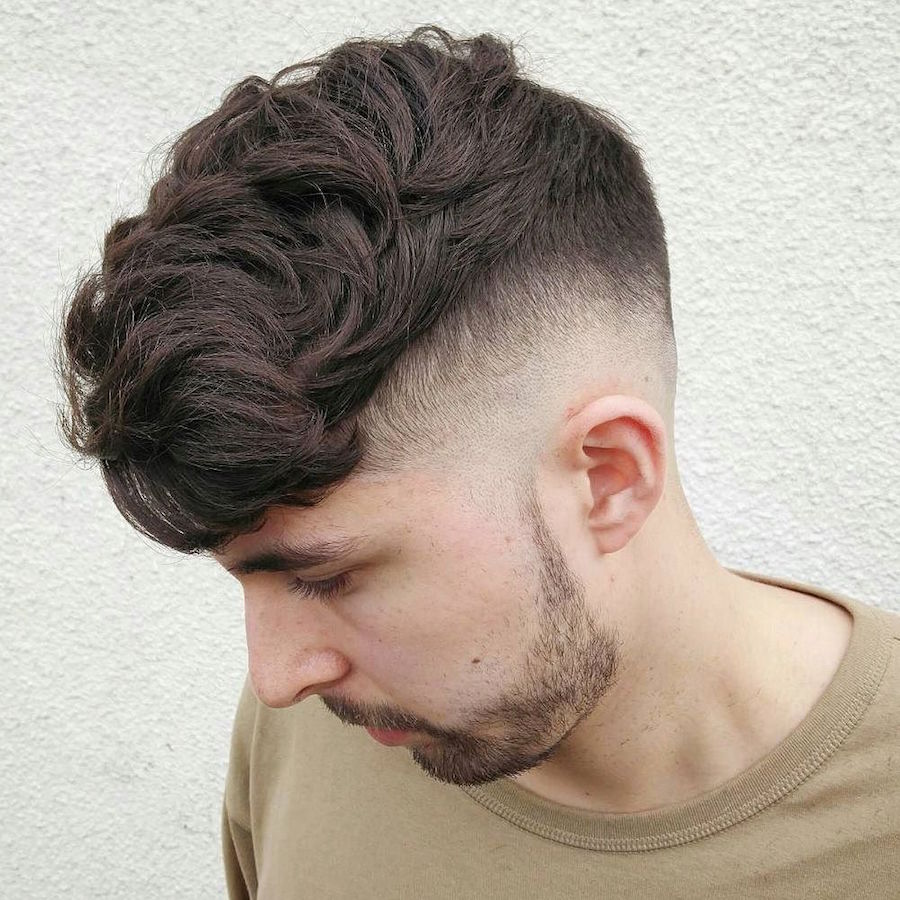 Haircut by "The Greek"
Learning how to use product isn't enough. Adding some blow dryer skills will take every style to the next level.
Here, wavy hair is enhanced by using the diffuser that comes with most hair dryers. This attachment protects hair from direct heat and hair damage. The result is frizz free hair and smooth textured waves.
58. Long Textures + Super Clean High Fade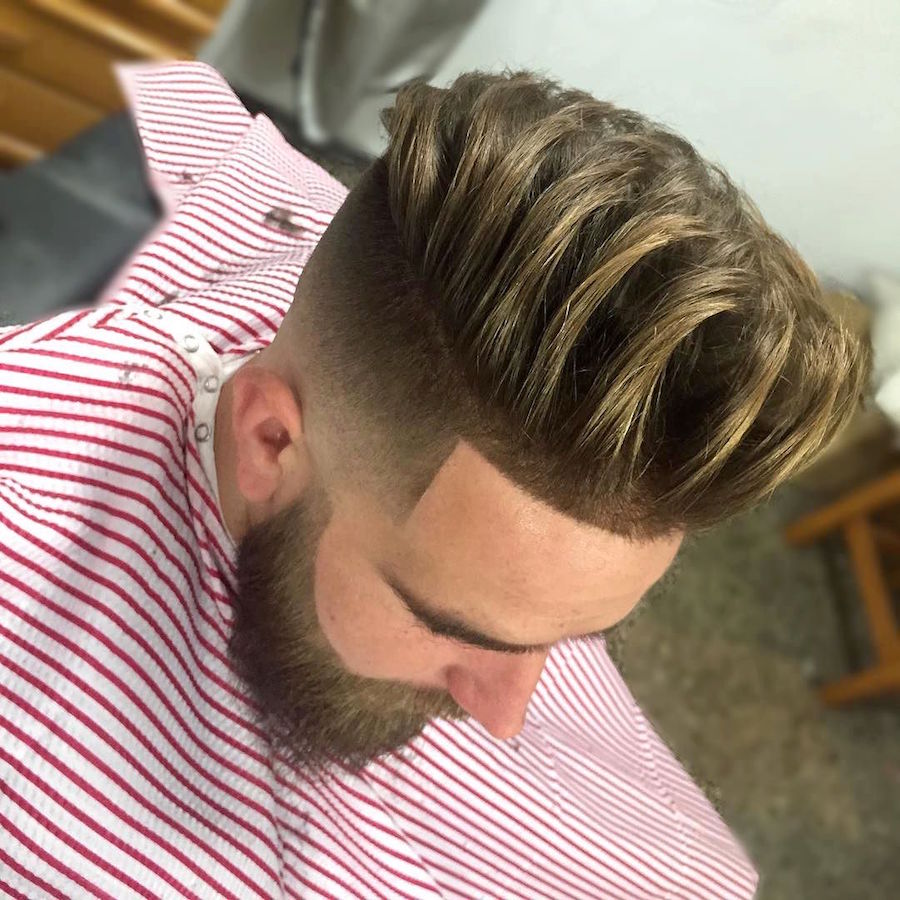 Haircut by Privilege Barbershop
One of the trends we are seeing these days is big hair. And by big, we mean tall. This fresh styles hair vertically with textured spikes.
57. Modern Pompadour + Skin Fade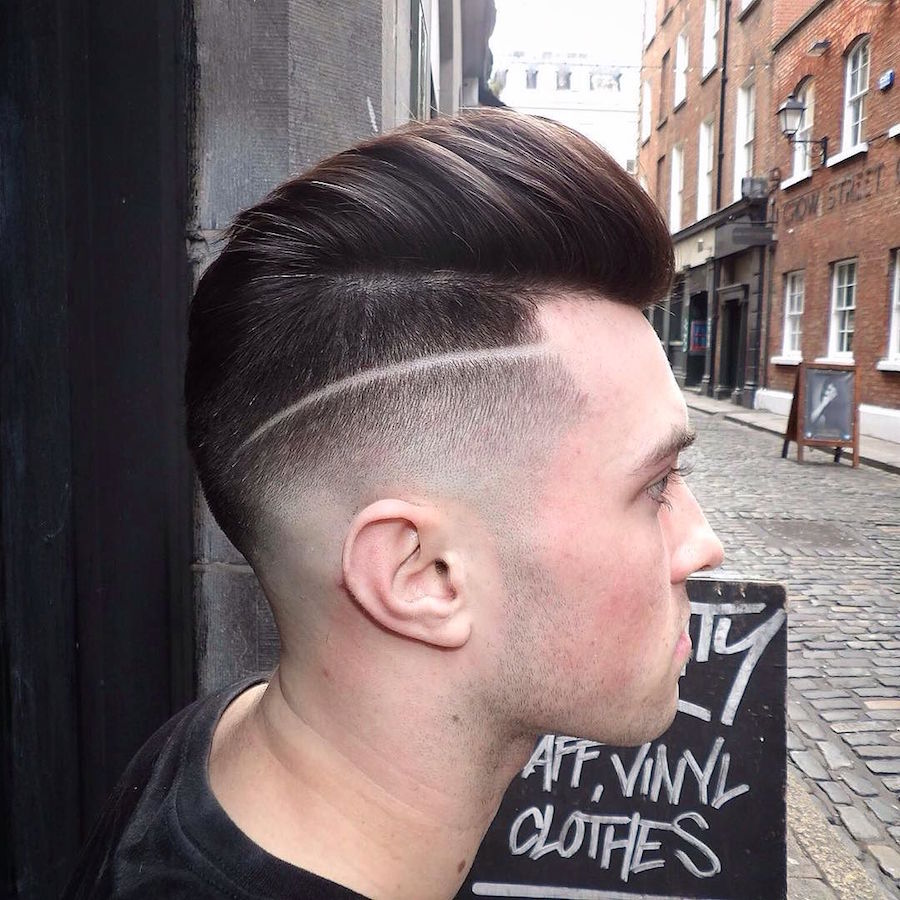 Haircut by Hayden Cassidy Hair
Standout style can come from contrasts or repetition. This cut achieves the latter with a shaved line that mirrors the arch of the pomp up top.
56. Longer Top + Fringe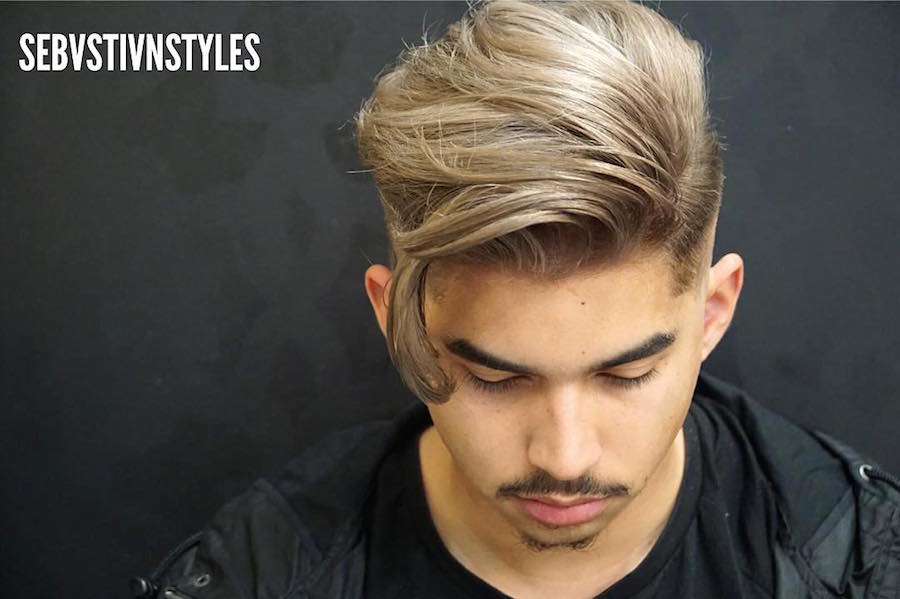 Haircut by Sebastian Styles
In addition to getting taller, slick styles for men are getting looser. Kind of like Donald Draper after a night of drinking.
 55. Cool Undercut Hairstyle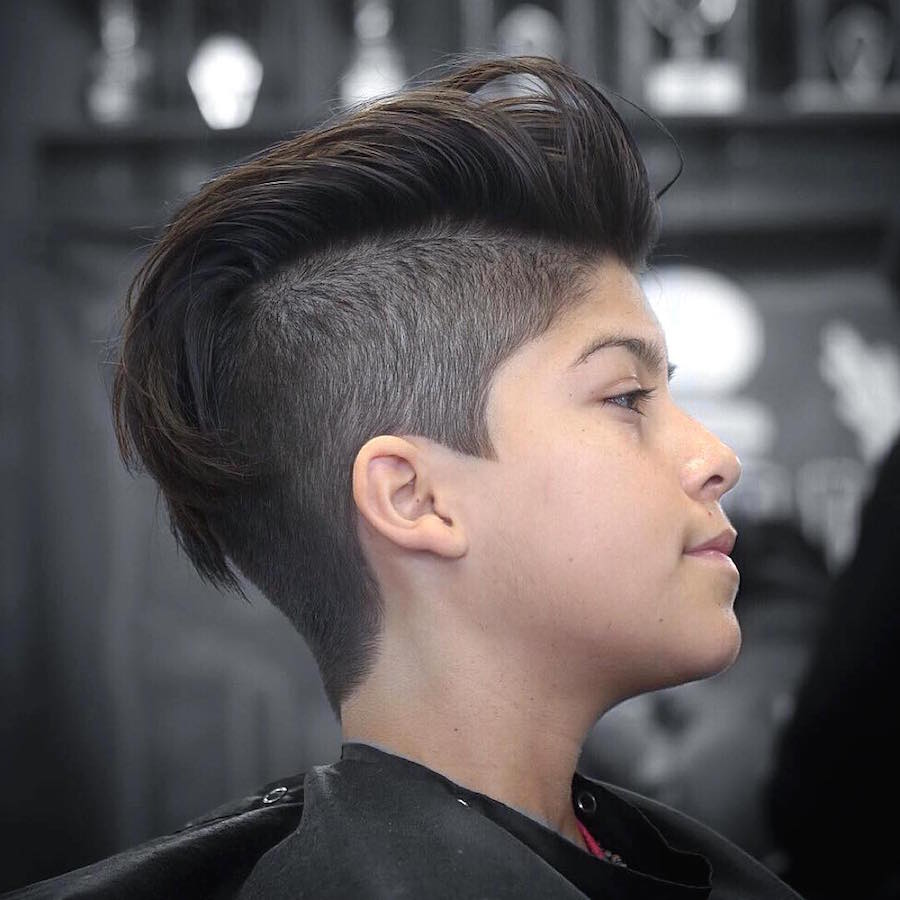 Haircut by Diego Elizarraras
An emerging men's hair trend for guys of all ages is this mohawk-inspired profile. It's not a mo' or a faux though. It is long slick hair styled straight back.
54. The Messy Combover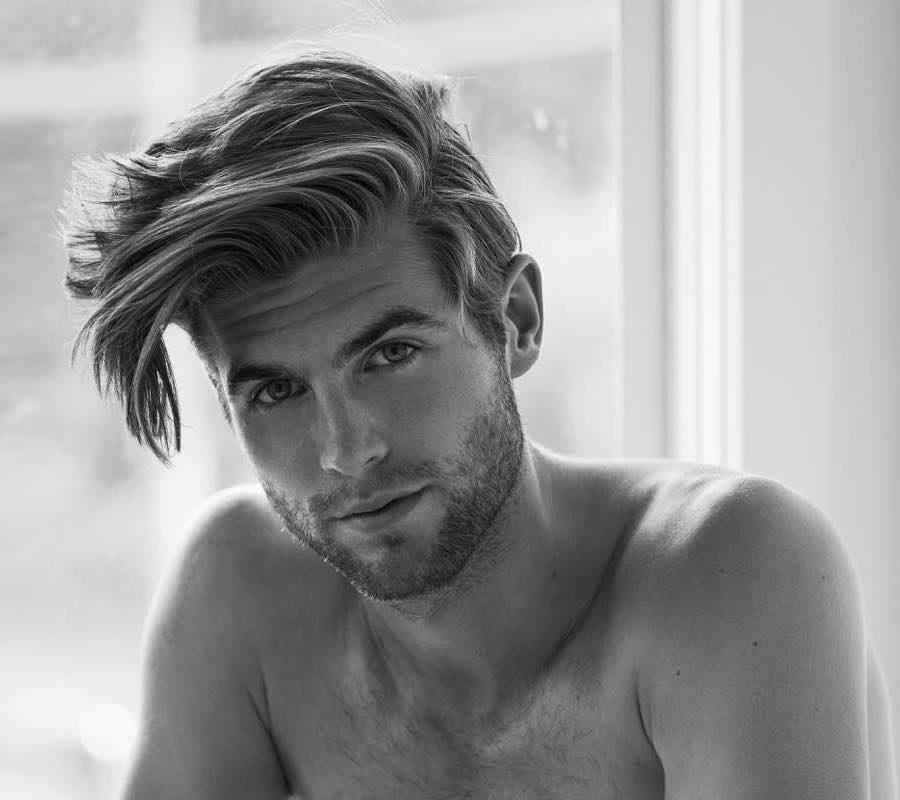 Haircut by Morris Motley
All the time tested trends are getting updated for the new year. Here the classic hipster combover is getting a preppy makeover by being worn messy and parted as far over as possible. This business hairstyle after a surf look is the ultimate casual look.
53. Short Slicked Pomp + Hard Part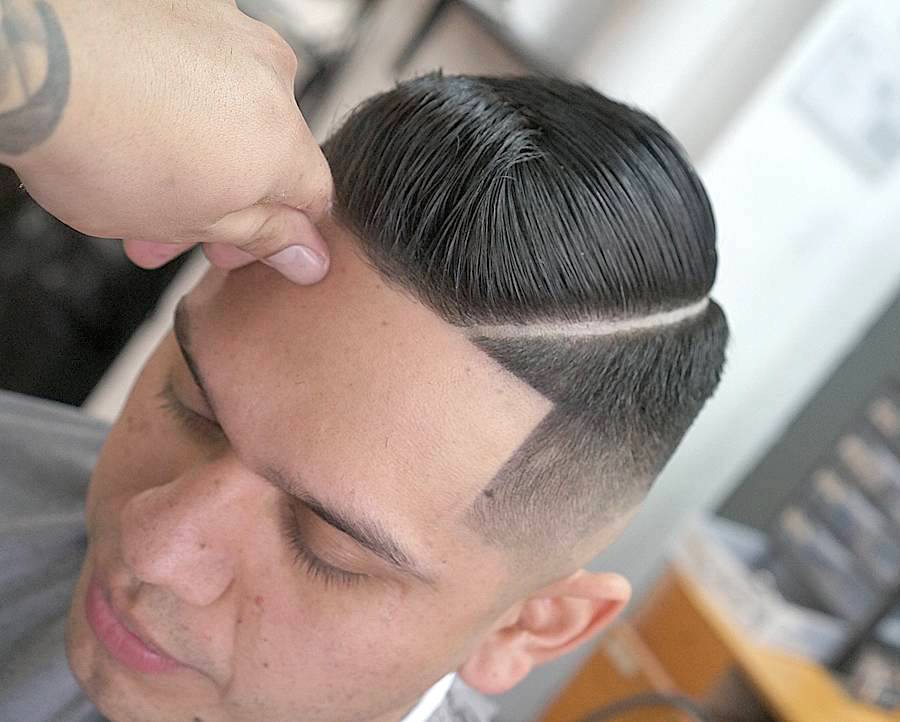 Haircut by Barber Eddie Jr
This cut and style are all about precision. Tight corners, a blurry fade and hard part are paired with cool pomp on top that is both slicked back and to the side.
52. Curve Hard Part + Ultra Short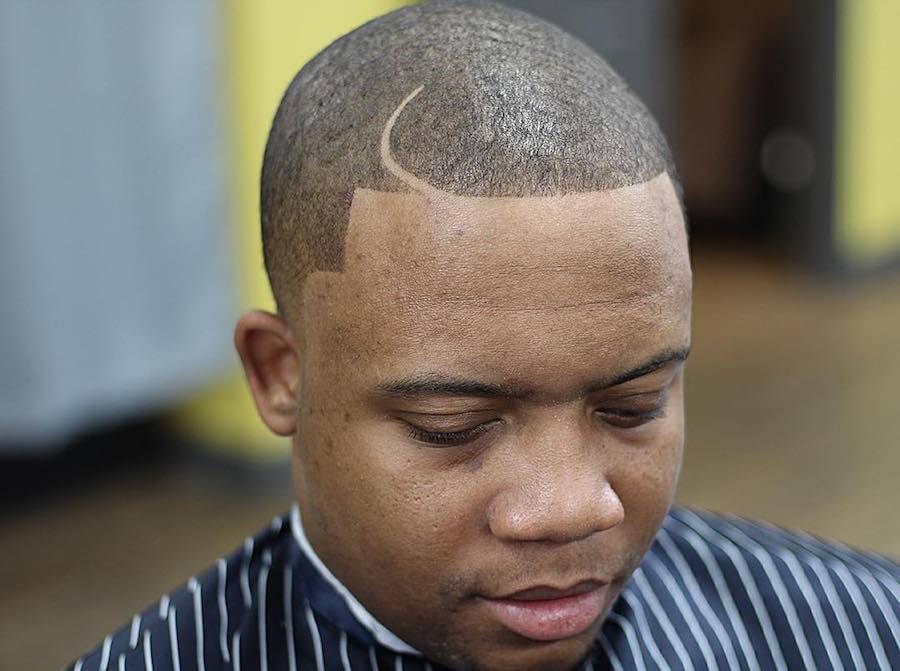 Haircut by Rich Payne
When the low maintenance buzz doesn't have enough style, make a statement with a curved razor part.
51. Longer Fringe + Short Sides = Cool Haircuts For Men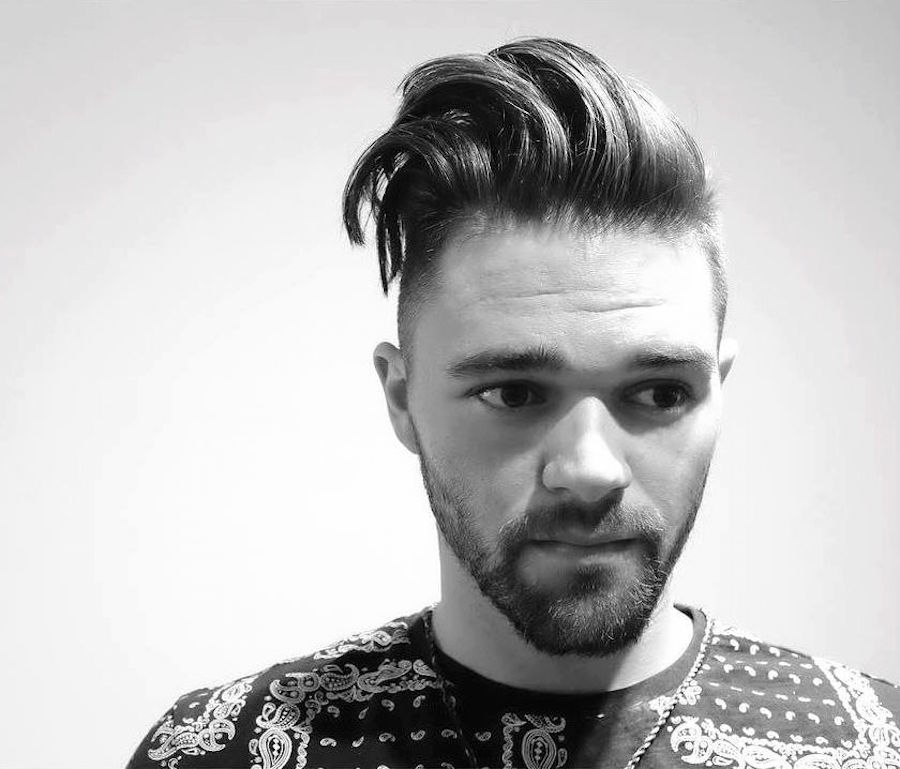 Haircut by scissorandbone
If you're not heading to an office, wear those slick styles matte and messy instead.
50. Cool Slicked Back Undercut Fade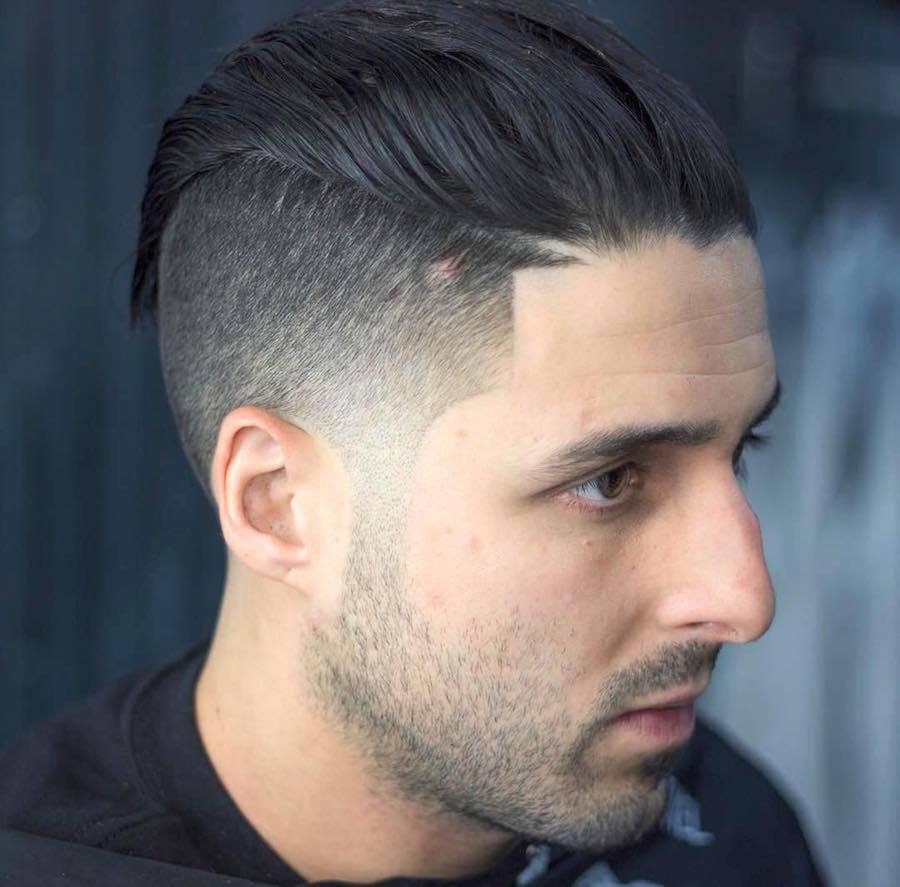 Haircut by Sophie
When slicking long hair back, check out the rear view to see how hair looks. It might benefit from being pinched into a V-shape rather than left loose.
49. Classic Men's Haircut Medium Length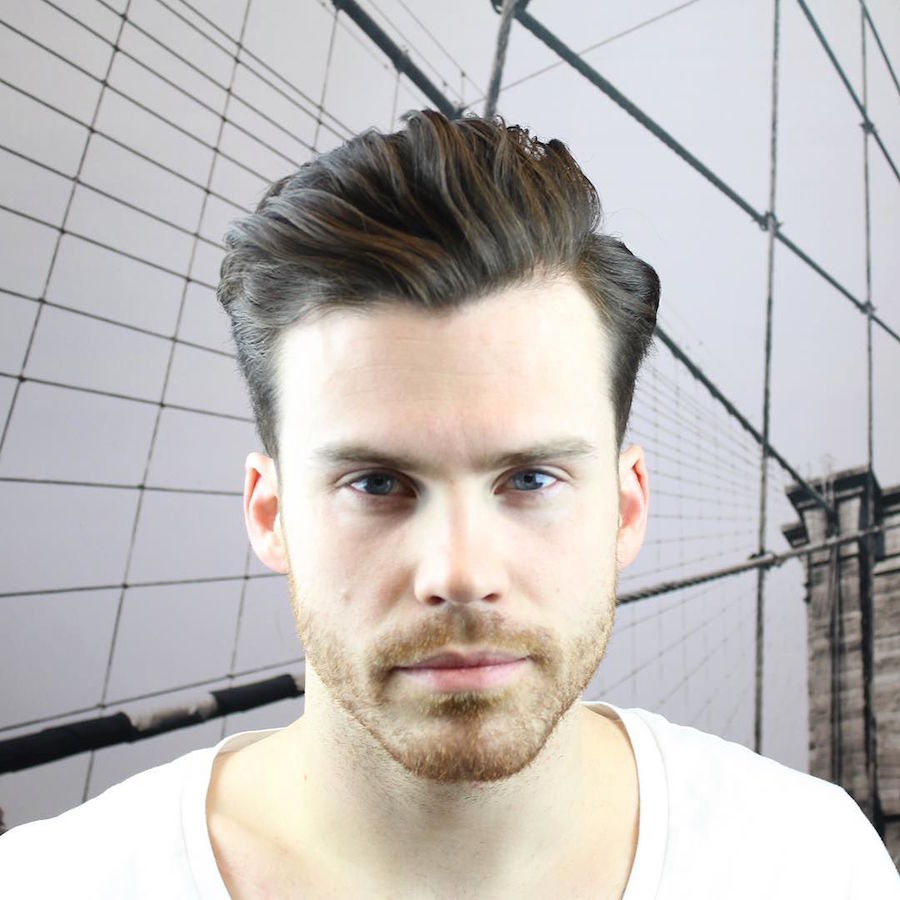 Haircut by Keller
Not every cut has to have faded sides. This classic cut will never need an update.
48. Awesome Short Haircut With Textures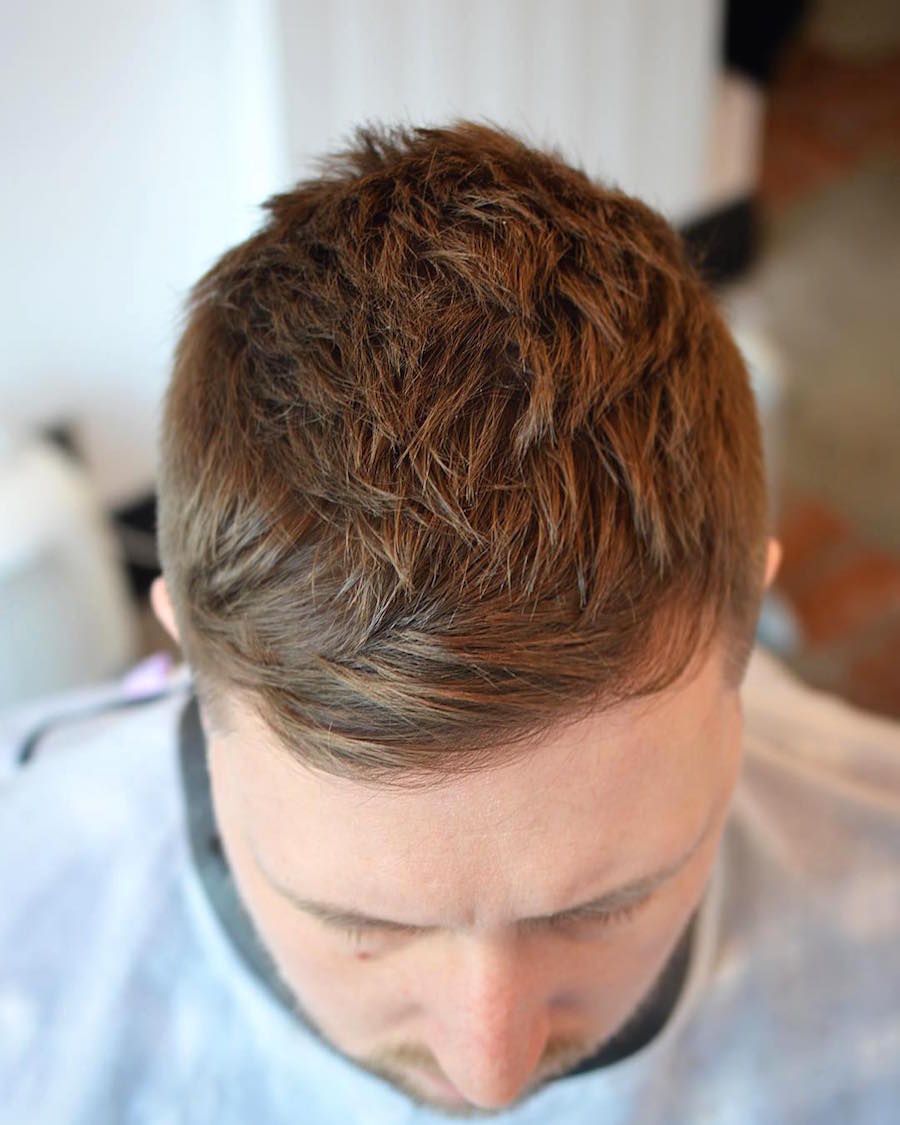 Haircut by deakinandwhite
Simple styling elevates this cool short men's haircut. Use a lightweight product and gently work it through hair with fingers for texture. Finish by pulling hair above the forehead in one direction.
47. Preppy Classic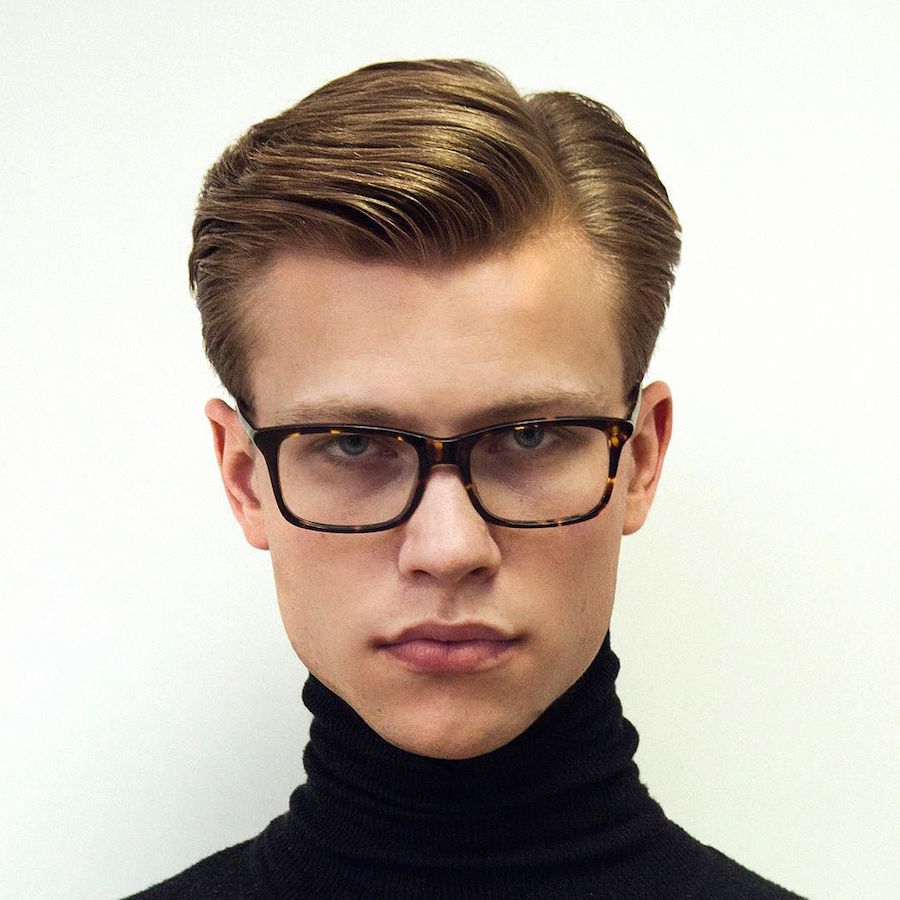 Haircut by Sid Sottung Academy
The ultimate preppy hairstyle emphasizes length with vertical graduation and triangle layering. Use a a grooming cream for light hold and sheen.
46. Very Short Pompadour + Hard Part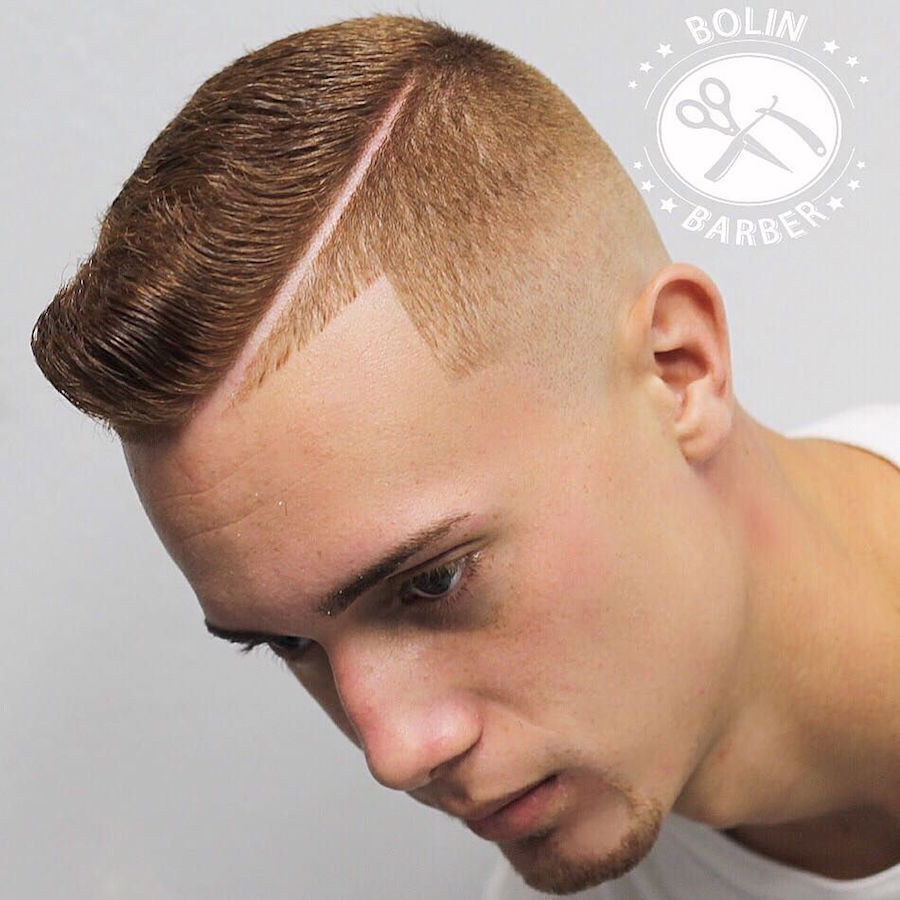 Haircut by Ivan Rodriguez Hernandes – Bolin Barbers
For busy or active guys, the best haircuts look great with minimal styling. This short pomp takes seconds to comb across while the line up, fade and razor part keep everything ultra clean.
45. High Fade + Hard Part + Slicked Curls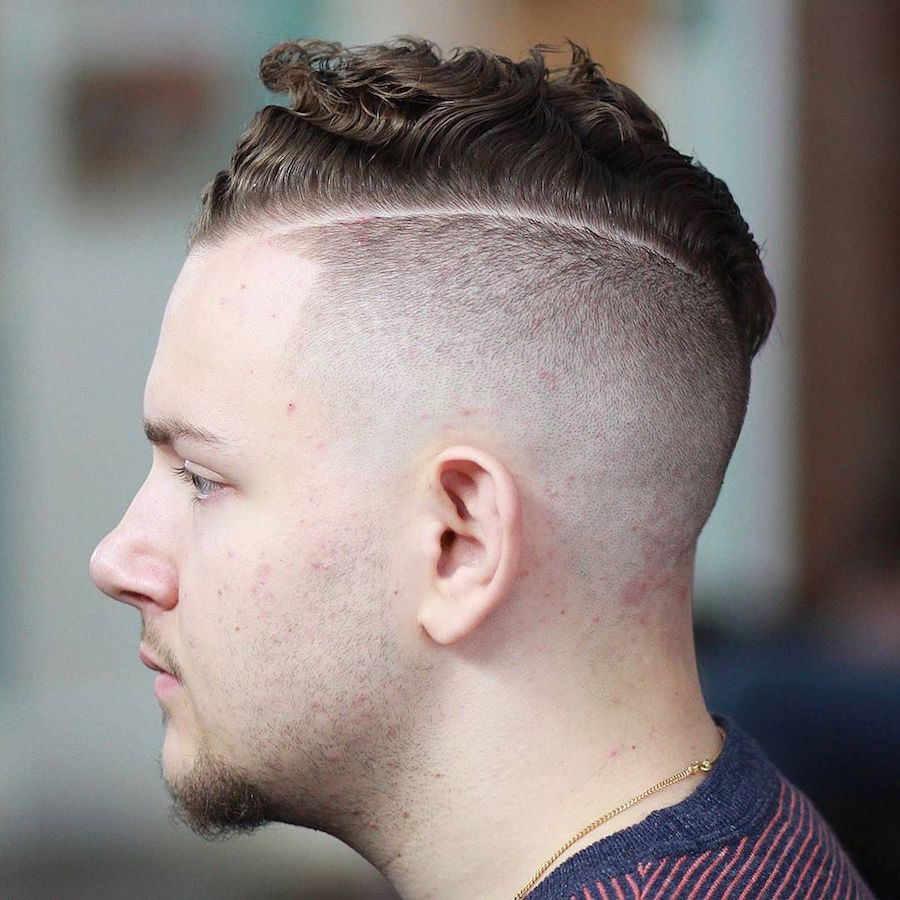 Haircut by Evan Anthony Demers
The slick combover looks even better with curls. The key is finding the right product for your hair that combines hold and curl definition.
44. Big Combover + Fade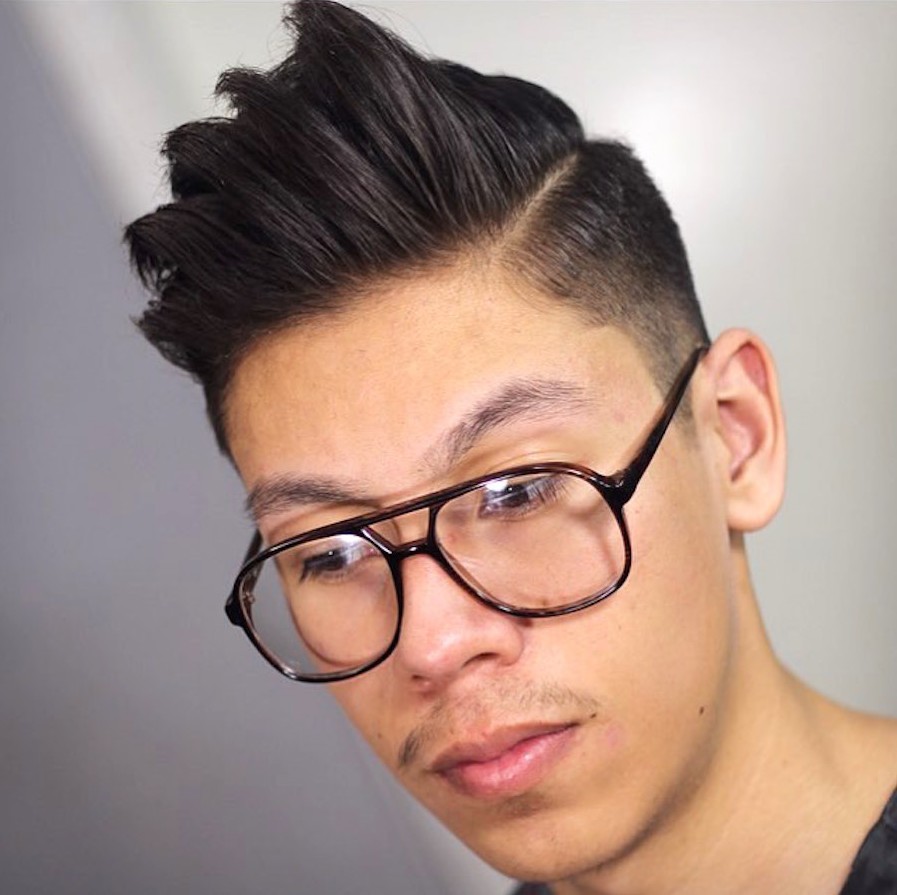 Haircut by Chris
This is a next level combover with tall hair that descends in five defined waves. It's not an everyday style but a great choice when you want to stand out from the crowd.
43. High Skin Fade + Medium Length Texture On Top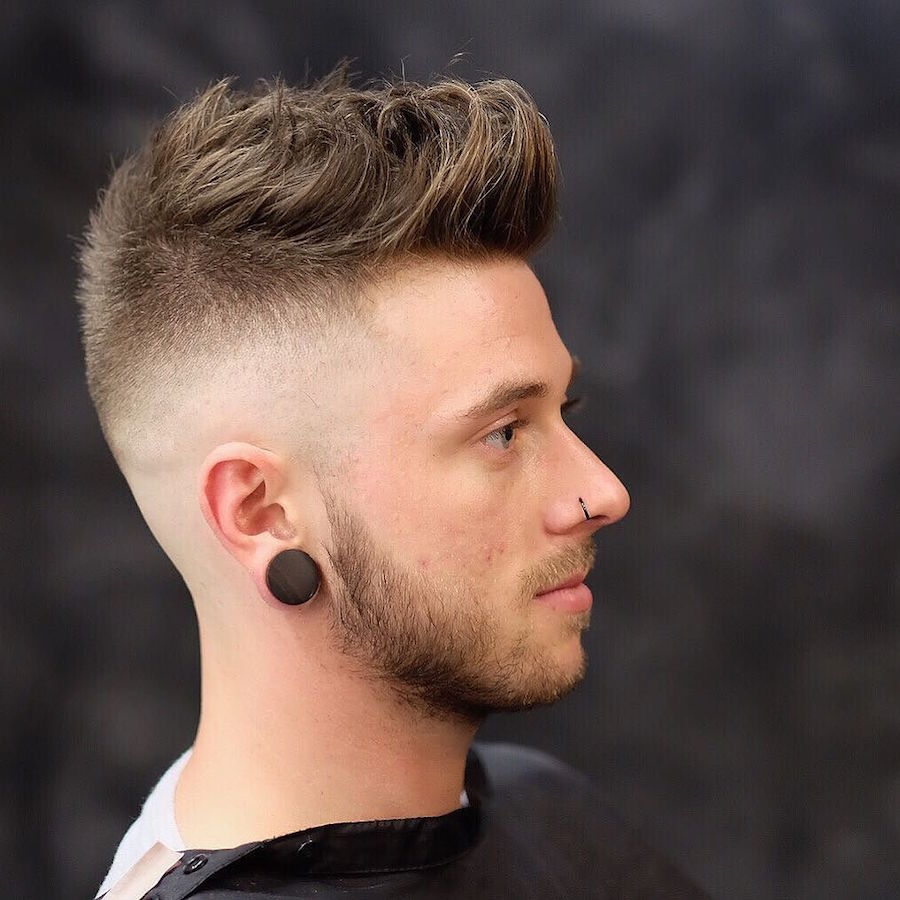 Haircut by Rokk Man Barbers
This cool and clean cut style goes long to short from front to back and top and bottom.
42. Clean Skin Fade + Natural Curls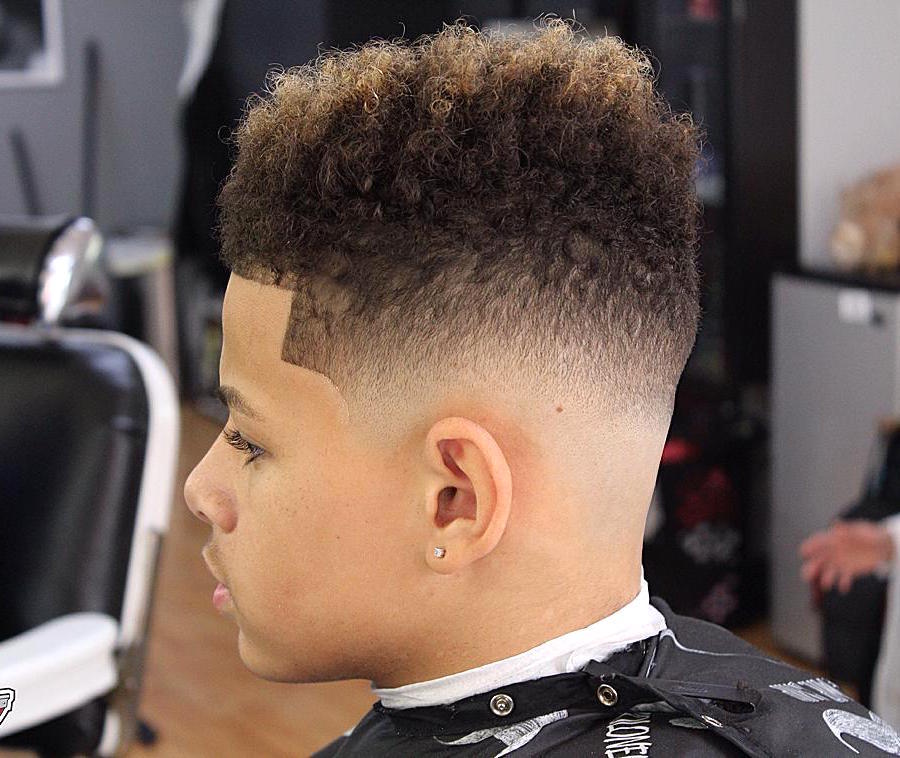 Haircut by Eddied Up
For a fresh take on the flat top, this cool cut adds height up top with tight curls cut into a rounded profile. A skin fade and line up keep sides tight and short.
41. Bald Fade + Short Textured Hair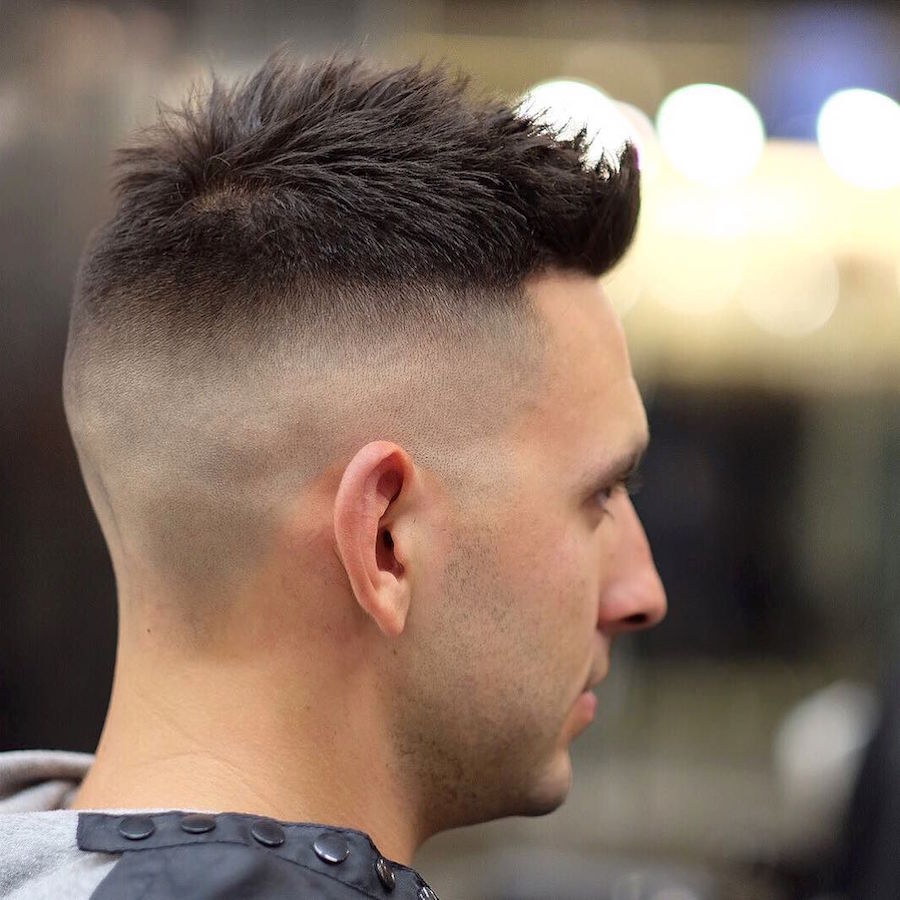 Haircut by Rokk Man Barbers
 Military-inspired haircuts are also coming back. We've seen lots of undercuts and fades but these high and tight styles are also short on top. Style hair with a light to medium hold product to add texture and vertical fringe.
40. Tall On Top + Short Sides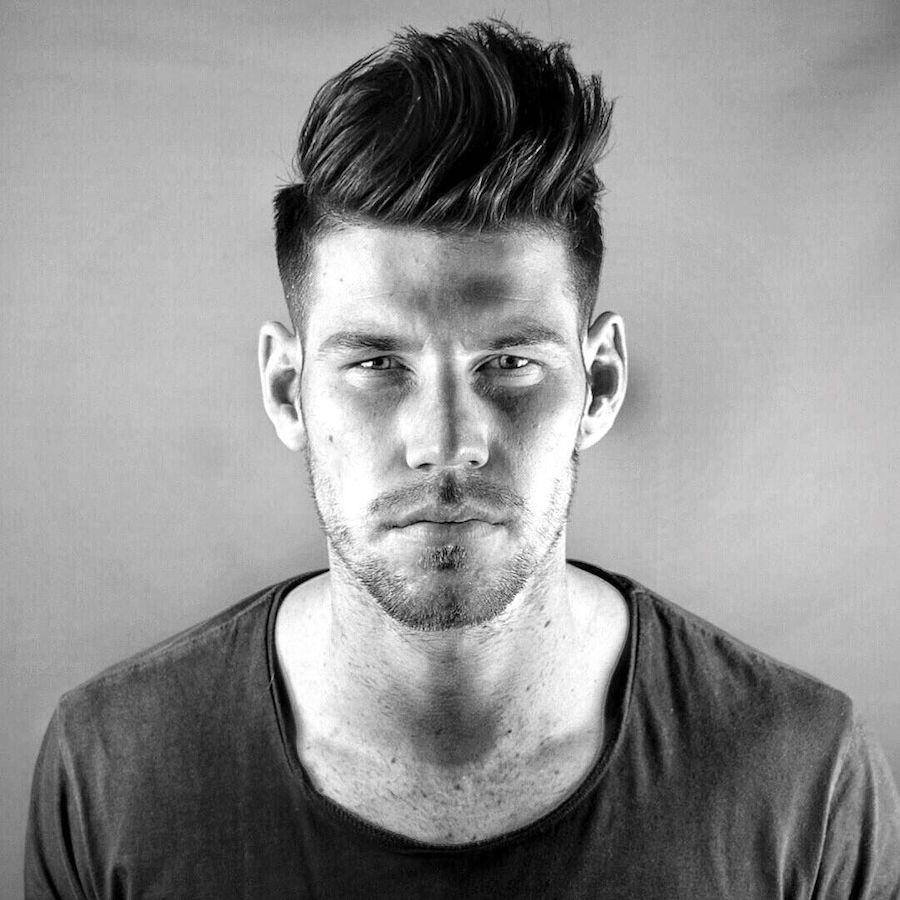 Haircut by Deano Braid
Achieving this type of volume requires a product with hold and plenty of it. This cut uses Layrite Cement for strong hold that lasts all day with a matte and textured finish.
39. Big Volume Pompadour Undercut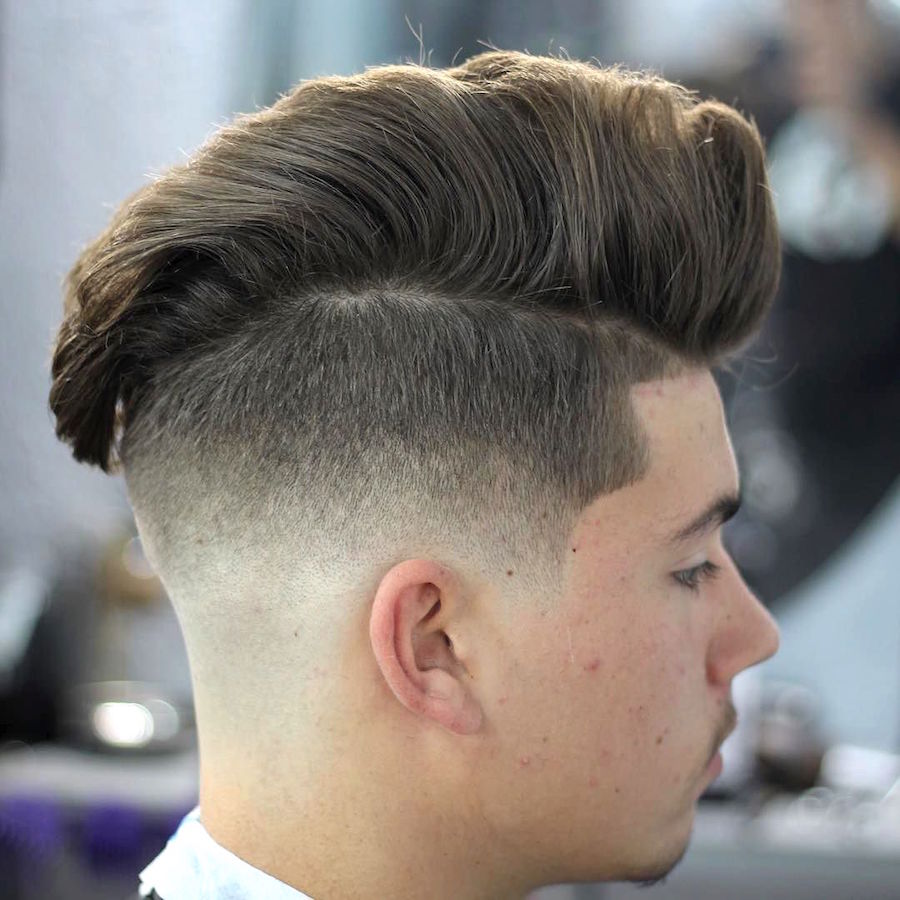 Haircut by The Mohawk Barber
Is it a pompadour? It is a mohawk? More like something in between the two but whatever you call it, this is a high volume, high impact style.
38. High Skin Fade + Slicked Back Hair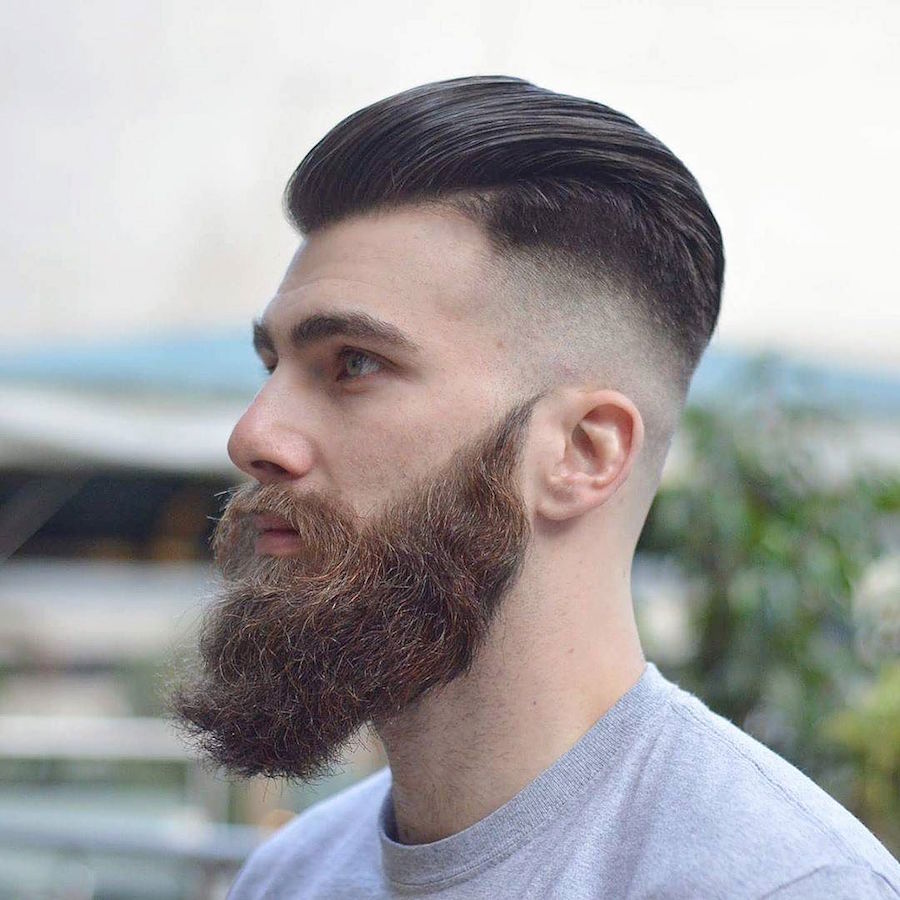 Haircut by Hard Grind Barber Shop
Similar to the undercut with beard styles that were so popular last year, this version is updated with a high fade that follows the arc of the hairline.
37. "Point Fade" Pompadour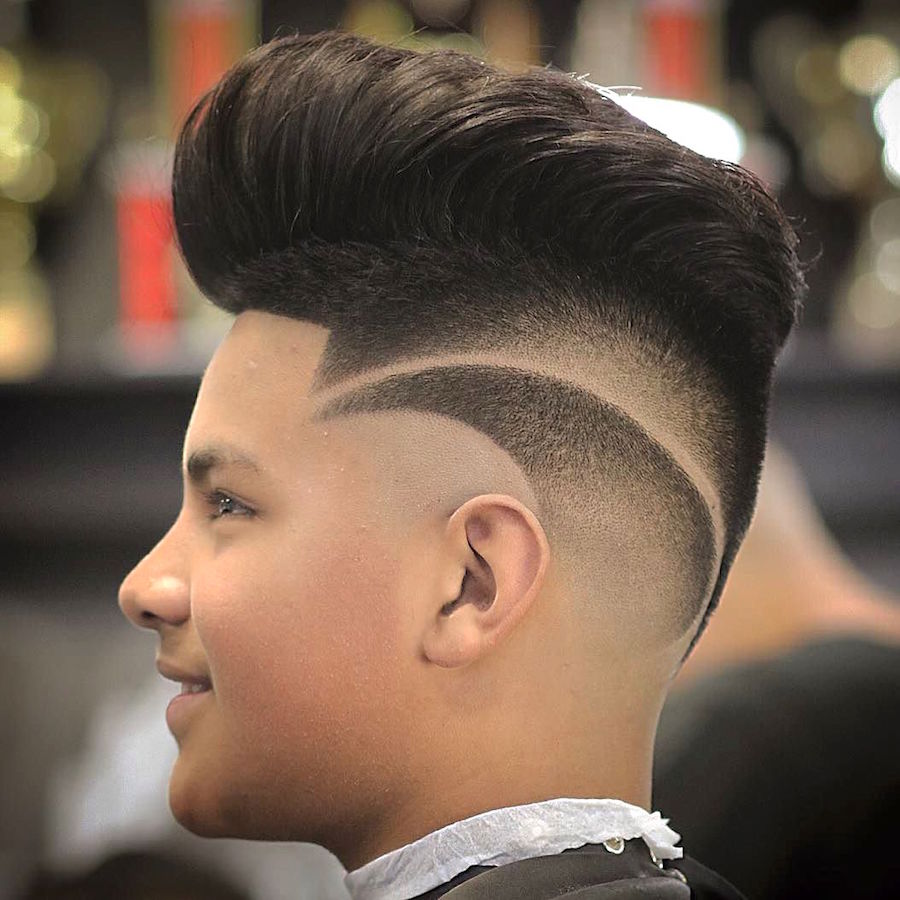 Haircut by Diego Elizarraras
When you find a barber who is a master of their craft, you find creative cuts like this. The point fade is a bold hair design that takes a combination of skill and artistry.
36. Cool Undercut Mohawk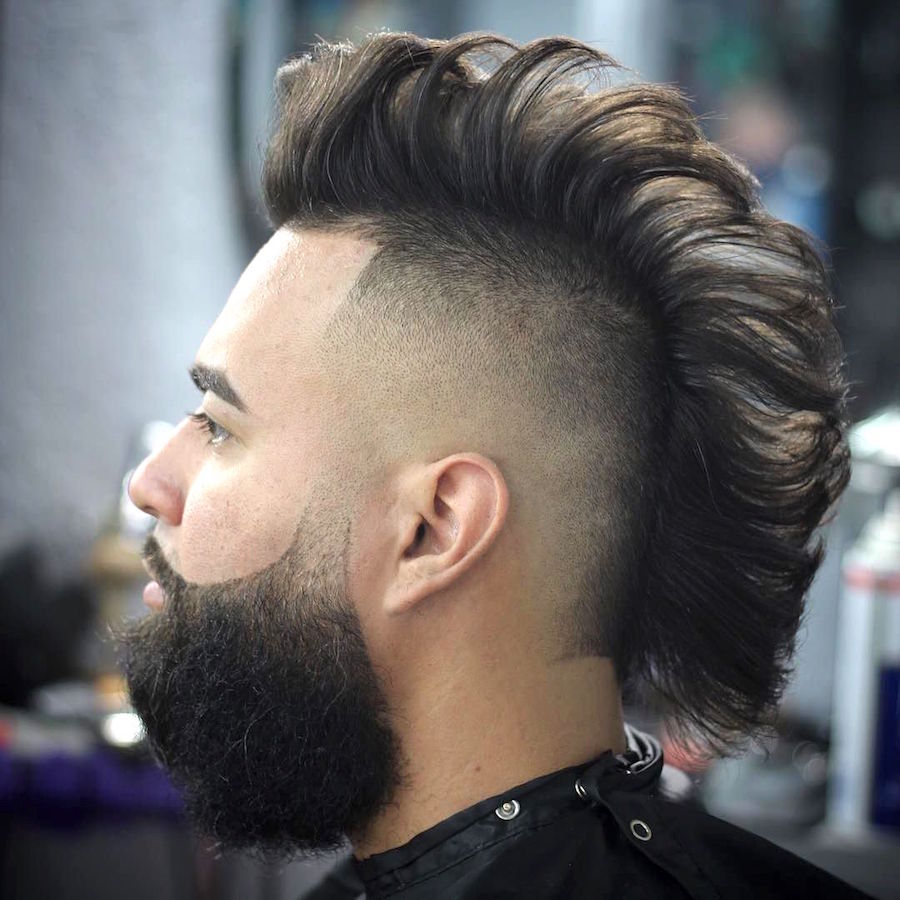 Haircut by The Mohawk Barber
The full mohawk is usually paired with an undercut but this version adds a touch of subtlety with a blurry fade instead.
35. Clean Skin Fade + Natural Waves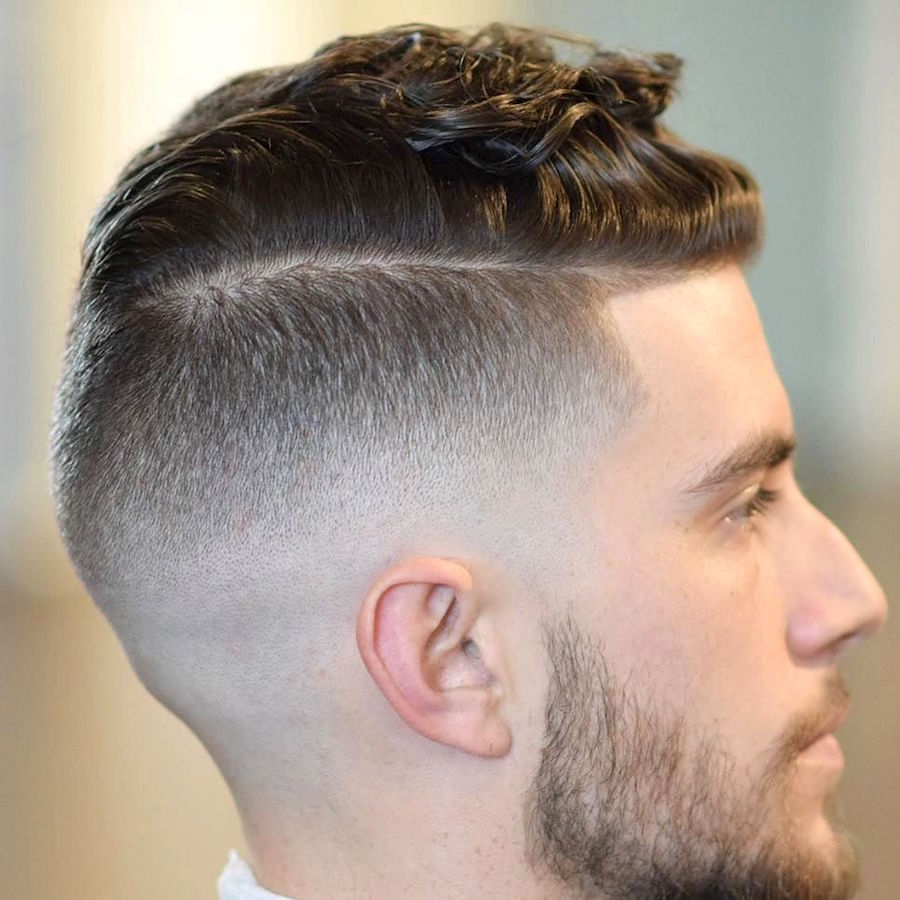 Haircut by Paul Charles Sheaffer III
Slicked back curls with a skin fade is the ultimate combination of short and long.
34. Mid Fade + Curls Cut Short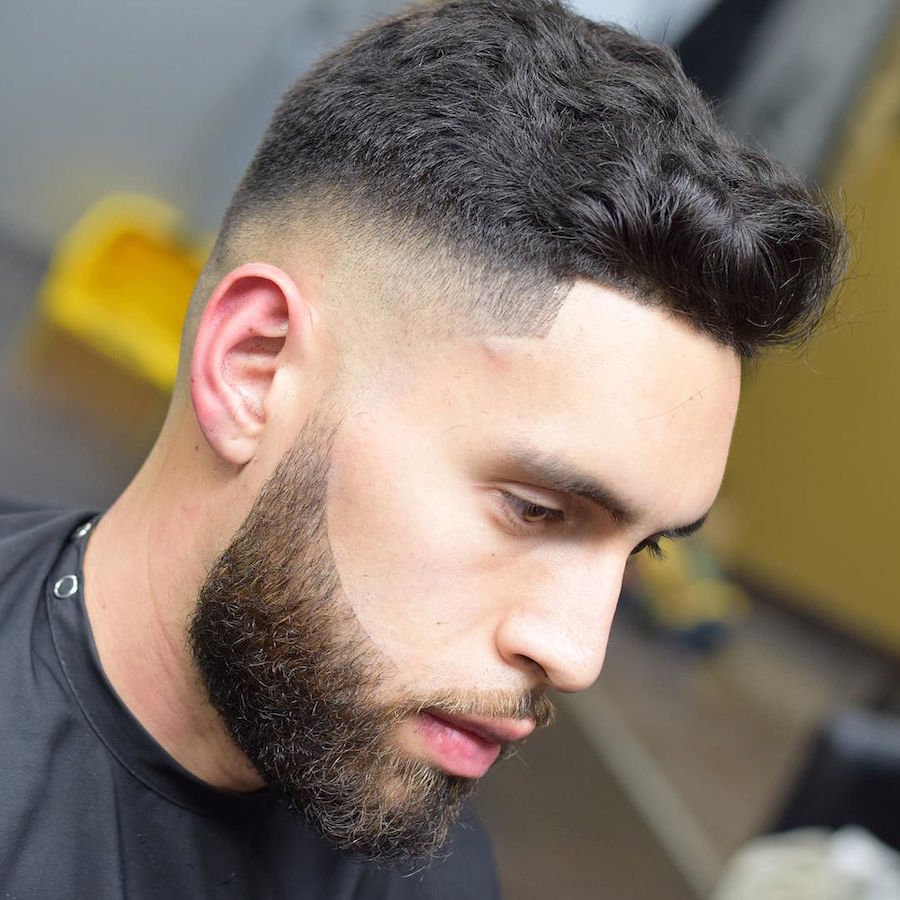 Haircut by Eddie Rosdvo
This is a great haircut choice for guys with ultra thick hair because it show off full growth while keeping it in check and clean cut.
33. Sectioned Longer Hair Slicked Back + Short Sides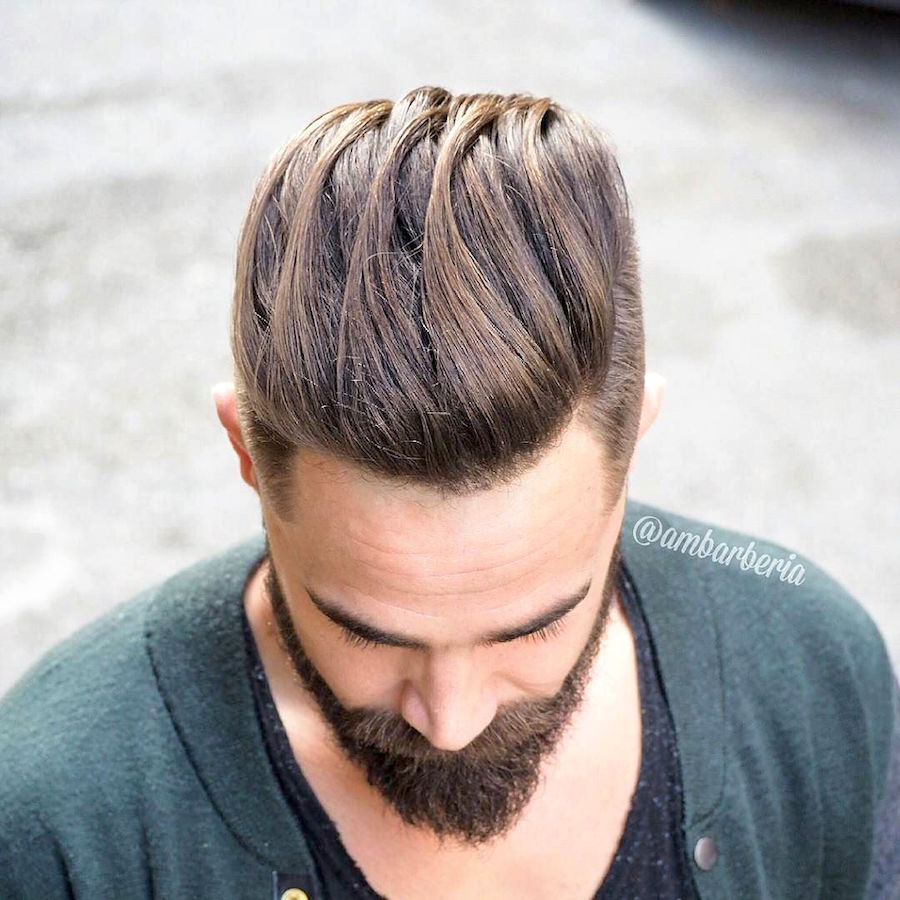 Haircut by Antonio Mateo
The slicked back style gets a makeover with faded sides and texture on top. Get your barber to show you how to style this look at home.
32. Cool Pomp Haircut + Mid Fade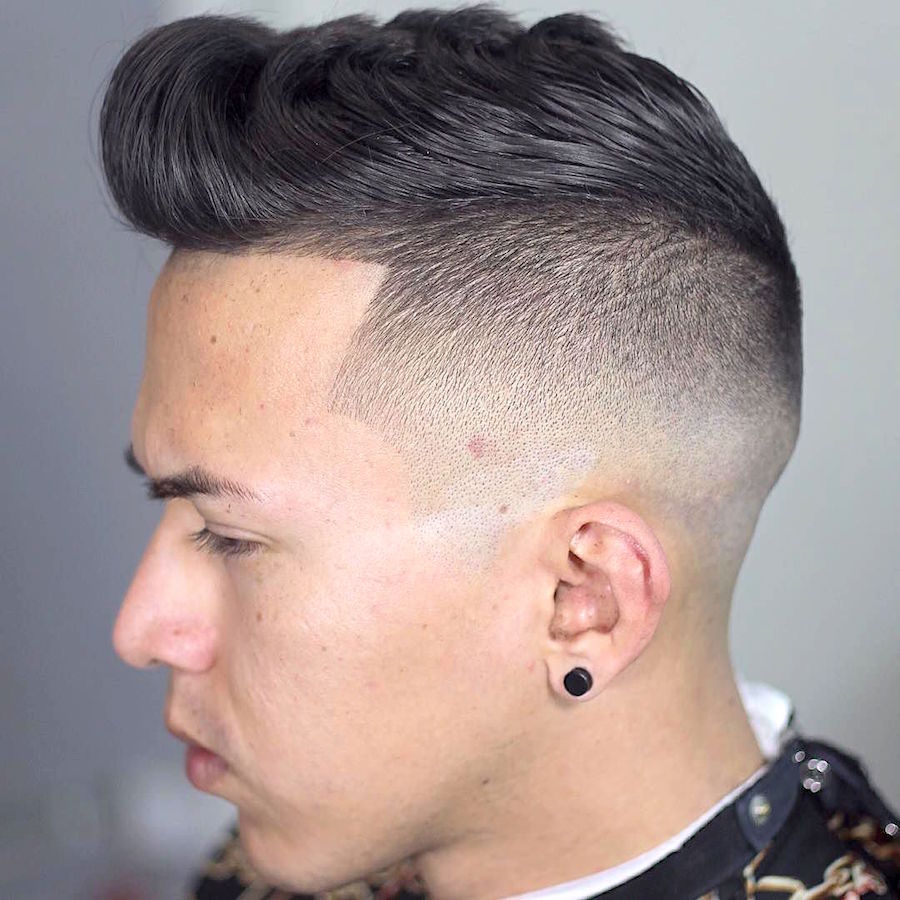 Haircut by Chris
A wavy pomp on top and mid fade at the sides add up to a fresh and clean style.
31. Clean Drop Fade + Curly Messy Hair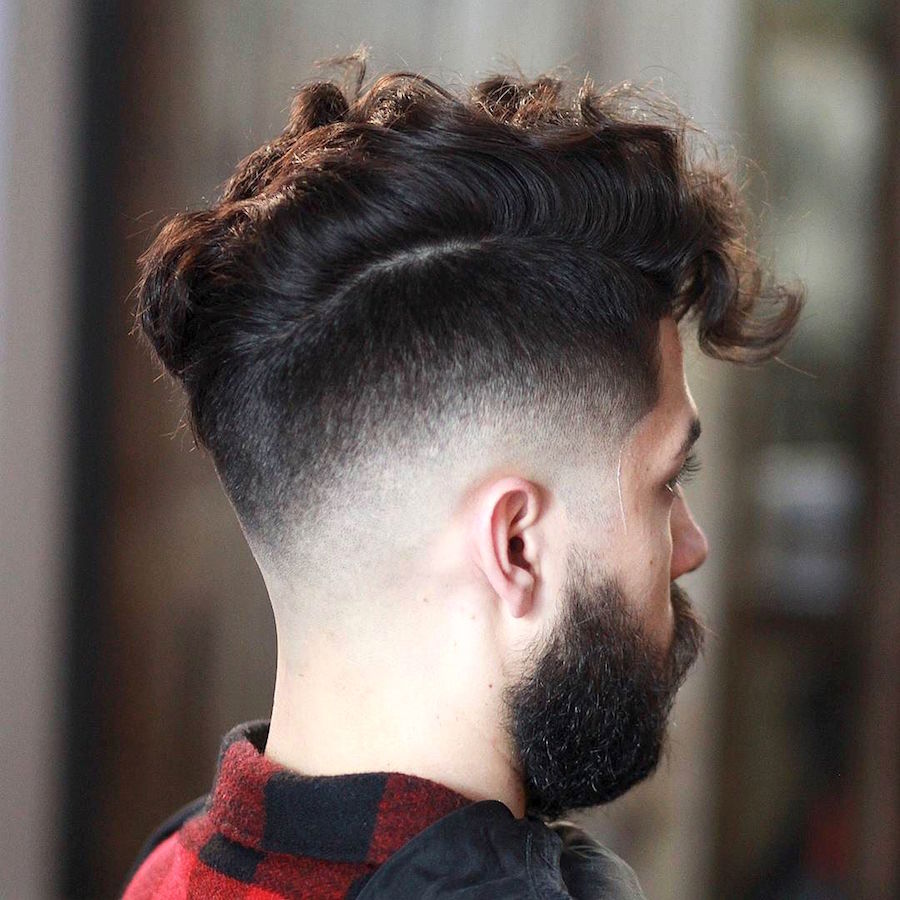 Haircut by Evan Anthony Demers
This most excellent men's curly hairstyle is worn without product. It's all about the right cut on top plus a low fade on the sides.
30. Low Taper Fade + Hard Part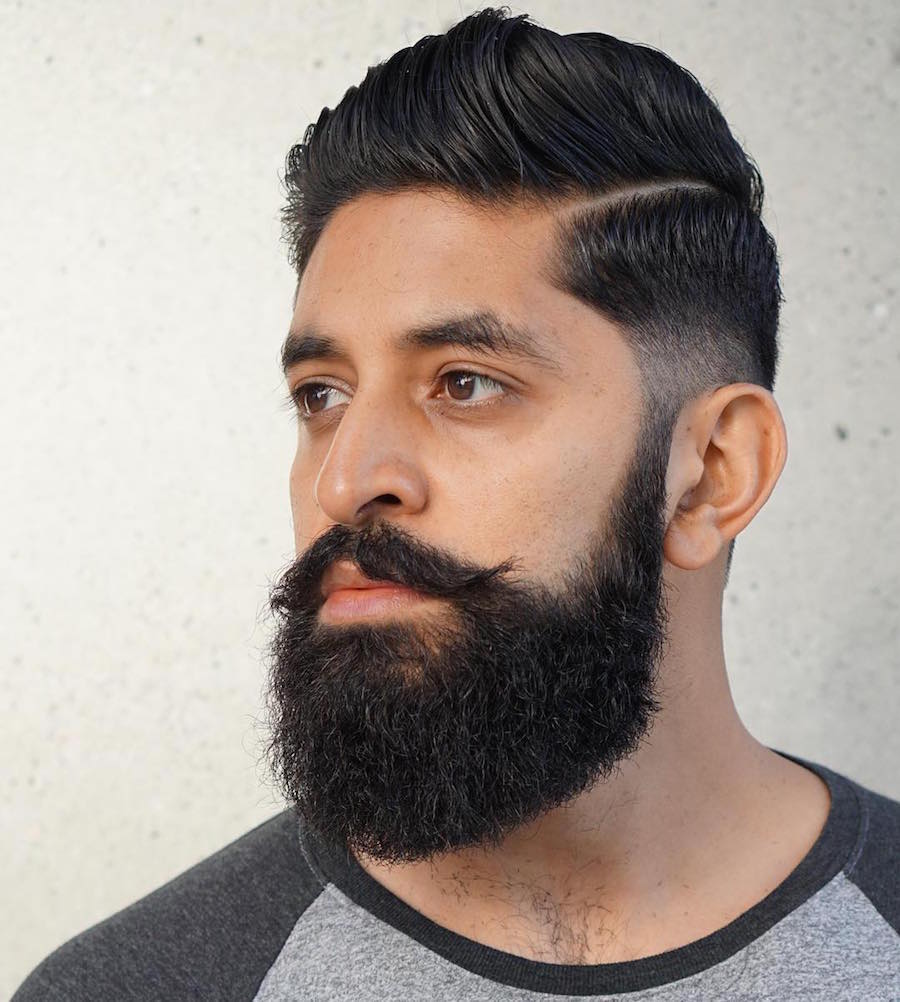 Haircut by Erick
Here's another refresh of the so last year combover. The part is worn as far over to one side as possible and defined with a razor. Hair on top is styled with plenty of volume.
29. Longer Fringe Styled Back + Short Sides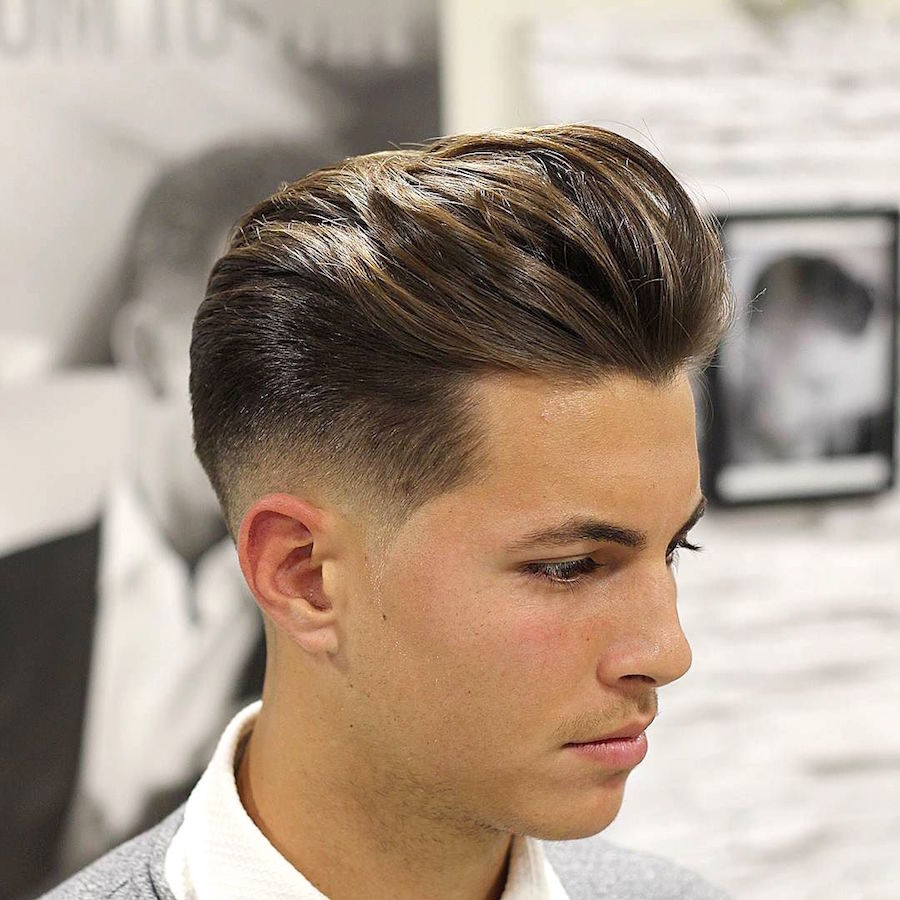 Haircut by Agus Barber
Yet another way to wear one the top hair trends, texture. It's a slicked back pomp but hair at the front is loose and piecey.
28. High Fade Blended Into Medium Hair + Longer Fringe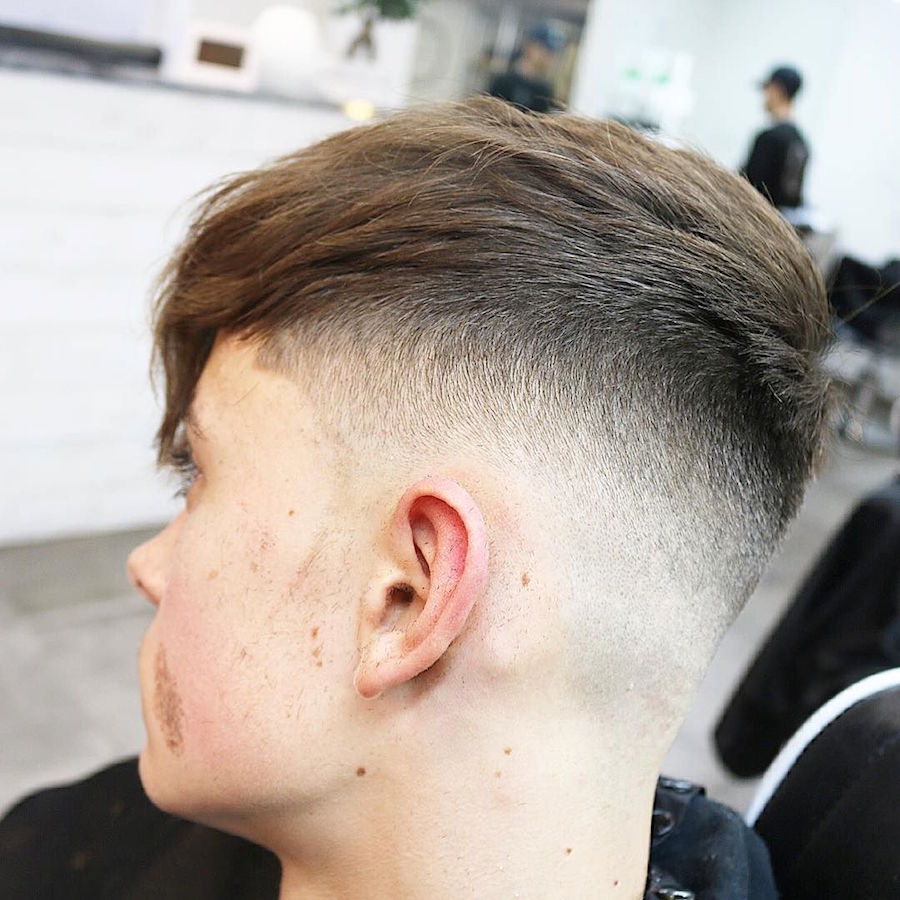 Haircut by Menspire Salon
The taper fade is all about being seamless. This fresh cut takes it to the next level by seamlessly blending short hair into long as well as down to the skin. Long hair is styled into forward fringe, the exact opposite of the slick back, and a hot emerging trend.
27. Longer Hair Textured + Disconnection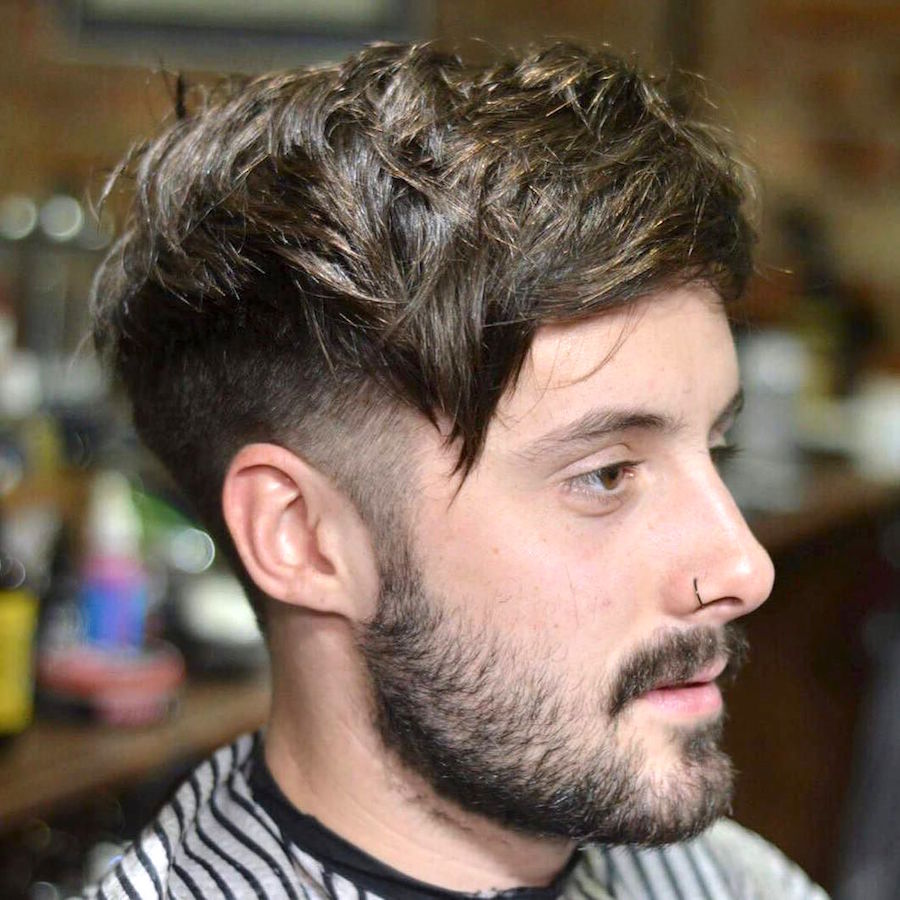 Haircut by Mark Hardgrind
This cool men's haircut balances the messy with the clean cut. Thick hair on top is tamed with layering and texture while the sides are undercut short.
26. Short Textured Haircut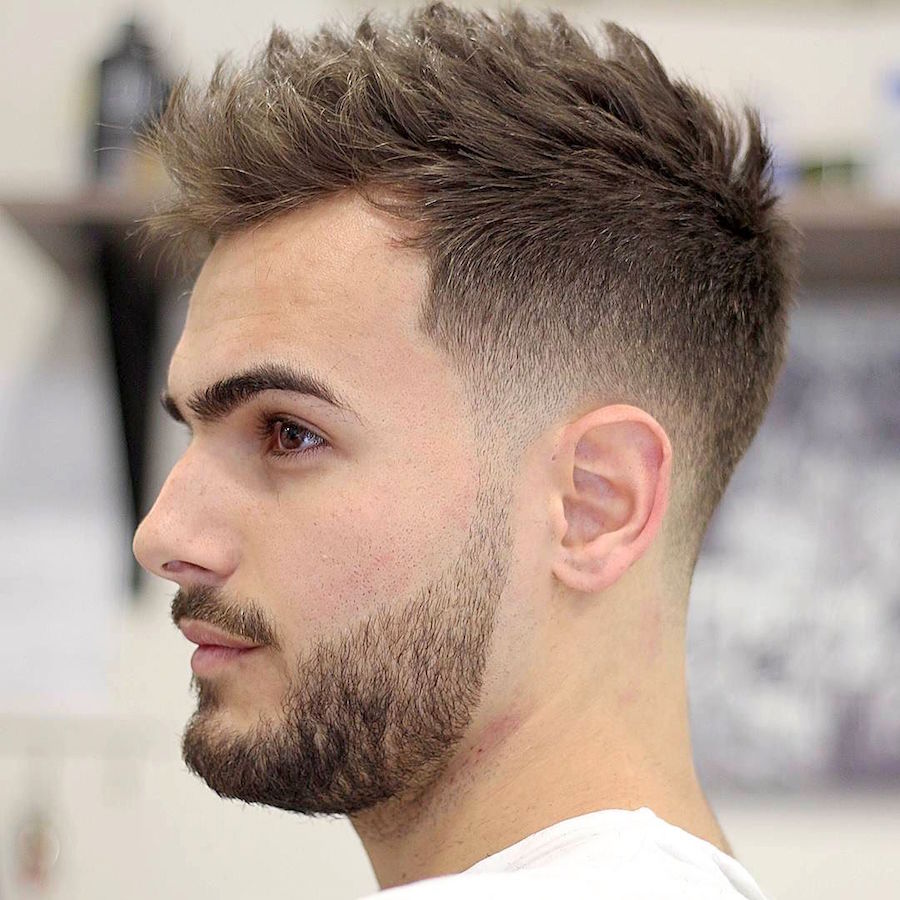 Haircut by Agus Barber
This is how to wear spiky hair. It's more about texture than definition and matte than shiny.
25. Skin Fade + Hard Part + Long Side Fringe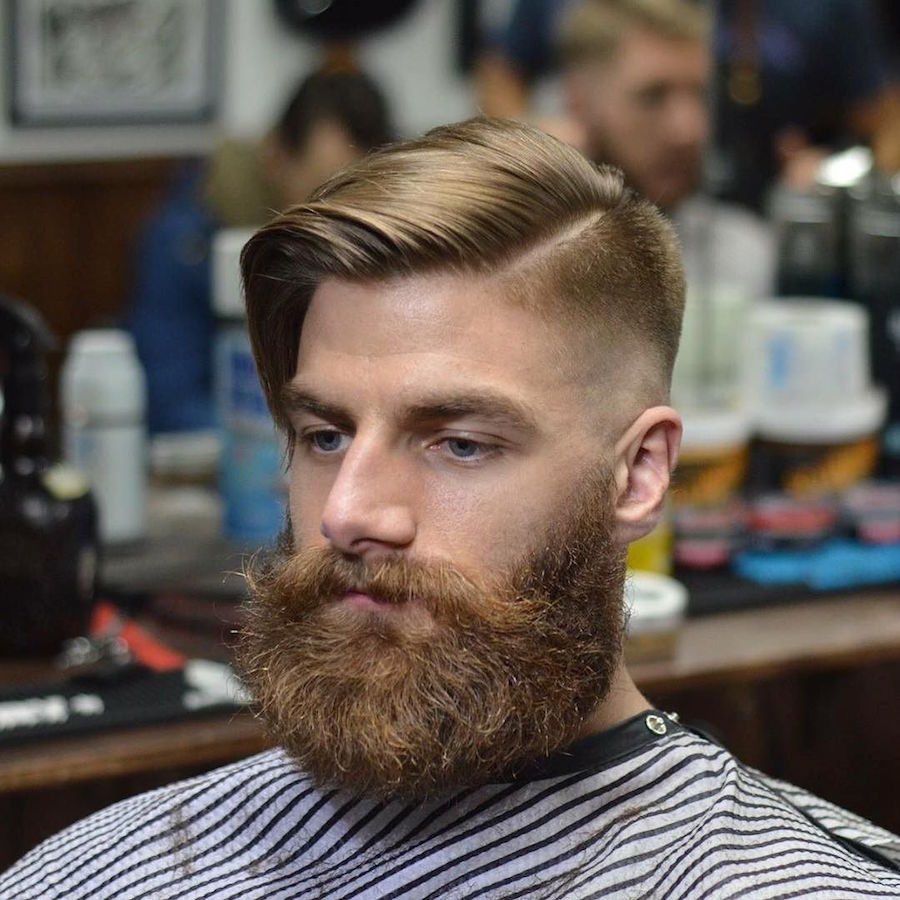 Haircut by Mark Hardgrind
The full beard contrasts delightfully with an ultra polished combover. Long hair is styled with Layrite Grooming Spray for a smooth finish and finished with Uppercut Featherweight for hold and texture.
24. High Fade Pompadour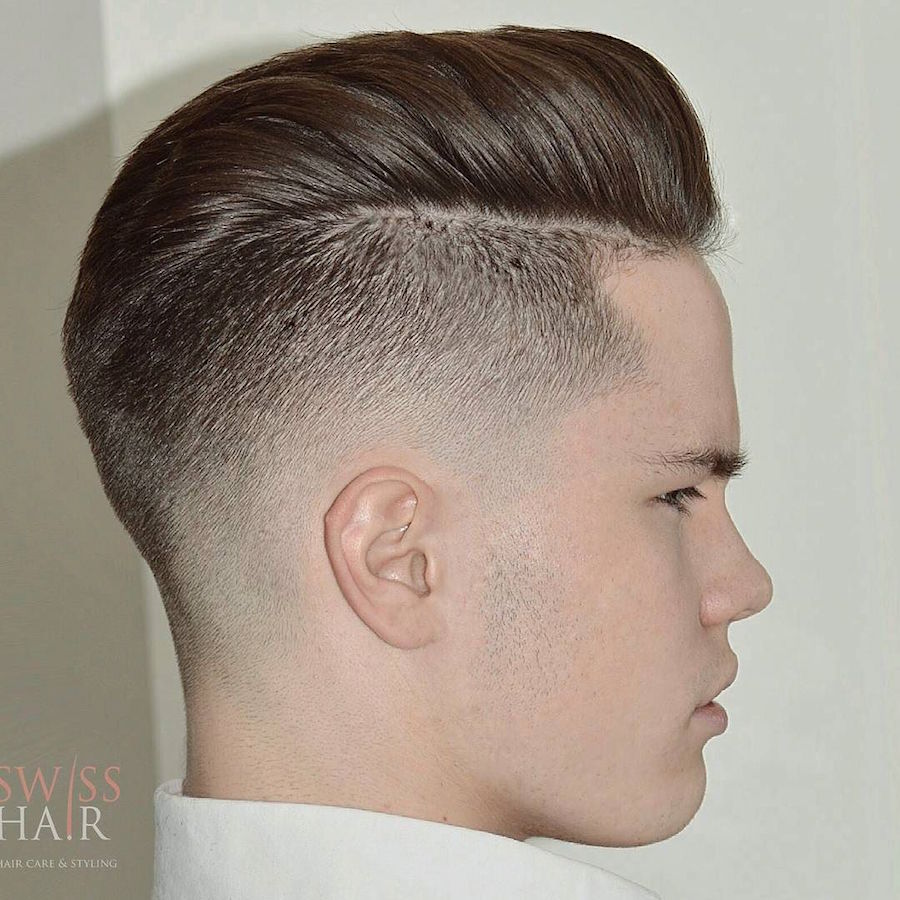 Haircut by Barber and Hairstylist Zainal
This pomp is smooth all over from the semi-gloss hair to the taper fade.
23. High Fade Hard Part + Curls On Top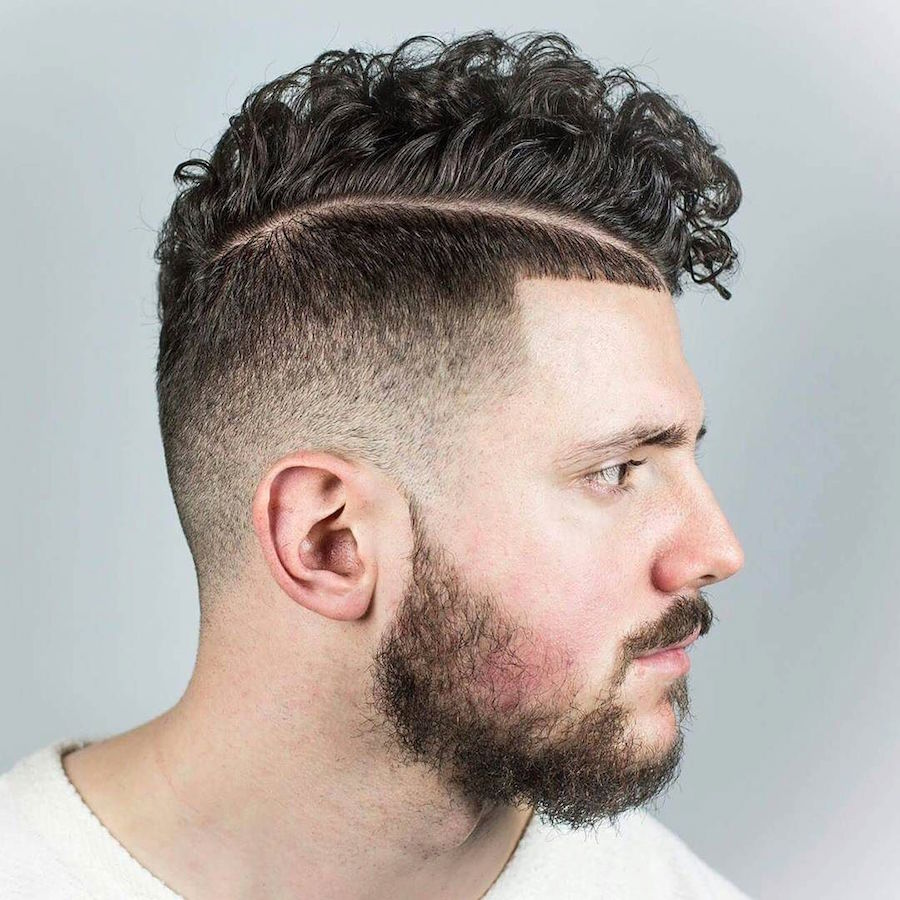 Haircut by Gary Milne
With the right cut, you can let curls go wild. This fresh style pairs curly volume on top with a fade hard part.
22. Drop Fade + Big Natural Curls + Volume On Top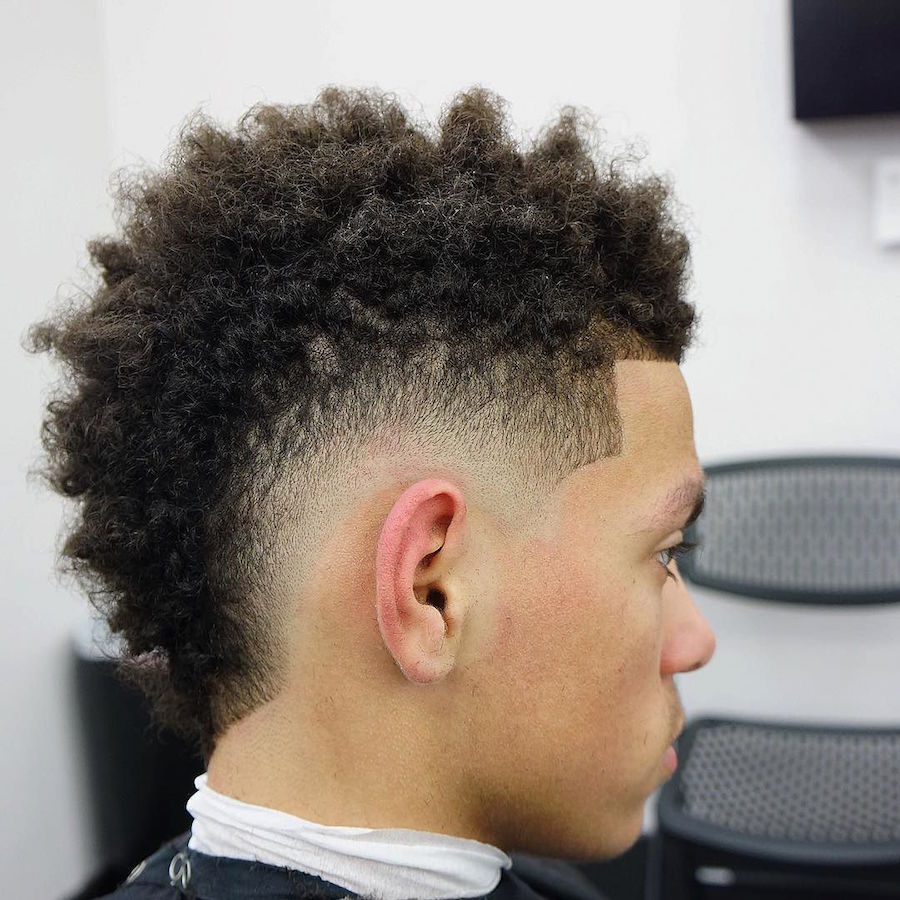 Haircut by criztofferson
Yet another mohawk inspired style, this wide frohawk features big natural curls down the center of the scalp and a burst skin fade at the sides.
21. Mid Fade + Natural Movement On Top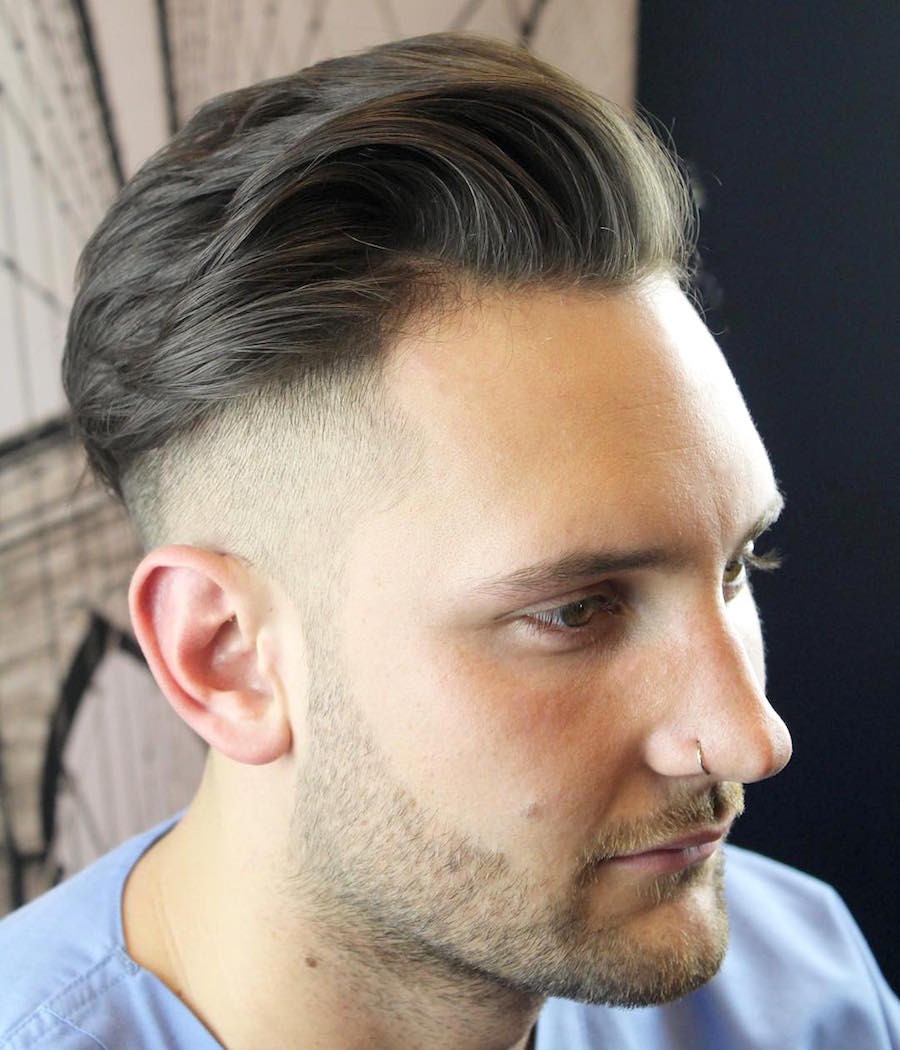 Haircut by Keller
This brushed back look is all about keeping hair natural.
20. Curls + High Fade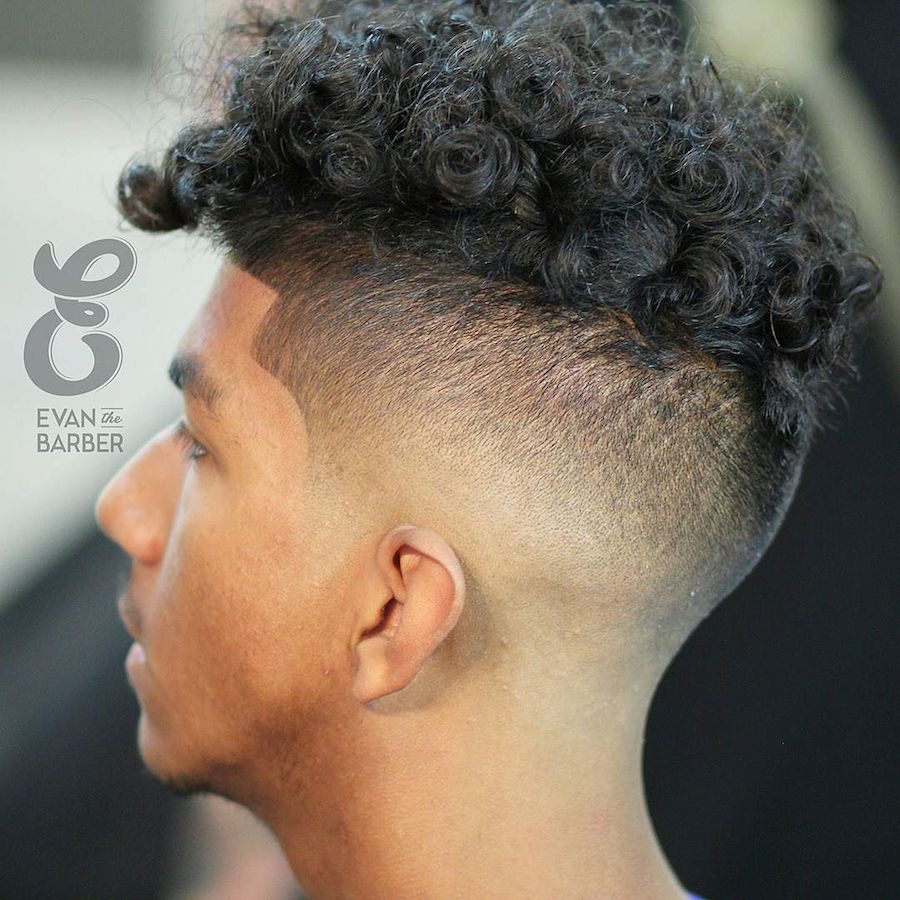 Haircut by Evan Anthony Demers
Another high and tight style but with hair left longer on top to let curls loose.
19. Cool Hair Design + Short Hair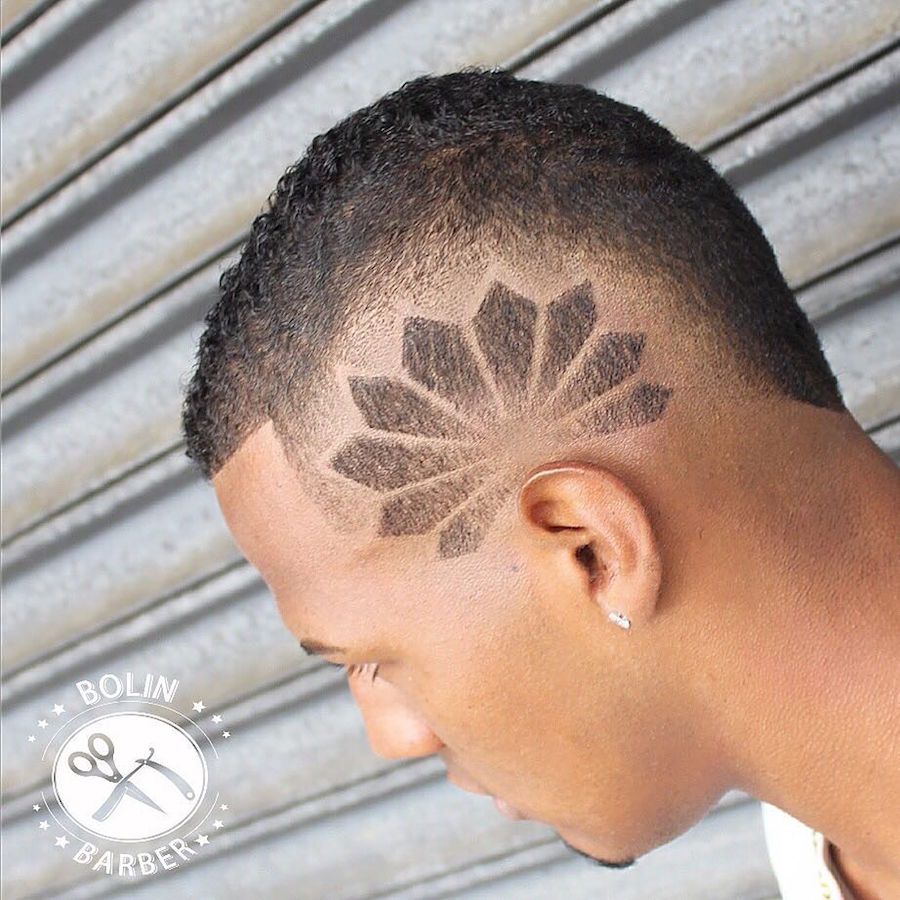 Haircut by Ivan Rodriguez Hernandez
Hair designs are still going strong. The only limit is your imagination.
18. Long Textures + Curls + Short Sides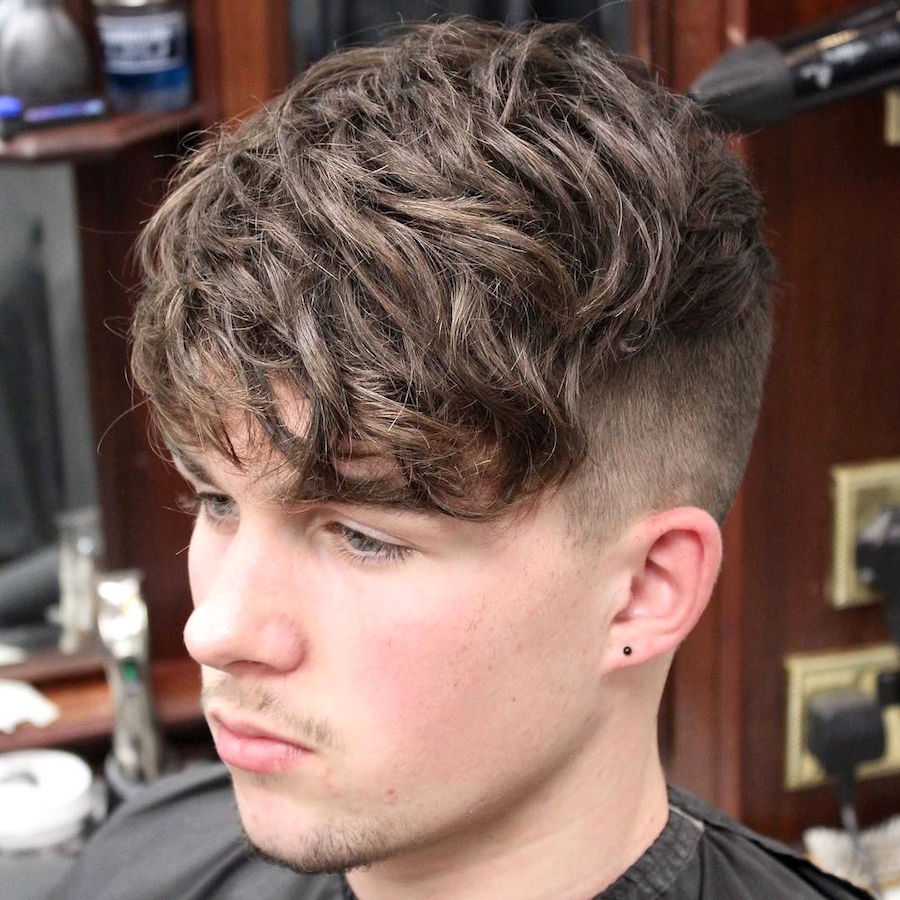 Haircut by Jamie Roberts
The forward fringe style works for all hair types. Here curly hair is layered to cut out weight and enhance wave. Add product if you need to tame frizz or add shine, otherwise it should be fine without.
17. High Fade On Both Sides + Long Fringe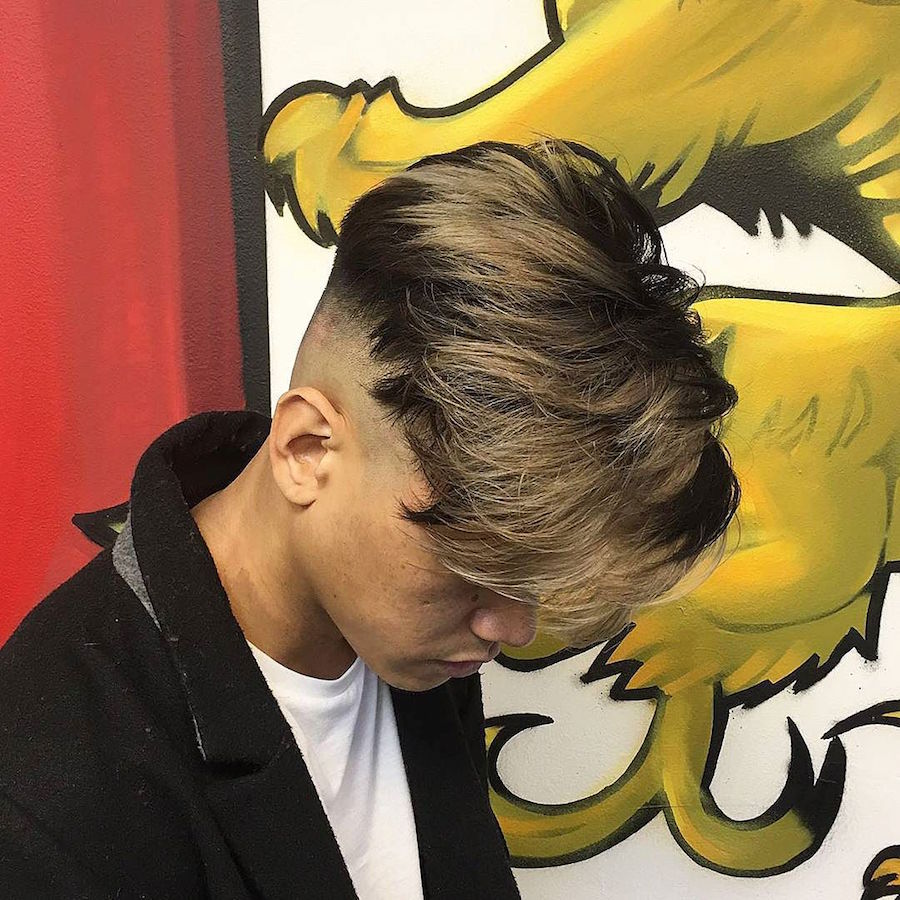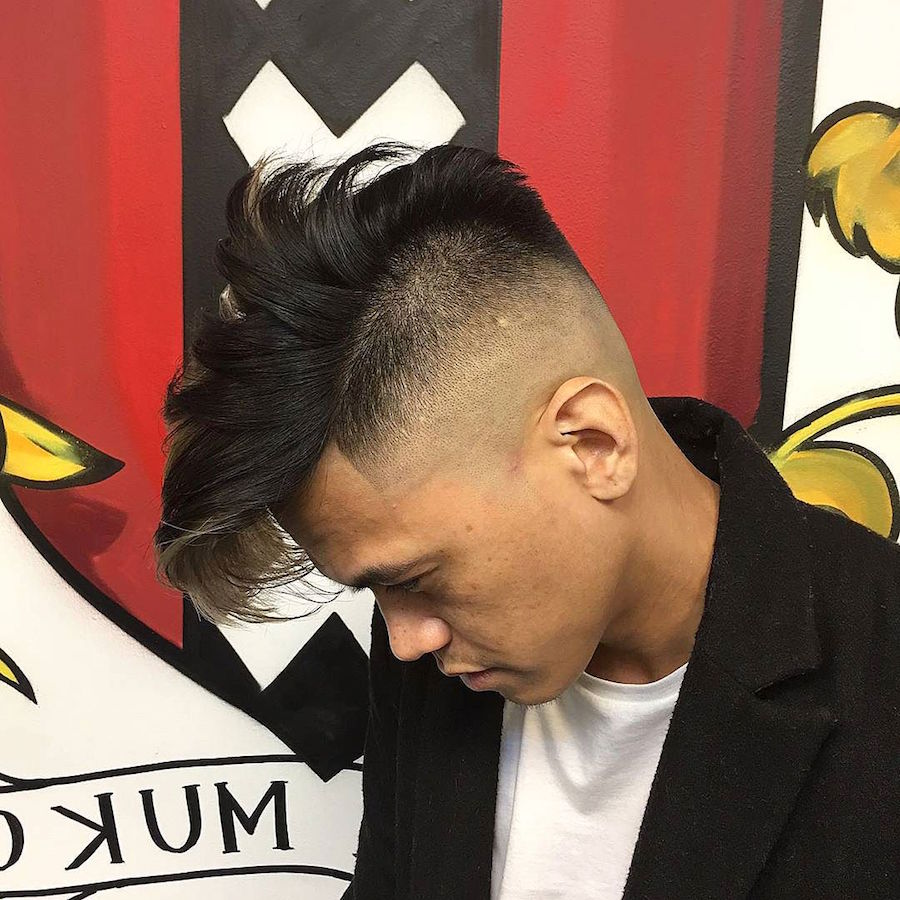 Haircut by Ruben Djirlauw
Another trend we're seeing this year is the same classic styles worn looser and product free. This cool look could be a combover but instead it is worn loose. A blast from the blow dryer can be plenty of hold.
16. Undercut + Fine Hard Part Pompadour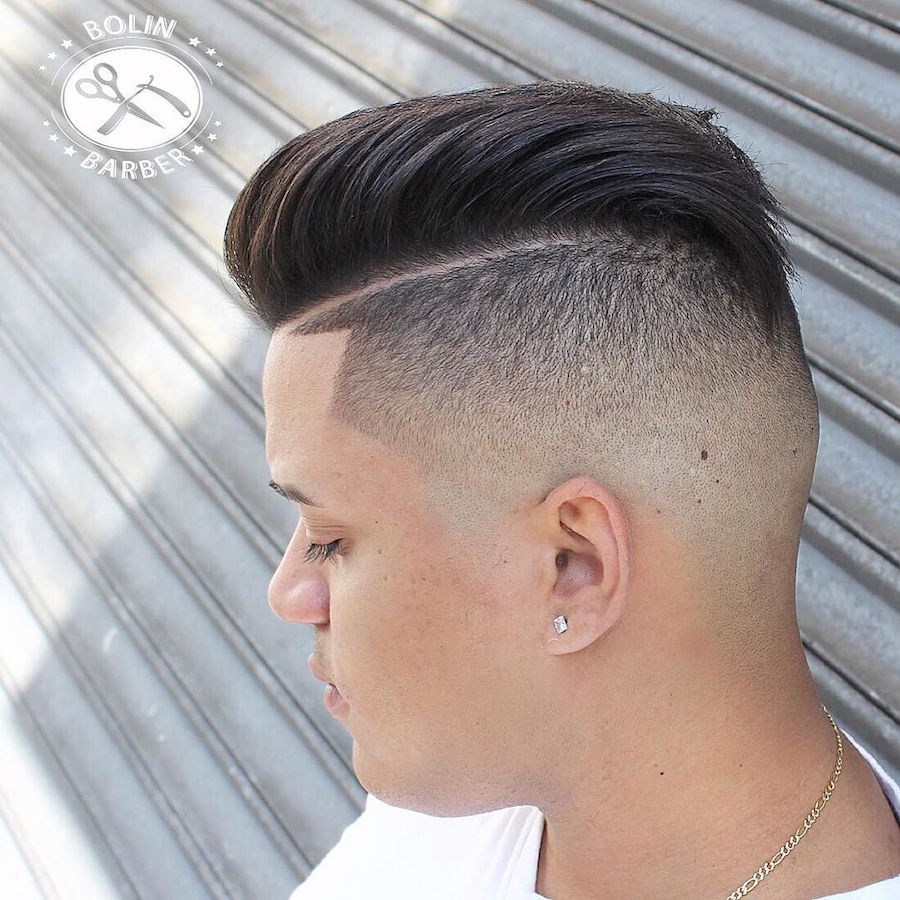 Haircut by Ivan Rodriguez Hernandez
A smooth all over pomp is more than combing hair straight back. To get these defined sides, comb hair towards the center, which also creates a cool looking V at the back.
15. Longer Textures On Top With High Fade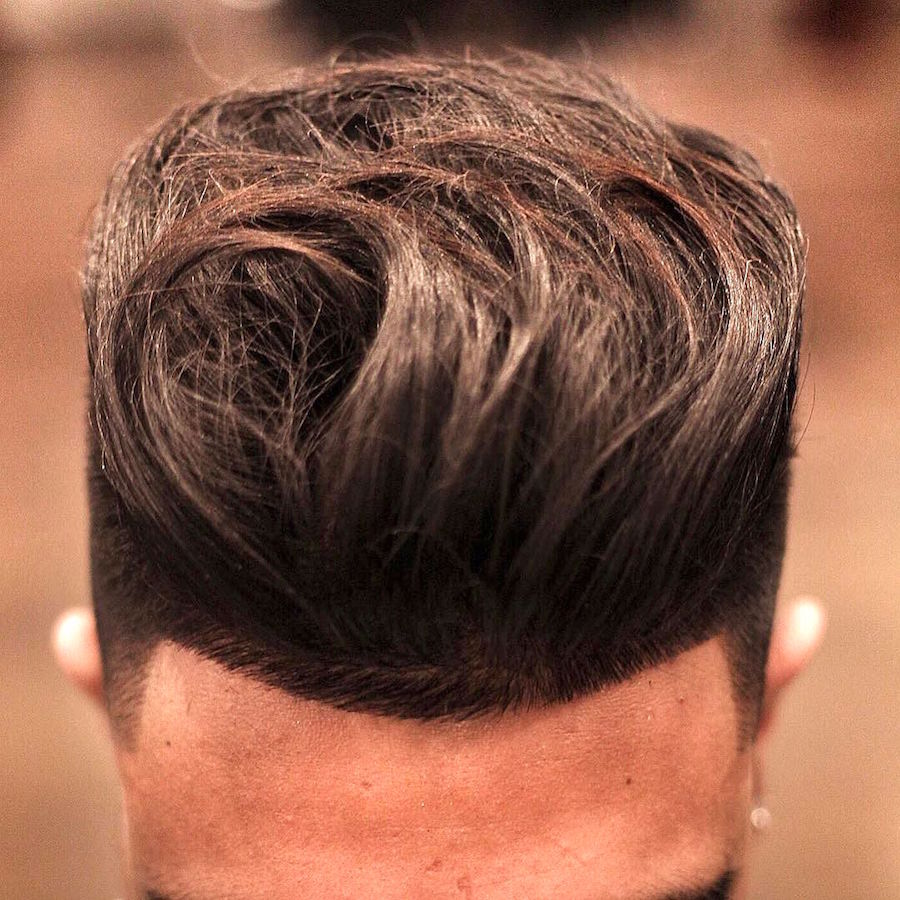 Haircut by The Gentleman Barbers
This look is all about texture hold. It uses a combination of Evo Hair Styling Powder for the former and Fudge Hair Cement for the latter. An angular lineup completes the hot look.
14. High Fade + Big Pompadour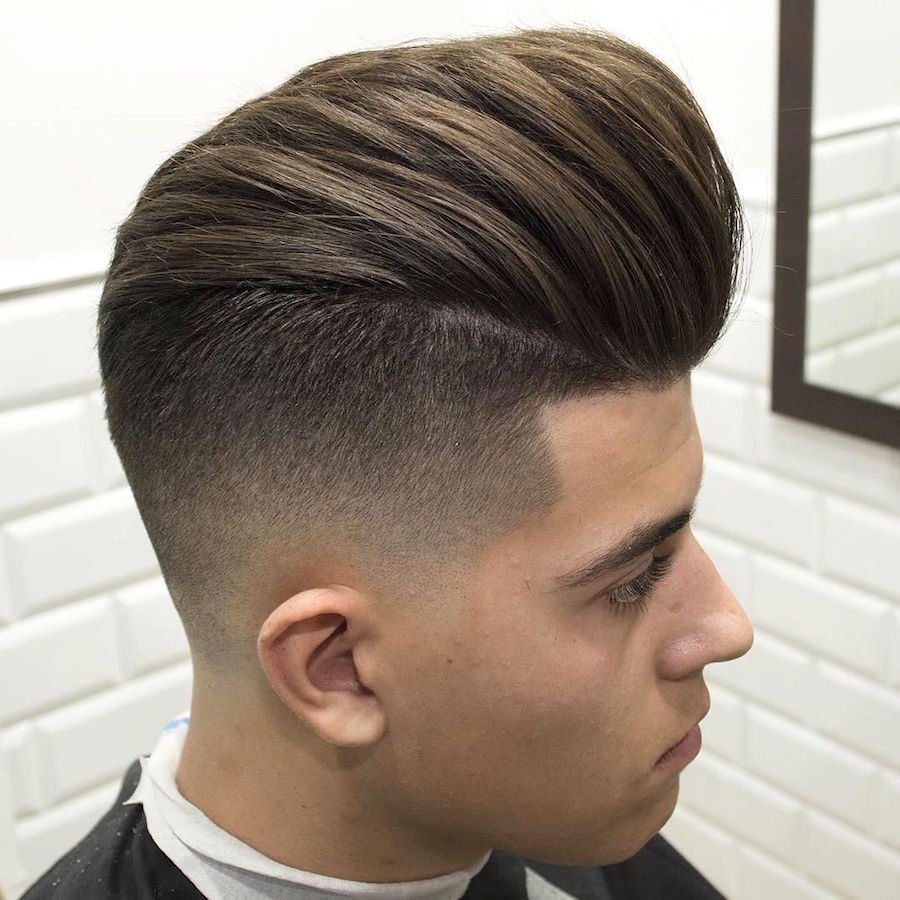 Haircut by Javi The Barber
Not every hair type can achieve this extreme height. If you can, check out Elegance Hair Wax to get all the hold you need.
13. X-Ray Part + Skin Fade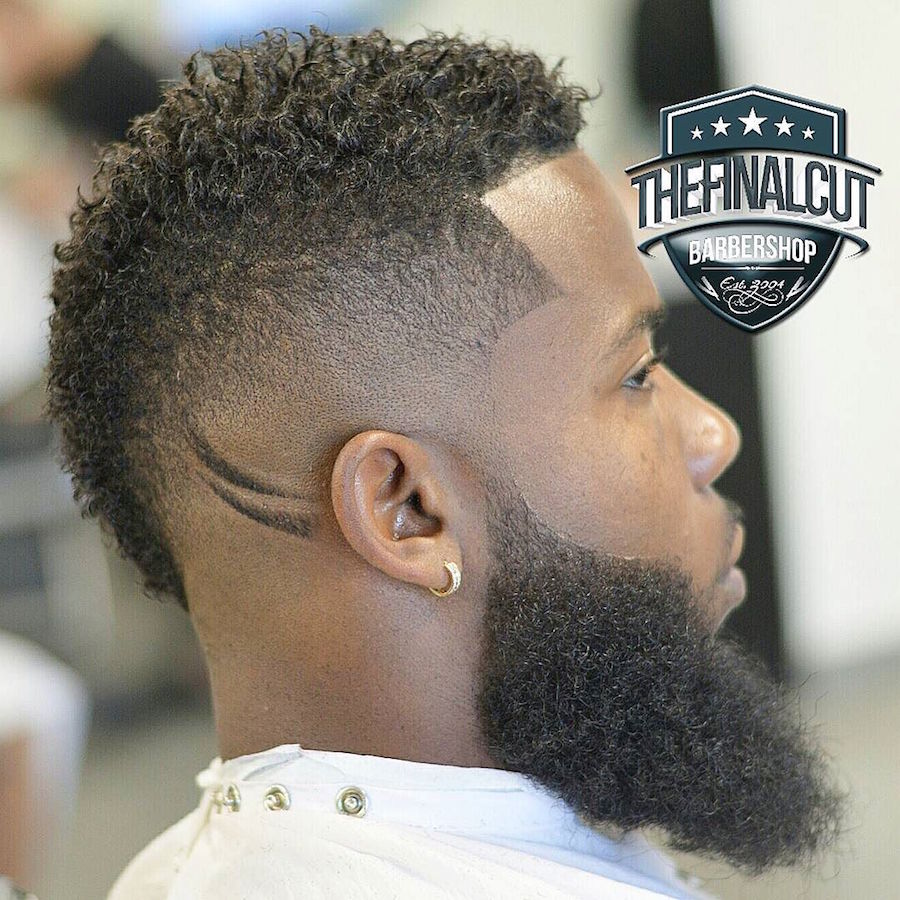 Haircut by The Final Cut Barber Shop
There is so much going on here – A long beard, short and wide mohawk with skin fade on the sides plus a subtle hair design behind the ears.
12. Long Natural Curls + Side Hard Part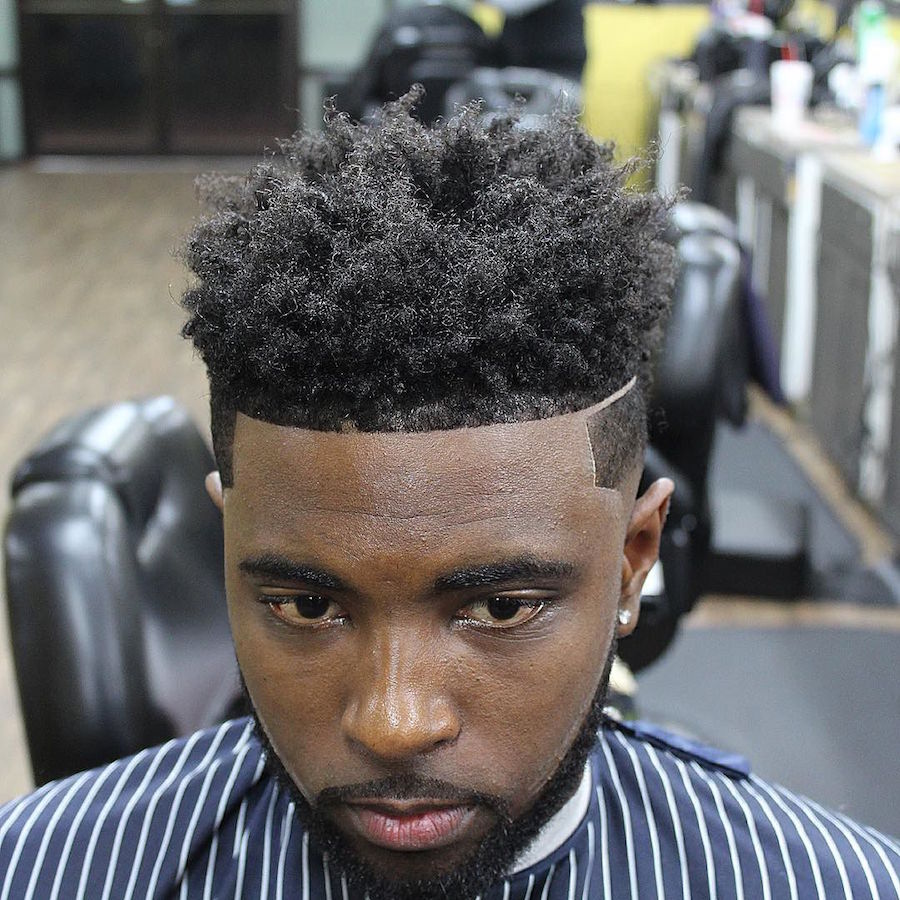 Haircut by Rich Payne
Sometimes a subtle detail can transform a cut from ordinary to something beyond. The razor part extending the lineup does just that with this cut featuring long natural curls.
11. Crispy Undercut + Messy Hair On Top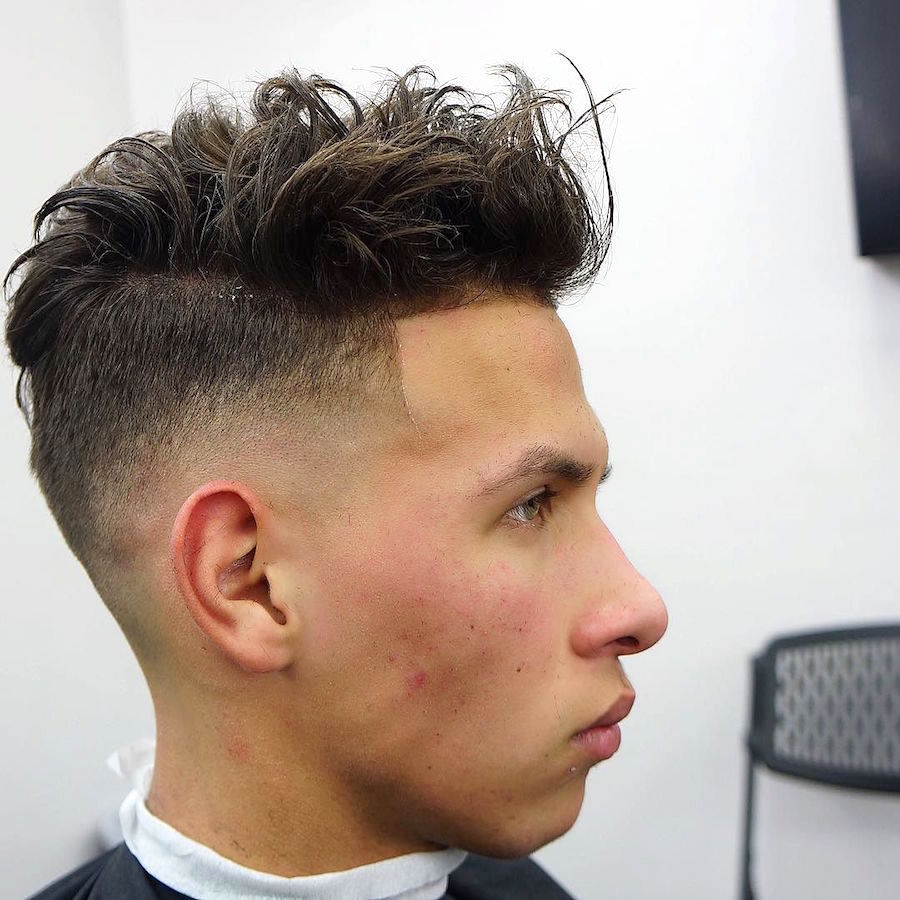 Haircut by criztofferson
Whether hair is wavy or curly, this year's texture trend means enhancing natural texture with product and a bit of messy styling.
10. Fade + Hard Part + Very Short Men's Haircut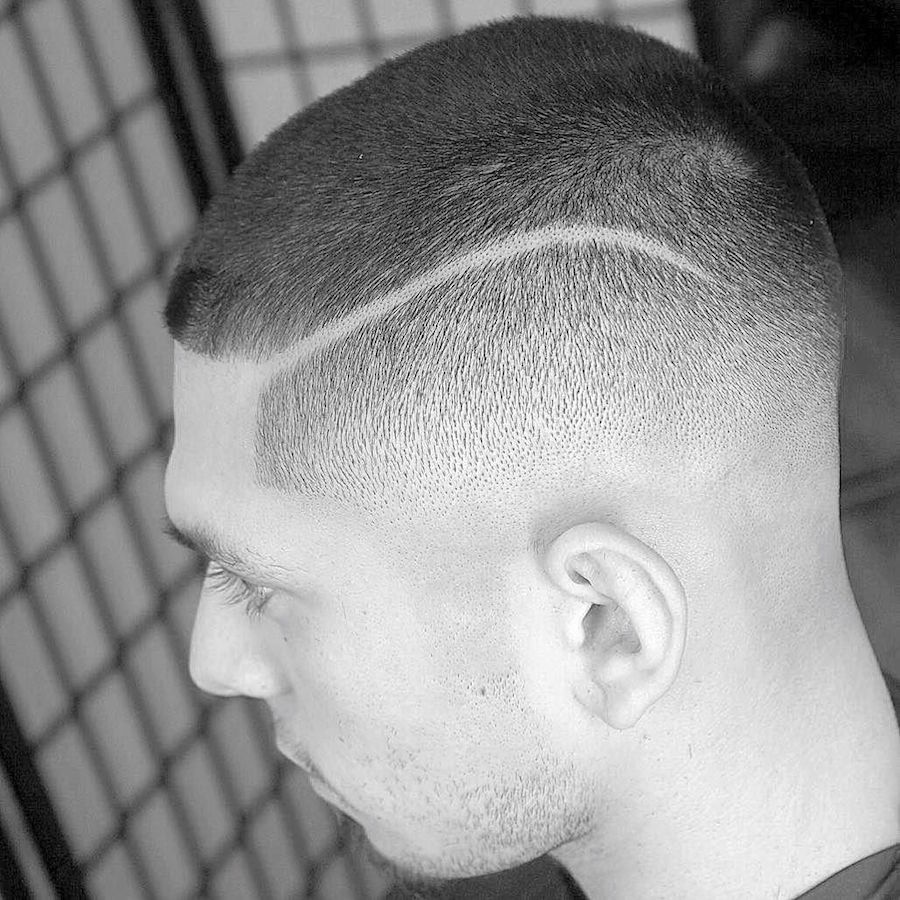 Haircut by DTown President
Don't try this cool buzzcut at home. This shaved hairstyle is enhanced with a blurry fade punctuated by a curved razor part.
9. Scissor Cut Cool Long Textures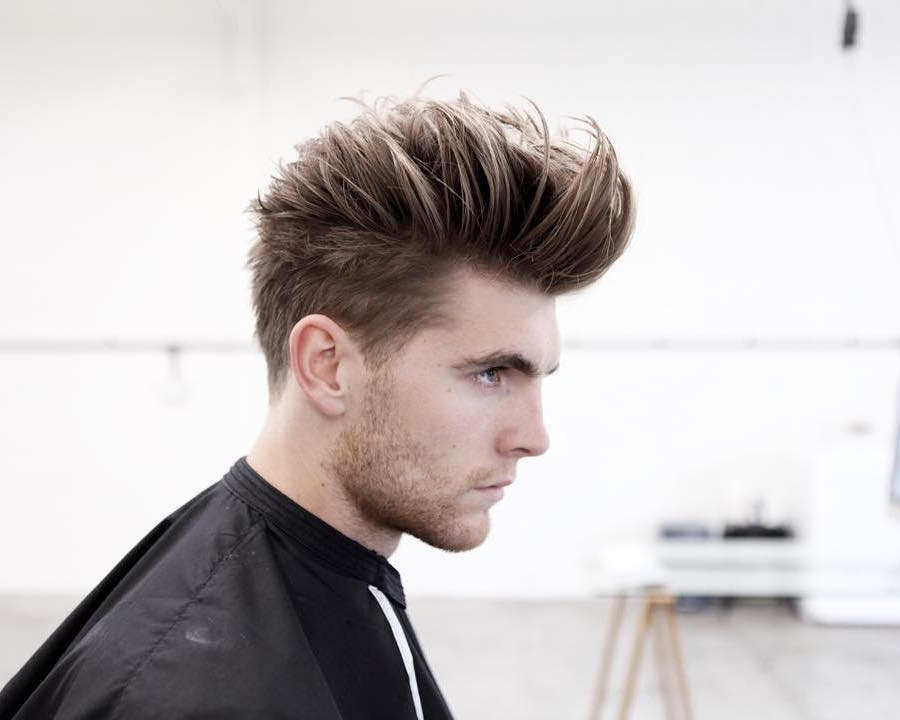 Haircut by Morris Motley
Inspired by the greats – James Dean, Elvis Presley and Morrissey – this hot style adds in the best of this year, tons of height and texture.
8. Undercut Styled To Side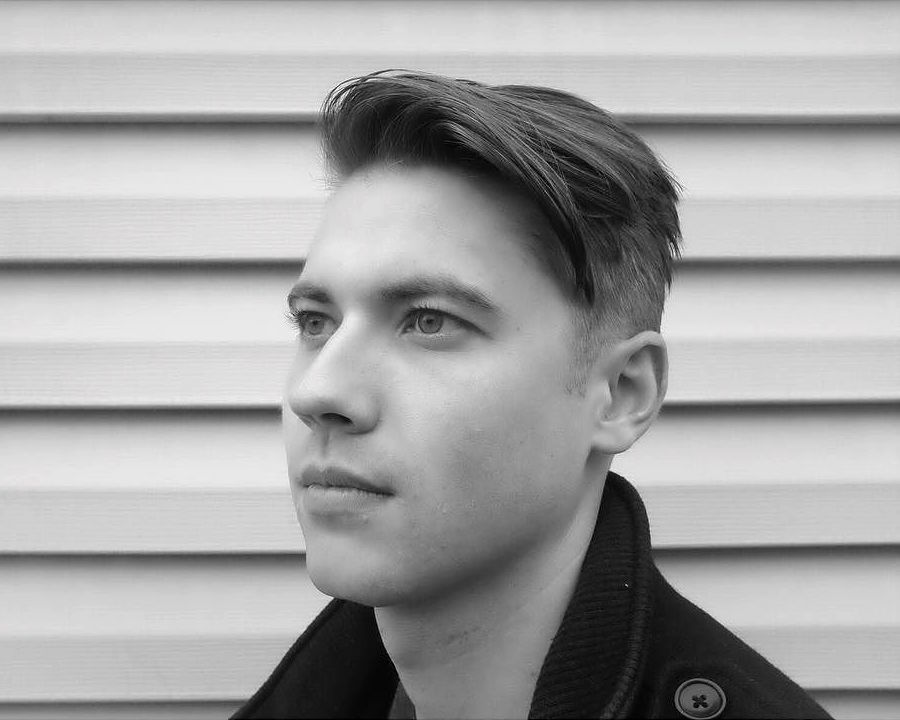 Haircut by scissorandbone
This multidimensional cut is an undercut when styled to the side but blended when pushed back.
7. Long Textures On Top + High Fade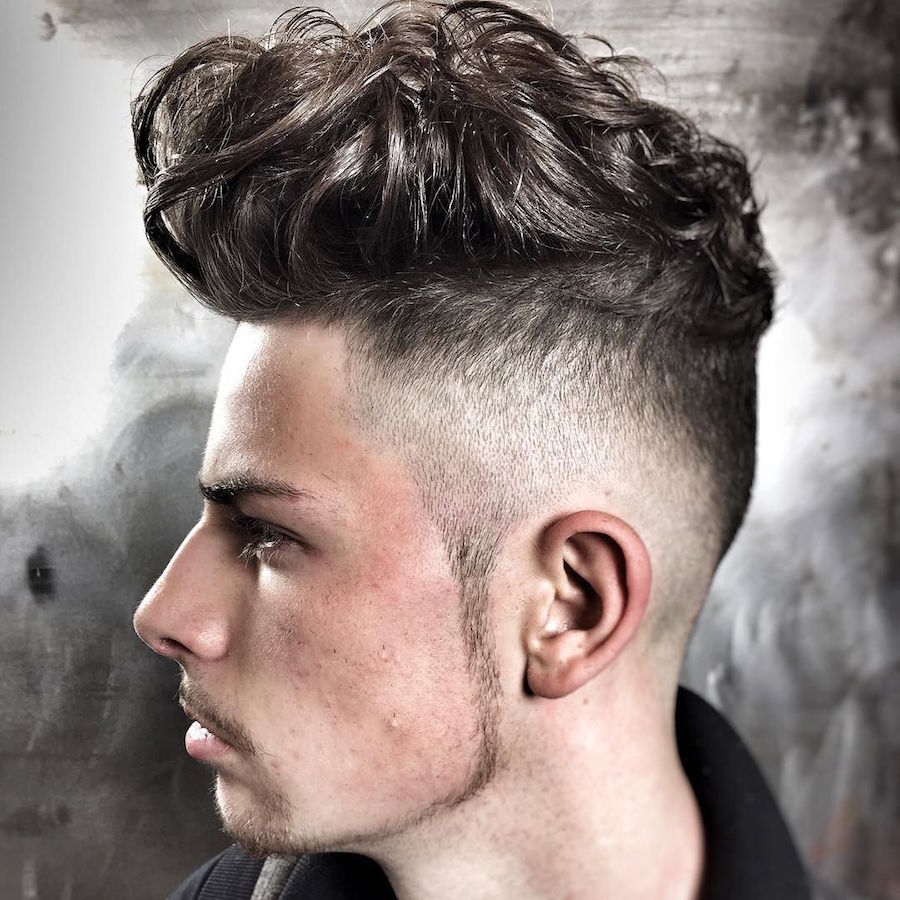 Haircut by Lou Scissors + Robert Braid
The classic quiff styled with wavy curls plus a burst skin fade.
6. Cool Monochrome Hair + Thick Textures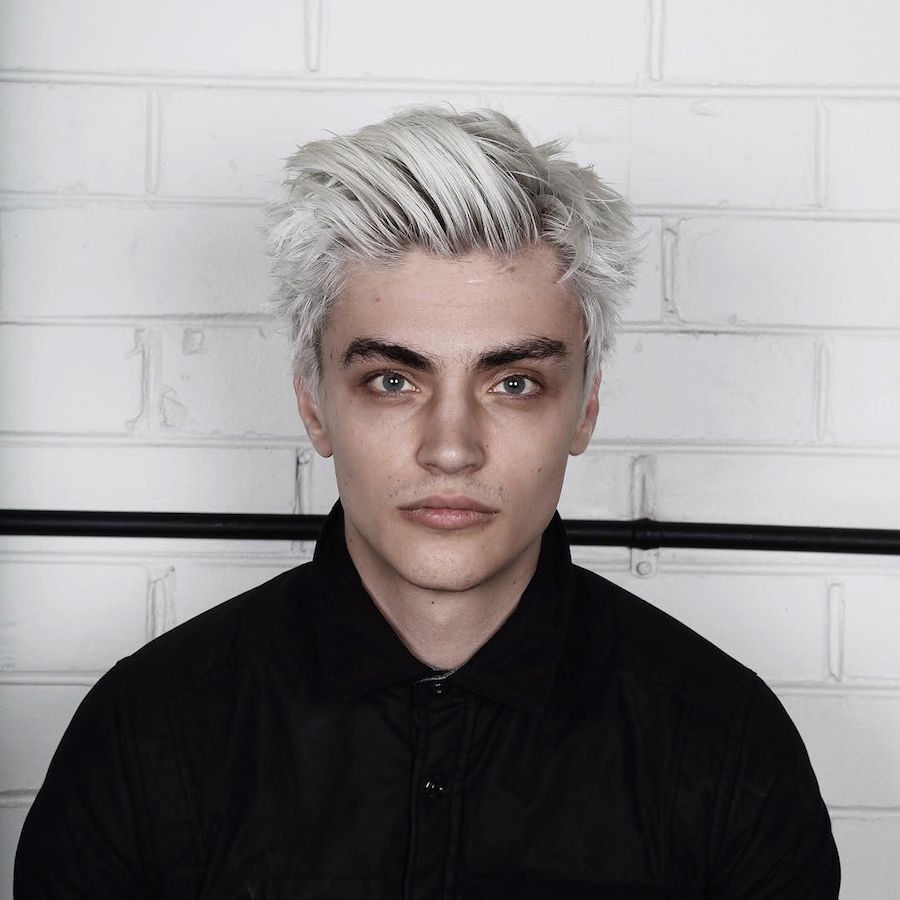 Haircut by Morris Motley
Guys, do not be afraid of using hair color to make a statement. This ultra bleached cut is almost white but would also look great in silver.
5. Fresh Clean Skin Fade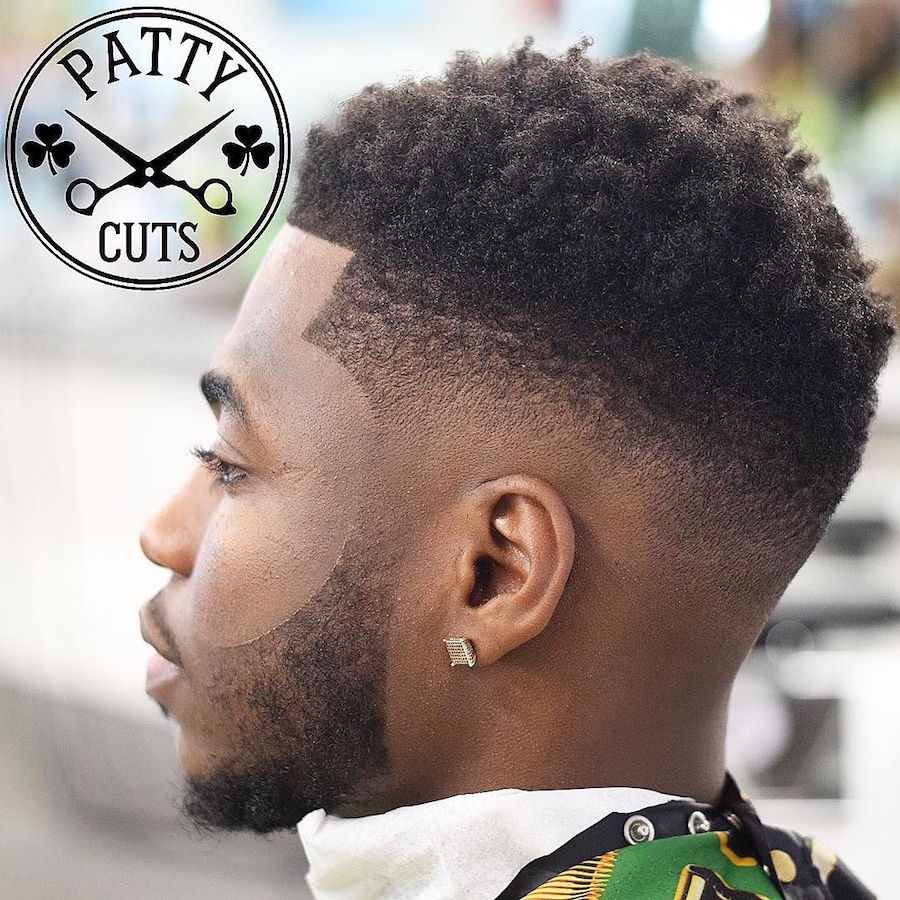 Haircut by Pat Regan
When you have curly hair, all the texture is already there. The cut is all about shaping and ultra clean cut sides.
4. Modern Undercut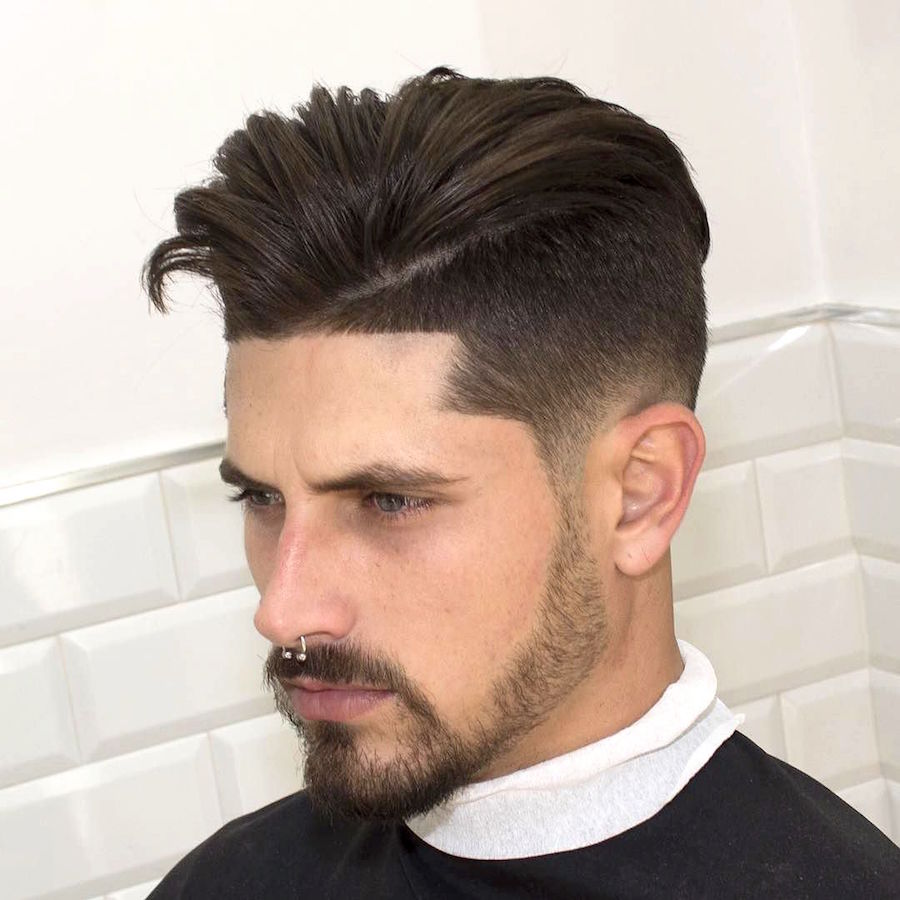 Haircut by Javi The Barber
One way to refresh the combover is moving the part further over to one side. The other is to move it towards the center, like above. Then style hair on the diagonal and back for a high volume, high texture finish.
3. Long Curly Fringe + Undercut On Both Sides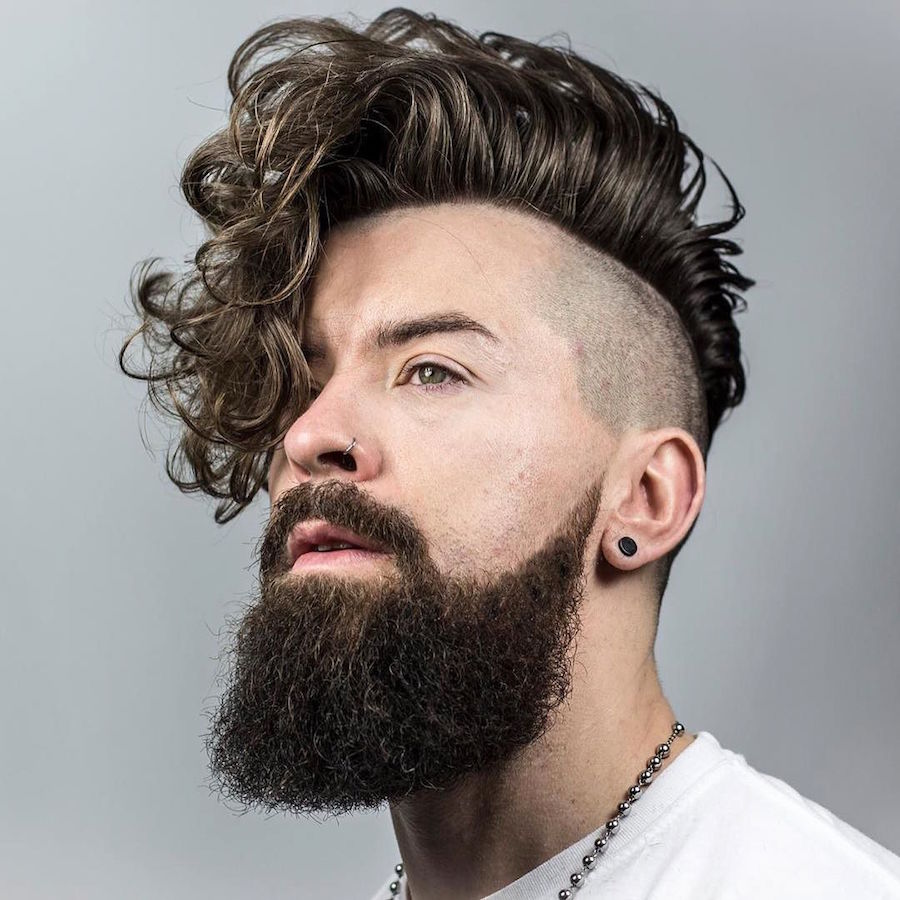 Haircut by Braid Barbers
Ross Oliver Smith, bearded model and Man Club member, is rocking a fierce undercut and wild curls.
2. Halfway Hard Part + Sectioned Pompadour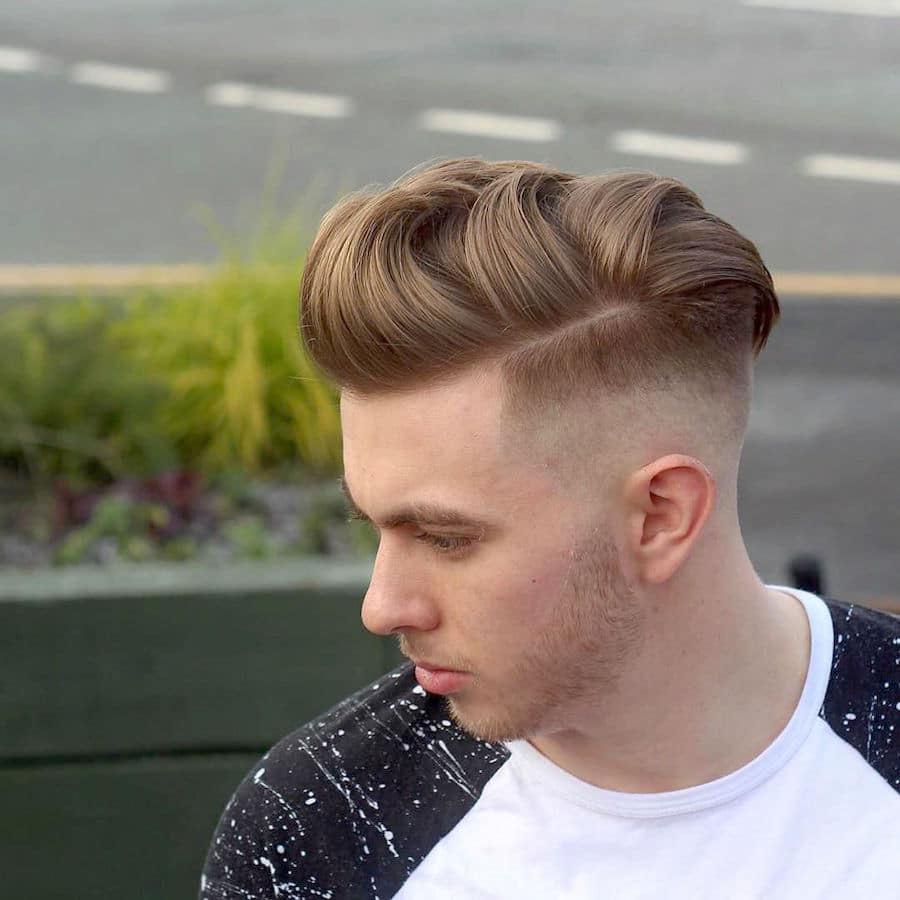 Haircut by Alan Beak
Adding textured geometry to hair is a combination of heat and a comb. Ask your barber how to make this look work for your hair.
1. Cool Hair Design Undercut + Thick Textures On Top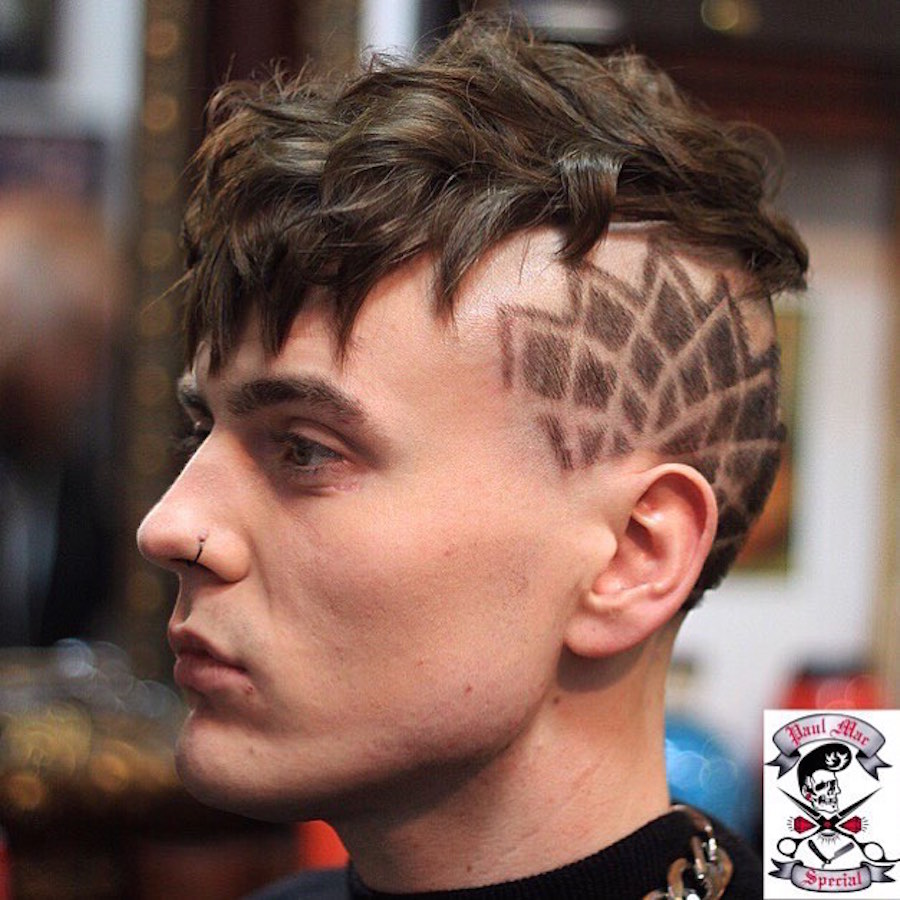 Haircut by Paul Mac Special
This innovative cut and style works so well together. The petals of the geometric lotus hair design are echoed in the textured fringe up top. That's how it's done, folks. That's how it's done.
So there you go, 60 totally sick new haircuts for men. Get yourself a brand new look!
This post may contain affiliate links. Please read our disclosure for more info.
Sours: https://www.menshairstyletrends.com/60-new-haircuts-for-men/
These best hairstyles for balding men make the most of the stages of hair loss. The right cut can make minimize the appearance of receding hairlines and thinning hair at the hairline and crown.
Hairstyles for thinning hair have plenty of style. Some of these are hot trends this year while others are classic cuts that never go out of style. The short sides and back from a fade haircut, another popular men's hairstyle, is also excellent for making hair seem thicker on top.
After a certain point, a short buzz or shaved head might be the best choice. It's about wearing the most flattering hairstyle and knowing you look good. Confidence is more important than anything else.
Check out the best hairstyles for thinning hair, in order from longest to shortest.
1. Slick Back
When the hairline starts to recede, it becomes a widow's peak with a distinct shape. There is no reason to hide this new hairline. In face, highlight it with slicked back hair plus some flattering volume.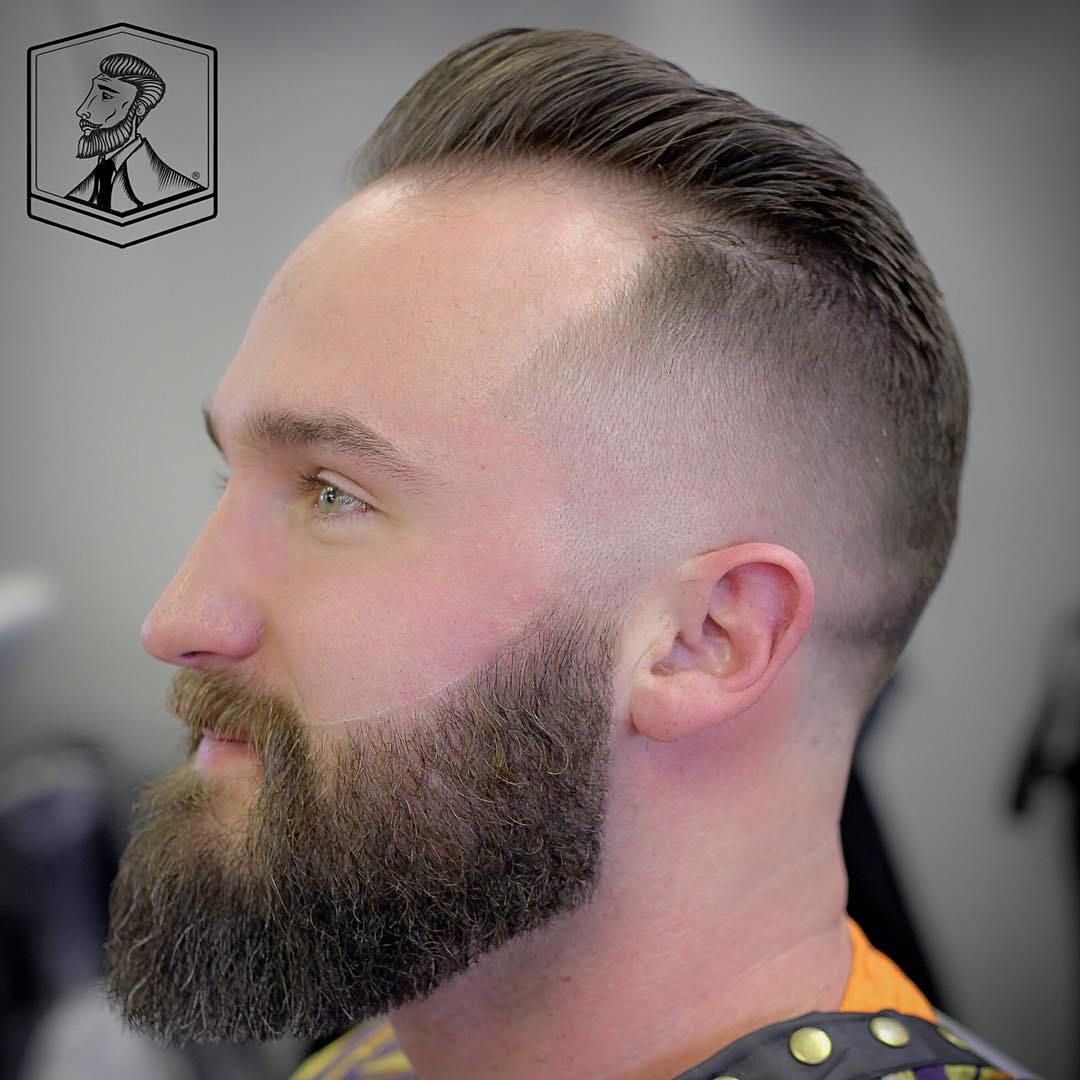 Slicked back hair is also flattering for thinning hair because it like a comb back instead of a comb over. Here, the fade at the sides makes thin hair on top appear thicker.
2. Comb Over Hairstyle
This is not a recommendation for a Trump-style comb over. The combover hairstyle is pretty much a side part hairstyle without the defined part. It's a longer on top haircut, short sides and back that can also be worn with fade.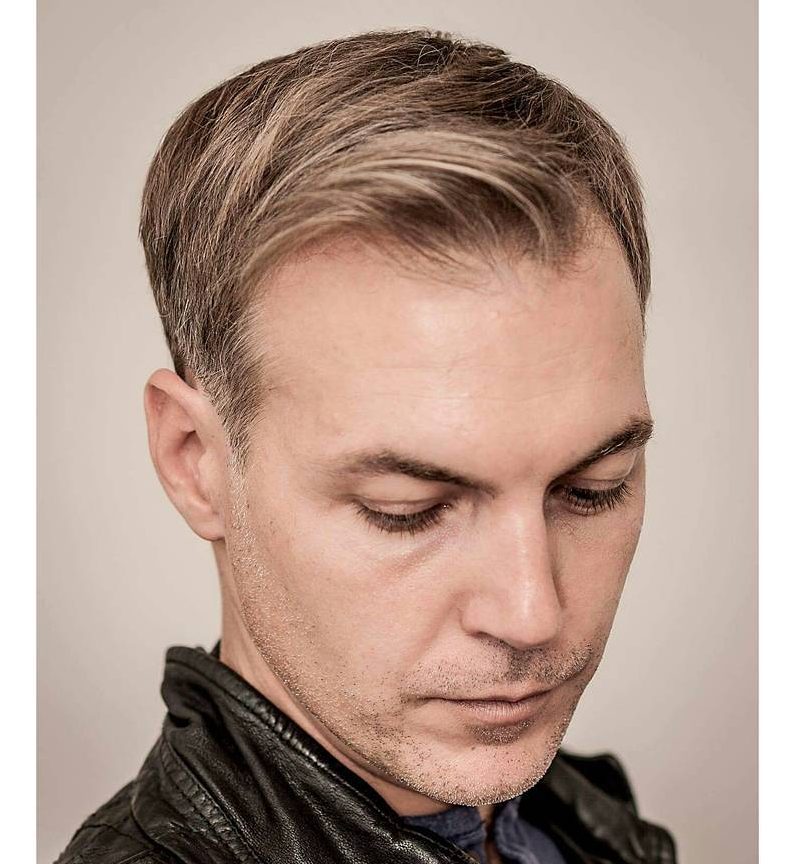 Uredništvo Pričesk Robert
Style hair by combing it over with a lightweight pomade or just finish it with hairspray. This hairstyle works well for thinning hair at the top as well as receding temples.
3. Short Pomp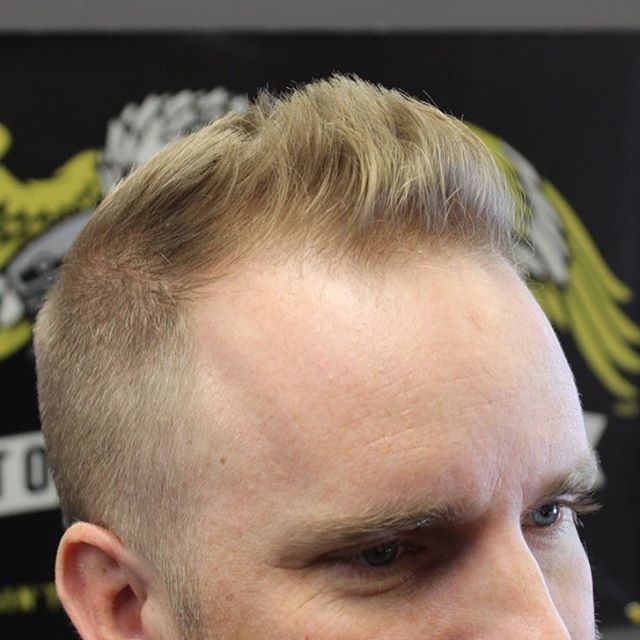 Hardin's Barbershop
The pompadour is a medium length hairstyle but there are plenty of variations on the classic look out there. Short hair is styled into that traditional pomp shape to conceal thinning hair. Like the slick back, this hairstyle also works for a receding hairline.
A blow dryer is an essential tool for guys facing hair loss and will help achieve this cool hairstyle.
4. Spikes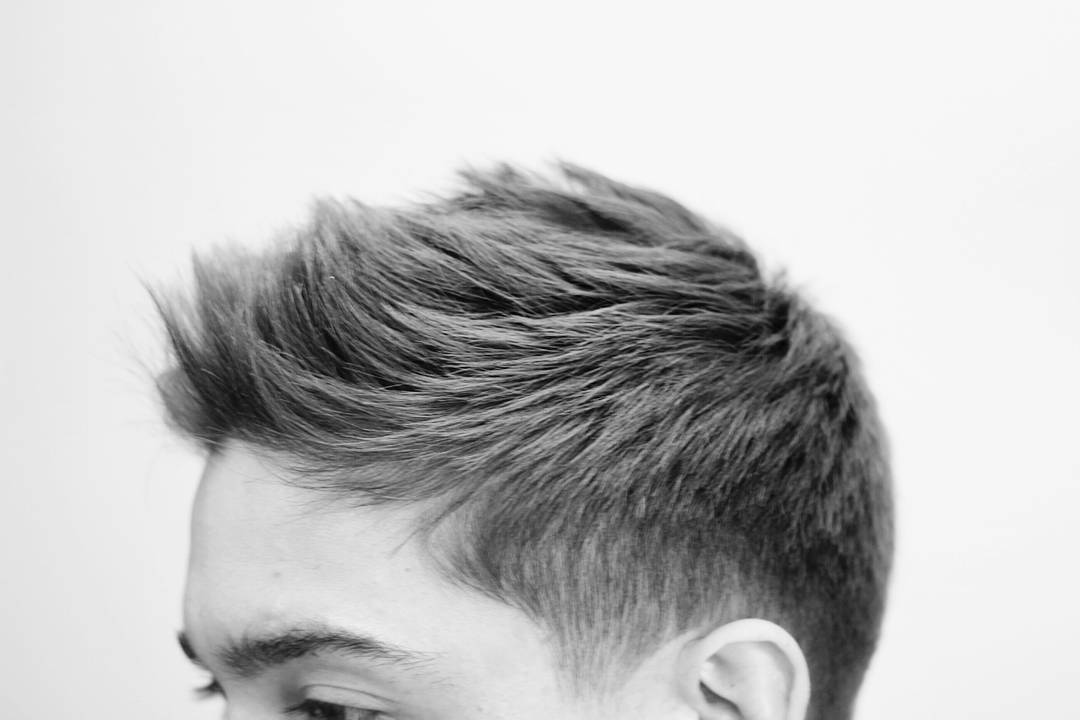 Brian Gutierrez
Spiky texture is one of the best hairstyles for thinning hair. This is for when the scalp is becoming more visible above the forehead but hair is still present. The height and texture reduce the appearance of thinning hair.
Spikes are a flattering look that never go out of style. This cut with a mid fade, short hair at the back and longest at the front works well for thinning hair.
5. Textured Crop with Forward Fringe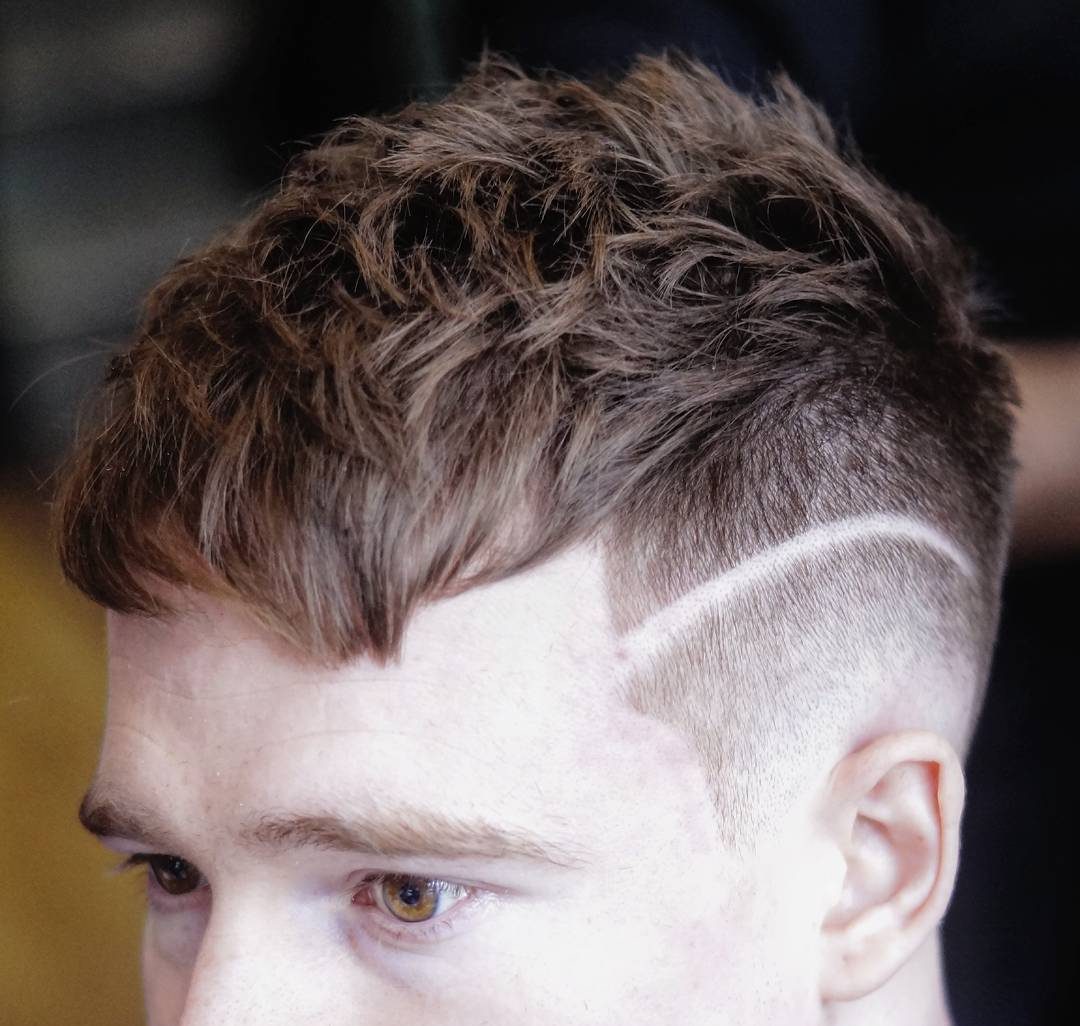 Jack Robinson Pullen
This hot men's hair trend is a modern version of the Caesar cut. With more length and texture, short bangs over the forehead conceal a receding hairline while tousled styling on top works well with thinning hair.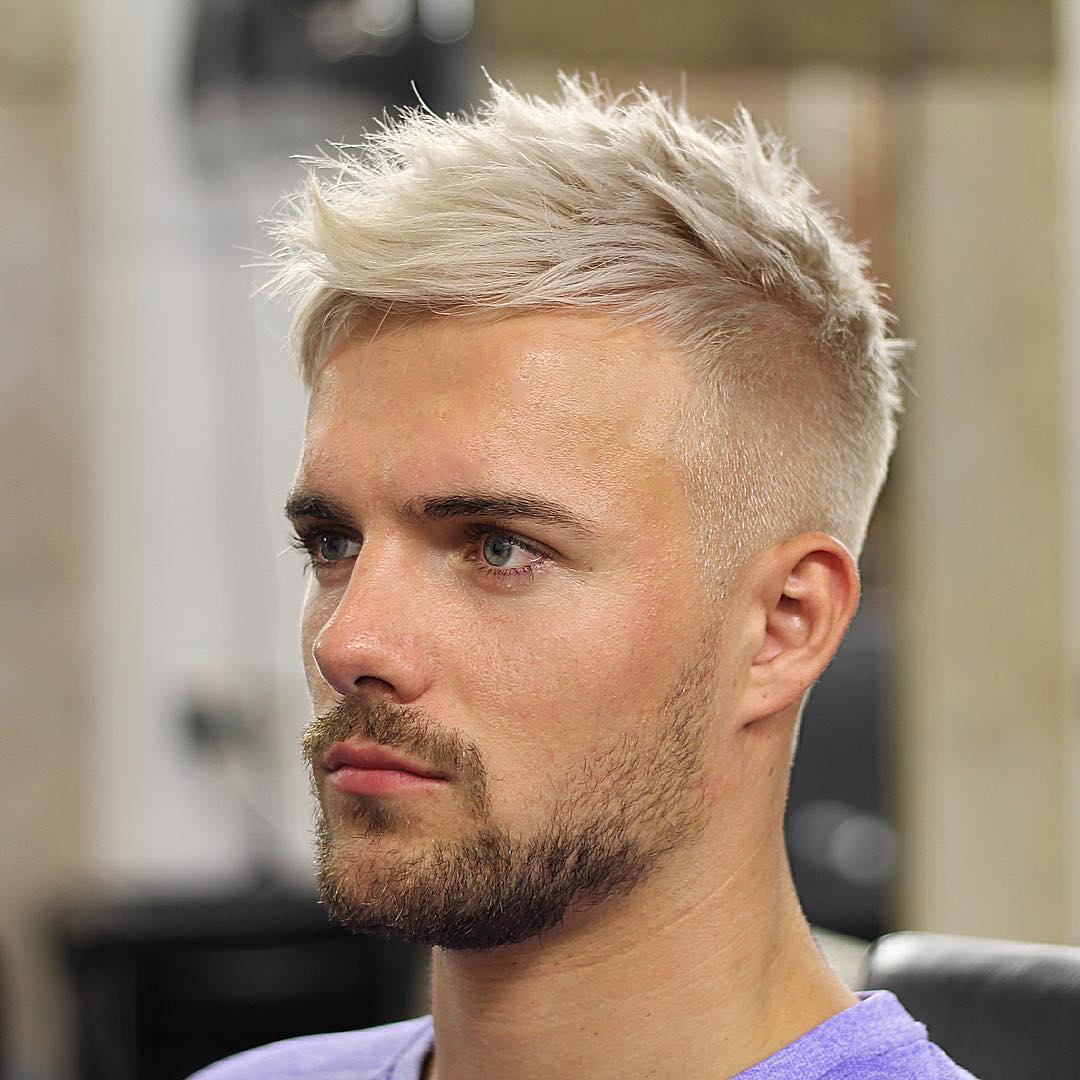 Tom Baxter Hair
The short crop is cut to enhance texture but styling with a salt spray, an alcohol-free gel or lightweight matte pomade.
6. The Steve McQueen Haircut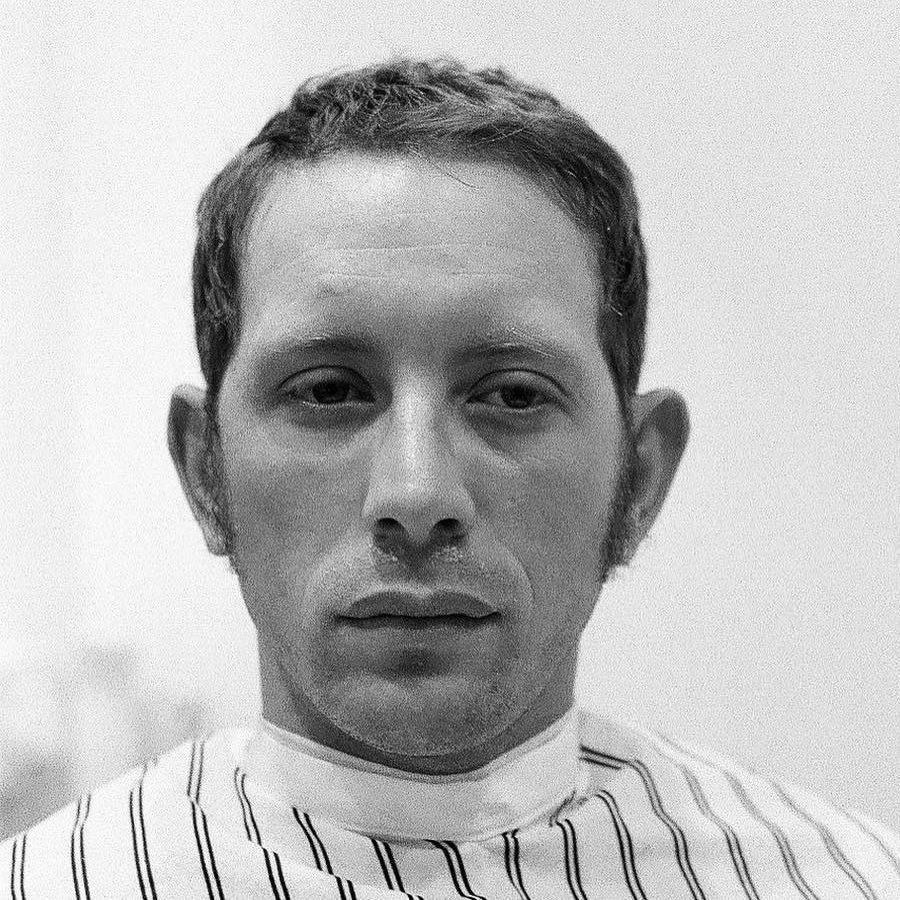 Andrew Does Hair
The Steve McQueen haircut is essentially a longer version of the buzz. Hair is essentially the same length all over, perhaps with a touch more length at the forehead. It's a good cut for type II and type III pattern baldness, when the hairline becomes an M-shape but hair is still thick elsewhere.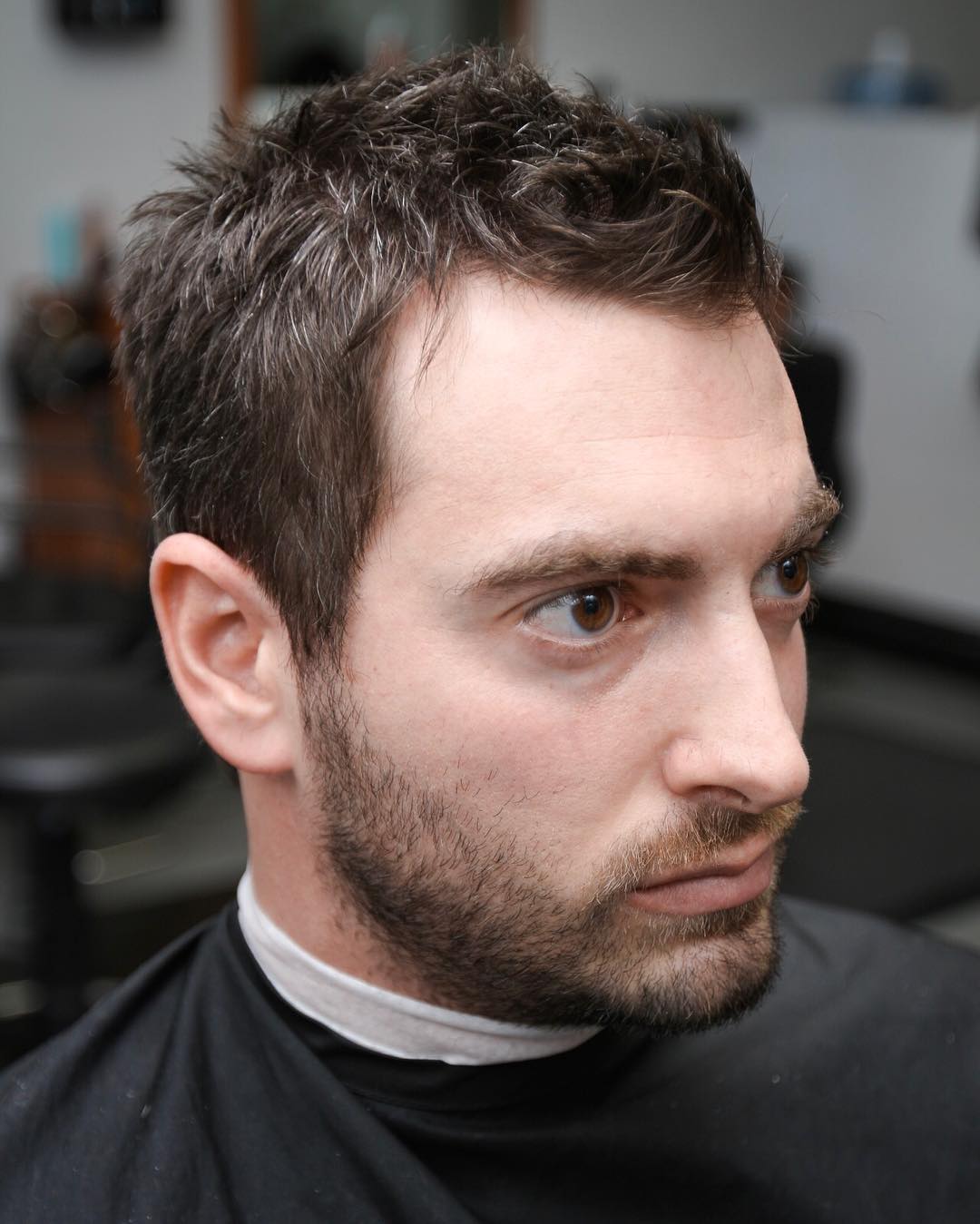 Andrew Does Hair
This haircut also works with a bald spot at the crown as long as hair is thinned around the area to blend well. Style this cut with a lightweight paste to add some height and volume for fuller looking hair.
7. Crewcut or 8. High and Tight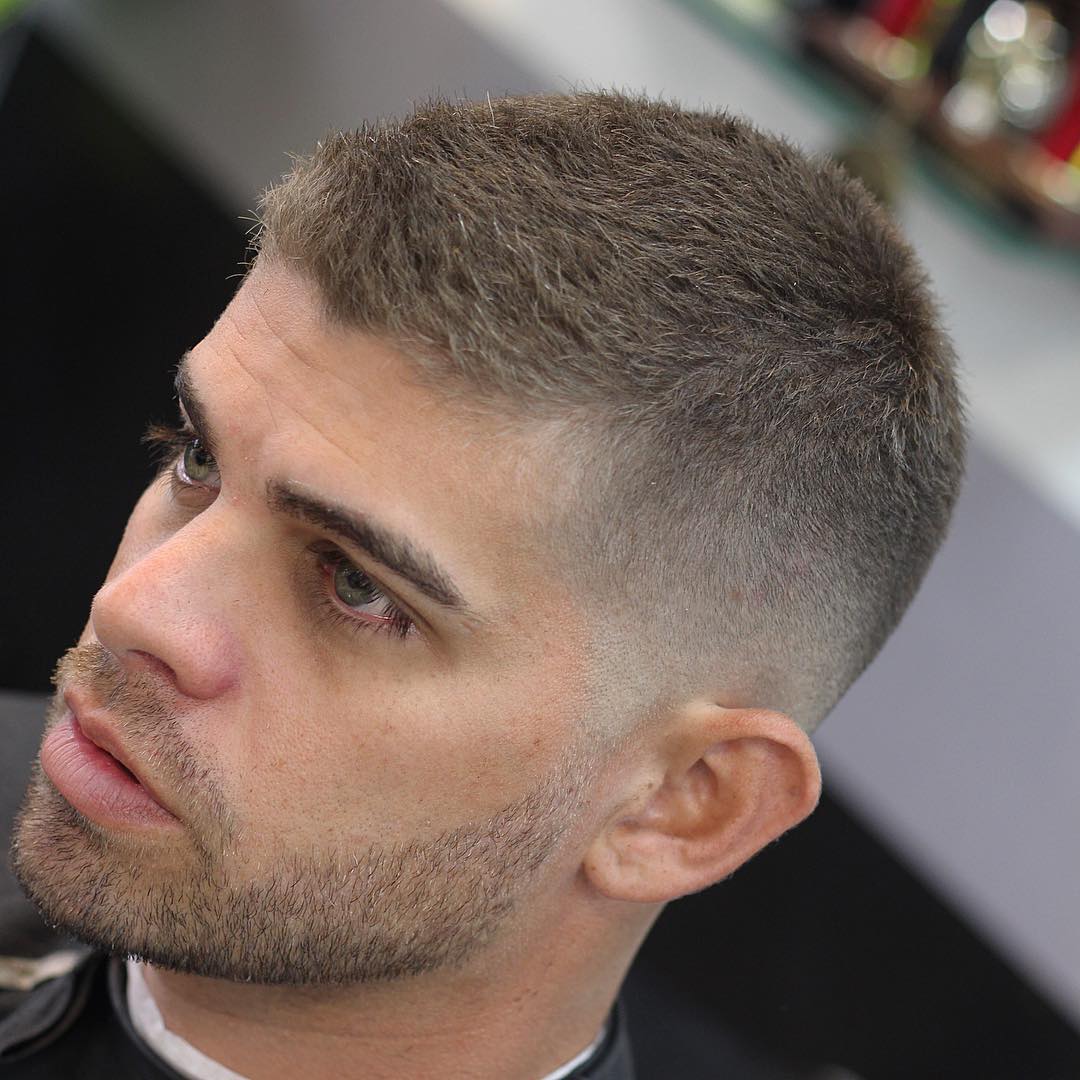 Mr. Fine Line
Shorter haircuts de-emphasize thinning hair. The military crew cut and shorter high and tight are flattering because the shaved sides make hair on top seem fuller. For bald spots at the crown, this cut should be cut very short so it blends with thinner hair.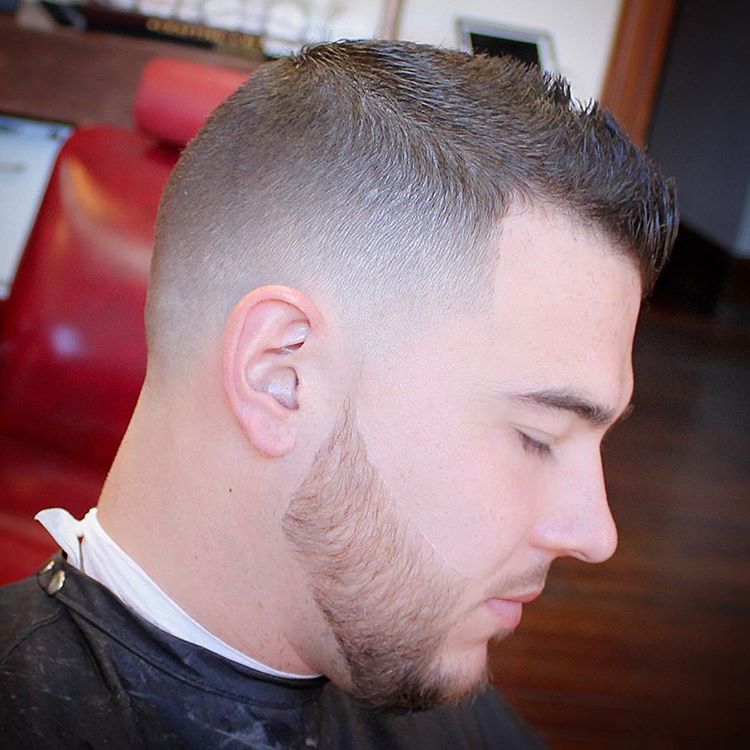 Al Uppercut
While styling isn't required, a touch of product can add volume texture.
9. Buzz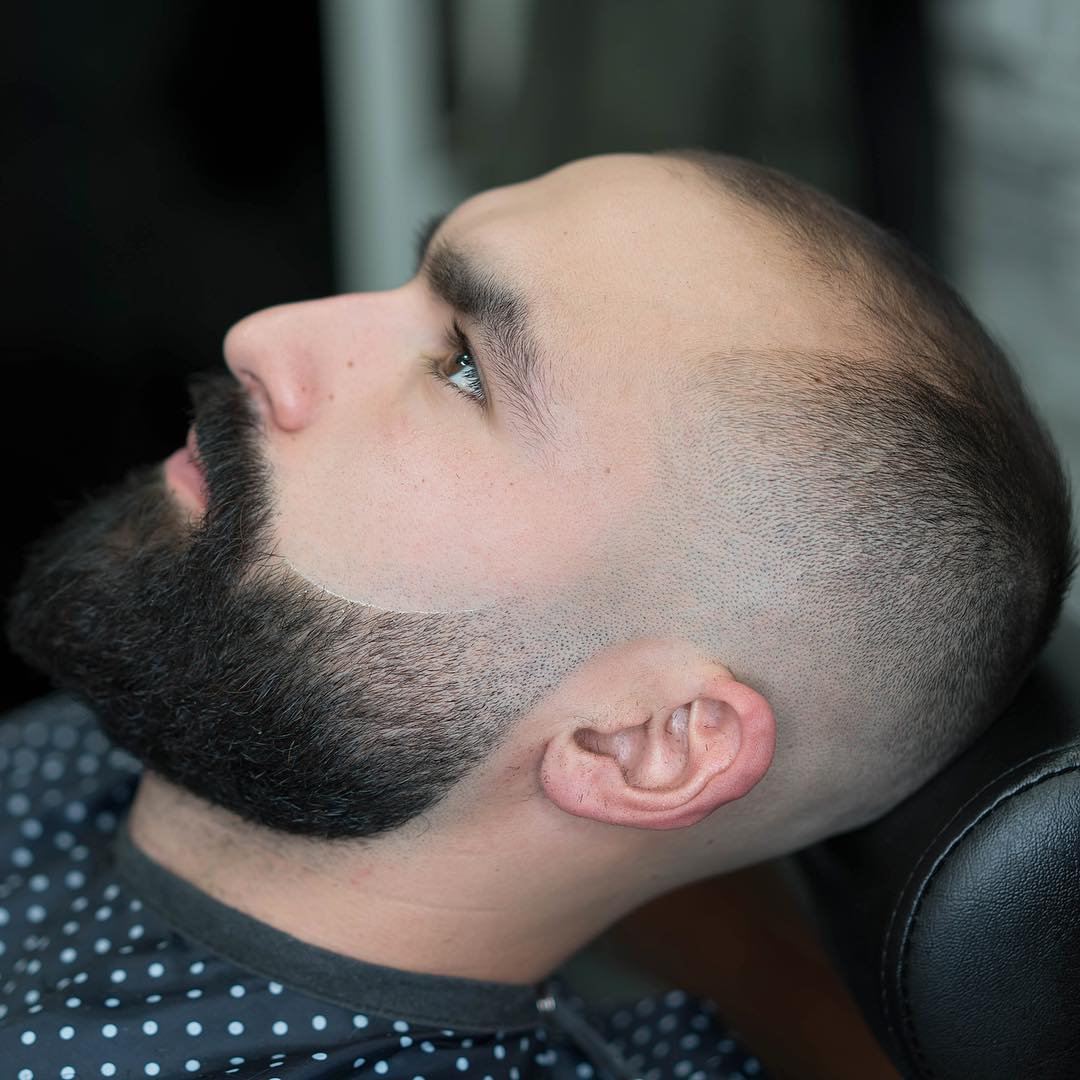 Russ the Barber
Once hair recedes to a certain stage, the buzz cut is the best choice to maintain some hair. The best buzz for balding men is one length all over (if you want to do it yourself) or slightly longer at the sides on the top, but no so much that thinning hair is emphasized.
10. Bald + Beard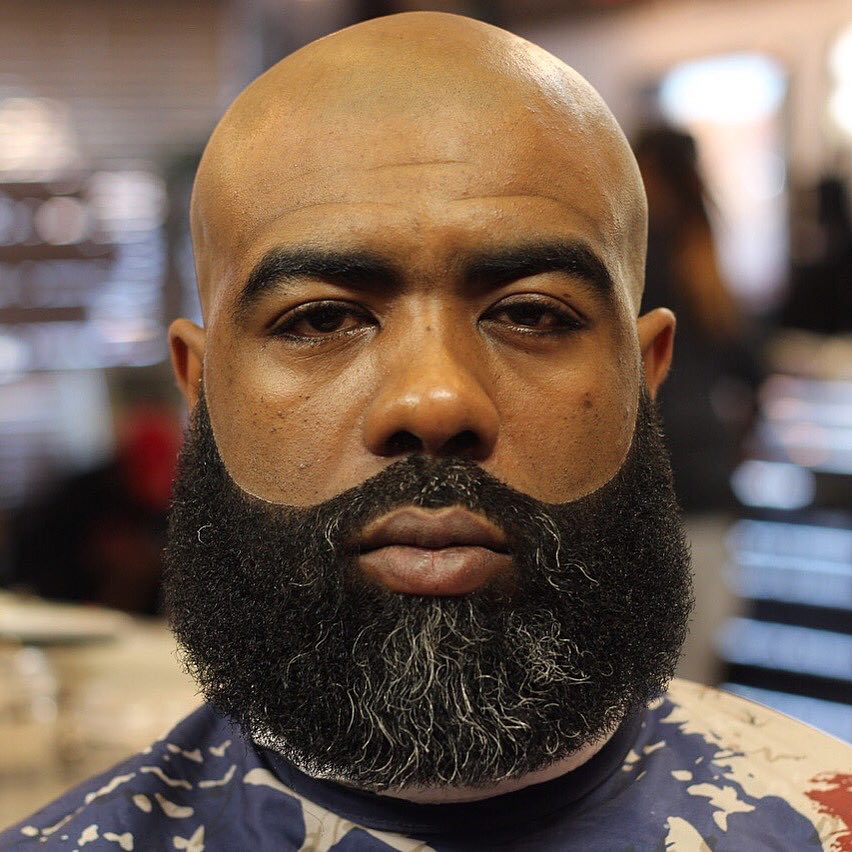 Wizzy da Barber
The full on head shave is an attractive look for a lot of men. It works on it's own but is even better with some facial hair, whether it's stubble or a full beard. Keep facial hair looking it's best with a beard oil or beard balm and brush.
If you're going for the chrome dome, pay some attention to brow grooming, because they will become a focal point.
This post may contain affiliate links. Please read our disclosure for more info.
Sours: https://www.menshairstyletrends.com/hairstyles-for-balding-men/
FLAWLESS BALD FADE HAIRCUT (BARBER TUTORIAL)
A modern undercut haircut mimics the structures of the pompadour and quiff and recreates them for a modern era. Instead of a gradual, faded transition to long hair on top, the key feature of the undercut hairstyle is the sharp contrast between shaved sides and the voluminous top. Undercut hairstyles for men are guaranteed to never go out of fashion. Despite not being a standard haircut on its own, the undercut is rather an important detail that can upgrade your whole hairstyle. Many celebrities are already rocking such cuts: Justin Timberlake, Brad Pitt and David Beckham and many others. Maybe it's time for you to do that, too? Scroll down to get inspired!
Shorter Options
Shorter undercuts include layered ones, taper fade ones, undercuts with spiky hair and high skin fade and many other options. All these haircuts look very modern and trendy, so you may choose nay of them, besides they don't require much styling.
a layered undercut is classics with a refined feel and much texture at the same time
a taper fade undercut is one of current favorites, the transition between lengths is very soft
a spiky hair undercut looks impressive but you'll have to style your hair each time
a short undercut with high skin fade is an ultra-modern option that requires some styling with a dryer
a messy undercut haircut is a chic idea with much texture and is very easy to style
Longer Options
Longer ideas are combovers, side swept undercuts, various faded options and long bangs and fringes. You may style them differently and change a detail from time to time getting a totally new look. Enjoy!
a combover undercut hairstyle is a tasteful idea adapted to modern trends
a faded undercut haircut with long hair styled back and to the side plus a trendy beard
a high skin fade undercut is bold and unique idea but you'll have to style it with a blow dryer
a long fringe side swept undercut haircut looks natural and tapered sides look softer
a medium length undercut haircut is a balanced style with many styling options to try
a side swept undercut looks veyr dapper and very modern, you may style it easily
a top knot undercut haircut is a bold hipster idea that will sharpen your look
a undercut with thick wavy hair looks neat on top and bold thanks to the fade
an undercut with long bangs is a cool alternative for those who love longer hair with a bit of styling
Sours: https://www.styleoholic.com/undercut-haircuts-for-men/
Haircuts mens bold
50 Classy Haircuts and Hairstyles for Balding Men
Hairstyles for balding men may sound like a sore subject, but as Hollywood has shown, even the hottest heartthrobs are not immune to hair loss. From athletes to actors, they have a leg up on the everyday man because their stylists have figured out how to keep them looking their best.
Best Hairstyles for Balding Men in 2021
Now you can steal their secrets – check out the men's haircuts below!
1. Short Combover with Temple Fade
The combover is the easiest style to achieve among haircuts for balding men. It is also versatile enough to come in a wide range of styles and lengths. Here is an illustration of how to style a shorter look. The sides are faded, while the top part is shorn for a clean look, then swept over to one side. This fills out the receding hairline, while the facial hair complements the look by balancing the cut.
2. Fashionable Style for Receding Hairline
The reason this haircut looks so great — and it does look really, really great — is because of the short spikes brushed forward. The styling is done in a way that is noticeable but not too stiff. To master the look, you need the right product. Get a texturizing cream and a hairspray with light hold.
3. Messy Side Part
Looking for balding men's hairstyles that will help you to preserve a youthful vibe, even when you're past your prime? Check out the 'before' and 'after' pics here: in the first one, the model could easily be someone's grandpa, whereas in the second one, he looks like your cool, bohemian literature teacher, who you want to hang out for coffee with. His style is simple: a medium length cut with a deep side part, complemented by tapered sideburns, and the frontal section of the hair is swept up and away from the face.
4. Balding Fade Haircut
This is one of the haircuts for balding men that won't hide a receding hairline, but that's okay. You don't have to worry about hiding anything as long as the cut is flattering, which this definitely is. The styling is kept smooth. Clean lines are cut at the temples and beard, giving structure to the look.
5. Short Mohawk with Shaved Sides
Got a square face? Then you can draw focus to your jaw, away from your thinning hair, by playing up the facial hair. This guy chose a trimmed beard, complemented by shaved sides with a demure short mohawk at the top. And he nails it?
6. Sleek Combover Razor Fade
Use a deep part where your hairline is thinning to create a cool and dramatic hairstyle. A tight fade around the ears will complement its contemporary appeal. Comb overs aren't always their stereotype. This goes to show just how young they can look.
7. Skin Fade with Choppy Spiky Top
Want to go a little punk? Spiked tresses not only look cool, but they give volume to the bald haircut. The fullness will detract from any areas that are thinning. Plus, they work for younger guys with premature balding.
8. Receding Hairline Shaved Haircut
Texture is the best way to make hair look like it has more body than it actually does. Take advantage of the length you have to show off some wavy locks. Opt for a fade to frame the longer section, so that it isn't apparent that your hairline is receding.
9. High and Tight with Facial Hair
This classic military cut is great at covering up thin hair. You don't have to commit to completely shaving everything off. Plus, you can tie the look together with a scruffy beard that helps to define the jawline. It's important to emphasize the features you like.
10. Sculpted Slicked Back Hairstyle with Shaved Sides
The retro-inspired pompadour is iconic, and the extra height it gives you draws the focus off the areas that are thinning. The bald hairstyle is sleek; and after decades of being a barber shop go-to, it still feels fresh.
11. Gradient Grey Crew Cut
Going grey? There is no need to feel pressure to do a dye job. In fact, do quite the contrary and embrace it. When the grey is shaved around the back and kept longer on top, it creates a natural, gradient effect that people would pay good money for. Plus, the lighter color helps to camouflage any sparseness.
12. Neat Extra Short Fade
Keep your look clean. Shaggy hair that is unkempt is only going to exaggerate any balding. A short crew cut and tapering around the ears feature sleek lines. A side part adds to the svelte vibes that this balding hairstyle evokes.
13. Long Combover with Low Fade
When your hair starts to thin, don't automatically abandon ship. Take care of the length you do have. Make sure to hydrate your tresses and keep them healthy. By doing so, you ensure your comb over will have some sheen to it.
14. High Skin Fade and Long Beard
Grow out a full and long beard if you are missing the strands on your head. Plus, a well-groomed beard is a lot more impressive than a head full of hair. Hairstyles for balding men don't have to be limited. Something like a bald fade can add contrast to the fullness of the beard and look handsome.
15. Tapered Cut with Pomp for Fine Hair
Maintain your look young and cool with some clean lines. Get a good pomade or mousse to slick your strands back. Sometimes all you need is some product to transform your balding hairstyle. Lightweight products, if chosen right, may give your hair the illusion of thickness, which anyone who is going bald is probably craving.
16. Grey High and Tight with Beard
Good balding hairstyles can accentuate your bone structure, regardless of age. To try it for yourself, go clean with a high-and-tight and grow a beard with its lines running parallel to your cheek bones accentuating your strong jaw line. If you feel like your jawbone is a little rounder, facial hair is great for sculpting a more square shape.
17. Skin Fade Plus Facial Hair for Balding Men
A fade down to the skin is ultra masculine and works for any man, whether you're younger or more mature. It's best with a fuller beard, because it prevents your hairstyle from feeling too overwhelming. It's smart to pick what you want the focus of your total look to be.
18. Combover with Accurate Side Part and Facial Hairstyle
A comb over can channel professional vibes too. Hold yours in place with a light gel so that you can go through your day with a perfect groomed hairstyle. Haircuts for balding men are often completed well with a full beard for a look with some edge.
19. Dapper Quiff and Taper Fade
A short crew cut is a classic that matches an array of personality types. Grow the top out slightly longer so you can comb it over to discreetly cover up the receding hairline. Between the beard and the stylish tapering, no one will notice the balding.
20. Brushed Forward Hairstyle with Mid Skin Fade
If you're experiencing a balding crown, grow the top of your hair slightly and brush it forwards. It creates certain sleekness. And the lack of tresses works to your advantage, since too much volume could potentially take away from the svelte vibes.
21. Diagonal Fade for Receding Hairline
A diagonal fade, cut close to the skin around the sides and a tad longer at the nape maximizes the strands you have while diverting attention away from your thinning areas. Haircuts for balding crowns are successful when they don't force covering up bald spots, but focus on the geometry of the cut.
22. Short Chopped and Shaved Cut
Give your cut some texture with cool spikes on top. It's a modern contrast to the tight skin fade and angular beard. The mix of messy and polished is a refreshing juxtaposition that effortlessly delivers style.
23. Artsy Half-Shaved Spiky Cut
If you're the type that's more drawn to whimsical and artsy style, then you should try this contemporary take on the mohawk. The undercut keeps things tame while the spiked-up crown is cool and dramatic. Ground the look with a neatly groomed beard.
24. Chiseled Taper Fade with Pompadour
Haircuts for thinning hair males often include different versions of the pompadour. It's an easy fix for thin hair; it instantly gives your tresses a boost of volume. Adding dry shampoo and some gel can further enhance the fullness of the coif, while a side part and sleek angles keep the look polished and refined.
25. Classic Combover for Balding Men
For the less adventurous but equally fashion-conscious, a neatly groomed combover is the failsafe of all the haircuts for receding hairline. The cut is joined with the beard for a sense of uniformity throughout. The key to avoiding combover-cheesiness is to keep it natural-looking. This version is totally successful in that regard.
26. Undercut with Beard and Handlebar Mustache
Don't be afraid of being expressive with your haircut. Add subtle layers to the combover so that it has some movement to it. And opt for a handlebar mustache to channel retro vibes. It's a quirky combo that also works well with balding hair.
27. Short Cut with Longer Beard
If you are really into masculine style, a full beard is the way to go. It's a burly look that goes well with a short cut up top. The hair in front can be brushed forward to cover up any thinning areas. Go back in with some product and tousle the strands a bit for extra texture that complements the beard and its macho vibes.
28. Ivy League for Balding Men
This is a simple hairstyle for men that will never go out of use. Unlike some haircuts, this does not call attention to the hairline. Plus, if you are experiencing balding on the crown as well, this haircut may also work for you. Just make it shorter.
29. Tidy Short Cut with Low Skin Fade
Sometimes, you just want to make things simple. Keep it short and moisturized, and it's a super easy and low key style to maintain for someone who is looking for something fuss free. Simpler male pattern baldness hairstyles give you more time to focus on other important things.
30. Slick Pompadour with Fade
Pompadours can work very well with higher hairlines. One thing that keeps the shape balanced is the quiff styled with the envious pompadour height; and the receding hairline in this relation only plays up to the Mohawk look of this stylish fade undercut.
31. Perfect Ivy League for Receding Hairline
The simple Ivy League haircut will always be a classic style. It's a go-to option for any man, including balding guys. To create the illusion of a more uniform hairline, try brushing the hair to the side but do not slick it down.
32. Slicked Hair with Side Part
If you're looking for a bald haircut that doesn't sacrifice on style, try embracing a retro look. This high and tight cut features a natural side part straight out from bygone decades. It's a great alternative to the front flip up inherent to most modern styles. A handlebar mustache for the win!
33. Blonde Hairstyle with Skin Fade
With blonde hair a receding hairline is much less evident. Get a spiky top and use gel or mousse to get a cool spiked effect. Opt for a high fade that blurs your hairline, and you will forget about the problem.
34. Ivy League with Long Side Part
Losing your hair might not sound sexy, but that doesn't mean hairstyles for balding men can't be. Get a sleek Ivy League and you'll be sure to exude confidence. You can't lose with a clean side part and slicked-back quiff.
35. Slicked Back High Fade
For balding hairstyles that don't require much upkeep, try something that will let you wash and go every morning. The evenly tapered top of this haircut works well for brushed back hair. It's a style that will be easy to recreate each morning.
36. Messy High and Tight
Hairstyles for men with thin hair might seem limited to looks with lots of gel or super strategic styling, but that isn't always true. Case in point: this get-up-and-go version of the high and tight is cool and casual. The choppiness at the top gives you the texture and volume you're missing, while the tapered fade makes your thinner areas hardly noticeable.
37. Crew Cut with Mustache and Goatee
A quirkier take on the crew cut, this style brings wispy strands forward to cover up your problem areas while maintaining polish. But the look is not complete without a handlebar mustache and goatee. These additions bring personality into play. Your whole look isn't just defined by the hair on your head, or lack thereof, but rather, the whole package.
38. Spiky Crew Cut
Spiky dos are a good solution for thinning strands because they give more substance to your look that covers up some of the scalp showing through. To further enhance the fullness, try a dry shampoo or a texturizer. These powdered products work by clinging to the individual strands to create an allusion of thickening.
39. Messy Side Trim
So, what do you do when you're going bald and gray at the same time? How do you maintain a youthful, trendy look? You can try this style, where the graying sides have been trimmed short, with the sideburns blending into a hip facial hair pattern. The transformation is amazing – we see that the cut adds structure and thickness to the man's hairstyle.
40. High Fade with Beard
There is a variety of hairstyles for balding men. One of the best is the high and tight cut, where a fade (or an undercut) starts high up on the head (at the corners of your forehead). You don't want to weigh down thinning hair, so try combing it into place when it is wet, using little or no product.
41. Slicked Back Hairstyle
For receding hairline haircuts that go well with a full beard, don't get your hair cut too short. Keeping a few extra inches on top balances out a long beard. Plus, if you have thinner hair, you'll want your top layers to overlay the back, giving the illusion of fuller hair.
42. The Slicked-up Combover
As far as hairstyles for balding men go, the combover has been around forever. Even if your dad and uncle sports it, it doesn't really mean it looks too good. But now comes this modern update on the style, and it's ready to rock your world. It features an undercut that reaches almost all the way uptop, which almost turns this look into an adult version of the mohawk — with just some pomade added for a sleeker look.
43. Messy Fauxhawk with High Fade
Here's how you, too, can achieve this look, which will take the focus away from your thinning hair. Get the sides sheared short and faded to the point where the areas around your ears are shaved. The trim for the central top part can be choppy – it will look great when you sweep it upward.
44. Side Part with High Fade
This is one of the best looks for guys with thinning hair and a long face. It's complex, so you're going to need a good stylist and barber. The hair is trimmed with great precision and faded, both on the sides and back, as well as seamlessly blended with the facial hairstyle through the sideburns. The top section with the distinct side part is slicked to the side with quite a lot of product.
45. Tapered Haircut for Older Men
This is a good look for aging men, whose hair has started to grow white. A tapered haircut is classic. It allows to keep the hair on the sides as short as you need. Comb the top over to one side and complement the style with a longer trimmed goatee.
46. Stylish Backswept Hairstyle
David Beckham is never a sore sight, but as he ages, he has added a bit of scruff to his look to draw attention away from thinning hair up top. Slick your hair back with a light lift at the roots and allow stubble to grow for a few days – you'll look rugged instead of lacking!
Joe Seer / Shutterstock.com
47. Edgy Cut for Men with Thinning Hair
Go back to your middle school days with this fun disheveled look. Simply use your favorite old school styling gel to spike hair up and to the side. Again, as with many of today's modern male looks – having some scruff on the face makes this hairstyle less junior high but more masculine instead.
Helga Esteb / Shutterstock.com
48. Adding Height
Draw attention away from thinning hair by adding body and texture on top. Brush the hair up away from the forehead and hold in place with styling gel.
Jaguar PS / Shutterstock.com
49. Simple Hairstyle for Receding Hairline
Dying your hair a natural lighter color, such as blonde, gray or white can make hair loss look less obvious. This is a great trick for older men who aren't ready to go fully gray naturally or would like to take back control of their thinning hair situation. Back brushing the hair also adds some volume.
Andrea Raffin / Shutterstock.com
50. Extra Short Mohawk Style
Shave the sides to bring more attention to the fuller hair up top, or make it a practice to wear some flashier clothing like is exemplified by this recent shot of Tom Sizemore at a movie premiere. With a hot pink shirt and carefully coifed hair, no one would even think about a potentially thinning 'do.
Jaguar PS / Shutterstock.com
These are just some of the hairstyles for balding men when you're looking for options. For any issue, be it balding or anything else, the best thing you can do is staying confident. With a winning smile and a great outlook, you will remain attractive to anyone regardless of your current hair situation.
Sours: https://therighthairstyles.com/hairstyles-for-balding-men/
The Best Haircut for Balding Men - CxBB VIP
YULIA. (on the alert, measuring her husband with a watchful gaze, apparently not the first slip of the tongue):. ex-wife.
You will also like:
The first fuse went away, and I just gave them a harmless, but rather painful, slap in the face. Under the influence of such weighty arguments, Kalnins and Berzins were forced to agree with me and promise that they would not do this anymore. Leaving Berzins at. The entrance to wait for the ambulance, I threw Kalninsha into the passenger seat, and threatening to break my other arm, ordered to show the way.
We found the right lane pretty quickly.
328
329
330
331
332