Free Excel Leave Tracker Template (Updated for 2021)
One of my teammates has the responsibility of creating a leave tracker template in Excel for the entire team. This tracker template is then used to track vacations/holidays and planned leaves of the team members.
Till now, she used a simple Gantt chart in Excel but wanted something better with more functionalities.
So, I created this Excel Leave Tracker Template to make leaves management easy and track monthly and annual leaves by her team members.
You can also use this as a vacation tracker template or student attendance tracker if you want.
Excel Leave Tracker Template
This Excel Leave Tracker template can be used to record and monitor employee leaves for a year (of a financial year where you can choose the starting month of the year).
You can track 10 different leave codes for an employee – vacation leaves, sick leaves, maternity/paternity leaves, casual leave tracking, leave in lieu of overtime, and half days, etc.
It also provides a monthly and yearly total of different types of leaves that can be helpful in project planning and leave management.
It uses a bit of conditional formatting, a few DATE functions, array formulas, and a simple VBA code.
Download the Excel Leave Tracker Template (tracking for 20 employees/people)
Looking for the Google Sheets version of this Leave Tracker Template? Click here!
How this Excel Leave Tracker Template Works?
Use the triangle icons next to the month name to move to the next/previous month (the template updates itself to show the dates for the selected month). There is a short VBA code that runs in the background whenever you change the month. It shows you the selected month only and hides all the other months.
This Excel template can be used to track leaves for over a year. You can select a start month and can track leaves for a year. For example, if you follow the April-March cycle, select April 2021 as the starting month.

Note: The value in cell A1 is to change the time period of the leave tracker ONLY. DO NOT use Cell A1 to move to the next month while recording leaves. Use the triangle icons next to the month names to go to the next/previous month and mark leaves.

You can specify the working days and non-working days (Weekends). At the right of the leave tracker, there is functionality to specify the working days by selecting Yes from the drop-down. If you select No, that day is marked as a non-working day in the leave tracker.

As soon as you specify the non-working days, those weekdays get highlighted in gray color in the leave tracker.
You can update the holiday list in the worksheet named "Holiday List". It will automatically be reflected in the tracker by highlighting those days in Orange color.
To enter the leave record for employees, use the relevant codes based on the leave type (you can customize these leave codes). For example, in the case of sick leave, use S, in the case of Vacation, use V, as so on.

There are two codes reserved for half-day leaves. you can enter H1 or H2 for a half-day leave.
As soon as you enter the leave code for any employee, it gets highlighted in red (in the case of half-day, it gets highlighted in yellow). If that day is a weekend or holiday, the color would not change.

Column NJ (highlighted in green in the pic below) has the number of leaves of that employee in that month. It counts the leaves on working days only (those on weekends and/or holidays are not counted). Half-day leaves are counted as 0.5.
UPDATED: Column NK (highlighted in light red in the pic below) has the number of annual leaves taken by an employee. It counts the leaves on working days only (those on weekends and/or holidays are not counted). Half-day leaves are counted as 0.5.
Columns NL to NU gives the leave break-up by leave code (for the entire year). This could be helpful to keep a track of the type of leave that has been availed. Note that while Half Leaves are counted as .5 leaves in the total count, in the leave break-up, it is counted as whole numbers. For example, 2 half leaves would lead to 1 leave count, but you'll see two half leaves in the leave breakup.
I have created this leave/attendance tracker template for 20 employees. If you want to add more, just copy-paste the formatting and formulas for additional rows.
Also, since there is a VBA code involved, make sure you always save it with .xls or .xlsm extension.
Download the Leave Tracker Template
Note: To update this template for any year, simply change the year value in cell A2. For example, to make it for 2017, just change the value in A2 to 2017. Also, you need to update the holiday list for the specified year.
The download file is completely unlocked so you can customize it to your needs.
Here is another version of the template that can track leaves for 50 employees.
Want to learn how to create awesome templates and dashboards? Check out the Excel Dashboard Course
FAQs on using this Leave Tracker Template
Since I created this vacation/leave tracker, I have been inundated with emails and comments. What you see now is a refined version that has been possible due to all the feedback that I have got.
Based on the questions I get repeatedly, I have created this FAQ section so that you can get an answer faster (instead of waiting for me to respond).
Here are the most common questions I get about the Leave tracker template: Q: I tried downloading the file but it downloaded as a zip. How do I use it? A: I have fixed this issue, and now you should be able to download the Excel file directly. Q: When I change the month, the exiting leaves are reflected in the changed month as well. A: This happens when you use cell A1 to change the month. You need to use the arrow icons to change months. Cell A1 is to be used only to set the starting month of the calendar. For example, if you want the calendar to start from April, make cell A1 value 4. Now to move to March, use the triangle icons. Q: I need to track multiple years of leaves. Do I need to create a new worksheet for each year (financial year)? A: Yes! This leave tracker can only track leaves for a 12 month period. You need to create a copy for each year. Q: Can I use my own leave codes? A: Yes! You can change the leave code in cells NX8:NX17. You also need to specify the same code in cells NL5:NU5. For example, if you change the Work from Home leave code to X, you also need to change it in NR5.
I hope you find this leave/vacation tracker helpful.
Are there any other areas where you think an Excel template could be helpful? I am hungry for ideas and you are my gold mine. Do share your thoughts in the comments section 🙂
Related Excel Project Management Tutorials and Templates:
Sours: https://trumpexcel.com/excel-leave-tracker/
How to Create an Excel Vacation Calendar for Employees
Reading Time:5minutes
The pillar of every organization lies in its people. That's why employee management is, and it will be, the priority of every company who wants to succeed and survive in, already overcrowded, market. 
However, in recent years seems like employees are not willing to be satisfied with a decent salary and a "challenging" set of responsibilities which will upskill them, improving their worth on the job market. Employees want more, besides standard offers such health insurance and retirement plans are. They are not willing to sacrifice their well-being anymore to climb the corporate ladder. Employees are not willing to compromise – they've learned to know their worth.
All of this came as a challenge to many businesses and they had to step up their game. Offering perks such as unlimited PTO policy, remote work and office snacks followed by casual Fridays seem to do the job. However, introducing them to the workplace didn't come without its challenges. 
That's why we wanted to talk about what kind of problems may arise if companies fail to track vacation days and stay updated on their vacation policy, as well as how to create an excel vacation calendar for employees to manage their leave in a better and more efficient way.
What can happen if you don't track your employee's vacation days?
Company will lose money. Employees who don't track employee's days off properly will have to pay the unused vacation days which can make a serious impact on their budget. We're sure many employers would love to use the perk of "use it or lose it" policy, however, this policy doesn't stand in most countries.
However, one less obvious thing is that companies can lose their employees too, which can have a grave impact on the company's budget. Some studies suggest that replacing an employee can cost 6 to 9 months' salary on average. To cut the costs of employee's retention, companies should work towards having a solid leave tracking system which will enable them to avoid employee burnout and increase their motivation and engagement.
That's why we decided to help out and share some tips on how to create an excel vacation calendar for employees and offer you some useful tools to use.
Excel vacation calendar can be a good solution for small to mid-sized businesses who don't want to (or don't have enough budget) for more refined leave tracking software. Even though you can make an excel vacation calendar for employees from scratch, you can also use a premade template from Excel as well. Then you can add some changes and adjust it to your businesses' needs.
To create an Excel vacation calendar you need to:
  Open Microsoft Excel.
  Go to File > New and choose Available Templates.
  Find the Schedules option.
  Pick Business Schedules and select a template which is the best applicable to your business's needs.
  When you choose a template, click Download> Open to open it in Excel and begin editing it.
Different templates have different features. Some of them are a 12-month year in one worksheet, vacation planner, to-do lists, budget, daily schedule, task trackers, etc.
How to edit Excel vacation calendar?
Editing an Excel vacation calendar starts right after you download it. All you need is to pick a cell with the employee's name on it, delete it and type your employee's name instead. Repeat it until you've inserted all your employee's names in the excel vacation calendar. If you run out of rows, you can always add them by clicking the last employee row and then choosing option Insert rows.
However, Excel vacation calendar is not the best solution always.
Companies with a larger number of employees cannot rely solely on Excel vacation calendar to track their employees leave. For companies with more than 20 employees Excel sheet can become a quite messy solution. Further, problems may arise if your company allows half-days off, has a PTO policy and if you have remote workers, part-timers and full-timers.
Vacation Tracker comes as the perfect solution for tracking employee leave from small-sized businesses to enterprises.
We think that tracking employee's leave in Excel calendar is a thing of the past. Technology moves forward and our work became more complex. We didn't want to complicate things anymore and that's why we decided to make an easy-to-use software compatible with a wide range of business models and leave policies. This Slack integration enables managers to approve leave a request in minutes. Furthermore, employees can ask for their vacation, half-day offs and day-offs just by inserting /vacation in their Slack account.
Modifying leave policy to fit different business models is simple: administrators just have to use "Settings page" and choose the model that suits them the most.  The default leave type is "Vacations and Days Off". However, there are all other leave types ranging from a sick day, conference, working remotely, PTO, paternity leave, jury duty and more. What's more, there are up to 9 completely customizable leave types besides vacations and days off.
Managing employee's leave in multiple offices with Vacation Tracker is a snap! Vacation Tracker offers a possibility of different administrators for each office to approve or decline leave request. Additionally, there's a possibility of filtering the calendar and dashboard by teams giving you the info specifically for that team.
Vacation Trackers' chatbot sends managers a daily summary of pending requests as well as the pending reminders about the upcoming vacation. Which comes quite handy – there's no more fear of forgetting the employees you were counting on is on vacation.
Some people like to have all the reports in the paper. That's why we decided to include one more awesome feature in Vacation Tracker. Managers can export reports in CSV files which they can print later!
We want you to be happy with the software you're using!
That's why we decided to offer a deal: you don't have to pay anything until you see how it works. You can sign up for our 14-days trial now and forget about leave tracking struggles once and for all.
Just as Vacation Tracker enables you to prevent burnout among your employees there are some other awesome tools to improve your workplace too!
Culture Amp
Culture Amp enables businesses to improve their employee engagement by letting them understand their workforce. It's considered to be one of the most powerful employee feedback and analytics platforms on the market.
Psychologist and data scientists decided to make an on-demand platform to help businesses make engaging employee feedback program. All that to help out HR in making better decisions and build a strong company culture.
Additionally, Culture Amp enables businesses to compare their employee engagement scores against other companies in the niche and find where they can improve. It relies on sentiment analysis which further enables leaders to understand and assess problems within their organization.
Officevibe
Officevibe, just like Culture Amp, enables businesses to collect insight from their team. That way they're able to identify employee dissatisfaction and areas for improved team's efficiency.
Officevibe sends weekly surveys to employees and further sends reports to managers. We especially love this tool's pool option which has proven to be an awesome asset when it comes to deciding about ongoing projects.
Reward Gateway
Reward Gateway enables tea leaders to provide individual recognition, internal communications, employee benefits, and satisfaction surveys. 
This platform comes with an employee reward system which can be further customized. This includes eCards, social recognition, peer-to-peer nominations, and customized service awards. Reward Gateway has also a platform similar to Facebook which employees to "like" posts and comments social media-style, as well as create user profiles to increase employee visibility.
Reward Gateway allows businesses to create personalized experiences for better employee engagement. For instance, new pages can be created for new recruits, satellite offices, and field works to suit their individual needs.
Qmarkets
Every successful business knows one secret: to succeed in anything you need to have a strong team that communicates well. That's why we should never underestimate the power of proper feedback!
That's why we love so much Qmarkets! This a great tool for improving employee's engagement by giving feedback. Interactive tools such as idea discussions and rating systems enable businesses to include their employees into the decision making process.
Tracking employee leave and their engagement is a serious task for every company. However, there are amazing and easy to use solutions you can find online to improve your business. We tried to offer you the best of the best! We hope you'll use our input to make your workplace an amazing place to be!
Ana Mladenovic
A cat enthusiast and a cupcake maniac, Ana is a freelance Content Writer passionate about HR, productivity, and team management topics. When she's not at her keyboard, you can find Ana in the kitchen, trying to make delicious cookies.
Sours: https://vacationtracker.io/blog/excel-vacation-calendar-for-employees
Many calendar templates are available for use in Microsoft Excel. A template provides a basic calendar layout that you can easily adapt for your needs.
An Excel calendar template may have one or more of these features:
Twelve months in one or separate worksheets.

Thirteen months starting with July or August and ending with July or August of the next year to represent a school year.

Calendar printing on one page or twelve pages (thirteen pages for school year calendars).

Display of weekdays from Sunday to Saturday or from Monday to Sunday.

Portrait or landscape orientation for printed pages.

A ruled column for notes.

A vacation planner.

To-do lists.

Task trackers.

Budget trackers.

Daily schedule tracker.
Download a calendar template:
Browse through the calendar templates, choose an Excel calendar template that is best for you. Click the Download button on the template page, open the template file in Excel, and then edit and save your calendar.
Note: By default, a template file download goes into the Downloads folder on your computer. You may want to copy the template file to a different location so that you can easily find it later.
Need more help?
You can always ask an expert in the Excel Tech Community or get support in the Answers community.
See Also
Create a calendar by using a template
Sours: https://support.microsoft.com/en-us/office/excel-calendar-templates-f2e7ffe9-41fa-4ce5-8278-cf92d3b66340
Create a Team Calendar in Excel
This calendar template is based on our original monthly calendar for Excel. This version includes common U.S. holidays and observances that show up in the calendar automatically when you select a year and start month. You can also enter your own set of birthdays and anniversaries to create a perpetual calendar that you can use year after year.
Advertisement
This template was designed to replace the Perpetual Calendar template. Unlike the perpetual calendar, which allows only up 2 events per day to be displayed in the monthly calendars, this template allows up to 6 per day. The technique used to list events is the same as that used in our new Personal Planner template.
Monthly Calendar with Holidays
for Excel
⤓ Download
For: Excel 2007 or later & Excel for iPad
Also compatible with OpenOffice Calc 4.0+
License: Private Use (not for distribution or resale)
"No installation, no macros - just a simple spreadsheet" - by Jon Wittwer
Manually Editing the Calendar
All of the cells in the calendar contain formulas, however, you can still manually edit the calendar to list events, highlight cells, merge cells across multiple days, etc. When you manually enter text, you will be overwriting the formulas within the calendar, but that is okay. However, after you manually edit the calendars, you shouldn't change the year or start month.
Save a backup copy of the template prior to customizing the calendar so that can start again the following year with all the formulas intact.
Using the Holidays and Events Worksheet
You can enter descriptions and dates the simple way by just typing them into the list in the Events worksheet. Or, you can use formulas similar to those used for the holidays so that your list of birthday and anniversaries will automatically update when you change the year.
Follow the instructions at the top of the Events worksheet when adding your own events.
Note: Some of the formulas used for holidays and observances in this spreadsheet (such as Chinese New Year) are based on a list of known future dates, up through 2030. You could try to update these formulas yourself, or return here in the future when I update the template.
Update 12/29/2015: I've updated the spreadsheet to be compatible with OpenOffice Calc and Excel 2007.
Update 1/6/2017: I added a few UK holidays (bank holidays and Easter Monday). Remember, you can delete the holidays from the list that you don't want to see listed in the calendar.
Monthly Calendar with Moon Phases
(Updated 6/28/2017)
⤓ Download
For: Excel 2007 or later
License
: Private Use
(not for distribution or resale)
Description
This new version includes the four major Moon phases along with the times that they occur (for 2017-2030). See the "Moon" worksheet in the file for details and references.
Monthly Calendar with Large Print
(Updated 12/27/2017)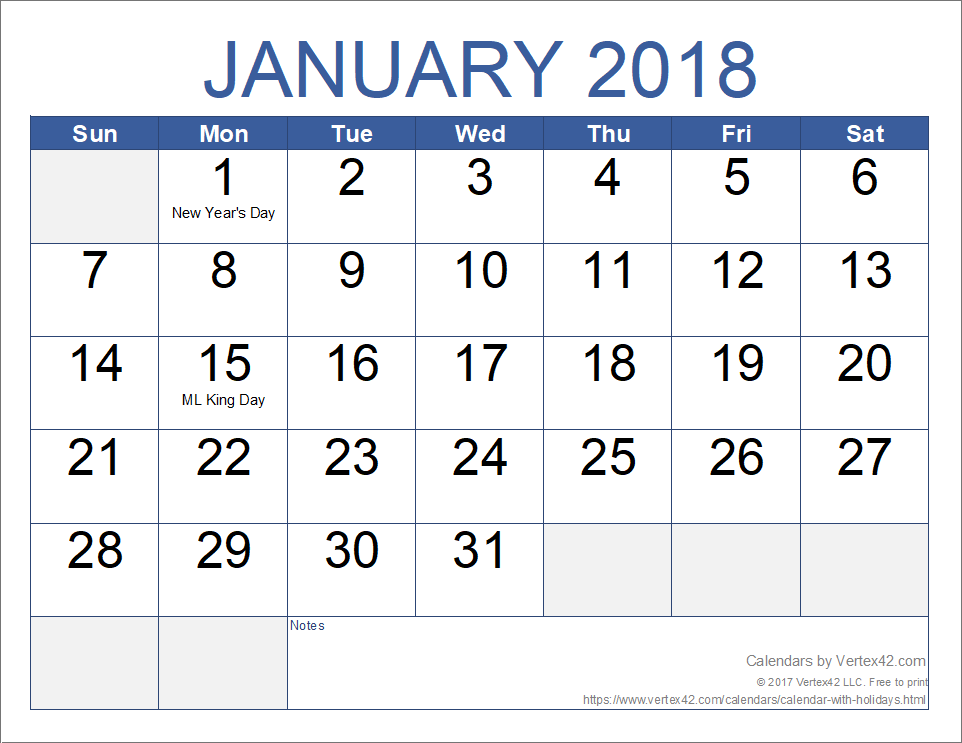 Description
This version was designed for people with some visual impairment. The fonts are all larger, especially the days of the month. It still allows you to list up to two holidays or events per day.
⤓ Download
For: Excel 2010 or later
License: Private Use (not for distribution or resale)
Related Content
Sours: https://www.vertex42.com/calendars/calendar-with-holidays.html
Excel vacation calendar
During this time, their feelings faded away, they did not dislike each other, and this meeting was just a small surprise. It's just a meeting of two people who haven't seen each other for a long time. Misha, tell us about yourself, how you live, how did you settle in this life. - Sveta was really interested in what happened in his life, what he is doing now, where he works and with whom he lives.
TECH-011 - Create a calendar in Excel that automatically updates colors by event category
Lot of pleasure. And now a new call. -Hi Gray.
Now discussing:
Without hesitation, I picked up a broom and kicked him out of the chicken coop. Less than five minutes later, he was already trying to pull off my panties. I relaxed for a second, and that was enough for him to carry out his plan. I don't know where the strength came from in him. But, he managed to press me to the nest, and insert his penis into my pussy.
334
335
336
337
338