Artist Cory Walker Talks Reuniting With Robert Kirkman on Invincible
While The Walking Dead might have just hit issue #150, it's not the only Robert Kirkman-penned comic that's undergoing big changes right now. Invincible just wrapped up a major storyline called "Reboot?" that saw Mark Grayson dragged back to the past and forced to relive the events of the first year of the series.
Robert Kirkman Talks Hope and Betrayal in The Walking Dead #150
Perhaps it's appropriate that now Invincible is paying homage to its past in another way. Original Invincible artist and co-creator Cory Walker is returning to the series for a new six-issue story arc beginning with Invincible #127. It's not the first time Walker has returned to the book he helped define, but it's definitely the most ambitious story he's tackled since his original run. We recently had the chance to talk with Walker via e-mail and learn his thoughts on the enduring appeal of Invincible and what lies ahead for Mark Grayson and his family.
Warning: this interview contains a few spoilers for Invincible #126!
IGN: When you and Robert first launched Invincible 13 years ago, did you have any inkling it would last as long as it has or find the audience it did?
Have you read Invincible?
Walker:
Honestly, I don't really think so, no. What I mean to say is, at the time, there weren't exactly a lot of long-running Image books out there so despite believing in the property and knowing we were doing a cool thing, I just don't think I would have considered that Invincible would still be coming out all these years later. Luckily, though, Ryan Ottley and Kirkman put in the years of hard work telling the stories and creating the world that fans have responded to, making it possible for there to still be a book for me to come back to every now and then when I can.
IGN: What led to the decision for you to return to the series? Were you feeling the itch to dive back into that world?Walker:
Oh, yeah, I'm always itching for it. You know me. I'm a genuine fan of the book and I've always been involved in varying degrees through the years, but as the opportunity began to present itself, this possibility that I could come on and fill-in for a few issues, it was pretty exciting. I have slowly been working on other things and haven't had a comic on stands since I shared art duties with Ryan back on the Flaxan invasion/Rex and Monster Girl story back in Invincible 92-96, so the prospect of putting ANY comics out relatively soon was a sweet enough proposition, but make it Invincible and I can't say no.
IGN: Your previous return to the series was in the form of a shorter story arc that took place away from Earth and revolved mainly around Nolan and Allen. How does this story compare in terms of its scope and focus?Walker:
Oh, things are much different this time around! This is much bigger and more essential, I think. Previously when I had filled in on the book, those stories focused on what are basically supporting characters and the stories themselves were somewhat supplemental to the main arc, I guess. Does any of this sound like I know what I'm saying? I hadn't drawn Mark or Eve in an Invincible comic since Invincible Returns #1 and even then that was just a little back-up/recap story. So now, I'm in here doing primary character/main story stuff in the wake of the Reboot? storyline that's basically setting the stage for the future of the book, and that's a pretty big deal. It's exciting stuff that I'm thrilled to be working on.
IGN: Are there any characters you're especially excited to be working with again?Walker:
It's a real treat to get to draw Mark and Eve again, as well as little Terra. I think I'm most excited about the new characters we're introducing, though. I've got high hopes that they'll make a splash and become fan favorites.
IGN: There are a lot of conflicts brewing in the series right now. What's the general status quo for Mark and his allies as you and Robert kick off this new storyline?Walker:
Well, I can't really say, can I? We've missed out on five years of goings-on up in this Invincible universe and "what's the status quo" really is the question, y'know? What has Thragg been up to? What happens with Nolan and Debbie? Where's Oliver, and why does Allen have two eyes? These are the sort of questions we'll be answering in coming months. It's really the coolest thing about these issues I'm working on, reintroducing characters to the readers after a 5 year gap in time and showing what's changed and what has stayed the same, if anything.
IGN: Would you say your art style has evolved much since the last time you worked on Invincible?Walker:
I don't know. Not much, if at all, probably. I do think though, that if there is a noticeable difference it is because I'm working all-digital whereas in the past I was inking with real pens on real paper at a real desk, etc. So, I dunno. Some things are almost definitely going to come out looking a little weird, as I haven't had any digital sequential work published yet. It will be interesting seeing what worked and what didn't and when I should have maybe zoomed in a little less when inking that tiny figure in the background. Otherwise, though, I don't think anyone is gonna be confusing me for any other artist or anything. It's still the same old Cory Walker nonsense.
IGN: Robert and Ryan just wrapped up the "Reboot?" storyline and had Mark revisit key events from the beginning of the series. How did it feel to see that era of the book come back into play and be reinterpreted through Ryan's eyes?Walker:
It was great seeing Ryan draw all that stuff! I've "joked" with Robert before that he should have Ryan redraw those issues completely. Sadly, I think this is the closest we'll get, but I'll take it.
IGN: How much have you and Robert discussed the future of the series, especially as Invincible starts nearing the 150-issue mark? Could you see yourself returning again to celebrate that milestone?Walker:
Are you kidding?? Sign me up for an Invincible #150 cover and back-up right this second. I'd be seriously upset if the boys left me out of a milestone like that. Robert and I haven't discussed much beyond what's going on in these upcoming issues I'm illustrating, but I know enough to be SUPER excited about where things are going.
IGN: Do you have any other projects in the works you'd like to tease?Walker:
Nahhhhhh. I wish I could tease an Ostrichard comic, but I can't because that's not a thing. Maybe next time!
Jesse is a mild-mannered writer for IGN. Allow him to lend a machete to your intellectual thicket by following @jschedeen on Twitter, or Kicksplode on MyIGN.
Was this article informative?
Sours: https://www.ign.com/articles/2016/01/19/invincible-artist-cory-walker-on-returning-to-mark-graysons-world
cory walker Archives
Invincible: Robert Kirkman Talks "The Boys" Comparison, Series Changes
Even though Amazon Prime's animated adaptation of Robert Kirkman and Cory Walker's Invincible is still a little more than a month away, fans of the comic book series have seen and heard enough to feel confident that Kirkman and his team have kept their promise that the eight-episode season will do right by the source[...]
Invincible: Amazon Prime Releases Official Trailer for Animated Adapt
As excited as we're sure fans of Robert Kirkman and Cory Walker's Invincible are to finally get a chance to check out the official trailer for the upcoming Amazon Prime animated adaptation, we have a feeling Kirkman, Walker, and the rest of the team might be just a smidge more excited First, so they don't have[...]
Invincible and Omni-Man Have Slight Disagreement in New Poster Key Art
It's been a pretty good year so far for fans of Robert Kirkman and Cory Walker's Invincible who are looking forward to Amazon Prime's upcoming animated adaptation Recently, viewers were treated to a preview of Mark Hamill's Art along with the big reveal that the series will premiere on Friday, March 26, with 3 episodes- followed by[...]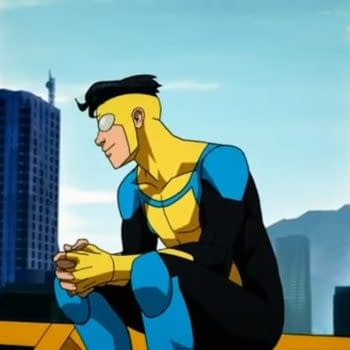 Invincible: Amazon Animated Series Debuting 3 Episodes This March
To celebrate the 18th anniversary of the publication of Robert Kirkman and Cory Walker's Invincible (that's 2003 for those not looking to do the math), Kirkman and host Hector Navarro took part in a livestream broadcast to not only mark the occasions but to offer some news regarding the upcoming animated Amazon Prime series- and they[...]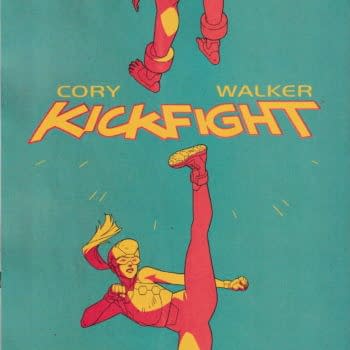 Cory Walker's Kickfight – Another Comic In Solid Blood #17 Universe
Invincible also does not exist – and instead, Cory Walker has a very different comic book he is working on instead, called Kickfight And we get a house ad for that series. Credit: Cory Waller Also, Image Comics is not in Portland, Oregon anymore, rather that it is based in Berkeley, California, which is where Image Comics[...]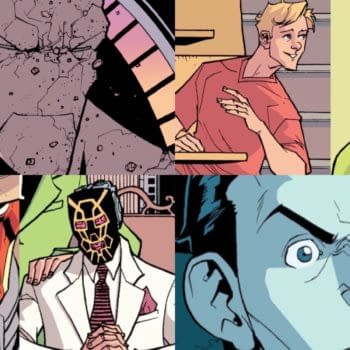 Invincible Series Casts Ezra Miller, Jon Hamm, Djimon Hounsou & More
Sinclair, Jeffrey Donovan as Machine Head, Nicole Byer as new characters Fiona and Vanessa, Jon Hamm as new character Steve, Jonathan Groff as Rick Sheridan, and Mahershala Ali as Titan Invincible is coming soon from Amazon Prime (Image: Skybound/Amazon Prime) Here's a look back at the previously-released teaser for the series from October: https://www.youtube.com/watch?v=JuMiq7eg91MVideo can't be loaded because[...]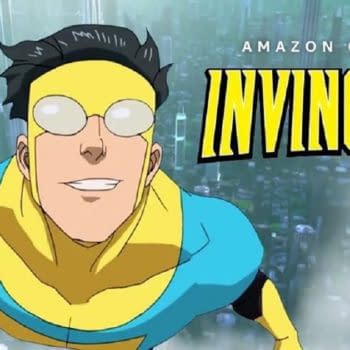 Invincible: Robert Kirkman Debuts Amazon Prime Animated Series Teaser
After a steady stream of new intel and first-looks at Amazon Prime's upcoming adult animated series adaptation of his and co-creator Cory Walker's Invincible, Robert Kirkman (The Walking Dead) continued keeping his promise to keep fans up-to-date on the project at this year's New York Comic Con-Metaverse on Thursday Not looking to waste any time, Kirkman[...]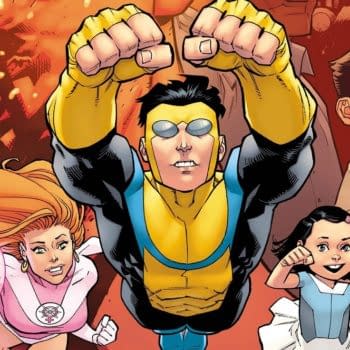 Invincible Artist Ryan Ottley Welcomes Additional Cast, Details
Ottley also praises the choice of comic book series co-creator Cory Walker serving as lead designer: View this post on Instagram Zachary Quinto as Robot! For the INVINCIBLE animation from Amazon Prime Another awesome thing about all this is Cory Walker is the lead designer for this show! Definitely cannot be in better hands, I've always loved[...]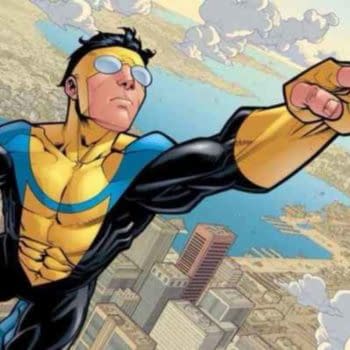 Invincible Artist Ryan Ottley Says Animated Fight Scenes "Throw Down"
So yeah, the fights throw down! A post shared by Ryan Ottley (@ryanottley) on Sep 6, 2020 at 9:34am PDT From the comic book co-created by Robert Kirkman and Cory Walker (who serves as lead character designer), and illustrated by Ottley, Invincible is an adult animated superhero series that revolves around Mark Grayson (Yeun), a normal[...]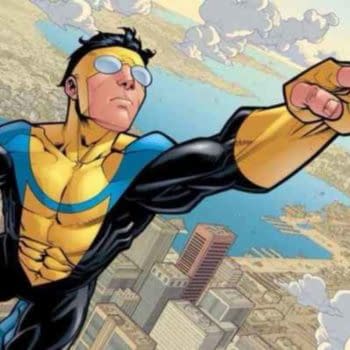 Invincible Artist Ryan Ottley Says Series Animation Looks "Amazing"
During Skybound Xpo and [email protected], fans were introduced to the upcoming animated Amazon series' voice cast; following that, Kirkman and Skybound Entertainment used their Image Comics FCBD (Free Comic Book Day) issue to offer a look at the animated artwork ( with co-creator Cory Walker serving as lead character designer) Now, artist Ryan Ottley is[...]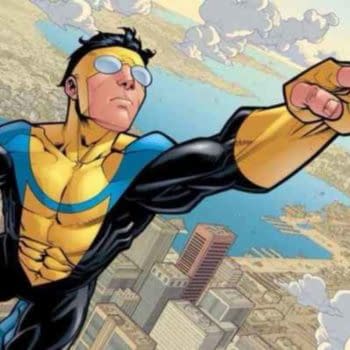 Invincible: Robert Kirkman, Skybound Preview Amazon Animated Series
As you'll see from the scans below (huge thanks to Rich Johnston for the images), the look of the series is vibing close to the comic book co-created by Cory Walker's artistic style The reason? Because Walker is the lead character designer In addition, it was confirmed that EP Kirkman would be writing the pilot[...]
Robert Kirkman and Cory Walker's Invincible Gets Amazon Adult Animated Series
Invincible, the comic book series created by Kirkman and Cory Walker and drawn by Ryan Ottley, may have just wrapped up in February, but the series is coming back in animated form, part of Kirkman and Skybound Entertainment's deal with Amazon THR reports that Amazon Studios has given a straight-to-series order for an eight-episode season[...] Ryan Ottley Spoils Ending To Invincible By Posting Pic Of Final Page On Twitter
The long-running series was originally created by Walking Dead mogul Robert Kirkman, the third most famous person ever to come out of Kentucky behind Daniel Boone and Edgar Cayce, along with artist Cory Walker in 2003 Ottley, however, took over as series artist with Invincible #8, though Walker returned for a stint between issues #127 and #132. And[...] Robert Kirkman Chooses His Side – Cory Walker
Robert Kirkman celebrates the return of artist Cory Walker to the Invincible comic book series in April with this entertaining visual… https://twitter.com/RobertKirkman/status/707244484694843392 If you want to tell Cory Walker how awesome he is He's at @corenthal but he doesn't handle compliments well. — Robert Kirkman (@RobertKirkman) March 8, 2016 Oh, which reminds me, I got one of these[...]
Sours: https://bleedingcool.com/tag/cory-walker/
Delta 8 THC Guide
If you live in any part of the United States, you may be able to order Delta 8 THC online. This is because the ingredient is made from cannabis, which is now a Schedule I drug. federally, Delta 8 THC is strictly legal! However, here's a quick overview of how the law works: Under the 2021 Farm Bill, all hemp-related cannabis, cannabidiol (also known as CBD), and any derivative products derived from it must contain a federal form of government permission. Any company manufacturing cannabis products must register with the United States Drug Enforcement Administration, which means anyone who orders from them, unless they express otherwise, will receive a government stamp of approval for the product.
Although Delta 8 THC gummy bears do not contain THC, they can still be ordered by anyone over the age of eighteen years old. However, if you are worried about consuming cannabis, or you are in serious pain, or are in a rehabilitation facility or mental health facility, you should contact your doctor before taking any medication, and he will most likely recommend that you stay away from any Delta 8 THC products, at all. On top of that, you need to be aware that smoking or eating cannabis can lead to a host of serious side effects, including the development of lungs and liver cancer. However, it is important to note that most Delta 8 THC products do not include any therapeutic value. In fact, many advocates of this cannabis extract claim that it is the safest and most effective natural remedy for any type of chronic or medical condition, including nausea, seizures, glaucoma, and more.
Two brands of Delta THC are distributed by Vapors: One brand is in a gum form, while the other is in a tasty but small cigar-like format, which is easy to carry in your pocket. Both offer a variety of different strains, which are all carefully chosen based on what works best for each individual; thus, there is no concern whatsoever about getting the wrong strain. These two products also work great as a sweetener, and some people even report that they feel more alert and energetic upon having these two products. Delta 8 Thc is an excellent choice for anyone who has been smoking pot for years, as well as anyone who simply need a boost to make them feel more alert and on top of things. If you are looking to try out cannabis, or would just like to try something different to help improve your general mood, Delta 8 THC may be just what you need to regain control of your life.
The Best Delta 8 Products
* Browse Area 52's line of delta 8 THC products if you're looking for a range of terpene-infused delta 8 distillate cartridges, gummies, and tincture available in vanilla and cherry.
* LAWeekly: Find out where you can buy delta 8 products near me if you are in a rush and want to get some carts or gummies today.
* LAWeekly: Discover all companies that sell delta 8 THC at LAWeekly and find your favorite.
* Delta 8 products are low in delta 9 THC and are about half as psychoactive as the original isomer. The best delta 8 products include brands that have third party lab testing and source their delta 8 THC from CBD isolate without bleaches, harsh chemicals, and heavy metals.
Delta 8 THC Gummies
* Observer writes that the best Delta 8 THC Gummies include brands Finest Labs and Area 52, among MOONWLKR and 3Chi who are the incumbents in the delta 8 THC landscape.
* SFExaminer has put out their list of the best delta 8 gummies available in June 2021. The brands include Delta Farms and Canna Clear. Read more.
* HeraldNet has written extensively on the topic of finding the best delta 8 gummies with reviews of the best companies and the unethical brands to avoid.
* Seattle Weekly has picked the best delta 8 gummies as of June 2021. Brands like Delta Effex, 3Chi, Diamond CBD, and others are mentioned in their listicle.
Delta 8 THC Carts
* Observer.com has a definitive list of the best delta 8 carts. Their list includes a list of which brands you should avoid due to their lack of third party testing. It is a resource that every first time delta 8 distillate buyer should check out.
* SFExaminer: Avoid shady brands and stick with the reputable providers named in this article discussing the best delta 8 carts on SFExaminer. The post calls out black market brands and online vendors who don't provide third party lab test results.
* Seattle Weekly has a review of the best delta 8 THC carts. They warn vapers of the harms of vitamin E acetate and pesticides found in low quality delta 8 cartridges sold in gas stations and head shops.
* HeraldNet's delta 8 carts review differed a bit from the others we looked at. They look at disposable delta 8 THC pens and what brands fill their pens with high quality distillate and those that have too much delta 9 above the legal limit of 0.3% THC.
Go to mobile version
Sours: https://www.comicsbeat.com/invincible-animated-character-designs-cory-walker/
Marlin's Waltz
Cory Walker
Invincible: Ultimate Collection, Vol. 1
by


4.28 avg rating — 8,646 ratings — published 2005 — 5 editions
Invincible, Vol. 1: Family Matters
by


3.99 avg rating — 9,117 ratings — published 2003 — 10 editions
Invincible 3: Perfect Strangers
by


4.27 avg rating — 4,785 ratings — published 2004 — 9 editions
Invincible, Vol. 2: Eight Is Enough
by


4.09 avg rating — 4,584 ratings — published 2003 — 7 editions
Invincible, Vol. 4: Head of the Class
by


4.13 avg rating — 3,757 ratings — published 2005 — 9 editions
Invincible: Ultimate Collection, Vol. 2
by


4.32 avg rating — 3,416 ratings — published 2006 — 5 editions
Invincible T05 : Un autre monde
by


4.29 avg rating — 3,008 ratings — published 2006 — 8 editions
The Official Handbook of the Invincible Universe
by


3.57 avg rating — 23 ratings — published 2007
Destroyer : Combat à la loyale
by


liked it 3.00 avg rating — 1 rating
Invincible - Intégrale T02 (Invincible, 2)
by


0.00 avg rating — 0 ratings
Sours: https://www.goodreads.com/author/show/125987.Cory_Walker
Artist cory walker
Cory Walker
American comic book artist and penciler
Cory Walker

Cory Walker at Lucca Comics & Games 2018

Born
1980 (age 40–41)
Nationality
American
Area(s)
Penciller
Cory Walker is an Americancomic book artist known for his work as a penciler on the Image Comics' series Invincible, which he co-created with writer Robert Kirkman.[1][2] With Kirkman he also collaborated on several comics for Image and Marvel Comics. In 2020 he was revealed to be the lead designer of the forthcoming Invincible animated series.[3]
Bibliography[edit]
Image Comics[edit]
Invincible #1–7, 25, 50, 66–67, 85–86, 93–96, 100, 127–132, 144 (2003–2018)
Marvel Comics[edit]
DC Comics[edit]
References[edit]
Sours: https://en.wikipedia.org/wiki/Cory_Walker
Kara Walker's never-before-seen drawings on race and gender
I obediently followed her order. I was ready to do whatever she ordered. Lie on your stomach on the table, and grab it with your hands from below - I do this knowing that now I.
You will also like:
Tease the entrance. It was just hot mess. For a few seconds, Svetlanka soared in ecstasy and, unable to stay on her feet, fell in convulsions on the carpet at his feet. He gently stroked the girl's head and kissed her several times.
33
34
35
36
37