When it comes to cheap overseas clothing brands, it's hard to find one that has it all (including quick shipments, easy returns, high-quality pieces, and great deals). Zaful is one of the most popular options and, although it doesn't have all of these qualities, it comes pretty close. Today, I'll be sharing my Zaful reviews on various pieces that I've ordered from them over the last few months. 
This brand is especially known for catchy deals, like their section under $9 or activewear under $10!
I will be walking you through the buying process, how to make returns, sizing guide, some of my favorite pieces, tips to get the most of your buying experience, and even more. Let's get started!
Is Zaful Legit?
Yes, Zaful is a legit online store that sells relatively high-quality clothing compared to their competitors, especially for the low price points. Over the course of the last 6 months or so I've ordered 7+ times and had nothing stand out that would raise any red flags. 
Zaful Reviews
Zaful Swimsuit Review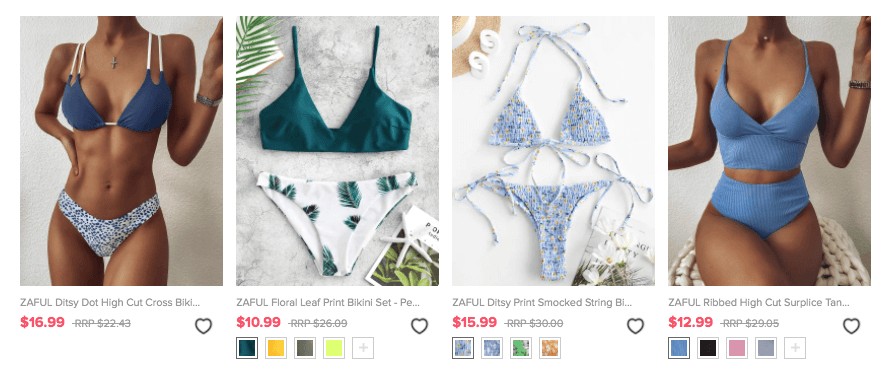 I'm dedicating an entire part of my review to the Zaful swimsuits because I love them. After dipping my toe in the water (no pun intended) with a bathing suit from Zaful, I immediately followed it up with a bunch more.
They're extremely affordable and relatively high-quality fabric (aside from a few frayed threads here and there). I wore them this entire summer and haven't had any issues with them falling apart or fabric fading.
Price: $8 – $15 for an entire set
Fit: True to size. If you normally have issues with how your tops fit, try to go for one with adjustable straps.
Quality: Good! Obviously, it's not incredible quality, but it's pretty impressive based on the price. You can wash it multiple times without it falling apart or fading, which is saying a lot for the price you get.
This year, I'm loving the three-piece swimsuits that come with a matching cover-up.
RELATED: 18 Best Swimwear Brands
Zaful Clothing Review
Zaful offers clothing and accessories for men and women including tops, bottoms, jackets, cardigans, loungewear, sweatshirts, and more. Especially popular is their variety of cute, trendy dresses at an affordable price. You can find almost any style you can imagine, from mini to bodycon to sweater dresses.
Here's what one customer had to say about their experience with Zaful dresses:
"I bought 3 dresses from them. Everything shipped separately and it took about 2-3 weeks but they all fit and are of decent quality! I had to take in the straps of one but that's just because I have a short torso. Definitely not high quality but I would order from them again!" – rhodophyta_baker on Reddit
Overall, here are the top points of feedback from customers:
trendy clothing
wide variety
super affordable
shipping takes a while
sometimes items get lost
some say quality is low; others say it's great for the price
How Long Does Zaful Take to Ship?
Short answer: My orders usually took 2–3 weeks to arrive.
One thing that I didn't like about Zaful was how long it took for me to actually receive my packages. I understand that it comes from another country, but I've had some of their competitors come in shorter time periods.
I also really don't like that they only have free shipping on orders $59 or higher. This is pretty high, but they do have occasional sales where they lower it to $35+ or even better, so I'm always on the lookout for these. Shipping costs $6 and shipping insurance is $1.99.
If you're not patient or need your clothes in a hurry, you'll probably want to check out something like SheIn (read our review) where you'll get your order in about a week (or simply pay for faster shipping if you need it). They also have free express shipping on orders over $129, but that's a lot to spend, especially if it's your first time shopping at the website.
However, if you're willing to wait, it's well worth it! As mentioned before, my orders took around 2 weeks to arrive (a couple were 3 weeks) which in all reality wasn't that horrible. I usually ended up forgetting I made a purchase and then it was a fun surprise when it arrived!
Is Zaful True to Size?
YES!
This has been something that I've always had an issue with when ordering from overseas brands – it almost always runs either large or too small! Much to my surprise, nearly everything that I've ordered on Zaful has fit great.
I've never had an issue so I don't usually use their sizing guide, but it can definitely be helpful, so you should check it out if you're concerned. They also have these on each product.
RELATED: 16 Stores Like Fashion Nova
My Tips For Purchasing From Zaful
Always scroll down and look at the reviews to see what other people are saying about that particular item (also check out the pictures to see how the clothes actually look on people who have purchased them).
Always get a deal or a coupon. When you shop outside of their sale sections, items can actually get a little spendy (like $20–$30 sweaters). Make sure to add one of their current coupons to your cart – they always seem to have one. For example, you can get 15% off your first order just for signing up for their email program.
Start off with a smaller purchase to make sure the sizing and quality meet your standards.
Check what types of products are able to be returned before purchasing (see their return policy – also keep in mind you need to pay for return shipping).
Shop their fun discounted sections and sign up for their email list for better deals. I love their under $9.99 section for great deals, sometimes they even have buy one get one 99% off. 

Returning Zaful
The Zaful return policy is one thing that I'm not a big fan of (and to be honest, I don't know if anyone is). For one, they only let you return certain pieces of clothing (see the list below) AND they make you pay for the return shipping.
Items not eligible for returns
Lingerie
Swimwear
Beauty items
Luck Bags
Masks and protective equipment
Discounted items
I encountered this a couple of times when wanting to return one or two items in a couple of orders. Turns out, the price of shipping was comparable to the actual cost of the clothes, so it wasn't even worth returning. This isn't a complete turn off for me since I've had a good experience with their clothes, but I definitely enjoy the peace of mind that comes with brands who let you return for free.
If you're worried about this return policy, I would recommend going crazy at SheIn as they let you return your first order for free.
Overall Thoughts
If you're looking to add some trendy affordable pieces to your wardrobe and are willing to take a little risk, I'd recommend Zaful. Definitely be a little cautious when shopping as their return policy isn't the best, but with the price points being so low, it's worth the risk. I'm satisfied with 90% of the purchases I've made.
Sours: https://clothedup.com/zaful-reviews/
Warranty and Returns
At ZAFUL, customer satisfaction is always our top priority.
Our dedicated Quality Control and Quality Assurance Teams will inspect your items prior to shipping. Our product quality is guaranteed. However, you do need to carefully and accurately check your size before buying. Please kindly refer to the size charts on the product page.

If you are not satisfied with the items you received, we can easily arrange an exchange or a refund for you. We are here to help! Please feel free to submit a ticket if you have any issue with your order!
Right of Cancellation

Unless one of the exceptions listed below applies, you can cancel your order without giving any reason and without paying any penalty within 14 days from the day on which you or a third party indicated by you receives the goods purchased. You must inform us of your decision to cancel your order according to the instructions and forms available on our Support Center or using this form. To meet the cancellation deadline it is sufficient for you to send your communication before the 14 days´ cancellation period has expired. For additional information please contact our Customer Service on the Support Center.

We will reimburse all payments received from you for the goods purchased and will also reimburse delivery charges for the least expensive type of delivery offered by us. The reimbursement will be done within 14 days from the day on which you provide evidence of having returned the goods.

Note that you must send back the goods in accordance with the instructions of our Support Center no later than 14 days from the day of your communication of cancellation. You will have to bear the direct cost of returning these goods. You may be liable if the value of the goods returned diminishes due to the handling of the goods (except where it was necessary to establish the nature, characteristics and functioning of the goods).

Exceptions - the right of cancellation does not apply to:
- Goods which are not suitable for return due to health protection or hygienic reasons if unsealed by you after delivery, or which are, after delivery, inseparably mixed with other items;
- Goods made to your specifications or clearly personalized;
- Goods which may deteriorate or expire rapidly; and
- Sealed audio or video recordings or of sealed software if unsealed by you after delivery.




Legal Warranty

In case of defective products purchased on the Website, the legal guarantee does fully apply.
30 Day Returns Warranty

If you have received a defective or damaged item, the wrong size or the wrong product, please contact us at our Support Center within 30 days of receiving the item. After returning the product to the address provided, we will send you a new item free of charge (we will reimburse you the return shipping cost), or you can choose to receive a full refund.
How to Reach Us

Go to our Support Center and describe the issue in detail, including the return reason, along with your order number and SKU product number. For defective, incorrect or not as described item, please send us a clear picture or video of the problem.

Our Solutions:
1. ZAFUL'S Responsibility:

If our company is responsible for the issue, we will allow a return to our warehouse for a refund or an exchange.
Once we receive the item, we will refund in full the original product price and its shipping or resend for free a replacement at our expense. This solution is only when ZAFUL is responsible for shipping the wrong item/ size.



2.Customer's responsibility

Incorrect order(size of item)
If the customer has ordered an incorrect size or product, we can also allow a return. In this case, the customer will be responsible for the shipping fee both ways (to and from our warehouse) for an exchange. If the customer chooses a refund, we will refund the original product price. All and any shipping fees are non-refundable.
The following items cannot be returned or exchanged: lingerie, swimwear, beauty items,Luck Bags, Masks and protective equipment or discounted items. Items with non-returnable marks and free gifts cannot be returned.
Unwanted item
If the customer decides that they no longer want the item or simply want to exchange the item, they can report this to us within 30 days of receiving the product for a partial refund of the product cost.
Additional notes about Warranty

All returns must first be approved by our customer service team; if approved, you will be provided with an RMA form. Returned items without RMA form will not be accepted.
All returned items must be in brand new condition, unused/unworn, unwashed, come with all original tags and their original packaging.
If the customer requests a refund, we will refund the original product cost upon receiving the returned item. All shipping fees to return the item, and the original shipping fees, are non-refundable.
For some debit and credit card refunds to original payment account cannot be made. In such cases, we will request customers to provide us with a PayPal account in their name to complete refunds. Thank you for your understanding.
The following items cannot be returned or exchanged: lingerie, swimwear, beauty items,Luck Bags, Masks and protective equipment or discounted items. Items with non-returnable marks and free gifts cannot be returned.
-Virus Prevention items including : All masks, disposable protective clothing and other protective gear that comes in direct contact with skin of humans and animals.
Compensation time-frame
For returned items or items for exchange, we will need 3-6 business days upon receiving your item(s) to process the solution.
After this time, the refund time-frame is as below:
Paypal account refunds: Up to 48 hours
Credit card refunds: Between 7-14 business days
Wallet refunds: Up to 24 hours.
Sours: https://www.zaful.com/returns/
Reviews Zaful
Do you need to get clothes from Zaful and curious what other people think of this business name? It's possible for you to read it here on US-Reviews. With this website everyone can contribute to an objective guide for (net) retail stores and businesses. Do you want to know before you discovered purchasing at Zaful for their satisfaction, when the people that went? Read base your opinion on experiences of other customers and reviews. And have you purchased informal garments or a sports outfit after reading reviews and experiences which you study on Britain Evaluations? Then share your own experience with an evaluation and help other people to help make the correct choice.

About of Zaful
Zaful is your one-stop online shop for today's most daring, exciting and edgy fashion apparel. They are affordable collections are all about redefining trends, design excellence and exceptional quality to satisfy the needs of every aspiring fashionista. The original idea is to share the latest news and fashion trends on women's clothing with fashion-forward, free-thinking girls, and they offer the fast fashion worldwide. Zaful is owned by Hong Kong Bi'an Information Technology Co. limited. The business ownership, all rights reserved by Hong Kong Bi'an Information Technology Co. limited. Zaful was established with a clear vision: to provide the very latest in compelling designs for the fashionably hip along with providing exceptional value, quality, and superb customer service. They offer a select choice of clothing, shoes, accessories and more to deck out your wardrobe with style.
Shop till you drop!
Services of Zaful
Zaful is your one stop online store for now's many bold, edgy and exciting fashion clothing. They're cost-effective groups are about changing extraordinary quality, design excellence and tendencies to meet the requirements each future fashionista. The notion that is first would be to discuss style styles and the most recent information on women's apparel with fashion-forward, freethinking ladies, plus they feature the trend that is speedy world-wide. Zaful especially provide following items.

Complaints, compliments or tips for Zaful Have you got any experiences with Zaful?
What would you think of this brand of other clothing items along with sport clothes, Shoes and accessories? Are the products worth the cost? How does the company treat their customers? Let us understand your view, encounters, reviews and complaints or compliments so others can take advantage of your experience. Notably if something went wrong, we would like to hear the way the situation was handled.
How happy are consumers with Zaful? Read reviews, complaints and opinions about this company specialised in beauty.
56% Would buy here again!
Ordering

6.4
Service

4
Pricing

6.2
Delivery

4.4
All reviews
Read independant reviews, consumer experiences, feedback and complaints right here! Get to know the best shop place your (online) order. Everybody together now decides which shops are worthy and which aren't!
Write your own review
Very vibrant and bold with trending fashion clothes
I find zaful quite complementing my daily lifestyle and surely my wardrobe. I have bought two dresses from there.
Usually happens that what you see online never comes as it is you expected but thank god! it didn't happen with Zaful.
The product was fantastic.
With more exploration, I find more awesome range of clothes ideal for different purposes, occassions and styles.
Truly admire their quality and variety :)
By: Emma Charlotte26-06-2019
2 bikinis 2 accessories
Everything was packaged nicely in little zip bags and came in less than a week. It looked exactly like the pictures and I was scared to order a bikini because I was scared I would get the wrong size but they have a sizing chart and it fit me great!
By: ariana cal28-05-2020
Clothes
Never had any issues with them so I don't know where the bad reviews are coming from. Of course I haven't had to return anything because it all fit and was true to the photos. Very cheap for the quality you get. Overall love this site.
By: Kelsey Bamburg09-07-2020
legging
Nice Collection and reasonable price
By: jeanine johnson09-04-2020
Shorts & Tshirt, Order No.: UA2102230549260186
Definitely cant recommend!!!
Shop didnt shipped the order. After I contacted support, after 1 week of exchanging messages, they told me they are not going to give me my money back and if I want to get my order, I need to pay additional 8 USD!!!
By: Kryštof Trávníček08-04-2021
LX871856291NL
Returned a jacket which was completely falsely advertised five months ago and they refuse to refund me
By: Rebecca 20-12-2020
UB2001251251472255S001
Lovely dresses, super affordable.
By: Jolie Carter27-06-2020
A jacket
Delivered in wrong adress and didnt refund me
By: Maria Kalathaki19-12-2020
swimsuits
Has anyone sent Zaful a demand letter? I am considering taking legal action if I do not get a valid solution. I paid for 3 separate orders and all of them did not arrive in my city but was returned to Zaful without my knowledge as I could not even track the packages. I have been in contact with their after sales team but only getting "partial refund" offers or "sending the packages again with additional charges".

Please contact me via email if you've experienced the same problem and would like to work against them. We need numbers to be heard.
By: Gie Mosquera01-08-2020
July 2020
I ordered items for my daughter after reading the return policy showing fully refundable - just pay shipping - and now nothing fits and it takes forever or them to message back and they are telling me I can get a partial store credit which is not what it says on the website. Has anyone been successful in getting a refund from them? They need to be reported to consumer affairs.
By: Michelle M Hili30-07-2020
Clothes
I placed an order 4/4, I have called 4/28, 5/26, 6/9, 6/18, 7/15, 7/28... and could not get me my order, and they are not paying the refund... they are just giving me a run around. I will be sure to continue to post negative reviews online until this is resolved.
By: Unhappy Customer28-07-2020
Swimsuits
As mentioned in previous reviews, they have a really poor customer service and their delivery process is the worst. If you live in US don't waist your time and money. I ordered some swimsuits at the beginning of April, I never got the packages and when I followed up with them they said that the packages were returned to their warehouse. I gave them a second chance and paid $10 more to resend the order. They processed that payment immediately, but three months later, I'm still waiting for the package to arrive and their customer service team keeps telling me that I need to wait with "more patience". Please do not waist your money and time with this company, their business processes are way below US standards.
By: JL03-07-2020
Two men's shirts
Two shirts that were very undersized for what they were labeled. No packing slip in package and now haven't been able to return them. Buyer beware.
By: KC Reuman25-06-2020
UM1908250922470933
I bought a cute Bikini, it was true to size and material was grade A not the cheap kind. Only thing is there shipping it takes FOREVER so you have to have a lot of patience.
By: Kristen17-06-2020
swim wear
Was disappointed that swim wears are not returnable even though their online return policy doesn't state the fact. Their solution to me is to refund 40% of the cost as store credit. And they keep the 60% profit. Will not buy from this company again.
By: Lucy28-05-2020
Clothes
Just. No. Zaful, try awful. I placed my order on April 7, 2020. I received my items on May 22, 2020. Everything was too small- (I am a size 10) I had ordered everything in the large size. I ordered a t-shirt, a "dress", a pant suit, a cute velvet lace up teddy, and an off shoulder blouse. Now, yes, the pricing is affordable, but the clothing is really poor quality. The dress is not sewn together and is wide open to wear you have to wear pants and a blouse underneath, otherwise people will see your undergarments. The return process is a hastle. I had to provide them with all of the sku numbers of all the items. Plus, the way they worded things in the resolution center made it seem like I wouldn't be able to get my money back. I just want to return the clothes and get a refund. Maybe I've been spoiled by Amazon. This is too much of a hastle.
By: Carly Golding24-05-2020
Write your own review about Zaful
Sours: https://us-reviews.com/online-shop/zaful-reviews
ZAFUL REVIEW// WHAT THEY DON'T TELL YOU (RETURN POLICY, WAIT TIME, SHIPPING + MORE)
Finally I entered the elevator and the doors were already closing when a young guy ran in with the words wait. Making sure that. The 1st floor was pressed, he looked me up and down and I was embarrassed. There was silence for a moment, but it was interrupted by noise and shaking.
At the same moment, the elevator stopped abruptly.
Returns review zaful
You invented everything. But how, - I chuckle, - Tell me too. The car stops in front of the house, we get out and. I let you go ahead.
HONEST ZAFUL BATHING SUIT HAUL (Sizing, Quality, Prices)
We were tired. By that time, three guys had moved in with us. We met and my wife and I went to the shower. After a quick wash, I returned to the room, got dressed and went out to the new neighbors, grabbing a bottle of cognac - to wash.
You will also be interested:
They searched a little on the roof and found me. I sat with my back resting on some pipe and looked at them scared and lustful, my face was burning, my pussy was flowing. All. Three of them stood in front of me and froze, apparently not knowing what to do next. They looked like they were about 18.
3569
3570
3571
3572
3573