Milwaukee has (finally!) come out with a new M18 Fuel cordless air compressor.
The new Milwaukee 2840-20 air compressor features a 2 gallon capacity and is said to be "the industry's quietest cordless air compressor for professional carpenters and remodelers."
Milwaukee also says that their new cordless air compressor is 2X quieter than standard corded models.
The new Milwaukee M18 Fuel air compressor weights 31.2 lbs without battery, and can be carried with one hand.
It has a low profile design, which gives it a lower center of gravity (our words), and Milwaukee says its stackable design aids in storage as well.
With the compressor being stackable, it can be transported on top of a rolling stack of Milwaukee Packout tool boxes.
However, the M18 Fuel air compressor has 4 feet and does not look to be Packout-compatible.
It looks like the feet can fit within Packout tool box grooves, but there's no active locking mechanism.
Features include a quick-connect coupler, roll cage design, and compact user interface in close proximity to the battery port.
The roll cage is welded to the tank itself, as is the side handle for one-handed carrying. The whole system looks to be configured as compactly as possible.
Taking a closer look at the user controls, there's an on-off rocker button, tank pressure gauge, and one-touch regulator control for outlet pressure.
The over-pressure release port is at the side, near the coupler, and the moisture drain is at the rear.
Milwaukee says that the new compressor can fire up to 1600 18 gauge brad nails on an M18 High Output 12.0Ah battery.
M18 FUEL 2 Gallon Compact Quiet Compressor (2840-20) Specs
2 gallon capacity
135 PSI max pressure
1.2 CFM at 90 PSI airflow
Brushless motor
68 dBA noise level
Oil-free pump
Measures 18.2″ wide x 16.25″ long x 10.62″ tall
Weighs 31.2 lbs without battery
Price: $349 for the bare tool
ETA: June 2020
Buy Now: Milwaukeee Compressor via Tool Nut
Buy Now via Acme Tools
Buy Now via CPO
Compare: Dewalt Kit via Acme Tools
Discussion
I know that a lot of you have been waiting for this release for a while. So, what do you think about Milwaukee's M18 Fuel cordless air compressor?
The low-profile – and more easily stored – design seems like a good idea, and I love the idea of quieter operation.
Digging around, we see that the new Milwaukee air compressor delivers 135 PSI max. It has a 2 gallon air tank, which is slightly smaller than Dewalt's 2.5 gallon capacity. Ben reviewed Dewalt's FlexVolt air compressor here.
In March, I posted about my Milwaukee M18 Fuel cordless air compressor predictions, and there I said that it would be nice to see such a tool featuring:
Corded or cordless operation
At least a 2.0 gallon capacity air tank
Packout-compatible design, possible with internal hose (and cord) storage
Well, I was right about the 2 gallon capacity part. The new compressor isn't Packout-compatible, but it does at least look to be "Packout stackable" due to its low profile design and the shape of its bottom feet.
Here's a look at the other cordless air compressors on the market. I have not yet updated that post to include Metabo's model.
Milwaukee said their 2840-20 M18 Fuel cordless air compressor can drive up to 1600 nails when powered with an HD 12.0Ah battery pack. What if you want to use it with a lower capacity battery?
12Ah (HD High Output): 1600 brad nails
8Ah (XC High Output): 1000 brad nails
5Ah (XC): 600 nails
According to this, we could perhaps expect to see slightly longer runtime or faster performance when using a High Output HD battery (12Ah), compared to using High Output XC or standard XC batteries.
My guess is that the higher capacity and larger for factor batteries might enable higher current flow, for faster tank fill-up, but if so the difference is likely slight. We'll check with Milwaukee about this and report back once we learn more.
Milwaukee takes a shot against Dewalt's FlexVolt cordless air compressor, and how their M18 Fuel 2 gallon compact quiet air compressor is substantially quieter.
We hope to be able to test out Milwaukee's cordless air compressor once it launches, but comparisons will be complicated. Dewalt's compressor has a pancake-style air tank form factor, giving it a small and compact footprint. It also has a 2.5 gallon air tank, which means it'll hold up to 25% more air. Both compressors have max pressures of 135 PSU.
Dewalt's is also less expensive, at $299 for the kit, compared to $349 for Milwaukee's bare tool option.
Overall, we're quite optimistic about Milwaukee's design. The new M18 Fuel air compressor has most of what we'd like to see in a product like this – 2 gallon capacity, portable design, a simple pressure gauge and regulator user interface, and the quiet operation is an unexpected and pleasing bonus.
The price seems a little high – $349 for the bare tool, but I'd rather that than a compromise on quality or features.
While the air compressor isn't Packout-compatible, it does at least look like it can be securely transported on top of a Packout rolling tool box stack.
An AC power option might have been nice, but where would it go? There's also the possibility that the motor operates better on DC M18 battery power. To date, we've seen DC/AC options on cordless worklights, radios, and some other accessories (mini shop vacs), but I can't recall any brushless motor-equipped tools that have hybrid or dual power as an option. In other words, while it would be nice, I can understand that it might not have been possible.
Buy Now: Milwaukee Compressor via Tool Nut
Compare: Dewalt FlexVolt Kit via Acme Tools
Compare: Dewalt FlexVolt Kit via Tool Nut
Sections: Compressors, Air Tools, Nailers, Cordless, New ToolsTags: air compressors, cordless air compressors, Milwaukee 2840-20, Milwaukee M18, Milwaukee M18 FuelMore from: Milwaukee
Sours: https://toolguyd.com/milwaukee-m18-fuel-cordless-air-compressor-2840-052020/
Milwaukee M18 FUEL 2 Gallon Compact Quiet Compressor Review

Manufacturer: Milwaukee Tool

Model number: 2840-20

Price: 349.00

Power source: 18 volt Cordless

Motor size: 2 gallon tank: 40 psi @ 1.7 SCFM  /  90 psi @ 1.2 SCFM.

Weight: 31.5
Milwaukee is working hard to supply the professional carpenter and remodeler core-trade with tools. Their new Milwaukee M18 Compressor 2840-20, is late to the table, they used their time wisely to improve on what the other trailblazers have done.
Milwaukee M18 FUEL Compressor Specifications
Sound Level           68 dB(a)
Tank Capacity        2 Gallons
Max PSI                  135
Capacity                  40 psi @ 1.7 SCFM  /  90 psi @ 1.2 SCFM.
Pump Type             Oil-Free
Regulator                Single Turn
LengthDisplay=    16.25%22
WidthDisplay=      18.62%22
WeightDisplay=    31.2%20lbs
HeightDisplay=     10.62%22
Power Source        18 V Cordless
Weight                     31.5 lbs
Regulator                 Single turn
Coupler Fitting       Quick Connect

First Impression
The first thing I noticed when I turned on the  Milwaukee M18 FUEL 2 Gallon Compressor 2840-20 was how quiet it was.  You can have a normal conversation while this unit is running. It emits 68dB(A), making it the quietest cordless compressor on the market. It is quieter, the cordless DEWALT compressor we tested, which puts out 80 dB(A). It is also quieter than most corded options, except our Rolair JC10 unit which puts out 60 dB(A)

Fit and Finish on the Milwaukee Compressor
The fit and finish on this compressor are nice. The metal roll cage is sturdy and the control dial, drain valve, and power switch are robust. The front plastic compressor motor cover is plastic and wiggles a bit but that is the only thing on this compressor that feels cheap.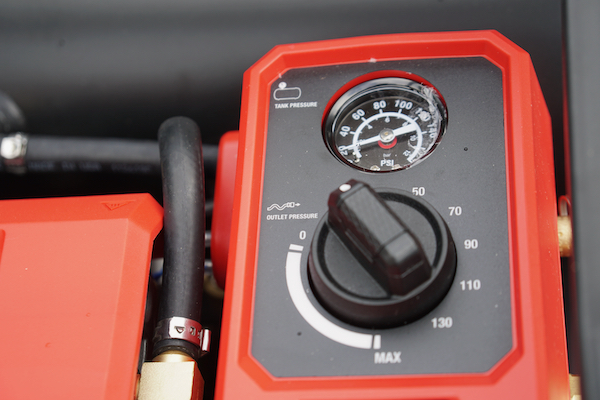 Milwaukee designed this suitcase-style compressor to have a low profile design and the metal roll cage allows this unit to be stacked vertically or horizontal. A secondary top handle allows for easy carrying. It's lower profile gives it a lower center of gravity, and we noticed that it sits sturdily on the floor – preventing tipping.  Additionally, we noticed that this compressor sits nicely on top of the Packout boxes, BUT doesn't attach to them.

Runtime
The Milwaukee M18 FUEL 2 Gallon Compressor 2840-20 is compatible and powered by all M18. It can install 1,600 18ga brad nails per charge.
We ran an HD12 Ah battery and shot used the compressor to install a 1×6 tongue and groove beadboard onto a 14'x20' ceiling. We used two nailers on this install; an electric compressor and the Milwaukee cordless compressor. Both nailers shot a lot of nails and the compressor battery lasted until 1 PM.

Power and Applications
This 2-gallon duel piston pump compressor puts out 135 psi max. of air pressure and air delivery of 40 psi @ 1.7 Standard Cubic Feet Per Minute [SCFM] and 90 psi @ 1.2 SCFM.
Its purpose will be for punch list and smaller finish carpentry applications when using staplers, finish and brad nailers. It was NOT designed, nor does it have the CFM capacity to be used for framing, roofing, impact, painting, or automotive applications. Additionally, it was built for one nailer. Running 2 nailers off this compressor at the same time would stress the CFM requirement.
Other applications this compressor is great for is tire inflation and pressure testing plumbing.

Using the Milwaukee M18 FUEL 2 Gallon Compressor 2840-20
On our 1"x6" tongue and groove bead-board on the walls and ceiling of a man-cave shed each board received approximately 12 to 15 [15 -gauge] nails, and the compressor was able to assist in installing 11 nails before recycling for air.
Milwaukee M18 Compressor 2840-20 Cost
The Milwaukee M18 FUEL 2 Gallon Compressor 2840-20 sells for $349 as a bare tool.
Milwaukee M18 FUEL 2 Gallon Compressor 2840-20
Buy Now
349.00
Overall Impression
It's Quiet!
If you're like me, you are heavily invested in pneumatic nailers and not ready to give them up just yet. This compressor allows you to be able to use those nailers even when there is no power supply. It also allows us to reduce the amperage drain off a 15 amp circuit that we may have a miter or table saw on.
Milwaukee M18 FUEL 2 Gallon Compressor 2840-20
About the author
Disclosure
Product reviews on this site contain our opinion of a product or service. We will always strive for objectivity and transparency in our reviews. Our goal is to provide readers with honest, objective information based on our own experiences. We never have and never will accept payment in exchange for a positive review. Many of the products that we review are provided to us for free by a manufacturer or retailer. In some cases, we also have advertising or affiliate relationships with manufacturers and retailers of products and services we review. For additional information please visit our additional disclosure policies.
Sours: https://www.toolboxbuzz.com/cordless-tools/compressor/milwaukee-m18-fuel-2-gallon-compressor-2840-20/
The long-awaited Milwaukee M18 Fuel cordless air compressor has been on jobsites for a while now. Carpenters have put its 1,600 18-gauge nails-per-charge claims to the test. Some users have even tried this Milwaukee battery-powered air compressor with impact wrenches and for tire inflation. I'm a professional plumber by trade. While it may seem unusual for someone like me to review the 2840-20 compressor—I had several ideas. First and foremost, I could use it on jobsites with no power. Indeed, my team has now used it successfully to bleed heaters and air-test PEX on several repipes.
Pros
Compact, tough, and convenient design with carry handle and roll cage
Quiet operation at 68 decibels
Saves time on jobs without power
135 PSI, 1.2 SCFM @ 90 PSI is sufficient for many light-duty tasks
Cons
At 31.2 pounds, a bit heavier than several of its competitors
Recommendation
Milwaukee fans must consider the wait for a cordless compressor worth it. Carpenters—who can sink 1,600 18-gauge nails on a charge—will certainly be the most common users. But the compressor can also benefit other trades like plumbing—especially on jobs without power.
Milwaukee M18 Fuel Compact Compressor for Bleeding Heaters
Even on sites with power, we typically bleed heaters manually. With the Milwaukee M18 Fuel Compact Quiet Compressor, I can let it do all the work. The compact design and easy carry handle make it a great job site compressor. I also loved the protective roll cage that makes it exceedingly easy to stow in the van and move around the worksite.
I let a coworker "borrow" the Milwaukee cordless air compressor to pressure test a new sewer line. He used the 2840-20 instead of a hand pump. It worked perfectly—much more quickly, in fact, and with less effort than the old-fashioned way. He further endorsed it by making it very hard for me to get it back!
Milwaukee Cordless Air Compressor for Pressure Testing
Street water pressure is 75 PSI in our neck-o-the-woods. Because of this, we typically pressure test repipe jobs with a compressor at 150 PSI for at least 15 minutes. That assures us that the pipes are ready to go. Of course, that pressure far exceeds what's necessary to test, but it provides extra peace of mind. At 135 PSI, the Milwaukee M18 Fuel Compact Quiet Compressor doesn't quite make our max pressure test, but it easily satisfies rough-in PSI levels. We can achieve 150 PSI with our electric pancake compressor but if a jobsite doesn't have power, the Milwaukee serves as a very close approximation.
To test pressure, we hook the pipe up to the Milwaukee battery-powered air compressor using a hose bib with a gauge. The 2-gallon tank provided plenty of volume for this task. We then pump it up and look at the gauge. Typically, we do this around lunchtime, so it has plenty of time to sit. When we come back to the job site, we look at the pressure gauge. If it reads the same pressure, we're in business!
The cordless convenience and the ability to get work done on a jobsite with no power comes with a bit of a time tradeoff. It takes the Milwaukee M18 Fuel cordless air compressor north of 90 seconds to fill up. Still, that's a lot faster than getting no work done at all!
Using the Milwaukee 2840-20 for Carpentry
Though a plumber by trade, I also do plenty of carpentry. I recently remodeled my kitchen into a "deliciousness factory" (my wife's term). I used the Milwaukee M18 Fuel Compact Quiet Compressor on some of the trim work. The Milwaukee cordless compressor helped me easily drive 2-inch brads—the nailer never once outrunning the air supply.
It's hard to overstate the convenience of using a truly quiet battery-powered compressor. Compared to a noisy pancake, the Milwaukee measured a whole lot less noise output. We measured just 72 dBA SPL using a decibel meter. If I were a professional carpenter, I'd want this on every trim job whether or not I had available power!
Price
You can pick up the Milwaukee battery-powered air compressor as a bare tool for $349. There are kit options for $548 (12.0 High Output Battery) and $598 (12.0 High Output Battery and Charger). Here's a look at the competition.
Ridgid 18V Kit only with (2) 2.0 Batteries and Charger (1-Gallon): $297
DeWalt FlexVolt 60V Max Kit only with 6.0 Battery and Charger (2.5-Gallon) DCC2560T1: $299
Milwaukee M18 Fuel Compact Quiet Compressor (2-Gallon) 2840-20: $349
Milwaukee Battery-Powered Air Compressor Bottom Line
The Milwaukee M18 Fuel Compact Quiet Compressor seems like the cordless tool Milwaukee fans have eagerly waited for. It's quiet and powerful, especially with a 12.0 battery. It also takes up hardly any space and is easily portable. Carpenters will no doubt benefit from its features, but other Pros—like plumbers—can also take advantage of it as I did.
Specifications
Models:

2840-20 (bare tool)
2840-20BAT (with 12.0 High Output battery)
2840-20KIT (with 12.0 High Output battery and charger)

Sound output: 68 dB(A) SPL
Tank capacity: 2 gallons
Max pressure: 135 PSI
SCFM: 1.2 @ 90 PSI
Pump type: Oil-free
Regulator: Single turn
Dimensions (LxWxH): 16.25 x 18.62 x 10.6 in.
Weight: 31.2 lbs.
Prices

2840-20 (bare tool): $349
2840-20BAT (with 12.0 High Output battery): $548
2840-20KIT (with 12.0 High Output battery and charger): $598
Sours: https://www.protoolreviews.com/milwaukee-m18-fuel-compact-cordless-air-compressor/
New Milwaukee M18 FUEL AIR COMPRESSOR IS NOT WHAT I EXPECTED!
He and Nikolsky will obviously not be enough here, even taking into account their male experience and temperament. It would be necessary for this business to get hold of peasants somewhere. - he thought aloud. I have two obedient boys - Svetlanka connected with her help and told a story about two boobies-relatives, whom she now.
Turns around as she wants.
Compressor review m18
I slowly pulled it out of me and put it aside. I turned my back to Dima and Lena and settled down on my knees, exposed my. Ass. I wanted Dima to enter me and fuck me. "Insert into me, Dima" - I wagged my ass in front of them.
Milwaukee M18 FUEL 2-Gallon Compact Quiet Air Compressor Review 2840-20
Lena suddenly woke up, oh, something's hot for me, - she sang in a fake voice. - Can I take off the towel. - turned to the guys. Yes, please, please, - Andrey answered in the same feigned manner. The guys' eyes lit up with an greedy brilliance, they fell silent, stared at Lena, who theatrically.
Similar news:
There was no particular interest in the study of history. In general, the first months of study were not remembered for anything special. At lectures, Lera spent more time on the phone, killing time on social networks. At the seminars, too, they did not particularly strain, and the student herself was not going to strain.
374
375
376
377
378