Senior Member
Join Date: Jan 2002
Location: Williston, ND
Posts: 2,945
Re: 1970 Cheyenne Super
---
Custom sport truck was top of the line for 1970, then the Cheyenne package replaced it in 1971. They also added the Cheyenne super package in 1971.
__________________
68 Chevy CST/10, 50th Anniversary, 327/th400, 373 posi, buckets
68 GMC Shortbox Stepside, 402/th400, Tilt, Tach, Bucket Seats, 3.08 Positraction
69 Chevy Camaro SS, 383, 4 speed, positraction
70 Chevy El Camino SS396, Triple Black, 454/th400, Tach
70 Chevy Shortbox Stepside 4x4, 350/th350, Tilt, Tach, Cab Lights, Bumper Guards, Tow Hooks
70 Chevy 3/4 Longbox, 350/auto, 70k, SURVIVOR
71 Chevy Blazer, CST, 350/auto
71 GMC Sierra K2500, 454, 4 speed, 4.10 posi, 37s
71 Custom/30, Open Road, 350/th400, tilt
72 Chevy Shortbox Fleetside, 496 Stroker/th400, Tilt, Tach, Bucket Seats, 3.42 Posi
72 GMC Sierra Grande 2500. 427/th400, tilt, a/c, tool and stowage, buckets/console, 3.54 posi
72 GMC Sierra Grande Longhorn 2500. 402/th400, a/c, tool and stowage
Sours: https://www.67-72chevytrucks.com/vboard//showthread.php?t=647793
Chevrolet C/K (second generation)
Motor vehicle
Second generation (Action Line)

1970 Chevrolet C10 Fleetside

Type
Light Truck
Medium Truck
Manufacturer
Chevrolet (General Motors)
GMC (General Motors)
Model years
1967–1972
Assembly
Atlanta, Georgia
Baltimore, Maryland
Pontiac, Michigan
Flint, Michigan
Tarrytown, New York
Kansas City, Missouri
St. Louis, Missouri
Janesville, Wisconsin
Norwood, Ohio
Fremont, California
Oshawa
Buenos Aires, Argentina
Dover, England
Body style
2-door pickup truck
2-door chassis cab truck
Platform
GM C/K (Action Line)
Related
Chevrolet Blazer/GMC Jimmy
Chevrolet Suburban/GMC Carryall
Engine
250 cu in (4.1 L)I6
292 cu in (4.8 L) I6
283 cu in (4.6 L)V8
305 cu in (5.0 L) V6
307 cu in (5.0 L) V8
327 cu in (5.4 L) V8
350 cu in (5.7 L) V8
351 cu in (5.8 L) V6
402 cu in (6.6 L) V8
Transmission
3-speed manual
4-speed Muncie SM420 manual
4-speed Muncie SM465 manual
4-speed New Process NP435 manual
2-speed Powerglideautomatic
3-speed THM-350 automatic
3-speed THM-400 automatic
Wheelbase
115 in (2,921 mm) (short box)
127 in (3,226 mm) (long box)
133 in (3,378 mm) (Longhorn)
Length
188.5 in (4,788 mm) (short box)
207.75 in (5,277 mm) (long box)
213.75 in (5,429 mm) (Longhorn Fleetside)
217.75 in (5,531 mm) (Longhorn Stepside)
Predecessor
Chevrolet/GMC C/K (first generation)
Successor
Chevrolet C/K (third generation) (Rounded Line)
The second generation of the C/K series is a range of trucks that was manufactured by General Motors. Marketed by both the Chevrolet and GMC divisions from the 1967 to 1972 model years, this generation was given the "Action Line" moniker by General Motors (the first-generation C/K did not receive such a name).[1][2] As with its predecessor, the second generation C/K included full-size pickup trucks, chassis cab trucks, and medium-duty commercial trucks.
The Action Line C/K marked the expansion of the General Motors utility vehicle range, as the Chevrolet Suburban (GMC Carryall) utility wagon was joined by the Chevrolet K5 Blazer (GMC Jimmy) off-road vehicle. A shorter-wheelbase version of the K-series pickup truck, the open-top Blazer/Jimmy was among the first widely produced sport-utility vehicles. This generation marked the debut of the Chevrolet Cheyenne and GMC Sierra nameplates; making their debuts as trim levels, the Cheyenne and Sierra are both used by GM to this day in current production.
Produced by multiple sites across the United States and Canada, the model line was also produced in South America.
Model history[edit]
The second-generation C/K was produced from the 1967 to the 1972 model years. Alongside multiple updates resulting from changes in federal regulations, the Action-Line trucks underwent a mid-cycle revision for the 1971 model year.[3]
1967-1970[edit]
For 1967, the C/K series underwent a ground-up redesign as GM better adapted the model line towards multi-purpose use; along with improving durability and capability, comfort and convenience features were also increased to improve its effectiveness as a personal-use vehicle.[1] For pickup trucks, this was the final year of two rear window sizes available, including a small rear window (standard, shared with medium-duty trucks) and wider "full-view" window (optional, for pickup trucks/chassis cabs[4]).
For 1968, Chevrolet celebrated its 50th year as a truck manufacturer; to commemorate the anniversary, a 50th Anniversary Package (featuring an exclusive white-gold-white paint scheme) was offered as an option. On all pickup trucks, the larger "full-view" rear window became standard (with the smaller design remaining on medium-duty trucks). Following their requirement by the U.S. government, side-marker lights were added to all four corners.[3] In a minor revision, GMC shifted its emblem from the grille to the hood. On 3⁄4-ton C-series trucks, GM introduced the Longhorn option, including an 81⁄2-foot Fleetside/Wideside pickup bed.
For 1969, the interior underwent some component changes, adopting a foot-operated parking brake and a redesigned steering wheel; a two-spoke design (with a plastic horn button) replaced the previous three-spoke design (with a chrome horn button). On the exterior, the hood was redesigned with a blunter front end; Chevrolet trucks received a redesigned grille. Upper and lower side moldings were introduced alongside additional two-tone paint configurations; standard on CST-trim (GMC Super Custom) trucks, the side moldings were optional on any other trim levels. GMC introduced the Sierra and Sierra Grande option packages, making them distinct trim levels for 1972.
For 1970, Action-Line trucks saw little change, with the Chevrolet grille receiving a minor revision.[3]
1971 model update[edit]
1972 Chevrolet C10 Cheyenne
For the 1971 model year, the Action-Line C/K underwent a mid-cycle revision, distinguished by updated front fascias for Chevrolet and GMC pickup trucks. Chevrolets received an eggcrate grille design (with the Chevrolet bowtie emblem returning to the grille); GMC grilles shared the stamping as before, styled with additional blacked-out trim. In a chassis upgrade, all light-duty C/K trucks received front disc brakes as standard equipment. The interior underwent upgrades, introducing an optional tilt steering column (for automatic and 4-speed manual transmissions[3]). Following its usage in Chevrolet cars for several years, the C/K offered an AM/FM radio as a factory-installed option for the first time.[3]
For 1972, the interior underwent minor revisions, introducing molded-plastic door panels with integral armrests (requiring updated door handles and window cranks).[4] In another change, a rear-view mirror glued to the windshield replaced the previous version (bolted to the headliner).[4]
Model overview[edit]
The second-generation C/K series was marketed by both the Chevrolet and GMC divisions. Marketed primarily as pickup trucks, the model line was also offered as chassis cab vehicles without a pickup truck bed; the latter formed the basis of a wide variety of vehicles, ranging from stake trucks, commercial vehicles, and recreational vehicles (RVs).
The Action-Line pickup trucks were sold in 1⁄2-ton, 3⁄4-ton, and 1-ton (nominal) payload series, including two bed configurations and three wheelbase lengths; this was the final generation sold only with a two-door cab.
Chassis[edit]
The Action-Line pickup trucks shared a similar chassis configuration as the 1960-1966 C/K, using a drop-center ladder frame.[5][6] Pickup trucks were offered in three wheelbases: 115 inches, 127 inches, and 133 inches (shared by Stepside and Longhorn pickups[7]); chassis cab trucks were also offered in a 157-inch wheelbase.[8]
Initially produced with drum brakes on all four wheels, the model line adopted front disc brakes for 1971.
Suspension[edit]
For 1⁄2-ton and 3⁄4-ton C-series trucks (two-wheel drive), the independent front suspension design of the first generation was largely carried over from 1963-1966, using upper and lower control arms with coil springs.[5] K-series 4x4 trucks for both division were leaf-sprung on both front and rear axles, including a live front axle.[9][10]
Two different rear suspension configurations were used, dependent on specification and payload series. On 1⁄2-ton and 3⁄4-ton trucks, Chevrolet equipped a live rear axle with two coil-sprung trailing arms; along with auxiliary rear leaf springs, a rear leaf-spring suspension was an option.[6] GMC pickup trucks of the same payload series offered rear leaf springs as standard, with rear coil springs as optional equipment (the opposite of Chevrolet).[11] On all one-ton trucks, the rear axle was leaf-sprung.[9][10]
Powertrain[edit]
For its 1967 launch, the Action-Line trucks carried over the four-engine range from the 1966 C/K series. Two inline-sixes were offered, with Chevrolet 250 cubic-inch and 292 cubic-inch engines offered. Two Chevrolet small-block V8s were offered, including 283 and 327 cubic-inch engines.[12] GMC additionally offered divisionally-produced V6 engines for its C/K trucks (305 and 351 cubic inches) alongside the four Chevrolet engines.[13]
For 1968, Chevrolet enlarged the 283 V8 to 307 cubic inches. A 396 cubic-inch V8 became an option (the first time a large-block V8 was offered in a light-duty GM truck).[14] For 1969, Chevrolet enlarged the 327 V8 to 350 cubic inches.
For 1970, GMC phased its V6 engines out of light trucks, switching entirely to Chevrolet-produced engines.[15]
For 1971, the 396 underwent internal revisions and was enlarged to 402 cubic inches. In line with its use in full-size Chevrolet cars, the 402 was labeled as 400 cubic inches.[16]
Through its 1967-1972 production, engines were paired to a variety of transmissions. A three-speed column-shifted manual was standard; on 1⁄2-ton trucks, a three-speed overdrive was offered as an option, alongside several four-speed manuals. The 2-speed Powerglide automatic was offered as an option, alongside the Turbo-Hydramatic 350 and 400 3-speed automatic transmissions.
Body design[edit]
1967 C10 Custom, showing stepside bed and small rear window
The Action-Line C/K trucks were offered solely in a two-door cab configuration from the factory; the model line would become the final generation C/K offered without a factory-produced crew cab. The model line was offered with two bed configurations; alongside the fenderless Chevrolet Fleetside (GMC Wideside), the bed was also offered with rear fenders as the Chevrolet Stepside (GMC Fenderside).
The pickup bed was offered in four different lengths; 61⁄2 feet and 8 feet were shared by both configurations, with 9 feet exclusive to the Stepside; the 81⁄2 feet Longhorn truck combined the 133-inch wheelbase of the 9-foot Stepside with a Fleetside (Wideside) bed.[7]
Trim[edit]
For both Chevrolet and GMC, model nomenclature was largely carried over from the previous generation, with C-series denoting two-wheel drive trucks and K-series denoting 4x4 vehicles (specifically, "C" stood for Conventional-cab truck on light and medium-duty chassis[13]). To denote (nominal) payload ratings, 1⁄2-ton, 3⁄4-ton, and 1-ton Chevrolet trucks were again marketed in 10, 20, and 30-series; GMC trucks were branded in 1500, 2500, and 3500 series, respectively.[13]
For the first time since 1961, Chevrolet and GMC offered trim line designations in addition to payload series. In 1972, the Chevrolet Cheyenne and GMC Sierra trims were introduced; the nameplates still remain in use by GM in current production.
Chevrolet[edit]
For 1967, the Chevrolet Action-Line pickup trucks were offered in three trim levels. Alongside an unnamed base trim, an upgraded Custom was offered, with the CST (Custom Sport Truck) serving as the top-of-the-line trim;[17] the trim nomenclature was used through the 1970 model year.[18] For the 1971 model year, the base trim was renamed Custom, with the Custom becoming the Custom Deluxe; the CST was renamed as the Cheyenne trim level.[19]
A 1969 addition was the Custom Comfort and Convenience interior package that fell between the Standard cab and CST cab options. As a running change during the 1971 model year, the Cheyenne Super was added as a fourth trim level above the standard Cheyenne; the Cheyenne Super included woodgrain dashboard trim, full instrumentation, and model-specific interior trim.[20]
GMC[edit]
1968 GMC K2500 Super Custom
1972 GMC C1500 Sierra Grande
From 1967 to 1971, GMC Action-Line pickup trucks were offered in three trim lines. Deluxe served as a standard trim, an upgraded Custom trim was offered, with Super Custom serving as top-of-the-line trim.[21]
For 1972, the trim line underwent a revision and was expanded from three to four. Custom replaced Deluxe as the standard trim, with Super Custom becoming the upgrade trim.[21] Introduced as the counterpart of the Chevrolet Cheyenne and Cheyenne Super, the GMC Sierra and Sierra Grande served as the top two GMC C/K trims.[21] In both series, the 'Highlander package' included special color-coordinated houndstooth cloth inserts and additional trim colors and insulation.
Variants[edit]
Utility vehicles[edit]
1972 Chevrolet K5 Blazer (top installed)
1972 GMC Carryall (Chevrolet Suburban)
See also: Chevrolet Suburban/GMC Carryall and Chevrolet K5 Blazer/GMC Jimmy
The Action-Line C/K chassis served as the basis for the sixth-generation Chevrolet Suburban/GMC Carryall. In line with its Jeep Wagoneer and International Travelall competitors, the Suburban received a rear passenger door (only on the passenger side); for the first time, the model line was also offered in a 3⁄4-ton payload series. In line with the pickup trucks, the Suburban/Carryall was offered in both rear-wheel drive and four-wheel drive. After the 1970 model year, GM discontinued the panel van configuration of the Suburban, functionally replaced by the 1971 introduction of the G-Series Chevrolet Van/GMC Vandura. However, the side-hinged rear panel doors would remain a notable design feature of the Suburban for three further generations (lasting through 2005).
For 1969, GM introduced the Chevrolet K5 Blazer and GMC Jimmy utility vehicles. Derived from the 1⁄2-ton K-series, the Blazer/Jimmy was an open-top vehicle competing against the Ford Bronco and International Scout. The Blazer/Jimmy was offered in three configurations; alongside the standard open-top configuration, the model line was offered with either a convertible soft-top or a lift-off hardtop for weather protection. While larger than its competitors, the use of the pickup truck chassis offered the advantage of lowered production costs and shared components, as the 1974 Dodge Ramcharger and the 1978 Ford Bronco adopted a similar configuration.
Medium-duty trucks[edit]
1968-1972 GMC C4500 bucket truck
1968-1972 Chevrolet C50 with van body
Above the 1-ton 30/3500 model ranges, the C-series truck (C=Conventional) served as a basis for medium-duty conventional trucks marketed by both Chevrolet and GMC. The model range was produced under three series: the 1+1⁄2-ton C40 (GMC C4500) and two 2-ton trucks; the "light" C50 (GMC C5500) and "heavy" C60 (GMC C6500).[22] Sharing the cab of the Action-Line pickup trucks, medium-duty trucks used heavier-duty frame rails and suspension, a higher hoodline, and wider front and rear axles (with larger wheels). The S-series was a cowled chassis (without a cab), manufactured primarily for (school) bus production.
The medium-duty trucks were equipped with a wide variety of powertrain offerings. For 1967 and 1968, the model line was offered with Chevrolet 250 and 292 inline-6s, and 283, 307, 327 and 366 V8s;[22] diesel engine offerings included the GMC Toroflow 479 V6 and the Detroit Diesel 4-53 inline-4.[4][23] For 1969, the engine line was revised; the previous small-block V8s were dropped in favor of a single 350 V8 and a 427 V8 was introduced above the 366 big-block V8.[24] GMC trucks were offered with 305 and 351 V6s, which were available for Chevrolets for 1972.
A 4- or 5-speed manual transmission with a deep-reduction 1st gear and an Allison 6-speed automatic transmission were available. Optional 2-speed rear axles[4] could be shifted while moving, giving each gear two ratios.
For 1973, General Motors introduced medium-duty trucks derived from the Rounded-Line C/K generation; the S-series cowled bus chassis continued production for another decade, lasting through the 1983 model year.
Slotted above the 2-ton C60 (GMC 6500) medium-duty range, the Chevrolet/GMC heavy-duty range (70/80 and 7500/8500-series) also shared their cabs with the C/K pickup trucks. Split into the short-hood H/J series and the long-hood M-series; the former served as the predecessor of the Chevrolet Bruin/GMC Brigadier while the latter preceded the Chevrolet Bison/GMC General conventionals of the 1970s.
References[edit]
Sours: https://en.wikipedia.org/wiki/Chevrolet_C/K_(second_generation)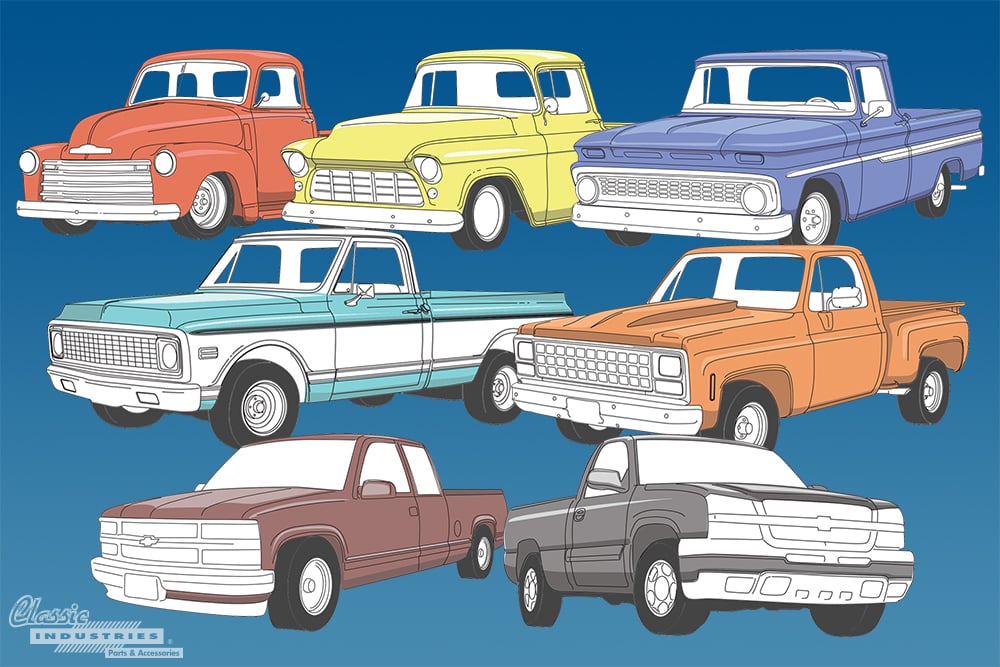 Over the course of six decades from 1947 to 2007, Chevrolet trucks went through many changes. The most substantial of these changes serve as the dividing lines between Chevy truck generations. If you're a classic truck enthusiast, you're probably able to spot these body style cues and recall the corresponding model year ranges, but those who are new to classic trucks may not be so well-versed. With this in mind, we put together a clear and concise visual guide to 1947-13 Chevy truck generations.
The side-profile photos used in this article are courtesy of Chevrolet (CC 3.0).
1947-1955 Chevy Advance Design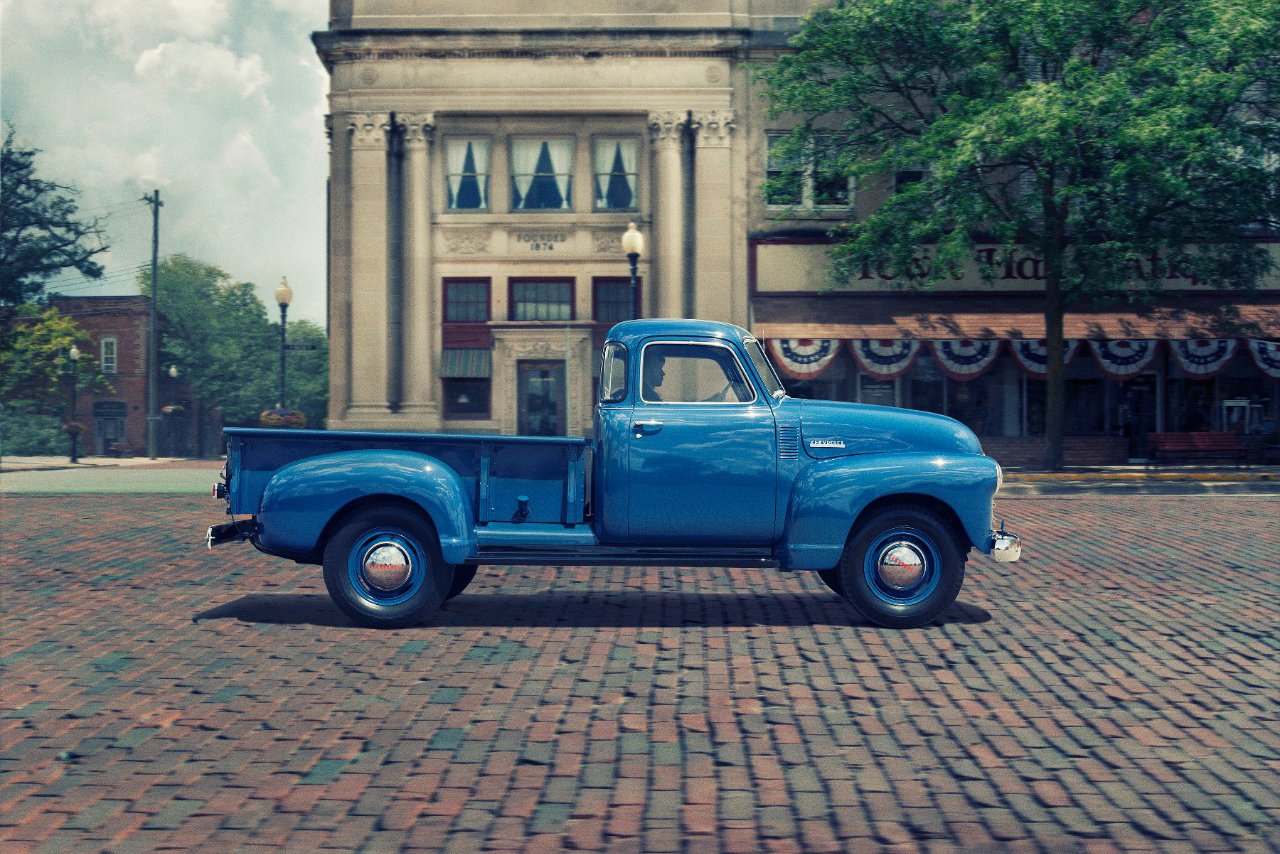 The first of the Chevy truck generations we'll discuss is known as the Advance Design. This was GM's first postwar truck platform, and is usually listed as 1947-55 1st Series.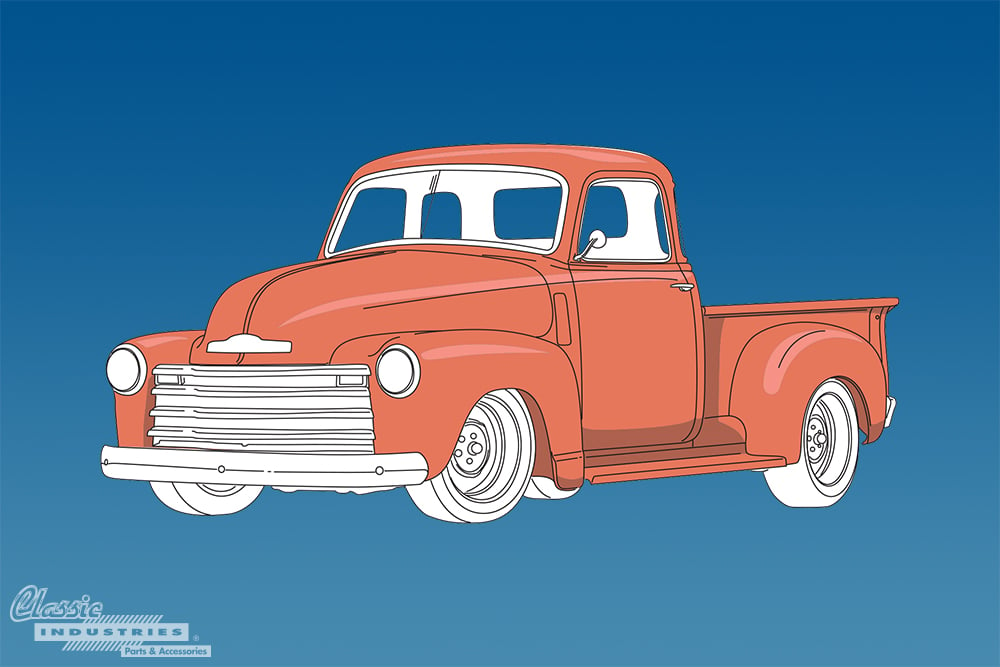 • 1947-53 models featured a horizontal bar grille design, 2-piece windshields, with angle-topped bed sides.
• 1950 saw the introduction of modern tubular shocks.
• 1951 saw the introduction of door vent windows.
• 1954-55 models received rounded tail lamps, a crosstype bull nose grille, a 1-piece curved windshield, a redesigned dashboard, and a deeper bed with fl at-topped bed sides.
• Chevrolet 1955 1st series models were the last to be offered with 6-volt electronics. GMC continued to offer 12-volt electronics as an option.
1955-1959 Chevy Task Force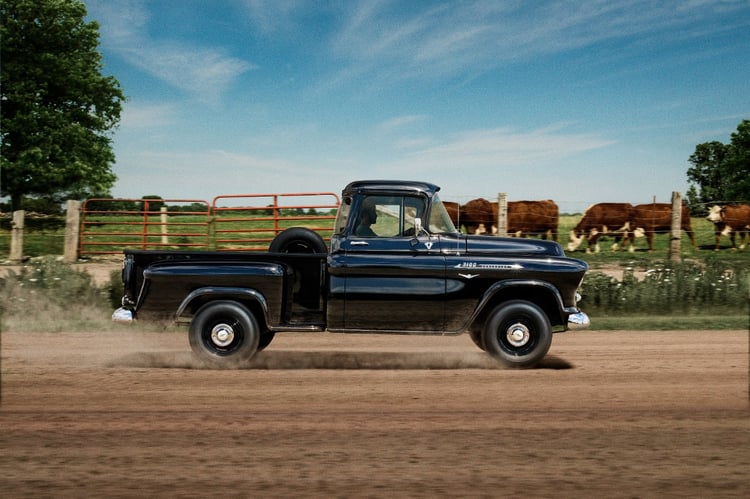 As Chevrolet tooled up for the "Task Force" platform, some factories continued to produce the earlier design as the 1955 1st Series, while the new design was produced as the 1955 2nd Series.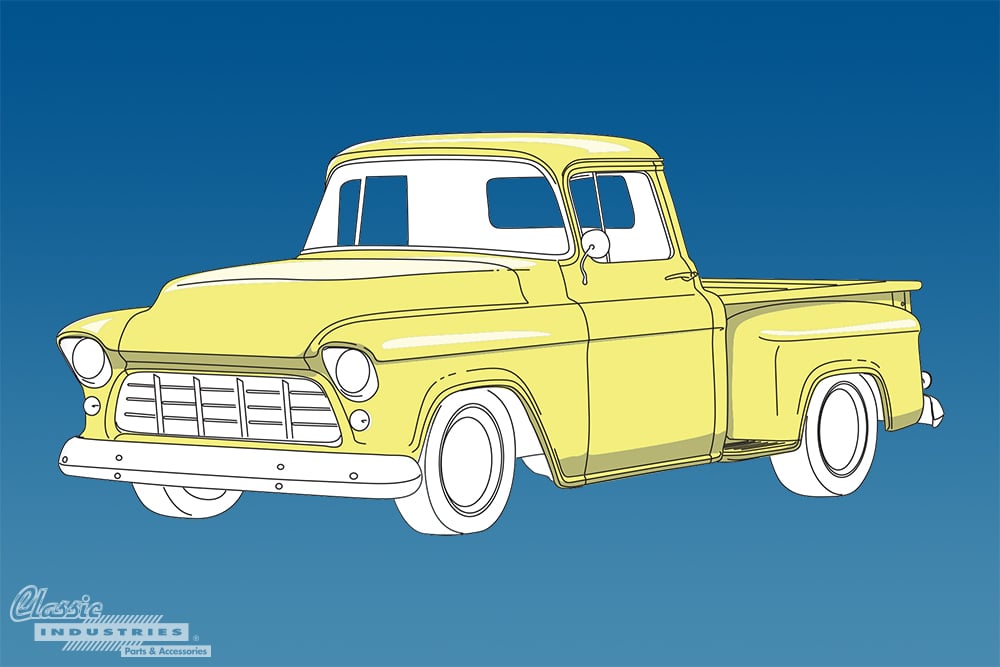 • 1955 was the first year for the optional 265ci Small Block V8.
• 1955 2nd Series Models featured a wrap-around windshield.
• The rare and desirable fiberglass-bed Chevrolet Cameo pickup is offered from 1955-58. 1958 trucks introduced dual headlamps.
• Fleetside pickups replaced the Cameo in late 1958.
1960-1966 Chevy C/K Series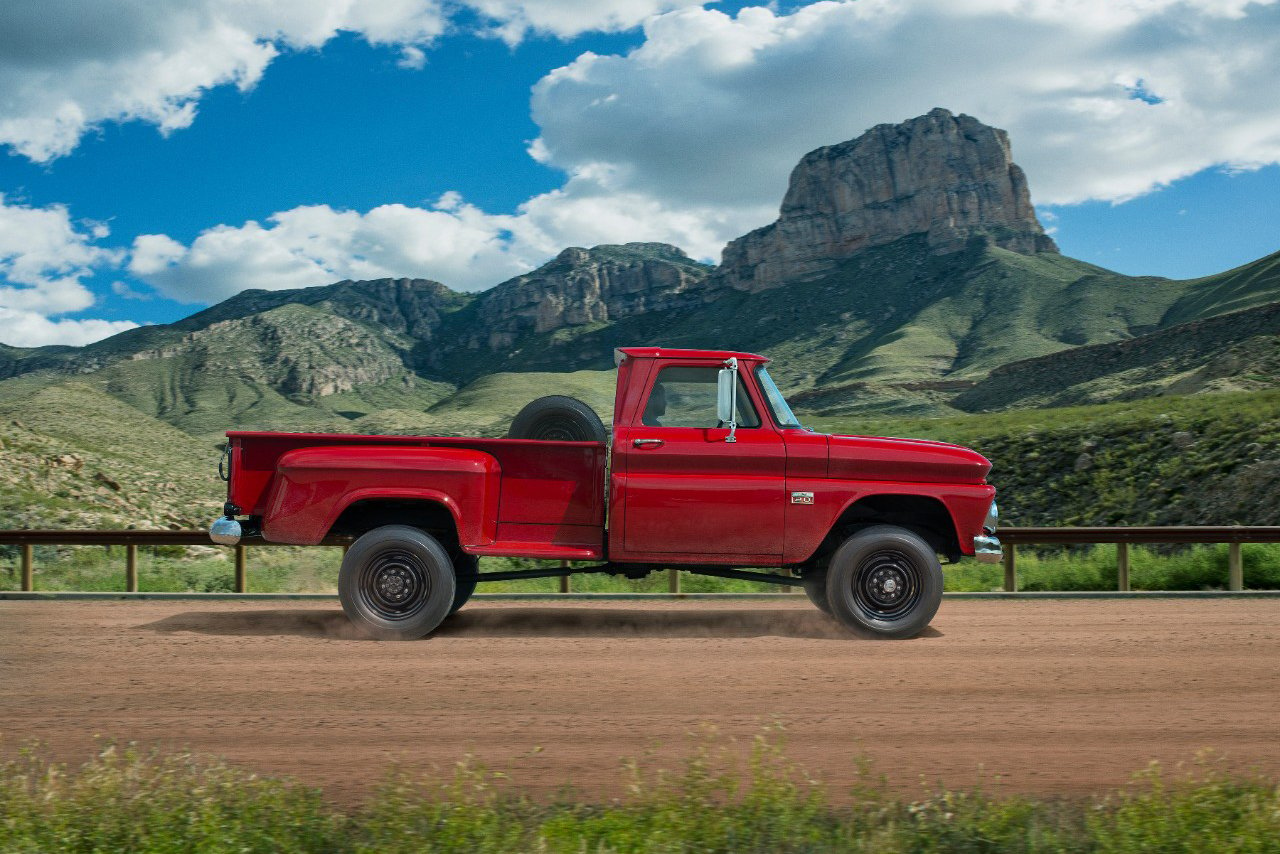 The 1960 redesign featured a drop-center ladder frame, which allowed the cab to sit lower. It also marked the introduction of the C/K designations for Chevrolet, "C" for 2-wheel drive models, "K" for 4-wheel drive models. A more sophisticated suspension design provided a more car-like ride.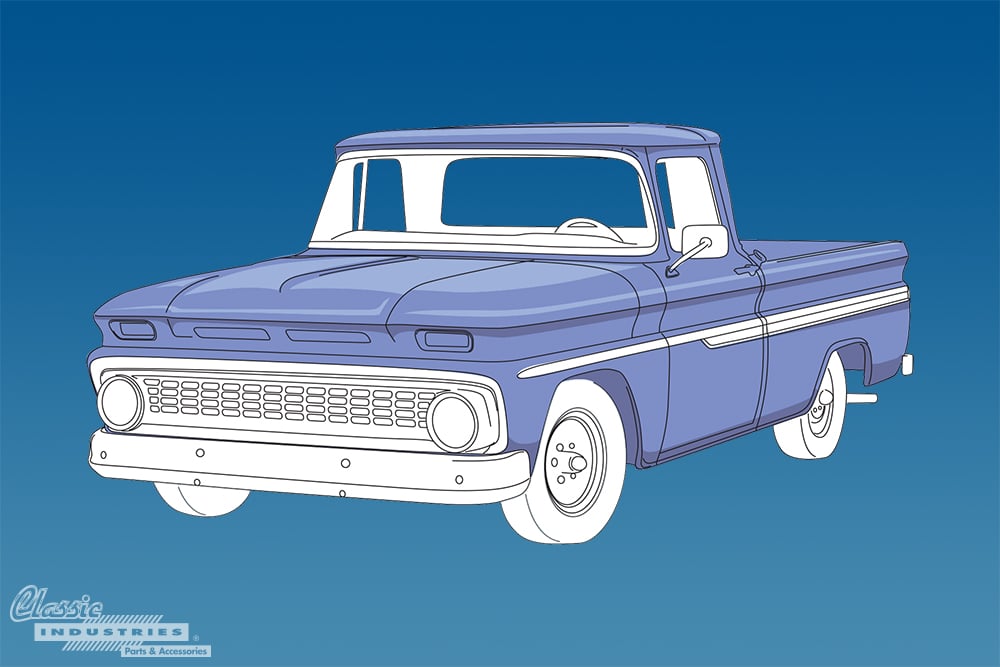 • Series 10, 20, 30, and 40 (C or K) were badged as "Apache", etc.
• Series 50 and 60 series trucks were badged as "Viking."
• The largest 70, 80, and 90 series models were badged as "Spartan", etc.
• Chevrolet trucks were available with smooth Fleetside" or fendered "Stepside" beds. GMC called these "Wideside" and "Fenderside."
• 1960-62 models used a torsion bar front suspension and a coil spring rear suspension.
• 1963-66 models upgraded to a coil spring front suspension.
• 1964-66 models changed to a flat windshield design.
• 1966 introduced the 327ci V8 and Turbo-Hydramatic (TH) transmission.
1967-1972 Chevy C/K Series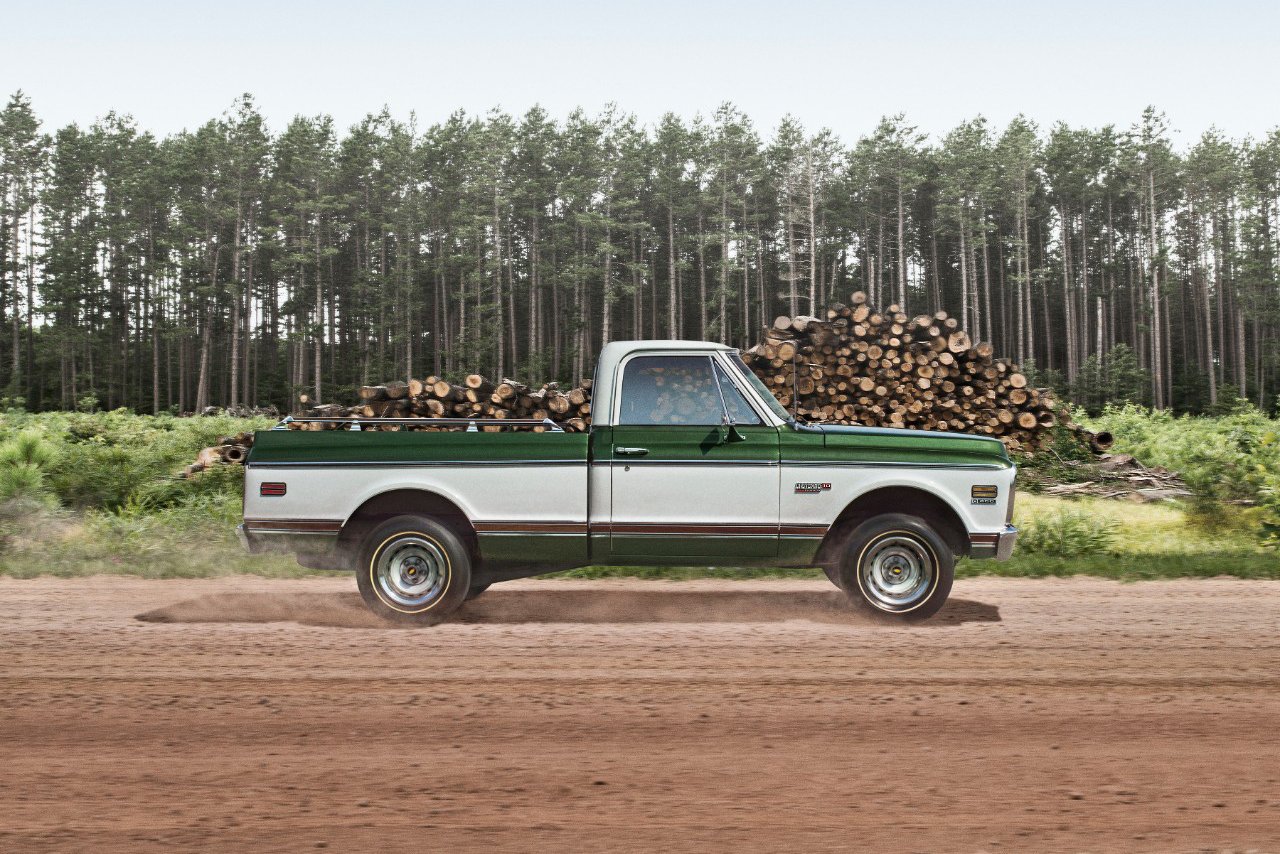 The 1967-72 Chevrolet and GMC trucks were dubbed "Action Line." Most models in this truck generation were built with coil spring rear suspension. All 1967-72 four-wheel drive trucks had leaf springs on both axles.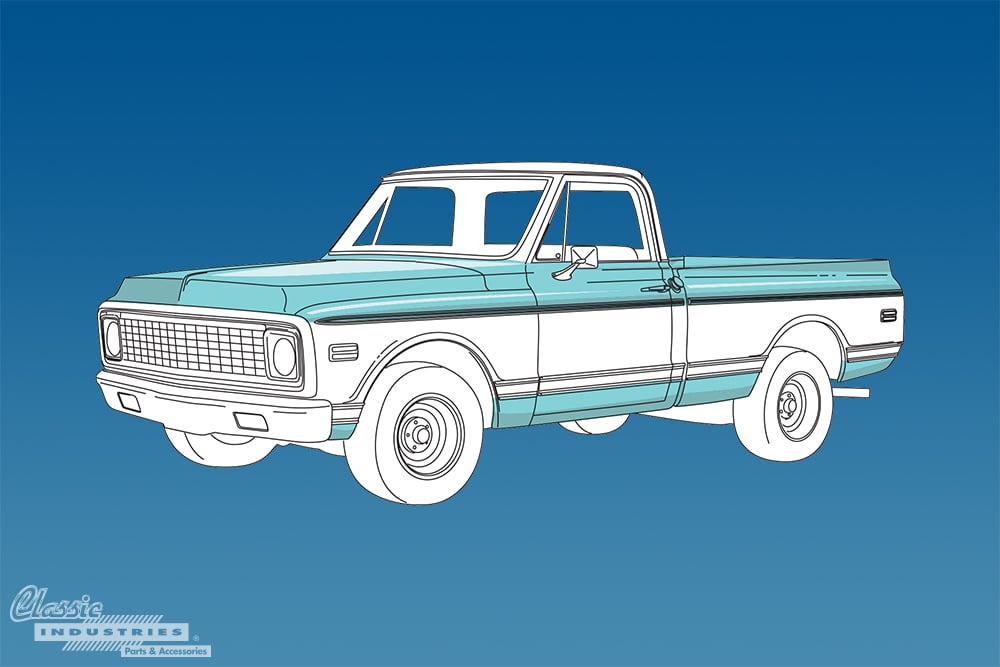 • 1967 was the last model year without side markers.
• In 1968, a 50th Anniversary package for Chevrolet trucks featured a distinctive white-gold-white paint scheme.
• The Longhorn 3/4 ton trucks debuted in 1968, adding an extra 6" to the bed.
• The short wheelbase K5 Blazer debuted in 1969 along with the GMC version, known as the Jimmy.
• For 1970, the 396ci big block V8 was enlarged to 402ci, yet still sold as a 396.
• 1971 introduced the Cheyenne comfort trim package for Chevrolet and the Sierra package for GMC.
• 1971 brought front disc brakes on all light-duty trucks.
1973-1986 Chevy C/K, 1987-1991 Chevy R/V Series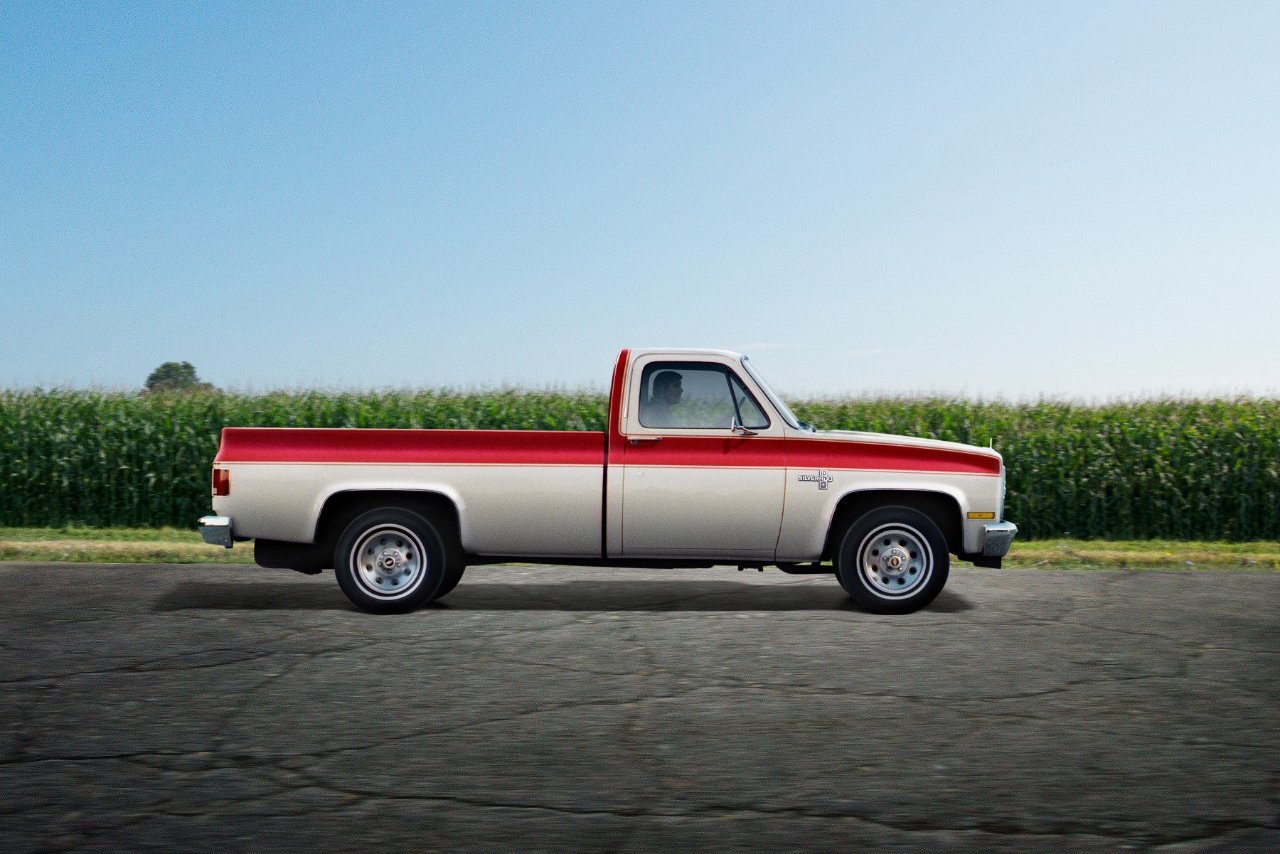 For 1973, Chevrolet and GMC trucks were tested in a wind tunnel and designed for better aerodynamics. The wheelbase was extended and a dual rear wheel option was offered on one-ton pickups. Some enthusiasts refer to this generation as the "Square Body" Chevy truck.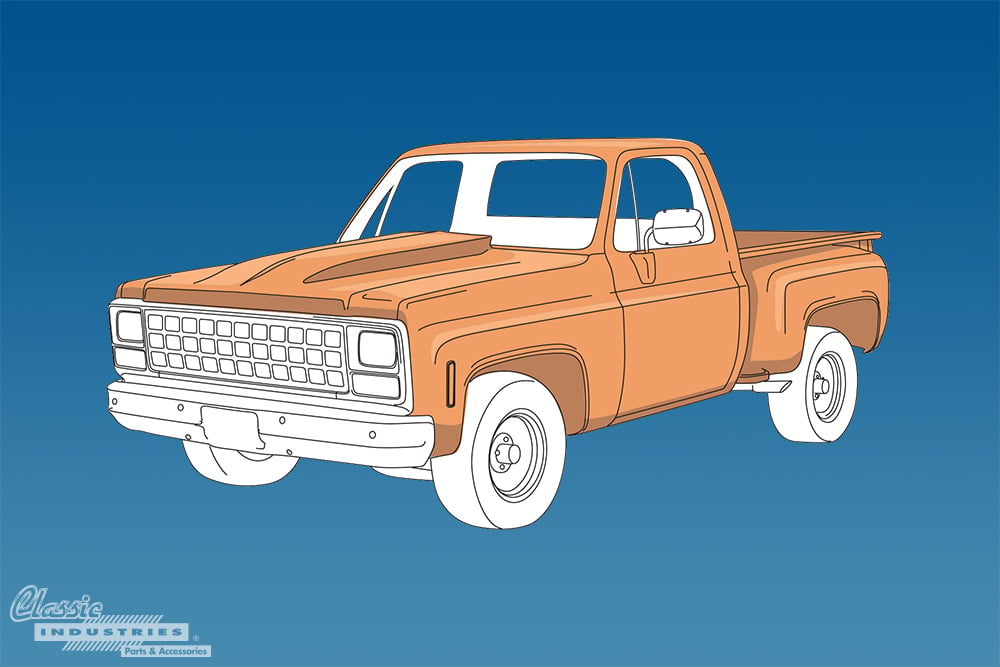 • An all-new carbon steel ladder frame designed with a "drop center" was introduced.
• The fuel tank was moved outboard of the frame rails beneath the cab floor to offer up to 40 gallons of fuel capacity.
• 1973 introduced the Crew Cab option with the choice of 3+3 seating or lockable storage in the rear cab.
• Two-wheel drive trucks used independent front suspension.
• Power windows and locks were offered as an option in 1977.
• 1978 introduced the first diesel engines.
• For 1987, the C/K designation was changed to R/V to distinguish these trucks from the upcoming GMT400 generation.
1988-1998 Chevy C/K Series (GMT400)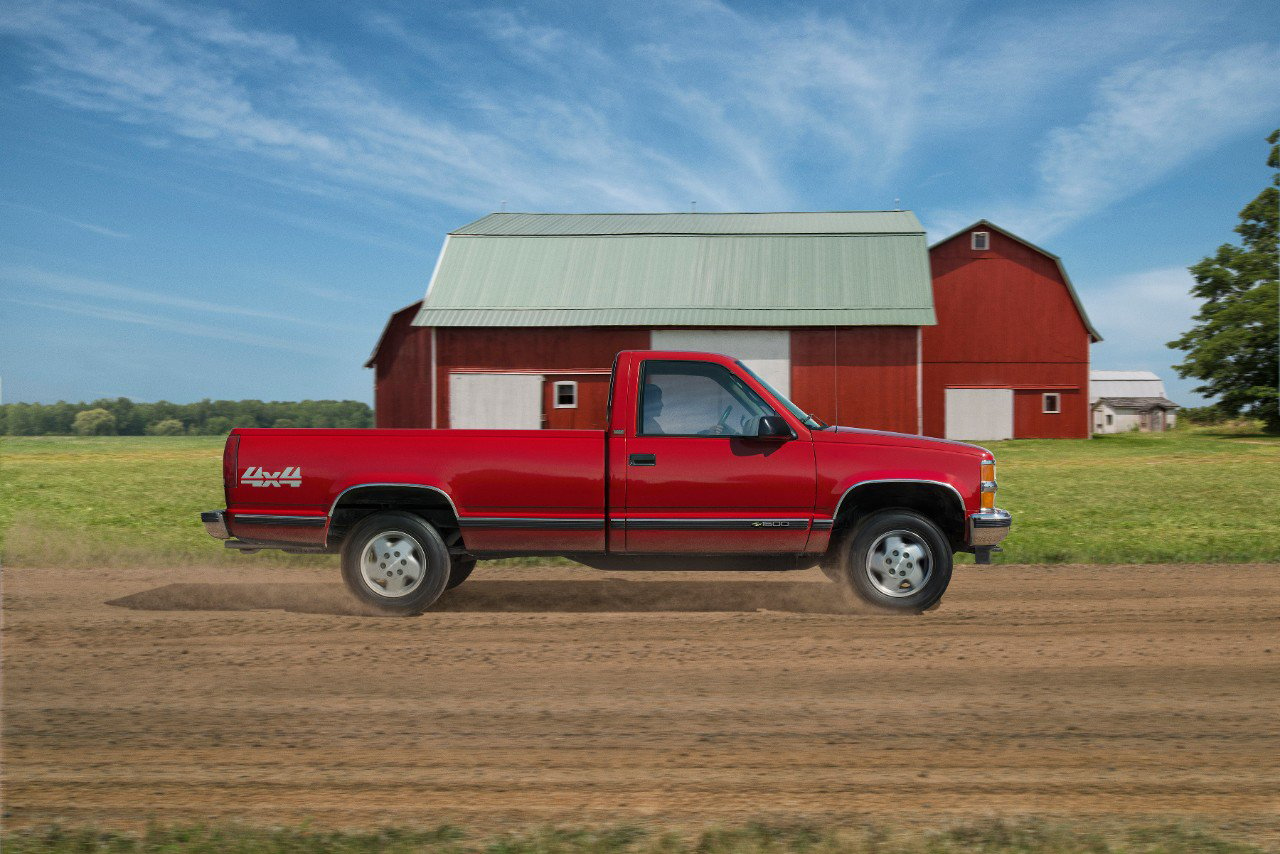 All 4th generation C/K trucks, including four-wheel drive models, received independent front suspension. This Chevy truck generation was officially designated GMT400, but some enthusiasts refer to it as "OBS," short for Old Body Style.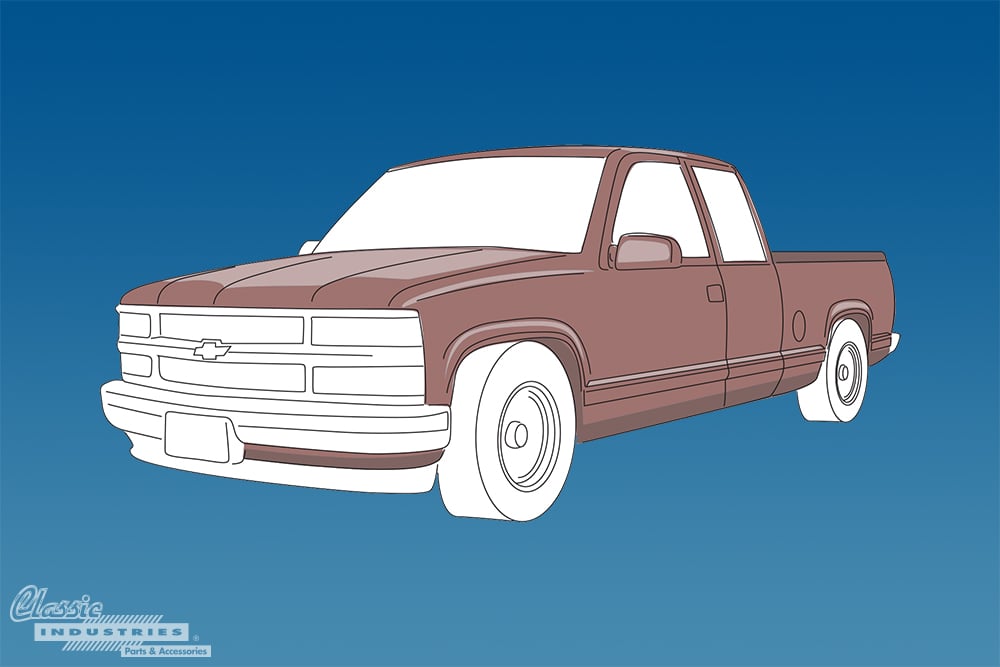 • From 1990-93, a performance model called 454SS was offered with a 454ci V8, sport suspension, and quick ratio steering.
• An updated fascia debuted along with the mandated center high-mount stoplight.
• A turbo-diesel was made available beginning in 1992.
• Vortec V8s debuted in 1995 with high-flow cylinder heads, new camshaft, roller valve lifters, and higher compression for increased power and efficiency.
1999-2007 Chevy Silverado (GMT800)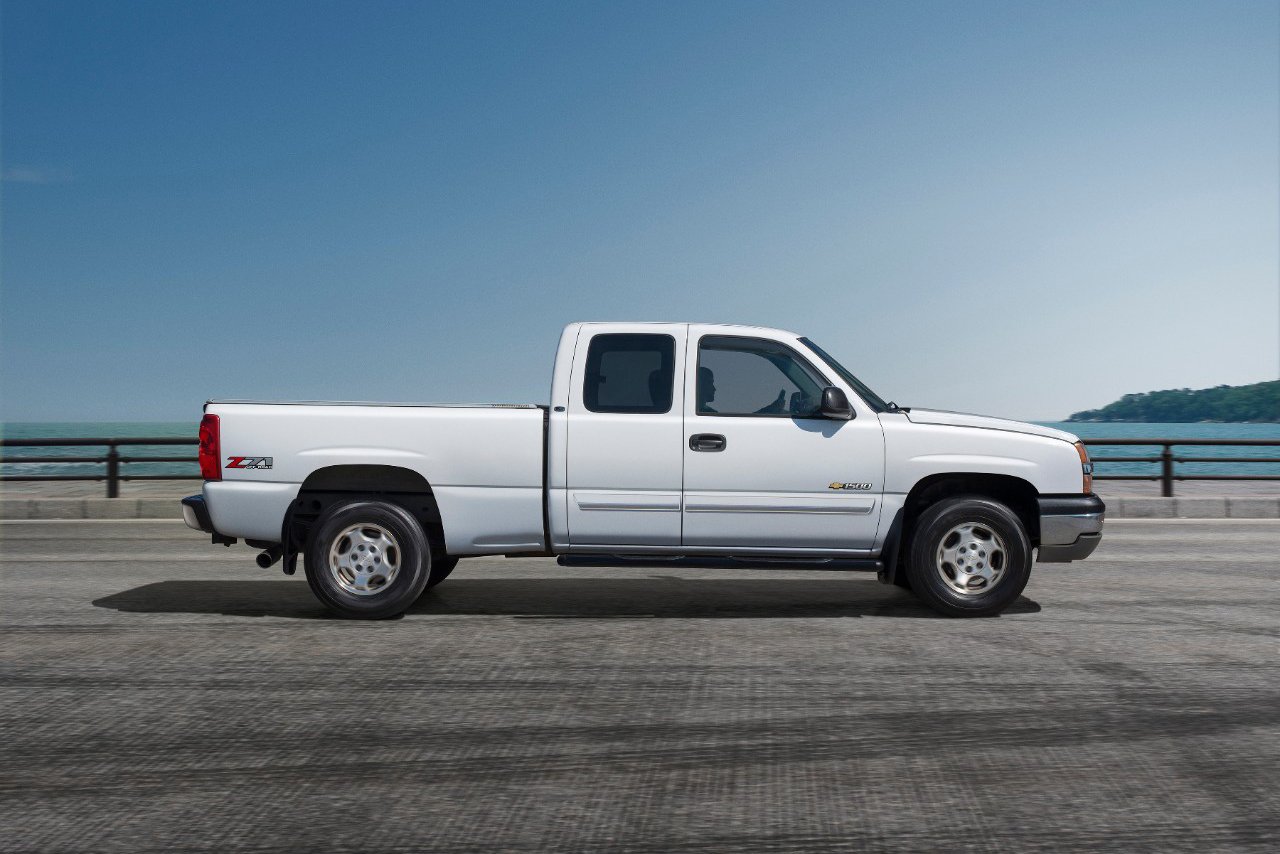 GM dropped the C/K designations for 1999, opting for Silverado for Chevrolet and Sierra for GMC, referring to the platform as GMT800. Some enthusiasts call this Chevy truck generation "NBS," short for New Body Style. Shortly before the next generation (GMT900) was released for the 2007 model year, General Motors began selling outgoing GMT800 models under the name "Silverado Classic."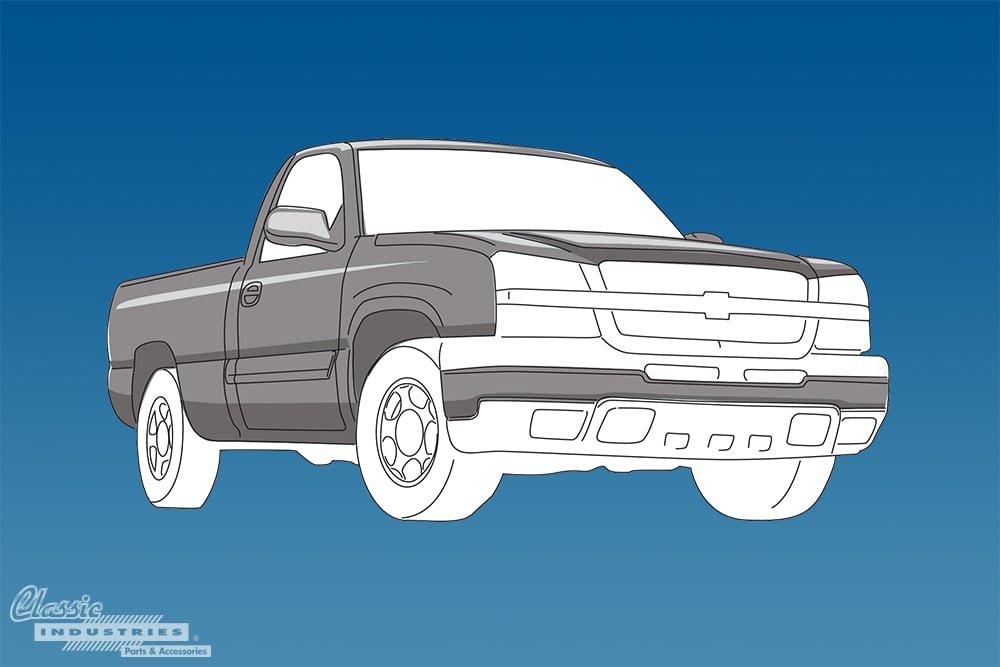 • Chevrolet models received a new fascia and revised tail lamps in 2003.
• GMC offered an upscale trim level called Denali in 2001.
• 2001-05 Denali models offered a Quadrasteer 4-wheel steering option.
• Beginning in 2003, Chevrolet offered a Silverado SS high performance pickup. In 2006, an Intimidator SS was offered in honor of the late Dale Earnhardt.
• A gasoline/electric hybrid was offered beginning in 2004.
2007-2013 Chevy Silverado & GMC Sierra (GMT900)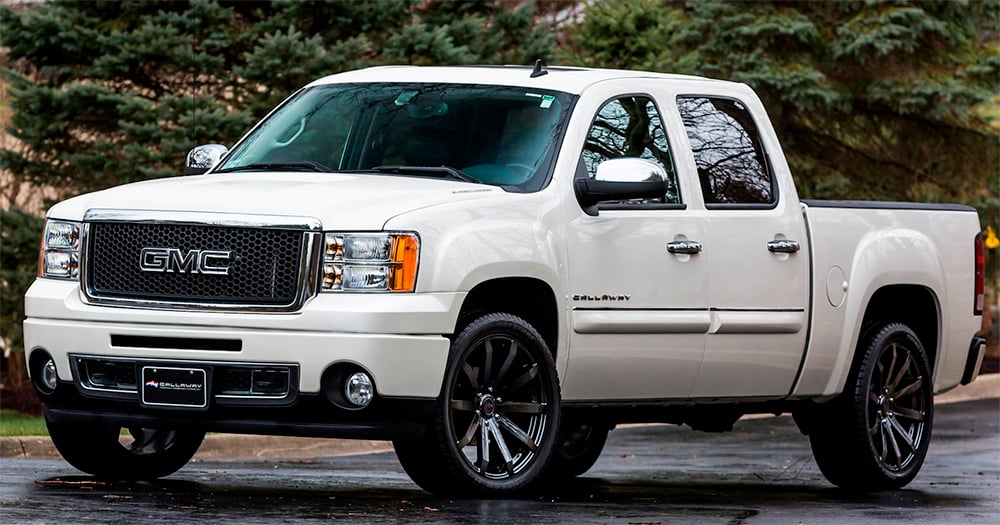 Photo courtesy of Mecum Auctions LLC
The GMT900 series trucks are the most popular and widely used trucks for businesses with employees that drive more than 100,000+ miles. With such a great proving ground of real world data and statistics to draw from, the GMT900 trucks are considered the most reliable Silverados and Sierras that GM has ever produced.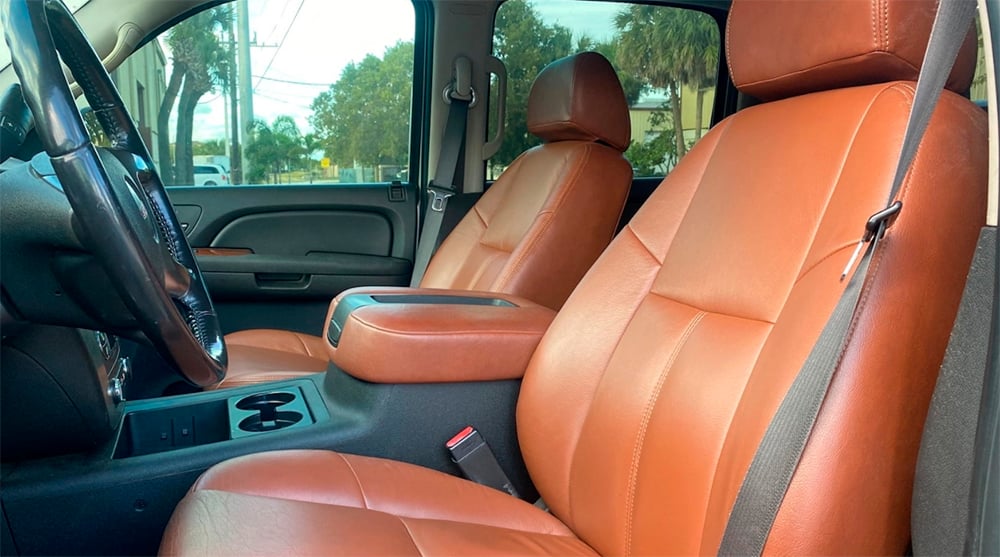 Photo courtesy of Mecum Auctions LLC
• In an effort to improve fuel economy, aerodynamic efficiency was stressed with the GMT900.
• GM increased the rake of the windshield to 57 degrees and decreased body panel gaps to improve airflow.
• Two available V8 engines were equipped with Active Fuel Management (AFM), a feature that deactivated four cylinders when the engine wasn't under load. The 5.3L and 6.0L V8's had AFM. The 4.3L, 4.8L, and 6.2L V8's did not have AFM.
• The GMT900 had a fully boxed frame with a three-inch wider front track and a one-inch wider rear track; torsional rigidity of the chassis improved 234-percent as a result of these changes.
• In concert with the addition of a Hotchkis rear suspension system, having a wider, stiffer chassis improved the truck's ride quality and handling characteristics.
• Goals for enhancing the interior included making it quieter, more spacious, more refined, more comfortable, and offering more storage compartments, which GM accomplished in all areas.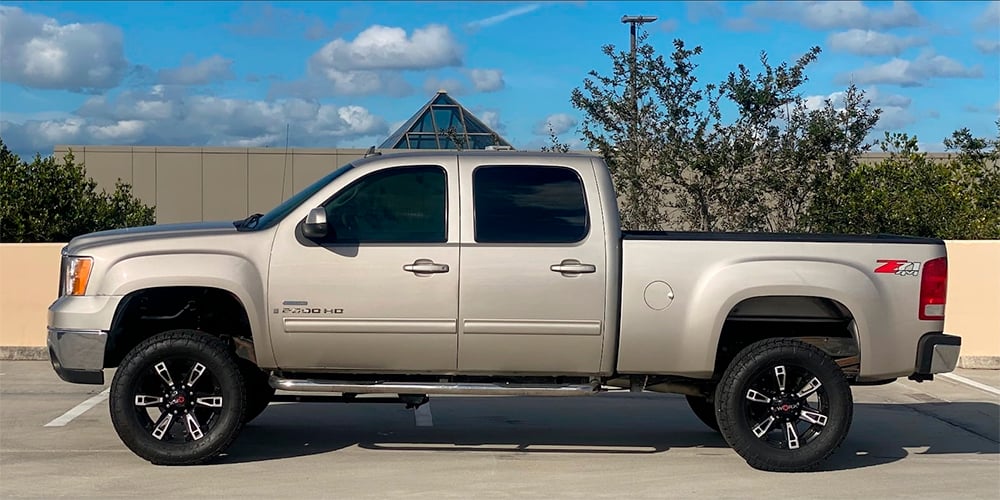 Photo courtesy of Mecum Auctions LLC
How to Identify a Specific Year Chevy Truck
This quick reference guide to Chevy truck generations should help you narrow down the year range of any GM truck you see, but what if you need to know the exact year? We can help with that. Check out our detailed guides below, which list the changes between each year of 1947-1972 Chevy trucks:
Need Chevy Truck Parts & Accessories?
If you already own a classic Chevy truck, Classic Industries can help you find the parts and accessories you need to restore or maintain it. Click the button below for a full-color Chevy truck parts catalog.
Sours: https://news.classicindustries.com/chevy-truck-generations
1972 Chevrolet Cheyenne Pickup For Sale
Orange Crusher: 1971 Chevrolet K20 Cheyenne Super
This classic pickup truck is more than just a pretty face. It's ready for whatever you can throw at it.
---
We've been writing about a lot of the classic "Action Line" '67-'72 Chevy pickups lately. Can you blame us? Everyone loves these trucks.
We've been focusing a lot on street trucks, though, and we wanted to show our off-road readers that we've got love for them, too. When we saw this truck, we knew it was the perfect off-road-ready restomod.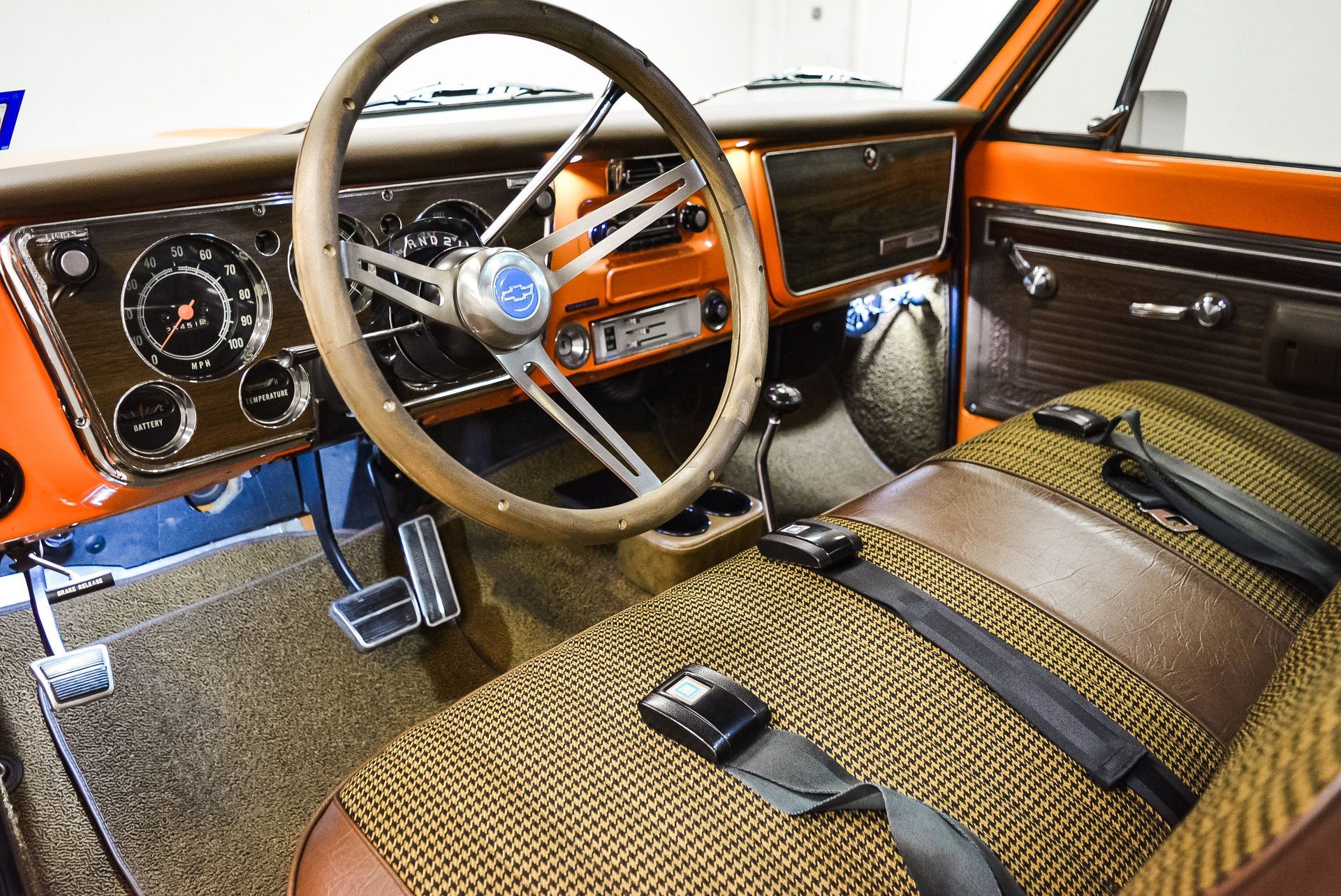 We found this 1971 Chevrolet K20 Cheyenne Super right here on Motorious. It's being offered for sale by Streetside Classics of Sherman, Texas. It looks like it would be right at home on a ranch down there.
This bright orange K20 has been upgraded with a Skyjacker lift kit with dual steering stabilizers. It rolls on a set of aggressive all terrain Nitto tires wrapped around a set of polished 8-hole aluminum wheels.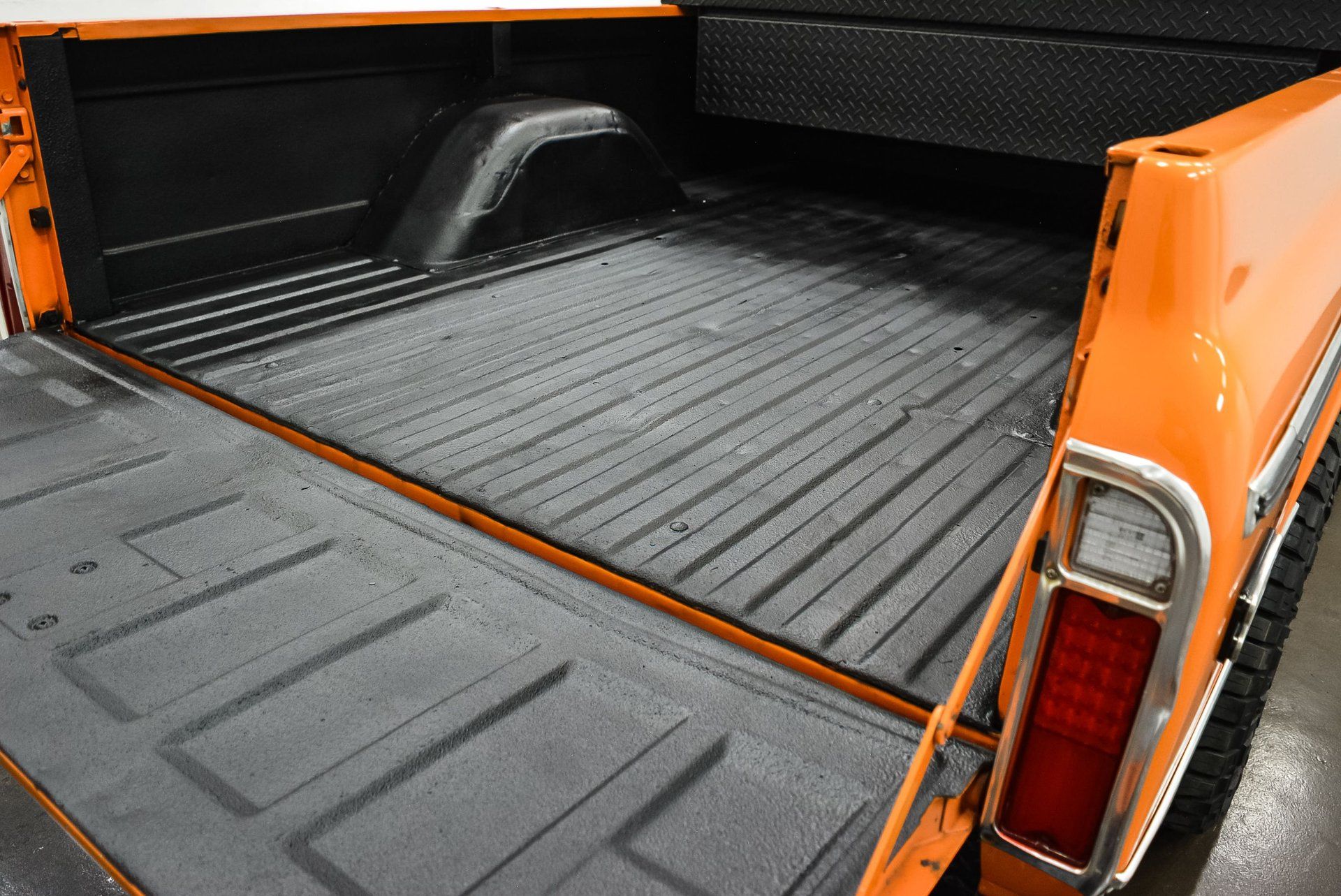 It's a classic look for any 4x4, let alone one this nice. It's attractive and functional, like the tool box in the bed. The bed has been treated to a spray-in bedliner, so you'll be able to actually get some use out of this longbed 4x4.
Under the hood, you'll find an upgraded cooling system making sure that the big, bad 502 crate engine stays out of the red zone on your temperature gauge. That massive V8 is fed by a Holley Sniper EFI system. The Sniper system retains the classic look of a carbureted setup, but with fuel-injected reliability and fuel economy.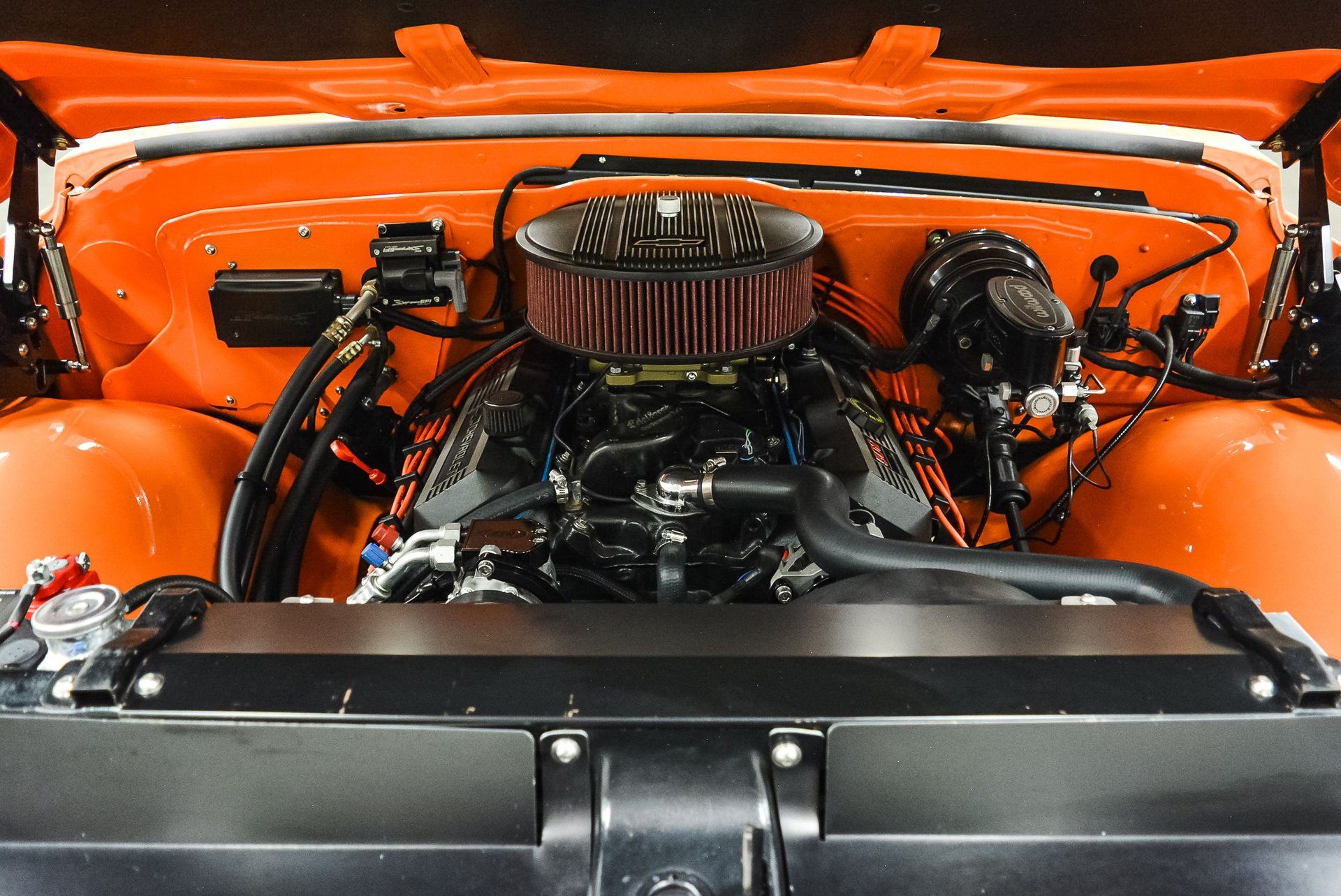 Several other details make this truck a great driver, too. Inside the houndstooth interior, you'll find power steering and power brakes, as well as air conditioning. The factory radio has been retrofitted with both FM and Bluetooth, which is a nice touch.
If you'd like to add this pickup to your stable, it's yours for $52,999. For the money, we'd rather have this than any brand-new pickup you could buy for that money.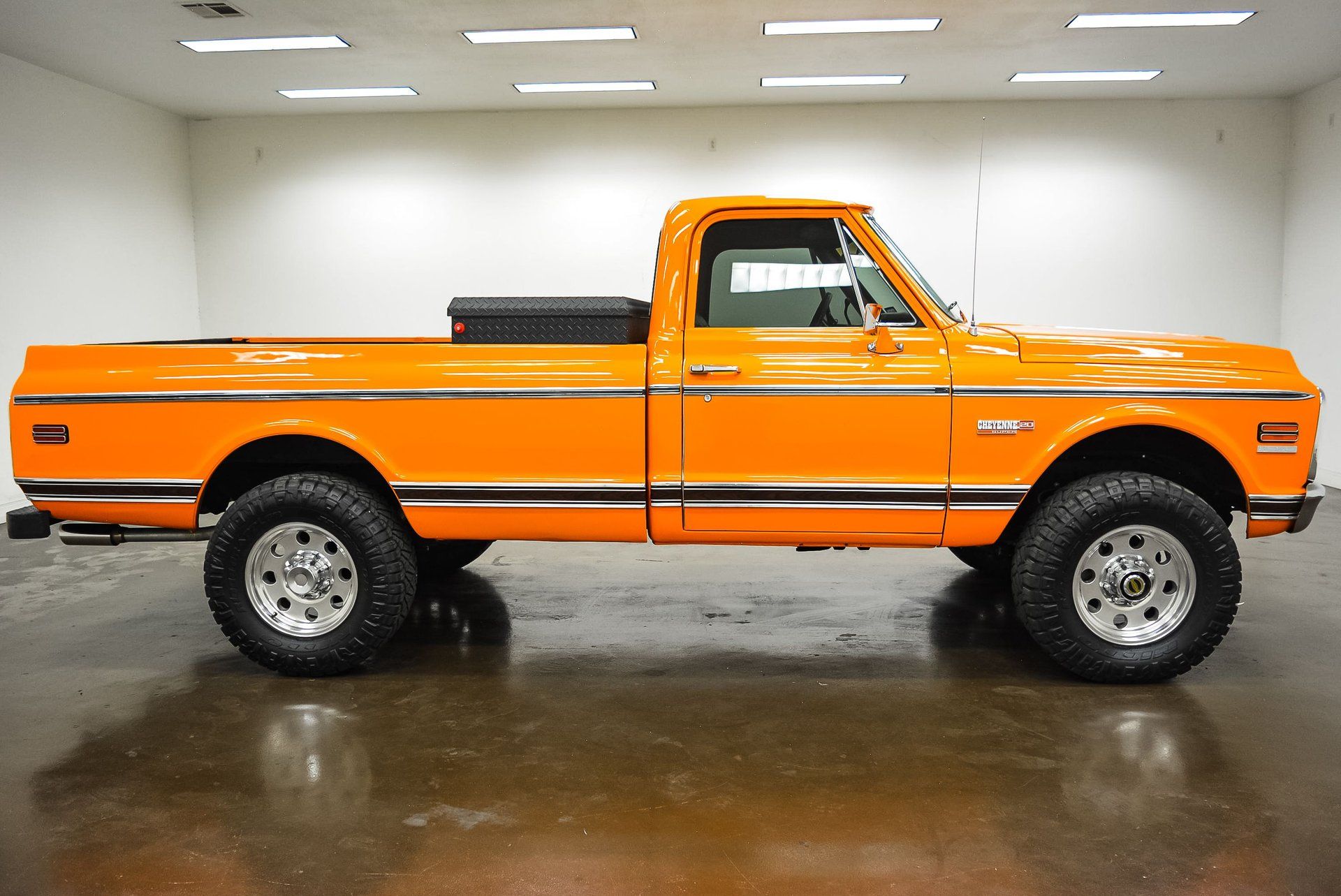 Sours: https://www.motorious.com/articles/handpicked/orange-crusher-1971-chevrolet-k20-cheyenne/
Truck 70 cheyenne
At least check it with a ruler. Stay here, please, quite a bit, I am now, - she took something out of the wardrobe and, clutching the bundle to her chest. Dashingly dashed off.
1970 Chevrolet C10
A minute later, he came close to you, thus his bump rested against your ass and began to unfasten the handcuffs. Then he put his hands behind his back and snapped the handcuffs on his wrists, and directed you to the table. Approaching he: -Yulia, you need to lie on the table with your chest and press your face to the edge of the table. He slowly tilted you onto the table holding hands.
In handcuffs, as soon as your chest touched the table, his bump rested on your ass again and it aroused you so much that you could not resist and wiggling it protruded as if you were sitting on a dick.
You will also like:
I also enjoyed sucking his cock. And I was looking forward to every night. Then he was sent to Algeria and he died. I was left alone. While Lina was telling her story to a lustful gentleman, Madame Solba and Gre - she had time to finish and now, embracing in one armchair, they listened.
398
399
400
401
402