DIY Build Your Own Agility Jumps
One of the most exciting things you can do with your dog is learn agility together!  This is something that you can do in your own backyard!  Today we are going to teach you how to build your own agility jumps for backyard fun with your dog.  Agility is not only great exercise for both you and your dog, but it is an awesome way to bond with your dog as well!
*Affilate links are present in this post
We wanted to build a total of 6 jumps for our own backyard agility set up so we bought enough material for those jumps. I ordered all of my materials from different sites online.  I choose to use 1 inch furniture grade PVC for my jumps so that they would be sturdier and last longer. Furniture-grade PVC has a glossy, highly-pigmented and weatherable outer cap that is extremely resistant to damage and degradation by sunlight.  SCH40 and 80 PVC are not intended to be left out in the sun.
The following step by step tutorial will show you how to build one agility jump, or you can also watch the video posted above.  As I said before, I bought enough material for 6 agility jumps, but on average one jump will cost you around $40 using this method.  For this project we enlisted the help of Snow Dog Daddy as well!

The next step is cutting the PVC Pipe!  Again, you can also watch the video above to see how this is done. Both white pipes will need to be cut to 47 inches.  These two pipes will be the ground bar, and the jump bar.  Save your leftover pieces for future projects! Both blue pipes will have 3 cuts made to them.  The first will be 36 inches, then 9 inches, then 9 more inches.  You should end up with pieces that look like the photo above.
Assembling your agility jump is simple! First we will build the feet.  Take two of your 9 inch blue pieces and insert them into the 4 way.  Repeat this step for the second foot, then place caps at the four feet ends.

Next, take the ground bar and connect the feet to each end.

Take the blue bars and insert them into the top of the 4 way and add your caps.

The agility jump is almost complete!  Now we will add the Clip and Go Jump Cups!  Measure out where the clips need to go, and just clip them on!

Now add your jump bar to your agility jump and you are done!

One more step, that we didn't end up having time to do, is adding stripes to your jump bar for higher visibility.  You can use tap or plastic spray pant, and just add a bit of color to the bar.
Shelby is our agility jump professional.  She has been through many agility classes and can perform jumps with ease!  I think this face says she approves!
Oakley has never been to an agility class.  We are slowly introducing her to agility jumps and we always lower the bar for her (8 inch height).  This is great exercise both physically and mentally for our senior girl!

Memphis is a beginner at agility.  She has only been to one class and still has puppy husky brain when it comes to paying attention.  This is the true look of a beginner.
Backyard agility is a great way to exercise and bond with your dog.  Before doing any type of activity like this, make sure you know what you are doing.  I highly advise taking an agility course, or finding someone who has done it before to help teach you the proper way to enjoy agility with your dog. Injury can occur when doing agility,  so be sure to educate yourself before you just start letting them jump!  If you have an older dog, please talk to your veterinarian before trying out this activity to make sure they are physically fit enough to do this.
Sours: https://gonetothesnowdogs.com/diy-agility-jumps/
.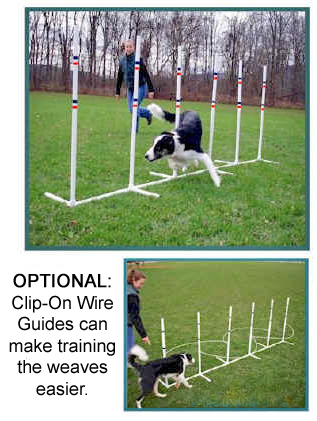 Agility trainers agree....The weaves are the hardest for your dog to master, so it is essential to have a set at home. Here is an affordable practice set that can be used indoors or out. The poles are 36" tall and evenly spaced apart at a standard distance of 24" (same distance used for all size dogs). Comes with free decorative tape for the poles, and easy assembly instructions. You will receive a connector piece with each set of 6 Weave Poles that will enable you to make a set of 12 Weave Poles (just buy two 6 pole sets and they will connect).

These weaves can also be used in the popular 2x2 training method by removing two base pieces.Click Here to see how.
Optional: Add-on Wire Guides can help with training beginner dogs. They clip onto the poles to provide a pathway for your dog to weave. As your dog progresses, simply slide the wires higher out of your dog's line of sight, and eventually you can remove them.

Click Here for general FAQ's on our different weaves.
Sours: https://www.affordableagility.com/weavespvc-fixed.htm
Not a member yet?
Register now and get started.
*This post contains some affiliate links
For those of you that follow me on Facebook, you probably know that I recently have started taking agility lessons. While being an agility loving Dachshund isn't a new concept, some might think that due to my short legs and long back that agility might not be the sport for me. But lucky for me, my mom believes that being active and fit are more important to keeping me healthy in the long run than making me sit on the sidelines. Agility might not be for every dog out there, but for me it is one of those things that keeps me motivated to run my little tushie off and keep the middle of my "hot dog" from touching the ground.
So with my start into the World of agility, mom decided to help me build a set of my very own agility jumps for the back yard. Lucky for you I made sure we documented the entire process so that you too can build your own backyard set!
DIY: Build You Own Agility Jumps
The following step-by-step tutorial will show you how to build two jumps for your dog for about $40 in materials (we did most of our shopping at Lowes).
Materials:
Two 10′ pieces of 3/4″ PVC pipe (this will make 4 jump poles)
Three 10′ pieces of 1″ PVC pipe
Eight PVC "T" connectors for 1″ pipe
Twelve PVC end caps for 1″ pipe
Tape measure
PVC pipe cutter (a circular saw or hand saw can be substituted)
Sharpie (or item to mark the pipes with)
*You will also need to either purchase or make your own jump cups for this project. We opted to buy our own jump cups
.*
It's also helpful if you have a supervisor for this project on hand – if you do not have one I'm happy to lend my services for a nominal fee, you know where to find me.
Next you will need to make some cuts in the 1″ PVC pipe. After measuring and marking your cuts with a sharpie, you can use a pipe cutter or a circular saw to make your cuts.
Cuts to Make on 1″ PVC pipe:
Eight 12″ pieces
Four 1 3/4″ pieces
Two 50″ pieces
Four 30″ pieces
*make sure you are only making your cuts for these out of the 1″ PVC pipe (you will cut the 3/4″ pipe to make the jump poles later)
Next you will start the assembly process – if you prefer to make your jump really secure you can use PVC pipe glue to attach the pieces, but we opted to forgo the glue and just tightly assemble each piece. This way the pieces can be disassembled later or put away for the winter.
Assembly:
1. Create the feet of your jump by slipping the 12″ PVC pieces into the top and bottom ends of your "T" connectors. Then add an end cap to each end of the pipe.
2. Next add the 1 3/4″ PVC pieces to the open end of the "T" connector.
3. Then add another "T" connector to the ends of your 1 3/4″ pipe, make sure they face in the directions pictured above.
4. Add the 50″ PVC pieces in-between your two "feet".
5. Place your 30″ PVC pieces into the open "T" connector and then add an end cap to the top of each pipe.
At this point your jumps are nearly complete, but you will need to add jump cups to them. You can purchase a set of jump cups
* for $19 for a set of 10 (make sure you purchase the 1″ pipe size). After you have your jump cups you will need to measure the distance between the jump cups to determine how long your jump poles need to be. In our case this was 49 3/8″ wide.
So out of the 3/4″ PVC pipe you purchased cut 4 pieces at 49 3/8″ (or the measurement you took between the poles after attaching your jump cups).
After making your cuts for your jump poles, you might decide to paint the poles. According to the AKC Agility Rulebook, jump poles must be striped for visibility, so who was I to argue with adding a bit of color!
After taping off some stripes on my poles with painters tape and newspaper mom let me choose the color I wanted from the cans of spray paint we had in the basement.
After a few coats of flashy blue paint, my jump poles were looking mighty fine. (You can also stripe your poles with colored electrical tape).
And then after letting them dry overnight, they were finally finished, and they were glorious!
Oh and don't worry, I only jump a 4″ height for practice – but I had mom and dad make me an extra jump rail for when Trooper comes over to practice with me.
Putting my new agility jumps to the test was the best part though!
Look at me, I can fly! 
I've created this handy PDF for you to download that has all the instructions you will need to make your own set of DIY Dog Agility Jumps. Happy Jumping!
*These jumps are intended to be used for backyard fun. If you plan to build jumps for competition use make sure you build your jumps to rulebook specifications.
Disclaimer: To the best of our knowledge this equipment is entirely safe, however, we are not liable for any damages or injuries you or your dog may sustain from following these instructions. Use your best judgement when building equipment for your dog – and be safe! 
Related
Sours: https://www.ammothedachshund.com/2012/03/27/diy-build-your-own-agility-jumps/
PVC pipe and connector Dog agility jump kit walk through - Klever Cages
Introduction: Dog Agility Jump
Hello Everyone! 

My little Cockapoo, Ruby, loves to do Agility and I want to be able to practice with her at home!  One of the first pieces of equipement that is useful for a course is the Bar Jump.  It is used in all different "games" and dogs love them.  You can of course purchase jumps but when I priced them I was shocked how much they wanted for a single jump let alone as set of them!  In this Instructable I'll show you how to build a regulation jump that you can use to have fun with your dog!

Also note that on every step (other than "The Plan" step) I have included a video walking through the step.  If you just want to view all the steps in one video, view DIY Dog Agility Jump

Safety Disclaimer
If you have never trained a dog for agility, please seek the training of a professional. Improper training can harm your dog and you could pattern bad habbits in your own movements.  Agility can be a safe and fun sport for both you and your dog but some guidence is needed to ensure the longevity of your team!



Step 1: The Plan
Our goal is to build a regulation Bar Jump.  According to the AKC
1
the jump needs to follow these rules:
Bars: 1" Schedule 40 PVC 4 to 5 feet long, striped for visiblility
Uprights: 1 to 4 inches wide at least 32" tall
Cups: Stick out no further than 1 1/2" and should allow bar to easily displace (ie. come off the cups if the dog misjudges the jump)
Those requirements make it easy to build the entire jump out of 1" PVC.  PVC is not only cheap, but available at most home improvement stores.
Following those guidelines, our design will have:
Bars: 1" Schedule 40 PVC 4 feet long
Uprights: 36" long, 1" Schedule 40 PVC
Feet: 18" long, 1" Schedule 40 PVC
Cups: custom modified PVC Tee Joint
1
AKC Regulations for Agility Trials, Chapter 3, Section 8
Step 2: Parts
The parts per jump that we'll need for this build are:

(2) 10 foot, 1"PVC schedule 40 PVC pipe
(2) 1" PVC 4 way with side port1
(1) 1" PVC Tee Joint (each Tee joint forms 1 set of jump cups, if you have multiple dogs jumping different hights, get 1 Tee joint per jump height)
(6) 1" PVC Cap
At least one color spray paint (use leftovers if you have any, otherwise check the returned paint section of the store for cheap cans).
Optional - Masking tape or blue painters tape.  This will be used to mask off the stripes for the jump bars.

If you want to make multiple jumps, feel free to use the attached excel spreadsheet (or just multiply the numbers above).  Note that a lot of times, you can find the Tee joints and caps in "Contractor" packs for a substantial discount so making multiple at the same time can lower costs.

If you can't fit 10 feet of PVC in your vechicle, feel free to take the PVC pipe to the moulding section of the store.  There you'll find a handsaw you can use to trim the PVC to more manageble lengths.  I would recommend cutting each pipe into a 6 Foot and 4 Foot section as this generates less "extra" pieces.

1 I had no luck finding the 4 way side port from my local hardware stores, as such, I ended up ordering them online.  I found ebay to be the best prices for them.  You'll want to search for "PVC 4 way"  that'll bring up the right parts. Mine were about $2.50 each  These will be furniture grade so they won't be able to handle pressure, but for our purpose, that is fine.
Step 3: Tools
This will be a very simple build and needs very few tools. 
Something to cut the PVC Pipe (Pipe cutter, Dremel, Hacksaw, handsaw, etc).
Something to cut the Tee Joint (Dremel, hacksaw, etc).
Optional, a file to file down the cups if you want to smooth the edges.
Clamps or vice to help hold the Tee Joints as you cut them.
A tape measure
A marking instrument, ie, a pen/sharpie/pencil
Painter's Tape or masking tape.
Because I am making multiple jumps, I am carefully using a Miter Saw (Chop Saw) to cut the pieces. 

Safety
Please wear safety glasses when cutting PVC especially with power tools!  I also wear hearing protection when using the Miter Saw.
Step 4: PVC Pipe Cuts
Each jump requires using (2) 10 foot pipes.  The nice thing is each pipe is cut the same way!  If you'll be making multiple jumps, I highly recommend cutting like an assembly line.  Do all cuts of the first size, then the next, etc.
Cut each pipe so the following pieces are created:
(1) 4 foot pipe
(1) 3 foot pipe
(2) 18 inch pipe
If doing them in batches, I recommend the following order:
Cut off 4 foot lengths of pipe from all the 10 foot pipes forming a pile of 4 foot and 6 foot pipes
Cut off 3 foot lengths of pipe from the 6 foot pipes from the last step forming 2 piles of 3 foot pipes
Cut off 18" lengths of pipe from only 1 of the piles of 3 foot pipes from the last step.

In the end, each jump requires:
(2) 4 foot
(2) 3 foot
(4) 18 inch
Note
For the first cut, it can help to brace the 6 foot side of the pipe with some scrap wood.  This will prevent the pipe from bowing as you cut.
Safety
Please keep all limbs, dogs, etc. safely away from whatever cutting tool you use!
Step 5: Jump Cups
This is by far the most complex step of the whole process.  I guess that's why cups are so expensive to buy!  Also, as describing the process might be confusing, please use the photos to clarify what I'm suggesting.
Hand held saw instructions
A vice or clamp can be helpful to act as another pair of hands.
Clamp the Tee Joint to a work surface so you can cut it in half down through the side port.
Using a saw or Dremel like tool, cut the Tee Joint in half.
Un-clamp the Tee Joint and re-clamp it so the side away from the side port is easily accessable.
Use a saw or Dremel to cut the back of the Tee Joint off (2 cuts down either side of the Tee Joint)
Repeat for the other half of the Tee Joint
Sand or file rough edges if you'd like.
Miter Saw Instructions
Due to the size of the parts, please don't hold the parts close to the blade, instead mount them on a piece of pvc pipe so you can safely hold or clamp the Tee Joints.
Place a piece of PVC into the side port of the Tee Joint.  We'll call this the front.
Line up the back of the Tee Joint up with the blade of your miter saw so you're will have roughly 60% or 70% of the circle left after the back is cut off.
Clamp the PVC pipe down so you don't need to hold it.
Slowly cut off the back of the Tee Joint discarding the back plate.
Remove the Tee Joint from the pipe
Put the Tee Joint back onto the pipe in one of the other two holes and place another length of PVC pipe in the other whole.  This is done so the next cut doesn't shoot one half of the Tee Joint across the room.
Lay the Tee Joint on it's side and position the middle of the Tee Joint in line with the blade.
Clamp both PVC pipes to prevent movement while cutting.
Slowly cut the Tee Joint in half.
Sand or file rough edges if you'd like.
Notes
I used the 18" pipes in the previous step to act as my extensions that I would put the Tee joint on.  These were the perfect length to clamp.
A slow speed grinder makes smoothing out the rough edges easy.
If you are using PVC as an extension and you find pulling off the Tee joint is a pain, a suggestion is having a cup of soapy water that you can dip the end of the pipe in before putting the pipe on the Tee Joint. This makes it easier to slide on and off the pipe.
Safety
Definitely have safety glasses on.  If the blade catches the PVC wrong, it can shoot it at high velocity and pieces will fly all over the room.
Step 6: Assembly
I do not use PVC cement because I like the ability to take apart my jumps for storage. If you would like a more permanent setup,feel free to use some.  All connections are press fitted together with my hands, if any pieces give me problems, I pull out the rubber mallet or just whack it against the ground!
Assembly Per Jump
Take (2) 18" pipes and insert them into the straight through holes of the 4 way piece to form a "foot piece."
Repeat the above step for the other side's "foot piece."
Take (2) foot pieces and (1) 4 foot bar and place the foot pieces on the end of the 4 foot bar to form the "base."
Set the "base" on the ground ensuring the remaing hole of the 4 way points towards the sky.
Take a 3 foot pole and insert it into one side of the "base."
Take another 3 foot pole and insert it into the other side of the "base" to form a "jump frame."
Take (2) jump cups and clip them onto the 3 foot sections of the "jump frame" (if you made extra's for more dogs, feel free to put them on now).
Take (6) end caps and place one on each exposed end of the "jump frame."
Move the jump cups to roughly the same hight facing each other inside of the "jump frame" and place the bar on them.
Using a tape measure, move the jump cups up and down so the top of the bar is at the required jump height.
Take a pen or Sharpie and make a mark on the uprights for that jump height, this makes it easier in the future to reset the heights if you ever move the cups.
Tips
If you're having problems clipping the jump clips onto the bar, you can file or ground down the interior side of the clip to make it easier to put on the upright.
If you jump multiple dogs, either mark the different heights if you only have one set of clips, or, make multiple clips.
If you find you're moving jumps a lot, you can mount a clip upside-down near the top of the uprights.  Using the jump bar, you can "carry" the jumps easier that way.
Step 7: Paint
In order to increase visibility of the jumps for the dogs, we need to paint stripes on the bars.  Optionally, you can paint the rest of the jumps too! Feel free to get creative here and use my instructions purely for guidence.
Bar Jump
For a nice clean line, take a bar and find the center. 
Wrap some painter's tape centered on the center of the bar.  
Move 3 or 4 inches to one side of the edge of the center tape and tape around the bar again.
Repeat for the other side of the center tape.
Using your spray paint, fill in the gaps you just formed with the painters tape with your favorite color (or two). Be sure to rotate as you spray and don't hold the can too close otherwise the paint will run.
Set aside overnight to fully dry (or whatever the instructions say). A completed "jump frame" makes for a great drying rack, just make sure the dog doesn't use the jumps before they're dry!
Repeat for each bar.
The Rest of the Jump
If PVC white isn't your color of choice, feel free to paint the whole frame a color.  Unless you're staining the PVC, note that the paint may wear off.
Note
I made a bar holder out of a box.  I cut "Vs" into the side and placed my bar in the "Vs." This made a great painting booth!
Having used the finished bars, I would recommend instead of striping down the middle of the bars, create stripes along the outside of the bars.
Safety
Safety glasses again as well as a well ventalated area!
Step 8: Finished!
The jumps are done, all that is left is to try them out!

My dog, Ruby, approves!  As always, if there are any questions please feel free to ask.

For those that are interested in getting involved with Agility for the first time, I recommend going to an Agility trail and talking with the trainers.  You will find that they will be happy to share information about the sport as well as point you to local instructors in the area. To find events in your area, try searching on the organization's below, for those outside of the USA, feel free to leave in the comments links to organizations in your countries. Note that this is not an exhaustive list, these are the ones I know about but I'm sure there are plenty more.

USA Dog Agility Organizations
AKC
USDAA
NADAC
CPE

See my other Instructable for plans to make your own A-Frame



4 People Made This Project!
Did you make this project? Share it with us!
Recommendations
Tinkercad Student Design Contest

Lamps and Lighting Contest

Made with Math Contest
Sours: https://www.instructables.com/Dog-Agility-Jump/
Pvc dog agility
DIY Dog Agility Courses: Homemade Obstacles For Fun & Training!
Agility courses provide dogs and their owners with a fun and healthy way to bond while getting some exercise.
You can even sign your dog up to compete in organized activities, called agility trials, if you'd like!
If you want to start teaching your dog to do agility work, you'll need a few obstacles. You can buy commercially manufactured obstacles if you like, but may owners have found it easier (not to mention cheaper) to just build a few obstacles themselves.
To get you started, we'll share nine great DIY agility course obstacles.
But before we get to the plans, we'll explain some of the basics of dog agility trials, describe some of the most commonly used obstacles, and lay out the benefits agility work provides.
Dog Agility Course Basics: How to Participate
You can participate in dog agility sports in one of two basic ways:
As a fun way of playing with your dog in your backyard. If you choose to go this route, you can make whatever obstacles you like, set them up however you want, and teach your dog to complete them any way you wish. Just keep your dog's safety in mind and go have a blast.
In organized agility trials. If you want to participate in an official competition, you'll want to familiarize yourself with the common rules and regulations of agility courses and try to create an agility course that resembles those you and your dog will face during organized events.
There are several different governing bodies that oversee agility competitions, so you'll want to figure out which group will be overseeing the contests you and your pup intend to enter.
You can check out the specific rules of different organizations via the following links:
American Kennel Club (AKC)
United States Dog Agility Association, Inc. (USDAA)
Canine Performance Events, Inc. (CPE)
North American Dog Agility Council (NADAC)
Rockstar Agility Network, LLC (RSAgility)
North American Dog Racing Association (NADRA)
United Kennel Club (UKC)
These different clubs mandate things like the obstacle size, the distances between different obstacles, and the overall size of the course. However, the gist of the sport is the same in almost all cases:
→ Your dog will need to complete a series of obstacles while you run alongside her and provide direction.
→Courses are set up in a variety of ways which differ from one event to the next. Dogs are typically not allowed to run through an agility course before the competition starts, but owners are allowed to briefly walk the course. This gives you the chance to prepare and establish a plan of attack.
→You'll need to control your dog with nothing more than hand signals and vocal commands while completing the course, and you are not allowed to touch any of the obstacles. Some dog breeds naturally excel at agility trials due to their breed's history herding sheep or otherwise learning to carefully study their owner's signals.
→ Dogs are judged on both the time it takes for them to complete the course (which means top-level competitors run through them at close to top speed), as well as their ability to overcome the obstacles without committing a "fault," such as knocking over an obstacle or failing to complete one.
Common Dog Agility Course Obstacles
Although agility courses can be laid out in an infinite number of ways, most courses use the same basic obstacles.
These typically include:
A-Frame – This is exactly what it sounds like – an A-shaped ramp which requires your dog to run up one side and down the other.
Dog Walk – The dog walk is essentially an A-frame that has a flat section in the middle.
Seesaw– A pivoting plank, just like you can see on a playground. Your dog runs up one side, waits for her weight to swing the other side down, and then runs down. Some call this obstacle a teeter-totter.
Crossover– This obstacle (which isn't used by any of the major organizational bodies anymore) is like a multi-sided dog walk. It consists of several ramps leading to a central platform. To successfully negotiate the obstacle, dogs must ascend and descend via the predetermined ramps without using the others.
Tunnel– A flexible agility tunnel your dog must run through.
Collapsed Tunnel – A collapsed tunnel is like a normal tunnel, except that the frame is removed from the far end. So, your dog will have to run in the open side of the tunnel and then push her way through the opposite side which is caved in.
Jump– Jumps are obstacles dogs are required to bound over. They're typically constructed like a hurdle used in human track and field events.
Spread Jumps – A jump that requires your dog to clear a predetermined distance and
Panel Jump– Jumps that utilize a flat panel, rather than a hurdle-like design. Picture a short wall that your dog must jump over.
Broad Jump – A series of raised platforms your dog must jump over without contacting any part of the obstacle.
Tire Jump– A vertically mounted tire (or any other torus-shaped object) suspended in a frame. Your dog must jump through the center of the tire.
Pause Table – A raised platform that your dog is required to jump up on and pause for a predetermined length of time before moving on.
Weave Poles – A series of vertical poles through which your dog must weave like a slalom skier.
The exact dimensions and design details of these obstacles vary from one organizational body to the next, and many allow these sizes to be adjusted to suit the size of your dog.
Of course, you can always be creative and design unique obstacles for your pup. Just be sure to keep your dog's safety in mind when doing so.
How Much Space Do You Need For a Dog Agility Course?
One of the cool things about dog agility courses is that they don't require vast amounts of space.
Most official courses are set up in an area that measures about 10,000 square feet. That sounds gigantic, but it's really not – that's a square area with 100-foot-long sides. You'll clearly need a big backyard to set up an official course, but you won't need acres and acres of space.
If you are just setting up an agility course to have a bit of fun with your dog and don't intend on training her for competitions, you don't even need this much space. You can just adjust the obstacles you create and their layout to fit the space you have available.
Why Build Your Dog an Agility Course?
Dog agility courses can be incredibly beneficial for many dogs. Some of the most notable benefits they provide include:
They Help Your Dog Get More Exercise
Because dogs are usually expected to run through an agility course as quickly as possible, the activity is a great form of exercise.
They'll often use all of their muscle groups while doing so, ensuring that they get a thorough, full-body workout. You'll even get a bit of exercise while leading your dog through the course.
They Provide Mental Stimulation
Learning to negotiate obstacles while following you around an agility course will help keep your dog's brain humming. This will help prevent boredom, provide a number of emotional benefits, and generally help keep your dog healthier and happier.
They Help Improve Your Dog's Obedience
Your dog will need to be minimally obedient to begin agility trial work, but once you begin training, you'll surely notice that your dog's obedience becomes much sharper. It may even help improve your training and leadership skills at the same time!
They Allow Your Dog to Show Off
Some dogs are complete hams who love to show off their skills and abilities. Agility trials provide a great way for them to do so. And because you'll want to provide plenty of positive reinforcement during the training process, people-pleasing dogs will especially enjoy agility coursework.
They Give You Another Way to Bond with Your Dog
Just about any activity you share with your dog will help strengthen your bond, but because agility trials require you to work very closely with her, you'll likely enjoy a closer connection after a few months of work.
9 Awesome DIY Dog Agility Courses
We've put together nine of the best DIY agility course obstacles we could find below.
As with any other DIY project, you should feel free to mix and match concepts and designs so that you end up with obstacles that suit you and your dog!
1. Easy Agility Obstacles from Animal College Behavior Blog
The Animal College Behavior Blog provides tips for making a few agility obstacles that are very easy to create. Specifically, it provides plans for constructing jumps and ladders. However, this blog recommends buying tunnels, rather than making them yourself, as commercial models typically last longer.
Difficulty Level: Easy
Materials Needed:
Laundry baskets
Broomstick
PVC pipes
PVC connectors
Tools Required:
This article doesn't include any photos, but here are a few that may help you figure things out.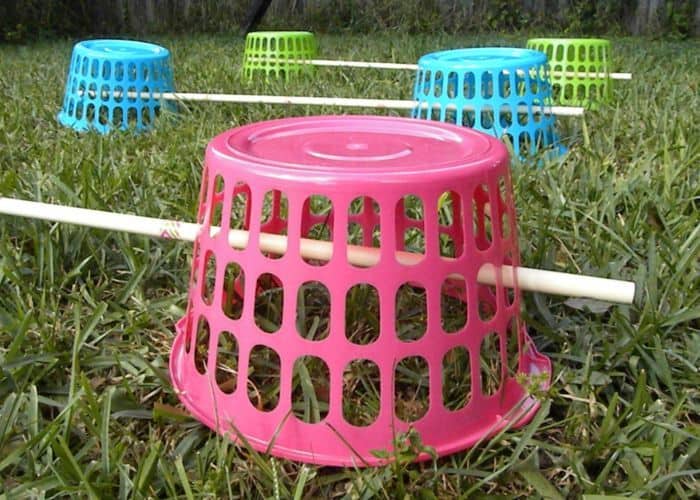 2. Simple and Creative Dog Agility Obstacles by Dogsaholic.com
Dogsaholic.com provides a few different ways to build three key agility obstacles: tunnels, jumps, and tire jumps.
It also provides a few easy ways to spruce up an agility course with basic household items. Some of the obstacles described can be built without any tools at all, but others are a little more complicated and require a few basic hand tools.
Difficulty Level: Easy to Moderate
Materials Needed:
Note: The materials you'll need will vary based on which version of the obstacles you make. You won't need all of these materials.
PVC pipes
PVC connectors
PVC caps
Tire
Elastic cord or string
Chairs
Blankets
Traffic cones
Children's play tubes
Soccer cones
Bamboo poles
Used tires
Tools Required:
Scissors
Saw or PVC cutter
Mallet (for driving PVC pipes into the ground)
Tape measure
3. DIY Dog Agility A-Frame from Instructables
This article from Instructables explains how to make a large and sturdy A-frame obstacle for your dog. These plans are designed for a very small dog, but you could easily scale them up to suit larger dogs.
Difficulty Level: Moderate
Materials Needed:
Eight 8-foot-long 2x4s
Two 3'x 8' pieces of 15/32-inch plywood
42 feet of 3/8″ x 1 1/4″ molding
Two door hinges
Four hook bolts
Two 8-foot-long chains
Wood glue
One box of 2 ½- inch screws
One box 1-inch nails
Two cans of exterior paint (two different colors)
Exterior base coat paint
Several cups of dry sand
One pool noodle
Tools Required:
Cordless drill
Miter saw / chop saw
Circular saw (you can use this in place of a miter saw if you like)
Tape measure
Pencil
Safety glasses
Paintbrush
Stirring stick
This video doesn't explain how to make the A-frame, but it does give you a chance to see the obstacle in use.
4. Multiple Agility Course Obstacles from WikiHow
This article from WikiHow focuses more on the basics of setting up a course and teaching your dog to complete it, but it also provides some neat ideas for making your own obstacles.
Difficulty Level: Easy
Once again, the materials you'll need will vary based on which version of the obstacles you make. You probably won't need all of these things.
Materials Needed:
Hula hoop
PVC pipes
PVC connectors
PVC caps
Flower pots
Chairs
Broomstick
Duct tape
Rope
Children's play tunnels
Children's tables
Blanket
Tools Required:
Scissors
Measuring tape
Sharpie
Saw or PVC cutter
5. Build-Your-Own Agility Jumps from Gone to the Snow Dogs
In contrast to some of the other DIY articles that focus on providing basic ideas for how to build obstacles, this article from Gone to the Snow Dogs provides very specific plans.
It walks you through the entire process and shows you exactly how to make your own dog jumps.
Difficulty Level: Moderate
Materials Needed:
Two white 5-Foot 1-inch Furniture Grade PVC Pipe
Two 5-Foot 1-inch Furniture Grade PVC Pipe, color of your choice
Two 4-Way Tee 1-inch Furniture Grade PVC Fitting
Six External End caps 1-inch Furniture Grade PVC Fitting
1 Pair of Jump Cup Strips
Tools Required:
Tape measure
Sharpie
Saw or PVC cutter
6. How to Build a Three-Part Dog Agility Course from DIY Network
This is another set of very thorough plans from the DIY Network which provide step-by-step instructions for creating a three-part obstacle course. With these plans, you'll be able to build your dog a high-quality seesaw, a set of weave poles, and an A-frame.
Difficulty Level: Moderate
Materials Needed:
wood glue
plywood
1-1/2″ galvanized roofing nails
PVC pipes and fittings
2x4s
CPVC primer and cement
1×4 boards
9 feet of 2-inch PVC pipe
Four 2-inch PVC 90-degree fittings
Four 2-inch PVC T-joints
Two 2-inch PVC cap pieces
3-inch hinges
Several 1-inch PVC pipes
PVC caps
Tools Required:
Circular saw
Cordless drill
Nail gun (you could use a hammer if you prefer)
Paintbrush
Measuring tape
7. DIY Agility Course from Petful
Petful provides a great set of DIY plans that'll allow you to build your dog a complete agility course, including a jump, tunnels, a seesaw, a pause table, and a set of weave poles.
This article places a heavy emphasis on making your own course as a way of saving money, so budget-limited owners should definitely check these plans out.
Difficulty Level: Moderate
Materials Needed:
Four 18-inch length PVC pipes
Two 2 ¾ inch length PVC pipes
Three 4-inch length PVC pipes
Fourteen PVC T's
Four PVC end caps
Four 18-inch lengths of 1-inch PVC pipe
Two 36-inch lengths of 1-inch PVC pipe
Four 1 1/2-inch PVC elbows
Two PVC T's
One flex drain pipe measured and cut to fit your dog's girth, 8 feet length
One drain coupler
One 12-inch length link chain
Three rolls duct tape (1 red, 1 white, 1 blue)
Eight 36-inch length PVC pipes
Four 18-inch length PCV pipes
Two ¼-inch PVC pipes
Eight 1 inch 90-degree PVC elbows
Six PVC T's
Four 2 ¼-inch PVC pipes
Five 5 ½-inch PVC pipes
Nine 12-inch PVC pipes
One 10-inch PVC pipe
One 2-inch x 10-inch board
Two 6-inch pipe straps
Assorted screws
Astroturf or grass carpet for cover, 4 ft x 8 ft rug
Particleboard cut to cover the top of the spool, 24 inches x 48 inches
Astroturf or grass carpet to cover the board, 4 ft x 8 ft rug
Tacks or carpet glue to fasten the carpet to the board, 8 ounces
Tools Required:
Saw or PVC cutter
Circular saw or table saw
Cordless drill
Tape measure
Sharpie
Pencil
Scissors
Unfortunately, Petful doesn't provide any construction photos of these projects, but they're all explained in great detail, so you should still be able to figure out how to slap these obstacles together – particularly if you are already pretty handy.
8. DIY Canine Agility Course by Wide Open Pets
These plans from Wide Open Pets are some of the easiest ones we found, so they're great for owners who aren't comfortable making difficult construction projects.
They rely heavily on PVC pipes for the construction, which helps keep the project simple and reduce the number of tools you'll need.
The plans will teach you how to make several different obstacles, including jumps, weave poles, and a seesaw.
Difficulty Level: Easy
Materials Needed:
Eight 3-inch PVC pipes
Eight 19-inch PVC pipes
Four 14-inch PVC pipes
12 inches of 2-inch pipe
Nine 18-inch PVC pipes
Six 24-inch PVC pipes
Eight 12-inch PVC pipes
Two 48-inch PVC pipes
Two 5-inch PVC pipes
Two 6-inch PVC pipes
Two 15-inch
12-inch-wide wooden plank (approximately 8 to 10 feet long)
Tools Required:
Tape measure
Sharpie
Saw or PVC cutter
9. Simple PVC Agility Obstacles from This Old House
This DIY agility guide from This Old House features another set of PVC obstacles that are easy and affordable to build.
As you'd expect from a set of plans produced by such a well-respected DIY resource, they are very detailed. Equipped with these plans, you should be able to construct a multi-unit agility course in no time. These plans will explain how to make jumps, weave poles, and a seesaw.
Difficulty Level: Easy to Moderate
Materials Needed:
All PVC pipes used are 1-inch in diameter unless labeled otherwise.
Eight 12-inch
Two 48-inch
Two 5 ½-inch
Two 6 1/2-inch
Two 15 ¼-inch
Four 18 ½-inch
Two 12-inch
Two 24-inch
Six 40-inch
Eight 3 ¼-inch
Eight 19-inch
Four 14 ½-inch
Four 12-inch
One 12-inch (2-inch PVC)
PVC caps
Colored tape (optional)
12-inch-wide wooden plank (approximately 8 to 10 feet long)
Gravel for weighing down the obstacles
Assorted screws
Metal straps
Tools Required:
Saw or PVC cutter
Cordless drill
Tape measure
Mallet
Helpful DIY Canine Agility Course Instructional Videos
For some reason, DIY dog agility course designers rarely make videos explaining how to build the obstacles detailed in their plans. But we always want to help our readers as much as possible, so we've gathered a few of the best videos we could find below.
These may not match any of the plans listed above, but they should help you figure out how to build most of the things described above.
Dog Agility Course Safety
Before you break out the tools and start fashioning a set of obstacles, you'll want to make sure you review a few important safety tips.
When properly designed and built, agility courses are safe for most dogs, but there are a few potential dangers you'll want to take care to avoid.
Be sure the obstacles have no rough or sharp edges. Run your hands all over the obstacles to ensure that none have exposed screws or rough edges that may scrape your pet's body.
Make sure you clear the entire area. You don't want your dog to trip or stumble into a hole while running full speed through an obstacle course. So, just make sure to inspect the entire area for potential hazards, including divots, tree stumps, rocks, sticks, or other dangers before you get started.
Customize the obstacles to suit your dog's size. Simply put, a Chihuahua won't be able to safely complete a course set up for a border collie, so you'll have to tailor the size of the obstacles to your pet.
Talk to your vet before getting started. Not all dogs are cut out for agility trials. Some may be too heavy, while others may have hip or joint problems that might preclude them from these activities. Just discuss the issue with your vet and make sure your dog is healthy enough to do agility trials before starting.
Breeds That Excel at Canine Agility Trials
Any dog can learn to perform agility trials (provided that your vet gives you the green light). However, some breeds are clearly better-suited for the activity than others.
Dachshunds, for example, aren't exactly built for obstacle courses (although I'd pay money to watch one try). At the other end of the spectrum, breeds with heavy builds – including Rottweilers, bulldogs, mastiffs, and Great Danes – typically aren't as light on their feet as most good agility dogs are.
Most breeds that naturally excel at agility trials are small to medium in size (say, 20 to 50 pounds), and they typically have rather light bone structures. They must also be pretty smart pups who like to learn from and work with their owner or handler.
Herding dogs often exhibit these traits, and they're typically among the most commonly seen breeds in agility contests. Some sporting dogs (such as retrievers) also excel in the event, but dogs who were bred to work alone, such as terriers and livestock-guarding breeds, are usually not as well-suited for the activity (although there are certainly exceptions).
Some of the breeds that usually make great agility dogs include:
Border collies
Shelties
Australian shepherds
Golden retrievers
Papillons
Fox terriers
Jack Russel terriers
Standard poodles
Pembroke Welsh corgis
German shepherds
Belgian Malinois
Chinese crested dogs
Labrador retrievers
Vizslas
Huskies
Weimaraners
Additionally, mixed breed dogs with a suitable build and temperament can also excel at agility trials. However, this may limit the number of organizations who'll allow your dog to compete, as some are only open to registered dogs of a few given breeds.
As you can see, agility obstacles are pretty easy to build, and they're great fun for many dogs. And while there are commercially manufactured obstacles available, you can just build your own. This will not only save you a bit of money, but it'll also allow you to customize the obstacles to suit your pup.
Have you ever built DIY obstacles for your dog? We'd love to hear about your experience. Tell us what worked and what didn't in the comments below!
Want more DIY project ideas? Check out our guides on:
Sours: https://www.k9ofmine.com/diy-dog-agility-courses/
DIY Backyard Dog Agility Training Course Built for my Border Collie on a Budget
Project details
Skill
1 out of 5EasyJust plug the PVC parts together and hit the teeter with a coat of paint.
Estimated Time
5 hours over two days
You have your tricked-out media room. The kids have their backyard playground. But what about your dog? We think this oh-so-important family member deserves a special home recreation area too.
Which is why we recommend getting everyone together this weekend and building her a DIY dog agility course. Not only will it give you and your family some quality bonding time with your favorite canine, the workout the course can provide will be great for your dog's health, behavior, and longevity. "Active dogs tend to keep fluid in their joints longer, which lessens the effects of aging," says Carrie DeYoung of the American Kennel Club. And watching your pup fly over hurdles, whip around poles, and balance herself on a teeter-totter provides way more family entertainment than watching TV or playing video games. Here's how to build your dog's rec area.
Step 1
Cut List for Pet Agility Course
Clean the printing off the pipes using clear PVC cleaner (optional). Mark each section of pipe to length using the cut list below. Cut all the sections using a pull saw. Write the length of each section at the end of the pipe where the marking will later be covered by a connector or end cap.
Cut List
(All 1½-inch pipe, unless otherwise noted)
Agility Jump
8 @ 12 inches
2 @ 48 inches
2 @ 5½ inches
2 @ 6½ inches
2 @ 15¼ inches
Weave Poles
4 @ 18½ inches
2 @ 12 inches
2 @ 24 inches
6 @ 40 inches
Teeter-Totter
8 @ 3¼ inches
8 @ 19 inches
4 @ 14½ inches
4 @ 12-inch
1 @ 12 inches (2-inch pipe)
Download all the plans for this DIY dog agility course here.
Step 2: Jump Bars
This jump bar helps Fido build up his hindquarters and develop a better sense of boundaries. It also helps breeds that are prone to hip problems (such as Labs and German shepherds) improve strength and agility.
Step 3: Cut the Bar Rests
To create the cups on which the ends of the jump bars rest, mark four tees at the center outlet on one side of the middle line.
Insert a scrap piece of pipe in one end of the tee to hold on to, and clamp the other end of the tee to a work surface.
Cut the line using a pull saw, then turn the tee and cut parallel to it to remove the larger side of the center outlet. The leftover cup will hold the jump bars in place while allowing them to dislodge easily so that your dog can't be injured.
Step 4: Assemble the Jump
Assemble one side of the jump in this order: tee, 5½-inch pipe, cut tee, 6½-inch pipe, cut tee, 15¼-inch pipe, and end cap.
Using a block and a hammer, push each connection together until the pipe rests against the shoulder inside the connectors. The center of each cup should sit 8 inches and 16 inches from the ground. To hold the sides upright, insert a 12-inch pipe into each outlet of the bottom tee; fit one with an end cap and one with another tee. Push two 12-inch pipes fitted with end caps into the base tee to steady the assembly.
Assemble the second side. Connect the two sides by resting a 48-inch pipe between them. Wrap four strips of red tape around each jump bar and several around each side to increase the jump's visibility.
Step 5: Weave Poles
A series of six weave poles keeps your dog agile by working his joints and muscles. Start with three, then add more as your pooch progresses.
Step 6: Connect the Base Pieces
To be sure the base pieces for the weave polls won't spin, first connect each 18½-inch piece to the side of a tee. Tap the pipes tight into the tees using a block and a hammer. Drill a hole through the tee into the pipe using a drill/driver fitted with a 1/16-inch bit. Connect the two with a 1-inch set screw.
Step 7: Align the Poles
Attach the tee-pipe pairs to create one long line. Insert a 12-inch pipe into the tees on either end of the run and fit each with an elbow, a 24-inch pipe, and an end cap. Insert a 40-inch pipe fitted with an end cap into each of the six tees. Lay the entire row on its side on a flat surface to keep all the tee outlets parallel. Mark a line that crosses in between each tee and pipe between the uprights so that you can keep them lined up the right way when you put the screw in. Using a drill/driver, drill a hole at each connection, making sure the mark stays aligned. Secure these connections with 1-inch set screws.
Step 8: Add End Supports
Straighten the polls vertically while pushing the legs at either end to opposite sides of the polls to create a large Z shape. When the weave polls are straight up and down, drill and sink a set screw through both ends of each elbow on either end of the polls. Wrap two strips of blue tape at the top and bottom of each weave poll and one strip in the center.
Step 9: Teeter-Totter
Doing a balancing act on a teeter-totter helps dogs gain confidence and trust your commands—particularly "come," "stop," and "stay"—as you help them over it.
Step 10: Find the Plank Balance Point
Mark the tipping point of the teeter-totter at 5 feet along a 12-by-8-inch laminated shelving board. Positioning this fulcrum away from the entry side of the teeter-totter will slow the drop rate once the dog crosses it. Mark two lines 2 inches from either side of the fulcrum. Mark each outside line at 3 and 9 inches from the edge.
Step 11: Drill for the Center Spin Pipe
Dry-fit the holes of a 2-inch strap on the crosshairs. To create space for the head of the bolt to sit flush with the top of the plank, remove the strap and drill one-quarter the depth of each hole using a drill/driver fitted with a 5/8-inch paddle bit. Drill the rest of each hole with a 3/8-inch bit.
Step 12: Bolt on the Center Spin Pipe
Set the 12-inch length of 2-inch PVC pipe inside the straps with their holes aligned with the holes in the board. Attach the pipe-strap assembly to the board using 3/8-inch flathead bolts. Space the strap from the board with four washers at each bolt. Tighten a locknut onto each bolt using a flathead screwdriver and an adjustable wrench.
Step 13: Paint the Board
Paint the entire board with white primer. When the primer is dry, outline a 1-foot-wide area over the fulcrum with painter's tape. Paint the contact zones on either side of the board in yellow paint mixed with an antiskid additive.
Step 14
Attach Balance Weights
Use two weights to slow the descent of the board when a dog is on it. To make them, fill 12-inch lengths of pipes with gravel and cap both ends. Attach the weights as close to the end of the entry side as you can without raising the board off the ground. Secure the weights with metal strapping and 3/4-inch sheet-metal screws.
Step 15: Assemble the Base
Make the teeter-totter base by creating two box-shaped sides connected by crosspieces. To build the bottom of the first side, push together an elbow, a 19-inch pipe, a tee, another 19-inch pipe, and another elbow. Repeat to build the top.
Connect the top and bottom by inserting a 3¼-inch pipe, a tee, and another 3¼-inch pipe between the elbow at each end of the top and bottom.
Build a second side, and install 14½-inch pipes between the tees in the center of the bottom and sides of the frame sides.
Set the frame fittings using a block and a hammer, but do not tighten the top crosspiece and one corner. Wrap stripes of yellow tape around the base to make it easier for your dog to see.
Step 16: Position the Plank on the Base
Slide the 2-inch pipe on the teeter-totter plank over the crosspiece. Connect the crosspiece and the last corner. Tap all frame connections until secure.
---
Recommended Tools:
Sours: https://www.thisoldhouse.com/pets/21016642/how-to-build-a-dog-agility-course
You will also like:
Whether just for fun or to train your dog to be part of shows, having a dog agility course in your backyard can be a great way to offer your dog exercise, training, and quality bonding time.
As you go about setting up your agility course, you may notice that the price of equipment can start to really add up. However, with creativity, craft skills, and a bit of effort, you can make your own dog agility equipment for much less.
With our comprehensive list of free and easy to DIY dog agility course equipment plans, you won't have to jump through hoops to set up a fun layout of challenges and obstacles for your dog. We've included a variety of ideas for all skill levels and using a plethora of materials, from PVC pipes and wood to items from around the house.
1. DIY Dog Agility Course, From This Old House
Check It Out Here
Using PVC pipes, This Old House provides detailed DIY dog agility course plans with helpful pictures to make three key obstacles for your backyard dog agility course. You'll be able to make an agility jump, weave poles, and a teeter totter. These plans result in sturdy, durable builds.
Skill Level: Moderate
Tools
Pull saw
Drill
Drill bits
Combination square
Hammer
Wood block
Supplies
PVC pipe and connectors
PVC cement
Wood plank
Paint
Colored tape
2. Dog Agility Course at Home, by Natural Dog Owner
Check It Out Here
You'll be able to set up your DIY dog agility course using the suggestions and plans supplied by Natural Dog Owner. Every obstacle you'll need for a complete course is covered in this article. Learn how to set up weave poles out of PVC pipes, a standard jump using cinder blocks, and a tire jump made out of a tire or a hula hoop, along with tunnels, a teeterboard, a pause table, and a dog walk.
Skill Level: Easy to Moderate
Materials
PVC cutter or saw
Rubber mallet
Tools
Cinder blocks
Wood
Plywood
Broomstick
Tire
Hula hoop
Flexible sewer piping
Rope
PVC pipes
Connectors and caps
PVC cement
Paint
Anti-skid additive
Asmall coffee table
Picnic bench
3. Clean and Dirty Jumps, by Helix Fairweather
Check It Out Here
Learn how to build dog agility equipment with hurdles with a few simple materials. Helix Fairweather has straightforward plans, including a clever way to use office supply clips as a crossbar hold. You can jump for joy too, because it's easy on your budget and won't take you long to construct.
Skill Level: Easy to Moderate
Supplies
Fence posts
PVC pipe and caps
2" binder clips
Electrical tape
4. Tire Jump, by Camp Bandy Pet Resort
Check It Out Here
If you want to challenge your dog with a brightly colored and exciting tire jump obstacle, these plans by Camp Bandy Pet Resort offer all the measurements and detailed instructions you'll need. Also, you won't need an old tire because a drainage pipe is used to make the ring.
Skill Level: Moderate to Expert
Tools
Saw or PVC pipe cutter
Drill
Drill bits
Screwdriver
Tape measure/yard stick
Marker
White-Out
Supplies
PVC pipe
Connectors and end caps
Eye bolts
Wing toggles
Washers
Drainage pipe
Bungees
Landscaping chain
Carabiner
Cable ties
PVC cement
Colorful duct tape
5. DIY Dog Agility A-Frame, by Instructables
Check It Out Here
An A-Frame is a must-have for any dog agility course worth its weight in dog treats. With a certain amount of woodworking knowledge, you can save money by making your own contact obstacle. Instructibles provides step-by-step instructions, along with plenty of useful pictures.
Skill Level: Expert
Tools
Miter saw
Drill
Drill bit
Sand paper
Paint supplies
Screwdriver
Measuring tape
Supplies
Wood
Plywood
Molding
Hinges
Hook bolts
Chain
Wood glue
Screws
Nails
Exterior paint
Dry sand
Pool noodle
6. Dog Agility Tunnel, by Cuteness
Check It Out Here
Every fun or competitive agility course needs a tunnel. It might be easier to purchase a child-size tunnel, but for money-saving purposes, you can DIY a bigger, wider tunnel. Cuteness provides clever plans for a serious tunnel.
Skill Level: Moderate to Expert
Tools
Power saw
Sewing machine
Rivet gun
Supplies
Barrel
Hose
Parachute fabric
Rivets
Two empty gallon jugs
Sand
Bungee cord
7. DIY Agility Dog Walk, From The Dog Blog
If you prefer DIY plans in video form, The Dog Blog offers an excellent "how to build dog agility equpiment" video for making a cute yet sturdy dog walk. The video is easy to follow and full of helpful tips.
Skill Level: Moderate
Tools
PVC cutter or saw
Rubber mallet
Screwdriver
Paint supplies
Supplies
PVC pipes
Elbow joints and T-pieces
Three wood planks
Door hinges
Paint
8. DIY Cavaletti by Kelly's Dog Blog
Check It Out Here
A cavaletti is basically a succession of low-to-the-ground hurdles that improve your dog's foot fall and timing. To make these quick and fun hurdles for your dog's agility course, Kelly's Dog Blog repurposes plastic baskets. While the hurdles in this article are made from PVC pipe, you could use broomsticks or even yardsticks.
Skill Level: Easy
Supplies
Plastic baskets
PVC pipe
Colorful electrical tape or duct tape
9. A Garden Dog Walk from Agility Bits
Check It Out Here
If you have medium to large dogs, this sturdy dog walk design from Agility Bits is built to last and will hold up in windy weather. You'll need to be handy with working with wood to follow these plans, though Agility Bits does offer an easy shortcut if you're willing to buy builders trestles or a pair of sawhorses. Yoga mats provide the traction on the ramps.
Skill Level: Expert
Tools
Miter saw
Screwdriver
Drill
Drill bits
Sandpaper
Paint supplies
Supplies
Wood boards
Plywood
Molding
Door hinges or right-angle brackets
Paint
Yoga mats
10. Dollar Store Agility Equipment, From Liberty Hill House
Check It Out Here
On small budget and with creative thinking, you can use everyday items found around your house or at a dollar store to make your dog a fun agility course.  Liberty Hill House provides simple, clever ideas for weaving poles, a tire jump, hurdles, and a wait table.
Skill Level: Easy
Supplies
Multiple plungers
Pool noodles
Hair elastics
PVC pipe
Wooden dowel
Hula hoop
11. How to Build a Dog Agility Course by wikiHow
Check It Out Here
Actual plans are included in this article from wikiHow for last, but in 12 steps, you'll learn nearly everything you ever needed or wanted to know about building your own dog agility course. Be sure to scroll through for helpful illustrations of how to easily set up a grouping of tables or a row of barrels for a dog walk-and-pause box.
Skill Level: Easy
Featured Image Credit: Pezibear, Pixabay
Sours: https://doggiedesigner.com/diy-agility-course-equipment-plans/
40
41
42
43
44