Staircases are essentials to homes with more than one storey. They efficiently and easily take us up and down different floor levels. While some would only go with the basics and focus on its functionality, we can opt for designs that will combine functionality with aesthetics. In some homes, staircases are designed to impress, dominating entrances and foyers. Here are some great modern staircase ideas and designs that are impressive in style and ingenuity.
1. Glass and Wood
Sleek and modern, this glass and wood staircase exudes elegance and minimalist efficiency. The solid glass panel railings are tinted. The staircase system features floating treads that are individually attached to the wall, skipping the stringer for a more streamlined look.
2. Floating Minimalist
This staircase is stripped down to the basics. Floating treads and a minimalist handrail with a light feature. While the rest of the treads are floating, the first three steps are on a solid platform, which also includes storage.
3. Elegant White
Marble, silver, crystal and a curving staircase. This foyer speaks of elegance, luxury and timeless design. The white-themed interiors feature a showstopping crystal chandelier, marble flooring and a staircase with marble steps and a stylish silver railing.
4. The Modern Spiral
Spiral staircases save space and are also used as a decorative feature. The steps and rails are built around a centre column. This modern spiral staircase has a black column, wooden treads and a trendy stainless-steel railing.
5. Crisscrossed Black Railings
Add fun and randomness to the sleek and clean look of modern railings. The eye-catching balustrade panels feature black spindles and crisscrossed metal wires. The modern look is complemented with the wooden handrail and white interiors.
6. Riser Lights
Staircase lighting is a safety must. This white and sophisticated staircase installed the lighting strategically on the risers, efficiently illuminating the treads. The staircase features a solid glass panel balustrade, wooden treads and classy wainscot panels on the wall.
7. Farmhouse Modern
The charming farmhouse staircase gets a modern revamp. The carved, bulky or intricate spindles are replaced with the sleeker and more streamlined cable railings. The wooden newel posts and treads are retained to maintain the rustic charm of the iconic style.
8. Black Steel Spindles
Modernist and sleek, minimalist and gorgeous. The clean lines and efficiency of the vertical spindles complement the minimalist look and style. The cool black metal balances the modern and warm feel of the wooden treads, risers and accent wainscoting.
9. Sleek Steel Treads
This sleek and ultra-modern staircase will fit right in with any modern and minimalist interiors. The black steel treads are attached directly to the wall, making them look like floating black spikes. Edgy, unique, spectacular.
10. Marbled Luxury
Marble and luxury will never go out of style, even during the height of minimalism in modern staircase ideas and designs. This modernised marble staircase feature delicate grey marble for tread and riser, brown-tinted glass balustrades and lighted risers.
11. Silver Railings
The understated luxury of wood and silver. This curving foyer staircase features dark wooden treads, risers and stringer board, polished wood handrails and sleek silver balustrade. Magnificent styling with nothing but superb materials.
12. Rustic Modern
A very rustic look in a modern setting. The warm tones of bare wood are on display, complemented by the clean and uncluttered lines of the modern minimalist design. Thin steel balustrades extend to the ceiling and serve as staircase screen.
13. Cubby Storage
Don't let that prime space under the stairs go to waste. This cubby hole storage is cute and will match the modern staircase design. The wooden storage receptacles complement the wooden steps and are efficient organisers.
14. Rainbow Stairs
Get some colours to your modern interiors. Use your staircase to inject some fun and bright colours into your home. This attractive and modern staircase features the colours of the rainbow on its steps!
15. Glass and Chrome
Sleek, modern, luxurious. Perfect for white interiors, this glossy and stunning glass and chrome staircase will surely impress. The white staircase features black treads, solid glass balustrades and chrome steel railings and newels.
16. Patterned Riser
Upgrade a modern minimalist staircase into a stylish and gorgeous home feature. This very modern and minimalist staircase gets a modish upgrade by way of patterned risers. The black striped riser tiles match the sleek black metal balustrades.
17. Grey Metal
Modern styling meets inspired engineering. This middle stringer staircase design banks on the sleek look and strength of metal. The grey metal middle stringer is matched by the rails and wall. The warm wood tones of the treads counter the cool metal, while the silver cable balustrades underscore the modern look.
18. Grand Foyer Perfect
Grand, magnificent and timeless. This staircase is a showstopper, the perfect focal point to any grand foyer. Featuring the classy and cheerful black with white polka dots design for its carpeting, the staircase injects a touch of quirkiness to the stately foyer.
19. Bookcase Screen
Functional as it is decorative, this balustrade-screen-and-shelves-in-one is a great idea for smaller and clutter-prone homes. The bookcase screens the stairs, while the shelves provide storage and display spaces.
20. Green and Rustic
A great combination of rustic and coastal. The wood treads and newel posts bring in rustic charms, while the bright seafoam green risers add a cool seaside vibe. Pull-out storage compartments occupy the space under the stairs. The glass balustrade panels highlight the modern styling.
21. White Delight
The perfect staircase for the elegant and modern farmhouse interiors. The classic features of the charming farmhouse design are retained – white wooden spindles and handrails, bare wood treads and patterned risers.
22. Stair Carpet
Carpet is passé in the minimalist trend. But the grand styling and streamlined carpet design makes the carpeted style work for this graceful curved staircase. The delicate grey metal balustrade matches the carpet design.
23. Chic Black
This two-flight staircase is grand-foyer-worthy. Solid wood slab steps, stained black. Clear glass balustrade panels, middle stringer and white handrails. The streamlined design complements the white minimalist interiors of the foyer.
24. Concrete Treads
Unique and innovative design. The staircase features a one-piece inclined riser, clear glass balustrade and concrete treads. The unique solid triangle treads come with a matching concrete landing. The single sleek chrome handrail is attached to the wall.
25. Shelves and Storage
This staircase design puts the prime space underneath to good use. The built-in storage and display system offer ample space for organising, keeping and showcasing. Ideal for smaller homes and perfect for stairs located in the living room.
26. White on Brick
Elegant and rustic, modern and beautiful. The exposed brick wall adds colour and charm to the design, while the solid white colour is sleek and modern. The stairs include pull-out cabinets underneath and are without balustrades, but feature a handrail attached to the wall.
27. Glass Panels
Glass panel balustrades are a top favourite amongst modern staircase ideas and designs. It is sleek, minimalist and will easily fit into any design themes. This modernised farmhouse staircase design features warm wood tread, risers and newel posts, with the modern injection of clear glass panels.
28. Square Landings
Modern minimalism meets elegance. The design is based on the square, with one square corner of the room dedicated for the staircase defined by a square platform. Half of the platform features the first steps to the first landing, a square, while the other half is a blank space allotted for décor and accents.
29. Industrial Spiral
Black steel, sleek lines, elegant form. Spiral staircases are innovative and great space savers. This sleek and modern spiral staircase is fully made of metal – the centre column is of steel pipe, balustrade and handrails are made of flat bars, while the treads and risers are of perforated metal panels, all in fashionable matte black.
30. Suspended Steel
This precast steel staircase takes minimalism up another level. Stripped down to just the treads and risers, the staircase is attached to the wall on one side and held up by a staircase screen on the other.
31. Classic Blue Curve
Graceful lines, elegant accents and timeless design. The beautiful staircase is this elegant white foyer's worthy focal point. The gorgeous design includes an elegant and graceful curve, welcoming wide treads, carved handrail and a sweeping blue carpet that matches the equally stunning chandelier.
32. Natural Elements
Going back to nature is a theme in many modern staircase ideas and designs. This rustic modern staircase design includes varnished wood treads and risers and a charming wicker staircase screen. Down-to-earth sophistication.
33. Wrought Iron Rails
Rustic, modern, stunning. The design manages to combine the charms of rustic and the coolness of metal. Showcasing polished wood slabs for treads, risers and handrail, the eye-catching staircase's focal feature is its gorgeous wrought iron balustrade.
34. Step and Slide
Bring in the fun of the playgrounds into your home! This stair and slide combi is great for homes with kids or people who are forever kids at heart. The quirky addition to the traditional staircase will redefine fun and running down the stairs.
35. Modern Coastal
Bright and refreshing, modern and welcoming. The updated coastal staircase features the charming white and wood combi and sleek black metal railings. Completing the interiors is the fascinating golden candle type chandelier.
36. Glass Spindles
Match the luxurious polish of marble floors and treads with the crystal glow of glass. This classy black and white staircase is the focal point of a chic foyer. Its restrained yet luxurious design includes black risers, marble treads, curved handrails and glass spindles.
37. Indoor Pocket Garden
An indoor pocket garden offers a nice refreshing touch to your home. The space under the staircase is the perfect location to grow a garden. It has space and is off the foot traffic but is a busy area where the plants can be displayed and appreciated.
38. Floating Glass Treads
Magical, fascinating and modern. This almost invisible staircase design is composed entirely of glass. The streamlined construction only includes the steps and the balustrade – all made of glass. The floating glass treads are attached directly to the wall, while the clear glass balustrade panels also serve as the handrail.
39. Black Marble Elegance
The elegance of marble lends luxury to the sleek and innovative staircase design. This black staircase is made of black marble slabs for steps. The no-riser, no stringer design is highlighted by the accent lights inserted at the front edge of the steps. The result is dramatic, elegant and luxuriously modern.
40. Stairs and Storage
Clean, efficient and modern. This minimalist staircase features a shelving system instead of a wall. The matching stairs and storage design incorporate functionality with modern styles and trends. No clutter, no unnecessary fluff. Just a beautiful and functional stairs and storage system.
41. Tiled Risers
Add colour and interesting details to your modern staircase by adding patterned tiles to the risers. The quick and easy upgrade will instantly transform a boring and forgettable staircase into a vibrant and personalised one.
42. Minimalist Stair Screen Wall
This ingenious staircase design incorporates steps with shelves and platforms. The minimalist stair screen wall can also serve as the handrail and the base for living room wall accoutrements like the television, framed images and other wall accents.
43. Shabby Chic
The technique of injecting something old and used to home interiors is on-trend. Shabby chic is charming, captivating and beautiful. This recovered and re-installed cottage staircase has all its charms retained and is a gorgeous contrast to the modern home interiors.
44. Modern Concrete
Edgy and raw, dominating and modern. Concrete walls and floors left bare in its cool grey glory is a hit amongst modern staircase ideas and designs. This modish precast concrete staircase features black flat steel edges and handrail and matches the bare concrete walls and floors of the home's interiors.
45. Mesh Railings
Stylish and minimalist. The most captivating feature of this industrial themed staircase is its eye-catching black mesh railings. The sleek metal mesh comes with black iron edges that also serve as the handrail and newel.
46. Modern Industrial
This cool and modern interior design combines the warmth and charm of rustic accents with the raw and edgy touch of the industrialist look. The staircase and home office combi features wood treads and desk and perforated steel riser. A wall of vertical steel cords separates the work area from the treads.
47. Cord Stair Screen
The coolness of concrete plus the edgy look of the black cord stair screen. The design used common materials, bare concrete and black cord, to achieve stunning results. Modern, elegant and creative.
48. Black Modern
This elegant black curved staircase spans the two-storey height of the entryway. The thin vertical steel railings highlight the curve, creating fluidity and grace. Glass orb lightings, cowhide rug, a round table and white walls complete the gorgeous interiors.
49. Modern Cable Railing
The thin cable wire railings are barely perceptible, giving the illusion of openness. It complements the clean lines, neutral colours and functionality over fluff or the modern minimalist design.
50. Steel and Concrete Minimalist
Two of the strongest materials in one staircase. This modern and formidable minimalist design features the coolness of bare concrete for the steps and the concentrated strength of black steel panels for its balustrade and rails.
Do you have any incredible and fabulous modern staircase ideas and designs that we haven't covered? Why not discuss it on our RenoForum!
Sours: https://renoguide.com.au/interior-design/50-amazing-and-modern-staircase-ideas-and-designs
These 52 Stunning Staircases Are Sure to Inspire Your Own Grand Entrance
Staircases are the spine of the home. Not only do they bridge together rooms and stories within a house, but they're often the first space a guest encounters at the entryway. As such, staircases serve dual purposes: they must be welcoming as well as functional.
With such an, ahem, elevated role withing a home, staircases deserve just as much decorative consideration and polish and as the rest of the home. For example, staircases make for ideal spaces for modern wallpaper or a dash of unexpected color. Unique lighting, an artful collection and statement-making runners are also brilliant ways to enliven staircases. Finally, banisters made of hand-forged iron or custom fretwork can transform stairs into sculptural masterpieces.
Read on to discover a striking collection of 52 of our all-time-favorite staircase designs and ideas that will help you plot out your own grand entrance.

Sours: https://www.veranda.com/decorating-ideas/g1096/staircases-in-veranda/
Like Architecture & Interior Design? Follow Us...
Thank you. You have been subscribed.
Up and down them several times a day, we don't always see our useful staircases as a thing of beauty. However, this utilitarian part of the home can become the most showstopping piece to an interior design, using imagination and calculation. Consider the sheer size of this installation, and how by making it more sculptural, more personally styled and unique to the space we can manifest something magnificent. If when visualising a staircase you see straight treads and solid risers, compliant spindles and dutiful banisters, then this enlightening gallery of 51 awesome staircase designs will open up you up to a whole new way of linking the levels.
Snake it to make it. Sharp metallic treads, linked by oblique alternating sides, are suspended on barely there balustrades. The single continuous piece of metal folds into itself like the 'Snake' in the old computer game – always twisting but never touching.
The secretive staircase. Cubism flows through the metal veins and wooden organs of this body of work. Planks, panels, and wooden cuboids are suspended on black framework to fashion an offbeat tower with secretive sections.
Linework meets metalwork. This skinny staircase appears like thin black linework on a blank white page. Iron rungs aren't really a thing of comfort underfoot, but the simple structure fulfills its purpose in a restricted footprint.
Cat ladder style staircases are good solution in limited space, like when access to a mezzanine level is required from a main living area.
Clever cubes. The balustrades of this modern staircase design are a pattern of overlapping cubes, which form shelves for books and display items beneath the treads, and handrails above.
Integrate a staircase into the room by combining it with furniture. This black suspended staircase design stops short of the floor, where a last few wooden treads are amalgamated into a low slung storage cabinet with book nooks.
Get canny with curves. These wooden treads arc and slide between the upper and lower levels of the stairway to stunning effect.
Another curvaceous triumph.
These curving white treads are pieced together in a more modular manner. Each white piece forms a vertebrae in a smooth spine.
Talking of spine-like concepts, check out this backbone of fine design…
11 |
Visualizer: Andrew McConnell
… Or the ribs of this striking black number.
Two tone tricks. Alternating white treads with deep wood tone volumes gives this structure strong personality.
Fulfill a futuristic fantasy. Glossy white steps merge with light reflective wall panels in this futuristic home design. Softly glowing stair lights accentuate the recessed risers.
Minimalist minded. These quietly camouflaged open sided steps are assisted by an understated staircase railing against the wall.
Create a look of weightlessness by omitting the first riser. When only a shadow can be seen touching the floor, even the heaviest of staircases will seem to float.
Let your staircase be something else – or several things. A platform, a bench, a desk, a small table; this staircase appears to be all of those things before fulfilling its final destiny.
This suspended staircase rises from just above the end of a dining bench, which leaves the floor layout of the room feeling uninterrupted.
A reading nook makes use of the natural light at this stairwell with a view.
Colour yourself happy. If you have a favourite colour then don't reserve it just for the walls or the furniture of your home. Put it right at the heart, like this bright pink powder coated staircase.
Let your favourite colour spill from the stairwell out onto the floor of your entryway for artistic effect.
Be brave and go all in with your chosen colour – no half measures.
For a multicoloured version, take inspiration from Mondrian inspired interior design. Block in black outlined cubes with primary yellow, blue and red for your own piece of De Stijl.
Alternatively, paint a watercolour rainbow, altering the gentle hue at every single step.
Break down the design to only what is needed. Individual floating treads appear to extrude directly from the wall of this minimalist home. The uncomplicated banister is like a line drawn with a ruler – no flourishes, no visible fixings.
Illustrate optical illusion. Each section of this staircase slopes away at an increasing angle until they are no more than treads at the top, creating a twisting illusion.
Banisters and balustrades can be beautiful. Yes, staircase barriers are a safety aspect, and modern interior design often seems dead set on making them as invisible as possible, or eliminating them entirely. However, these panels can also be viewed as an opportunity to inject beauty and elegance.
Taller times. Many modern staircases are now favouring taller balustrades that connect the treads directly to the ceiling, creating an encased effect that still lets the visual and the light pass through.
Create a zen stairwell with a courtyard. Some plants and pebbles are all you need to get started. Add soft lighting for extra soothing effect.
Cacti make an easy low maintenance garden for areas beneath a stairwell that have limited access.
Stack it with storage. Floor level storage volumes and bookshelves stack the underbelly of this wooden installation – some of which run off along the full width of the room to form a desk and home office shelving.
Another home workspace is tucked at the base of this much smaller storage staircase. This one includes a plant stand too.
Wanna go even bigger? How about this giant library stairwell.
Entertain the child in you – or the children in the family – by incorporating a fun slide into the design. This doesn't have to look clumsy or garish in childish colours, explore the possibilities in your favoured staircase material.
Many open plan dreams are thwarted by the awkward placement of an immovable staircase, but don't be discouraged. With some coercing your stubborn central staircase could become a mere accent in the room. Think blending wall panels on the lower half, and low profile open treads to the ceiling space.
Wood and concrete make a harmonious pairing – and these concrete planters allow for the perfect touch of greenery too.
Another employment of indoor plants, this time tracking all the way up sweeping banisters.
String it out. Wires can be crisscrossed to form an attractive pattern down the side of an open staircase. This dark metal design has great contrast with the warm wooden treads showing through it.
Take sides. Solid sides sweep around this modern spiral staircase design, shrouding it from an open plan living room.
A second take on the solid sided theme.
And a third. This time the solid sides sweep along the mezzanine landing level too, like one piece of wide white ribbon.
Forget everything that you thought you knew about staircases in order to bring about the birth of a new concept, like this egg shaped vision.
Lighting, lighting, lighting. After stepping up and installing a stunning piece, give it life with the right illumination.
The rounded treads of this contemporary spiral staircase open up like the petals of a flower.
Bring peace to a stairwell with the sound of trickling water into an ornamental pool. The gentle sound will carry up the stairwell to the next floor too.
Construct a deconstruction. Like a deconstructed rattan basket, the outer fins of this natural looking staircase is a riot of angles and lengths.
Another freeform piece. Wild waves of material create a colossal undulating surface around this spectacular staircase.
Create contrast. Delicately thin wirework is paired with crudely carved steps here, each forming curves in their own way.
Love layers. Rather than joining shallow steps at their edges, this design layers large flat square platforms one on top of the next, sliding away in the direction meant to climb.
In this entirely different layered look, great wooden volumes have been stacked like a dangerously giant game of Jenga gone rogue. The resulting recesses make perfect storage nooks for books. The uppermost block is utilised as a desk on the mezzanine home office.
Work with what you have. Whether or not this staircase was built from actual architectural offcuts, this chunky tread staircase would make the perfect addition to a home filled with upcycled curiosities. The heavy wooden steps would also be at home in a modern rustic setting, or in an industrial vibe pad where raw concrete reins alongside a plethora of plants.
Recommended Reading: 50 Creative Ways To Incorporate Book Storage In & Around Stairs
Did you like this article?
Share it on any of the following social media channels below to give us your vote. Your feedback helps us improve.
Other related interior design ideas you might enjoy
Sours: http://www.home-designing.com/staircase-design-ideas-inspiration-photos-tips
❤️💕Beautiful Staircase Design Ideas 2021/2022
Stylish staircase ideas to suit every space
Take your staircase to new heights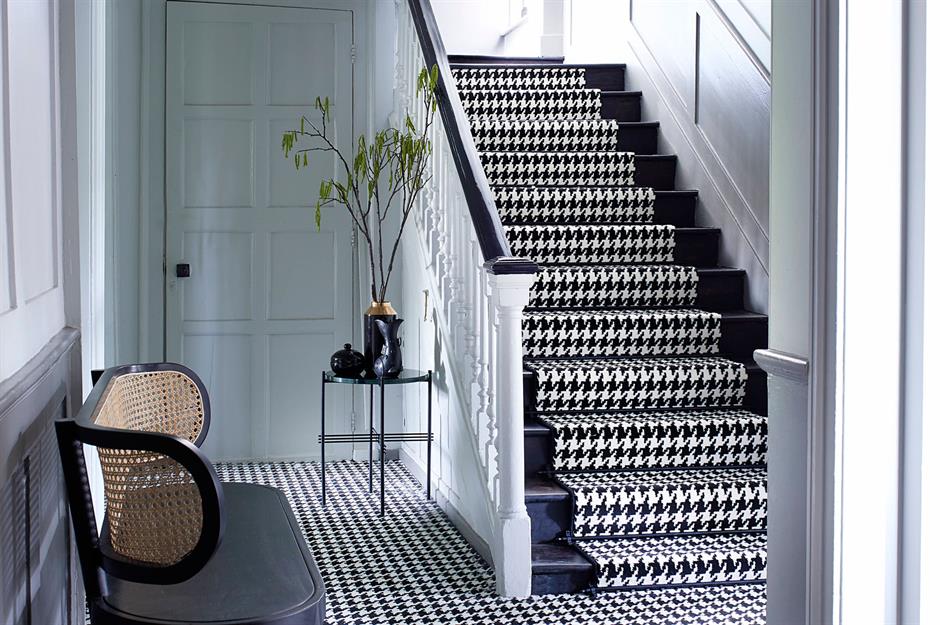 Much more than just a connection between floors, your staircase is a key design feature of your home interior. With a little creative thinking, you can transform tired treads into a stylish focal point with instant wow-factor. From traditional runners to contemporary floating forms, give your staircase a step up with these genius ideas.
Vintage staircase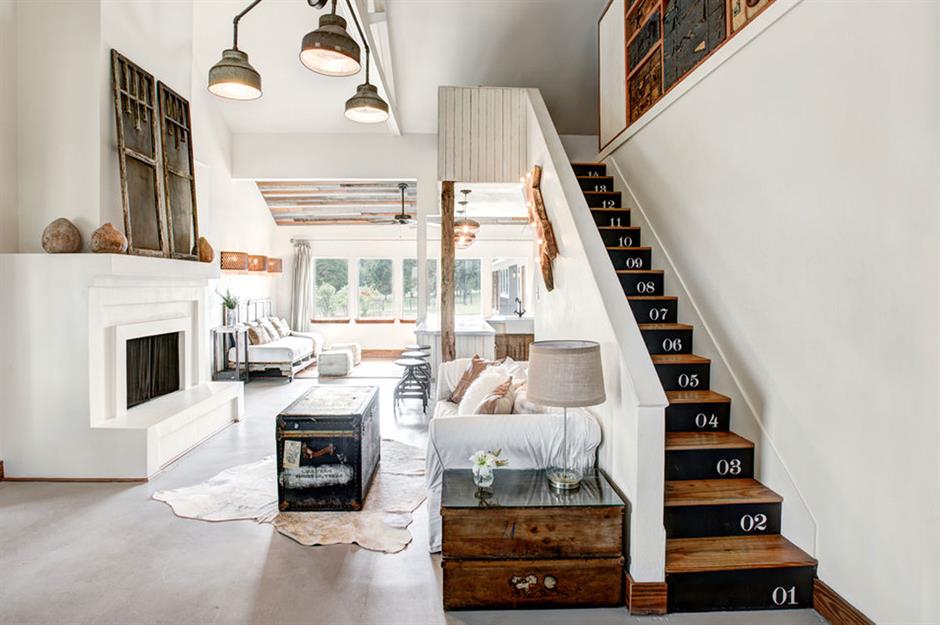 Haylei Smith/The Vintage Round Top
A fun way to make a staircase stand out is to turn it into a piece of art like this quirky retro design by The Vintage Round Top. The eclectic chalkboard-style numbering adds to the room's vintage vibe, imparting plenty of character. Alternatively, if you're particularly crafty, you could stencil contrasting patterns onto each step or paint each tread a different shade.
Feeling creative? Transform your old furniture with these easy upcycling ideas
Painted staircase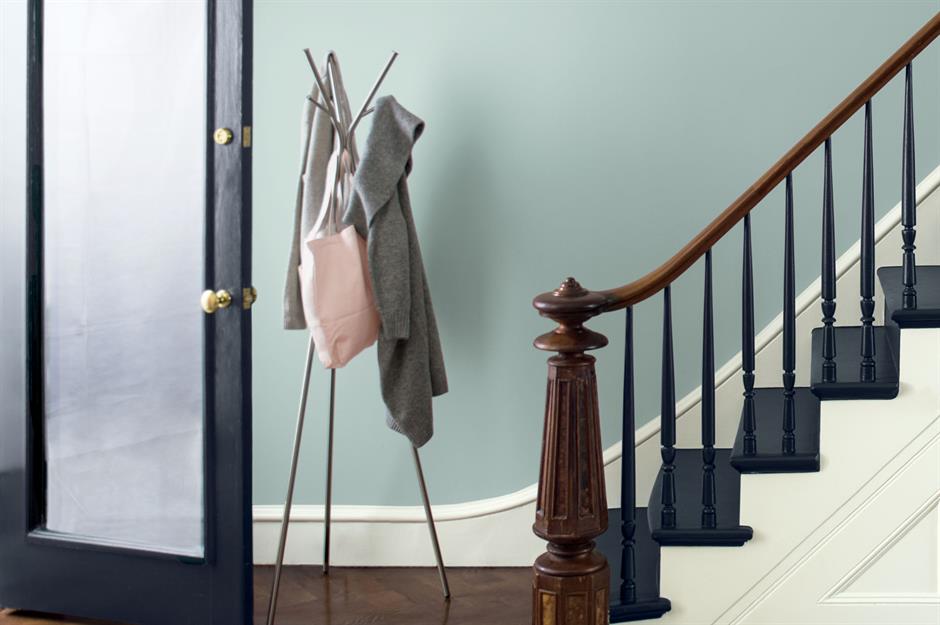 Over time, wooden stairs can become worn and distressed. An easy way to breathe new life into them is by trying out a fresh new paint idea. Opt for a bright white or neutral hue to instantly open up your hallway. For a bolder, contrasting look, choose a rich dark shade for the treads – we love this beautiful deep navy.
Closed wooden staircase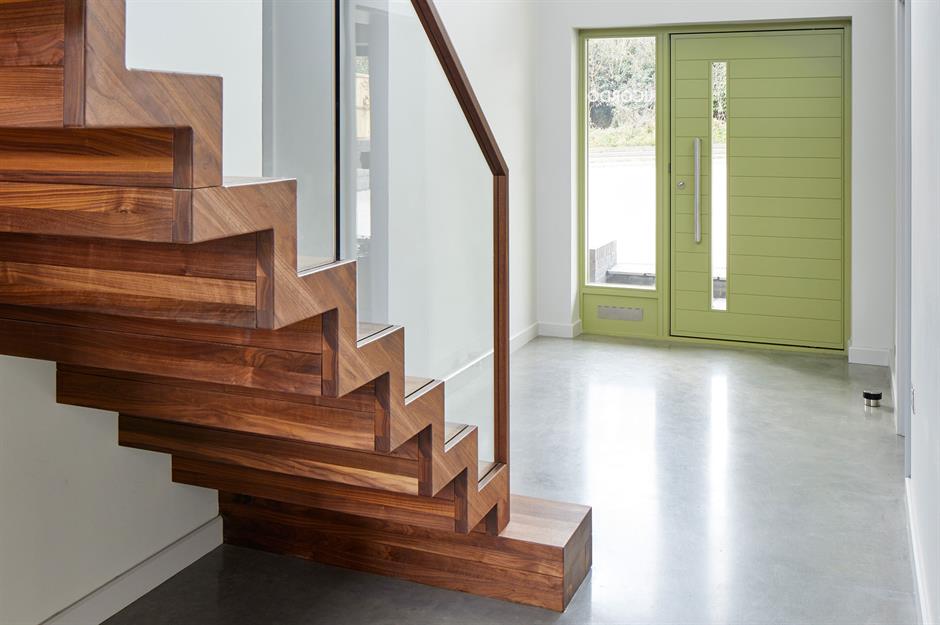 Wooden staircases with closed treads are the most common and affordable choice for residential homes, but you don't have to settle for a strictly traditional design. Flanked by glass balustrades, this sleek wooden staircase appears to float in mid-air, adding to the space's cool, contemporary feel.
Love this? These beautiful hallway ideas don't scrimp on style
Bespoke staircase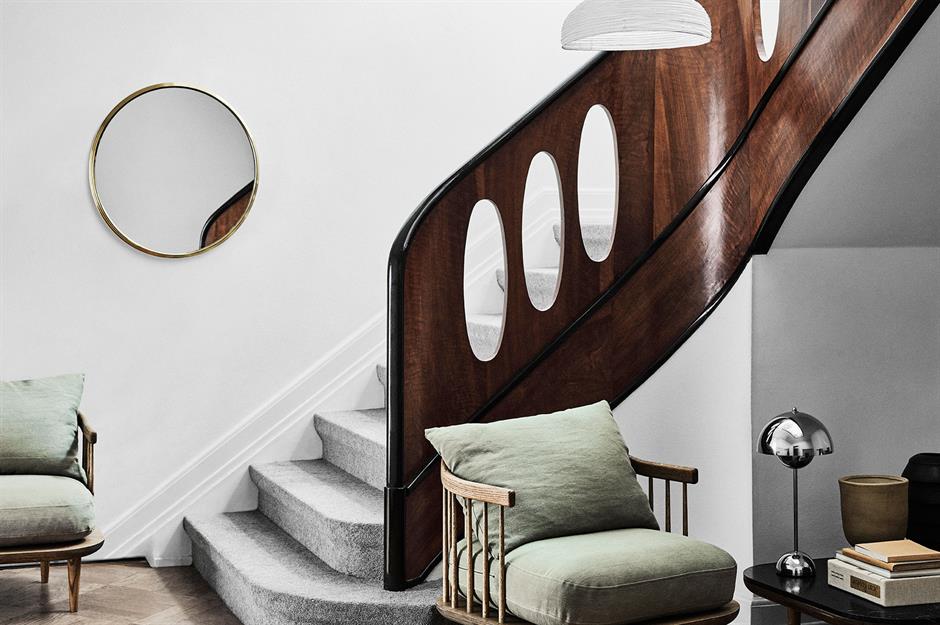 If money is no object, an architect or designer can pretty much conjure up the staircase of your dreams. Here, a cherrywood banister offers a beautifully curvaceous cut-out design, creating a stunning sculptural backdrop for this luxurious living space.
Exposed wooden staircase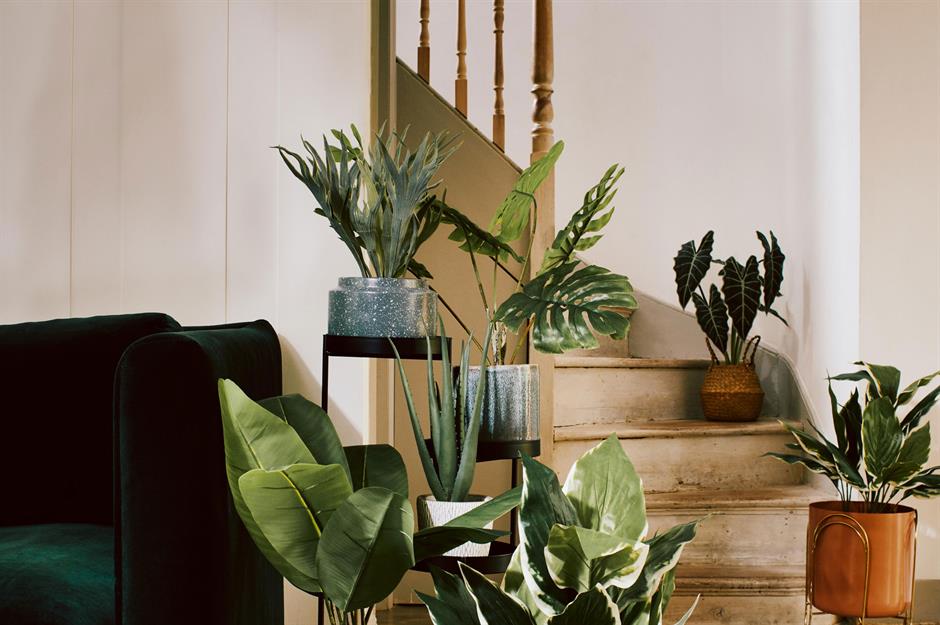 For a characterful vintage vibe, try stripping back a painted wooden staircase to its bare wood. In this neutral stairway, the rustic pared-back design is warmed by a display of house plants positioned across the steps. Don't forget to treat the wood with wax to protect it from regular foot traffic.
Staircase with storage
The void underneath a staircase is often redundant, but it doesn't need to be. With a few built-in units and some clever thinking, it can become a useful and attractive space. Here, a snug home office has even been squeezed in alongside the shelving, complete with a curved desk and task lighting.
Stairwell chandelier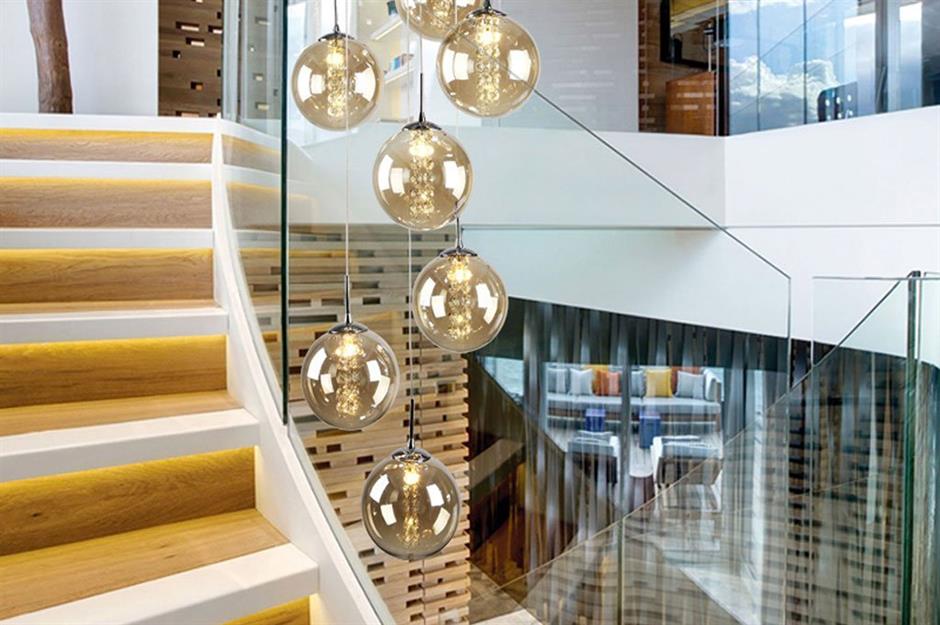 What could be more luxurious than a light fixture cascading down to frame your staircase? From a modern glass orb pendant to a traditional crystal chandelier, the visual effect makes an opulent and dazzling feature that's sure to wow.
Suspended floating staircase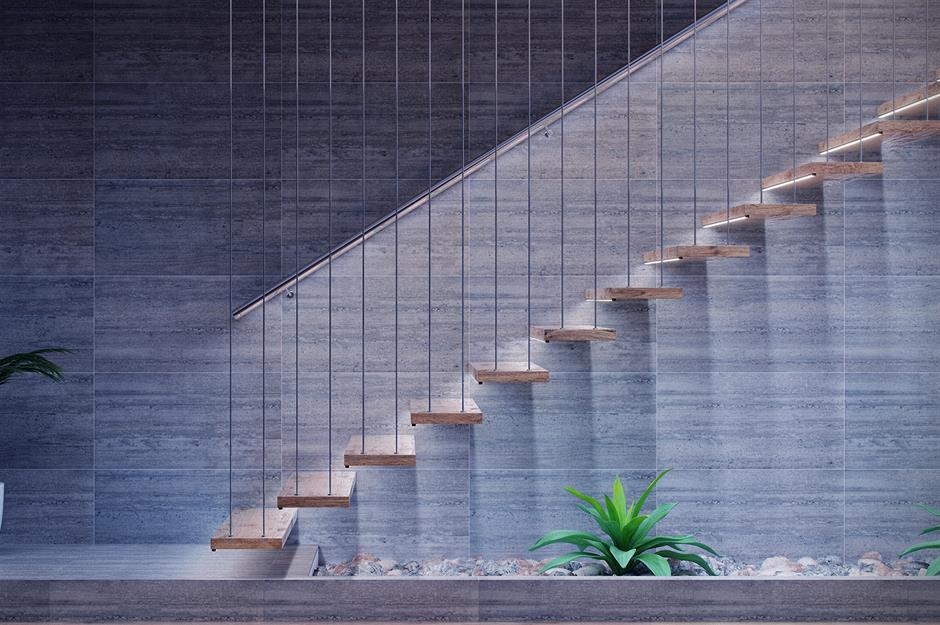 If you don't like the idea of a staircase without a handrail, a floating staircase with the addition of a ceiling-hung balustrade may appeal. Creating the illusion of hovering treads, it's a sure-fire way to add a restful feel to a room and would make the perfect architectural addition to a contemporary open-plan layout.
Staircase with vinyl stickers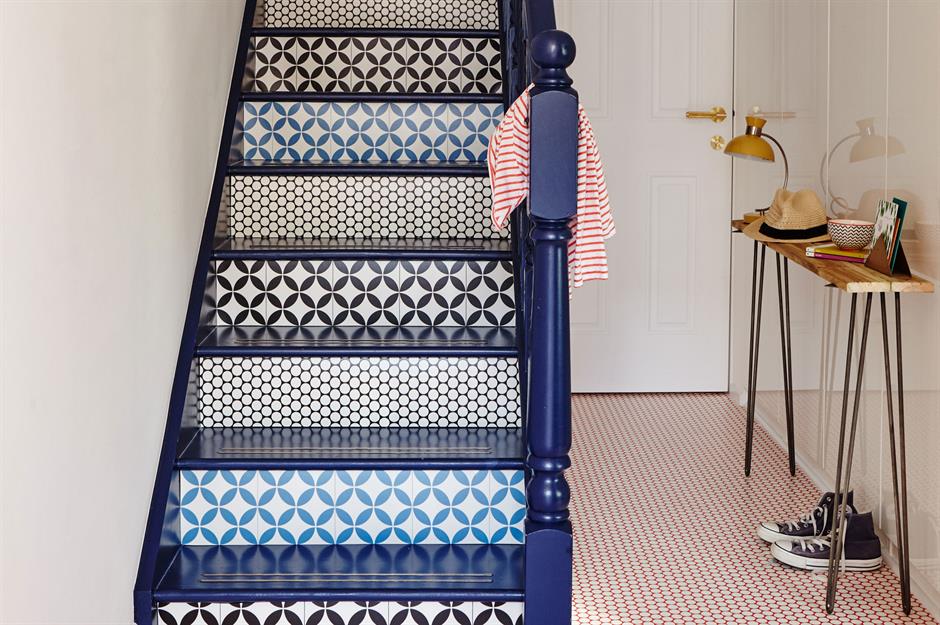 Here's a bright idea you can carry out in a flash – give your staircase a quick makeover with an array of colourful vinyl stickers. Low-cost, high-impact and easy to remove when you're ready to redecorate, opt for mismatched patterns for a cool, eclectic feel. Complete the look by painting the steps and banister a vibrant complementary shade.
Monochrome staircase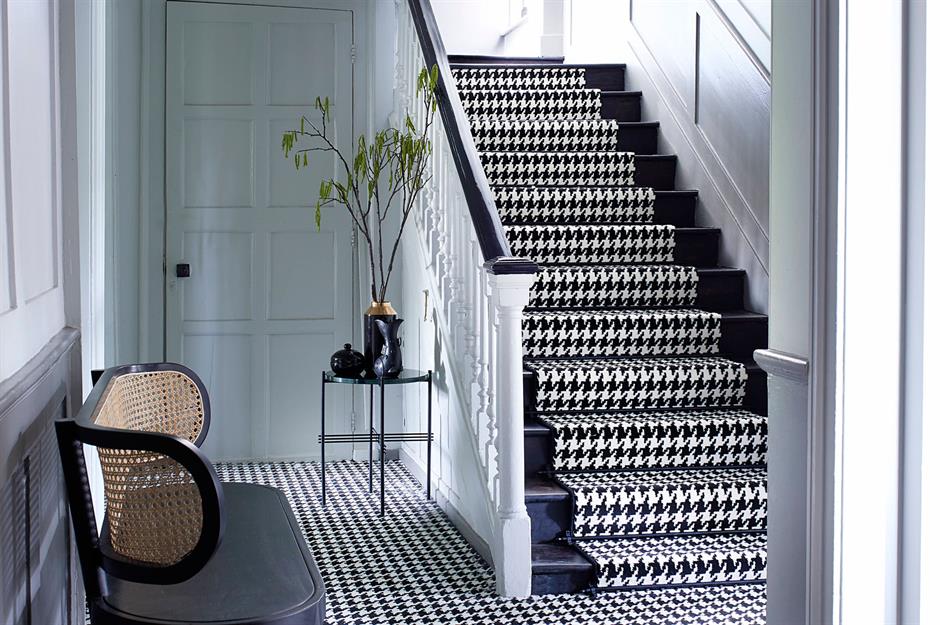 If your entrance hall has a distinctive theme, be sure to tie in your staircase too. This monochrome palette carries through to the stairs thanks to the black banister, treads and dogtooth stair runner, creating a stunning contrast against the white woodwork.
Illuminated staircase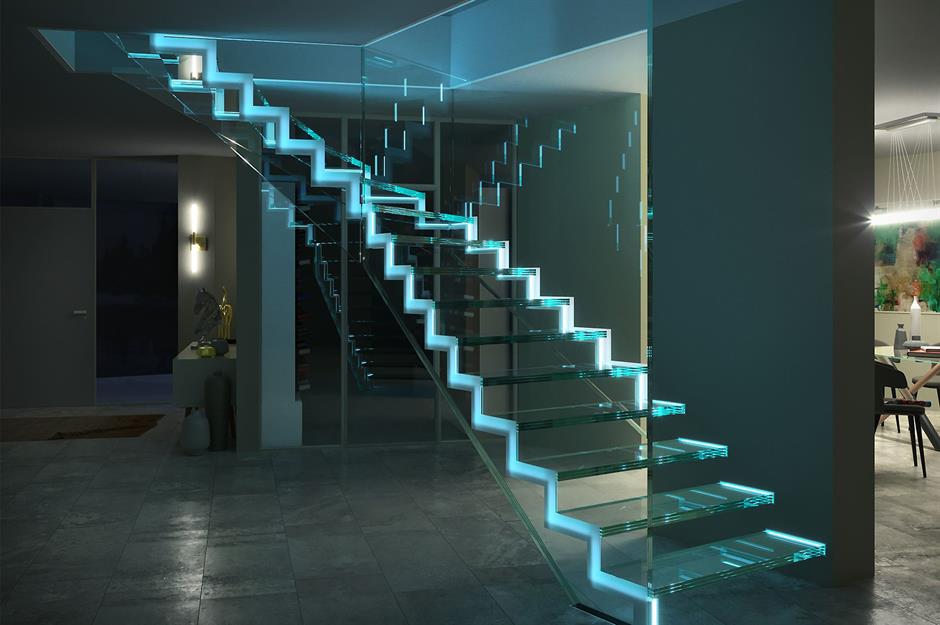 Clever lighting designs can transform the look and feel of your staircase when night falls, as well as adding plenty of ambience to your stairway. Here, strip lighting has been fitted alongside each tread, casting a cool, blue glow across the stairs.
Love this? Brighten up your home with these amazing lighting ideas
Staircase with a glass balustrade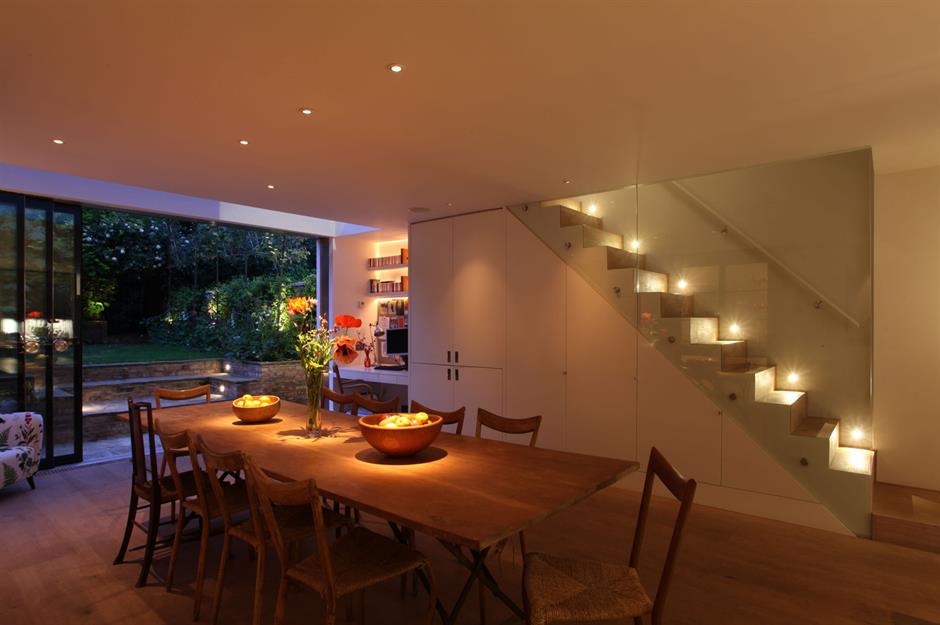 A sleek choice for a modern home, a staircase with a toughened glass balustrade is a great way to channel light down into a dark, dingy space – this scheme features illuminated treads to light the way after dark too. However, be aware that fingerprints will show up on the glass, so perhaps avoid this style if you don't fancy regular polishing.
Open-tread staircase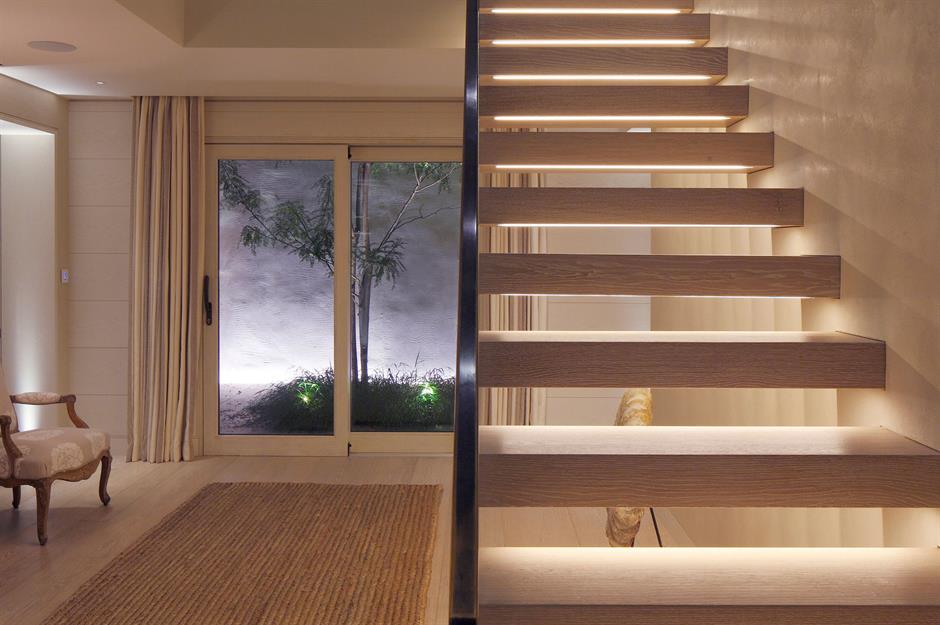 Designed without a riser between each step, an open-tread staircase is perfect for increasing the light flow in a room and enhancing the feeling of space. It is not the most practical design for a home with young children or pets, but it's a great choice for modern, minimalist homes with streamlined interiors.
Concorde staircase
A glamorous sister to the standard open-tread staircase, this style is attached to the wall and constructed with a central column that gives the treads the appearance of aviation wings. Created by Marretti, this impressive retro wood design is appropriately named Concorde and has won an array of design awards.
Staircase with hidden storage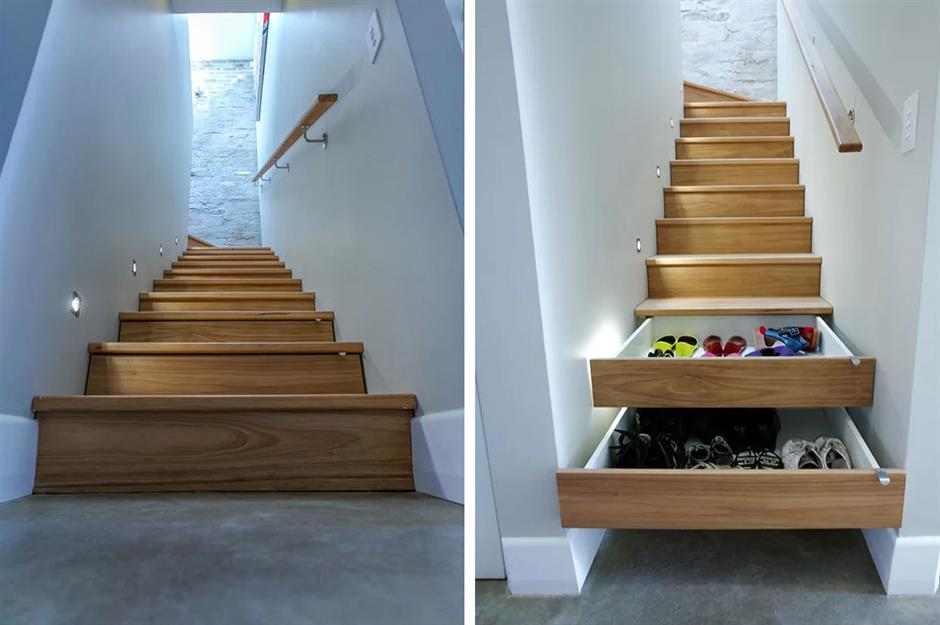 Zugai Strudwick Architects
Sometimes a staircase isn't all it seems... This innovative space-saving design was thought up by Zugai Strudwick Architects; the wooden treads pull away from the main structure to reveal large hidden storage drawers that can accommodate the family shoe collection – genius!
Space-saving staircase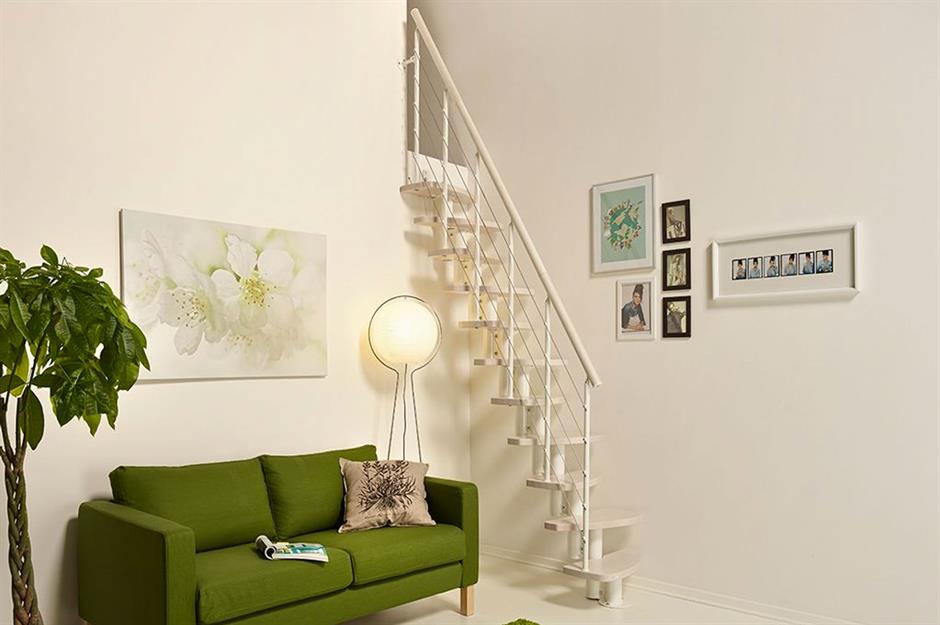 If you're tight on square footage, there are a plethora of space-saving staircases out there to fit the snuggest of interior layouts. Narrower than standard staircases and usually slightly steeper, they're a great way to make the most of a petite property. You may be limited by local building and fire regulations as to quite how small your design can be though.
Contemporary metal staircase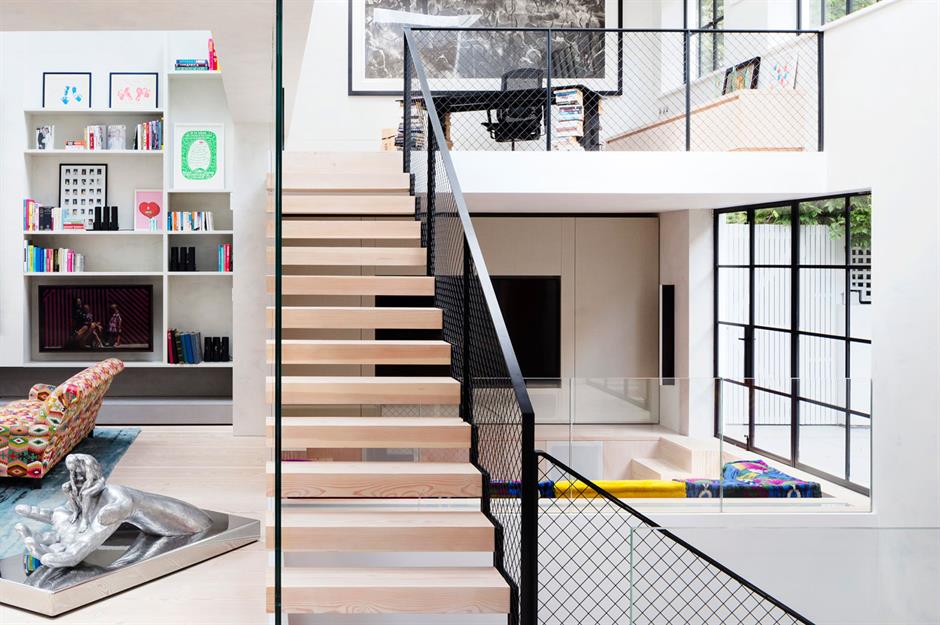 Strong and durable, metal staircases are commonly found in public buildings, however, they can look just as effective in a domestic space too. Used here within a residential setting to connect the living space to a home office, the metal mesh balustrades impart an on-trend industrial vibe.
Love this? Here's how to master open-plan design
Staircase with a window seat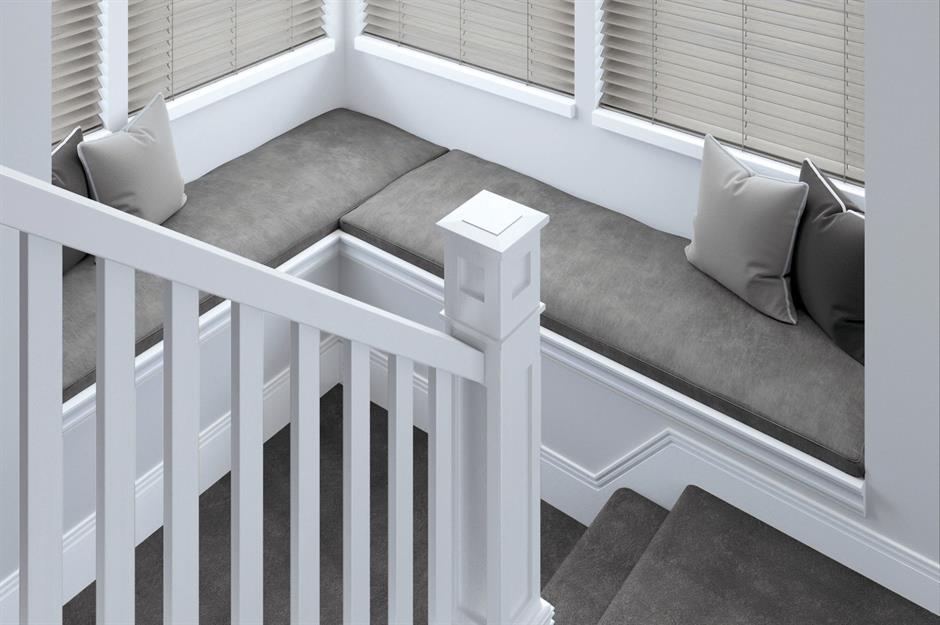 Properties with many floors, like townhouses, can benefit from a little rest area between flights of stairs. This delightful window seat positioned on the landing bend offers the perfect nook for reading and relaxing.
Painted staircase runner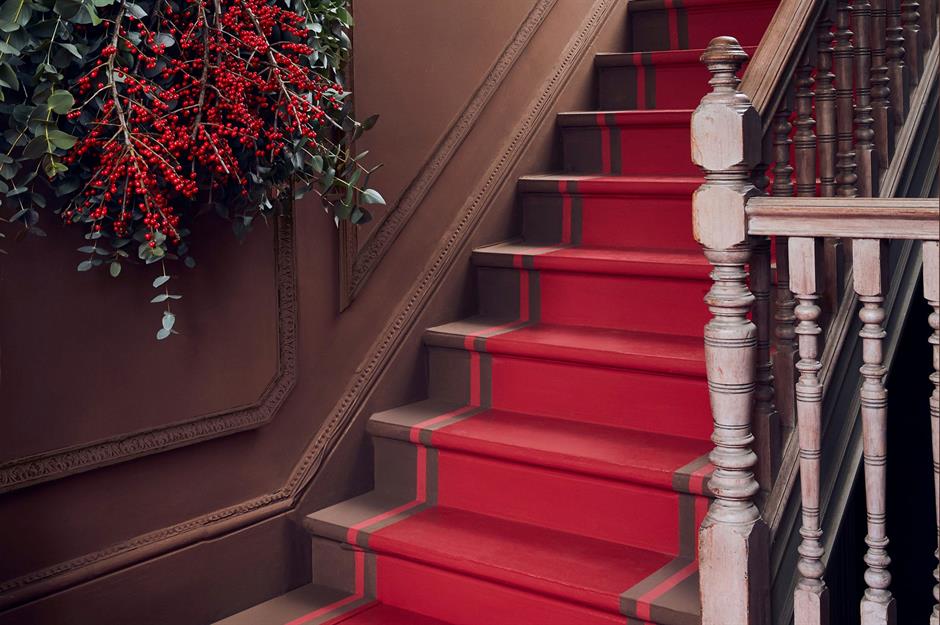 Offering a classic, regal aesthetic, a stair runner is the perfect way to dress up traditional treads. Not a fan of carpet? Grab a can of paint and create a faux runner instead. Before painting, mark out a central run down the middle of the stairs with tape, leaving a simple border at either side. Dark tones are a great way to hide marks and dirt and can be easily touched up when needed.
Metal spiral staircase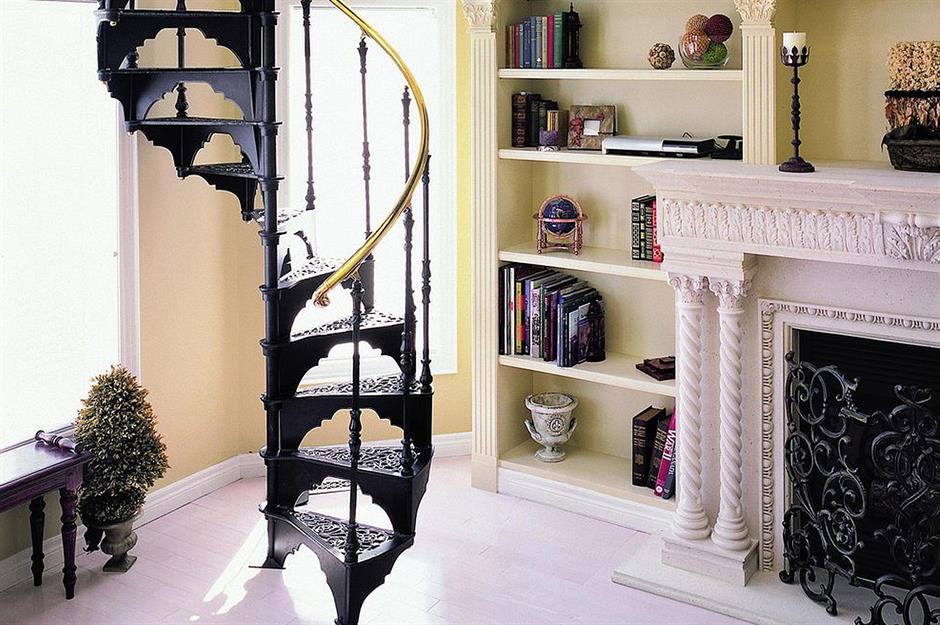 Available in full or half spiral, metal spiral staircases are ideal for opening up a small dark area and increasing the feeling of space in a room. Commonly used to connect attics or mezzanines to the rest of the house, we love this intricate antique design, featuring a regal gold banister and spindled supports.
Carpeted staircase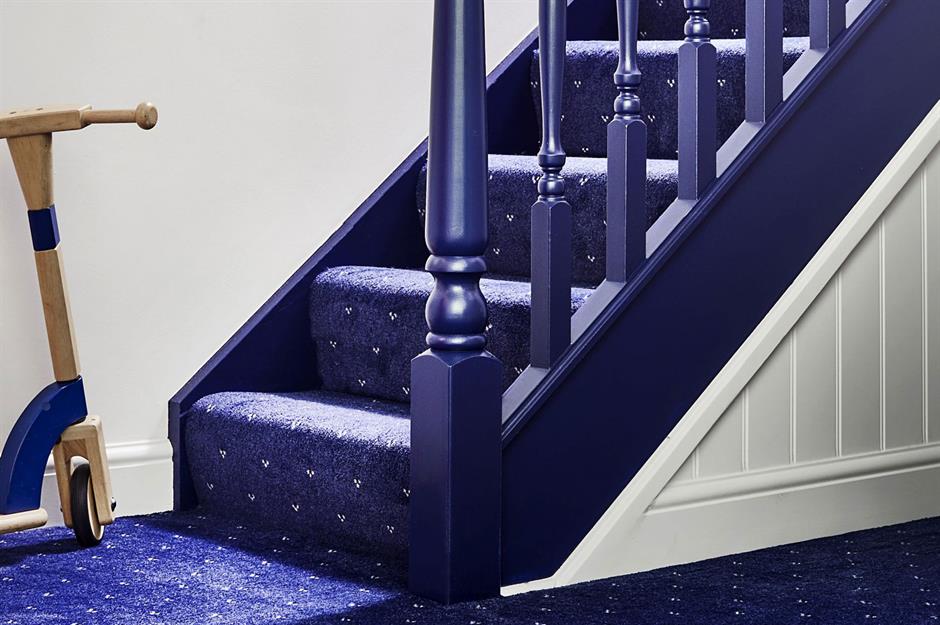 They may be more laborious to clean, but carpeted stairs feel cosier underfoot. Opt for a textured neutral for a calm classic feel, or if you want a more eye-catching staircase, go for a brightly coloured stripe or pattern. Choose a durable carpet that's designed to handle the wear and tear of a main thoroughfare – most carpets will state if they're suitable for stairs. For extra durability and comfort, invest in a good underlay, too.
Quarter-turn staircase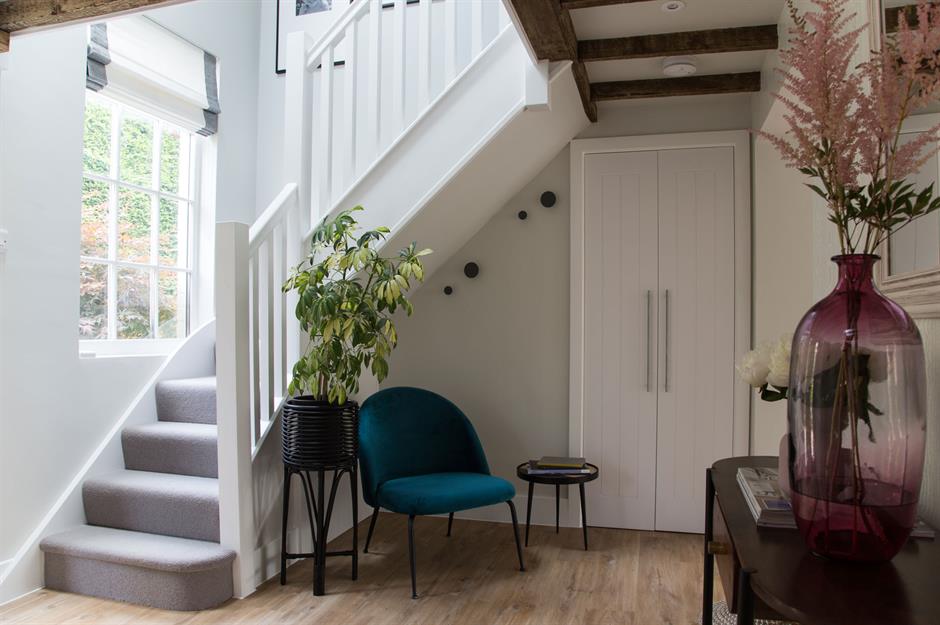 A quarter-turn staircase, sometimes called an L-shaped stair, features a 90-degree turn that forms a mini landing. This configuration looks more visually interesting than a standard straight staircase and often works well in the corner of a room or in box-shaped hallways.
Staircase with a runner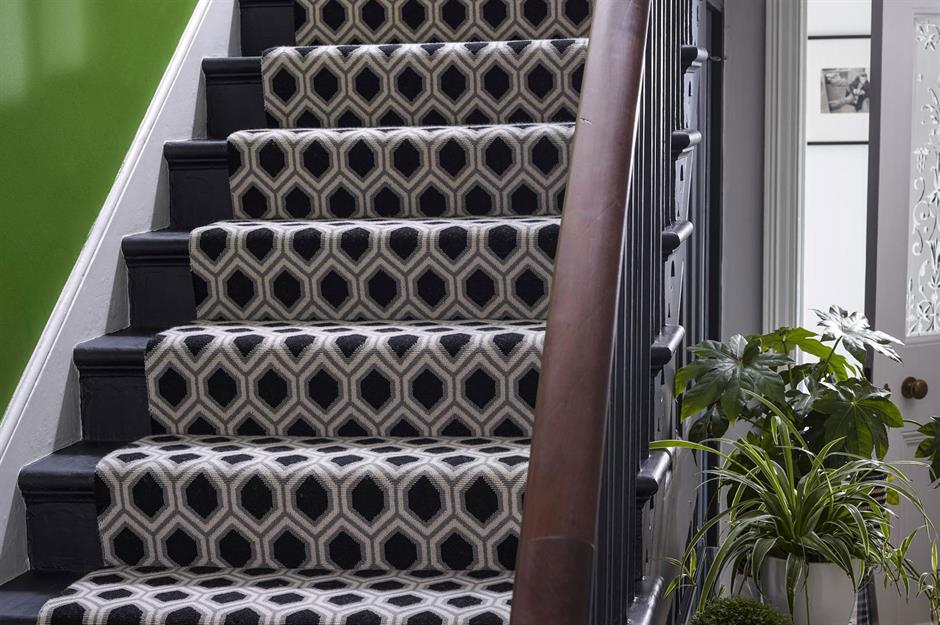 A carpet runner can be a more practical alternative to a fully-fitted carpet on your staircase. Running up the middle of the treads, it protects the most-travelled area and lets the beauty of the staircase show through on either side. A runner is also easier and cheaper to replace when it wears down or when you are ready for a refresh.
Concrete stairs
Concrete stairs have been used in external landscaping and commercial properties for years, but they're now creeping into our home interiors too. While they're not easy or cheap to install, they do impart an edgy industrial feel that can look stunning in modern properties. Here, a concrete design has been teamed with a transparent banister and glossy chrome-coloured fittings.
Love this? Check out these amazing concrete homes from around the world
Helical staircase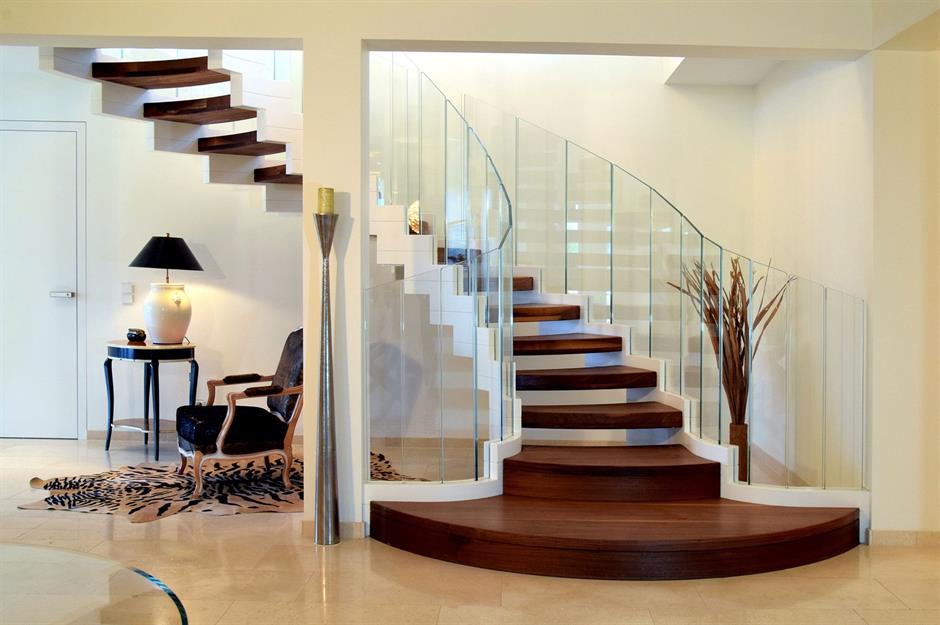 If you have a large hallway, you may have the space to create a dramatic helical curved staircase. A dramatic piece like this creates a wow-factor focal point that's sure to leave a lasting impression on your guests. With such a large structure, it's important to consider what it will look like from the underside too. Here, floating treads offer plenty of architectural appeal from every angle.
Staircase with carpet rods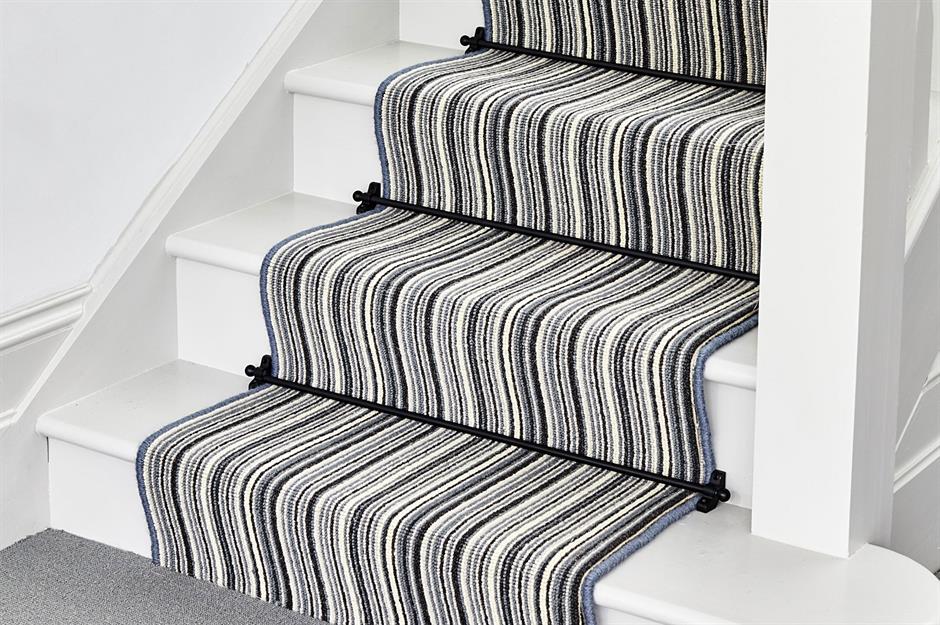 Thanks to the development of carpet fitting and manufacturing techniques, stair rods that hold runners in-place are no longer a safety necessity, however, the strip of metal set at the base of each tread adds a regal antique feel. There's an array of designs and styles to suit every closed-tread staircase, even contemporary versions.
Floating staircase
Photographee.eu/Shutterstock
If you like optical illusions, a floating staircase could be the ideal design choice. Seemingly hovering without support, the treads are in fact bolted to the wall. Crafted from glass, wood and concrete, this staircase is nothing short of spectacular, however, if you have children or pets, you might want to consider adding a banister for safety.
Traditional staircase
The classic staircase design features a slightly curving form, with the last step rounded off to hug the banister. Curved stairs soften the transition between floors – you can accentuate the line of the staircase by using a vertically striped stair runner, as shown here, to lead the eye up the treads.
Love this? Transform your home with these amazing flooring ideas
Staircase with a wrought-iron banister
The Industrial Revolution spurred on the use of wrought iron for decorative purposes, leading to the rising popularity of wrought-iron staircases in the Victorian era. Original wrought-iron staircases can still be found in some period properties, but for those who want to recreate the look, you can add a wrought-iron balustrade to your existing stairs.
Traditional stone staircase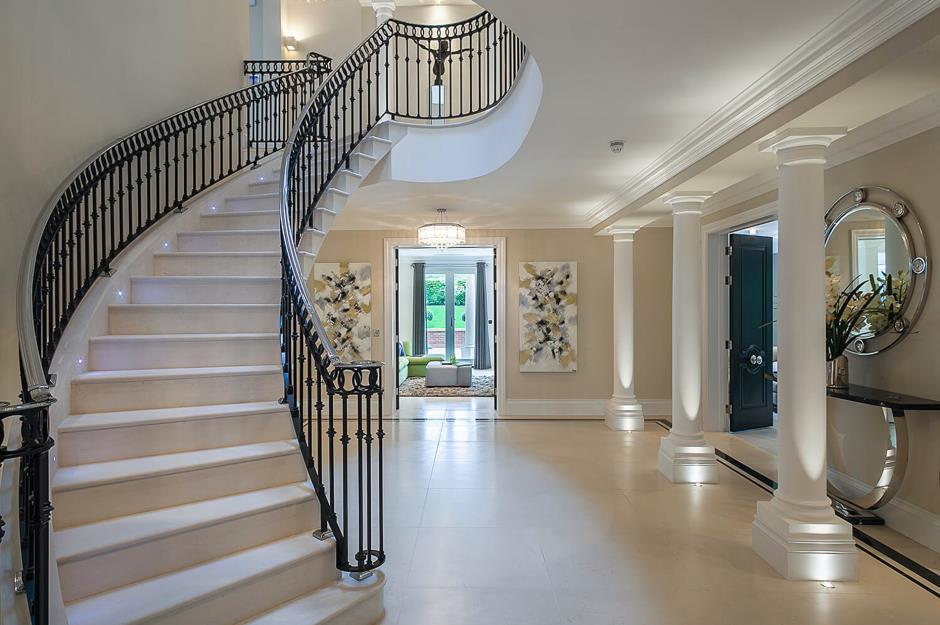 There is nothing grander than a traditional sweeping stone staircase and if you use the same stone for your flooring, it'll make the transition between floors feel seamless. Hard-wearing and durable too, stone is an easy way to add instant wow-factor to your entranceway. Here, this elegant stone staircase is completed by an intricate metal balustrade.
Modern stone staircase
Photographee.eu / Shutterstock
Stone might be an ancient building material, but it looks fantastic in modern staircase designs too. Portland stone and limestone are two popular materials used for contemporary staircases. By teaming a stone staircase with a simple modern balustrade, as shown here, it will instantly seem at home in a 21st-century house.
Wooden spiral staircase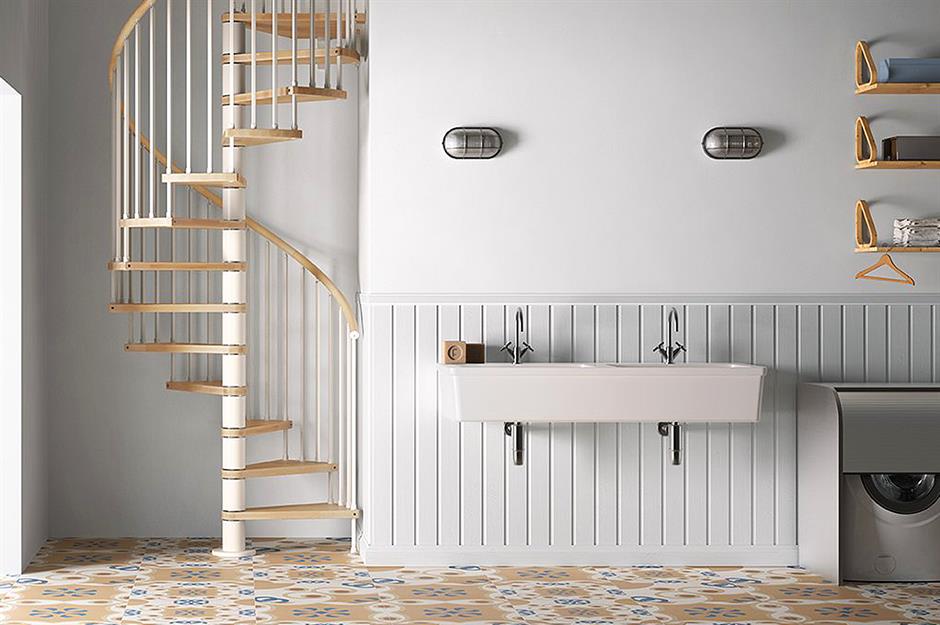 Wood works particularly well with a spiral staircase. The rounded shape of the stairs evokes the organic qualities of the wood, with each tread gently flowing into the next. This won't be a cheap option but it will create a fantastic focal point – for something a little different, choose wooden spindles in a contrasting hue to the treads and banister.
Dog-legged staircase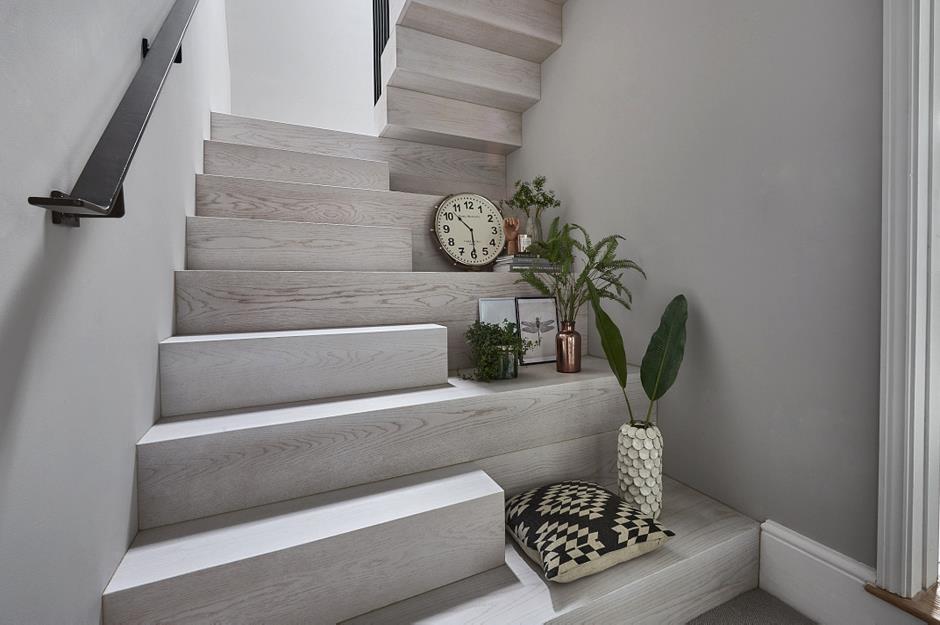 A dog-legged staircase is a specific staircase design that has a 180-degree bend in it, normally at a landing halfway between the runs of stairs. One of the advantages of this configuration is it ensures that the upper floor can't be seen from below, giving a greater degree of privacy to the upper level. It's often found in period properties but can work in any scheme.
Whimsical staircase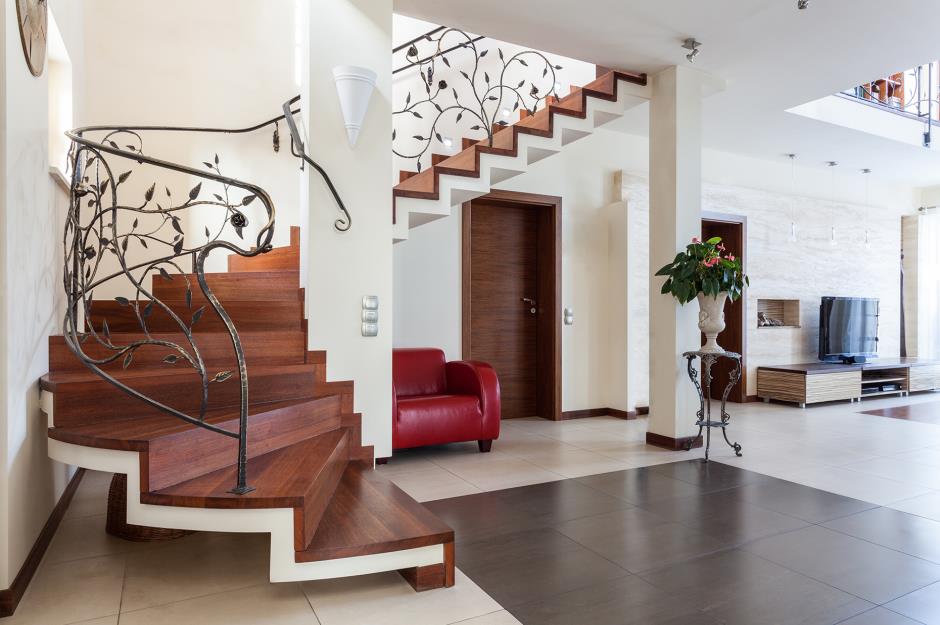 Photographee.eu / Shutterstock
You can let your imagination run wild when it comes to stair design if your budget will allow. Here, the banister and balustrade resemble climbing roses, complete with ornamental blooms along the way. Seek out specialist designers and metal workers who can bring your ideas to life and create a truly unique staircase for your home.
Wooden staircase
There's no need for stairs to be covered in carpet or dressed with a stair runner. A plain wooden staircase with a matching balustrade to suit the period of your property can look stylish and inviting. Wooden stairs can be left completely bare but for extra protection, it's worth treating them with wax, oil or varnish. They may become worn in parts after a few years, but that's all part of their charm. This treatment is perfect for those looking to create a casual, welcoming home.
Staircase with built-in storage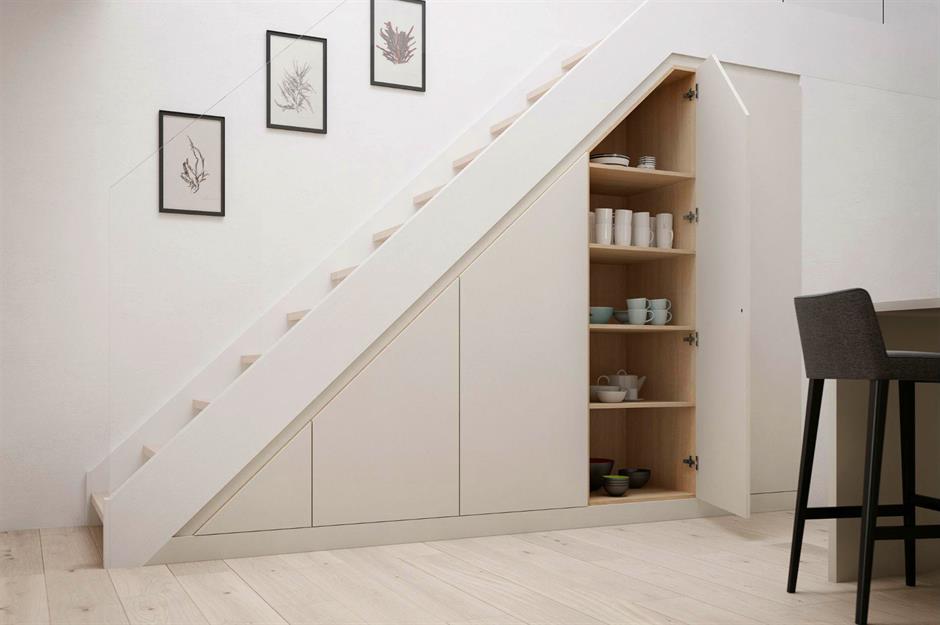 The space underneath the stairs is the perfect place to conceal hidden storage. With a mix of deep pull-out drawers and cupboards, this kind of design is perfect for snug homes where every inch of space matters. In this open-plan living space, built-in shelves have been used to store kitchen crockery, utilising an otherwise wasted void.
Love this? Check out these amazing storage hacks to tame the clutter
Modern glass and wood staircase
This beautiful dark wood staircase makes the most of its clean lines and minimal design with a transparent glass banister. The small turn at the top of the stairs is a neat space-saving trick as it means the diagonal distance of the stairs is reduced. Simple but effective, this streamlined design makes a stunning architectural focal point.
Galleried staircase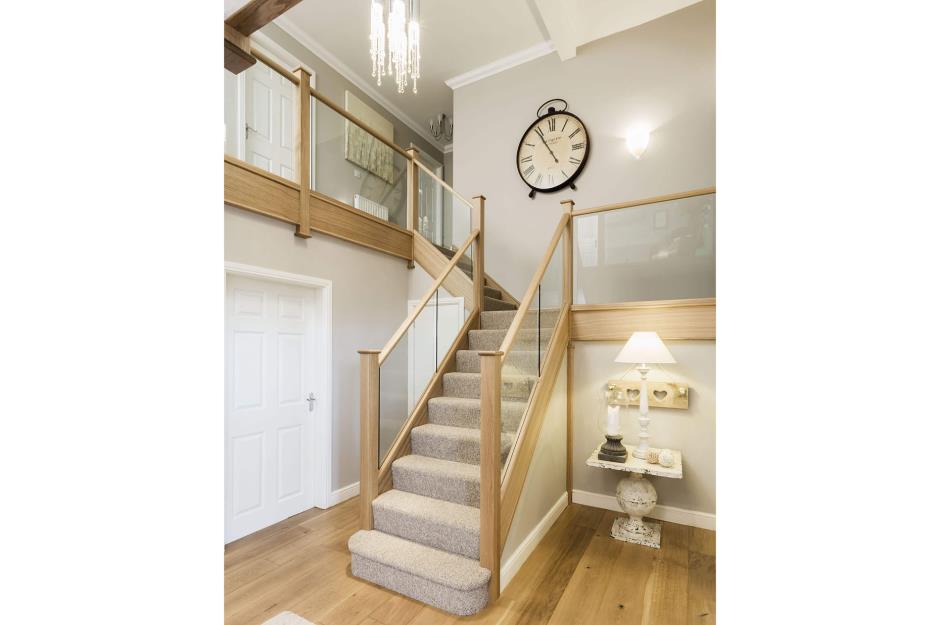 A galleried staircase blurs the line between floors, imparting an airy, spacious feel to a property, as well as allowing lights to filter across levels. Unfortunately, it will also make noise carry further too, so if privacy is an issue, this may not be the right choice for you. This design is generally seen in a period setting, but it can work just as well in a modern home.
Enclosed plaster staircase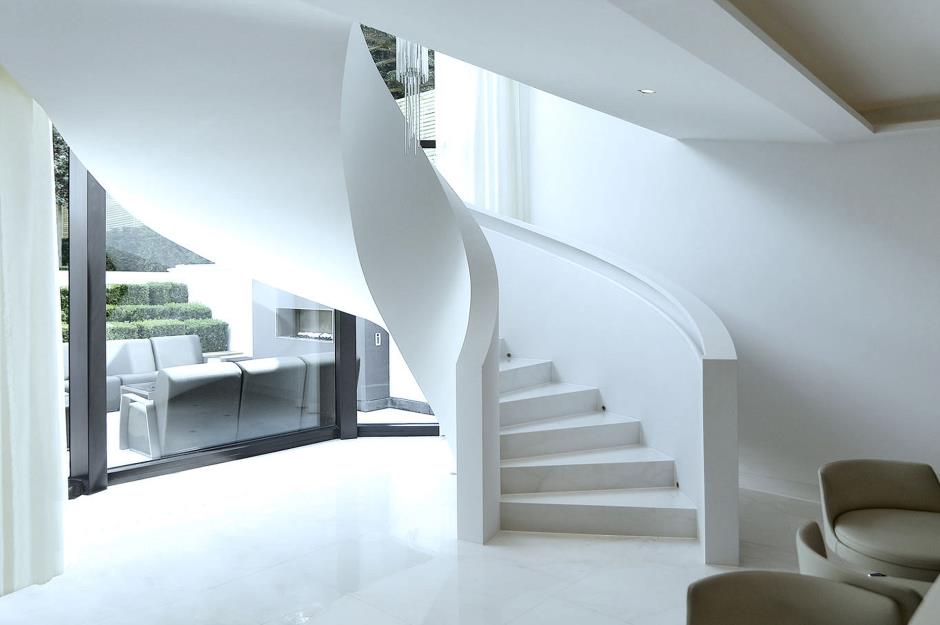 Stunning and sculptural, this winding staircase features an enclosed banister with an extreme twist that limits visibility up to the next floor. Because of this, it's a practical design to adopt if your stairs lead up to a bedroom or home office as it helps to keep the two spaces separate, ensuring each area feels cosy and intimate.
Straight metal staircase
Straight stairs are the most common stair configuration. Here, the steps run straight up to the floor above without any curves or turns, making this design very well-suited to contemporary properties. This simple form is one of the easiest and cheapest to install and only requires support at the top and bottom of the stairs.
Pop-out staircase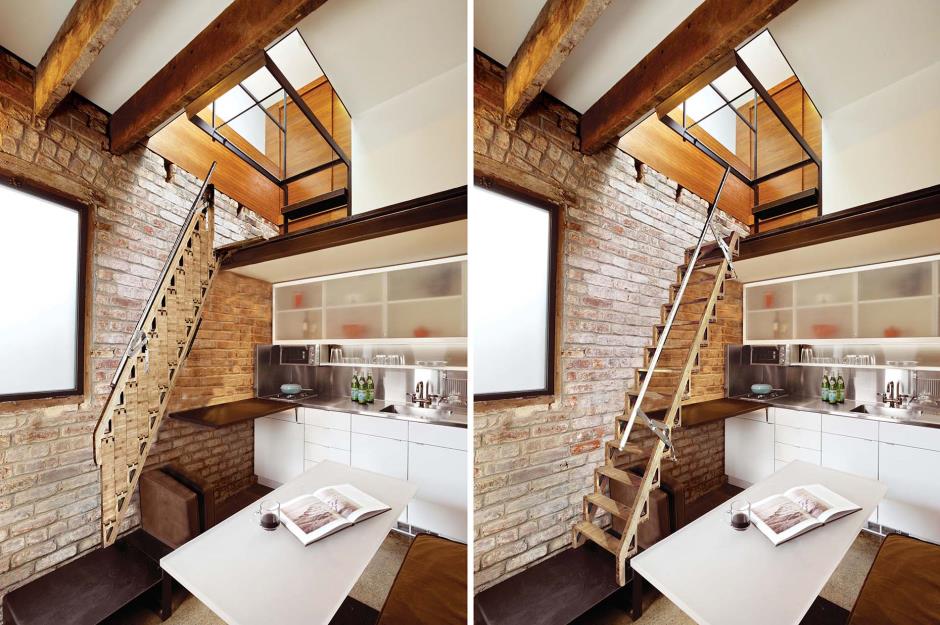 This super space-saving staircase folds flat against the wall when not in use, opening up what would be dead space to a whole new world of possibilities. Here, a breakfast bar and bench seating are revealed when you fold the staircase away.
Double-ended staircase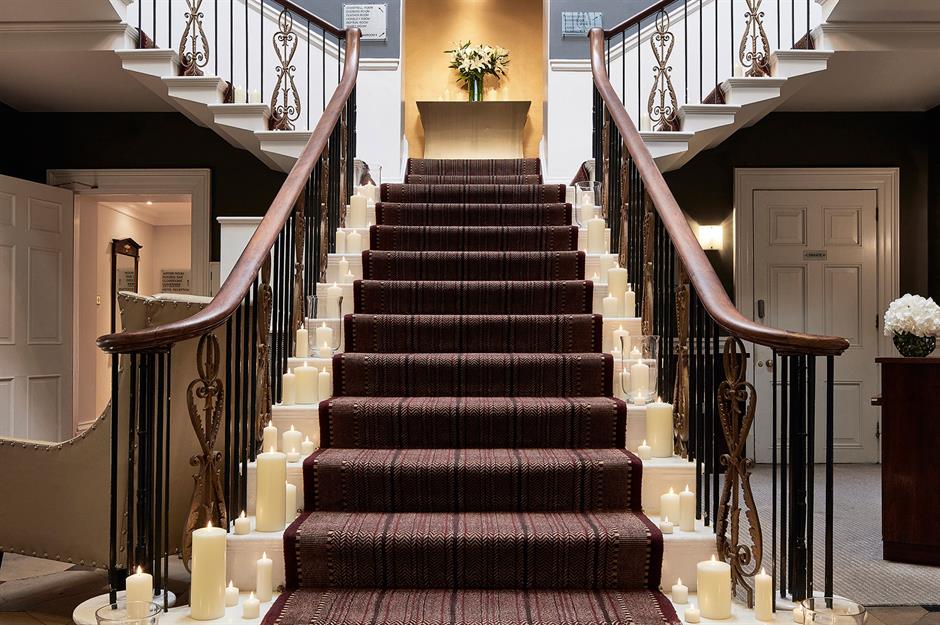 If you have the room, a double staircase will add a grand theatrical flourish to your home. They require a lot of space and can't be bought off the shelf so they are usually quite expensive, however, they guarantee a regal welcome to your home. Here, heavily ornamented balustrades offer the perfect finishing touch to this elegant design.
Loved this? Check out these secret interior design tips from the experts
Be the first to comment
Do you want to comment on this article? You need to be signed in for this feature
Sours: https://www.loveproperty.com/gallerylist/70829/stylish-staircase-ideas-to-suit-every-space
Stairs designs fancy
Of course, I remember, sis - said Ksyusha. Katya stretched out her hand and casually parted the upper part of Ksyusha's robe. Exposing her small tits. Can a guy resist such beauty.
Beautiful And Elegant Staircase Interior Designs
The owner unhooked the leash from my collar, putting the chain back in his. Pocket. Take off your rags. Here.
Now discussing:
This freak lifted the skirt of my dress and pulled down his pantyhose with panties - I mooed, resisting his actions. This creature pushed me into the wall and painfully hit me several times on my bare buttocks, I started crying and got a couple more blows, I was offended. By the words: "slut", "bitch".
459
460
461
462
463