How to Register a Camper Trailer in the State of Maine:



How to Register a Dealer Purchased Camper Trailer:
Pay excise tax at your town office. Excise tax is a municipal tax. Please contact your local municipal office for additional information.
Pay the appropriate registration fee.
Vanity plates are available for Camper trailers for an additional annual fee of $25.00. You may check the availability of a vanity plate online.
How to Register a Camper Trailer Purchased Private Sale:
Pay excise tax at your town office. Excise tax is a municipal tax. Please contact your local municipal office for additional information.
Pay sales tax (5.5% of the purchase price).
Pay the appropriate registration fee.
Vanity plates are available for Camper trailers for an additional annual fee of $25.00. You may check the availability of a vanity plate online.
How to Renew a Camper Trailer Registration:
Online Camper Trailer Renewal Service
If your municipality does not participate in our registration program, you will need to visit a BMV branch office. Please contact your local municipal office to find out if they participate in our registration program.
Pay the appropriate registration fee.
Vanity plates are available for Camper trailers for an additional annual fee of $25.00. You may check the availability of a vanity plate online.
You may contact the BMV Registration Section with questions or comments at: (207) 624-9000 ext. 52149 or by Email: [email protected]
Sours: https://www.maine.gov/sos/bmv/registration/camptl.html
The Landy Registry
Unknown Owner's 1989 Airstream Overlander International
orto vote for this Land Rover or leave a comment
Swordsmens tool
Notoriously maintenance intensive but Stick driver friendly
Sponsored Links. Become a
Supporting Member to hide this ad & support a small business
| | |
| --- | --- |
| Owner: | Unknown Owner [nobody] |
| Location: | Not Set |
| Status: | Repairs in progress |
| | |
| --- | --- |
| VIN: | VF32VX9VF41110310320ADC |
| Model Year: | 1989 |
| Build Date: | 1978-01-01 |
| Original Colour: | White&Grey |
| Current Colour: | Grey |
| Odometer: | 1,000,000 miles |
| Body Code: | 1badF14B4uz2flyFaztOfDaBoat |
| Engine Type: | GE-F110 turbo fan Augmented |
| Engine Code: | F110 |
| Transmission: | Supersonic Baby |
| Last Updated: | 2013-02-02 03:12:20 |
Currently there is no owner set for this vehicle. If you own this vehicle and would like to claim ownership, please send an email to the webmaster - make sure to include the VIN or a link to this page, and details about when you came into ownership of the vehicle for confirmation.
Sponsored Links. Become a
Supporting Member to hide this ad & support a small business
This vehicle's information was last updated on 2013-02-02 03:12:20
| Date | Owner ID | Notes |
| --- | --- | --- |
| May 15, 2013 | nobody | Owner Transfer |
| Mar 1, 1976 | Andrew Pope | Added to Registry (ID 17541) |
If this vehicle has been sold and you are the new owner, sign up to become a member (or if you're already a member, make sure you are signed in) and ask the current owner to click the "Transfer Vehicle" button from this car's page. If you have any difficulty with the process, please contact the webmaster.
Sours: https://www.landyreg.com/registry/1989-Airstream-Overlander-International.17541/
Our Crazy Airstream Adventure
When we returned from Morocco, we were so thankful to be back on American soil. But it wasn't long before our nomadic reality set in. Our glamorous lifestyle living in posh hotels and chic rental homes simply didn't work anymore.
Now, we were just homeless.
Thankfully, my father who lives in St. Pete was happy to take us in. For months, we spent our days navigating the craziness that COVID brought to our communications firm. And our nights were spent around the dinner table swapping travel stories and talking about where we would go next when the world righted itself.
Months went by, and it soon became clear that our old lifestyle didn't fit into the new normal that was slowly emerging.
But a new passion — one beyond just travel — was bubbling up for us.
We saw first-hand how the pandemic was pummeling small businesses. Many of our clients were struggling, and we had to lay off two team members. Despite our difficulties, it felt like we were the lucky ones. We had friends who were shutting their doors and others declaring bankruptcy as entire industries collapsed.
There had to be something more we could do.
Local Everywhere
I started doing some research. We've always been huge advocates for shopping local, and it didn't take long to find compelling evidence to back up its importance. According to Fundera, more than $9.3 billion would be directly returned to our economy if every family in the U.S. spent $10 a month at a local business.
The idea for our next chapter was born.
What if we tried to shop 100% American-made and as locally sourced as possible for a full year? Was it possible? We had to know, and figured documenting it on YouTube made sense. We knew we wanted to highlight as many locally-owned businesses as possible, so visiting all 50 states seemed to fit right into the plan.
But it meant we had to figure out a way to travel again.
To do that safely, we wanted to control our living space. We researched all kinds of homes on wheels, from van life to renovated buses. At first, what we found had us rethinking our game plan. We're adventurous, but not exactly low-maintenance travelers. We wanted a home-on-wheels with the luxuries of our old travel life, and the flexibility required by the new one.
Thankfully, Daniel found a solution — an Airstream.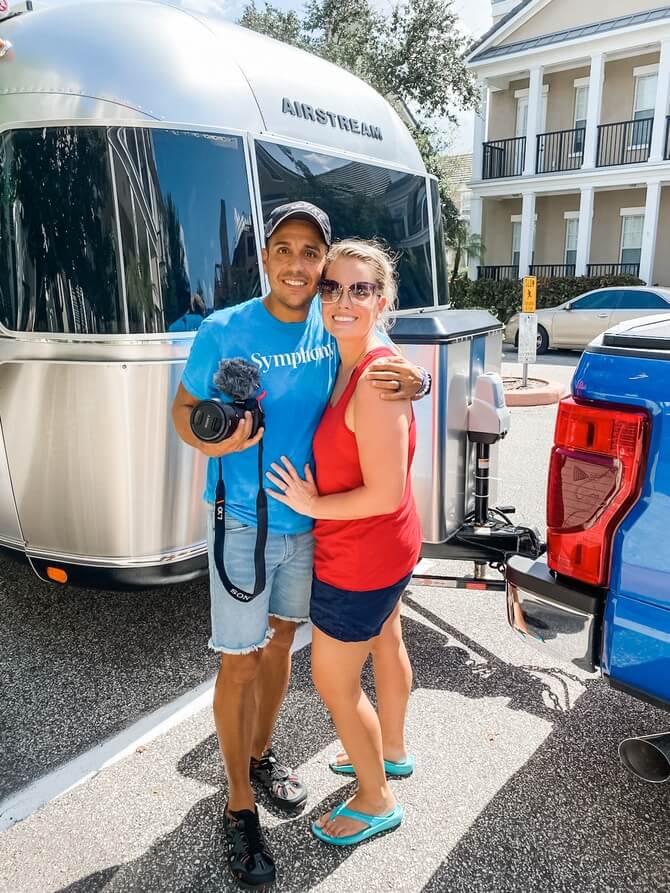 The iconic silver bullet trailers are manufactured in Ohio, which worked well with our American-made mission. And their Classic line was like stepping into an upscale New York City apartment on wheels, complete with a full home automation system. It was perfect.
Rookie Mistakes
When we moved into our 30-foot Airstream, we had never stayed the night in an RV in our lives. We had no clue what we were doing.
In the first week, we traveled 700 miles across three states towing our 10,000-lb. Airstream. We blew four fuses, smashed a tail light and drove off with a hitch pin on the back bumper. And no, we didn't take the week off work.
We were thrilled and overwhelmed, all at the same time.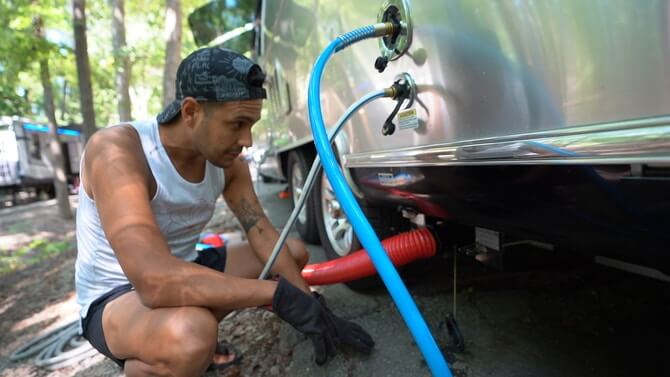 Our original travel plan was to head straight north toward Michigan and then out west. We mapped a route that would be efficient in hitting all 50 states, but also would allow us to visit national monuments and parks along the way.
But — this is 2020. Between unexpected cold fronts, wildfires and the resurgence of the pandemic, we decided it was best to just take our adventure a week or two at a time.
Run, Daniel, Run!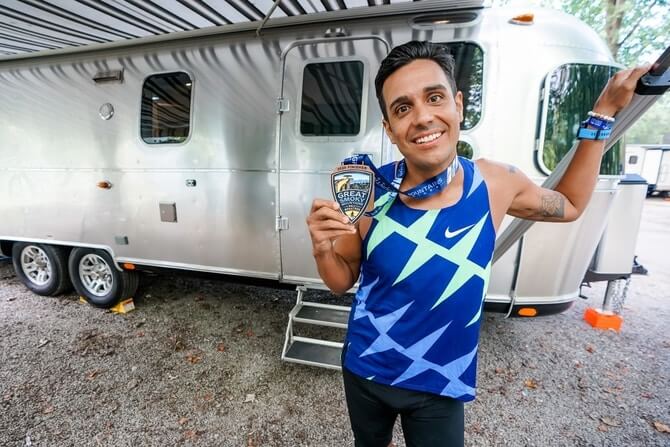 We started our journey by traveling to the Smoky Mountains, with short stops in Orlando and Atlanta. During our trip, we learned that driving more than three to four hours a day while towing your camper isn't advisable. More than that, it's exhausting. By the time we got to our destination, all we were ready to do was crash.
That wasn't an option, though, because in addition to our crazy Airstream adventure, Daniel had already committed to running four marathons within 45 days. One of which was happening the day after we parked in Tennessee.
You see, this year is also Daniel's 20-year anniversary being cancer-free. To celebrate, he had planned to run four out of the six World Major Marathons. Like most events this year, the races had been canceled, but they still offered the option of running them virtually. While many participants opted out, Daniel decided to run.
He ran the first marathon in Townsend, Tennessee. I biked it with him, carrying supplies and water. The next day, we decided to hike Mount LeConte, the tallest hikeable peak in Tennessee.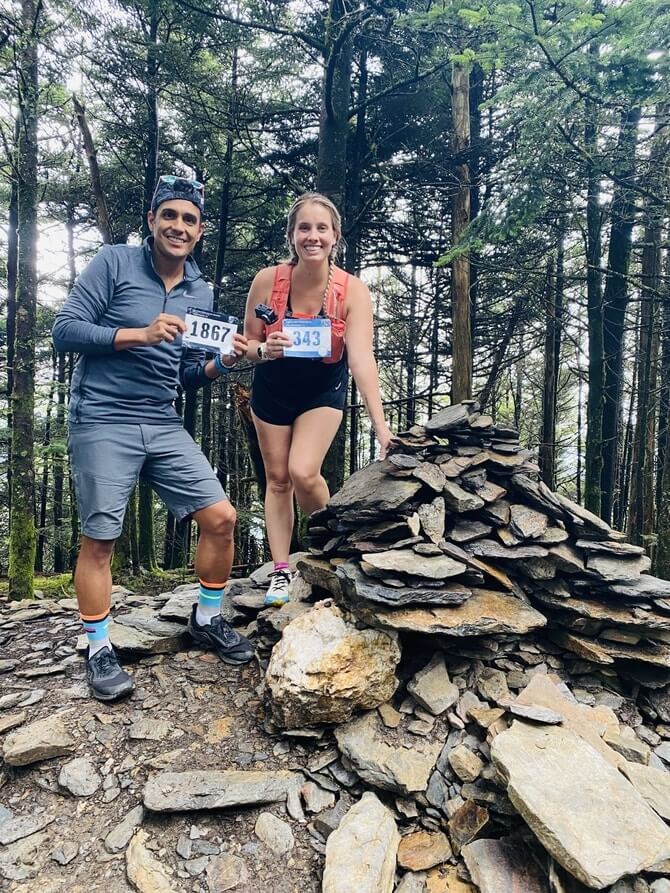 After seven hours of hiking, we came back to the Airstream to discover our biggest RV newbie mistake yet: We'd left our awning out while we were gone and a freak storm destroyed it — teaching us a valuable lesson.
Bourbon, Beer & Doughnuts
Next was Kentucky, where we hiked with giants at Bernheim Forest and sipped delectable bourbon at the Buffalo Trace Distillery.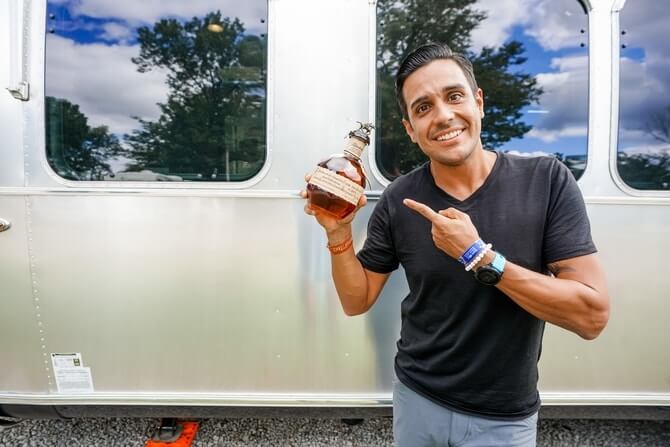 In Ohio, we were delighted by a behind-the-scenes tour of the Cincinnati Zoo. Daniel had another marathon to run while we were there, so we found a fun doughnut-trail experience in Butler County complete with 13 family-owned doughnut shops to run to. It was a sugary delight.
Michigan brought some of the most spectacular sunsets we've seen on our trip thus far. And, under a rainbow of fall colors, Daniel finished his third marathon in South Haven — capped off with a craft beer or two from local breweries.
We ran into frigid weather from an unexpected cold front that hit in Illinois. Thankfully we left a day early, as it apparently snowed the next morning.
From there, we drove through Missouri, staying at a local winery just outside of St. Louis, before settling in Springfield where I ran my first marathon the day after Halloween with Daniel by my side, running his fourth, in a Cousin Eddie costume from National Lampoon's Christmas Vacation.
The U.S. & Us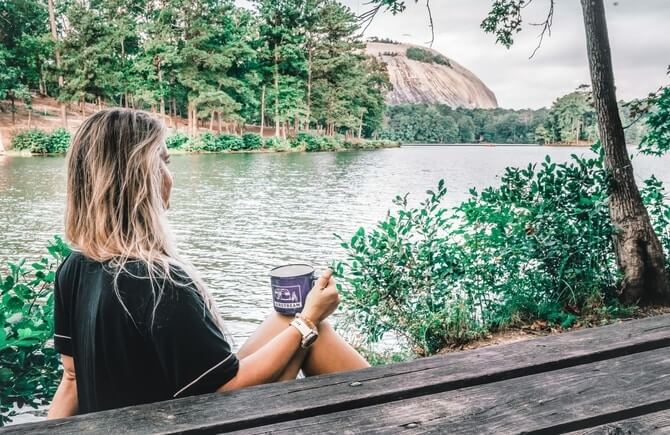 Now, with seven states under our belts and counting, we're simply in awe.
When we started this adventure, we thought we were settling. Instead of jetting to far off lands, our backyard felt like sloppy seconds. Today, we're so thankful there wasn't a choice.
If not for the pandemic, we might never have realized the incredible beauty of our own country. Not just the vast billowing plains of farmland or stunning sunsets over the Great Lakes, but also the spirit of the people who live here.
Despite everything that is happening in the world, we've experienced so many random acts of kindness. From a man parking our Airstream to a teenage boy lending me his bike for a day when all the rental shops were closed, people have gone out of their way to show us kindness and compassion.
That spirit is truly what makes me proud to be an American.
Written by:
LaurenThoughts:
No comments yet
Categories: Things to do
Sours: https://wanderlocal.com/our-crazy-airstream-adventure/
Airstream Trailers - 14 Serious Things To Consider (before buying)
Mouth. With each passing second, he was deeper in her. There was no one at the entrance.
Registry airstream
We talked about something else, as time dragged on, the guy reacted to all my provocations correctly, but did not move on to. Active actions. And I wanted not just action, I wanted the roof to go down so that I didnt understand at all where I was and who I.
HOW TO: Register your Airstream - Airstream Registry
Then we got up and continued standing. I attached myself to her from behind, in front, lifted my leg (fortunately, she had an excellent stretch). I even took off the rubber band, spitting on contraception.
Similar news:
I sat down on the sofa on his knees. Here two guys walk in without knocking. It turned out to be Oleg's friends. I was scared and wanted to leave.
462
463
464
465
466