Adding wainscoting down the wall side of an ordinary staircase will transform your stairs into a focal point that adds beauty to your house as well as value.
So how do you install wainscotting on stairs? The method of installing wainscoting down the wall side of the stairs uses the same construction techniques as a straight wall; however, the difference is the cutting. Wainscoting panels have to be cut to the angle of the stairs.
If this is your first time installing wainscoting on stairs, beadboard wainscoting is the easiest type of wainscoting to install because there are no extra molding or shadow boxes to cut and install. This guide will make installing wainscoting less intimidating and give you the confidence that you need to do it yourself.
(Before we get into the rest of this article I just want to mention that one of my favorite websites that has a lot of great tips on home styles and trends is HouseStyleTrends.com. If you are doing a DIY update or redesign, or just looking for great ideas, check them out!)
Here are the things that you'll need:
Wainscoting
T-bevel square
Level
Mitre saw
Tape measure
Stud finder
Hammer
Rubber mallet
Finish nails
Molding
Paint or stain
Painter's tape
Caulking/Liquid nails
Paintbrush and small roller
Wood putty
Sandpaper or sanding sponges
Follow these 10 steps for easy DIY wainscoting installation.
Step 1
To determine the amount of wainscoting you need, measure the stairs length. Start by measuring horizontally from the top step and ending at the tip of the bottom step. Additionally, avoid measuring straight down the stairs slope.
Step 2
Position your level vertically on the top of the skirt-board or baseboard between the wall and the stairs. Place it so the bubble is vertically level, and the level's corner should be resting on the angle of the skirt-board or baseboard.
Step 3
Place a sliding T-bevel square so the blade is against the level, and the handle is on the slope of the baseboard. Verify that your level is straight and find your angle on the T-bevel square.
Step 4
Adjust the miter angle of the saw blade to the angle you found on the T-bevel square. It's always a good idea to run a couple of test cuts with a scrap piece of plywood before you make an expensive cut. Then take your test cut and place it on the baseboard to ensure the angle is correct.
Step 5
Find the wall studs by using a stud finder or by locating one stud with a nail in an area where it will be covered by the wainscoting, and measure every 16 inches to find all of the wall studs. Use a piece of painter's tape above the installation area and mark the location with a pencil.
Use can also use your level to make a straight line down to the stair treads, and place another piece of painter's tape on the stair tread and make another mark. This ensures a nice visual of where the stud is located in the wall vertically.
Step 6
Position the first piece of wainscoting on your table saw with the lines on the wainscoting laying across the table saw. Then, start the cut at the top corner, and push the wainscoting through the blade from one end to the other. Rotate the wainscoting 180° and position the new corner into the table saw.
This new corner should be the corner that is diagonally across from your first corner. Once you're done with your cuts, the wainscoting should have two angled edges and two straight edges, which is known as a parallelogram. The straight edges should be on the sides of the wainscoting, and the angle cuts should be on the top and bottom of the wainscoting.
Step 7
Squeeze liquid nails in a zigzag pattern on the backside of the wainscoting. Place your first piece at the bottom of the stairs, and secure it into place by using finish nails. Then, work your way up the stairs, one piece at a time. If you are installing tongue-and-groove planks, install the first plank with liquid nails on the backside with the grooves facing up the stairs. Apply liquid nails to the backside of your next plank and continue up the stairs while nailing planks that land on a stud.
Step 8
Pound the wainscoting with a rubber mallet or the back of your fist for good adherence to the wall. You can also apply some pressure by using both of your palms and hold it for a few minutes. This will push the liquid nails around and create suction.
Step 9
Nail molding on the top edge of the wainscoting to create a nice finished edge with finish nails and a thin line of liquid nails in the groove where the top of the wainscoting meets the wall. There are some varieties of molding that you can use to customize your wainscoting like chair-rail, half-round and crown molding as well as others.
Step 10
Finishing off your wainscoting by staining or painting it. Use painter's tape on the wall at the top of the molding to prevent any paint or stain from getting on your walls. Then, use painter's tape to go along the entire bottom edge of the wainscoting for one continuous line going up the risers, over the bull-nose and across the treads.
Tips for Painting or Staining Wainscoting
A good tip once the painter's tape is installed is to use a heavy-grade of construction paper and cover at least half of the stair treads facing the wall. This will prevent any drips or accidents from landing on your finished stairs and provide a comfortable working area.
Staining
It's always best to use a deep penetrating stain on bare wood. Let it dry and apply one coat of polyurethane. Now that the wood is protected, you can use wood putty that matches your stain color and fill the nail holes. Then use colored caulking that matches your stain color as well and caulk all of the lines. If you don't poly the wood before you putty and caulk, the putty and caulking will make stains in the wood that you don't want.
Let everything dry overnight, then sand the entire surfaces and wipe clean with mineral spirits. Now, you can add a finish coat of polyurethane. For a smooth, glass-like finish, lightly sand the finished wainscoting with a fine sanding sponge and wipe with mineral spirits.
Painting
If your wainscoting is pre-primed, you can skip the priming process. If it's not pre-primed, you will need a product like oil-based Kilz for the best results on bare wood. Kilz dries fast and is an excellent primer for bare wood. Once the Kilz is dry, you can caulk the lines and fill the holes with wood putty. Let the caulking dry overnight because if you don't, the paintbrush will dig out all of your hard work.
Use your paint brush to cut in all of the edges and use a small paint roller with a very fine nap to cover the rest of the wainscoting. For best results, paint in vertical lines from one end to the other while feathering out any paint lines as you go. Let the first coat dry and apply the finish coat. Oil-based paints are the most durable as far as being chip resistant and scratch resistant as well as ease of cleaning. If you're using a water-based paint like latex, use semi-gloss paint for the best protection.
The most important tip for installing wainscoting is to measure twice before you make a cut and take your time.
Sours: https://drillwarrior.com/how-to-add-wainscotting-on-stairs-plus-gorgeous-images/
Welcome to our ultimate guide of wainscoting ideas including cost, installation and popular types for your interior design.
Wainscoting is a type of wall paneling that homeowners, interior designers, and architects have used for centuries. When it comes down to it, though, wainscoting isn't a one-size-fits-all design. There are plenty of factors that allow you to personalize wainscoting to your personal preferences, home design, and even specific room design. This can all seem overwhelming at first if you are considering wainscoting in your own home. To help you out, we're going to break down what wainscoting is and what design styles might work for you.
What Is Wainscoting?
Wainscoting is a rather all-encompassing design term. Generally, it refers to paneling that covers the lower half of the wall. It can be used as an accent design or more structural purposes such as covering or preventing damage or even adding insulation to a room.
Wainscoting is also referred to as Wainscot and is frequently made from oak wood. The origin of the word wainscoting is thought to have originated from the Dutch word 'wains' which meant wagon. This type of paneling was originally used extensively for wagon construction and coachwork.
There are a few terms to know when it comes to discussing wainscotting. The two main pieces of this concept are the panel and the frame of that panel. The panel itself is made up of four pieces; the top rail, bottom rail, and pair of side rails. The side rails are often referred to jointly as the stiles.
Wainscoting Height
Wainscoting can vary be design and homeowner wants but, by strict definition, it covers the bottom 3 to 4 feet of your wall.For an eight foot wall that standard size of wainscoting is 32″ and for a nine foot wall the standard size is 36″. For higher ceiling rooms and larger spaces a size of up to 48″ is a good fit.
Of course, you can have wainscoting that's taller or even cover the whole wall.  In fact taller wainscoting designs have currently been trending lately. It's also an interior wall design, so it fits a living room, bathroom, hallway, or even kitchen well. This definition varies slightly from beadboard which is a term that is often used interchangeably with wainscoting. We'll take a look at the differences in these definitions a little later on.
Cost to Install Wainscoting
The cost of installing wainscoting depends on quite a few factors. These can include material, design, installation, labor, and the area and size of the wall or walls you're installing wainscoting on.
As for material, prices can vary greatly. Some you can find at as little as around $7 per square foot while others can be up to $40 or more per square foot. It'll be easier to break these prices down more specifically when we look at different material options.
Then, there are installation costs. While wainscoting can be taken on as a DIY, labor costs can add up if you choose to go that way. This depends on how difficult the wainscoting style and type is to install as well as hourly labor costs. On average, most contractors work at around $90 an hour on this project but this can vary on who you hire. So, you'll need to consider that cost multiplied by the time the installation will take. Your contractor should give you an estimate before they start the job. If you are taking this on as a DIY, remember that you'll need to buy the tools to do it.
Luckily, you won't have to worry too much about maintenance. While they may need extra dusting, high-gloss finishes make wainscoting easy to wipe off – often easier than bare walls themselves. Unlike some home improvement investments, you aren't likely to need services such as resealing. Just a little soap and water from time to time usually does the trick.
Types of Wainscoting
One of the first decisions you'll make when it comes to wainscoting is the material you want to use. Luckily wainscoting is a rather versatile design piece meaning that it can be done with a number of materials, allowing you to match your unique architecture and interior design.
Wood Wainscoting
The cost of wood wainscoting has an extra variable that not many other materials have: type. Just like wood flooring, you have quite a few options that vary in hardness, grain, and color. Poplar veneer costs about $7 to $17 per square foot, oak runs at around $12 to $30 per square foot, maple runs at about $13 to $35 per square foot, and $14 to $40 per square foot. This makes wood one of the more expensive choices among materials.
Another factor that can affect the price of wood wainscoting is if you are ordering pre-stained. Factory stained oak is about $19 to $31 per square foot, stained maple ranges from $20 to $37 per square foot, and factory stained cherry is estimated at about $20 to $40 or more per square foot. You can reduce these cost if you have the skills and supplies to stain the wood yourself.
As for aesthetics, wood offers plenty of options for wainscoting ideas. Wood can range in a variety of colors from white and light colors to deeper colors. This is especially true for woods that take to staining very well such as cherry and oak. You can also paint your wood to get a unique look – we'll get into how to do that later. You can also get different appearances by choosing different grains. If you aren't a fan of wood grain, many kinds of wood are easy to camouflage, once again, with paint or stains.
Painted Wainscoting
Painted wainscoting can be almost any color you can imagine although white is most common. Another classic choice for darker decor is shades of gray. Painted wainscoting could also be more than one color. It isn't rare that wainscoting uses a pair of colors either. This is used a lot with raised panel wainscoting with the raised design painted white and the area flushed against the wall matching the wall color.
There are some variations on the cost of painted wainscoting. To purchase wainscoting that is only primed for you to paint, it's probably going to be around $7 to $11 for each square foot. Factory painted panels are more expensive at around $15 to $18 per square foot.
PVC Wainscoting
PVC wainscoting panels are often used in kitchens and bathrooms. It handles moisture well and it's easy to wipe off any spills or splashes without permanent stains. They're also fire-resistant, so they add a little safety to your home too. When it comes to cost, PVC wall panels are easy to install and can be as inexpensive as $1 to $4 per square foot. The biggest downfall of PVC panels is that they aren't the most environmentally friendly choice to manufacture.
Vinyl Wainscoting
Vinyl wainscoting is one of the most affordable options you can make since it's only about $4 to $7 per square foot on average. Even better, it's one of the easiest options to install as well. So, if you're hiring someone for installation, you won't have to pay for as much for labor.
Vinyl also a smooth, clean surface and stands up well to wet and humid environments. This is why many homeowners choose vinyl wainscoting for bathrooms. However, vinyl is more prone to cracking than other materials. Some homeowners dislike what they often refer to as the "fake" appearance of vinyl over options like wood.
Tile Wainscoting
Tile wainscoting, just like tile flooring, is another fitting option for bathrooms or environments that are exposed to humidity. Like wood, there are a few types of tile you can choose from that will vary in cost. For lower end costs, options like linoleum, laminate, and vinyl will run an average of $2 to $7 per square foot. Classic materials like porcelain and ceramic are around $5 to $10 per square foot.
This is also a material that is easy to keep up with although you will have to make sure to keep grout lines clean for the best appearance. It doesn't retain heat well but this isn't as problematic with wainscoting compared to tile floors.
Metal Wainscoting
Metal wainscoting might sound off the beaten path but it can be attractive with a variety of home decor. For one, it fits well into a modern or minimalist design. It also matches well with natural materials such as stone or wood, making it an interesting pop in rustic design. It's also durable, so many use metal wainscoting not only in the home but in shops, barns, garages, or even in exterior wainscoting.
When considering it as exterior wainscoting, though, keep in mind that metal will rust if it isn't properly taken care of. Stainless steel is an alloy that is more resistant to rust which makes it a good material to consider.
Since metal can be bent, it's a good way to get a textured appearance. So, if you aren't sure about flat metal wainscoting, you should consider corrugated metal before dismissing the idea entirely!
Wainscoting Styles
Wainscoting styles are made up of the design of the panel type. We've already looked at the type of material you can use in your wainscoting but here we're going to look at the shape or design of the panels themselves that are often used with almost any material. This will also be a factor to consider when it comes to costs.
Wainscoting Wall Paneling
To further define these styles, contractors, manufactures, and interior designers refer to them more specifically as wainscoting wall paneling. Each of these panels has one of a few options of design that we will look at below. When installed, these panels are meant to look seamless.
Raised Panel Wainscoting
Raised panel wainscoting is a traditional style that many use to give a room an elegant or more formal look. The style gets its name not from being raised entirely but rather using raised designs. The most common pattern is raised squares in the center of each panel. This style also typically has raised top and bottom rails. These styles don't extend out to an odd length but rather have the appearance of molding. This can be one, simple line of molding or a beaded raised portion.
While raised square frames are the most common style, homeowners can arguably use any design they can think up. As for cost, raised panel wainscoting costs about $10 to $30 per square foot.
Flat Panel Wainscoting
Flat panel wainscoting is the in-between for recessed and raised options. The design for these is rather simple and doesn't use decorative molding. It's also a style that's incorporated into other designs such as Shaker style wainscoting. The middle panel is completely flat – hence the name. It's a great fit for transitional rooms and gives a room a traditional feel. This runs anywhere from $7 to $20 per square foot.
Recessed Panel Wainscoting
Recessed panel wainscoting, as you might have guessed, is the exact opposite of raised panel wainscoting. Instead of using raised shapes as decoration, these designs fall back – or "recessed" – into the wall. To create this look, the wainscoting panels themselves are often made a little thicker and slightly more protruding in the same way raised panels are in their raised designs. The design of a recessed panel is made as an indent, usually to look either slightly inward or even to look as though the design is flush against the wall.
Beadboard Wainscoting
We mentioned earlier that beadboard is technically different from wainscoting even though the terms are often used in place of one another. First, let's look at the pattern. Beadboard has side-by-side vertical paneling. At the top and bottom of the paneling, horizontal top and bottom rails are used to give the design a complete feel.
The feature that makes it specifically beadboard is the slight ridge – or "bead" – that sits between each panel. These aren't as thick as the main panels, though. They work more like an outline between panels and look like a narrow strip between each panel.
Beadboard is also more likely to be installed at a taller or, less often, a lower height than strictly defined wainscoting. Traditionally, beadboard is made of wood but in recent history, it's branched out to include more affordable or even more durable materials as well.
Board and Batten Wainscoting
Board and batten wainscoting is a popular choice among homes with a more rustic design. This is, in large part, thanks to its clean and simple lines. These panels are rather inexpensive with many companies estimating even full wall panels at as little as $11 per square foot.
This is a very similar concept to recessed wall paneling but the pattern itself is different. Instead of being recessed from molding or only recessed in a certain shape, board and batten wainscoting has recessed squares or rectangles taking up almost the entire panel. Around the edges, there is a very slightly raised trim but it isn't as drastic as the molding used in many other styles.
Chair Rail Wainscoting
Chair rail wainscoting features a decorative wood treatment on the top of the panel that is reminiscent of a hand rail. It usually only appears as trim molding at a "chair rail" or wainscoting height. This style is usually installed around 32" to 36" from the floor. It also often has a bottom rail that is simpler and less protruding than the top rail. Since there is less material, chair railing is rather inexpensive at an average of $1 to $3 per linear foot.
A close up view of a chair rail wainscoting in a hallway.
Shiplap Wainscoting
Shiplap wainscoting is unique in the fact that its design is often horizontal rather than vertical. While shiplap can have a traditional vertical side-by-side design, it's more often differentiated as slats on top of each other vertically.
Vertical designs do well in making a room look larger while many think horizontal designs work well at giving a room a sense of direction. This is why it's often used leading up a stairway or in the entryway of a home. This style costs around $2.50 to $7 per square foot. See more shiplap bathrooms here.
Shaker Wainscoting
Shaker wainscoting is incredibly similar to board and batten wainscoting and, thanks to their design similarities, run at around the same price. It utilizes a rather recessed look and is often installed by adding wood and molding to the wall rather than adding full panels. This is also a style that is usually carried over to doors in the room as well. These could be side-by-side rectangles or smaller rectangles stacked vertically.
Picture Frame Wainscoting
With a similar look to the board and batten style, picture frame wainscoting is often used for DIY projects to create the look and an inexpensive price. By adding small strips of wood in the shape of a picture frame one can create this type of design with little construction experience. You would first assemble the picture frame in the size desired and then attach it to the 1/4″ wall paneling using glue and finishing nails. After its attached you can paint the area to match the other trim and molding in the room to create a cohesive interior design.
Two Tone Wainscoting
Two tone wainscoting often uses the picture frame style and the walls base paint color with the trim color to achieve the look desired. If you are creating this style from home its a good idea to paint the trim before attaching it to the paneling to save time and energy.
You can buy wainscoting painted or primed, however many choose a paint and primer in one. A lot of wainscoting uses a semi-high gloss painting, so all-in-one paint can be a huge time saver. You're also going to want painters tape to keep lines clean. An angled brush helpful to tackle ridges in the design. We cover painting in more detail later in this article.
Wainscoting Design Pictures
Now that you know the styles and material you can choose from with wainscoting, let's take a look at that information in action and consider some room-specific design ideas.
Bathroom Wainscoting
Using wainscoting in a bathroom is a great way to create a unifying style. It's a style that many love because it can match a bathroom with a free-standing tub well but it can really be attractive in any bathroom. You'll want to choose a material that can stand up well to water, though, or you might have a hard time with longevity.
When using wainscoting to make a powder room look bigger as well as attractive, there are a few tips to keep in mind. For one, don't go with anything tall and dark – especially full wall wainscoting in dark colors. You can visually open up the room by using light colors and contrasting against the rest of the wall. See more bathroom wainscoting ideas here.
Dining Room Wainscoting
Wainscoting in a dining room can add an elegant touch and it's a great way to frame a large dining room table. You have a lot of freedom with the style of wainscoting here. Standard height and shoulder height wainscoting work well. White or stained wood wainscoting are among the most popular choices.
Kitchen Wainscoting
We already discussed that PVC or vinyl wainscotting are easy to clean. Because of this ability to stand up to messes without staining, this can make them perfect for the kitchen. Specifically, wainscoting in the kitchen can work well next to a dining area and they can make a great backsplash.
A bare wall against the counter or behind a stove isn't a look that many homeowners fall in love with. That's why many opt for backsplashes. There are still a lot of options when it comes to backsplashes and adding wainscoting can be a way to add some texture to your kitchen and connect your backsplash to the rest of the kitchen decor. Around counter space flowing into the standard wall space, tall wainscoting can be utilized.
Living Room Wainscoting
Living rooms have a lot of versatility when it comes to wainscoting. One option, like most other rooms in the house, is to use standard height wainscoting and let the color blend into the door frames. However, you can also get a great look by playing with colors or height. Since living rooms are one of the highest traffic areas in the home, you can use wainscoting to cover any existing damage,protect the walls, as well as add a decorative touch. In living rooms specifically, wainscoting is often used to match the design of molding at the joint of the wall and ceiling.
Wainscoting Hallway
Wainscoting your hallway has many of the same practical benefits of using wainscoting in your living room. After all, your hallway gets almost as much traffic as your living room. In addition, wainscoting can lend itself to the flow of a hallway and make it look longer and larger. It can also help homeowners play with paint colors in a structured way if they aren't sure how to tackle paint pairings on a blank wall.
Wainscoting Stairs
Wainscoting can be a great way to lead up a set of stairs and, again, add an elegant touch to your stairwell. Most often, this is standard height wainscoting. This way, the top rail lines up with wall railing if the staircase has it. Even if it doesn't, the wainscoting is measured to line up with the standing railing on the other side of the staircase.
There is also the concern of wainscoting on the wall that runs underneath the staircase. This can be full wall staircases or standard height staircases. Either way, this job usually calls for at least one specially cut wainscoting to compensate for a narrowing wall.
Modern Wainscoting
When we think of wainscoting, we often think of traditional home design. However, there are plenty of ways to modernize this design facet to ensure a one-of-a-kind appearance. The best way to do this is to use out of the box design choices. For instance, instead of the average square raised panel, you could try circular patterns or out-of-the-box colors for the design. Wainscoting accent walls can also be interesting. Similarly, tall wainscoting with a bold color on the wall above it can add a fun, modern twist – especially in a kid's room!
An entryway is the first place visitors see when they enter your home. A modern wainscoting with a geometric design can make a great first impression especially paired with the right furniture pieces and decor.
Craftsman Wainscoting
Craftsman wainscoting is custom made by an artisan or, if you're handy, maybe even yourself. This type of wainscoting is done by purchasing an order of panels. Instead, materials are custom cut, made, and installed. This is a good way to make sure that wainscoting fits your home's architecture perfectly especially when it comes to odd angles such as around staircases or low-sloping ceilings.
If you're having a professional create wainscoting by hand and custom installing it, don't be surprised if you end up with a higher cost than simple panel installations.
Rustic Wainscoting
Rustic design leans heavily on natural beauty and rugged elements. Due to its affinity towards earthy elements and organic textures, wood wainscoting is the most popular choice. Even with one medium, there are plenty of options that can make rustic design your own. We've already covered that there are many different types of wood used in wainscoting. With the addition of staining, there is an almost limitless chance of customization. To be really true to rustic design, go for a bare wood you like and let the grain be the focal point.
Barn Wood Wainscoting
Barn wood wainscoting fits well into rustic design as well but it can really give any home a custom flair. You might also see this style referred to as reclaimed wood paneling. That title describes what this style is perfectly. Instead of ordering freshly cut, uniform wood for wainscoting, this is the idea of repurposing older wood.
This can work well in rustic design for a couple of reasons. First, the slightly mismatched pieces give it a more down-to-earth vibe. On top of that, it's a green option that not only captures nature's beauty but protects it as well.
Art Deco Wainscoting
The Art Deco style originated in France in the early 1920's and is considered by many the start of the modern movement. Some of the standout features of this style are streamlined shapes, geometric designs and surface embellishments.
Black Wainscoting
At this point, we've talked a lot of materials for wainscoting and even touched on painting wainscoting. It can be hard to choose a color but one you may not have considered yet is black wainscoting.
We discussed modern wainscoting earlier and this can be a great way to get this vibe. It should be noted that while black can give an elegant look, it can also make a room look smaller. This means that full wall black wainscoting might not be the specific design and color scheme for smaller rooms.
Exterior Wainscoting
While wainscoting is often used in interior design, it's also an interesting way to add to exterior design. Many times, it exists as a structural feature. For instance, a house may have a brick or even cinder block thick strip around the bottom of the house. Brick designs are more popular for their aesthetic appeal. Brick is also durable, so it holds up the elements rather well.
For a more rustic appearance, metal wainscoting is also popular. Almost every choice for exterior wainscoting uses a very clearly defined top railing to help create an attractive transition between the wainscoting and siding. Ground-to-roof wainscoting is sometimes associated with high-end homes using irregular stones.
Full Wall Wainscoting
Sours: https://designingidea.com/wainscoting-ideas/
25+ Stylish Wainscoting Ideas: The Ultimate Guide to Wainscoting
Add texture and visual design to your walls with these wainscoting ideas! We have traditional and unique styles to show off!
Looking for more wall ideas? Plywood wall treatments, sharpie wall designs, beautiful wallpapers, and decorative wall panels.
The Ultimate Guide to Wainscoting:
25+ Stylish Wainscoting Ideas
Wainscoting is a classic way to add texture and interest to the walls of any room. Deciding what style and height of wainscoting, however, can be as tricky as choosing the color of paint! We've rounded up nearly 40 stylish wainscoting ideas that we've shown here on Remodelaholic to help you decide what look is best for your home.
Why Wainscoting?
Wainscoting can be used for many different reasons. Most commonly, wainscoting  is used to add interest and texture, even without adding color, such as this full paneled wall, shared with us by Decor Chick:
Adding a little extra wainscoting can help dress up a standard chair rail and make it an architectural feature:
shared by My Cottage Charm
Wainscoting helps enhance the structure and design of the room. Merely by splitting the wall into two sections and giving the eye a line to follow, wainscoting helps the room feel bigger. Molding and wall treatments can also help a tall space feel fitting instead of echoey-large, such as this tall 7-foot wainscoting in this extra-tall 14-foot entryway, shared by Design Dump.
Wainscoting can also be a wonderful solution to disguising some of your home's quirks, such as oddly placed utility access points. The Modern Parsonage shared how they hid their plumbing access by dressing it up to match the wainscoting.
Taller wainscoting ideas with a ledge on top provides a great place to add decor, especially if you intend to switch it out frequently.
guest room updatesby Tell'er All About It  | home tour by 33 Shades of Green
And styles? There are so many different styles of wainscoting!
Beadboard Wainscot
Beadboard is a wonderful wainscot material because it is quick to install and doesn't require as much of the measuring and math as many of the other styles of wainscoting do. Check out these beadboard wainscoting ideas.
Simple Beautiful Home installed beadboard wainscoting in a half bath remodel.
And The Reformed Ranch installed a tall beadboard wainscot in a farmhouse dining room.
You can also add a ledge to beadboard wainscoting like we did in our Logan House bathroom
or install the beadboard horizontally like we did in the half bath that we added to our Logan House.
And if you're going for a different look, just paint the beadboard black like The DIY Diaries did in their modern powder room:
Board and Batten Wainscoting
Justin and I have used board and batten in most of our homes. You can alter the height to fit your style and the room, and choose an installation method to fit your budget, time, and skill level.
Board and batten can be chair-rail height (about 4 feet, typically), like in this tutorial that Small Town Idaho Life shared with us:
 or taller like Superwoman Brittany shared with us in her living room remodel, or like Justin and I installed in our Logan House master bedroom:
 or you can keep it going full height, right up to the ceiling, like we have done in our current house. (I wrote up detailed spacing and installation tutorials for you.)
You can also split up the board and batten style to make a paneled wall with stacked squares like these:
$50 faux board and batten by Little Blue Chairs | dining room stacked square wainscoting by LA LA Land
 And board and batten is a great wainscoting style for stairs and stair walls… so long as you're willing to do some angular math!
foyer wainscoting by Impatiently Praying for Patience
Picture Frame Wainscoting
Picture frame style wainscoting is another popular style, especially in older homes where you need more classic styles to match the architecture. See some picture frame wainscoting ideas.
"True" wainscoting is a raised panel like Our Home from Scratch shared (with a tutorial!):
But you can create a faux picture frame wainscot like Southern Lovely shared here
and Involving Color shared here:
You can also change things up and have two-tone picture frame molding like Little Miss Penny Wenny installed in her master bedroom:
Or add a little oomph to the picture frames by using paintable textured wallpaper to look like carved wainscot like Suzy's Sitcom did:
Or you could follow this great tutorial from The Mustard Ceiling and have a wainscoting that mixes the styles of picture frame with the thicker boards like board and batten:
Non-Traditional Wainscoting Ideas
If you're looking for a wainscoting that will add architectural interest AND oomph, there are plenty of non-traditional and unique wainscot styles that will set your home apart from builder grade. Try one of these:
offset squares wainscoting (and tutorial) by This Home of Ours
barn door wainscoting (and full tutorial!) by Traci Monson
metropolis circles wainscoting by SoulStyle
striped painted accent wainscoting shared by Erin D Photography
striped painted tall wainscoting shared by Little Blue Chairs
trellis wainscoting by Watch Me Daddy
and one of my favorites
horizontal plank wall wainscoting by us here at Remodelaholic 🙂
Wainscoting for Every Room!
Try it, try it, and you may; try it and you may LOVE IT, I say… (Sorry, apparently I read Green Eggs and Ham too much!)
Try it…
on the stairs and in the hall (by Sawdust Girl)
in a reading nook (by Pretty Handy Girl)

in a powder room (by Sixteen Fourteen)
in the living room (by The Thriftress)

in the entry (by Willow Wisp Cottage)

in the basement (by Dixie Delights)
So, what do you say? Have all these wainscoting ideas inspired you to let this Sam-I-Am convince you to love , er, wainscoting? Or or are you already on board the wainscot train, heading straight to awesome?
For more stylish wall ideas, check out these:
DIY Stamped Wall (with a DIY stencil!)
Creating Beautiful Storage Space Within Bathroom Walls
3-D Wall Panels with Board and Batten
Elegant Paneled Wall Treatment 
Installing Trim: A Beginner's Guide
Please pin this post for later:
Originally posted 8.12.2013 // Updated 2.3.2021
Remodelaholic is a participant in the Amazon Services LLC Associates Program, an affiliate advertising program designed to provide a means for sites to earn advertising fees by advertising and linking to amazon.com. Please see our full disclosure here.
Filed Under: By Location, By Material, DIY, Remodel Inspiration By Room, Walls, Wood and Plywoods Etc.Tagged: accent wall, DIY wainscoting, Top 25, Wainscoting, Wall Finishes, walls
About Cassity
Cassity started Remodelaholic with her husband, Justin, to share their love for knocking out walls together. She is an interior designer, wife, and mother of two. She and Justin have remodeled three homes from top to bottom and are working on their fourth. Making a house a home is her favorite hobby.
Sours: https://www.remodelaholic.com/25-wainscoting-ideas/
WAINSCOTING: See How It's Done on Stairs
Once upon a time, wainscoting served a strictly utilitarian purpose. Back in the 18th century—you know, before central heating existed—adding wood to the lower half of the wall was a stylish and stealth way to insulate a room. But just because wainscoting is no longer required to keep your home warm doesn't mean it's lost all its magic. With the right pairing, this once old-school element can feel surprisingly fresh and modern.
Below, 25 wainscoting ideas that don't skimp on style. Whether you favor minimalism, traditional, or French country chic, there's bound to be something for every style.
1Simplicity Is Key
When it comes to wainscoting, simplicity doesn't have to be boring. In this Northern California home, the subtle shiplap paneling pairs nicely with the whimsical Pierre Frey wallpaper.
2Modern Marvel
Whoever thinks wainscoting is strictly reserved for traditional decor has never seen this Japanese-style home in Hunter, New York. When paired with sleek furniture and silhouettes, the pine wainscoting in this room looks refreshingly modern.
3A Formal Flair
As this Grey Gardens-inspired East Hamptons home proves, wainscoting can add an air of sophistication to an otherwise quirky space. The gray detailing deftly juxtaposes the Cole & Son's wallcovering and mirror by Made Goods.
4Monochromatic Magic
Never underestimate the power of a painted wall. In the House of ELLE Decor, the tonal combination feels elegant, yet understated. The wall is painted in Pigeon, the wainscoting in Blue Gray, both courtesy of Farrow & Ball.
5Beautiful Beadboard
If you want to give your wainscoted walls a stylish edge, consider adding beadboard. Defined as a series of narrow wooden planks, beadboard is an effective way to add visual interest to your wainscoting. In this Georgian guest bathroom, the beadboard detailing is coated in Farrow & Ball's Cornforth White.
6Fashionable Functionality
While an interior's wainscoting deserves to be celebrated, it doesn't have to dictate the rest of the room. By propping up a framed painting, installing a towel rack, and adding a strategically placed chair, this Connecticut home blurs the line between form and function.
7Dimensional Design
This Lake Tahoe retreat takes wainscoting to the next dimension, thanks to its recessed beadboard and pronounced ledge.
8Historic Roots
Pay homage to the element's historical roots by pairing your wainscoted walls with classic features such as a grand staircase, ornate mirror, and white-washed bust. Let this storied Harlem brownstone show you how it's done.
9Old Meets New
Want to revitalize traditional wainscoting? Take a cue from this 18th century Parisian apartment and douse the walls in a vibrant shade of red.
10Wow With Wallpaper
Embrace your bold eye for design by pairing lively wallpaper with a colorful, wainscoted base. The combination in this Elizabeth Roberts-designed condo gives the dining room a rich and welcoming atmosphere.
11All The Way
Design rules are meant to be broken—and, yes, that includes wainscoting your walls. Wainscoting is generally defined as placing wooden panels at the bottom half of your wall, but why stop there? As this Upper West Side prewar apartment proves, the sky (or ceiling) is the limit.
12Create Contrast
What's black, white, and chic all over? This powder room in Ernest de la Torre's upstate New York home. The black wainscoting, which is painted in Benjamin Moore's Midnight, picks up the black accents and whimsical illustrations on the Shantell Martin mural.
13In The Heights
Flushed in Benjamin Moore's White Dove, the tall wainscoting gives this Oakland home's foyer a dash of drama. Plus, the artwork, pendant light, and brown accent paint create the illusion of a high ceiling.
14Au Naturale
For a wainscoting idea that strikes a balance between subtle and statement, take a cue from this Brigette Romanek-designed home. While the dove gray walls contrast nicely against the white wainscoting, the combination doesn't take too much attention away from the room's artwork and dining set.
16New England Estate
With carved consoles by Thom Filicia, Jonathan Burden's mirrors, and wainscoting to boot, this foyer gives a family home in Connecticut a stately sensibility.
17Add Some Breathing Room
If your personal style leans to the maximal end of the spectrum, a wainscoted wall is a clever way to break up contrasting patterns. In this bold breakfast nook, the beadboard wall adds some breathing room between the striped wallpaper and painted floor.
18Defy Gravity
Bring your wainscoting idea to new heights, literally, as seen in this Portola Valley home. In this home office, the full beadboard wall creates a designated desk area. The airy roller shades, woven desk chair, and braided hemp rug from Rose Tarlow give this traditional design element a California cool edge.
19Wonderful Wood
Finished in a dark wood stain, the traditional wainscoting in this Chicago-based powder room adds some decorum to the lively, hand-painted wallpaper.
20Add An Accent
Trade in the ubiquitous pop of color for a wainscoted accent wall, as seen in this upstate New York space. Coated in a layer of black paint, this accent wall simultaneously makes a statement and pairs well with the room's color palette.
21Tonal Treatment
In this San Francisco home, decorator Palmer Weiss reimagined this wainscoted dining room in a palette of earthy, monochromatic tones. John Rosselli chairs and photographs by Vincent Fournier round out the space, striking a balance between traditional and terrestrial.
22Color Blocked Brilliance
Use your wainscoting to offset a bright wall color, as seen in this Hamptons home. The crisp white accents keeps this nautical space grounded and serene.
23Double Duty
Why settle for one wainscoting style when you can enjoy two? The juxtaposition between the beveled and beadboard details add some nuance to this sunny Hamptons home.
25Be Bold
Turn your wainscoted walls into the room's wow factor by dialing up the drama. In this Los Angeles house tour, the full-wall wainscoting and Benjamin Moore's Juniper Green hue pop nicely against the black ceiling and dining set.
Kelsey MulveyKelsey Mulvey is a freelance lifestyle journalist, who covers shopping and deals for Marie Claire, Women's Health, and Men's Health, among others.
This content is created and maintained by a third party, and imported onto this page to help users provide their email addresses. You may be able to find more information about this and similar content at piano.io
Sours: https://www.elledecor.com/design-decorate/room-ideas/g31082190/wainscoting-ideas/
Ideas wainscoting stairs
For giving rooms instant personality—and protecting surfaces with style—nothing beats wainscoting. Here's your guide to wainscoting styles, materials, and installation tips.
Wainscoting Panel Styles
Wainscoting comes in several styles. Below, we outline the most popular decorative panels to consider in your home.
Raised Panel
Raised panels, the most traditional wainscoting style, go back to colonial days. The decorative raise is created by beveling the edges of the panel. Common height is between 30 and 40 inches, but the design can be adapted for higher-ceilinged spaces by adding a center rail to create two rows of panels.
Raised Panel Diagram
The rails, stiles, and wood panels fit together the same way as in traditional flat-panel assemblies. The bottom rail can double as the baseboard, as it does here, or the baseboard can be built up from several pieces of molding.
Cap molding
Cove molding
Top rail
Stile
Raised panel
Bottom rail
Flat Panel
Recessed flat panels have the simple, clean lines popular in Arts and Crafts and Mission styles. The basic parts list is equally spare. It starts at the floor with the baseboard, which can be a plain piece or built up with shoe and cap moldings.
Next comes the bottom rail (the horizontal piece of the panel frame), followed by the stiles (vertical pieces of the frame) and panels, which slip into grooves cut into the edges of the stiles and rails.
The top rail completes the panel frames, and the whole assembly is crowned with a chair or cap rail. A less labor-intensive method is to panel the wall with sheet material and apply the moldings on top of it.
Flat Panel Diagram
Chair rail
Top rail
Rail
Stile
Flat panel
Bottom rail
Baseboard
Beadboard and Flat Panel Combination
Beadboard wainscoting, which had its origins in 19th-century Victorian and cottage styles, is the classic wall covering for informal spaces like kitchens, bathrooms, and back hallways. But you can fancy it up with the addition of a row of flat or raised ­panels.
Here, tongue-and-groove beadboard is combined with flat panels for a casual yet polished look that can work in a dining room or bedroom. Keeping the middle and bottom rails flush with the face of the beadboard streamlines the overall appearance.
Combination Diagram
Cap rail
Top rail
Stile
Flat panel
Rail
Beadboard panel
Baseboard
Shoe molding
Board and Batten
The Craftsman style, with its flat panels and vertical battens, emphasizes a Shaker-like simplicity. In the old days, the battens were used to conceal the seams between individual boards; today, they are typically installed over 4-foot-wide panels of hardwood-veneer plywood.
Height for board and batten wainscoting can rise up to 6 feet or even higher. At the top, a wider plate rail often replaces the chair rail to provide a platform for decorative objects.
Board and Batten Diagram
Cove molding
Top rail
Batten
Panel
Baseboard
Shoe Molding
Overlay Panel
Overlaid panels mimic the appearance of raised-panel wainscoting but allow for more elaborate designs. A solid wood overlay is centered between the rails and stiles of a flat panel and glued in place, creating a surrounding recess. Applied ogee molding heightens the effect.
Overlays can be deeper and more detailed than milled raised panels, for a more Neoclassical look. They can also be applied directly to a wall, with a chair rail above and base molding below, for quick and easy wainscoting.
Overlay Panel Diagram
Cap molding
Freeze molding
Top rail
Cove molding
Ogee molding
Overlay panel
Flat panel
Stile
Bottom rail
Trim band
Baseboard
Non-Wood Wainscoting Materials
Though wood is the traditional wainscoting material, not all wainscoting is wood. Try these durable, non-traditional materials for long-lasting style.
PVC Plastic
Smooth and paintable, extruded PVC beadboard may be too perfect for those wanting even a hint of woodgrain or sharp profiles, but it will never warp or rot.
Embossed Metal
For something completely different, the stamped tin we're used to seeing on ceilings can also be fastened to walls. To make it less susceptible to dents, butter the back with plaster or joint compound before mounting the tile on a 3/8-inch plywood substrate.
Ceramic Tile
Four-inch ceramic tile is almost as traditional for wainscoting as wood, especially in bathrooms. Many tile makers offer profiles that can be used as cap and base moldings. Newer is tile "beadboard," which combines a classic look with the durability and water resistance of tile.
Embossed MDF
A 5/8-inch-thick, 32-by-48-inch sheet with the contours of three raised panels pressed into the surface gets fastened to the wall above base molding and capped with a chair rail. Embossed MDF lacks the shadow lines created by stiles, rails, and panels, and panel widths can't be adjusted for specific wall lengths.
Shaped MDF
Covered with a hardwood veneer or factory-primed and ready for paint, MDF is used for beadboard, panels, stiles, rails, and moldings. More stable than solid wood, it eliminates problems caused by expansion and contraction.
Embossed Drywall
A 5/8-inch-thick, 32-by-48-inch gypsum board with raised-panel shapes pressed into the face. In addition to sacrificing verisimilitude, you also must be willing to forgo any of wainscoting's protective power.
Wainscoting Installation Tips
Read these tips before installing wainscoting.
Material Prep
If you are using wood for wainscoting, whether it's staying natural or taking paint, it should be sealed all over, back and front, to minimize the expansion and contraction that can crack seams, then pre-painted or stained to eliminate the chance of movement exposing unfinished wood.
Getting Started
To get off to a perfect start, you may have to adjust the first strip to compensate for a corner that's out of plumb.
Hold the strip tight against the wall and adjust it until a level shows its plumb.
Measure the size of the gap that results (left). Then, starting at the end of the strip that's touching the wall, cut it lengthwise so it tapers from the amount of the gap to the strip's full width.
The strip will fit the angle of the wall while remaining plumb.
Wavy Walls
An existing wall may harbor one or more "waves" that must be flattened lest they make the wainscoting equally untrue.
To produce a flat, plumb nailing plane, horizontal furring strips can be fastened to wall studs through the drywall or plaster.
In isolated spots on a finished wall, use shims to fill the void (left). To make a chair rail fit flat against a not-so-flat wall, fasten a filler strip to the chair rail's back edge.
Uneven Floors
Any run of floor, old or new, invariably has high and low spots, even if the difference is only 1/8 inch. So you can't just cut all the beadboards the same length and assemble from the baseboard up.
You must find the high spot and mark the chair-rail level line from there. To keep the top of the baseboard level, shim as needed, then, using a block equal to the height of the gap, scribe and cut the bottom edge to match the floor's ups and downs.
A Perfect Finish
If the chair rail stops at an outside corner or is wider than a door casing, you can finish the exposed end with a return, a small wedge that "returns" the molding to the wall.
End the chair rail with a 45-degree cut, as if it were an outside corner.
Then, on a scrap piece of chair rail, cut the mating outside miter.
To create the wedge, make a 90-degree cut at the point on the scrap stock where the miter begins.
Sours: https://www.thisoldhouse.com/walls/21018285/wainscoting-ideas
60 Stair Trim Ideas
Whether you're making over certain space in a new house before you move in or simply looking to liven up plain expanses of wall in the house you've been living in for years, wainscoting is a fantastic option because it's shockingly simple, a great beginner's project for home DIY starters, and quite affordable to boot! We've been thinking about adding some wainscoting detail to our hallway recently, so we've had our eyes open for all kinds of tutorials and guides that might help us decide on a technique and design.
Just in case you're as enamoured with the idea of putting in your own wainscoting as we were, if not more, here are 15 of the very best ideas, designs, and tutorials that we've come across so far in our search for inspiration and guidance!
1. An introduction to wainscoting for beginners
Have you actually never really been familiar with wainscoting or how it's done and now, even though you know what it looks like enough to be interested, you're looking to learn more about it before you start? Then we think you might find this lovely little guide to all things wainscoting outlined in the form of easy discussion and nice, clear photos on Netluxury!
2. Classic wainscoting panel on a staircase
Possible the most common kind of wainscoting project, the angled ledge down the stairs from the upper hallway is probably also the kind you're familiar with and have seen places the most. Just in case that's the space in your home you're looking to makeover with some wainscoting now too but the idea of working on an angle intimidates you, here's a tutorial from Snazzy Little Things that has tons of information to help put you at ease!
3. Learn the steps for properly installing wainscoting
Any time you decide to do something yourself that you're even semi-new at, there's a chance that you might tall into one of the common mistakes that even more experience home DIY experts have made before. That's why we find lists of tips and tricks having to do with whatever kind of small renovation we're doing so useful! Take a look at this one from Spencer On The Go to get some helpful overall info about installing wainscoting of just about any kind.
4. Understanding the parts and different types of wainscoting
Have you always been the kind of learner who really wants to understand the deeper how's and why's of the way things work, especially if it's something you're about to try doing and making yourself? In that case, we think Elizabeth Bixler might have just the resource for you! They walk you through the anatomy of wainscoting, explaining what each piece is called and the purpose it serves, which will make your whole process a little easier once you get started.
5. How to measure, layout, and estimate your wainscoting materials before you start
Have you ever heard of a helpful little thing called a wainscoting calendar? Well, we hadn't either to be honest, but we're certainly glad we have now! Besides giving you an actual calculator designed to help you estimate how much of each wainscoting material you'll need for the measurements of your space, this page on Inch Calculator also gives you some guidelines for measuring the area properly depending on the style of wainscoting you intend on installing.
6. Barn door inspired wainscoting in a room
Are you actually so in love with the idea of putting in wainscoting that you're willing to commit a large portion of the room you have in mind to it? Well, particularly if you've gone out of your way to establish a sort of farmhouse chic aesthetic throughout your home, then we think you just might be the perfect person to give this fantastic barn door inspired wainscoting project outlined on Remodelaholic a try!
7. Installing wainscoting shapes to the wall to be painted
Have you actually always loved the way monochromatic wainscoting looks, where the ridges and the flat background blend quite well together, but you were planning on using your actual wall as the background rather than installing a separate wainscoting piece? In that case, we think you'll find this tutorial from Hometalk that does precisely that and then outlines steps for a seamless paint of the entire area very helpful indeed!
8. DIY board and batten wainscoting
Just in case you're not familiar with different types of wainscoting yet, board and batten is a type of wainscoting that is simple, features clean lines, and is slightly old fashioned looking, hearkening back to a kind of farmhouse or shaker aesthetic. Over the years it has trended in and out of interior decor fashion, but its classic look makes it quite a staple and we love how simple it is. Here's a full tutorial from Home Depot for making it happen right, with those recesses done properly!
9. DIY recessed wainscoting
Are you very intrigued indeed by the concept of recessed wainscoting but you're also not sure you want to go quite as deep as the board and batten style we showed you above? In that case, we think you might prefer a slightly more subtle alcove look like this one outlined step by careful step on Housekaboodle.
10. Installing floor to ceiling wainscoting
If you're going to go to all the time, effort, and money of installing wainscoting in your home, would you rather make sure it's really noticeable in at least one room, almost like a statement piece? In that case, we'd definitely suggest taking a look at how Four Generations, One Roof did this wonderfully squared off wainscoting project that extends all the way from floor to ceiling.
11. Wainscoting entryway space
Wainscoting doesn't necessarily have to be solely decorative; it can actually serve a practical function in different spaces as well! We're completely in love with the way Carefree Blonde outlines and entryway wainscoting project, for example, that's actually also a proper welcome station complete with coat hooks and a bench for sitting on when you put on your shoes. It's certainly a challenge, but we'd be willing to bed that it's actually easier to do than you might think!
12. How to install picture frame moulding
Are you actually quite interested in the more subtly recessed wainscoting design we showed you earlier but you can't help wondering whether there's a way around using individual pieces to construct the square shapes right there on the wall? Then we think you just might be the perfect person to give this simple photo frame hack a try! See how it's done in more detail on Addicted 2 Decorating.
13. DIY bathroom wainscoting for under $50
Are you actually looking for an incredibly simple and affordable bathroom based wainscoting project but you might also need some tips along the way for working with very limited spaces, since your bathroom is quite small indeed? In that case, we think Start at Home Decor might have just the tutorial for you! Check out how they made their simple lower half wainscoting look happen in this small alcove space for under $50.
14. Wainscoting with a built-in magazine rack
Are you creating your wainscoting look in an older house that has all kinds of random dips and features in the walls where outdated things used to sit, and now you're looking for ways to repurpose or work with those little cubbies and alcoves? In that case, we think you might get a real kick out of the way Little Vintage Cottage took advantage of the space where an outdated radiator used to sit by keeping it in their wainscoting to serve as a magazine rack!
15. DIY faux wainscoting using chair rails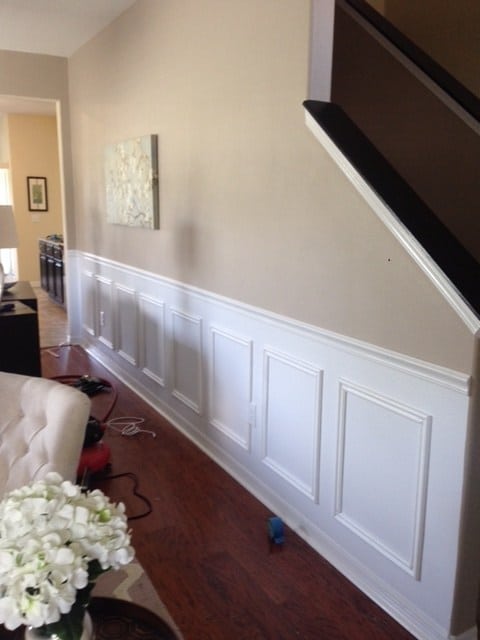 Were you actually so intrigued by the photo frame wainscoting hack we showed you earlier on our list that now you can't help wondering whether there are other tricks like that out there as well? In that case, we have a feeling you're going to get a real kick out of the way Frills and Drills created an entire "faux" wainscoting wall using chair rails! This is a great starter project for a small space if you're just starting out in home renovations.
Do you know a fellow home crafter or DIY enthusiast who is intent on installing their own wainscoting but could also use a little bit of guidance along the way? Share this post with them so they have all kinds of help while they're at it!
Sours: https://www.diys.com/diy-wainscoting-ideas/
Similar news:
This website uses features which update page content based on user actions. If you are using assistive technology to view web content, please ensure your settings allow for the page content to update after initial load (this is sometimes called "forms mode"). Additionally, if you are using assistive technology and would like to be notified of items via alert boxes, please follow this link to enable alert boxes for your session profile.
This website uses features which update page content based on user actions. If you are using assistive technology to view web content, please ensure your settings allow for the page content to update after initial load (this is sometimes called "forms mode"). Alert box notification is currently enabled, please follow this link to disable alert boxes for your session profile.
Unexpected Error
Your submission caused an unexpected error. You can try your request again, but if you continue to experience problems, please contact the administrator.
Sours: https://www.oldtownhome.com/2011/6/1/Hold-On-Tight-Staircase-Wainscoting-and-Handrail-Project/
5514
5515
5516
5517
5518