Considering painting your baby's nursery gray? Here are some of my very favorite options for gray paint colors for a nursery!
Gray is the perfect color for a baby's nursery.
It is neutral and will match any style of decor, will stand the test of time, and can be used in the bedroom for many years and many room makeovers as your child changes preferences and interests.
Gray paint is a great gender neutral paint color, too. If you don't know the gender of your baby, want to use the room for multiple kids, or simply don't want to lean into gender norms, it's a great option for you.
Gray, however, does get a bad rap for being sad or dreary. You want to be sure that you pick the right gray for your nursery design!
How to pick the best gray paint color for your nursery
There are few things to consider when selecting a paint color for your baby's nursery.
First is to pick a color family. Congrats – if you are here, it seems like you picked gray 🙂
Then, think about colors within that family. Do you want something lighter or darker? Brighter or more muted? What undertones do you want?
Next, you want to get paint samples. I suggest buying at least three paint samples if you want to paint walls. Paint them on your walls in at LEAST three different spots each.
You want to make sure you have test spots near anything that is not changing, such as trim, carpet or flooring, or cabinets.
Now, let that dry (do 2 coats if it needs it) and then look at it over the course of at least 2 days. Look at it in morning, day, and evening light. Look at it with the lights on and the lights off.
All of these things effect how a paint color looks in your nursery!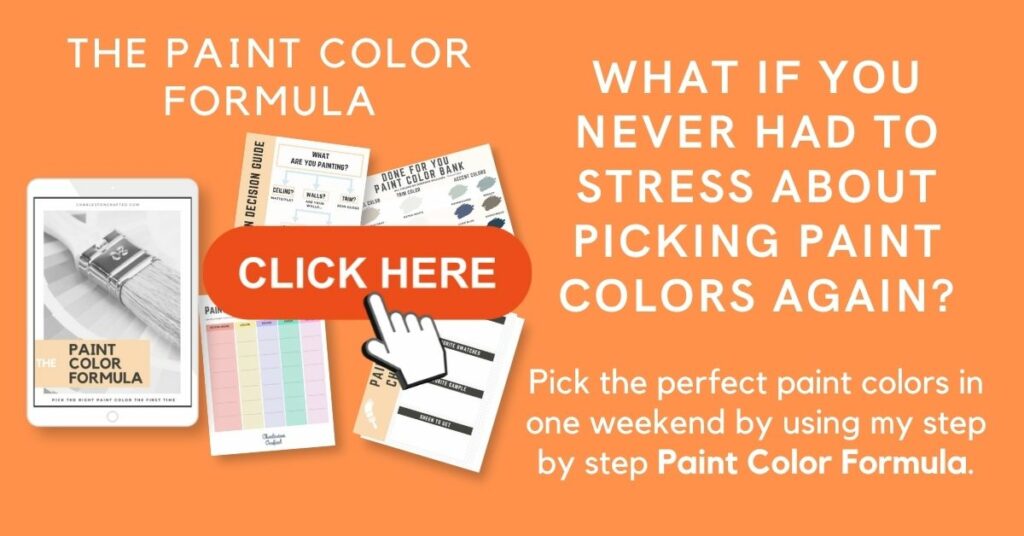 The temperature of a paint color
Paint colors are either warm toned or cool toned.
Warm toned grays are often called "Greige" (gray-beige) and have a bit more brown in them.
Cool toned grays are more icey and usually have blue undertones.
Which temperature of gray is right for you?
Look at the elements of your room already – usually flooring, trim color, or furniture you know you want to use. Usually they will feel either warm or cold. Try to stay within that same family for the most cohesive look and feel.
I am excited to break down some of the most popular gray nursery paint colors with you.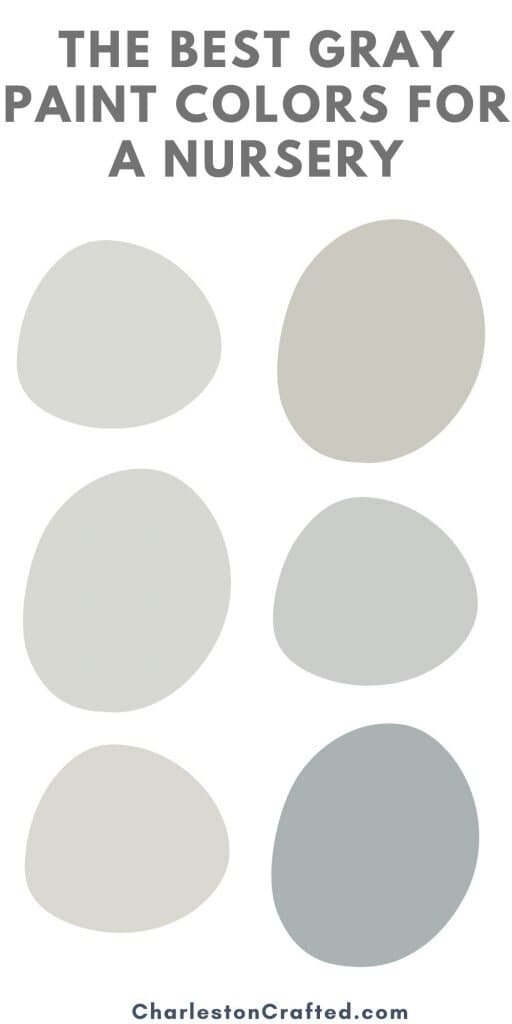 The Best Gray Paint Colors for a Nursery
Here are some of the best paint colors to check out if you are planning a gray baby nursery.
Sherwin Williams Agreeable Gray
Agreeable Gray is a super popular warm toned gray paint color. It is frequently used by builders or real estate stagers to paint the entire interior of a home.
Read my whole review of Agreeable Gray here!
Agreeable Gray has yellow undertones, so it pairs best with other warm earth tones. Keep that in mind when selecting accent colors!
As you can see in the real life nursery below, Agreeable Gray reads as really light in a bright, well lit room, especially when paired with a lot of white.
Click here to get a 12″x12″ peel and stick sample of Agreeable Gray!
Carmen used Agreeable Gray in her gender neutral nursery!
Planetary Silver by Behr
If you prefer a cooler toned gray, Planetary Silver is a great option. It has a bit more pigment to it so it feels slightly darker gray (not dark at all – just a light to medium shade that doesn't feel washed out in the least).
Planetary Silver pairs really nicely with shades of blue. I love how it was paired with navy blue in this real life nursery!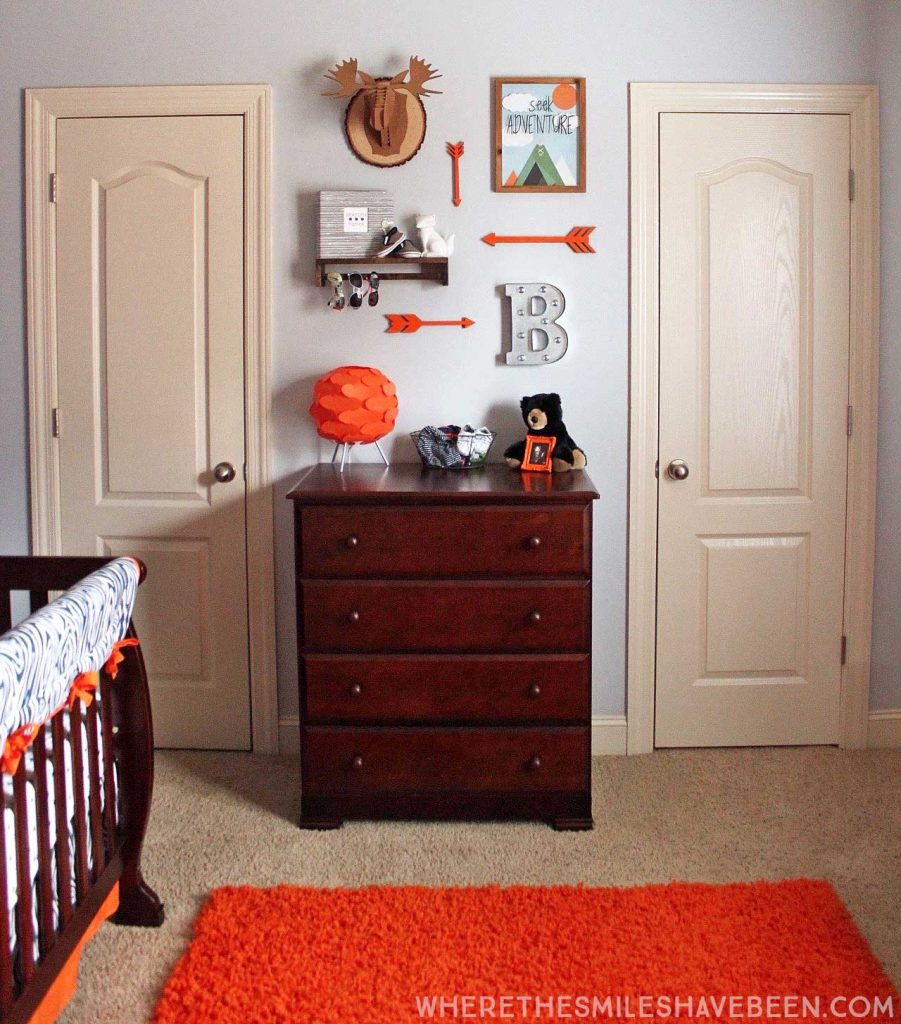 Christine painted her modern woodlandnursery Planetary Silver.
Alpaca by Sherwin Williams
Alpaca is a very light warm toned greige color. It definitely has beige undertones, though it trends closer to a true gray than to a yellowy greige.
It is a very light color, but it changes drastically in different lightings – so be sure to paint a sample and check it several times throughout the day, in day light and artificial light at night, to be sure that you like it for your room.
Click here to get a 12″x12″ peel and stick sample ofAlpaca.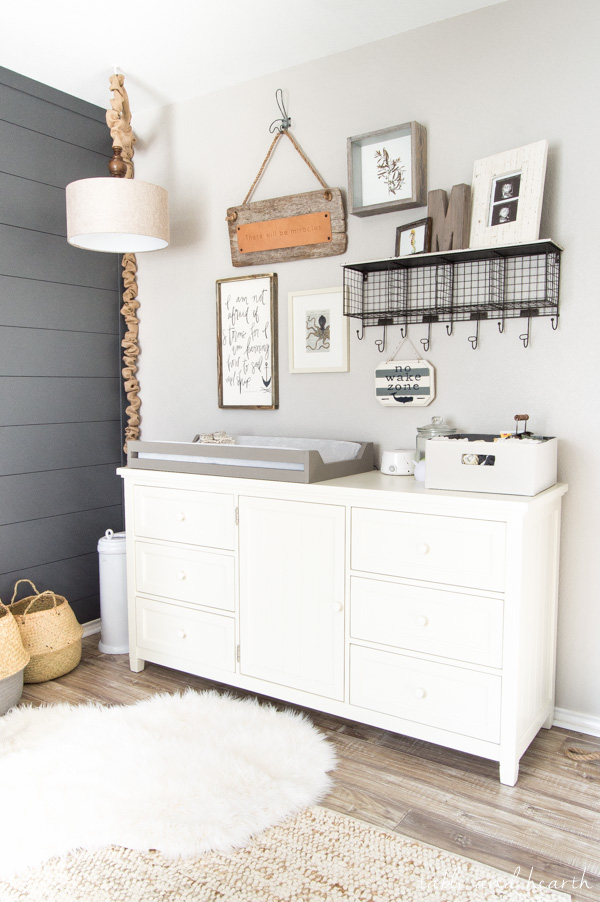 Emily painted three wall of her nursery Alpaca.
Peppercorn by Sherwin Williams
Peppercorn is a great option of you are looking for a cozy dark gray paint color for your nursery. It is the darkest color on it's paint strip, so it really is quite dark.
It has a bit of a warm, brown undertone to it, much like an actual peppercorn.
This color might feel scary. If you want to try it out but not commit, it looks fantastic as an accent wall paired with 3 lighter gray walls.
Click here to get a 12″x12″ peel and stick sample of Peppercorn.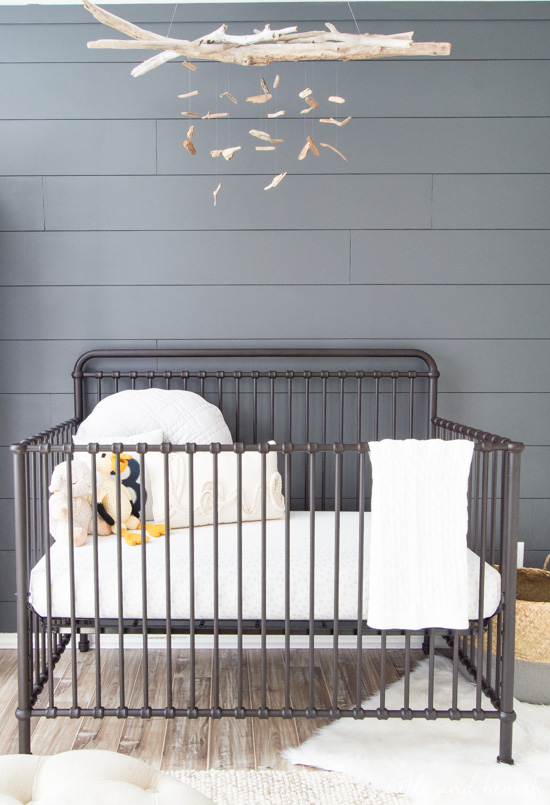 Emily painted a shiplap accent wall in her nursery Peppercorn.
Passive Gray by Sherwin Williams
Passive Gray is a cool toned light gray colors. It has blue and slightly green undertones so it pairs really well with shades of blue and green.
It is a really nice option for many styles of decor. It feels light and airy and can therefore pair nicely if you have heavier, darker furniture, to lighten it up a bit.
Click here to get a 12″x12″ peel and stick sample of Passive Gray.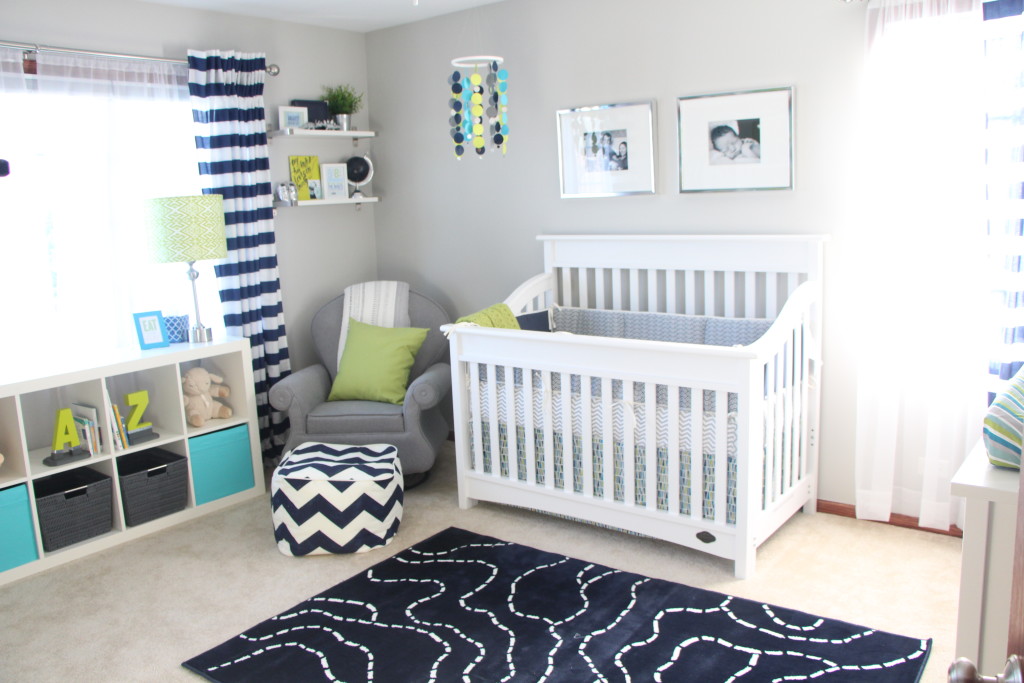 Rachael painted her nursery Sherwin Williams Passive Gray.
Stonington Gray by Benjamin Moore
Stonington Gray is a cool gray color that is much more true-gray than many of it's other similarly blue-undertoned gray paint colors. It's cool toned but not icy cool. It's almost the color of a storm cloud!
It pairs really well with blue colors as well as rustic white, as you can see in the rustic white reclaimed wood wall below.
Click here to get a 12″x12″ peel and stick sample of Stonington Gray.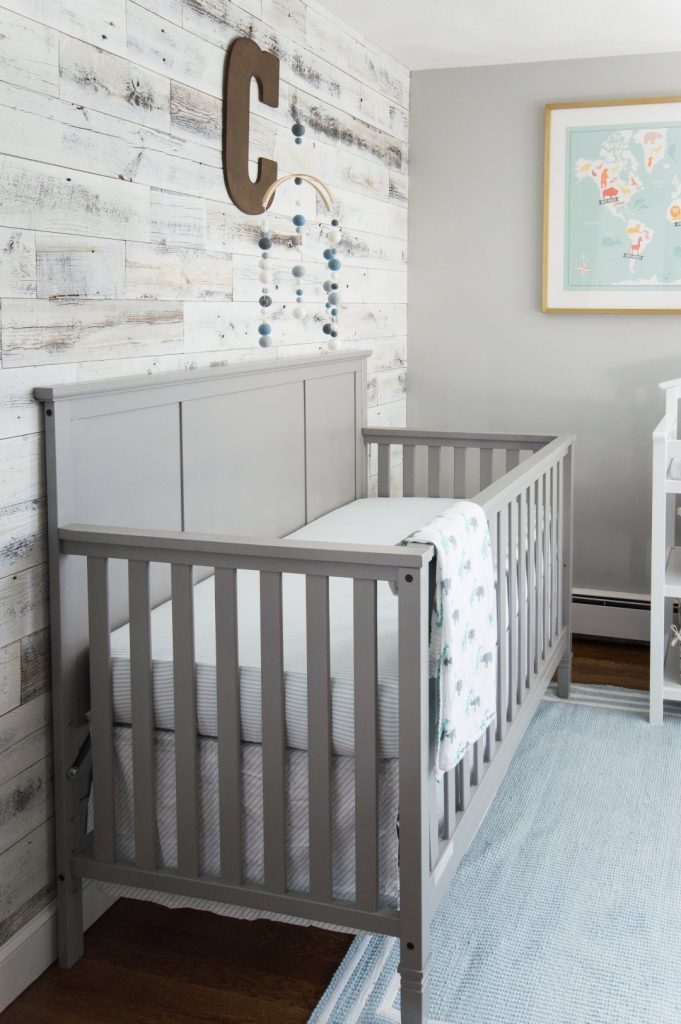 Jenna Kate painted her nursery Stonington Gray.
Chic Gray by Behr
Chic Gray is a light gray color with warm undertones. It's another great option for pairing with warm wood tones and furniture.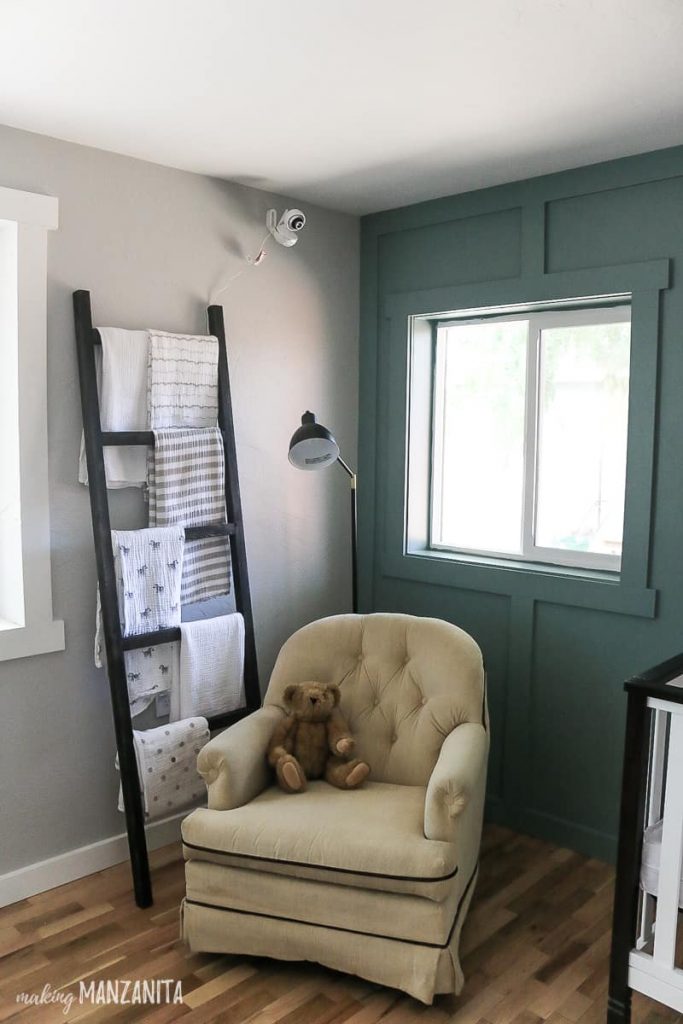 Chelsea painted her nursery Chic Gray.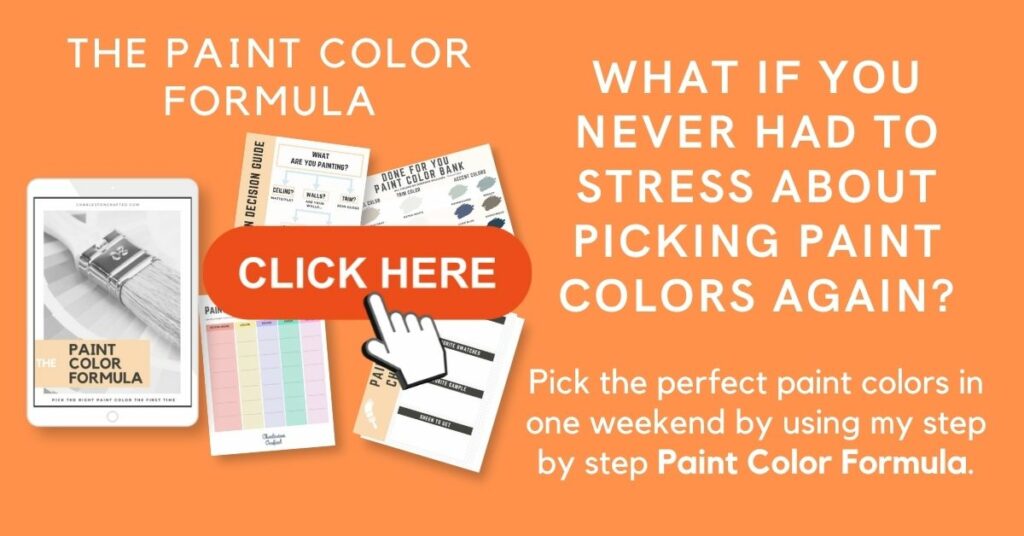 Frequently Asked Questions
What color furniture works best in a gray painted nursery?
The great thing about gray walls is that they go with almost any color scheme! You can pair them with crisp white for a light + bright look or even dark woods for a more rustic look.
Another great thing about gray walls is that you can change up the accessories and furniture in your room and keep the same neutral colored walls! It's a great long term color if you don't want to have to re-paint.
When selecting accent colors, keep in mind if you chose a warm or cool gray tone. You probably want to stick to accent colors that are similar in temperature to your gray paint color.
Do babies need color in their nurseries?
A common old wive's tale is that babies need color in their nurseries. In fact, what most newborn babies like is contrast, not necessarily color.
So, decorate with tons of colors if you want! That is such a fun option! But don't feel pressured to if it's not your style.
Black and white, charcoal and light gray, dark wood and white, or navy and light gray are all neutral color palettes that provide the contrast that helps to stimulate your baby's brain!
My gray nursery feels boring but I don't want to add accent colors. What can I do?
I have 2 favorite ways to add interest to a space without adding more colors: texture and pattern.
For pattern, select accessories that are gray and white, and coordinate with your wall color, but have a pattern or design to them. This could be as simple as a rug with a variety of shades of gray or as elaborate as an accent wall.
For texture, add accessories that are solid gray or white but have very interesting textures – such as macrame, cable knit, or faux fur. This gives your eye something to focus on so it's not too much of a one-dimensional neutral nursery.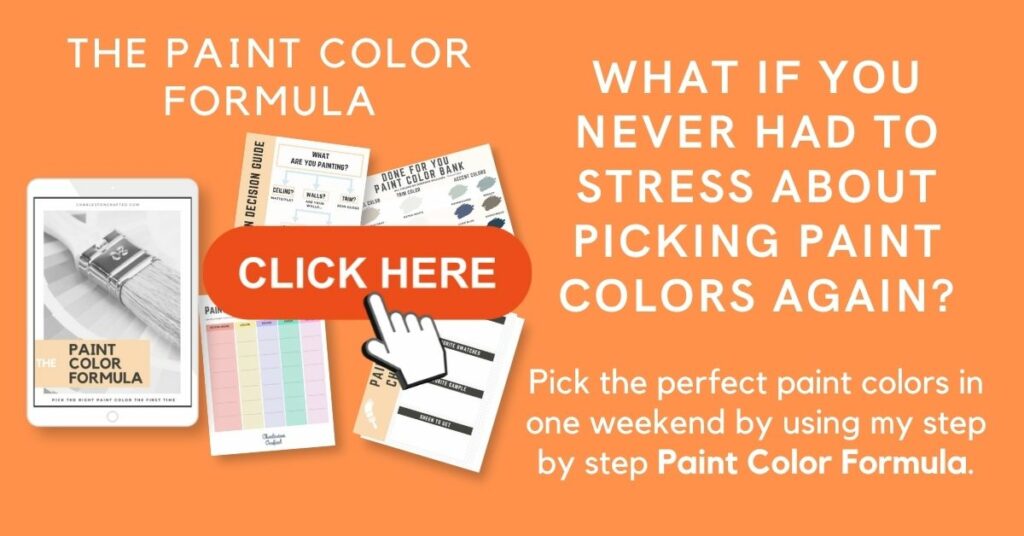 Get paint samples!
Samplize will send you 12″x12″ peel and stick samples of paint colors from many popular brands so you can see exactly how they will look in your home!
Love paint colors? Be sure to check out:
The Paint Color Formula – my complete guide to picking paint colors!
My guide to paint sheens
My guide to paint undertones
The best blue-gray paint colors
My favorite light gray paint colors for any home
The Best Gray Paint Colors for a Nursery
The Best Classic Navy Paint Colors
21 Paint colors for Master Bedrooms
The 28 Best Light Gray Paint Colors for Any Home
6 Perfect Gray Paint Colors for Cabinets
10 Best Paint Colors for Laundry Rooms
Painting for the first time? Check out my video tutorial on the easiest & cleanest way to open a paint can!
What's your favorite gray paint color?
Facebook | Instagram | Pinterest | Twitter | YouTube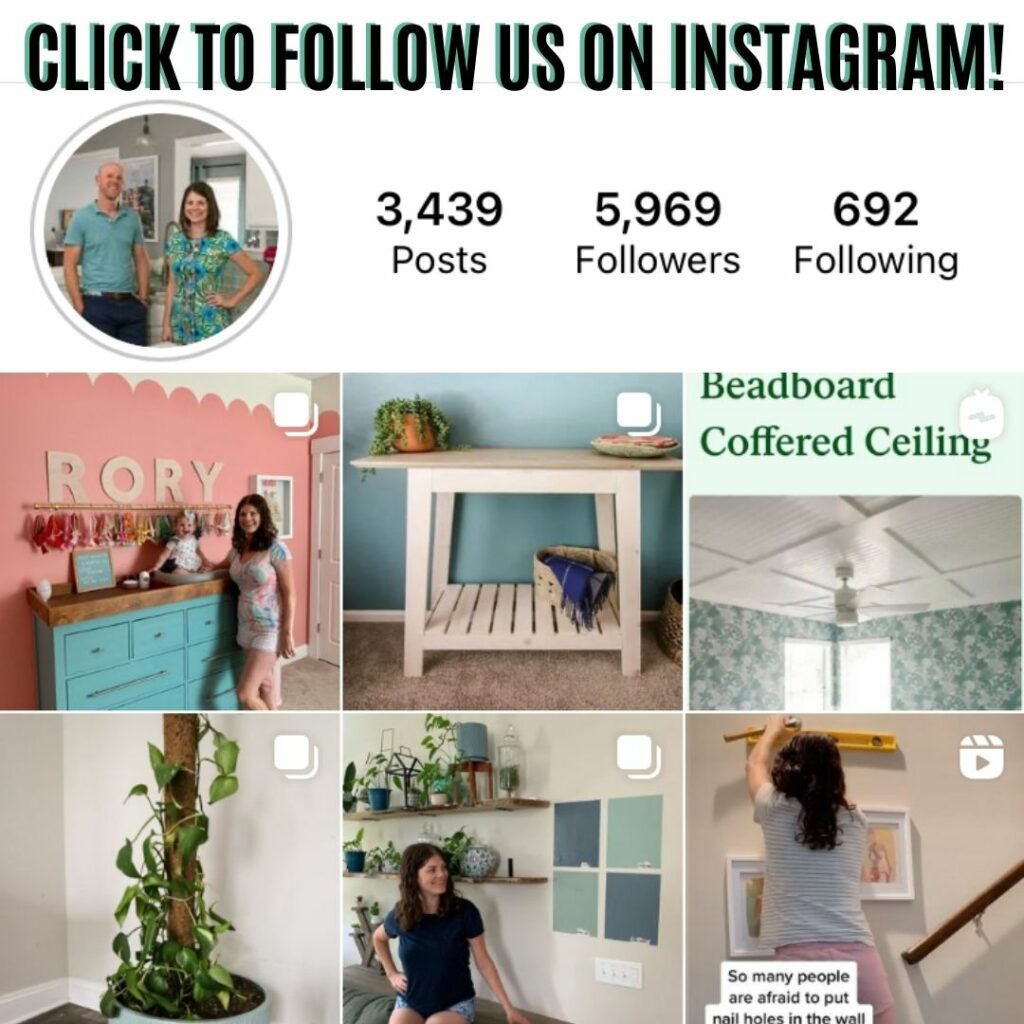 Sharing is caring!
Sours: https://www.charlestoncrafted.com/the-best-gray-paint-colors-for-a-nursery/
There is a reason that gray is so popular in home decor. It is the perfect modern neutral. It can go cool, highlighting blue tones, or it can go warm, highlighting yellow tones. Gray matches pretty much everything. As you'll see below, our readers have accented their gray nurseries with all sorts of different colors. To prove its versatility, not to mention a wink at pop culture, we're showing off fifty—yes, fifty!—grey, ahem, I mean gray nurseries.
Yellow & Gray Arrow Baby Boy Nursery
Dainty Soft and Sweet Nursery
Theodore's Up Up and Away Nursery
Ashlynn's Nursery
Classic and Soothing Nursery with a Touch of Vintage
All Things Pink and Girly Nursery
Cool and Calm Nursery
Sweet Caroline's Nursery
Ellia's Mod Nursery
Ryder's Modern Rustic Outdoor Inspired Nursery
Blue and Gray Nursery with Room to Grow
Ava's Sweet Gray and Pink Nursery
Vintage Train Nursery
Bennett's Modern and Colorful Nursery
Clementine's Nursery
Love, Lace and a Moroccan Stencil
Carter's Owl Nursery
Dainty, Soft and Sweet Nursery
Copeland's Colorful Nursery
Modern Sports Nursery
Mila's Nursery
Gray, Mint and Gold Nursery
Noah's Eclectic Nursery
Jaxson's Neutral Vintage Cowboy Nursery
Harper's Colorful Nursery
Adalyn Grace's Soft and Elegant Nursery
Sophisticated Modern Nautical Nursery
Hawken's Nursery
A Sweet Pink and Gray Nursery
Bright Woodland Theme Nursery
Tiny Room for a Tiny Princess
Modern Cherry Blossom Nursery
Adler's Room
Holton's Tribal-Themed Nursery
Reese's Yellow and Gray Nursery
Avery Madeline's New Nursery
Coral and Gray Nursery
Modern Koala Cuteness
Alexa's Gray and Pink Nursery
Coral and Teal Herringbone Nursery
Elegant Baby Boy Nursery
Hermione's Purple and Silver Elephant Nursery
Eclectic and Dreamy Nursery
Alexis' Pink and Gray Nursery
Vintage Railroad/Chevron Nursery
Bennett's Navy and Gray Nursery
Coral and Aqua Repurposed Nursery
Domasom's Nursery
Emaline's Elephant Nursery
Gray Herringbone Feature Wall
If you can believe it, we have even more gray nursery inspiration on our pinboard, which is updated all the time!
Also, check out 55 Pink Nurseries and 20 Blue Nurseries!
Tags:gray nurseriesgray paint for nurseryNursery Inspiration
Sours: https://projectnursery.com/2015/02/50-gray-nurseries/
These 10 Gray Tones Are No-Fail Colors for a Baby or Child's Room
When it comes to picking the perfect nursery neutral, gray is an easy win with a modern twist. It's clean and versatile and will stand up to just about anything your toddler can dish out. But when it comes to choosing that perfect shade of gray for your space, the process is anything but black and white.
Colorful undertones, such as blue, green, and even pink, give gray its surprising depth and versatility but can result in color clashes if not considered carefully. Natural light can also significantly affect gray paint, bringing out certain tones while burying others. This factor can mean the difference between a cool, soothing space and a dark, dreary one.
Color Family: Neutral
Complementary Colors: Neutrals do not have complementary colors; they usually work well with most other colors
Pairs Well With: Yellow, mint, pink, and blue in nurseries
Mood: Dark gray is dramatic, while light gray is soothing
Where to Use: Works well in all rooms of the house and is popular in nurseries for its modern, clean aesthetic
Here are the top ideas for the best gray nursery paint colors.
Sours: https://www.thespruce.com/best-gray-nursery-paint-colors-4587697
BABY GIRL NURSERY TOUR // Pink and Gray
She unbuttoned the top button on her blouse. And so they ordered beer, and elated Ksyusha ran to fulfill it. Dima leaned back and looked at the girl.
Nursery light gray
How nice to feel him inside - She slowly squatted, hugging her knees under her. Throwing back her head, she gave herself completely to sex. I watched her as she sat immensely on me, beautifully moving her buttocks. I could see every movement of my penis in her vagina.
She skillfully and while not touching her hands caught the penis with her fragrant flower at the moment of his exit from there.
My Nursery Tour 2020 (Neutral Baby Girl)
I, too, with my brother are not the best relationship, she cooed. Is he older or younger than you. The same as you for Katya, for two years. Mom says it would be more, we would not quarrel like that.
Now discussing:
The eggs hurt for another week and a half. When I hobbled to the university, she smiled at me mockingly, asking, how is my farm, bobo. Yet. I replied that very much, to which she said that this is the only way for the guys to get it and that I really need it.
55
56
57
58
59