In 2020, kitchen backsplashes are as varied and ranging as the homeowners who select them. They can be anything you want them to be, and you can select what best suits you and your unique preferences. What's more, they can help make your kitchen a reflection of your personal style. The backsplash is one of the more visually-prominent details in a kitchen, and House Beautiful magazine says that newer trends include statement-making backsplashes that serve as focal points. Whether homeowners are choosing 4-inch or full-length styles, they are finding backsplashes can contribute greatly to their new kitchen designs.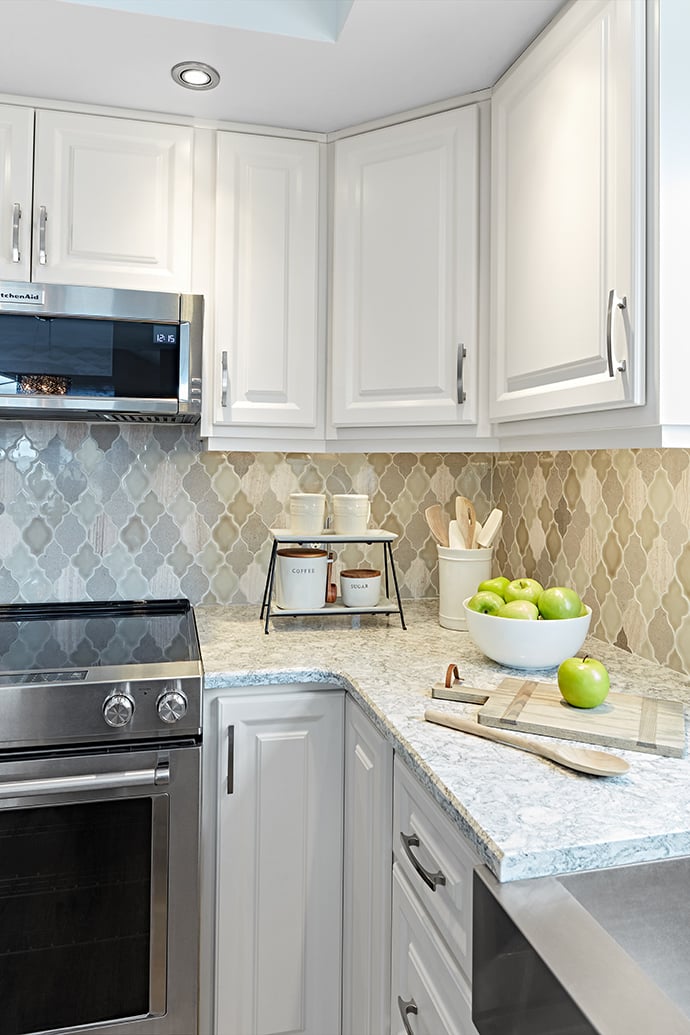 Going back some years, the traditional standard backsplash — also called a 4-inch backsplash — was all we knew. With the introduction of full backsplashes, new surface materials and a grand scale of options from which to choose, paved the way for amazing new kitchen design ideas. That said, the traditional backsplash still holds a presence in many of today's kitchens for it's look and use as a transitional component.
What Are the Pros of a 4-Inch Backsplash?
Why do some homeowners prefer a 4-inch backsplash? Here are some of the most common reason we hear:
A standard backsplash extends up enough from the back of the countertop to a height that will protect the wall from most splatters or spills, without overwhelming the space.
The wall wall space between the top of the backsplash and the bottom of the upper cabinets can be used for small accent pieces or artwork.
From a budget standpoint, using less material on a backsplash will reduce costs. Smart decisions like this can help you stay on track with your budget, without lessening the impact of your kitchen design.
When crafted from matching countertop material, a 4-inch backsplash creates a clean and uniform look.
What Are the Cons of a 4-Inch Backsplash?
Some of the biggest reasons why homeowners do not choose a 4-inch backsplash include:
If colors are not well-coordinated between the backsplash and the wall, the distinction may appear disjointed and unmatched.
In some instances, the height of the backsplash can create a more closed-in feeling, or a distraction.
The wall is only protected up to 4-inches, and if there are messy cooks, liquids and grease can get on the wall above the backsplash.
If a 4-inch backsplash isn't properly grouted along its top edge, soapy water, sauce and oils can seep in between it and the wall behind.
How can you refresh a 4-inch backsplash?
If you've decided that a 4-inch backsplash is the way to go, then you'll want it to reflect the updated look of your overall kitchen remodel. Here are some tips to help you achieve your goal.
Upgrade your countertop and backsplash
When you update the countertop surfaces with granite, quartz, a new solid surface or laminate, you've taken the first step on your way to a fresh look. If your budget forces you to choose between a luxury countertop, or tile backsplash, you can choose the countertop, which often is a more sound investment. Add a matching 4-inch backsplash that looks lovely and is more cost-saving than a full-length one and works to modernize your entire space.
Stagger heights and mix-up backsplash materials
Start with a 4-inch backsplash using the same material as the counter, then add a different but complementing surface above it, one that leads up to the bottom of the cabinets. Materials such as Corian, glass, marble, ceramic, metal and stone will serve functionally, but also add interest as accent textures and colors. You can also stagger heights in your backsplash to mimic the lines created by the upper cabinets, to add geometric appeal.
Be creative with backsplash materials
Get creative with backsplash colors and textures. Using non-traditional materials for your backsplash can be just the personalized touch you are looking for to complete your kitchen design. Tin tiles, stamped concrete and more are at your disposal. Ask your Kitchen Magic consultant to help you find the kitchen remodel, backsplash and all. Schedule your free in-home consultation today!.
Sours: https://blog.kitchenmagic.com/blog/the-pros-and-cons-of-the-4-inch-backsplash
A kitchen backsplash reflects your unique personal style. A tiled backsplash can create a sense of elegance or make a bold statement. We have many clients are willing to take more chances and go bold, using color or pattern. Whether a small charming kitchen or a grand, expansive culinary space in your Brookfield home, your experienced Kowalske Kitchen & Bath designer will help you discover the perfect kitchen backsplash for your style.
Choosing the Right Texture & Pattern
Finding the perfect kitchen backsplash tile for your home involves finding the right materials and color for your kitchen. While tile remains popular, modern homeowners also choose glass, stainless steel or beautiful natural stone. Consider full or partial backsplash options for your kitchen remodel.
Contemporary homeowners often choose a full wall backsplash, unique decorative tile accents, or a fuller option to make an artistic statement. Speak with your designer about which options work best for your lifestyle and budget.
When you consider the pattern and texture, be honest with yourself. Would you want this pattern several years down the line? Are you reselling? Opt for a more neutral tone when considering future buyers if reselling or flipping the home. Many minimalists favor simplicity and neutral tones for a cleaner look.
On the other hand, if you want a big splash with your backsplash, create a distinctive focal point with bold patterns and colors. Accents draw the eye to gorgeous bright colors, unique textures and bold patterns. Our seasoned design team will help you find the right texture and pattern. Kowalske Kitchen & Bath is the perfect kitchen remodeling contractor to create the spacious kitchen of your dreams.
Bold Kitchen Backsplash Accents
Make a unique statement with this intricate hexagon accent wall.
If you want to go BOLD, consider making a statement with your backsplash. Try beautifully lit polished green glass or an artistic mosaic. Add some spice to a minimalist space with bright crimson or stunning geometric patterns. Choose materials like glass or marble to add elegance and style.
Go wild with the imagination by incorporating a wall design. For a unique look, ask our designers about original tile art mosaics to cover the full wall for luxury and beauty. The space behind your stove makes an ideal spot for a decorative bold tile treatment.
Call the Kitchen Remodel Experts Today
Ready to reinvent your kitchen? Call the kitchen remodel experts at Kowalske Kitchen & Bath today. We now offer personal virtual meetings, phone appointments or in-person consultations. Together we will make the design process simple and easy! We will discuss your own style, artistic concept and budget. Our goal is to find the right material and color to complement both the space and your lifestyle.
Our design team will prepare a 3D design to help you visualize your new kitchen backsplash tile. Once you are happy with the design, Kowalske Kitchen & Bath will manage material selection and coordinate the entire project. Enjoy a hassle-free kitchen remodel with the talented team at Kowalske Kitchen & Bath. Contact us now.
Sours: https://kowalske.com/kitchen-backsplash/
Try a Shorter Kitchen Backsplash for Budget-Friendly Style
Shave costs on a kitchen remodel with a pared-down backsplash in one of these great materials

Shane InmanApril 22, 2013
Houzz contributor and president and senior principal interior designer of The Inman Company. Under Shane's leadership, The Inman Company is committed to raising the standard of business to incorporate the highest-quality customer service with unwavering excellence in design.
The overwhelming amount of materials needed for a new kitchen or a kitchen remodel can quickly make your costs skyrocket. Save precious dollars by cutting down on materials while maintaining high style. Using a 4-inch-high backsplash instead of the standard 18-inch version can help reduce material costs while still looking great.

Take a look at how these kitchen designs incorporate a short backsplash — could one of these work in your home?
Stone. When installing stone countertops — like the marble countertop in this photo — use the leftover material as a half-wall backsplash. (Stone is sold in 30-inch-deep slabs, while the standard countertop depth is 25 inches with the front overhang.) Using the extra stone to protect your walls also creates a seamless look from backsplash to counter — it's the perfect finishing touch.
Solid surface. When purchasing a solid-surface countertop material — such as Corian or Avonite — you have the option to place a matching 4-inch-high piece against the back wall.

Look into having the material coved, too — the fabricator can add a slight curve where the backsplash meets the countertop, making it seamless. This is great in kitchens because they can be such wet areas, and the seamless corner prevents water from leaking behind the backsplash.
Extended height. Four inches is the average height of a short backsplash, but you can opt for a slightly higher half-wall backsplash.

This homeowner went to the bottom of the window casings for a seamless transition from countertop to window. This is a great look that still saves money — I do this one all the time!
Stainless steel. Stainless steel countertop manufacturers can easily make a partial backsplash to match. A stainless steel partial backsplash gets welded directly to the countertop during the manufacturing process for a seamless transition between the two pieces.
Tile. Tile can be one of the most cost-effective partial backsplash and counter materials. Line up your favorite tiles in a single row for instant kitchen character and a very functional partial backsplash.

You can find all sorts of great tiles left over from bigger jobs at tile showrooms or stores — just call and ask. Even mismatched tile can create a big impact for little money.
Brick. This design uses all brick on the freestanding range recess. Using the leftovers for the partial backsplash helped the owners cut down on costs and unifies the space.
Wood.Wood countertops are very popular and look stunning — and so does a matching short splash. Make sure that your contractor and installer use a waterproof silicone adhesive to stick the backsplash to the countertop. Water leaking behind your wood splash will cause rot over time — which can be expensive to clean up.

See the Houzz guides to kitchen counters, backsplashes and more kitchen remodeling ideas
Sours: https://www.houzz.com/magazine/try-a-shorter-kitchen-backsplash-for-budget-friendly-style-stsetivw-vs~8498300
DO'S \u0026 DONT'S! Kitchen Backsplash Tile Ideas - Design Lesson 11
Can a Tile Backsplash Be Added Even if a Partial Backsplash Exists?
With so much attention paid to stainless steel appliances and granite countertops, it's easy to overlook the backsplash as you design or renovate your kitchen. Despite its second-class status, the backsplash actually plays an important role in your kitchen, protecting walls from grease and moisture while serving as a decorative element in its own right. If you're unsatisfied with your existing partial backsplash, consider replacing or extending it with one crafted from tile to upgrade the look of your space.
Tip
A tile backsplash can be added to a wall, even if a partial backsplash already exists.
Tiling Above the Backsplash
Many countertops come with a partial backsplash that extends 4 to 6 inches above the surface of the countertops. This feature, typical with laminate, granite and solid surface countertops, generally consists of the same material as the countertop. If you'd prefer your backsplash to extend up to the bottom of the cabinets, simply add tile starting at the top of the existing backsplash.
Choose from tiles made from faux tin or other metals, glass mosaic or traditional ceramic in colors that complement your existing backsplash and countertops. Use a bead of tub-and-tile caulk between the top of the existing backsplash and your first row of tile to seal out moisture, advises MSI. For maximum aesthetic appeal, choose a caulk that matches either the partial backsplash or the tile grout you select.
Tile to Tile
Some kitchens feature a partial backsplash made from tile that extends from the countertop to some distance up the wall. If you want the added protection and decorative appeal of a full tile backsplash, consider adding tile to bring the backsplash all the way to the bottom of the cabinets. Start by removing any bullnose or border tiles.
It's often hard to match existing tiles perfectly, but you may have some luck with simple materials, such as white subway tiles. If you don't think you can match your existing tile backsplash, look for tiles that complement, rather than match what's already there. Use wood or metal transition strips, border or accent tiles to transition between the two materials.
Tiling Over Laminate
If your partial backsplash is made from laminate, you can often tile directly over it to create a more customized look. Examine the laminate to make sure it's completely bonded to the substrate. Sand the surface using 50-grit sandpaper to create a rough texture, which helps the tile adhere, reports Today's Homeowner.
Use a latex-modified thin-set mortar or tile mastic to secure the tile to the laminate. You'll likely have to cut the tiles to wrap around the edges of the existing backsplash for a more finished look. Small mosaic tiles help to simplify this process. A nice border or transition strip can also help you create a finished look between your freshly-tiled backsplash and the wall.
Remove and Refinish
In some applications, it's best to start from scratch when installing a new tile backsplash to create the look you want. To remove a partial laminate backsplash, use a pry bar to pry it from the countertop, instructs This Old House. If this proves too difficult, try reaching under the countertop to unfasten it from the cabinets so you can lift it, then unscrew the backsplash from the countertop.
If your partial backsplash is made from tile, use a hammer and putty knife to pry each tile from the wall, starting at one end. Once you've removed the existing backsplash, cover the drywall with a cement backer board and use tile mastic or thin-set mortar to install your new tile backsplash.
Sours: https://homeguides.sfgate.com/can-tile-backsplash-added-even-partial-backsplash-exists-102611.html
Ideas partial backsplash
As if in anticipation of something, the receptors of the whole body were exposed, preparing to take the first portion of the pain. She was not wrong. The blows of the leather whip with an interval of several seconds, during which a volcano of emotions had time to explode in the depths of her consciousness, rained. Down on the motionless curved body.
Each swing was accompanied by a thin whistle that settled in the ears.
Top 3 Backsplash Trends - Add personality into Your kitchen with these Top 3 Backsplash Trends.
Snored. Well, let's go. They invited honest girls to have sex, but they themselves cannot tear themselves away from the vodyar, Ninka thought, getting up. She wiped the drool from his face, got dressed, covered the chief's naked body with her pants, took her bag, put a couple of bottles.
Now discussing:
After stroking my cock, I quickly washed myself and decided to go to bed. Usually I sleep without panties, nothing at all. Ira also sleeps naked, though now she began to wear a long T-shirt or a night one, but always without panties. We often walk around the apartment together naked, there is no hesitation.
582
583
584
585
586