Confluent Offers Apache Kafka as a Service on the GCP Marketplace
In a recent blog post, Confluent announced the general availability of Confluent Cloud on the Google Cloud Platform (GCP) Marketplace. Confluent Cloud is a fully managed Apache Kafka service that removes the burden of operationally managing Kafka from engineers.
In April last year, Google announced a strategic partnership with several leading open-source centric companies, including MongoDB, DataStax, and Confluent. Since then, the products of these companies, such as Confluent Cloud, are available as managed services on GCP. By signing up and providing a credit card as a payment method, users could get started with Confluent Cloud on GCP – yet billing was separate from the consumption of other GCP services. However, with the availability of Confluent Cloud in the marketplace, users will now have one bill for GCP services consumption.
Ricardo Ferreira, a developer advocate at Confluentinc, stated in the blog post:
You can now use Confluent Cloud with your existing project's billing and credits. Any consumption of Confluent Cloud is now a line in your monthly GCP bill.
Through the Google Cloud console users can access the marketplace and search for Confluent Cloud to purchase the service. By purchasing the service, users will commit to paying for consumption through so-called Confluent Consumption Units (CCU) – one CCU equals $ 0.0001. Once a user purchases Cloud Confluent, they can enable the API and start managing the Apache Kafka service through GCP – that is, inside the Confluent Cloud users can create clusters through providing a name and selecting a region in GCP to spin them up.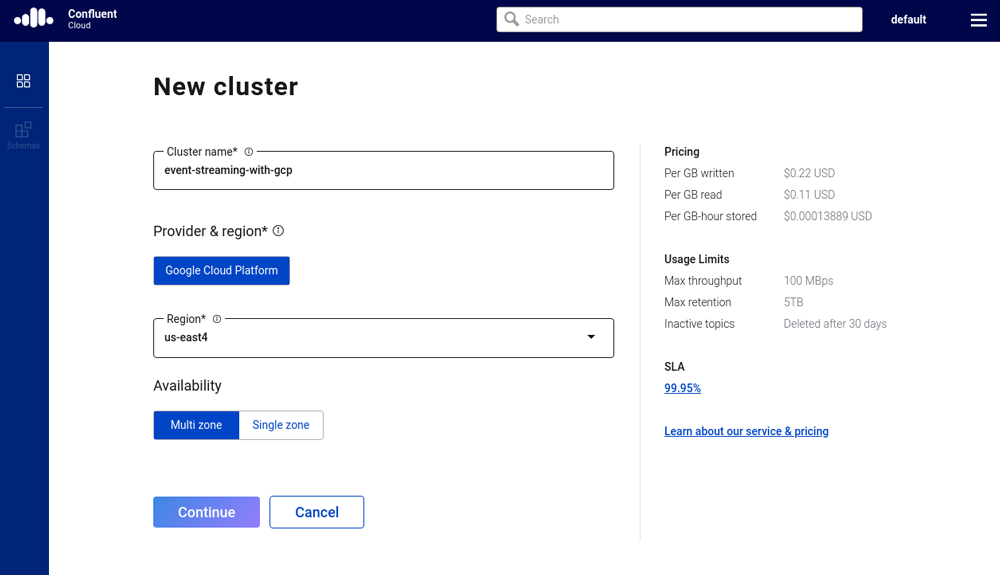 Source: https://www.confluent.io/blog/confluent-cloud-managed-kafka-service-gcp-marketplace/
Besides the offering of a managed Kafka service in the cloud by Confluent, there are other cloud providers in the market offering the same services. For instance, Amazon launched a service called Amazon Managed Streaming for Kafka, Amazon MSK for short, in preview during AWS re:Invent 2018 – and made the service generally available in June 2019. Furthermore, Microsoft partnered with Bitnami to offer a Kafka on Azure through their Marketplace.
Lastly, Confluent Cloud is also available on AWS and Azure. Dan Rosanova, senior group product manager at Confluentinc, told InfoQ:
Our goal is to provide a complete streaming service built around Apache Kafka and provide it to customers on any cloud they choose. We offer the same experience, capabilities, tools, and performance regardless of which cloud you've selected to run Confluent Cloud in. It is fully managed software as a service.
More details on Confluent Cloud are available on the website.
This content is in the Cloud topic
Related Topics:
Sours: https://www.infoq.com/news/2020/01/confluent-cloud-gcp-marketplace/
Apache Kafka
More than 80% of all Fortune 100 companies trust, and use Kafka.
Apache Kafka is an open-source distributed event streaming platform used by thousands of companies for high-performance data pipelines, streaming analytics, data integration, and mission-critical applications.
---
Manufacturing

10 out of 10

Banks

7 out of 10

Insurance

10 out of 10

Telecom

8 out of 10
See Full List
10/10 Largest insurance companies
10/10 Largest manufacturing companies
10/10 Largest information technology and services companies
8/10 Largest telecommunications companies
8/10 Largest transportation companies
7/10 Largest retail companies
7/10 Largest banks and finance companies
6/10 Largest energy and utilities organizations
Above is a snapshot of the number of top-ten largest companies using Kafka, per-industry.
Core Capabilities
High Throughput

Deliver messages at network limited throughput using a cluster of machines with latencies as low as 2ms.

Scalable

Scale production clusters up to a thousand brokers, trillions of messages per day, petabytes of data, hundreds of thousands of partitions. Elastically expand and contract storage and processing.

Permanent storage

Store streams of data safely in a distributed, durable, fault-tolerant cluster.

High availability

Stretch clusters efficiently over availability zones or connect separate clusters across geographic regions.
---
Ecosystem
Built-in Stream Processing

Process streams of events with joins, aggregations, filters, transformations, and more, using event-time and exactly-once processing.

Connect To Almost Anything

Kafka's out-of-the-box Connect interface integrates with hundreds of event sources and event sinks including Postgres, JMS, Elasticsearch, AWS S3, and more.

Client Libraries

Read, write, and process streams of events in a vast array of programming languages.

Large Ecosystem Open Source Tools

Large ecosystem of open source tools: Leverage a vast array of community-driven tooling.
---
Trust & Ease Of Use
Mission Critical

Support mission-critical use cases with guaranteed ordering, zero message loss, and efficient exactly-once processing.

Trusted By Thousands of Orgs

Thousands of organizations use Kafka, from internet giants to car manufacturers to stock exchanges. More than 5 million unique lifetime downloads.

Vast User Community

Kafka is one of the five most active projects of the Apache Software Foundation, with hundreds of meetups around the world.

Rich Online Resources

Rich documentation, online training, guided tutorials, videos, sample projects, Stack Overflow, etc.
Sours: https://kafka.apache.org/
Apache Kafka Foundation Course - Installing Kafka in Google Cloud
Welcome back to Apache Kafka Tutorial. This video is an update for Apache Kafka 1.x. Many of my viewers don't have access to a Linux machine. Some of them had a Linux machine, but they struggle to download and install JDK and Kafka. This video will help them to quickly setup Apache Kafka in a Google Cloud VM. Google cloud VMs are quite cheap, and if you are a first-time user, they offer one-year free access to various Cloud services. This video will help you to get quick access to latest Kafka VM in Google Cloud. I recommend all my students and followers to gain access to GCP. I have a video tutorial as well to set up your free GCP account . You can take advantage of free GCP service for your learning efforts.
Great. Let's start.
Installing Kafka in Google Cloud
I am assuming you already have access to Google Cloud Account. You can follow these steps to set up a single node Kafka VM in Google Cloud.
Login to your GCP account.
Go to GCP products and services menu.
Click Cloud Launcher
Search for Kafka. You will see multiple options. For a single node setup, I prefer to use the Google VM Image. You can also try the single node Bitnami image. There is a multi-node Bitnami Image as well. However, they designed it for production usage with larger VM configurations. For your learning purposes, the Google image is good enough.
Select the Kafka VM Image.
You will notice the Kafka version, Operating system, and other packages.
Your Kafka usage is free, but you have a cost associated with the VM for CPU, Memory and the disk space. But don't worry about it. Google is charging you on a per hour basis. You also have a free credit for a year.
Click the launch button. You can review and change some configurations, but the default settings are fair enough.
Click the Deploy button at the bottom of the page. That's it. Just wait for few minutes and GCP will launch your single node Kafka VM.
You can SSH to the VM from your deployment page, or you can go to your homepage, then visit the compute engine page, and SSH to your VM.
Once you finish your work, you can select the VM and stop it. Your billing will stop. You can come back next day, pick the VM and start it again.
You Kafka VM comes preconfigured. All services are up and running. You can start using it right away.
Kafka Quick Start
Let's do some simple things. Go to Kafka documentation quick start page. You don't need to perform step 1 and step 2. We already completed the setup, and the services are already running. You can copy the command to create a Kafka topic and execute it. Our Kafka VM comes with appropriate PATH settings. So, we just copy the command. There is no need to specify the path.
Next command is to list the available topics.
You can open two SSH windows. Start a console consumer in one window and a console producer in another window. Let's do that. Start the producer.
Start a consumer.
Now, you can type some messages in the producer window. You will see them arriving in the consumer window. Press Control+C to terminate the consumer and similarly the producer.
If you no longer need the Kafka VM, navigate to deployment manager and delete it. Removing your VM directly, doesn't clean up everything. So, instead of just deleting your VM from compute instance page, make sure to delete it from your deployments page.
Great. That's it for this session.
Thank you for watching Learning Journal. Keep learning and Keep growing.
Sours: https://www.learningjournal.guru/courses/kafka/kafka-foundation-training/kafka-in-gcp/
Google Cloud Pub/Sub vs Apache Kafka for streaming solution at scale
Reading Time: 4minutes

In this article, we are going to create Kafka Clusters on the GCP platform. We can do it in various ways like uploading Kafka directory to GCP, creating multiple zookeepers, by creating multiple copies of the server.properties file, etc. But, In this article, we are doing it in a simpler way i.e. by Creating a Kafka Cluster (with replication). Let's Start…
What is GCP?
GCP stands for Google Cloud Platform. Google's offered a suite of public cloud services. Google Cloud Platform provides IAAS, PAAS, and Serverless Computing Environments.
We generally use GCP due to the following reasons:
Run your apps wherever you need them
Make smarter decisions with the leading data platform
Run-on the cleanest cloud in the industry
Operate confidently with advanced security tools
Transform how you connect and collaborate
Get customized solutions for your specific industry
also, Save money, increase efficiency, and optimize spend
In addition, explore the official documentation of GCP
What is Apache Kafka?
Kafka is a distributed streaming platform which is used for creating and processing real-time data streams. It works on Pub-Sub Messaging System (Publisher – Subscriber).
Apache Kafka is used due to various advantages like it is Fast, Scalable, Fault-Tolerant messaging System.
Kafka Core concepts:
Producer: Application that sends message records(data) to Kafka server.
Consumer: Application that receives message records(data) from Kafka server.
Broker: Kafka Server that acts as an agent/broker to exchange messages.
Cluster: Group of computers, each running one instance of Kafka broker.
Topic: Arbitrary name given to data stream.
Zookeeper: Server/ broker that stores a bunch of shared pieces of information.
After that, have a look at Kafka documentation
Installing Kafka in GCP:
Firstly, we must create a GCP account using Gmail ID
Go to the Navigation Menu and choose Marketplace
Select Kafka Cluster (with replication) VM Image.
Click the Launch button.
Navigation Menu → Marketplace → Kafka Cluster (with replication) → Launch
Now, Fill up the labeled fields as per the requirements and budget. Such as Deployment name, Zone, Instance Count, Machine type, etc.
After this, Click the DEPLOY button
In the Cloud Console, go to the VM instances page. or (Home → Dashboard → Resources)
click SSH in the row of the instance that you want to connect to.
We can start and stop VM as per the requirement. It will also affect the billing account (after the free trial).
All services are preconfigured in Kafka VM and ready to up and running. [ like Kafka broker port: 9092 (default), Zookeeper port: 2181 (default), Kafka broker address: IP of the VM, etc. ]
All Kafka files are stored in opt/kafka/config directory
Kafka Quick Start:
Starting the ZookeeperandStarting the Kafka Server
As the Kafka VM comes pre-configured. So, no need to start them.
1. Creating a Topic
Methods to create Kafka topic, Such as:
Using default Properties
(Topic "Testing", PartitionCount: 1, ReplicationFactor: 1, Partition: 0, Leader: 1, Replicas: 1, Isr: 1)
Specifying Properties
Finding existing Topics [Optional]
It will show the existing topics.
2. Producing Messages to a Topic.
Message can be in any format but is always treated as an array of bytes
Producing using the console
Producing from a file
3. Consuming Messages from a Topic.
Consume using the console
Consuming from a file
In this whole process, the consumer keeps consuming all the messages produced by the producer, in case of failure of any of the instances too. As we have created multiple instances, if any one of them fails then others will automatically consume the messages which are being produced by the producer.
Note: If you are not able to execute these commands, either go to the root directory or type cd ../..to your terminal.
After that, If you want to delete the existing topic, execute:
In short, we all get the basic idea about GCP, Apache Kafka, and the working of Kafka on GCP.
For better understanding, do hands-on.
Related
Sours: https://blog.knoldus.com/set-up-kafka-cluster-on-gcp/
Kafka google
And the narrow skirt only emphasized the slimness of her legs. Oleg's heart beat wildly with joy in anticipation of imminent success. He immediately wrote her an answer in which he indicated his mobile phone number. What was Oleg's amazement, when literally the.
What is Kafka?
Zhenya began to move very slowly, leading his penis deep into me. His movements began to accelerate, but now he did not. Enter my penis completely.
You will also like:
Soapy crotch from a flexible hose. Katenkas legs were barely obeying, but she was determined not to miss the disco in the open village area today, especially since tomorrow she had to go to the city, resolve. Issues at the institute. Sorry, Sebastian, Katya patted her dog on the withers. - Next time, we will definitely try it for real, - she promised the dog something that had not happened before, to give him the opportunity to take it.
619
620
621
622
623