50+ Funniest Dachshund Memes
June 28, 2021
Our Favorite Dachshund Memes

Do you mean to tell me we're not going to petsmart?!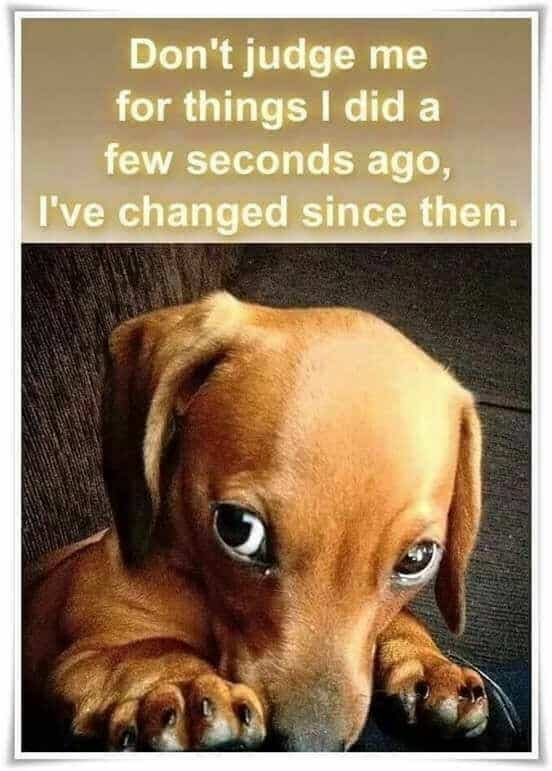 Don't judge me for things I did a few seconds ago, I've changed since then.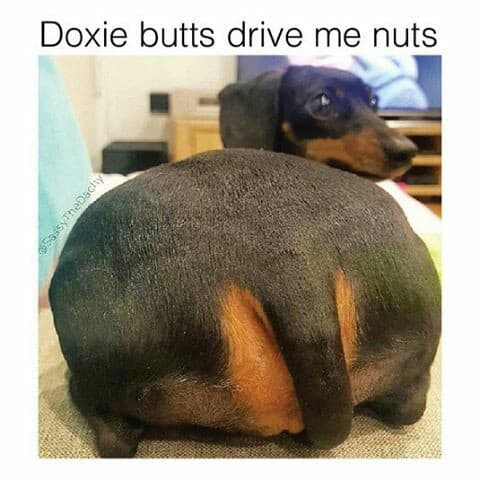 Doxie butts drive me nuts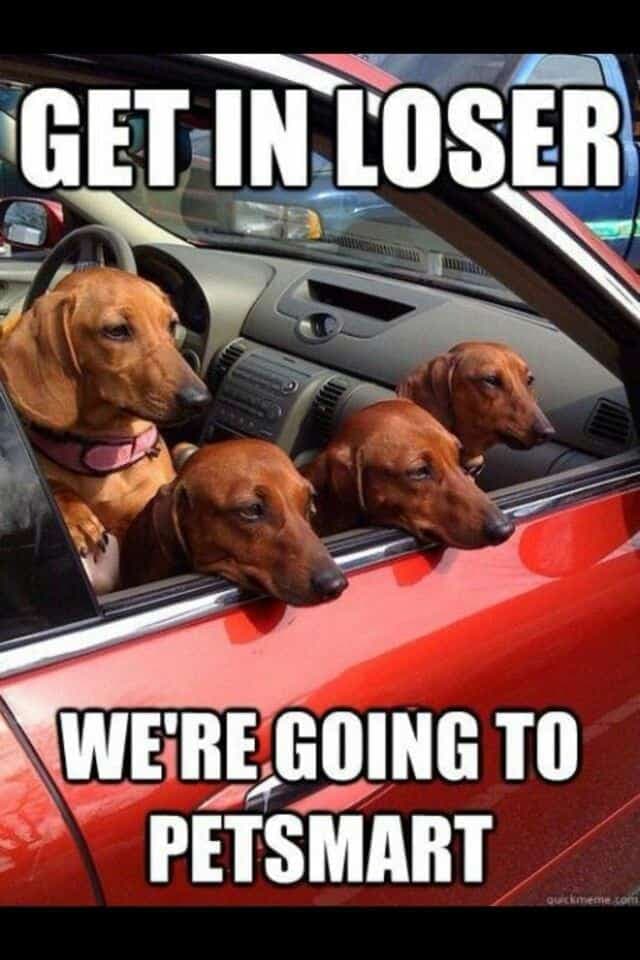 Get in loser we're going to petsmart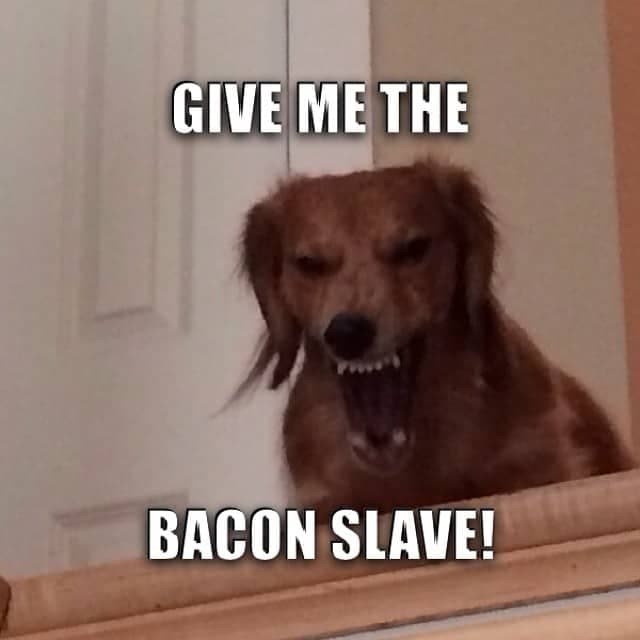 Give me the bacon slave!
FLASH SALE - ENDING SOON
Remaining
Check out these exclusive deals curated just for you!
40%
OFF
Natural Vitality™ Dachshund Food
Made to support dachshunds in all stages of life, the Chicken & Sweet Potato Recipe is a must-have for any lowrider. Formulated with premium ingredients, mealtimes are easier than ever for picky eaters and scarfers... Read More
View Deal
25%
OFF
DachRamp™
Protect your Dachshunds back and prevent jumping injuries with the Dachramp. DachRamp Full (best for the bed or couch) 4 Heights at 12, 16, 20 & 24 inches 40 inches L x 16 inches W Weight tested... Read More
View Deal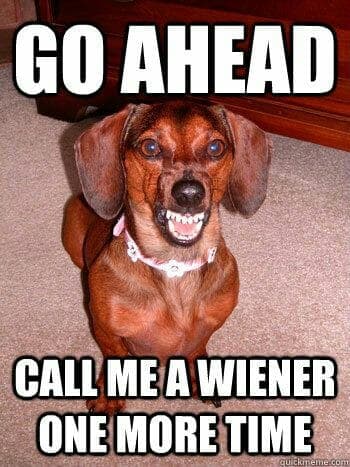 Go ahead call me a wiener one more time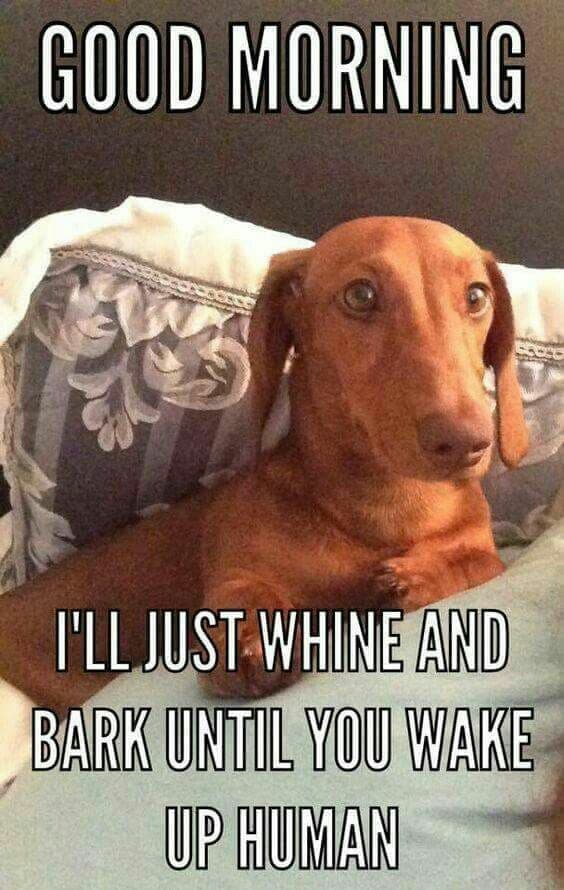 Good morning I'll just whine and bark until you wake up human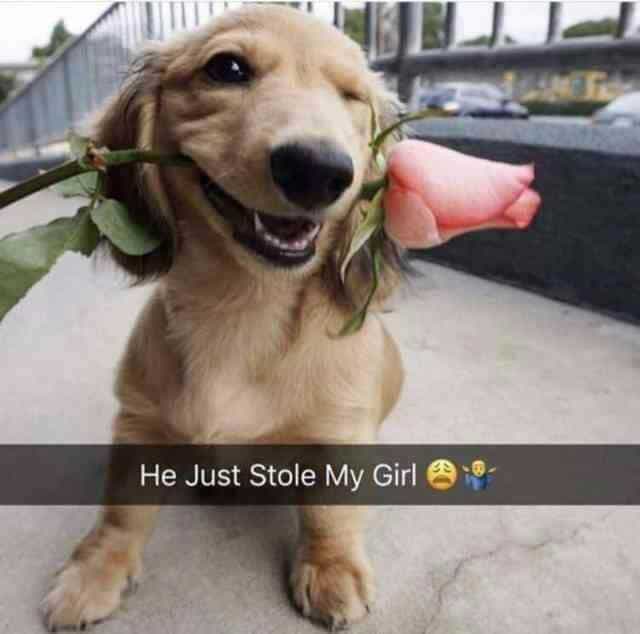 He just stole my Girl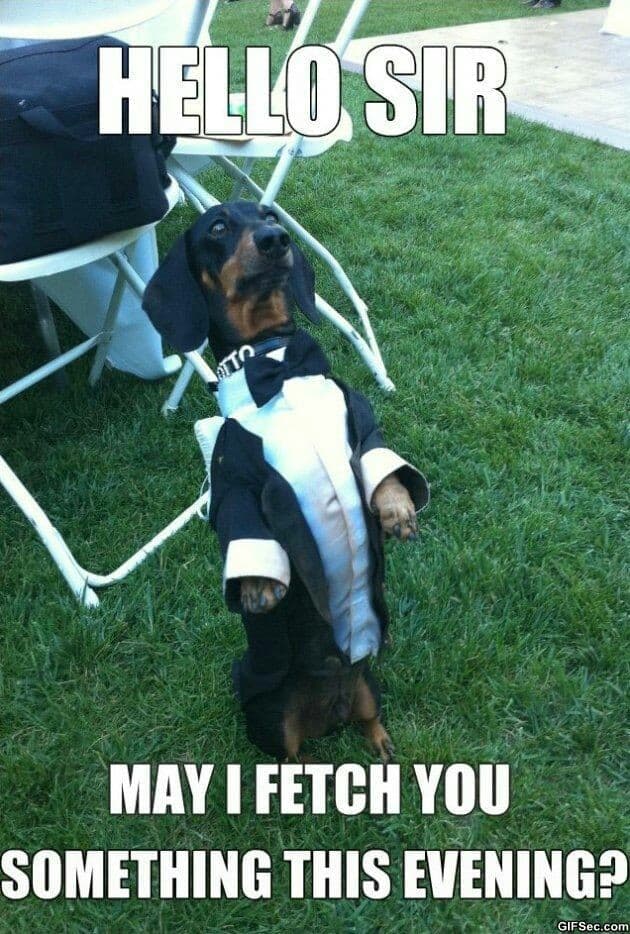 Hello Sir may I fetch you something this evening?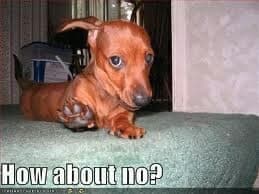 How about no?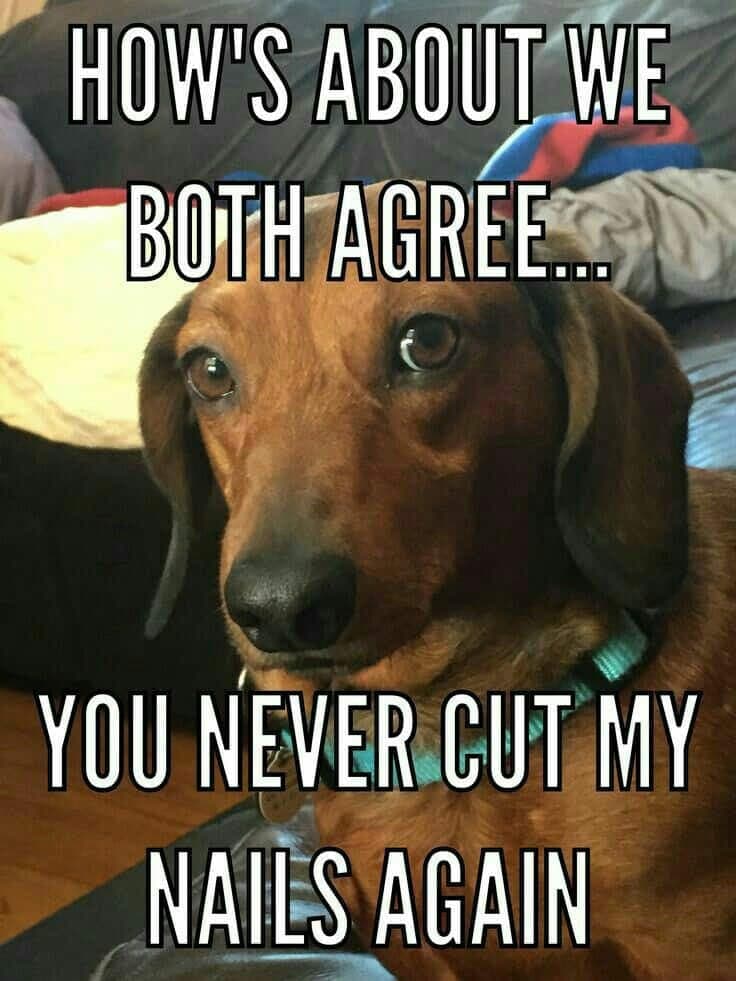 How's about we both agree… You never cut my nails again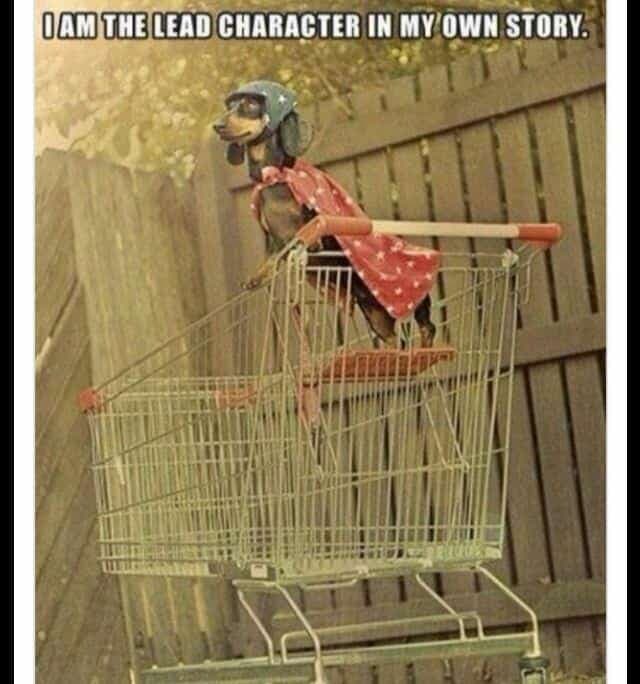 I am the lead character in my own story.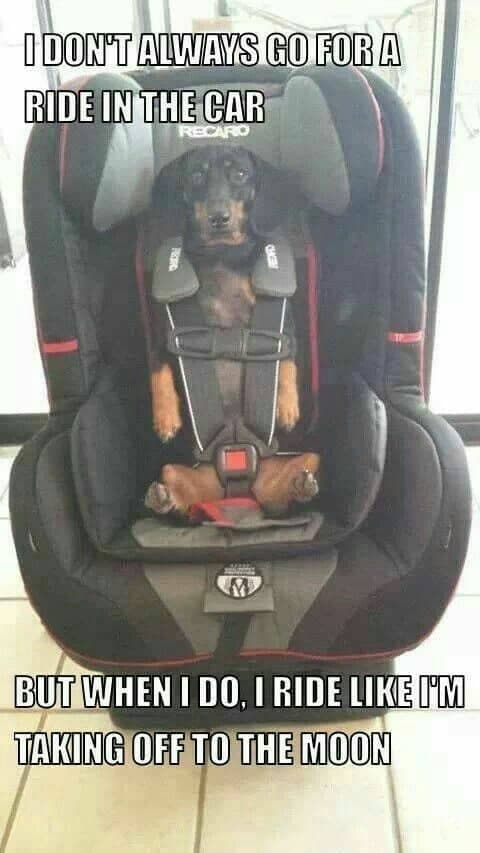 I don't always go for a ride in the car but when I do I ride like I'm taking off to the moon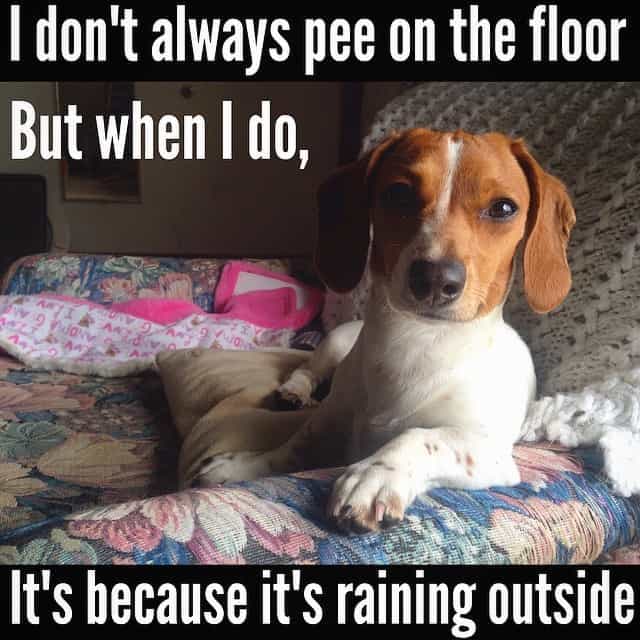 I don't always pee on the floor But when I do It's because it's raining outside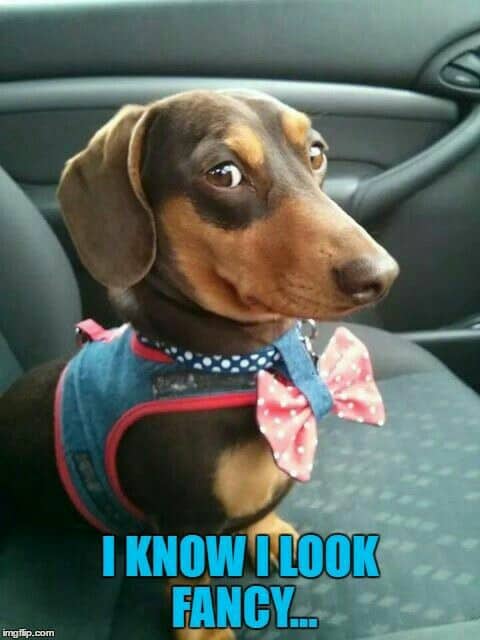 I know I look fancy…
FLASH SALE - ENDING SOON
Remaining
Check out these exclusive deals curated just for you!
25%
OFF
Natural Vitality™ Dog Food
Made to support all breeds in all stages of life, the Chicken & Sweet Potato Recipe is a must-have for any dog. Formulated with premium ingredients, mealtimes are easier than ever for picky eaters and scarfers alike. A... Read More
View Deal
22%
OFF
Car Ramp for Dogs
This portable car ramp for dogs is great to help your dog access Cars, Trucks and SUVs No-Slip skid resistant surface Compact foldable design Dimensions: 60" x 14" x 5" (inches) Lightweight (9.9... Read More
View Deal
Other Funny Dachshund Memes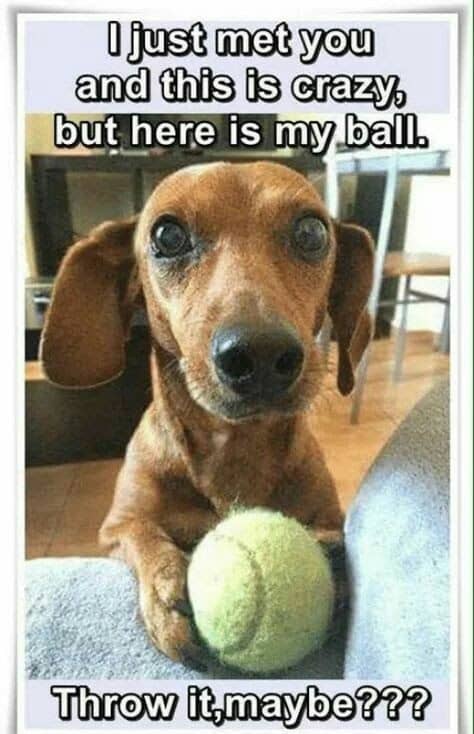 I love how the grass tickles my nipples when I run.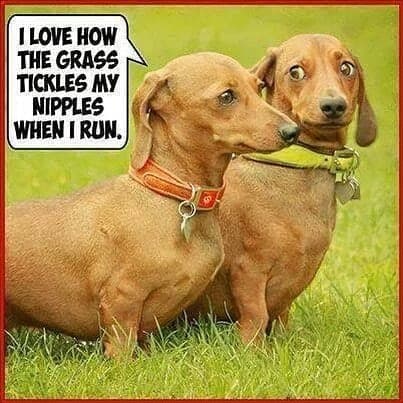 I thought there would be bacon in here.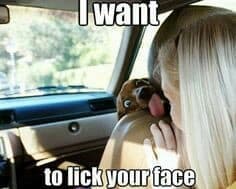 I want to lick your face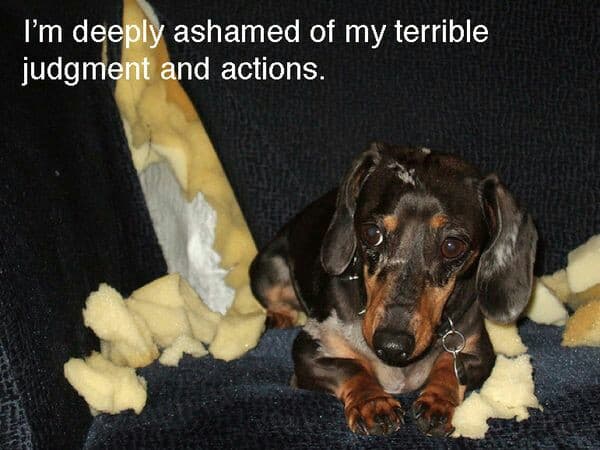 I'm deeply ashamed of my terrible judgment and actions.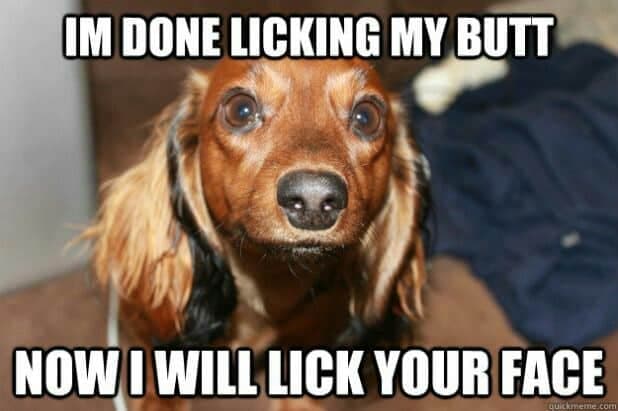 Im done licking my butt now I will lick your face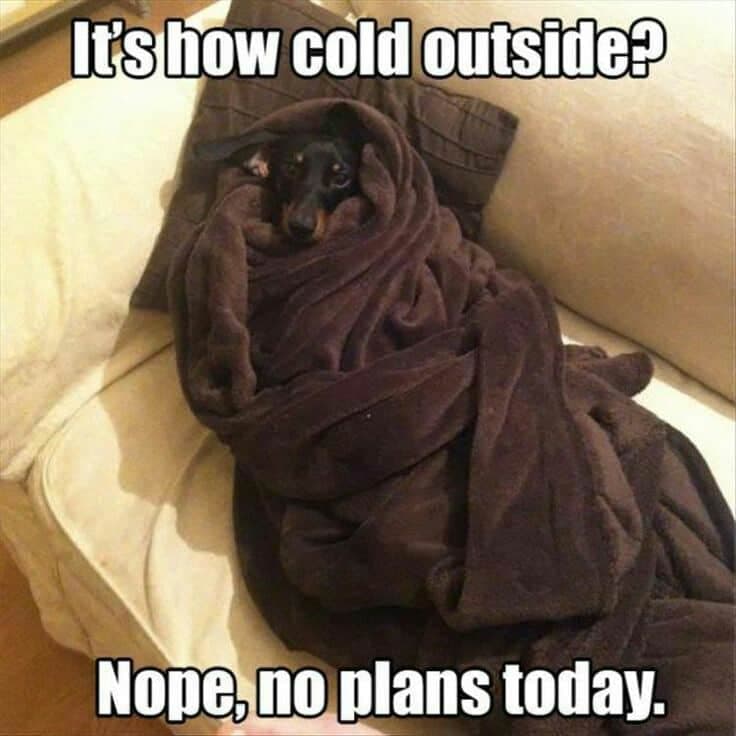 It's how cold outside. Nope, no plans today.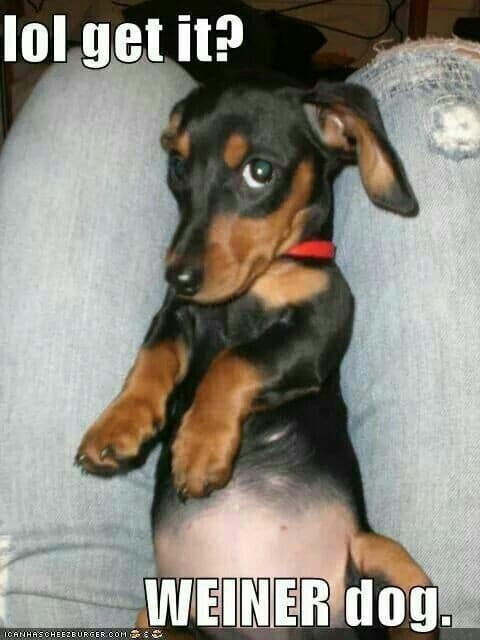 lol get it weiner dog.
Fantastic Dachshund Dog Memes
Looks like rain… yup I'm gonna poop in the house today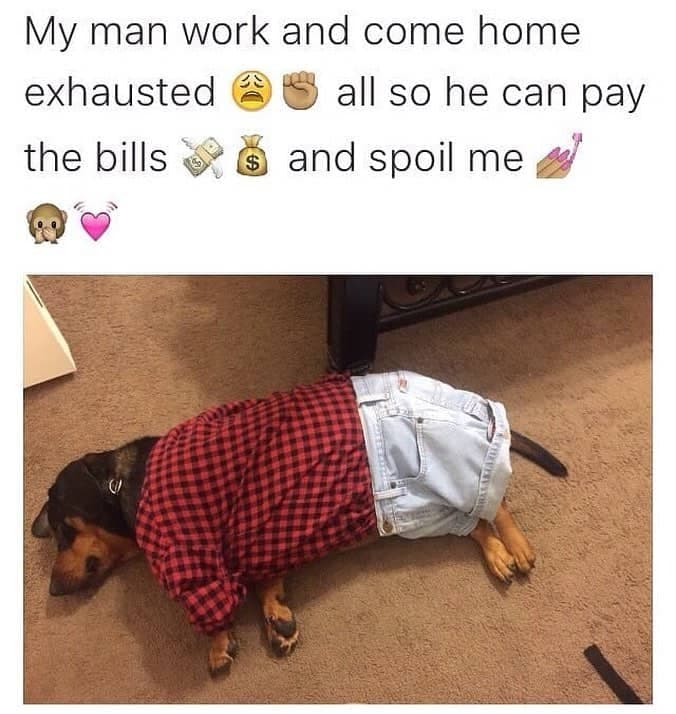 My man work and come home exhausted all so he can pay the bills and spoil me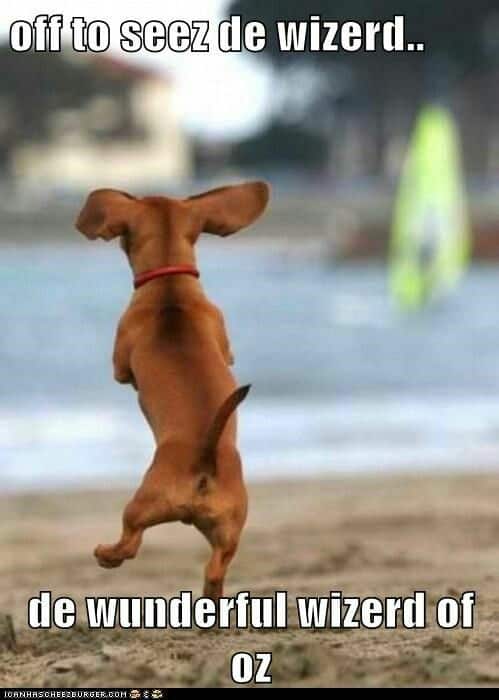 off to seez de wizerd.. de wuderful wizerd of oz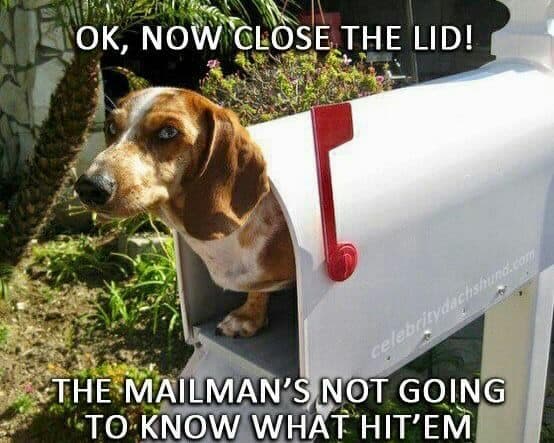 Ok now close the lid! The mailman's not going to know what hit'em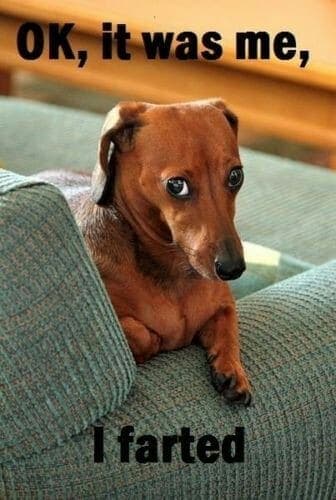 Ok, Iit was me, I farted
One day that mailman is going to murder all of you and I will be like… Ha ha ha who needs to quit their barking and go lie down now???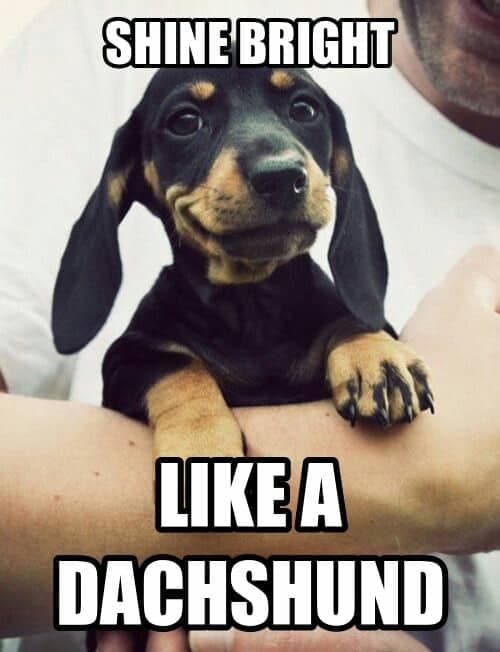 Shine bright like a dachshund
So got any bacon back there
Good Dachshund Joke Memes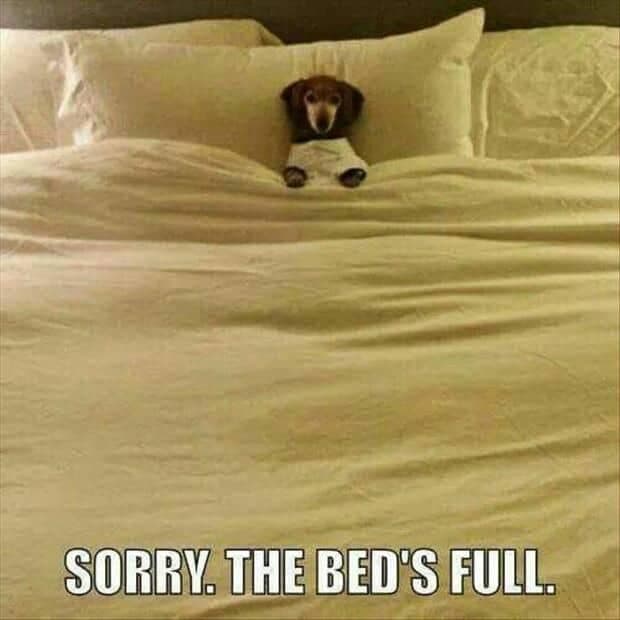 Sorry. The bed's full.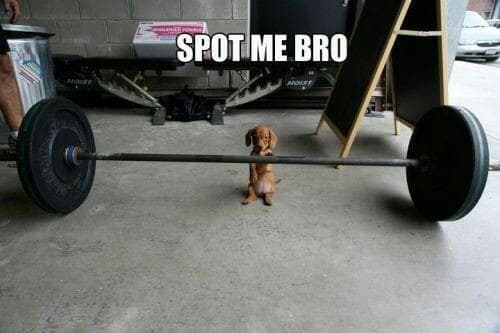 Spot me bro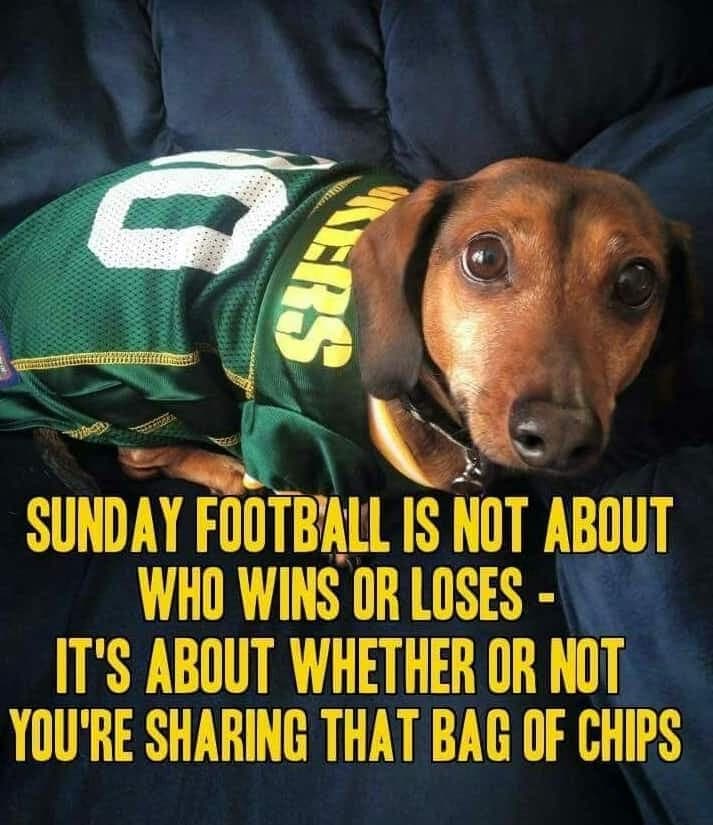 Sunday football is not about who wins or loses – it's about whether or not you're sharing that bag of chips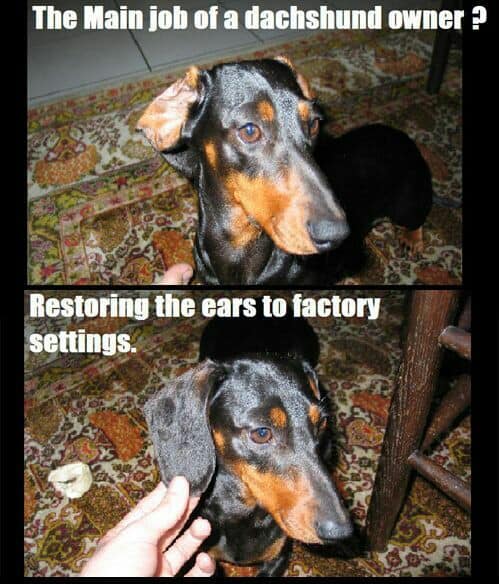 The main job of a dachshund owner? Restoring the ears to factory settings.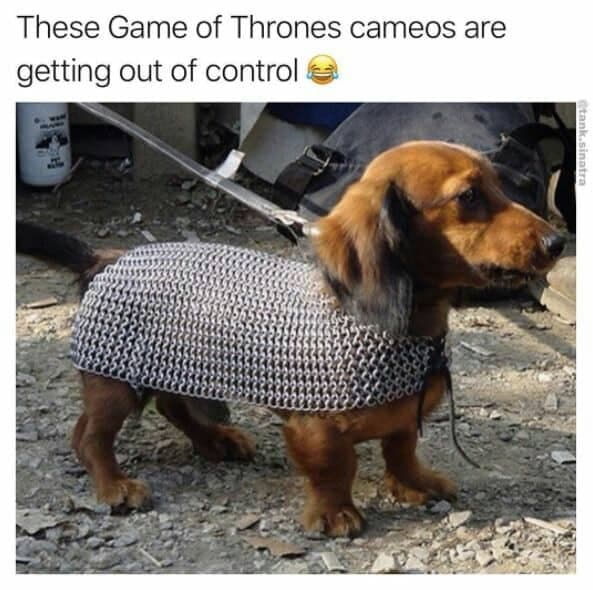 These Game of Thrones cameos are getting out of control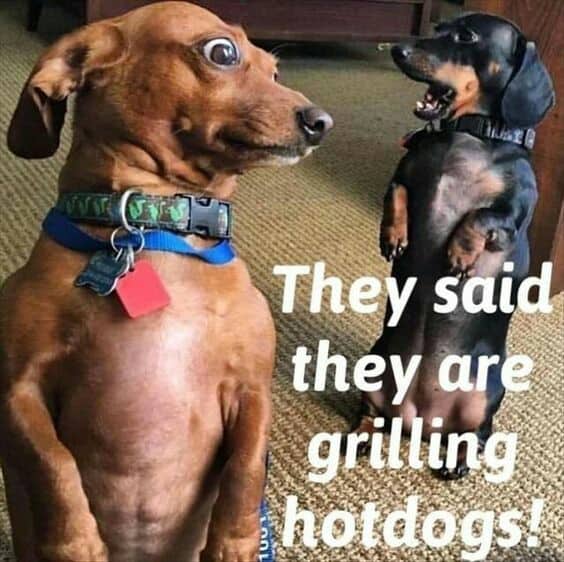 They said they are grilling hotdogs!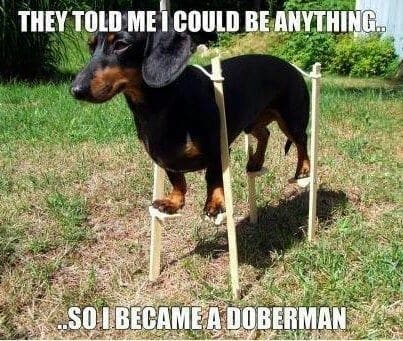 They told me that I couold be anything… So I became a doberman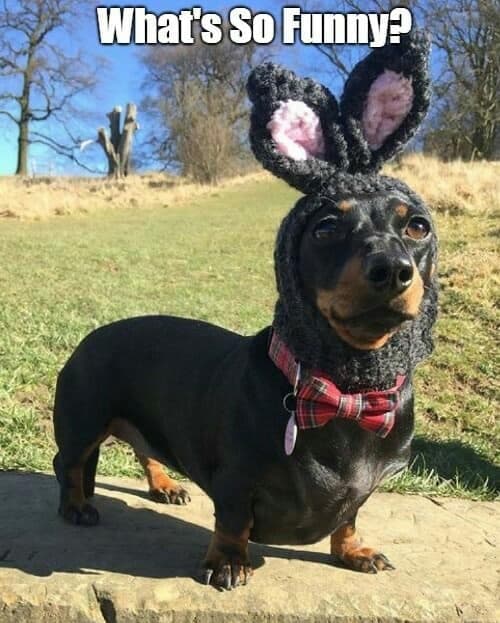 Wait, are you messing with me?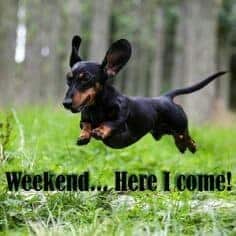 Weekend… Here I come!
Hilarious Dachshund Pun Memes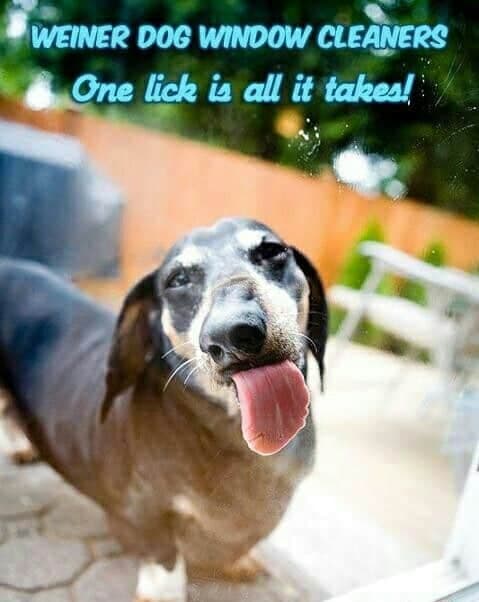 Dachshund dog window cleaners one lick is all it takes!
Well, I'm off to Walmart.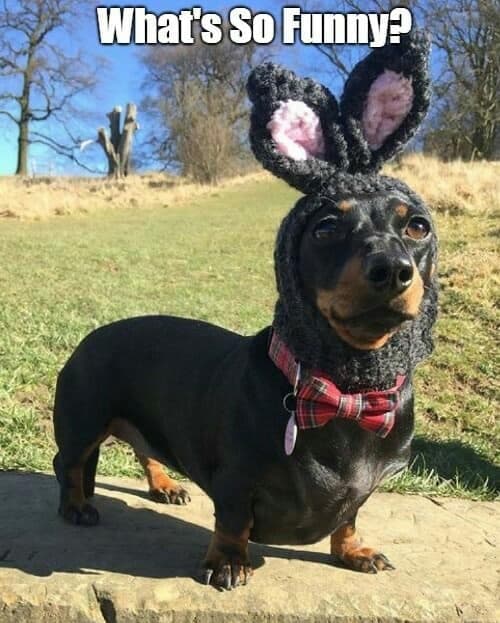 What's so funny?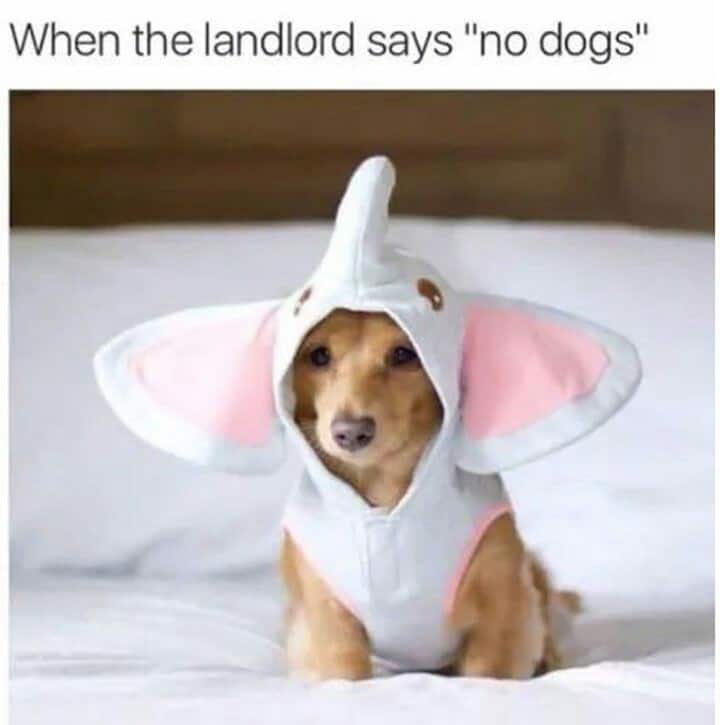 When the landlord says "no dogs"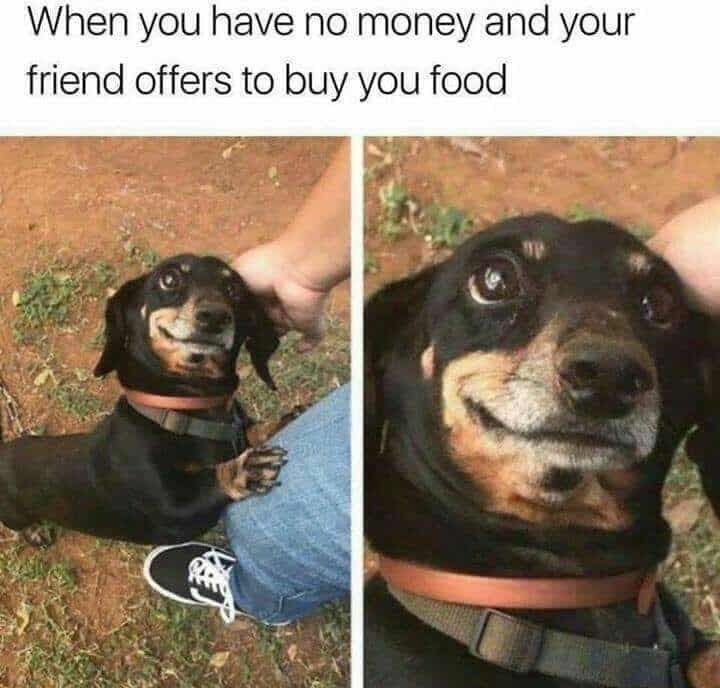 When you have no money and your friend offers to buy you food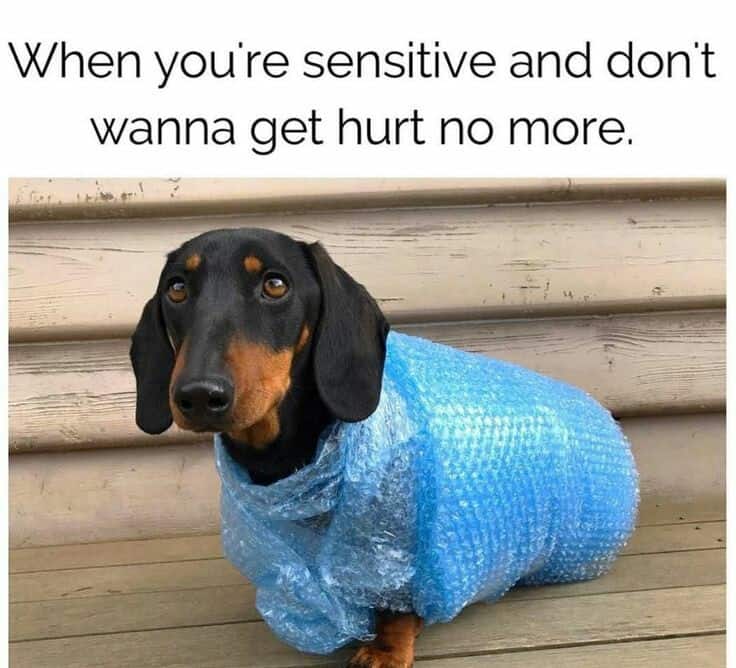 When you're sensitive and don't wanna get hurt no more.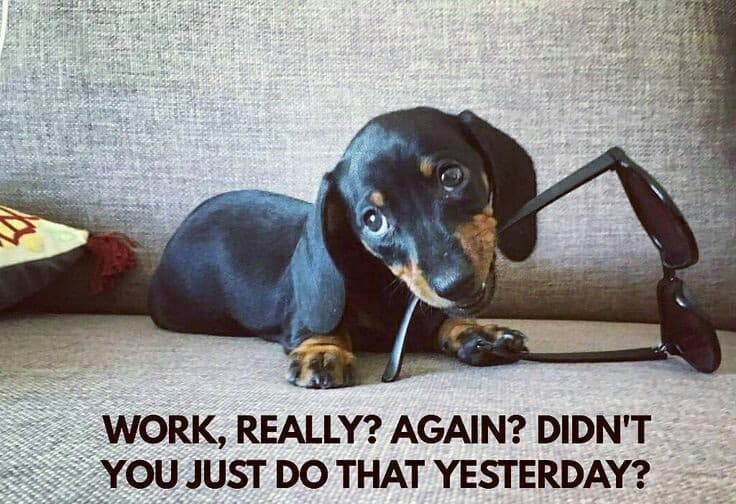 Work, really. again. didn't you just do that yesterday?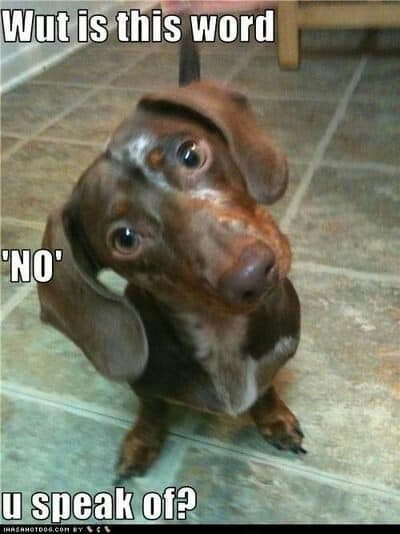 Wut is this word 'no' u speak of?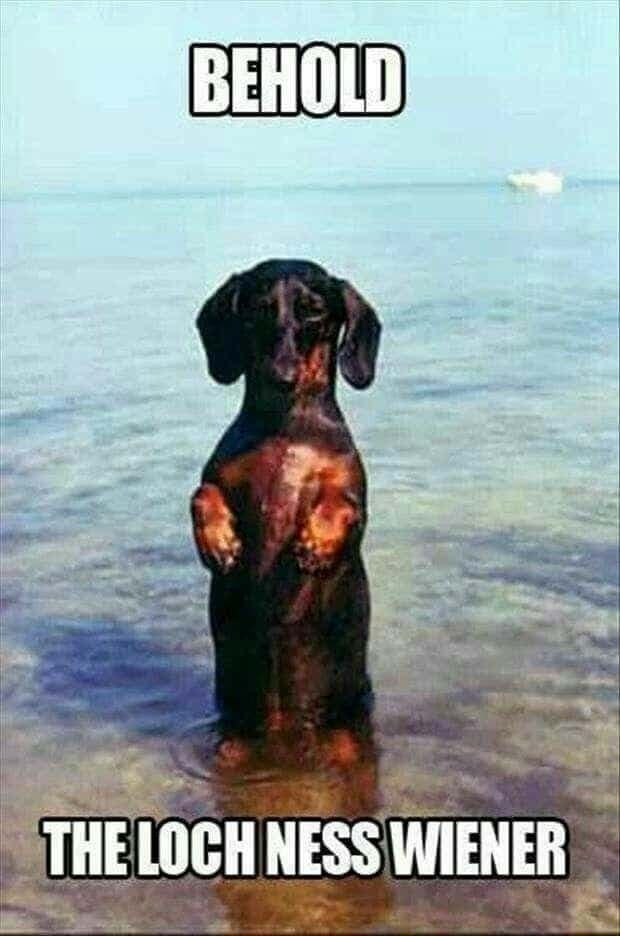 Behold the loch ness wiener
Dachshund Dog Memes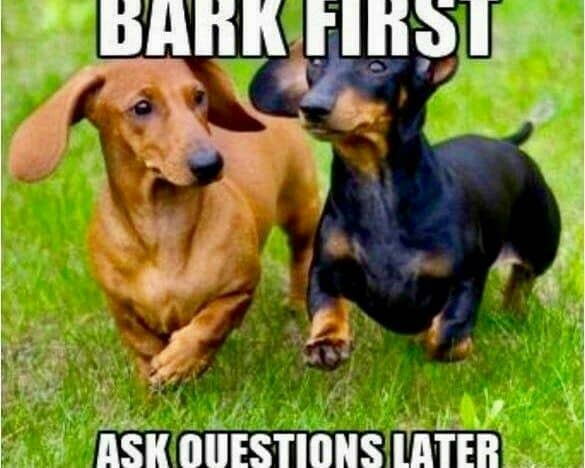 Bark First ask questions later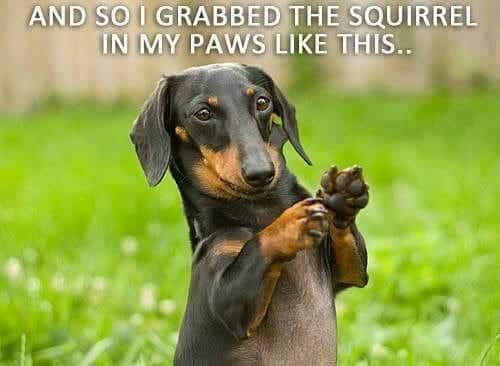 And so I grabbed the squirrel in my paws like this..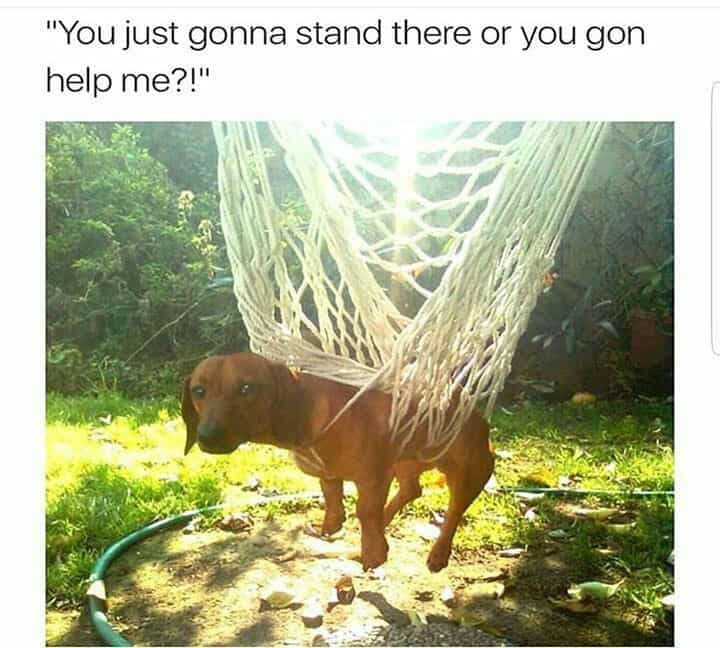 "You just gonna stand there or you gon help me?!"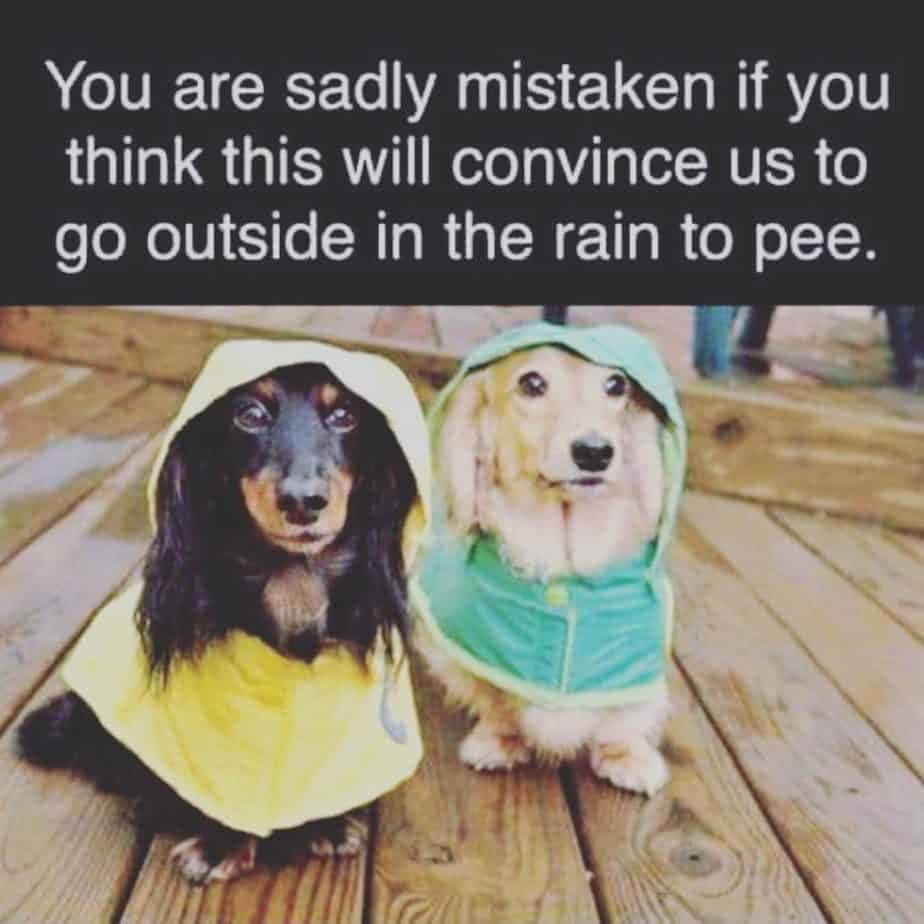 You are sadly mistaken if you think this will convince us to go outside in the rain to pee.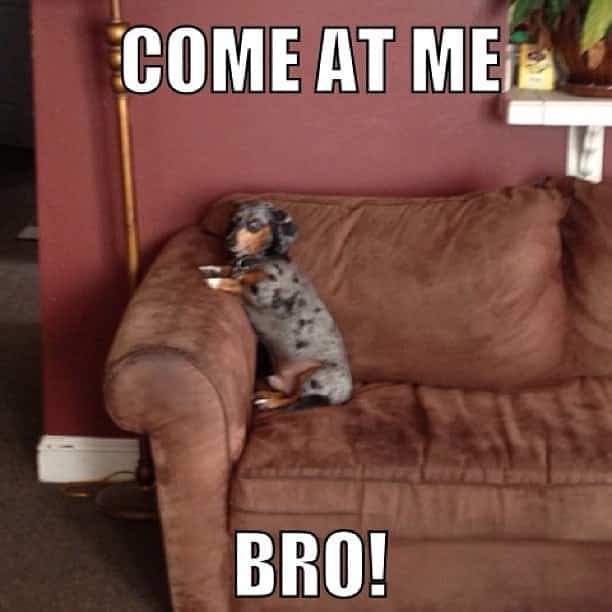 Come at me Bro!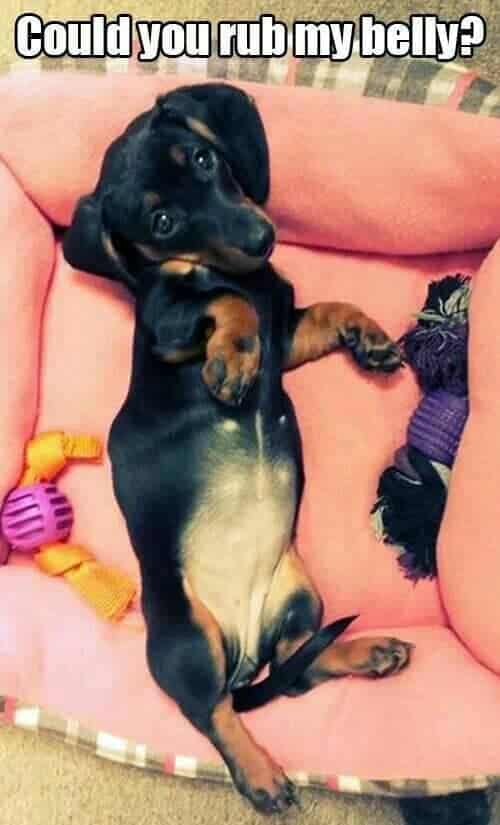 Could you rub my belly?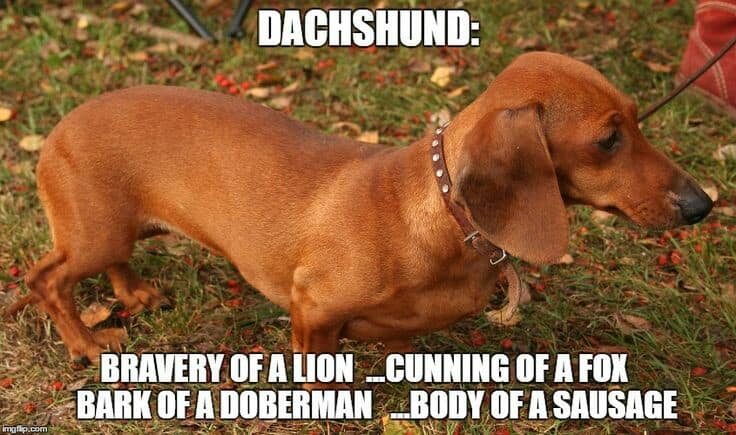 Dachshund: Bravery of a lion …cunning of a fox …bark of a doberman …body of a sausage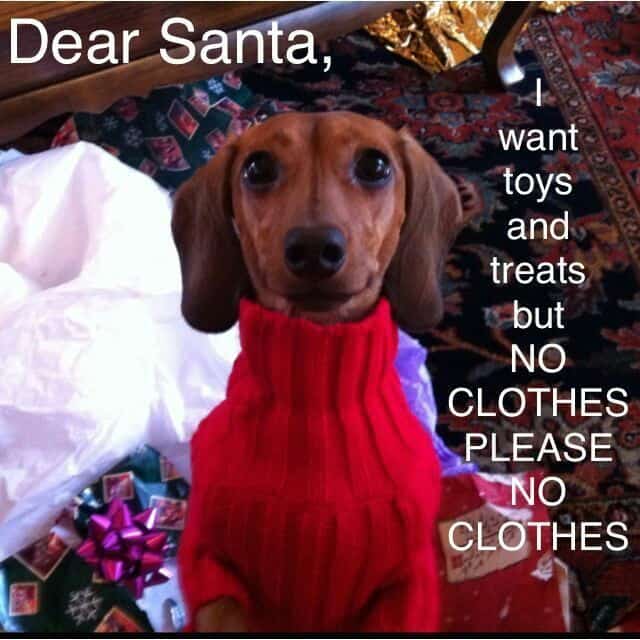 Dear Santa, I want toys and treats but no clothes please no clothes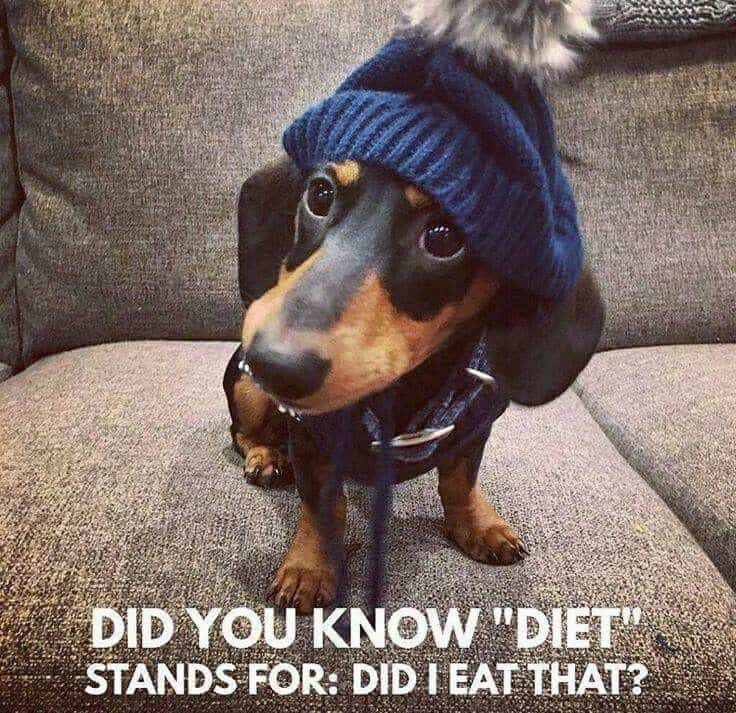 Did you know "diet" stands for: Did i eat that?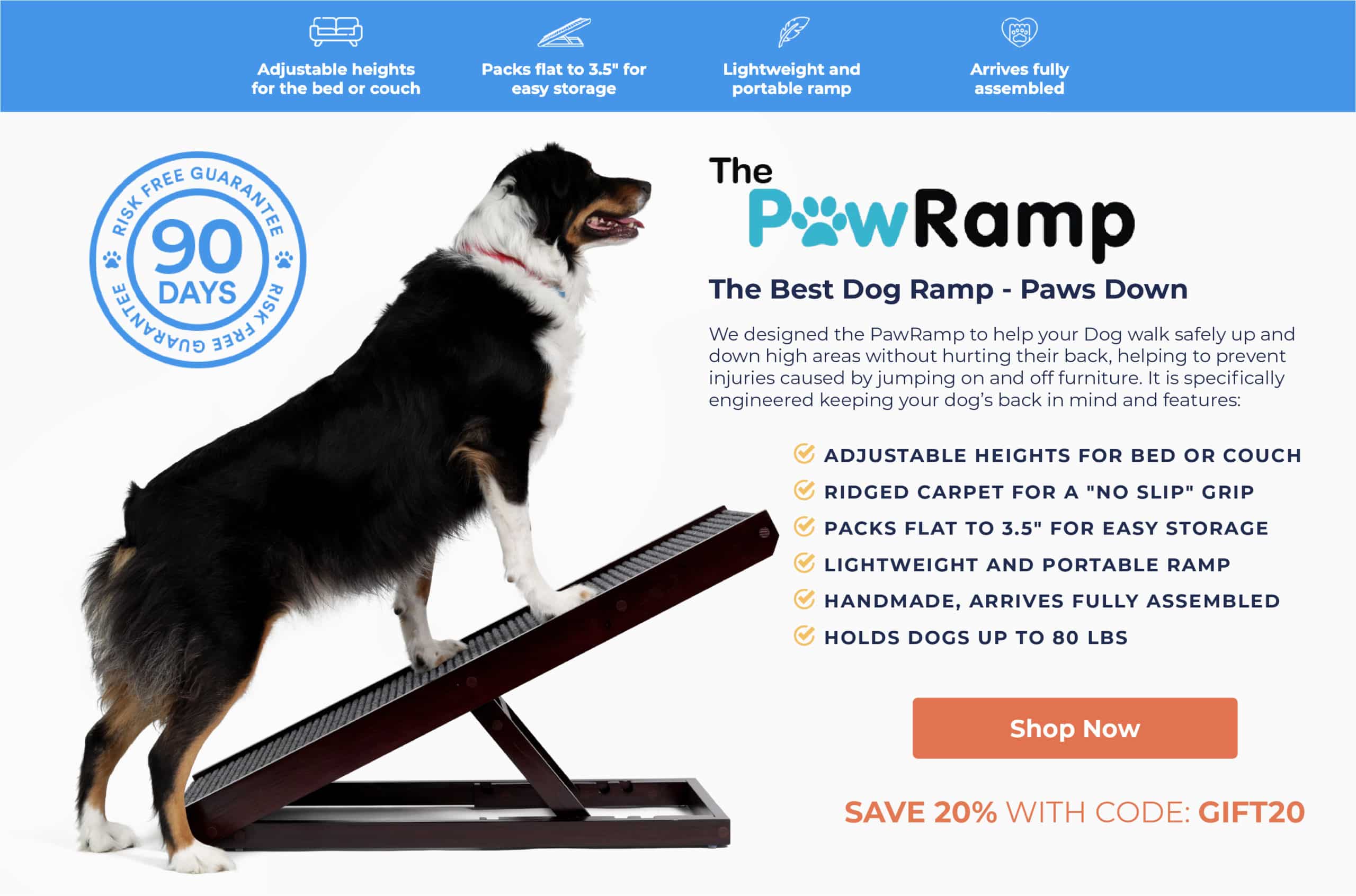 Share


Sours: https://www.alphapaw.com/blog/dachshund-memes/
Spread
Two days later, Twitter user @sindivanzyl tweeted the photograph with the caption "🔥🔥🔥." The post received more than 24,000 retweets and 94,000 likes in three days (shown below, left).
That day, the Twitter posted an image of a dog wrapped in a sweater under a magazine parody of Vogue magazine called "Dogue." The post received more than 1,200 retweets and 8,600 likes in three days (shown below, center).
Following the second post, people began making jokes about the image, joking about the wealth of the dogs. Entertainment Weekly reporter Dana Schwartz tweeted, "These dogs are the villains in a movie where a golden retriever wins a snowboarding tournament." The tweet received more than 37,000 retweets and 190,000 likes in two days (shown below, right).
On December 23rd, Twitter published a Moments page on the photograph. That day, The Daily Dot covered the photograph in a listicle.
Sours: https://knowyourmeme.com/memes/turtleneck-sweater-dogs
Who Are These Dogs Wearing Turtlenecks?
Photo: ultra.f/Getty Images
Over the holiday, an image of two Greyhound dogs wearing matching turtleneck sweaters went viral on Twitter. Their striking looks provoked a number of comments online, but their origin was a mystery. Who are they? And how did they get so stylish?
The viral tweet was the work of Dr. Sindisiwe van Zyl, who goes by @sindivanzyl on social media. When I reached out to her on Wednesday, she was eager to help but admitted that she did not take the original photograph and has no idea where it came from. All she knows is that she saw the image somewhere on her Twitter feed. Eventually, I traced it back to a Turkish user named @atabenli, who tweeted the image the day before with a caption that translates to, "The weather is really cold." I've since reached out to him as well, but the image could be many years old.
"I love fashion and I remember looking at those dogs and thinking, They look HOT!" wrote van Zyl in an enthusiastic email from South Africa, where she is based. On Friday, she tweeted the image with three "fire" emojis to her 94,3000 followers and carried on with her day. (Van Zyl is a doctor who mostly uses social media to spread awareness on subjects other than dogs in turtlenecks, namely HIV-related information.)
"South Africa Twitter made a few jokes and we LOL-ed," recalls van Zyl. "A few hours later my mentions started going crazy; the tweet had crossed the Atlantic!"
It's true. The tweet made it to my personal Twitter feed on Christmas Eve, three days after van Zyl originally sent it. It's since garnered almost 100,000 likes and 25,450 retweets to date. It's also been deemed a Twitter "Moment," and spawned infinitely more memes.
There are many things that strike me about this image. When I first saw it, I hadn't changed out of my pajamas in two days, and the Greyhound dogs looked devastatingly elegant by comparison. They are tall and slim, with impeccable posture that makes them appear as if they're looking down at you. The winter season has not made them lazy blobs, but rather erect and curious explorers with excellent core strength.
These dogs also have expensive taste. Their turtlenecks are thick and expertly tailored to their bodies — something a human being like myself would have to pay a lot of money for. According to Rachael Staples, who runs a New Zealand–based luxury dog-knitwear company called Mr. Soft Top, the dogs' sweaters are unique because they cover their hind legs. Based on the prices of other, less-luxurious sweaters for smaller dogs, one can guess that these would cost at least $100.
As many Twitter users pointed out, the Greyhounds appear to be wearing trendy crossbody bags, or Clout Packs, in the photo as well. Based on their surroundings and the quality of their sweaters, they also are likely from somewhere in Scandinavia. (They probably even know how to pronounce hygge.) Yes, these dogs are everything you and I are not right now, which is why this image of them has spawned just as much admiration as disdain.
"These dogs look like the two soccer moms that judge other moms at every event regardless of if their kid is there or not," someone tweeted.
"These dogs are watching the barista make their pumpkin spice lattes intently. They'll want to speak to a manager soon," wrote another.
Jokes were made about avocado toast, Pilates, iced coffee, shopping at Whole Foods, and Ivy League schools. The Daily Maileven called the dogs "Pretentious-looking" and "Stuck-up."
"This image has been [retweeted] onto my timeline all day and I can't stop thinking about how it looks like two chic lesbian CEOs dropping their son off at school," concluded a third, very astute person.
"I definitely got a 'We're hoity-toity' vibe from them," said van Zyl, followed by three laughing-so-hard-I'm-crying emojis. Her favorite response was this one: "These dogs don't bark they björk."
From where I was sitting, the general consensus seemed to be: These dogs are pretentious assholes. Sure, if I were to place them on a turtleneck alignment chart, I'd say they were "Lawful Evil." But who doesn't love a dog in a turtleneck, besides maybe the dog himself? As someone who wears turtlenecks every single day all winter long, these negative characterizations seemed somewhat unfair to me. These dogs are cold! But perhaps I'm blinded by my own biases. Maybe these dogs really are pretentious assholes.
To get to the bottom of this, I needed to find out who these Greyhound dogs truly were, and if I could even call them that. I did reverse Google image searches and TinEye searches, and even got the Cut photo team on the case. Dr. van Zyl asked her followers if they could find the original. Nothing. I did find them under an old meme template for "Whitest dogs ever." I combed Reddit, and found the image on a few Photoshop discussion boards, but there was no indication that these dogs were fake. There was also no indication that they were real, either. (If you know more, please tell me.) It's almost as if they were immaculately conceived on Twitter, making this not a case of good or evil, but a true turtleneck miracle.
In that spirit, let us adore Them.
Update: The dogs live! And they have names! A viral tweet from @DanaSchwartzzz made its way back to the owners, who reached out to her on Christmas. "Thanks for making us famous, from Adiza and Bani," read the email subject. Their owner's name is Inez, and she hails from Norway. So, we were right about Scandinavia. Plus, Adiza and Bani don't sound like pretentious names. According to Inez, they are "proud but cool" about their instant fame. Miracles abound!
Stay in touch.
Get the Cut newsletter delivered daily
Who Are These Dogs Wearing Turtlenecks?Sours: https://www.thecut.com/2018/12/dogs-wearing-matching-turtlenecks-meme.html
What Da Dog Doin? All Endings
18++ Jeeves Dog Memes
By Sumi Tuesday, June 9, 2020 Edit
Old Money Dog Memes Quickmeme
125 Pet Memes That Will Surely Melt Your Heart Geeks On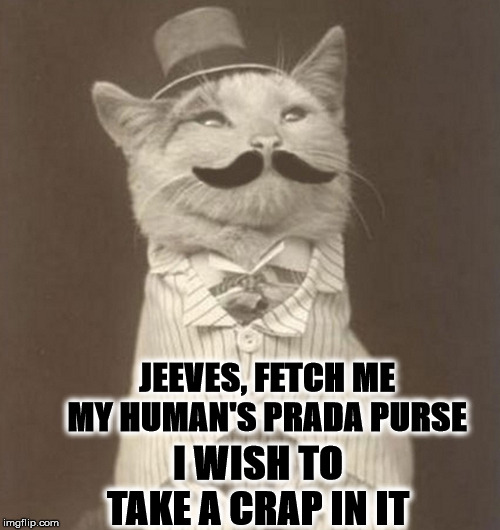 Jeeves Memes Gifs Imgflip
30 Cat Vs Dog Memes To Prove Who S The Boss Catmemes
25 Best Memes About Fancy Dog Meme Fancy Dog Memes
The World S Best Photos Of Jeeves Flickr Hive Mind
Million Cat Challenge Home Facebook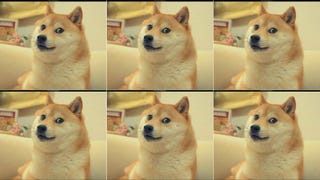 For The Love Of Doge Please Do Not Get A Shiba Inu
Jeeves I Ll Take Tea Now I Has A Hotdog Dog Pictures
25 Best Memes About Cat Meme Jeeves Cat Meme Jeeves Memes
New Fancy Dog Memes Where Memes How I Sleep Memes
25 Best Memes About Jeeves And Wooster Jeeves And
25 Best Memes About Jeeves Cat Jeeves Cat Memes
25 Best Memes About Dog Attorney Meme Dog Attorney Memes
Jeeves Wikipedia
Jeeves And Wooster Memes Crazy Memes
Jeeves Open The Door I Do Believe That Squirrel Is Taunting
Wait This Isn T Ask Jeeves
Sophisticated Memes Image Memes At Relatably Com
Dopl3r Com Memes Jeeves Fetch Me My Pillow I Mean To
I Perceive Your Old Money Dog And Wish To Bring Aristocat Up
25 Best Memes About Whos The Boss Whos The Boss Memes
Monty And Jeeves Accessories Brisbane Queensland
11 Best Dog Memes Images Dog Memes Memes Dogs
Jeevesbring Me Your Favourite Shoes Iwish To Barf In Them
Oh My That Looks Quite Delicious Indeed Memebase Funny
25 Best Memes About Jeeves Jeeves Memes
Arisocat And Old Money Dog
Dapper Dog Logic Owned Com
25 Best Memes About Cat Meme Jeeves Cat Meme Jeeves Memes
Sours: https://factorymeme.blogspot.com/2020/06/18-jeeves-dog-memes.html
Dog meme fancy
150 Funny Dog Names for Your Hilarious Pet
If you've got a silly streak, you'll want to think beyond the basic dog names like Spot, Buddy, or Bella. We sampled some of the best comedic, political, sports, and pop culture inspirations to create this list of punny, funny dog names for both girl and boy dogs. 
Survey the list and see if you can find a match for your dog's personality, keeping in mind that the longer, more elaborate a dog's name is, the less likely your dog will have a clue it's his. When creating a completely over-the-top name, you'll want to shorten it to a single syllable (or two) for daily use. A sweet and sassy Lucille Ball might be called Lucy, for instance.  
Whether you find inspiration in irony and wordplay or a character that cracks you up, let this list inspire you to find a name that will make you smile.
Funny Names for Male Dogs
Freddie Mercury
Mister Miyagi
Butter Face
Carl Spackler
Eddie Haskell
Screech
Uncle Buck
Ricky Bobby
Mrs. Doubtfire
Kramer
Funny Names for Female Dogs
Kitty
Mouse
Grandma
Spanx
Lady Rover
Moneypenny
Miss Havisham
Sally O'Malley
Suffragette
Slingback
Funny, Punny Dog Names
Groucho Barks
Bark Twain
Kanye Westie
Mary Puppins
Jimmy Chew
Snoop Dog
Dogzilla
Pup Tart
Chew-barka
Little Bow Wow
Credit: TJ_Kloster / Getty
Funny Names for Black Dogs
Black Hole
Black Friday
Black Ops
Black Sabbath
Black Swan
Black Tie
Blackjack
Black and Tan
Black and Decker
Black Betty
Funny Names for White Dogs
White Fang
White Noise
White Board
White Bread
White Claw
White Castle
White Elephant
White Gravy
White House
White Knight
Funny Dog Names Based on TV Characters
Pikachu
Fonzie
Homer
Cartman
Urkel
Phineas
Liz Lemon
Tootie
Sookie St. James
Kimmy Schmidt
red mini dachshund sitting in living room
Funny Dog Names Inspired by Presidential Pets
Sweet Lips and Drunkard (Washington)
Satan (Adams)
Grizzle (Jefferson)
Le Beau (Tyler)
Punch (Buchanan)
Fido (Lincoln)
Juno and Shep (Hayes)
Veto (Garfield)
Hector (Cleveland)
Dash (Harrison)
Sailor Boy (Roosevelt)
Laddie Boy (Harding)
Boston Beans (Coolidge)
Weegie (Hoover)
Murray the Outlaw of Falahill or Fala (FDR)
Feller (Truman)
Clipper (JFK)
Him and Her (Johnson)
Liberty (Ford)
Grits (Carter)
Millie (George H.W. Bush)
Miss Beazley (George W. Bush)
Funny Dog Names Inspired by Book Characters
Katniss Everdeen (The Hunger Games)
Sherlock Holmes
Bilbo Baggins 
Peter Rabbit
Moby Dick
Hester Prynne (The Scarlet Letter)
Jane Eyre
Willy Wonka (Charlie and the Chocolate Factory)
Zuri (Pride)
Walter Lee (A Raisin in the Sun)
Funny Names for Little Dogs
Mac Daddy
Chuck Norris
Marshmallow
Pee Wee
Chunk
Chickpea
Porkchop
Cocoa Puff
Tic Tac
Zipper
Funny Names Based on Dog Characters in Movies
Toto (The Wizard of Oz)
Slinky Dog (Toy Story)
Bruiser (Legally Blonde)
Butkus (Rocky)
Winky (Best in Show)
Nutmeg (Isle of Dogs)
Rowlf the Dog (Muppets)
The Tramp (Lady and the Tramp)
Frankenweenie (Frankenweenie)
Gidget (Secret Life of Pets)
Puffy (Something About Mary)
Spitz (Fantastic Mr. Fox)
Verdell (As Good As It Gets)
Harvey (E.T. The Extra Terrestrial)
Sh*thead (The Jerk)
Hooch (Turner & Hooch)
Chance (Homeward Bound)
Scrappy Doo (Scooby Doo)
Jerry Lee (K-9)
Snots (National Lampoon's Christmas Vacation)
white maltese puppy running through fall leaves
Credit: White_bcgrd / Getty
Funny Dog Names Inspired by Your Favorite Toys
G.I. Joe
LEGO
Barbie
Hot Wheels
Betty Spaghetty
Paddington
Jenga
Candy Land
Polly Pocket
Betsy Wetsy
Micro Machine
Lite Brite
Funny Dog Names Inspired by Professional Athletes
(Yes, these are real people!)
World B. Free (NBA)
Razor Shines (MLB)
God Shammgod (NBA)
Boof Bonser (MLB)
Ron Tugnutt (NHL)
Bake McBride (MLB)
Guy Whimper (NFL)
Wonderful Terrific Monds Jr. (NFL)
Dick Butkus (NFL)
Dick Trickle (NASCAR)
Larry Playfair (NHL)
Milton Bradley (MLB)
I.M. Hipp (NFL)
Stubby Clapp (MLB)
Tommy Gunn (NCAA Basketball)
Austen Powers (NCAA Basketball)
Sours: https://www.dailypaws.com/dogs-puppies/dog-names/funny-dog-names
Dog Pet Puppy Pomeranian Grooming Teddy bear style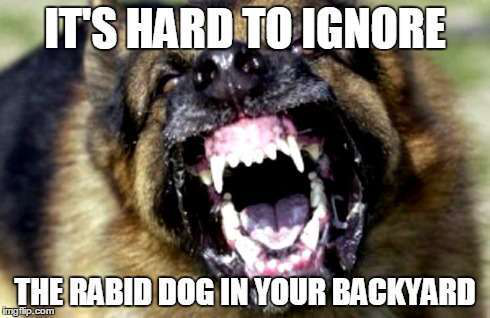 I like words. I'm one of those people who collect and hoard them, I was that way about words before I wrote for a living. I have friends of the same ilk, they often call us "nerds" when we're seen together in groups, but my friends never fail to share great words with me.
My best bud Robin is a word nerd. She's also my hair stylist and has been for 20-some years. It was in her and her husband Michael's very shop (shout out to Strands, in Fairborn, Ohio!) that The George & Wendy Show began, oh so long ago. I actually worked for the Chaneys as a nail tech, and happened to have a very nice customer named Mrs. Parker. Her son George, who happened to be a strapping young redhead with an extremely engaging smile, came to visit her from Arizona and popped in for Robin to cut his hair while his mom was having her nails done. After he left, I was forward enough to tell Mrs. Parker I wanted to go out with her son and she was forward enough to call him up and tell him she had a date for him. The rest, as they say, is history. It's true. It's carved in the caves in France, it was so long ago…
Anyway, the last thing I do before leaving for 5-6 weeks is have my roots done, because I can't be traveling all around America with gross gray roots. Time is always so short when I'm preparing to leave, so Robin and I catch up while I'm getting de-rooted. It's nice to sit in the shop and bitch with Michael about the gubmint – the Chaneys are small business owners who take a lot of the same crappy hits we do as owner-operators. They have a service-oriented business and have to pay insurance premiums just like we do – there's a lot of common ground to gripe about.
We were talking about the transportation appropriations bill and the reason it's probably going to get vetoed, which got us on the subject of why: the HUD attachment on the rear end of it. We all agreed that being able to attach unrelated things to bills is akin to having your real estate agent tell you you have to take the rabid dog in the backyard with your dream home, which increases the cost by half, or you can't have it all.
I couldn't leave the shop without getting at least one good word from Robin, and she didn't disappoint.
Floccinaucinihilipilification (noun): the estimation of something as valueless / the action or habit of estimating something as worthless. As in: "99% of the data gathered by the FMCSA is a pile of floccinaucinihilipification that costs the taxpayer a gabillion dollars."
The word is used mainly as a curiosity, kind of like common sense in Washington, and is a compilation of four different Greek words, all roughly meaning "crap." I have to wonder what was so bad in Greek society that they needed a four part bad word for it, then I remembered the Greeks invented gubmint, and it all made sense.
Hey, by the way, your phone calls and letters helped defeat the (insurance-hike-related) Cartwright Amendment – there were 1,500 calls logged from South Carolina alone – and they all made a difference. Keep it up – we may not be able to control our gubmint, but we can sure as hell let them know how we feel, and sometimes, just once in a while, they listen.
Sours: https://www.overdriveonline.com/business/article/14888502/fancy-words-and-rabid-dogs
You will also be interested:
Fancy dog Meme Generator
What is the Meme Generator?
It's a free online image maker that lets you add custom resizable text, images, and much more to templates. People often use the generator to customize established memes, such as those found in Imgflip's collection of Meme Templates. However, you can also upload your own templates or start from scratch with empty templates.
How to make a meme
Choose a template. You can use one of the popular templates, search through more than 1 million user-uploaded templates using the search input, or hit "Upload new template" to upload your own template from your device or from a url. For designing from scratch, try searching "empty" or "blank" templates.
Add customizations. Add text, images, stickers, drawings, and spacing using the buttons beside your meme canvas.
Create and share. Hit "Generate Meme" and then choose how to share and save your meme. You can share to social apps or through your phone, or share a link, or download to your device. You can also share with one of Imgflip's many meme communities.
How can I customize my meme?
You can move and resize the text boxes by dragging them around. If you're on a mobile device, you may have to first check "enable drag/drop" in the More Options section.
You can customize the font color and outline color next to where you type your text.
You can further customize the font in the More Options section, and also add additional text boxes. Imgflip supports all web fonts and Windows/Mac fonts including bold and italic, if they are installed on your device. Any other font on your device can also be used. Note that Android and other mobile operating systems may support fewer fonts unless you install them yourself.
You can insert popular or custom stickers and other images including scumbag hats, deal-with-it sunglasses, speech bubbles, and more. Opacity and resizing are supported.
You can rotate, flip, and crop any templates you upload.
You can draw, outline, or scribble on your meme using the panel just above the meme preview image.
You can create "meme chains" of multiple images stacked vertically by adding new images with the "below current image" setting.
You can remove our subtle imgflip.com watermark (as well as remove ads and supercharge your image creation abilities) using Imgflip Pro or .
Can I use the generator for more than just memes?
Yes! The Meme Generator is a flexible tool for many purposes. By uploading custom images and using all the customizations, you can design many creative works including posters, banners, advertisements, and other custom graphics.
Can I make animated or video memes?
Yes! Animated meme templates will show up when you search in the Meme Generator above (try "party parrot"). If you don't find the meme you want, browse all the GIF Templates or upload and save your own animated template using the GIF Maker.
Do you have a wacky AI that can write memes for me?
Funny you ask. Why yes, we do. Here you go: imgflip.com/ai-meme (warning, may contain vulgarity)
Sours: https://imgflip.com/memegenerator/94077840/Fancy-dog
681
682
683
684
685