Rep Fitness Deluxe PR-5000 Power Rack Review
After a couple of months of thinking to myself that I really need to review the PR-5000; Rep Fitness' biggest and most nicely-equipped power rack; I finally stopped procrastinating and pulled the trigger on one. Well wouldn't you know it – now that I have one I kind of wish that I had done it sooner!
In any case, this is my review of the PR-5000 Power Rack.  In an effort to publish the most thorough and helpful review possible, I opted to buy the fully loaded PR-5000 with both the optional plate storage and a lat tower. My goal is to shed as much light as I can on both the full rack itself and its many accessories so that those of you who are considering this beast for your garage gym will know exactly what to expect. I will also be comparing the PR-5000 to the RML series of racks by Rogue towards the end of this review.
---
PR-5000 Review – Table of Contents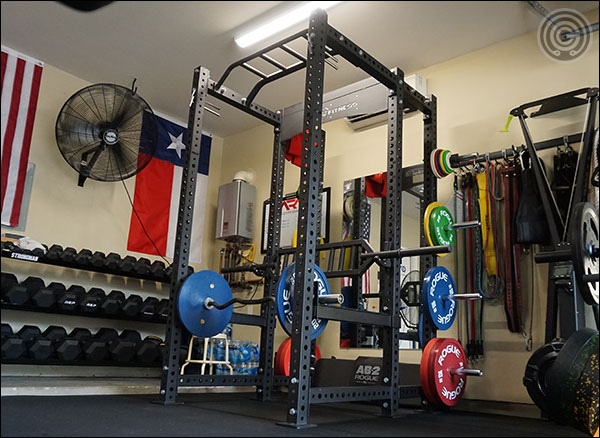 ---
Rep Fitness PR-5000 Power Rack – Specifications
Let's first get the specifications for the PR-5000 out of the way.  Let's also look at what you get when you order the PR-5000, and what your upgrade options are. Following these lists I'll get right into the review itself.
Base PR-5000 is 48″ wide x 36″ deep x 94″ high. *
Deluxe PR-5000 w/ weight storage is 48″ wide x 56″ deep x 94″ high. *
Interior working space of base PR-5000 is 30″ deep x 42″ wide.
Uprights and crossmembers are 11-gauge, 3″x3″ steel.
Total weight capacity of 1500-pounds.
5/8″-diameter hardware is used for assembly and for the band pegs.
1″-diameter holes with 2″ spacing throughout the bench and squat region are used for J-cups, safeties, and accessories.
The 1″-diameter holes have laser cut numbers (odd numbers: 1, 3, 5, etc.)
All flip down attachments are lined with UHMW to protect your uprights from damage.
Base price before safeties are added is $699 ($799 with default pin/pipe safeties)
Adding weight storage increases price by $399.
* foot plates stick out 1½" on every side increasing actual footprint by 3″ in both directions.
PR-5000 Power Rack – What You Get
(4) 3″x3″, 11-gauge, 92″ uprights.
(4) 3″x3″, 11-gauge, 30″ crossmembers.
(1) 11-gauge rear crossmember with Rep nameplate.
(1) Multi-grip pull-up bar with 1.25″ diameter grips (rearmost grip is 2″ wide.)
(2) Heavy-duty, sandwich-style J-cups with UHMW.
(16) concrete anchors
(4) 5/8″ band pegs
all necessary hardware for assembly.
Plate storage option adds: (2) additional uprights, (4) additional crossmembers, (8) chrome-plated weight storage horns, (8) concrete anchors, and additional assembly hardware.
Optional Accessories for the PR-5000
---
Rep PR-5000 Power Rack Review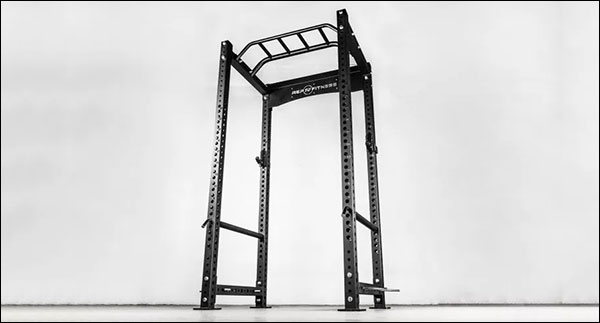 I'll just cut to the chase and let you know that the price, quality, and features of this rack are all outstanding. A $699 base price for a 3″ x 3″, 11-gauge rack that comes with upgraded J-cups, an upgraded pull-up bar, numbered holes, tall 92″ uprights, and even all the hardware needed to anchor the unit to the foundation is just incredible. The welds are great, the holes are all laser cut and line up perfectly, the hardware is beefy, and the black powder-coat is of a high quality.
Additionally, the option to choose your own safety system when adding the rack to your cart is a very under-utilized feature in the power rack world. Almost always you will be forced to pay for and accept ownership of a pair of pin & pipe safeties then pay full retail for whatever other system you really wanted; relegating those pin & pipes to a dark corner somewhere to collect dust.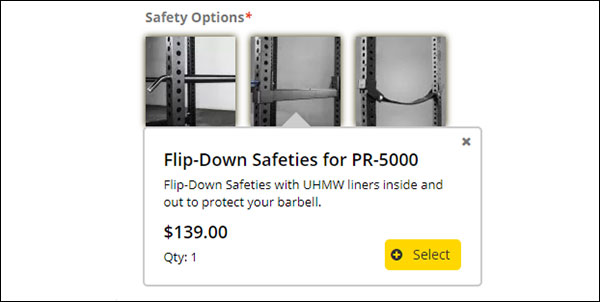 Prices on all the safety options and the other optional accessories seem reasonable. Matter of fact some of the prices are considerably lower than what you'd pay for like-products from other major brands, yet the quality seems to be about the same.
Rep's PR-5000 is easily one of the best deals out there for a full-size 3″x3″, 11-gauge high quality power rack. Even if you add the plate storage for $399, the PR-5000 is still a better deal than buying something like the RML-690.
Random…
One odd feature of the PR-5000 is the use of both 1″-diameter and 5/8″-diameter holes up the uprights and along the horizontal crossmembers.
The big 1″ holes run the length of bench and squat region and are used for J-cups, safeties, and most other accessories.  The 5/8″ holes can be found on the bottom 16″ and top 24″ or so of the uprights and are used for assembly hardware and band pegs. The crossmembers (horizontal) and side of the uprights even have an alternating pattern of 1″ and 5/8″ holes.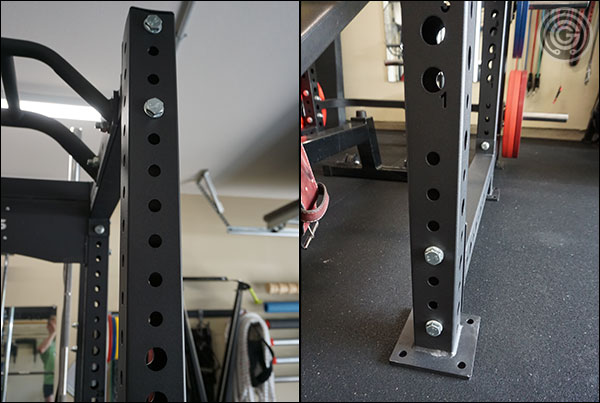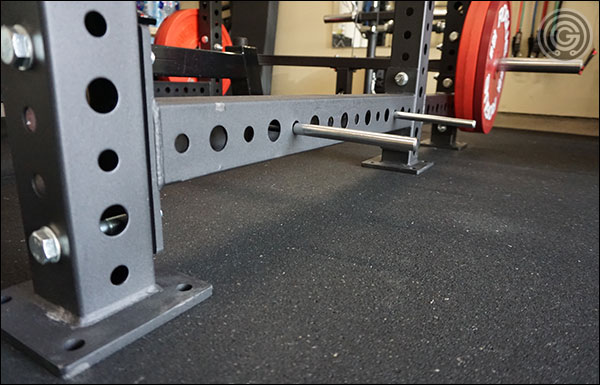 Now I don't think this strange hole structure has any impact on functionality as the 1″ holes go high enough for even the tallest of lifters to set their J-cups where they want them, but I sure don't get why this was done. It's not that it's bad, it's just puzzling.
Anyway…
Overall the PR-5000 is a beast and I have no complaints about it. It's strong, tall, functional, and even attractive. The crossmembers are of a good length so the rack doesn't take up an unnecessary amount of floor space (both with the base rack and plate storage option),  and the rack isn't lacking any of the usual accessory options. In addition to all of this the price is just great; extremely competitive.
As a side note, the packaging was done very well. All boxes were thick and protective, and everything was wrapped in plastic and packed in a way that made sense. I had no damage to any boxes and no damage to any components.
---
Deluxe PR-5000 – Plate Storage Upgrade Review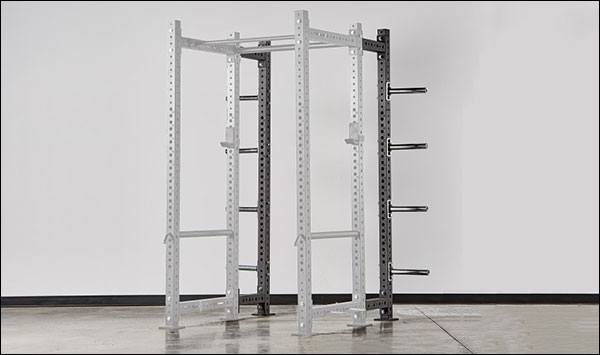 The plate storage upgrade is simple and solid. It consists of four more 3″x3″ crossmembers, two more 3″x3″ uprights, and eight chrome-plated plate storage horns with welded end caps (rather than being those cheap plastic caps that tend to pop out.) The storage package also ships with eight more concrete anchors.
There isn't much to say about this portion of the rack. It's the same build quality as the rest of the PR-5000 and it does what it's supposed to do without taking up an excessive amount of additional space. The crossmembers are only 20″ long (just about the minimum length to keep stored plates out of range of your loaded barbell), the plate storage horns bolt on with 5/8″ bolts rather than being cheap flip-down weight horns, and their 12″ length is more than long enough to hold a ton of plates per horn.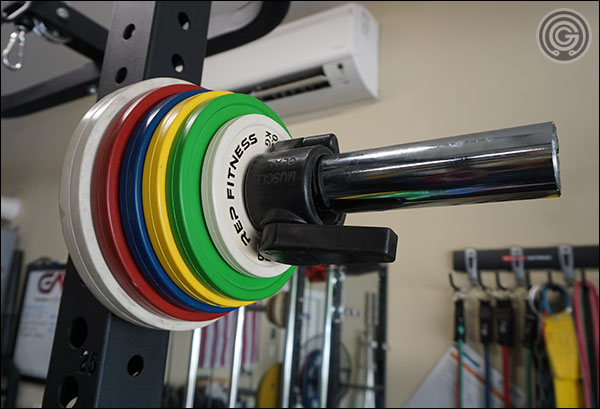 If you added the optional lat tower,  you can attach that to the rear of the storage section in exactly the same way you'd attach it to the rear of the base rack. I have nothing negative to say about this portion of the PR-5000.
---
Rep PR-5000 Accessories Review
I don't have every single accessory to review individually, but I will talk about the handful of them that I do have.
Sandwich J-Cups
As I've mentioned, the PR-5000 ships with sandwich-style J-cups rather than basic J-cups. Sandwich cups are great; much stronger than basic cups and just as easy to use. Including these in the base PR-5000 is a nice touch.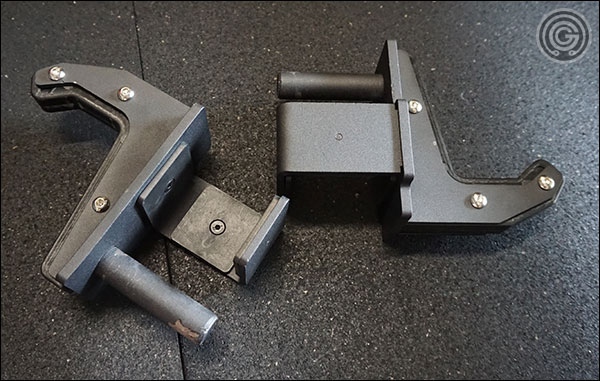 Not only is the center, sandwiched section of these J-cups a block of solid UHMW – which obviously protects your bar from damage – but the inside of flip-down portion of the cup is also lined with UHMW. This serves to protect your uprights from chips and scratches.
The Sandwich J-Cups are solid, and I have only good things to say about them.
Flip-Down Safety System
Flip-down safeties are by far my favorite; I personally prefer them over straps, spotter arms (though they are more of a squat rack-style safety), and definitely more than the pin and pipe safeties. I was very excited to see Rep offering flip-downs as one of the safety options.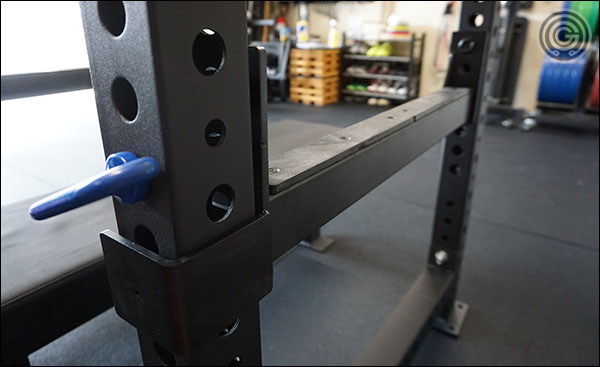 Like the J-cups, the flip-down safeties are lined entirely with UHMW, and also like the cups, so is the interior of the flip-down portion that wraps around your uprights. These are simple to use and move around, they are strong as heck, and they come with a giant 1″ detent pin for preventing any movement of the safeties when in use.
I love these and highly recommend them over the pin and pipe safeties, and it will cost you only $39 to upgrade to these from pin and pipes. Do it!
Multi-Grip, Dual-Diameter Pull-up Bar
This accessory is your typical elevated, multi-grip pull/chin-up bar with 1.25″-diameter grips. It has the normal four rungs for neutral chin-ups and two parallel bars with both leveled and angled grips.  The one thing that sets Rep's multi-grip bar apart from the others out there is that the rear long bar is a fat bar (2″-diameter). This is another nice touch by Rep Fitness.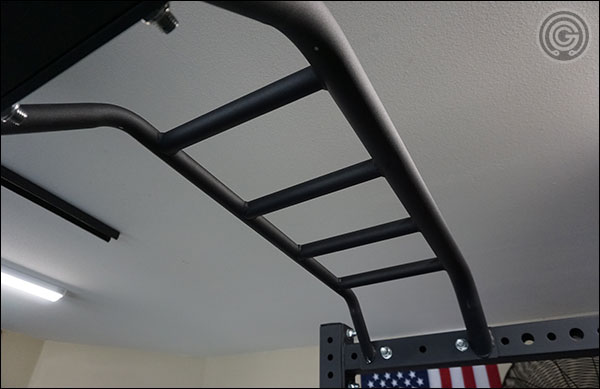 Interestingly enough, I have nothing negative to say about this product either. Better still, it is included in the base power rack so you don't even have to pay extra for it.
Dual Barbell-Hanger
The Dual Bar Hanger is a straight-forward accessory. It mounts to any upper crossmember and can vertically store any two barbells with Olympic sleeves.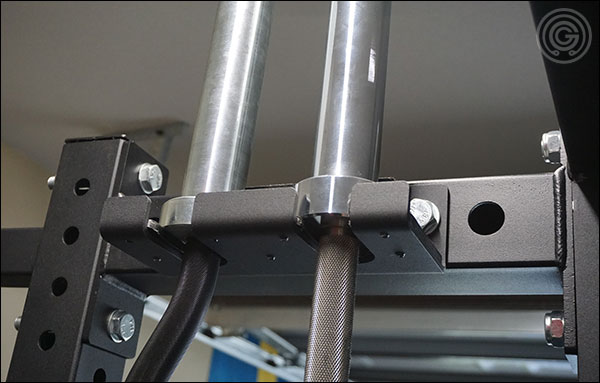 Keep a couple things in mind if you want to add this accessory.  First, make sure you have the ceiling clearance for something to stick up about 15″ beyond the top of the already high PR-5000. Second, even if you have the needed clearance, make sure to choose a location on the rack that won't cause the bar to be in the path of your opening/closing garage door.
I really like this accessory and have considered adding another one. The price isn't too bad and it sure is super convenient to store bars on a rack since that requires no additional floor space. I highly recommend this if you don't already have bar storage.
Other Accessories
I've taken a look at the other accessories (the ones I don't own), and based on my feelings on the four that I have and what I see in the individual product descriptions of the remaining half dozen or so, I do not see any red flags. Everything looks solid, and the prices are lower than or at least comparable to Rogue's; with the exception being that the dip station is a few bucks more than a Matador.
If you have the PR-5000 and any of the accessories that I don't and would like to contribute your own feedback, please feel free to do so in the comments.
---
Review of the PR-3000/PR-5000 Lat Tower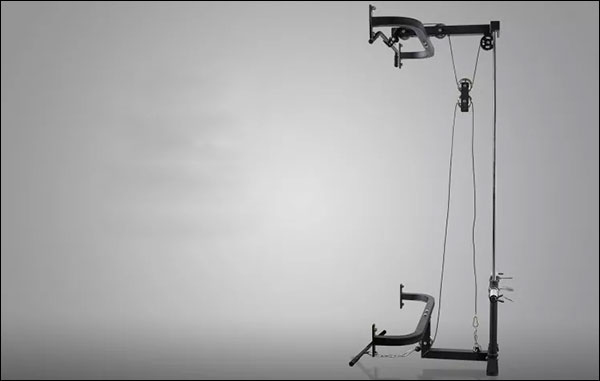 Ahh the highly anticipated lat tower portion of this review. Here we go!
I believe the lat tower attachment is great and worth buying in some situations, but I think it needs a little bit of work for it to be perfect. Before I get into all that, here are the things that I like about it:
It's a quality attachment; better than the others I've used before. It has a strong frame, it utilizes aluminum pulleys instead of plastic, and it features a dual-rail system instead of just a single piece of 2″x2″ tubing.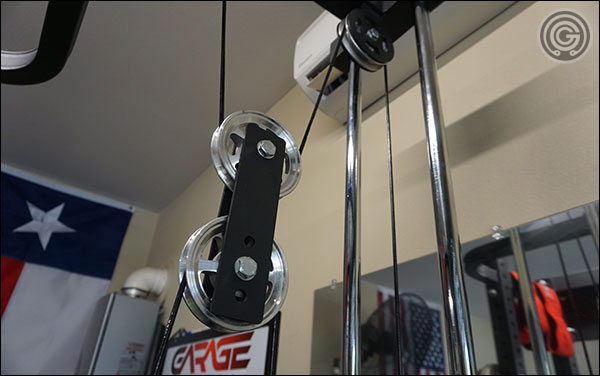 It appears to handle quite a bit of weight while remaining smooth throughout a full range of motion. The dual guide rails definitely contribute to this smoothness.
The range of motion is fairly substantial; no complaints there.
The $299 price tag is reasonable. You couldn't get a lat/row tower for this kind of money elsewhere. Not a decent one anyway.
The 8″ length of the weight horns is more than adequate for this application,  and they can handle cast iron, bumper plates, and even calibrated plates (unlike some others).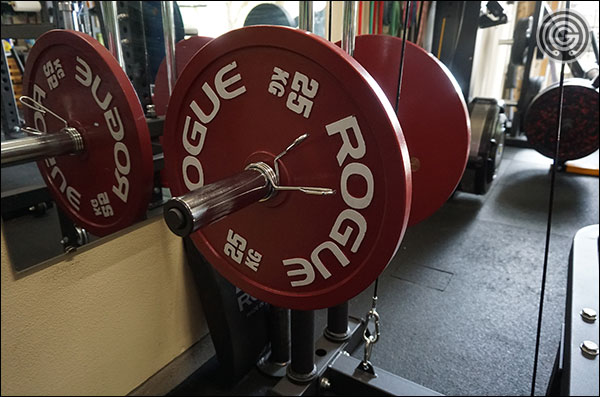 If you add it to your PR-5000 order you basically get the shipping for free (adding more weight to an existing pallet doesn't tend to impact freight cost much or at all.)
It does not stick out above the rest of the power rack like some other towers do so you don't have to worry about needing additional clearance.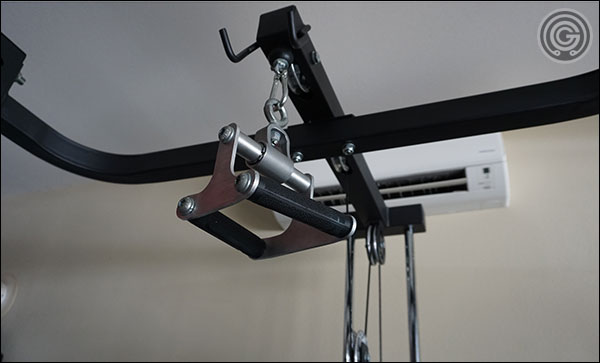 It can be installed to any version of the PR-5000, and even the PR-3000.
Now here are a few things that could potentially be improved.
The tower takes up an unnecessary amount of floor space; sticking out 30″ beyond the rear of your power rack. In order to load weights you need to leave another good 8″ or so between it and your wall. It's a major space commitment.
The lower portion of the frame sits so high off of the ground that when low rowing there is literally no where to place your feet unless you spread eagle and use the uprights.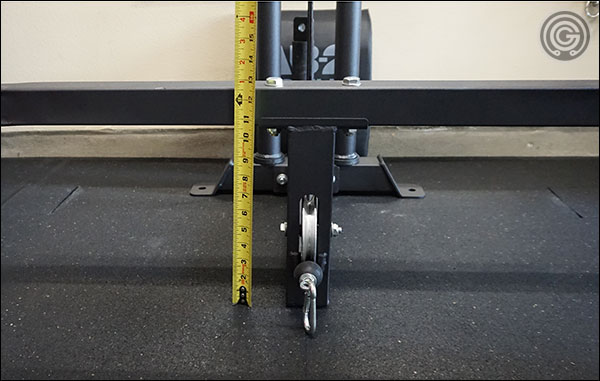 Add to the previous issue that just about all rack-mounted lat towers lack the necessary equipment to pin ourselves to the bench for heavy lat pulldowns (knee pads).
The assembly instructions need a little work. Patience is required.
Like to see your pump and/or your form? Lat towers seriously obstruct the view to your mirror if you have one.
We don't actually know how much weight this lat tower can even handle.
When it really comes down to it only two of these cons listed truly bother me:
First is the amount of space it takes up. It really does require a lot of floor space; especially if you have the plate storage as well. It basically makes the Deluxe PR-5000 8-feet long – a lot longer than I think most people have space for in a garage gym.
The second thing is the lack of footplate for low rows. Normally you can just use the beam that attaches the lat tower to the power rack, but in the case of Rep's that beam is just way too high off of the ground. There is literally no where to put your feet save for the uprights (Rep Fitness told me that they are addressing this but you'll have to come up with your own solution to this problem for the time being.)
So would I recommend the lat tower?
I'll likely continue to use my Powertec for cable movements, but I still think it's a good buy if you have the space for it and don't have another option like I do. It's solid, and workarounds for the lack of footplate do exist if you're creative enough, and who knows, perhaps Rep will offer the footplate fix at a good discount for first-adopters of this attachment.
Is this lat tower compatible with your non-Rep power rack?
No, it's not, and I don't suggest buying this attachment for a non-Rep power rack.
---
Rep PR-5000 vs Rogue RML Series (and RM Series)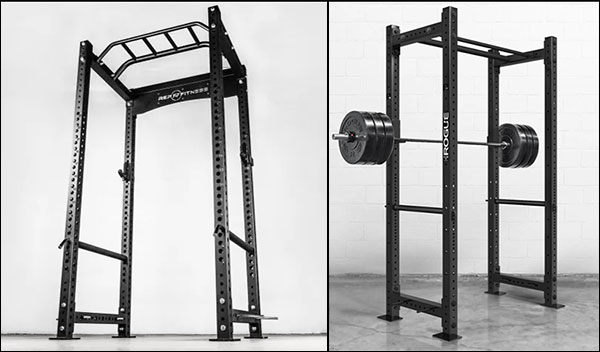 It terms of comparing the PR-5000 to a Rogue rack, the RML-390C with optional 30″ depth is the closest thing that Rogue offers*. Both of these racks have a very similar footprint and same inside working depth, both are made with the same 3″x3″ 11-gauge steel tubing, and both are assembled with 5/8″ hardware.  There are still some differences though; which I'll cover below.
* There is no non-colored (C) RML-390, and the RML-3 (Lite R-3) is a smaller, 24″ depth power rack.
Rogue RML-390C
The 30″-deep RML-390C ships with basic J-cups, band pegs, and a pin-pipe safety system. The 390C has the advantage of being offered in 10 different colors and it has Westside hole spacing, but it has the disadvantage of being more costly (base price of $935 vs $699). †

Rogue also doesn't allow you to select safety, J-cups, and pull-up options during check out. This means that if you want to upgrade to say sandwich cups, a multi-grip bar, or a different safety system, then you just pay for that upgrade outright; at full price. This basically means that you end up buying different versions of the same equipment twice.
For instance, the pin-pipe safeties are included in the $935 base rack price, but if you want to replace your pin-pipes with say, safety straps, well it will cost you another $185. You may not 'opt-out' of buying the pin-pipe safeties, and you may not put the value of those towards an alternate safety system.  Upgrading basic Rogue rack components (namely safeties and pull-up bars) does lead to previously paid-for equipment going unused in many cases.
Rep Fitness PR-5000
The PR-5000 ships with heavy-duty, sandwich style J-cups, a set of band pegs, and a multi-grip pull-up bar with dual-grips. It also ships with concrete anchors. Save for the band pegs, all of these items would require spending more money with most other rack manufacturers.
Now safeties are not technically included in the PR-5000's price; rather you add whichever safety system you prefer to own as you're adding to cart. This, of course, allows you to only pay for the safeties you want and not get stuck with the pin and pipe safeties and whatever other safeties you actually want. If you are fine with the simple pin and pipe safeties ($100) then you're looking at a $799 base price instead of $699 with no safeties.
RML-390C vs PR-5000
One of the major differences between the PR-5000 and the RML-390C is that the PR-5000 has 1″-diameter holes for the J-cups, safeties, and accessories rather than 5/8″ holes found on the RML's. Oddly enough, these 1″-diameter holes only exist on the sections of the rack that would be used for accessories. The rack is still assembled using 5/8″ hardware. I have no idea why Rep chose to use a combination of 5/8″ and 1″ holes on the PR-5000.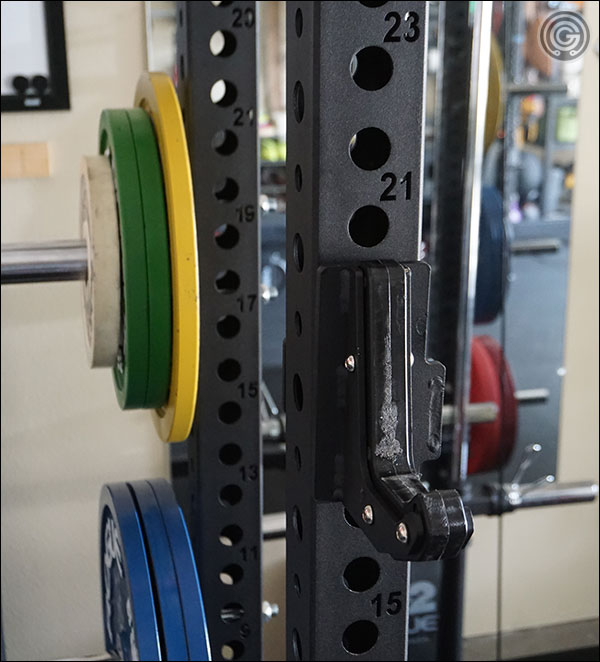 The PR-5000 also has laser-etched numbers in the uprights. Now it's only the odd numbers every other hole, but it beats having no indication of which hole is which like you'd have on the RML's (you have to go with the Monster to get numbered holes from Rogue).
Sadly the PR-5000 does not have Westside hole spacing. I am a little disappointed by this because I've grown rather accustomed to having it, but it is what it is.
The PR-5000 is also a couple of inches taller than the RML's, which I personally appreciate. Then again this may be a problem if you're unusually short and already hate hopping up to a lower pull-up bar.
At the end of the day I certainly wouldn't fault someone for buying an RML for the Westside spacing, the color choice, or even the fact that it's a USA-made product. If saving money is more important than any or all of these three things though, then maybe the PR-5000 is the rack for you.
Is the PR-5000 more of a Monster than a Monster Lite?
The 1″ holes that I just discussed are very reminiscent of the Rogue Monster series, as are the laser etched numbers, but because of how the PR-5000's 1″-diameter holes are only to be found in the bench and squat region rather than everywhere, and the rack is assembled using 5/8″ hardware rather than beefy 1″ hardware, I just don't feel like the PR-5000 is quite the Monster Rack.
Think about it like this: the PR-5000 is able to use some accessories from the Monster line, but any accessory that attaches to the rack outside of that bench or squat region (Monolifts, Lever Arms; basically all the cool shit) could not be installed because the 1″ holes switch to 5/8″ holes that far up the uprights. If you think about it a little more, you realize that the only Rogue Monster accessories that the PR-5000 could use are already offered by Rep.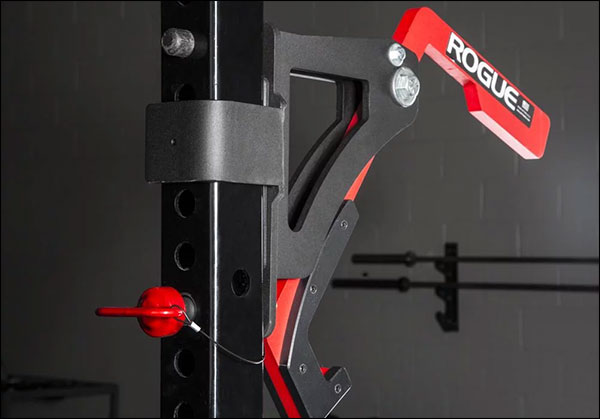 Due to the lack of 1″ holes on the top couple feet of the PR-5000's uprights, you wouldn't be able to install Rogue's Monster Mono Attachment high enough for squats.
And before you ask, "since the holes are 5/8″ can't you just use Monster Lite accessories?" Well no, because you have the same problem reversed. You can use ML accessories at the very top and very base of the rack, but not anywhere inside the bench and squat zone.
Outside of that, if you really wanted to say the PR-5000 was like a Monster rack then you'd just be making a stronger argument for the value of the Rep because the difference in price between the PR-5000 and an RM-3 is pretty massive (a $400+ difference easy.)
†  Remember this price is pre-safeties, but you do get to choose which safeties you want (if any.)
---
Rep Fitness PR-5000 Power Rack Review Summary
In my opinion the PR-5000 Power Rack is a 5-star product, and that is both with or without the plate storage. It's just a hell of a lot of rack at a price that's going to be hard to beat.
Now to be fair, the PR-5000 looks only moderately less costly than the RML, but when you factor in the included extras like the sandwich-style J-cups, multi-grip pull-up bar, and even the concrete anchors, then you consider the relatively low costs of additional upgrades and accessories, well that "moderate" price difference starts to look pretty damn impressive.
Of course, one must keep in mind that these 3″ x 3″, 11-gauge giants are heavy-duty racks and one could easily find a less expensive power rack either by going with a cheaper, light-duty rack, or by buying an inferior variant from one of the [many] shotty manufacturers that exist. If you're reading this review though, I assume it's because you want a safe, durable, feature-heavy rack with the ability to add quality accessories as needed, and I also assume that you'd prefer not to have to settle for a lesser or a low quality rack.
When it comes down to it, I believe that most folks initially pine for one of the RMLs but find that the cost of the base power rack plus the estimated costs of all the desired accessories and upgrades simply starts to seem too cost-prohibitive, so alternatives are sought out and considered. Well now rather than having to entertain garbage-tier dealers in order to afford a full-size power rack, Rep swoops in with the PR-5000 and offers us comparable quality, a good range of accessories, and price that's actually competitive. Sure the savings aren't as massive as they'd be if you went with a junk brand, but at least your straps and welds won't snap-city on you.
At the end of the day I think this is an amazing buy. I'm still a huge fan of the RML and RM series of racks, and I completely agree that they have their place for those who can afford them and those who need some of their unique accessories, but for those who just need a big, versatile, strong, reliable, high-quality power rack for less money, the Rep Fitness PR-5000 is absolutely the way to go.
I highly recommend this product; both the rack and the storage upgrade.
---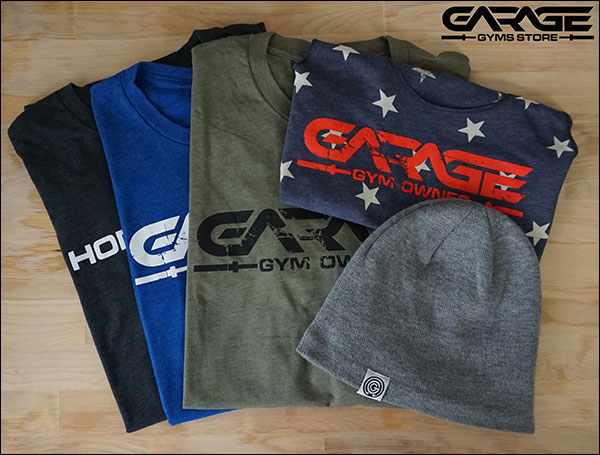 Related
Tagged as:#best power rack, #powerack, #rep, 1″ holes vs 5/8″ holes, 2″ hole spacing versus 1″, American Barbell, American-made, beefy, best value power rack on the market, budget power rack, choosing a power rack, compare power racks, compatibility, economy, features, guide, help, massive, picking a rack, powerlifting, quality, RepFitness, review, Rogue, rogue monster lite versus rep pr-5000, Rogue versus Rep Fitness, RogueFitness, selecting the best power rack, strongman, value, westside spacing
Sours: https://www.garage-gyms.com/rep-fitness-deluxe-pr-5000-power-rack-review/
REP Fitness PR-1000 Power Rack with Lat Attachment

Unit
Dimensions
Weight
capacity
Accessories
Possible
exercises
Warranty
REP Fitness PR-1000

Check Discounted Price
L:65"
W:48"
H:86"

-Rack:
1,000
-Safety bars:
700 lbs
-Lat station:
250 lbs
- Dip bars:
400 lbs

Lat bar,
Short bar,
J-hooks,
Safety
bars

40+
5 years

The REP Fitness PR-1000 Power Rack with the included lat attachment basically offers the same functionality as the Fitness Reality 810XLT that we've already covered here. However, it lacks the secondary pull-up bar and the knee stopper element. But on the other hand, it includes two dip bars and has two pegs for weight storage which can also add stability to the whole unit.
Key Features and Specifications
Assembled dimensions: 65L x 48W x 86H inches (165L x 122W x 218H cm)
Assembled weight: 216 lbs (98 kg)
Weight capacity:
Rack: 1,000 lbs (453.5 kg)
J-hooks & safety bars: 700 lbs (317.5 kg)
Lat pull-down attachment: 250 lbs (113 kg);
Pull-up bar: 400 lbs (181 kg)
Dip bars: 400 lbs (181 kg)
Upright bar positions: 28
Possible exercises: 40+
Warranty: 5 years limited
Power rack
To begin with, the REP Fitness PR-1000 power rack features a sturdy, 14 gauge, 2×2″ steel frame. All
the steel parts in its construction are coated with a corrosion-resistant paint finish, with the exception of the upright bar of the lat machine which is stainless steel. The color used for the main frame is black, this being the only color available for the PR-1000 rack.
The fully assembled unit, including the lat machine, is not extremely large but does have a footprint of approx. 65″ (165 cm) deep, and 48″ (122 cm) wide. However, you will have to leave at least 2′ (61 cm) of clearance on each side and at least 3′ (91 cm) of clearance at the front of the unit to be able to use an Olympic barbell and/or a bench, and of course, to have enough space for proper access and usage.
The height of the rack is approx. 83″ (211 cm), but with the lat machine attached, its height reaches 86″ (218 cm). This being said, it won't fit in a room with a 7′ (213 cm) ceiling. It is recommended to leave at least a few inches of clearance above the unit as well, to be able to execute all the pull-up exercises correctly.
The rack's pull-up bar is 1.25″ (3.1 cm) in diameter and 44″ (111.7 cm) long. It hangs at approx. 81″ (206 cm) above floor level. Therefore, even if you're over 6′ (183 cm) tall, you should be able to execute all exercises correctly. Also, the pull-up bar is rated for a weight capacity of 400 lbs (181 kg), so there is the option of weighted pull-ups or chin-ups.
The base of the unit does not have foot stabilizers, nor does it have pre-drilled holes in it for securing it to the floor. However, the rack is pretty stable. Plus, it has two weight plate storage pegs (2″ in diameter) which can considerably improve its overall stability or provide a counter-balance.
The upright bars of the rack feature 28 attachment positions for the safety bars and j-hooks. The distance between the adjustment positions is 1″ (2.5 cm). Also, the distance between the two uprights is 44″ (111.7 cm), offering plenty of space inside the rack.
A set of safety bars and a set of plastic-coated j-hooks are included with the rack. They are rated for a weight capacity of 700 lbs (317.5 kg).
Lat attachment, dip bars, and other accessories
The REP Fitness PR-1000 Power Rack is available in various bundles with different accessories. The
bundle that we're addressing here includes the rack, the lat attachment, and the dip bars.
The included lat machine features a pretty standard structure. It is equipped with 6 durable nylon pulleys that integrate ball bearings for smooth and prolonged usage. The cables are steel-made, coated with a PVC layer in order to prevent the scratching of the pulleys. Although the lat machine is rated for a weight capacity of 250 lbs (113 kg), the cables should be able to hold more.
The weight carriage of the lat attachment features two 8.25″ (21 cm) pegs, 2″ in diameter, designed to be loaded with Olympic (2″) plates. These cannot be removed in order to load it with 1″ Standard weight plates. A classic 38″ lat bar and a short bar for low rows are included with the machine.
The two dip bars are approx. 25″ (65 cm) long. Just like the pull-up bar, they are rated for a user
weight capacity of 400 lbs (181 kg). They attach to the two safety bars which you will have to place on the same side of the rack in order to use the dip bars. You can place them inside or outside the power cage, but when placed outside, adding a few weight plates as a counterweight on the opposite storage peg may be required. Also, you can adjust the distance between them in a span of approx. 24″ (61 cm).
These are pretty much all the attachments and accessories included with this PR-1000 bundle. However, there are quite a few more attachments that you can add to this rack, including a bench, extra weight plate holders, extra j-hooks, and more. Weight plates and a barbell are not included with the unit.
Possible Exercises
Pull-ups
Wide grip pull-ups
Close-grip pull-ups
Parallel-grip pull-ups
Muscle pull-ups
Behind head pull-ups
Around the world pull-ups
One arm pull-ups
Cliffhangers
Weighted pull-ups
Chin-ups
Close grip chin-ups
Wide grip chin-ups
Parallel grip chin-up
One hand chin-ups
Weighted chin-ups
Hanging knee raises
Hanging leg raises
Dips
Weighted dips
Band-resisted dips
Dip to leg raise
Side-to-side dips
Gironda dips
Reverse Gironda dips
Lat pull-downs
Close-grip pulldowns
Behind head pulldowns
Aerobic rowing
Kneeling rowing
Biceps curls
Triceps press downs
Chest presses
Single-arm chest presses
Wide grip chest presses
Close grip chest presses
High-pulley crunches
High-pulley twist crunches
Seated trunk rotations
Standing trunk rotations
Stand-up leg curls
Calf raises
Sit-ups
Squats
Single-leg squats
Kneeling single-leg squats
Wide squats
Twisting squats
Jumping squats
Hip extensions
Hip adductions
Hip abductions
… and more
Of course, some of these exercises require extra accessories that are not included with this rack bundle. For example, chest presses require a bench, while hip adductions call for an ankle cuff. However, the rack with the lat machine is quite versatile and offers the possibility of a full-body workout.
Assembly and Maintenance
The REP Fitness PR-1000 Power Rack with Lat Attachment and Dip Bars comes in several separate boxes and requires full assembly. However, the task is pretty straightforward and shouldn't take more than two hours. Basically, you will have to assemble the base, add the upright bars, close the cage with the top bars, and then add the lat machine, the safety bars and the j-hooks. Tools for assembly are not included.
For maintenance, it is recommended to periodically lubricate the main upright bar of the lat machine to ensure a smooth movement of the weight carriage. It's also recommended to periodically check for loose bolts or damaged parts in order to re-tighten them or replace them before any accidents can happen.
The Pros
Sturdy, all-steel frame – can support loads up to 1,000 lbs;
5 workout stations, power cage, including lat pulldown station, pull-up/chin-up station, low pulley station, and dip station;
Smooth pulley and cable movement;
Safety bars and j-hooks rated for 700 lbs;
Weight plate storage and balance pegs on the base bars;
28 attachment positions for the catch bars and safety bars;
Sturdy pull-up bar rated for 400 lbs;
250 lbs weight capacity for the lat machine;
Lat pulldown bar included;
Short bar for low pulley exercises included;
Dip bars included;
The distance between the dip bars is adjustable
Over 40 possible exercises;
Quiet operation;
Little maintenance required;
Fairly easy to assemble for a home gym.
The Cons
Ankle cuff for leg exercises is not included;
Weight carriage of the lat machine can only be loaded with 2″ Olympic plates.
Summary
The REP Fitness PR-1000 is a power cage made for home use which includes a lat attachment with high and low pulleys and two dip arms. It's a strength-training system for users of all levels offering a load capacity of 1,000 lbs for the cage, 700 lbs for the safety bars, and 250 lbs for the lat machine. It's a versatile strength training system that allows the execution of over 40 gym-quality exercises involving most muscle groups. In all, it's an excellent piece of powerlifting equipment, offering great value for the price.

Sours: https://bestfitnesseq.com/rep-fitness-pr-1000-rack-lat/
Rep Fitness: Check out what's In Stock and ready to ship.
Let's look at the different Functional Trainers (Cable Machines) from Rep.
If you are looking for all-in-one fitness equipment or you have a small space in your garage, but you still want to maximize your training, a functional trainer is the one you need. It is the most effective and versatile piece of fitness equipment to provide you with resistance training and the strength you need to carry on daily activities. Aside from being functional, this piece of equipment is also safe to use.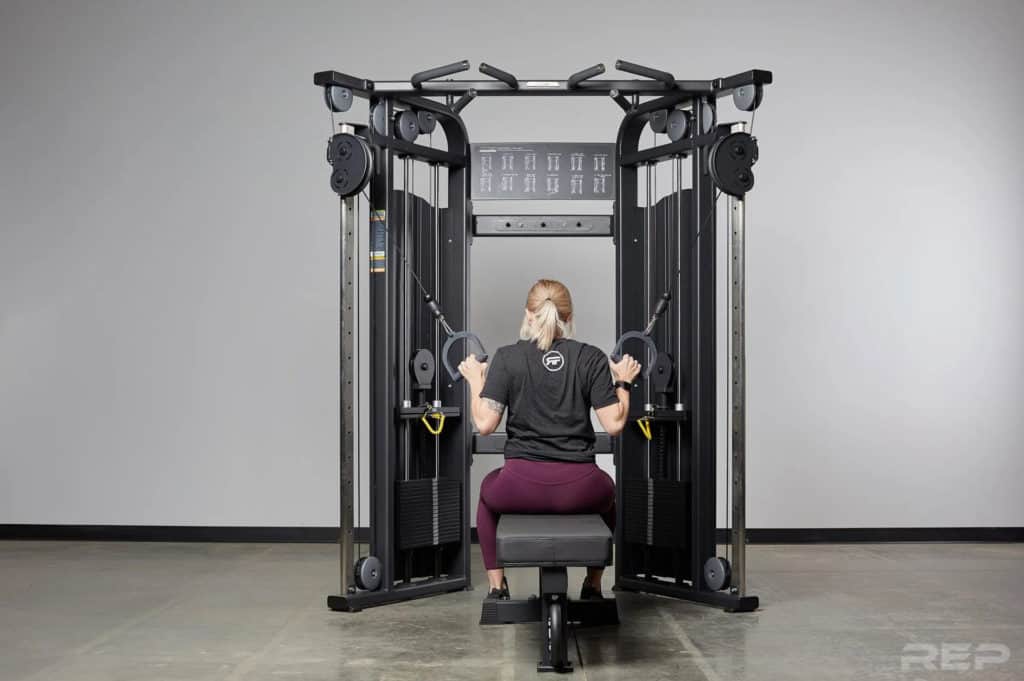 Here are some of the styles we are going to look at:
Functional Trainers from Rep – Overview
A functional trainer enables you to move in a diversity of natural movements like the movements you do in your everyday life. It is a machine that allows you to move through multiple planes and enables you to do a row, a pull-up, and a straight-arm pull-down. It carries adequate adjustable mechanisms and handholds to diversify your workouts and enhance distinct muscle groups. The cables and weight stacks assure that the weight will not slip or cause injury to the user, and there is no need for a spotter when doing more complex lifts.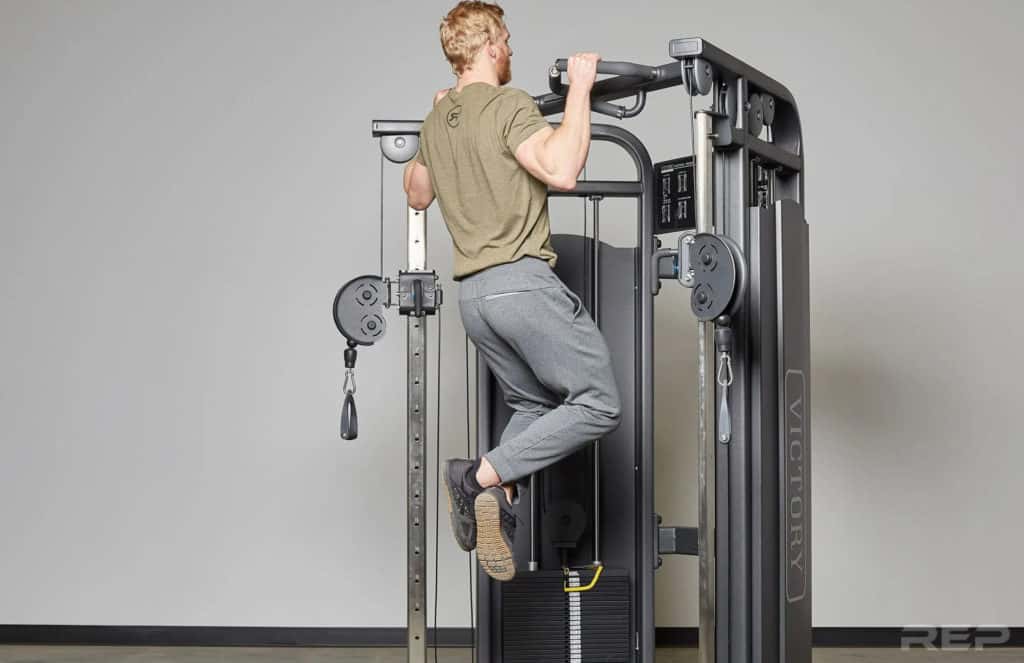 Functional trainers are beneficial for all forms of resistance training like strength, speed and power, and endurance. You can work for any muscle group you desire, and you can do it in various methods. A functional trainer has several attachments and can execute most of the exercises with D-grip handles. You can also use this machine for rehabilitation purposes by adjusting the weight stack to your preferred weight, and the tension will provide total rehab capacity.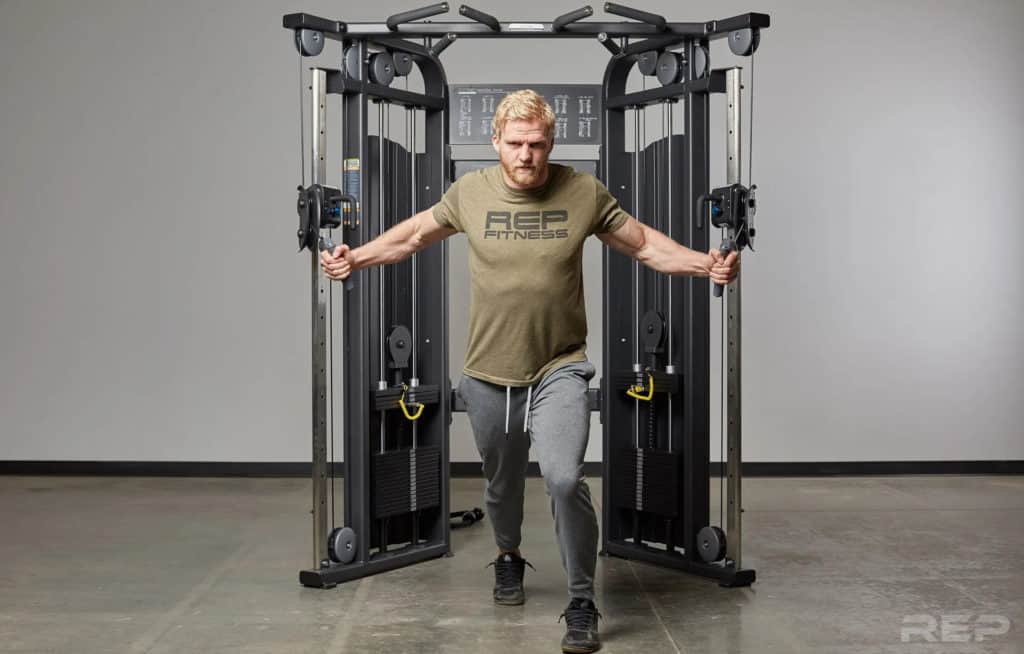 Rep FT-5000 Functional Trainer
Rep Fitness provides high-value fitness equipment that includes a functional trainer. Their Rep FT-5000 Functional Trainer is new and updated from their original REP V1 Functional Trainer. It offers versatility and provides a full-body workout. The 16 selectable cable positions enable you to achieve a wide assortment of exercises, and the dual 220 lb stacks grant loads of resistance for even seasoned lifters. It has a new column handle height that adapts on wheels for smooth 1-handed adjustments. The new lowest handle height also enables users 5'3″ and up to perform standing cable curls next to the machine.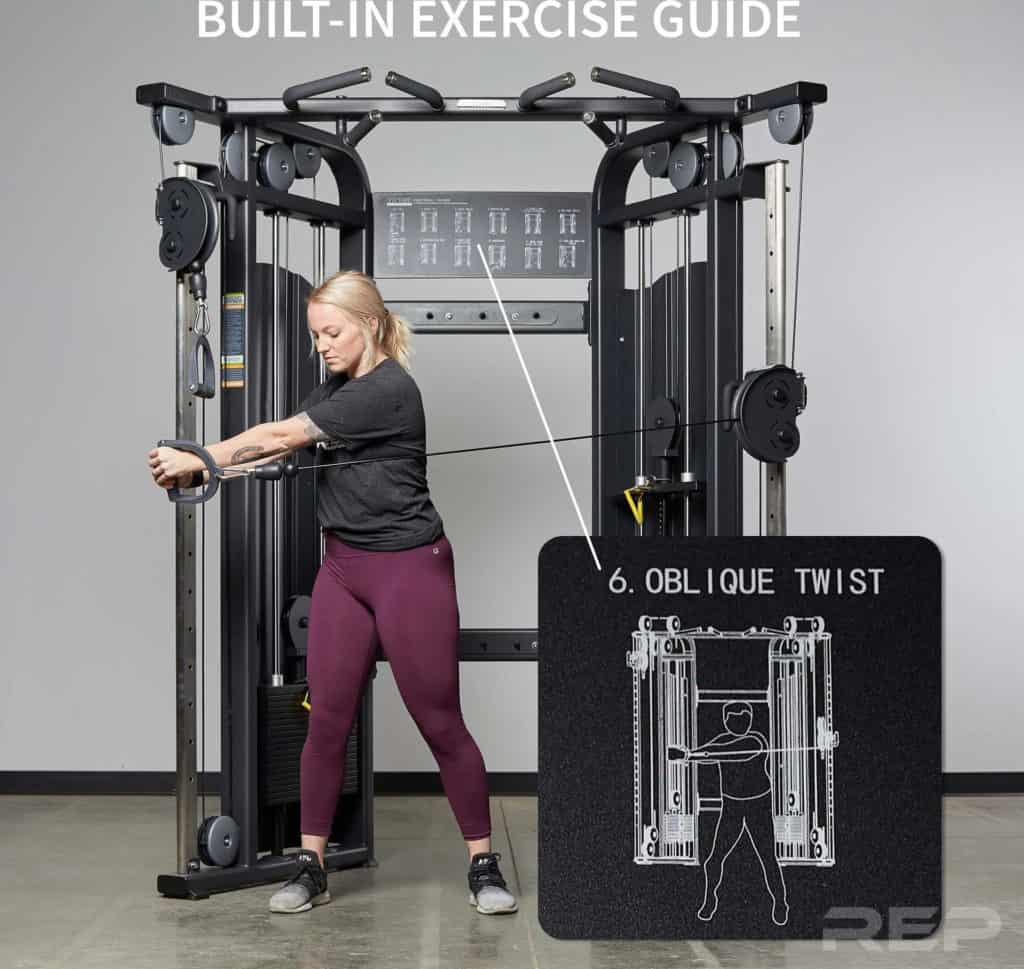 The gauge steel frame provides reliability and stability when you're pulling on the handles or doing pull-ups. Every bolt head can be covered to inhibit scratch and to intensify appearance. The two-layer electrostatic powder coating is very thick and chip resistant with an elegant black metallic finish. The unit is provided with various pull-up grip options with rubber-coated grips for easy pull-ups and a solid grip. Two urethane strap handles are included for durability and a comfortable grip.
Rep FT-3000 Compact Functional Trainer
The REP FT-3000 Compact functional trainer is one of the most versatile pieces of equipment you can add to your home or small commercial gym. It can even be the only one. The 15 selectable cable positions enable you to do a wide variety of exercises, and the dual 180 lb stacks allow loads of resistance. It has a silky smooth cable with fiberglass reinforced pulleys to avoid shaking and uncontrollable movements when you use the machine. It also has a Placard with 12 displayed movements and has a center attachment holder with storage pegs.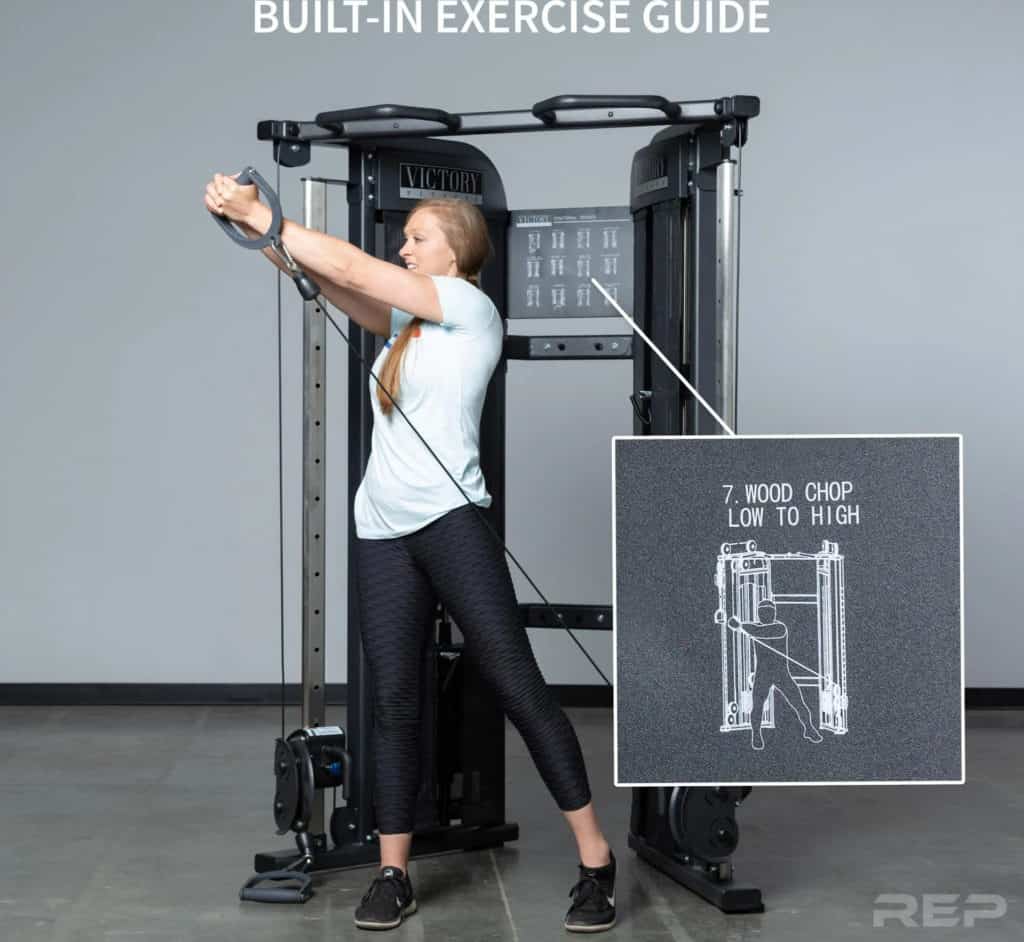 The Rep FT-3000 Compact Functional Trainer has a laser-cut and is robot-welded for a great clean look. It has two 180 lb weight stacks with a 2:1 ratio and magnetic inclined weight selector pin for protected adjustment. It has a stunning black metallic finish produced by the two-layer electrostatic powder coating. There are laser-etched cable column markings for a smooth lineup of handles, and two capped bolt holes on the center pull-up cross member for future grip attachment abilities.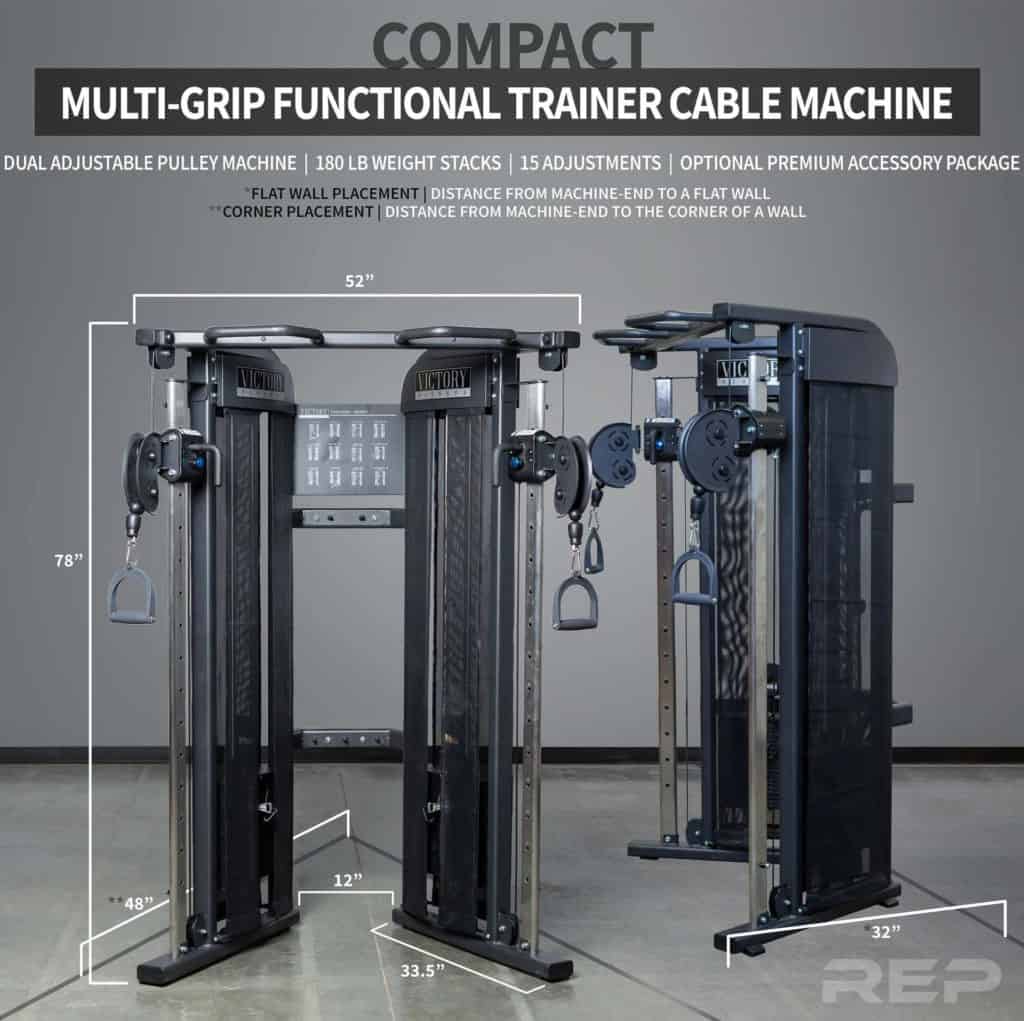 Functional Trainers from Rep Review – In Summary
That's our review of Functional Trainers from Rep.
Getting a functional trainer is a good investment as it will save you more space in your home gym and money from buying several pieces of fitness equipment. It gives you access to endless exercise possibilities and keeps your workout routine enjoyable. It also keeps you away from mental burnout due to over-training and the boredom of doing the same movement repeatedly. Functional Trainers from Rep provides you with all of these, plus the durability and quality you are looking for in a functional trainer.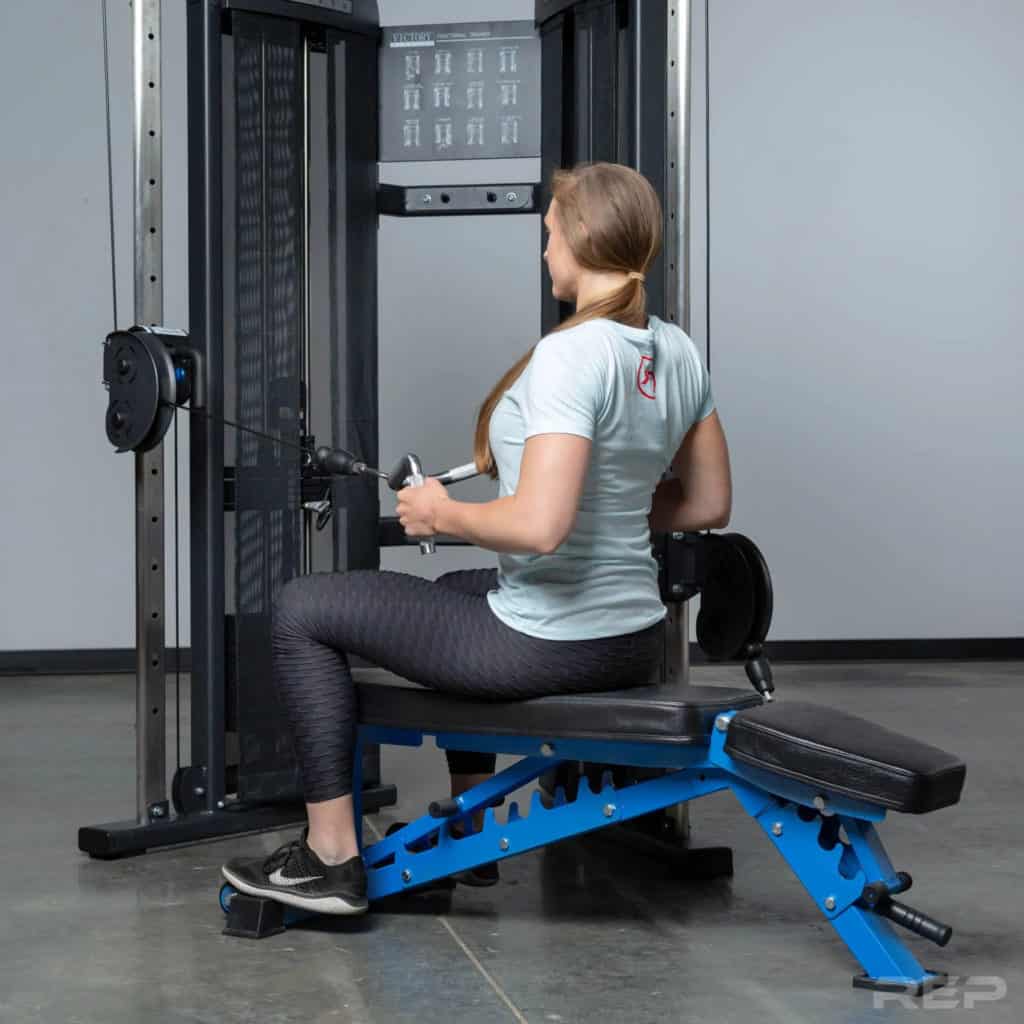 Photo Credits
Product photos on this page are property of Rep Fitness.
This website is not affiliated or associated with CrossFit, Inc. CrossFit is a registered trademark of CrossFit, Inc.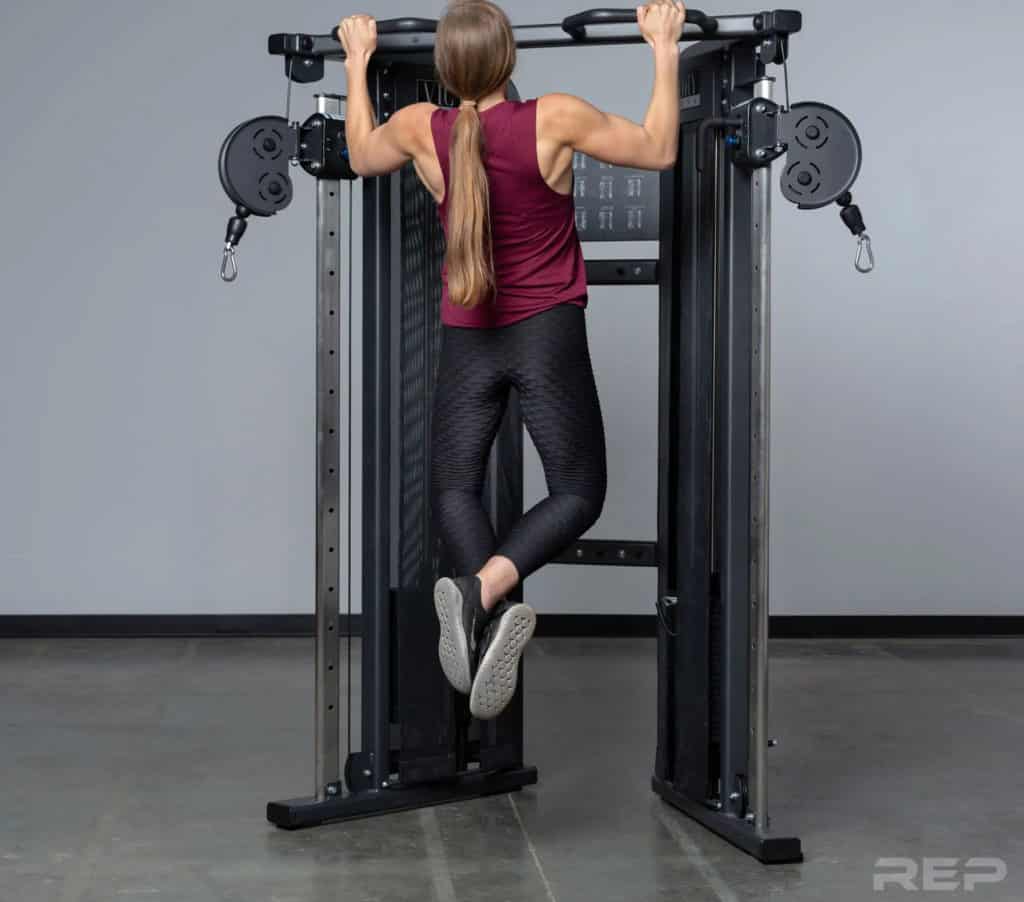 Affiliate Disclaimer
We are an affiliate of Rep Fitness and others that sell this training gear. If you buy clothing or other training gear after clicking the links in this article, we receive a small commission at no extra cost to you. This helps us to bring you in-depth information and content on these great training products.
Affiliate Disclaimer
CrossTrainClothes.com is a participant in the Amazon Services LLC Associates Program, an affiliate advertising program designed to provide a means for us to earn fees by linking to Amazon.com and affiliated sites.
Sours: https://crosstrainclothes.com/functional-trainers-from-rep-fitness/
REP Fitness LAT/LOW ROW ATTACHMENT \u0026 Stainless handles for PR-4000
REP SR-4000 Squat Rack Review: Ultra Stable Squat Stand
We review free products that we receive and participate in affiliate programs, where we may be compensated for items purchased through links from our site.
See our disclosures page for more information.
REP Fitness has been doing a complete redesign of their power racks and the REP SR-4000 Squat Rack is exactly that. Based on REP's best-selling rack, the 4000 Series Squat Rack improves in nearly every area and is by far the sturdiest squat stand we've tested. There are drawbacks to the design related to the size of its footprint, but if you're looking for a somewhat budget-friendly squat stand, this is a tremendous option.
REP Squat Stand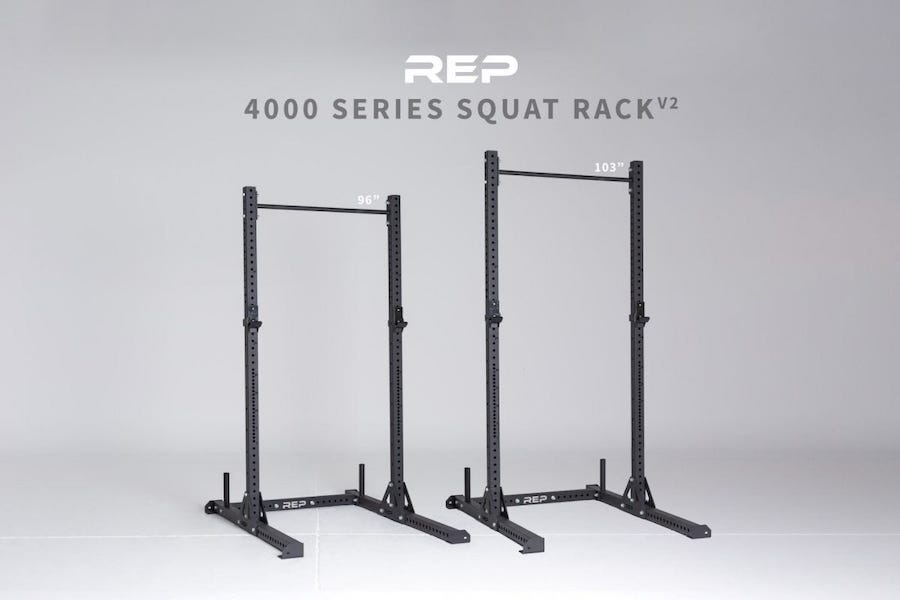 REP SR-4000 Squat Rack
The REP Fitness redesigned 4000 Series Squat Rack offers maximum stability with bombproof construction and improved compatibility with REP attachments! Uprights now come in 3x3" 11-gauge steel with 5/8" hardware. Our favorite feature of this Squat Rack is that it will work with almost all of the accessories in REP's 4000 series line up - yes, even our Monolift and ISO Arms. You're welcome. The long, flat-footed base helps promote stability while also alleviating the need to bolt the rack down. Athletes performing kipping pull-ups or other gymnastic movements will find that this rack is rock solid – Add weight onto the rear weight horns or bolt your rack to the ground (utilizing the pre-drilled feet) and this rack can handle just about anything you'll throw at it.
$449.00
Shop deal
The REP SR-4000 is the most stable squat stand we've ever reviewed.
Here's the issue with squat stands: although they often feature a small footprint, they're much less stout than a power rack. If you're a CrossFit athlete good luck doing kipping pull-ups or muscle-ups, however, you'll enjoy using some of the best crossfit barbell on this. If you're a powerlifter, you better make sure you don't rerack too hard for fear of the rack moving and you misplacing the barbell on the j-cups. The SR-4000 fixes these issues, although in doing so, it does present another one which we'll discuss.
If you're wanting a squat stand that comes in at a rather budget-friendly price (although not the cheapest) for your home gym that has the stability of a power rack, the SR-4000 may be a good option (if you have room.)
Curious about how this rack compares to some of the best squat racks like the Rogue SML-2 and others? Then keep reading for my full review of the SR-4000 Rack from REP Fitness.
Should You Add the REP SR-4000 to Your Home Gym?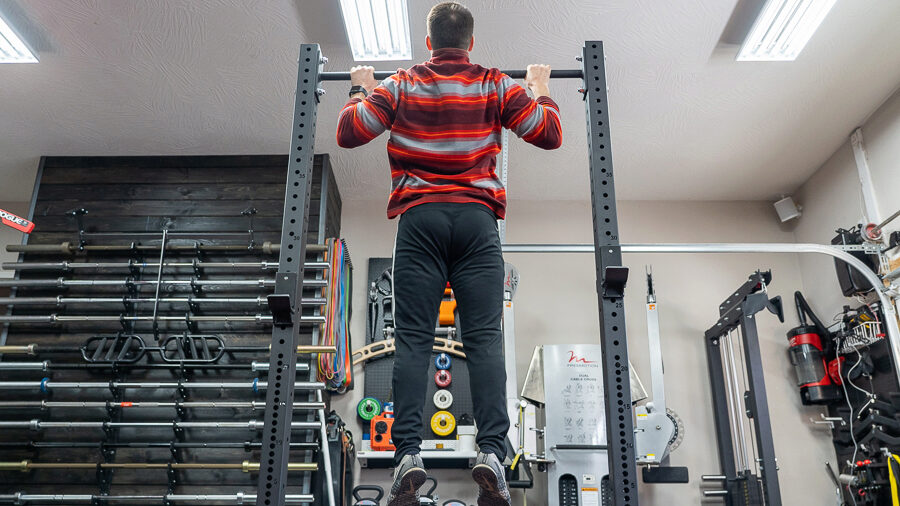 Before I get into all the details, let's tackle the most important question of all: is the REP SR-4000 Squat Rack going to suit your specific needs? The right squat rack for you will depend on the type of workouts you train, space availability, and budget. Here are my recommendations below.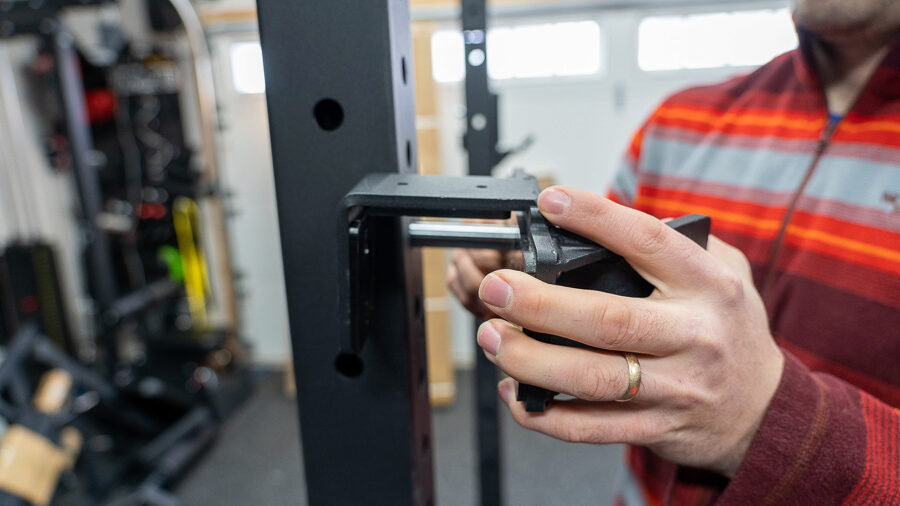 Who I recommend the REP SR-4000 for
Trainees on a budget who have a penchant for higher quality than what can be found at big box stores will appreciate the value offered from REP. The SR-4000 is the most stable squat stand we've used making it great for CrossFit Athletes and others that like to do kipping movements like pull-ups and toes to bar. If you train with resistance bands, the extended feet with band peg holes will allow you to add accomodating resistance to the bar which most squat stands don't allow. Home gym owners that want an open-source upright design will appreciate the 3"x3" with â…" holes uprights that accept a wide range of accessories from multiple manufacturers.
RELATED: best CrossFit equipment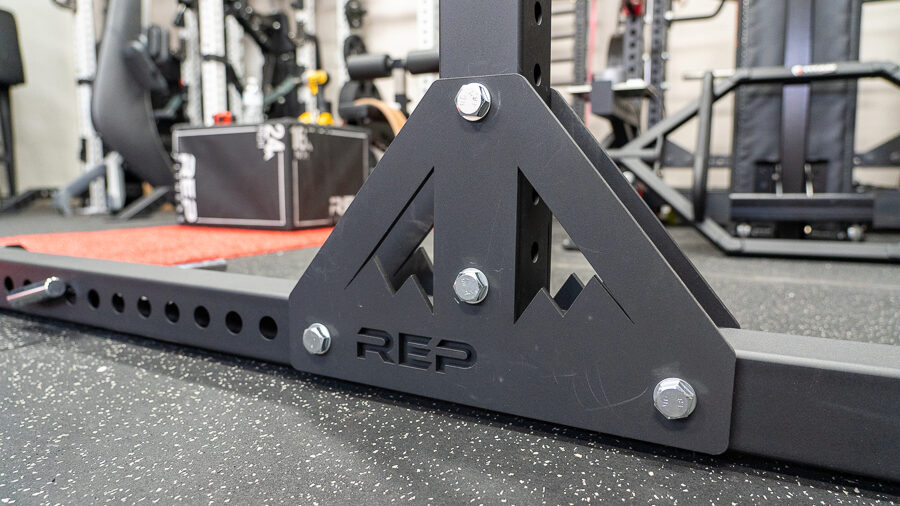 Who I don't recommend the SR-4000 for
I'd suggest a more compact squat stand like the Rogue SML-2 Squat Stand that we've reviewed for those with limited floor space.
Those on a very limited budget and lower strength levels would be fine getting one of our cheaper options we discuss in our best squat racksguide.
If your ceiling height in your garage or basement gym is low, we recommend looking elsewhere as the shortest rack height offered is 96".
Using the SR-4000 Squat Rack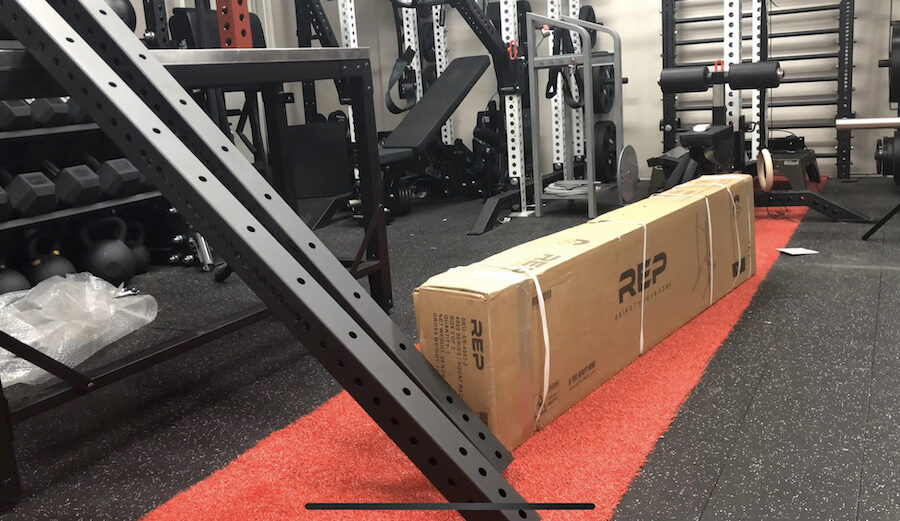 The SR-4000 arrives in a cardboard box weighing 273 LB. Nobody said buying gym equipment was easy work, so make sure you have someone help you drag the box into your garage, unless you want to include it as part of your workout.
It took about 25 minutes to unbox and assemble, but it may take you longer if you don't use power tools. The only personal adjustment you need to decide on is how high you want the pull-up bar, but for most people, I suggest placing it at the very top, unless you have short ceilings in which you could hit your head-on.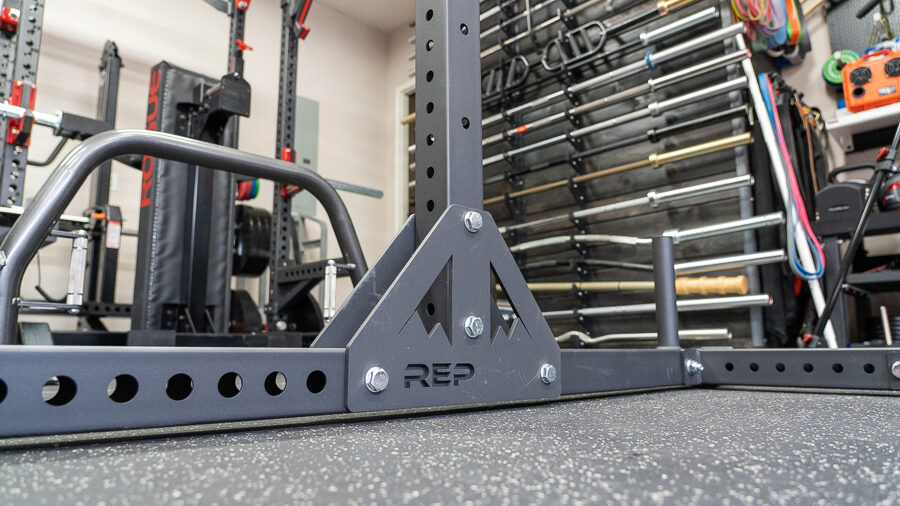 The base of the rack uses triangle-supports that were, from my knowledge, popularized by Rogue Fitness on their Rogue Y-1 Yoke.
These supports have REP's latest mountain branding that harkens to their Colorado distribution center and love for the outdoors. It's a cool touch and can also be seen on the REP Belt Squatthat attaches to the PR-5000 V2 Power Rack we've reviewed.
The triangle supports are bolted to the uprights and flat foot platform using the supplied bright zinc-coated ⅝" hardware. Something unique that REP is doing on the SR-4000 is using 3"x3" 11-guage steel tubing on both the base and uprights. What we typically see is 2"x3" tubing used on the base which is on both the Rogue SML-2C and the Titan Fitness X-3 Squat Stands.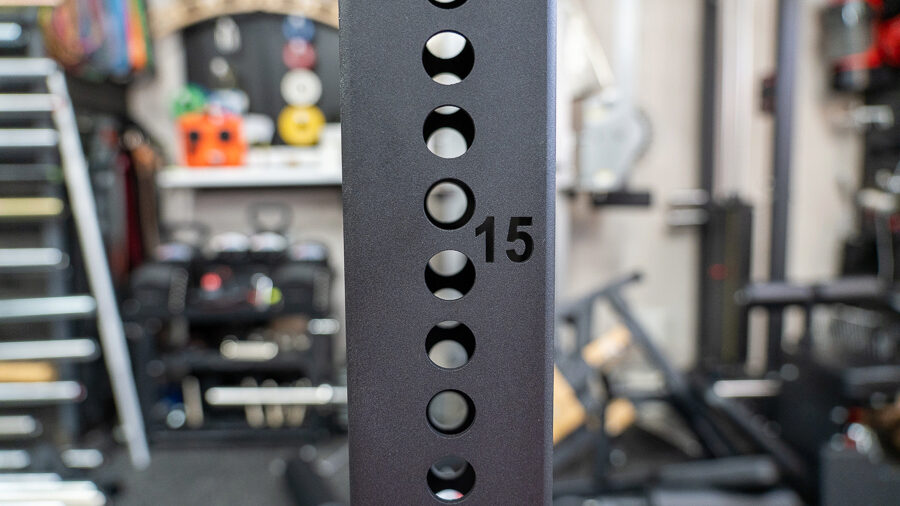 The 3"x3" tubing is superior in my opinion as it will be heavier, therefore increasing stability and it allows for attachments and band pegs to be used on the base as it's the same dimensions as the uprights.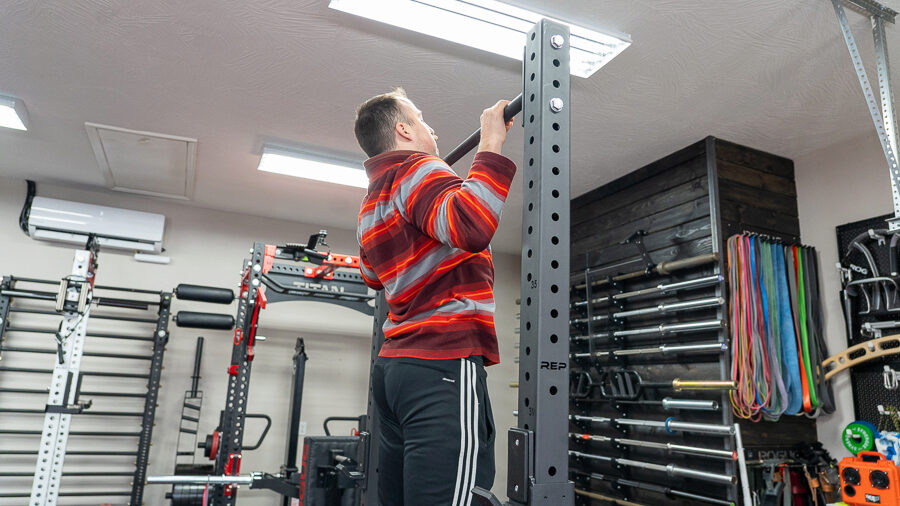 I immediately noticed the stability difference between the SR-4000 and most other squat stands when I jumped up and grabbed the pull-up bar. Due to the increased length of both the back and front feet of the rack, it wobbles very little, even on dynamic movements like butterfly pull-ups and muscle-ups and that's without any weight plates placed on the welded plated holders on the back.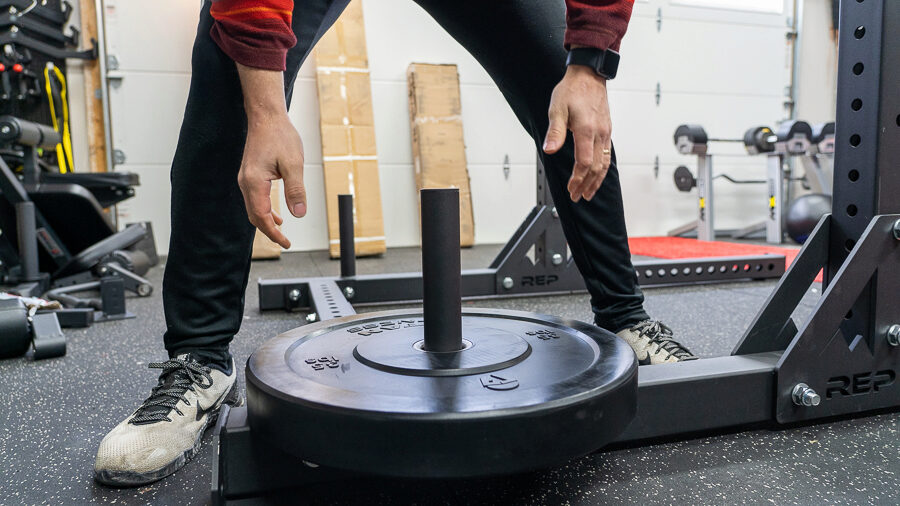 This stability reminds me of a four-post power rack. There are definitely other reasons to avoid a squat stand than a lack of stability, but it certainly is a big one for many. My first squat stand was a Rogue SML-2 and at the time I was competing in CrossFit competitions, which meant I was doing a lot of kipping pull-ups and toes-to-bar in preparation. The problem was, I had to bolt the rack to a weightlifting platform I built in order to keep it secure, see here.
This is the biggest benefit the SR-4000 offers–it's incredibly stable and can be even more stable if you use the supplied weight horns that also double as weight storage when the best bumper platesaren't on the barbell.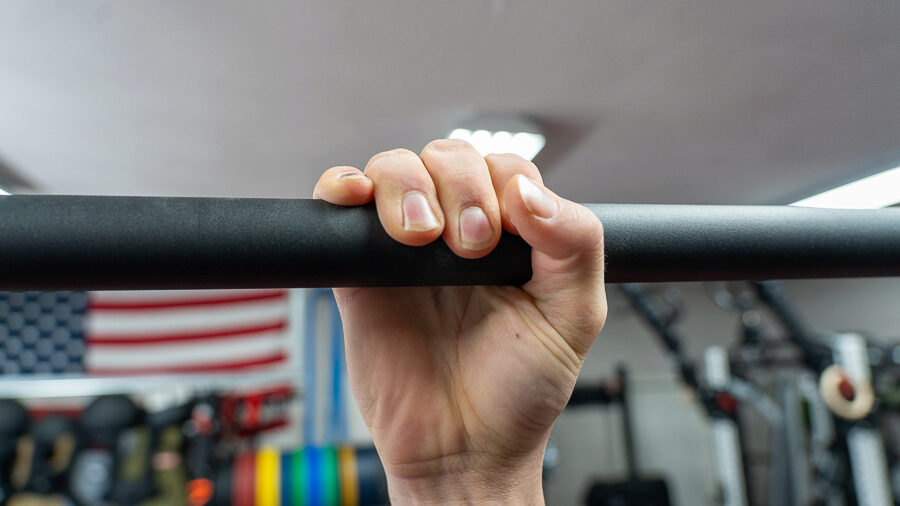 Not only is this great while using the pull-up bar, but it also gives you confidence when unracking the bar for heavy squats or bench press on the best weight benches out there. An unstable rack is unsafe and gives the lifter less confidence when attempting a big lift.
On the front and back feet of the SR-4000 are flanges that allow a garage gym owner to bolt it to the floor for (what I think is unnecessary) additional security or bolting multiple racks back to back. These are similar feet as are seen on REP's new OMNI Rack Series.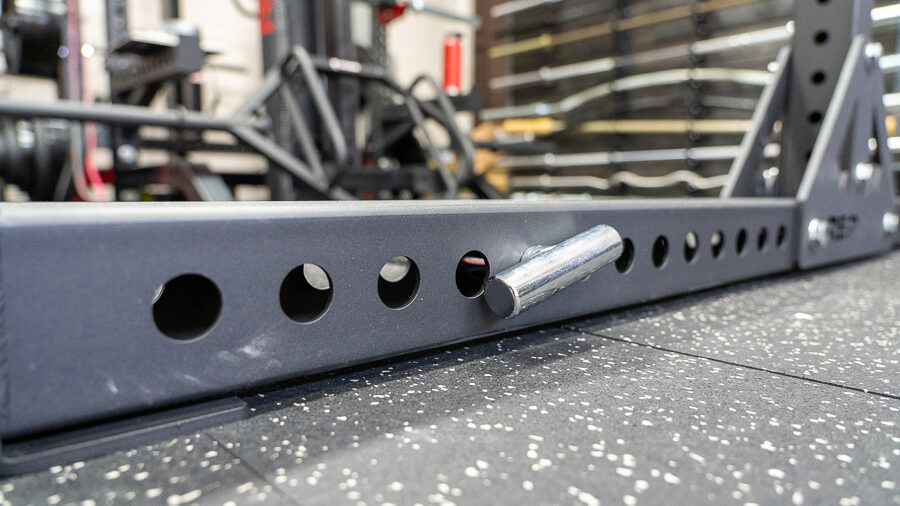 The uprights use the familiar Westside Hole Spacing Pattern through the bench area and laser-cut numbering on the uprights every 5 holes for finding where to place j-cups or other accessories such as the REP Monolift Attachment we've reviewed or even the REP ISO Arms that we've also reviewed.
Something that we liked to see was the addition of holes on the front of the feet which allows band pegs to be added for accommodating resistance or even adding bands to pull-ups. It's a small touch, but smart.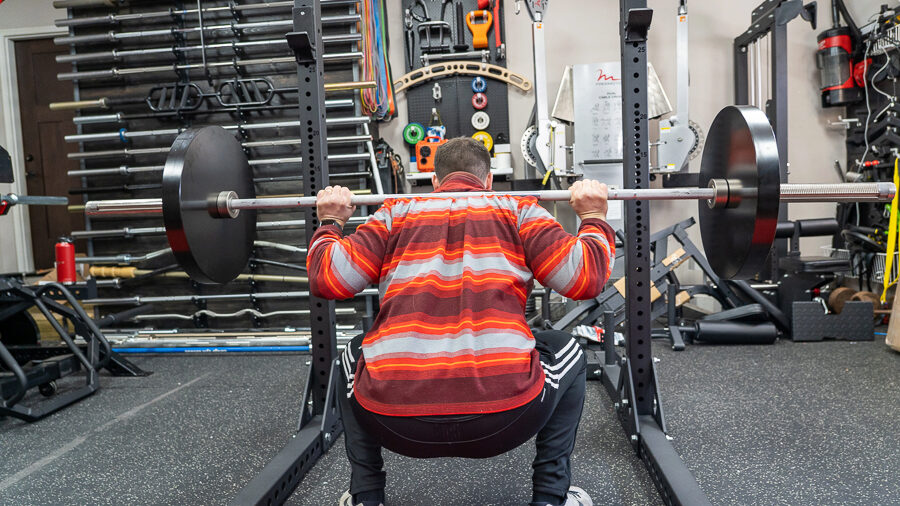 The weight capacity for the rack is listed at 1,500 LB which is pretty standard although these racks are capable of holding much more. If you want a taller rack, they also offer a 103", although we think 96" is tall enough for most.
Downsides and Potential Dealbreakers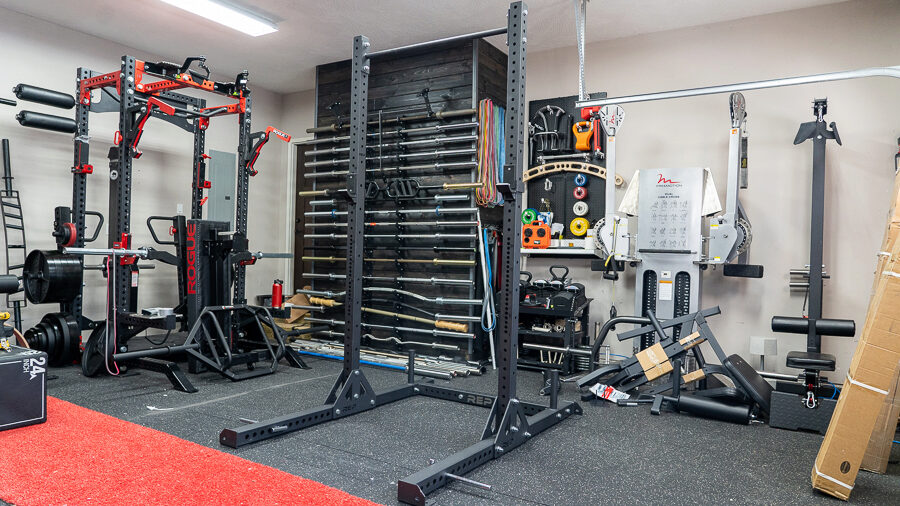 As discussed, the stability on the REP SR-4000 is next level, but as with everything in life, that stability comes with a cost.
In order to increase the rigidity of the rack, the footprint of the SR-4000 is the largest of any squat stand we've tested. It's 73" from front to back which is about 30% longer than the Rogue SML-2 which has a depth of 48". This is the biggest reason for the increased stability and puts it in line with the footprint taken up by many power racks.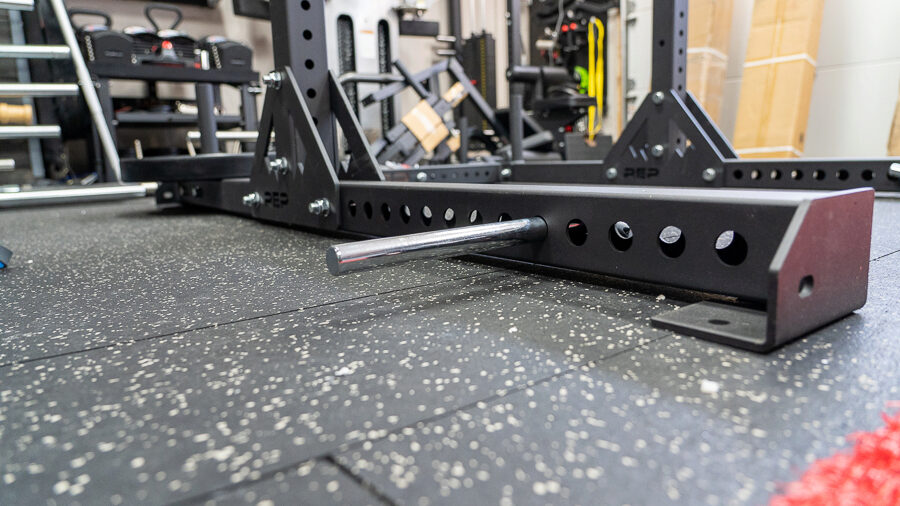 For many home gym owners where space is a premium, the extra stability simply won't be worth it. However, if you have space, it's a great option if you don't care for having a four-post power rack. It also appears the REP Omni Rack uses a similar flat foot design.
The other minor complaint is that it appears REP is planning on using the same base for a future SR-5000 Rack. This means the holes on the SR-4000 base are 1", which is different than the ⅝" on the uprights and therefore takes different accessories. Not a major issue, but it may become one in the future if you have your eye on a certain accessory that can be moved from the uprights to the base.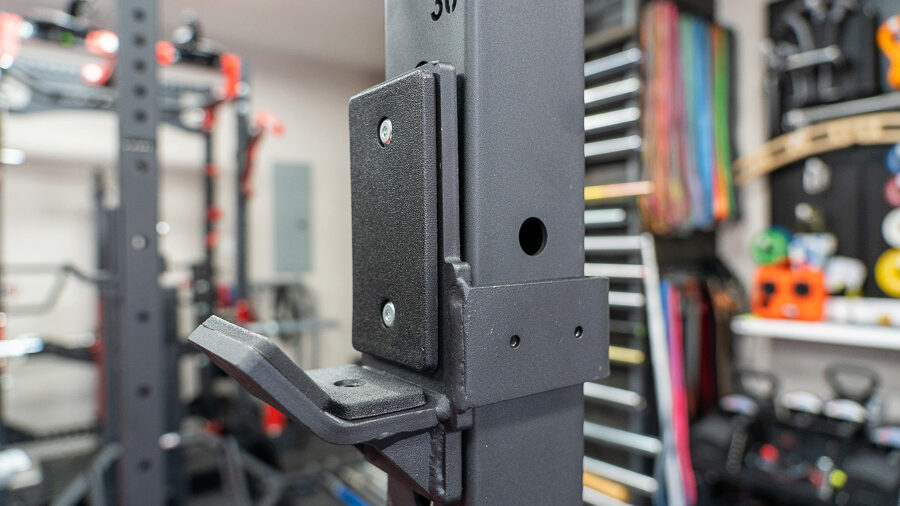 Lastly, REP is using some sort of rubber on the j-cups that doesn't appear like it will last long. In fact, with not a ton of force, I can pull the front pieces off without issue.
REP SR-4000 vs. The Competition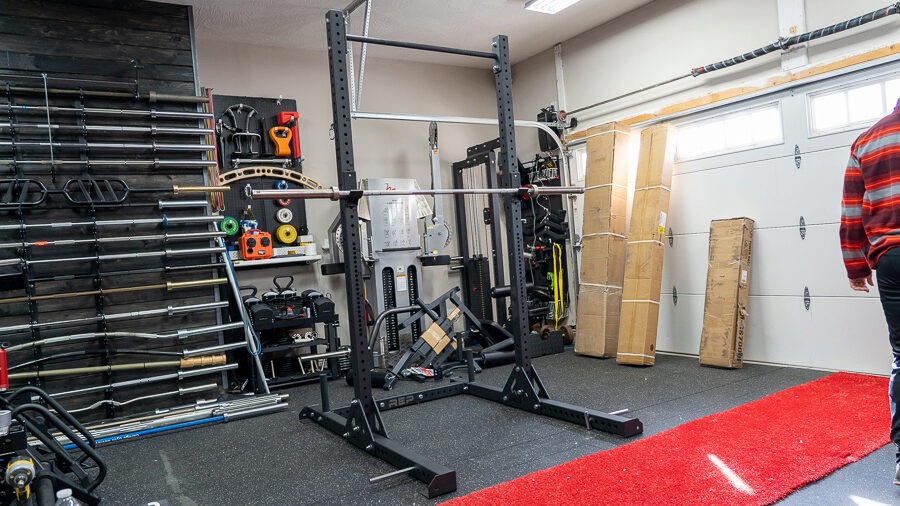 Although there are hundreds of racks that the SR-4000 could be put up against, we think the Rogue SML-2 and the Titan X-3 Squat Stand are the most applicable to be compared.
5.00
SR-4000 vs SML-2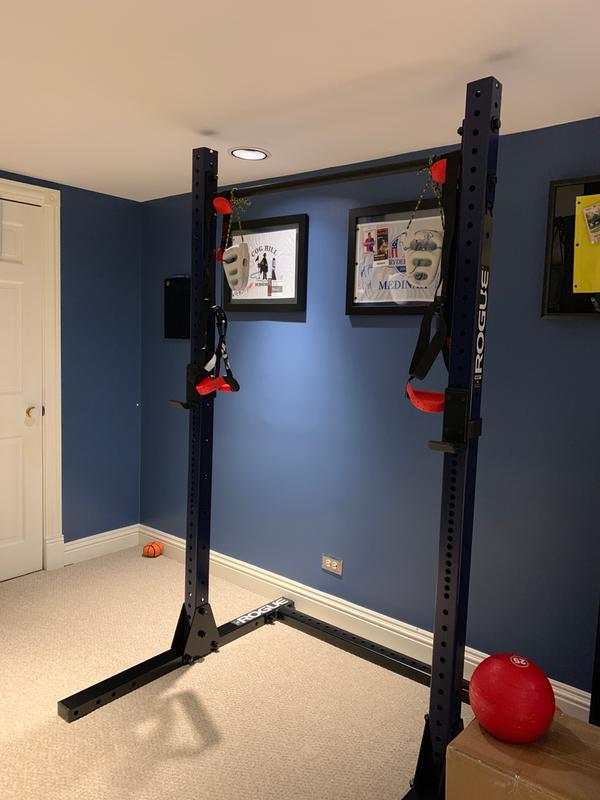 Rogue SML-2 Squat Stand
The SML-2 Monster Lite Squat Stand delivers much of the strength and versatility of a power rack in an efficient, compact frame. Featuring 3x3" 11-gauge steel uprights, an adjustable fat/skinny pull-up bar, and 5/8" holes in the Westside spacing pattern, it's an affordable hybrid of Rogue's 90" S-2 and Monster SM-2 squat stands.The American-made SML-2 is equally equipped for squats, bench, pull-ups, clean pulls, floor press, and more. And with a footprint of just 49" x 48", it's a squat stand well suited to both a garage gym or a large-scale training facility.The SML-2 is manufactured in Columbus, Ohio, using (2) heavy-duty 11-gauge 3x3" square laser-cut steel uprights and (3) 2x3" 11-gauge steel base tubes for optimal stability. The unit includes laser-cut 5/8" diameter holes and SAE grade 5 bolt hardware. The finish is our signature black powdercoat.While it's called a squat stand, the 90" SML-2 can be used much like a full-scale power rack, from bench work to pull-ups, clean pulls, floor press, and more. The unit has a weight capacity of 1,000 LBS, but creates just a 49" x 48" footprint in your gym, making it a space efficient option that gives up little in functionality.Every weld and laser-cut at Rogue is inspected individually at each step of the process for integrity and appearance. Every part is again individually inspected for finish after the powder coat process. The entire package receives a final comprehensive quality assurance check before it's shipped. Once in use, the SML-2 is guaranteed by Rogue for Life.Even without custom additions, the SML-2 comes with all of the hardware and basic accessories necessary to have a pro-caliber squat stand at your disposal. This includes all necessary 5/8" bolts and fasteners, a pair of Monster Lite J-Cups (with protective UHMW plastic inserts), and your choice of either a Fat/Skinny or Single Pull-Up Bar.
$445.00
Shop deal
REP SR-4000 vs. Rogue SML-2
The SR-4000 and SML-2 Squat Stand from Rogue Fitnessare similarly designed racks using 3"x3" 11-gauge uprights offered at similar heights and with ⅝" holes.
The SR-4000 is more stable than the SML-2, however, it also has a much longer footprint.
The SML-2 is available in colored options and called the SML-2C.
The SR-4000 from REP is imported while all of Rogue's Racks are made in the USA.
The Rogue SML-2 is cheaper than REP's offering by a few dollars.
4.60
SR-4000 vs. X-3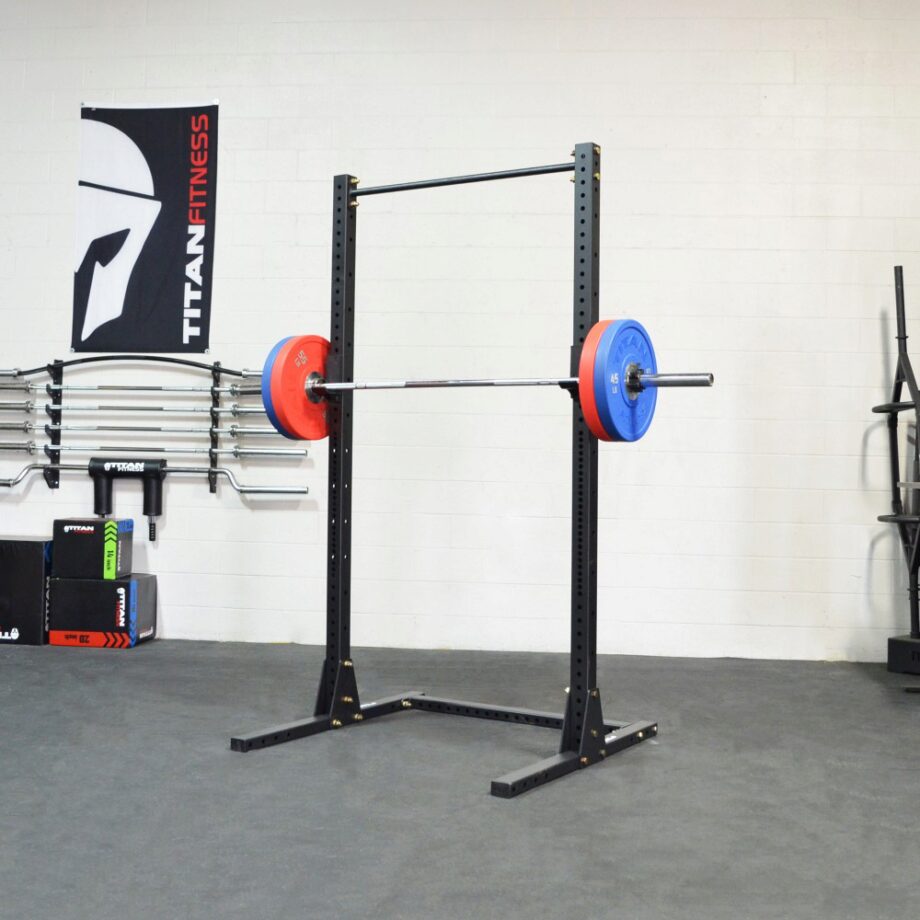 Titan X-3 Squat Stand
The Titan X-3 Squat Stand is our answer for weightlifters and athletes wanting a serious squat stand. The heavy-duty 11 gauge 3"x3" uprights are rated at over 1,000 lb. The laser-cut uprights also feature the Westside hole pattern through the bench zone, and 2" spaced holes above and below for easy adjustments. The flat foot design stabilizes the squat stand while allowing ample room for your bench. We offer our X-3 Series Squat Stands in a Short (72") Model and a Tall (92") to fit your gym needs. Our Tall Model includes a pull up bar. Features: - X-3 3"x3" 11 gauge steel uprights - Westside hole pattern through bench zone - 2" hole spacing above and below. - 1,000 + lb capacity - Pair of UHMW lined X-3 JHooks included - Double-sided gusset plates - Standard 1.25" Pull up bar included - Mounted at your preferred height. Specifications: - Height: 92" - Width: 49" - Depth: 48" - Product Weight: 170 lb - Finish: Black Power Coating - Floor Space: 16.3 sq ft (49" x 48")
$399.95
Shop deal
REP SR-4000 vs. Titan X-3 Series Squat Stand
Both the REP and Titan Squat Stands are imported.
The X-3 from Titan Fitness isn't nearly as stable as the SR-4000.
The SR-4000 has laser-cut numbers on the uprights.
The Titan X-3 is cheaper than the SR-4000 and has free shipping making it overall significantly less.
My Final Thoughts About the REP SR-4000 Squat Rack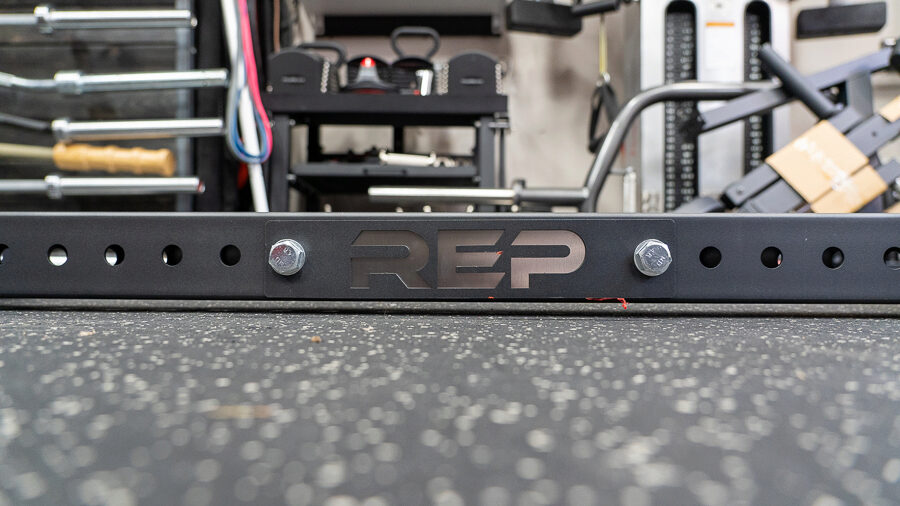 Before we finish up this review, let's recap the things most important before buying the SR-4000 Rack.
My favorite things about the SR-4000
I think the SR-4000 is a great option for home gym owners that want to add an extremely stable squat stand to their gym.
This stability is great during training, but it will also allow you to add accessories like jammer arms that aren't typically used on squat stands.
My complaints about the SR-4000
In my opinion, this rack will have too large of a footprint for many looking for a squat stand, because they're most often purchased for their space savings.
Full Rating
REP SR-4000 Squat Rack
REP Fitness has been doing a complete redesign of their power racks and the REP SR-4000 Squat Rack is exactly that. Based on REP's best-selling rack, the 4000 Series Squat Rack improves in nearly every area and is by far the sturdiest squat stand we've tested. There are drawbacks to the design related to the size of its footprint, but if you're looking for a somewhat budget-friendly squat stand, this is a tremendous option.
Further reading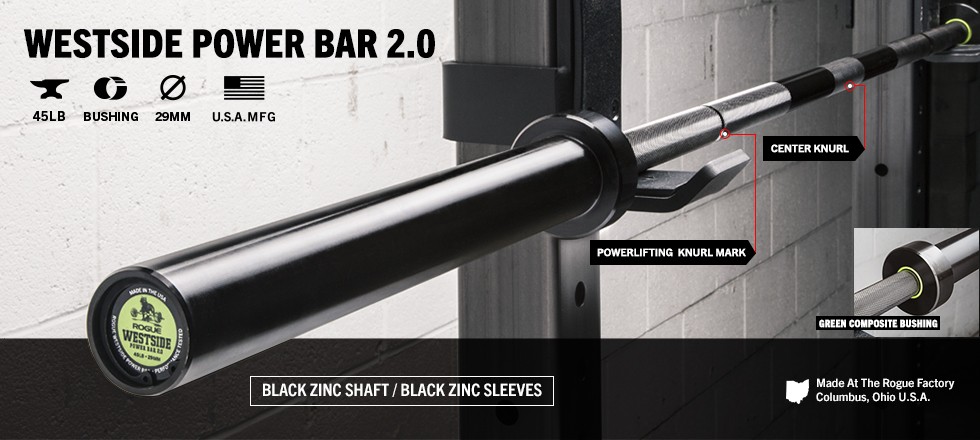 Rogue Westside Power Bar 2.0 Released! by Coop
The Rogue Westside Power Bar 2.0 is a collaboration between Rogue Fitness and Louie Simmons of Westside Barbell. It's one of the best power bars available and at a price that years ago would be unheard of. Read more
Used 2015 Reebook CrossFit Games Rogue Equipment by Coop
Every year, after the CrossFit Games, Rogue Fitness sells some of the Games-used gear at a big discount. Here's the details. Read more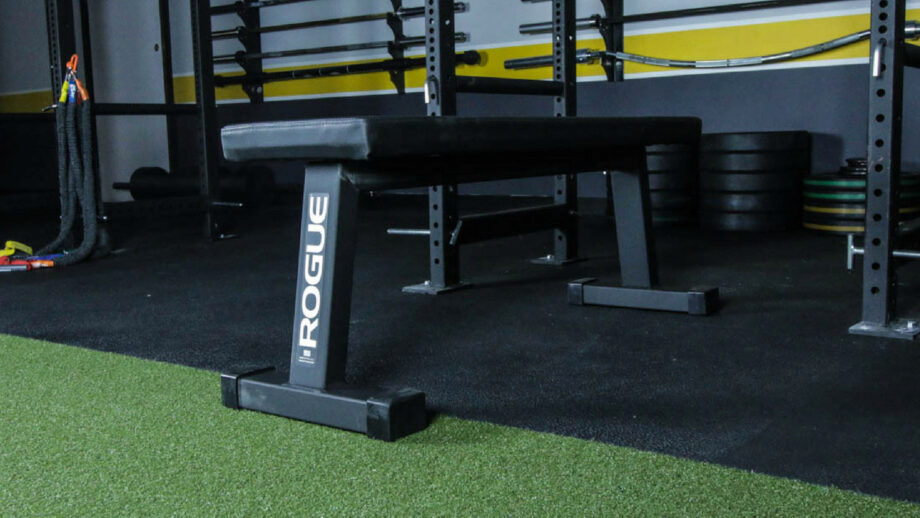 Rogue Flat Utility Bench 2.0 In-Depth Review by Coop
The Rogue Flat Utility 2.0 Bench is one of, if not the best flat bench available on the market. Rogue has kept the design simple, but yet effective in durability and stability. With its lifetime warranty and structure that can handle just about anything you throw at it, the Rogue Flat Utility 2.0 Bench will be a great addition to any home or commercial gym. Read more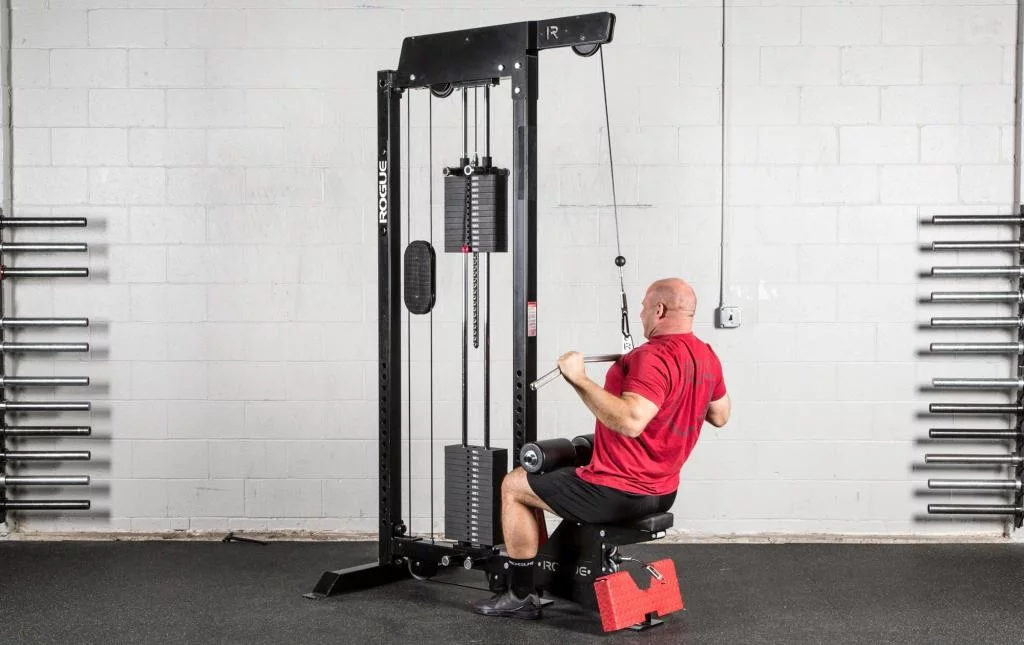 Rogue Monster Lat Pulldown Released! by Coop
The Rogue Monster Lat Pull Down/Low Row is one of the beefiest lat pulldown machines on the market. Featuring a 300 LB weight stack, ability to do pulldowns and low rows, made in the USA construction, and a great warranty this is one of the best lat pulldown machines available...although an expensive one. Read more
Sours: https://www.garagegymreviews.com/rep-sr-4000-squat-rack-review
Pulley rep fitness
I'd love to say to you, both the Rep Fitness power racks have Westside spacing, heavy 11 gauge steel frames with 3″ x 3″ tubing, and if I could say that we would be talking commercial grade, and looking at spending 2 or 3 times as much.
The PR1000 and PR1100 are two budget-friendly home gym power racks from Reps 1000 range both are high quality, well built, durable, and come with a lot for the price tag.
When we buy a rack for our home gyms, what we normally look for is stability, safety, versatility, and weight capacity, you get all of this and a lot more from both of these racks which is why they are both worth taking a closer look at.
First, we have a full detailed review of the PR1100, and for the PR1000 we have more of a summary and comparison because it shares many of the same features as the PR1100 but there are few very important differences worth noting which you can read at the end of the review
Sours: https://www.jayshomegym.com/rep-fitness-power-rack-pr-1100-pr-1000/
How to Assemble the Lat/Low Row for REP 1000 Series Racks
The PR-1100 from Rep Fitness is an excellent option for anyone needing a power rack without wanting to spend their yearly gym allowance on a single item. It's built with high quality, and many features make it nearly impossible to beat for the price. The PR-1100 may be the best power rack that you can get for under $400.
This review will discuss the 1000 Series from Rep, specs of the PR-1100, assembly process, attachment options, and where it may fall short.
1000-Series Rack
REP's budget line of power racks is their 1000 series, and they feature 3 options. The options are very similar, with a few differences. If the height is an issue, check out the REP 1050, labeled the "Short Home Gym Rack." It is 72" tall and perfect if you are limited in height in your gym space. If you have the height in your space, check out the PR 1100 and the PR 1000. Both are priced under $300, have a similar footprint, and use 2"x2" uprights with 1" holes and 14 gauge steel. The difference is the hole spacing and the multi-grip pull-up bar. The PR 1000 uses 2" hole spacing and comes with the straight pull up bar. The PR 1100 has a multi-grip pull-up bar but has 3" hole spacing. For the 2" hole spacing, it will cost you an extra $20. Whatever you decide, these are arguably the best power racks you can get for the price. For this review, we will focus on the PR 1100, but keep in mind the subtle difference between these three.
Specs
The overall footprint of this power rack is 84″ tall (top of pull-up bar) x 48″ wide x 47.5″ deep. You can also save a few inches of height if you mount the pull-up bar upside down. The interior area is just a tad smaller (79″ x 44″ x 45.5″). It is plenty of room for most to squat in. Overall, it doesn't take up too much space, making it an excellent option for those working with limited areas. Plus, you can get a colored option (red, blue, silver, metallic black) to add some flair!
Included Features
Multi-Grip Pull-Up "Arch:"The pull-up bar includes a standard size bar in front, a thicker one in the back (or vice-versa if depending on installation), and then a neutral grip option for even more variability. You might experience some wobble when using the pull-up bar, depending on your size, but you can limit this by adding a bar with some plates to it on the back. In general, it feels sturdy, and a multi-grip pull-up option adds even more versatility to the power rack, especially if you have a pair of rings or bands to attach to it. The pull-up bar is rated with a capacity of 400 pounds.
Numbered Uprights: Numbered uprights are always a perk. It takes out the guessing you might have to do when setting up your j-cups or safety bars. The REP PR 1100 uses laser-cut numbered uprights for holes 1, 5, 10, and 15. There are 20 total holes, and it is easy enough to count from the numbered holes to make sure everything is in line. The laser-cut numbers give you a quality, clean look and won't peel off or scuff as stickers would. The 1" holes are all spaced 3" apart (or 2" on the PR 1000); this rack does not use the now-popular 'Westside spacing.'
J-Cups: The j-cupsare lined with 3 pieces of UHMW plastic to protect the barbell knurl and eliminate noise when racking and re-racking. The UHMW is screwed into the j-cup with a single screw. This means the plastic will turn in the j-cup. Not a big deal, but a slight annoyance. The j-cup weight capacity is stated at 1,000 pounds.
Safety Arms: Also, the safety barsare chrome plated and easy to move in and out. They use a 'twist-in safety setting instead of a linchpin, which makes adjustments quick and easy.
Assembly
Assembly was quick and easy. It can be put together in under an hour by just one person. It's easily manageable with a single person, but with most things, you could cut the time nearly in half with a second set of hands. REP includes two wrenches which are pretty standard to any self-assembly item. Using just those wrenches would be less than ideal. Having a socket wrench makes the process easier, and a power drill would shed some time off assembly. All parts are bolted together with washers, nuts, and bolts. The rack weighs 130 pounds and can be moved from one spot in the gym to another relatively easily.
Large Rack Attachments
REP 1000 Series Weight Storage: This upgrade/attachment turns any of the 4-post 1000 series racks into 6-post racks. The added 2 posts are about 5 inches shorter than your original 4 posts (at least for the 1100 and 1000). Two short feet bolt into the bottom of the rack, and two longer arms clamp onto the top of the rack. Down each arm holds 4-2" Olympic plate holders18" apart; plenty of room to hold bumper plates on each arm (bumper plates are 17.5" diameter; standard). You can access the plate holders from the outside of the rack, while 2 barbell holders (one on each side) sit inside the rack attachment. The empty rack attachment adds some extra stability, but the rack's stability is significant when it is filled with plates. This attachment does take up an additional 5.5 sq/ft of floor space, but in that floor space, you now can store 2 barbells and a full set of plates. This is a great option if storage is an issue you face. The attachment is currently priced at $149, which is a great price for what you get.
REP 1000 Series Lat and Row Attachment: This versatile attachment is only an option for the 1000 and 1100 series racks. It is connected with a single post at the bottom (which wraps under the rack and bolts in) and a single post that connects to the top of the rack. The top and bottom posts are made from the same 14 gauge 2"x2" steel that makes up the rack. Running between the top and bottom post is a chrome 2"x2" post that the plate loader fits over and slides up and down on. The instructions are a bit difficult to follow (a small labeled picture that is difficult to see), but it did not take much effort or time to make sense of the instructions and complete the installation. This attachment requires an extra 21" behind the original footprint of the rack (that includes the space needed for an Olympic sized plate), and from the floor stands 85 ⅛" from the ground; that's about an inch taller than the multi-grip pull up bar installed at its tallest. The attachment comes with a wide grip lat-pulldown bar, which has a rubber grip on the outside grip and a knurl on the inside steel. It also comes with a short straight bar. The straight bar does not have a bearing. It also comes with 2 spring clips.
The 'single-post design for a cable system (meaning the plate loader moving up and down a 2"x2" post) is not as smooth as a cable system that uses 2 thin rods like the REP PR 4000 and 5000 Lat and Low Row attachment; or Titan Seated Lat Pull-Down. Those are also $350 attachments for racks that are more than double the cost of the 1000 series racks. That being said, the Lat/Low Row Attachment for the 1000 series racks is a great addition. The plate-loaded option for the 'single post needs to be loaded evenly on each side. If you don't, you will feel friction when you pull. When you factor in the price ($179 at the time of this article), you can't beat it.
Other Add Ons
The PR 1100 squat rack comes with a pair of j-cups*, a pair of chrome-plated safety bars*, and the multi-grip pull-up bar*. REP does offer additional add-ons, like:
Lat-pulldown/Low-row cable attachment (see above)
2-post weight storage (see above)

It comes with 8 weight horns are 2 bar holders

Weight horns for plate storage
Dip attachment
Landmine attachment
REP's Budget Rack; Where it might fall short:
REP knows what they are offering. This is a full rack with great attachments, and the price is almost unbelievable. As worded by REP: 'Max your lifts – not your credit card.' They offer other power rack options that are beefier and give you more attachment options, but you have to pay them. Below are some things to consider when wondering if this rack is for you.
Re-racking Heavy Weight: If you are someone who lifts heavy and you drive the bar back into the j-cups when re-racking a bench, or you lean hard into the j-cups when re-racking a heavy squat, the rack may give a slight tip. The PR 1100 does not give you a bolt-down option to secure the rack to the floor. A back-of-the-rack attachment (like the extra storage attachment or pulley system) does provide additional support, especially if you have the weight storage system and it is loaded with plates.
No bolt-down option: This is referenced above. This rack does not allow you to bolt it into the floor, giving you less stability than a rack that would bolt down into the floor. You may have less stability, but the rack can be easily moved or repositioned on the flip side.
Limited Attachments: You are only given 1 j-cup option and 1 safety bar option for this rack. Other REP racks give you multiple j-cup options, safety options like safety straps, spotter arms for the outside of the rack, and different safety bar options. That being said, both Titan Fitness and Valor offer rack add-ons for 2"x2" uprights and 1" holes.
Upgrade Option from REP
All of the areas where the PR-1100 comes up short can be solved by upgrading to one of REP's more premium options such as the OMNI Rack, which does include more attachments and a more stable base that does not need to be bolted down. Read the review here. With that being said, this PR-1100 will cost about a third of the most basic OMNI setup.
Conclusion
In the end, this is probably the best power rack that you'll find in this price range. Shipping is not the cheapest, but it's still priced incredibly well. While there are others out there with more features (for more $$$), it's an excellent option for most home gym owners. It is not too good to be true, like many may believe when first looking at the price. Whether you are looking to upgrade from a squat rack or want your first for the home gym, you should feel confident about ordering the PR-1100 from Rep Fitness.
Sours: https://garagegymexperiment.com/2021/03/18/rep-fitness-pr-1100-power-rack/
Similar news:
REP FITNESS FT-5000 Multi-Grip Functional Trainer Cable Machine, Dual Adjustable Pulley Machine with 220 lb Weight Stacks and 16 Adjustments, with an Optional Premium Accessory Package
200 ratings Write a review
Item #:
USD4904
This product is not Fulfilled by Ubuy and can take minimum 10 days in delivery. We might cancel the product from the order and refund you if any issue arise with the delivery of this product.
Note: Electronic products sold in US store operate on (110-120) volts, a step-down power converter is required for the smooth device function. It is mandatory to know the wattage of the device in order to choose the appropriate power converter. Recommended power converters Buy Now.
---
Product Details
BIGGER WEIGHT STACK - Two upgraded 220lb weight stacks with 2:1 ratio (moving 100 lbs takes 50 lbs of effort) to give you more possible resistance. 110lbs per side Maximum Effective Load.
HEAVY DUTY - An 11-gauge steel constructed frame makes this one of the most solid units on the market. PREMIUM PULLEYS - Larger and more robust pulleys allow for a smoother feel through your cable resistance movements.
EXERCISE GUIDE, MORE ADJUSTMENTS, PULL-UP OPTIONS - This cable crossover station has a panel with exercise guides and 6 hooks to hang even more attachments! Don't see an attachment you want, add a couple more to your cart! 16 cable positions , and multiple pull-up grip options allow you to perform a wider variety of exercises. More pull-up grip angles allows you to focus on more parts of your arms and back
PROFESSIONAL GRADE FINISH - Two-layer electrostatic powder coating with a beautiful black metallic finish. Laser cut and professionally welded for a super clean looking unit. Sleek enough for any high end training studio, while also priced to be used at home. Ideal for commercial locations.
FREIGHT SHIPMENT. You must provide an accurate phone number and delivery address on the order so the freight delivery company can contact you to schedule the delivery. If you do not provide correct information, you will be charged by the delivery company. More information is provided on our seller profile under "shipping policies".
| | |
| --- | --- |
| Manufacturer ‏ : ‎ | Victory Fitness |
| ASIN ‏ : ‎ | B07QXTGS9N |
Description
REP FITNESS FT-5000 Multi-Grip Functional Trainer Cable Machine, Dual Adjustable Pulley Machine with 220 lb Weight Stacks and 16 Adjustments, with an Optional Premium Accessory Package
Customer Questions & Answers
No question and answer found
Customer Ratings
0 customers ratings
5 Star 0%
4 Star 0%
3 Star 0%
2 Star 0%
1 Star 0%
---
Review this product
Share your thoughts with other customers
Customer Reviews
No customer reviews found
Write Your Own Reviews
Only registered users can write reviews. Please log in or register
Sours: https://www.ubuy.com/product/1OWU6NEQW-rep-fitness-ft-5000-multi-grip-functional-trainer-cable-machine-dual-adjustable-pulley-machine-with-220-lb-weight-stacks-and-16-adjustments-with-an
67
68
69
70
71