I've been using Quizlet in class for a while. This term I'm getting to grips with it a bit more as part of a project for my MA.
Huh, Quizlet?
Quizlet is a site which allows you to create your own online flashcards and games all for free. It's really easy to pick up for both teachers and learners. Here's what learners can do with it:
Flashcards – Learners can revise words from a lesson using digital flashcards made by the teacher. Flashcards can be words + meanings or words + images. You could also make question and answer cards. Students could also make their own flashcards if they want.
Learn – Read the meaning/look at the image and type the correct word
Spell – Type the target word you hear
Test – An auto-generated mix of written, multiple choice, and true and false questions based on the vocabulary set
Match/Gravity – a couple of games using the vocab set. Match works well on an interactive whiteboard
Live – play a live game with multiple participants
Anyone can access a study set, students don't need to log in. You need to log in to create your own study set though.
There are loads of summaries and tutorials about Quizlet online, this one is pretty good. I just wanted to share some examples of what you can do with a teacher's account.
Quizlet Teacher account
A Quizlet Teacher account costs $34 for a year.
With a Teacher account you can:
Create classes and invite your students to these. They need a Quizlet account to join a class
Assign study sets to your own classes
Track student activity so you know if they are revising / you can view their test scores
Track which terms students are having difficulty with
Use the Quizlet Live feature, which is a fun game for the whole class
Examples:
This example is from a really quick study set I put together on appearance.
Quizlet records which words learners find hard when they are studying your word set.
This is an example of student activity on my various study sets. It shows you which features the students are using most and how often.  You can also see what other vocabulary sets they are using from around Quizlet.
Teacher's account vs basic account
As well setting up classes, there are a few other benefits of having a teacher's account:
You can upload your own images to a vocabulary set. Sometimes the stock images available on the basic account are a bit rubbish
You can record your own voice on your flashcards. The model pronunciation used for words flits a bit between American English and British English. Using your own voice would be more consistent
Should I bother with a teacher's account?
There are benefits to tracking learner activity with a teacher's account – formative assessment, proof they've done their homework, more freedom when creating study sets.
However, I'm in week 4 of term, and the wow! factor of Quizlet is already wearing off a bit for the learners. I've still got a few features to try out though so interest might pick up again. A teacher's account doesn't break the bank, but I think you can do enough on Quizlet without it.
I'm working with Quizlet throughout the term, so my views might change. My next Quizlet challenge is getting students to create their own study sets… I wonder how it will go!
UPDATE
After quite a few comments about Quizlet Live I decided to trial this over the weekend. It's really easy to use – it generates a multiple choice game for your learners which involves working as a group. My classes have three different study sets at present, and we tried the Quizlet Live game with each. They left class wanting to play again – it was clearly very addictive and motivational. This is probably the best feature on Quizlet and I'm really pleased other teachers encouraged me to trial it.
I didn't really set class expectations for Quizlet Live as I was viewing it for the first with the class myself! I'd say we had some issues – not with technology though! More with classroom management – the class were communicating during the game almost only in Thai rather than English, which got a bit frustrating. I'm going to work on my procedures and management of this game but overall it was a great success. I'd go as far as to say it justifies getting a teacher's account, although again I'm not sure if the novelty factor will wear off!
Feature image: Quizlet homepage
‹ Classroom silence and digital natives
Assessment Capable Learners in the primary classroom ›
Categories: General, reviews
Tags: edtech, elt, elt games, homework, Quizlet, reflections, revision, self-study, tefl, vocabulary
Sours: https://eltplanning.com/2017/05/29/quizlet-teacher-account-worth-it/
Setting your students up for success means so much more than teaching daily lessons and hoping students do well on assessments.
You need to teach the information and then provide effective ways for your students to review what you've taught!
Some teachers like to create customized study guides and booklets for their classes, but that takes a lot of time and effort outside of school hours.
That's why so many teachers consider using Quizlet, an online study tool, to save time when helping students prepare for tests!
But before you jump right into adding a new tool to your classroom, it's important to understand the pros and cons of Quizlet to help decide if it's right for you and your students.
In this blog, we'll discuss the biggest pros and cons of using Quizlet to make your decision a little easier.
However, before we jump in it's important to answer one other question -- what exactly is Quizlet?
What Is Quizlet?
Quizlet is a web-based application developed to help students study information through interactive tools and games.
Quizlet's mission is to help students (and teachers) practice and master what they're learning.
In Quizlet, information is organized into "study sets" that users like teachers or students add to their accounts.
When using Quizlet, students log in and choose the appropriate study set for the concepts they need to review. These can be created by a teacher or generated by other users.
Because of the flexibility and customization available, Quizlet can be used in any grade level and any type of class.
That means whether you're a middle school career readiness teacher or a high school health science teacher, Quizlet can help your students study.
Now that you have an idea of what Quizlet is and how it works, let's get into the benefits it provides to you and your students!
3 Pros of Using Quizlet
Overall, Quizlet can be a great tool for you and your students for three reasons:
You can easily differentiate review for your students
You can incorporate collaboration and teamwork into your classes
Students have another way to prepare for tests
1. Quizlet Helps You Differentiate Review for Your Students
Quizlet has seven standard study modes that help students review in the way that works best for them:
Flashcards – A quick way to review terms and definitions, just like paper-based flashcards
Learn – A personalized study mode based on how well you know information in a study set
Write – A fill-in-the-blank style study tool
Spell – A study mode that dictates a term or definition that you must correctly type
Test – An easy way to quiz yourself on how well you know information in a study set
Match – A time-based game where the student must match terms and definitions
Gravity – A level-based game where the student must answer correctly before being hit by an asteroid


When you create study sets for your students, you decide which modes to use based on how your students learn best.
Some study modes, like Flashcards, include text-to-speech audio prompts that help ELLs and students with IEPs learn and remember information.
You can also include images and diagrams as needed to provide better context for your students.
With all of these options, you're creating a customized way for your students to review information, without you having to do a lot of extra work!
2. Quizlet Helps You Incorporate Collaboration and Teamwork Skills
It's not always easy to teach collaboration and teamwork skills, but with Quizlet you can do it while helping students review.
Quizlet Live is an in-class game that teachers can use to help students review information while working together in teams.
The game randomly sorts students into teams to match terms and definitions, and the first team to correctly answer all of the questions wins!
Quizlet Live is fully focused on accuracy over speed. If a team answers any question wrong, they have to start over from the beginning.
This ensures your students' competitive spirit won't override the need to answer correctly.
3. Quizlet Helps Students Prepare for Tests
Ultimately, the other pros of Quizlet tie into this final benefit: Quizlet helps students prepare for tests!
With the engaging study tools and differentiation options available, your students have so many different ways to study information when using Quizlet.
Instead of having to look through notes, fill out worksheets, and create paper flashcards, they can just log in and start studying!
On top of that, if your students have a mobile device, they can download the Quizlet app to review information anytime, anywhere.
That means your students will have more flexibility to study what they want, when they want, and in the way they want.
Talk about the perfect way to set students up for success on test day!
But no study tool is ever perfect.
So now that we've shared the three biggest benefits of Quizlet, it's time to talk about the cons.
3 Cons of Using Quizlet
Though Quizlet is designed to help students learn information, there are three specific drawbacks that can impact your student's learning:
Students can get distracted by ads
Students could learn incorrect information
Students may use Quizlet to cheat
1. Students Can Get Distracted by Ads on Quizlet
If you and your students use the free version of Quizlet, you'll see ads on every page of the website.
Some ads are easy to ignore, but they can be overbearing. These ads are actually designed to distract your students away from learning.
You can upgrade to the paid version of Quizlet to remove the ads, but that may not fit into your classroom budget when there are more important things to purchase!
2. Students Could Learn Incorrect Information on Quizlet
Because Quizlet allows any user to create and share a study set, there is no guarantee the information is accurate.
If a student logs in and chooses a set created by someone else, there's a possibility they could accidentally study incorrect information!
One typo in someone else's cards could lead your student to studying the wrong information, miss questions on a test, and get a low grade they didn't expect to receive.
Though you can instruct your students to only use the sets and games you've created, students can still come across other ones on their own.
3. Students May Use Quizlet to Cheat
If you create Quizlet sets for each assessment in your class, you're providing excellent resources for your students.
But dishonest students may take advantage of those study tools to cheat on their homework and assessments.
Even though Quizlet doesn't allow cheating or academic dishonesty, some students will push the boundaries and find ways to cheat.
It's as easy as a student Googling a homework question, finding a Quizlet set, and copying the answers straight from the website.
In fact, it's so easy that it may not even feel like cheating. Students might just want more information on a certain topic and stumble upon direct answers to their homework.
Cheating isn't a problem unique to Quizlet, but it's one of the most common issues for teachers using this tool.
To curb cheating with Quizlet, you can adjust the settings of your study sets or change the wording of your questions.
But there's no way to keep other users from posting the information found on your assessments.
You can request for Quizlet to remove content that has been used for cheating, but even after the set is taken down, another one could pop back up in a matter of hours!
With these three pros and cons, there's still one question left to answer -- should you use Quizlet?
Should You Use Quizlet?
When it comes down to using Quizlet, it all depends on the balance of pros and cons you'll get from using it.
If you want to provide a customized study tool for your students to memorize and review specific terms and concepts, Quizlet could be perfect for you.
But if you start to notice a suspicious pattern of exceptionally good grades and word-for-word answers, it may be time to cut Quizlet from your teaching strategy.
While this decision is ultimately up to you, you can always ask other teachers for their thoughts!
Click below to jump into the AES Educator Community and see what teachers across the country say about Quizlet.
Sours: https://www.aeseducation.com/blog/quizlet-pros-cons
What is Quizlet and How Can I Teach With It?
Quizlet is a fantastic tool for teachers to create quizzes for in-person and remote learning that makes building and assessing quick and easy. It is even smart enough to offer adaptive learning to suit the student.
Quizlet offers a huge range of subjects and question styles, from visual study materials to fill-in-the-blank games, and plenty more. But styles aside, the big appeal here is that, according to Quizlet, 90 percent of students who use it report higher grades. A bold claim indeed.
So if this sounds like something that could fit in with your arsenal of teaching tools, then it might be worth considering further as it's free for the basic mode and very affordable at just $34 for the entire year for a teacher account.
Read on to find out everything you need to know about Quizlet for teachers.
What is Quizlet?
At its most basic, Quizlet is a digital pop-quiz database. It features more than 300 million study sets, each one being like a deck of flash cards. It's also interactive, with the ability to create your own study set, or clone and edit those of others.
Verified Creators, as they're called, also create and share study sets. These come from curriculum publishers and educational institutions so you know they will be of a high caliber.
Quizlet is sectionalized by subject so it can easily be navigated to find a specific study target. Lots of these use flashcard-style layouts that offer a prompt or question that the student can select to flip over to get the answer.
But there are various options that let you learn more from the same data in different ways. So you could select "learn" instead of "flashcards," and then the question would be given only with multiple choice answers, for a more active learning approach.
How does Quizlet work?
Quizlet is broken down into several styles, including:
Flashcards
Learn
Spell
Test
Match
Gravity
Live
Flashcards are pretty self explanatory, like real ones, with a question on one side and the answer on the other.
Learn puts questions and answers into multiple choice-style quizzes that can be completed to get an overall result. This applies to images, too.
Spell will speak aloud a word and the student is then required to type out the spelling of it.
Test is an auto-generated mix of questions with written, multiple choice, and true-or-false answer options.
Match has you pairing up correct words or a mix of words and images.
Gravity is a game that has asteroids with words coming at a planet you need to protect by typing out the words before they hit.
Live is a game mode that allows for multiple students to work collaboratively.
What are the best Quizlet features?
Quizlet has all those excellent modes that allow for a variety of ways to get information across for learning across a broad range of subjects.
The smart adaptive nature of Quizlet is a really powerful feature. The Learn mode uses data from millions of anonymous sessions and then generates adaptive study plans designed to improve learning.
Quizlet offers a lot of support for English language learners and students with learning differences. Select a word or definition, and it will be read aloud. Or, in the case of teacher accounts, attach your own audio recording. It's also possible to add visual learning aids to cards with specific images or custom diagrams.
Quizlet has a plethora of media that can be used, including a huge pool of licensed Flickr photography. Music can also be added, allowing for very targeted learning. Or teachers may find something ideal that has already been created and is available in the selection of shared online quizzes.
Quizlet Live is superb as students are given codes and once they sign in they're randomly grouped for a game to start. For each question, a selection of possible answers appear on teammates' screens, but only one of them has the right answer. Students must work together to determine which is the correct one. At the end, a snapshot is provided for teachers to see how well the students have understood the material.
How much does Quizlet cost?
Quizlet is free to sign-up to and start using. For teachers, it's charged at $34 per year to get some extra features, such as the ability to upload your own images and to record you own voice – both powerful options if you want the freedom to create your own study sets from scratch.
Teachers can also track learner activity with formative assessments and homework as well. Teachers can also adapt Quizlet Live, organize classes, use the app, and have no ads.
Luke Edwards is a freelance writer and editor with more than two decades of experience covering tech, science, and health. He writes for many publications covering health tech, software and apps, digital teaching tools, VPNs, TV, audio, smart home, antivirus, broadband, smartphones, cars and much more.
Sours: https://www.techlearning.com/how-to/what-is-quizlet-and-how-can-i-teach-with-it
Why students should upgrade to Quizlet Plus
1. Create and use English-English sets
Quizlet, Duolingo, Busuu…there are lots of apps on the market nowadays to help you learn and improve your English. But with so many options, it can be a little overwhelming knowing where to start and what features each app offers you.
Quizlet is an easy-to-use app which helps you learn vocabulary in lexical sets – have a look at these 10 Useful Phrasal Verbs for example. As well as having access to the hundreds of word sets which have been created by learners and teachers around the world, you can also create your own sets, which is quick and easy to do once you set up your free account.
If you haven't used Quizlet before, here's a simple "how to" guide that shows you how to create a set of vocabulary cards to study and briefly explains the main features of the app.
So, now you know how Quizlet works, here are 5 top tips to help you make the most of the app.

Although you can create sets with translations into your own language, all our sets have the term and a definition in English. This means we can give you a much more specific meaning of the word instead of just one translation of it. As words sometimes have multiple meanings, linking a word with a definition rather than a translation will help you remember the context in which you use it.
Take for example muñeca which means both doll and wrist in English:
doll – a child's toy which looks like a person.
wrist – the part of the body between the hand and the arm.
Imagine if you said, "I broke my cousin's wrist" when you meant to say, "I broke my cousin's doll" – one sounds much more serious than the other!
Another advantage of writing a definition in English is that you'll expand your vocabulary even further. Remember, the more you use English, the better you'll become!

Quizlet automatically keeps track of your progress and shows you the words which you're having difficulty remembering. When you're on the main page of a set, you can see the full set of words and definitions and once you start practising them, they are listed according to how well you've remembered them:
Sometimes missed
Rarely missed
Always correct
If there are words which you often struggle to remember and get incorrect, you can click on the star on the right-hand side and then choose to focus just on those words. As you answer correctly more often, the word will change from being Sometimes missed to Rarely missed to Always correct.
You can also click on the star if there are certain words which are especially important for you and then decide whether you want to practise all the words in a set or, using the filter, focus just on the ones which you've starred.

You can click on the audio button to hear the word or phrase at any time and it's worth repeating each term as this will help it become firmer in your memory. When you're practising the terms using the spell feature, instead of reading the definition, turn the audio on for an extra challenge.
A further benefit of using the spell feature is that it also makes you focus on the correct punctuation of compound words; for example, in our New English Words set you can find terms like gender-fluid, to binge-watch or post-truth.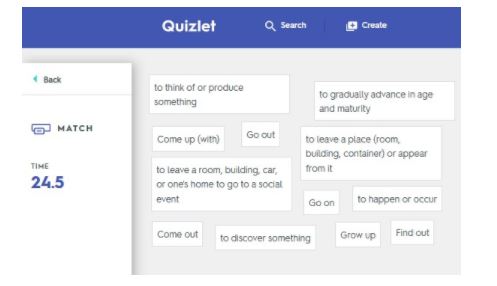 When you play the match game, a timer on the left-hand side shows how long it takes you to correctly match all the terms in that set. Adding a competitive element is very motivating, so why not challenge yourself to beat your own time? Or, play against a friend. It's easy to share sets with friends – just click on the arrow icon below the title of the set and you can send a link via email, Twitter or Facebook.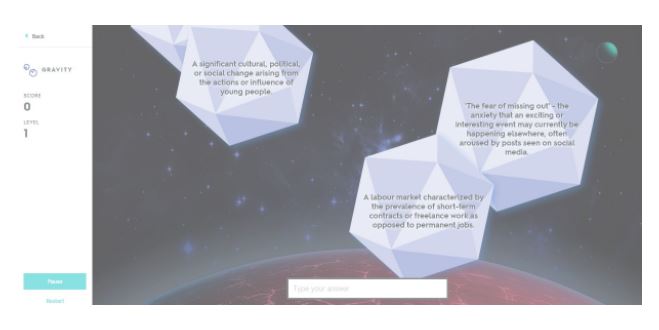 Make using Quizlet part of your daily routine and review sets which you've created or saved to keep the vocabulary fresh in your mind. It's easy to use the app when you're commuting – just a few minutes each and every day on the bus or train will help you learn new vocabulary.
For the study activities, Quizlet shows how much you've done and, if you're playing at the dentist's and have to go in for your appointment, you won't lose what you've completed so far. Unfortunately, once the timer starts on the match game, it doesn't stop until you've matched all the words or click back to exit the game. But, if you're playing gravity and rescuing your planet from the asteroids hurtling towards it, you can pause the game at any time.
Have you tried using Quizlet? Which is your favourite feature? We'd love to hear from you!
Find the following words in the article and then write down any new ones you didn't know.
On the market (exp): available, for sale.
Feature (n): aspect, function.
Overwhelming (adj): confusing, especially if there is too much information.
Set up (pv): open (an account).
Briefly (adv): quickly.
Make the most of (vp): take advantage of, get the best out of.
Term (n): word or phrase.
Keep track of (vp): keep a record of.
Struggle (v): find difficult.
Firmer (adj): stronger, more lasting.
Commute (v): travel regularly (e.g. to work or university).
Hurtle towards (v): move towards something very quickly.
Key
adj = adjective
adv = adverb
exp = expression
n = noun
pv = phrasal verb
v = verb
vp = verb phrase
Study English at Oxford House Barcelona
Interested in taking an English course at Oxford House Barcelona? Check all the different English classes we can offer you or contact us for more information.
Sours: https://oxfordhousebcn.com/en/5-tips-to-get-the-best-out-of-quizlet/
Features quizlet
Quizlet
Name, Abbreviation, and Number of Course
[email protected]: Plan & Design
Name of Activity or Assignment
Bloom's Taxonomy Flashcard Matching Activity
Description and Purpose of Engagement Tool
Quizlet is a web-based tool that allows users to create study tools such as interactive flashcards, tests, and study games. With Quizlet, students can choose their own "Study Mode." This allows activity content to be migrated from flashcards to matching games to other types of study games easily and responsively. Quizlet activities can also be embedded easily into course management systems.
Description and Purpose of Activity or Assignment
This activity serves as a knowledge check for what participants have learned when reviewing content in the unit about how to use Bloom's Taxonomy to write learning objectives. Participants are provided a description of each of Bloom's six levels of instructional objectives in the cognitive domain, each in terms of the essential question with which it is associated. Furthermore, each level includes several representative action verbs that can be associated with that key question. The purpose of the Quizlet activity is to match the Bloom's Taxonomy level with its corresponding question being asked.
Learning Objectives Associated with Engagement Tool
Match the Bloom's Taxonomy level to the question provided.
Preparation Details of Activity or Assignment
In this activity, participants will match the Bloom's Taxonomy level to its corresponding question. This is a great tool to conduct a brief knowledge check to determine if participants understand Bloom's Taxonomy. It is important to provide well-explained information about the topic and then make the Quizlet activity challenging enough to assess knowledge but not too difficult as to frustrate the participants.
This activity requires setting up an account with Quizlet to begin creating study sets. Once signed in, users can create study sets as well as join or create a class to collaborate and share these study activities.
Quizlet offers a free account with basic features in addition to account upgrades such as Quizlet Teacher for a $25 yearly fee. The premium features Quizlet Teacher offers include unlimited classes, class progress data, ad-free studying, voice recording, and image uploading to study sets and games. For more information about what Quizlet Teacher has to offer, visit: https://quizlet.com/upgrade/teacher.
When considering a Quizlet activity, there are a few things to consider. Quizlet was designed for study games and is best used to help students study or as a knowledge-check. Quizlet activities are not recommended for testing purposes or to contribute significantly to a final grade.
Resources for getting started with Quizlet:
Student Instructions for Activity or Assignment
Drag the correct Bloom-level to the question being asked. Clear the board!
If you would like to choose a different study mode, click the lower right corner of the activity and select another mode. Additional instructions will be provided based on the study mode you choose.
Assessment/Grading Criteria for Activity or Assignment
This activity is an optional knowledge-check on Bloom's Taxonomy.  There are no points associated with this activity.
Example of Final Student Output
---
For this activity, there is no final student output to provide as an example. However, following is a screen shot of the activity. When all the words are dragged to the correct question, the words disappear.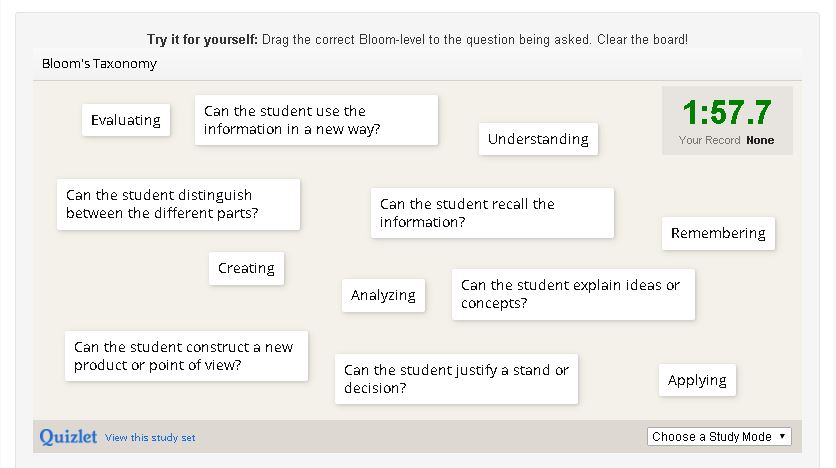 Sours: https://courses.dcs.wisc.edu/design-teaching/Wordpress%20files/modules/Engagement%20Tools/quizlet_ped.html
How to use Quizlet - Official tutorial for new users
Quizlet
If students need to memorize facts, Quizlet is an ideal tool that removes some of the drudgery while adding some handy features. Teachers can ask students to use Quizlet on their own time as homework or to create their own custom flash card sets for Quizlet Live competitions. They might also help students create flash card decks to share with the class.
Unlike with traditional flash cards, Quizlet could be a great study tool for subjects with a lot of visual or auditory content. Teachers can create detailed diagrams or add supporting photos to data sets using their own images or some from Quizlet's large pool of licensed Flickr photography. It's also super easy to attach a voice recording to a term or definition, which would be really useful in a language classroom. For students needing instructional support, Quizlet Explanations are step-by-step tutorials pulled from thousands of popular textbooks that teach specific math and science concepts. Students will likely love this feature, but, like with any homework help tool, they might use it for quick answers versus developing understanding. Teachers could incorporate some explanatory assessment to verify learning.
In addition to review, Quizlet Live is also a great way to introduce new content. Because it requires students to collaborate with their teams to select the right answer, students can pool their collective knowledge to deduce the answers, or you can encourage them to do research as they play the game. As your students learn new information, push them to move toward higher-order thinking, using what they've learned from the flash cards to apply, analyze, question, and create.
Continue readingShow less
---
Sours: https://www.commonsense.org/education/website/quizlet
You will also be interested:
Unit 3: Exploring the Features of Quizlet
Unit 3: Exploring the Features of Quizlet
In this final unit, we will explore all of the amazing features Quizlet has to offer. There are many different features that students can use on their computer or phone inside the classroom or outside. We will take a look at some of these features.
In this unit, you will be able to do the following:
Access the study options for a set.
Set up the three games available including Quizlet Live
Identify specific ways that you will utilize Quizlet in your classroom.
You should be trying out these features with one of the sets you created in a previous unit! As you try each feature quickly write down a way to use it in your teaching.
Study tools in Quizlet
In this section, you will explore what study tools are available for students to use in the classroom or on the go on their mobile phones. We will go through each feature on both desktop and mobile versions.
Below is the main mobile interface that students will see when they log in to their smartphones.
Learn Feature
This feature can be great for students to study sets because the questions will increase in difficulty as they go on. The difficulty is determined by which questions you have previously gotten incorrect. As you progress the answer will be shown and words will either enter categories of "New", "Seen", "Familiar", or "Mastered". The strength of this tool is that it will remember the progress you make and adapt the game to assist the learner. By using this tool students are seeing more of the words that they do not know automatically. This can be great practice for students who struggle with studying effectively.
Below you will see the mobile version of Learn. Students will still be answering multiple choice questions in order to match the definition to the term. They will still have a progress bar, but will not be able to review their information until the end.
Flashcards
This feature allows students to view flashcards on the computer or on their mobile phone. This effectively eliminates the need to carry bulky flashcards around in order to study. Students now have access to thousands of terms at the touch of their fingers.

Here you see the simple but effective interface on the computer.
The mobile version is very similar as it offers all of the same features! Simply tap the card to reveal the definition.
Write Feature
This feature may be one of the most challenging on Quizlet. Students will have to remember the term from memory and type it correctly to match the definition. You also have the option of typing the definition of a term but seems much less practical for studying.
The mobile version is very similar in its layout. Students must type the term or definition correctly. They will be corrected when it is wrong or they have the option of clicking "Don't know".
Spell Feature
This feature requires audio. This tool is designed to help students improve their spelling. It is similar to the Write feature, but students will listen to the correct answer as well. They simply have to type what they hear in order to answer correctly. This will improve the students spelling of words while familiarizing themselves with the definition. You have the option of listening to the definition but it requires the entire thing to be typed correctly. This can be a great tool for ESL students or anyone who struggles with spelling.
There is no mobile version of this feature.
Test Feature
This feature may be quite familiar to students. This is designed to be set up like a normal summative assessment. You have many customizable options while taking this test. There are four different question types: Written, Matching, Multiple choice, and True/False. You also have the option of recalling the term or the definition. This feature can be a great way to check for understanding after a lesson or prepare students by studying words. At the end of the test, students submit their answer to see how they did. You also have the option to print the test or test results out. By printing these tests students can utilize Quizlet without access to technology in the classroom.

There is a mobile version of this feature that has some of the customizable options seen below:
Match Feature
This is the first of three "game" features. This is as simple as the name suggests. You must drag or click the term and definition which is scrambled along with others. You are competing against yourself and classmates for the fastest time. If you incorrectly match a term and definition then you will take a time penalty. This game is beneficial because there are not too many terms or definitions so there is a lot of replay value.
There is a mobile version of this feature that works similarly. Instead of dragging the terms and definitions you race the clock by touching them.
Gravity
This game mode forces students to think fast in order to keep on advancing to the next level. Similar to the Write feature, students will not have an answer bank of terms and must know them well. You have the option to see the definition or term and have to correctly type the opposite. For most cases typing the term would be ideal. As the game starts an asteroid is slowly descending towards your planet. You must type the term/definition in order to blow it up before it reaches your planet. If you are struck with two asteroids then the game is over. Students are rewarded with more points for how fast they answer correctly.
Quizlet Live
Quizlet live is perhaps one of greatest classroom features of Quizlet. This game requires at least four students to play and the more the better. Students will be broken into teams where they will have to collaborate in order to reach success. Each student will be given a handful of terms. On all of the team's screen, there will be a definition and only one student has the correct term. If the team gets 12 definitions in a row they win. If someone misclicks then the team returns back to zero.

This link provides an excellent overview of the game. It may sound complicated but is very easy to figure out once you try!
Video Explaining Quizlet Live
Quizlet Teacher
While Quizlet can be used successfully in a classroom without paying, they offer an upgraded teacher version for $34.99 a year. While you do not get any additional major features, you are able to customize sets and games more. Perhaps one of the most important features offered in this upgrade is that you can track individual student progress. This allows you to collect data on each student in your class. You can check the frequency they study and how successful they are. This data can prove to be an invaluable tool as an educator if you decide to make the jump to Quizlet Teacher.
Here is a list of the features you receive when you upgrade your teacher account:
Final Assessment
After experiencing the past three units, you should have a sufficient understanding of Quizlet. You have created an account, created a class, created multiple sets, and have explored the numerous features the website and mobile app has to offer. Ultimately you must choose whether you wish to incorporate this tool into your pedagogy or not. Click the link for below for your final assessment. Please feel free to return back to previous units to review any information.
Quizlet Final Assessment
Unit 1: Getting Started with Quizlet
Unit 2: Creating with Quizlet
Course Overview
Sours: https://knilt.arcc.albany.edu/Unit_3:_Exploring_the_Features_of_Quizlet
693
694
695
696
697