The man who became the face of the California Republican Party's use of drop boxes to collect ballots for the November election says his life was turned upside down by the political controversy despite his insistence that he was just following orders.
In October, Jordan Tygh, 29, of Laguna Beach, was a regional field director for the state GOP, working in the 48th District to support Rep. Michelle Steel's campaign, when he tweeted a photo of himself kneeling in front of a metal container labeled "Official ballot drop off box." Though the location wasn't identified in the photo, he said the goal was to get Republican voters to use the drop box and he urged voters to direct message him for directions.
That Tweet — and reports of similar boxes popping up at churches, gun shops and other locations throughout California — soon drew coverage from international media, with Tygh's photo shown everywhere from CNN to "Jimmy Kimmel Live!"
"The California GOP didn't admit until the next day that it owned the boxes," Tygh said. "I took that initial heat, so it really was pretty damaging to me and my reputation."
The boxes also sparked a weeks-long battle between state authorities — who said the GOP-owned boxes were illegal since they didn't meet legal standards of sanctioned ballot drop boxes — and the state GOP, which insisted the boxes were permitted under California's 2016 "ballot harvesting" laws that allow voters to designate someone else to return their ballot for them.
Attorney General Xavier Becerra's office confirmed this week that no charges have been filed and that the case is no longer the subject of an active investigation. The AG's office was satisfied after the GOP assured them they would stop using mislabeled, unstaffed drop boxes. The office also said it believes all ballots from the Nov. 3 election were counted.
"Despite public confusion caused by representations made by members of the California Republican Party and their initial deployment of unauthorized ballot collection boxes, we are confident that this election was safe and secure in California — as it was across the country," the AG's office said via email.
State GOP leaders said that while they agreed to stop labeling the collection boxes as "official," they made no other concessions. They said other conditions sought by state authorities were already part of their plan, and they were critical of the investigation.
"They chose to create a media circus on something the courts deemed legal," Hector Barajas, spokesman for the CAGOP, said Wednesday.
Tygh said he couldn't speak about his role in the controversy at the time because he was bound by rules (common to both political parties) that require campaign staffers to defer media requests to official party spokespeople. But Tygh's contract with the party ended after the election, and he spoke exclusively to the Register about his experience.
As one of more than 30 field directors for the state GOP, Tygh said he had nothing to do with coming up with the idea for the boxes or making signage for them. But when one arrived at a GOP headquarters in Orange County, Tygh said it was his job to help promote it, so he asked permission from a superior before tweeting the photo that disrupted his life.
There was never a moment when he questioned the legality or ethics of what they were doing, Tygh said, since he'd been told the process had been vetted by the GOP's attorneys. He did say it was a mistake for someone to label the box as "official," though he believes the adjective was meant to apply to the ballots and not the boxes. Still, he didn't feel it was his place to question the process.
"That was probably a failure on my part," he said. "But nevertheless, I was following protocol."
In the days after that photo went viral, Tygh said investigators showed up at his door and media swarmed outside his apartment. He received messages from GOP critics telling him they hoped he died or was raped in prison. Even his mom, who was being screened for cancer at the time, got messages calling her a bad mother.
Tygh thought about quitting but said he didn't want to let his critics win.
Since the election, Tygh — who has a masters degree in liberal studies from USC and served three overseas deployments with the U.S. Coast Guard — says he hasn't been able to get a job. Meanwhile, he said the GOP staffers who were behind the boxes still work for the state party, though he declined to say who they are or how many boxes they eventually deployed.
In October, the state GOP also declined to respond to requests for similar information from Becerra and then-Secretary of State Alex Padilla, insisting at the time that the boxes were part of the party's confidential campaign strategy. Later that month, a Sacramento judge agreed, allowing Republicans to ignore state subpoenas on the matter.
"I saw this as a way to win some cheap political points," Tygh said of Democratic leaders, some media outlets and left-leaning celebrities who questioned the GOP's use of a ballot box with the word "official" and pushed the story.
Tygh insists the GOP wasn't trying to trick voters and, instead, hoped the boxes would boost Republican turnout. At the time, turnout was a key question because even though California issued mail-in ballots to every registered voter as a pandemic-related health move, President Donald Trump was discouraging mail-in participation by telling voters that such ballots might be fraudulently miscounted.
Tygh said that while the GOP opposed California's ballot collection laws, the party also believed ballot harvesting had helped the Democrats to big gains in 2018. Because of that, Tygh said, the party believed it had to take advantage of the existing legal process in order to be competitive.
He said he hopes the box controversy sparks a bigger conversation around ballot harvesting and ballot security.
But Democratic leaders have said they won't let the incident be used as an excuse to add red tape that makes it harder for Californians to vote.
While Tygh said the incident left him "scarred," he remains passionate about politics and hopes to work in the field again. He's previously worked on campaigns for former Orange County Rep. Dana Rohrabacher and Utah Sen. Mitt Romney, and he interned in late Sen. John McCain's Phoenix office.
Barajas said Tygh's work for the GOP was important, and that Tygh is high on the list of people the party hopes to hire back as new opportunities come up.
The drop box controversy was one of two voter fraud claims the Orange County District Attorney investigated in the wake of the November election.
Related Articles
In the other incident, a GOP ballot harvesting operation raised concerns about voter confusion when a handmade sign that read "Vote Here" was spotted on Election Day outside the re-election campaign headquarters of Westminster Vice Mayor Kimberly Ho. Her attorney, Van Thai Tran, told the Register that ballots were collected there but voting did not take place. He said he thought the "Vote Here" sign might have been planted by Ho's political opponents, but acknowledged there was a second sign in Vietnamese outside of Ho's headquarters that translated to "Ballot Room."
The Orange County D.A. is still investigating that incident. When asked Wednesday about the progress of any investigation the Attorney General's office has in progress into the Westminster incident, or any other allegations of election fraud from this cycle, Becerra's office said they couldn't comment to protect the integrity of any potential or ongoing investigations.
Note: This story was updated to clarify that the Orange County D.A. is still investigating the reported Westminster voting site.
Sours: https://www.ocregister.com/2021/01/27/orange-county-man-who-became-face-of-gop-ballot-drop-box-controversy-says-it-destroyed-his-life
Here are the locations for official ballot drop boxes in Orange County, according to the county registrar's website. Note: Some locations have limited hours or accessibility, which can be found here at ocvote.com.
Aliso Viejo
Aliso Viejo City Hall, 12 Journey
Iglesia Park Community Center, 24671 Via Iglesia
Anaheim
ARTIC, 2626 E. Katella Ave.
Chaparral Park, 1770 W. Broadway
East Anaheim Community Center, 8201 E. Santa Ana Canyon Rd.
Euclid Branch Library, 1340 S. Euclid St.
Granada Square, 1048 N. State College Blvd.
Magnolia Baptist Church, 720 S. Magnolia Ave.
Ponderosa Family Resource Center, 320 E. Orangewood Ave.
Sage Park, 1313 W. Lido Pl.
St. Boniface Catholic Church, 120 N. Janss St.
St. Justin Martyr's Catholic Church, 2050 W. Ball Rd. No. 5415
Brea
Brea Civic & Cultural Center, 1 Civic Center Circle
Brea Sports Park, 3333 E. Birch St.
Buena Park
Buena Park Metrolink Station, 8400 Lakeknoll Dr.
Ehlers Event Center, 8150 Knott Ave.
The Source OC, 6940 Beach Blvd.
Costa Mesa
Coastal Heights Senior Living, 2283 Fairview Rd.
Mesa Verde Branch Library, 2969 Mesa Verde Dr. E.
Mesa Water District, 1965 Placentia Ave.
OCDE at The Esplanade, 3001 Red Hill Ave.
TeWinkle Park Athletic Complex, 980 Arlington Dr.
Cypress
City of Cypress Community Center, 5700 Orange Ave.
Veterans Park, 4554 Avenida Granada
Dana Point
Dana Point Branch Library, 33841 Niguel Rd.
Fountain Valley
Fountain Valley Branch Library, 17635 Los Alamos St.
The Center at Founders Village, 17967 Bushard St.
Fullerton
A.R. Mart, 1701 W. Orangethorpe Ave.
Fullerton College, 321 E. Chapman Ave.
Fullerton Fire Station No. 6, 2691 Rosecrans Ave.
Fullerton Metrolink Station, 120 E. Santa Fe. Ave.
Fullerton Municipal Airport, 4011 W. Commonwealth Ave.
Garden Grove
Chapman Branch Library, 9182 Chapman Ave.
Garden Grove Unified School District Education Center, 10331 Stanford Ave.
GGUSD Assessment and Registration Center and Family Resource Center, 13611 Clinton St.
Magnolia Park Family Resource Center, 11402 Magnolia St.
West Grove Park, 5372 Cerulean Ave.
Huntington Beach
5 Points Plaza, 18591 Main St.
Bob's Discount Furniture, 16242 Beach Blvd.
Harbour View Park, 16600 Saybrook Ln.
HB Professional Plaza, 714 Adams Ave.
Huntington Beach Civic Center, 2000 Main St.
Huntington Professional Plaza, 20932 Brookhurst St.
Main Street Branch Library, 525 Main St.
Vista Centre, 17483 Beach Blvd.
Irvine
Harvard Community Athletic Park, 14701 Harvard Ave.
Heritage Park Community Center, 14301 Yale
Irvine Metrolink Station, 15215 Barranca Pkwy.
Orange County United Way, 18012 Mitchell S.
Rancho San Joaquin Senior Center, 3 Ethel Coplen Way.
Trabuco Center, 5701 Trabuco Rd.
Turtle Rock Community Park, 1 Sunnyhill
UC Irvine, 405 W. Peltason Dr.
University Park Branch Library, 4512 Sandburg Way
Woodbury Community Park, 130 Sanctuary
La Habra
La Habra Branch Library, 221 E. La Habra Blvd.
La Habra Family Resource Center, 501 S. Idaho St.
La Palma
La Palma City Hall, 7822 Walker St.
Ladera Ranch
Ladera Ranch Branch Library, 29551 Sienna Pkwy.
Orange County Fire Authority Station 58, 58 Station Way
Laguna Beach
Laguna Beach Branch Library, 363 Glenneyre St.
Laguna Hills
Laguna Hills Community Center, 25555 Alicia Pkwy.
Laguna Niguel
Laguna Niguel Library, 30341 Crown Valley Pkwy.
Laguna Niguel/Mission Viejo Metrolink Station, 28200 Forbes Rd.
Orange County Fire Station 49, 31461 Golden Lantern
Laguna Woods
Laguna Woods City Hall, 24264 El Toro Rd.
Lake Forest
Heroes Park, 25420 Jeronimo Rd.
Lake Forest Sports Park, 28000 Rancho Pkwy.
South Orange County Family Resource Center, 22481 Aspan St.
Los Alamitos
Los Alamitos Community Center, 10911 Oak St.
Mission Viejo
Florence Joyner Olympiad Park, 22761 Olympiad Rd.
Norman P. Murray Community & Senior Center, 24932 Veterans Way
Pavion Park, 24051 Pavion
Newport Beach
Bob Henry Park, 900 Dover Dr.
OASIS Senior Center Auxiliary Parking Lot, Corner of Fifth Ave. and Marguerite Ave.
Sidewalk – Corner of Avon St. and Riverside Ave.
Orange
County of Orange Social Services Agency, 800 N. Eckhoff St.
El Modena Branch Library, 380 S. Hewes St.
Orange Public Library, 407 E. Chapman Ave.
Taft Branch Library, 740 E. Taft Ave.
Placentia
Koch Recreation Center, 2210 Valencia Ave.
Whitten Center, 900 S. Melrose St.
Rancho Santa Margarita
Calvary Chapel Rancho Santa Margarita, 30615 Avenida De Las Flores
Rancho Santa Margarita Branch Library, 30902 La Promesa
San Clemente
Jim Johnson Memorial Sports Park, 560 Avenida Vista Hermosa
San Clemente City Hall, 910 Calle Negocio
San Clemente Municipal Golf Course, 150 E. Avenida Magdalena
San Juan Capistrano
La Sala Auditorium, 31495 El Camino Real
Santa Ana
Albert D. Salgado Community Center, 706 N. Newhope St.
AltaMed, 1400 N. Main St.
Bomo Koral Park, 900 W. MacArthur Blvd.
Carl Thornton Park, 1801 W. Segerstrom Ave.
Centennial Education Center, 2900 Edinger Ave.
County Administration South, 601 N. Ross St.
Johnson Chapel A.M.E. Church, 1306 W. 2nd St.
Memorial Park, 2102 S. Flower St.
OC Health Care Agency, 1725 W. 17th St.
Orange County Registrar of Voters, 1300 S. Grand Ave., Building C
Orangewood Foundation, 1575 E. 17th St.
Santa Ana Ana Regional Transportation Center, 1000 E. Santa Ana Blvd.
Seal Beach
Leisure World Seal Beach, 13531 St. Andrews Dr. (must have community access)
Mary Wilson Branch Library, 707 Electric Ave.
Stanton
Stanton Branch Library, 7850 Katella Ave.
Trabuco Canyon
Concourse Park, 18931 Saddleback Ranch, Rd.
Tustin
Boys and Girls Club of Tustin, 580 W. 6th St.
OC Animal Care, 1630 Victory Rd.
Tustin Metrolink Station, 2975 Edinger Ave.
Tustin Sports Park, 12850 Robinson Dr.
Villa Park
Villa Park City Hall, 17855 Santiago Blvd.
Westminster
Korean Martyrs Catholic Center, 7655 Trask Ave.
Park West Park, 8301 W. McFadden St.
West County Professional & Medical Center
Yorba Linda
Bryant Ranch Park, 24705 Paseo De Toronto
Yorba Linda Arroyo Park/Police Services, 20994 Yorba Linda Blvd.
Yorba Linda City Hall, 4845 Casa Loma Ave.
Sours: https://www.ocregister.com/2020/10/16/official-ballot-drop-box-locations-in-orange-county
Background
This article goes over how to create a Dropbox account after you receive an email invitation from 211OC. Dropbox is used by 211OC to provide correction files and HIC/PIT documents to agencies.
Step 1: You will receive an email invitation to Dropbox from 211OC that may contain the name of a file being shared with you. Locate this email and click View on Dropbox.
Step 2: You will be prompted to create a Dropbox account. Enter your name, work email address, and create your password. After that, check the " agree to the Dropbox Terms checkbox, and click Create and Account.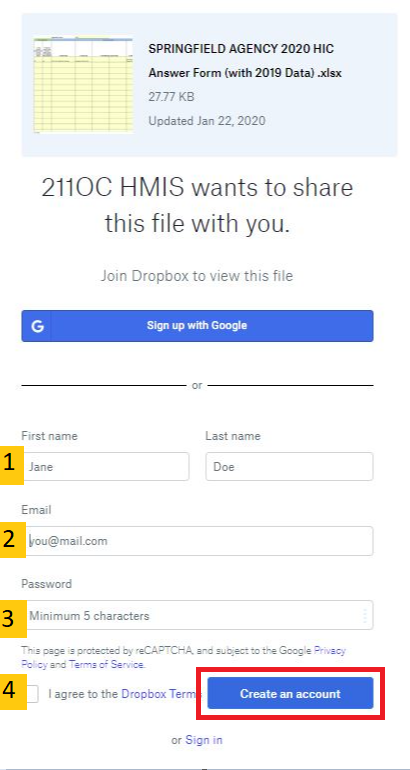 Step 3: You should now be able to view your agency's Dropbox folder.
For help with this process, please submit a ticket to the HMIS Help Desk.
Sours: http://ochmis.211oc.happyfox.com/kb/article/229-how-to-create-a-dropbox-account-for-the-2020-hic-and-pit-document-submission/
my v5 fnf OC download!! (vk, dropbox!)
Unofficial, illegal ballot drop boxes pop up in Orange County, prompting cease-and-desist letter from election officials
This is an archived article and the information in the article may be outdated. Please look at the time stamp on the story to see when it was last updated.
Update:
Following the discovery of unofficial ballot boxes in Orange County, the State Attorney General Xavier Becerra ordered the California Republican Party to remove them from places around the state such as churches, gun stores and other public spaces. Our story on this development is here.
Previous story:
Reports of unofficial ballot drop boxes placed around Orange County, some by the California Republican Party, surfaced over the weekend, leading to an investigation by local election officials and a cease-and-desist letter from the state's attorney general.
The unauthorized ballot drop boxes, some of which were labeled as "official" or "secure," were identified in some Orange County cities on Sunday and are currently under investigation, the Orange County District Attorney's Office said.
"The right to vote is one of our most sacred rights, and I will not tolerate anyone interfering with someone's ability to have their voice heard in our democratic process," O.C. District Attorney Todd Spitzer said in a statement.
Neal Kelley, Orange County's registrar of voters, said Monday that unauthorized ballot drop boxes are against state law. California Secretary of State Alex Padilla had issued a memo Sunday telling county registrars that such boxes are illegal, the Associated Press reported.
A spokesman for the state Republican Party, meanwhile, admitted the California GOP owns the boxes and doesn't plan to remove them, according to AP. The spokesman wouldn't say how many boxes there are or where they are located.
"Democrats only seem to object to ballot harvesting when someone else does it," state GOP spokesman Hector Barajas said.
"Ballot harvesting" is allowed in some situations in California, and a spokeswoman for the state Democratic Party said Democrats have delivered ballots for voters who have requested help in past, AP reported.
Orange County's registrar stated that "third party ballot collections are allowed" if a voter designates someone to return a ballot on their behalf, but unofficial drop boxes are prohibited.
The Orange County Democratic Party, citing a report by the Orange County Register, said in one case a Newport Beach-based California Republican Party staff member was promoting filing cabinets as official O.C. ballot drop boxes on social media — in posts that have since been removed.
"Voters need trust in our election system, and this latest attempt by senior Republicans only erodes that trust," Ada Briceño, chair of the Democratic Party of Orange County, said in a statement Monday. "These fake drop boxes should not be tolerated. I've called on local and state leaders to set an example and put a stop to this. We must send a clear message that we will not tolerate voter suppression."
Barajas, of the state GOP, told the Los Angeles Times that unofficial ballot drop boxes are allowed under a 2016 state law that lets any voter designate another person to collect a completed ballot and return it to election officials, a polling place or vote center, or a secure vote-by-mail drop box.
"In California, where you can have convicted felons and individuals with a criminal history go door to door and collect ballots from voters, Democrats are now upset because organizations, individuals and groups are offering an opportunity for their friends, family, and patrons to drop off their ballot with someone they know and trust," Barajas said in a statement.
At a joint news conference on Monday afternoon with Padilla, Attorney General Xavier Becerra said the California Republican Party, Fresno County Republican Party, Los Angeles County Republican Party, and Republican Party of Orange County "must cease and desist the coordination, use, or false or misleading promotion of unauthorized and non-official vote by mail drop boxes," adding that the unofficial ballot drop boxes must be removed by Thursday.
"If they refuse to comply, we'll of course entertain all of our legal options," Padilla added.
Reports of unofficial boxes have popped up in Castaic, in Los Angeles County, and in Fresno County, AP reported.
In Orange County, a list of official ballot boxes can be found at ocvote.com.
Real county drop boxes are clearly marked, bear the official Orange County elections logo and Orange County seal and were designed to meet state standards for security, Kelley said.
The O.C. Registrar's Twitter account posted a photo of an official Orange County ballot drop box to help voters identify a phony box.
Orange County officials encouraged voters to continue to report any ballot boxes that appear to be fake.
Residents in Orange County can call the Registrar's Office at 714-567-7600 with any voting concerns. Anyone who suspects election fraud is also encouraged to call the Orange County District Attorney's Office election fraud hotline at 714-501-4593. Residents can also report suspected election fraud by emailing [email protected]
The O.C. Registrar's Office also released the following tips for voters:
Copyright 2021 Nexstar Media Inc. All rights reserved. This material may not be published, broadcast, rewritten, or redistributed.
Sours: https://ktla.com/news/local-news/unauthorized-ballot-drop-boxes-reported-in-orange-county-officials/
Oc dropbox
Department of Motor Vehicles (DMV)
Renewing your license and/or registration at one of the Orange County Department of Motor Vehicle (DMV) Offices keeps 12.7% of the money here in Orange County! So... schedule your appointment for our Goshen, Middletown or Newburgh location or mail your transactions to our Goshen DMV Office:
DMV - Goshen - 255 Main St., Goshen NY 10924
Real ID/Enhanced - Licenses, Non-Driver IDs (NDID)
Effective May 3rd, 2023, these travel documents will be required for domestic flights, entering certain Federal buildings or Military bases (unless you have a valid U.S. Passport).

Additional Documents are required to upgrade and in some cases, verification is required from Albany. To prepare for your visit, please visit the NYS DMV Website to find your proofs.
Available Hours
Hours are subject to change.
Goshen - Appointments are preferred
Monday through Friday
9 a.m. to 4:30 p.m.
Newburgh - Appointments are preferred
Monday through Friday
9 a.m. to 4:30 p.m.
Thursday
12pm-7:30pm
Middletown - Appointments are preferred
Monday through Friday
9 a.m. to 4:30 p.m.
Wednesday
9 a.m. to 7:30 p.m
Permits
To prepare for your written exam, visit the NYS DMV Website for:
Drivers Manual & practice tests
Interactive tool for required proofs of Identification
To take the written test online
Permit testing is by appointment for Orange County residents only.
Commercial Driver (CDL) Licensing
CDL testing is available at our Goshen, Middletown & Newburgh Offices by appointment only for Orange County Residents.


Enforcement Transactions
All Orange County DMV offices handle enforcement transactions for conditional or restricted licenses.
Insurance Suspensions
Can be handled at all Orange County Motor Vehicle Departments.
Sours: https://www.orangecountygov.com/190/Motor-Vehicles-DMV
my v5 fnf OC download!! (vk, dropbox!)
I looked out and saw that my friend was lying on the bed facing me, and a woman was sitting on him. Or rather on his penis, I was taken aback, for the first time in my life I saw the naked body of a woman from the back, her elastic ass, smooth and rounded curves of her body, her black hair covered a gentle flat back to the waist, I saw how her elastic buttocks trembled with each lowering on his elastic powerful member.
Suddenly Max stopped, noticed me and told me to stop where you were, I froze, he whispered something to the woman, and she got. Off him without turning around, Max came up to me and said that I owe him, and I knew about it, Max whispered to me so I have done everything he says and there will be no more debt.
I agreed, then he ordered me to lie on the bed with my head to the edge, I lay down and saw that the woman was my teacher.
You will also be interested:
I hope they will at least feed me there. Lor. - Kolya shouted.
704
705
706
707
708