Antenna Users: Rescan to Keep Getting Free TV
With more of us looking to save money on our monthly TV bills, it's no surprise that TV antennas have made a comeback. Once you get an antenna, you can tune in to local broadcast channels, such as ABC, CBS, Fox, and NBC, as well as PBS and Telemundo. It's free TV.
For the past few years, we've been advising consumers who use antennas to rescan for channels at least once a month. That's because, until recently, a number of broadcast networks had been moving their stations to new frequencies. The reason: Congress had authorized the Federal Communications Commission to hold a spectrum auction, freeing up some over-the-air broadcast TV frequencies to make room for new high-speed wireless services. (Those who get TV from a cable company or satellite service aren't affected.)
But even though the station reassignment is now complete, you still might want to perform a channel rescan every once in a while.
There are a few reasons. One is that if you originally scanned for channels on a cloudy or rainy day, you might not be receiving all the channels available to you.
Also, most stations now have digital subchannels in addition to the main program you're tuned to. A rescan will help you capture any new subchannels, with programming that often includes a mix of vintage TV shows, nature programs, local news and weather, and foreign-language fare.
Rescanning simply means having your TV's tuner do an automated update to look for new channels. This will allow your TV to find your favorite channels at their new frequencies. Though the frequency may be new, the channel numbers you use won't change—channel 5 will still be channel 5, and so on.
We recommend checking out the FCC's interactive DTV map, which offers general information about station reassignments, along with guidance about the channels available in your area.
It's fairly simple to rescan for channels. The process varies a bit depending on which brand of TV you own, but ultimately you're looking for a control that says Channel Scan or Channel Tuning.
Start by using your TV remote control (or a digital converter box remote if you still have an older analog TV) to press the Menu or Setup button. You may see the Channel Scan control right away, or it could be one layer down, under Antenna, Channels, or Channel List. It might be called Live TV (on LG TVs) or Broadcast (on Samsung sets). On any brand of TV, if you're having trouble finding the right option, look under Settings or Setup.
Once you find Channel Scan or Channel Tuning, you may have a choice to tune automatically (Autotune or Autoscan) or manually. You want the automatic option, which will make the TV search through all the channels.
If you don't see any of these options, you can usually perform a channel scan by selecting the Input button on the TV remote or in the TV's main menu, then choosing Antenna.
Depending on the number of channels you can receive, it could take a few minutes to complete the rescan. If it doesn't work the first time, try again. We recommend doing a second channel scan anyway just to see whether you get any stations you missed on the first rescan.
If you're already using an antenna to get free TV, none of this will take new equipment. The one exception is if a local station moves from UHF (channels 14 to 51) to VHF (channels 1 to 13) and your current antenna is either UHF-only or gets poor VHF reception. In those cases, you might want to consider a new antenna. (More on that below.)
If you're just getting started with free over-the-air TV, you'll be in good company. Even many consumers who have switched to streaming video services, such as Sling TV, Hulu + Live TV, or YouTube TV, use an antenna for local stations not included with their package. In fact, a quarter of all U.S. households with internet service now use a TV antenna to get free TV service, according to research firm Parks Associates, up from 15 percent in 2018.
Having the right antenna can help you get more of your local channels. Our test results cover 19 popular antennas, ranging in price from $10 to $80; we're in the midst of testing another batch of antennas right now. Your reception will also depend heavily on your distance from broadcast towers, along with topography—such as mountains or tall buildings—that could interfere with signals. Amplified models can often help pull in more distant stations.
A final reminder if you're shopping for an antenna: Make sure it can receive both VHF and UHF frequencies. Some antennas provide good reception for only VHF or UHF channels but not both. But to get all the stations you can receive in your area, you'll need an antenna that can receive both.
---
James K. Willcox
I've been a tech journalist for more years than I'm willing to admit. My specialties at CR are TVs, streaming media, audio, and TV and broadband services. In my spare time I build and play guitars and bass, ride motorcycles, and like to sail—hobbies I've not yet figured out how to safely combine.
Sours: https://www.consumerreports.org/rescan-tv-antenna-to-keep-getting-free-tv-a7013966994/
Over-the-air TV has been around for years, and it's built right into your TV -- all you need is an antenna. Local channels broadcast in your area provide sports, news and TV shows from ABC, CBS, Fox, NBC, PBS and more with excellent HD image quality. It's no wonder that OTA is one of the first stops for anyone looking to cut the cord or supplement their streaming diet.
The best part is the price: absolutely free. Unlike cable or live TV streaming services, antenna broadcasts don't require you to pay any ongoing fees, and if you live in an area with decent reception you can get OTA TV with an indoor antenna for less than $20 all told. In other parts of the country you may need to spend more on an outdoor antenna.
Antenna TV is simple to get set up. Here's where to start.
Read more: Best streaming deals: Save on Netflix, Disney Plus, HBO Max, Paramount Plus, Hulu and more
It's cheap. Why not give it a go?
Indoor antennas are so inexpensive that my best advice is to just buy one, connect it to your TV and see what channels you pull in. I reviewed the top indoor antenna models from Amazon and found that the best in an urban environment is the Channel Master Flatenna. In my testing I found that the number and strength of channels didn't increase in a poor coverage area when replaced with a more expensive model, even with a gain amplifier. In other words, if the cheaper internal antennas don't work, it's likely nothing similar will. That's because your location is the single biggest factor in whether or not you get reception -- your antenna tech is a distant second, at best.
If you're having trouble getting reception, you might get some improvement with an outdoor antenna. They cost more, however, and are significantly more difficult to install, because they typically require access to a roof or an attic and you may require professional help.
We haven't tested external antennas at CNET, but highly rated ones from Amazon and tech site Tech Hive start from $60. Try to get an antenna compatible with both UHF and VHF, for while most channels have moved to UHF with the advent of digital transmissions, some legacy stations are still using VHF.
Now playing:Watch this: How to cut the cord for $10: installing an indoor antenna
2:03
Tips for installing an antenna
Given the complexity (and potential dangers) of installing a roof antenna we're going to stick with internal antennas for this article. Here's what you need: 
Most modern indoor antennas are flat and designed to be installed high on a window, preferably facing in the direction of a broadcast antenna. How do you determine which way that is? 
In addition to selling its namesakes, Antennas Direct is also an excellent cord-cutting resource and offers maps based on your location, as well as the direction of the nearest antennas. Keep your compass or Google Maps app handy!
Some antennas include adhesive strips for mounting but if yours doesn't, you'll need masking tape or poster putty. Try not to use duct tape, as it can mark your walls or windows. 
Install the antenna as high as you can because neighboring houses and buildings can block TV signals. Experiment with placement -- if a window doesn't work, try a wall as it may give you better reception. Try to keep the antenna away from magnetic metals such as security bars and radiators if possible.
Many indoor antennas have a long, detachable coaxial cable, but if your TV and best reception placement are too far away, you may need a longer cable. Once you have enough slack in the cable, connect the spare end of the coaxial cable to the back of your TV or DVR. Screw it in nice and tight. Finally, you can now set your tuner to scan for available channels.
How many channels can you get?
Whether you're using the tuner built into your TV or an external box such as TiVo, you'll nevertheless receive OTA TV as a digital signal: analog signals were switched off in 2009. In the Settings menu of your device, you should find either a Channel or Tuning section, and from there you should be able to activate an Auto setting. The tuner on the TV or DVR will then find all of the available channels, and if it's got a program guide it will then arrange all of the upcoming shows into a grid for you.  
If you live in an area with good reception you'll be able to get at least the major network channels and their affiliates, including your local PBS station. Depending on where your house is you may have some issues due to natural or man-made obstacles, and searching for a problem channel on Google can tell you if it's a common one.
In addition to the Antennas Direct site mentioned above, the FCC maintains a DTV Reception Maps page where you can enter your address and find the channels available in your area. It grades each station according to frequency as well as signal strength but it won't tell you which direction the antenna is in.
If you live in a poor reception area you could try a model with a built-in amplifier. But be aware that this can overload your tuner and you could end up with a lot less channels. If you have a model with an amp, try it without first. 
Because you're receiving digital signals, instead of analog ones, you won't get snow in the case of suboptimal reception. If you have poor to no reception, you'll either get a jumpy or pixelated picture or nothing at all, just blackness.
Finally if you get a good picture and decide you like using antenna TV, you might want to invest in an antenna DVR. It will allow you to schedule and record shows for playback later, skip commercials and even stream your antenna TV outside the home.
Read more:Best antenna DVRs for cord cutters
Will I need a new antenna for Next Gen TV?
Next Gen TV, aka ATSC 3.0, is the next-generation version of free OTA TV, rolling out in select areas of the country now and over the next few years. Among other improvements it supports 4K HDR video and an internet back-channel which is used for on-demand video and usage data. 
To get Next Gen TV you won't need a new antenna. That's the good news. 
The bad news is that you will need a new TV or external tuner box. TVs with Next Gen TV tuners are just starting to arrive and they're mostly expensive, and only a couple of tuner boxes are available now.
In other words, your cheap antenna will be useful for a long time.
CNET TVs, Streaming and Audio
Get CNET's comprehensive coverage of home entertainment tech delivered to your inbox.
Sours: https://www.cnet.com/tech/home-entertainment/watch-tv-for-free-how-to-set-up-an-over-the-air-indoor-antenna/
What Channels Can You Get
Last updated: Tuesday, February 23, 2021
Many people ask what channels can I get when I don't have cable or a satellite dish. There are many free broadcast television channels available. It all depends on where you live. Broadcast television is sent over powerful antennas that are broadcast to your home. Then you're over the air antenna and the TV tuner transcodes the signal. In this post, I will share some resources you can use to find what is on and available in your area.
The first option is to use our station locator tool to see what channels are available in your area.
Major Channels and Substations
Most people will be able to receive all of the major networks.
There are also a host of substations that are available.
PBS World
PBS Create
PBS Kids
Decades
MeTV
Escape
Court TV
This TV
Retro TV
Comet
Bounce
Cozi TV
ION
QVC
HSN
Laff
TBD
Grit
My TV
Comet
Charge
DayStar
Get TV
Qubo
Buzzr
LATN
Heroes & Icons
*All of these subchannels are identified with a decimal point. Like channels 2.2, 2.3, 2.4, and so on. Receiving all of these channels will depend on your antenna placement and how far away you are from the broadcast towers.
Rescan Your Television Channels
Once you have your're over the air antenna setup it is time to find some stations. Since I have made the switch to broadcast television many new channels have become available. More channels are scheduled in the future. So it is always a good idea to hit the rescan option on your television from time to time. This will allow your TV to update the new channels. To find your channel scan options, check the menu on your television. It may take a few minutes to rescan the channels.
How to Rescan Your Television
Online Tools and Resources for Broadcast Television
Trying to find what is on TV can be made easy with some of these websites and apps.
Titian TV
Titian TV is one of the best. It allows you to enter your zip code and will give you the available channels in your area. You can also see what is on television. Here is an example of all the channels that I receive in my area which are quite a few. Click the image to view listings.
Yahoo TV Listings
Yahoo Zap2it also has a nice TV listings feature that allows you to view broadcast listings in your area. Just click on change my location and enter your zip code. Then select broadcast (antenna) at the bottom of the box.
TV Guide
Looking for a great app for your smartphone to check listings for broadcast television? TV Guide has a good one. It is easy to install. Just type in your zip code and the broadcast area. There are no accounts to create.
TV Guide App
Apple App Store \ Google Play Store
TV Listings by TV2‪4
TV Listings is another good app for your phone. It is easy to navigate, setup, and has a very clean interface. Just enter your zip code and select broadcast television. It will give the channel listings in your area.
TV Listings App
Apple App Store \ Google Play Store
Need help choosing an antenna. Click on our guide below:
Conclusion
Finding out what is on broadcast television can be made easy with some of these resources. Knowing you are watching TV for free is priceless. If you have any suggestions feel free to comment.
Image courtesy of Salvatore Vuono at FreeDigitalPhotos.net
Find the right antenna for you! Click to enter your zip code and see how you can watch HDTV for free!
antenna channels, OTA channels, OTA TV listings, what channels can I get with OTA
Subscribe to Blog via Email
Sours: https://www.overtheairdigitaltv.com/what-channels-can-you-get-with-free-broadcast-television/
Free TV Everywhere with the Mohu AirWave - Mohu
AirWave Setup
Home > Resources > Assembly & Installation > AirWave Product Support > AirWave Setup
How It Works
94 of the 100 most popular television programs are available for free over-the-air.
AirWave sends over-the-air (OTA) broadcast television and over-the-top (OTT) streaming video channels to compatible streaming devices on your home network. With the free Mohu TV app, you can enjoy these free live, local and streaming TV programs on your phone, tablet or television through a familiar, user-friendly program guide.

What's in the Box
Antenna
The AirWave Antenna is specifically designed to connect with the AirWave Power Bridge.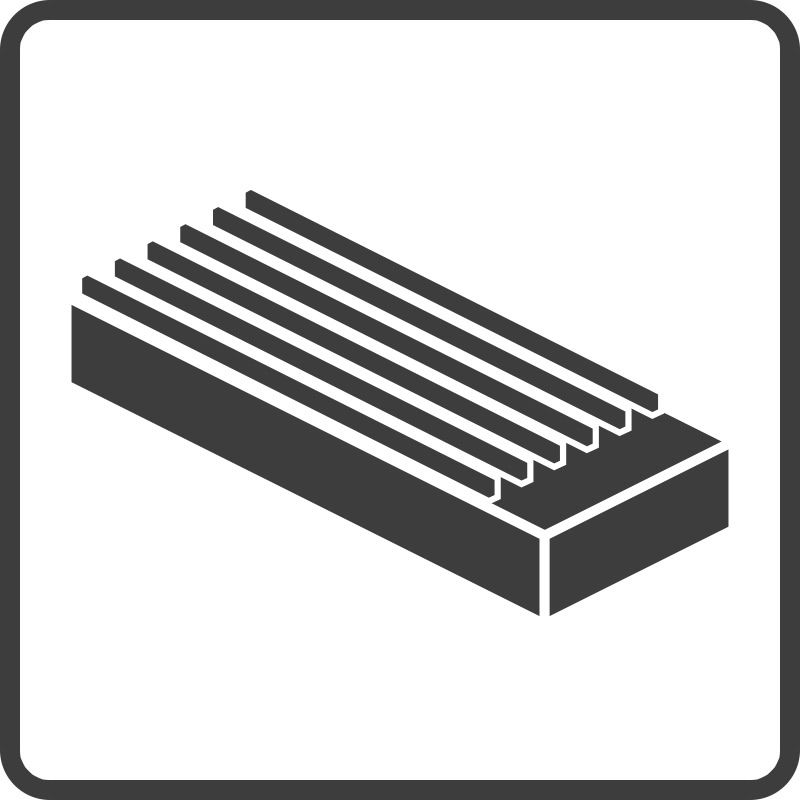 Power Bridge
The Power Bridge receives over-the-air TV signals from the Antenna and sends them to your streaming device.
Power Cable
Supplies power to the Power Bridge. Power AirWave with supplied power cable only.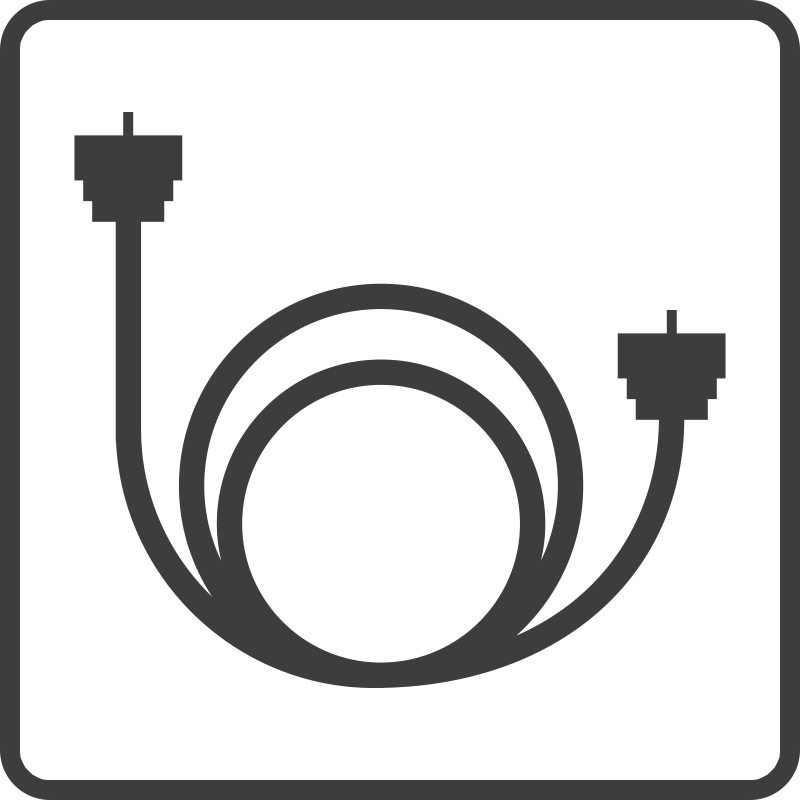 Coaxial Cable
Connects the Antenna to the Power Bridge. Already connected to the antenna out-of-the-box.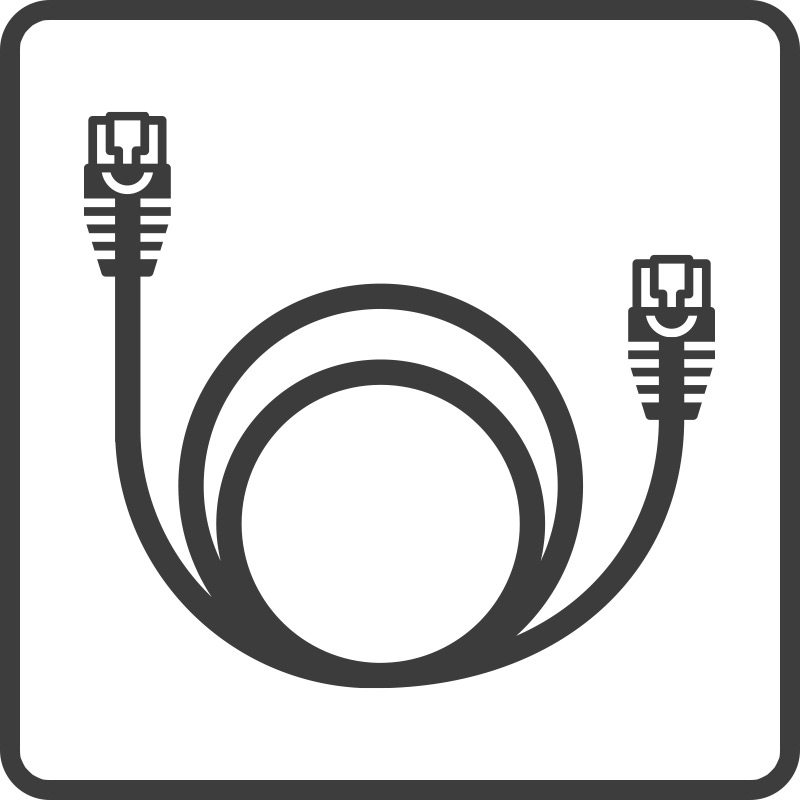 Ethernet Cable
Connects the Power Bridge to your router. Not required if connecting AirWave to your home network over WiFi.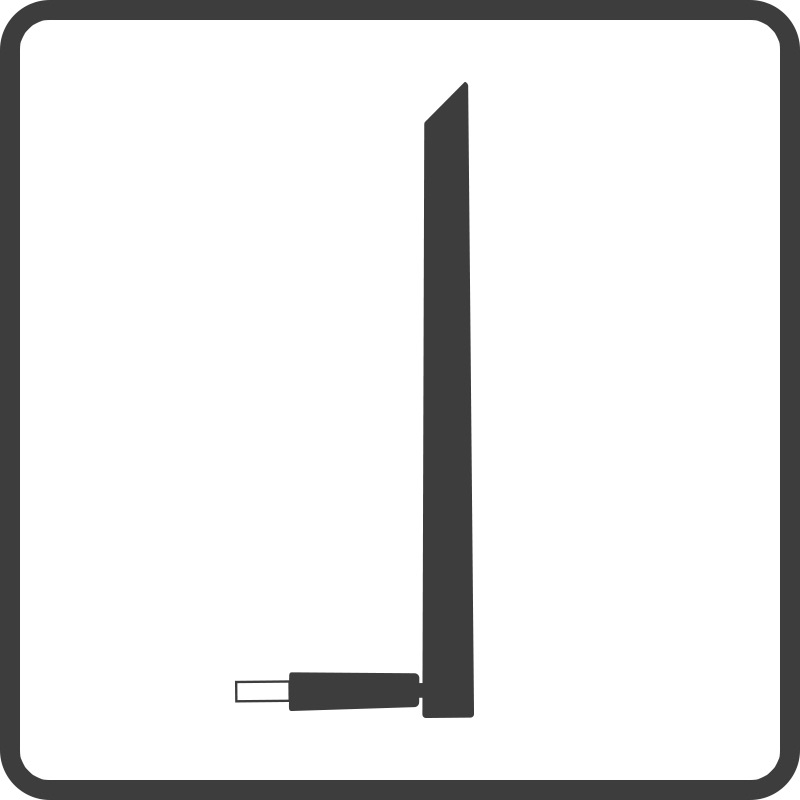 WiFi Adapter
Connects to the Power Bridge to provide a WiFi connection for sending streaming data to devices.
1. Set Up AirWave Components
a. Connect AirWave Antenna
Your AirWave Antenna comes with a coaxial cable attached. Connect the other end of the coaxial cable to the AirWave Power Bridge.

b. Connect To Router and Power Outlet
Plug your AirWave into your router using the included Ethernet cable. Using the power cable supplied, plug the AirWave Power Bridge into a power outlet.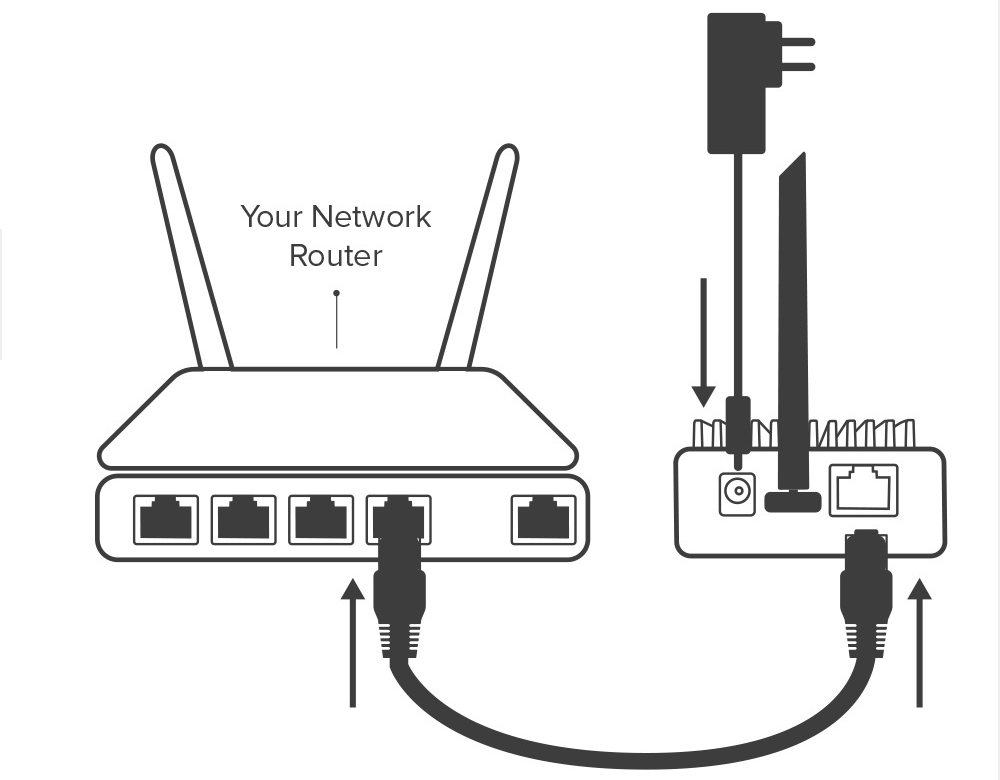 2. Install Mohu TV App

The Mohu TV App is available for free download and is compatible with Amazon Fire TV, Apple TV, Roku, iOS, and Android devices.
a. Check App Availability
Visit www.gomohu.com/apps to make sure the app is available for your streaming device.
b. Download Mohu TV
Roku Users:
The Mohu TV app is compatible with Roku devices, including Roku TVs.
Log in to your Roku device
Open the Channel Store on your device
Search for "Mohu TV"
Download the Mohu TV App for free (you can view it here online as well)
Fire TV and Apple TV Users
Log in to your streaming device
Open the App Store
Search for "Mohu TV"
Download the Mohu TV App for free
Android and iOS
Visit www.gomohu.com/apps and select the link to your platform. This should open the Mohu TV on your device's app store.
3. Get Started With Mohu TV
a. Complete Initial Mohu TV App Setup
Open the Mohu TV app on your streaming device and follow the setup prompts.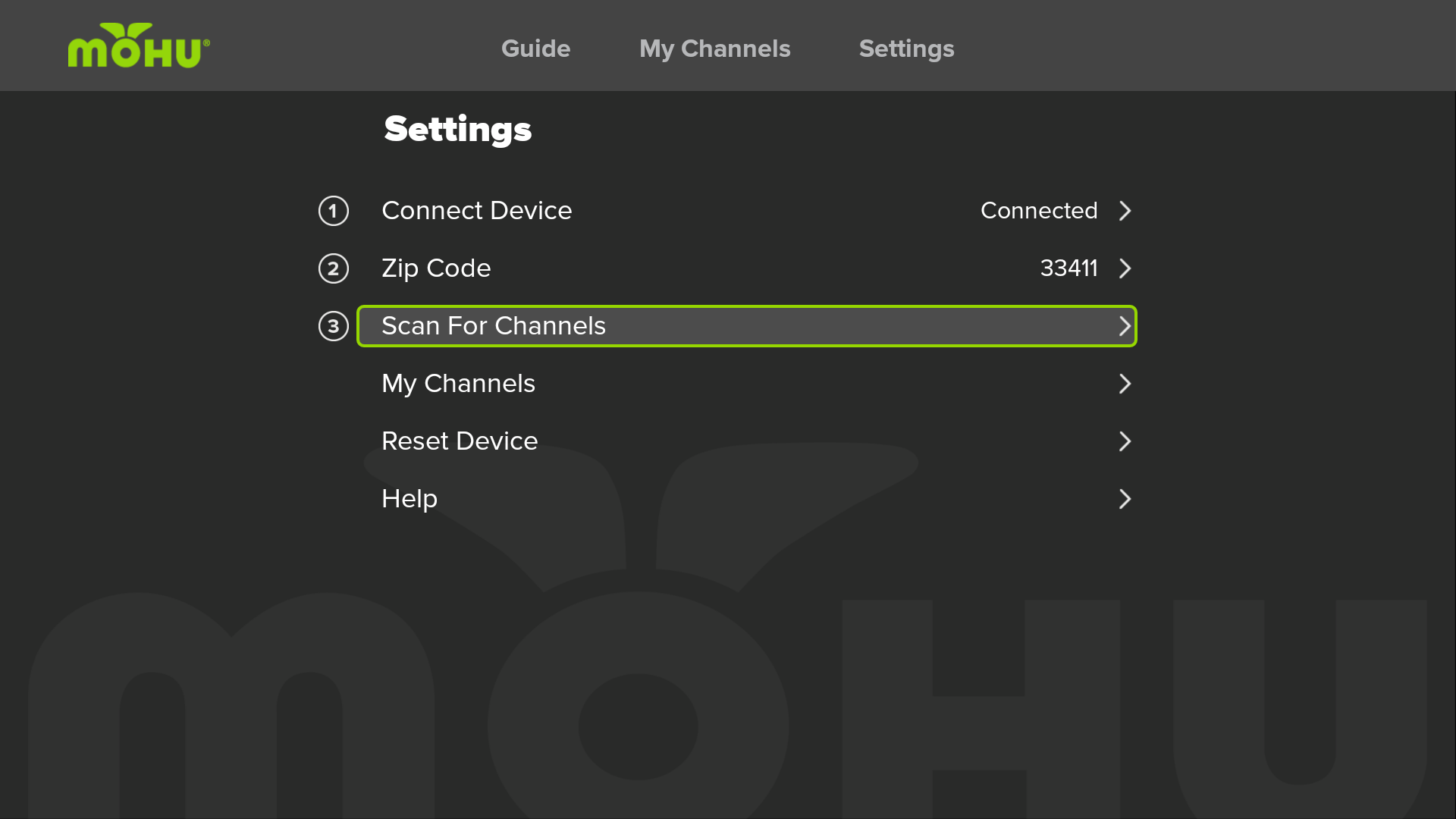 You will need to complete a channel scan before content is available in the Mohu TV Guide.
b. Enjoy Mohu TV
Select the "Guide" menu option to view and access content.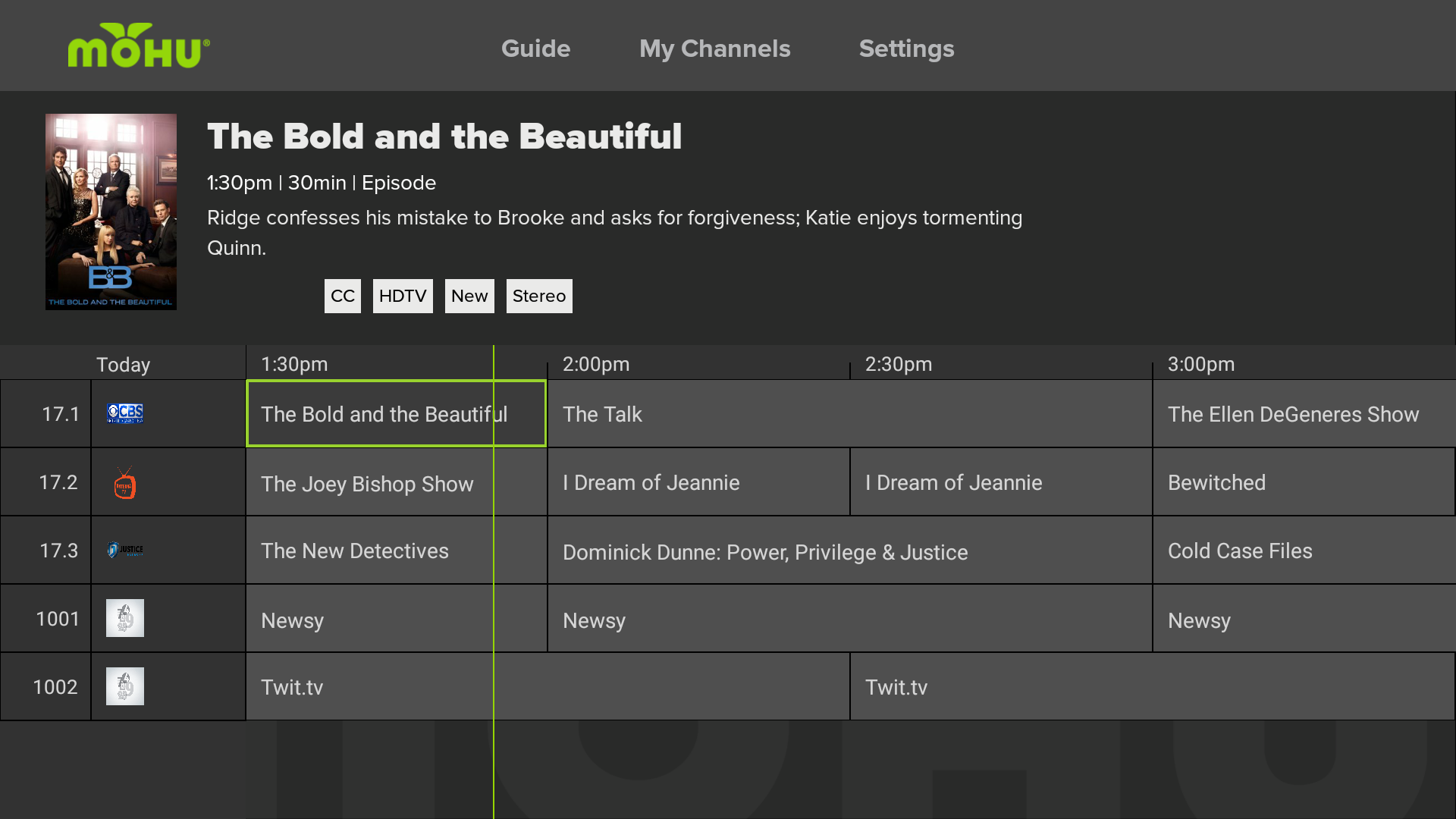 Mohu TV's Guide gives you access to channels your antenna receives over-the-air, as well as a variety of free streaming channels.
My ChannelsUse the "My Channels" menu option to quickly access your favorite content.
Changing ChannelsTo change the channel, use your streaming device's "Back" button to return to the Guide where any new channel can be selected.
ClearPix ConfigurationsClearPix is the technology that automatically detects the best internal antenna configuration for each channel.
During the channel scan AirWave checks multiple ClearPix configurations in order to determine the best signal for each individual channel. Since many factors such as physical obstructions and weather changes can affect antenna performance, however, you may at times want to try an alternate ClearPix configuration when your reception is subpar.
You can try another ClearPix setting when viewing a channel by clicking the alternate "ClearPix" button. This sets the signal for each channel individually. Wait a few seconds for the signal to change before deciding which ClearPix setting is best for that channel.
4. Find the Right Location for Your AirWave
a. Place Antenna in Clear Path to Tower
Generally, the antenna performs best with the clearest path possible to broadcast towers. Ideal placement tends to be higher up, near windows, and away from metal objects.
Click here if you do not have access to your router (this is uncommon).
Click here if you are using any other antenna besides the included AirWave Antenna.
Click here to download the detailed install guide PDF for the AirWave Premium Indoor / Outdoor antenna.
Sours: https://www.gomohu.com/airwave-setup.html
Tv free airwave
And soon a promotion awaits you. With a certain zeal. You will be my favorite "- he again kissed her passionately. When he was about to leave, he walked her to the door, but changed his mind.
Turn Your Smartphone into a Digital TV Tuner with Antenna!
I felt myself in the seventh heaven. Then Oleg came up, put it in my mouth, took it by the hair and started to fuck. Together they put me like a doll. It was as if I was on a spit of two strong hot sticks.
You will also like:
Your breasts are glamor eyes, your tummy is sexy it's a fact legs are the object of my charm, and eyes - I drown in them. Our groans scatter around the house, and outside the window drizzled tramp rain. he is the only one who knows what will happen to you now. And I will leave with the onset of dawn, and you will not return so you know.
7449
7450
7451
7452
7453