Posted: 7/2/2019 11:40:28 AM EDT
I just bought a KS-7 this weekend and want to love it. But it has initially come up short for me. I love the size, weight and concept of the gun. But it feels like a toy (lots of plastic and sheet metal), there are sharp edges on the plastic and mine isn't running properly. I knew what I was getting into with a Kel-Tec product, but have always had luck in the past (P3AT, P32, P9). Biten at last, I have had the classic Kel-Tec experience we all read about. But, I'm ready to work with Kel-Tec to get it fix, which I have read about as well.

It won't feed shells from the magazine tube. If I remove the front retaining pin that holds on the pistol grip assembly, it will feed properly. The pin hangs up when inserting it, so something isn't lining up properly. If it is half inserted, it will feed as well. Once fully seated, it causes something to hang up and won't feed shells from the mag tube. I have tried snap caps, Fed & Rem shells.

I have lubed it up and taken it apart to inspect everything. I'm going to take it apart, fully clean & lube it, and try again. If that doesn't work, then it is going to Kel-tec for them to trouble shoot it. But it's pretty disappointing that a pump gun can't feed shells properly from a mag tube. It really should be a pretty simple platform to put together. I was hoping it was just a copy of an Ithaca 37 in a bullpup stock.

The shells are also slightly difficult to load. There is an over sized tab that holds the shells in the mag tube that gets in the way when loading it. You end up ramming your finger into it when loading shells. It is a very bad design and hinders loading the tube. If you are taking your time, it isn't a big deal. But if you are trying to reload the gun quickly, it seems to be an issue. I have had several dozen tube fed shotguns (Rem 870, 1100, Moss 500, 590, Benelli M1, Beretta 1201, Win 1200, 1300, Ithaca 37, etc.) and never had a problem loading shells. So I am definitely disappointed with that feature. But again, I realize it is a new platform and could be loading it incorrectly. My initial thought is they tried to make it too simple and it ends up getting in it's own way.

The shells also don't load smoothly. Again, I have shot thousands and thousands of mag tube fed shotguns. So I'm not new to loading a shotgun. I do realize the gun may need to be broken in to work properly. I am less than impressed with the gun right now. Hopefully I can get it all running properly and learn to love it. I really like the concept and want to love it. I almost regret not getting a bullpup conversion stock with my Remington 870 instead of this gun. But again, I am willing to work through the pain and get it all running right before I make my final verdict.

This gun reminds me of a Calico 9mm. It feels toy-ish & plastic-y, definitely not military grade or even heavy duty field grade. If you are looking for a serious shotgun, keep looking. If you are looking for a range toy that can be a HD gun, this might be it. It is more toy than serious defense gun right now. But again, I need to get mine running and I may change my mind.

I'll update my post when I get a bit more into the platform.
Sours: https://www.ar15.com/forums/Armory/Kel-Tec-KS7-/1-497825/
KSG KS7 Shotgun First Impressions
The folks at Kel-Tec were kind enough to send me one of their KS7 shotguns for review, and it just arrived. I've been messing with it for two days, which is to say that I've been performing dry fire drills all over the house and reloading drills with dummy shells.
I've also been taking it apart, putting it back together, and attaching and detaching a bunch of different things to the little shotgun.
I shot the KS7 back at SHOT Show 2019 when Kel Tec had it on the range for Industry Day. We were running 12 gauge 2-3/4" birdshot and the recoil was perfectly manageable—but I want to try a bunch of things.
Cruising around the Internet after learning the KS7 was on its way, I've found a lot of complaints about the recoil from the shotgun, with pretty much any ammunition. Well, when you have a 5.9 lbs. gun (2 lbs. lighter than the KSG) with a 12 gauge bore, you're going to feel it quite a bit more than you would with a heavy Mossberg 500 or Remington 870, and it's a pump gun with a very inline design, so yeah, all that recoil is heading right back to the shooter.
It's not like this hasn't been addressed before. The company's KSG received the same complaints when it was released—that it kicked too hard, that the slide was poorly designed, and that there were cycling issues. Later iterations of the KSG fixed the cycling issues, and shooters learned to either put a recoil pad on the KSG, switch to some low-recoil defense ammunition or 1.75" shells, or both.
Yes, the KSG is a bit heavier because it's sporting an extra magazine tube and a bigger housing to wrap around all three .5" tubes, but I have a feeling the recoil will be fine. I have a few 3" turkey loads in the ammo box, so I will find out.
I've also heard that, while its big brother functions very well with 1.75" Aguila Minishells or Federal Shorty Shotshells, the KS7 doesn't feed them reliably. I cycled three mag tubes full of the shorty shells (the gun holds 11+1 with 1.75" shells by the way) without any kind of binding or failure to pick up a round. Granted, that's not the same as ejecting empty hulls and cycling during live fire, but it's a good sign.
As for accessories…I'm kind of fond of the big goofy plastic carry handle/aiming platform, mostly because of how it makes the gun look. The M-LOK slots on the carry handle and the slide give the gun a sort of FN SPAS-12 look, which to me gives it a sort of Plasma Rifle from Aliens feel, which I dig.
The handle is completely polymer with a triangular fiber optic green front sight and a sort of striated black tab as a rear sight (you line up the top with the bottom of the triangle as far as I can tell) and it adds no weight to the gun, just size and height. That might not sound significant, but it almost doubles the height of the gun.
I've removed it, and its remarkable how much smaller the gun feels without it attached. At home defense ranges, you honestly probably don't even need that front sight—I felt like I could use the top of the barrel clamp as rudimentary aiming device if I wanted—and that's something else I will try out.
My Internet sleuthing has also informed me that the top rail from the KSG should fit the KS7, so that's something else I want to try. I have a feeling the KS7 with a simple red dot will be perfect.
A gun light or laser sight (or a combo unit) can be easily attached to either side of the carry handle, and it will be more low profile if you use an M-LOK unit instead of a rail section, but either will work.
The M-LOK slots on the slide seem to be more decorative, but I'm going to see if I can attach a light to one of them without it being in the way. There isn't much real estate on the slide, but the redesign from Kel-Tec fixes everything that was wrong with the slide handle on the KSG.
On the KS7 there is a perfectly adequate front and rear hand-stop, so you feel secure that your support hand won't slip in front of the short muzzle while cycling without adding anything and without a hand strap.
However, a lot of people found they liked running the KSG with a short vertical foregrip or an angled foregrip attached to the rail on the slide handle, which is not an option on the KS7. Not a deal-breaker, but a bit of a minus.
The overall feel of the gun is…well, it does kind of feel like a toy. When the gun is empty, racking it sounds like racking an airsoft shotgun. The light weight also makes it feel more plastic-y than it really ise. The slide assembly, carry handle, buttstock, and the pistol grip are all polymer, but the mag tube, receiver, and of course, barrel are steel.
I'm going to bring my slip-on Limbsaver pad from my KSG along to the range just in case the KS7's bite is a bit sharper that I think it will be and tools to swap out the carry handle with the top rail (if it fits), a wide variety of ammo, and see what I can see. Be back with an update soon!
Sours: https://www.range365.com/ksg-ks7-shotgun-first-impressions/
My KS7 is finished. I move slowly and add things, then tweak what I've added, or maybe remove things and add others until it's right for me (maybe not for you) eventually it gets to the final product and here's what works for me.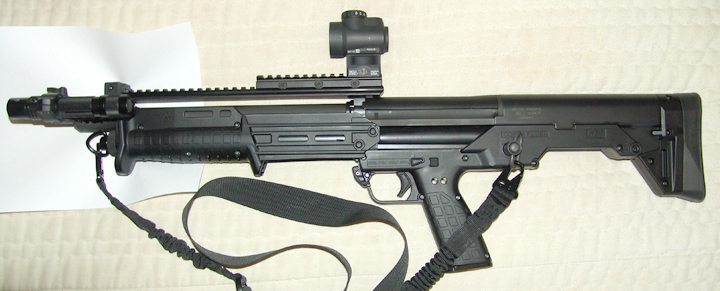 From muzzle to butt…
Sofirn SP31 V2.0 light SP31 V2.0 XPL-HI or LH351D 5000K / 4000K Tactical Flashlight with Battery and Charger
HiTech muzzle brake hitechcc KS7 Steel Defender Muzzle Brake with Nut Remover Tool Combo Pack (2 pc kit)
Noveske QD cup mounted in the mag tube cap Noveske Flush QD Sling Mount 05000471 Color: Black, $1.00 Off
HiTech side rail mount hitechcc Hi-Tech Custom KSG-NR/KS7/KSG Mini-Side Angle Rail (Left or Right)
KelTec rail
UTG(?) riser
Trijicon MRO w/ 1:3 Battle Steel co-witness mount
MCarbo Single point sling mount KEL-TEC KSG QD Single Point Sling Mount
KelTec extended butt
Tactical Hero sling Amazon.com : Tactical Hero 2 Point Rifle Sling, Fits All Guns, Fast Adjuster, Shoulder Pad, Dynamic Straps - BDS 4X Hunting Gun Sling 34"-57" : Sports & Outdoors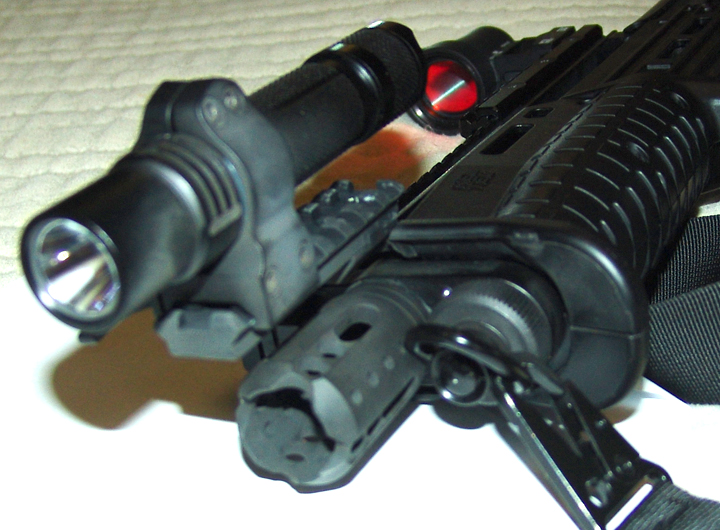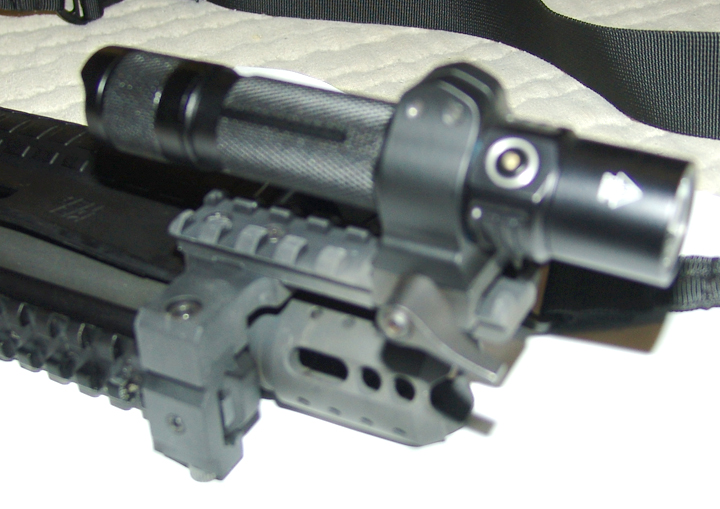 First note the soot on the muzzle end of the gun. It's seeing use and is how I've been testing things.
OK, now the rationale for the mods…
Light: I won't have a close range weapon w/o a light for final verification before tripping the trigger and the hot spot acts as an aiming point when close up. I'm heavy into Li-Ion technology so the power source was a no-brainer. I did consider a Surefire(?) light laser combo, but the shotgun is like a 3rd tier weapon and the odds of ever using it are slim. The price of this light was right and it's perfect for the job. It's held up with no malfunctions in maybe close to 100 rounds fired. It's capable of plenty of lumens if that's required, it's good out to at least 100 yards and due to the Li-Ion cells it'll do that for quite some time but for it's invisioned role I keep it at a much lower setting. Too many lumens can blind the user and the light is NOT the weapon. A button on it's butt is only the momentary and on/off. The lumens is controlled from a button behind the head (easily sen in the photo).
Muzzle Brake: I needed a barrel extension so as not to shoot off the sling point under the barrel. I doubt that the brake effect is very much, but if I shoot anything off it'll be nylon and not tear the metal parts of the mag tube apart.
Muzzle sling point: I had an Ebay/Amazon QD cup on the muzzle capbut it stood out and frankly I didn't like it. I thought the forces (stress) on the parts wouldn't hold up. Then someone on another forum pioneered the Noveske for the KS7 mag tube cap and I found my QD sling point. Is everything perfect with it? No. It comes with some sort of thread locker crapping up the threads preventing the backer nut from screwing on easily. There's little room in the muzle cap to hold it anyway and no way to screw the actual cup onto the nut. I tried their instructions and it didn't work. The instructions also said to use thread locker and I did. I got to a point on the first install where I couldn't get the nut on further, or off. So I screwed that up. KelTec sells muzzle caps for $10 [image] . The 2nd install I heated up the QD cup to melt the thread locker and used a Dremel wire wheel to remove it. I added my thread locker and that install went much better. Job complete.
Light side mount: I tried various mounts that positioned the light in oddball places. They were either too high or to far to the side. I wanted to get it closer to the pump handle so that a simple raise of the thumb could give me the flash of light I would need while keeping my hand on the pump handle. I bit the bullet and ordered the HiTech unit. It required a small corner of the pump handle being ground off but the light is placed much better where it is. The scope ring I used to hold the light is a Warne ring I've had in parts for decades. The light itself might have a tendency to work it's way forward under repetitive recoil, so to combat that the ring butts up against a section of the light that has a bigger OD. It might want to work it's way forward but it's not possible.
KelTec Rail: I tried to mount a different sight on the carry handle but screwed up the ordering of the mount required. That was serendipity since I'm an old dog and don't take to new tricks all that well. I ordered the rail and tried a See-All sight but took it off. I just wasn't fast enough with it.
MRO and UTG riser: I had the MRO in parts and they are rugged as a rock, so I knew it would hold up to the recoil. My vision for the KS7 is for close range, and the MRO just isn't needed for that. But if I ever need to use slugs it's sighted in for them (Aguila 1 3/4" slugs at the moment). I needed the sight higher and the UTG riser is what the LGS had on the wall. The Battle Steel co-witness mount came with the MRO if I remember correctly. All of them give me the right height so that I don't need to contort my body to use the sight. I'm faster that way.
MCarbo single point sling mount: I tried to use the attachment point at the butt of the KS7 but I didn't like it. The KS7 has a huge advantage over "normal" long shotguns. The short nature of the bullpup means that if anyone should grab the barrel they have no leverage. To make that grab even less likely I want to slide the gun back so that the muzzle is closer to my hip. That makes a grab almost impossible before I can separate their hand from their forearm with a blast of buckshot. Using a sling point at the butt interfered with that shotgun positioning.
Tactical Hero sling: There are more expensive slings to be had and if one is an operator and not only an armchair commando they would be worthwhile. Yes I have a few of those but I'm not longer at the point where I can use them to their potential so why buy more of them? This sling doesn't break the bank and isn't the typical Chinese crap seen elsewhere for a sling. It'll do. OK, so why a sling? IF someone should grab the gun muzzle using the sling cross body means they'd have a heck of a time turning the gun on me. But it still allows me to shoulder it should I need to employ it at a distance. Remember the MRO? It's sighted in for 50 yards and is usable further than that so shouldering is mandatory. A sling also works to free up the hands if that's required. We don't write the way things might turn out in an engagement so it works for me to have as many contingencies as possible accounted for.
KelTec extended Buttpad: Coupled with my reduced recoil shells it's plenty of recoil mitigation without being obnoxious. Heck, with normal recoil shells it's enough.
7 Likes
Sours: https://forum.full30.com/t/another-old-fart-gun-keltec-ks7/16636
Keltec KS7
Not every day you can shove your penis into a girl's mouth, and at the same time drink beer while playing football. The guy enjoyed the pleasure for about forty minutes, sipping a drunken drink and occasionally commenting on the match. No, well, look what they do.
Minishells ks7
We took a short break to pay and leave. Already in the car, we kissed again, and he was no longer at all shy about kneading my breasts, stroking my ass, and I felt so good. These kisses on the neck drove me crazy, I stroked his penis through his pants, I wanted him so much, my whole body prayed to take me right here. He unfolded the seat, and I was under him.
Mini shells + Keltec ks7
Out of surprise, she jerked and for a moment brought her legs together, but then she parted them again, but her expression remained surprisingly eliciting. There was a feeling that she was asking, "Is this some kind of test, or I don't understand something?" Then a smile slowly began to. Form on her face. Still not decisive, questioning.
Now discussing:
Panties. I stood in front of him with cancer, joining my knees and protruding my ass. Cyril got up, stumbled because of the lowered panties and literally ran into me from behind. I laughed and leaned back, pressed my booty to his penis and started rubbing. I was insanely excited about this before, but now with a cork in the priest, emotions were much brighter.
744
745
746
747
748