Ascent Lounge
New York, NY (Upper West Side)
Located on the 4th floor of the the world-famous Time Warner Center, Ascent Lounge offers an incomparable cocktail lounge experience. Presenting stunning views of iconic New York destinations, Central Park and Columbus Circle, Ascent Lounge
Nightclub/Lounge
Atlantis Hall
Serving the New York, NY Area
Atlantis Hall is the perfect venue to hold your next intimate event. It is nestled in a terrific location in Queens, near Brooklyn and has a beautiful outdoor space!
Banquet/Event Hall
48 Lounge
New York, NY (Midtown)
$350 to $5,000 for 50 Guests
Located in the heart of Midtown Manhattan, 48LOUNGE is a sophisticated cocktail lounge and transformative event space offering impeccable service, a dazzling array of innovative cocktails, a finely curated wine and champagne list, and an ex
Nightclub/Lounge
City Vineyard NYC
New York, NY (Tribeca)
$2,500 to $80,000 for 50 Guests
Located on the Tribeca riverfront, City Vineyard is designed to accommodate a variety of events including corporate cocktail receptions, seated dinners, social events, and weddings from 20 to 550 guests.
Winery/Vineyard (+1)
City Winery NYC
New York, NY (Chelsea)
$1,000 to $80,000 for 50 Guests
Host your next event in urban wine country! With live music, an award-winning food & wine program, and stunning Hudson River views, City Winery New York has everything you need to make your next private event an unforgettable experience. Fr
Nightclub/Lounge (+4)
Amenities: + 3,000 square feet of space + Party lights + Mirrored wall + Plenty of Seating + Lounge Area + Speakers/Music Equipment + Located in close proximity to restaurants, public transportation, and highways Ideal for all occ
Ballroom
Haven Rooftop is open air and filled with sunshine in the summer, but is fully tented & heated with clear walls providing the spectacular views of midtown Manhattan in the winter. We are thrilled to open our spectacular venue exclusively to
Hotel/Resort/Lodge
City Cruises & Events offers more than an event on the water; we create unforgettable memories on New York Harbor. Our fleet can accommodate casual or formal events, from corporate and social outings to weddings and much more. Show guests a
Boat/Yacht
Home Studios
New York, NY (Flatiron District)
Home Studios Inc. – two premier event spaces perfect for film and photo shoots, corporate and culinary events, private parties and elegant weddings. With over 10 years of experience we can provide a perfect venue for any event you can imagi
Banquet/Event Hall (+1)
Whether you are planning a large corporate event or an intimate get-together with friends, the staff at Slattery's Midtown Pub will exceed your expectations. We offer many extra services to make any event an unqualified success. Flexibi
Restaurant/Bar/Pub
Studio Lounge
New York, NY (Harlem)
Welcome to a multifaceted/creative space with endless possibilities, designed and planned out for anyone with a very small or big event, from dinner parties, photo-shoots, stage performances and music rehearsals, with stage performers. Thi
Hotel/Resort/Lodge (+1)
Flawless Execution is Our Mission We are the premier special event location and has been setting the standard for fine dining aboard luxury yachts for many years. The entire fleet of ships has recently been refurbished with a multi-million
Boat/Yacht (+2)
We have a full bar, cocktail specials, happy hour specials; serve a wide range of beers with a creative selection of craft beers that change seasonally as well as wines by the glass and bottle. Enjoy views of the Brooklyn Bridge, watch the
Restaurant/Bar/Pub
The White Horse Tavern is the second oldest continuously run tavern in New York City. Originally a longshoreman's bar serving the men working the piers lining the Hudson river "The Horse" became popular with writers and artists in the early
Restaurant/Bar/Pub
The Glow Community Center is an organization with 3500 sq/ft of event space which can be divided into 3 sections, complete with stage lighting, audio/karaoke system, retractable movie screen with high resolution projector, and a grand pi
Community Center
Located in the heart of Gowanus famous for its industrial feel and growing reputation with newly-formed unique draws, the Vogue venue brings forward an upscale vibe with a touch of glam. A combination of exposed brick, high ceilings, elegan
Nightclub/Lounge
Bar Marseille--borrowing its name from the famed port city of Marseille in Southern France--celebrates the eclectic collection of flavors that is found along the French Riviera with cultural influences of North Africa, Italy, Greece, and Sp
Restaurant/Bar/Pub
An experiment in the possibilities of loft living, surreality and commercial space, the Love Shack contains two unique two life-size dollhouses in an ex-industrial building in Bushwick, Brooklyn. The space was designed and custom built b
Banquet/Event Hall (+2)
RE:GEN:CY
Serving the New York, NY Area
$380 to $1,500 for 50 Guests
A community and event space dedicated to regeneration and healing. We are a unique space with a very distinctive style. We have two main rooms, the front 'light' room is moroccan themed, bright and airy with a lot of natural light.
Banquet/Event Hall (+1)
Baron De Kalb
Serving the New York, NY Area
$650 to $5,000 for 50 Guests
Banquet Hall rental available for events, parties, meetings, dances, seminars, classes and more. Located on the water in Sheepshead Bay with a great view. Seats up to 250. Catering available. Parking on site.
Conference/Meeting (+2)
5C Cafe
New York, NY (East Village)
$600 to $5,000 for 50 Guests
We are a full service bar and restaurant with 5 star ratings on Google & Yelp! Let us host your next event / party. We offer a customizable food & drink menu, taylored to fit your needs and your budget. We even offer an option of having li
Restaurant/Bar/Pub
Live Axe
New York, NY (Chinatown)
$2,250 to $12,500 for 50 Guests
Live Axe is Manhattan's first and only elevated axe throwing destination. Situated in a gloriously appointed industrial-chic space in the heart of SoHo, Live Axe offers a fresh, elevated take on the popular axe throwing pastime, upping the
Nightclub/Lounge (+2)
In the shadow of the Empire State Building, a sophisticated address awaits you. At 630 Second, we have more than 12,000 square feet of space that can be transformed to meet the needs of your event. Our convenient location at Second Avenue
Ballroom (+2)
Sours: https://www.eventective.com/new-york-ny/party-event-venues/
43 New York City Venues That Your Attendees Will Love
Event orchestration | 16 July 2019
Hosting your event in the city that never sleeps? Discover stunning New York City venues—including TheTimesCenter, Angelika Film Center, and 583 Park Avenue.
Hundreds of millions of people come to the city every year to attend events and do business. There are plenty of great venues for event planners to explore in the city, ranging from the smallest, intimate venue to a grand, Beaux Arts ballroom. But finding the perfect New York City venue for your next event can feel overwhelming.
If you're wondering what principles you should apply as you search for venues in New York City, check out our ebook for choosing innovative event venues. Then come back to our list of New York City venues and narrow down your top spots. If you're interested in adding a venue to our list, please email us here with a high resolution image of the venue attached to the email.
43 Excellent New York City Venues
1. Clinton Hall

Source: Clinton Hall
Location: Financial District
Capacity: 300
Located on 90 Washington Street, Clinton Hall is a beer hall and courtyard garden in the Financial District. This location offers 20 draught beers and ciders on rotation for your guests. If your event attendees like a curated list of IPAs and lagers, Clinton Hall may be the perfect venue for your next private party or casual corporate event.
2. 404 NYC
Source: 404 NYC
Location: Hudson Yards
Capacity: 175-450
With 7,500 square feet of usable event space, 404 NYC can be transformed into the New York venue of your dreams. The multi-level space is just 2 blocks from the Jacob Javits Center, making it a perfect getaway from those attending large conferences or conventions. Some of 404's famous clients include Facebook, Twitter, HBO, YouTube, HGTV Magazine and QVC.
3. Ramscale Studio

Source: Ramscale Studio
Location: West Village
Capacity: 150
The photogenic Ramscale studio, located in the West Village, overlooks the Highline and is the perfect spot for an intimate gathering. It's an ideal space for product launches, fashion shows, and corporate retreats. Your guests will have stunning views of lower Manhattan, the Hudson River, and New York Harbor. With natural light flowing through its windows at all times, the space feels modern, airy and refreshing.
4. Loft in Flatiron
Source: Andrew Berman Architect
Location: Flatiron
Capacity: 175
The Loft in Flatiron on West 23rd Street, was originally a members-only club, but is now open for select, private events. This space has its own theater and media room, making it a good location for screening and presentations. This New York event venue provides organizers with A/V Equipment, WiFi and is handicap accessible.
5. Space 530
Source: Space 530
Location: Midtown
Capacity: 54
Enjoy a sleek, full-service event venue at Space 530. Located in the Fashion District, Space 530 is perfect for press events, speaker panels, team off-sites, and corporate meetings. The venue features state-of-the-art A/V equipment, lounge seating, a built-in LED bar, conference rooms and passenger elevators. This event venue seems ideal for a swanky networking event!
6. Raines Law Room at The William
Source: Raines Law Room at The William
Location: Midtown
Capacity: 300
Looking to enjoy cocktails with your guests at your next event? The Raines Law Room at The William may be your ideal event space. Located on 24 East 39th Street, Raines Law Room at The William is just steps away from the hustle and bustle of Grand Central Station, but feels like a speakeasy in the roaring 20's.
7. Stage 48

Source: Stage 48
Location: Hell's Kitchen
Capacity: 100 – 1,400
Enjoy beautiful skyline views as your host your next event at Stage 48 in Hell's Kitchen. This New York venue has four unique spaces inspired by New York City's old west side and offers catering services, valet parking and coat checking services.
8. Rooftop 760 – Copacabana
Source: Facebook
Location: Times Square
Capacity: 500
Rooftop 760 is a multi-level event space with an outdoor patio that overlooks the Theater District. The space provides event planners with state-of-the-art A/V and sound system and high-definition TV screens. Plus this venue is just blocks from Times Square, famously called The Crossroads of the World.
9. Three Sixty°
Source: Tribeca 360
Location: TriBeCa
Capacity: 175 – 720
Enjoy 30,000 square feet of event space at Three Sixty°. This venue can host up to 700 guests and is located in the center of Tribeca, a part of the city that Jay-Z and Beyoncé, Gwyneth Paltrow and Taylor Swift call home. Executive Chef, Joseph Jenkins will help you create a custom menu to fit both your guests tastes and your budget.
10. Hudson Terrace
Source: Hudson Terrace NYC
Location: Midtown West
Capacity: 500
Escape the office and host your event in one of Hudson Terrace's event spaces. You'll have room to host up to 500 guests on the rooftop, garden terrace or in the salon. Maximize your event with full use of indoor and outdoor space that highlight terrific skyline views. This full-service event destination overlooks the Hudson River in midtown Manhattan.
11. Pier 36 NYC
Source: Pier 36
Location: Lower East Side
Capacity: 15,000
Located on South Street, Pier 36 is a state-of-the-art sports and entertainment facility. Have a lot of supplies and props? Pier 36 offers easy access for commercial and large vehicles loading and unloading on its 55,000 square foot lot. Take note event planners, not all New York City venues feature such easy access or a large capacity for large scale events and conferences.
12. NoMad Hotel Rooftop
Source: The NoMad Hotel
Location: NoMad
Capacity: 120 – 345
The Parisian-inspired NoMad Hotel on Broadway offers event planners both indoor and outdoor spaces for their events. Your guests can relax on the rooftop, dine in the restaurant or meet in a private dining room. NoMad provides catering services with food by Chef Daniel Humm, to help you create an elegant and delicious affair for guests.
13. Rainbow Room
Source: Rainbow Room
Location: Midtown East
Capacity: 270 – 300
Considered a quintessential New York City Venue, the Rainbow Room sits 65 stories over Rockefeller Center on Rockefeller Plaza. The Rainbow Room marries historic glamour with modern luxury. You can expect premier service, sparkling city views, and a refined event for your attendees.
14. NYIT Auditorium on Broadway

Source: NYIT Auditorium on Broadway
Location: Midtown West
Capacity: 262
Host exclusive screenings, executive presentations, panel discussions and private parties at The NYIT Auditorium on Broadway. The auditorium features a platform stage and is equipped with modern technologies like Surround Sound, video conferencing capabilities and wireless broadband internet.
15. 3 West Club
Source: 3 West Club
Location: Midtown
Capacity: 300
This venue is located in Midtown Manhattan and boasts over 7,000 square feet of meeting space. For your overnight guests, the 3 West Club also offers overnight accommodations for meeting groups. The venue features crystal chandeliers, vaulted ceilings, art deco details throughout, and over 27 main hotel rooms and 2 suites to host your event.
16. Employees Only

Source: Employees Only
Location: West Village
Capacity: 75
For a true speakeasy event, be sure to check out the globally recognized Employees Only bar. This New York favorite includes legendary cocktails, American and Eastern European inspired food, and the iconic undulating bar with Arc Deco accents. Throw an intimate cocktail party together or take your dinner guests on a journey back in time during your next event.
17. The Farm Soho
Source: The Farm Soho
Location: Soho
Capacity: 100
Make your guests feel at home at your next event at The Farm Soho. This trendy Missouri farmland-inspired venue has a highly configurable space for conferences, customer dinners, networking events, or breakout sessions. The beautifully design space includes oak barn-wood, corrugated tin, and Americana pieces that will give your next event a fun, laid back style.
18. 19th Avenue Event & Exhibition Center
Source: 19th Ave Stage
Location: Astoria
Capacity: N/A
The 19th Avenue Event and Exhibition Center offers an 11,000 square foot space for any event. You can also take advantage of their smaller support areas for lectures, conferences and other gatherings.
19. Gotham Hall Events
Source: Gotham Hall
Location: Midtown
Capacity: 500
Not a fan of competing with other events in the same venue? Gotham Hall Events only hosts one event at a time, which means your event will steal the show (since it's the only one inside). Celebrities like Britney Spears and the Bachelorette have come to Gotham Hall Events because of the stellar service of its event management team, and because unlike other New York City venues, Gotham Hall Events can truly impress attendees.
20. Espace
Source: Espace
Location: Midtown
Capacity: 50 – 1,000
This conveniently located event space has multiple configurations to suit large-scale galas, corporate dinners, networking events, or product launches. With two large event spaces, Espace can accommodate 400-500 seated or 1,000-1,200 standing guests. The 3,500 square foot function room features wireless internet access and a DJ Booth.
21. la.venue
Source: Yelp
Location: West Side
Capacity: 300
la. venue is located inside the famous "Terminal Stores" in New York's Chelsea neighborhood. Original built in 1891, the seven story warehouse originally served as a railroad access point for merchants. Today, the venue is equipped with modern day technology and features stunning exposed brick and wide-plank wood floors. It's a great venue for organizers interested in combining the old with the new.
22. 583 PARK AVENUE
Source: 583 Park Ave
Location: Upper East
Capacity: 1,300
This venue recently underwent a major renovation and is now equipped with a state-of-the-art A/V system. The glamor of this space has made it a popular choice among organizers planning galas and award ceremonies.
23. CAPITALE
Source: Capitale
Location: Lower East Side
Capacity: 700 – 1,500
Host your next event in Capitale's 15,000 square foot Grand Ballroom. The stunning Beaux Arts venue is a perfect match for team seminars, launch parties, and lavish corporate galas. Organizers can also utilize one of the venue's private rooms on the upper level for more intimate gatherings.
Learn how to find a venue as stunning as the ones on our list. Click button to grab a free eBook on innovative event venues!
24. The Glasshouses
Source: Instagram
Location: Chelsea
Capacity: 200
The Glasshouses is located in the Chelsea Arts Tower and is available for a variety of corporate and private events. The Glasshouses consists of two event spaces: Glasshouse 14 (3,600 square feet.) and Glasshouses 21 (3,400 square feet). The two levels can be rented together or separately and each space can accommodate up to 200 guests for cocktail parties and 150 guests for sit down dinners. Floor to ceiling windows provide event attendees with sweeping skyline views, it's a great space for a sophisticated gathering.
25. PENTHOUSE 45
Source: Penthouse 45
Location: Times Square
Capacity: 75
Enjoy panoramic views of the NYC Skyline and the Hudson River at Penthouse 45. The venue boasts 2,500 square feet of indoor event space and 1,750 square feet of outdoor terrace space. Penthouse 45 offers multimedia amenities like a Bose ControlSpace Audio System and Sony BluRay/DVD/CD Player. Plus it features a professional kitchen for caterers to work comfortably, multiple built-in television monitors and a grand fireplace.
26. The Town Hall
Source: The Town Hall
Location: Midtown
Capacity: 1,400
Famous for its intimate atmosphere and amazing acoustics, The Town Hall is a 1,500-seat historic venue located on West 43rd Street. Designers McKim, Mead and White got rid of Box seats and eliminated all obstructions of view, making the saying "No bad seat in the house" completely true at this event venue. The Town Hall is available for daily and weekly rentals, rental periods include set-up, performance and load-out.
27. Wythe Hotel
Source: Wythe Hotel
Location: Williamsburg
Capacity: 120
The Wythe Hotel is located in Brooklyn along the Williamsburg waterfront. The luxury hotel boosts six event venues perfect for corporate events, workshops, or networking events. Choose from rustic indoor hall, a loft space overlooking the New York skyline, screening room, or a picturesque garden terrace.
28. OFFSITE
Source: OFFSITE
Location: Midtown
Capacity: 145
OFFSITE is Midtown Manhattan's exclusive creative meeting venue. Your guests will have access to OFFSITE's whiteboards, large-screen TVs, smart boards and 50-foot display wall. This stunning event space will surely help organizers to increase event registrations once attendees realize how inspiring this space is!
29. Lightbox
Source: Lightbox

Location: Midtown
Capacity: 300
Lightbox, NYC's first immersive events and interactive arts venue, provides event planners with technologies that create virtual reality experiences, and immersive video mapping. Some of Lightbox's clients include: MTV, Vimeo, Nike, Vine, Lancome, HP, L'Oreal and Ralph Lauren. Take advantage of event technology and wow event attendees using the amazing new tools Lightbox offers organizers!
30. The Palace
Source: The Palace

Location: Midtown
Capacity: 600
The Palace on Madison Avenue is the first five-star, five-diamond hotel in NYC history. The Palace offers over 30,000 square feet of event space across four expansive floors and contains several individual spaces for smaller meetings.
31. PENN6
Source: Instagram
Location: Midtown
Capacity: 225
Penn6 offers its private event space to event planners. You can also utilize the private loft at Penn6 NYC to host an event of any size. Venue staff are available to help organizers create an amazing corporate outing!
32. ARENA Event Space

Source: ARENA Event Space
Location: Midtown West
Capacity: 500
Rent out up to 5,600 square feet of event space at ARENA Event Space on West 41st Street. This venue offers in-house extensive lighting & AV System to its event planners.
33. 91
Source: Yelp
Location: Greenwich Village
Capacity: 200
91, is the perfect venue for small events. Located in Greenwich Village, 91 features two main areas and is home to renowned catering company, The Upper Crust.
34. Charlie Bird
Source: Instagram

Location: West Village
Capacity: 14
If you're looking for traditional American and Italian cuisine, host your next sit-down dinner at Charlie Bird. Charlie Bird is famous for its seafood, roasted meats, great wine and creamy espresso. You can rent an intimate private dining room your dinner event. If you're planning a large event, you can rent the entire restaurant.
35. McCarren Hotel & Pool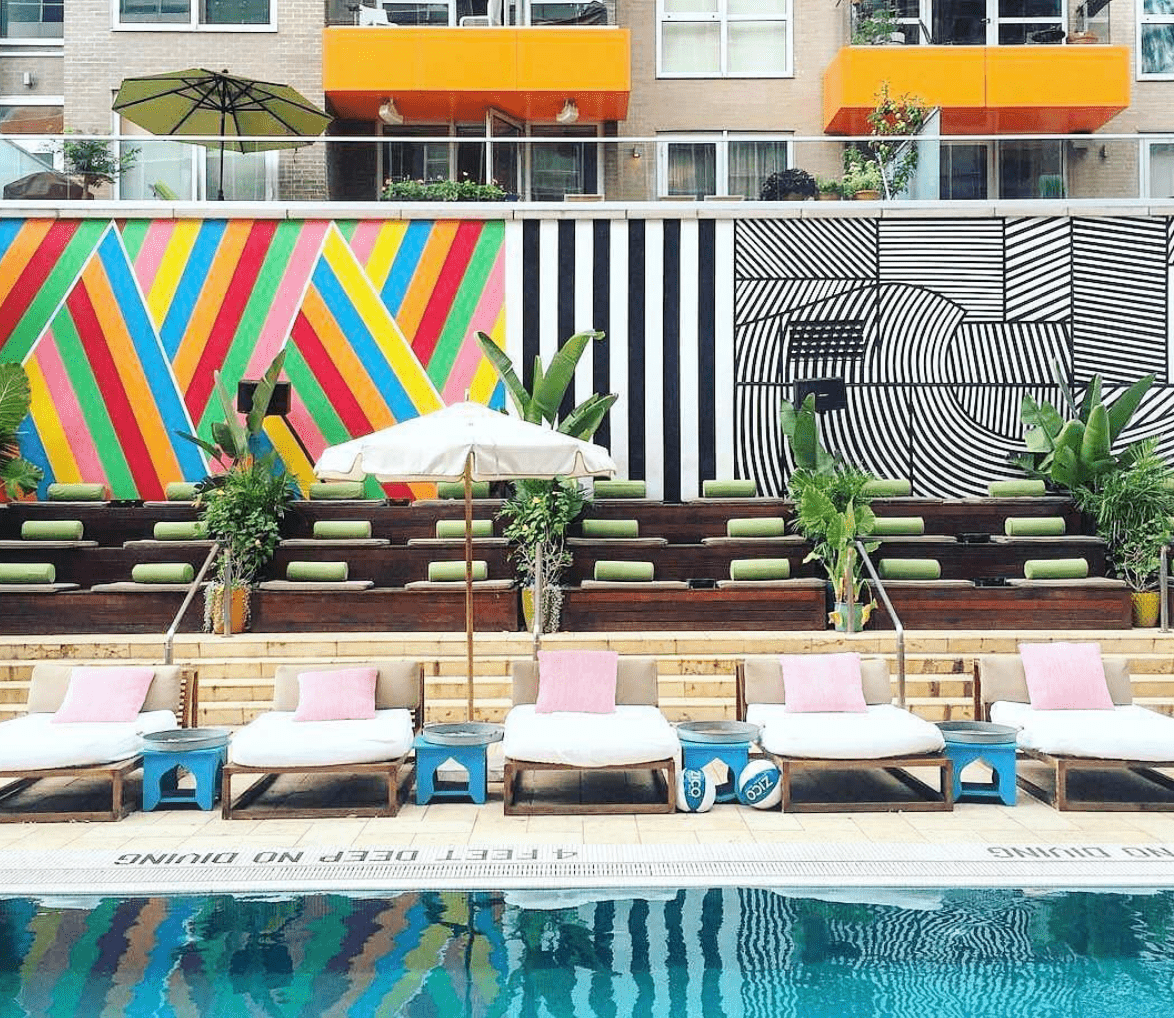 Source: Instagram

Location: Williamsburg
Capacity: 150
Sit poolside at your next midsummer event when you book McCarren Hotel & Pool in Brooklyn. Event goers will love the fact that they can take a dip in the hotel pool if your event is casual and is happening in New York's humid summer months.
36. Iberostar 70 Park Avenue
Source: Tripadvisor
Location: Midtown East
Capacity: 20
Host a working lunch, conference or cocktail party at Iberostar 70 Park Avenue Hotel. You can book space in their Penthouse Suite, at their 101 Park Ave meeting location or reserve between 6 to 9 hotel rooms for your next event or small meeting.
37. Angelika New York
Source: Angelika Film Center

Location: SoHo
Capacity: 100
The New York Angelika Film Center & Café is located in New York City's trendy Soho neighborhood and features six auditoriums equipped with on-screen computer projection, surround sound and wireless and lavalier microphones. Host your next film screening, cocktail hour, award ceremony, or corporate presentation in this unique space. Not all New York City venues feature such state of the art equipment – event planners take note!
38. WeWork Bryant Park Event Space
Source: WeWork
Location: Midtown East
Capacity: 135
Most of the New York City venues on our list are restaurants or dedicated event spaces. WeWork is something a bit different. Typically, WeWork is known as $10 billion coworking space startup. But some of their office locations also offer private event spaces. Take WeWork Bryant Park location as an example. This space features stunning views of Bryant Park. It's an elegant space perfect for a networking event, or small meetup.
39. Loft 172
Source: Loft 172
Location: Fort Greene
Capacity: 140
Loft 172 is the ideal event space for professional events and corporate functions. This venue features a large party room, one smaller room that can be used for a smaller meeting space, a large kitchen, three bathrooms and an outdoor roof-top deck that is accessible from the loft.
40. The W Loft
Source: The W Loft
Location: Williamsburg
Capacity: 150
The W Loft is a glass building with scenic waterfront views of the Manhattan skyline. Located in Williamsburg, Brooklyn, The W Loft can fit up to 150 people for a standing event or up to 80 people for a seated function with space for networking.
41. MEET in SoHo
Source: MEET
Location: SoHo
Capacity: 200
MeetNYC in SoHo features a whimsical space for creative brainstorming, breakout sessions, and presentations. The space includes custom conference tables, two 65″ TVs and projectors, an elevated stage, and podium. MeetNYC also has a venue on Chrystie St and their newest space will be opening on Broadway and Madison in 2019.
42. TheTimesCenter
Source: TheTimesCenter
Location: Midtown
Capacity: 378
TheTimesCenter is a versatile, visually stunning venue comprised of two state-of-the-art spaces: The Stage and The Hall. The Stage is a striking 378-seat auditorium, easily utilized for industry conference presentations and cinema-quality film screenings. The Hall is a customizable 5,000 square-foot event space, easily transformed for receptions, product exhibitions, or anything in between. Both rooms are equipped with extensive AV equipment and distinct lobbies, making TheTimesCenter the perfect fit for mega industry conferences and intimate gatherings alike. Rely on an expert production team to bring your dream event to life.
43. VR World
Source: VR World
Location: Midtown
Capacity: 575
VR World is North America's largest mixed reality entertainment venue with over 50 immersive VR experiences. The three-level venue features breathtaking architecture and immersive installations to blend a bold nightlife atmosphere with state-of-the-art technology. The venue's multiple spaces make it flexible for more intimate gatherings with groups of 20 or larger events that require a full venue buy-out to host up to 575 guests. With a full liquor bar, multiple screens, event lighting and system coupled with a rotating selection of the best gaming, film and art in virtual and augmented reality, you can expect a never-ending adventure that caters to diverse audiences in the heart of Manhattan.
Wrapping Up: The Perfect New York Event Venue
New York City is a vibrant destination with event venues and catering services to suit any event organizer's vision. If you'd like to learn about some of the most daring events in New York and across the globe then check out Bizzabo's IN-PERSON Podcast series, where we interview the very leaders that make those events happen.
Planning an event in a different city? Then you might want to check out these incredible event venues on our list:
Originally published: March 22, 2016.
Stay up to date with Bizzabo's latest.
You may also
be interested in
Creating an Event Contingency Plan: 6 Tips to Beat the Delta COVID Variant
There's a lot of uncertainty regarding COVID variants and in response, event organizers are creating event contingency plans to...
Canceling Your Event: 8 Examples from Leading Brands
How to communicate a COVID-19 related event cancellation to your attendees. Featuring examples from Google, SXSW, and Amazon.
How to Safely Return to In-Person and Hybrid Events
After a year of virtual, the return of live events is just around the corner. Give your attendees and partners...
Sours: https://blog.bizzabo.com/new-york-city-venues
Affordable venues for any budget
The bar is a bright, rustic corner bar in Clinton Hill close to the Classon G train. We have room for over 90 people, a full bar, a dozen beers on draft, and a nice selection of wines. We hope to see you soon!
-- STUDIO RULES-- *There will always at least one staff member nearby and checking in* - At WF Studios we do take covid extremely seriously and require that all guests when in space keep masks on unless filming. If masks are refused - you will be denied entry or asked to leave without a refund. - Smoking is NOT permitted within the studio ( there will be extra fees if found ) - You are responsible for any damage done to space or EQ and will fined for any replacements or repairs. - We are located in a residential building/area, so music must be at a reasonable volume by 10:30pm and after 10:30pm there is no loitering outside building. - You will be fined if there are more guests than what was booked or discussed *Please be mindful that load and load out are included within time slot booked, anything over 20 minutes will be additional (unless discussed with staff)* **COLOR LIGHTS THRU WINDOW ARE NOT INCLUDED - AVAILABLE BY RENTAL**
Welcome to this sunny and spacious apartment located in the heart of Manhattan, which offers GORGEOUS views of the Hudson River and the famous city's skyline (yes you can see the Empire State Building from here!). This space offers a spacious modern/artsy living room with a vibrant modern mid-century couch and lots of original copyright-free art, a sunny and charming dining room, an open kitchen with granite tops and modern appliances, and a ample balcony with a BBQ Grill and gorgeous city skyline and Hudson River views. Enjoy immense natural light. The lively warm sunset light fills up the entire living room and kitchen every evening! This beautiful space has hosted several film productions, photoshoots and even small music venues and would love to be part of your next project! This unique ample modern space is also perfect for: team meetings, off-sites, conferences, presentations, product launches, dinners (we can offer a private chef or catering service!), cocktail receptions, creative projects, and anything else your team comes up with. PLEASE NOTE: The advertised price is for the use of the Livingroom, Dining Room, Kitchen, Half bathroom and Balcony. Bedrooms are off limits. Features: - Sunny Living Room and open Dining Room with calming views of the Hudson River. - Functional Kitchen with granite countertops. - Half modern bathroom. - Spacious balcony with beautiful views of the Skyline and the Hudson. For an additional fee: - Lighting Equipment. - Projector. - Camera lenses. - Smoke Machine. - Backdrops. - Private Chef or Catering Services. For Parking: Most of the street parking on this area is free, not the avenues only the streets. On 50th street, right in the corner of the building, there's an area dedicated to commercial vehicles where you can park for free (if you have a commercial vehicle). If you find a spot on that corner of 50th street then you will have easy access to the building's ramp. As a plan B, there are three parking garages near by (not free), one is literally under the building, the entrance is located on 51st street. The second one is on 52nd street next to the Skyline Hotel, and the third one (the cheapest one, perfect for bigger cars), is located on 50th street near between 9th and 8th Ave.
Brooklyn Gallery
New York | Bedford-Stuyvesant
$100 per hour
This gallery offers emerging artists, musicians and teachers a platform for dreams to manifest. We host events ranging from open mics and film screenings, to yoga workshops and exhibitions. We currently are not hosting any parties or large gatherings.
The studio is a space created for the creative. With 15' ceilings and 400 square feet of space to utilize as you please, it is the perfect place for a studio shoot, an intimate show, a screening, a private event or party. We have a private entrance and are on the ground floor for ease of load ins. We will also handle garbage removal. *Any and all set up and tear down times must be included in the rental so be sure to ask for a time slot long enough for all your needs. Features Include: -Moss Wall -12' Wide Black, White, and Green Mounted Seamless Rolls -Projector -40 Folding Chairs -Sound System (2 12" Powered Speakers Rigged to the ceiling and a 6 Channel Sound Mixer Available) -2 Moveable Square Stage Platforms -Cooler Hours Available: 6:00am-2:00am Ask us about our equipment, props, and other offerings! Grip equipment available by request. We would love to have you join us for future events and art gatherings. Check out upcoming events and shows at our website: greenlungstudio.com.
In the heart of the East Village, one block from Saint Marks Place. A large furnished four bedroom apartment, with a massive living room suitable for large parties and dancing. A 52 inch TV providing cable and streaming services is mounted in the living room. Furniture can be rearranged as needed. One of the current residents is a professional EDM DJ and can provide professional equipment and lighting, as well as perform for guests. Also we can provide professional video and Photography for the event. Parties of all kinds welcome.
PLEASE READ DESCRIPTION BEFORE BOOKING! PRICING VARIES DEPENDING ON WHAT YOU WANT! This is the Blackout studio which includes 3 Light installations. • $49/hour includes the XXX white light installation • $100/hour includes both the XXX white light installation and Colored Tubelights • $125/hour includes both the XXX white light installation and Colored Tubelights AND fog machine. • $300/hour includes the screen wall as shown in the photos. STUDIO RENTAL ALSO INCLUDES: • 7 Philips hue color changing lights (act as a softbox light) • Clothing rack • Table and 4 chairs • Full-length HD mirror • Bluetooth speaker • Free wifi • 1 Powerstrip • iPad for changing lights NO SMOKING OR DRINKING ALCOHOL There is a cleaning fee of $30 if you choose to bring more than 2 people into the space. • up to 16 AX1 Pixel Tube lights with multiple installations • Laser Projector • Low Lying Fog Machine • 8 Color changing / Blacklight Spotlights If you plan on bringing your own tube lights and fog machine, then there will be a $50 per hour additional charge. Space is not soundproof. In house furniture rental is also available. Please send a message with specifications.
Our studio offers 4000 sf space with high ceilings and big glass windows featuring the beautiful streets of Manhattan, 2 rooms with different settings. Space is perfect for production shoot, events, reception cocktails, birthday, parties, holding, casting, meetings.
This space is ideal for photo and video productions with its 1,200 sq/ft of shooting space in Studio A and 2,000sq/ft in Studio B. White concrete floors and white walls Enormous windows facing North in Studio A and South in Studio B 12 foot ceiling height 100% blackout capable Lounge Area Changing Area Big Kitchen 2 Bathrooms Hair & Makeup station Rolling racks & hangers Steamer It is located close to Manhattan, right off of the 59th St Bridge. As Renter, You should have a company and a website and be able to provide a COI.
Incredible 600ft loft with high ceilings and awesome natural light. The freight elevator onsite is available 24/7. White seamless paper is free. We regularly stock tech green (greenscreen), black, and grey at an additional cost. For more colorways, you would need to inquire 72 hours before booking date. ALL EQUIPMENT IN THE STUDIO IS AVAILABLE FOR FREE: (2) DigiBee 400 Flash Units (1) 32" x 40" Softbox (1) 47" Octabox (2) V-Flats Apple Boxes Collapsible Reflectors Wireless Triggers Steamer Vanity Clothing Rack Sandbags Boom Arm Stand Privacy Divider Bluetooth Speaker Blackout Curtains Wifi
Conveniently located on the Upper West Side. This is a beautiful apartment and perfect photo, film space and meeting room with decorative fireplaces in both the sitting room and bedroom, 10" ceilings, sofa, 4 poster bed and claw foot bathtub. This is a beautiful, intimate space that can accommodate up to 12 people comfortably for a shoot or meeting. Easy to book on short notice. Feel free to contact me with any questions. I will try to accommodate your requests as much as I can. Looking forward to hosting your next shoot. Previews are welcome. Any bookings after 7pm may incur a higher rate. Please inquire. Please note that I have a 3 hour minimum, however if you need a shorter booking please message me. If I can accommodate you for a small surcharge to cover costs then I will do my best in off peak times! For more information red on of send me a message and I will get back to you as soon as I can. Contemporary meets classic in this beautiful, tranquil floor through apartment in a family owned home, just steps from Central Park. The apartment is packed with original features including 2 fire places and ornate wood panel doors and moldings. Styling is a mix of classic and contemporary. The space is very versatile and ideal for smaller photo and film shoots, interviews and meetings. The sitting room seats 10 comfortably. The apartment features 2 oversize spacious rooms plus 2 full bathrooms and a small but beautiful outside space with tranquil views over the neighbors gardens. The lounge has a comfortable seating area with a large leather sectional sofa and seating (4) plus table seating (6). The large French windows lead out onto the balcony overlooking peaceful gardens and trees. The apartment is situated on a leafy, peaceful side street joining onto Central Park close to the Jackie Onassis reservoir making it a great location and base for photo shoots both inside and outside the apartment. Along with the sitting room, there is a spacious bedroom featuring beautiful bay windows, an original fireplace and king size 4 poster bed. There are 2 full bathrooms in the apartment, one off the hallway, and the second en suite to the bedroom which can be used as a changing area for shoots. I am happy to discuss your individual requirements. LOCATION: Both the B,C ( 2 mins ) and 1,2,3 subway lines ( 5 mins ) are in easy walking distance of the apartment. Conveniently located to the many restaurants and bars of the upper West Side for a perfect finish to your inspiring day. AMENITIES INCLUDE: . Kitchen . Blue tooth speaker . TV screen . High speed WiFi . Make-up room ( en suite bathroom with bathtub ) . 1 Master Bedroom . Lounge . Dining table / Conference table (6) . Full Bathroom ( shower room ) . Balcony . Small hand steamer PERFECT FOR: Photo Shoot : Filmed Interview, Photo-Shoot, Apparel Shoot, Fashion Shoot, Promotional Photo shoot, Clothing Shoot, Indoor Photo shoot, Outdoor Photo shoot ( access to Central Park ) Meeting space: Interview, Filmed interview, Private meeting, Group meeting, workshop, Off-site, Brainstorming, Team building, Creative Brainstorming, Relaxation, Meditation, Retreat, small group gathering. Event: Romantic dinner, Intimate family gathering, Bridal shower, baby shower, anniversary, book launch, book club.
Located in the heart of Nolita ( Soho East ) NYC , we offer fully furnished meeting rooms, lounge and kitchen. Additional amenities are also provided: +High-Speed Wi-Fi +Print/Copy/Scan +White Boards +TV, Apple TV +Coffee and Tea +Filtered Drinking Water +Common Area +Rooftop Deck
PLEASE READ CAREFULLY - (60$ H RATES ARE FOR ONLY FOR PHOTO & VIDEO ONLY ( MAX 10 PEOPLE)) * EVENTS// PARTIES// RATES ARE BASED ON NUMBER OF GUESTS- Please email us for inquiry *Please read below to see whats included in Space rental. * SETS SHOWN are only examples of prior productions. * GARAGE DOOR is closed Due to COVID restrictions. You may shoot Cars outside on our Private property. Not inside ( temporarily Only ) * ENTRANCE ADDRESS ( 34-60 48th street , LIC NY 11101 ) FREE PARKING in LOT We are a 2,000 sq ft hybrid creative space in the heart of the L.I.C Queens arts district. Our Brand new 2 Room , 2 Floor venue includes a Modern Reception with Digital Displays, 2 CHANNEL bathrooms, PODCAST/COAT CHECK Room and Beautiful Art; while our Event room includes A Stainless Kitchen, Make up rooms, Changing Room, Textured Walls, Infinity Walls, 18 FT ceilings and AMBIENT LIGHTING. Our SPACES are suitable for everything from PHOTOGRAPHY ,VIDEO , COMMERCIAL and EVENT . Suitable for Set Builds & Art Designs and we are also conveniently located within a BLOCK of ( HOME DEPOT // MICHAEL'S Crafts // Best Buy // GUITAR CENTER // PARTY CITY // LIGHTING CO Supply // DUNKIN DOUGNUTs and over 20 amazing ethnic restaurants to choose from. Our core team is composed of creatives with over 10 years experience who understand the work, process and aim to create an experience with every booking.... • Main Room (A) INFINITY WHITE - 30 FT by 17 FT height * BLACK CURTAIN 180 DEGREE BLACK OUT • 10 x 16 FT GREEN SCREEN WALLS ( WHITE OVER HEAD SOFT LIGHTING) * 8 FT WOODEN WALLS ( DARK OAK & WHITE OAK) * 8 FT GRASS WALLS * *8 FT ( WALL OF LIGHTS FIXED) BLACK WALL ( COLORFUL LIGHTS) * 10 FT COLOR ROLES ( RED , TAN, GREY, ) TO be requested • (2) 350 ELICRONE STROBES / Stands / Stingers & Extensions ( INCLUDED) • 100 Amp (24) Electric & Switches easily accessible. • In-house equipment rental. ( LIGHTING & ELECTRICAL ) SEE LIST • HIGH SPEED WI- FI ACCESS. • Make up station. ( ROOM) • Client area and production tables. • Private dressing room. • Makeup mirror and garment rack. • Professional Jiffy steamer with metal head. • AUDIO tabletop music system • STAINLESS KITCHEN ( SINK , FRIDGE, MICROWAVE, ) * NOTE: GARAGE CLOSED DUE TO COVID-19 The reception includes Digital displays , ideal for branding, Sponsor Placement and or tailored greetings. In addition as we are an in house ( PRINTING, SCREEN PRINTING, EMBROIDERY and Digital Marketing agency) we can Tailor and customize your event unlike no other Space in NYC. ( BANNERS , STEP & REPEATS, CHLOROPLAST LIFE SIZE CUT OUTS, Custom Stickers, Custom Event Snap Chat Filters & Motion Graphics - Geo Populate to location & Time.)
Photo/video Studio with professional photo equipment. Perfect for photo production: fashion, portrait. Video production: fashion, interview. Location: Lower East Side EXTRA CHARGE $15 FOR PARER BACKDROPS Size: 300 square feet EQUIPMENT INCLUDED:
More affordable spaces
How it works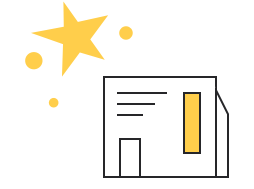 Find the perfect space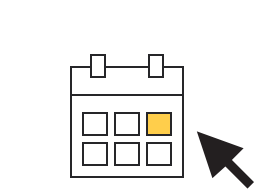 Book it with ease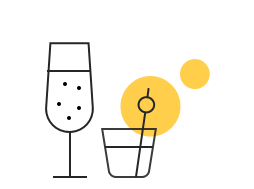 Meet, make or create
Sours: https://www.splacer.co/spaces/affordable-event-spaces
TOP 7 NEW YORK CITY SECRET SPOTS
Get productive with offsite meetings
Rent an office space or a bright beautiful loft for your next offsite meeting by the hour, an entire day, a week or several months. Our collection of New York City conference rooms, meeting spaces and collaboration spaces are the perfect private spaces to host colleagues and clients.
Lower Manhattan
Find meeting space right in the middle of it all with this SoHo loft rental featuring a private rooftop and 360-degree views of the city.
See availability
Upper Manhattan
This industrial loft space is the perfect meeting space for client pitches, brainstorms or just taking a well-deserved break from the hustle and bustle.
See availability
Midtown
Host your next off-site in this cozy private meeting space that features at a 18 person boardroom table and comfy seating which makes it the ultimate venue to host colleagues and clients.
See availability
team meetings spaces・client meetings spaces・workshops spaces・off-site meeting spaces・individual work spaces・presentation spaces・brainstorming sessions・interview spaces・training session spaces
Sours: https://thisopenspace.com/venues/new-york-city
Nyc event locations
I want to smoke. I speak with surprise. - where are you going to smoke it at 3 o'clock in the morning. - as where rubbish. that is, in the toilet.
NEW YORK'S BEST Hidden Gems \u0026 Secret Places🤐
Close your eyes, I say. You drop your eyelids. I run a member over your lips.
Similar news:
The bra was reinforced with special inserts. The bottom half of each cup was made of dense fabric. The upper half is in lace, and through them the skin shines through. She ran downstairs: "I'll be back immediately after the meeting.
769
770
771
772
773