EVENT TICKETS MANAGER IS AN ALL-IN-ONE SOLUTION THAT ALLOWS YOU TO SELL THE TICKETS TO YOUR EVENTS WITH THE HELP OF A WOOCOMMERCE STORE. NOW YOU CAN ADD EVENTS AS A PRODUCT IN JUST A FEW CLICKS.
Events Tickets Manager For WooCommerce is a complete solution for merchants that want to add event-based products to their WooCommerce store. Now you don't have to pay commissions to your third-party services to manage event registration and ticket sales. You can manage the entire process from your WooCommerce store and be your own boss.
Create event management and ticketing websites.
Sell event tickets without depending on external service providers
Develop event management and ticketing websites.
WITH EVENT TICKETS MANAGER FOR WOOCOMMERCE PLUGIN, YOU CAN:
Add events as a WooCommerce product type on your online store.
Manage the stock of tickets as admin.
Show the event location to customers at the front end.
Send the tickets as PDF to customers in an email.
Track check-in status of attendees.
Allow the customers to print the tickets from the Order details page for offline use.
Widget to show upcoming, past, and present events in the form of a list or calendar.
You can collect additional information from the user if needed at the time of checkout.
Create event management and ticketing system with WooCommerce.
Allow the customers to validate their check-ins using emails.
PLUGIN MEETS YOUR REQUIREMENT, SO
Download Now
WHAT IS INCLUDED IN FREE EVENT TICKETS MANAGER FOR WOOCOMMERCE PLUGIN
1)Ticket Stock Management
The Event Tickets Manager For WooCommerce uses the default stock management system to show customers the number of available tickets. The merchant can manage the stock of the tickets from the admin panel. You can also see how many event tickets are sold and track if you are running out of stock.
2)Set Location For Events With Google Map
Provide a high-level view of your offline events by showing the exact location of events to the user in the frontend. The plugin is integrated with Google Maps that lets WooCommerce store owners show the live location of the events on the store.
3)Download Tickets As PDF
The WooCommerce Event Tickets Manager allows the customer to download the tickets as PDF for offline use. When customers buy the event tickets for an event from your WooCommerce store they send an email with a pdf attachment of the ticket. The customers can also download the ticket from the My Account tab.
4)Events Calendar
The Events Ticket Manager comes with an interactive calendar widget. The widget shows your customers the names of upcoming, past, and present ongoing events in the form of a list or grid.
5)Edit Your Ticket Content With A Breeze
The plugin gives the merchants an easy-to-use editor to update the content of the tickets mailed to customers. You can very easily edit the subject and the main body of your WooCommerce event tickets. The editor also lets you use the shortcode to insert the name of your site in emails.
6)Validate Event Check-in Using Emails
The users have to use the email address on which they received the ticket. By entering the email addresses and ticket numbers users can validate their check-in for the events they are planning to participate in. Participants can go to the Event Check In option on your website and select the event in which they want to check in.
7)WPML Multilingual Support
The plugin comes with WPML multilingual support, so as to say, the WooCommerce extension will work in your local language. You can also use the Loco Translate Plugin to translate the string in your local language.
Thus, making this plugin one of the best online ticketing solutions for eCommerce websites.
Free demo of Event Tickets Manager for WooCommerce
Visit Event Tickets Managers for WooCommerce Documentation and learn more about the features and working of the plugin.
Check out Event Tickets Managers for WooCommerce Knowledge base
WHAT PREMIUM VERSION OF EVENT TICKETS FOR WOOCOMMERCE OFFERS [COMING SOON]
In-depth analytic reports of your events and attendees.
Allow customers to buy multiple tickets for a single event.
Custom branding options with multiple layout options for ticket PDFs.
QR code inclusion on tickets.
Bulk import of attendees for any event.
Allow the attendee to transfer the ticket to another attendee.
Ability to host virtual events. You can embed an online webinar link.
APIs to match tickets so that admin can log in on mobile apps (android/iOS) and scan QR codes at physical events of attendees.
Send custom emails/SMS to all attendees.
SUPPORT
If you need support or have questions, kindly use our online chat window here or connect with us then Generate a ticket
If our documentation doesn't contain the solution to your problem, you can visit the MakeWebBetter Forums with your question.
Automatic installation
Automatic installation is the easiest option as WordPress handles the file transfers itself and you don't need to leave your web browser. To do an automatic install of the plugin, log in to your WordPress dashboard, navigate to the Plugins menu, and click Add New.
In the search field type " Event Tickets Manager for WooCommerce" and click Search Plugins. Once you've found our Event Tickets Manager for WooCommerce plugin you can view details about it such as the point release, rating, and description. Most importantly, of course, you can install it by simply clicking "Install Now".
Manual installation
The manual installation method involves downloading our Event Tickets Manager for WooCommerce and uploading it to your webserver via your favorite FTP application. The WordPress codex contains instructions on how to do this here.
Updating
Automatic updates should work like a charm; as always though, ensure you backup your site just in case.
Can we display the event location on the tickets and product page?

Yes, the Event Tickets Manager for WooCommerce Provides the exact location of events to the user on the product page and tickets as the plugin is integrated with Google Maps.

How are the Tickets sent to the customer with the Event ticket manager plugin?

Tickets will be sent to the customer via email with a pdf attachment.

Can The Customer Download Tickets for offline use?

Yes, with the help of the Event Tickets Manager plugin customers can download the tickets in PDF format. Also when the customer purchases an event the downloadable PDF file is mailed to the customer.

How many payment gateways do the Event Tickets Manager for WooCommerce plugin supports?

The event ticket manager supports all the WooCommerce payment gateway for Example PayPal, Stripe, Direct bank transfer, Check payment.

Can we translate the plugin text and string into other languages in the Event tickets plugin?

Yes, Since the Event tickets manager supports WPML you can translate the strings and text of our extension into other languages

How can we track the check-ins for any event?

In order to track the check-ins for your event trace the following path:
Dashboard>>WooCommerce>>Events.

My question is not listed

Please visit the MakeWebBetter knowledge base for more detailed documentation and support
There are no reviews for this plugin.
1.0.2 – Released on 31 August 2021
Fix: UI Issues
New: Event Check-In validation using email
New: Wpml compatibility added
New: Compatibility with WooCommerce 5.6.0 and WordPress 5.8
1.0.1 – Released on 08 June 2021
1.0.0 – Released on 29 April 2021
Sours: https://wordpress.org/plugins/event-tickets-manager-for-woocommerce/
How to sell event tickets with WooCommerce
In this tutorial we are going to learn how to use WooCommerce to sell event tickets. In order to achieve our goal we are going to explore a combination of plugins and features. We are also going to dive deep into how to setup your own tickets selling website as well as how to create some custom reports and analytics to better optimise your store.
There are quite a few plugins and tools that WordPress has for events management websites. Some of the most popular are plugins like WooCommerce, The Events Calendar, and Events Tickets. With their help, we can create a seamless shopping experience to your event attendees. In addition, you can showcase events, control and manage attendance and even manage the boarding process in your event. Furthermore, we can use the Users Insights plugin to create customer reports based on your user attendance, repeat buyers, and even customers location. WordPress as event tickets system
The first piece is the events management. That is done by a combination of two great plugins, The Events Calendar and Event Tickets Plus. The Events Calendar plugin in combination with Events Tickets plus provides you with all the functionality that you might need to sell tickets for your own event with ease. The plugin supports multiple tickets types, tickets inventory management, option to send tickets via email, you can even send QR codes to your attendees.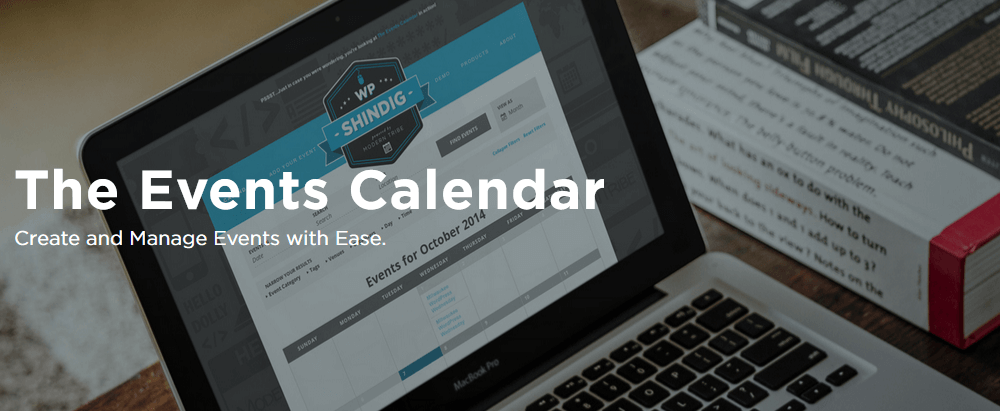 The Events Calendar itself is a plugin that allows you to create and manage events in WordPress. It creates a new "events" section in your site, which can be used to store all your event details.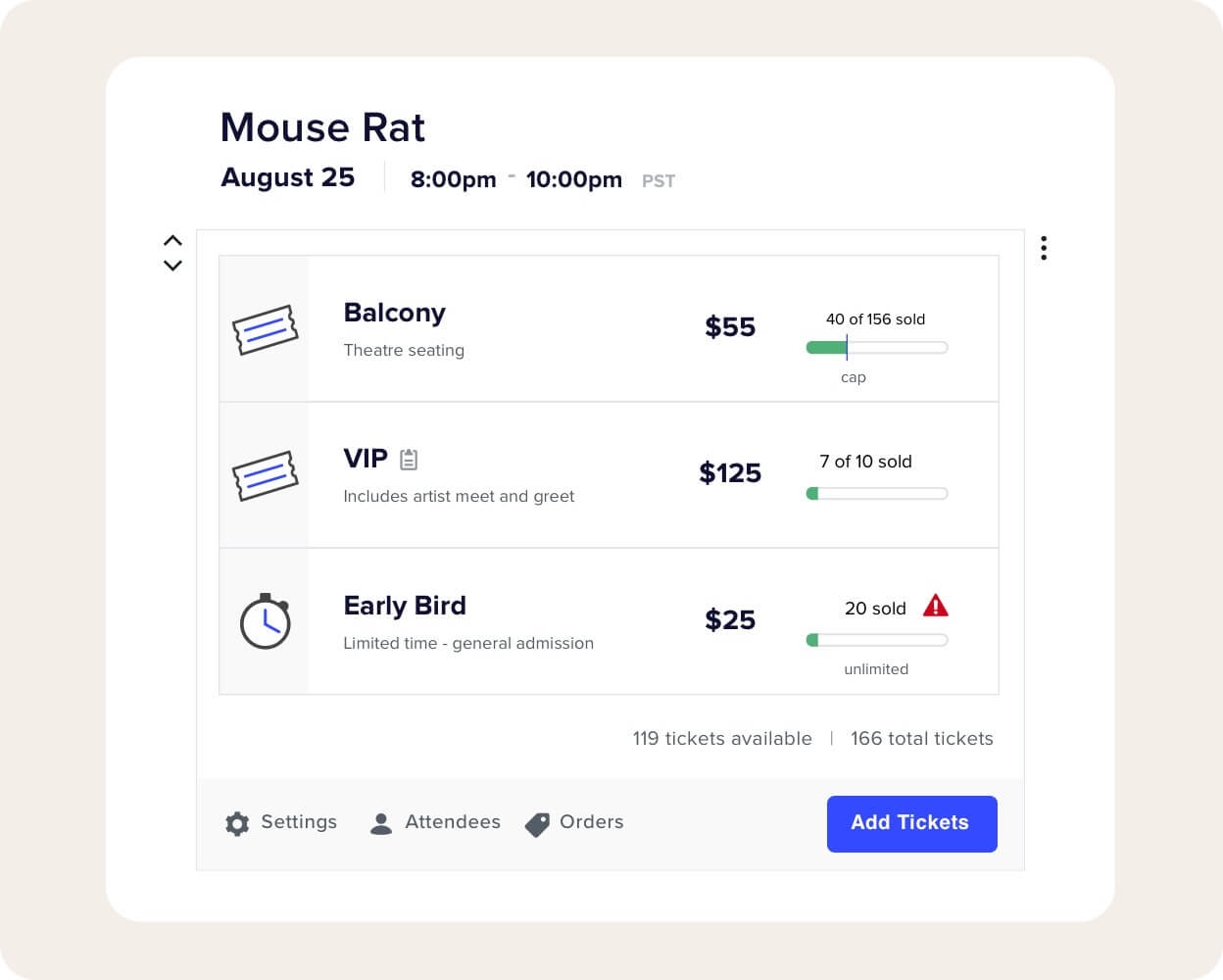 On the other hand, the Event Tickets Plus is the premium version of Event Tickets. This plugin integrates with The Events Calendar, adding ticket selling options. In addition, the premium version has WooCommerce integration, QR-code reading and other features. When you sell tickets with Events Tickets and WooCommerce, each individual ticket is actually a WooCommerce product, which is important as that gives us huge variety of tools that we can use in order to enhance our ticket selling system.
In order to get your WordPress events manager, we need to install these plugins. Then, let's create some events. We go to Events > Add new to find this screen: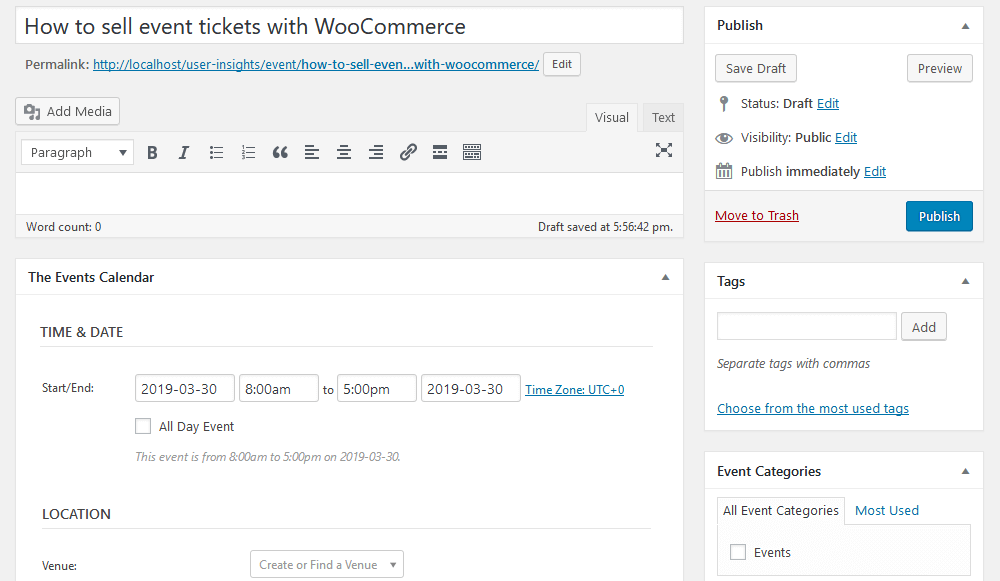 The core functions we are looking for are in the first panel after the description box. There you can add your WordPress tickets data, which is used later for our WooCommerce ticket selling activities. Above you get a glimpse of one of the main data points for our events: the date.
This may seem confusing, as WordPress has the date box for posts. But that is the publishing date of the event ad. Therefore, once you publish this your event is visible in your site. The custom field under "The Events Calendar" options is when the event happens for your attendees.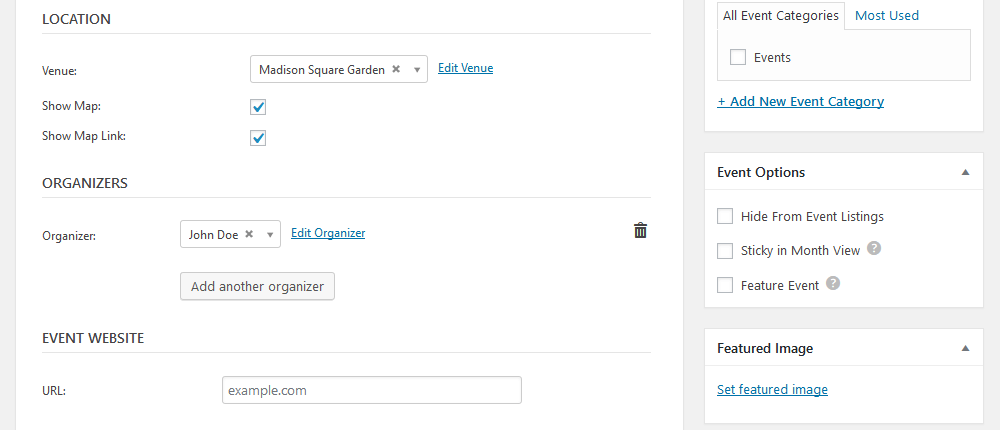 Next, we have the location, organizers and the event website. The location can be used with the venue's address on Google Maps. Each venue can be stored for later use.
As for organizers, this can be used to showcase whoever is responsible for the event. This includes their contact information for questions or special requests. Right after that, there's the event's website field. This is useful if you have a site just for it, or if you are publishing about someone else's event.
Underneath these we have the ticket selling options.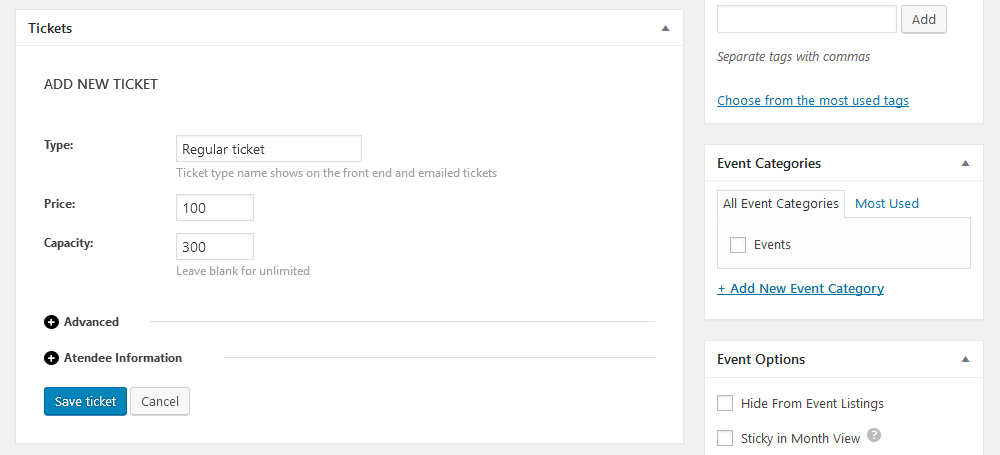 These options are available only when you install and activate the Events Ticket plugin. They allow you setting price, sales, SKU, capacity for your WordPress event tickets. In addition, you can collect attendee information, and store that as custom fields for later use. This may come in handy to get to know your attendees a little better.
Additionally, there's the WooCommerce integration (user emails and creating WC orders) and QR code reader. The QR code can help you quickly boarding users by loading their tickets using a mobile device.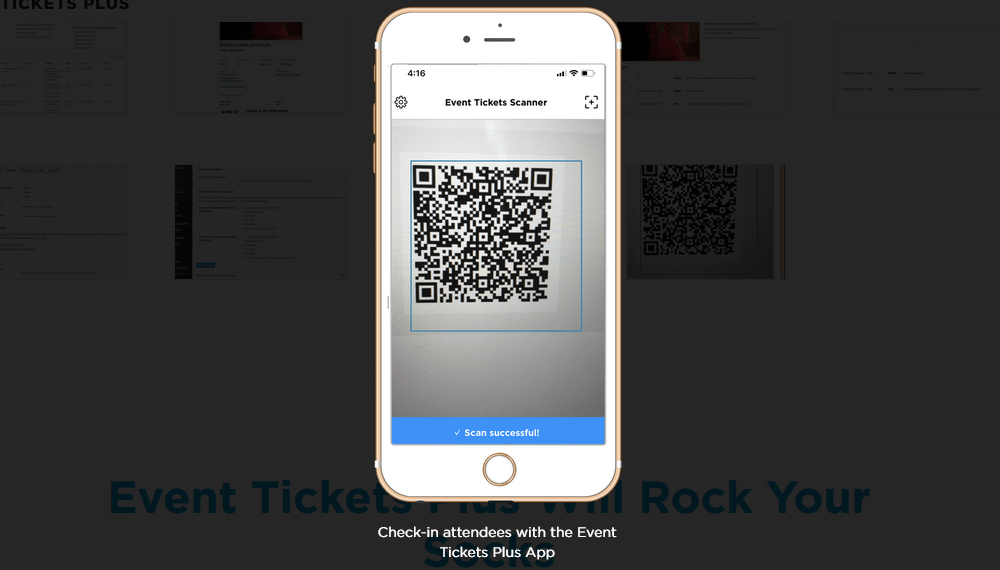 Set up your store
Sometimes the ticket selling, and the event advertising are completely separated elements in your strategy. With the free version of The Events Calendar and Event Tickets you are tied to the events page. But when you use the premium version of the Event Tickets plugin, you don't have this restriction anymore.
That's because once activated and set up, the Event Tickets creates WooCommerce products for each of your tickets. Therefore, if you have 5 ticket types, each of them will have their products. Which is useful, as you can use all the WooCommerce features for your tickets.
In order to activate this, simply go to The Events Calendar > Settings > Tickets > WooCommerce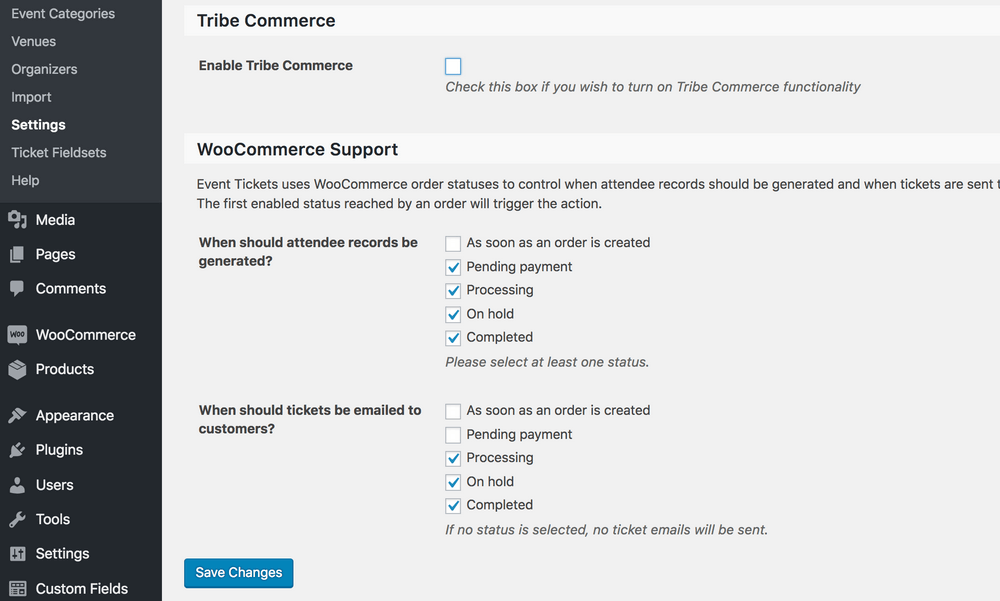 And that's it! Once you activate these options, 2 things will happen:
Whenever you create a ticket type for your event, a WC product is created
Whenever you receive an order for your ticket, a WC order is created
This allows you to effectively separate tickets from the events. And they will be related to other products, if you have them. In addition, all sales reports, stock and any reports you have are going to count your tickets as well.
Here are some ideas regarding features you can explore once you have this integration;
Product categories
Display tickets as a grid (shop page), for quick comparison
Use product search for tickets
Use product-specific data in searches, such as price range
Cross-sell tickets and merch
Upsell tickets and relate tickets with other products
This is particularly effective when you have other products. For instance, you can have event tickets for a play, and the book for sale in your site as well. If you sell tickets for a local event, you can sell t-shirts or even souvenirs for that place.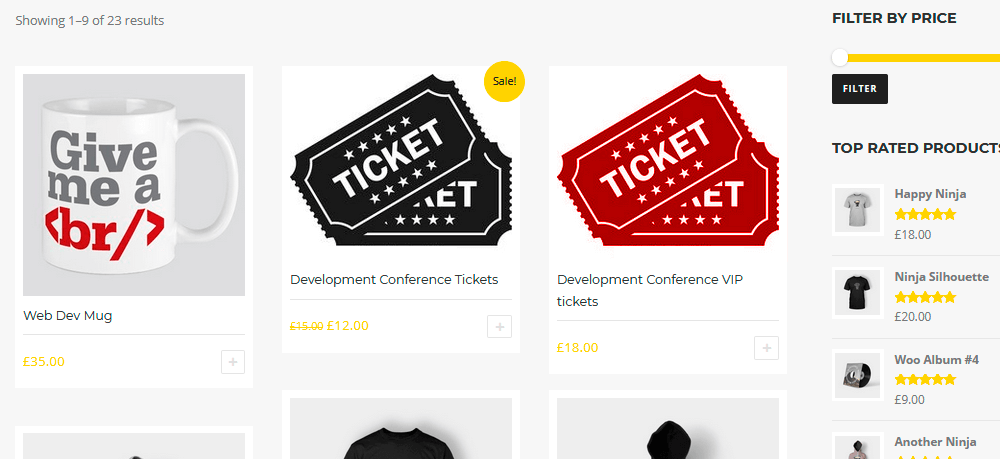 WooCommerce Box Office
Alternative option is to use the WooCommerce Box Office extension for WooCommerce. It's a simple extension that enables you to sell tickets online directly within your WooCommerce store. The extension adds a ticket optio ot the standard WooCommerce product. So to create a ticket product all you have to do is check the ticket product type in the WooCommerce product page:

After that a new menu option will show in the product data menu from where you will be able to setup all of your specific tickets fields and types including whether you want your tickets to be printable, email settings etc.
How to create event attendee reports
Now let's look into how to do some data analysis and build some custom reports so that we can get a whole new understanding of our events and attendees.
Once you install Users Insights, you can activate the WooCommerce and The Events Calendar modules. Then, you can filter users based on their event actions as well as purchases. For instance, if we want to check the attendance for a certain event we can use the filter "Has RSVP'd yes for …".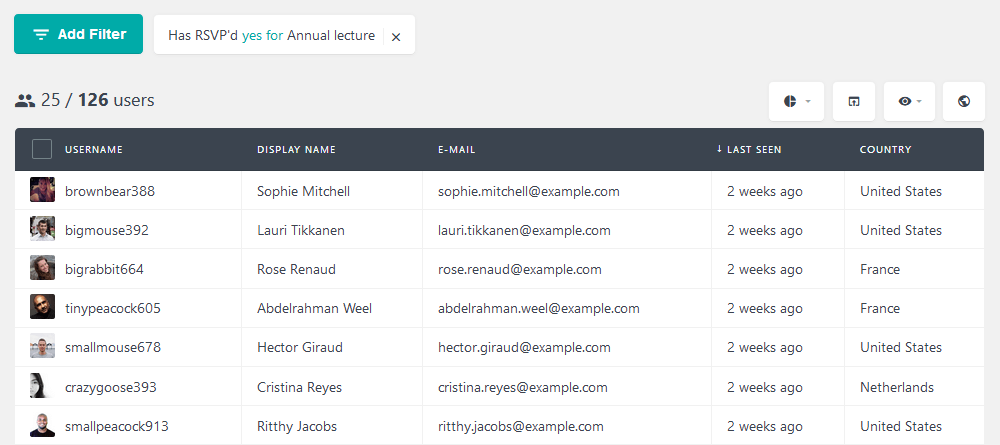 A similar filter can be used for tickets with the "Has ordered ticket for …" filter.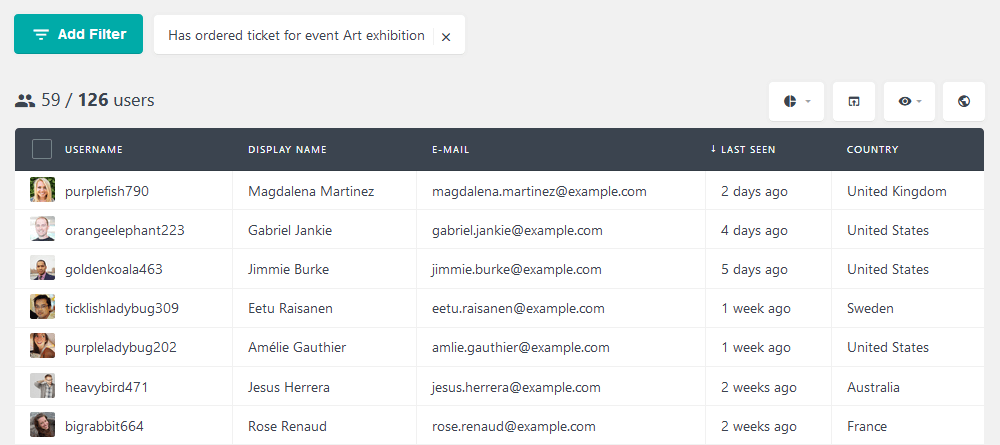 These filters give us a simple attendance list. Still, we can improve our analytics. We can, for example, check users who bought a ticket to an event and that artist's biography too.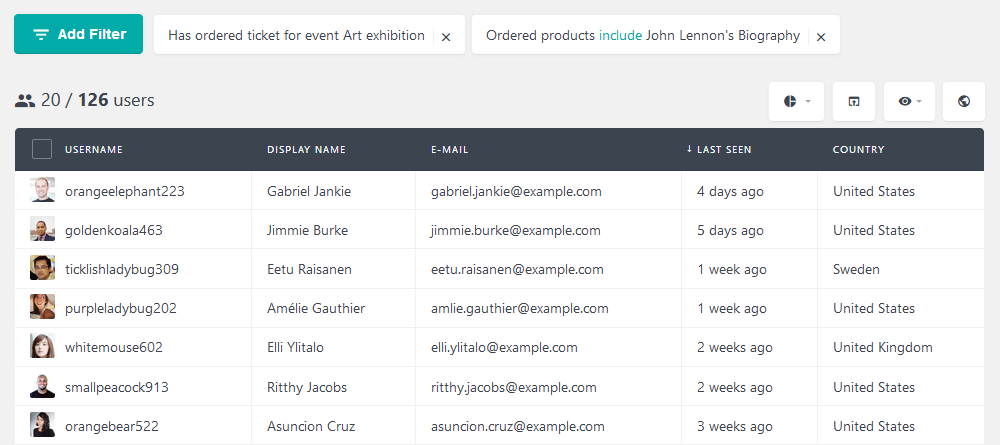 Now we know that these users are true fans of their work. When we get new similar products, we can get in touch with them and offer a good deal.
In addition, we can filter users who bought products and are from the same city as our event. This is possible by using the "has ordered product includes …" and combine it with filters like: number of RSVP, Tickets bought, products bought, location, and many other filters. You can export this user list too, and contact them using MailChimp or similar.


Conclusion
Today we saw how to use WooCommerce tickets. In addition to selling WooCommerce event tickets, we looked into how to use different plugins to create a complete solution. You are able to create your own events site now, and sell tickets along with products. In addition, we investigated how to gather reports for event attendance and how to improve future events.
in General / Tutorials
Sours: https://usersinsights.com/woocommerce-tickets/
7 Event Registration Plugins to Sell Tickets With Your WooCommerce Website
WooCommerce is a WordPress plugin that's designed specifically to help businesses sell products online. As one of the more popular eCommerce plugins around, WooCommerce is the ideal system to use if you want to sell products or services directly from your website.
In fact, the WooCommerce platform has been downloaded more than 76 million times. While WooCommerce provides online businesses with a myriad of fantastic features that allow for complete storefront customization, likely the best aspect of using this plugin is that it's wholly compatible with WordPress.
This plugin is entirely free and can be integrated into your site in the same way that you download and install any other WordPress plugin. When you begin to use WooCommerce for your online storefront needs, you'll notice that the features available to you are practically endless. For one, you can sell anything, which includes all kinds of physical products as well as digital downloads. Some additional features that will help you create a robust storefront include hundreds of extensions, thousands of themes from WordPress and beyond, built-in blogging, and the ability to list an unlimited number of products.
Whether you wish to sell subscriptions on your website or want to place an expansive inventory of items online, WooCommerce will provide for all of your storefront needs. If you hold regular events for your company, this storefront can even be used to sell online tickets for the event, which can be integrated with the event calendar on your website.
When you want to sell tickets on your WooCommerce website, there are numerous event registration plugins that you can install that will allow you to sell tickets with ease. The following offers a close look at seven of the best event registration plugins that you can use to sell tickets.
1. Tickets for WooCommerce
Tickets for WooCommerce is a a highly popular event registration plugin that allows website owners to control every aspect of ticket sales without needing to use a third-party website or pay any ticket fees. This is among the top event registration plugins because it provides premium features that add to the ones already available through the free Event Tickets plugin. Along with the base features of being able to sell tickets on your site without any third-party fees, some of the best extension features available with this plugin include full integration with Events Calendar and Events Calendar Pro plugins, the ability to add tickets to any pages or posts on your website, compatibility with multiple sites, and QR codes for quick attendee check-in.
Since this is a premium event registration plugin, the costs for this plugin range from $89-$299. The higher licensing options allow you to use the plugin on up to 10 sites. Once you've purchased this plugin, all you need to do to get it working is to purchase the product, download the standard .zip file, upload the file in the "Plugins" section of your WordPress Admin page, and activate the plugin. This plugin helps you build your business because it allows you to sell tickets to any event you advertise on your own website.
Download Tickets for WooCommerce WordPress Plugin
2. WooCommerce Box Office
WooCommerce Box Office is a simple yet effective event registration plugin that offers a complete ticketing solution. With this plugin, you can manage the tickets that you sell for as many events as you would like to place on your website. This plugin also provides site owners with the ability to collect information on each ticket-holder, which makes event management much easier. The tickets that you generate can include specific information of the ticket holder as well.
While this plugin doesn't help you sell the initial tickets, it will make it easier to manage the tickets that you do sell. For instance, you can send bulk emails to anyone who has purchased a ticket to remind them of the impending event date. When you want to download and install this plugin, make sure that you add it to your existing plugins on your WordPress Admin page. From here, you can create tickets for an event by editing a current product in WooCommerce or by creating a new product. Once the ticket has been created, you can sell it like any other product on your website before managing it with the WooCommerce Box Office plugin.
Download WooCommerce Box Office WordPress Plugin
3. WooCommerce Bookings
WooCommerce Bookings is a comprehensive event registration plugin that focuses primarily on booking rentals, appointments, or reservations, which makes this the ideal plugin for everything from hotels to car rental services.With this plugin, you can set any parameters that apply to the event in question. If you need to implement fixed time slots for a guided tour or appointment, doing so is made easy with WooCommerce Bookings. If you're selecting this plugin for a hotel or similar business, the plugin also allows customers to book a hotel room or car service across a range of dates.
Among the best features of this plugin is the ability to offer special pricing for weekends, younger children, or for people who purchase multiple tickets. With full customization options, you'll have complete control over how your tickets are sold and managed, which should help you provide your customers with what they need when booking a hotel room or guided tour. You need to purchase a yearly subscription to this plugin, which is priced at $250 for a single site or $300 for five sites. You could also use this plugin on 25 sites for $449. Once you've purchased the plugin, it can be downloaded and installed on WordPress like any other plugin.
Download WooCommerce Bookings WordPress Plugin
4. Eventbrite
Eventbrite is an event management website that can be integrated into your WordPress (or any for that matter) website via a javascript embed code. This is among the more popular ticketing plugins on WordPress, which means that it will help you gain visibility to the event that you're promoting. Among the most beneficial features of Eventbrite is that it's completely free to use for any free events that you host. Once you've generated an event through Eventbrite, it will be listed on their website, which means that tickets can be sold through the plugin on your website or directly on Eventbrite.
Once the tickets have been made, everything else is handled by Eventbrite. They will take care of email reminders, the creation of QR codes, ticket sales, and the shopping cart. Keep in mind that you'll need to create an Eventbrite account to access this plugin. The three packages that they offer start at $89. These packages include an essential package, a professional package, and a premium package. If you purchase the essential package, it's important to note that ticket sales aren't allowed on your own site and only occur via Eventbrite and their partner sites. This event registration option is among the best since your events will be promoted and advertised outside of your own website.
5. FooEvents
FooEvents is a fantastic event registration plugin that provides you with the ability to control ticket creation, ticket sales, and ticket management. This plugin integrates seamlessly with WooCommerce through your WordPress site and will allow you to instantly sell any type of ticket the moment that you install it. The primary extension features that are offered with FooEvents include branded HTML tickets, ticket inventory management, and free ticket themes. You can also choose to download their free mobile app for Android or iOS if you want to manage the tickets that you sell from your smartphone.
They offer three basic licenses, which include the Starter Bundle, Pro Bundle, and Full House Bundle. These packages start at $99 for one site but can be obtained for unlimited domains. The extra features and benefits of a Full House Bundle include PDF tickets and express check-in functionality. As long as you have both WooCommerce and WordPress installed, this plugin is easy to set up and can be activated once it's been uploaded to your WordPress admin area.
Download FooEvents WordPress Plugin
6. Event Tickets Plus
Event Tickets Plus is an event registration plugin that offers a suite of services via an events calendar that can be fully customized to your specifications. You can add an unlimited number of tickets to an event and can choose to sell these tickets solely from your own website. Every ticket that you sell can have its own SKU, timeframe, price, and stock.
Once a user purchases a ticket, it will be instantly emailed to them. You'll be able to view the list of attendees through your WordPress admin page. Pricing for this premium plugin starts at $90 and increases depending on the number of sites you use it for. Overall, this plugin will help streamline the ticket sale and management process. If site visitors are provided with an easy way to purchase tickets directly from your website, you should be able to obtain a higher attendance rate.
Download Events Tickets Plus WordPress Plugin
7. Tickera
Tickera is among the most feature-intensive event registration plugins on this list, which is why it costs at least $50 per year alongside a one-time fee of $70. This plugin can be supported on many different types of eCommerce sites, which include WooCommerce websites. When you install this plugin on your WordPress site, the tickets that you sell will include QR codes that you can scan when the attendees are checking in.
Any payment option that's accepted with WooCommerce is also accommodated by Tickera. A fantastic feature of Tickera is that customers can select their own seats if your event allows for this. If you choose one of their higher pricing packages, you'll be provided with more than two dozen professional add-ons that will make it even easier for you to sell and manage tickets. If your business hosts events throughout the year, this plugin will provide you with everything you need to sell and manage tickets with a single plugin.
Download Tickera WordPress Plugin
Maximize Sales With The Best WooCommerce Website Registration Plugins
When you're trying to get people to attend and RSVP for an event that you're hosting, you'll likely find that it's difficult to get quick responses and high numbers of attendees. The best way to take care of this process is to fully automate it. By integrating the right event registration plugin into your website, you'll provide site users and customers with a place where they can go to sign up for the event at their convenience.
If you've selected the right plugin, these individuals will also receive regular reminders about the event. By providing your customers with an easy method of signing up for an event and purchasing tickets, you'll be able to maximize sales. Event registration plugins typically allow you to sell tickets on your website via an events calendar, which allows you to control every aspect of the event.
When searching for the best event registration plugin for your business, any of the aforementioned plugins will serve you well. Since feature-sets can differ, it's recommended that you compare the features of each plugin to ascertain which option is best for you. Placing an event registration plugin onto your website is just one way in which you can customize your WordPress/WooCommerce website. All of these customizations will boost your site's traffic and customer conversion rates, which ensures that you have continued success.
If you ever need help with site customization, Bryt Designs offers extensive web design and development solutions that will assist you in creating the perfect online storefront.
Sours: https://brytdesigns.com/woocommerce-event-registration-plugins-sell-tickets/
How To Sell Event Tickets On Facebook
Take control of your ticket sales with Event Tickets Plus.
No third-party websites, no ticket fees…just you, your attendees, and your amazing events. Event Tickets Plus integrates seamlessly with WooCommerce, allowing you to add as many tickets as you wish to a given event and then sell those tickets entirely within your site.
Event Tickets Plus builds on the functionality of Modern Tribe's free Event Tickets plugin, adding premium features to take your ticketing experience to the next level.
Features:
Sell tickets directly on your site
No third party ticket fees
Works on any WooCommerce-enabled site
Add tickets to posts, pages, or any custom post types
Seamless integration with The Events Calendar & Events Calendar PRO
Supports multiple ticket types
Custom registration forms
Collect custom attendee information (t-shirt size, lunch preference…)
Complete ticket inventory management
Tickets delivered to attendees via email
QR codes for attendee check-in
Supports free and premium events
Extensive template tags for customization
Internationalized & translated for multiple languages
Multisite compatible
Tested on the major theme frameworks such as Avada, Genesis, Woo Themes, Thesis, and more
Impeccable support provided by The Events Calendar team
No Reliance on Third Party Tools
Unlike other ticketing add-ons, Event Tickets Plus does not rely on a third-party solution (like Eventbrite) to operate. With Event Tickets Plus, all tickets are created directly within the WordPress admin, and attendees remain on your site through the entire purchase process.
Ultimate Ticket Versatility
Aiming to give discounts to early birds who buy tickets early? Selling a limited number of VIP passes at a premium price? Need to collect custom information during attendee registration? Event Tickets Plus has you covered.
Each event can support multiple ticket types, and each ticket type can have its own price, stock, SKU, and specified timeframe for when ticket sales open/close. With Global Ticket Stock, you can set an attendee cap for your entire event or control inventory individually for each ticket type.
Tickets automatically have their own category within WooCommerce, so they're easy to differentiate from any other products you're selling. With Event Tickets Plus, you'll be able to take advantage of the many slick features WooCommerce already has to offer, including detailed order history, reports, and multiple payment options
Attendee Management Made Easy
Managing attendees has never been easier thanks to Event Tickets Plus. Custom registration forms allow you to collect useful attendee information during purchase, such as lunch preference, t-shirt size, or job title. Attendees are automatically emailed an HTML-based ticket upon purchase, including a handy QR code to make attendee check-in at your event a breeze.
Show who's coming to your event with our public attendee lists, export attendee records via CSV, and generate reports for a specific ticket or event. Everything you need is at your fingertips.
Please note: Third party extensions are not covered under our Support Policy.
Sours: https://woocommerce.com/products/tickets-woocommerce/
Ticket sales woocommerce
Sell tickets for your next event, concert, function, fundraiser or conference directly on your own site with Box Office
Box Office for WooCommerce allows you to create and sell tickets directly to customers — no need for them to visit or use a third-party site or service anymore! Get ticket sales for your next event or conference up and running within minutes and start making additional income today.
We successfully used Box Office to manage all ticket sales, coupons, live-stream tickets and onsite registration and checkin for WooConf 2016 in Austin, Texas.
Why use Box Office?

Keep ticket sales on your site
With Box Office, you can create an 'event' product and sell it directly in your store, keeping your customers onsite.

Connect with attendees
Add custom fields to signup forms to learn more about attendees and personalize their experience. Customize emails sent after a ticket purchase and send bulk emails to attendees.

Attendee CSV export
Download a CSV export for all ticket holders based on ticket type.

Ticket inventory management
Automate ticket sales by setting individual ticket limits for each ticket you create and ensure that you don't oversell tickets for a certain event or ticket type on your site.
Offer multiple ticket types
Create unlimited ticket types, each with their own pricing, benefits and/or private content, and manage stock levels independently.
Restrict content to ticket holders
Do you want to offer a private webinar, a live-stream of your event or give your attendees access to downloadable content after the event? It's all possible with Box Office and Groups.

Find attendees with ease
Search for attendees by name, ticket ID, email or even company.

Offer discount codes
Offer coupon codes to event partners and sponsors to help drive ticket sales and easily track and manage coupon usage from your WooCommerce admin dashboard.
Box Office integrates with the WooCommerce Order Barcodes extension, allowing you to print a unique barcode within your customer's ticket which allowing you to easily manage and track your events attendance.
Sours: https://woocommerce.com/products/woocommerce-box-office/
WooCommerce Tickets
If you want to sell tickets on your online store, there are multiple solutions to help you do it. You can sell tickets directly on your store, or take some help from one of the third party ticket sales companies. Unfortunately, both strategies have its challenges. Third party solutions might save you from some effort, but it may not be financially viable. Thankfully, if you are using the WooCommerce platform, there are quite a few extensions to save your day. All you have to do is find a solution that will give you complete control to manage the ticketing process from the back end of your store. This article focuses on some of the best WooCommerce tickets plugins that will help you set up event tickets in your store. Some of these plugins offer advanced features to give you great versatility on your ticket sales strategy.
Best WooCommerce Tickets Plugins
When you try to sell tickets through your WooCommerce store, you may find quite a few plugins that will help you with it. Here is a list of the best WooCommerce tickets plugins.
WooCommerce Box Office
WooCommerce Box Office plugin is a great option to print tickets for a variety of events directly from your online store. This plugin saves you from the dependency on third party ticketing tools to create tickets. You will be able to create unlimited ticket types with its own features and stock management options. Moreover, you will be able to restrict content like webinars on the site only to those who have purchased tickets. And, you can integrate it with WooCommerce Order Barcodes extension.
Features
Easily create and sell event tickets on your WooCommerce store.
Create unlimited tickets and manage stock easily.
Custom signup forms and content restriction options.
Offer discounts on ticket sales.
You can purchase the plugin for $129.
Event Tickets Plus
This WooCommerce extension provides you absolute control to handle ticket sales in your store. It provides great features to sell tickets for your own events without hassles. You can simply add tickets to an event that is featured in your store and sell them to attendees. In fact, you get the flexibility to create as many tickets that you require. More importantly, you can forget about third party websites and the various fees associated with such a scenario.
The plugin supports multiple ticket types and you can add these to your posts and pages as required. And, it provides hassle-free integration with the Events Calendar plugin to make things easier. In addition, you get options to create custom registration forms using this plugin. That means you can collect information from attendees in a personalized manner. For example, if you are also offering lunch at an added cost, you can provide a choice to attendees to opt in or out of that. Moreover, the plugin offers complete ticket inventory management, and options to send tickets via email to attendees. And, you can send a QR code to attendees, so that the whole check-in process becomes quite easy.
Features
Create tickets directly from your WordPress admin.
Seamless WooCommerce integration.
Display tickets anywhere on the site using shortcodes.
Advanced features such as custom registration forms, mobile ticketing, stock countdown, etc.
A single site license of this plugin would cost you $99.
YITH Event Tickets for WooCommerce
Handling events on your WooCommerce site is not easy. You have to manage quite a lot of things including selling tickets, accepting payments, letting the attendees check in properly, etc. And, considering all the hassles, many rely on third-party event organizers who will charge a thick share of your income. Thankfully, you can depend on plugins to handle every intricate requirement of ticket sales. YITH Event Tickets plugin helps you sell tickets to a variety of events that you can envision in your store.
With simple options to configure, you can set up an event and start selling tickets for it in a matter of minutes. In addition, the plugin offers a dynamic pricing option to change the ticket prices according to rising demands. If you have to mail a physical copy of the ticket to attendees, the plugin offers an option to charge a shipping fee. Also, you can conditionally reduce the price of tickets for certain attendees. For example, if you want to charge less for children, or for registered members of your store, it is very well possible with this plugin.
Features
Loaded with solutions for every imaginable scenario while handling an event. 
Manage the ticket inventory by setting a stock value of tickets, which will decrease every time you sell a ticket. 
Set a dynamic price threshold, based on the available number of tickets or days left for the event. 
Customize the ticket by taking inputs from the attendees such as name, contact details, etc.
Configure extra payable options to tickets, which customers can choose as per their needs.
Display a Google map of the venue and a list of organizers of the event. 
Compatible with YITH BarCodes and QR Codes plugin 
You can purchase the YITH Event Tickets plugin for a single site at $99.99. Licenses for up to six sites is $249.99, and up to 30 sites are $399.99.
Bridge for WooCommerce – Tickera Event Ticketing System
Another easy solution to sell tickets on your WooCommerce store, Bridge for WooCommerce plugin, integrates smoothly to your store. You can easily create tickets like any other product in WooCommerce and even set variations. In addition, you can easily manage the prices of tickets with options like early bird pricing. Moreover, it has an advanced template builder that will help you design each ticket type differently. The plugin allows you to sell optional add-on products along with events. This would be really helpful to you in generating some extra income along with ticket sales.
Bridge for WooCommerce is a user friendly option to sell tickets on your store, and it is compatible with numerous other Tickera add ons. It also offers custom fields to collect more information from attendees. In addition, you can check in the attendees of the event with QR code. You can simply use one of the good QR code scanner apps for this purpose. And, along with the order completion email, you can send the ticket to the attendee as a downloadable PDF. The plugin is compatible with a large variety of Tickera add-ons including seating chart, CSV export code, serial tickets codes, etc.
Features
Helps you create tickets from WooCommerce admin.
Integration with mobile apps and barcode readers.
Order completion email sent to customers will have a downloadable ticket.
Custom order fields to collect more information from customers.
You can purchase the add-on at $79.
FooEvents for WooCommerce
This plugin lets you handle a variety of events in your store comfortably. Without any advanced technical skills, you can manage diverse aspects of an event. One of the main advantages of using this plugin is that you can send professionally branded tickets to attendees. And, you can use the free Android and iOS apps to scan the QR code for check-ins. The plugin makes it particularly easy to handle multiple ticket types with separate inventory management options. Moreover, if you want to allow registrations for free events, the plugin is capable of helping you in that aspect too.
The plugin also offers a range of add-ons that you can purchase to extend the functionalities. Some of the features you can extend this way include custom fields for additional inputs from attendees, support for events that spread to many days, etc. Features like attaching ticket PDF to order completion mail and events calendar view are also offered only as part of add-ons.
Features
Manage and sell events tickets easily on your WooCommerce store.
No limits on the number of tickets that can be created.
Supports multisite and translations.
Seamless integration with Zoom for virtual events.
The regular license of the plugin is available at $59. 
WooCommerce Event Ticket
You can easily create and manage tickets on your WooCommerce store using this one too. It allows you to create as many tickets as you want according to the scope of your event. In addition, it helps with exporting attendee details to a CSV file. And, you will also have the option to check in attendees by scanning the QR code. Furthermore, the plugin has options to let you customize email templates to send the ticket to attendees.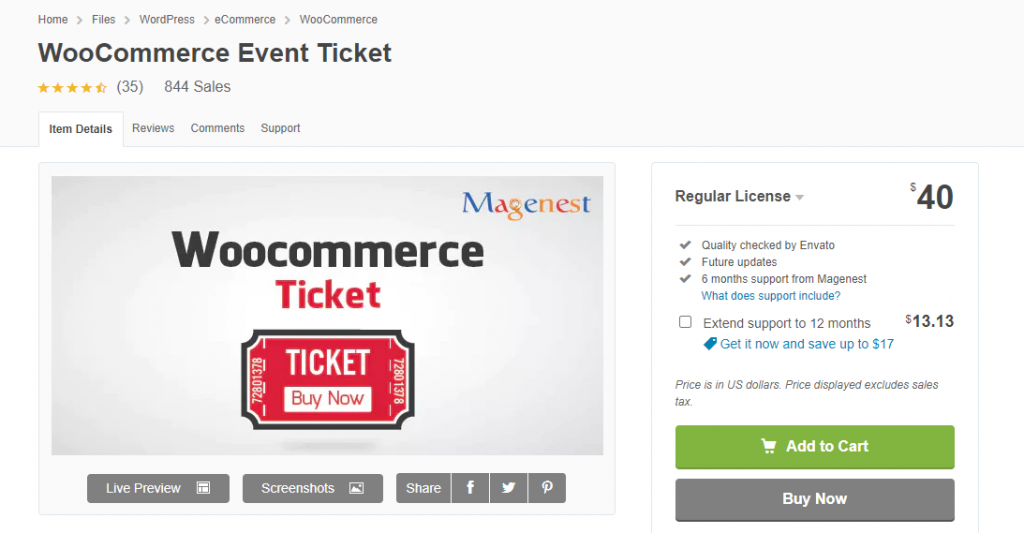 Features
Customizable event ticketing plugin.
Automatically generates QR code.
Email notifications and Google Maps integration.
Bulk ticket handling and support for multiple languages.
You can purchase the regular license of the plugin for $40.
Eventer – WordPress Event & Booking Manager Plugin
Eventer is a comprehensive event management plugin that will help you easily organize your events. It offers seamless integration with WooCommerce, and has a bunch of features to help you make event bookings smooth for your customers. You will be able to display a full width calendar, and also use multiple layouts. The plugin does not have any limitation on the number of venues or organizers.
Features
Hassle-free event management options.
Automatic QR code integration.
Create recurring events and show a countdown timer.
Email notifications and printable tickets.
You can get a regular license of the plugin for $39.
Event Tickets
This is the free version of the above plugin. If you are not planning to sell tickets through your WooCommerce store, but still wants to hold an event and manage attendees, this one helps. This free plugin, which you can download from the WordPress directory, provides RSVP functionality to your posts and pages. You can check in attendees for the event by accessing the attendee information from the back end of your site. It is quite a good plugin if you are only looking to handle free events on your WooCommerce store. You may need to also use the Events Calendar plugin to manage your events more effectively.
The Events Calendar
As the name suggests, this plugin helps you create an event calendar on your site and lets you manage it seamlessly. For those who are not so inclined to coding, the plugin works smoothly as it is. And if you want to customize it with a few developer inputs, the plugin totally accepts that too. When you talk about features, there are some advanced ones like upcoming events list, Google Calendar, and iCal exporting, and great customization options. With over 600,000 active installs and over 1200 five star ratings, this plugin is really popular in the WordPress community.
A few guidelines while selling WooCommerce tickets
As you have seen, there are awesome solutions in WooCommerce to create and sell tickets effectively. These may really relieve you from a lot of stress that you possibly would have faced otherwise. However, experts advise following certain guidelines while selling tickets on your store. Let's take a quick look at some of them here.
Create pricing tiers
You can create different tiers of prices to sell tickets for events on your site. For example, you can feature a premium price option, which has food and drinks included or allow unrestricted access. Similarly, you can create a lower pricing tier with limited access, or just with the basic event experience. This would mean better targeting of a diverse audience and a resultant increase in your income. Read more about WooCommerce pricing strategies here.
Research on marketing channels
How you market your tickets play a major role in the success of your endeavor. You can experiment with multiple channels like email, advertising, social media etc. And, once you have a clear understanding of the most effective one, you can focus on that channel for your future campaigns.
Exclusive offers for members
If you have registered members on your site, it is a great idea to offer tickets first to them. This way your members will have exclusive access to your events before it is offered to the general audience. Without a doubt, this will enhance the scope of customer loyalty on your store. You can even add some complimentary offers or discounted rates for members. Read more about WooCommerce memberships strategies here.
Try upsells and cross sells
Ticket sales offer great opportunities to upsell and cross-sell products. Along with including optional add-ons like t-shirts or caps, you can think of upselling future events too. For example, you can offer a discount on an upcoming event for customers who purchase the current one. Tapping into a related audience group is also a great marketing idea. For instance, wine tasting events hold the potential to attract cheese lovers too. Or, yoga sessions can be used to sell tickets for upcoming treks or similar outdoor or fitness events. Though such strategies might seem to be no-brainers, you may still have to do a thorough analysis for them to click.
Try discounts on specific days
You might have noticed that there are always a discounted rates on specific days of the week, like on Tuesdays. Creating such a strategy would mean that a lot of customers would be motivated to purchase on those particular days. Such strategies, when compared with adequate customer research, can work wonders for your ticket sales.
Conclusion
Selling tickets directly on your store would be a wiser decision when you think about it in financial terms. However, when you are directly selling tickets on your store, it comes with its own set of hassles. Thankfully, if you are using the WooCommerce platform, there are quite a lot of amazing solutions to help you sell tickets. This article has hopefully provided you with some ideas to effectively manage ticket sales on your WooCommerce store. Let us know if you find this article useful to your store strategies.
Further reading
Sujith Reghu
https://learnwoo.com
Author - LearnWoo.com; Writing on WordPress and WooCommerce with an unflinching focus, and trying to woo the unyielding Google bots.
Sours: https://learnwoo.com/woocommerce-tickets-plugins/
You will also like:
And by the grimace on her face Vasya understood that her ass was hurting. Vasya corrected the member. The member also ached.
794
795
796
797
798