How to Recognize Publishers Clearing House Scams
If you receive an email, phone call, or letter from Publishers Clearing House saying that you're a big winner it's important to be able to tell the difference between a legitimate prize win and a sweepstakes scam.
Prize wins often feel too good to be true — and sometimes, they are. Big-name sweepstakes sponsors like PCH are a prime target for scammers, so it's important to think before you react to any win notification from them.
Here are some common questions from PCH "winners":
"I just received a notice in the mail from Publishers Clearing House. They're saying that I have won a sweepstakes prize. Is this real?"
"I received a prize notification letter along with a check from Publishers Clearing House to cover expenses. Should I cash the check?"
"Publishers Clearing House keeps calling and telling me I've won $100,000,000. They say I have to pay 1% in taxes before they release the prize. What should I do?"
Keep reading for answers.
6 Ways to Recognize and Avoid PCH Scams
Publishers Clearing House sweepstakes are legit, but not every win notification from them is. Why? Many scammers misuse the PCH name — and some of those scams are sophisticated enough to make it difficult to tell if you've really won or not.
So how can you tell when you really win Publishers Clearing House sweepstakes and when you're being scammed?
Scammers are adept at making people believe that they are affiliated with Publishers Clearing House when they're not. PCH is a popular target of scams because people are familiar with the company and want to believe they have really won a prize.
But a legitimate-looking win notification should not be enough to make you believe you are a big winner. Logos can be copied, names of legitimate PCH employees can be found on Google, signatures can be forged. You need to be familiar with how PCH really notifies its big winners.
 Here are six tips to help you spot PCH scams:
1. PCH Doesn't Email or Call Its Big Winners
If you receive an email, a telephone call, or a bulk mail letter saying that you've won a big prize from PCH, it's a scam. According to the PCH website:
"All PCH prizes of $500 or greater are awarded by either certified or express letter or in person by our famous Prize Patrol at our option."
So if you receive a prize notification by any method other than certified mail or an in-person award, you know you're being scammed.
2. You Never Have to Pay to Receive a Legitimate PCH Win
Scammers extort money from you in exchange for a promise of a prize that never materializes. The truth is you never, ever have to pay to receive a sweepstakes prize from Publishers Clearing House or any other company.
If your prize notification asks for money to pay for taxes, to release the prize, to pay for customs, or for any other reason, it's a scam.
3. Don't Give Out Confidential Information When You Enter
You don't have to give Publishers Clearing House your address, bank account number, driver license number, or any other confidential information when you enter.
You may have to fill out an affidavit to verify eligibility if you win, but not when you enter. If the entry form is asking for this kind of personal information, it's a sign you are on a spoofed website.
A spoofed website tries to appear like the official PCH entry form. If you use it, however, you transmit your information directly to scammers instead.
Here are some tips on how to identify fake websites.
4. A Check Doesn't Mean You've Won
A popular sweepstakes scam makes it appear that you're not really paying for your prize by handing over a check and asking you to send back some of the money. After all, they're providing the funds, right?
Wrong. Those checks aren't legitimate, and you'll be left holding the bill.
Read about check scams for more information.
5. Do Your Research Before You Respond
Before you respond to any win notice, take some steps to verify your prize wins.
For example, use Google to search for similar win notifications that victims reported to consumer organizations. Check that the person sending the notice really works for PCH. Make sure you actually entered the giveaway you supposedly won.
Before you respond to any notifications, take these steps to protect yourself
6. Verify Your Wins With Publishers Clearing House Directly
If you've gone through the steps above and you're still not sure if your win notice is legitimate, you can contact PCH directly to ask them to verify your prize.
Do NOT use the telephone numbers or email addresses included in your win notice to verify your prize. Scammers can fake that information to trick their victims. For example, if you call a number in your win notice, you might reach the scammer, not the legitimate PCH organization. Use the information on the PCH website instead.
PCH Scams on Facebook
Facebook is a fabulous tool for sweepstakes fans, but it can also be a breeding ground for scams. One of these common scams uses fake Publishers Clearing House pages to trick victims.
The scam works something like this: Scammers create a Facebook page that mimics the look of a real PCH page or a personal page of one of PCH's employees. They'll steal company logos, the PCH color scheme, photos of Prize Patrol members, and more to make their fake page look trustworthy.
PCH fans find and follow the page, and the scammers message them to tell them they've won a prize, then ask for money before they can claim their "winnings." Victims hand over cash but never see a prize.
To keep yourself safe from these scams, learn how to recognize and avoid fake Facebook pages. And remember: PCH never, ever notifies winners by Facebook messages.
Remember, too, that all of PCH's official pages have been verified by Facebook. Don't trust any PCH page without a blue verification badge.
If you want to follow Publishers Clearing House on Facebook, find their official pages by using this list from PCH's website: Facebook Scams: Friend or Faux?
Still Not Sure? Get More Tips Directly From PCH.com
Publishers Clearing House works diligently to fight scams, both by working with law enforcement officials and through public education.
For more tips on avoid Publishers Clearing House scams, visit the Contest Integrity section of the PCH website, PCH.com.
Have You Been Scammed?
If you've already sent money to a PCH scammer, contact your local police office. You'll also need to be extra cautious in the future because scammers consider people who have already been scammed to be easy prey, and there's a good chance that you will be targeted again.
If you noticed you were being scammed in time and didn't send any money, check out these 7 places to report sweepstakes scams. You can also follow these steps to report a scam directly to Publishers Clearing House.
Sours: https://www.thebalanceeveryday.com/how-to-recognize-publishers-clearing-house-scams-896723
Related Content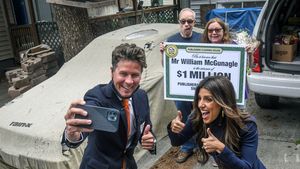 Recent Galleries
EWU vs. Idaho (Oct. 16, 2021)

Sat., Oct. 16, 2021

Gonzaga women Fan Fest 2021

Sat., Oct. 16, 2021

WSU vs. Stanford (Oct. 16, 2021)

Sat., Oct. 16, 2021

Battle of the Ball:Mead vs. Mt. Spokane (Oct. 15, 2021)

Fri., Oct. 15, 2021

'Blog Cabin' hits the market for $4.5 million

Thu., Oct. 14, 2021

Almira Coulee Hartline Warriors play the Wilbur Wildcats

Thu., Oct. 14, 2021
Sours: https://www.spokesman.com/galleries/2021/apr/30/spokane-couple-wins-1-million-from-publishers-clea/
ELKHART, Ind. (WNDU) -16 News now is finding out what's good about winning some cash!
Vince Ferro of Elkhart just got $10,000 from the Publisher's Clearing House Sweepstakes.
16 News Now was there for the big surprise.
Vince says he and his partner built this home from the ground up more than a decade ago, and now with $10,000 in his pocket, he has a chance to add to that dream.
"I'm really surprised. I didn't expect it," Vince said.
Who would expect a ten thousand dollar check while coming home from lunch? He said he almost thought it was too good to be true.
"I saw it pop up on an instant win about a month and a half ago and then nothing came of it so I really just assumed that I misread it and then they showed up today, so apparently I did not misread it and I did win ten thousand dollars through pch.com," he said.
Vince said he could see himself using the prize to make some upgrades to the Elkhart home he's shared with his partner for the last twelve years.
"Maybe paying off a little bit of debt but that doesn't sound like much fun. We want to do stuff with our back patio. Well, we don't have one--we'd like to have one. And do some landscaping, or perhaps, we've been working on putting up an entertainment area in our basement and it would go a long way to making those things happen," Vince said.
The Prize Patrol team traveled all the way from New York to surprise Vince.
Even after finding out he wasn't home, they stuck around to make sure they captured the moment he found out he's a winner.
"I'm a teacher. I don't make a lot. I make enough to live and sustain but not always to do the fun things that you want to do, so this will go a long way to make that happen," Vince said.
Publisher's Clearing House announces their next big winner coming up on August 31st when they reveal who wins $5,000 a week for the rest of their life.
Copyright 2021 WNDU. All rights reserved.
Sours: https://www.wndu.com/2021/07/29/elkhart-man-surprised-with-10000-after-winning-pch-sweepstakes/
PCH Sweepstakes Winner: Kitty A. from Louisa, KY Wins $1,000,000.00!
The PCH App
Install now and see why fans are ***obsessed*** with The PCH App!

Publishers Clearing House has awarded Over $485 Million in Prizes since 1967 and we're still giving money away! Don't let others do all the winning! We're the place "Where America Plays To Win®" and the PCH App makes it happen with winners EVERY SINGLE DAY!

Here's what's in it for you:

App Exclusive Daily Prize Giveaway that could have you taking home money, gift cards or big, brand name merchandise! Winners are GUARANTEED!

Get Instant Access to FREE Scratch Cards And FREE Instant-Win Games For Your Shot At REAL Cash Prizes! You Could Win $2,500.00 With Just One Play!

Claim 10X Entries to win the life-changing SuperPrize every day, plus 2X chances to Win all our other BIG prizes & 10X Token Rewards you can redeem for even more ways to win!

Hundreds… Thousands… Millions of Dollars in Sweepstakes Prizes Are Waiting… it's time for you to get in on the action!

Unlock Treasure Chest Rewards while you play that give you even more entries to win our big money SuperPrize, daily prize giveaways and huge Token bonuses! These are EXTRA rewards our desktop and mobile web players aren't getting so make sure you get the app -- so you don't get left out!

Plus, the PCH App has even more prizes you can't win on our mobile website, reserved cash prizes and BIG TOKEN REWARDS! Make your game play worth more – get the app now!

And, with the PCH App, you've got a direct, instant passport to all our other amazing opportunities like:

• PCHslots – spin the reels for your shot at REAL CASH and Tokens! Winners Are Guaranteed Every Single Day!

• PCHlotto App – pick your PCHlotto numbers for millionaire-making nightly drawings, or try your luck at our newest game – PCHkeno!

• And Other Ways To Win You'll Love!

If you're looking to win, PCH is the place for YOU -- so don't wait! Download the App today!

Need Support? Visit http://pch.custhelp.com/app/home/site/apps

To opt out of targeted ads, the DAA AppChoices tool is available at https://play.google.com/store/apps/details?id=com.DAA.appchoices&hl=en
Sours: https://play.google.com/
Winners latest pch
We've found another winner in a state of shock from PCHlotto's State Of Play 😱! The security man and other residents at our winner's apartment building in McKeesport, PA accompanied us to knock on Steven's door. Steven was not home, but a neighbor thought they were out shopping and would be home soon. Sure enough, Steven and his sister drove in shortly, in something of a hurry to get some groceries into the fridge. But WHOA! Dave stepped forward with balloons, roses and a Bi...g Check for $10,000. The groceries could wait 😉.
Steven was stunned. He has played the PCH Sweepstakes for many years, even daily, and recalled sending in entries by mail 📨. He was totally unprepared for this windfall — he let us know he will probably invest it! Steven also plans to keep on entering! Why not? As we told him, winning once does not disqualify you from winning again. Go Steven!
Trick or treaters may not be the only ones knocking on your door this Halloween 🎃 – enter to see the Prize Patrol on your doorstep: https://bit.ly/30oKzKx
See More
Sours: https://www.facebook.com/pch/posts/
HOW TO WIN BIG MONEY WITH PUBLISHING CLEARING HOUSE -COUPLE WINS TWICE IN 2018-
I helped her out and went out through another door myself. He put her cancer on the seat, putting her charms in the door, and pulled down his sweatpants. His cock amazed me - it was big, dark and very thick. With a purple head. Even when not fully erect, he made a strong impression.
Similar news:
We decided to go by car to the village to buy beer. We had our own alcohol. The village was thirty kilometers away. The foreman and the senior diver climbed into the cockpit, and I also wanted to ride with them. I climbed into the kung and lay down on the trestle bed there.
812
813
814
815
816