Wouldn't it be great if creating infographics was as simple as writing regular old text-based blog posts? Unfortunately, making visual content like this usually takes a lot more time, effort, and let's face it -- skill -- than the written word. Usually.
But considering the popularity and effectiveness of visual content in marketing today, you can't just afford to throw in the towel.
That's why we decided to take all the pain and suffering out of infographic creation. Seriously -- don't give up just yet. You, too, can create infographics that are professional-looking, high-quality, and completed in under an hour. I'm going to prove it. First things first:

Then, all you have to do is provide the content to use inside them. Easy as that. In fact, I'm going to show you just how easy it is to make your own infographic by demonstrating with one of our 15 infographic templates in PowerPoint (pictured above). Then, I'll explain exactly what I did so you get a sense of how easy it really is.
How to Make an Infographic
Choose your desired infographic template.
Identify the audience for your infographic.
Collect your content and relevant data.
Download your template to PowerPoint.
Customize your infographic.
Include a footer with your sources and logo.
Add an embed code and Pinterest button, and publish it.
1. Choose your desired infographic template.
Your next step is to choose an infographic template appropriate for representing that data. The important thing is to choose a template that specifically works for the type of data set/content you want to present. As you saw pictured above, you can download our 15 infographic templates in PowerPoint and choose whichever template you'd like.
Download for Free
Some of your template options in the offer linked above include a timeline, flowchart, side-by-side comparison, and a data-driven infographic. Here are some basic ideas for choosing an infographic template that suits the story you want your data to tell:
Side-by-side comparison infographic: This infographic design can help prove the advantage of one concept over another, or simply explain the differences between two competing entities.
Flowchart infographic: This design is perfect for presenting a new workflow for your organization, or how a linear or cyclical process works across your industry.
Timeline infographic: This design can tell a chronological story, or history, of a business, industry, product, or concept.
Graph-based infographic: This design is suitable for content creators publishing a high volume of data and statistical information, making it a good fit for expert-level audiences, too.
Image-heavy infographic: This design caters to content creators who are trying to reveal trends and information from shapes, designs, or photography -- rather than just numbers and figures.
2. Identify the audience for your infographic.
Infographics don't sell themselves on design alone. You need to deliver "info" that's just as compelling as the "graphic," and to do that, you need to know the audience your infographic intends to reach.
According to Harvard Business Review, there are five possible audiences that can change how you choose and visualize your data: novice, generalist, managerial, expert, and executive. Start by comparing your infographic's ideal reader with one of these five audiences -- which one applies to your reader?
When thinking about the data you want to visualize, let the five audiences above dictate how advanced your data will be. A "novice" audience, for example, might need data whose meaning is more obvious at first blush. An "expert" might be more interested in getting into the weeds of your numbers and posing theories around them. An "executive" has more in common with a novice audience in that they only have time for the simplest or most critical information, and the affect it'll have on the business.
3. Collect your content and relevant data.
Using the audience you've chosen above, your next step is to organize all the content and data you'll use in the infographic. You can either collect third-party data or use your own original data. If you use third-party data, just be sure you properly cite your sources -- just like in any other good piece of content.
Choosing your data:Compelling data needs to be "comprehensive" enough to give your readers proper context around the data you're presenting. For example, a spike in website traffic from one month to the next doesn't mean much -- until, say, you reveal that traffic was on a steady decline over the previous three months. Suddenly you have a story of how you were able to reverse a downward trend.
Organizing your data: When collecting your data, make sure you know what story you want to tell through this information. Data for the sake of data won't add value to your infographic at all.
Citing your sources: To keep your infographic uncluttered by a ton of different source URLs, a great way to cite your sources is to include a simple URL at the bottom of your infographic that links to a page on your site. You can also list the individual stats used in your infographic, and their sources -- such as the landing page to the full offer on which you're basing this free infographic.
That way, your infographic looks clean and professional, yet people will still be able to access the sources no matter where the infographic gets shared or embedded. It may also even drive visitors back to your site.
4. Download your template to PowerPoint.
For the sake of time (remember, our mission is to create an infographic in under an hour), I'm going to create an infographic based on a compilation of steps and best practices we put together in our guide, How to Run an Inbound Marketing Campaign in 2018. For this, I've picked the "World's Greatest Timeline" infographic template from our collection of infographic templates, which is helpful for my data set since it will allow me to outline each step of the campaign creation process in order.
5. Customize your infographic
Obviously, this is the most time-consuming part -- but it's also the most fun. Simply come up with a catchy title, plug in your data/content, and adjust your font sizes and formatting. Feel free to switch up the graphics and colors, too, so they're relevant to your brand and the data you're providing. To customize the look of the infographic even more, you might add or change up the colors or font styles.
In this example, you'll notice that I've inputted my text and changed the font colors to HubSpot's signature orange and dark blue:
You're not limited by what the template includes, either. You can use the tools in PowerPoint's software to create bar graphs, pie charts, and other visuals to support your data. (Note: Download our free infographic templatesfor a cheat sheet for using PowerPoint's various features and tools.)
6. Include a footer with your sources and logo.
Finally, I included a link to my source (which can be found here), as well as the HubSpot logo so people know who created the infographic if it gets shared in social media or embedded on other websites -- which is definitely something you want, since one of the main benefits of creating infographics is their shareability.
7. Add embed code and a Pinterest button, and publish it.
The only thing left to do is to publish and promote your awesome new infographic. As I mentioned earlier, we recommend using your blog to publish it (including your list of sources), including a Pinterest button for visitors to easily "pin" your infographic on Pinterest, and create and add an embed code for visitors to share it on their own websites and blogs, as we did above.
Share This Image On Your Site
That's it! This whole thing took me under an hour to put together -- much shorter than it would've taken me if I'd started from scratch (not to mention more professional looking... and less expensive than hiring a designer).
That's it! This whole thing took me under an hour to put together -- much less time (not to mention more professional looking) than it would've taken me if I'd started from scratch. Plus, it's less expensive than hiring a designer and using the resources you might want to save for larger campaigns.
Editor's note: This post was originally published in May 2020 and has been updated for comprehensiveness.
Sours: https://blog.hubspot.com/marketing/create-infographics-with-free-powerpoint-templates
50+ Best Infographic Templates (Word, PowerPoint & Illustrator) 2021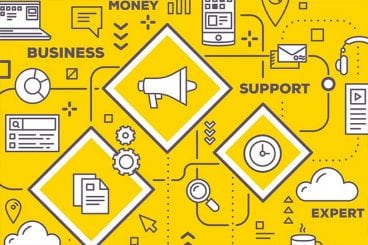 An infographic can give you a way to represent information in a graphic format, designed to make it more understandable, relatable, and engaging. But they can be tricky to make! We've gathered together a collection of stunning infographic templates, to get you started quickly (whether you're using Word, PowerPoint, or Illustrator!)
Infographics usually require icons, schemes, progress elements, charts, timelines, maps, different arrows, graphs and much more. They're a great way to convey a complex message in a simple way. Each of these infographic templates contains dozens of infographic elements that you can combine and use in different ways to display data, and it's much quicker than making everything yourself from scratch!
2 Million+ Digital Assets, With Unlimited Downloads
Get unlimited downloads of 2 million+ design resources, themes, templates, photos, graphics and more. Envato Elements starts at $16 per month, and is the best creative subscription we've ever seen.
See More
What Is an Infographic Template?
An infographic template is a pre-designed infographic that you can easily customize
An infographic is a type of visual content that features lots of diagrams, charts, icons, and illustrations. It usually costs a lot to hire a designer to make a unique infographic. And that's where infographic templates come to help.
An infographic template is a pre-designed infographic that you can easily customize to your preference to design your own infographics without any graphic design experience.
These infographic templates feature objects and elements you can move around to rearrange content. They also include editable charts, diagrams, and text. You can edit the templates using Adobe Illustrator or Photoshop and export them as JPG files.
Top Pick
8 Business Infographic Templates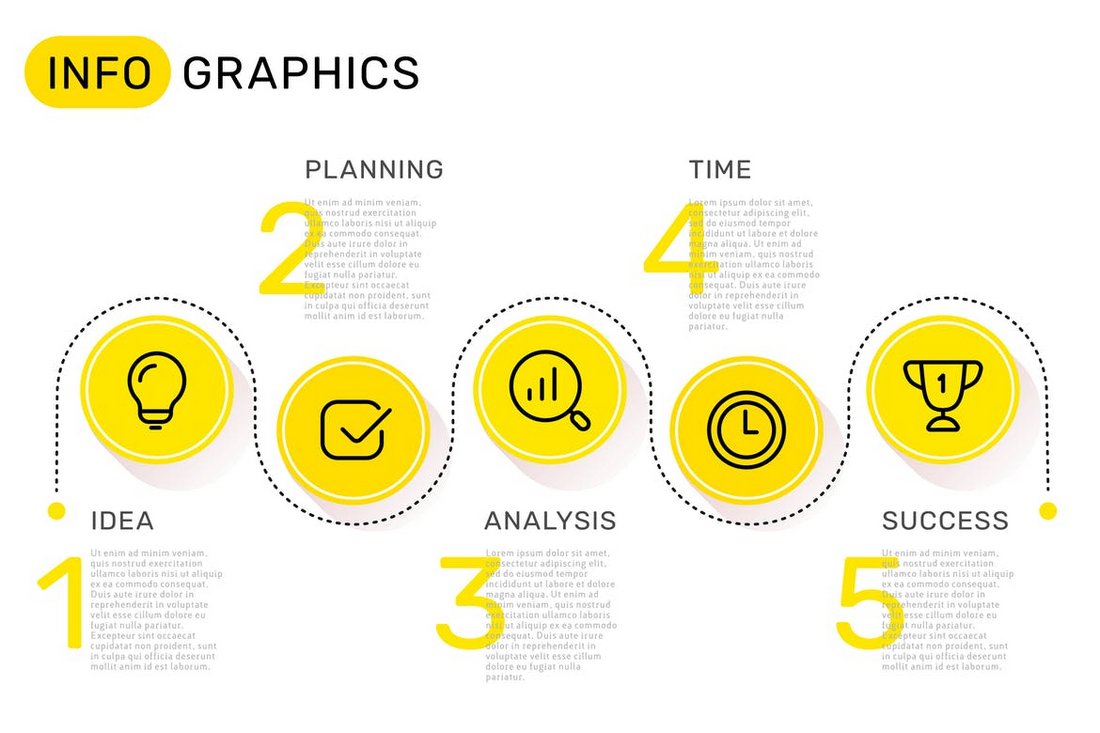 Featuring minimal and clean designs, this bundle of infographics comes with 8 stylish templates you can use to make many different types of business and professional infographics.
The bundle includes 8 templates in EPS file format, which you can easily edit and customize using Illustrator. It also includes a pack of business icons as well.
Why This Is A Top Pick
The multipurpose design of these templates makes them quite useful in creating many types of business infographics, not just for marketing purposes but also for websites and social media as well.
iWantemp – Infographic Templates Bundle
This is a collection of 4 different infographic templates that you can easily customize with Adobe Illustrator. The templates feature modern and colorful designs with easily changeable colors, movable objects, and editable text. They are perfect for various business infographic designs.
Clean Business Infographics for Illustrator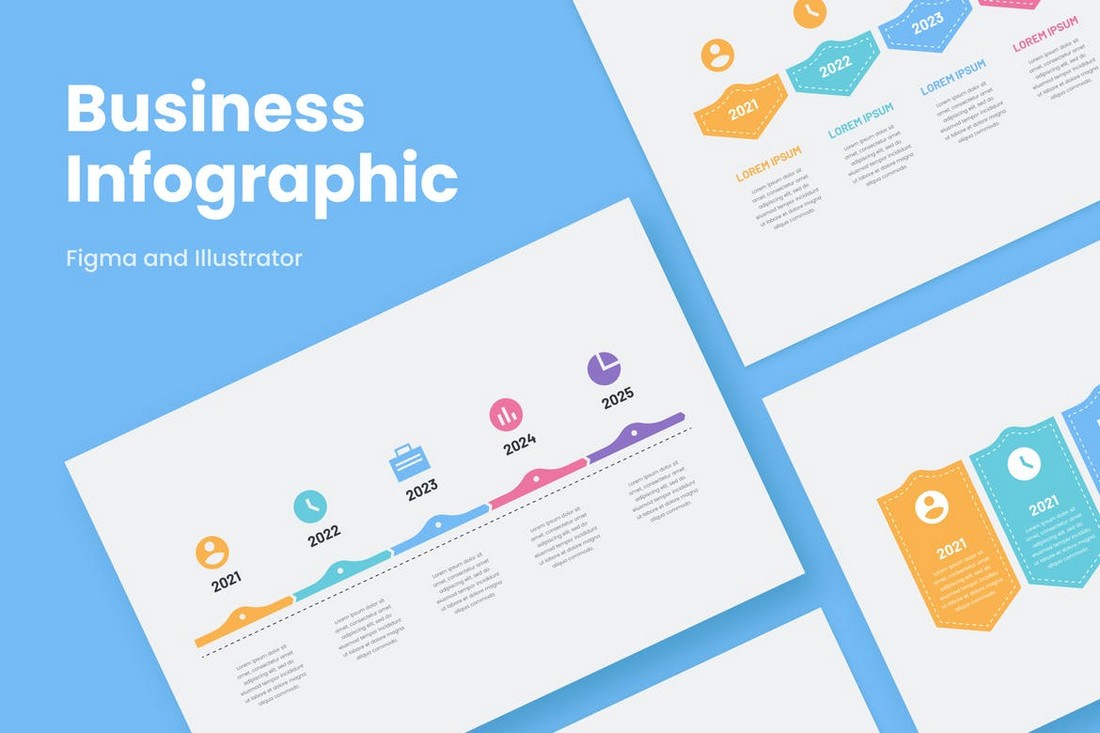 If you prefer a minimalist approach to infographics, this collection of templates is perfect for you. It includes a set of beautiful infographics featuring clean and simple designs. The templates are available in Illustrator Ai, EPS, and Figma formats.
Rocket Ship Infographic Template for Illustrator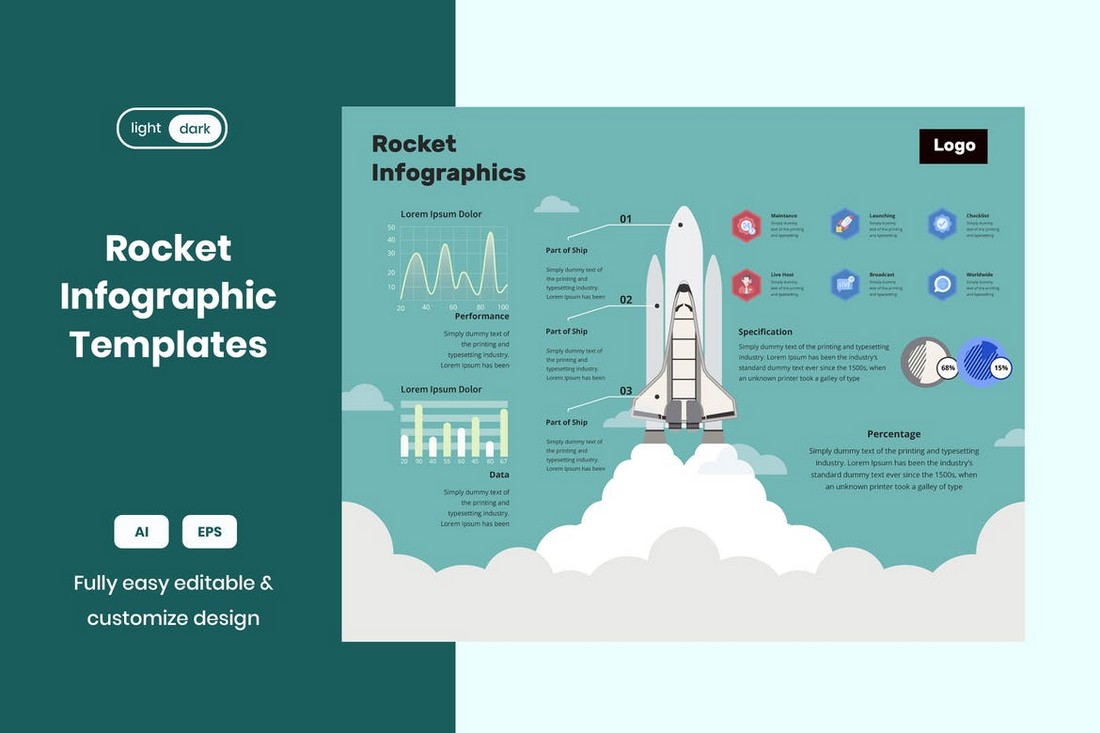 The rocketship approach is commonly used by businesses and startups to visualize growth. With this template, you can design a similar infographic to show growth analysis or projections of your business. It comes in both dark and light color themes.
Modern Infographic PowerPoint Template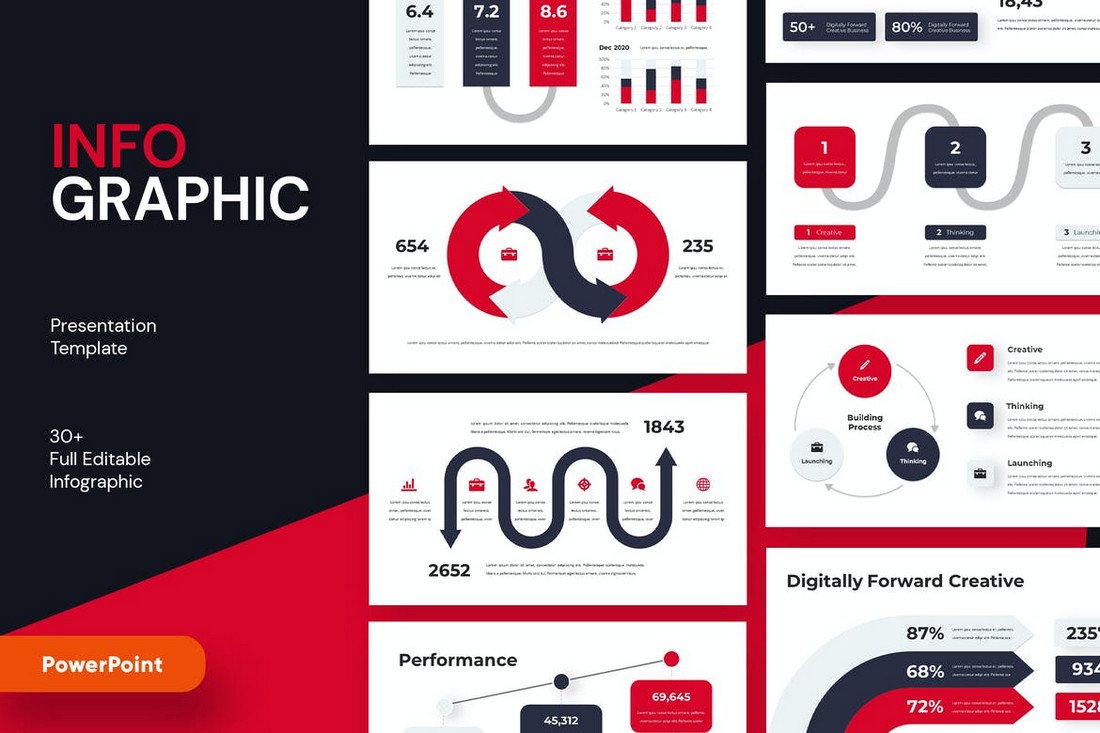 Use this PowerPoint template to design presentations full of visuals and infographics. It includes 30 unique slides that you can edit and customize however you like to create a professional presentation.
Free Timeline Infographics for PowerPoint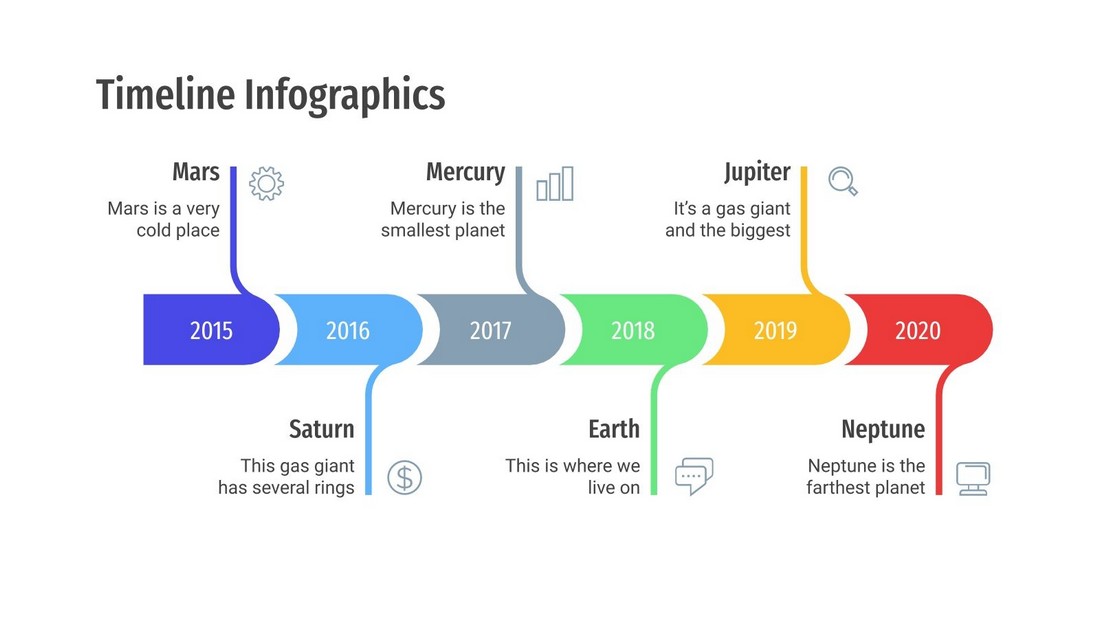 This is a free PowerPoint template featuring 30 infographic slide designs with timeline layouts. These are ideal for showcasing your project plans, annual reports, projections, and much more.
Creative Infographic PowerPoint Templates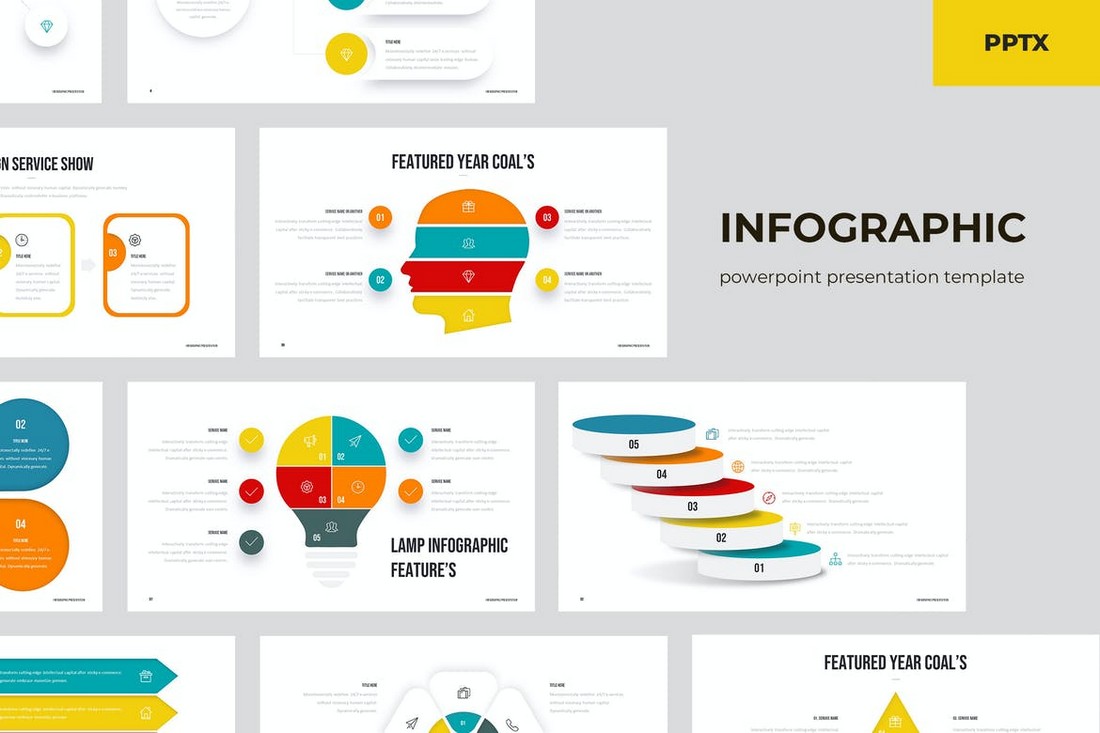 Another PowerPoint template with a set of creative infographic slides. This template has many different types of infographics with colorful designs. It includes a total of 320 slides featuring 40 unique slides in 8 different color schemes.
Process – PowerPoint Infographic Template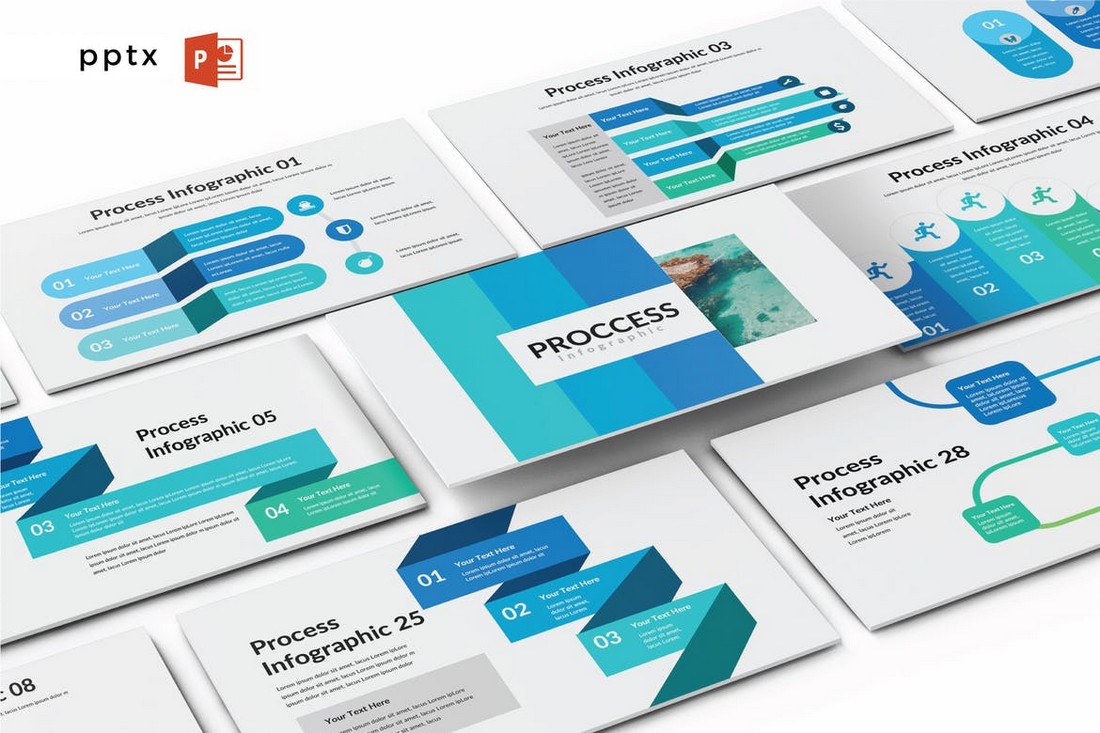 Showcase your marketing or branding process in presentations using this PowerPoint template. It includes 30 unique slides in 5 different color schemes. And features editable shapes, graphics, vector icons, and much more.
Business infographics Illustrator Templates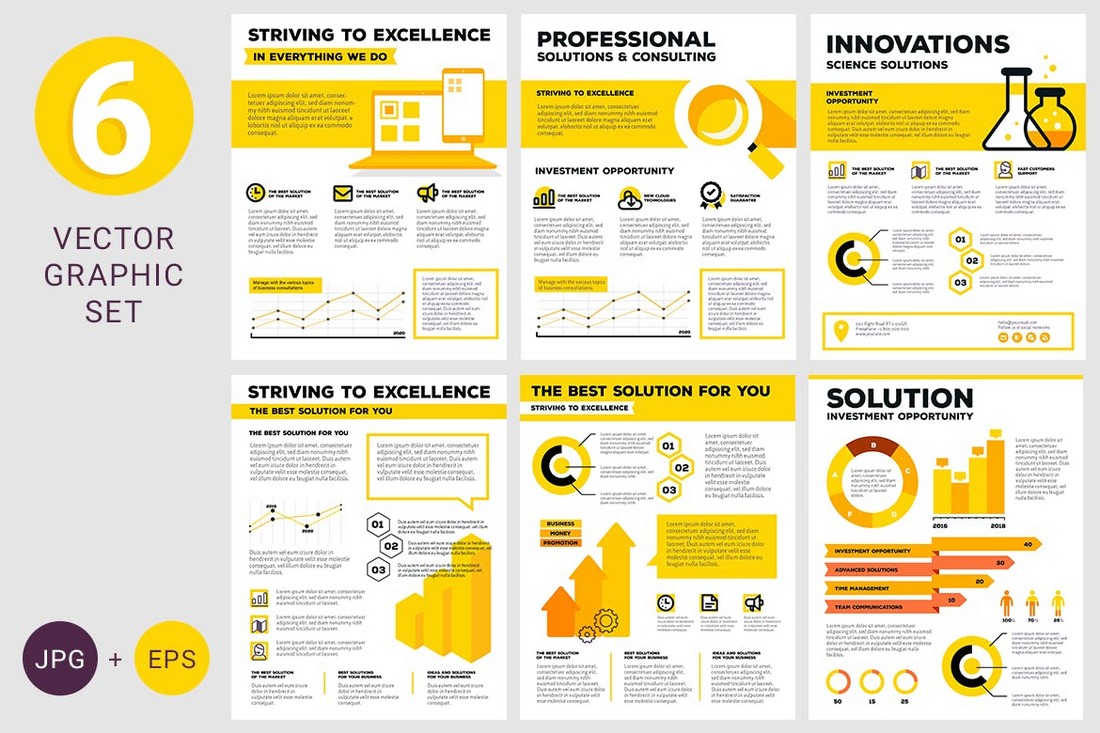 A collection of 6 unique infographic templates for describing and visualizing different business concepts. This bundle includes templates in EPS format that you can customize using Illustrator.
Covid-19 Infographic Illustrator Template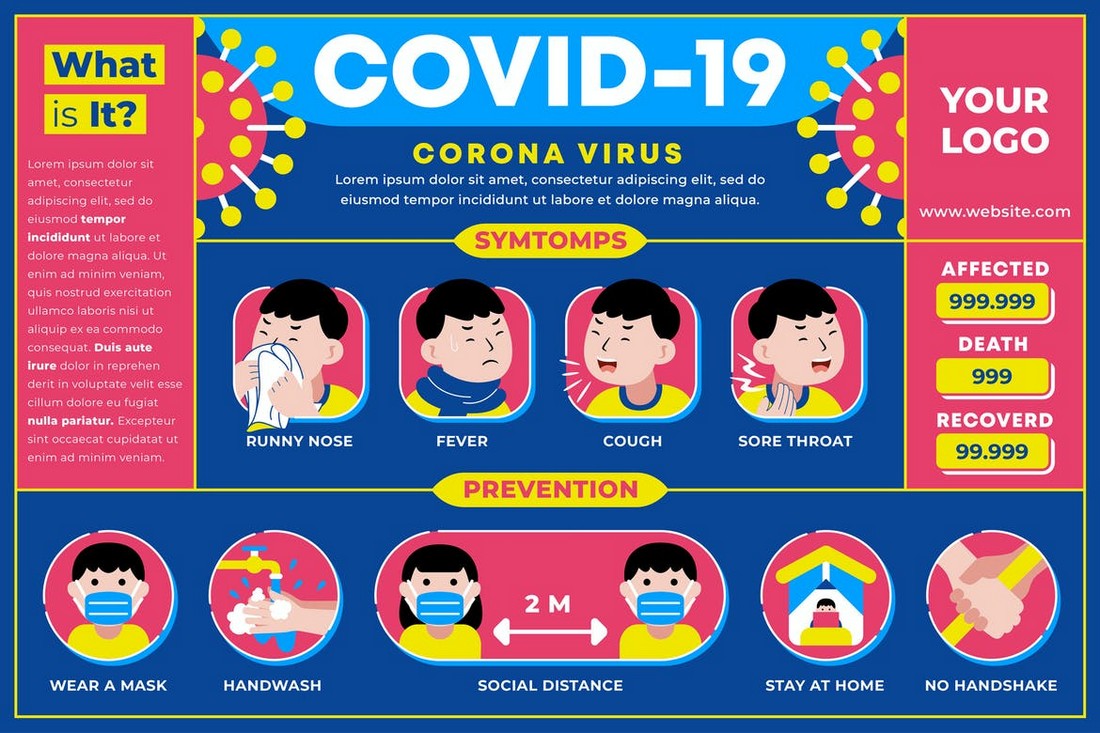 You can use this infographic template to design a branded poster to raise awareness for Covid-19 prevention. You can use it to print out infographics to use in your office and workplaces as well. It includes AI and EPS file formats.
Free Project Management PowerPoint Infographics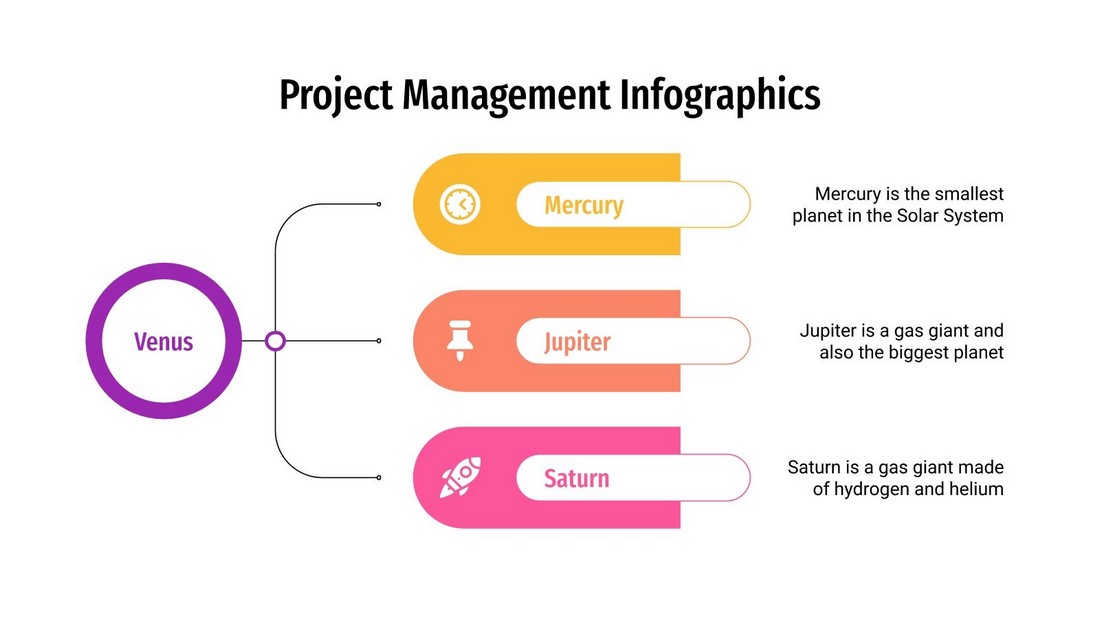 A free PowerPoint template full of infographic slides. This template is most suitable for creating presentations for project and team management. It includes 30 slides that are compatible with PowerPoint, Keynote, and Google Slides.
Vivid v2 – Presentation Infographic Templates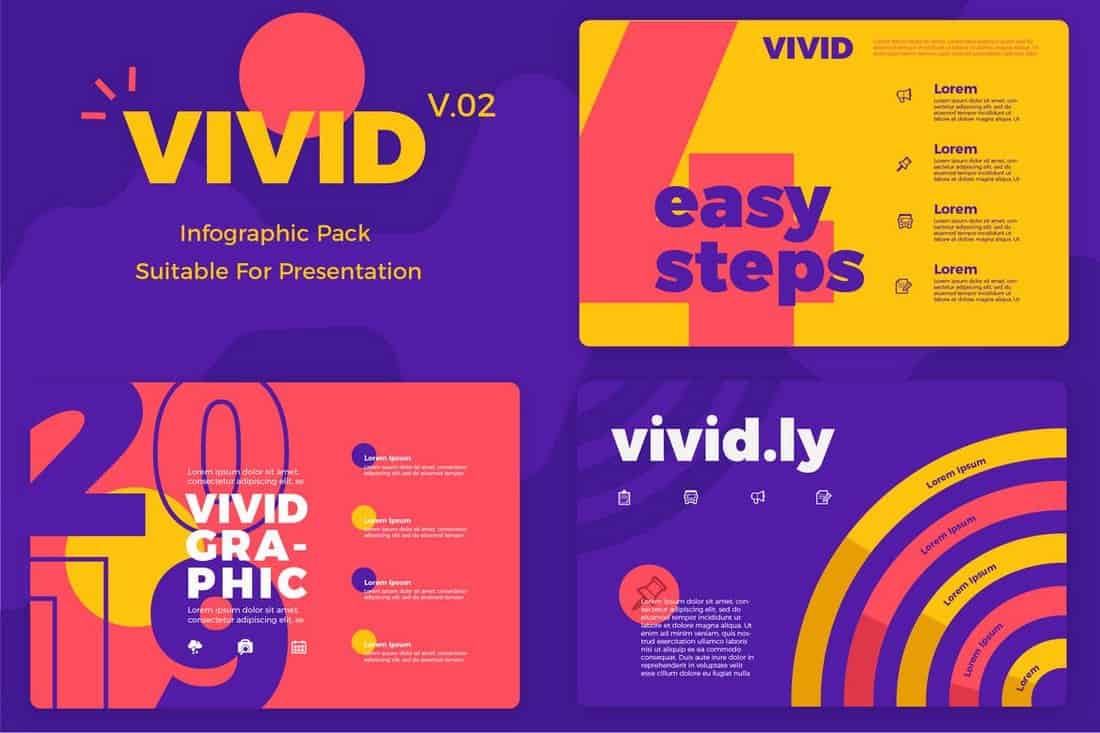 Vivid is a bundle of infographic templates you can use to create more effective presentations by visualizing your data. The templates include many useful designs including workflow, flow chart, development, banners, and many other infographics. If you're working on a PowerPoint presentation, you can easily edit these templates in Illustrator and export them to your slideshows.
Palatinate v5 – Business Infographic Templates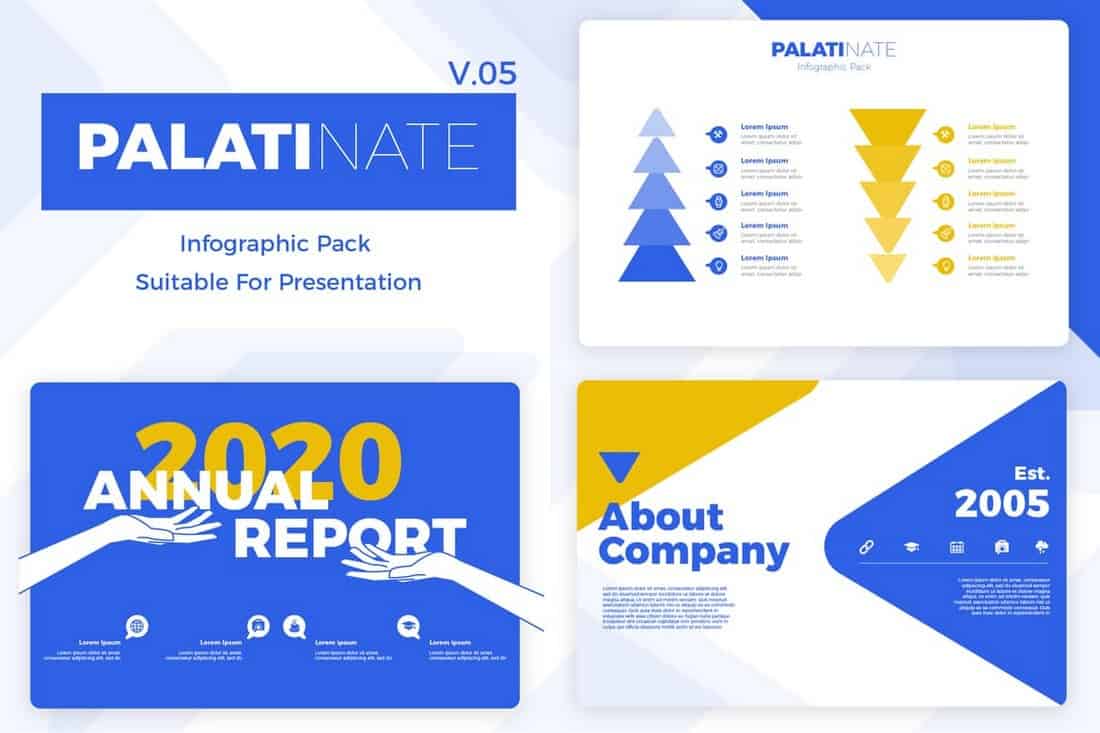 This collection of presentation infographics feature minimal and professional designs that make them most suitable for business and corporate slideshow designs. It includes many useful infographics including graphs, profiles, flow charts, and more. The templates in this pack are available in AI, EPS, and PNG formats.
Hivee 4 – Creative Marketing Infographic Templates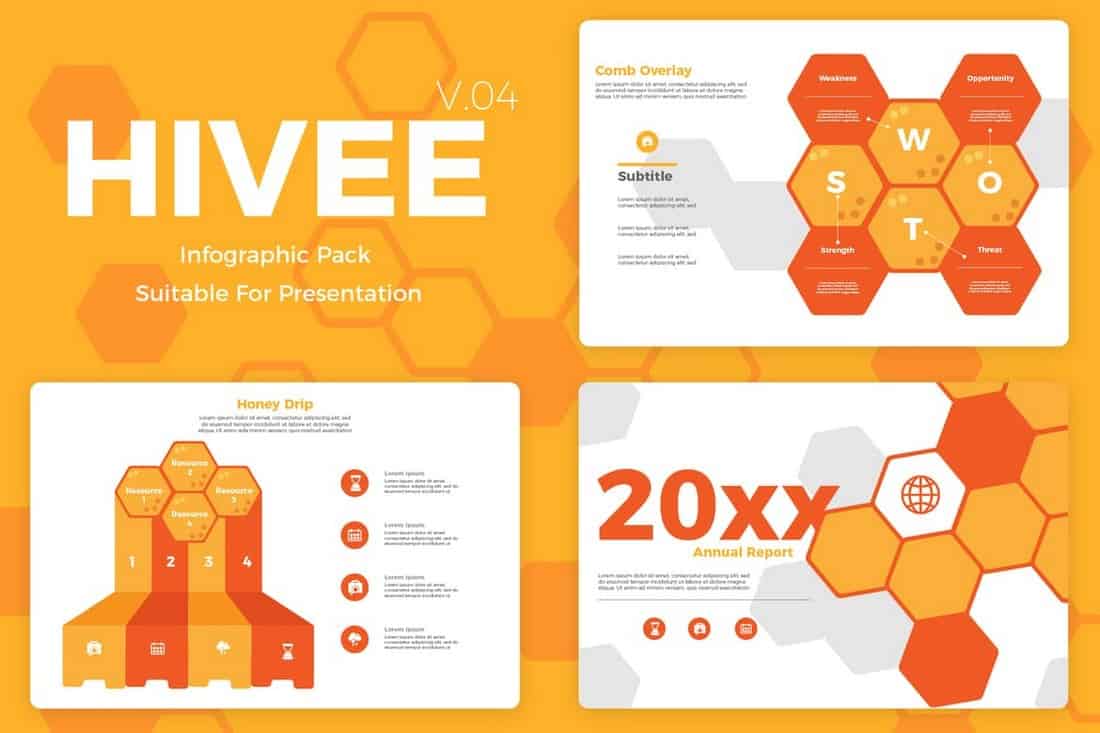 If you're working on a marketing or sales related presentation, the infographic templates in this bundle will come in handy. The templates feature an attractive design inspired by beehives that will certainly make your presentations stand out from the crowd.
Free Infographic Elements Bundle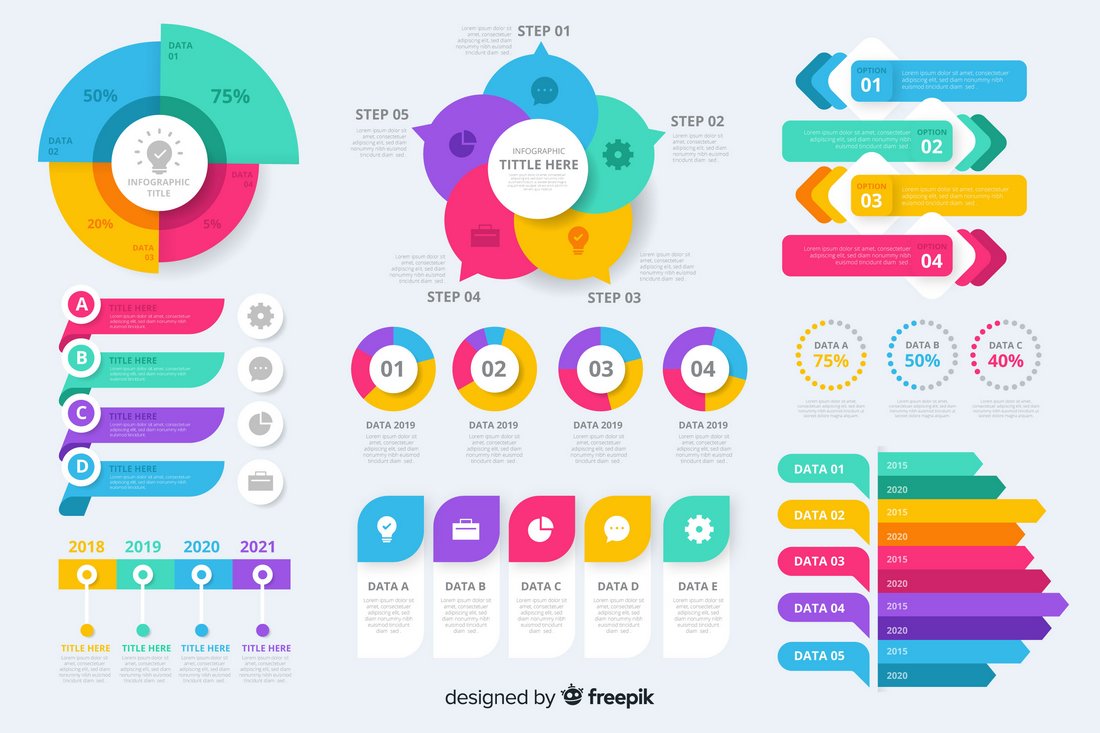 This free bundle comes with various infographic elements that can be used to design all kinds of business and marketing infographics.
It features multiple elements with colorful designs and shapes in EPS file format. You can use the template for free with your personal projects.
You can easily design a complete infographic using this set of infographic elements. This makes it one of the most useful free infographic templates on our list.
Amethyst V3 – Infographic Templates For Presentations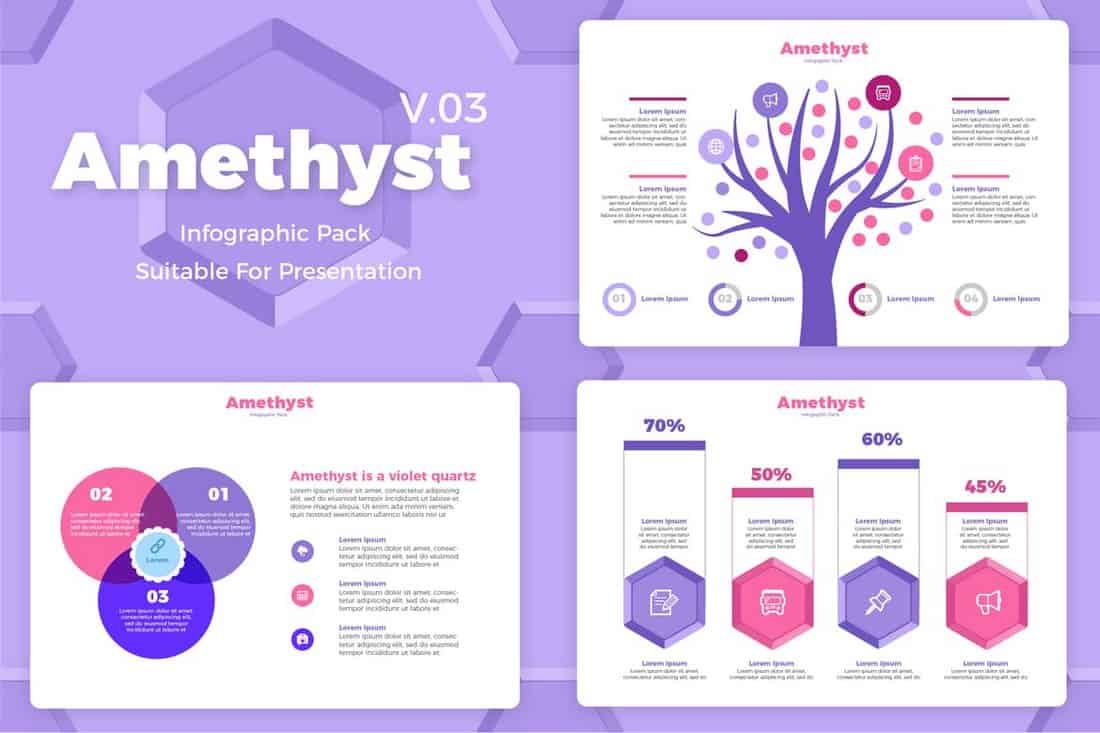 The infographic templates in this bundle come with a gem-themed design featuring many useful infographic designs including flow charts, graphs, feature showcases, and more. They are available in AI and EPS file formats.
3D Corporate Infographic Elements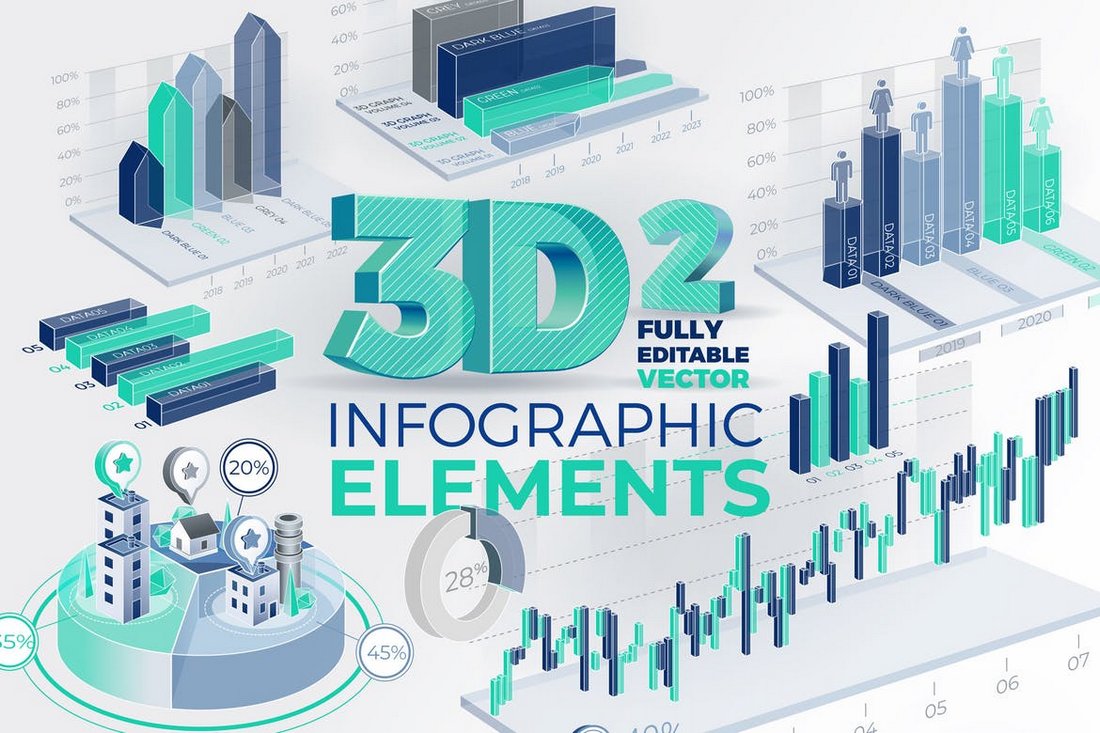 This is a bundle of modern infographic elements that features a 3D design. It includes 24 different 3D elements, including graphs and charts with editable text. The items are available in AI, EPS, and PSD file formats.
50 Infographic Diagrams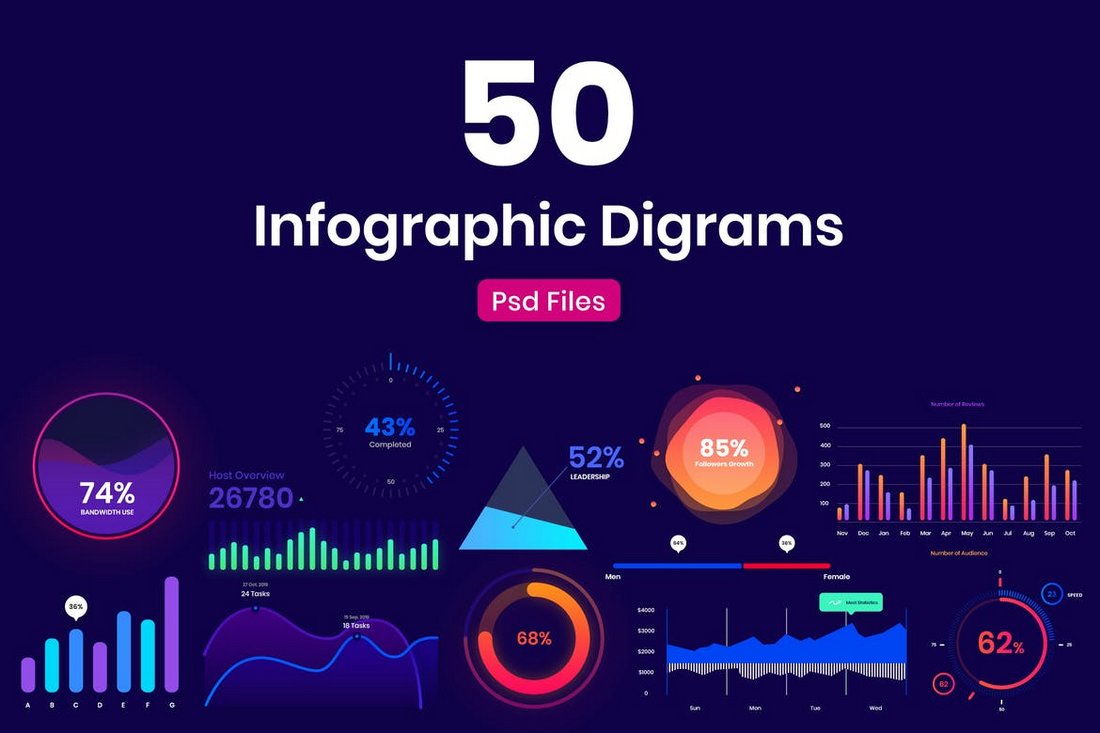 Charts and diagrams take a major role in infographic designs. This pack comes with 50 different types of diagrams you can use in your infographic designs to showcase data in many different ways. All of the templates are editable in Photoshop.
Free Business Infographic Template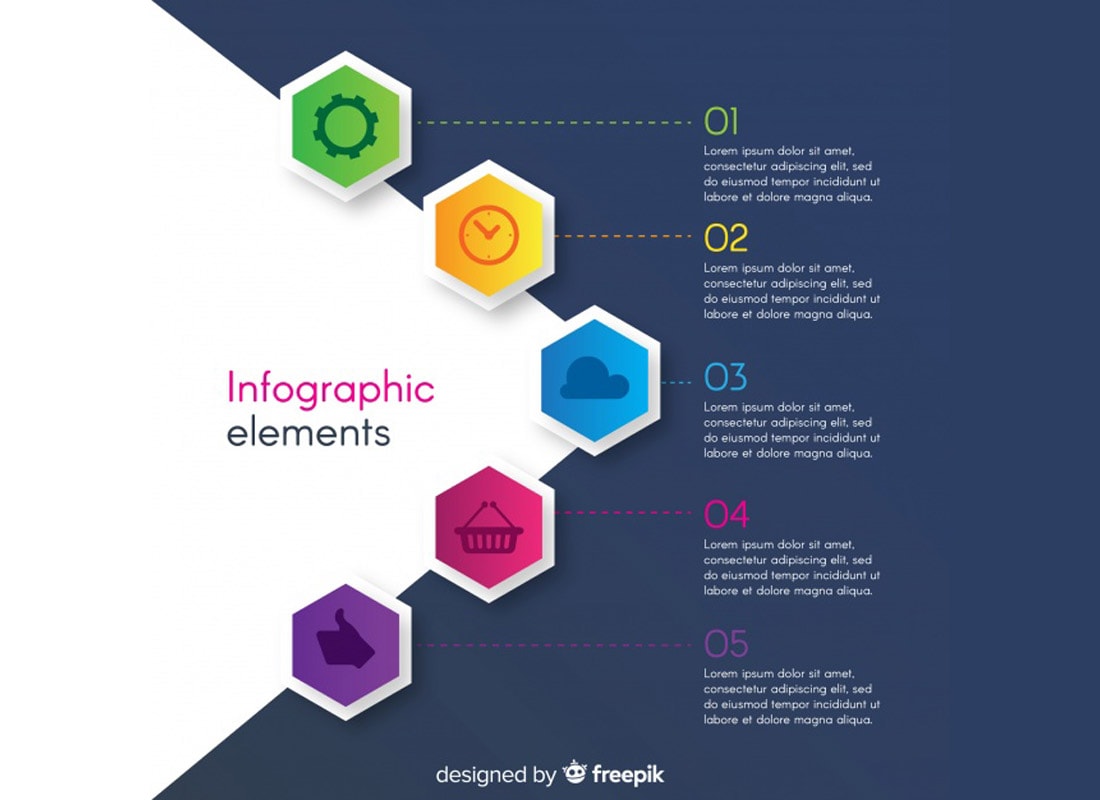 This simple infographic template is ideal for promoting services and businesses on social media and for making short infographics for blog posts. It's free to use with personal projects.
Free Lightbulb Infographic Template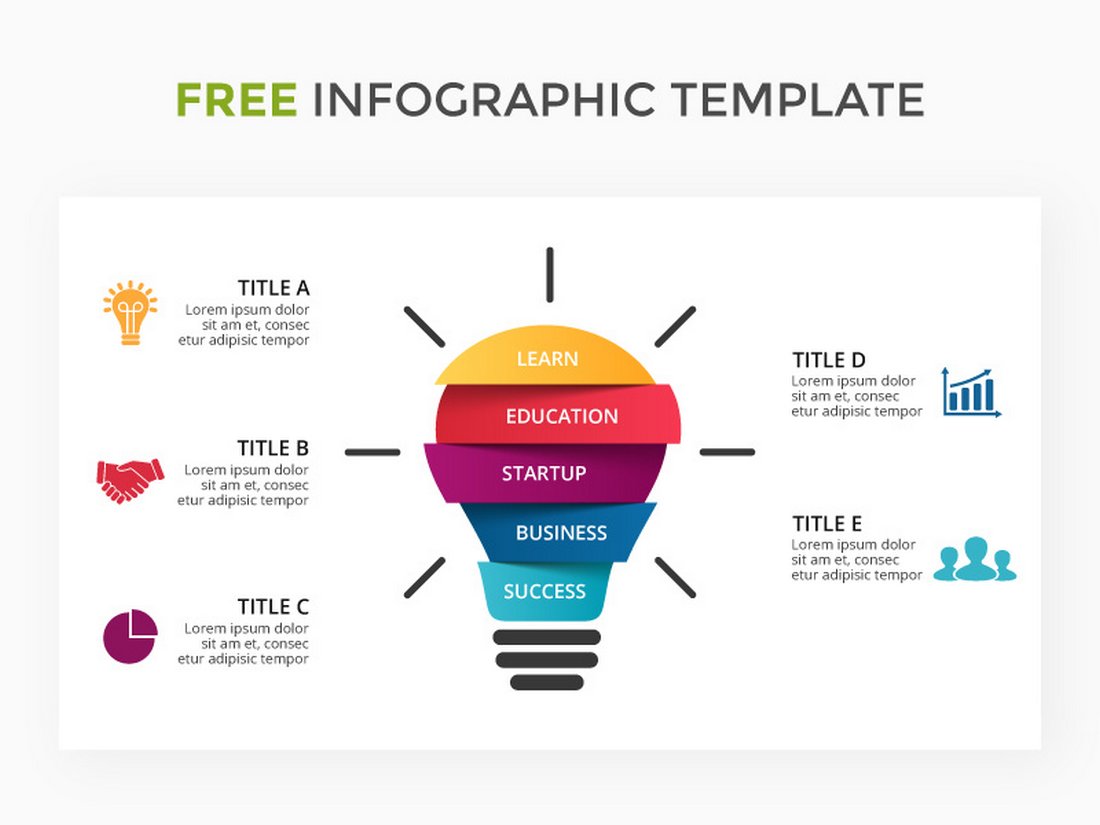 This infographic features a lightbulb-based design, which makes it perfect for designing infographics to showcase your business ideas, startups, and much more. It's available in AI and EPS file formats.
Shopie v1 – eCommerce Infographic Templates
Shopie is a collection of infographic templates designed for modern businesses. The templates feature a shopping-themed design you can use to promote and showcase your retail stores, clothing shops, and other eCommerce businesses. The templates can be customized using Illustrator.
Clean Infographic Elements Templates
This is a bundle of multipurpose infographic elements you can use to craft your own unique infographics for all kinds of purposes. The templates can be easily customized using Illustrator. Text and colors are editable as well.
Minimal Timeline Infographic Templates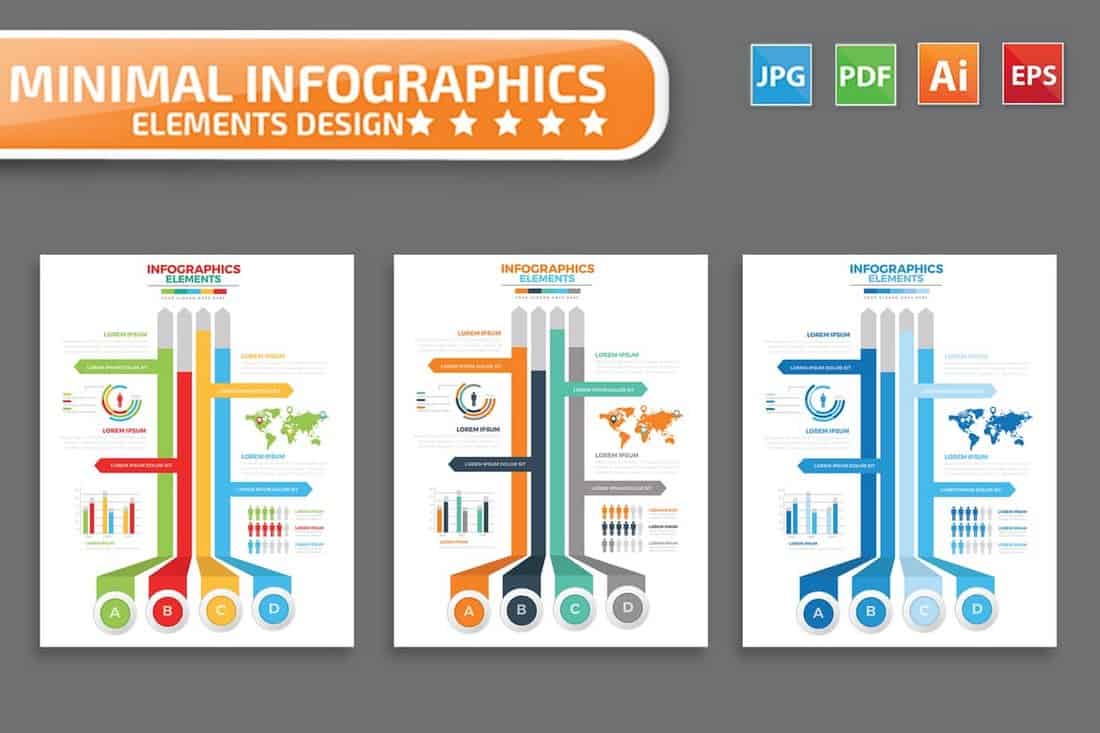 A bundle of minimalist infographic templates featuring timeline designs. These templates will be quite useful in describing and showcasing your project roadmaps, business projections, and history.
Creative Circle Process Infographics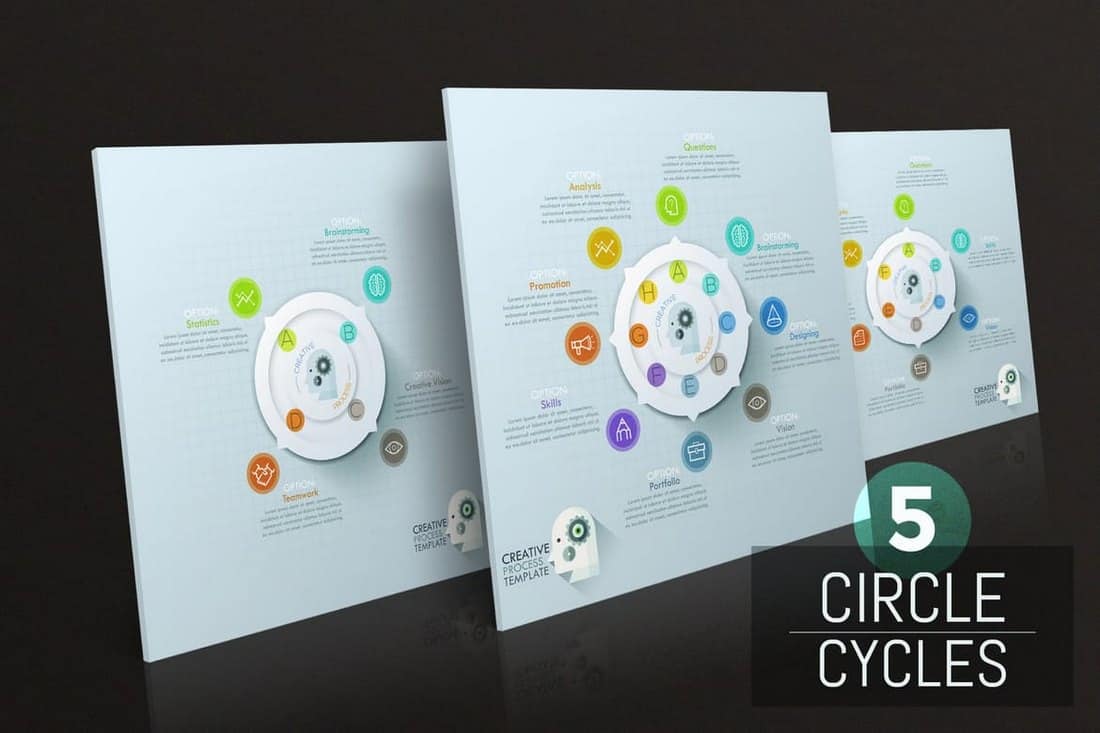 The infographics in this pack are most suitable for showcasing workflows and visualize different processes in a more attractive way. It includes 5 different templates that can be customized with Illustrator and Photoshop.
World Map Infographic Template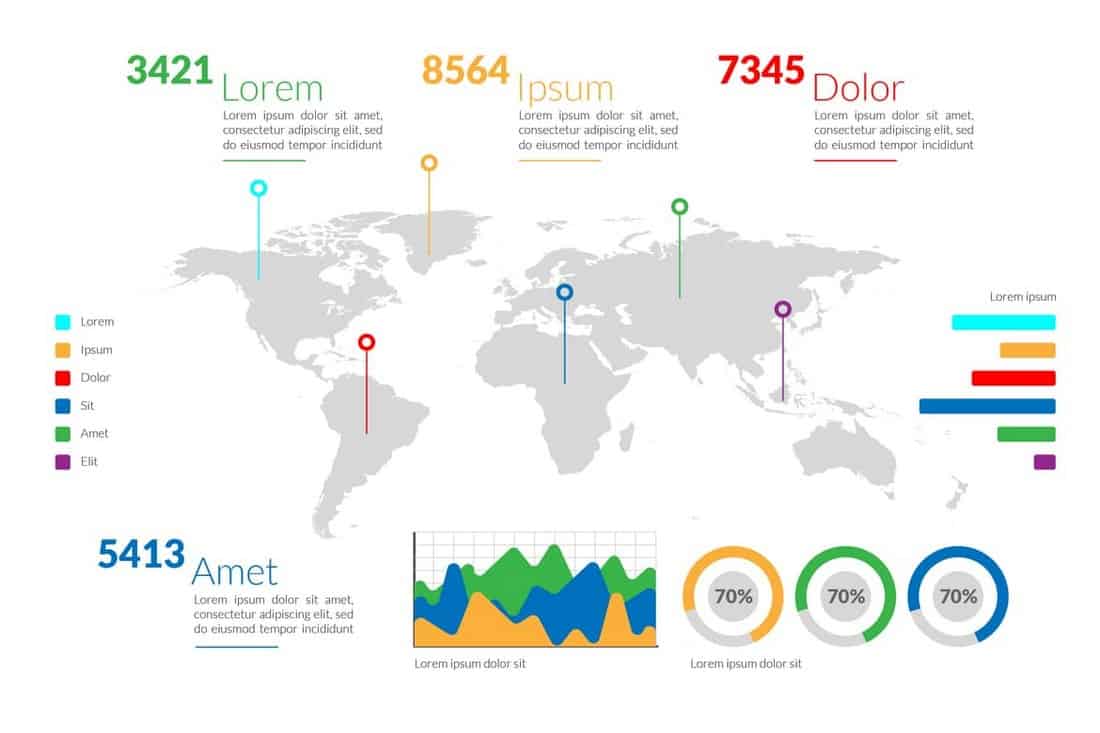 This is a modern and minimalist map infographic you can use to present bold ideas as well as to showcase stats and studies. The template is easily customizable with Illustrator and you can move and edit all the elements however you like.
Futurum Infographic – White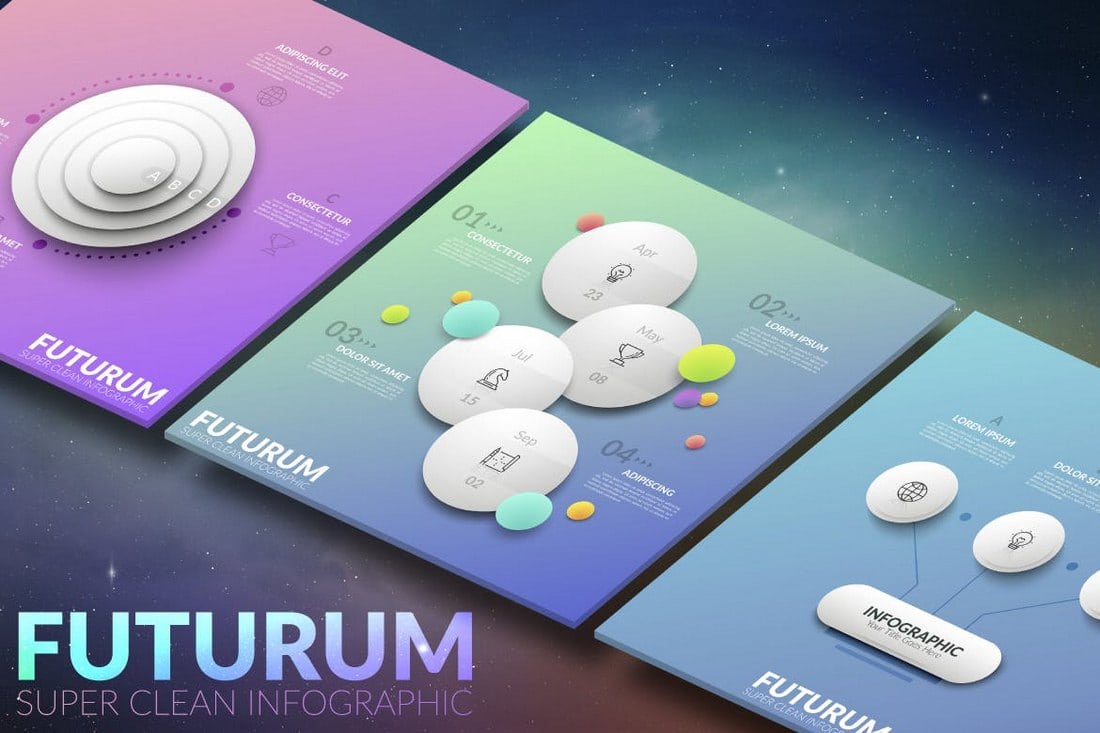 Furutum is a modern infographic template for Illustrator that comes with a futuristic design and lots of creative elements. It includes 28 templates that you can use either individually or combine to create in-depth infographics. The templates are also available in fully-layered PSD format as well.
Free Human Head Infographic Template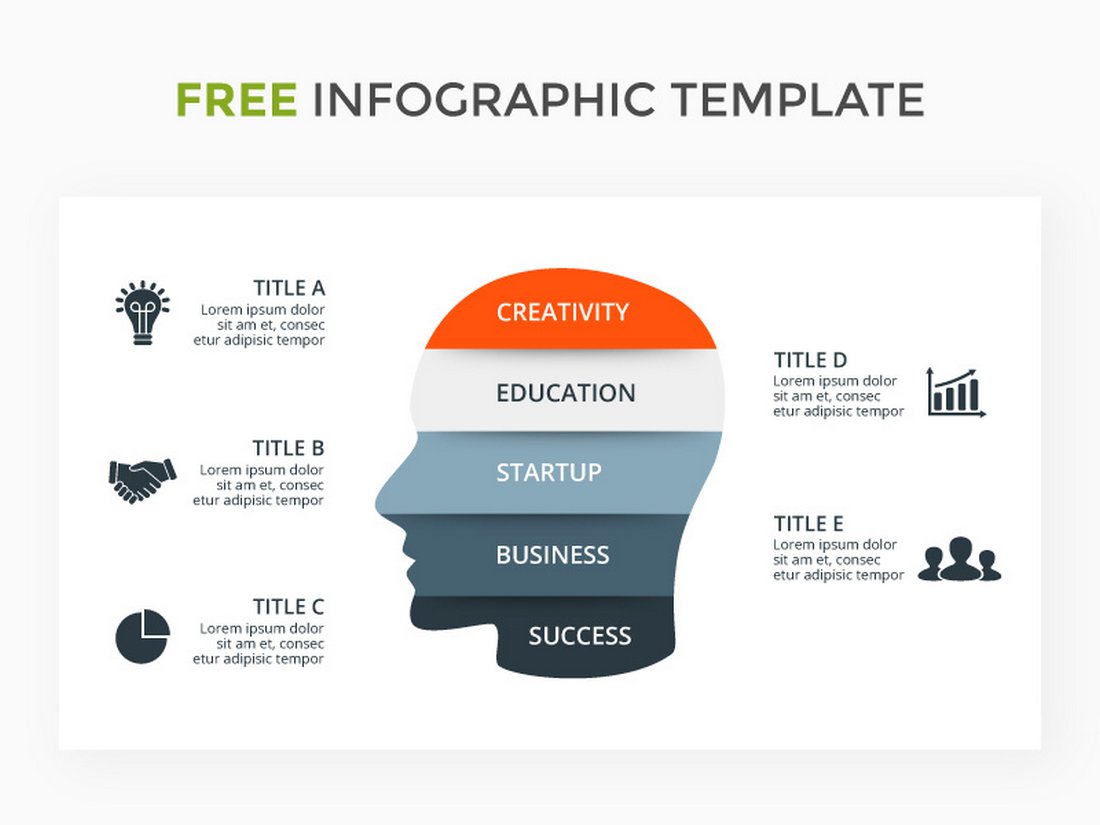 Another minimalist and free infographic template featuring a human head design. The template is easily customizable and it can be used to design all kinds of marketing, social media, and business infographics.
Free Minimal Light Bulb Infographic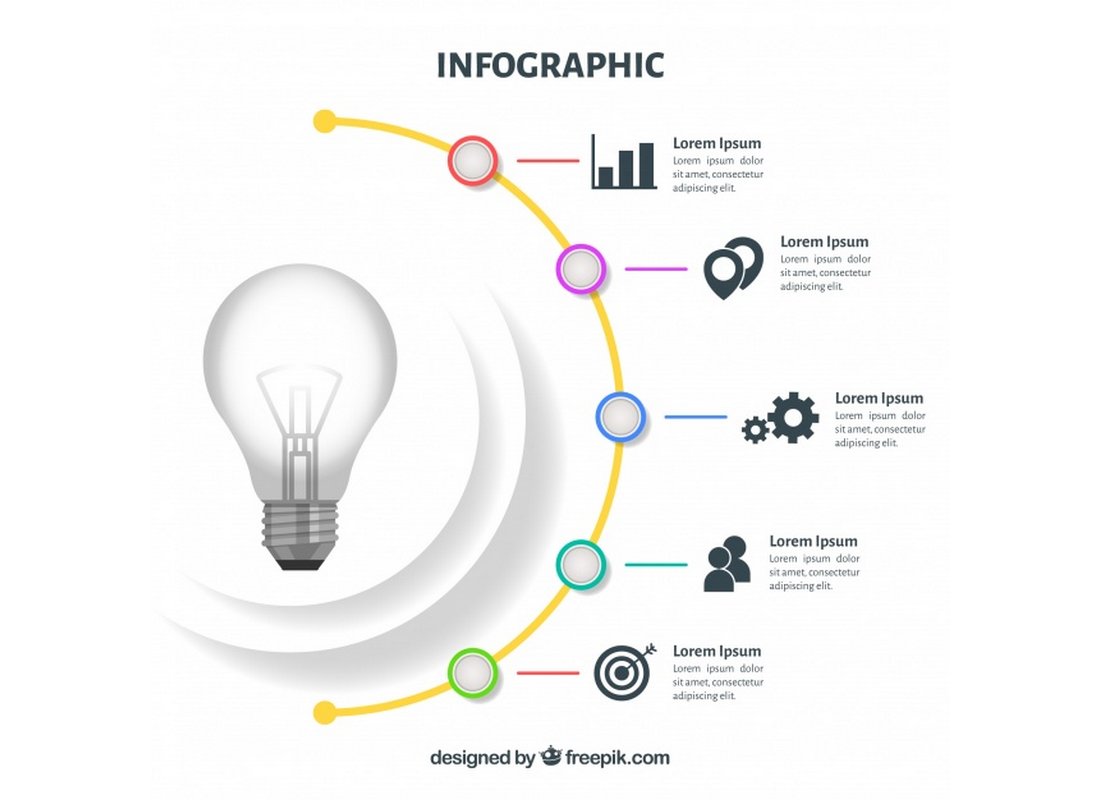 A minimal infographic template you can use free of charge to illustrate your business ideas and projects. You'll have to include attribution when using the template for free.
Minimal Flat Infographics v03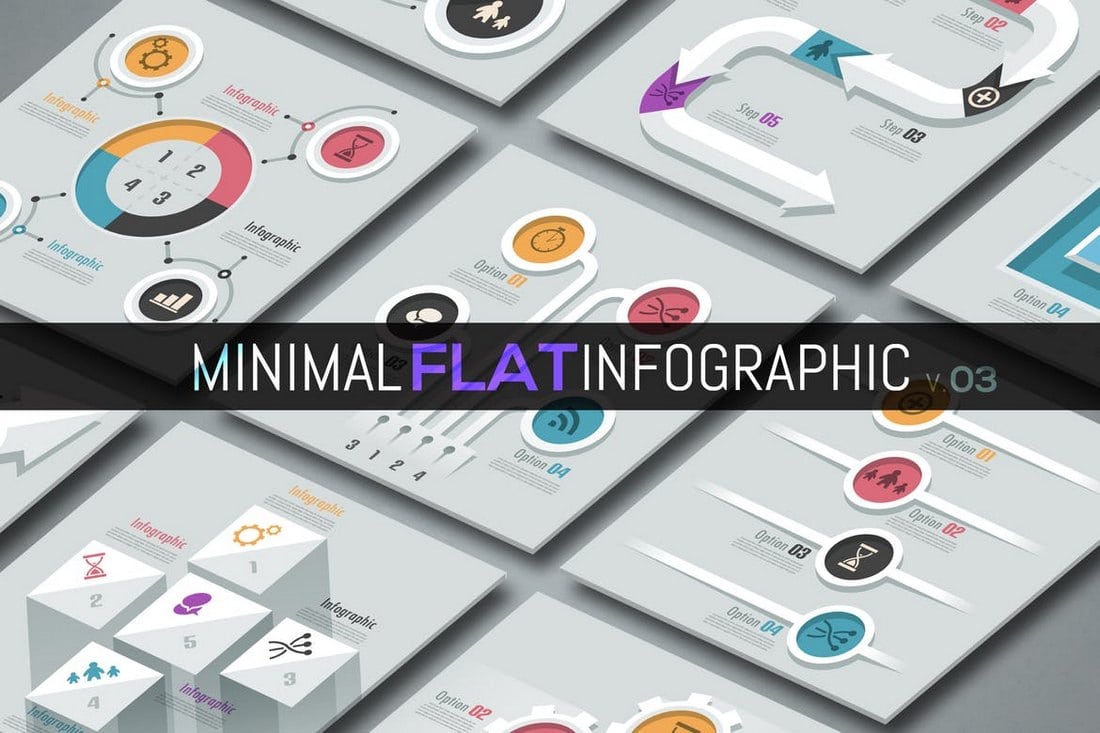 This bundle comes with 4 unique infographic templates featuring minimalist designs. The designs are ideal for crafting timelines, workflow, and web design related infographics. The templates are available in EPS, Illustrator, and layered PSD file formats.
Character – PowerPoint Infographics Slides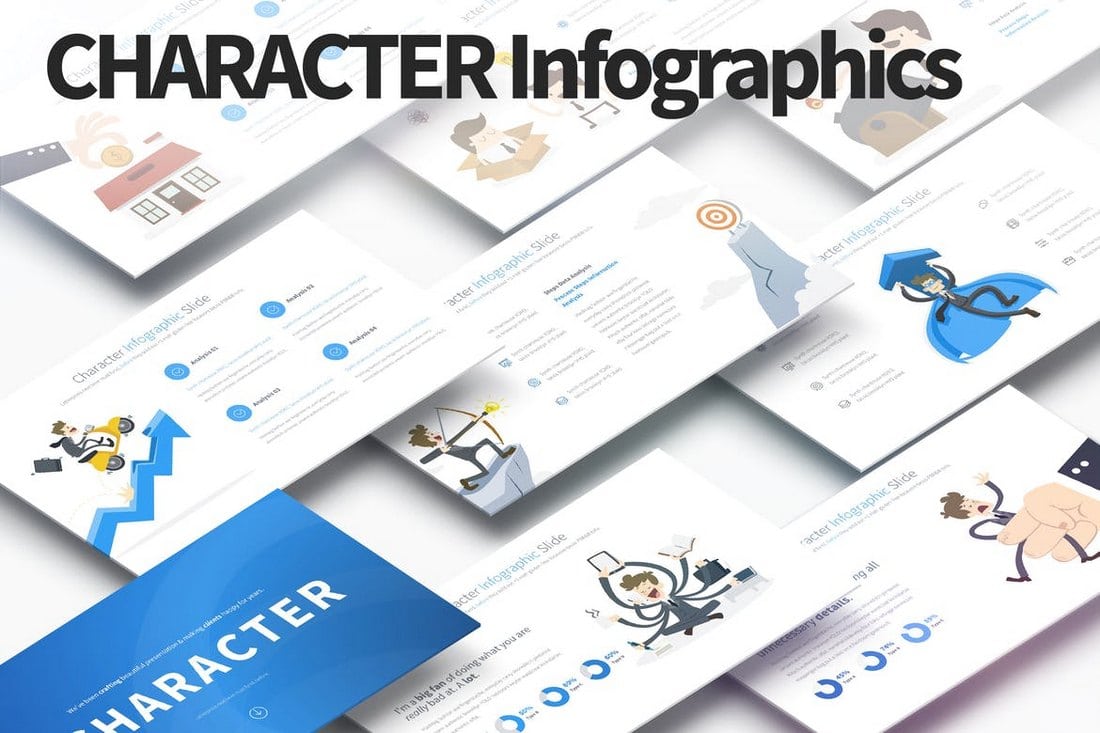 This Powerpoint slideshow template comes with 25 unique infographic-style slides featuring cute illustrations, vector graphics, icons, charts, and more to craft an effective infographic presentation. It's available in 11 different color variations as well.
Modern Editable Infographics v02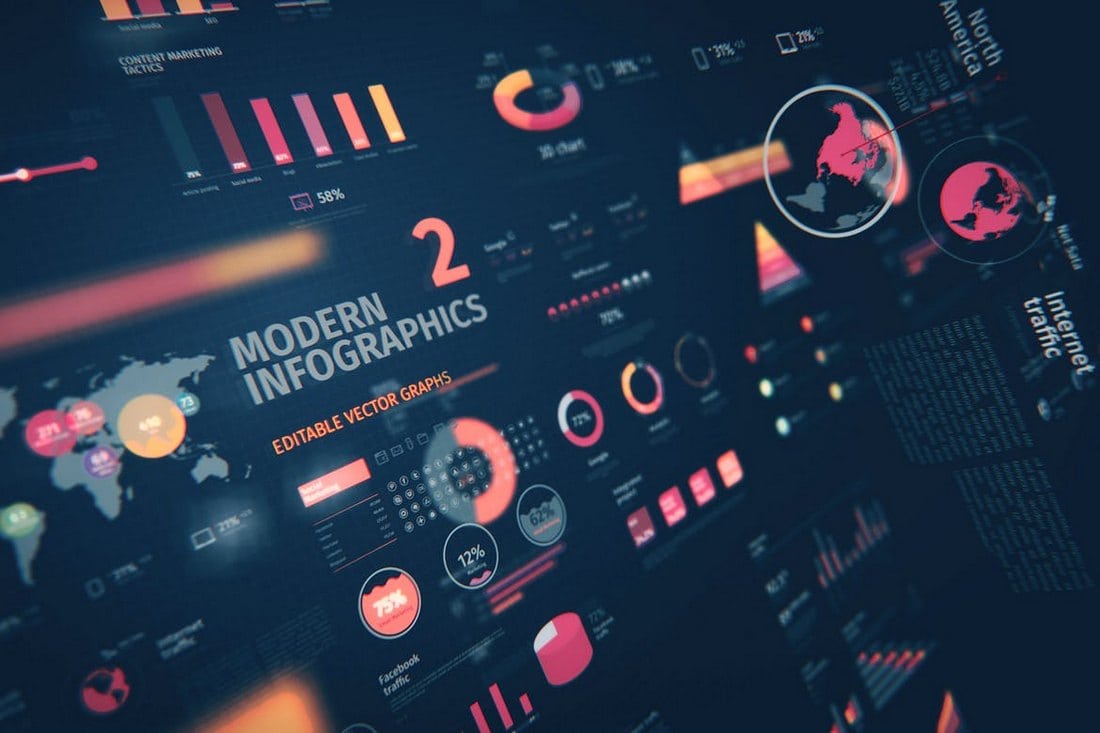 This elegant infographic template is perfect for visualizing data and statistics. It comes with plenty of charts, graphs, and bars for showcasing data and you can easily import Excel data as well. The template also features 2 different color themes.
8 Infographic Choice Templates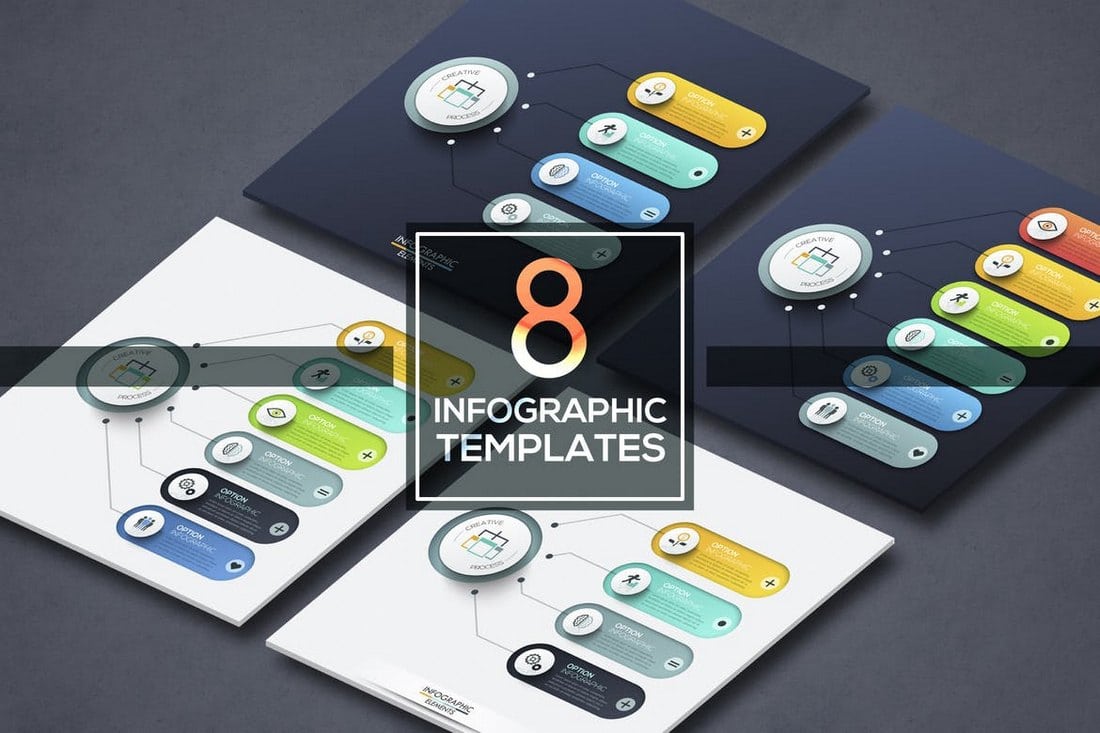 A modern and a minimalist infographic template featuring 8 different variations. It's most suitable for crafting infographics related to business development, growth, and creative work. The templates are available in both light and dark color versions.
Infographic Solutions Powerpoint Infographic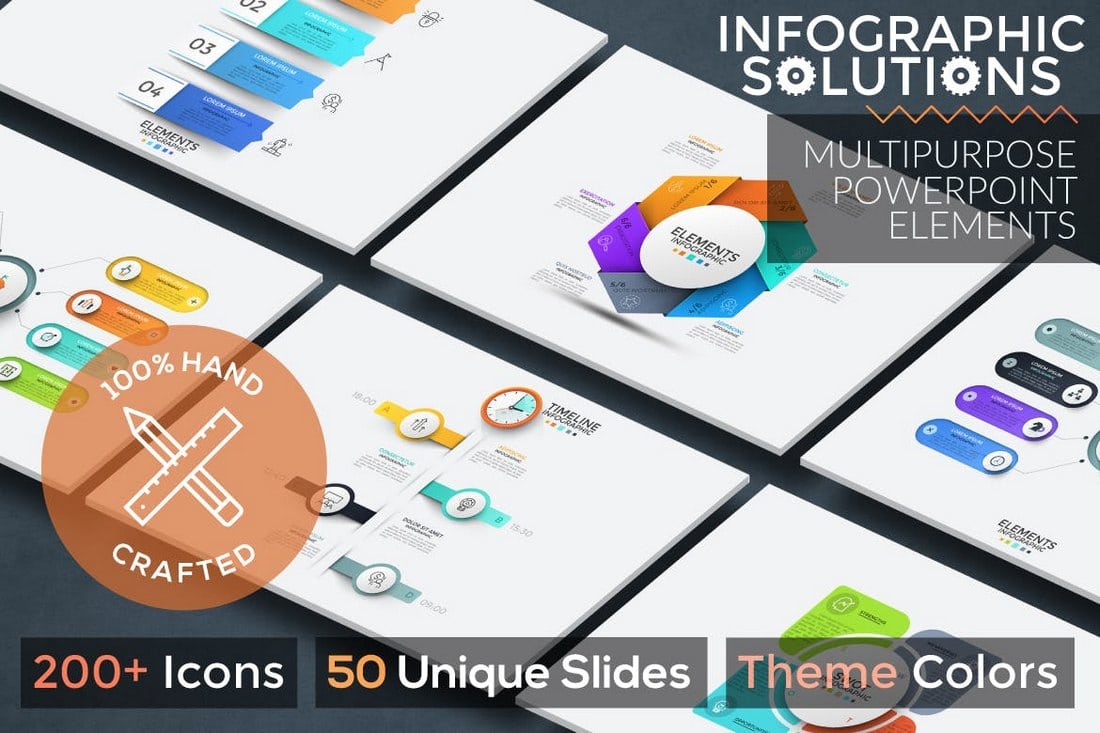 This is a complete collection of various infographic slides for Powerpoint presentations. It includes 50 unique slides featuring vector elements, icons, charts, graphs, and more. The slide colors can also be customized to your preference.
Free Education Infographic Elements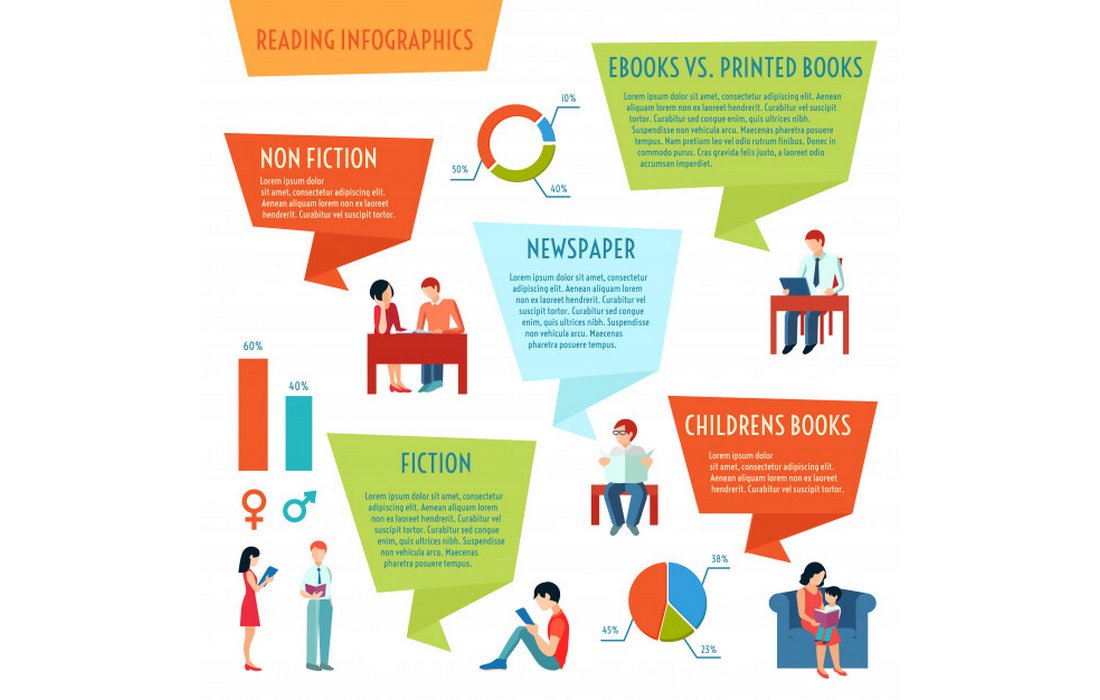 This is a collection of education-related infographic elements that includes illustrations of people reading books and editable text blocks for designing your own creative infographics.
Free Business Vector Infographic Elements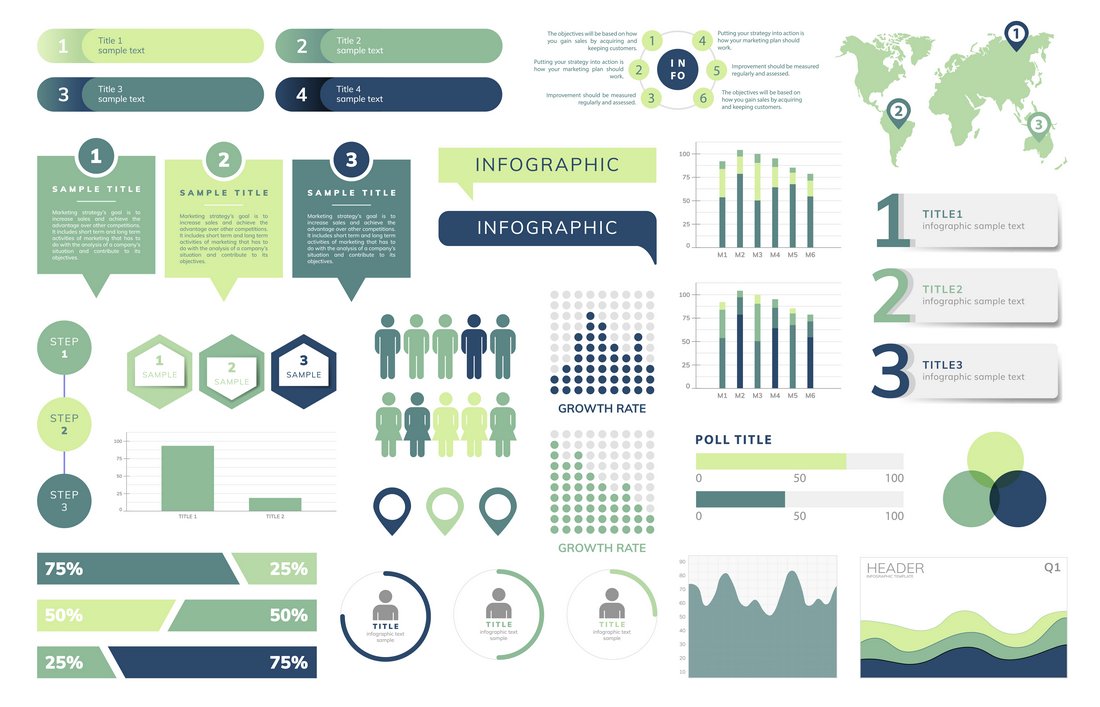 Another bundle of infographic elements you can use to design modern business and professional infographics. These elements are available in EPS file format and can be easily customized to change colors and text.
Finance & Economy Infographic for Powerpoint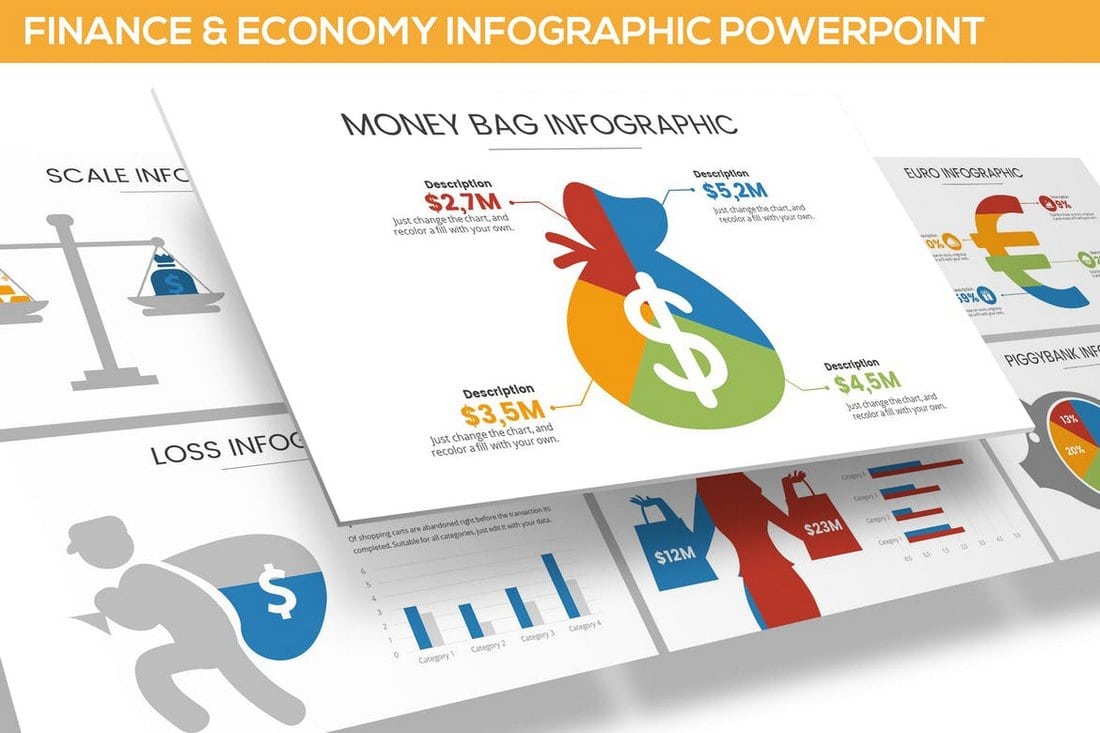 Another creative Powerpoint template most suitable for showcasing your finance and economy related data. This template comes with 20 unique slides featuring different styles of infographics that are easily editable.
Pure Shape Infographic v10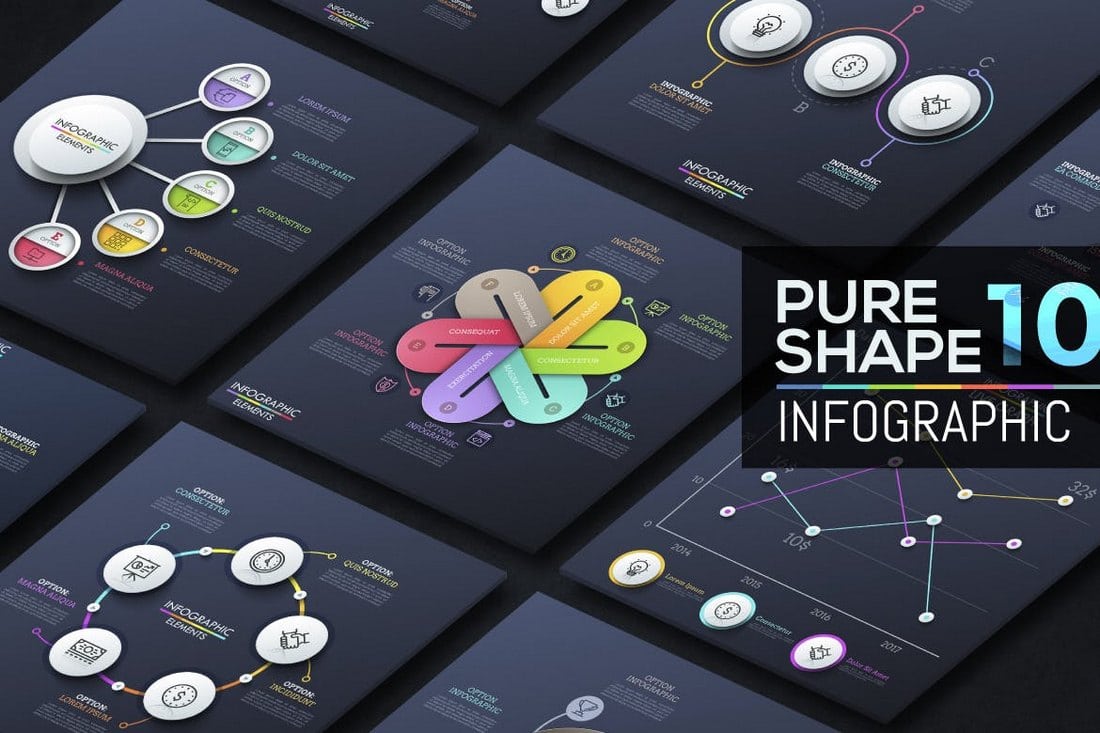 This is a bundle of 21 unique infographic templates that features stunning vector graphics, illustrations, and shapes, including 4 live graphs and an icon pack. The templates are available in Illustrator, PSD, and EPS formats.
PPTx Infographics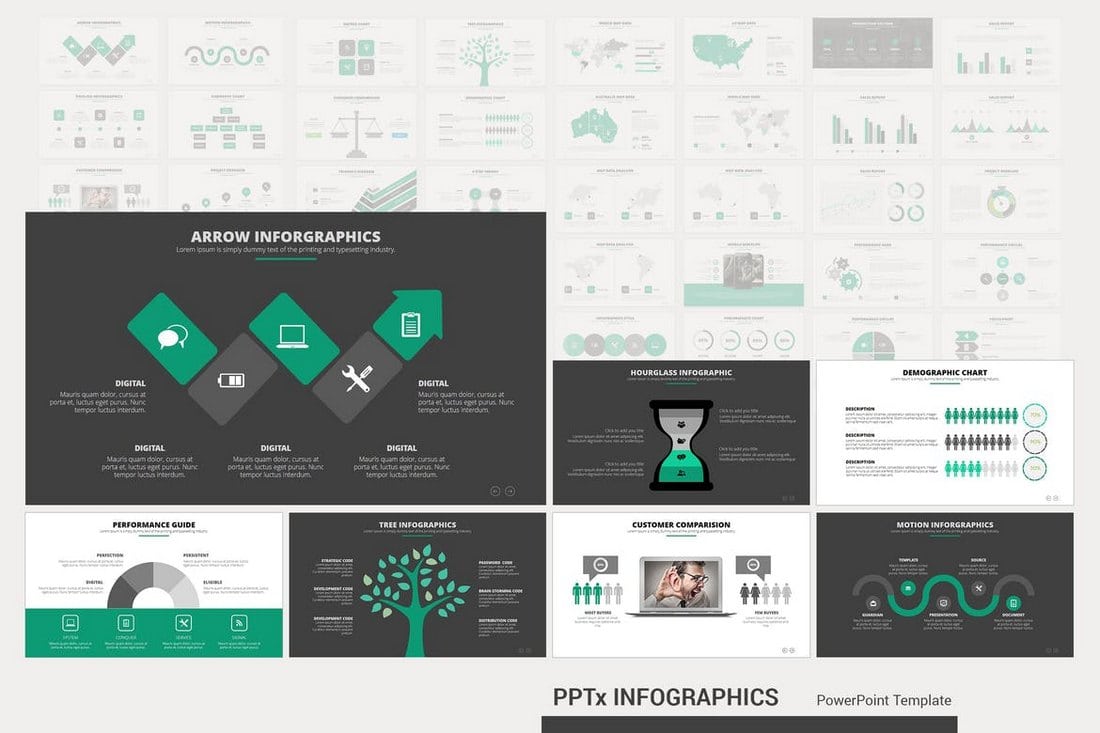 This Powerpoint presentation template also includes 50 unique infographic slides. The slides are also available in light and dark themes as well as unlimited color options for customizing the shapes, text, and icons of the slides.
3D Elements – PowerPoint Infographics Slides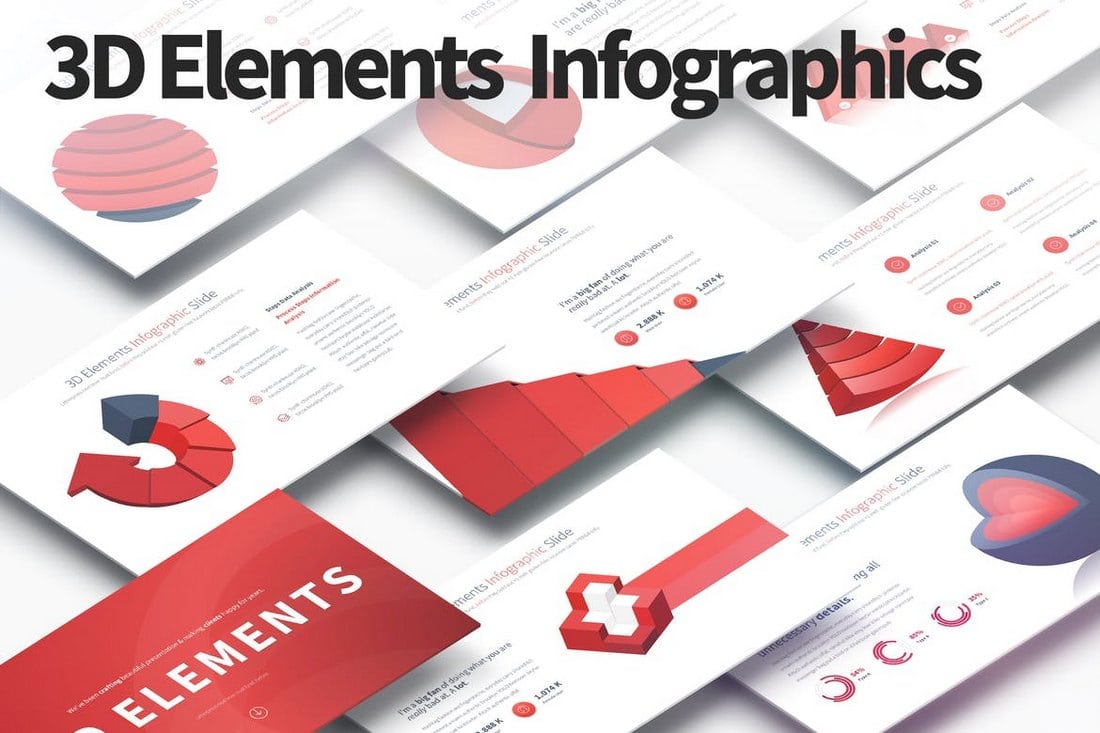 3D elements is a unique Powerpoint presentation featuring 3D infographics. The template includes 35 unique slides featuring stylish 3D graphics and they are available in 11 different color variations. Making a total of 385 slides.
8 Vector Infographics Templates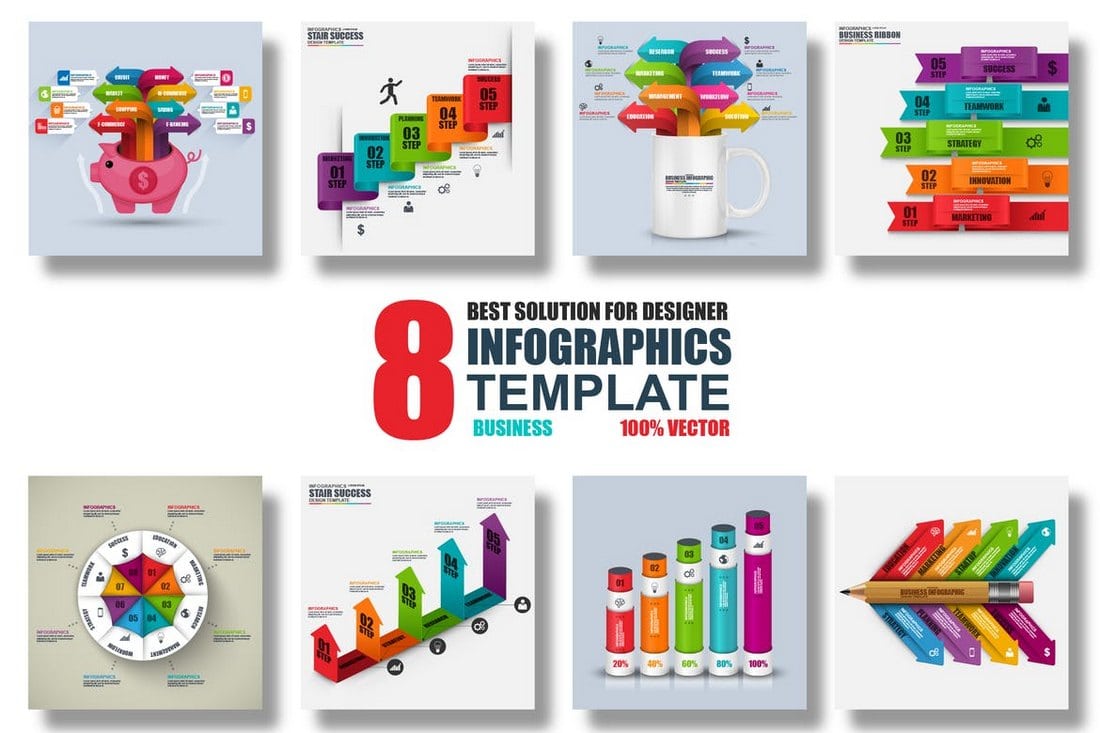 This bundle of infographic templates comes with several different types of infographic styles. It's ideal for designing infographics related to corporate businesses and startups. The templates are also available in PSD and EPS formats.
Rainbow Infographics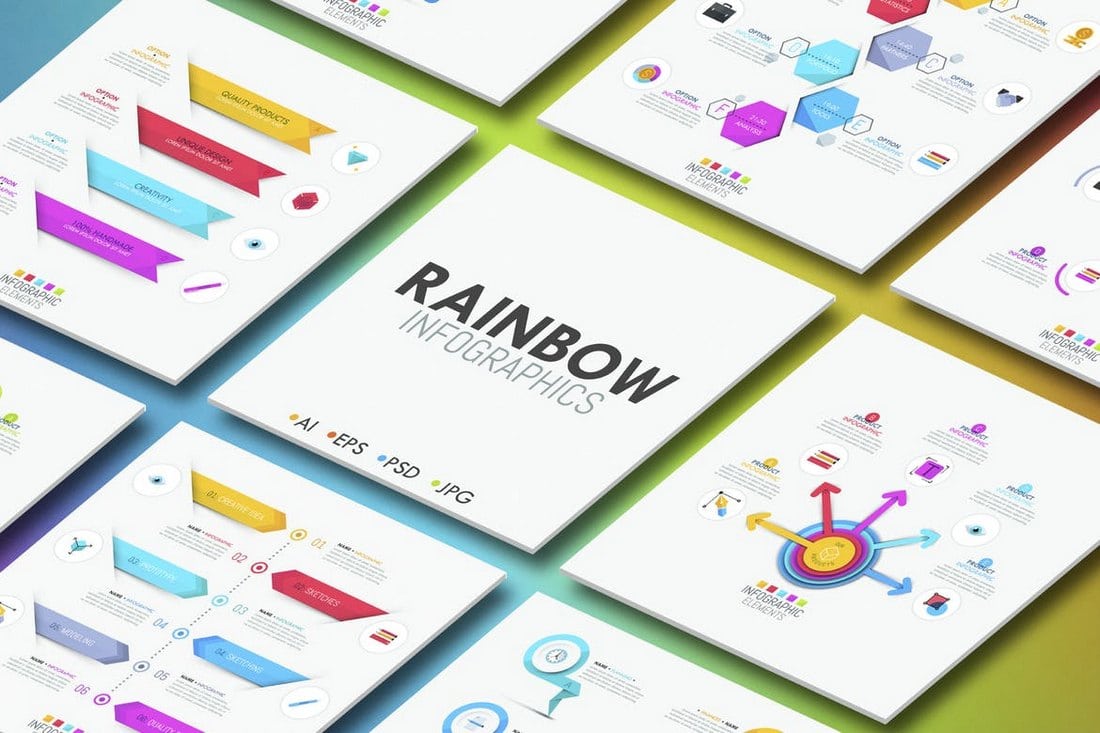 If you're a fan of colorful infographics, this pack of templates is for you. This bundle includes 24 colorful infographic templates featuring attractive graphics, icons, charts, and more. You can edit them using both Illustrator and Photoshop.
4 Circular Infographic Templates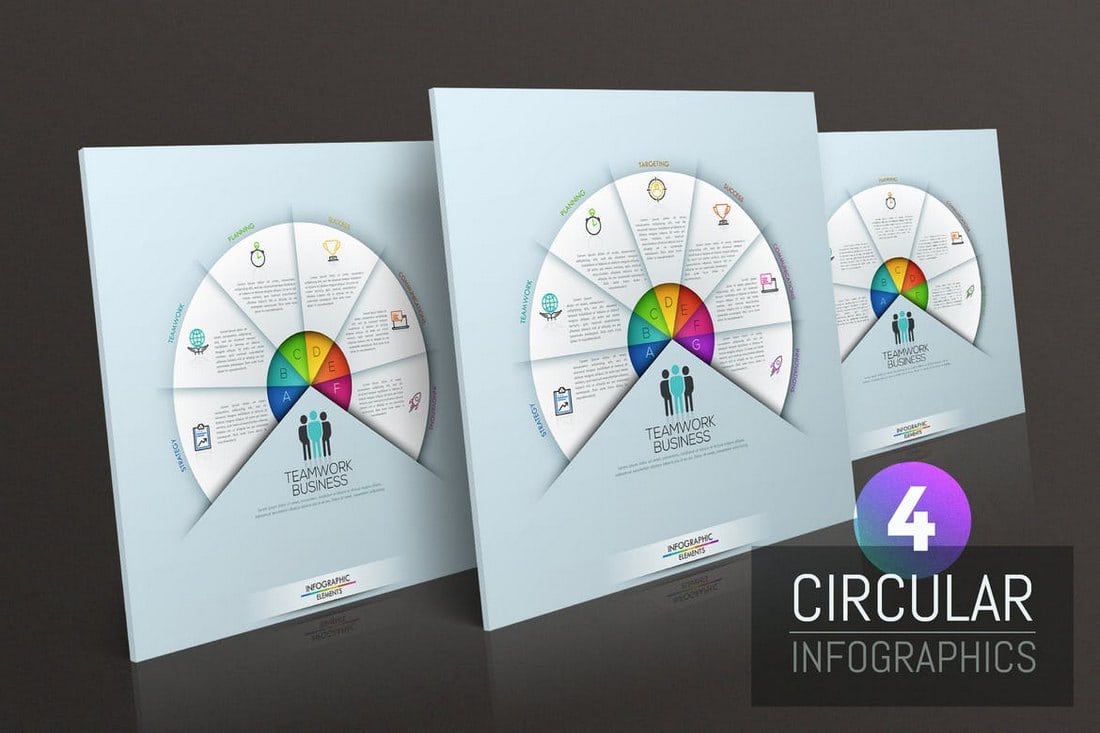 The templates in this pack come with a unique circular infographic design. It features 4 different infographics, including ones with 4 parts, 5 parts, 6 parts and 7 parts of content blocks. The colors can easily be customized as well.
Business Infographics Templates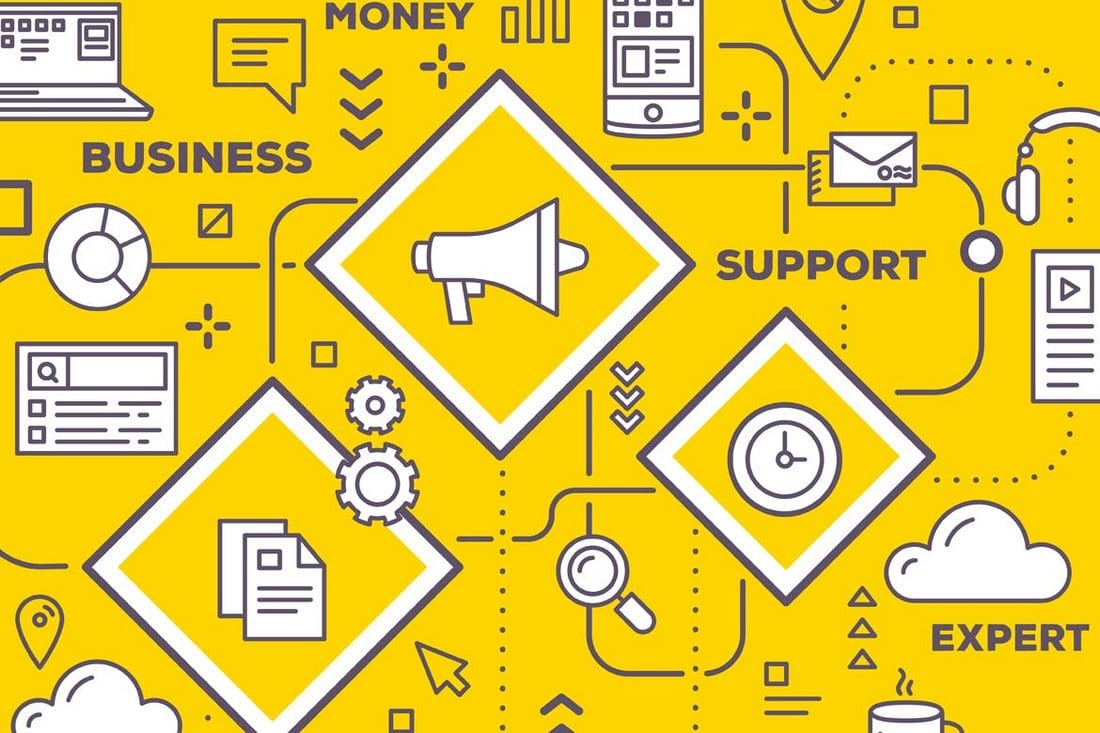 This pack comes with 5 separate infographic templates featuring a modern flat design inspired design. The templates can be customized with Illustrator and you can easily resize and edit the graphics as well.
SEO Infographic Elements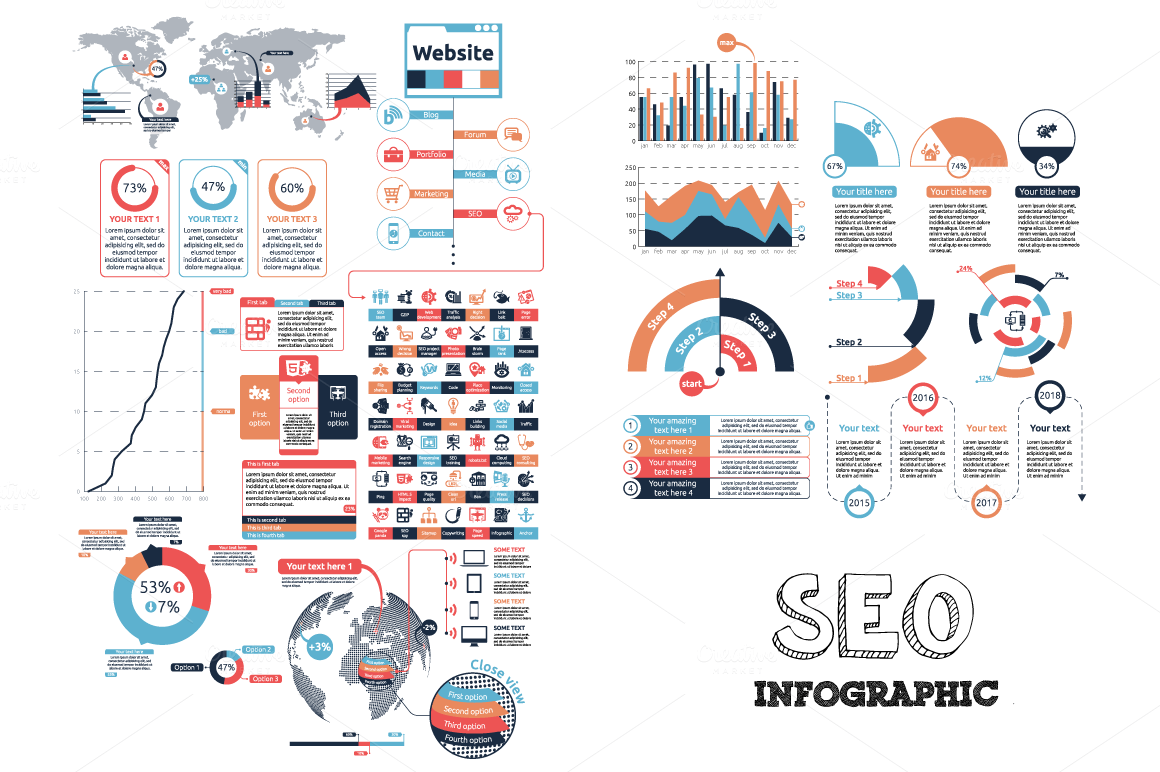 A set of 60 icons, 4 tooltips and 10 graphs based on SEO theme for creating SEO related infographics.
Best Infographic Template Bundle

This infographic bundle contains 30 sets of infographic elements. You can use this infographic template to visualize your data in a different ways such as: presentations, posters, brochures, business cards, flyers, magazines etc.
Green Infographics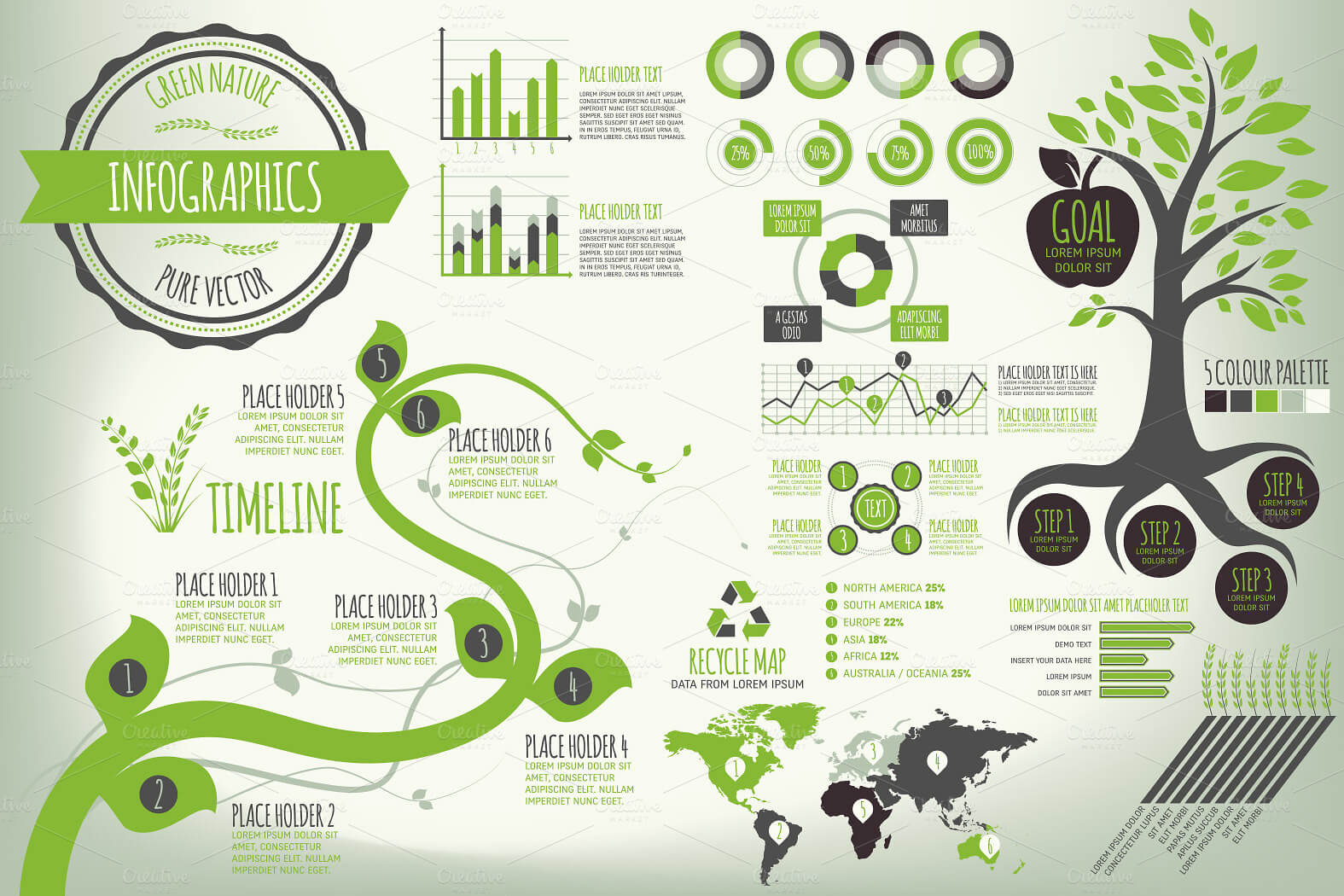 This pack contains 100% vector, layered, green and brown themed nature style infographic elements. It contains charts, graphs, badge, design elements, world map, etc  — they're all included. Easy to edit. Easy to change colors.
Infographic Elements Bundle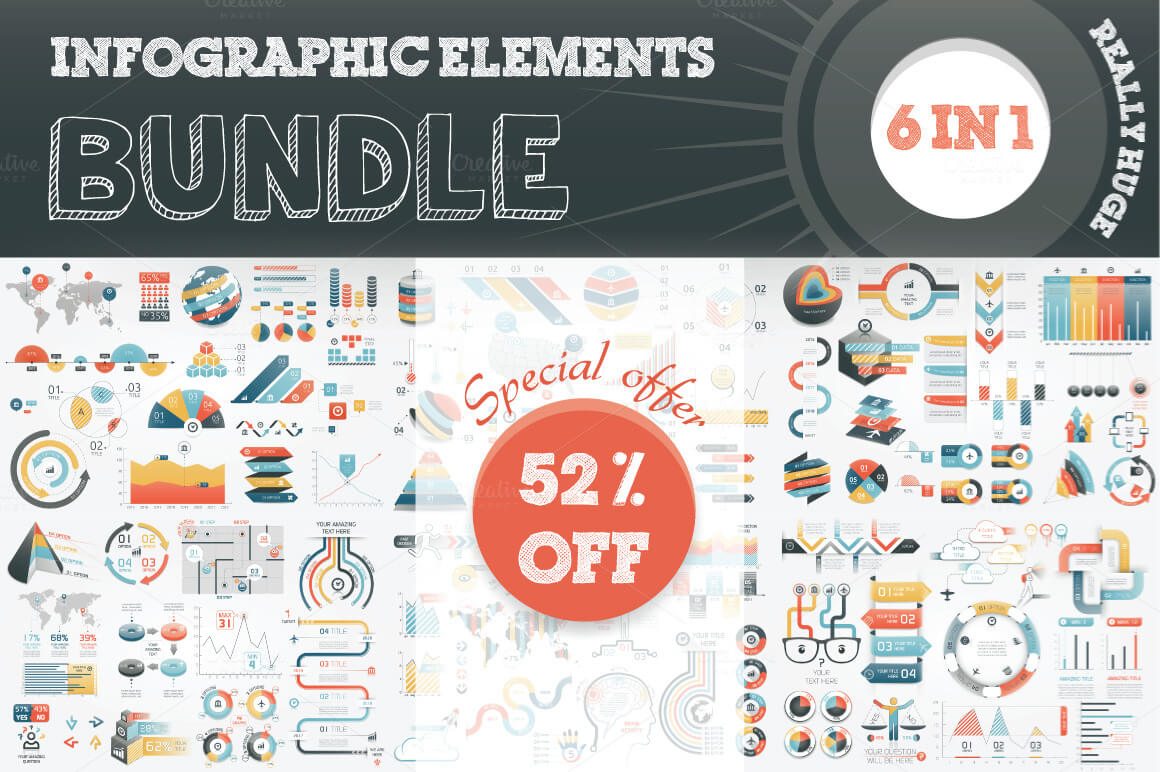 This infographic bundle contains 6 sets of infographic elements. This set contains fully vector graphic objects. If you buy this bundle template be sure that you have enough knowledge to edit it!
Circle Infographics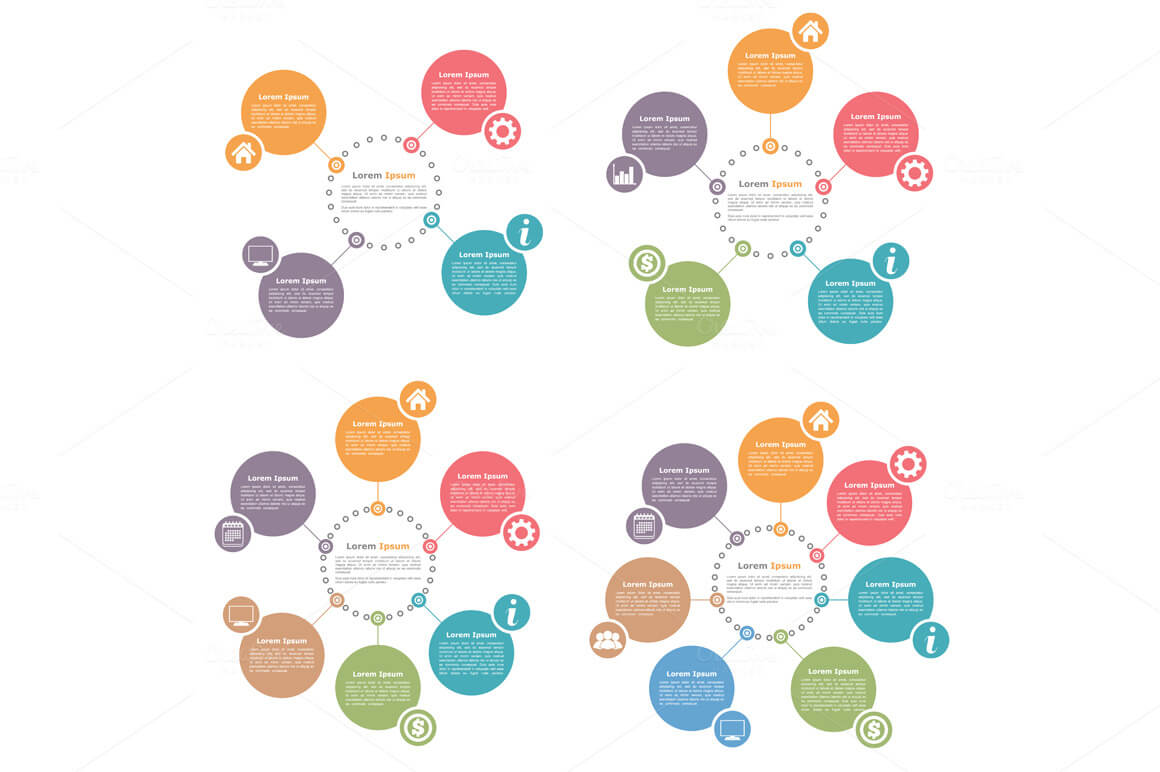 A thorough pack of circular elemets for designing a unique infographic. All elements are in vector format.
Medical Infographic Elements Bundle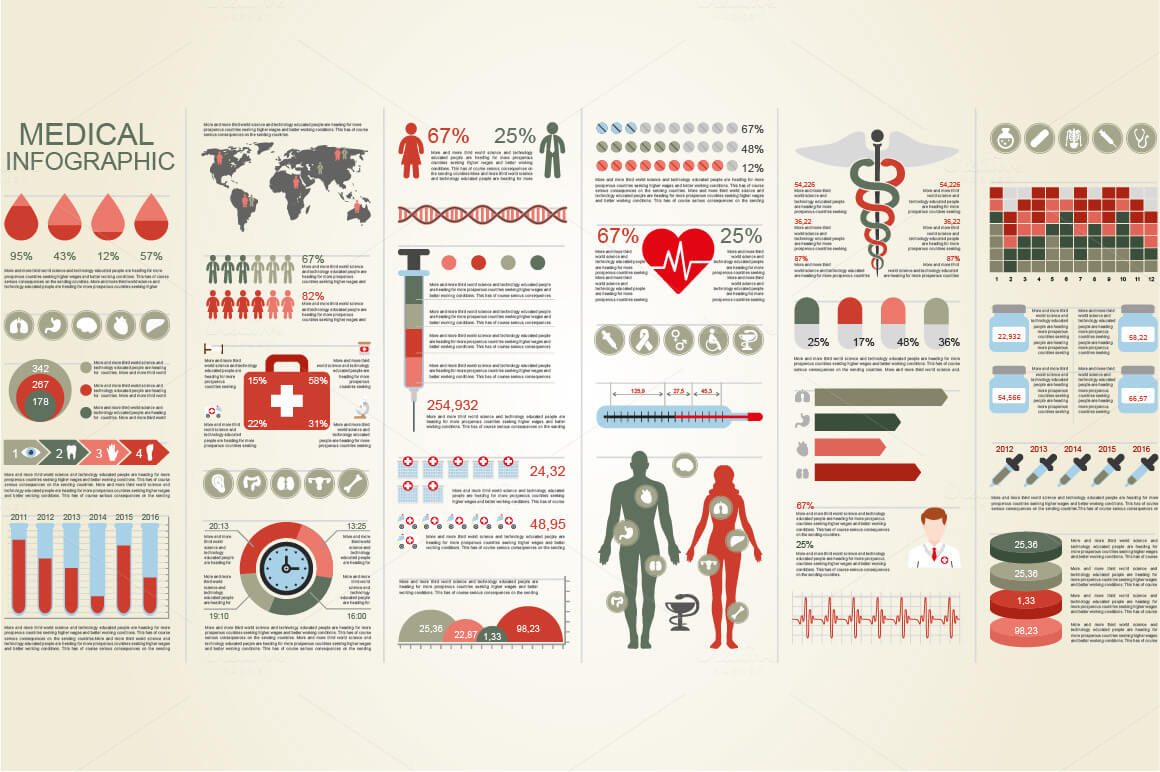 A bundle of medical infographic vector design templates. Can be used for workflow, health and healthcare, diagram, infographic banner, web design, or bundle infographic elements.
5 Sets Infographic Elements Bundle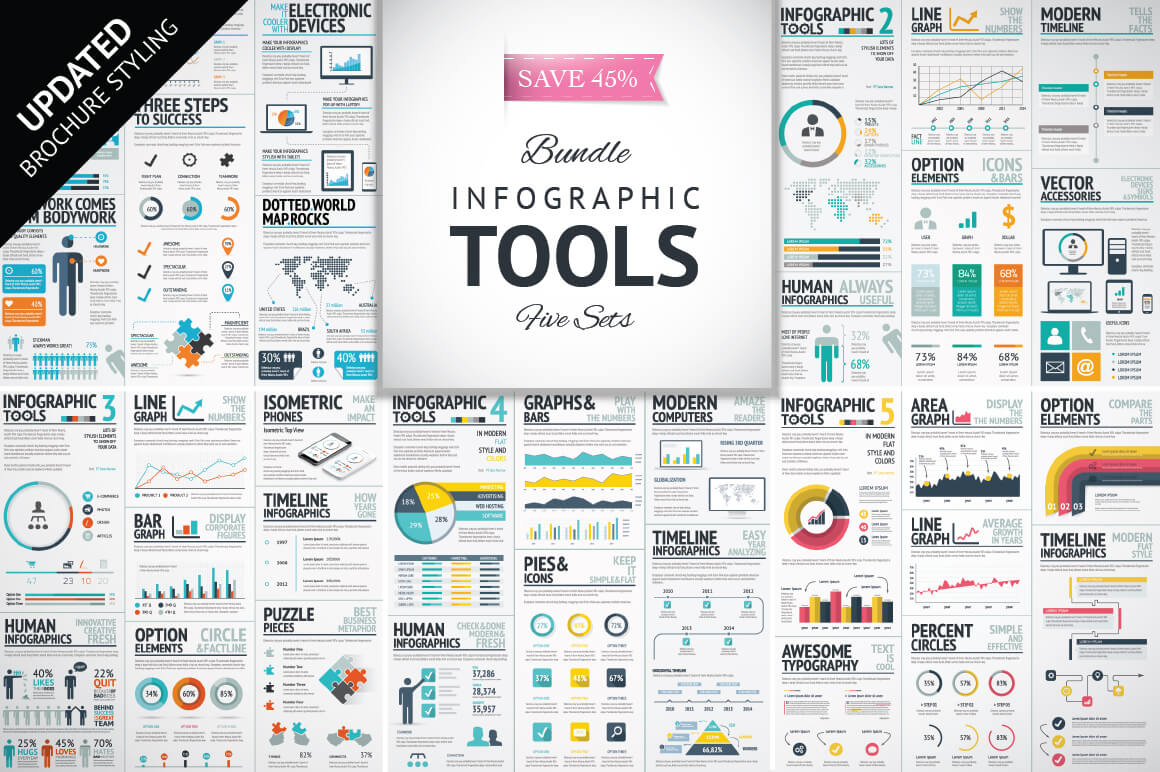 This is an awesome collection of the highly popular series "Infographic Tools". Fully editable vector files saved as EPS10 and AI CS6. Rescale to any size. Text areas are editable in .ai files, but not in .eps files. However you can easily add new text areas. Free font used is PT Sans Narrow.
134 Medical Infographic Elements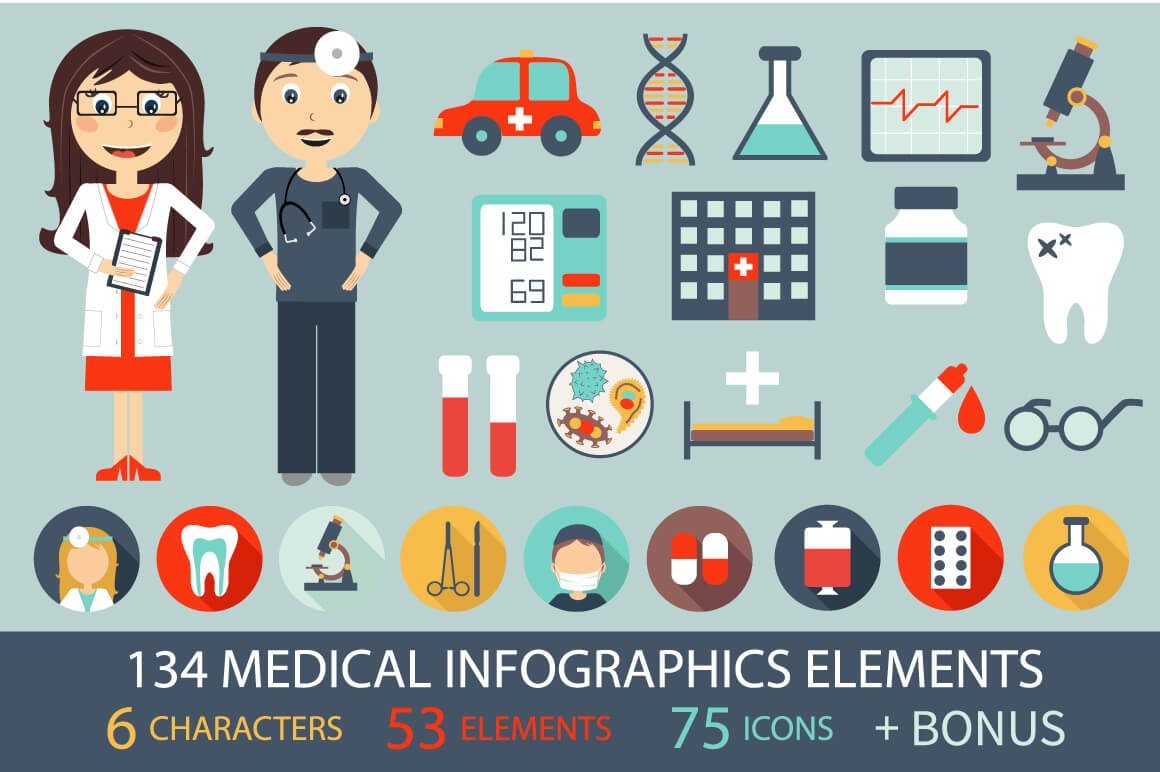 This is a pack of medical infographics set in flat design. Collection of 134 infographic elements, and a bonus 12 medical banners for your design. The set includes 6 characters, 53 elements and 75 medical icons.
Construction Infographics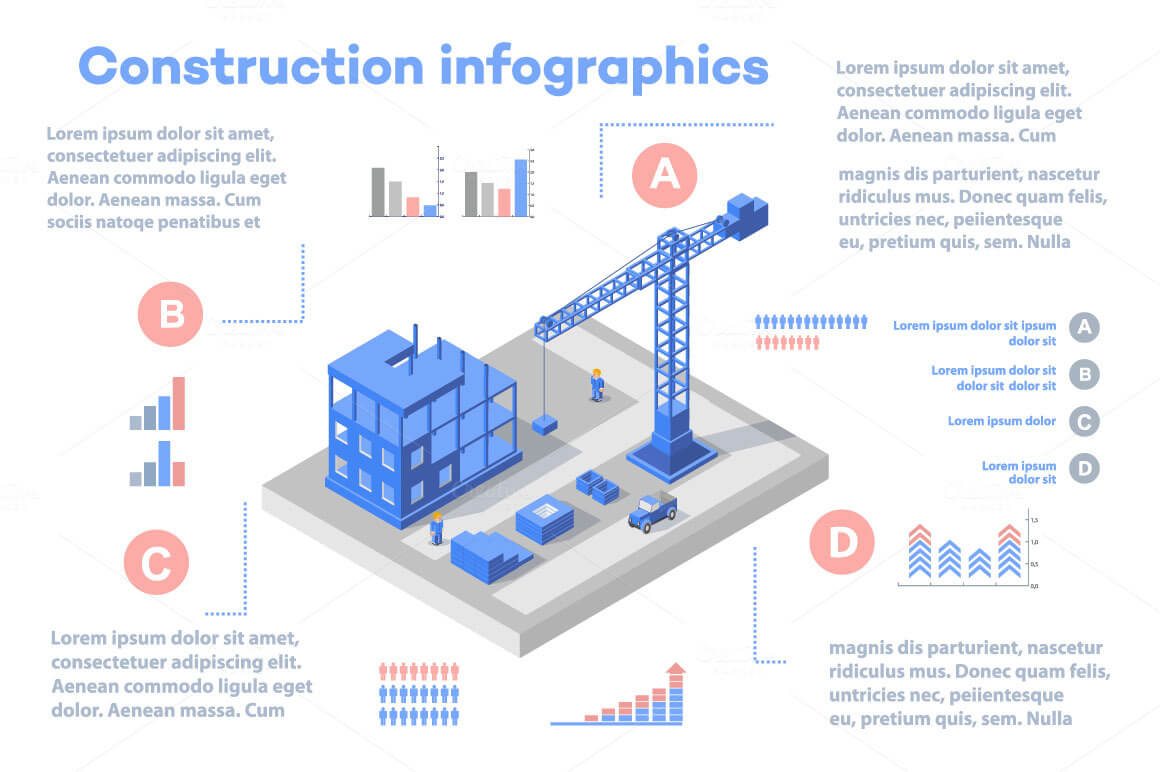 A pack of industrial city infographics and buildings, with construction cranes and building houses, a car, civil engineer. All created in in blue tones.
Big Infographic Elements Design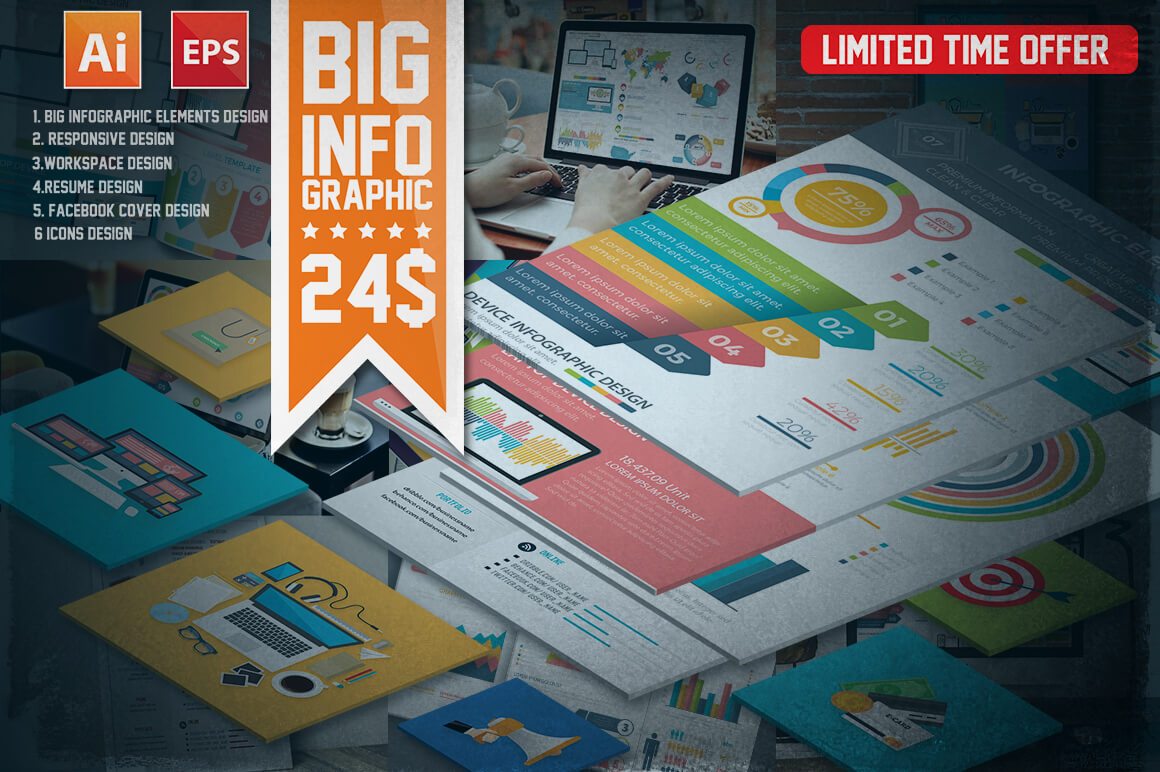 A set of fully editable vector files. It's a well-organised set of infographic elements that can be adjusted to any size.
Isometric Infographics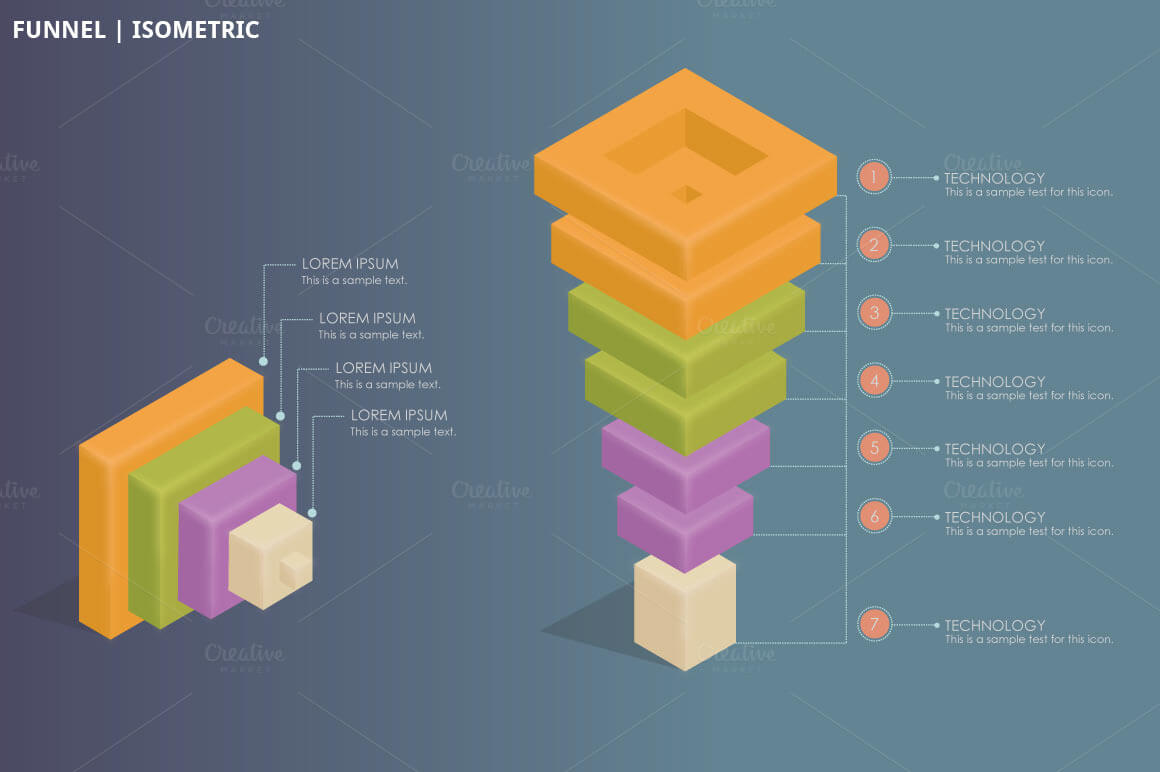 These marketing infographics will help you to represent your data effectively and captivate your audience and give them a thorough understanding of the concept you're looking to convey.
Infographic Timeline Bundle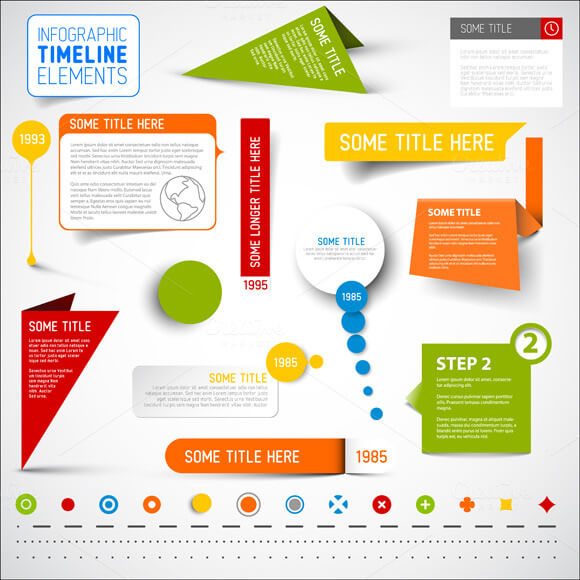 This is a vector infographic timeline elements kit which contains all the vector elements you will need for creating your own timeline illustration.
Infographic Powerpoint Template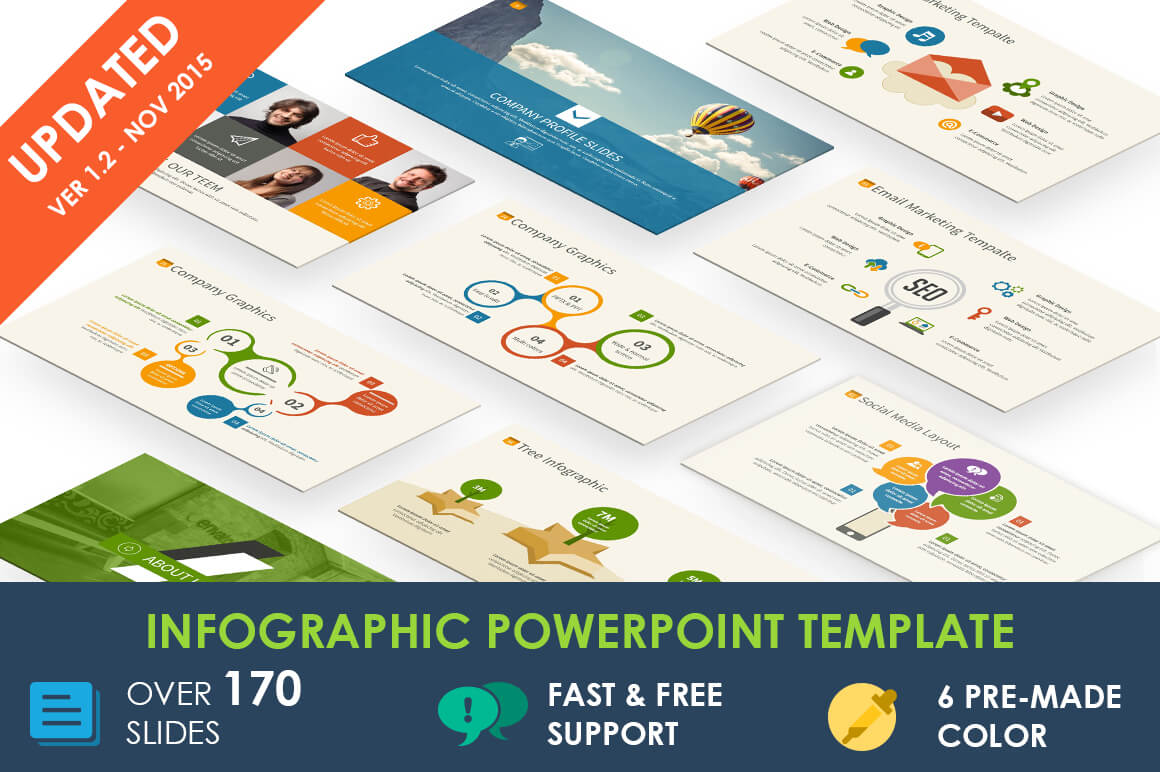 Get a modern PowerPoint template, packed with infographic elements, that is beautifully designed. This template comes with infographic elements, charts, portfolio layout, maps and icons.
Bundle Infographic Elements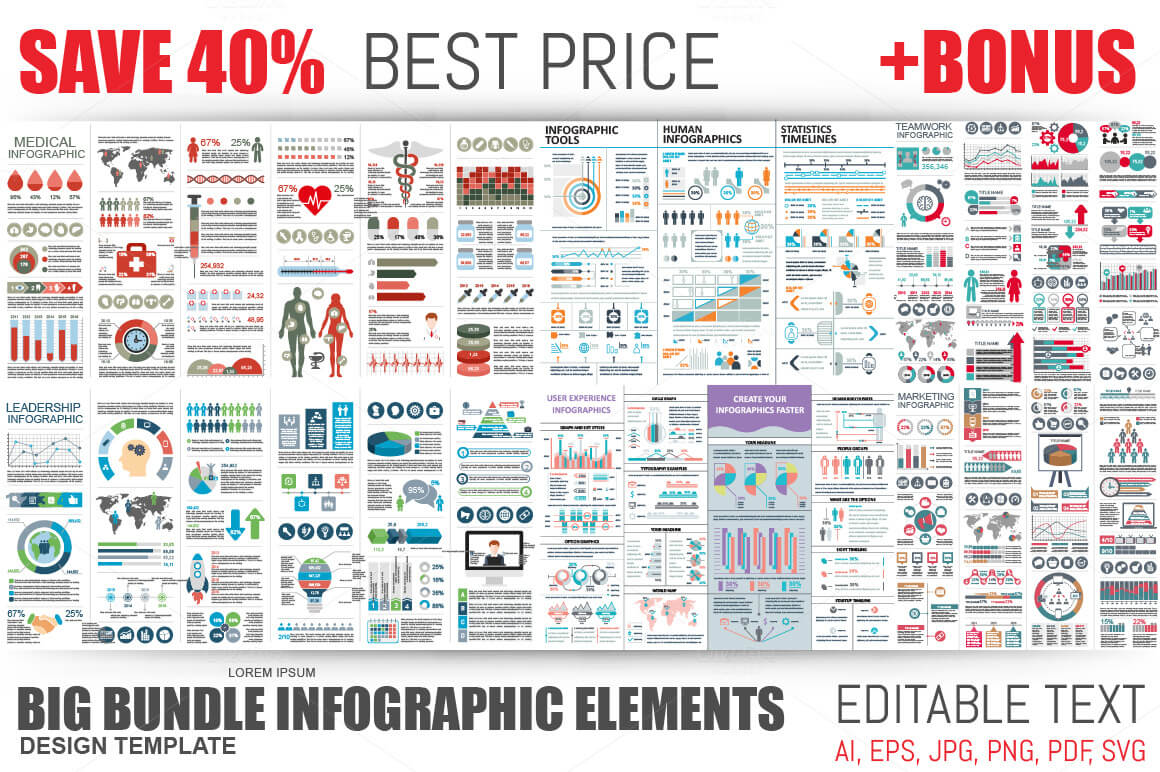 This is a big bundle infographic teamwork vector design template. Can be used for workflow, startup, business success, diagram, infographic banner, teamwork, design, infographic elements, set information infographics, health and healthcare.
Infographic Network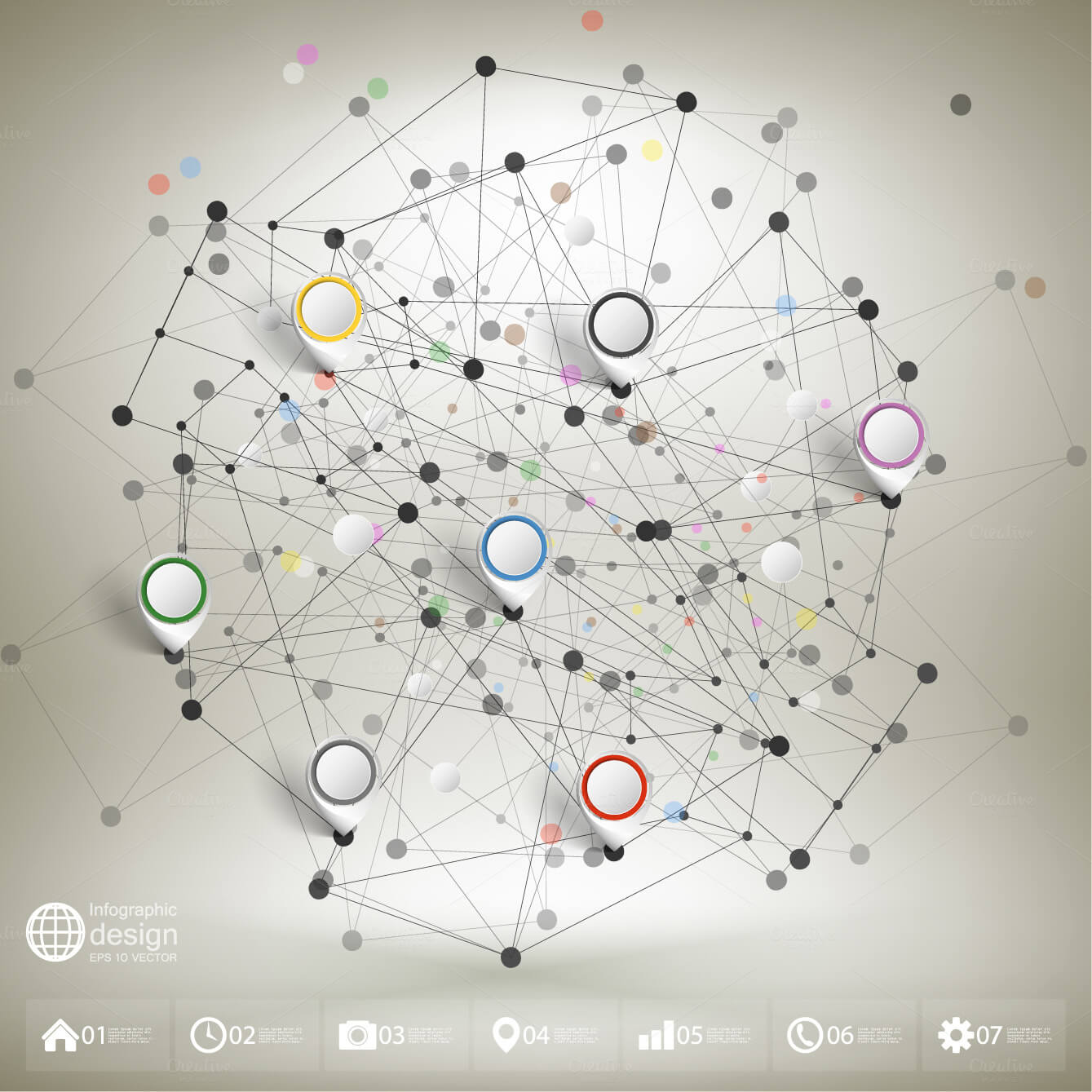 A simple infographic "network" with pointer marks for different business areas. Provided as a vector.
Bubble Infographic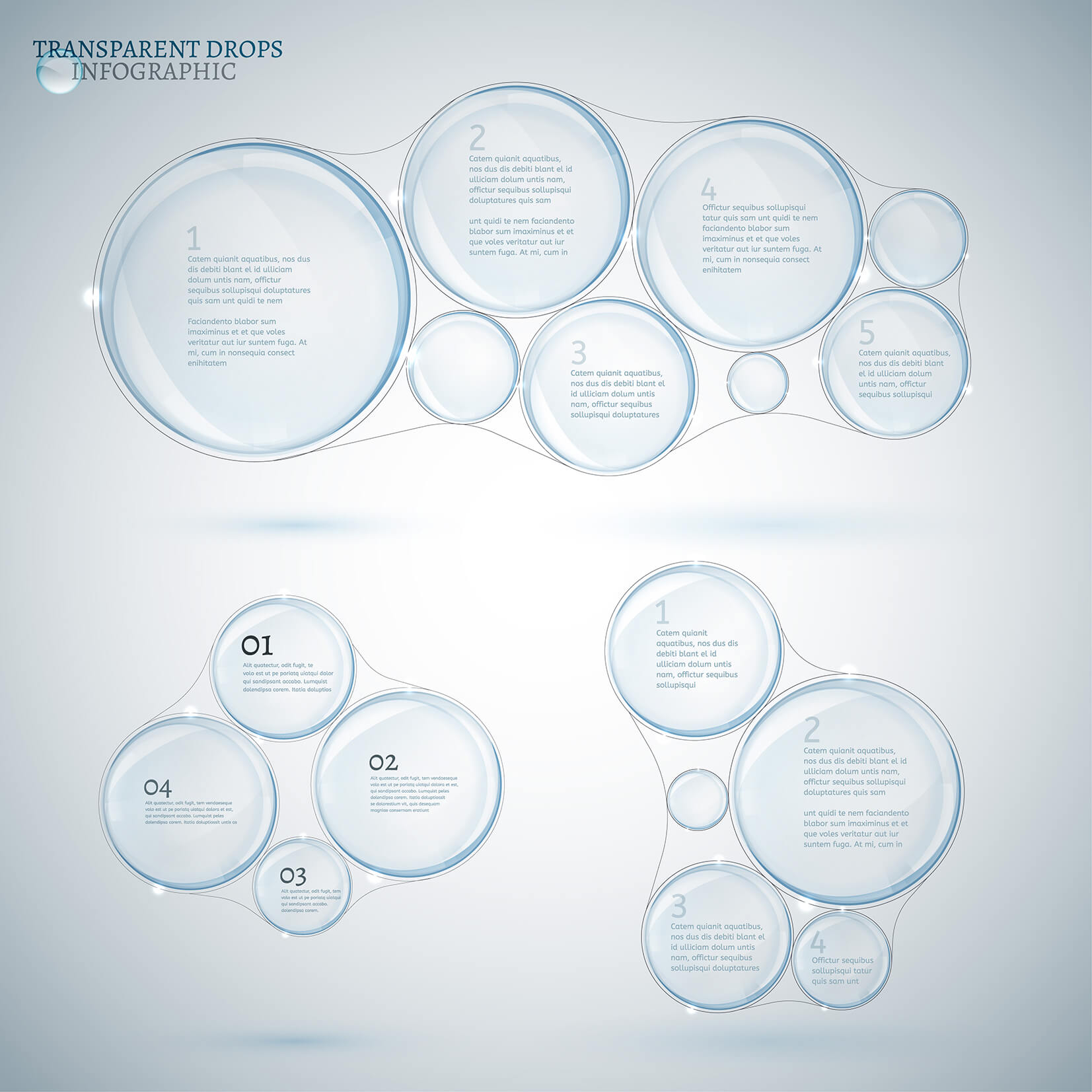 Vector illustration of beautiful scientific bio infographics with transparent bubbles. Ecology concept. Ideal for clean and pure ecological designs. Useful in eco brochure, print and poster.
Priceless Infographic Bundle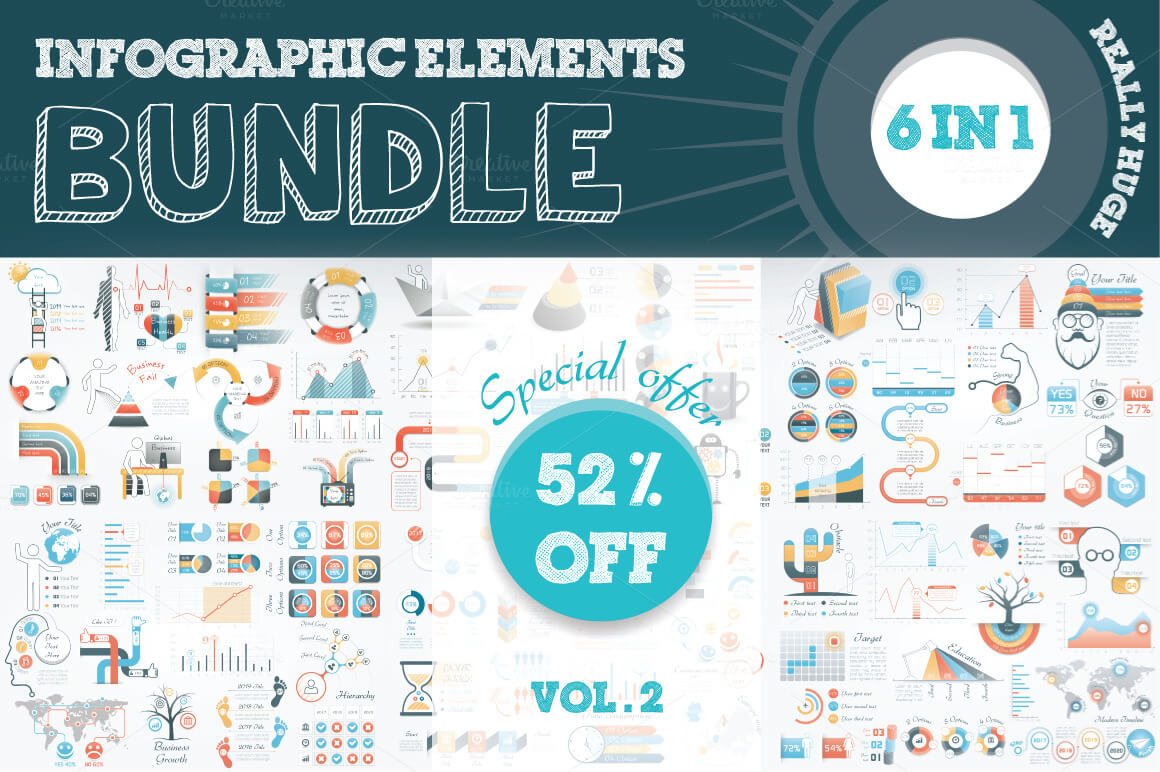 This infographic Bundle contains six sets of infographic elements. This set contains fully vector graphic objects.
Business Infographic Bundle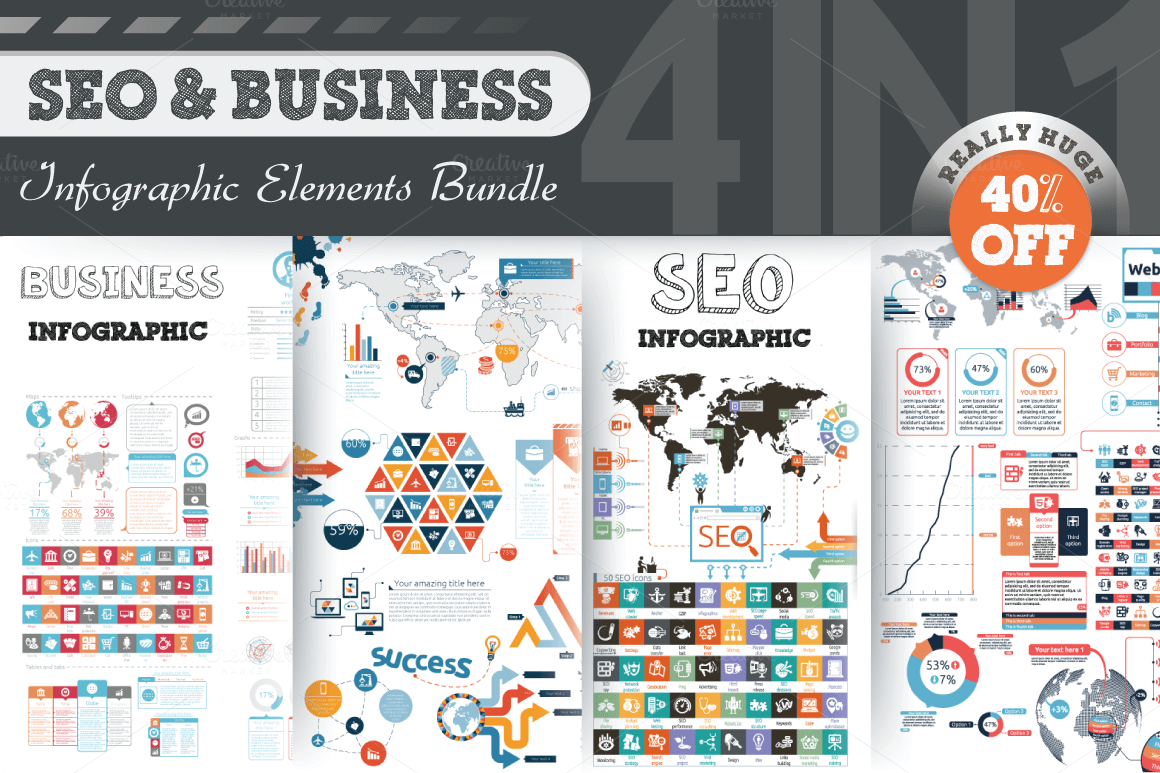 An infographic bundle that contains gradients and transparency. All shadows and light spots are meshes.
Circle Infographics For Presentation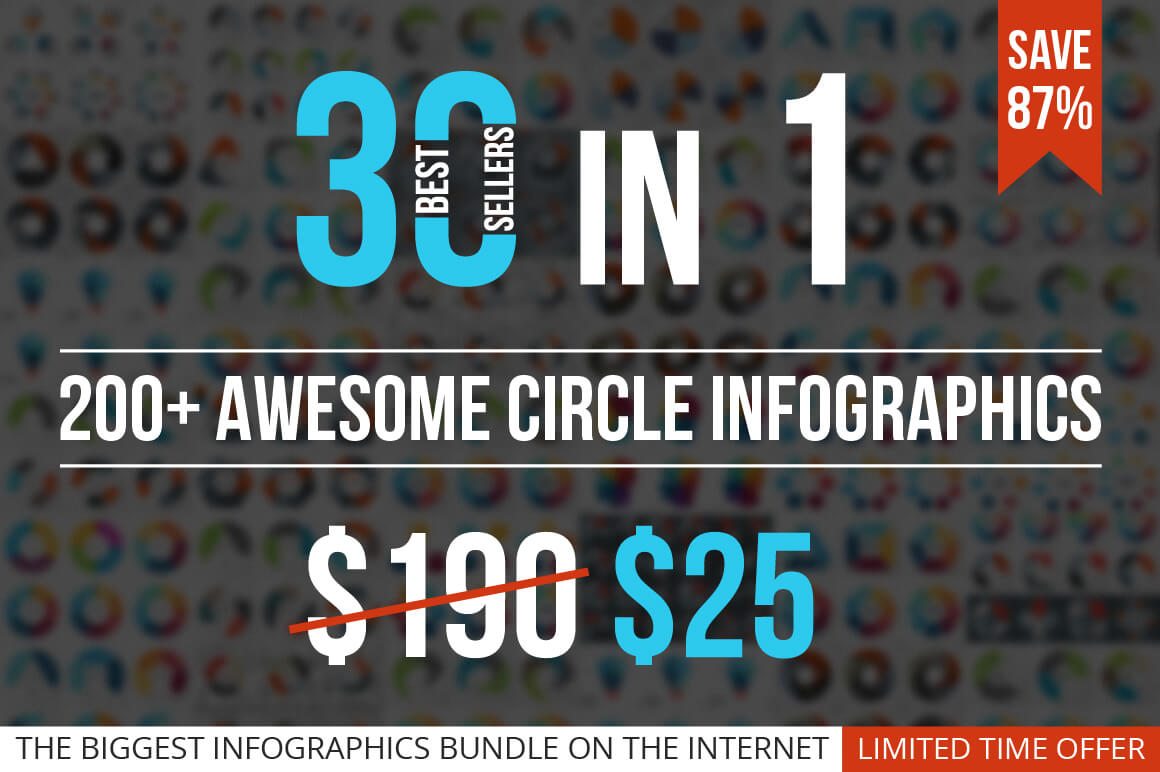 A huge bundle containing 200+ infographics, which you can use for your business presentation, startup project, marketing plan or anything else.
Minimal Infographic Kit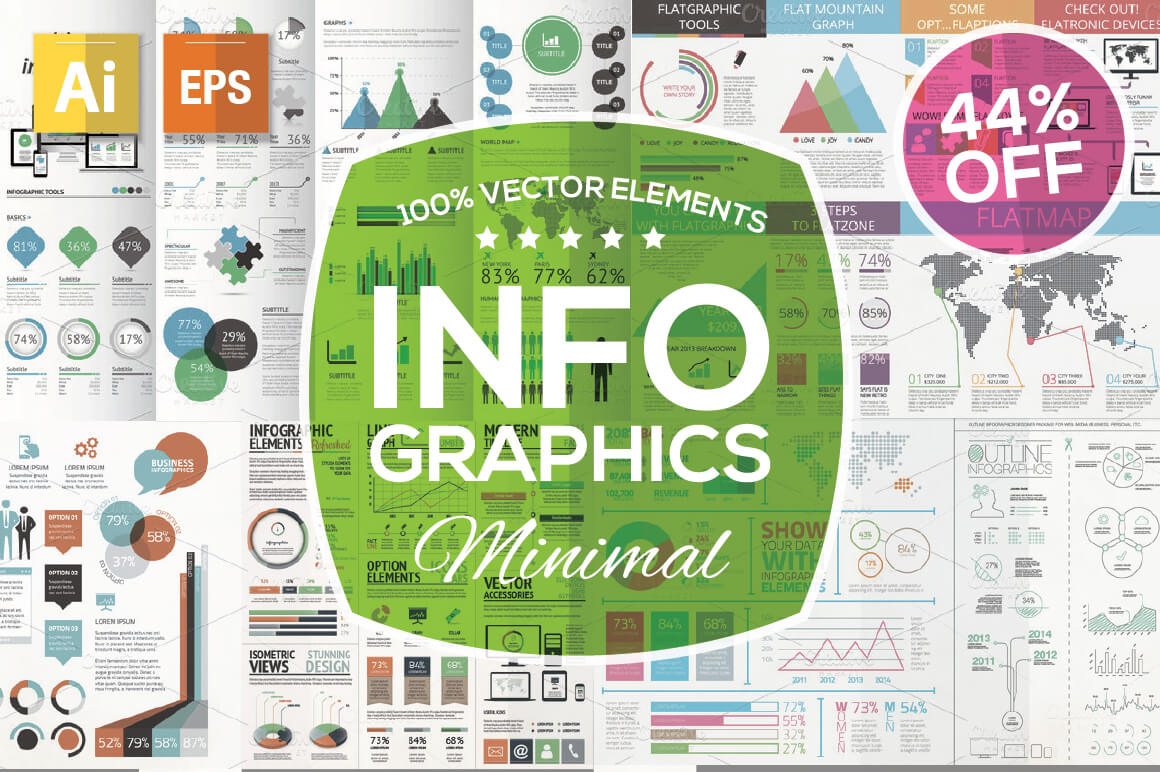 A thorough pack of hundreds of vector elements to build up your own infographic in just minutes.
Premium Collection of Infographics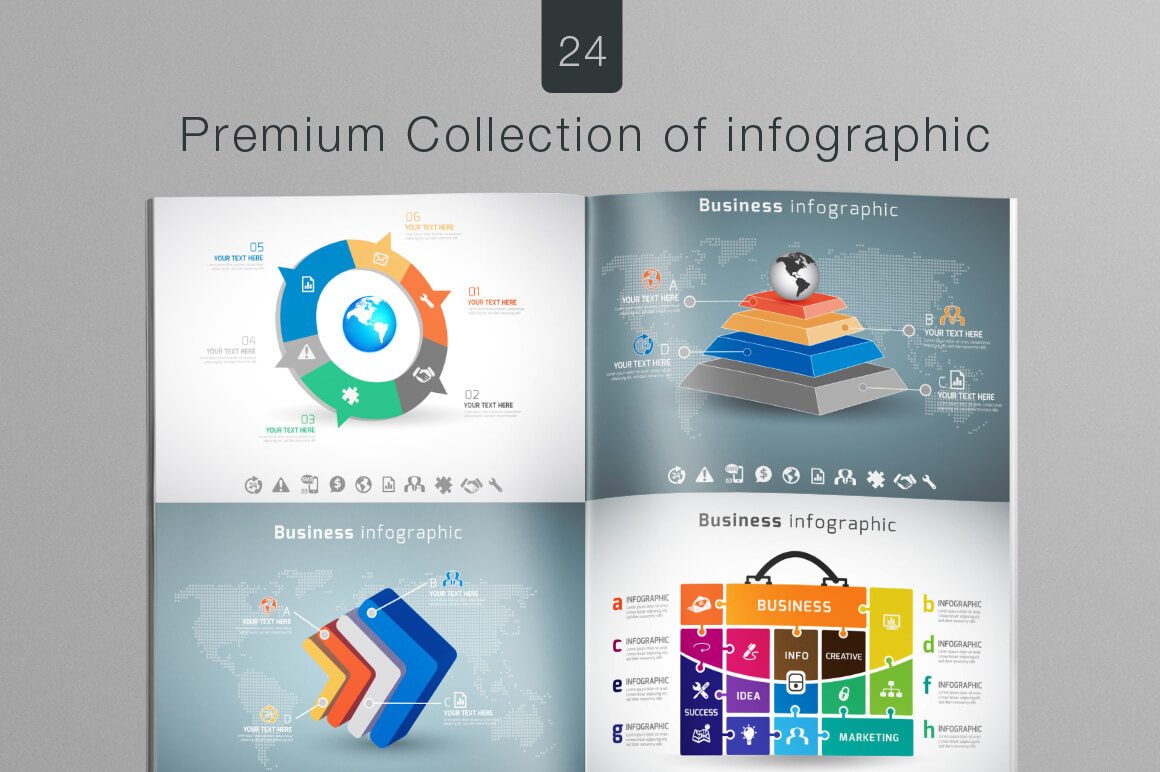 This product includes 24 fully editable infographics templates, with 100% vector AI and EPS files. Everything inside the infographics is 100% editable, including the text.
Best Infographic Resumes – Bundle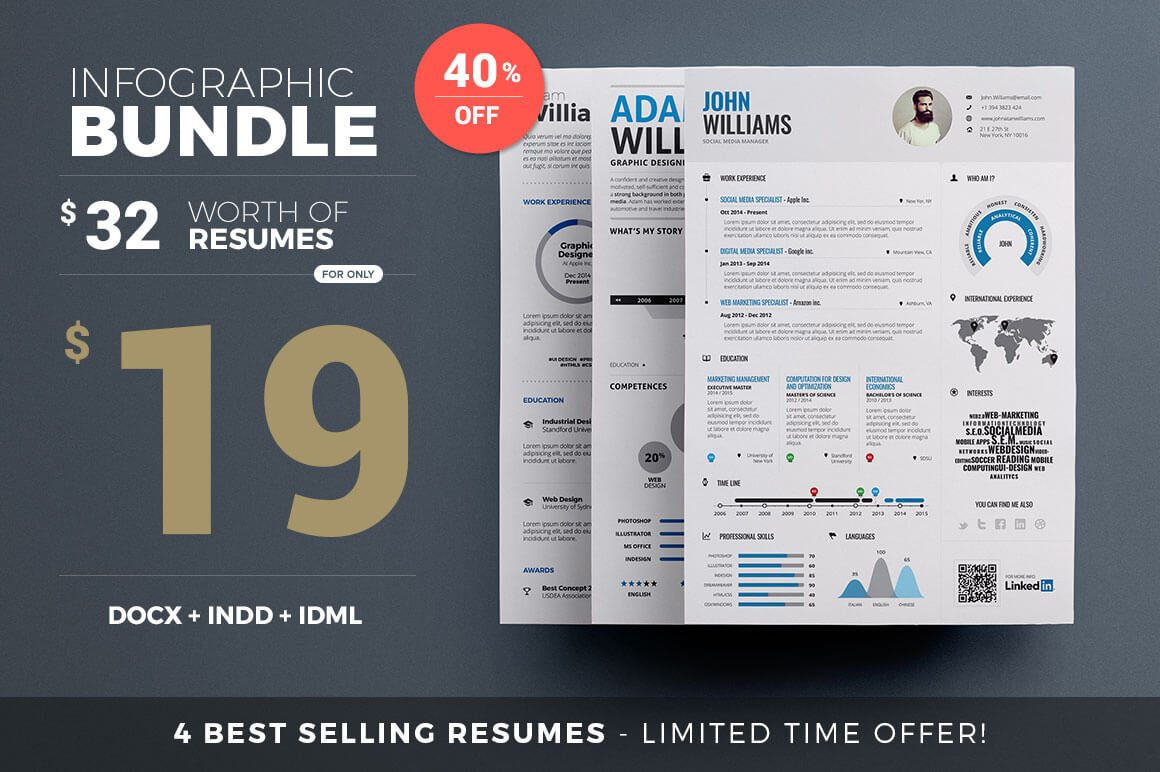 Included with this bundle are four outstanding and stylish infographic resumes. A good way to stand out from the crowd!
Pregnancy and Birth Infographics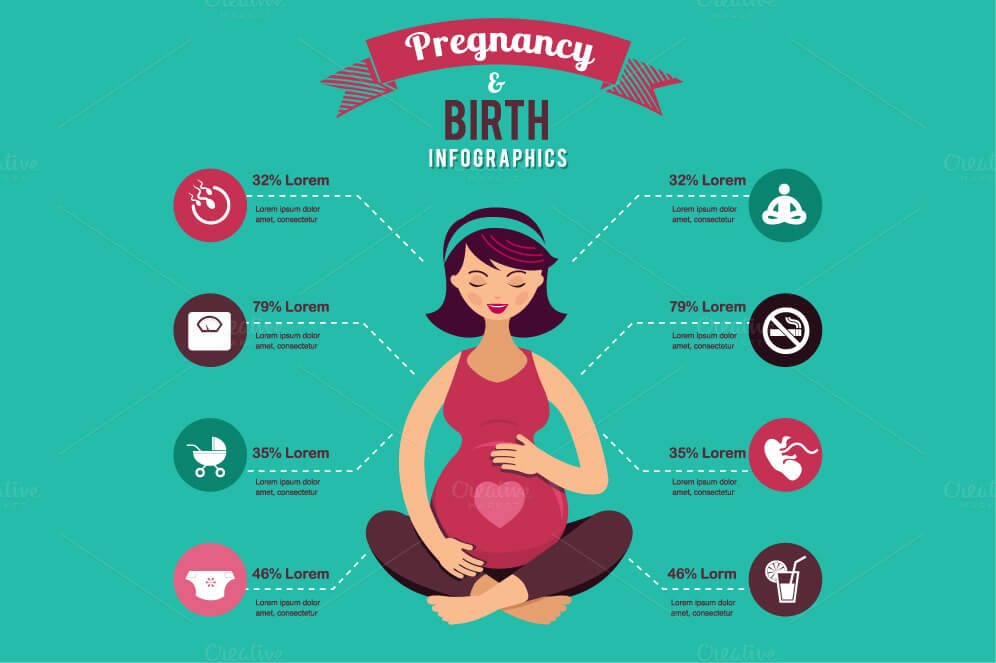 A subject-specific pack, this one contains a set of pregnancy and birth infographics and vector icon set (more then 20 icons) in EPS 10.
Infographic Mega Bundle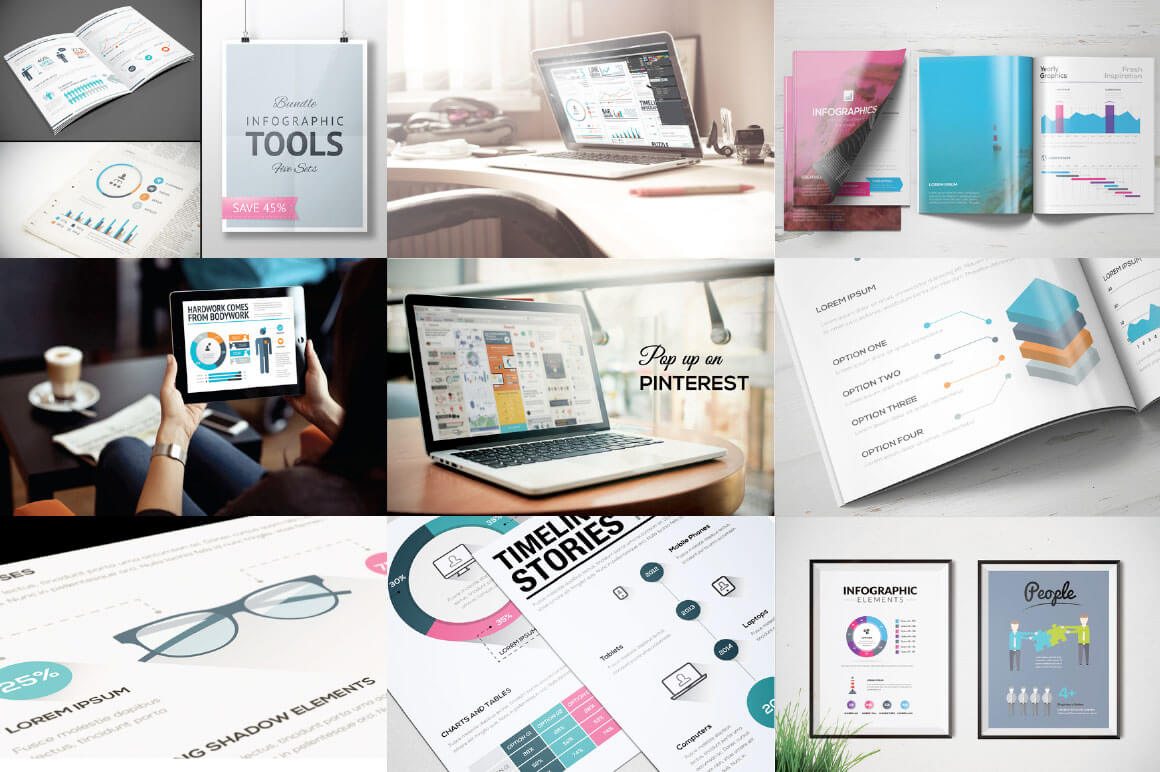 This pack contains multiple bundles and comes at a great price. It's totally worth the value, especially if you're looking to build up a large, versatile collection, fast!
Infographic Bundle for Powerpoint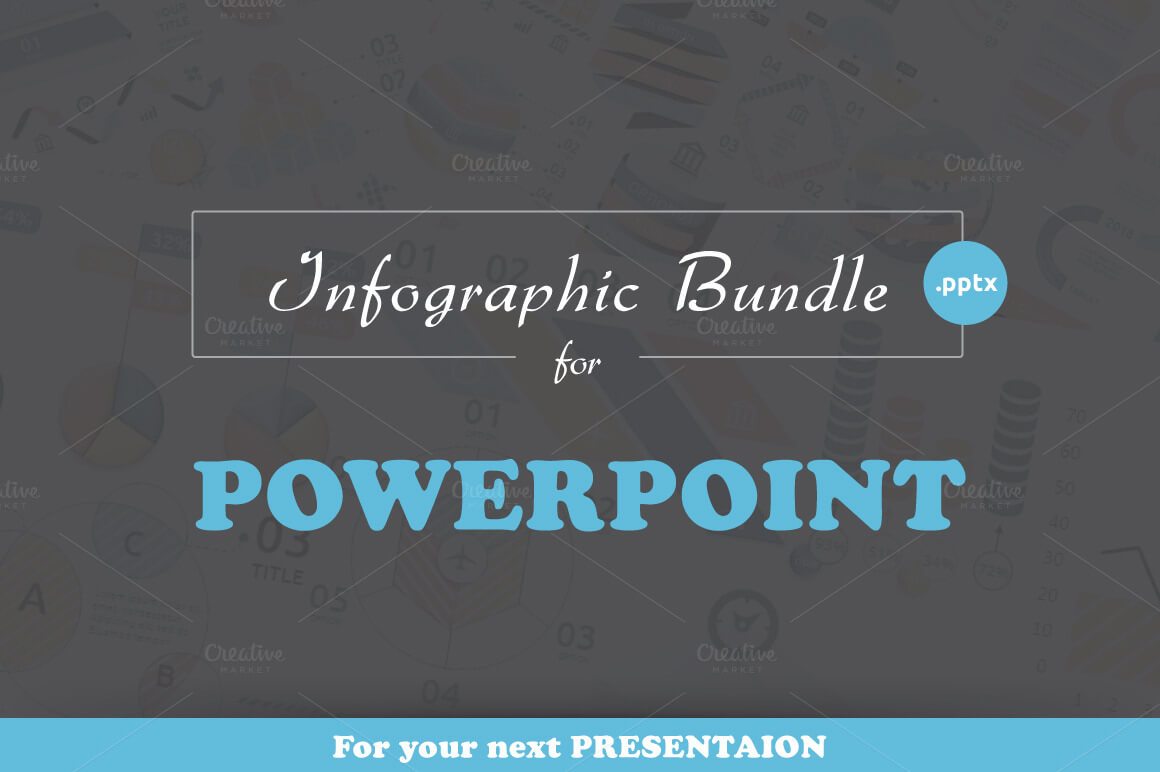 Many customers asked me about infographic elements for PowerPoint. Now I'm happy to announce that popular infographic bundle is available in PowerPoint format (.pptx). Fully compatible with Microsoft PowerPoint that supports .pptx format (2007, 2010, 2013 versions).
30 Business Infographic Templates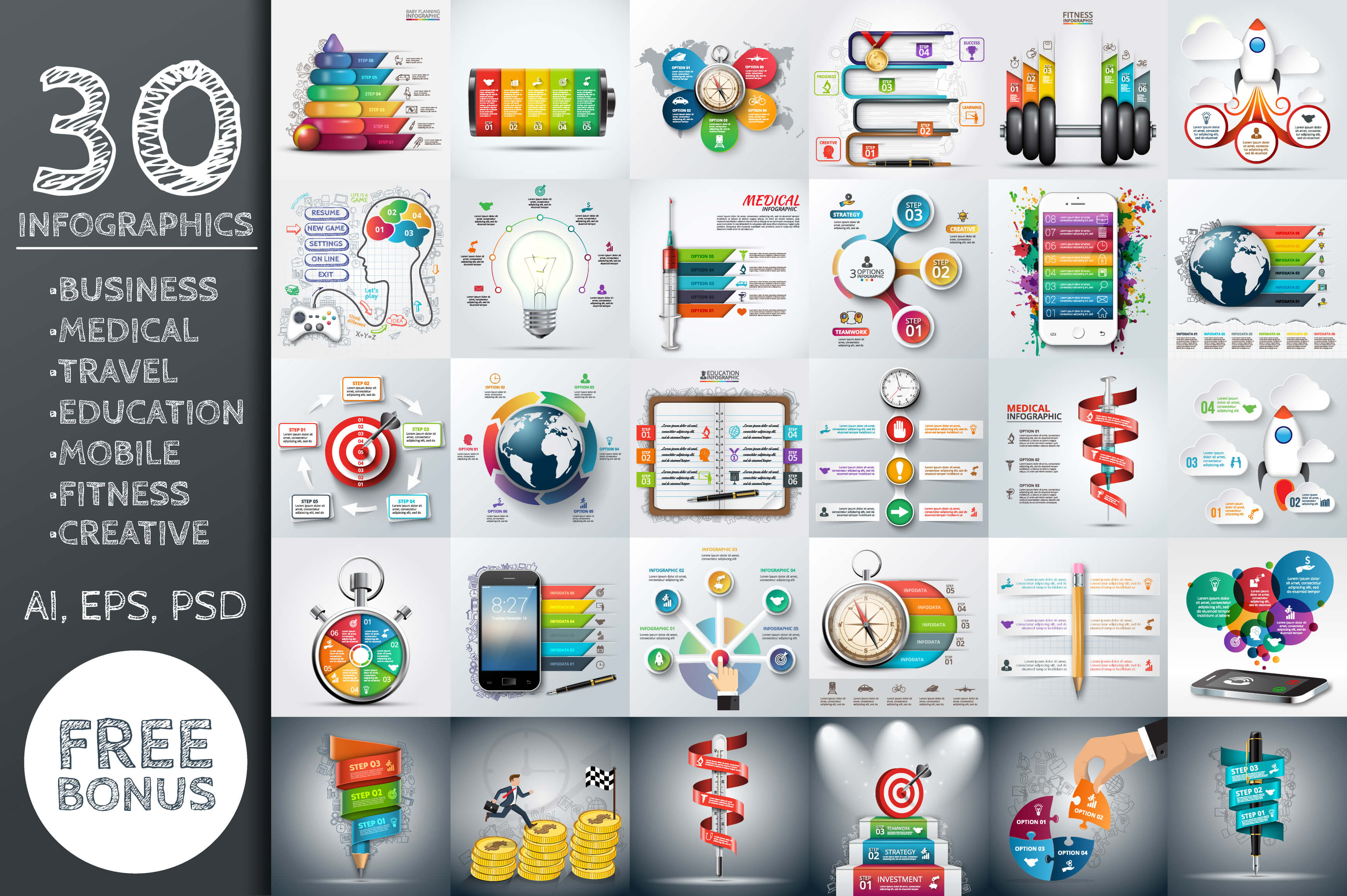 You can use this infographic template to visualize your data in a different ways such as: presentations, posters, brochures, business cards, flyers, magazines etc.
Business Timeline Infographics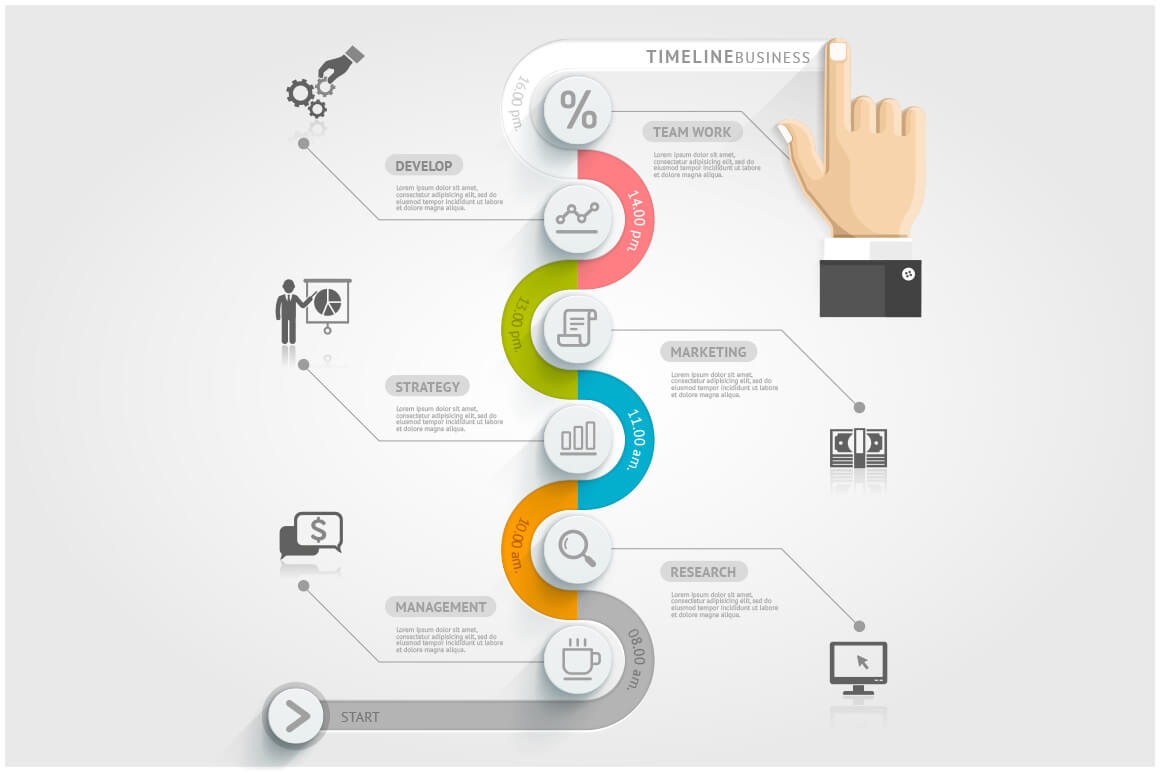 A helpful timeline infographic pack that can be used for workflow layouts, banner, diagram, web design, and more. Anywhere you want to show a timeline!
6 Circle Business Infographic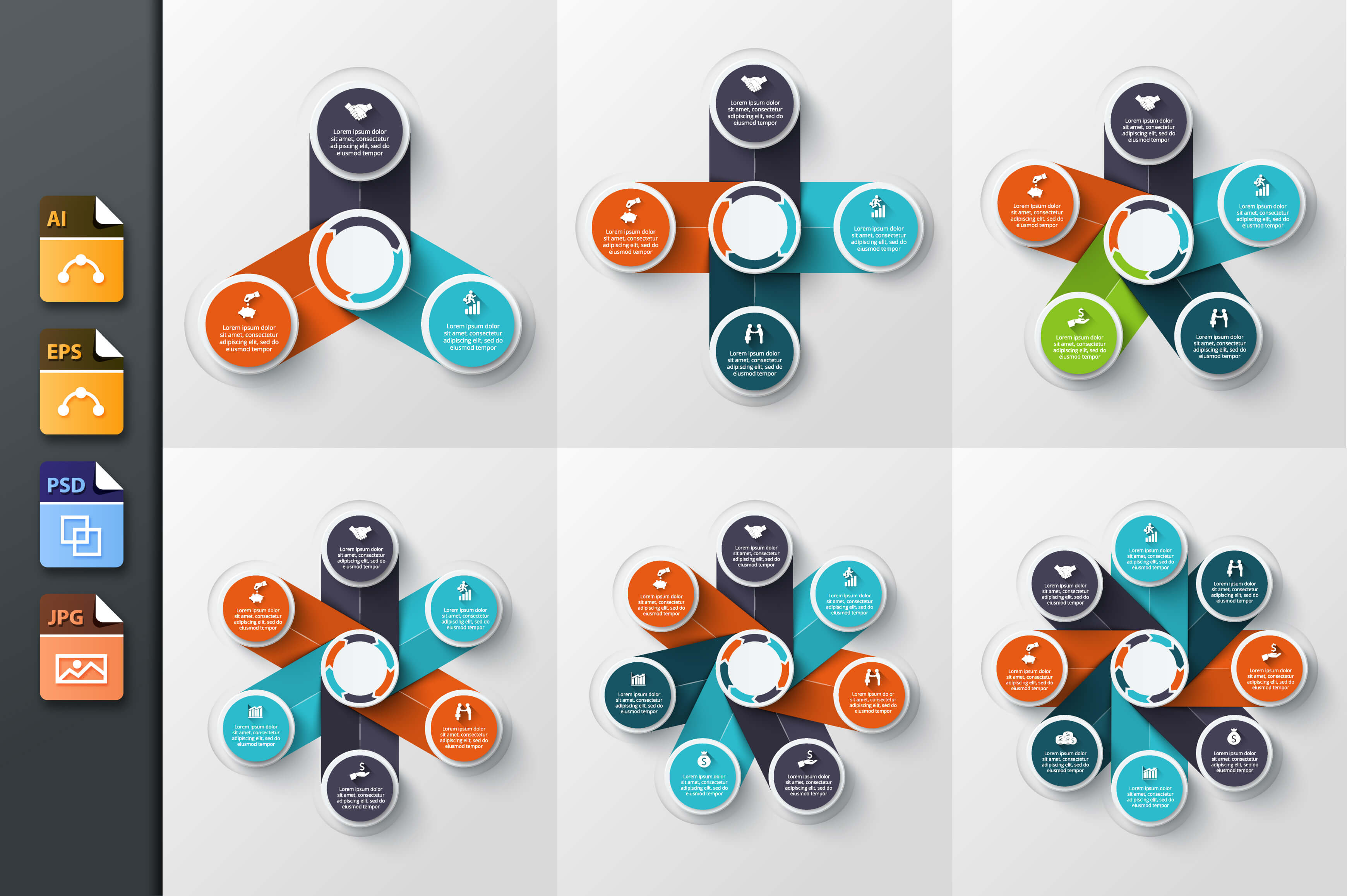 A unique, vector circle infographic. Works well as a template for cycle diagrams, graphs, presentations, and round charts.
Sours: https://designshack.net/articles/inspiration/infographic-templates-for-illustrator/
The Ultimate Infographic Design Guide: 13 Tricks For Better Designs
So you want to become an infographic design expert? You've come to the right place.
Here are 13 essential infographic design tips (click to jump ahead): 
Planning your infographic design
Write a compelling title
Use a grid design or wireframe for your infographic design
Use the right infographic layout for your data (scroll down for a video guide)
Follow data visualization best practices
Incorporate different infographic design elements
Use photography in your infographic design
Use contrast in your infographic design
Create symmetrical and asymmetrical balance
Use color effectively
Make sure there's consistency in your infographic design
Leave plenty of negative space in your infographic design
Practice, practice, practice
People have been going nuts about infographics since the infographic design boom of 2012. No, really, that was a thing. Between 2010 and 2012, searches for infographics increased by a whopping 80%.
Since then, infographics and infographic design have become a standard visual used in content across niches.
That's because infographics can communicate information in a condensed and highly visual way—when designed well. Here's one example:
The problem is that for every well-made infographic published, there are a handful of poorly produced infographic designs circling the web.
Poorly designed infographics can skew and obscure information, rather than make it easier to understand.
Creating a beautiful and effective infographic design isn't hard, it just takes a basic understanding of infographic design best practices.
Of course, it helps if you use an infographic template to give you a head start, like this one:
Just so you know, some of our infographic templates are free to use and some require a small monthly fee. Sign up is always free, as is access to Venngage's online drag and drop editor.
NEW! Launching: The Authoritative Guide to Designing Infographics
Anyone can create professional infographics with this comprehensive and accessible guide. It's packed with insights, best practices, examples, checklists and more—everything you need to make infographics that stand out above the cut.
Learn how to design professional infographics that help you reach your communication and business goals. Check out the book here:
In the meantime, you can read on that check out this crash course to effective infographic design. Let's get started.
Related: 7 Tips on How to Make a Good Infographic
1. Plan your infographic design
Our video on how to plan and create the perfect infographic is a great primer for those new to infographic design:
Keep reading for more tips...
Find a story
In every set of data there's a story. Before you begin designing your infographic, think of the story you are trying to tell. The angle you choose will help you determine which information to include. 
For example, this infographic design tells the story of completing a project from start to finish:
Because infographics allow for limited space for content, the purpose of your infographic should be focused. That's why the layout of your infographic should not only reflect the theme of your information, but also enhance the communication of it. 
For example, the infographic template below uses numbered boxes and arrows to keep the reader's eye moving in the right direction:
This process infographic uses a line to connect its steps:
Read our blog post on process infographic templates and design tips for more info.
Create an infographic outline
Before diving into your design, create an infographic outline. In your outline, include your headers, data, and any design details you don't want to forget.
Return to Table of Contents
 2. Write a compelling title
Come up with a title that is catchy and descriptive. Readers should get a sense of what the information will be, to engage them and make them want to read further.
This title of this infographic has TWO numbers, which copywriting guru Brian Dean recommends using to make your headlines more compelling and specific:
This infographic design makes use of a big, bold headline and specific subheader that tells readers exactly what information they're going to get:
Return to Table of Contents
3. Use a grid design or wireframe for your infographic design
Grids and wireframes are the structural base to any design. Designing on a grid allows you to easily organize elements and information. Grid designs also play an essential role in keeping objects and elements aligned.
For example, when aligning items, you can reference the same vertical grid line and then space each list item accordingly.
The below example shows how color palettes are aligned on a graphic design grid. The Venngage editor also has the option of using "smart guides" which help align items for you automatically, without using a grid design tool:
Here's the original template, before customization:
For your infographic design, use a grid design system to create margins. It's good practice to keep enough space in between your elements and the edge of your canvas to avoid visual tension.
An infographic design can potentially have any size of margin you desire but it's important to keep the margin consistent all the way along the edge of your canvas.
A good rule of thumb is to keep all objects and elements at least 20px (one square on the grid) away from the edge of the canvas.
Return to Table of Contents
4. Use the right infographic layout for your data
Pick the best infographic layout for your data. There are hundreds of possible infographic templates out there to choose from.
This quick video guide will help you pick the best type of infographic layout for your data:
For example, you could use a one column layout for a minimal infographic, or create a list infographic by spitting the layout into two columns, like in these examples:
Here's an example of a two-column infographic design:
You can read a more in-depth article on selecting the right infographic template for your data in our blog post on How To Make an Infographic in 5 Steps.
Return to Table of Contents
5. Follow data visualization best practices
Pro tip: always start your infographic planning with pen and paper. This way, you can work through concepts and designs roughly before finalizing a digital copy.
Choose the best chart types for your data
The type of data you are trying to convey will determine which chart type is the best for your data. To decide which type of chart would best convey your data, you first have to determine what kind of data you want to present: a single important number? A comparison between data points? A trend over time? An outlier?
The types of charts most commonly used in infographics are pie chart, bar graphs, column graphs, and line charts. For example, a column graph is one of the easiest ways to compare data.
And to convey a trend over time, the most common type of chart to use is a line chart.
But if you think of a more unusual chart that would convey the data effectively, don't be afraid to get more creative. For example, you can identify and show the trends such as sales over time, correlations such as sales compared temperature or outliers such as sales in an unusual area.
A good rule of thumb is that your charts should be easy enough to read that it only takes readers ten second or less to understand. You can read a more in-depth article on choosing the right chart type here.
Return to Table of Contents
6. Incorporate different infographic design elements
Typography
Typography is a very important element for infographic design and your one way to explain your ideas and information when images, graphs or icons can't. That's why it's important to choose the best fonts for your data.
That being said, try to limit the amount of text you include on your infographic. The best infographics have visual impact, with the text acting as a secondary explanation for the visual content.
This infographic design relies on icons, dates and headers, with minimal explanatory text:
First and foremost, make sure your type is legible. In most cases, avoid decorative or script type as it tends to be hard to read.
To keep infographic designs cohesive, limit your use of fonts to a maximum of three types, but also don't stick with just one. A tasteful use of two brand fonts can create a nice dynamic and hierarchy of information.
This infographic design uses one font for the headers and one for the body copy:
Alternatively, a number or statistic in one font type next subtext in another creates a hierarchy of information:
Return to Table of Contents
7. Use photography in your infographic design
The use of photography can be tricky if there is not a photographer available to take the shots of exactly what you need.
There are ways to work around not having a photographer at hire by incorporating stock photos that are royalty free from places like Pixabay, Unsplash or Pikwizard. The only risk is that using stock images can look uncreative and, frankly, cheesy. That's why you need to take care when deciding which images to use.
Be sure that the photos you use have a consistent style and lighting. Try to pick photos with the same lighting effects, same backdrops, same amount of dark areas, etc. It's important to stick to a certain style as images that clearly don't fit the set will distract from the information being communicated. 
If you're going for a simple modern use of photography, use only images with flat colour (or white) backdrops. If you're going for a neutral newspaper approach, use only black and white images.
Source.
Photos that take up a majority of space in your infographic, which can distract from information. This issue can be solved by using a cropping such as circle frames.
Return to Table of Contents
8. Use contrast in your infographic design
Contrast creates visual impact by placing two strikingly different elements beside each other. If an infographic has a light background with bold colored shapes, our eyes are immediately attracted to the bold colors. This allows you to organize information by having a certain element more prominent than another.
Contrast using colors
Color selection can have a big impact on your infographic design.
Try pairing complementary colors to make your headline pop. One of my favourite combinations is a darker blue with a brighter color like orange which makes your headline stand out.
Contrast using typography sizes
A header is usually the largest text on an infographic, followed by the subheader and then the body copy. The header should pretty much always be the largest point size so that the viewer knows the subject of your infographic right off the bat.
Contrasting visuals
Use a tinted image contrasted with a chart overtop to add context.
Source.
Return to Table of Contents
9. Create symmetrical and asymmetrical balance
An infographic with visual balance is pleasing to the eyes because everything fits together seamlessly. A balanced infographic keeps the entire composition cohesive, especially in a long form infographic.
If there are heavy visuals on the top of an infographic, you should keep the flow going right to the bottom. There are two types of balance: symmetrical and asymmetrical. 
Symmetrical balance is when each side of the composition has equal weight. This layout is effective in a comparison infographic like this one:
Asymmetrical balance is more natural and less uniform than a symmetrical composition. It creates a more complex relationship between objects. It can make an infographic more dynamic since the composition is not repeated excessively. 
For example, if you are creating timeline infographics, alternate text between both sides of the timeline for a balanced composition.
Check out these creative timeline templates.
Return to Table of Contents
10. Use color effectively
Decide on a color scheme before creating your infographic. A good rule of thumb is to design your infographic with two or three main colors, and to use minor color accents.
When choosing your color scheme, decide on the tone of your infographic. Is it a business infographic? If so, try using neutral colors like blue or green, or, of course, your brand colors, especially if you're including your logo.
For fun, eye popping infographics, use brighter hues, but be careful not to use large amounts dark or neon colors as they can be straining to the eyes when viewed on the web.
Color can also be used as a sectional tool. Add blocks of color to section your infographic, giving the eye some breathing room as viewers scroll down. 
Source.
Here are a couple of helpful tools on the web to help you choose a color palette:
Adobe Color CC
LOLColors
COLOURlovers
Return to Table of Contents
11. Make sure there's consistency in your infographic design
In order for your infographic design to flow from start to finish, the design elements need to be consistent. If you are using icons that are filled in, rather than line art icons, then keep using the same style throughout the entire infographic. 
The same goes for the style of images you use, the font style, and the color palette. This will prevent your infographic from looking cluttered, and will actually make it easier to read.
Confused about how to use icons properly in your infographic? Our video will teach you in under 3 minutes:
Return to Table of Contents
12. Leave plenty of negative space in your infographic design
Negative space is the blank space surrounding objects in a design. 
Negative space has a big impact on your design. If your infographic design is too crowded, it can overwhelm readers and make it difficult to read the information.
Creating space around the elements in your design allows readers the breathing room to process the information. Pro tip: if you are using a 16pt size, the line height should be no less than 1.2.
Leaving negative space can be as simple as making sure there is enough space between lines of text. Just look at the difference that a little space makes in the example below:
13. Practice, practice, practice
This is going to sound cliché, but when it comes designing infographics, it will probably take your a couple of goes at it to get the hang of it. You will need to figure out what works in a design and what doesn't.
Luckily, this learning process is made a lot easier by infographic templates and guide. And there are certainly a lot of examples out there for you to draw inspiration from.
When in doubt, ask someone else to look over your design before you publish it--they will be able to tell you if there is any information that is unclear, or if there is any way that you could make your design even better.
Return to Table of Contents
Read our step-by-step guide to creating infographics:
Guide: How to Make an Infographic in 5 Easy Steps
Sours: https://venngage.com/blog/infographic-design/
Clean 6 Options Business Infographic - PowerPoint Tutorial
Looking for some inspiration for a new infographic design project? Or you need some ready-made infographic vector elements? Look no further!
There's a continuously increasing demand for infographic setswith cutting-edge designs. If you are a graphic/web designer trying to figure out how to get the information noticed in an infographic and keeping the viewers engaged, this list is what you need!
Here are 25 must-have free infographic sets you can download and add to your freebies collection. They will surely come in handy. These free infographic sets can be used for many types of niches and most of them have modern, clean designs. Check them out below!
All of the free infographic sets from this article have modern designs and lots of elements you can use, such as maps, graphs, device mockups, charts, and more. These elements can be easily edited in Adobe Illustrator and customized as per your needs. You can change their colors, sizes and even shapes. Add your own content and create awesome, interesting infographics with ease and in a shorter amount of time.
Want more infographic resources? Check out these inspirational infographics, infographic website designs, and web design infographics roundup!
Infographic template
This infographic template is exactly what you need if you are working on a business presentation or you are looking for a creative way to present content. This template contains various graphic elements such are charts, maps, graphs and much more.
Infographic elements pack
This pack is also full of useful graphic elements, all of which were nicely crafted. You have everything you need for an awesome presentation.
Infographic desktop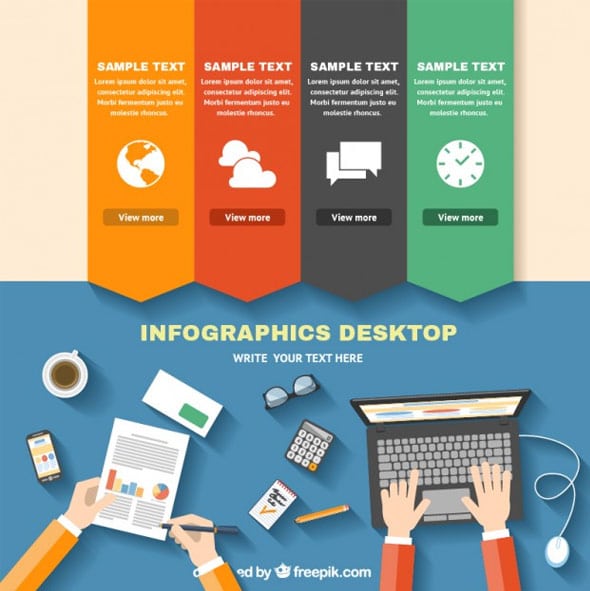 This infographic desktop can come in really handy and will make your creative project look great. It comes with a bunch of useful infographic elements which you can move and combine every way you please.
Coffee cups collection
These coffee cups infographics can't miss from your freebies arsenal. Pick your favorite cup of coffee and use it in your food and drink themed infographic project.
Colorful graphics brochure
This brochure is a must-have and it is also a great example of how to use infographics in your presentations. Check it out!
Colorful banners infographic
A designer can never have enough banners or infographics. If you're looking to expand your collection check out this amazing set.
Successful business infographic
This is a really nice infographic illustration which is perfect for presenting a strategy. You can simply download this example and customise it or get inspired to make your own unique infographic.
Colorful infographic diagrams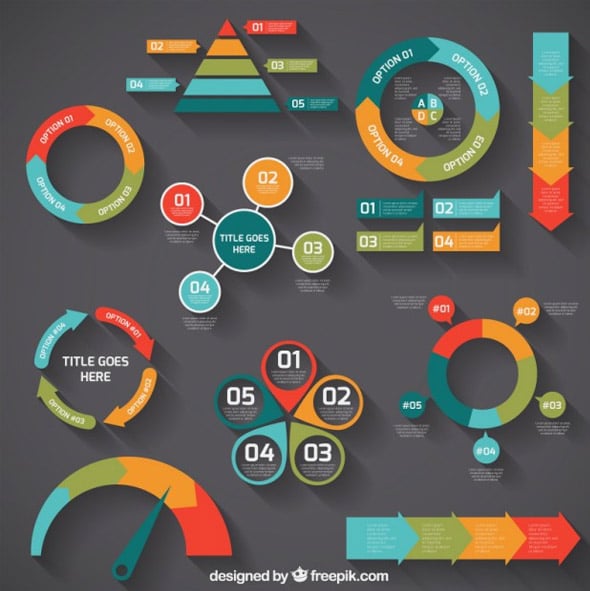 This set contains various colorful diagrams which will definitely come in handy in presentations.
Variety of round charts
This set contains a variety of round charts which can be of great help when working on your presentations.
Business infographic template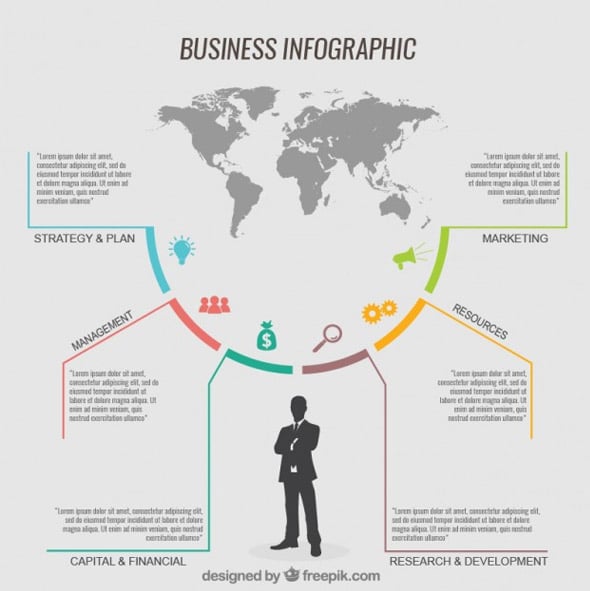 This is a business infographic template which can be a great asset in a designer's collection. Not only will it save you a great deal of time but it will also make your presentation stand out from the rest.
Polygonal infographic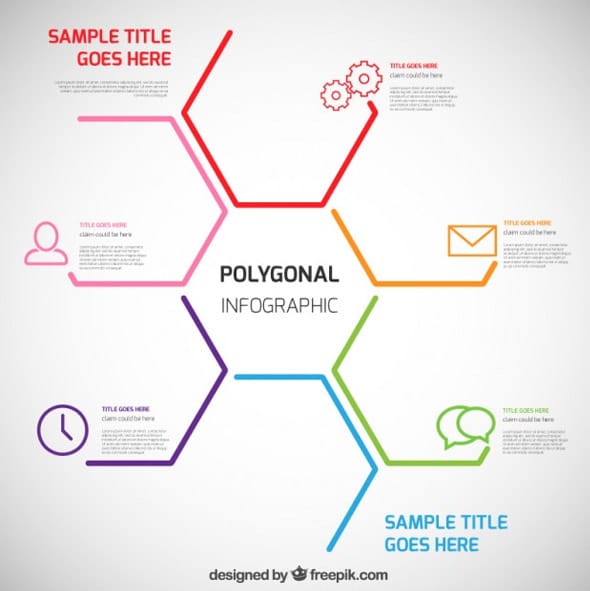 This is yet another cool infographic template which has a unique way of presenting content. The polygonal infographic will make your project look modern and effective.
Timeline infographic template
This is a timeline infographic template which can be used to present each step of your project in a creative way. This example is definitely worth having in your collection and can save you a great deal of time.
Infographic vector free design
This is a free infographic template which can come in really handy. It has everything it needs for your project presentation. Do not miss the chance to have this template in your freebies arsenal.
Business tree infographic
This business tree infographic might be just what you have been looking for all this time. This infographic presents content and each step of the project in a creative way, through illustrating a tree. Each leaf looks like a minimalist comment box in which you can add your own text and icons.
Infographic with variety of diagrams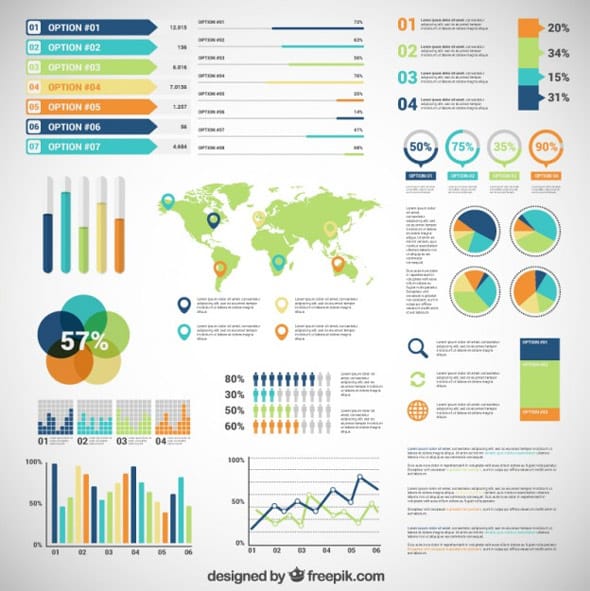 This is yet another cool infographic that can't miss from your collection. It contains various charts and graphs and it also has schemes, diagrams, a world map with location pins and much more.
Colorful banners infographic
If you want more cool infographics to expand your collection check out these banners. They're colorful and nice and will make your project stand out.
Timeline Infographic
This is a great timeline infographic which can come in really handy. Use it with confidence to present a project's evolution.
Modern infographics process
And if you're looking for more creative ways to present the content, process, and evolution of your project then you might want to check out this amazing template.
Step by step infographic
If you liked the previous example then will definitely love this one. This is a step by step infographic which will present content in a modern and functional way. Check it out!
Modern banners infographic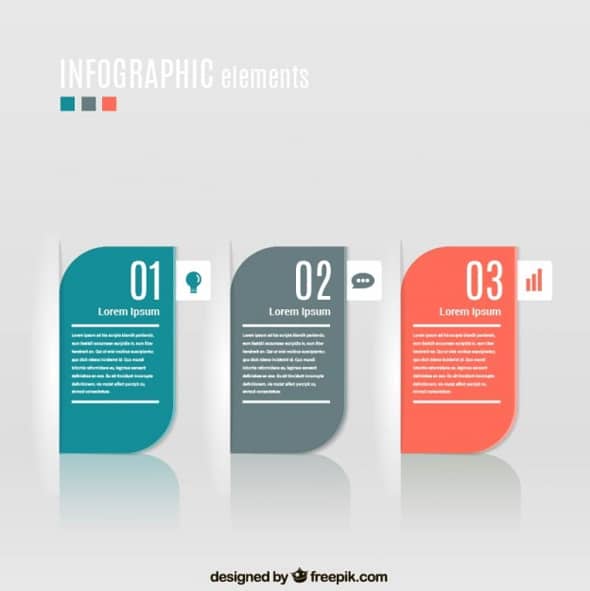 If you're a fan of modern and eye-catching banners then you've come to the right place. These banners infographics are exactly what you need to make an awesome presentation.
Infographic with banners template
And if you want more banners for your collection and your project check out this example as well!
Blogging infographic
This blogging infographics template is exactly what you need to present the evolution of a website.
Circles business infographic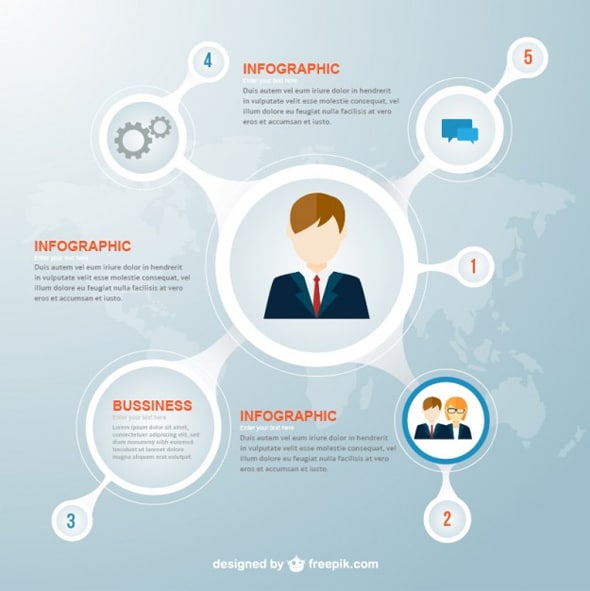 If you're working on a business presentation then you might want to have a look at this template as well. It looks great and has plenty graphic elements that will make your content stand out. It can come in really handy and save you a great deal of time.
Colorful banners infographic with a ladder
If you still didn't have enough of cool infographic banners then here's an amazing template you immediately need to add it to your collection! it can be adapted in so many ways to create awesome social media and newsletter graphics.
Business steps infographic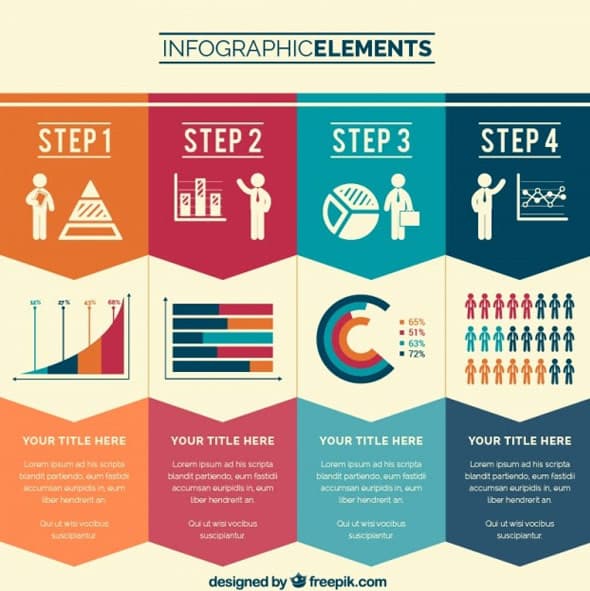 Last but not least, this is a really nice infographic. It was designed to present content in an unique and creative way. You've got everything you need. Banners, flat icons, charts, graphs and different social group icons.
Sours: https://line25.com/articles/free-infographic-sets
Design clean infographic
10 creative infographic design ideas to inspire you
Infographics are a creative, interesting visual presentation of your ideas, statistics or research. These can be used throughout your brand's marketing plans—whether on Pinterest or in proposals.
Related: 32 stats & facts that prove infographics aren't dead
You don't need to be an expert graphic designer to create your own infographic, as there are several pre-made infographic templates available in Lucidpress. The key is to find an infographic design that best suits your communication goal.
To give you a dose of inspiration, check out these unique and creative infographic ideas you can use to set your brand apart.
For the business startup: develop your brand.
Give a clear, brief breakdown of your product or brand development with this clean infographic template. Creating a visual map of your business brand will help keep things on track, as well as provide an overview for your contractors, investors or employees.
This infographic template is clear, clean and includes enough room to get into the details without overloading your reader. Use each section to outline your brand vision from brief to delivery. Include this infographic in your marketing strategy or print it out for a quick reference.
For the chef: share your recipe.
Share your passion for the delicious by customizing this infographic template with your own recipe, step-by-step. Food, drink and other recipes make up some of the most shared content on social media sites like Pinterest, Tumblr and even Facebook.
This template has room to break down even complicated recipes. Each step has room to expand with details, as well as editable titles. Share this infographic on your blog, or print and fold into the size of an index card for your kitchen.
For the entrepreneur: sell your product or pitch.
Minimize your speech anxiety by using this infographic template to plan out your business pitch. Using an outline is a proven speech tactic to look and feel more confident in your presentation. Notate your key points to keep yourself on track.
Each of the ten bullet points has room for a short paragraph. The clean, colorful and professional design is perfect for leaving with your audience to review later. Print it out after easily customizing it, and fold it into the size of an index card.
For the financial advisor: break it down step-by-step.
Build trust with your clients by helping them understand complicated processes without causing an overload of information. Educating your clients will help them make decisions and build your credibility as an expert in your field.
This template allows full paragraphs in a beautiful, professional presentation. The right side features steps, while the left serves as an in-depth description. It is color-customizable to accommodate your brand colors. Create a handout with this infographic template to explain taxation, loans, collections and other processes.
For the manager: guide your team to success.
Give your employees clear direction with this visually interesting infographic. This roadmap to success may be used to outline goals, instructions or steps. Your team will love the change of pace, and you'll love the results.
Provide a title and in-depth introduction, then edit the short descriptions under each of the colorful five steps. The leading lines guide your reader to the next step. Print this out for your staff members' desks or include it in the new hire orientation.
For the marketing specialist: present your audience demographics and traits.
Buyer personas are often used in marketing strategies to organize audience characteristics, goals and needs into a visual representation, based off real research and data. Help your team picture clients or customers with this vibrantly professional infographic template.
This template gives you plenty of room to play, while leaving enough space to breathe. Each persona has a customizable title and description. The simple illustrations prompt your mind to imagine your real clients. After making this infographic template your own, add it to your annual marketing strategy plan, board presentation or product proposal.
For the personal trainer: remind your client of their goals.
Help your clients visualize their health success with a visualization of their plan. Starting a new health and fitness routine might seem overwhelming, but this infographic will simplify instructions into an easy-to-digest quick guide.
This infographic features blocks of text and in-depth instructions without clutter. Use each segment to outline forbidden foods and daily exercise routines. After customizing the infographic template, print or email a digital version to your client as a portable, visual reminder of their game plan for success.
For the professional: stand out against the competition.
First impressions are important—and most employers expect one page that briefly summarizes who you are in the workplace. Make your resume stand out with a beautiful, unique resume.
This template takes advantage of the full page with multiple sections and columns. It feels professional but with a modern twist. Make it your own by customizing the color scheme, graphics and, of course, the text.
For the real estate agent: educate your client.
Real estate agents and realtors are well-known for providing personalized customer service. Educate your client on their new neighborhood or city with a quick guide to the local population, population density, area and other demographic insights.
Using this infographic shows your clients you care about taking the extra step. Each section is customizable and easily changed so you can update it as needed. The clean layout makes it easy to focus on the numbers. Add this infographic template to your client's portfolio or to your personal website and listings.
For the teacher: give tips to success.
Help your students prepare for the SAT, ACT, SASVAB or other test by outlining effective study habits and tips. Outline a timeline or provide six different methods—it's up to you with this very customizable template.
Knowing how to study is half the battle. Update the six titles and descriptions with your tips and other helpful information. Each segment allows for several lines of text. The thin dimensions make this a great bookmark for your students.
Ready to wow your audience with beautifully designed infographics? Lucidpress will help your brand send the right message.
Sours: https://www.lucidpress.com/blog/10-creative-infographic-design-ideas-inspiration
Making an INFOGRAPHIC on ADOBE ILLUSTRATOR!
Whitespace is often used to create a balanced, harmonious layout. One that just "feels" right. It can also take the reader on a journey through the design in the same way a photographer leaves "looking room" in a portrait shot by positioning the subject off the center of the frame and having them looking into the remaining space – Mark Boulton, from A List Apart
Whitespace has been the topic of controversy between designers and the rest of the world for years.
It's the first lesson for every designer. It's about knowing what information to display (prioritizing) and visualizing it with consistent, aligned elements that offer just the right balance.
First, let's start by learning what whitespace is.
Whitespace is the space between screen elements, or the negative space. That is not always 'white' per se, maybe it's a color, but it's a space free of design elements, like photos, text or logos.
Let's take a quick look at Basecamp's page. First, you'll see their beautiful, uncluttered design by itself. Then, I quietly marked whitespace with light blue rectangles.
Why Whitespace Matters
Whitespace is a fundamental element of great design. According to our design team, it's one of the first thing you learn in design school, and the first you need to master.
Without whitespace, a design might look like this.
You arrive at CNN's site and you don't know where to place your attention. There are too many elements. Besides, each element is hard to read. So you leave.
Still not convinced? Let's take a quick look at why whitespace is important.
Improves Legibility
The most relevant benefit of whitespace is that it affects readability. Without enough spacing between lines, text becomes an unreadable mass of black characters. In the example below, you'll discover that the lack of proper spacing between lines makes a tremendous effect on readability.
First, an excerpt of a New Yorker article on Atlantic City, with proper whitespace between lines. Easy to read, entertaining and informative.
Now, the same article but no proper spacing between lines. A mess. Unreadable. And definitely not informative.
Improves Consumption or Comprehension
The right use of whitespace allows you to consume content in the proper order. It helps you prioritize what to read first, and instruct the reader on what is more important.
On the other hand, the lack of it will make your design difficult to consume, as there won't be a proper hierarchy between elements. Proper whitespace is the difference between logical skimming, or being lost.
Creates Attention
In design, marketing, or teaching, sometimes you might need to direct the reader's attention into one specific element. For many designers, the solution is to make the element bigger. However, that's not the only choice. Or even the best. Whether you want the reader to click a button, or remember a specific numbers, surrounding it by whitespace is an excellent option to achieve your goal.
Take a look at Mikiya Kobayashi's website. He's a Japanese industrial designer born in Tokyo, and he embraces minimalism. You'll observe how, by choosing whitespace over other elements, all attention is focused on that beautiful object.
Conveys A Tone
If you are designing an infographic (or something else), you are trying to transmit a message. For that, you should use all the tools available, and whitespace is one of them (though often overlooked).
In this case, UAC studios utilized whitespace in the form of a black background to denote elegance, style and class in it's designs.
Managing Whitespace Like A Pro
There is little doubt that whitespace is a valuable design tool that can make any design more effective. The key is to maintain whitespace while meeting the design's objective. That's not an easy feat, but today we'll share three key points that will help you manage whitespace like a pro. 
Grasp the Big Picture and Visualize the Key Points
Before creating a beautiful infographic, there are two main things you should consider doing.
Start by setting your goal. Why do you want to create this infographic? What message do you want to convey? What takeaways should people get from it? This will assist you in laying the foundation of your design.
Based on the first point, you should try to identify your target audience. Who is your main persona? How can you show the information in a way your target audience understands it? Do they use specific terms? This will help you craft the right design and message.
As a team, we see countless infographics that are just a long string of text copied from Word or notepad, and pasted in a slightly formatted way into an infographic. People have a tendency of wanting to say too much, forgetting that simplicity is key and that readers tend to frown upon dense content.
Here, an example from a previous post comes in handy. Observe the difference between a crowded, misaligned and cluttered design, and one that is visually appealing – creating the perfect balance between elements (like text blocks) and whitespace.
After identifying the goal and the target audience, it's necessary to fish out the core information you want to convey and portray it in a way that will lead people to the a-ha moment. For that, we suggest you go through your text or piece of content and write down 5 main takeaways to be represented in your infographic.
Don't use text to represent them – use keywords, icons, numbers or bullet points to convey ideas. Visuals speak much louder than words, which is why you're creating an infographic in the first place. A page crammed full of text and images will appear busy. This makes the content difficult to read. It makes you unable to focus on the most relevant information.
Remember: an infographic is a space for visuals, not text.
Obsess Over Alignment
A huge part of managing whitespace is the right alignment of elements in the canvas – we are referring to titles and subheaders, text blocks, icons, photography, shapes, buttons and more. Without the proper arrangement, your design will look unorganized and clutter, and your whitespace won't be an effective tool, but a dangerous risk. 
Let's take a look at a great example from a previous post, Should We Obsess Over Alignment? – it will help you realize the difference between a perfect grid, and the lack of alignment, and how that affects not only whitespace but the infographic as a whole.
When you organize and align elements, the resulting product is a clear whitespace that divides all sections and makes the overall design memorable, easy to follow and consume. 
Using Piktochart To Align Elements
As a team, we know alignment is key – so we built in a fantastic tool inside Piktochart that will help you master it in no time. We call it the 'snap-to-grid' feature, and it's almost magical!
The first step is to turn it on by clicking the button on the right edge of your tool bar (you can turn it off, but we don't recommend it!).
Once you turn on the 'snap-to-grid' feature, you will notice orange-colored grid lines appearing on screen whenever you move around elements on your canvas. You will notice that your object becomes "sticky" whenever it has the possibility to automatically align with the nearest object based on the grid lines. Using that, you can simply drag and drop different elements, making sure they are 100% aligned.
If you are looking for extra sauce on alignment, See Mei (our fantastic Head of Design) wrote a wonderful post on it a few months ago.
Balance & minimalism
In design, balance is the notion that elements are aligned, ordered and symmetrical. This, in turn creates harmony and cohesion. As balance is found in nature, the human mind is biologically programmed to find it aesthetically pleasing. Therefore, we need to leverage it in out designs.
Let's go over a few tips that will help you manage whitespace by leveraging balance and minimalism.
Introduce some white space, literally. In the past, we talked about 'whitespace' not necessarily being white. In this case, we are literally talking about white! If your branding guidelines require you to use a few different colors, make it easier on the eye and introduce more white space. For instance, if you use a lot of heavy color combination in some blocks (as in the example below), you can balance it out with whiter blocks. This will improve the readability of your infographic.
Choose your background wisely. Piktochart has plenty of funky backgrounds in our editor, but the key is to use them to your advantage. Don't make the background compete with your content. Your message is what counts and if you choose a background that is too crazy it will steal attention of what's really important. Let's see a couple examples. Both share the same content, but different background. Even though both are 'funky', the first one is fighting for attention with the text, and the second one beautifully complements the content.



Keep things simple and minimalistic. Don't refrain from using a lot of whitespace. Mark Boulton, from A List Apart (the guy we quoted at the beginning!) explains how some people believe that 'whitespace is empty space' and how that notion is way off. Don't try to fit as many elements as possible your canvas. Instead embrace minimalism and play with whitespace – it adds sophistication, elegance and makes your design easy to read. His example is fantastic.
This post is part of September's Layout Series. Feel free to check it out!
Sours: https://piktochart.com/blog/the-key-to-clean-and-uncluttered-infographic-design-managing-whitespace/
Similar news:
Listening to you, - I switched to an official tone, believing that it will be about work. -The owner is coming to us today and at 19. 00 there will be a small buffet in his honor. You need to be there too, to dilute the so-called male team. It's been a long time since you took me anywhere, I muttered a little offended.
826
827
828
829
830