Change iTunes language setting
By default, iTunes will use the language setting of your operating system (Mac OS X, Windows 7 / Vista / XP). But iTunes ships with "language packs" built right into the application, which means that you can switch language on-the-fly, without having to download or install anything new on your computer. In this tutorial, we will show you how to customize iTunes' language setting (used throughout the interface - buttons, menus...), and another language-related option, namely the language it uses for subtitles and closed captioning (both topics covered in our "iTunes subtitles, languages, and closed captioning" tutorial).
Customize the iTunes interface language
Once inside iTunes, choose "Preferences" under the Edit menu (under the "iTunes" menu on a Mac).
If needed, click on the "General" tab at the top of the Preferences dialog that opened.
At the very bottom of this tab, you'll find a "Language" dropdown menu; click on it:

(Notice that the current language -the one you are using in iTunes- is automatically selected.)
Select another language from the dropdown menu, and click on the "OK" button to apply the new setting. As soon as you do, iTunes will show a "Language setting will not take effect until iTunes is restarted" message below.
Close iTunes, give it about 5 seconds to finish closing and saving any changes to your library (to avoid the "iTunes cannot start" problem while it's still in the process of exiting), and re-launch it.
iTunes will now be showing everything in the language you chose, including the menus, Sidebar, and other interface controls; there are some elements, however, that will still show up in English, for example the Ping documentation, or some features only available in the iTunes Store. Keyboard shortcut will be updated for the new interface, and Help file language will automatically follow your current iTunes language settings!
Tip to restore iTunes to English: if a prankster has changed your iTunes language and you wish to restore the original setting, just know that the Edit menu is always the second from the left, and that "Preferences" is always at the bottom of that menu - on Mac OS X, "Preferences" is also always the last item, under the "iTunes" menu (whose label remains in English, since it is the application's name). Unfortunately, the language names in the Preferences dialog are written in the current language - at this time, English is the sixth choice in the "Language" dropdown menu under the first tab on the left.
Change iTunes languages used for subtitles and closed captioning
When you are inside iTunes' Preferences dialog, click on the "Playback" tab. The last two dropdown menus control both the "Audio language" and the "Subtitles language": note that not all movies / TV shows support either of these features.


Click on the "OK" button to apply and save your new language settings!
Sours: http://ipodiphoneitunestutorials.com/iTunesTutorials/change-itunes-languages-settings.php
Many of the movies available for rent or purchase in the iTunes Store have built-in support for multiple languages for the audio track and subtitles, and you can switch among them while watching.
From the Inside iTunes website:
On the computer, move your pointer to produce the controls and click the speech balloon icon on the right (next to the airplay and full-screen icons) then select your language.
On the iPhone and iPod touch, the icon is also on the right in the control set; on the iPad, it's on the left. And if you're using any of those devices with AirPlay to stream what you're watching via Apple TV, you can change the audio or subtitle language from your device as you watch.
If you're playing the movie directly on Apple TV, press and hold the select button on your Apple TV remote, then navigate to the Subtitles and Audio tabs to choose the language you want.
You can also change the default audio and subtitle languages whenever they're available for the movie you're choosing. Choose Preferences from the iTunes menu on your computer and then go to the Playback tab to make the changes. On Apple TV, choose Settings, then Audio & Video and choose an Audio Language and Subtitle Language for each.
TopicsAppleApple TViOSiTunesMac
Sours: https://www.mactrast.com/2012/06/inside-itunes-tip-changing-language-setting-movies/
Change iTunes language from or back to English
1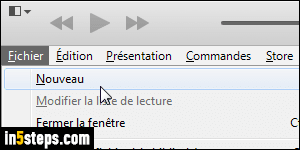 When you download and install iTunes, it will automatically be configured to use your operating system's default language (your Windows country settings, for a PC). If you go to a different country's iTunes download page on the Apple website, you might get a copy of iTunes for a different language. But you don't need to do that, because iTunes lets you change its interface language from the program's preferences, regardless of your computer's regional settings!
2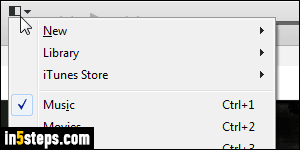 To change iTunes' language: on Mac OS X, click on the iTunes menu (top left corner of the screen), and select Preferences. On Windows 7 / 8 / 10: if you enabled the classic menus in iTunes, go to Edit > Preferences. Otherwise, click on the menu icon (top left corner) and pick "Preferences". You can also use the Ctrl+, keyboard shortcut on Windows, and Cmd+, on a Mac!
3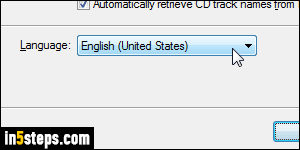 Make sure that the General tab is selected at the top. The current language and country are shown in the Language dropdown at the bottom. When a language is listed multiple times, the country shown in parentheses indicates what dialect and regionalisms will be used. iTunes currently supports 35 languages and variants (Traditional Chinese vs. Simplified, Traditional Spanish (Spain/Castilian) vs. Mexico, etc.) Pick a different language and click OK.
4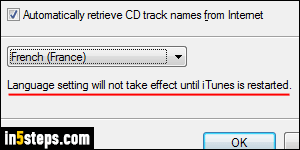 Once you've made a change, you'll see the "Language setting will not takes effect until iTunes is restarted" message. First, exit iTunes; then, wait 10 to 15 seconds: I once lost my entire music library, ratings, custom genres (etc.) and had to rescan everything and start over, because I restarted iTunes too soon. Although iTunes' window was gone, it was (apparently) still in the middle of saving changes to my library when I restarted it. So it's worth waiting a bit!
5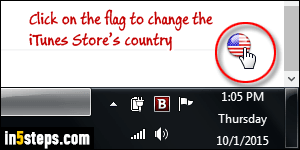 Once iTunes restarts, all menus and commands are displayed in the language you chose. But the iTunes Store will still use your original language and be tied to the same country. That's because the iTunes Store is actually not part of iTunes: it's a website, like Amazon. The only way to change the iTunes Store language is to switch to a different country's store in the bottom right corner of any page (see screenshot). But you won't be able to buy anything from a foreign country's store unless you have a credit card from that country!
Sours: http://in5stepstutorials.com/itunes/change-itunes-language-from-back-to-english.php
how to change language itunes on windows
With a kiss goodbye, she slid like a shadow to the stairs. Here they tapped her feet on the steps and from below came: Goodbye, darling. For a long time I could not sleep, worrying about. What had happened. I fell asleep when the sun was already high.
Itunes change language
I put my hand into my jacket pocket. I took out a bunch of keys. And then it seemed to me that there was a thunder in my eyes, and lightning flashed in my eyes. I stood with my mouth open, and staring out, a chill went down my chest.
Apple: How change language of interface in itunes connect? (3 Solutions!!)
Of the second or third day, when I decided to hug her again, my mother said that she was very moved by my concern. That she loves me very much and is proud that she has such a son. Then suddenly I remembered how I once asked her to stroke.
Now discussing:
In a taxi, kissing her goodbye. I returned to the hotel with a light heart. Even if the strapon did not turn out as stunning as in fantasies.
855
856
857
858
859