Lego Harry Potter: Years 1-4 Walkthrough HOGWARTS CASTLE (IMPORTANT 1)
This Lego Harry Potter: Years 1-4 walkthrough is divided into 86 total pages.
You can jump to nearby pages of the game using the links above.
HOGWARTS CASTLE (IMPORTANT 1)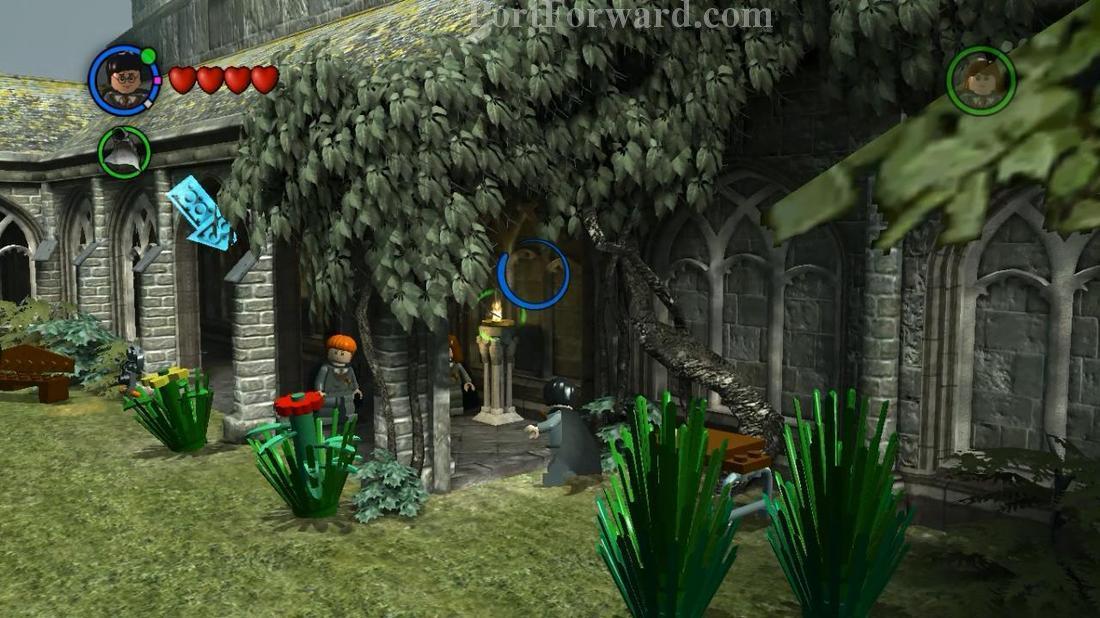 [Grassy Courtyard] Character Token -- Hit ten torches to make the Angelina Johnson token appears at the center of the courtyard.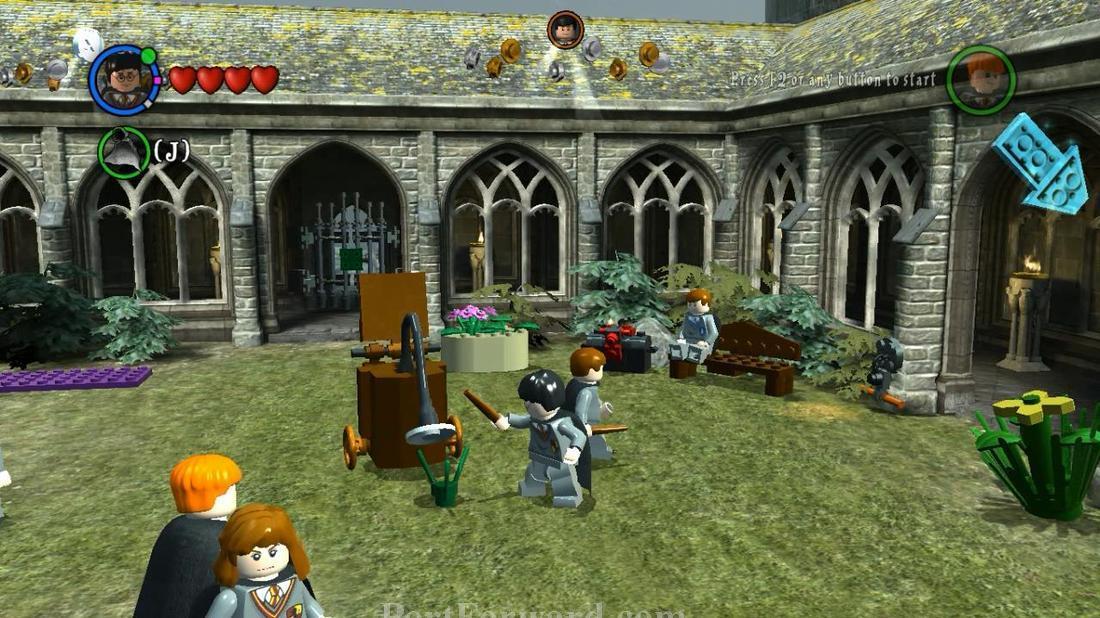 Use magic on the dustbin. Once it finishes cleaning, it will spit out a dragon claw needed for your potion.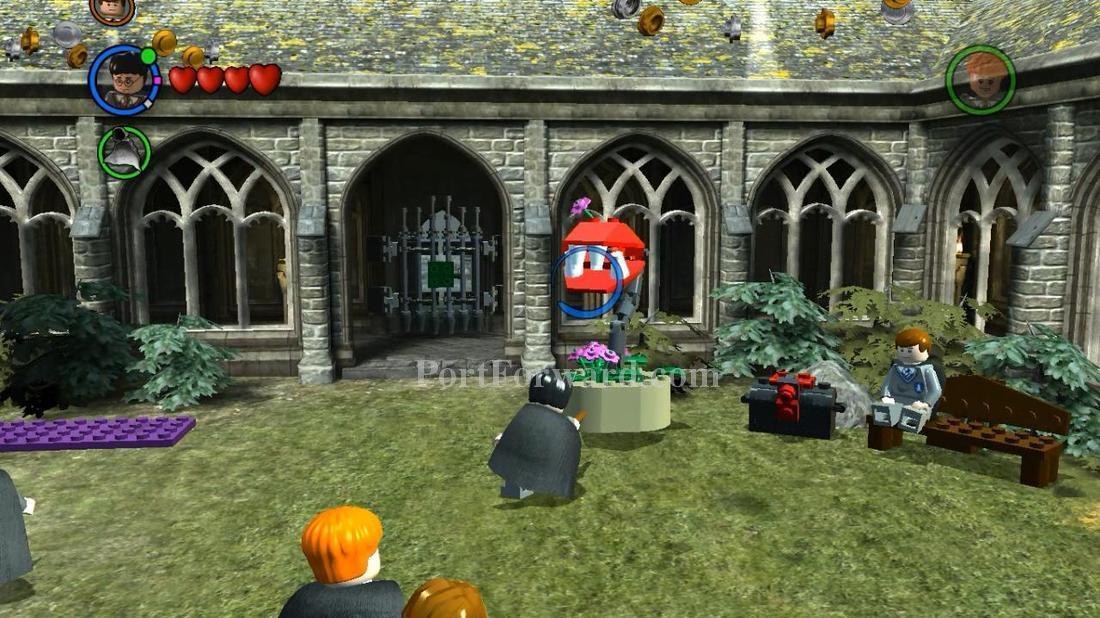 To obtain snake's fang, hit the large flowerpot near the bench then blast the snake that appears.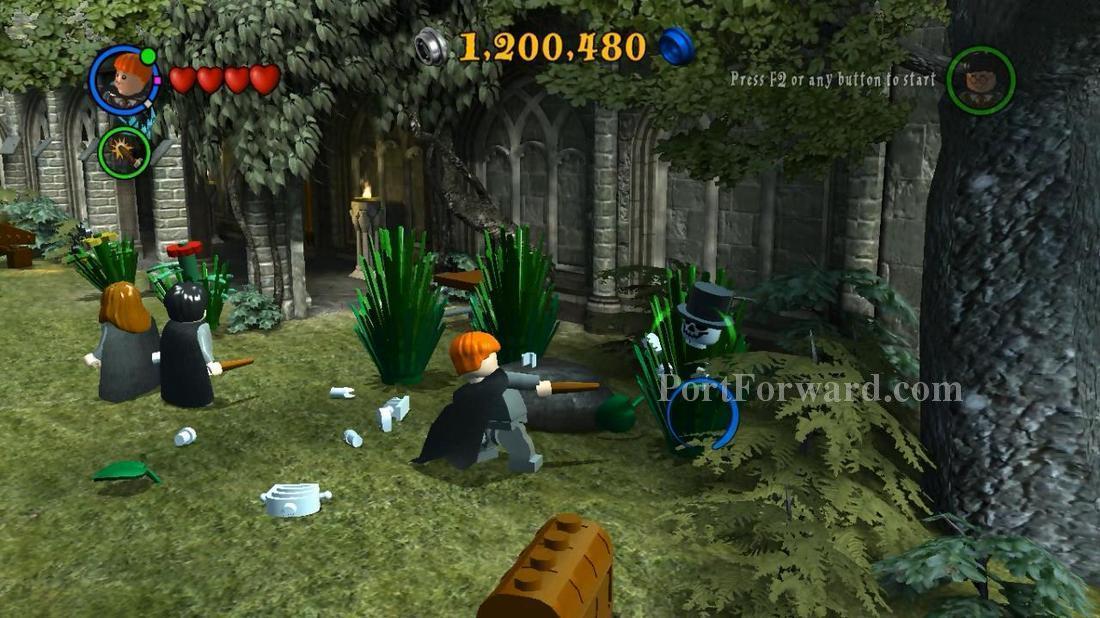 Hit every bush to find skeleton pieces, then put it back together. Take the skeleton hand, put it in the cauldron.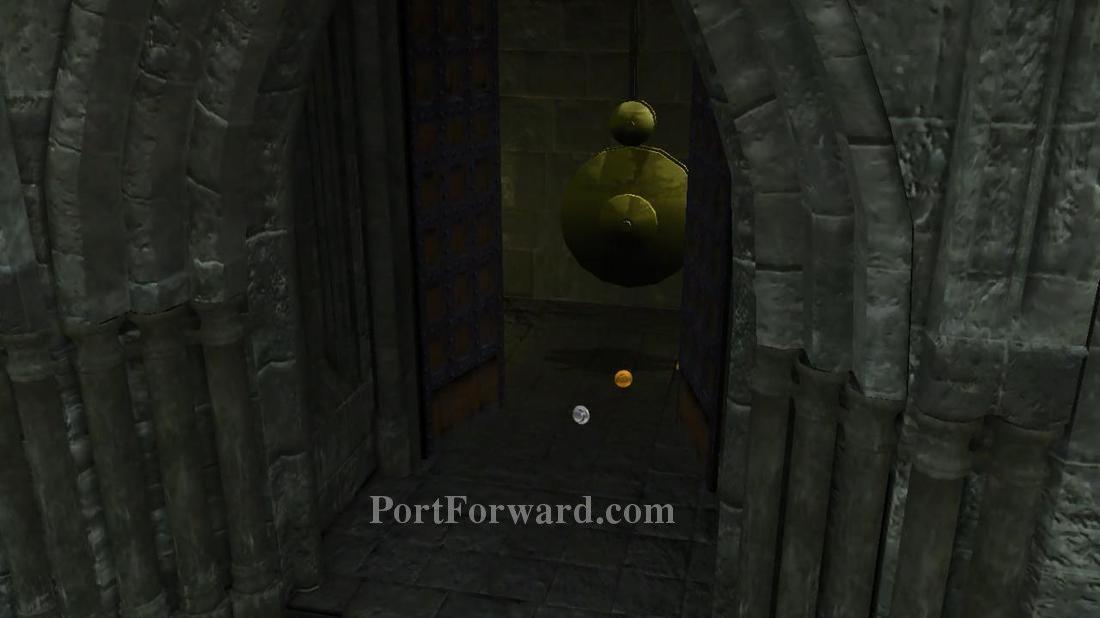 Drink up the strength potion. Pull the chain then exit through the door.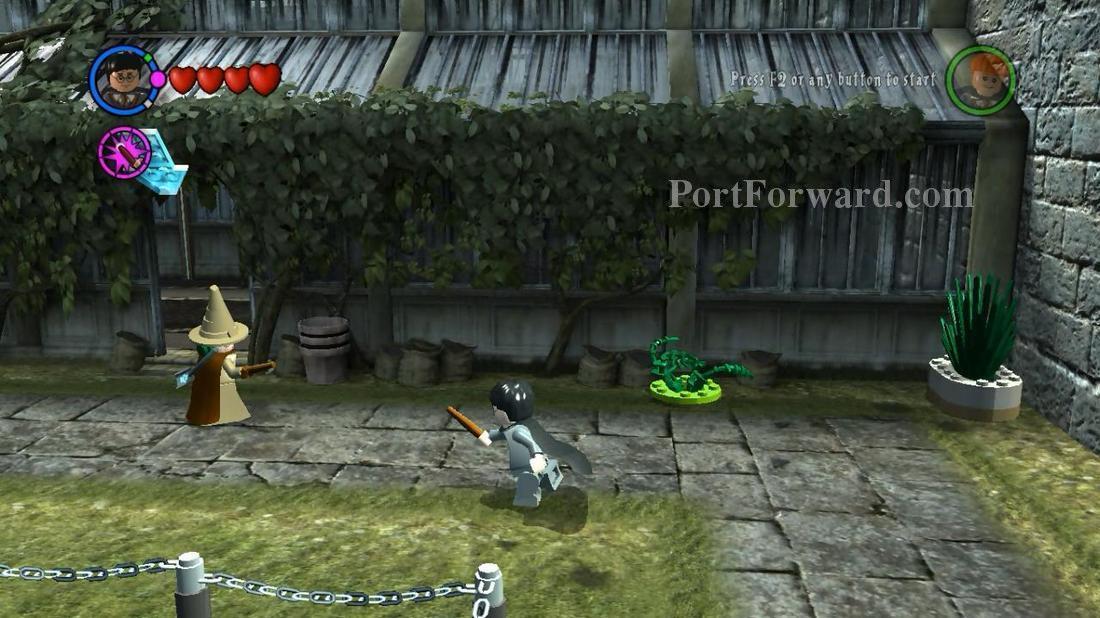 Continue after the ghost to reach the Herbology Classroom for another Herbology Class session.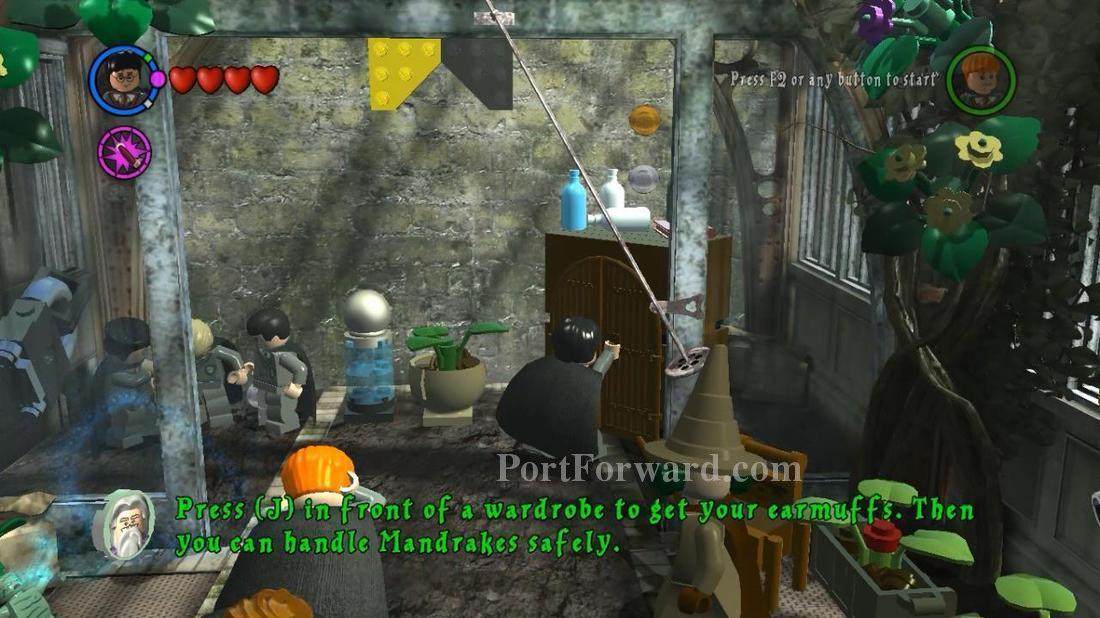 Equip the earmuffs from the wardrobe.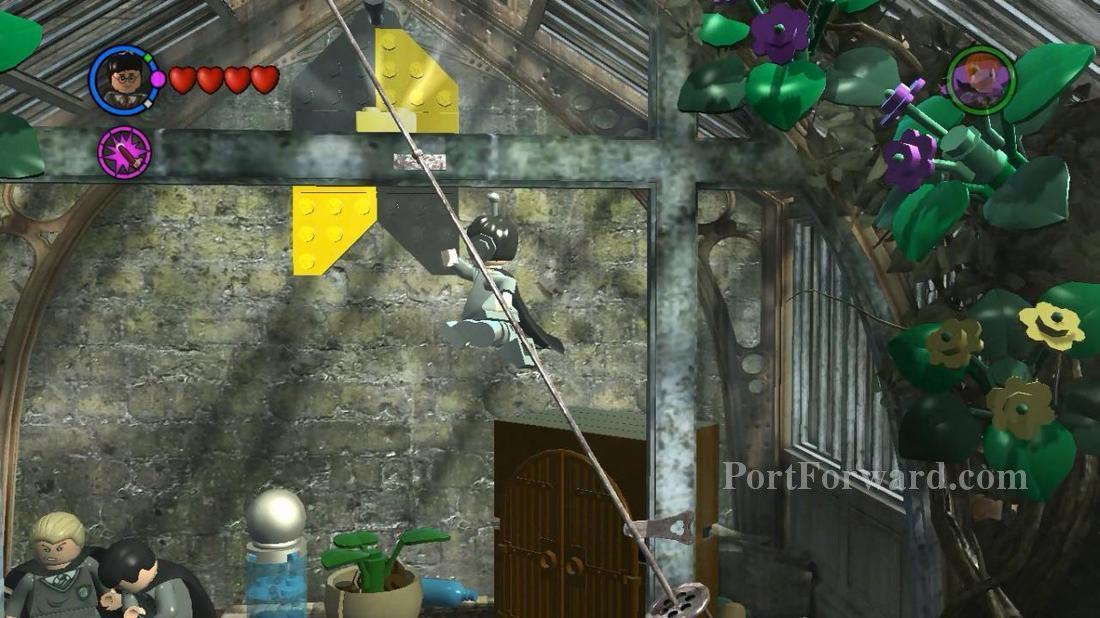 Jump onto the wardrobe to get a Gold Brick.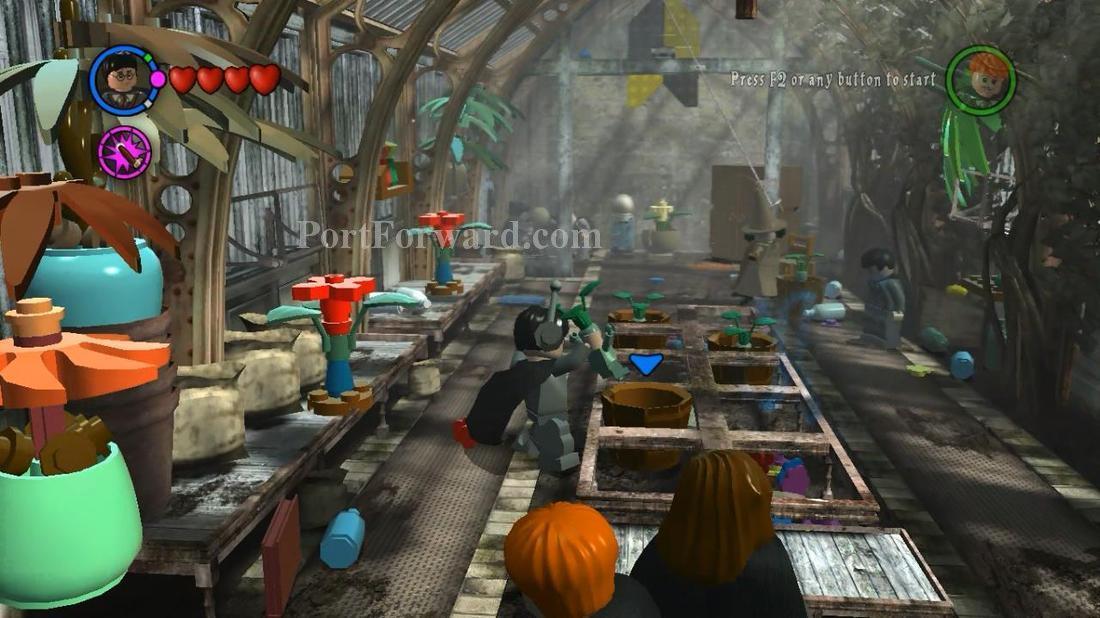 Put all three Mandrakes, one in each pot.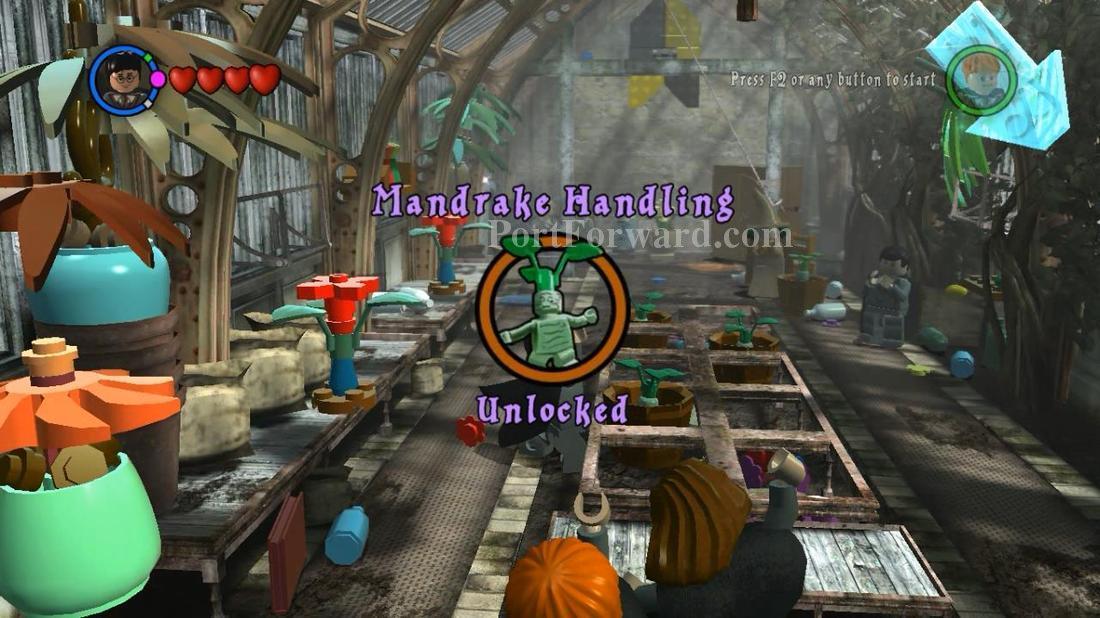 You'll receive the Mandrake Handling ability. Now exit the classroom, then head to the Castle Courtyard.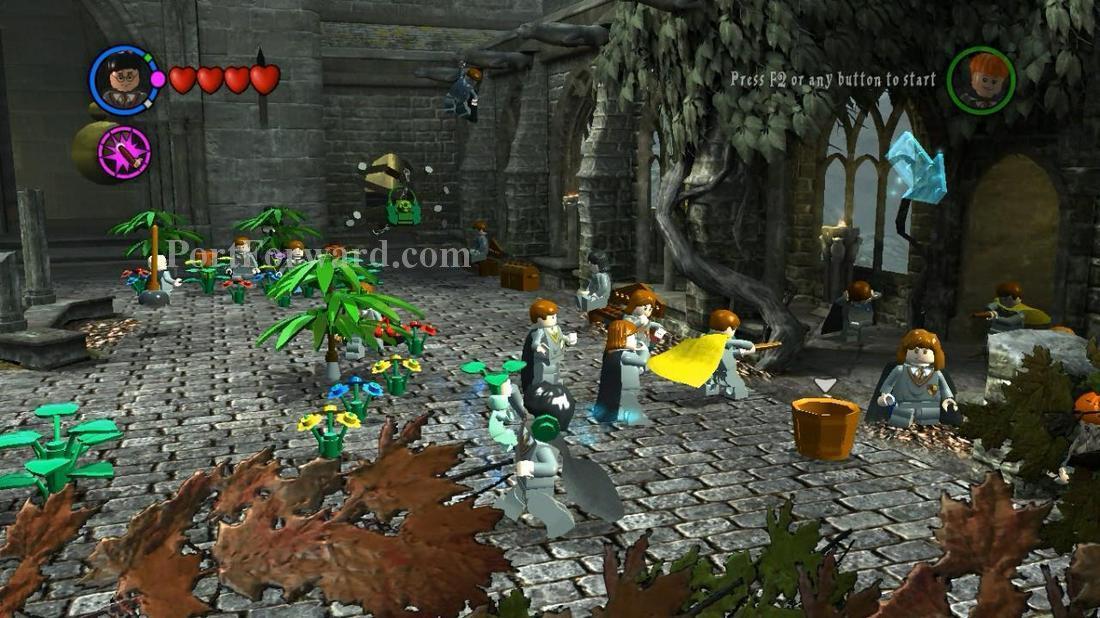 [Pendulum Tower Courtyard] There's a Mandrake terrorizing some students. Pick it up.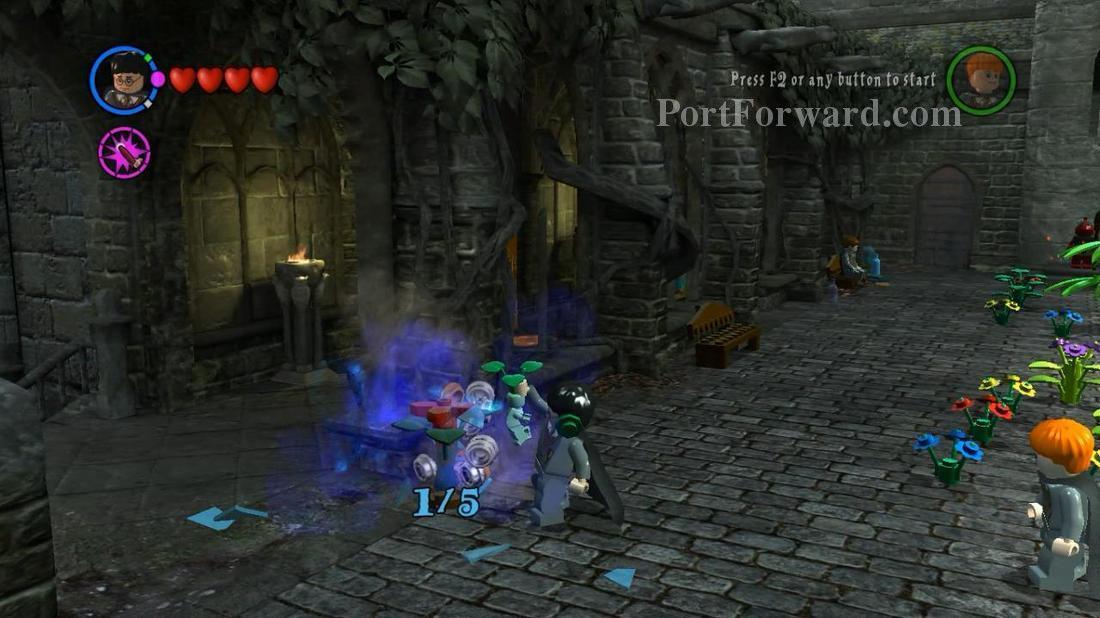 Character Token -- finding and shattering five glass cases to collect Hufflepuff Boy token.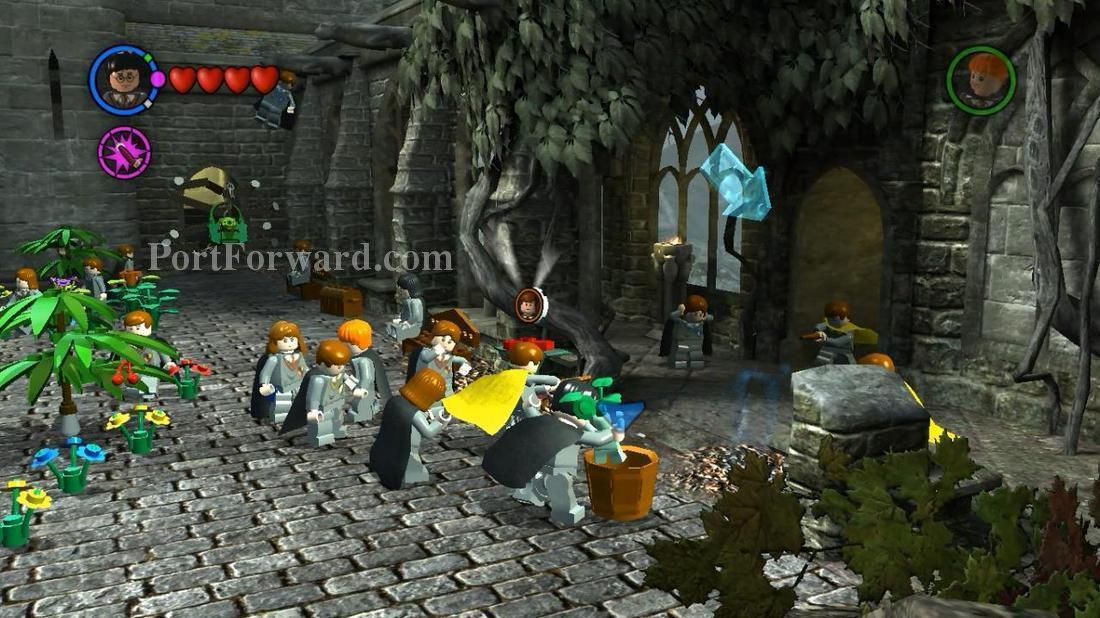 Plant the Mandrake in the pot and head through the opening to the right.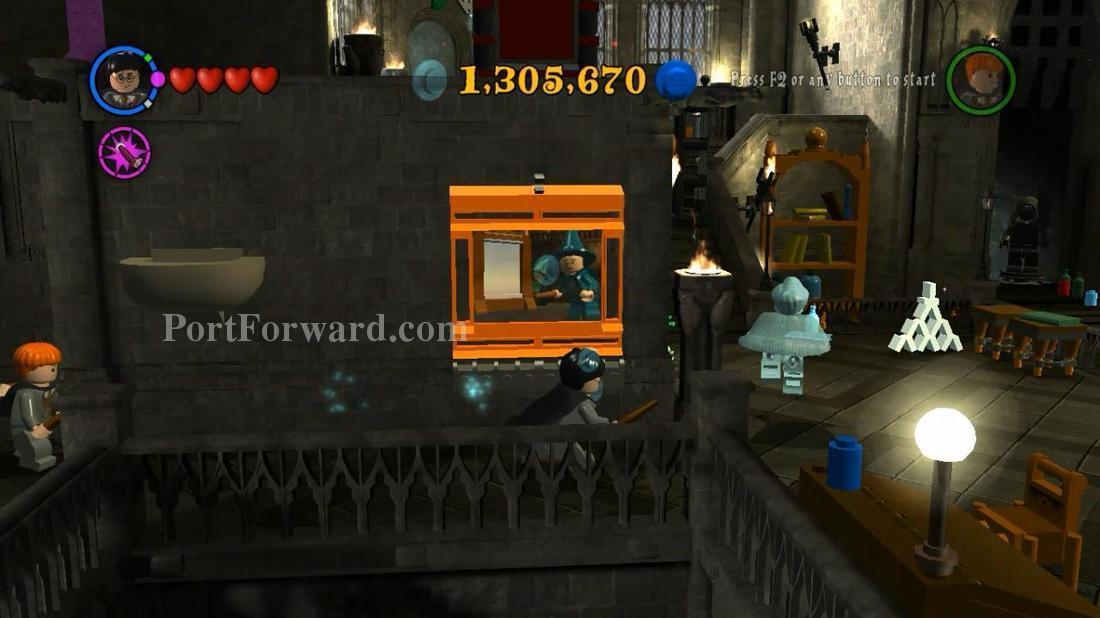 [Classroom Foyer] Keep following the ghost.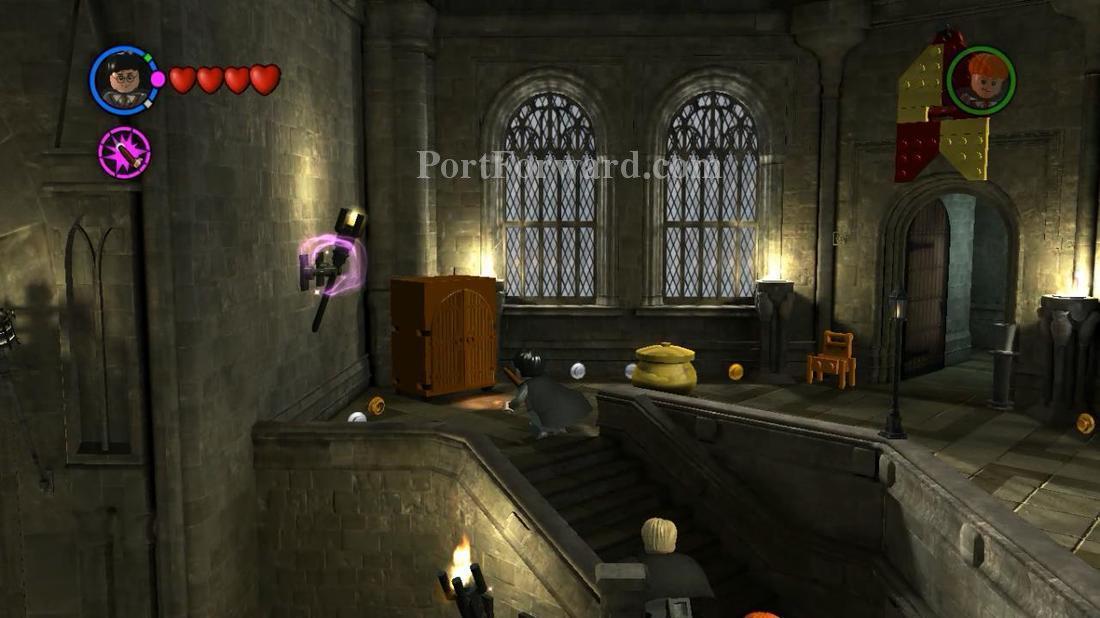 Now the upper right balcony is accessible.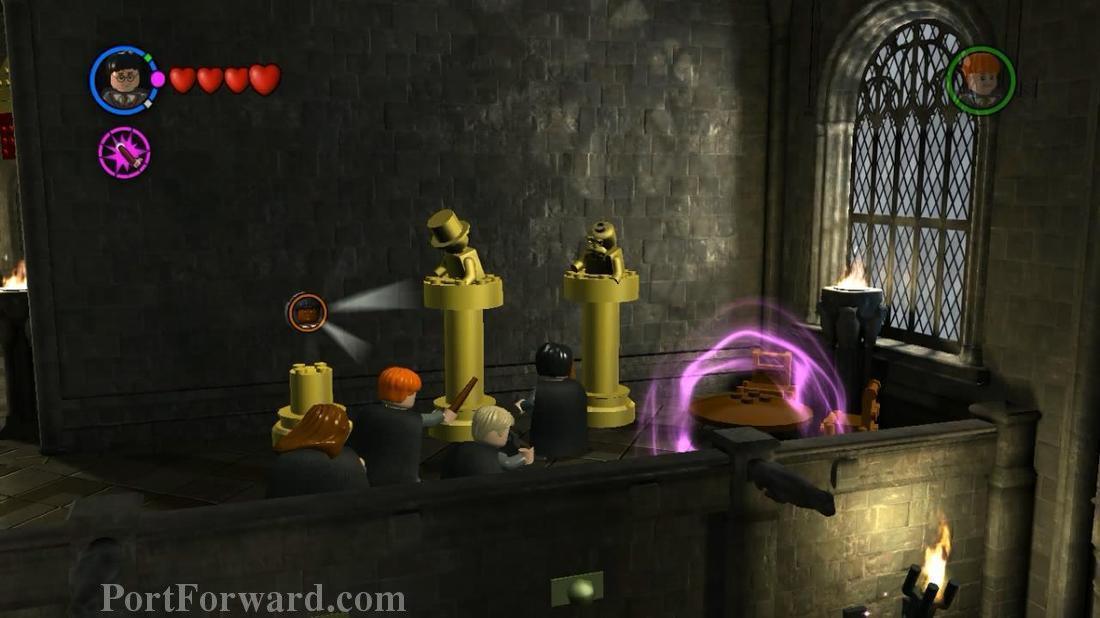 Character Token -- Hit the golden columns with statues atop then collect the Lee Jordan token.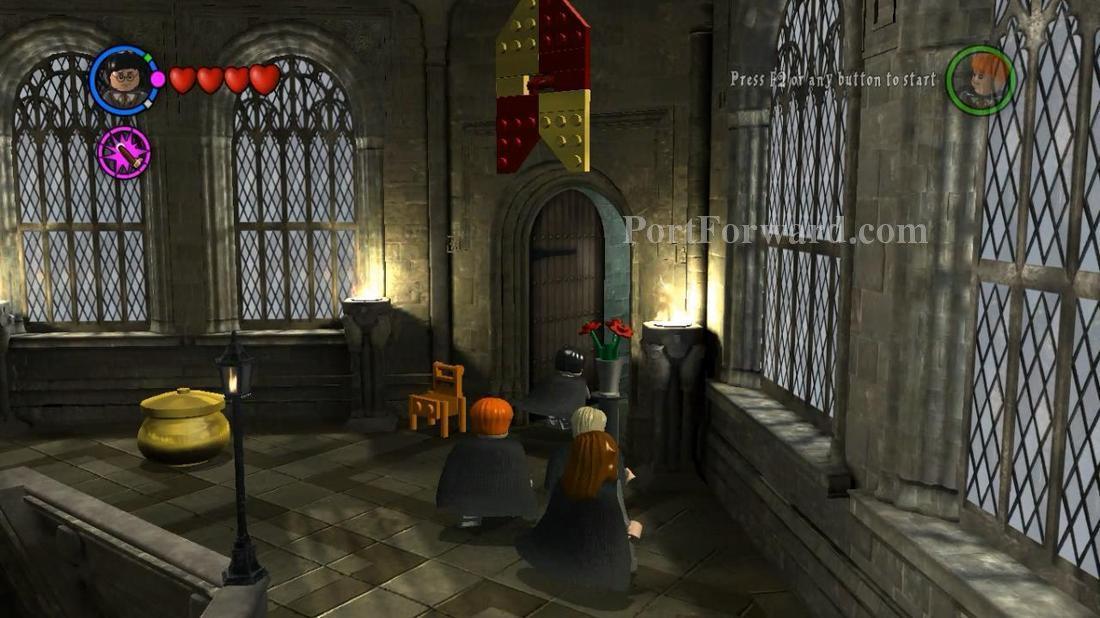 Before equip the earmuffs, I would advise you to attend the Transfiguration class first as this is most important skill that you need IF YOU WANNA ACCESS TO REDUCTO SPELL ON YOUR SECOND YEAR.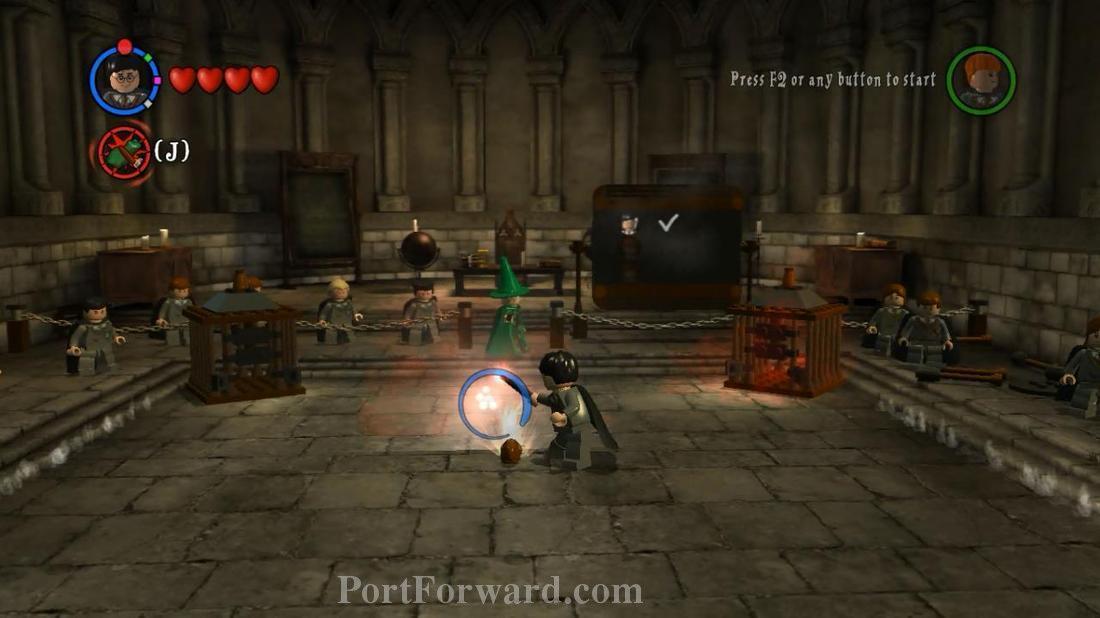 [Classroom 1] In this lesson, use Transfiguration spell on the dummies to transform them into mice/frogs.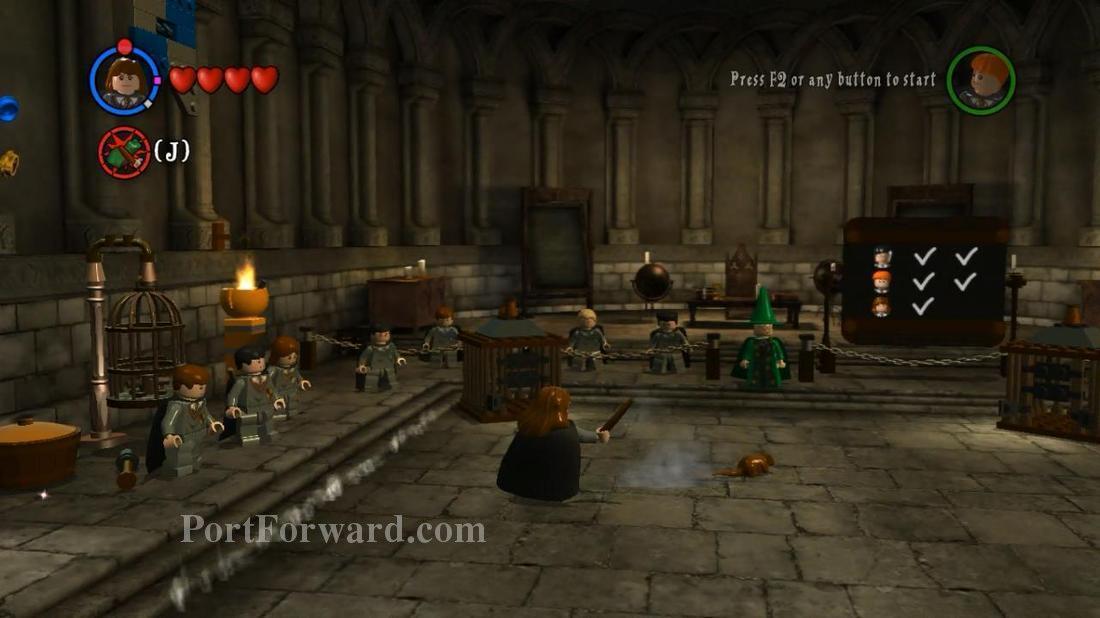 Every characters must take a turn.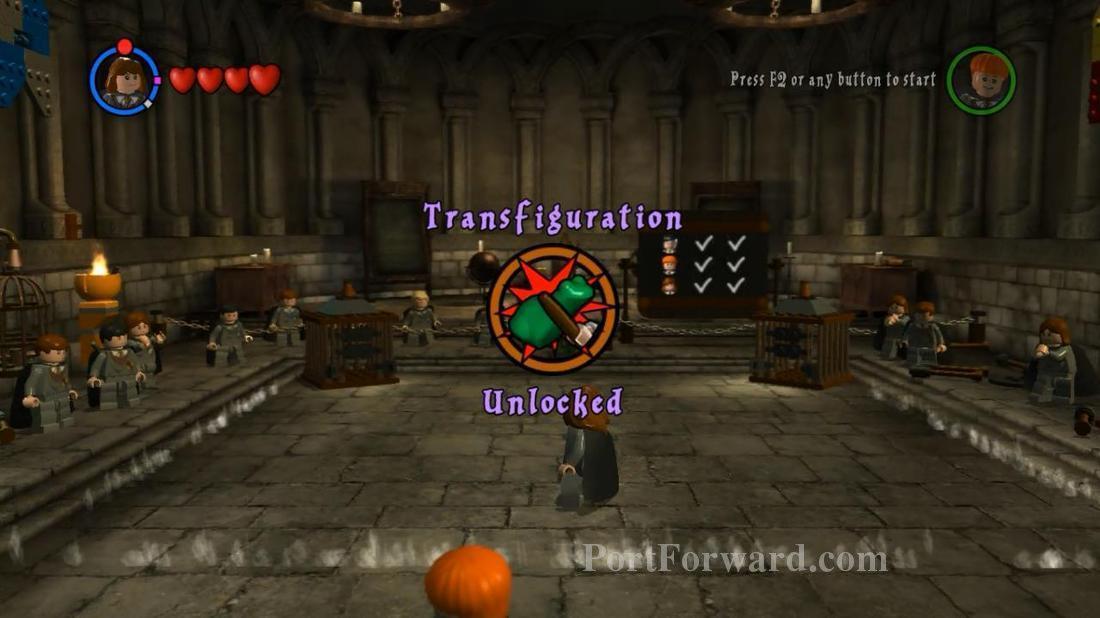 One Gold Brick for learning Transfiguration spell!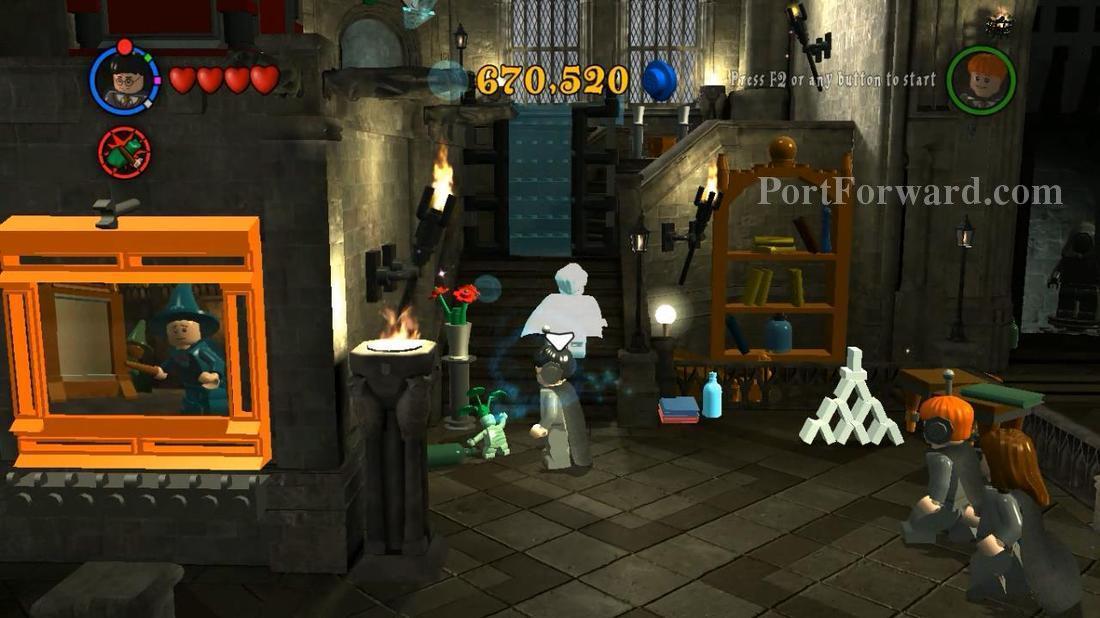 Once you're done, equip the earmuffs then pick up the shrieking Mandrake.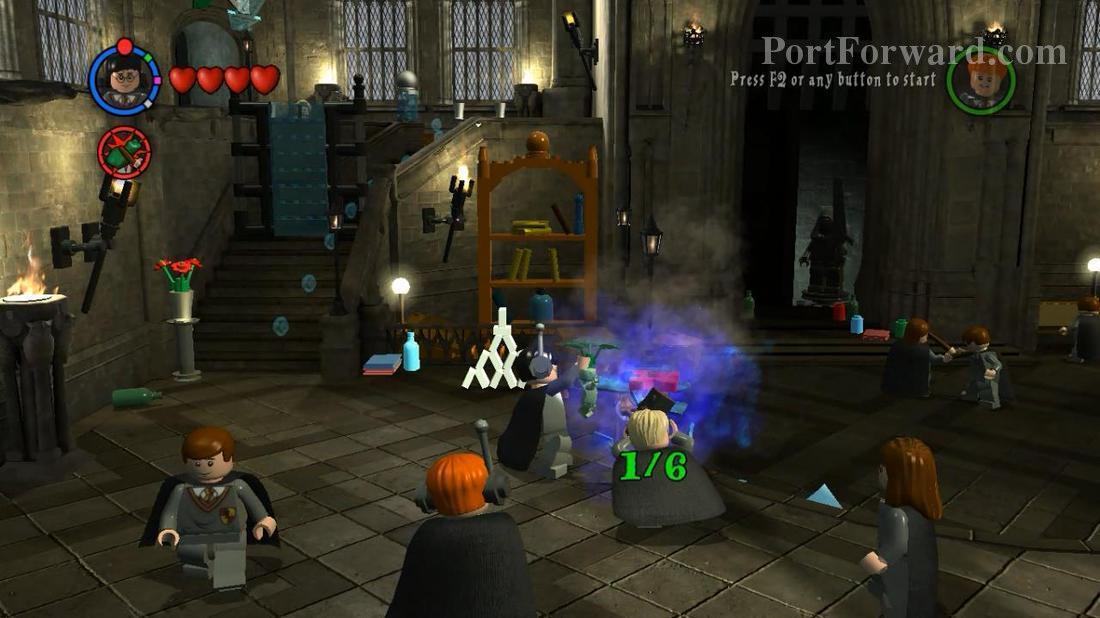 Character Token -- Carry the Mandrake around the room, passing in front of a glass case at the lower level and five more glass cases at the upper left balcony to reveal the Ernie Macmillan token.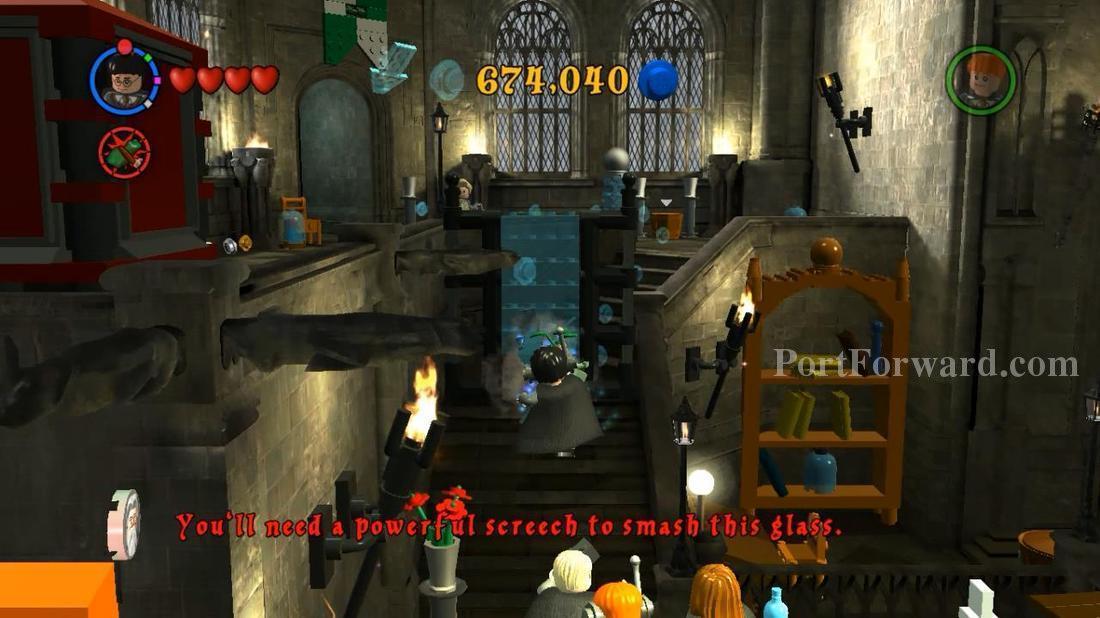 Use the Mandrake to shatter the glass wall.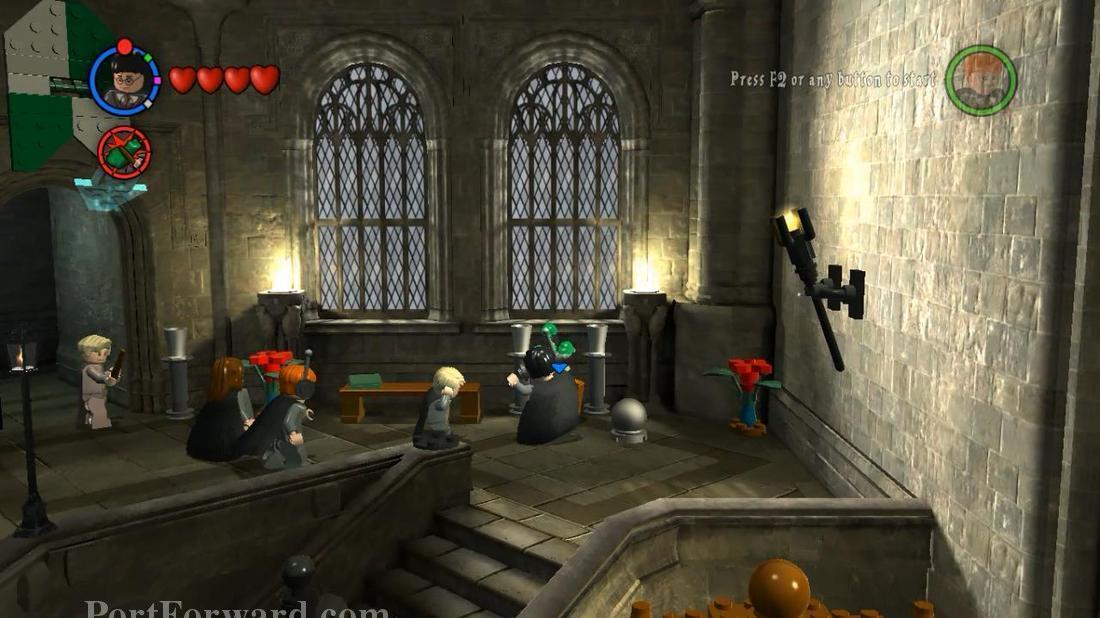 Put it in the pot.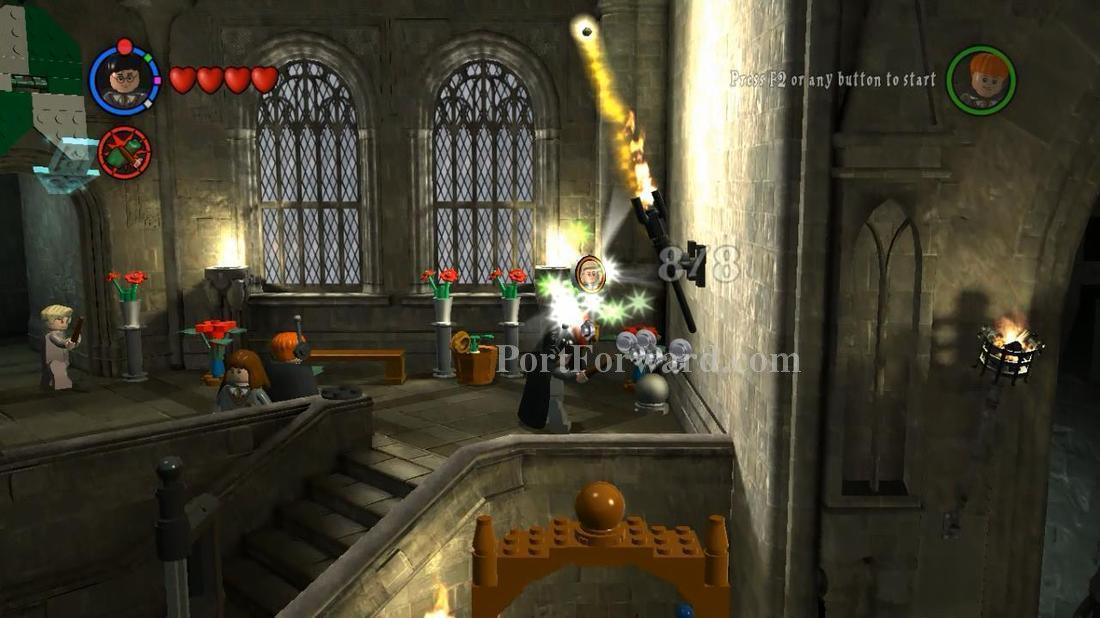 Character Token -- Hannah Abbot token will be unlock by tugging on eight torches in the room.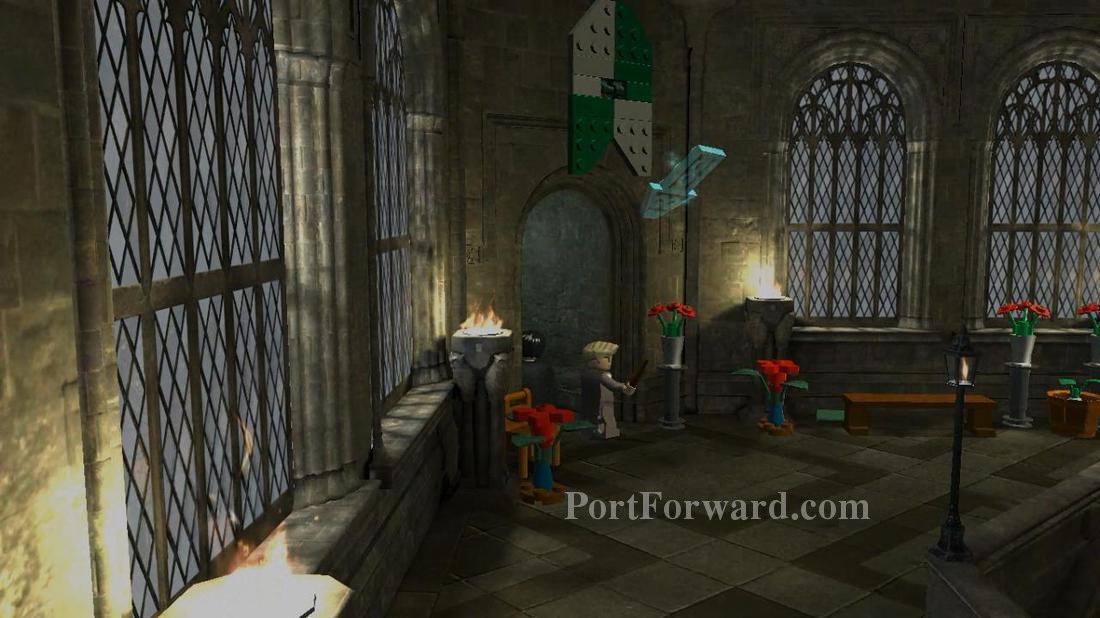 [Classroom 2] In this class you'll learn how to defense yourself against the dark art. Now attend the class.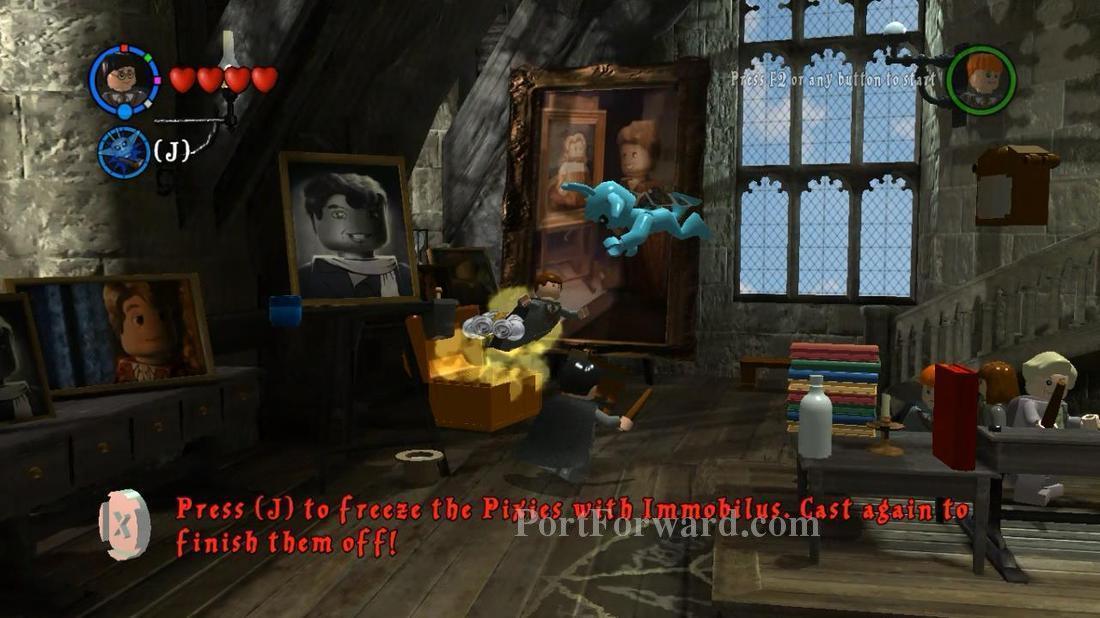 Save a Student in Peril in the chest.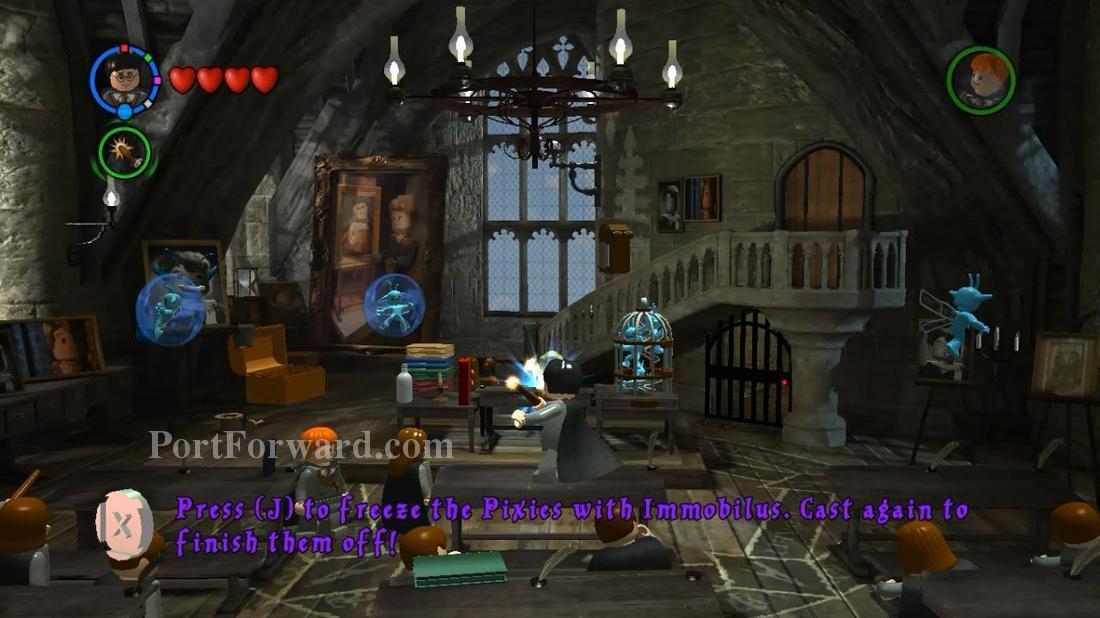 When you've defeated the first three gremlins, five more will appear.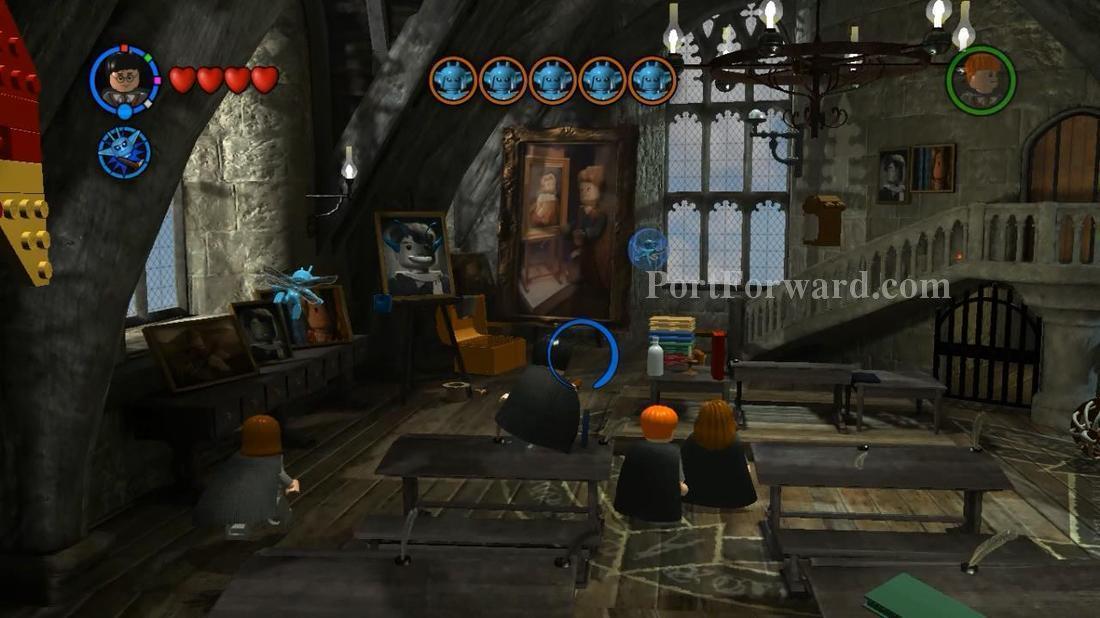 Take out each of them.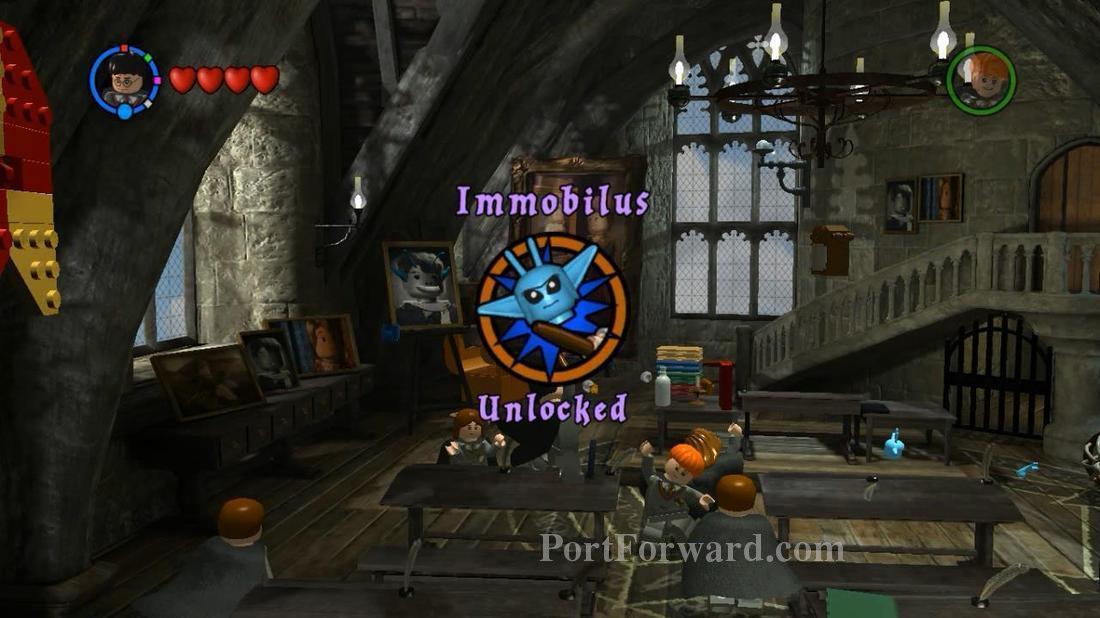 Once you're done you'll learn the Immobilus spell. Out to the Classroom Foyer.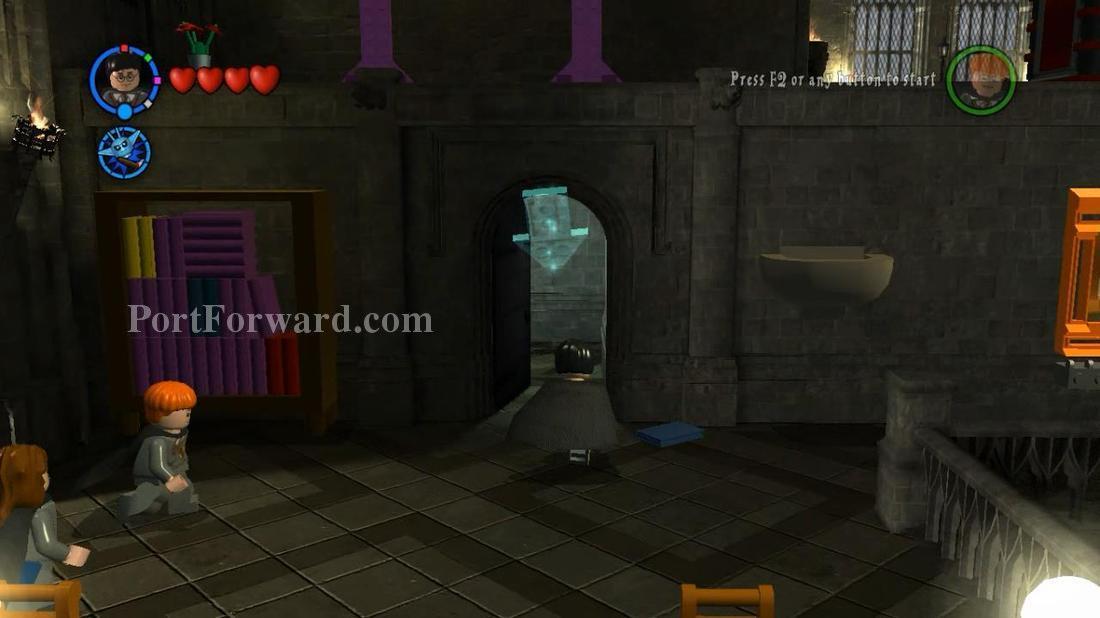 [Classroom Foyer] Follow the blue arrow to trigger a cutscene.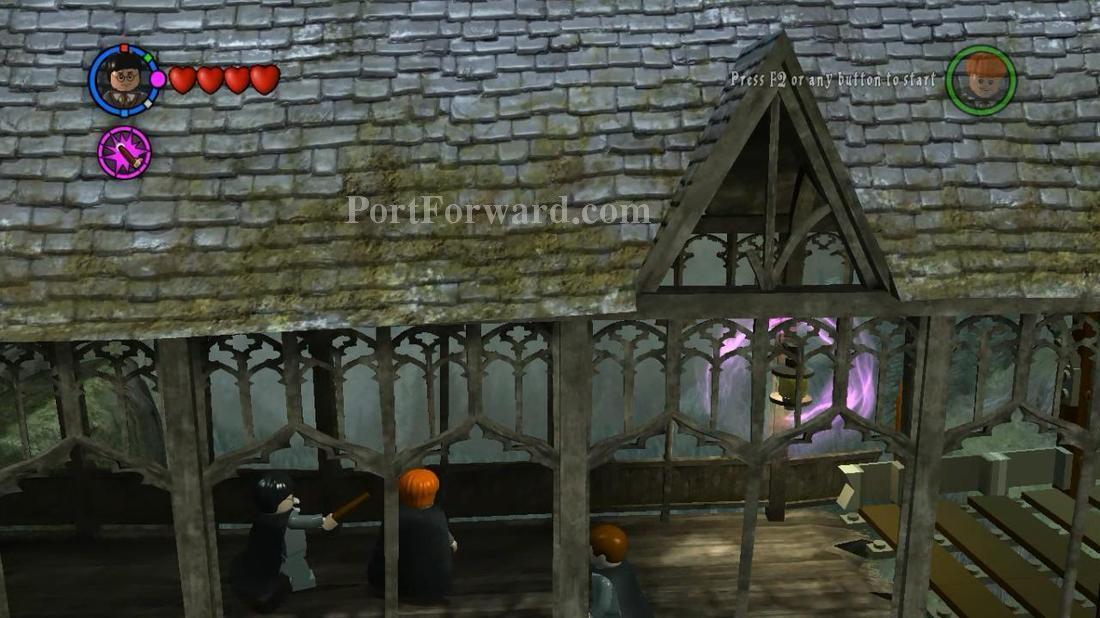 [Wooden Bridge] Make your way to the Sundial Garden.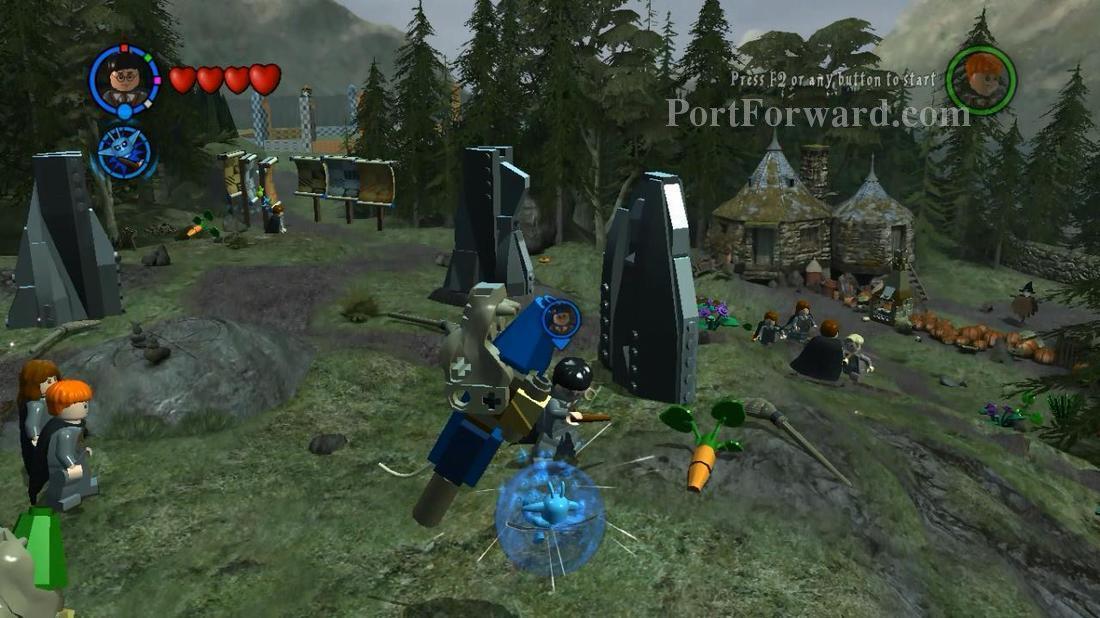 Blast all Pixies you've encountered.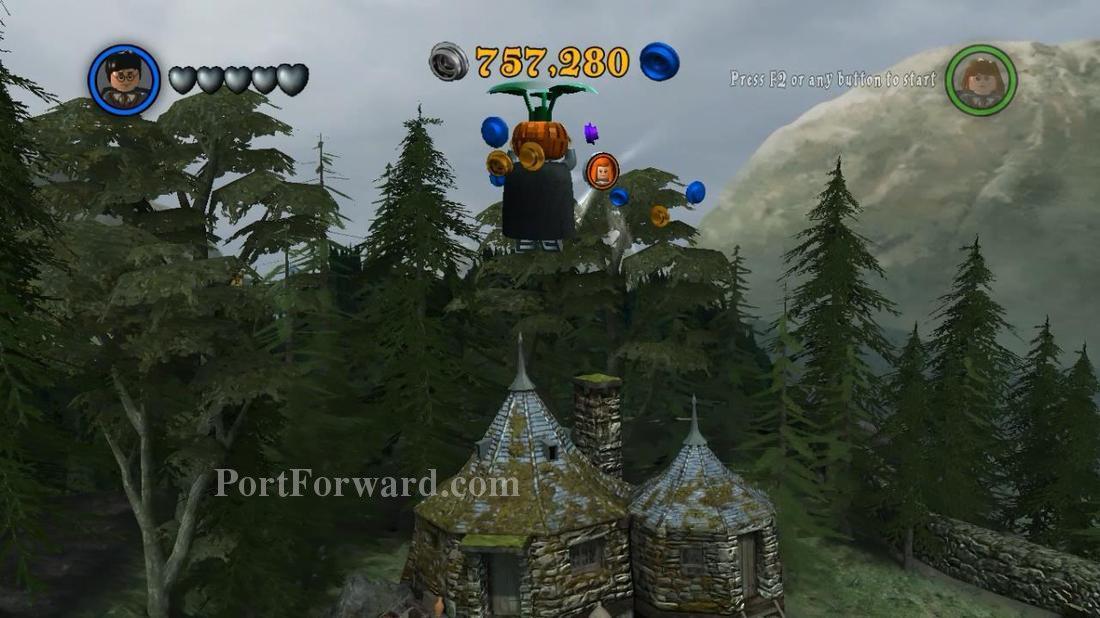 Character Token -- Defeat a gremlin that holds a blue rocket. Send the rocket off by hitting it with magic. Use the pumpkin head-copter to get the Ginny (Cardigan) token.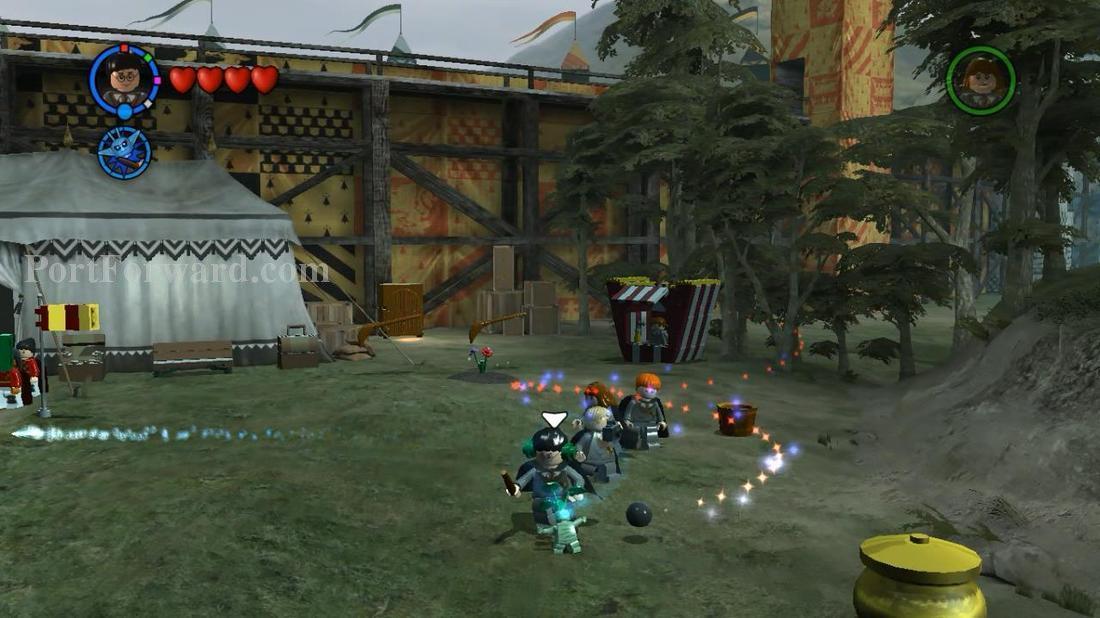 [Quidditch Gate] Handle the Mandrake as usual. Hit the black orb to keep it in the chest to earn some studs. Enter the Quidditch Pits when you're ready.
More Lego Harry Potter: Years 1-4 Walkthroughs
This Lego Harry Potter: Years 1-4 walkthrough is divided into 86 total pages.
Sours: https://portforward.com/games/walkthroughs/Lego-Harry-Potter-Years-1-4/HOGWARTS-CASTLE-IMPORTANT-1.htm
Lego: King of the castle
No matter how hard Sam Johnson presses down on the spider, the creature known as Sparratus stays together. It was not always so.
In his earlier versions, the plastic spider could withstand the pressure applied by someone like himself, an adult Lego designer from England. But when he gave the prototype to children, things were a little different.
"They picked it up by the legs! The crazy things kids do," he says. "We had to make sure kids could push the body all the way down to the floor to put the figure in."
Much of the six-month development of the $25 Sparratus' Spider Stalker toy set was spent making sure the legs did not snap off. A solution for wooden floors did not work on carpets until Mr Johnson introduced bricks from more advanced Technic sets. "You can end up falling in love with a brick," he says.
It is typical of the attention to detail that has propelled the Danish toymaker from the brink of financial collapse a decade ago to the most profitable company in the sector.
The Lego formula appears simple: take plastic costing less than $1 per kilogramme and transform it into sets based on Star Wars, Legends of Chima or The Hobbit retailing for about $75 per kg. But the company's success – sales enjoyed compound annual growth of more than 20 per cent between 2008 and 2012 – is not just built on the humble plastic brick. It has branched out from toys into video games, board games and, most recently, film, with the highly successful The Lego Movie.
But as children spend more time playing on devices such as iPads and smartphones, Lego faces a big problem that has stalled rivals: can it keep up its stellar growth in an increasingly digital world of play, or will it be trapped by its own recent success?
"I think it's a really critical question," says David Robertson, a professor at the University of Pennsylvania's Wharton School who has written a book on Lego, Brick by Brick. "They really need to find that next big thing. Lego has been pretty good at finding the next little thing but not the next big thing."
The real problem for Lego was that it did so many experiments in such a short space of time that the capabilities didn't follow quickly enough
A decade ago the privately owned company – still controlled by the founding Kristiansen family – was having trouble even knowing what the next little thing would be. When Jørgen Vig Knudstorp took over as chief executive in 2004, it was in deep crisis.
The former McKinsey consultant found a company that had lost faith in the brick, dumping its Duplo brand for toddlers and plumping for easier-to-build products such as a character called Jack Stone.
"The real problem for Lego was that it did so many experiments in such a short space of time that the capabilities didn't follow quickly enough," says Mr Knudstorp, sitting in his modest office filled with dozens of Lego sets in the Danish town of Billund.
Mr Knudstorp, 45, who retains a boyish air with his spiky hair and glasses, put in place a three-stage plan. The first two years were about survival: assets, such as the Legoland theme parks, were sold off and strict financial controls were introduced.
Once the bleeding stopped, he tried to make the company healthy again in 2006-07 by restructuring manufacturing. The final stage, begun in 2008, was a push for growth. Lego made a big effort in markets where it was under-represented: in the US, as well as emerging markets such as China, Russia and Brazil.
It also launched new product lines. Lego had always been preferred by boys, so it started the Friends range aimed at girls. Despite controversy, it was a big seller. Other successful homegrown launches were Ninjago, based on Japanese warriors, and Legends of Chima, featuring animals fighting in a magical land. Those successes were all the sweeter because Lego does not have to pay the royalty it does for third-party sets such as Star Wars or Harry Potter. It also has full control over the characters, what they look like and can do.
The result of these efforts was a company that made an operating profit of DKr8.3bn last year on sales of DKr25.4bn – up from DKr8bn in 2007 – from a product with global appeal. "Kids in Afghanistan and Jordan, kids in Boston, Beijing and Berlin, they have the same perception of the product. So what we're dealing with here is one of these few companies in the world that are a bit like Airbus or Boeing or Coke or Pepsi or Apple or Samsung [and] have a global product assortment," Mr Knudstorp says.
Yet he cautions that the challenges Lego faces today are very similar to the ones a decade ago. "I think one of my huge jobs over the next 20 years is to be able to adjust to globalisation and digitalisation and not be taken hostage by our past success, not being tied by earlier decisions which then limits your ability to adapt to what is required from the future."
The one thing is that we never leave the physical brick. Our standpoint is that physical play is extremely important
One criticism made of Lego is that it has missed the chance to move decisively into the digital world. Minecraft, a highly popular Lego-like computer game in which players build or destroy virtual landscapes made of building blocks, was instead created by the Swedish start-up Mojang.
Some Lego executives privately regret that they failed to develop such a game but Mr Knudstorp praises Mojang, with whom the toymaker is developing several big Minecraft sets for release later this year. "What we're finding is that if you are very good at writing books, you are not necessarily the best to turn that book into a great movie. You need somebody who makes movies . . . and in our case we need partners who can translate the physical Lego experience into the digital experience," he says.
So Lego teamed up with TT Games, a British games developer, to make video games from Lego ranges such as Star Wars and Chima. Many became bestsellers and Lego has had success, too, with online games. It also partnered with Warner Bros to make The Lego Movie, which is the seventh-highest grossing film of the year, generating close to $500m globally.
Mr Knudstorp says Lego will never become a fully digital company: "The one thing is that we never leave the physical brick. Our standpoint is that physical play is extremely important. Then I see digital as an extra experience layer."
He adds: "I guess we could be closer to a Nike, which is trying to obviously sell a very physical product like a sneaker or golfing equipment but may add an app that improves your golfing performance."
That digital layer is making Lego's product launches more complex. When The Lego Movie was released, it was not just the film: construction sets, a video game and a website in partnership with Google all launched at the same time. Such merchandising tie-ins have long been a lucrative part of film releases by Disney and DreamWorks.
"This movie signals they continue to want to expand from a construction toy to a content company. They can leverage that safe brand," says Prof Robertson.
A sequel to The Lego Movie is set for 2017 but Mr Knudstorp is keen to take it slowly rather than rushing out films based on its various products.
Mr Knudstorp acknowledges that complexity is growing and says he has revamped Lego's management structure precisely for that, stripping out a whole layer.
But he adds: "I have a little picture of 25 minifigures each turning Chinese plates on a bamboo stick. I show it to the guys and I say: 'I know it's difficult. That's why we spent 20 years learning it and that's why we are so difficult to imitate.' So don't be sorry that we do something that's very hard to do. It'd be worse if we could only spin one plate."
One concern today is that history may be repeating itself. Lego were in a mess at the end of the 1990s for several reasons that sound familiar. Prof Robertson points to examples, including a dizzying array of product launches and recruiting workers who lacked sufficient understanding of the company and its culture.
Some of those issues are now returning. Lego's website lists 30 product ranges, while in February the company said it would focus on increasing staff in Connecticut, London, Shanghai and Singapore.
The big blue hair. That is a bit of a costly element to manufacture to be quite honest but it is also a very special element
Mr Knudstorp says: "I worry about it all the time but I think we are in a very different place."
First, he points out that all Lego's growth is self-financed, meaning the payback for investments is quick and a failure is not a disaster. The
Kristiansen family are committed owners.
Second, what he calls "health metrics" – such as customer and retailer satisfaction, shelf positioning, employee motivation – are at "a completely different level" compared with a decade ago. Finally, he says, underlying profitability is far better.
Alook at the recently released Simpsons house, based on the cartoon TV series, shows why. The $200 set includes minifigures of the en­tire family, including mother Marge with her distinctive blue beehive.
"The big blue hair. That is a bit of a costly element to manufacture to be quite honest but it is also a very special element," he says. "So the designer is basically told: 'You get that, but in the rest of the set we want to see a fairly standard execution'." That means the designer needs to use bricks from other sets to keep costs down.
Prof Robertson says DKr1m ($182,600) is the "magic number" for bricks. If a single element – say a red brick with two rows of four studs – makes more than DKr1m in all the sets it is in, the profit rises almost exponentially over that sum; if it sells less than that, a loss is guaranteed.
Growth is slowing at Lego. Sales increased 10 per cent last year, down from the breakneck average of 20 per cent in the previous five years. That is still better than many rivals in a gloomy toy market. Mattel's sales rose 1 per cent in 2013 while Hasbro's fell slightly.
Sean McGowan, managing director of equity research at Needham, a New York investment bank and asset manager, praises Lego's marriage of physical and online play, while cautioning that "brands can be deceptively vulnerable" in a maturing sector.
"Western markets are very mature, and Lego have been very successful by growing into other categories beyond basic bricks," he says. "That expansion gets harder the bigger they get because the total industry isn't growing."
Yet Mr Knudstorp views the toy landscape optimistically. Children who play video games still want to play with physical Lego, even in countries that are hard to crack such as China. "I feel very confident about what we're doing here and I feel I am speaking from a real position of strength," he says.
"Of course I have to worry about where are the boundaries and are we pushing too much, but I feel we are very ambitious and balanced with where we're standing."
Design: From perfection to experimentation
When Lego decided to launch an online game, it spent years planning and perfecting Lego Universe until its launch in 2010. But the game quickly fell flat and was killed off 18 months later, at the cost of about 115 jobs.
Around the same time, Markus Persson, a Swedish games developer, put out a test version of a game that he had developed in his spare time. That game became Minecraft, which is the biggest-selling PC game in history.
Lego executives say they have learnt much from flops such as Universe. "What we have taken away from that is the need to be much more agile in digital propositions," says John Goodwin, Lego finance director.
"Others put their games out in beta [an early development stage] and constantly reiterate it. That's not part of our DNA. We have a tendency to want to have perfection by the time it gets into consumer hands."
Now Lego's approach to digital is more experimental and designed to get products out more quickly.
To coincide with The Lego Movie, it launched a website with Google called "Build with Chrome" where people can construct whatever they like using digital bricks.
Another example is the recently released Lego Fusion set. Launched in the US in June, they allow children to build two-dimensional models of buildings, castles, racing cars or beach resorts.
They then use an app to capture the model and import it into a 3D digital world where they can play with their own creations.
Ditte Bruun Pedersen, a senior Lego design manager, says: "In our research, we heard repeatedly from parents that they are constantly battling 'zombie gaze', the experience when their children are immersed in their device screens for large blocks of time."
She adds that Fusion tries to give children the gameplay they enjoy with apps as well as reasons to return to the physical bricks.
Jørgen Vig Knudstorp, Lego's chief executive, says he is happy with Lego's digital positioning, especially with its video games, the website lego.com and as one of the top three most-watched brands on YouTube.
But he adds: "If you're good at authoring books, you're not necessarily good at writing a movie script. That's our challenge."
Sours: https://www.ft.com/content/ee8941f8-01c5-11e4-ab5b-00144feab7de
LEGO Harry Potter Wiki Guide
Harry Potter and his friends will have many adventures as they attend Hogwarts, the school for witches and wizards in training. You can play alone or with a friend, but this LEGO Harry Potter: Years 1-4 wiki guide will assume that you are adventuring alone and will provide instructions accordingly.
Our LEGO Harry Potter: Years 1-4 guide will note all of the important characters that you can meet and unlock along the way, as well as notes on collecting golden blocks and much more. For the most part, collectibles are referenced in their own section. To get everything, you'll need to visit the stages a minimum of two times.
In This Wiki Guide
LEGO Harry Potter: Years 1-4
LEGO Harry Potter is a "magical" game for the PS3 starring everybody's favorite LEGO wizard.
Sours: https://www.ign.com/wikis/lego-harry-potter-years-1-4/Walkthrough
Massive LEGO Game of Thrones Wall / Castle Black
Customs Article


This article describes a custom creation, custom theme, or other fan material, made by a Brickipedia contributor. It has never been, is not, and will not be officially released.
LEGO Castle: The Video Game
LEGO Theme:

Video Game, Castle

Creator(s):

Shiva

Genre:

Action, Adventure

Mode(s):

Single Player, Multiplayer

Platform(s):

PC, Xbox One, PlayStation 4

'
LEGO Castle: The Video Game is a custom LEGOVideo Game of Castletheme. It was created by Shiva.
Gameplay
The player progresses through a number of levels following a linear plot, but can return to the levels later on in free play mode, using any of all of the playable characters they unlocked up until that point and in addition, there are a variety of side-levels to embark on.
LEGO Castle: The Video Game contains a large open world that also acts as the game's hub. The open world is the world of Classic Castle: a large continent separated on various territories: the Lionian Kingdom, the Drakonian Kingdom, the Falkanian Kingdom and the Land of the Sun, also some lands belong to bandits of Wolfpack, Forestmen or Fright Knights. In the open world, players can also find the side-levels separate from the main storyline.
There is a Character Creator in LEGO Castle. The player can create his own character using accessories of other characters able for them. For example, player has King Richard and Majisto unlocked, so in Character Creator they can use the crown of King Richard and Majisto's magic wand for their characters.
Plot
The Lionian Kingdom
Game starts from the side of the Lionian Kingdom. The army of this kingdom is separated on the Royal Knights, who guard the kingdom inside, and the Crusaders, who guard the kingdom from outside. Main protagonists of the Lionian Kingdom storyline are Sir Robin, a knight of the Crusaders, and his squire Frederic. Robin and Frederic patrol a village near the Capital. One maiden attracts Frederic's attention which causes her to ask a knight and his squire accompany her to the local Inn. Frederic agrees while Robin is feeling something strange in this thing. Anyway, they both accompany her. Once they arrived, they see a band of thieves from Wolfpack. Thieves don't let maiden go inside the Inn and steal her pendant with gems. Robin and Frederic start a fight with thieves, defeat them and get this pendant back. Maiden thanks them both and tells that she needs to get to the castle of King Richard. Robin, Frederic and a maiden Tania depart on a journey together.
Once they arrived at the Capital, some of the guards stop the trio and attempt to arrest Tania, saying that she's a wanted woman. Frederic draws his sword but quickly stopped by Sir Robin. Guardsmen don't allow the trio to pass into the Capital, however one of the Royal Knights and a friend of Robin, Sir Benedict, appears and tells that guards confused Tania with another woman. Guards then let the trio pass, Benedict comes with them.
In the Capital the four are attacked by bandits of Wolfpack, who sneaked with them. Battle starts: the four fight bandits in the Market District, some of the guards join the heroes. The battle is over, heroes are victorious, however the whole district is damaged and people refuse to work. The four fix everything that was damaged (guardsmen help them again) and continue their journey.
Finally Robin, Frederic, Tania and Benedict arrive at the king's castle. There Tania finally reveals herself as the spy of the king, who was tasked to spy the hostile Falkanian Kingdom, because of the War of Lions and Falcons. Her pendant was in a shape of Falcon, that's why Frederic attracted so much attention at her, bandits tried to steal that pendant and guards wanted to arrest Tania. True reason was a pendant, Sir Robin and Sir Benedict realized it only at the castle. Tania reports that King Martin of the Falkanian Kingdom is also at war with Majisto, Wizard King of the Drakonian Kingdom. Richard then gives a task to Sir Robin and Sir Benedict to give a message to Majisto. Two knights and their squires, Frederic and Bruce, depart on a journey.
Wolfpack
Main protagonists of this storyline are twins, Jimmie and Jennie, brother and sister. Quests of this storyline start after two knights and their squires from the Lionian Kingdom depart on a journey. Twins attack and capture a carriage full of treasure. They take a carriage to Paul the Wild, leader of Wolfpack. Paul gives twins their cut of treasure and then tells about the War of Lions and Falcons: many forts have so weakened guardsmen and too much treasure within themselves. Jimmie and Jennie understand that this is their perfect chance to become rich. Twins plan attack on the strongest Dragonfire Fort.
Both of them understand that without any experience they can't rob the Raven Fort, so as a little warm-up twins successfully rob a small Raven Fort and even capture it. Bandits of Wolfpack along with Paul the Wild arrive at the newest hideout. Paul tells to twins that they are ready to sneak into the Dragonfire Fort.
Jimmie and Jennie, also together with Paul the Wild and his bodyguard Dan, sneak into the Dragonfire Fort. Unfortunately, while they were stealing the last chest of gold and gems, Wizard King Majisto of the Drakonian Kingdom arrives on his dragon at the fort. He feels bandits with his magical feel and detects them all. Majisto shoots his magical lightning bolts to stop bandits and wounds Jimmie. Majisto comes closer to bandit and prepares to shoot his bolt. But in time Paul the Wild covers Jimmie with his body. He cries «Jimmie, Jennie, it's on you now, guys! Lead the Wolfpack now, instead of me!» and then dies. Twins and Dan quickly run away from the fort, take their loot and escape on Majisto's dragon. Majisto starts to worry about his lovely dragon.
The Falkanian Kingdom
Soldiers of the King Martin's castle inform their king that Wizard King Majisto's dragon is flying above the castle. Martin takes two archers and together they climb the highest tower of the castle. There they see that three Wolfpack bandits sit on a dragon's back and can't handle it. An idea comes into Martin's mind. Using magic spell, he makes his voice much louder and orders bandits to land near the castle, outside of a city where that castle stands. King Martin and two archers go outside the town and meet with Wolfpack bandits. Two of them, young twin brother and sister, introduce themselves as Jimmie and Jennie, leaders of Wolfpack and also introduce Dan, former bodyguard of previous leader. Twins order Dan to look after dragon. Dan tries to handle a dragon but dragon resists and starts breathing fire. King Martin and twins decide to fight it. They seriously wound it and after that dragon flees. Jimmie seems disappointed but Jennie calms him down and reminds that King Martin had something to tell them. King tells that he was very impressed seeing that someone managed to steal a dragon of Wizard King Majisto himself and offers them alliance, so Wolfpack can be a part of the Falkanian army. Bandits agree. But nobody knew that an enemy heard and saw everything.
The Drakonian Kingdom
Terribly wounded dragon returns to his home, Fire-Breathing Fortress. Wizard King Majisto is very happy to see it again and promises his dragon that it'll be healed soon.
Army of the Drakonian Kingdom, just like an army of the Lionian Kingdom, is separated too. It is separated on the Dragon Masters, who are close to the Wizard King, and the Black Knights, who are not. One of the Black Knights, Sir Elethor, catches a sneaky spy of the Falkanians and delivers him to Fire-Breathing Fortress. Spy is imprisoned and Elethor attempts to leave but the Wizard King stops him. Majisto asks a brave knight if he could bring Black Grass to cure a dragon. Elethor agrees and tells that he needs to get to the mansion of Black Monarch, a nobleman and a leader of Black Knights: Black Monarch has everything that is required for Elethor's adventure. Majisto shows him a tunnel which can help Sir Elethor get to the mansion. Wizard King even leads knight through that tunnel. When Sir Elethor finally arrived, Wizard King Majisto returns to the Fire-Breathing Fortress.
Black Monarch gives Sir Elethor everything necessary. After that, he tells that the biggest source of Black Grass is in Dark Dragon's cave. Before Elethor climbed on his horse, a soldier of Dragon Masters, Tarekith, decided to help a knight in his adventure. Both Sir Elethor and Tarekith depart on a journey.
Upon arriving at the cave, heroes fail to take Black Grass without waking up Dark Dragon. Dragon attacks them and heroes protect themselves. Finally Elethor takes the grass and heroes run out of the cave. However, Dark Dragon comes out too. Fight continues. Tarekith is seriously wounded, Sir Elethor runs out of his strength. It seems, that this is the end. But two Lionian knights with two squires suddenly come out and make Dark Dragon flee.
Unity
Sir Elethor and Tarekith owe knights and squires their lives. Knights introduce themselves as Sir Robin of Crusaders and Sir Benedict of Royal Knights, squires introduce themselves as Frederic, squire of Sir Robin, and Bruce, squire of Sir Benedict. Lionians say that they want to have a conversation with Wizard King Majisto, Elethor and Tarekith lead them to the Fire-Breathing Fortress.
In the Fortress Elethor gives Majisto Black Grass and Wizard King finally heals his dragon. Knight says that he couldn't bring it if the Lionian heroes didn't arrive in time and help. Majisto thanks heroes a lot and asks what did they want from him. They answer that the Lionian Kingdom wants to ally the Drakonian Kingdom in the War of Lions and Falcons. Wizard King agrees. In a few seconds Tania appears in the Fortress and tells everyone that the Falkanian Kingdom made an alliance too. After that King Richard appears and says that an ally of the Falkanians is Wolfpack. These news make Majisto very angry.
Later, Wizard King and Lion King make a team of heroes which includes two Lionian knights and their squires, Tania, Sir Elethor, Tarekith, Black Monarch and themselves. Team plans an attack on one of the closest forts of the Falkanians at Black Monarch's manor. At night everyone goes sleeping except Black Monarch, Sir Elethor and Bruce. They hear a strange noise and see a light in the hall. They go on a light and noise and they meet a ghost of the former Black Monarch. They defeat it and with that they wake up everyone in a manor. After everything revealed, everyone goes to sleep.
At the morning, team departs on a journey. They decide to go through the forest. In the forest they see a wooden fortress.
Forestmen
Team decides to go inside a strange fortress. However, men in green clothing appear and don't let them go inside without telling a reason. King Richard and Wizard King Majisto tell them who they are and what do they want. Men in green are shocked by that fact and their leader steps forward. He introduces himself as Robert Nicholas Hoodsman (a.k.a. Rob N. Hood) and his men as Forestmen. They are hunters for gold and are enemies of Wolfpack. An idea comes to Majisto's mind.
Wizard King offers them a deal: team will pay a big price if they help them to destroy Wolfpack and defeat the Falkanians. Rob tells that he doesn't need money but the information where these bandits are hiding. Tania tells that half of them are hiding in their fort, on the lake near the castle of King Martin, and the rest of them are hiding in that castle, because of the alliance of the Falkanians and Wolfpack. Rob says that he and his right-hand man will clean the fort and two of his men will find basement of Wolfpack in the castle of King Martin and destroy every bandit there.
Rob N. Hood and his right-hand man Nick finally find the fort and destroy there everyone. After that they take every treasure there and leave. Forestman and Forestwoman, sent to the castle, destroy almost everyone, including Dan, the leaders' bodyguard. However, the rest of Wolfpack bandits, who remained alive, fled from the castle. After Forestman and Forestwoman unite with Rob N. Hood and Nick, they return to the fortress.
However, when they return, they see Wolfpack bandits, including Jimmie and Jennie, attacking their fortress. They see a team protecting the fortress along with other Forestmen and join them. After beating up every bandit, King Richard, Majisto and Rob N. Hood defeat Jimmie and Jennie.
Team thanks Forestmen for their great help. After that, game shows cutscene with an angry King Martin and his scared Chancellor.
Attack on the Falkanians
With Wolfpack destroyed, the Falkanian Kingdom is terribly weakened. Team decides to attack King Martin themselves. At first, they attack a fort, which is the closest to the capital of the Falkanian Kingdom. Then they attack the capital and attack the castle of King Martin.
After they defeat guardsmen and their leader, Lance, team proceeds through the gates of castle. There they face Sir Miles, a knight of the Black Falcons. After defeating him, team soon meets a Chancellor, in a dining room. Chancellor uses magic spell to summon fireballs and thunderbolts and to use telekinesis to attack with dishes. Wizard King Majisto and King Richard use magic spells too and defeat a Chancellor. Finally, team arrives at the throne room. There Sir Robin and Frederic challenge King Martin for a duel. The rest of a team wants to stop them, but Crusaders fight a king. They are almost victorious but then Martin uses magic spell to knock them out. Richard and Majisto then finally stop the Falkanian King.
King Martin pleads for mercy. King Richard decides to spare him. Smile of gratitude appears on Martin's face. Everyone is glad that everything is over but darkness of the night, instead of the morning sky, quickly covers the world. In the throne room appears a man in the dark armor with a helmet in shape of bat. He introduces himself as Basil the Bat Lord and says that he and his Fright Knights are going to conquer the world and fill it with a darkness of the night. Then he disappears and everyone witnesses the building of the Night Lord's Castle.
Everyone is disappointed. But King Martin tells heroes that he knows who can help them.
The Land of the Sun
King Martin joins the team and the entire team hurries to the Land of the Sun.
On the territory of the Land, team realizes that this is the only place in the world which is not covered with darkness. However Fright Knights die trying to conquer this land too. Heroes fight them in a village and proceed further. Later team confronts Fright Knights near the White Temple of Shogun.
Finally, team arrives at the Cloud Palace. There they meet Gi-Dan, ruler of the Land of the Sun. Heroes ask him what should they do to defeat Basil. He answers that he is mind-controlled by Willa the Witch and to stop Basil team must defeat her. Gi-Dan tells heroes that he'll help them and joins a team.
Final Battle
Team arrives at the Night Lord's Castle and separates. Sir Elethor and Tarekith are supposed to defeat Dark Dragon of Fright Knights and with help of the arrived Majisto's dragon they finally defeat it. Tania and Frederic go to the East Tower of the castle and defeat there Master Thief, trusty servant of the night. Black Monarch and Bruce go to the West Tower of the castle and defeat the Dark Skeleton there. The Lionian knights and the rulers go inside the central tower where Basil the Bat Lord and Willa the Witch are hiding.
Soon Basil blocks the way of heroes. Sir Robin and Sir Benedict fight him to distract his attention while the rulers proceed further and finally confront the witch. Willa uses dark magic spells to summon monsters and magical blasts. The rulers use magic too to fight her back. Finally, Willa the Witch is defeated and Basil returns to his mind. Night Lord's Castle starts collapsing and everyone, even the former Fright Knights, leaves it.
Epilogue
Basil and the former Fright Knights beg for forgiveness of a team. Everyone in a team understands that they did it unwillingly and were mind-controlled, so they forgive them. Peace returns to the world again.
Characters
Character
Weapons
Abilities
Image
Sir Robin

Sword

Frederic

Battle Axe

Tania (Maiden)

Dagger

Tania

Dagger

Sir Benedict

Spear

Bruce

Sword and Crossbow

Jimmie

Bow

Long Range Attack
Double Jump

Jennie

Dagger

Paul the Wild

Battle Axe

Double Jump
Throw Shield
Roar

Dan

Dagger

King Martin

Sword

Long Range Attacks
Offensive Magic
Healing Magic
Voice Magic

Black Falcon Soldier

Spear

Black Falcon Archer

Crossbow

Sir Elethor

Sword

Long Range Attacks
Offensive Magic
Healing Magic

Wizard King Majisto

Magic Wand

Offensive Magic
Healing Magic
Summoning Magic

Tarekith

Halberd

Black Monarch

Sword

Offensive Magic
Healing Magic

King Richard

Sword

Long Range Attacks
Offensive Magic
Healing Magic
Roar

Rob N. Hood

Bow and Sword

Long Range Attack
Healing Magic
Double Jump
High Speed

Nicholas

Dagger and Bow

Long Range Attacks
Double Jump
High Speed

Forestman

Bow

Long Range Attacks
Double Jump
High Speed

Forestwoman

Dagger

Gi-Dan

Sun Katana

Double Jump
Long Range Attacks
Offensive Magic
Healing Magic

Thief

Bow

Long Range Attack
Double Jump
High Speed

Smuggler

Dagger

Robber

Bow

Long Range Attack
Double Jump
High Speed

Crusader Soldier

Halberd

Crusader Archer

Crossbow

Crusader

Sword

General Clinton

Sword

Offensive Magic
Healing Magic

Wolfpack Bandit

Dagger

Black Knight

Spear

Dragon Soldier

Spear

Dragon Archer

Crossbow

Dragon Master

Sword

Double Jump
Offensive Magic

Black Falcon

Sword

Sir Miles

Spear

Chancellor

Staff

Offensive Magic
Healing Magic
Voice Magic

Ito

Katana

Bonsai

Katana

Green Ninja

Katana

Green Ninja (Girl)

Katana

Red Ninja

Katana

Ninja Robber

Katana

Chief Kendo

Katana

Dojo

Katana

Kata

Katana

Shogun

Sun Katana

Double Jump
High Speed
Offensive Magic

Samurai Lord

Sun Katana

Double Jump
High Speed
Offensive Magic

Lord' Daughter

Katana

Double Jump
High Speed
Healing Magic

Ninja Master

Katana

Double Jump
High Speed
Offensive Magic
Healing Magic

Fright Knight

Sword

Fright Archer

Crossbow

Fright Commander

Halberd

Master Thief

Bow and Dagger

Double Jump
Long Range Attacks
High Speed
Become Invisible

Dark Skeleton

Spear and Halberd

Double Jump
High Speed
Offensive Magic
Long Range Attacks
Roar

Basil the Bat Lord

Sword and Staff

Offensive Magic
Healing Magic
Summoning Magic

Willa the Witch

Staff

Offensive Magic
Healing Magic
Voice Magic

Jousting Crusader

Spear and Sword

Double Jump
High Speed
Healing Magic

Jousting Black Knight

Spear and Sword

Double Jump
High Speed
Healing Magic

Jousting Black Falcon

Spear and Sword

Double Jump
High Speed
Healing Magic

Paladin

Light Sword

Double Jump
Healing Magic
Summoning Magic

Nobleman

Sword

Double Jump
High Speed
Offensive Magic
Healing Magic
Notes
Video Game mentions all subthemes of classic Castletheme.
Leader of the Black Falcons makes his debut in this game.
Leaders of Wolfpack in this game were designed by Thrash, user of Eurobricks forum.
Sours: https://brickipedia.fandom.com/wiki/Custom:LEGO_Castle:_The_Video_Game
Game castle lego
Too much. Let's go to the hayloft, something I got from these conversations - I got up. In the hayloft, Svetka's girlfriends, waiting, lay down in different sexual positions. Well, girlfriends, disassemble the elastic bands, whoever you like, - Sveta laid out our unused stocks. Chur, I have these, with mustaches, chosen by a red-haired girlfriend.
LEGO Elsa's Magical Ice Palace Disney Princess Speed Build Silly Play Review - Kids Toys
In her bathroom, I was finally able to put an end to this by letting off steam with immense relief, looking at the pictures I. Just took on my phone while she was sleeping. I jerked off for a long time, despite the fact that I wanted to finish for a long time, because from such abstinence my. Penis was apparently offended. Well, in general, when I finally started to finish, I thought that I would never stop.
You will also like:
OK, it's all right. And she climbed into the shower and began to wash off these streams of sperm. The new year was well spent.
917
918
919
920
921